If you need a break from your hectic life, then enjoy the best things to do in Jupiter Florida. Just on the north side of Metropolitan Miami, Jupiter's charm is unmatched. Locals live gentle, relaxing, coastal lives. The surroundings and nature are beautiful.
With six different sections of beaches to enjoy, Jupiter locals enjoy the perfect climate of South Florida while enjoying incredible activities. Not to mention the unparalleled wildlife that you can see almost everywhere you turn. Jupiter is actually one of the best places to see sea turtles!
The home of Florida Atlantic University, Jupiter's communities highly value art, culture, and diversity! There are always coffee shops, restaurants, or a well-manicured park right around the corner. Don't forget the local theatre scene as well as bustling art institutes.
In short, Jupiter gives you the best of both worlds. Escape to the beaches or local parks to fall back in love with the wild and nature. Then head downtown for some great art, culture, and dining. No matter what you choose to do, you can't go wrong. The best things to do in Jupiter are at your fingertips.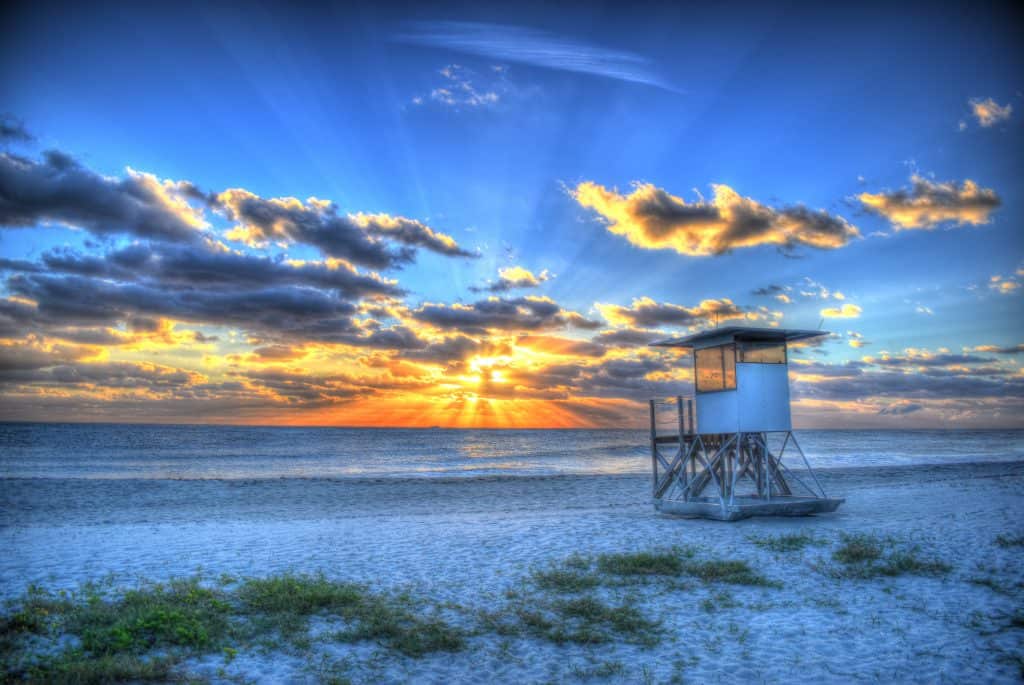 14 Best Things To Do in Jupiter You Shouldn't Miss!
Jupiter Off-Leash Dog Beach
Jupiter, the northernmost town in Palm Beach County, can be found just above West Palm Beach. While having some of the prettiest of the East Coast Beaches, you'll love the Jupiter Off-leash Dog Beach!
Home to one of the few remaining truly off-leash dog-friendly beaches in the state, Jupiter's Town Council has adopted a stretch of land for you to bring your pup to run free!
Find the dog-friendly area beaches on the 2.5 mile stretch from beach marker #25 (Marcinski Road) going north to beach marker #57 (Carlin Park property line). Find a full map here.
While dogs do not have to be on a leash, they should be well-behaved, respond to voice commands, and not act aggressively to other animals. Keep your dog on a leash from the car to the beach, and also pick up after your dogs' waste.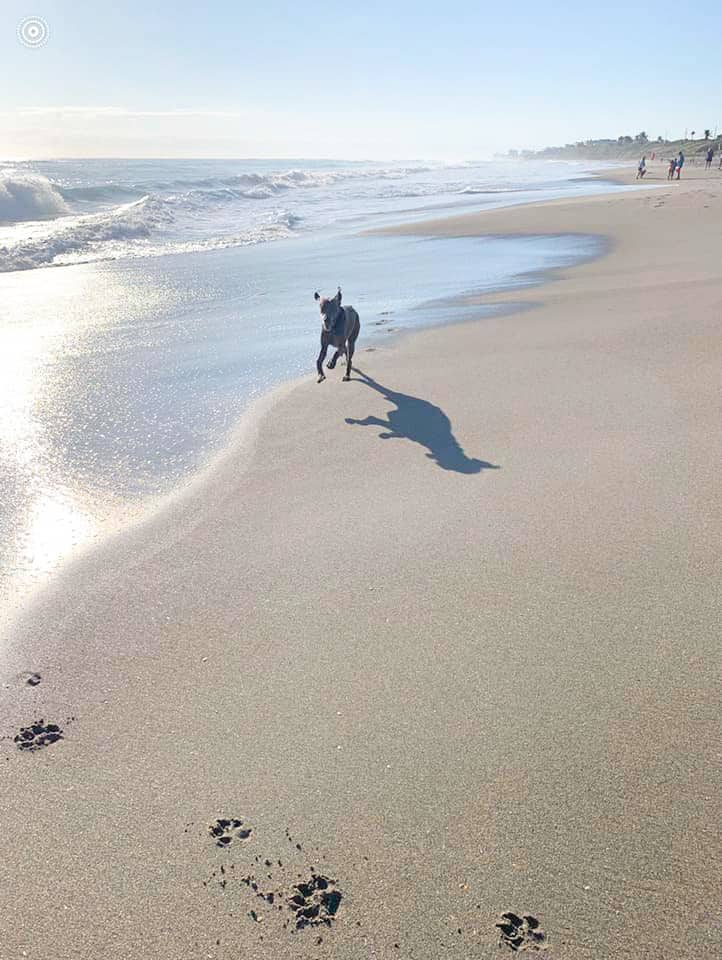 Dive Under The Sea
Jupiter is very quickly becoming a popular place to go scuba diving in Florida for more advanced divers.
A ripping current from the Gulf stream brings in all sorts of ocean life, from reef fish to giant stingrays. You may even have shark encounters, see some sea turtles, and even swim by some rare species! One thing is for sure, every dive in Jupiter will be different.
Jupiter is some of the bluest water in the western Atlantic thanks to the warm water from the Caribbean, which also means that the water is always warm, making scuba diving in Jupiter all year round!
There are so many different dive sites in Jupiter! One of the most popular is Area 51 and is known for its amazing marine life. Loggerhead turtles love to hang out in this spot, as well as reef sharks and Goliath grouper.
The Tunnels are great for spotting different types of sharks such reef sharks and nurse sharks. There are a lot of natural swim-throughs here too! To spot some green moray eels, head to the Scarface spot where you have the chance to spot the resident green moray eel with a scar across his face, hence 'scarface'!
To see some amazing shipwrecks, the Jupiter Wreck Trek is an excellent dive site that will allow you to see three wrecks in one dive! The Zion, Miss Jenny, and Esso Bonnaire are all mating grounds for Goliath Grouper, where hundreds gather in the months of August and September!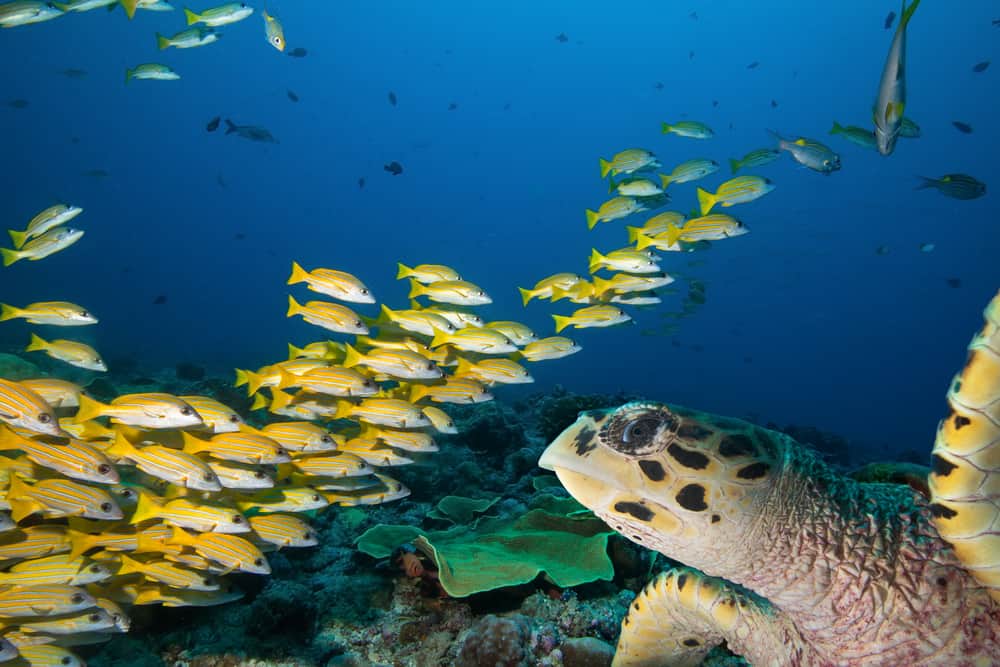 Hang Ten at Jupiter Beach
When it comes to surfing in Florida, Jupiter describes itself as laid-back mixed with full-throttle adventure. It's location at the confluence of the Loxahatchee River, Intracoastal Waterway, and the Atlantic Ocean make it ideal for most kinds of water sports.
Jupiter has a lot to offer the surfer. To the south, the best breaks are Juno Beach Pier, Ocean Reef Park, and Pump House. To the north there are numbered spots and heading towards the inlet you have the Xanadu/Ocean Walk break toward Carlin Park and Civic Center, going up the final spot at the inlet.
With nearly 3½ miles of beaches, this is where the Gulf Stream flows nearest to the United States making the water a comfortable 78 degrees. These warm, clear waters are surrounded by dunes and mangroves and an army of locals who keep the beaches clean
It's a great beach for kids to swim safely too, so why not bring the family? It was also named by Coastal Living magazine one of the Top 10 Happiest Seaside Towns in the USA as if you needed another reason to visit.
Surfing in Florida doesn't get much happier than this.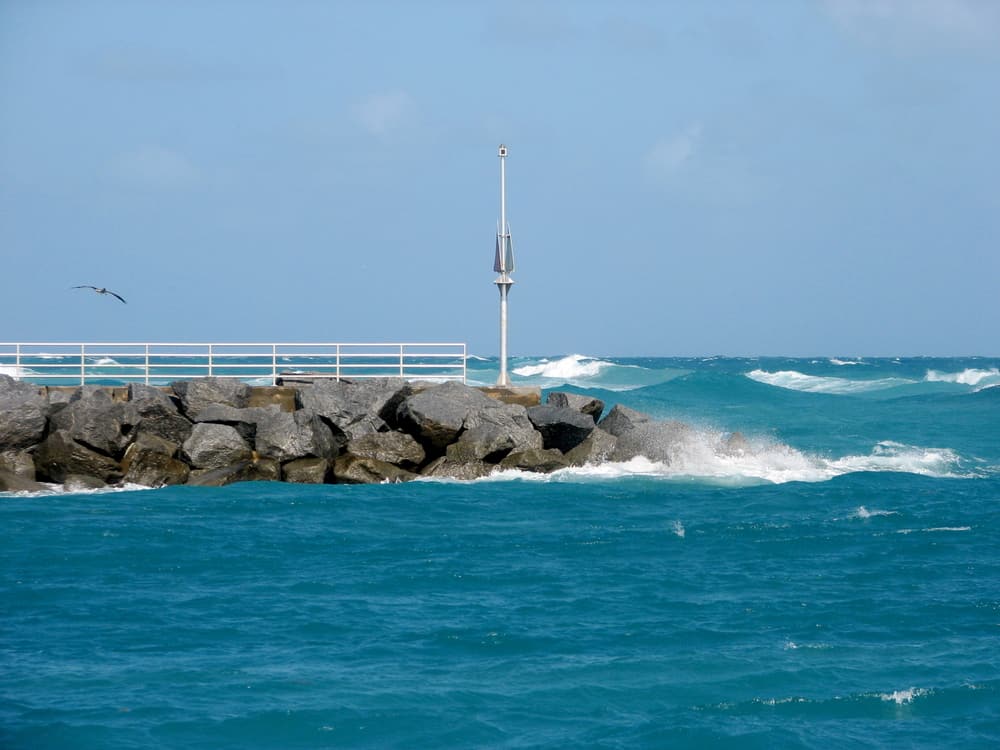 Jupiter Inlet Lighthouse & Museum
Built in 1860, the Jupiter Inlet Lighthouse crowns 120 acres of nationally significant property. Situated where the Indian and Loxahatchee Rivers meet, this area is considered an Outstanding Natural Area. It's also a very historic area with signs of human habitation dating back at least 5,000 years found in the sands.
Jupiter was one of six Florida lighthouse projects assigned to Lieutenant George Gordon Meade of the U.S. Army Corps of Topographic Engineers.
Children must be 48″ tall to climb and people must be able to climb the 105 steps unaided. It is $12 for adults and $6 for children 6-18.
Admission days vary so check the website. There is a lot to do here, including tours of the museum to see how the lighthouse keepers lived in a Seminole chickee hut, a pioneer homestead, and a lighthouse keeper's workshop.
This Jupiter lighthouse also has a live camera so you see what the view might be like on the day you visit.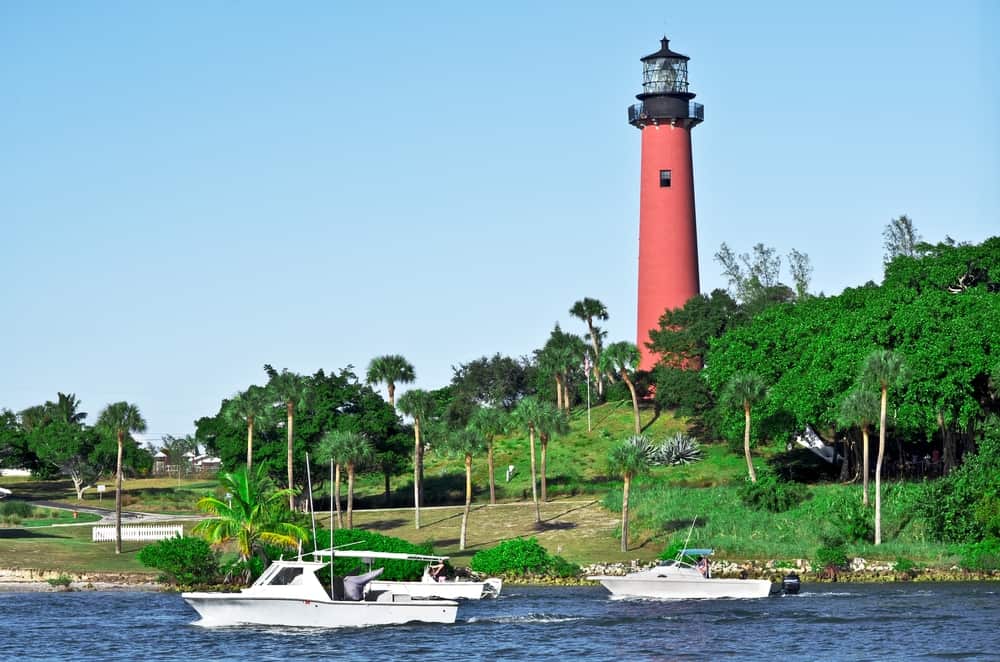 Blowing Rocks
Near Hobe Sound on Jupiter Island, one of the state's prettiest islands, you'll find one of the most unusual trails for hiking in Florida. With one of the most dramatic shorelines, Blowing Rocks offers sea caves and bluffs.
At 2.5 miles, you'll explore a rocky shoreline featuring a gorgeous limestone terrace where the sand meets the sea. We recommend checking the tides beforehand so you can pick what you want to see.
At high tide, you can see the frothing blowholes. At low tide, you'll have a greater opportunity to explore the mysterious sea caves. Watch out for sea urchins!
From the trailhead, you'll embark on a sandy trail heading towards the sea. Sea Grapes create a long tunnel. In summer, their ivory blooms glisten and edible grapes turn red in fall in Florida.
As you emerge on the beach, the Atlantic roars and crashes into the eroding rocks of the Anastasia limestone. If visiting at low tide, explore the caves. A natural labyrinth, some caves are tall enough to stand in, with natural skylights above.
As you continue north along the path, the rock underneath becomes eroded and uneven. Through the twisted formations in the weathered rocks, blowholes have been created. On stormy days, waves crash up through the caves and soar as high as 50 feet in the air.
As you head back the way you came, avoid small roped-off areas. These are sea turtle nests, where more than 600 turtles lay their eggs during the summer!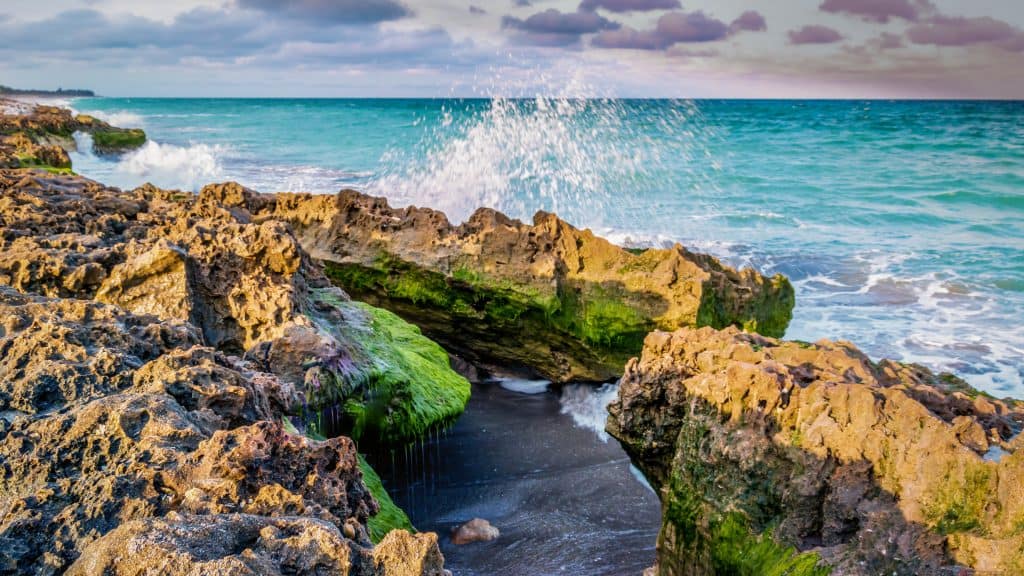 Guided Turtle Walks
One of the best things to do in Jupiter is to take a Guided Turtle Walk. If you love marine life, the ocean, and nature, then this will be a memorable activity for you and your family. Don't miss the Guided Turtle Walks in Jupiter.
This is a unique program that will allow you to learn about while watching and observing the actual nesting and egg-laying process of sea turtles. Don't worry, everything is covered by state permits and regulated by experienced Marinelife Center scouts.
We recommend booking your spot in advance because, with a walk-in fee of $22, your spot is not guaranteed. Children are encouraged to come, but they must be ten years or older to attend. Be prepared to walk up to half a mile.
Once your group spots a loggerhead sea turtle, she might begin her egg-laying process. Such an unforgettable experience, remember to keep quiet so as not to disturb her. This is one of the best places to see wild sea turtles in Florida!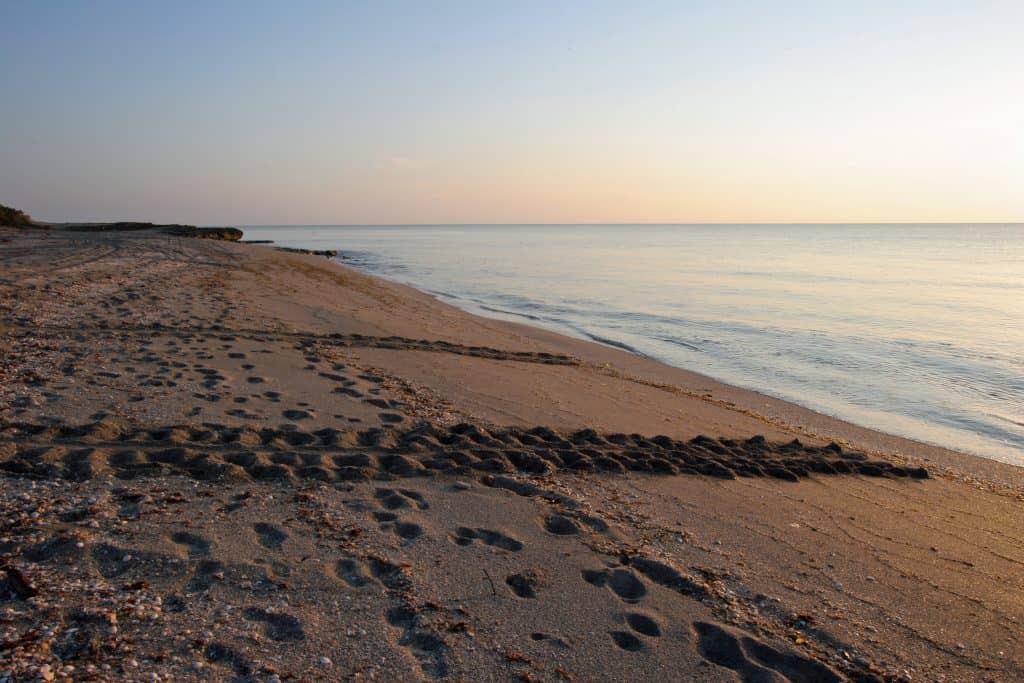 Dubois Park
We've already discussed diving in the area, but we wanted to single out one place that is incredibly special in and of itself! One of the best things to do in Jupiter for families is to pay a visit to Dubois Park.
Dubois Park is a jetty on a lagoon. It has a beach frontage and features swimming, boat slips, and even a playground! There's something for everyone in the family to do here, and a perfect way to enjoy some of the most beautiful waters of the Atlantic for the entire day without getting bored!
Take the kids to play on the water at the beach, complete with lifeguards! From here you can also snorkel and even dive if you launch a boat from the ramp! There's also a kayak/canoe launch as well as a boat slip, but no motorized boats please!
The kids can get all their energy out on the playground while Dad can go fishing on the pier or out on a non-motorized boat! Then at the end of the day, everyone can regroup at the rented Picnic Pavillions and make use of the charcoal grills for a good cookout. You can even shower off before you head home!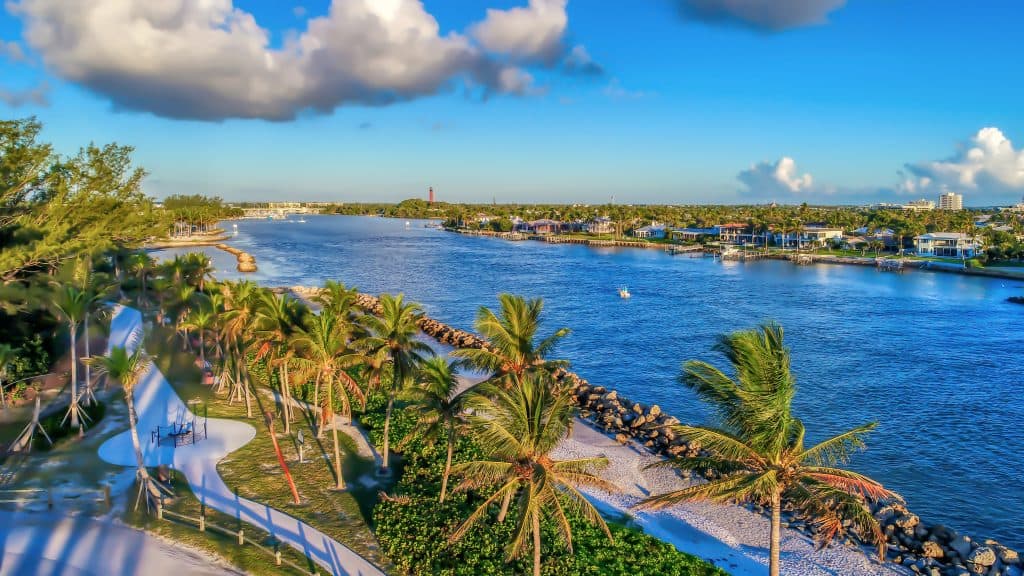 Coral Cove Park
While Coral Cove Park is just outside the city in Tequesta, we still consider it one of the best things to do in Jupiter! One look at the inviting, warm cinnamon sand and you'll want it between your toes. While it's not the biggest, this is one of the best beaches in South Florida.
Yes, Coral Cove Park is light on acreage. But we guarantee you will fall in love with your experience getting to know the beauty of old Florida up close! Because the surf can be rough and because it is small, you're almost never going to encounter large crowds.
This may not be the best beach for swimming, but there are lifeguards present. This beach is best reserved for couples looking for a romantic walk on the beach. This is also great for little kids on the shoreline, as this is one of the best beaches for shelling in Florida! You're bound to find a different variety of shells here.
There is a lot of seaweed, which attracts a lot of fish. If you're feeling up to roughing the not-so-gentle surf, then rent some scuba or snorkeling gear! There's also a lot of beautiful coral rock formations to see under the waters. Keep in mind to protect sea turtles, no diving balloons are permitted.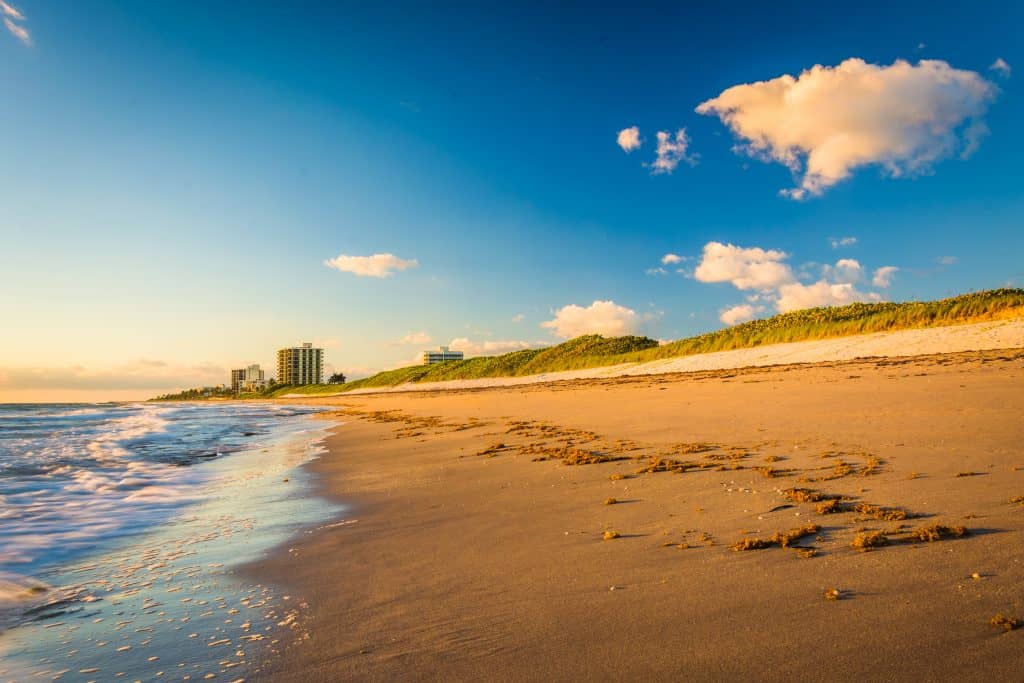 Roger Dean Stadium
If you're looking for your sports fix, then look no further. Baseball fans, rejoice! The Roger Dean Stadium is one of the best things to do in Jupiter! It's hard not to find excitement at a game here.
Roger Dean Stadium holds the distinction of being the only stadium in the United States to host not one, but four minor league teams. Here you'll find the home of the Jupiter Hammerheads, the Palm Beach Cardinals, the FCL Marlins, and the FCL Coast Cardinals!
The stadium is also only one of two in Florida to host two major league teams during Spring Training: the Miami Marlins and the St. Louis Cardinals. The teams share the same stadium, but each has its own batting cages, pitching mounds, practice fields, and conditioning rooms.
With an abundance of teams, this can only mean one thing. There's pretty much always something going on at the stadium. No matter what time of year you visit, there's nothing like watching America's pasttime.
Weather can be a nuisance, so remember there are no cancellations. Either check the forecast or take your tickets to the booth and exchange them for another game during the current season!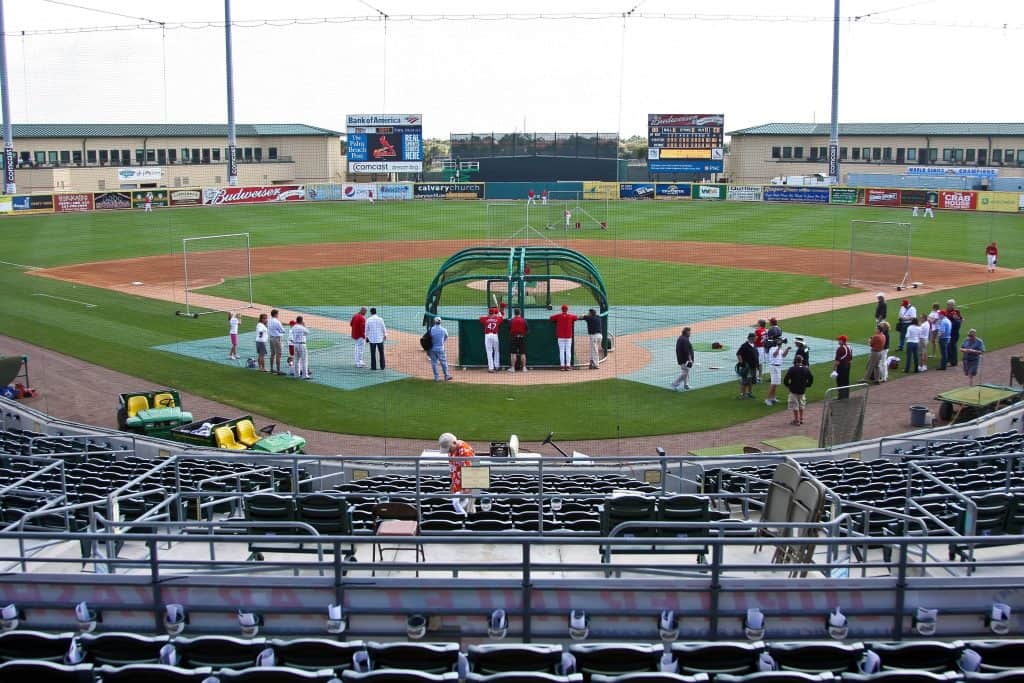 Jupiter Donut Factory
According to the Jupiter Donut Factory, the perfect donut is made up of 44% love, 43% passion, 12% artistry, and the last 1%? Know how. Well, we also think their perfect donuts are the result of their bakers starting the day's craft at midnight every single night. That's dedication.
That's right, the Jupiter Donut Factory starts bright and early with the freshest ingredients because every single donut is crafted by hand. We have to warn you though, people have their favorites and their "crave-rites," so you need to get there early.
You are certain to go nuts for their donuts, which include classic flavors like Boston Creme, Apple Fritter, French Cruellers, and of course, Old-Fashioned. More exotic flavors include Kit Kat, Butterfinger, Glazed Lemon Jelly Filled, Chocolate Coconut, and even Banana Cream Pie.
If you don't have a sweet tooth or you're just not a donut person, have no fear. There's also an extensive collection of breakfast sandwiches. Get sausage, egg, and cheese or bacon, egg, and cheese on croissants, bagels, or even donuts!
The Jupiter Donut Factory can be found on 141 Center Street open 7 days a week from 6 AM – 1 PM.
Jonathan Dickinson State Park
If you're a fan of Burt Reynolds, that should be your draw to visit Jonathan Dickinson State Park, as it's just north of his estate. If not, then the 16 stunning natural communities will make you fall in love with one of the best things to do in Jupiter.
Just to the north of Jupiter at one of the best state parks in Florida, you'll be able to walk through pine scrub flatwoods and mangrove forests. Not to mention the coastal sand hills, upland lakes and scrub forests.
There are many historical interests to explore here as well. Look out for markers on trails that will teach you about a secret World War II training camp. There's also the story of the shipwrecked Quaker merchant who became the park's namesake.
You can also enjoy horseback riding as well as paddling in a kayak or canoe down the Loxahatchee River, the only other designated Wild & Scenic River in Florida. Make sure to look out for turtles sunbathing on the shoreline.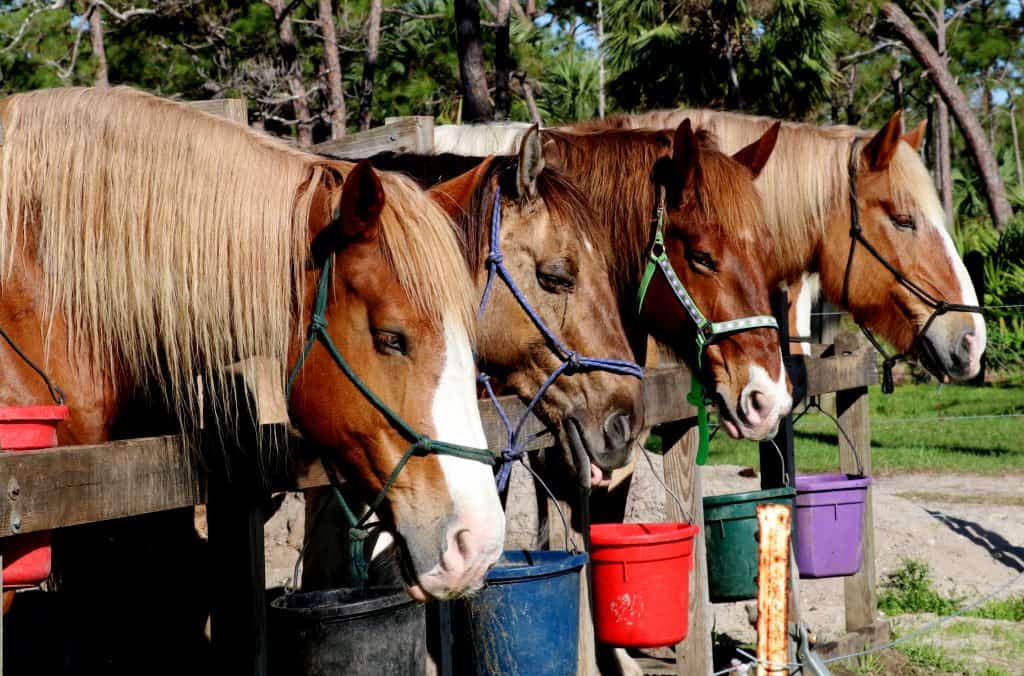 Harborside Place
Nestled along Jupter's Intracoastal Waterway, you'll find Jupiter's premier downtown destination for everything you could want. You name it, with the best shopping, dining, entertainment, and boating, Harbourside Place is one of the best things to do in Jupiter.
Start your day visiting the luxury shops to find everything from jewelry, apparel, swimwear, and even souvineirs for your family back home. Get a blowout at the Dreamz Hair Studio and find a special piece to bring back home at Atlantic Fine Art.
Catch a show at the Ampitheater, the centerpiece for entertainment at Harbourside Place. With a canopied stage, interactive fountains, and lawn seating, there's something for the whole family. Meet in the morning for yoga on the waterfront or live music after a long day.
Go paddleboarding from the Marina or rent out a PonTiki party boat! While getting great views of the Intracoastal Waterway, you can enjoy refreshments like beer and wine all included in the price of the cruise. There are also weekly public cruises with live music to enjoy.
If you want a more lowkey and finer end to your day, then you can head over to The Wyndham Grand, Jupiter's luxury hotel. You'll have immediate access to restaurants ranging from Italian dining to burgers and beers as well as a 31-slip private marina!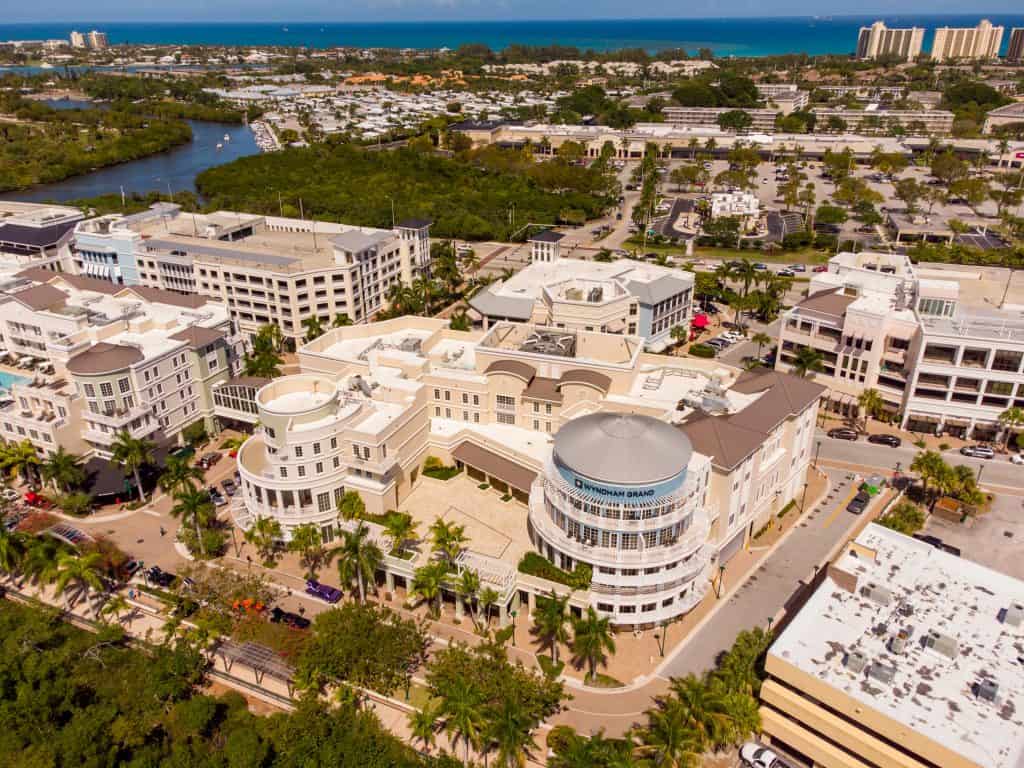 Burt Reynolds Park
Are you a Burt Reynolds fan? Did you know his estate was just to the north of Jupiter? It's no wonder that he became the namesake for one of Jupiter's foremost waterfront parks located right on the scenic Riverwalk. Burt Reynolds Park is one of the best things to do with kids in Jupiter!
In addition to all of the classic amenities you'd find at a waterfront park like grills, pavilions, picnic tables, beach volleyball, a playground, and public boat ramps, there's something very special here. You can visit the Loxahatchee River Environmental Center.
Opened in 2008, the River Center aims to provide visitors with opportunities to learn about the designated "wild and scenic" Loxahatchee River. We've already discussed the wonders of kayaking on the 7.6 mile river that opens up into the Jupiter Inlet, but here you can really learn more hands on!
With live aquatic tanks, you can learn about the importance of the river, its ecosystem, and the continuing efforts to maintain the health of the river! There are also children's programs that include story hours, art classes, fish feeding and tours. Adults can even attend more advanced lectures themselves!
Loggerhead Marinelife
One of the most visited nonprofit, scientific facilities in the state of Florida, Loggerhead Marinelife focuses on ocean and sea turtle conservation. A tourable facility, you will be able to see sea turtles being rehabilitated and prepared for their journey back to the ocean.
Truly one of the best things to do in Jupiter, there's no better way to visit than to take a tour. When you're escorted by a professional guide, you'll gain access to many areas including the Outdoor Sea Turtle Hospital. Even if you want to experience it again after you've gone home, you can take virtual tours on the weekends!
Focused on activism, Loggerhead Marinelife encourages you to get your hands dirty and volunteer yourself! What can seem like a thankless job to most is made exciting with their SWIM program which takes volunteers on travel adventures to rehabilitate coastal environments in places like Juno Beach and even Norway!
If you feel particularly inspired by the work done at Loggerhead Marinelife, then you can adopt your own sea turtle! No, you won't be taking one home to take care of yourself, but your donation starting at $40 will earn you updates and photographs of a sea turtle in the outdoor hospital so you can cherish your memories at home.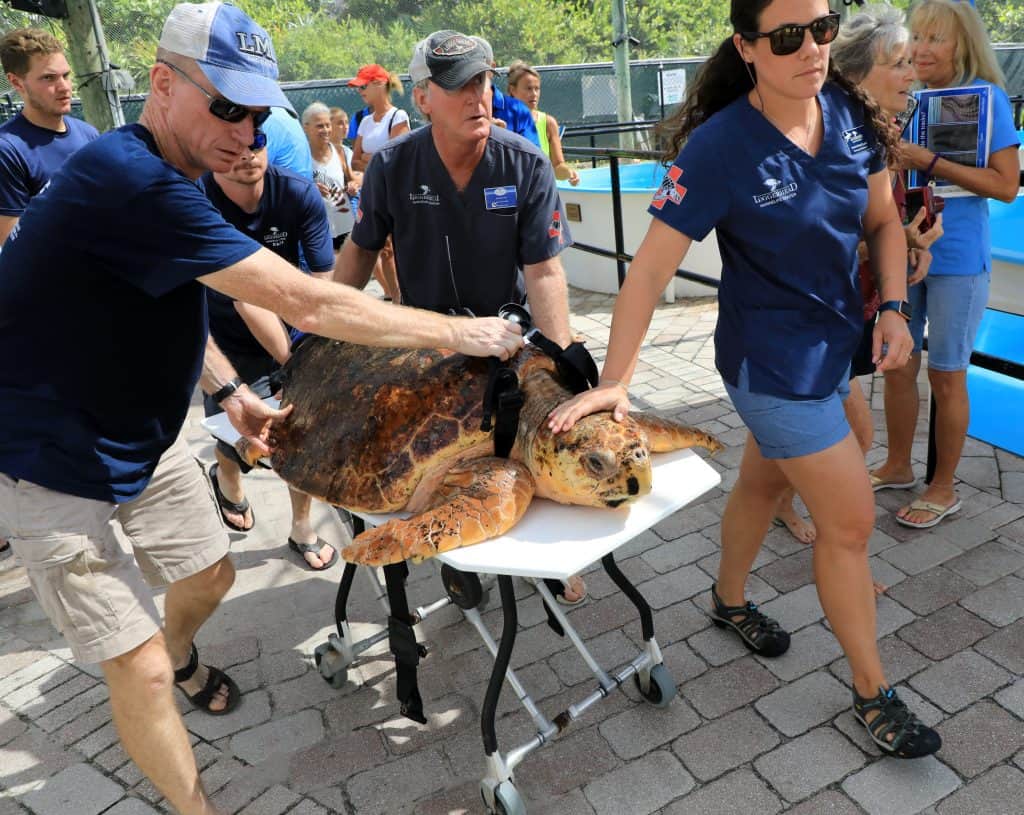 Did You Find This Post Helpful?
If so, we would love to keep in touch! We enjoy seeing photos and comments about your experiences in Florida! You can follow us on Instagram and we will repost your photos on our feed and comment too! Just tag us at @floridatrippers and hashtag #floridatrippers. We can't wait to see your travels!