Are you wondering which one of the many restaurants in Mount Dora to visit? You are in the right place. In this article, we will walk you through the best Mount Dora restaurants, what to eat in Mount Dora, and tell you where to find the best food in Mount Dora, Florida.
Mount Dora is a charming city in central Florida. It's a city full of antique shops, museums, and lovely architecture. There is so much to see and do in Mount Dora.
There are also so many restaurants in Mount Dora. From casual dining to high-end establishments, this place really has it all. Whatever your food tastes you will find it here.
You will find gorgeous food, a great atmosphere, and friendly service at all these establishments. Some even have outside seating making them the perfect spot to people watch.
The restaurants in Mount Dora are as electric, charming, and quaint as the town. This town might surprise you I know it did us. It's a great place for a getaway in Florida.
So are you ready to find out the best places to eat in Mount Dora? Grab a chair and your favorite snack and let us walk you through what to eat in Mount Dora.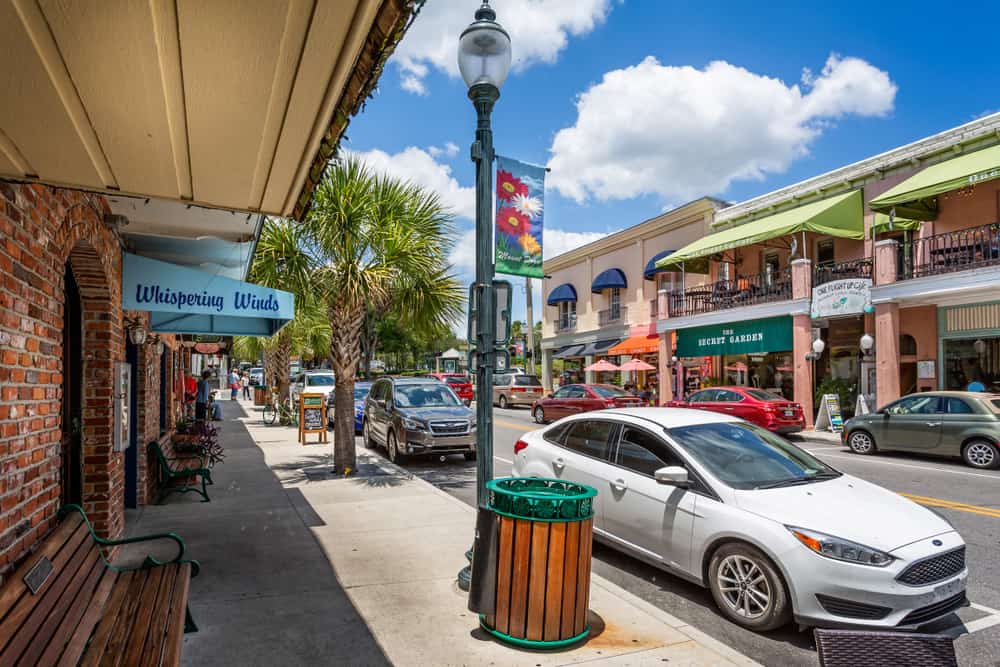 15 Best Restaurants In Mount Dora FL You Must Try
Las Palmas Cuban Restaurant
In this Mount Dora Florida restaurant, you will find traditional Cuban food served in an easygoing atmosphere. It's a casual and friendly place with a bar kind of feel.
The recipes are authentic family recipes and include things like seafood paella, flavorful churrasco steaks, Cuban sandwiches, and chicken lime salad
There is outdoor seating here and the cocktails here are great. It's a great place for some of the best Mount Dora food.
Copacabana Cuban Cafe
Another Cuban Cafe that we couldn't miss off the list. Its Homestyle Cuban cuisine is served in simple digs.
The island theme patio is also a real hit for outside dining. It's a comforting joyous place to eat.
The owner is praised in lots of the reviews and the service is always attentive. They also have a great variety of vegetarian plates on the menu.
Menu items include things like Picadillo Conchita which is Cuban-style ground beef and potatoes cooked in the creole sauce. Sauteed Scallops And Calamaris and a Copacabana Plate which is steak and seafood and chicken are also popular menu items.
If you are wondering where to eat in Mount Dora, FL for a leisurely lunch this place should be high on your list.
This is one of the Mount Dora restaurants with outdoor seating that will really wow you.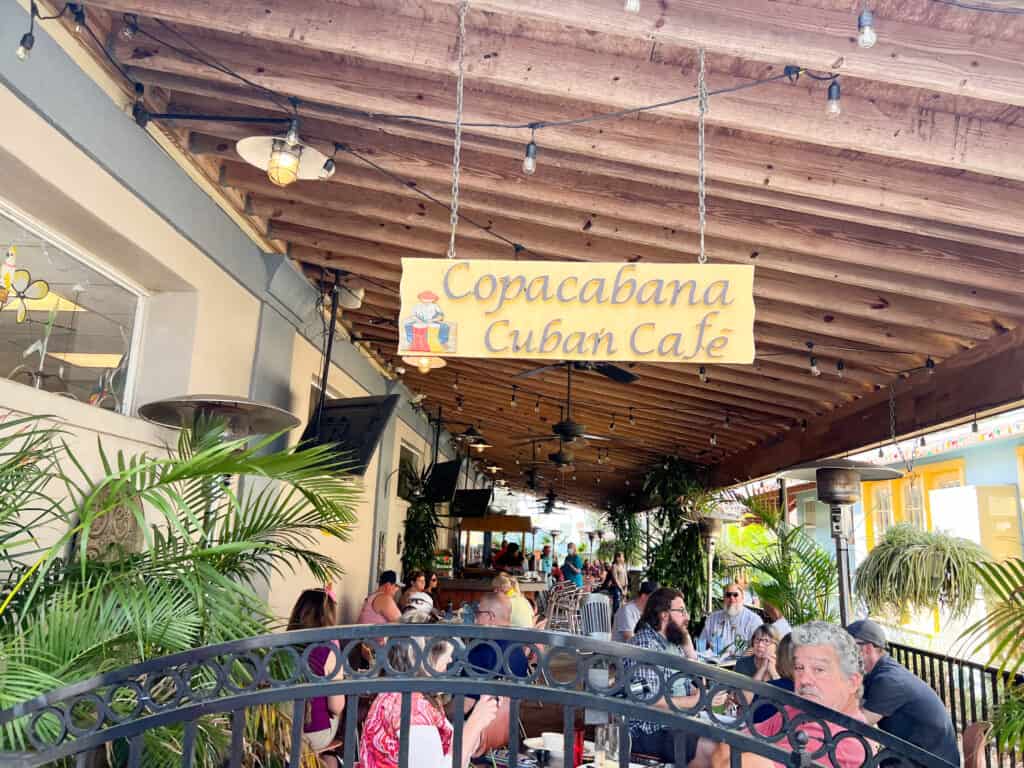 PizzAmore
If you are looking for pizza in Mount Dora then PizzAmore is the place for you. They create some great pizza, pasta, baked subs, and gluten-free pizza.
The ingredients are fresh and the staff are friendly. The restaurant was started by Leigh Love who moved to Mount Dora over a decade. Her vision was to create a warm, inviting, fun, and casual place to bring the entire family.
The menu contains what you would expect but there is way more than pizza. Wings, subs, and entrees all make an appearance. The pizza and pasta options are endless since you can choose and combine your own.
If you love Italian food then this is one of the best restaurants in Mount Dora, Florida for you.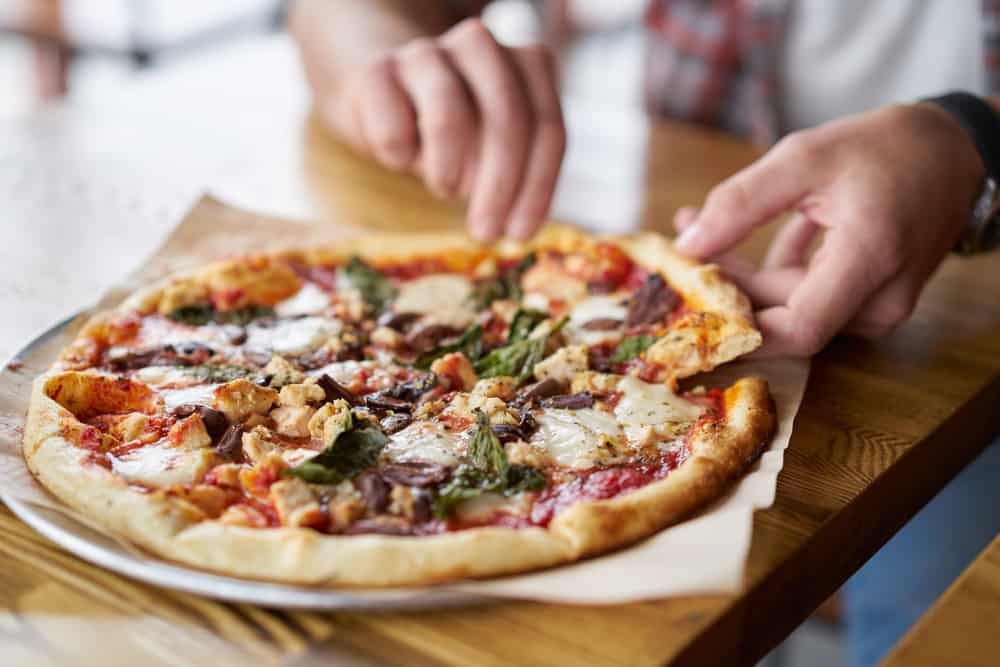 Wave Asian Bistro & Sushi
If you are looking for the best sushi in Mount Dora you have found it. But this sushi comes a little bit differently.
How about a sushi burger, sushi hotdog, sushi donuts, sushi pizza, or even sushi burritos? These are all on the menu here. In fact, Wave created a new wave of Asian food in the area.
The menu is extensive with all the usual items you would expect including four styles of Poki bowls and Hibachi bowls. They do of course have normal sushi on the menu too. In fact, the sushi menu is huge.
It's a popular and well-loved eating establishment that really does offer something a little different. They serve some of the best Mount Dora food here.
Bavarian House
Fancy some German food in Mount Dora? Well, yep it has that too.
Here you will find German food made from scratch accompanied by German beer, German coffee and Bavarian music.
The menu items are authentic Bavarian with items such as Wiener Schnitzel Zigeunerschnitzel and Hähnchenschnitzel all making the menu. They also do pretzel baguettes in fact the menu is surprisingly large with a great choice of items.
If you are going here leave room for the Apple strudel we're told it's delicious. If you looking for German restaurants in Mount Dora, FL look no further.
Cody's At 4th
When a place says it is homemade happiness for breakfast and lunch you can guarantee we are running there.
This is one of the downtown Mount Dora restaurants that is great for breakfast. They serve homemade baked goods, fresh salads, hearty sandwiches, and beer, wine, and champagne cocktails.
The atmosphere is warm and friendly and it's also super colorful which is bound to make you smile.
It is open for breakfast and lunch and has outdoor seating. We particularly like the build-your-own sandwich options and the homemade soups and salads.
They serve the best breakfast in Mount Dora, Florida and their specialty breakfast sandwiches sound delicious all served with a breakfast champagne cocktail if you wish.
This place serves one of the best and most chilled breakfasts in town and some of the best food in Mount Dora.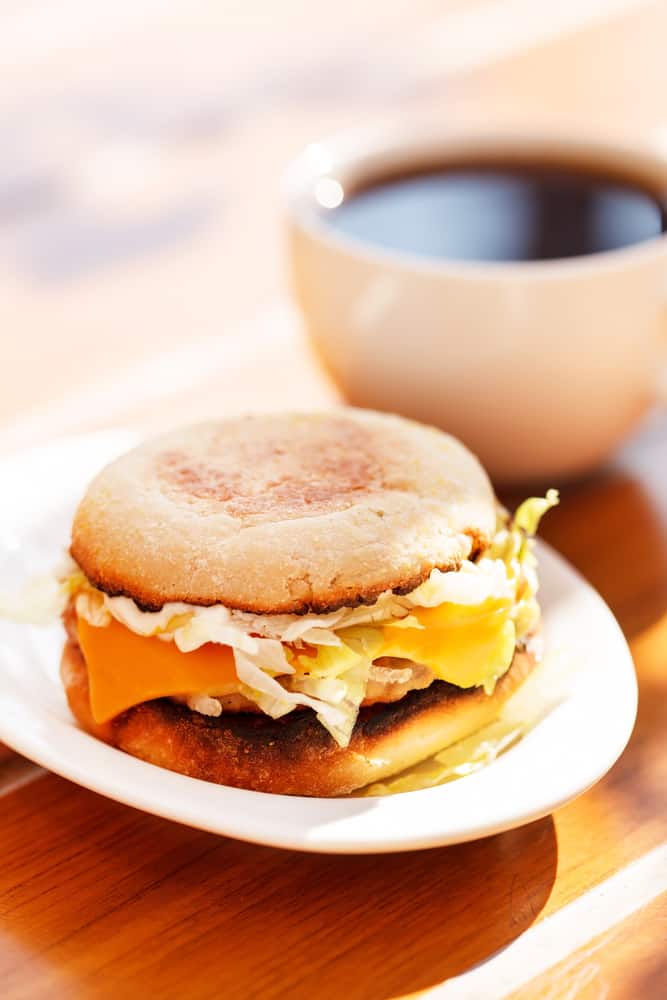 Cheese to share
If you love cheese then you are in for a treat. This city spot focuses on all things cheese including boards, fondue, bread bowls, and skewers.
Most of the items on the menu are for sharing and they don't all contain cheese but most do. Locals come here for the fondue or the cheese boards which are stunning. But there are many other delights on the menu and they also offer some great sandwiches.
Oh, and you must leave room for the chocolate fondue. This is one of the best places for lunch in Mount Dora or great for a leisurely evening. If you are wondering what to eat in Mount Dora and you love cheese this is the place for you.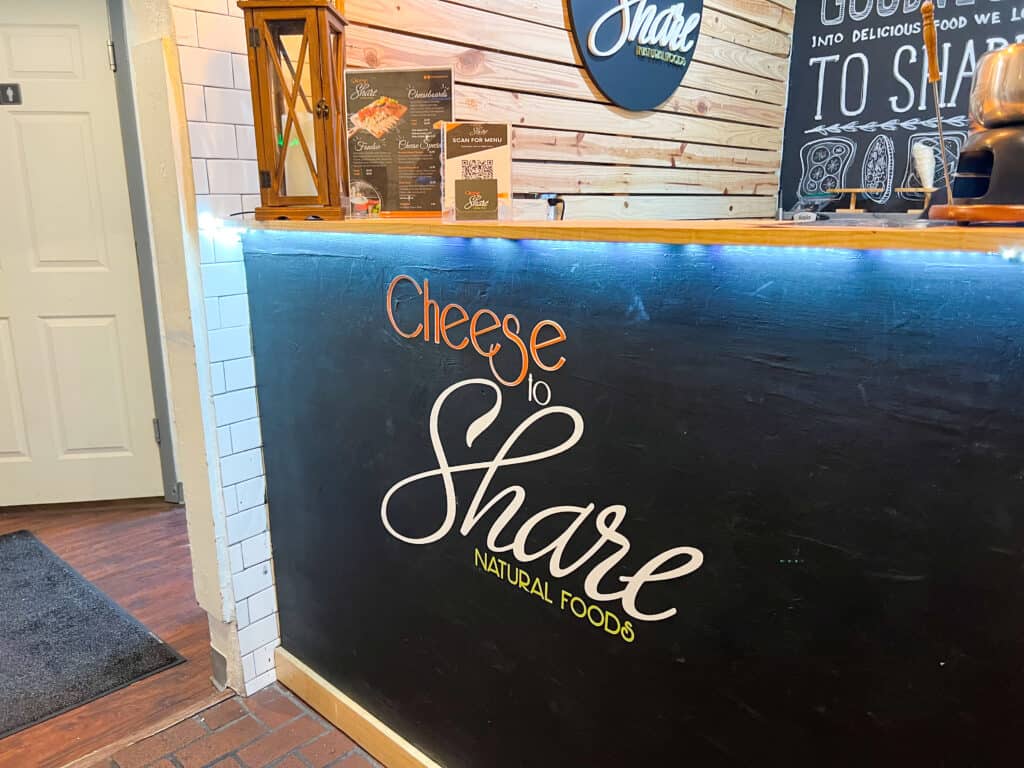 Shiva Indian Restaurant
If you love Indian food then this is one of the best places to eat in Mount Dora for you. It is family-owned and has a laid-back atmosphere.
They serve Indian food of coarse and vegetarian dishes which is common in Indian restaurants. Here you will find all the usual dishes such as Chicken Tikka, Masala dishes, and lots of Paneer dishes.
It's a lovely restaurant with an ornate inside and outside and is one of the best Mount Dora restaurants.
Fiesta Grande Mexican Grill
A family-owned Mexican restaurant that delivers authentic Mexican food completely made from scratch. If you are looking for Mexican restaurants in Mount Dora look no further.
This vibrant restaurant has been serving residents since 2006 and is very popular. The menu contains all the usual Mexican delights you could expect.
You find lots of tacos, nachos, and five types of fajitas. There are six types of loaded nachos available and they have lots of vegetarian options. They also have some great fish options.
The menu here is huge so we are sure there will be something for everyone here. A great place to grab a quick lunch in Mount Dora.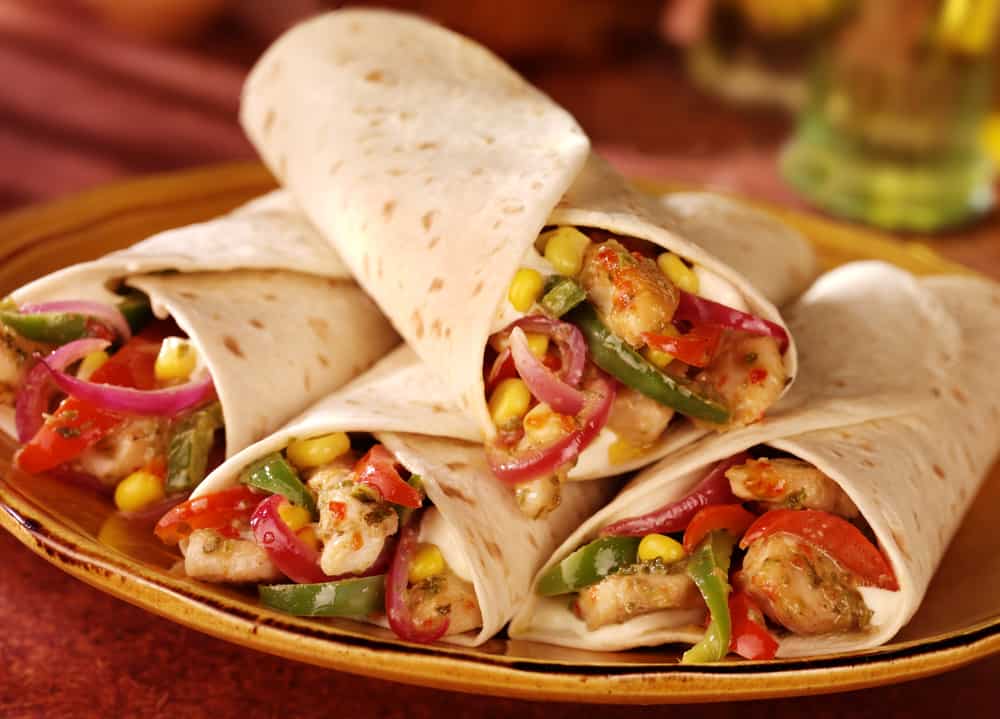 Pisces Rising
Pisces Rising probably has one of the best views in this city. Mount Dora restaurants with outdoor seating don't come much better than this.
It's actually located on the lake and the sunsets here are beautiful. If you get to sit on the deck you really are in for a treat.
This is Florida fare with a flare according to their marketing and the emphasis on sustainable and local food is impressive. Southern Florida dishes with a focus on utilizing fresh, local ingredients.
The menu contains items like Fresh Catch Of The Day, Mushroom Risotto, and steaks. There are also burgers sandwiches and wraps. They also do a great Sunday brunch here with unlimited Mimosas and Sangria for an extra $15 charge.
Take a seat on the deck, or inside with the beautiful windows framing the view, or go for something more casual at the tiki bar.
Have a leisurely lunch, a Sunday brunch, or a special evening here. This place truly is lovely and serves the best dinner in Mount Dora.
The Goblin Market
Known for its great service, amazing food, and cozy atmosphere this place is one of the best restaurants in Mount Dora, FL. For 16 years it has served downtown and it's loved by many.
People come from all around to dine here. And if you wondering what is so unique it's the three intimate, book-lined dining rooms, as well as a beautiful bar and lounge.
It's like eating in a library and we are all here for it. The garden area is also lovely a little oasis covered in plants and vines.
The dinner menu contains things such as Irish Whiskey Onion Soup, Whole Roasted Bronzini, Truffle-Parsnip Filet, you get the idea.
It's quite upmarket but a great place for a special event or date night. The lunch menu is a little lighter with items such as Shrimp Alfredo, Portobello Wrap, and Impossible Burger on the menu.
If you are looking for something special this is it. This is one of the downtown Mount Dora restaurants that really offers something a little different.
Magical Meat Boutique
The Magical Meat Boutique is known for its authentic British cuisine and models itself on a British gastropub. If you are looking for something casual that serves great food this is it.
For those of you who are familiar with English Pubs, it looks the way pubs used to do in the UK, now considered somewhat old fashioned in the UK but nostalgic in other locations. They even have a red telephone booth in their dining room
The menu is British with a few American additions. It has the usual English dishes, fish and chips, Shepherds Pie, bangers and mash, scotch eggs, and the like.
Obviously, they serve British beer and ale, and nothing compares to an ice-cold brew with a plate of authentic fish and chips.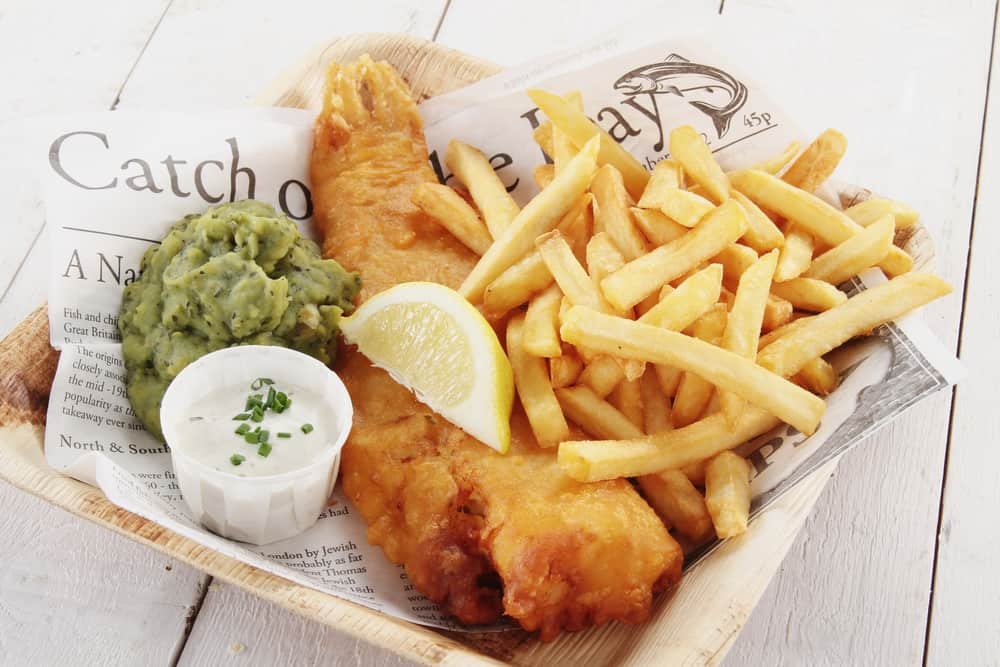 1921 Mount Dora
If you are looking for an upscale dining experience in the city this is it. It's a forward-looking restaurant that mixes the old with the new.
It sustainably sources ingredients wherever possible and is situated in a converted 1921 home. The restaurant is actually part of the Modernism Museum complex and features modern art on its walls.
You can sit outside on the patio which has a great view of downtown or sit inside and marvel at the decor.
The menu is one of those menus that just gets your mouth watering and It is often hard to pick what you want as everything sounds so delicious.
Tiffany's Handmade Yeast Rolls with Whipped Florida Sugar Cane Butter And Maldon Sea Salt, Cape Canaveral Golden Tilefish with Forbidden Rice Risotto, is an example of the exotic menu.
It's a place for food lovers and those who like something a little bit different. Perfect for a romantic evening or a place to celebrate a special occasion.
The Olive Branch
If you are after Italian Mediterranean style food then you can't go wrong here. The bread is fresh the olive oil imported and the interior fresh and bright.
It's known locally for its Shrimp and Scallops Pesto and its Mediterranean Salad gets rave reviews. You will also find steaks, chicken pasta, and the like on the menu.
Both indoor and outdoor seating is available and the staff are very welcoming. The menu is quite extensive so you are likely to please most palettes here.
One of the best spots for lunch in Mount Dora.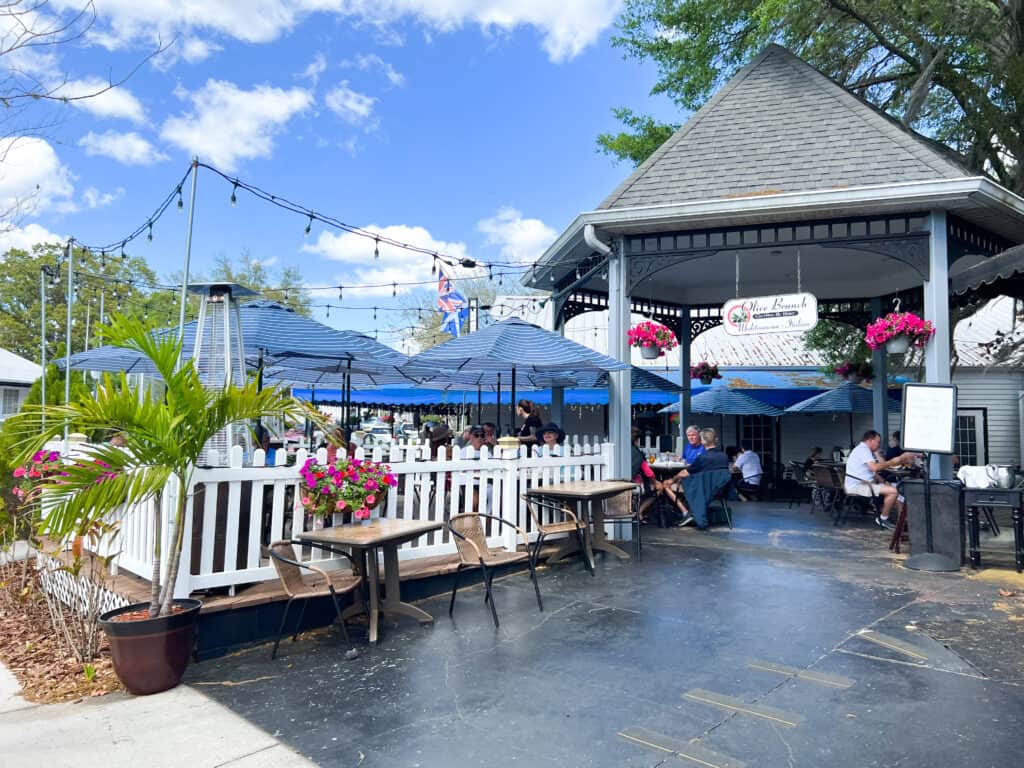 Windsor Tea room and Restaurant
Born in 1991 this quaint tea room and eatery serves some great pastries scones and tea. The downtown location makes it a great palace for a late lunch.
It's not just cake and tea though they do serves British staples for lunch such as Fisherman's Pie, Cornish Pasty, and Cottage Pie.
The high tea is a real treat with freshly-baked scones, slices of Queen Victoria sponge cake, assorted finger sandwiches, and homemade pastries with tea for two. Or if you just want a quick sweet treat try a scone with jam and cream.
There is often much talk about what comes first on an English scone cream tea, the jam or cream. I can tell you it depends on whether you are going to have a Cornish or Devon cream tea. In Cornwall, it's jam and cream and in Devon, it's the other way round so you choose.
The walls are decorated with items acquired by the previous owners from England. It's somewhat quirky inside and is a popular location. This restaurant is loved by the local community and is almost a tradition in the area.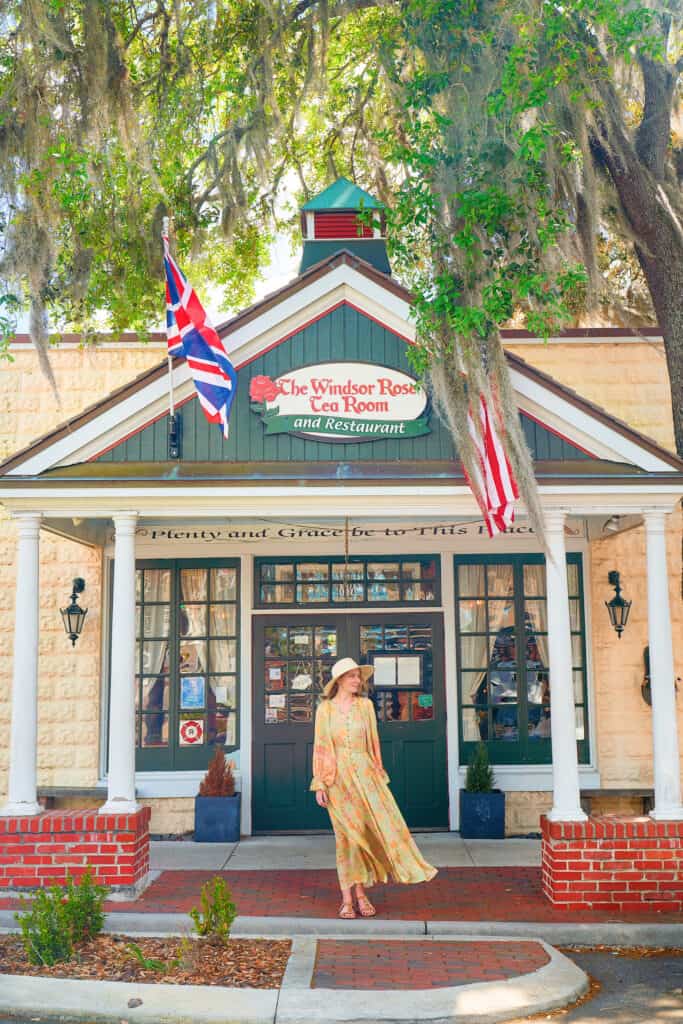 As you can see when it comes to restaurants in Mount Dora Florida there are so many to choose from. We hope this list of the best restaurants in Mount Dora has helped with your decision.
Food in this city is great and whichever of these best places to eat in Mount Dora you choose I know you will have a great time. Please come back and tell us all about your trip.