Are you looking for a list of the best things to do in Mount Dora? We have you covered for your trip to Mount Dora with suggestions of Mount Dora attractions!
Mount Dora is a small town about 35 minutes northwest of Orlando in central Florida. It is located in an area known as the Golden Triangle, along with the towns, Eustis and Tavares. It is an area that transports you back into old Florida and is situated on the beautiful Lake Dora.
Mount Dora has been ranked as one of the best and friendliest small towns in Florida, is extremely pet friendly, and also ranked as one of the Best Romantic Escapes in Florida! At just a 30 minute drive from Orlando you will feel a world away here!
This small town historic 100 year old town is actually located on a "hill" in Florida as it is 184 feet above sea level! The town is packed with things to do! With just 15,000 residents there is no shortage of activities! Mount Dora is known for its historical buildings, over 30 annual festivals, antique shops, parks, and the lake.
Whether you are looking to visit museums, take a train ride, shop for antiques and crafts, attend a fun festival like bike fest, blueberry festival or an antique festival you are in lucky! From amazing restaurants like 1921 that focus on Florida cuisines, to flights above Lake Dora or playing golf the Mount Dora attractions are endless!
10 Very Best Things To Do In Mount Dora
Downtown Area
Mount Dora is known for its vibrant downtown area with tons of antique shops, boutiques and restaurants lined with palm trees. The town has been rated as one of the best small towns and is over 100 years old.
The historic downtown area is also where most of the festivals in town are held. In fact, Mount Dora is known for having over 30 year round festivals! There is a festival for everyone! From arts and craft, music, seafood, antiques, blueberry, to bike festivals there is always a festival going on in Mount Dora. Just check the towns calendar to see a list of the monthly events!
After shopping for antiques take a break at one of the 20 restaurants located in the three-block downtown area. And make sure you stop by the Lakeside Inn a building that dates back to the 1880's and is Florida's oldest continuously operating hotel! Enough a drink or meal in the historic Tremain's Lounge, one of the best restaurants in Mount Dora!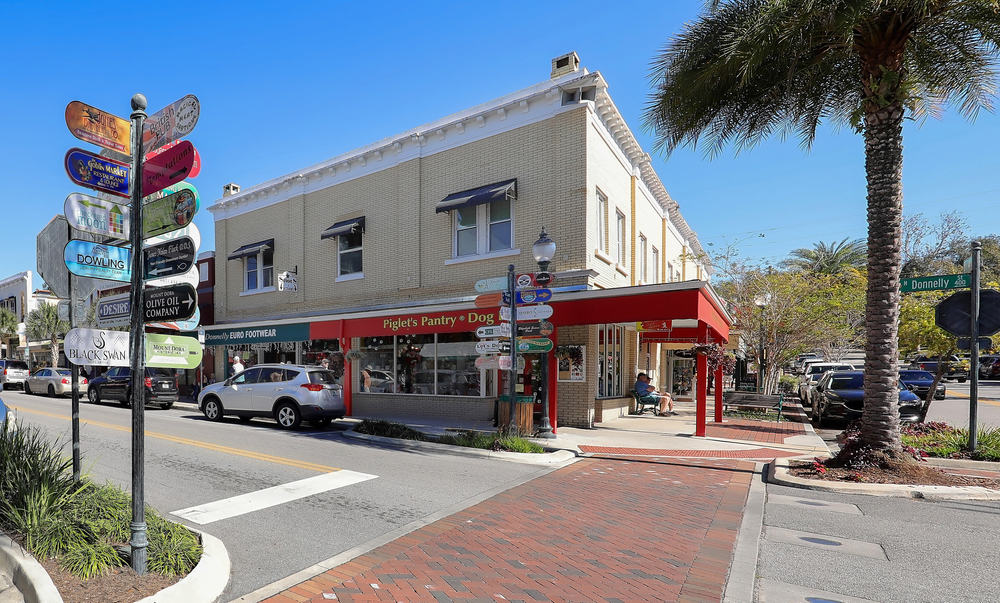 Lake Dora
One of the best ways to see Mount Dora is by water. The crown jewel of the town is Lake Dora. Lake Dona is 6 miles long and a third of a mile wide and is the biggest lake in the Harris Chain Lakes!
Come for a date night and enjoy the sunset on the Palm Island Park Boardwalk. Or take a tour of the 35-foot tall working lighthouse one of the few freshwater lighthouses in Florida!
There are tons of tours from boat to kayak to canoeing where you can take in the picturesque town under the cypress trees while spotting wildlife like bald eagles, turtles, alligators, fish and bids!
Take tour from the lake into the Dora Canal a mile long stretch that was hand dug and leads to a beautiful cypress swamp.
If you came to fish you are in the right place! Lake Dora is also one of the best places to fish bass in the area. It is referred to as the Bass Capital of the World!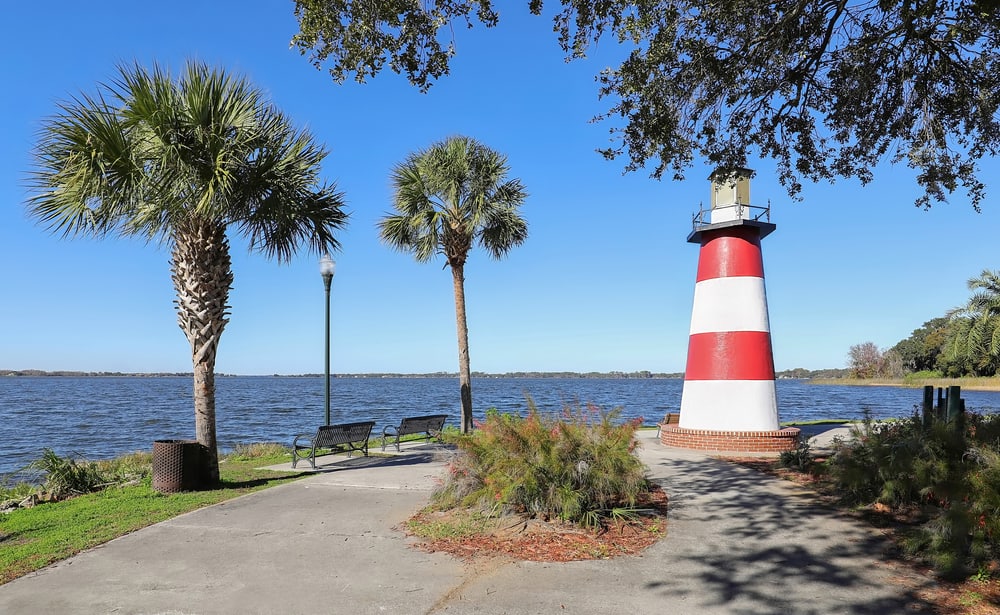 Modernism Museum
The Modernism Museum is a one of the best things to do in Mount Dora if you are looking for an art museum in the area! Opened in 2013 the museum offers rotating exhibits that change almost every year.
The museums focuses on brining in exhibits from around the United Staes such as the estate of David Bowie, the DNA of Modernism one of the greatest American furniture Artists who was a sculptor.
Moderinsm museum also showcases works of prominent progressive modern design figures of Wendell Castle and Wharton Esherick. Admission is just $8 for adults, and $7 for seniors and students and $5 for children. The museum is open Tuesday to Sunday from 10 am to 5 pm.
If you have worked up an appetite after touring the museum you can't miss restaurant 1921 that brings the "art of dining" to life. The restaurant is part of the museums and aims to source its ingredients from local purveyors around the Mount Dora area while encompassing art from the museum into the atmosphere!
Like the museum, 1921 focuses its menu around modern Florida cuisine presented in fresh and unique flavors!
Jones Brother Seaplane Tours
Are you looking for an adventure? Why not head to Jones Brothers Seaplane Tours and take a flightseeing tour over Mount Dora? Since 2010, Jones Brothers have been offering a variety of flight tours to visitors! They are the top rated airplane tour in central Florida so you are in safe hands!
Starting at just $79 per person you can take the Lake Dona Splash and Dash tour. At around 15 minutes you will explore Lake Dora and Mount Dora as well as experience a touch and go landing on the lake! Talk about exciting!
If looking for a long tour try the 30 minute flightseeing tour Harris Chain and River run! Have the chance to explore the Harris lake chain at low level while looking for alligators!
Or if wanting a special occasion or date night try the sunset tour where you fly over Lakes Harris and Griffin and onto the Ocklawaha River and Ocala National Forest before heading back to Lake Dona just in time for a flight as the sun is setting! Gorgeous views from the sky!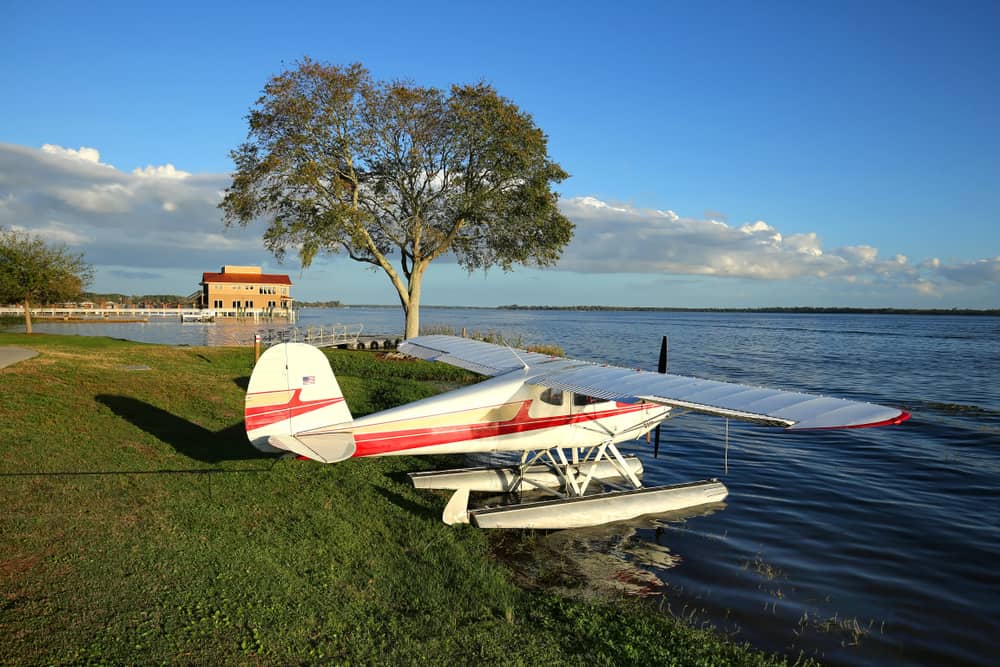 Renninger's Twin Markets
The highlight of things to do in Mount Dora is Renninger's Vintage Antique Center & Farmer's Flea Market. Over 140 acres of scenic, rolling land are filled with over 200 antique booths selling antiques, books, and collectables.
On the same property is the Mount Dora Flea and Farmer Market which has over 700 vendors both indoor and outdoor making it the perfect place to shop selling everything from produce, meats, cheeses, and a variety crafts.
On the second Friday of every month, catch the Mount Dora Art Splash. Walk through an outdoor art gallery, where the quirkiness of the town really shines. The shops stay open late and there is live music to enjoy!
The Renninger's Steampunk & Industrial Show in Mount Dora runs for two days in October, 9 AM – 5 PM each day. This festival is certainly off the beaten path, but completely unforgettable if you make the trip.
Donnelly House
The Donnelly House is a historic home located in Mount Dora. The home was built in 1893 as a gift to his wife by John Donnelly, who moved to Mount Dora from Pittsburg in 1890. He also served as the first mayor of the Mount Dona!
This historic home was added to the US National Register of historic places in 1975, and has since gone through a refurbishment . While tours are not offered daily for the inside of the home, on several dates throughout the year the home is open for visitors to view!
The Queen Ann Victorian style home was designed by famed architect George Franklin Barber and is instantly recognized by those in the area with its bright yellow facade and white trim and is now home to Mount Dora Masonic Lodge.
The downstairs area of the home can be rented out for weddings, small events such as meetings and luncheons. If coming during the holiday season make sure to stop by the Donnelly House as it is beautifully decorated with over 2000 holiday light display.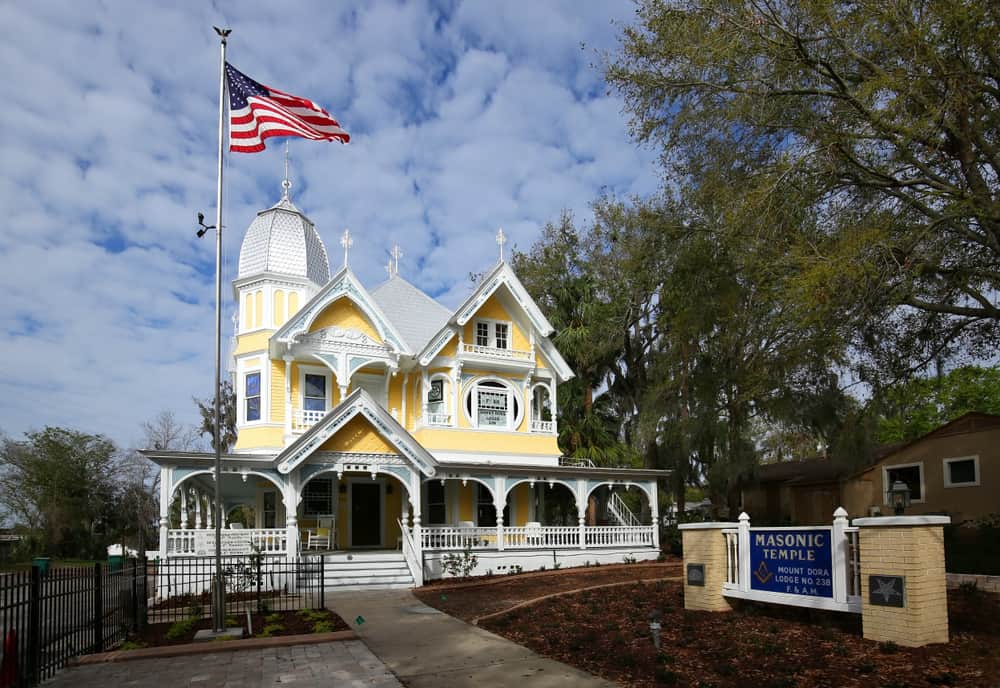 Mount Dora Olive Oil Company
If you are looking for fun things to do in Mount Dora, head to the Mount Dora Olive Oil Company. Located in downtown area, they are open Sunday to Thursday from 10 am to 6 pm and Friday and Saturday from 10 am to 8 pm.
Here you will find a very large selection of the freshest olive oils in a variety of flavors. You can taste each of the different oils offered on pieces of bread and choose your favorites to bottle!
Why not take home one of Mount Dora Olive Oil build your own 6 box. From green chili to basil, blood orange, herbs de Provence, garlic, lime, wild mushroom, and olive wood smoked are just a few of the flavors offered.
After moving on from oils you can try Balsamic flavored vinegars offered. From black mission fig to pomegranate quince or a cranberry pear they have flavors you wont find in your typical grocery store.
This is the perfect place to stop in and shop for vinegars and oils with knowledgeable sales staff that will help you find the perfect choice for your taste buds!
Palm Island Park
Palm Island is one of the free things to do in Mount Dora. It is an 8 acre nature preserve offering three covered picnic areas, 1.3 miles nature trail and a wooden boardwalk. While there are no restroom facilities here, the park is just a few minutes away from the downtown area. Just something to keep in mind.
The best thing is that parking is free or you can bike from downtown, bikes are just not allowed on the boardwalk. Visitors can expect to spot wildlife, such as alligators, snakes, birds, turtles, and other aquatic and plant life.
This is the perfect park to spend the day if you want to unwind and explore nature. Pack a picnic lunch, go on a nature walk through the preserve, or take the boardwalk through the marshy shoreline of Lake Dora.
You can even walk back across the beautiful boardwalk to Grantham Point park where the Mount Dora lighthouse is located.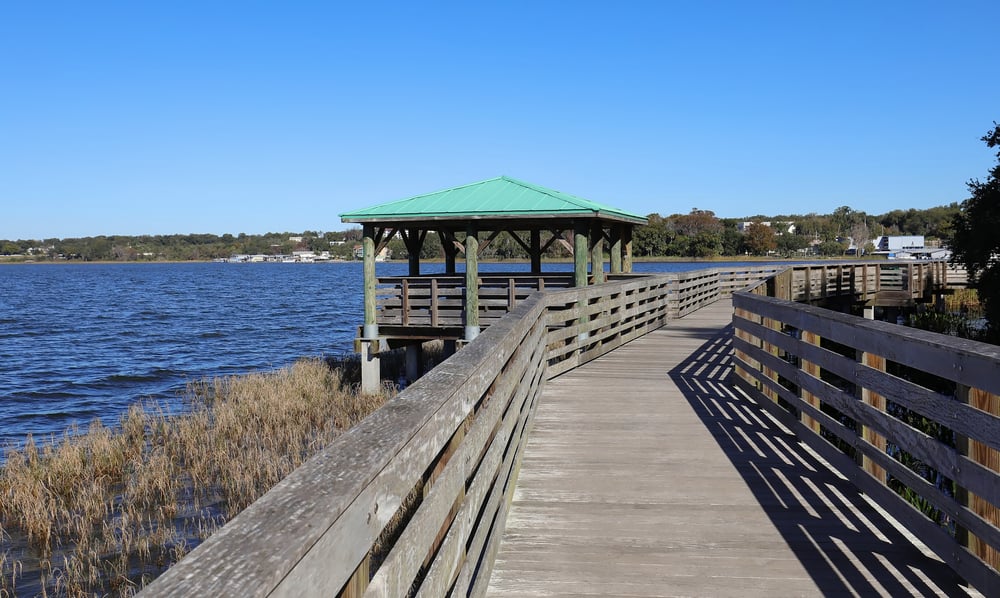 Mount Dora Golf Club
If looking for what to do in Mount Dora outdoors, head to the Mount Dora Golf Club. The club was established in 1945 when service men returning from World War II petitioned the city to open a course. First, opened as a members only club it is now open to the public.
This beautiful par 70 course sits on 88 acres and uses the central Florida landscape to include water features and creates unique uphill and downhill features to make play more challenging for golfers. And claims to have the longest 5,700 yards in Florida.
At just $36 for 18 holes with cart on weekends, and $32 during the week the course aims to keeps rates very affordable. While offering a veteran discount of $26 for 18 with a cart! You won't be disappointed in the course, as it is kept in great condition!
Royal Palm Railway Experience
If looking for unique and historical things to do in Mount Dora head to Royal Palm Railway Experience. Hop aboard a restored 1940's locomotive for a journey back in time while you explore the Golden triangle of Mount Dora, Tavares and Eustis.
The Golden Triangle route is a 2 hour journey explaining the history of the area while transporting you back in time all while in an air conditioned or headed 1940's train! If you prefer your ticket is good for all day and you can hop off at each of the stops, do some shopping have a bite to eat and hop on the next train!
Other train journeys include rails and brews with a beer tasting and 5 course meal prepared by Chef Williams at the Railway kitchen or try the Royal Wine Tour where you taste 5 different Florida wines paired with a 5 course meal!
The Royal Palm Railway also offers more family friendly Wizard of Oz and Polar Express, the Pizza express where on Saturday and Sunday you can enjoy pizza aboard the train making it perfect for a family outing! Or take one of the seasonal train rides offered!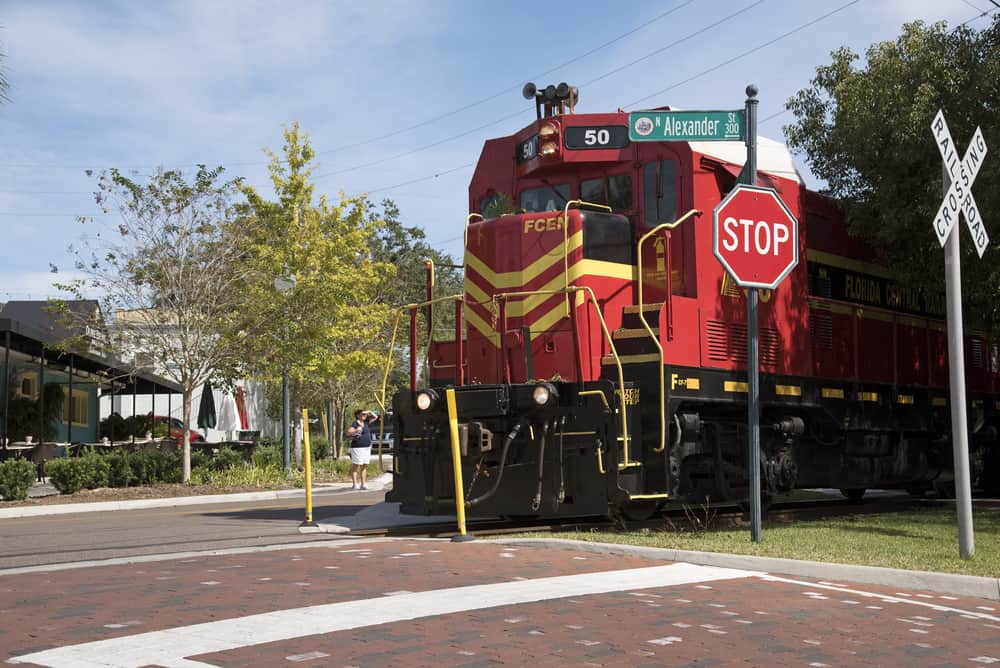 Did You Find This Post Helpful?
If so, we would love to keep in touch! We enjoy seeing photos and comments about your experiences in Florida! You can follow us on Instagram and we will repost your photos on our feed and comment too! Just tag us at @floridatrippers and hashtag #floridatrippers. We can't wait to see your travels!