Looking for the best Airbnb in Tampa for your next trip to Florida? We're here to help out with these suggestions!
There's a reason snowbirds and tourists continue to flock to Florida consistently. Between the sun, theme parks, beaches, warm weather year-round, and even a few natural parks, it's hard not to enjoy your time in this paradise.
In Tampa in particular you'll find classic areas with rich history, cigar companies, local breweries, a great theme park, zoos, be close to the water, and have great downtown views.
You also have great access to Many Beaches Near Tampa! The only thing that could make your trip even more memorable is finding the ideal Tampa Airbnb.
Airbnbs can be a great option when traveling as they allow you to stay in accommodations that are unique to the area as opposed to setting up camp in a generic hotel room. They also can allow you to connect with locals and often are kinder to your wallet than an average hotel would be.
So go ahead and take a look through our list of unique suggestions and find the best Airbnb in Tampa for you! There are so many places to stay in Tampa and these are some of the best!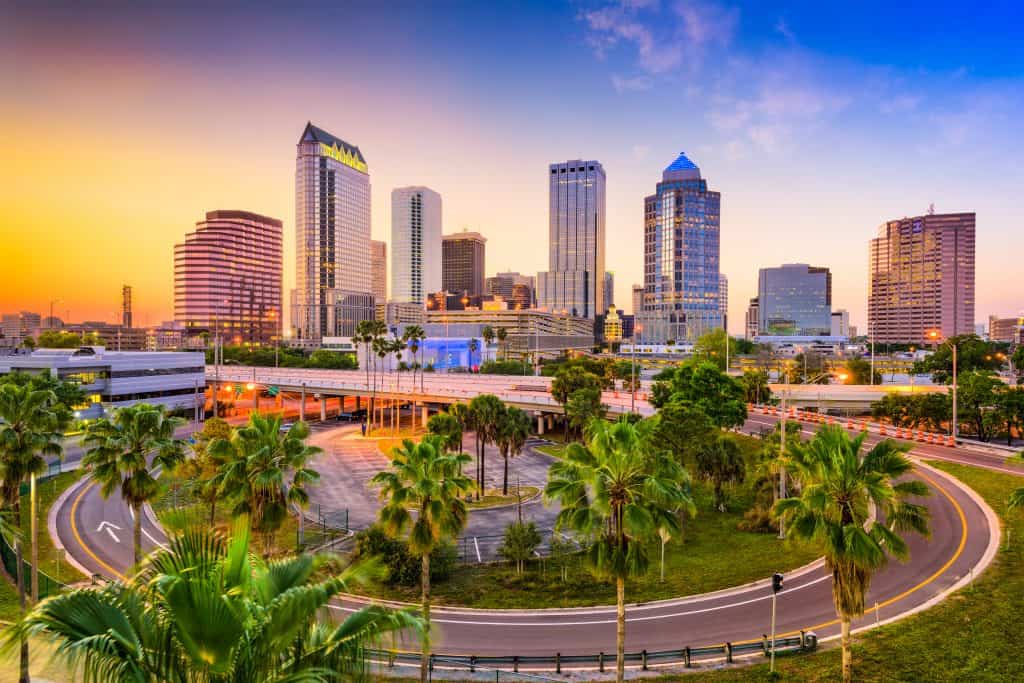 16 Best Airbnbs in Tampa (Waterfront Views, Bungalows, & More)
1. Chic Shack
When renting this Tampa Airbnb, you are located in a quiet neighborhood in Ybor City's historic district. This area features nightlife, restaurants, coffee shops and more!
This Airbnb in Tampa is only 15 minutes from Busch Gardens and only 30 minutes from the beaches in St. Petersburg. While it was once an antique woodshed, this tiny house has been completely renovated. It now has all amenities one could want, including an AC, two smart TVs, a perfect little kitchen, charcoal grill, and a fire pit.
Guests will have the entire shed and fenced tropical yard to themselves. It is pet friendly with fee and deposit! This lovely addition to our list of Best Airbnbs in Tampa can sleep 4 guests.
Click Here to Check Out Rates on VRBO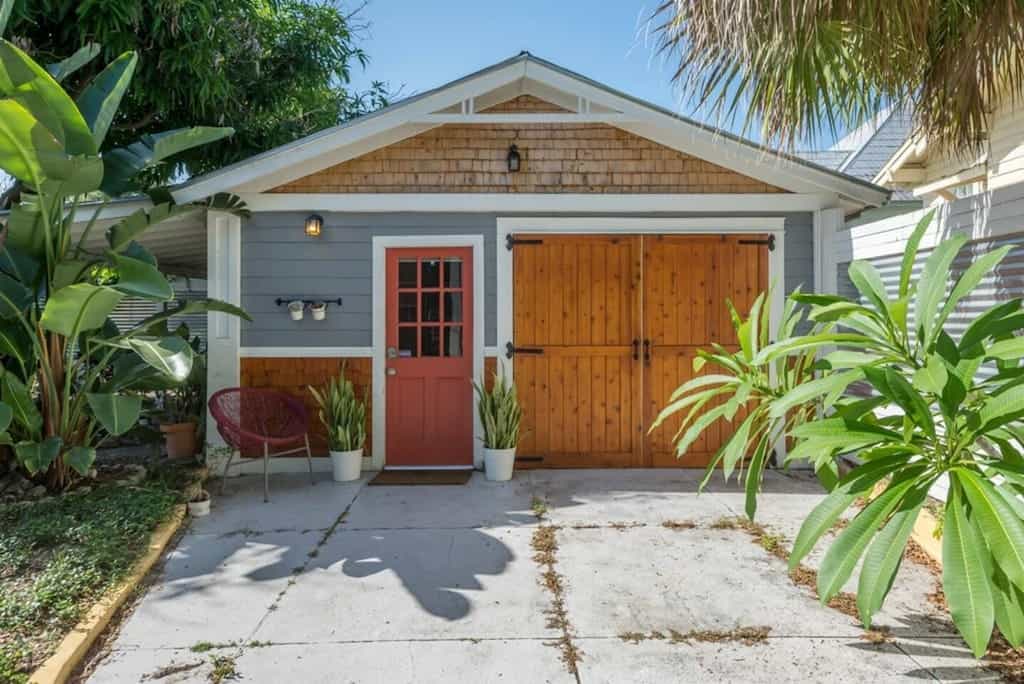 2. The Perch
Are you looking to visit the city of Tampa while still having a laid back and relaxing place to stay? This entry on our list of the best vacation rentals in Tampa is for you.
Aptly named "the Perch" this studio apartment has an enormous balcony overlooking the Hillsborough River. This balcony has a spectacular view of downtown Tampa. You can be part of the action of the city during the day and retreat to this little slice of paradise for sunset. If you feel like a nightcap, check out our favorite rooftop bars in Tampa.
This studio style Airbnb can sleep three guests. It has one full bathroom, and a kitchen spacious enough to cook a patio dinner worthy of this epic view!
Click Here to Check out Rates on VRBO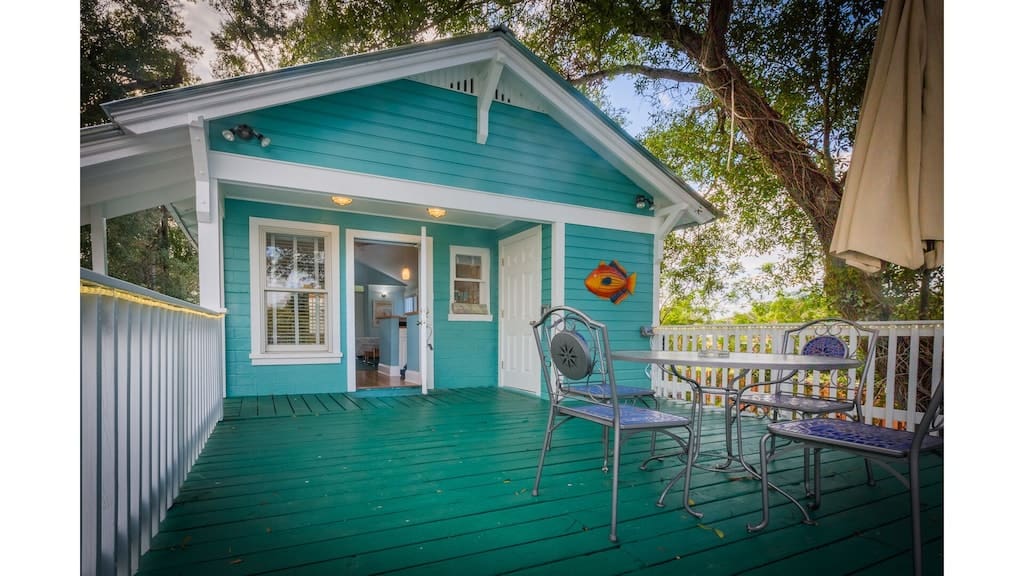 3. Beautiful Home With Tampa Bay View
This is truly one of the best VRBOs in Tampa! It is centrally located between Clearwater Beach and downtown Tampa so that you have everything you want to do right near your fingertips. If you are flying in, this Tampa vacation rental is also near Tampa International Airport!
The Beautiful Home With Tampa Bay View has views of the waterfront from almost every room. It is equipped with high-speed internet, cable TV, and more. In addition, it is located right across the street from a gorgeous city park which has a fishing pier, walking paths, picnic facilities etc. if you are looking to get out and explore while here!
Click Here To Check Rates On VRBO
4. Ybor Historic Loft
There is a good reason that Ybor is one of the most sought after neighborhoods in Tampa to stay in. It is full of historic charm, is very walkable, and has a street car system that is great for tourists. We love the Ybor districts and have included it on several of our best things to do in Tampa lists.
This loft is one of the best vacation rentals to choose in the coveted Ybor neighborhood. It is 2400 square feet and can sleep up to twelve guests. This Airbnb has seven bedrooms and two full bathrooms. It even has a regulation sized pool table for you to enjoy!
The thoughtful renovations paired with cool vintage vibe make this a truly special place to stay. You'll love the spacious kitchen and private gated parking for four cars (a real luxury in this neighborhood.)
Click Here to Check out Rates on VRBO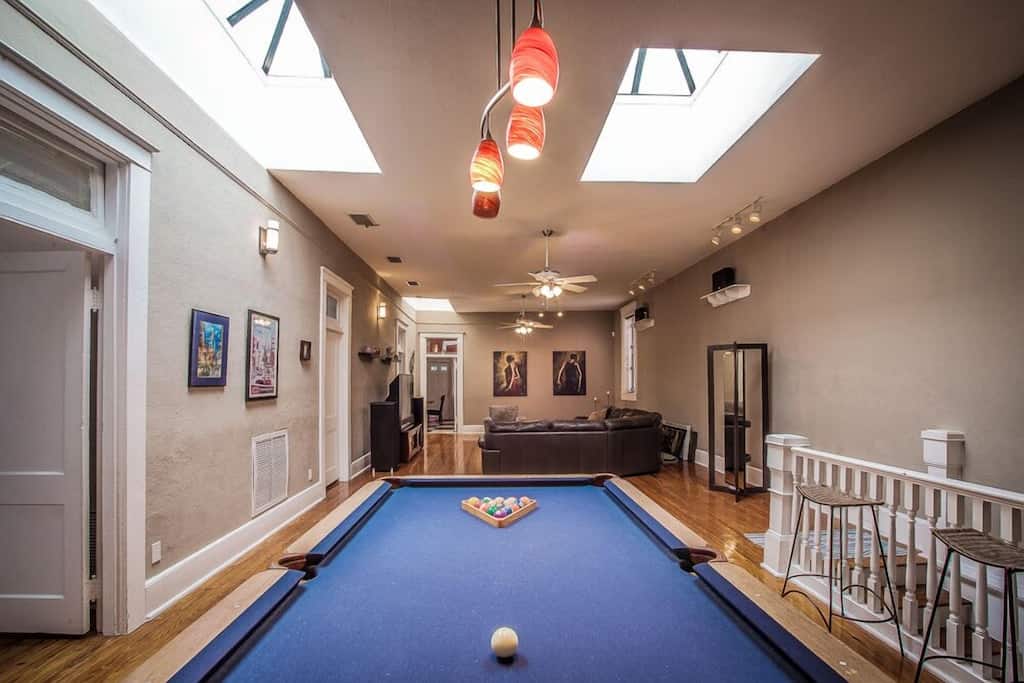 5. Private Paradise
This Airbnb in Tampa is perfect for a group getaway. It is a surprisingly reasonable price, especially considering it can sleep six guests. This spot has a large private pool, hot tub, as well as an epic outdoor grill and tiki bar.
The private tiki bar even has a TV so you can stream your favorite shows or movies in this luxurious backyard. This Tampa town home is 1230 square feet. It has three bedrooms and two bathrooms. This would be the perfect place to unwind and reconnect with loved ones.
Click Here to Check out Rates on VRBO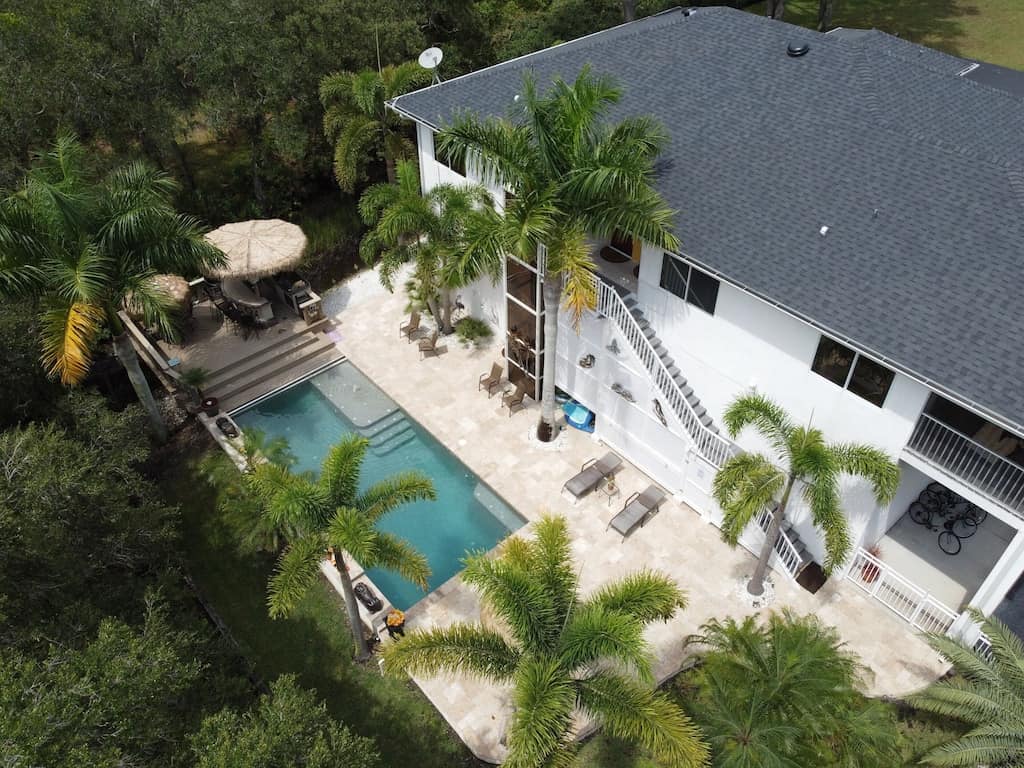 6. Boathouse on Hillsborough River
While Tampa doesn't exactly have beaches, it does have its famous Hillsborough river, How cool would it be to stay in a Airbnb in Tampa that shows off this gorgeous ecosystem that is ripe with adventure and wildlife?
When renting this boathouse on the Hillsborough River, you rent a private oasis with breathtaking water and downtown Tampa views. Here you can relax on the dock that literally rests in the Hillsborough River.
For location, you are conveniently located to everything near downtown Tampa, and the house itself is a relaxing getaway with modern amenities and an old Florida style!
Click Here to Check out Rates on VRBO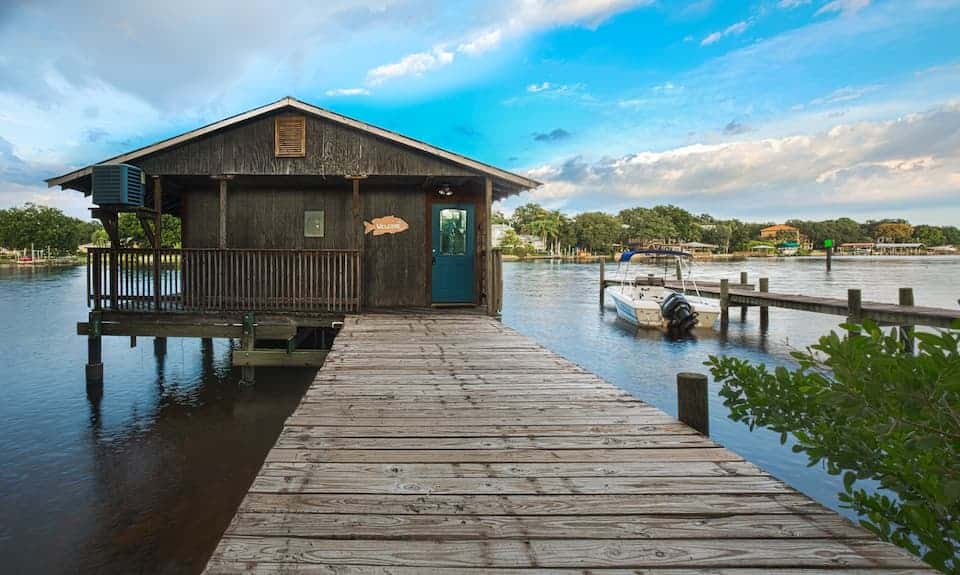 7. Surf's Up Cottage
This key-west style cottage is great to stay in when exploring then adventures Tampa has. This Airbnb in Tampa is detached from the main home and is separated by a fun background area– and it welcomes pets!
This Tampa Airbnb is styled like a studio and features a queen bed and a futon. The bathroom has recently been renovated and the kitchenette is perfect for your stay in Florida.
When renting here, you have full access to the back yard and cottage, as well as side-gate access to your parking spot in the driveway. This airbnb is fun and well themed, as well as perfectly located near the heart of downtown Tampa!
Click here to Check Rates on Airbnb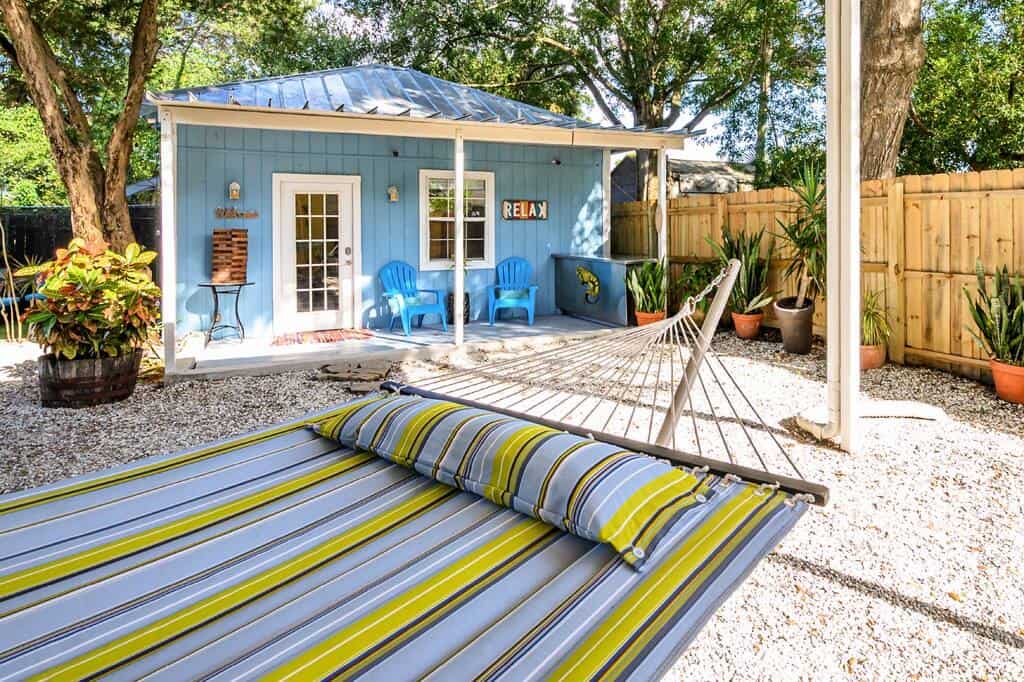 8. Botanical Cabin
This beautiful and secluded cottage makes a perfect Airbnb in Tampa! The cottage is on three acres of beautiful botanical garden just south of Ybor City.
This cottage acts like a detached oasis that will make you forget you're only a few miles away from the nosiness and crowds of downtown Tampa. Can you imagine a morning stroll on the acres of botanical tree farm with your coffee or tea in hand?
Tucked into the cute 1000 square foot cabin you'll have a small kitchen, two comfortable bedrooms, and a bathroom. It has a large screened in porch so that you can enjoy the tranquility of nature without worrying about bugs. This cottage core dreamland can host 4 guests.
Click Here to Check our Rates on VRBO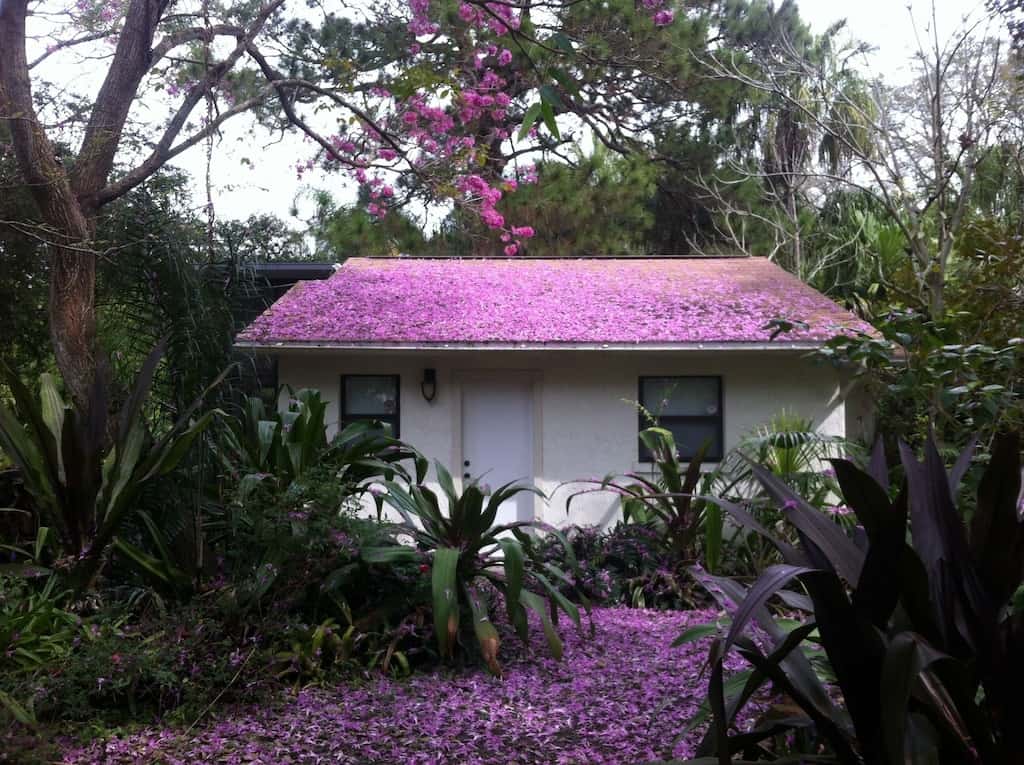 9. Little Harbor Resort
South of the hustle and bustle of Tampa city is this dreamy VRBO. Only a short walk from the beach, this resort has two heated pools, a jacuzzi, communal fire pits, and a fishing dock.
You'll love the slower, beachy pace of life in the Ruskin area. This lovely town home has three bedrooms and three bathrooms, so you can bring your whole crew! It has five bedrooms and can host 8 guests.
The Little Harbor Resort offers outdoor dining all day, a tiki bar, and 2 slips for boat mooring. It would be a great home base for a relaxing vacation.
Click Here to Check out Rates on VRBO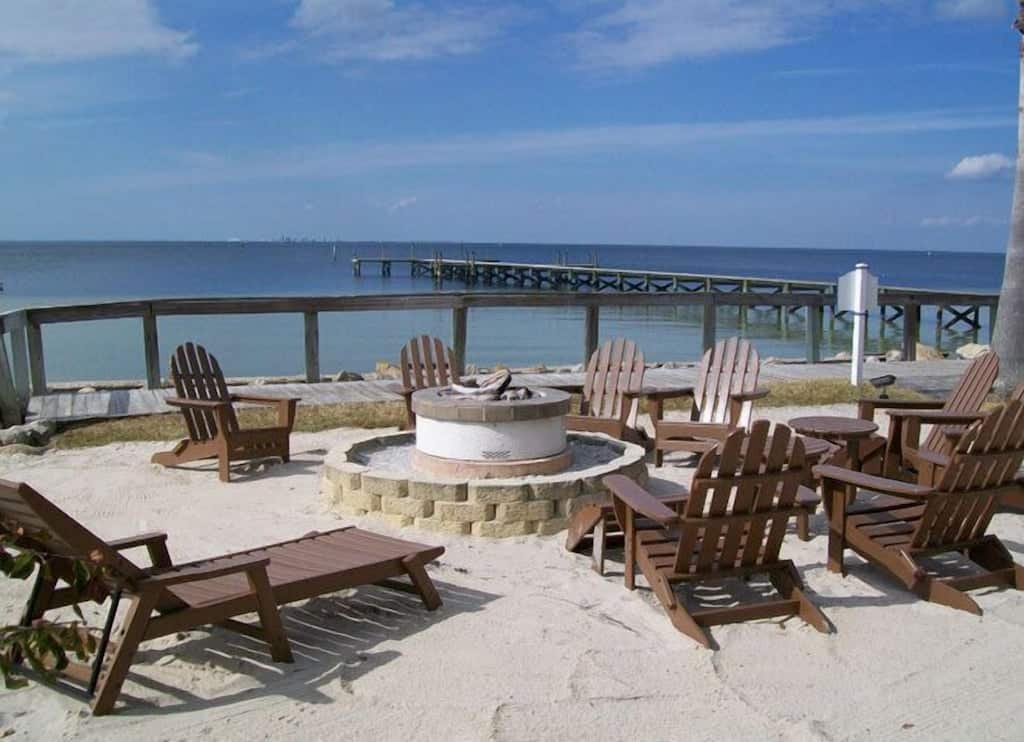 10. King Penthouse
See Tampa from a new perspective! This unit is on the 22nd floor of a luxury condo complex. There is a pool on the 8th floor and a grocery store on the 2nd, so you'll be able to get the essentials without even leaving the building.
This penthouse unit can sleep four guests. It has one bedroom and one bathroom. You'll love the free covered parking and beautiful gym facilities you get access to when you rent this unit. This would make for a great home base for a truly effortless Tampa getaway.
Click Here to Check out Rates on VRBO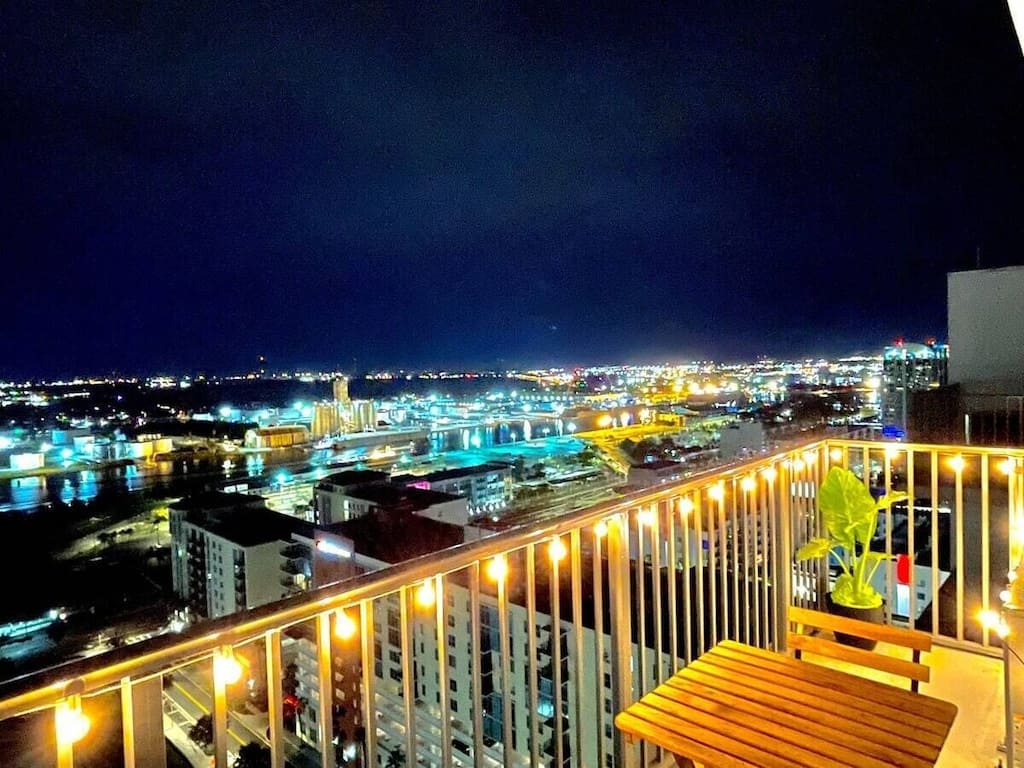 11. Sunshine Palms
If you are looking for an Airbnb in Tampa that is great for a luxurious getaway, this brand new home is a great option. This property can sleep up to six guests. It has three bedrooms and two bathrooms. The Master even has a Sleep Number bed, so you cna be sure to catch quality zzzzz's even while on vacation.
The beautiful landscaping, pool, spa, and outdoor furnishings might make it hard to leave this property. If you do want to explore the rest of Tampa, this house is only a few minutes drive from all the shopping and dining downtown and only about fifteen minutes from Busch Gardens. Busch Gardens is a notable addition to our list of the best things to do in Tampa.
Click Here to Check out Rates on VRBO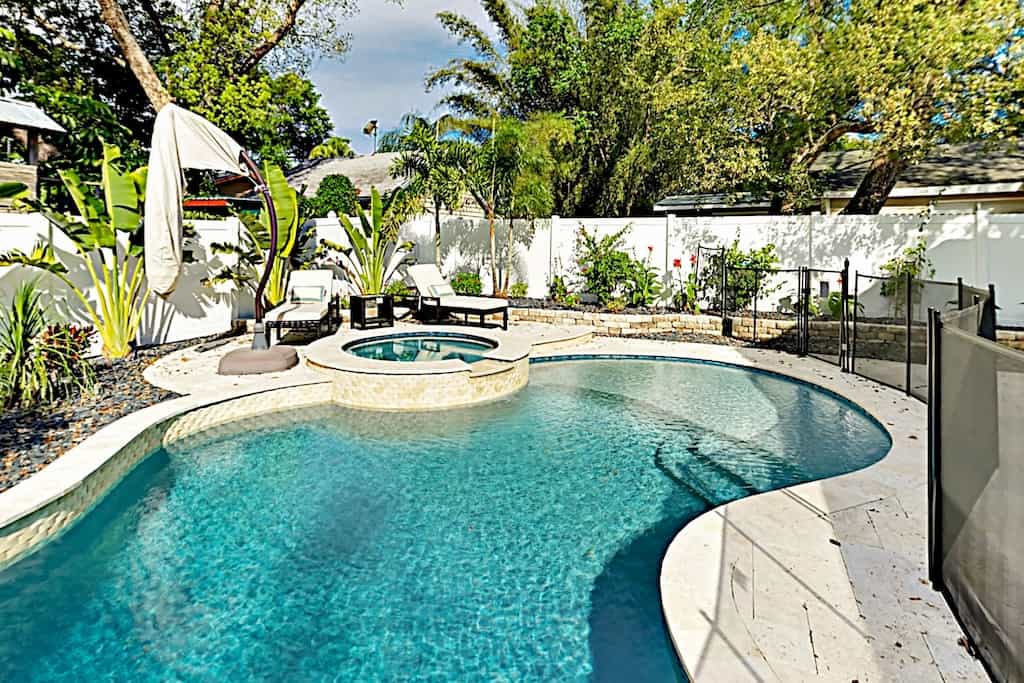 12. Gulfport Studio
While this Gulfport Studio isn't right in Tampa, it is so special that it definitely deserves to be included on our best Airbnbs in Tampa list. Just click through those listing photos, this isn't a vacation rental you want to miss out on.
This studio has all the style and functionality you need: colorfully designed and perfectly located, you can step out of this bungalow and find your way to Beach Boulevard, Gulfport Beach, a fishing pier and more.
Gulfport is known for its quirky shops, and this Airbnb definitely fits that vibe. It is fun, welcoming, and eccentric. This studio is heart of activity while remaining a comfortable and cozy space.
Click Here to Check out Rates on Airbnb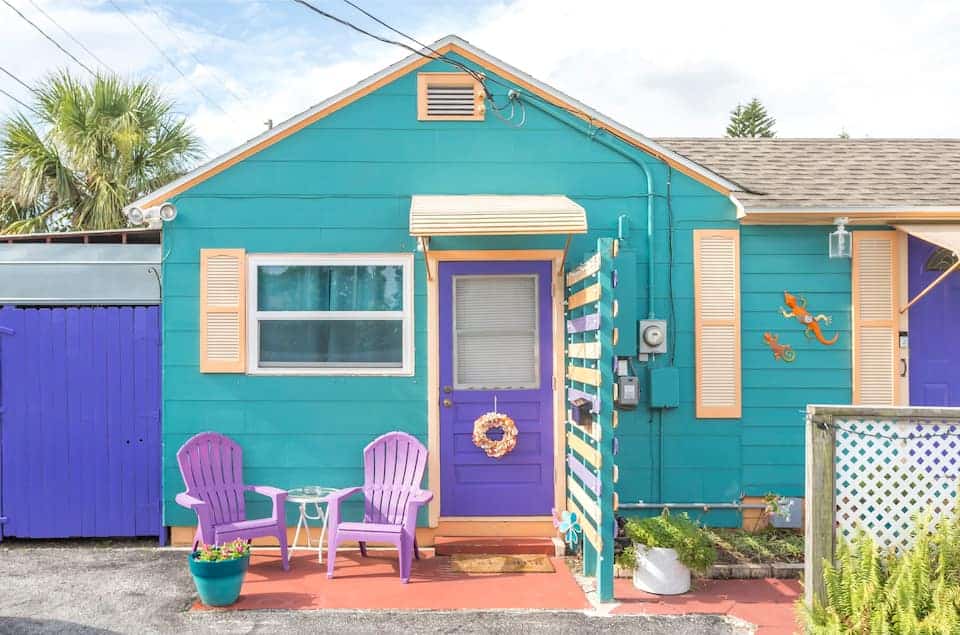 13. Tiny House Oasis
We also know St. Petersburg is not exactly downtown Tampa, but we wanted to include this Tiny House because of its unique features and great location. St. Pete is close to downtown Tampa (30 minutes!) and is full of nightlife, restaurants, leisurely activities and more.
This Tiny House is actually a hip and modern RV that has been renovated! Located just 2 miles from Downtown St. Pete, this space has a private dining room, kitchen, bedroom, and bathroom.
The outside space is a perfect oasis with a pool, main deck, sun lounge area and corn hole. St. Pete is known for its unique community, and you can immerse yourself in that by staying here at this unique Airbnb.
Click Here to Check Rates on VRBO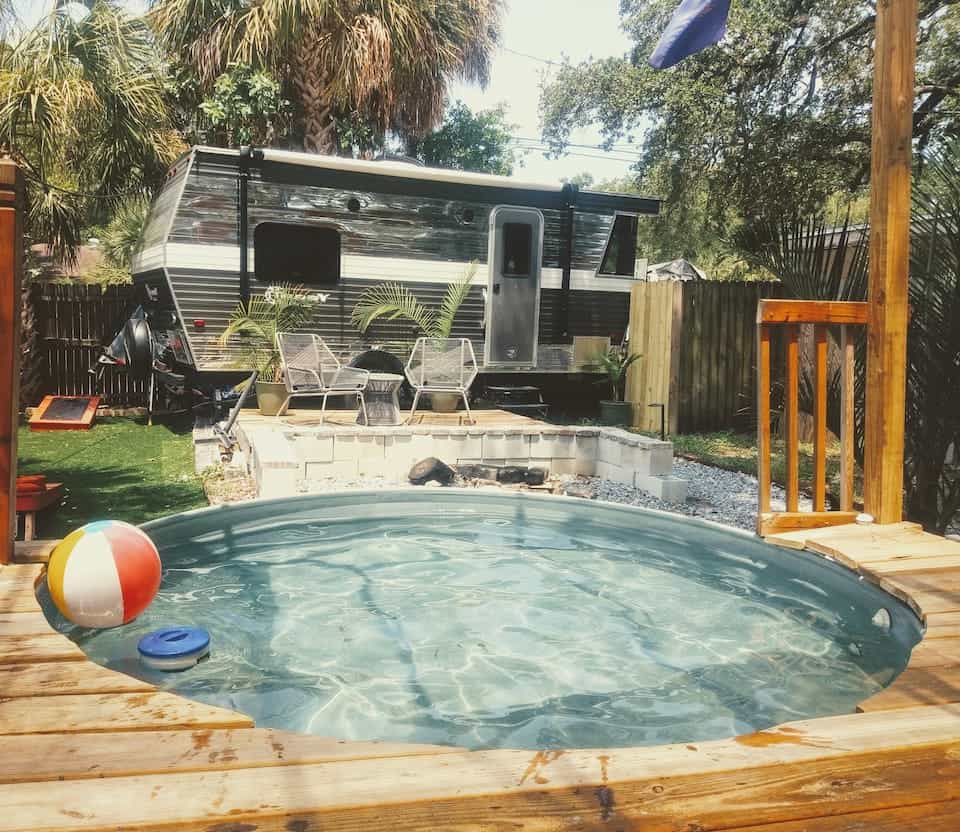 14. Vintage '71 Airstream
We also think the Bradenton area is a great place to stay close to Tampa, which is why we are including this Vintage Tiny House in our Airbnb in Tampa list!
This Airstream is parked close to world-famous beaches in Bradenton and is nearby tons of family-friendly activities. You can also enjoy the pool, hot tub, and fire pit in the common area of this space's open common area.
The remolded Vintage '71 is newly remodeled with lots of light beachy finishes, a surprisingly spacious kitchen, and a projector for movies and fun. It's parked beneath a tree canopy and is perfect for a unique stay!
Click Here to Check Out Rates on Airbnb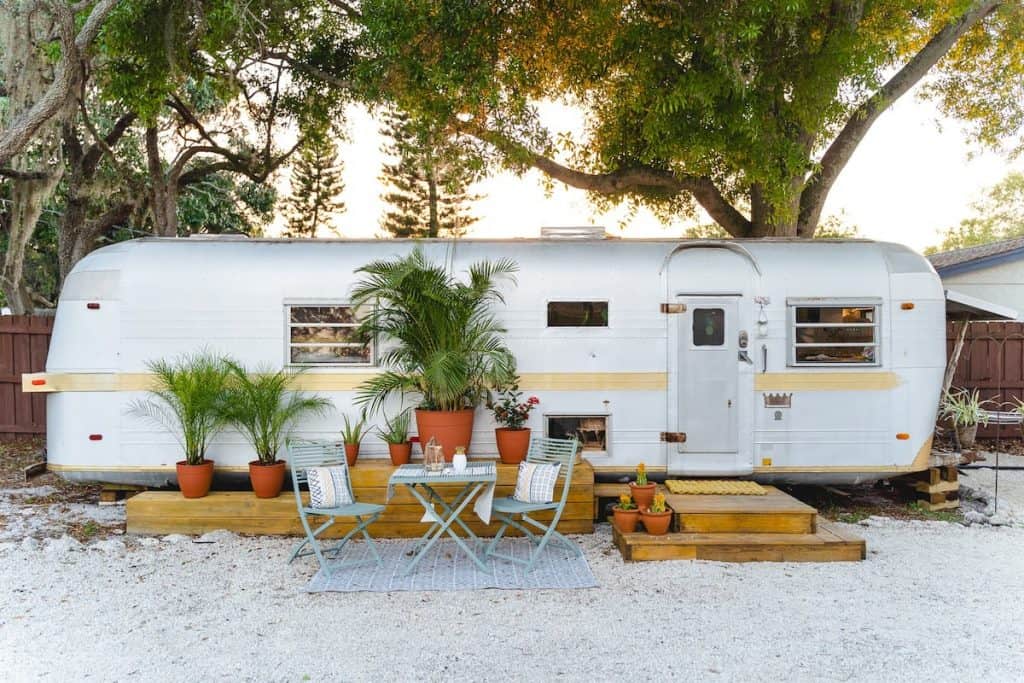 15. Private House with Pool and Cabana
If you're looking to stay in something a little more spacious, and closer to Tampa, check out this private house that features a pool and cabana! It's spacious kitchen and island inspired decor really make this an Airbnb to remember.
This space is like your own private oasis. This Airbnb in Tampa is totally private and is a single-family home with a large pool. It can sleep six guests in three bedrooms. The home has four bathrooms, which have been recently updated and have nice finishes. It also has a really nice screened in porch for soaking up the Tampa sunshine, without worrying about bugs.
Click Here to Check out Rates on VRBO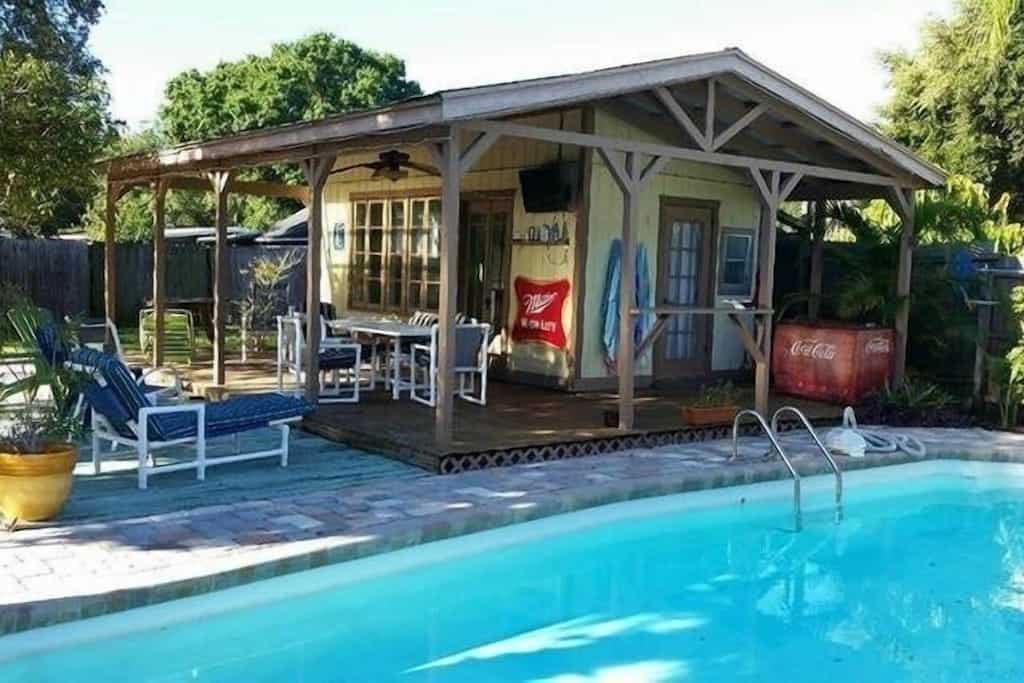 16. Modern Tropical Oasis
Closing out our list of the best Airbnbs in Tampa with this incredible luxury property. This half acre estate is giving all the cool modern vibes. You definitely want to scroll through the listing photos of this vacation rental!
This estate can comfortably sleep 12 guests, so you can bring your family and friends! It has five amazing bedrooms and also five full bathrooms. The home has amazing luxury touches like a 25+ foot window for admiring the grounds and a sleek chef's dream of a kitchen. There's even a cool wet bar area stocked with beverages! The master closet and bathroom are also fit for royalty. You're sure to have an amazing, luxurious time in Tampa if you stay here!
Click Here to Check out Rates on VRBO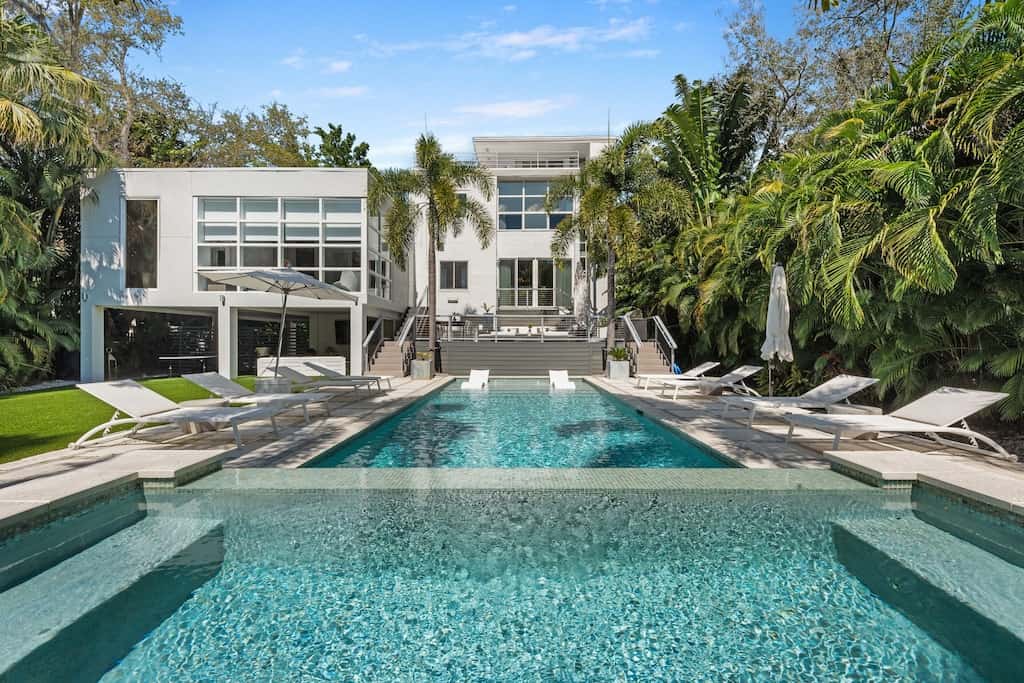 We're thrilled you've chosen to visit Tampa We hope you've found a location on this list that catches your eye so that you end up in the best Airbnb in Tampa for you. There's truly something for everyone in this city! And if you're looking for things to do check out our article on the best beaches in Tampa or the best day trips from Tampa!
Whether you're staying on the water, in a local town, or in the heart of the city, you're sure to enjoy your time in Tampa. Let us know if you have any questions or comments as you go about choosing your next Tampa Airbnb.
Did You Find This Post Helpful?
If so, we would love to keep in touch! We enjoy seeing photos and comments about your experiences in Florida! You can follow us on Instagram and we will repost your photos on our feed and comment too! Just tag us at @floridatrippers and hashtag #floridatrippers. We can't wait to see your travels!