Are you searching for the best restaurants on Anna Maria Island? Then you are in the right place!
Anna Maria Island is hailed as being the most beautiful island in Florida, and one of the most beautiful islands in the world! That's a pretty amazing title and, once you visit, you will soon see why. But since you can't spend all your time lounging on the beach you are going to need some places to eat in Anna Maria Island. And we have you covered!
We have compiled the best restaurants on Anna Maria Island for you to enjoy while on your trip. Whether you are looking for breakfast, lunch, dinner or even brunch we have something for you. We also have several different kinds of foods so you can find whatever you are in the mood for!
And while you are planning be sure to check out some of the incredibly gorgeous florida VRBO vacation rentals and the best Airbnbs in Florida! There are some gorgeous options right on Anna Maria Island.
There are so many lovely options for restaurants on Anna Maria Island that you are sure to find something you love.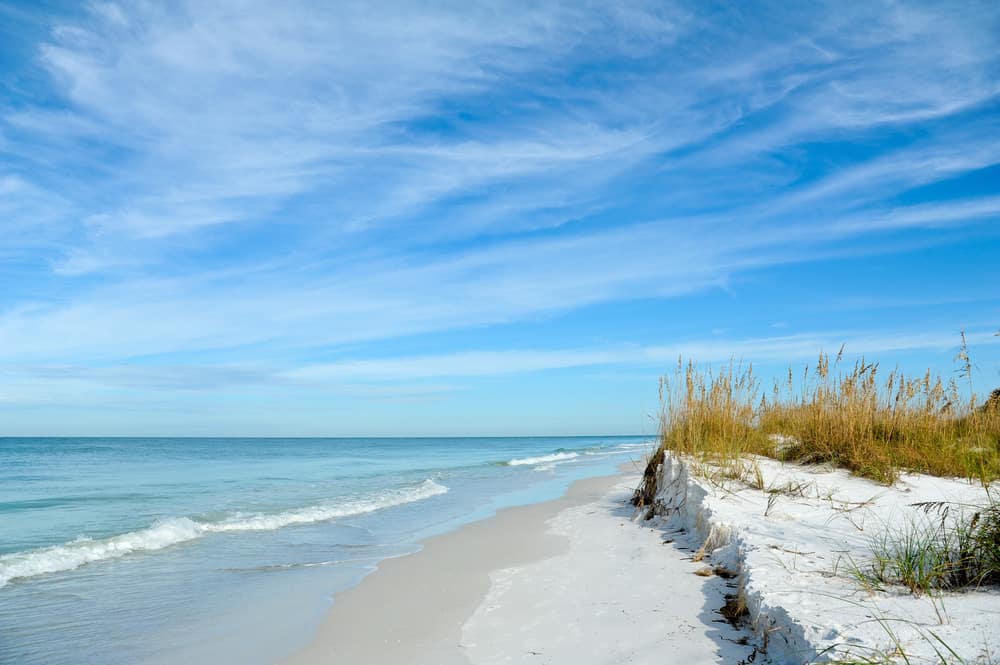 15 Best Restaurants On Anna Maria Island You Must Try
Hurricane Hanks
If you are wanting some unfussy eats at one of the best restaurants on Anna Maria Island then this is a great place to stop by.
Hurricane Hanks' claim to fame is their laid back, unfussy food options. We're talking loaded potato skins, fish and chips, burgers and the like. The prices are similar to other restaurants of this nature and you will pay anywhere from around $10 (for a full size house salad) to around $25 for some more selective seafood options. But most dishes on the menu will be between $10-$20 per plate. Definitely plan on giving a few different dishes a try; the peel and eat shrimp are fantastic and they have a really delicious crab cake.
If you are into craft beers then Hurricane Hanks is also a great place for you to check out. They are well known for their craft beers and cocktails so you could definitely try a few new things here. And they have a great selection of wine.
If you're traveling with kids this is a great place to stop by as they have a great, and affordable kids menu. All the food tastes so fresh and flavourful and the portions are a good size so you won't leave hungry.
And, if you would prefer to take your food else where, both the restaurant and the liquor can be ordered for pickup or delivery. So you can enjoy the delicious food of one of the best Anna Maria Island restaurants without waiting for a table!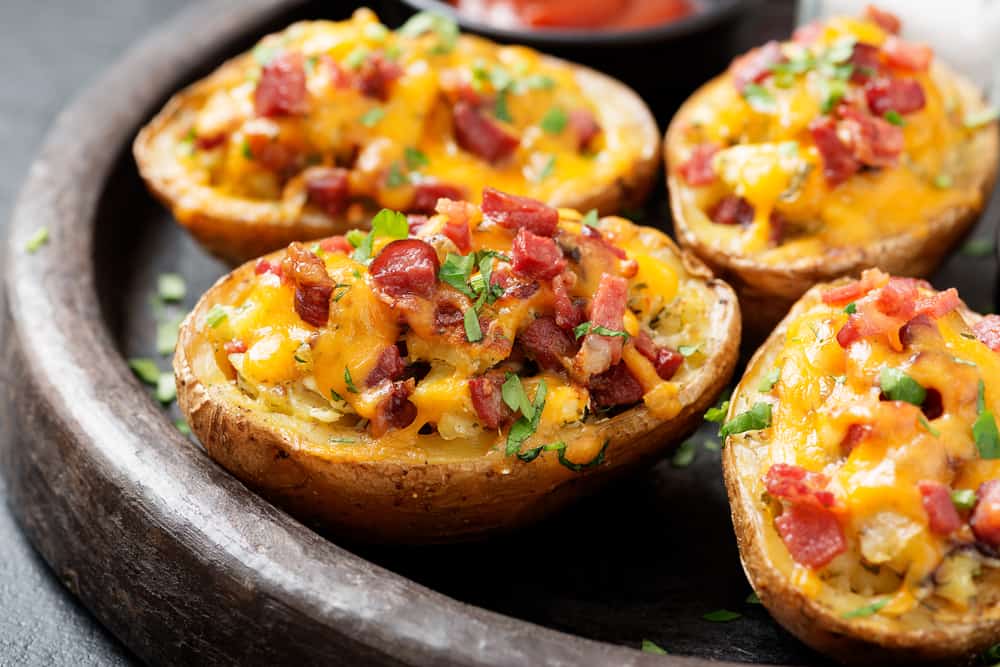 Anna Maria Beach Cafe
If you are looking for a restaurant on Anna Maria Island where you can dig your toes in the sand while you eat and look out on the beautiful turquoise waters then Anna Maria Island Beach Cafe is for you. It is one of the best beachfront restaurants on Anna Maria Island.
This super laid back restaurant is open for all three meals of the day so you can pop by here whenever suit you. And it sits right on a beautiful stretch of beach. It is one of the best beachfront restaurants on Anna Maria Island!
The Anna Maria Beach Cafe also has a great menu with so many different options. Breakfast in Anna Maria Island here would look like omelettes, all you can eat pancakes and waffles.
Lunch on Anna Maria Island at Anna Maria Beach Cafe has all your laid back, no fuss favourites. There are wraps, sandwiches, salads, coleslaws, sides and a kids menu. The lunch menu continues through dinner with one really fun addition – live entertainment! You can enjoy your food and some dancing in the sand!
If you really want to make the most of Anna Maria Beach Cafe you could set up on the Manatee Public Beach (which we suggest as one of the best day trips from Tampa) that's in front of it and enjoy snacks and meals from the cafe all day.
The Sandbar Restaurant
The Sandbar Restaurant is a great restaurant on Anna Maria Island for seafood. They have some classic seafood standbys along with a few unexpected twists to liven things up – like grouper Reubens!
Located directly on the beach this is one of the best beachfront restaurants on Anna Maria Island. Not only can you dine directly on the beach but they also cater to special events and have some staff on hand to help you plan the wonderful details of your event. So if you have been planning your wedding, family reunion, birthday or other special event then The Sandbar Restaurant could be a great option for you to have your event.
There is sufficient parking at the Sandbar Anna Maria but they don't take reservations. So, plan on arriving a bit earlier for dinner or plan on needing to wait a bit for a table.
The menu isn't very large but it offers a nice variation and even includes vegan and gluten free options. The Sandbar smoked fish dip is delicious and is available in both a gluten free and vegan option! Eating here will cost around $20-$30 for food and more if you plan on ordering drinks. As a great bonus, you can also enjoy the sun setting over the water during your dinner if you time your visit accordingly!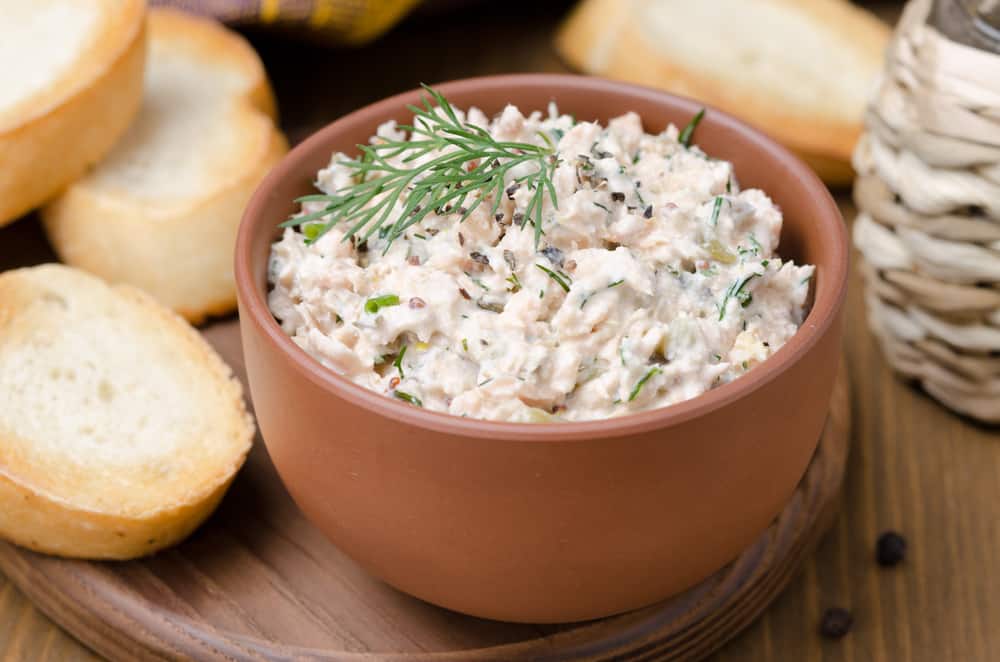 The Waterfront Restaurant
When it comes to restaurants on Anna Maria Island with a view the Waterfront Restaurant has you covered. You can enjoy a meal on their patio and enjoy a beautiful view of the water, skyway bridge in the distance and the pier. It's a great combination and a wonderful option for waterfront restaurants on Anna Maria Island.
A meal at The Waterfront Restaurant is a bit steeper than some other places but the food is delicious. You will be looking at $50-$100 per person (with food and drinks). But, with that cost, you will be getting truly amazing food and incredible service. The pleasure of being here shows in the warmth of the staff and quality of the food.
As for the menu, they have a collection of traditional and modern dishes all made with fresh, local ingredients. Some options include Wasabi crusted Tuna, Chicken Parmesan, and fried shrimp. Their menu is also clearly marked for anyone in search of gluten-free options (including gluten free buns!) and they have a delicious kids menu as well.
Be sure to try the scallops and porkbelly dish from the dinner menu or the salmon. They are so good! Actually, they are quite well known for their seafood so you really can't go wrong. Be sure to check their lunch and dinner menus before you go so that you can choose the menu you like the most – though, you may not be able to choose and end up going for both meals!
The Feast Restaurant
Looking for one of the restaurants on Anna Maria Island that has a seafood heavy menu? Then the Feast Restaurant is a great option for you! The Feast Restaurant has a wide selection of seafood options and they are all raved about.
And not only is the food amazing but the service is top notch. If you happen to be traveling with food allergies, the server and kitchen staff will work with you to navigate the menu so that everyone can have a delicious meal. Of course, if you have an extra concern be sure to call the restaurant in advance to discuss those concerns!
Seafood isn't all they have of course. They also have incredible fresh and colorful salads and the best pizzas. The pizzas are especially great because if you don't want to order one of their pre-set combinations you can create your own from over 20 different toppings!
The food here is truly beautiful as well as they plate all your food with a wonderful artistic eye. Some favourites to give a try include coconut shrimp, hogfish sanabel, or the shrimp and lobster risotto.
Between the intimate restaurant setting and the beautiful and delicious meal you are sure to enjoy a fully immersive dining experience. The Feast Restaurant is open for both lunch and dinner so you can decide whether you would like lunch on Anna Maria Island here or dinner!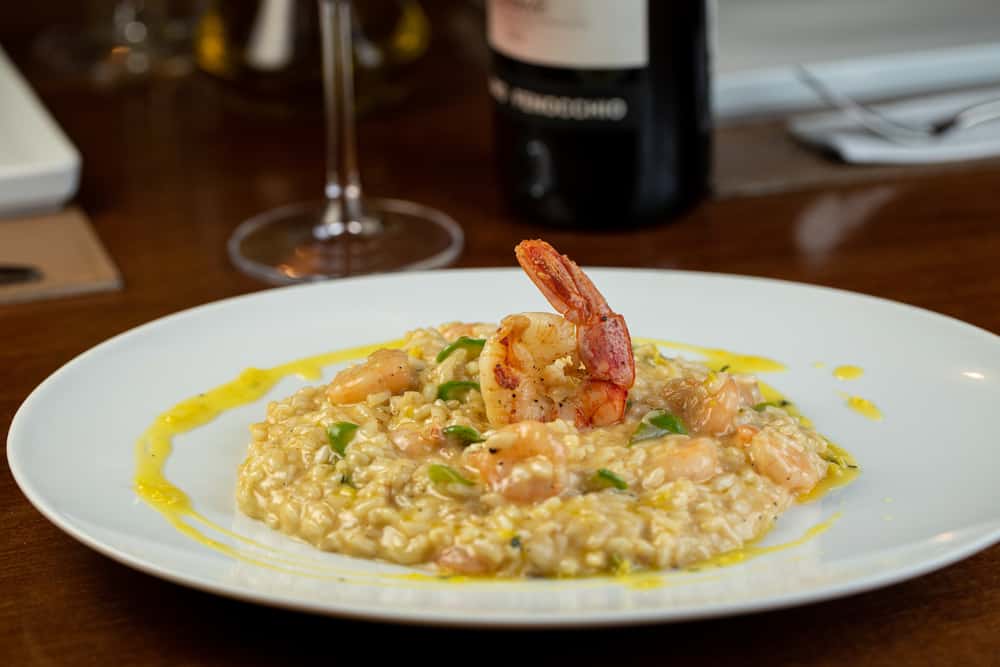 Beach Bistro
Beach Bistro is a fantastic option for restaurants on Anna Maria Island. It is is an upscale dinner only restaurant that is not only beautiful and romantic but it is also one of the amazing waterfront restaurants in Anna Maria.
You need to make a reservation to dine here and we recommend you check the sunset time and plan your reservation to be about an hour before sunset so that you have an incredible sunset over the water as you enjoy your amazing meal.
Every detail is meticulous in the Beach Bistro. From the elegant decor to the wine selection to the perfectly plated plates you will absolutely love your experience here. As an added element you can even dine outdoors on the beach when it isn't sea turtle season.
The Beach Bistro menu is presented in "acts" and you will love getting to pick your dinner item from each act of your meal right through to the final performance of dessert! The Beach Bistro is a testament to how good food can taste. Eating truly is a special eating event here. Some menu options include the lobster, scallop pan roast and chocolate truffle terrine. And, to help cater to as more preferences they have a menu for vegan selections as well!
It is definitely one of the beachfront restaurants on Anna Maria Island not to be missed!
Wicked Cantina
If you are looking for a restaurant on Anna Maria Island that serves great, well known Mexican food favourites you will want to check out the Wicked Cantina. They are open for all three meals of the day and have a great happy hour with margaritas that will make you wonder if you have stepped into Margaritaville. Be sure to try the Wicked Cantina Margarita!
You will look at spending between $10-$30 per person here depending which meal of the day and how many drinks you order but the portion sizes are great and the food packs a lot of flavour. The location is also great; it is right across from the beach so you can grab a seat on the patio and look out over the sand and breathe in some of that fresh salt air.
Be sure to check out their entertainment schedule before you go so that you can plan to visit during some live entertainment to add to your experience. You are sure to enjoy this laid back Mexican restaurant one of the beachfront restaurants on Anna Maria Island.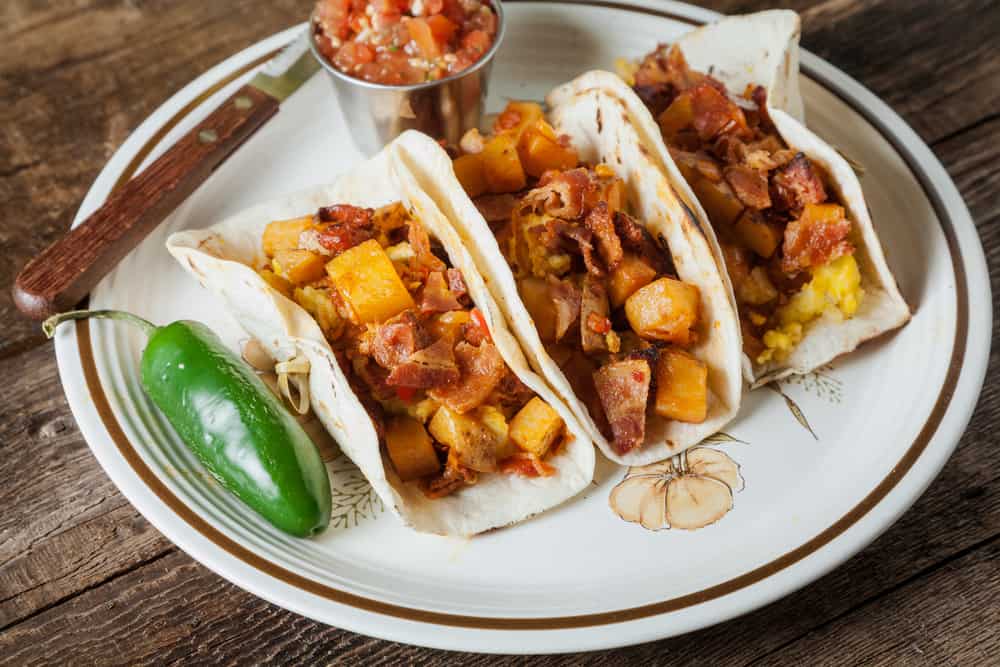 Gulf Drive Cafe
Gulf Drive Cafe is another great restaurant on Anna Maria Island. It is also another of the great beachfront restaurants in Anna Maria!
What really sets the Gulf Drive Cafe apart from other beachfront restaurants in Anna Maria is that the restaurant is on it's own 2 acres of beach! That means you can literally dig your toes in the sand while you eat! This also means that if you are dining with children they can play around in the sand while you wait for your meal. It's built in entertainment!
The food is also incredible. The portions are a great size and the prices are reasonable. You can sit in their full service restaurant with it's cosy beach vibe, on the beach, or head over to their tiki hut style full service bar called the Kokonut Hut. Wherever you choose to sit be sure to give the Signature Gulf Drive Tacos a try!
We're sure you will love the Gulf Drive cafe and it's incredible beachfront location.
Rod and Reel Pier
Rod and Reel Pier is a not-to-be-missed restaurant on Anna Maria Island. It isn't just one of the waterfront restaurants in Anna Maria is is actually on the water!
Rod and Reel Pier restaurant is located at the end of a historical pier that's been around since 1947. The food here is so fresh that you can literally see them fishing for the seafood off the side of the pier. The menu is a no-fuss seafood approach but full of taste.
You'll find the classic grouper dinner here – grilled, blackened, or fried as well as an assortment of other great options! And the Rod and Reel Pier is open from 9am-8pm so you can head there for any meal of the day that you may like.
Kids will also enjoy this restaurant as there is something uncommonly fun about walking to the end of a pier to eat your meal on the water. They also have a lovely, kid-friendly menu – so that helps! Rod and Reel Pier is definitely one of the places to eat in Anna Maria worth checking out.
Minnie's Beach Cafe
If lunch on Anna Maria Island is what you are after then Minnie's Beach Cafe is a restaurant on Anna Maria Island that you should definitely check out.
Minnie's Beach cafe offers amazing service and people often head back there more than once during their stay on the island. The daily specials are changing all the time so there will always be something new that you can try out.
This unassuming space is filled with lots of little treasures to discover and has a fun beach diner feel to it. Be sure you head there with cash as that is the only payment method accepted. However, if you should forget, no need to worry! They have an ATM machine right next to the door to help you out.
Beyond lunch on Anna Maria Island, Minnie's Beach Cafe also offers an amazing breakfast. Just be sure you arrive with time to wait a little in case they are busy. It will be worth the wait though as the portions are huge, the cost is reasonable and the service is friendly. This would be a great place to head for brunch and be sure to consider ordering the Big Easy. With two eggs, home fries or hash brown, a patty, link sausage, bacon, home made biscuit, sausage gravy, grits and a slice of toast it is definitely big and so tasty that it is super easy to eat.
Minnie's Beach cafe is a place where you could start for breakfast in Anna Maria at Minnie's Beach Cafe and want to stay until lunch!
French Table
Enjoy a meal at the French Table is a must when looking for restaurants on Anna Maria Island. This french restaurant serves of an array of dishes that all have the comfort of a home cooked meal. The French Table is family owned and operated and their passion for their food comes through in every dish.
The exterior of the French Table definitely doesn't give you any hints of the amazing experience inside. The passion for food is apparent in the flavours and you will be happily transported to southern France for your dinner.
You can begin with a smooth and perfectly creamy Soupe À L'oignon (French onion soup). Then head to the Grouper Sauce Mangue which is grouper cooked to perfection in olive oil and served with fresh mango, rice and fresh vegetables with a mango lemon orange sauce. And top it all off with a Flan de lucette (egg and caramel flan). You are sure to see why the french are known for their food!
If you want to pair this all with a good French wine, they also have a great selection and can help you choose one that would go best with your meal. This restaurant provides you with a much quieter, intimate experience than some of the other larger establishments on the island provide. Bon appétit!
Old Hamburg Schnitzelhaus
You can literally feel like you have flown around the world and landed in the Bavarian Alps at Old Hamburg Schnitzelhaus, one of the best restaurants on Anna Maria Island.
As the name suggests, you can get schnitzel here. Schnitzel is traditionally a thin slice of pounded meat that is then breaded and fried and it's delicious. It's also not the only traditional German food here you can try. They also have a great selection of sausages, potato pancakes, potato salad and brats. Dishes are even served with rot kohl (red cabbage and apple)! It is truly a taste of Germany and Austria on your plate.
Stepping into the restaurant is also like stepping into a dimly lit german pub in the Bavarian alps. With wood panels, mix and match wooden chairs with red checked pillows and the smell of salted pretzels in the air this is the full experience. You will feel like you stepped out of Florida and into Germany.
The owners of Old Hamburg Schnitzelhaus have successfully cooked up authentic German food with a touch of the laid-back Anna Maria Island restaurant vibe and created a welcoming place you will definitely want to eat. So when you are wondering where to eat on Anna Maria Island be sure to check out Old Hamburg Schnitzelhaus.
The Ugly Grouper
Of all the restaurants on Anna Maria Island this one is sure to catch your eye on name alone. And don't let the name of The Ugly Grouper deter you, this place is is trendy and off beat complete with a 3000 pound metal fish statue made from recycled metal parts.
Whether you want to dine in or take your food to go they have some great options. Of course, anything on the menu that involves a grouper is a great place to start! The ugly Polynesian Boat or the Grouper Tacos would both be great options. The portions are huge so you could easily grab a few different options to share around the table. Their label is also labeled really well for gluten free options if that is a concern for you.
Passing the time while waiting for your food is super enjoyable here. They often have live entertainment and have a small shop to buy Ugly Grouper goods in. They also have a few outdoor games for your use and don't forget to grab a picture with the giant metal grouper!
If you happen to arrive during a busier time, don't let the crowd deter you. They have quite a bit of seating and tend to cycle through their line up pretty quickly. But, if you'd rather not risk it then go ahead and order take out and find yourself a lovely spot to enjoy it without the crowds.
Vinny's Italian Kitchen
If you are looking for restaurants on Anna Maria Island why not try one of the local Italian places? Tucked away in the quaint blue building of AMI Plaza, Vinny's Italian Kitchen will welcome you into their family for the evening.
The prices, serving sizes and quality here are amazing. A two person meat lasagna is only $18! They also have some other delightful favourites like Eggplant Parmigiana and Veal Marsala to name a couple. But they really have any Italian dish you could think of! This restaurant is regarded as some of the best Anna Maria Island food and locals frequent it often. And in case you are gluten free and think Italian food is off limits for you then you're in luck! They have more than ten menu items that are gluten free including pizza!
They also have take-away options, catering options and bake at home options. There are so many ways to enjoy the food from here. Just make sure you leave room to try the gelato. Nothing rounds out a comforting Italian meal like gelato! This is an Anna Maria Restaurant that you can trust to be good because, let's face it, Italian food is food that fills you!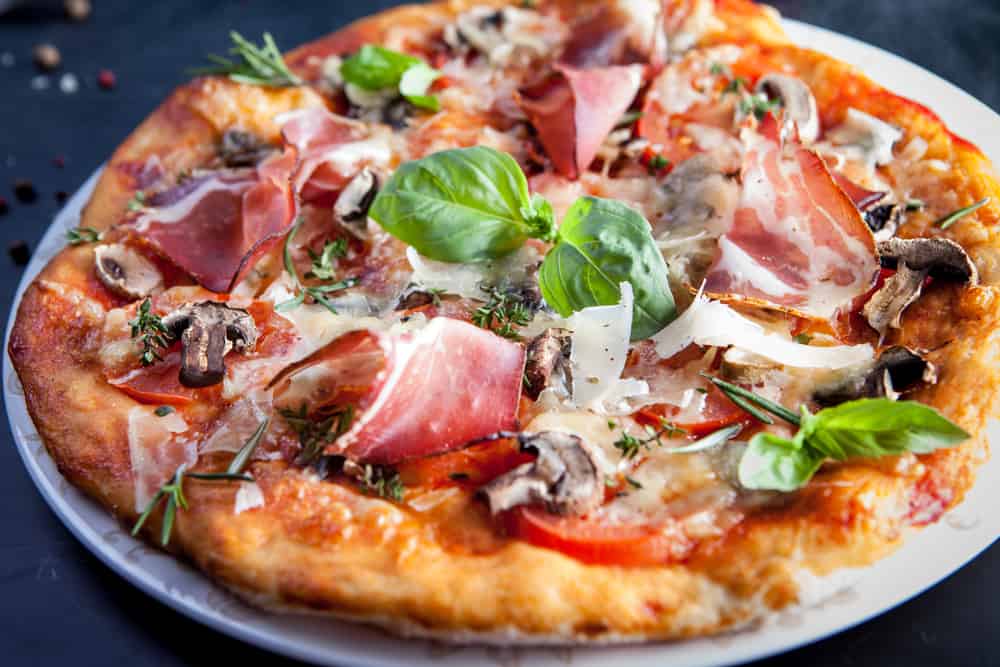 Anna Maria City Pier
Originally built in 1911 this is one of the restaurants on Anna Maria Island with a stormy history. In the past, Anna Maria City Pier has needed to be restored several times but Hurricane Irma did the final damage. This time, the pier received a complete rebuild to be built in metal instead of wood. And now the brand new pier is open with benches along the walk, a lit up path and a grill and tackle shop at the end. You will love the experience of heading here to eat.
The menu is short and to the point. You will find some standby favourites here including fish tacos, sandwiches and veggie dogs. You could easily grab your food to go and enjoy it sitting on your favourite spot on the pier. The items are really affordable and will hit the spot.
Or you could grab a seat inside where you will have a family friendly, quirky interior with paper towel for your use (and you will need it!) hanging from the ceiling over your table! The restaurant is well ventilated, has large windows for looking outside. Or grab one of the few outdoor tables and breathe in that fresh, salt air.
However you choose to enjoy your great food from Anna Maria City Pier you are sure to enjoy the experience at one of the places to eat in Anna Maria!