Are you looking to book a VRBO in Florida? Well, get ready to view the best of the best! We are so excited to share these amazing VRBO properties with you. Our list will include a wide variety of locations, price points, and styles.
Staying at a VRBO location really gives you the opportunity to match your personality. Soon, you will see the unique and stunning properties that are available. We will share all of the amenities and special features that make these VRBO vacation rentals really stand out!
If you want to explore the state a bit, here are 15 Fun Florida Road Trips! For all of the foodies out there, here are the 17 Best Florida Restaurants You Must Try!
If booking a vacation rental is stressful for you, keep reading to ease your worries! We have done the heavy lifting and found some really incredible VRBO properties just for you! So, let's jump into exploring them and find the perfect fit for your trip!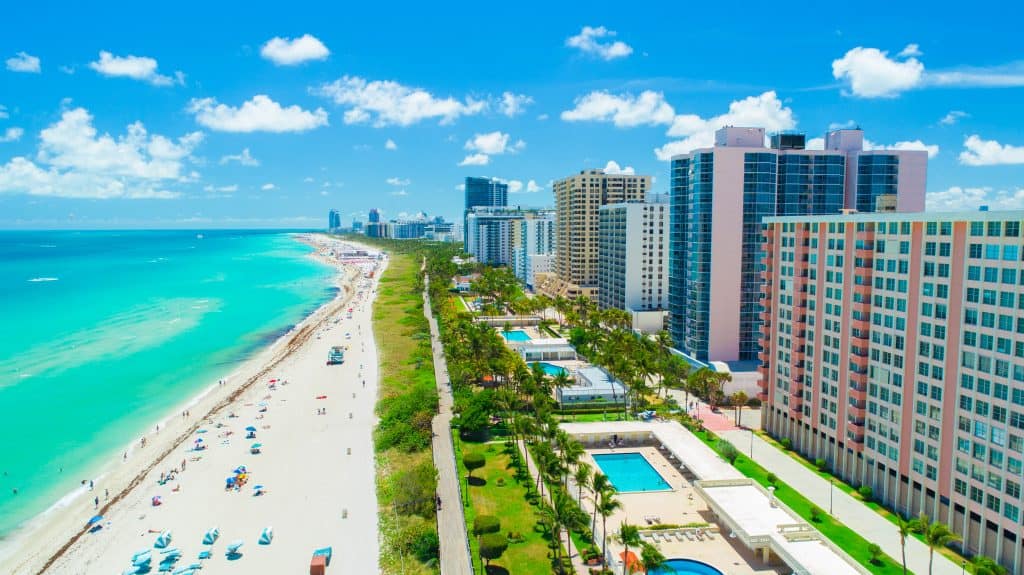 15 Gorgeous Florida VRBO Vacation Rentals You Must Visit
Sunbird Condo
The Sunbird Condo is located in Panama City Beach, approximately 2 hours from both Tallahassee and Pensacola. The Sunbird Condo can accommodate up to 4 guests and is located directly on the beach!
The décor is very bright and colorful with a beach theme. Guests will love seeing the ocean from the living room, dining table, and balcony.
Amenities include an oceanfront pool, on-site tennis, and a workout facility. You will never have a dull moment because staying at the Sunbird will place you within walking distance of restaurants and shopping. In addition, you should check out the 14 Best Things to Do In Panama City Beach!
>>>Check Rates: VRBO.com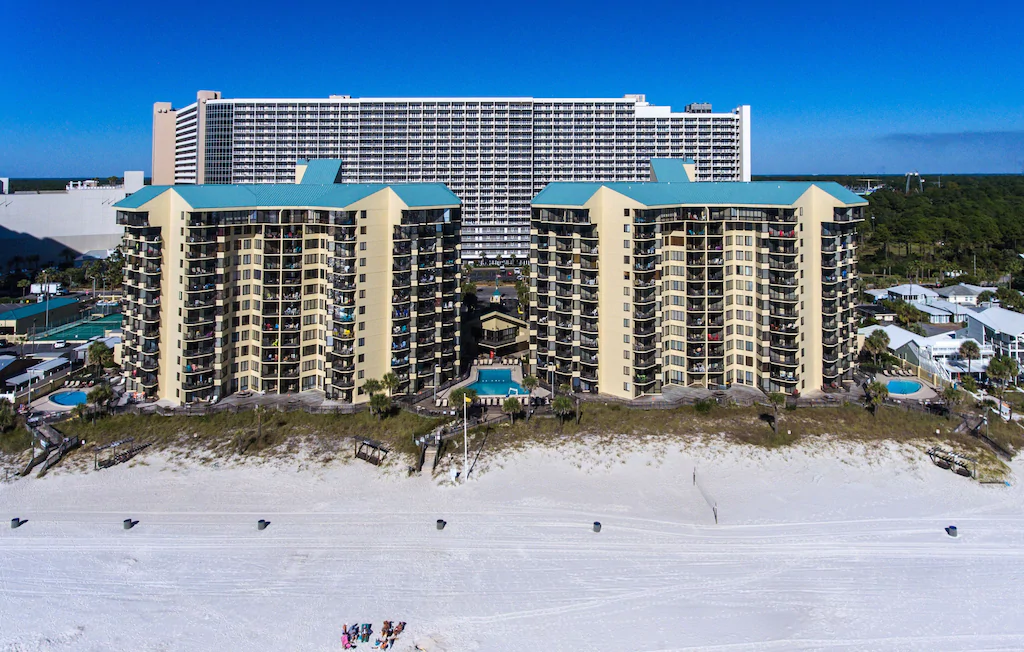 Coastal Dunes Beachfront Condo
The Coastal Dunes Beachfront Condo is located in Destin, right on the beach! You must see these photos! The condo has been professionally designed and decorated in ultra-chic fashion.
You will immediately notice the beautiful wood-inspired tile floors, hand-blown glass artwork, and clear acrylic barstools. The entire color palette creates an ambiance of pure sophistication and relaxation.
Enjoy your morning breakfast with views of crystal blue waters while dining on your private balcony. Then, later enjoy swimming and sun-bathing on the private beach or at the pool. At night, you can check out nearby beachfront restaurants. The spacious luxury condo can accommodate up to 6 guests with 3 bedrooms and 3 baths.
>>>Check Rates: VRBO.com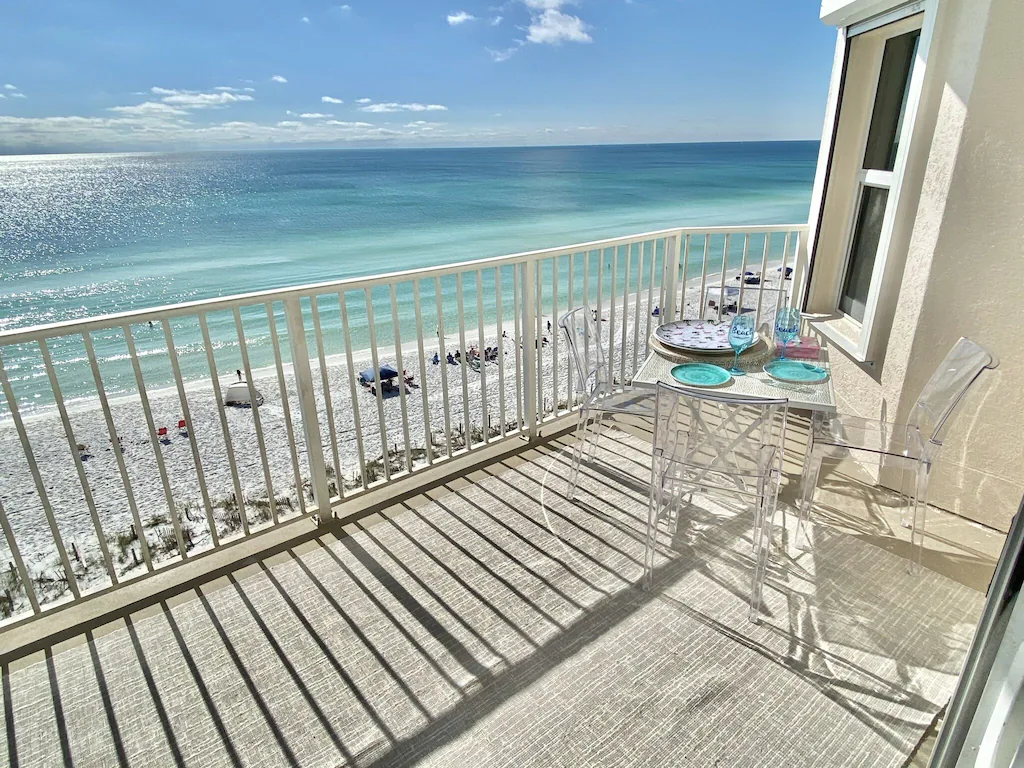 Key Lime Cottage
The Key Lime Cottage is located on Amelia Island, which is about 1 hour north of Jacksonville. The cottage is new, modern, and extremely spacious. It can easily accommodate up to 8 guests.
With 3 bedrooms and 2.5 baths, you will feel completely comfortable with plenty of space to relax. Enjoy incredible ocean views from the dining room, living room, and kitchen.
Some of the highlights include an outdoor shower for easy after-beach cleanup, kid-friendly bunk beds, and quartz countertops. The luxury cottage is located directly across the street from the beach and just 4 miles from Historic Downtown Fernandina Beach.
>>>Check Rates: VRBO.com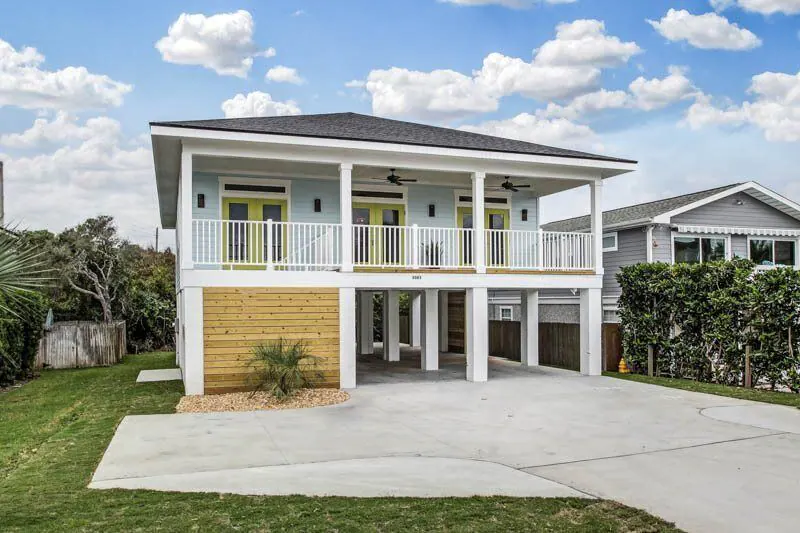 Over-water Bungalow Retreat
Now, you don't have to travel all the way to Tahiti to stay in an Over-water Bungalow Retreat! In Crescent City, we discovered an amazing bungalow that is perfect for a peaceful trip! It is in the luxury price range and centrally between Saint Augustine, Daytona, and Orlando.
The bungalow can accommodate up to 8 guests with 2 bedrooms and 3 baths. Special features include 2 screened-in porches, lake views from all windows, and a fireplace. If you are searching for relaxation and solitude, then this is the VRBO in Florida for you!
During your stay, you will have access to 2 kayaks and a paddle rowboat. You can fish, paddle, and sightsee on the lake during the day and then roast marshmallows at night next to the firepit. If you decide you want to explore some nearby attractions, then you should take a peek at 17 Fun Things To Do In Daytona.
>>>Check Rates: VRBO.com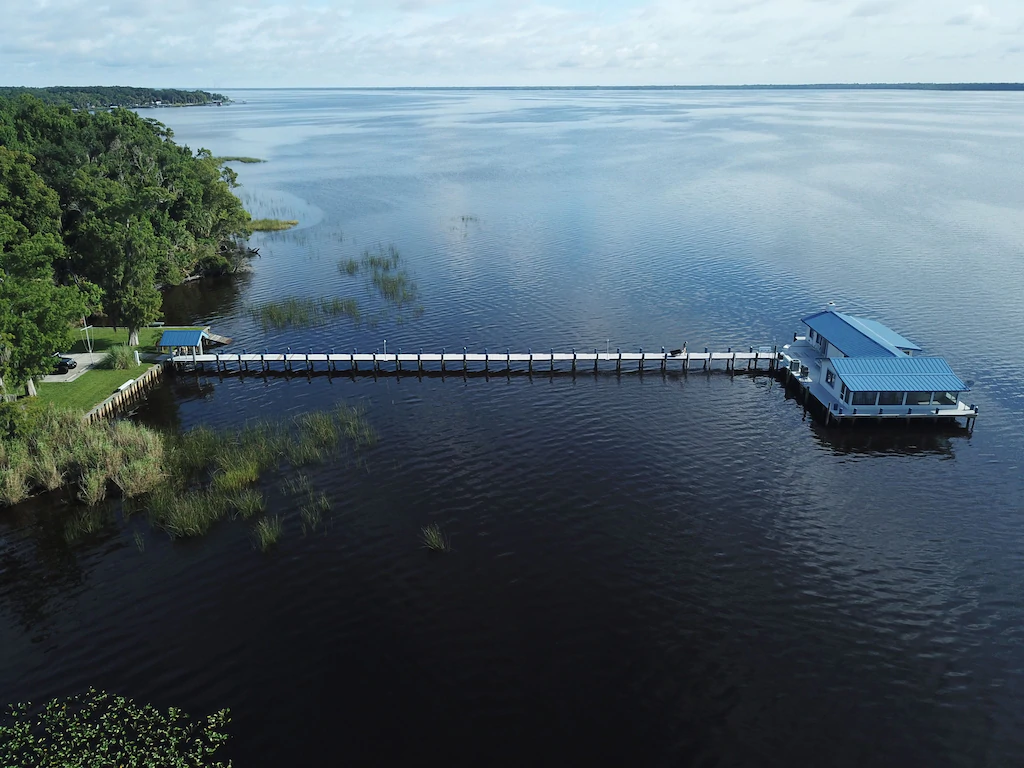 Grove Resort Condo
Let's check out one of the most popular locations in Florida! If you guessed Orlando, then you are right! The Grove Resort Condo is located in Orlando and features an elaborate on-site waterpark.
Now, when we say elaborate waterpark, we mean it! The waterpark includes a surf simulator, a lazy river, twisting water slides, a kids' activity pool, and more! Looking for something more relaxing, then you will love the 3 spacious pools and the oversized hot tub.
The condo can accommodate up to 8 guests with 3 bedrooms and 3 baths. Amenities include a private balcony, full-size washer and dryer, and shuttle service to Disney. Guests will also love the convenience of the on-site restaurant and bar & grill.
>>>Check Rates: VRBO.com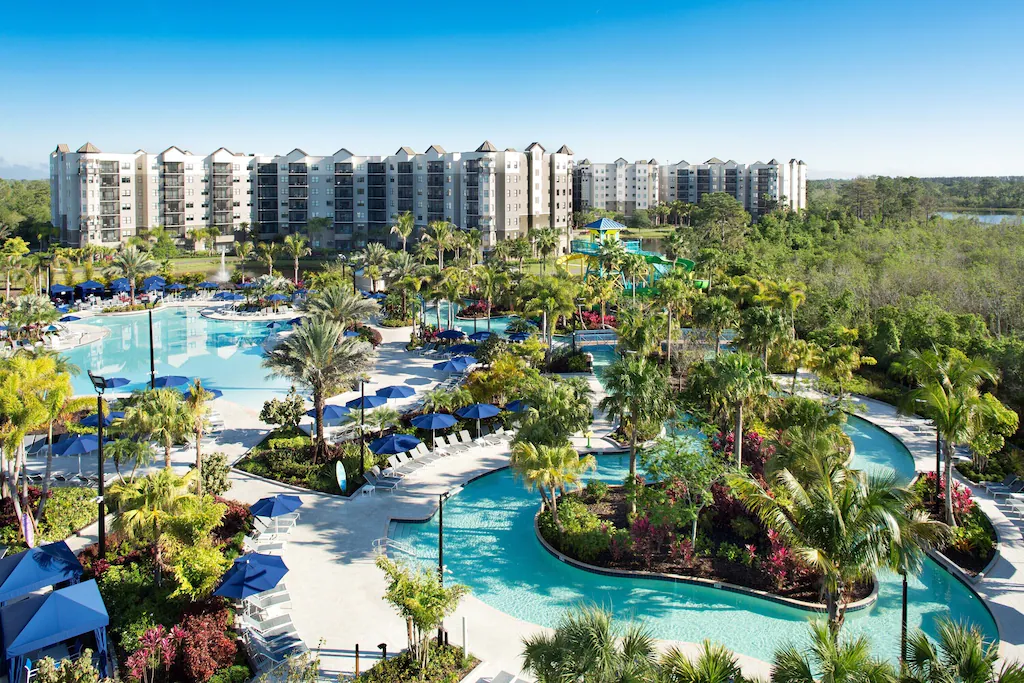 Spanish Villa With Guesthouse
Traveling with a large party, then you will absolutely adore the Spanish Villa With Guesthouse! Located in posh Palm Beach, you will be right in the center of upscale dining and shopping.
The Spanish Villa is a 1920's gem that can accommodate up to 10 guests with 3 bedrooms and 2.5 baths in the main home. You will also have access to a gorgeous guesthouse with 1 bedroom, 1 bath, and a kitchenette.
Luxury amenities include a heated pool, a hot tub, lounge areas, 2 bars, and a grill. Get ready to enjoy your very own private oasis! Staying a while, then check out these 16 Fun Things To Do In West Palm Beach!
>>>Check Rates: VRBO.com
Poolside Studio
The Poolside Studio is an affordable VRBO in Florida that is just a 2-minute walk from Clearwater Beach and Pier 60. In addition to being close to the beach, you're only 3 steps from the pool!
The studio can accommodate up to 4 guests and includes beach chairs, a cooler, umbrellas, and towels. You will be within walking distance of shops, restaurants, and cafes.
Nearby attractions include the Clearwater Marine Aquarium(made famous by the movie Dolphin Tale), Coachman Park, and Sand Key Park. The Poolside Studio tics lots of boxes; it is in a prime location with a pool, has a cute beach-theme, and is budget-friendly!
>>>Check Rates: VRBO.com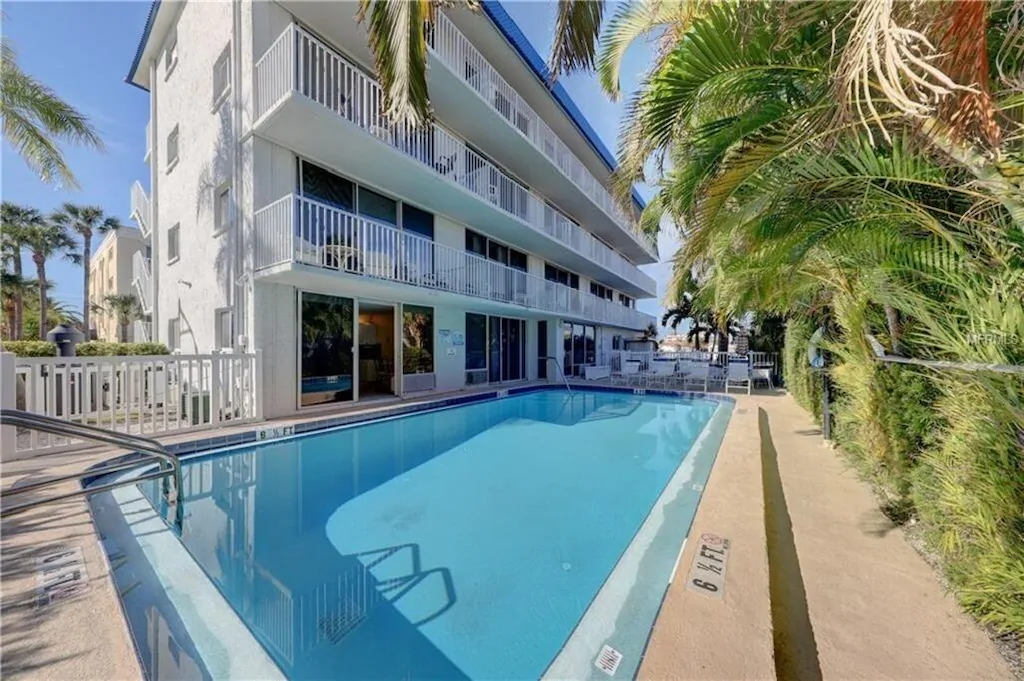 Pelican Grand Beach Resort Suite
Alright, let's head on down to South Florida to view an incredible beach resort in Fort Lauderdale. The Pelican Grand Beach Resort Suite is exactly what you picture when you think of a dream beach vacation!
The one-bedroom suite is located on the 5th floor, providing fantastic ocean views from the private balcony. Unique amenities include a lazy river, a beachside pool, and an on-site old-fashioned ice cream parlor. Luxury amenities include valet parking, a beachfront cocktail lounge, an oceanside restaurant, and concierge services.
The Pelican Grand Beach Resort Suite offers a luxurious stay at a moderate price point. Fort Lauderdale has a vibrant night-life, gorgeous beaches, and amazing cafes.
>>>Check Rates: VRBO.com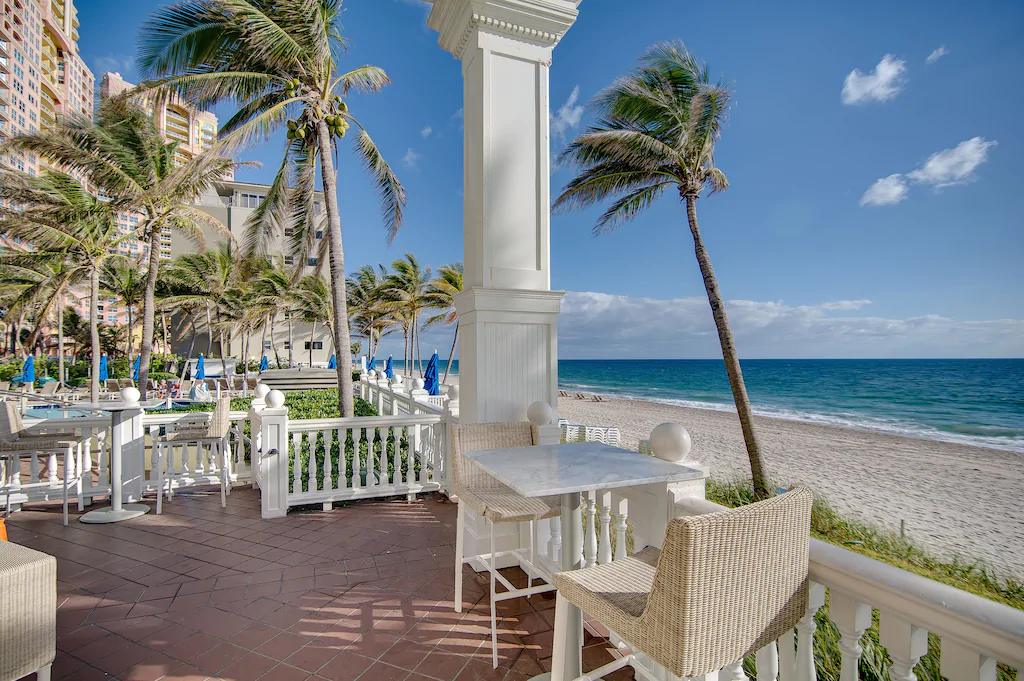 Hi-rise Corner Apartment
The Hi-rise Corner Apartment is located in Miami and features ocean, river, and city views! Floor-to-ceiling windows allow you to really appreciate the amazing views.
The apartment includes luxury amenities at a moderate price point. Amenities include an on-site gym, pool, spa, and sauna. No expensive was spared when furnishing or decorating this VRBO in Florida.
Up to 4 guests can be easily accommodated with 2 bedrooms and 2 baths. The main suite features a king size bed with panoramic views of the Miami River and gorgeous yachts. Special highlights include motorized window blinds, a safety lock box, and marble floors and countertops.
>>>Check Rates: VRBO.com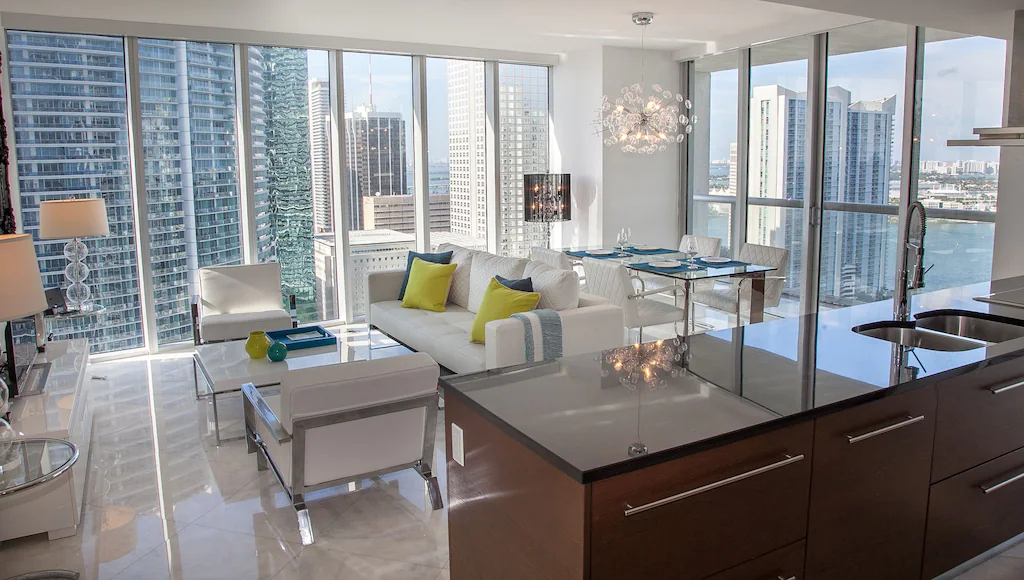 HGTV Canal Front Home
Now, we travel to the Florida Keys to view our next VRBO in Florida. The HGTV Canal Front Home a special treat as it was completely redecorated and redesigned by HGTV. The kitchen features marble countertops and a spacious island that makes cooking a breeze!
Some of the awesome amenities include a private custom canal-side pool, a private dock, and an outdoor covered dining area. The moderately priced home can accommodate up to 8 guests with 3 bedrooms and 2 baths.
Nearby activities include charter fishing, kite surfing, and paddleboarding. In addition, the Dolphin Research Center and the Florida Keys Aquarium are just a few miles away.
>>>Check Rates: VRBO.com
Cute Key West Condo
The Cute Key West Condo is a first-floor 2 bedroom condo that is located in the Truman Annex. The condo features a really nice patio with lounge chairs, a dining table, and a grill.
The community has a pool with lounge chairs that are perfect for sunbathing. Never worry about where you will park because you get your own private parking space for the duration of your stay.
The Key West condo can accommodate up to 4 guests with 2 bedrooms and 1 bath. After swimming and grilling at the condo, you can take a 5 minute walk to enjoy boutiques and dining on Duval Street.
>>>Check Rates: VRBO.com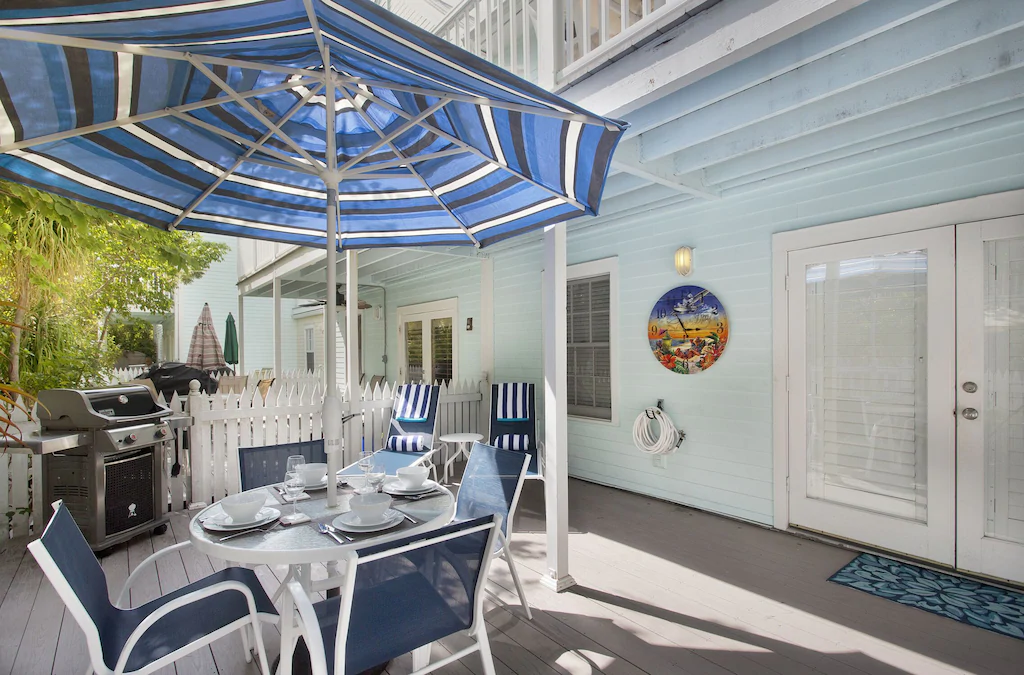 Renaissance 870
Renaissance 870 is a breathtaking designer waterfront home that is located on Marco Island. Marco Island is on the West Coast of Florida, approximately 40 minutes south of Naples. Every inch of this villa is expertly styled and designed.
The entire aesthetic is a beautiful blend of industrial elements mixed with contemporary design. Let's talk about the highlights! There are several, but here are our favorites: the infinity pool, the water-side deck with lounge and dining area, and the custom Vespa scooter wine bar!
The villa can accommodate up to 8 guests with 4 bedrooms and 2.5 baths. The closest beach is less than one mile away. You will have access to beach cruiser bikes for exploring the Marco Walk Plaza for shopping and dining.
>>>Check Rates: VRBO.com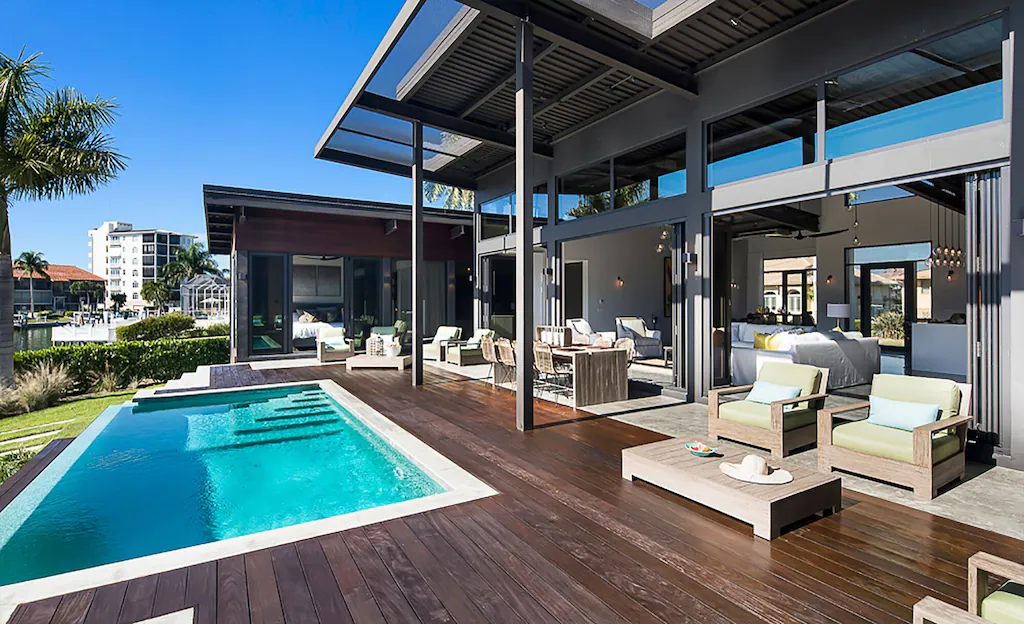 Naples Bay Designer Home
Oh my goodness!! Get ready to fall in love with our next VRBO in Florida! The Naples Bay Designer Home is for all of you out there looking for a super-luxe splurge.
Located in Royal Harbor, one of the most desirable places to live in Naples. The home has a contemporary design with Miami Beach styling. The famous 5th Avenue and Third Street restaurants and boutiques are nearby, so shopping and fine dining will be right at your fingertips.
The Naples Bay Designer Home can accommodate up to 8 guests with 4 bedrooms and 3.5 baths. Some of the highlights include a heated pool, a spa, and an outdoor gourmet kitchen.
>>>Check Rates: VRBO.com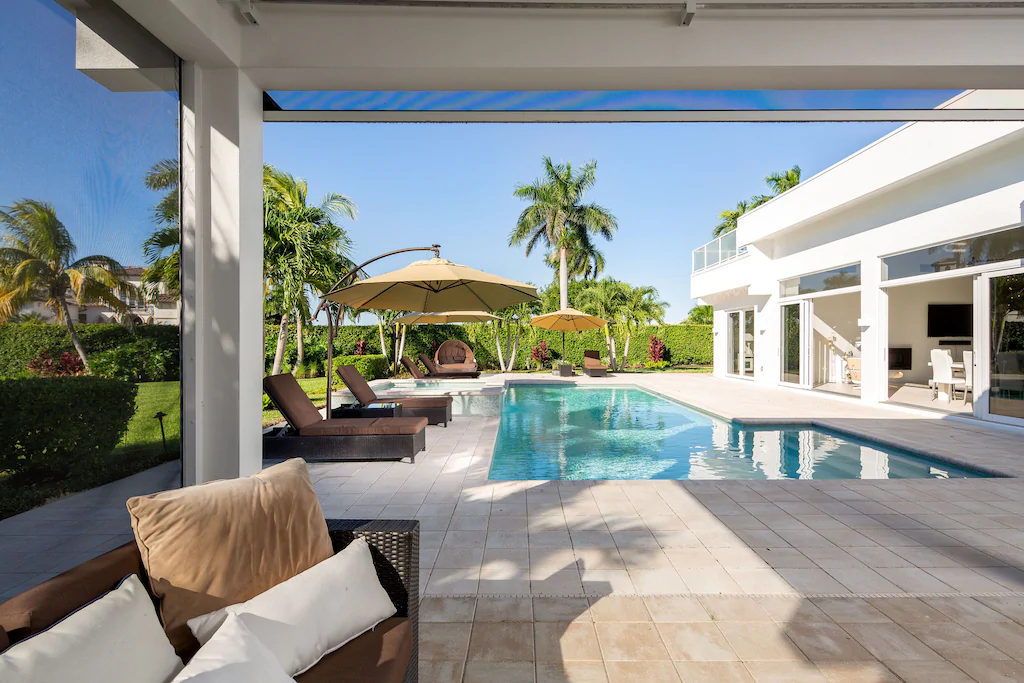 Woodring Bayhouse
So, now we head about 1 1/2 hours north of Naples to explore a lovely Bayfront home in Sanibel. The Woodring Bayhouse is truly a piece of architectural art!
Our favorite part is the floor-level indoor pool that has a large wall of windows looking out onto the bay. The décor is modern with a design that is extremely smart. Guests will love viewing Tarpon Bay & Pine Island Sound from almost every room in the house.
The Bayhouse can accommodate up to 6 guests with 3 bedrooms and 3.5 baths. Guests are welcome to bring their own boat and use the private dock and boat lift. Pets are considered on an individual basis. To help lighten your packing load, beach towels, chairs, and an umbrella are provided.
>>>Check Rates: VRBO.com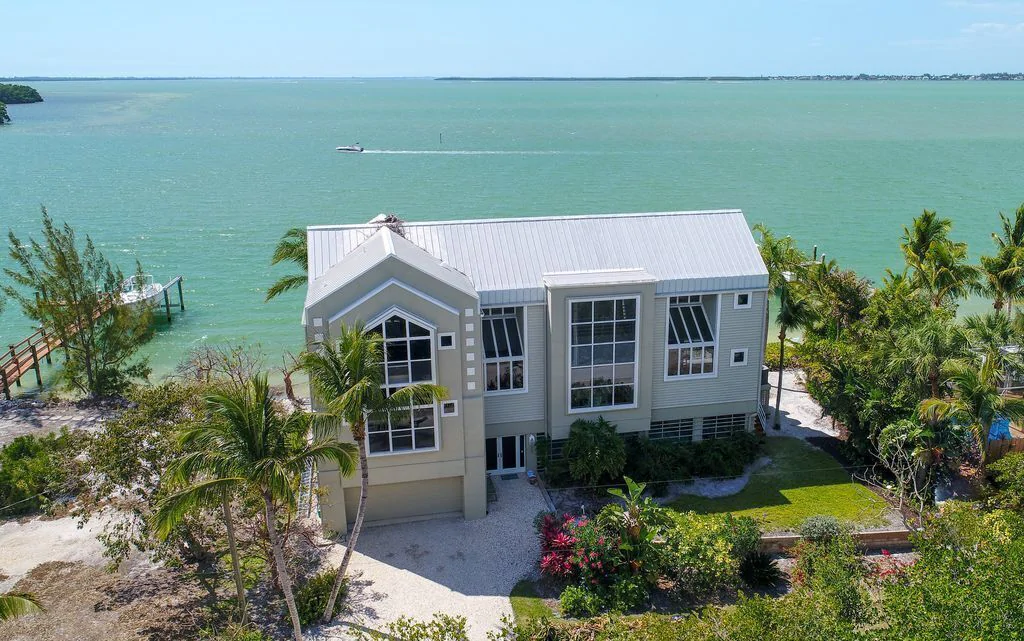 Mermaid Cove
Mermaid Cove is located in the historic section of Anna Maria Island. The cottage delivers plenty of Old Florida Charm with a modern twist.
Up to 6 guests can stay at Mermaid Cove comfortably with 3 bedrooms and 3 baths. The interior is calming with a very subtle coastal theme and soothing color scheme.
Our favorite features are the pool and hot tub! The pool is spacious and has a large lounge deck with plenty of seating. The landscaping is very tropical and adds to your vacation experience.
Staying at Mermaid Cove places you within walking distance of shops, restaurants, and the beach! It is the ultimate luxury VRBO in Florida because of its location, style, and amenities.
>>>Check Rates: VRBO.com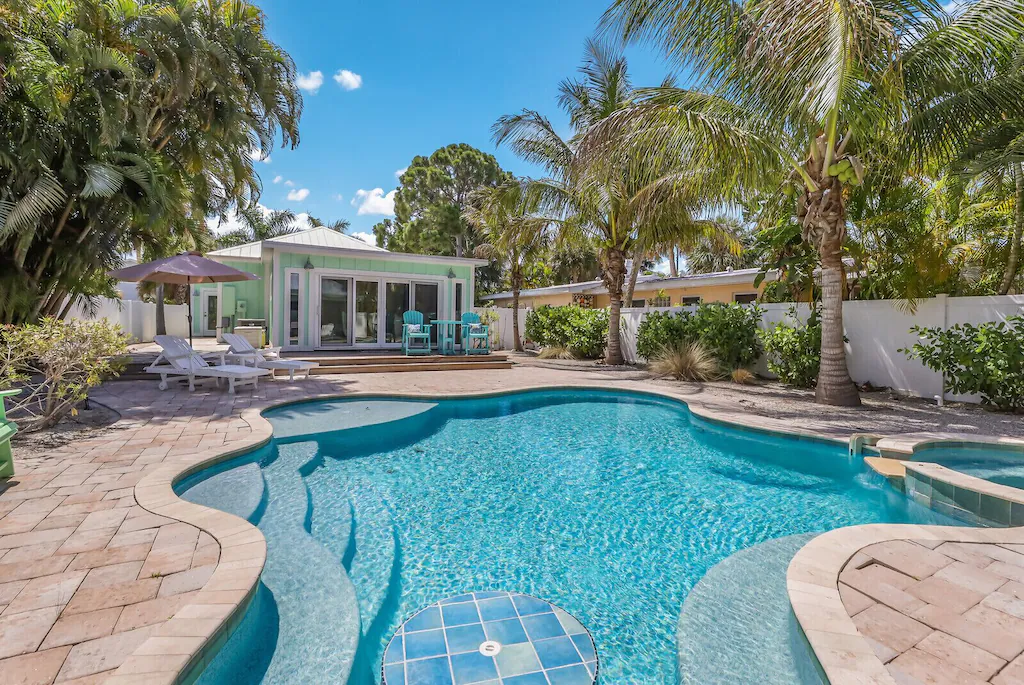 Thank you for traveling around Florida with us and viewing all of these incredible properties. As you can see, there are many different styles and locations. We hope our list will be the starting point for many great adventures. The perfect VRBO in Florida is waiting for you!