What could there possibly be to do in Florida in winter? You'd think that the Sunshine State wouldn't be fun in its chilliest months, right?
You might be surprised! Florida remains a popular tourist spot year-round. Whether you're looking to celebrate the holidays or just trying to find a weekend getaway, the state never stops hustling and bustling for a reason! Find out why snowbirds call Florida their winter home.
Make sure to check out our master post on the Best Time To Visit Florida including a breakdown by month, weather, events, and more!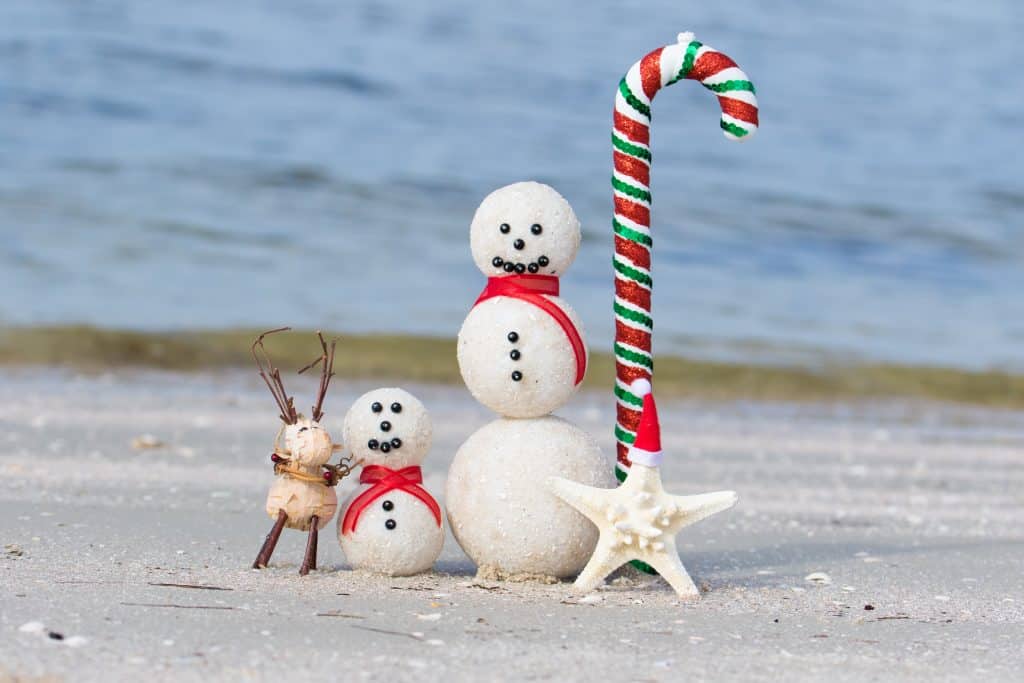 Is Winter A Good Time To Visit Florida?
If you know a native Floridian, you might have heard jokes like, "Florida has four seasons: summer, summer, summer, and not summer." They're not wrong!
Winter is hands down the best time to visit Florida. Especially if you're from the north! Are you sick of snowshoes and tire chains? How about scraping windshields and bundling up in mittens and earmuffs?
Taking a hiatus to visit Florida in winter means the only snowmen you'll see will be made out of sand. You'll trade your boots for flip flops. Sure, the trees change colors, but it's only because locals have covered them head-to-toe in Christmas lights.
The best perk of visiting Florida in the winter? Hurricane season is finally over.
Average Florida Winter Weather
Florida has the mildest winters throughout all of the continental United States! While Florida does get cold, the state has only ever experienced 12 major freezes. Still, you won't have to worry about wearing snowshoes!
A complex weather pattern known as El Niño moves tropical easterly winds across Florida in the winter. For those of us that aren't meteorologists, this means those winds keep temperatures warm when the rest of the country is at its coldest.
In a state where humidity can make the temperature feel 15 degrees warmer, winter offers a welcome break from the heat. There is more cloud coverage, but these clouds don't carry rain. The state is drier with less humidity.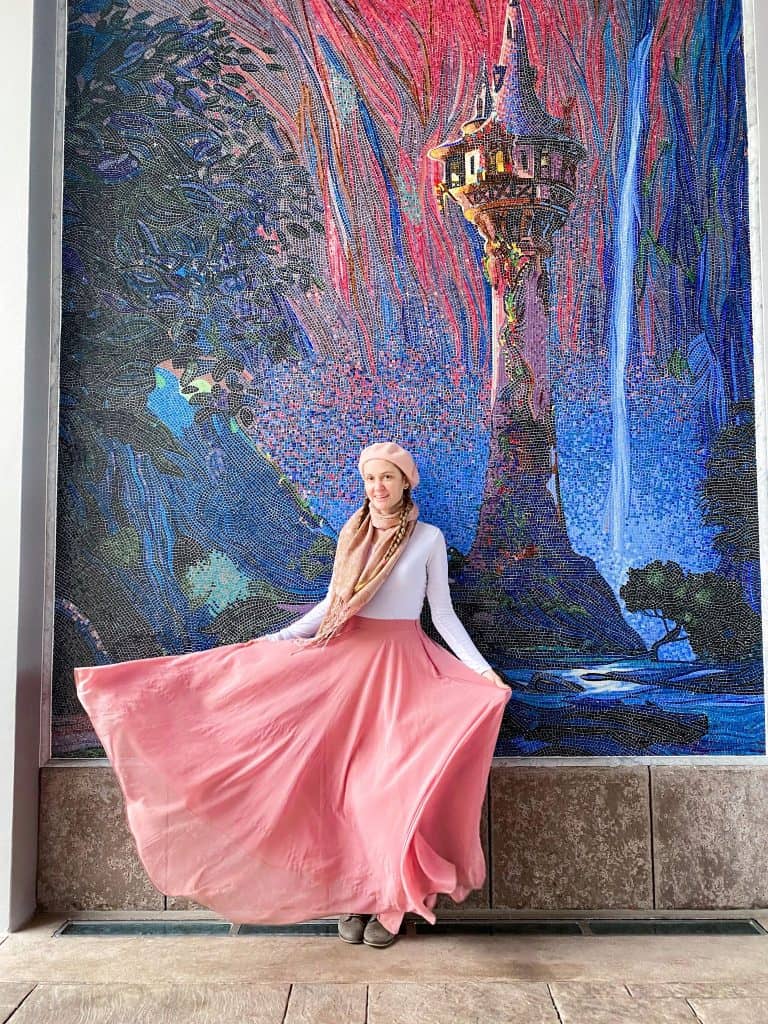 Average Winter Temperatures In Florida
Once the temperatures from fall in Florida begin to dip, things begin to get a bit chilly. The coldest months of the season are December, January, and February.
It is important to remember that Florida days are always warmer than Florida nights, so keep this in mind when planning a trip. While hurricane season is over, it is also important to check the daily forecast. Florida is famous for its inconvenient rain showers.
Because the state is so long, the average temperatures during the winter months can vary from region to region. Below we've listed the high and low temperatures for notable Florida cities during winter:
Daytona Beach
Average high temperature: 70 degrees Fahrenheit (21 degrees Celsius)
Average low temperature: 47 degrees Fahrenheit (8 degrees Celsius)
Jacksonville
Average high temperature: 64 degrees Fahrenheit (18 degrees Celsius)
Average low temperature: 42 degrees Fahrenheit (6 degrees Celsius)
Key West
Average high temperature: 75 degrees Fahrenheit (23 degrees Celsius)
Average low temperature: 65 degrees Fahrenheit (18 degrees Celsius)
Miami
Average high temperature: 73 degrees Fahrenheit (23 degrees Celsius)
Average low temperature: 50 degrees Fahrenheit (10 degrees Celsius)
Orlando
Average high temperature: 72 degrees Fahrenheit (22 degrees Celsius)
Average low temperature: 50 degrees Fahrenheit (10 degrees Celsius)
Tallahassee
Average high temperature: 64 degrees Fahrenheit (18 degrees Celsius)
Average low temperature: 40 degrees Fahrenheit (4 degrees Celsius)
Tampa
Average high temperature: 70 degrees Fahrenheit (21 degrees Celsius)
Average low temperature: 52 degrees Fahrenheit (11 degrees Celsius)
West Palm Beach
Average high temperature: 75 degrees Fahrenheit (24 degrees Celsius)
Average low temperature: 57 degrees Fahrenheit (14 degrees Celsius)
If you plan on going swimming or participating in any water excursions, the ocean's temperature is different on each coast.
The Gulf coast tends to be between 50-60 degrees Fahrenheit (10-20 degrees Celsius). The Atlantic coast from central Florida and north averages in the mid-high 50s (10s). However, southern beaches found in Miami and Key West will be warmer.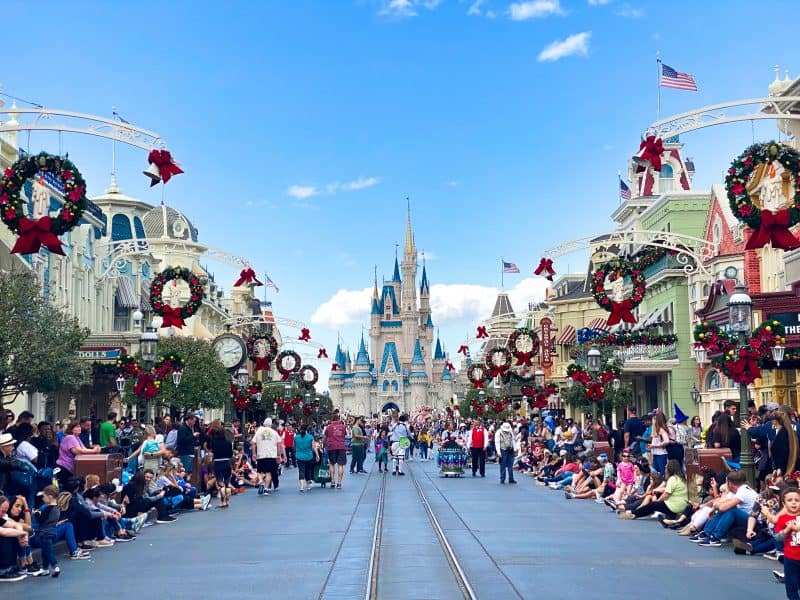 Does It Snow In Florida?
It is VERY rare to see snow in Florida. This is because most of Florida is too far south of the cold continental air masses that generate snowfall. This means the weather conditions in the state will never allow for snow.
According to the National Weather Service, there have been no instances of snow or snow flurries ever in Miami. The city does have a sub-tropical climate after all! The only snowmen you'll ever see in Florida will be made of sand!
While snow in Florida is rare, that doesn't mean it doesn't happen. Snow flurries were spotted in parts of Northern Florida like Jacksonville as recently as 2017. It is so rare that when early settlers saw snow for the first time in 1774, they didn't know what it was. They called it "extraordinary white rain."
If you know a Florida native, you will have heard of what they call "Florida snow." This just means that frost sometimes appears on car windshields or the grass crunches beneath your step. This is how rare snow is in Florida!
Warmest Places in Florida in Winter
Generally, the further south you travel in Florida, the warmer it gets. Places like Miami and West Palm Beach already have some of the warmest temperatures in the United States for about 70 days of the year.
If you're looking for the warmest beaches, you'll want to go to South Beach in Miami. In the winter, the water can still reach up to 85 degrees Fahrenheit at its warmest while it averages at 73 degrees Fahrenheit.
Don't worry if the water is still too cold for you! After a few hours sunbathing or participating in excursions on the beach, you will warm up enough to still be able to enjoy the water.
Remember that inland areas don't get a sea breeze. As a result, those cities like Orlando and Lakeland will be warmer than coastal cities like Tampa and St. Augustine!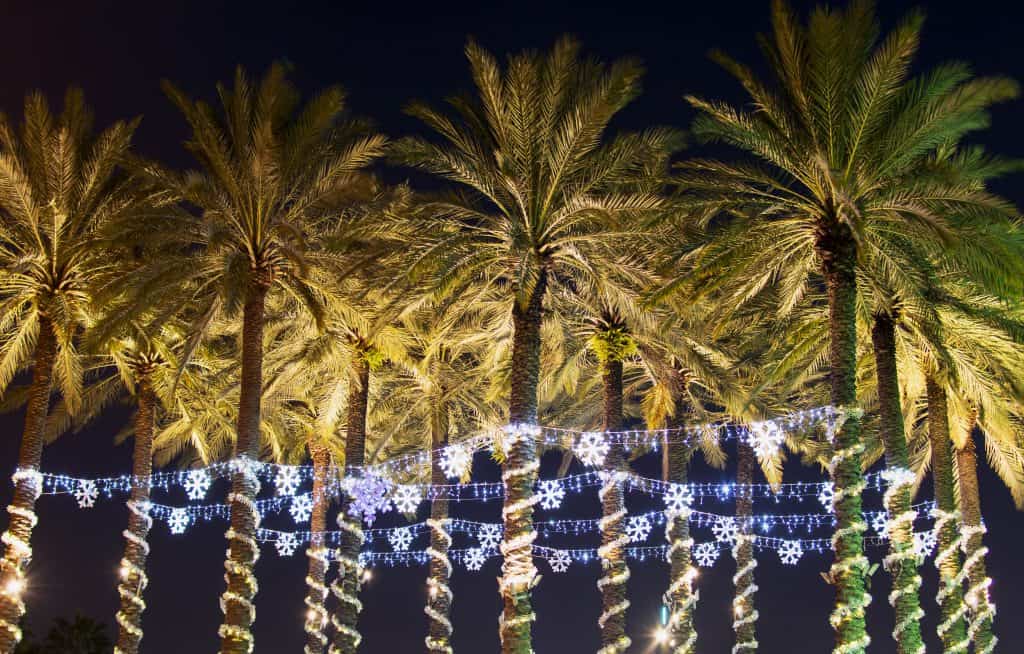 Top Things To Do In Florida In The Winter
Night of Lights in St. Augustine
Starting the Saturday before Thanksgiving, the historic district of St. Augustine is covered head-to-toe in lights. Over three million lights create a glittering display and continue to light the downtown area through January 31.
The festival begins with Light Up! Night. Locals and visitors gather in the Plaza de la Constitucion to see the display illuminated for the first time. Leading up to the main event, the All Star Orchestra plays until 6:30 PM when a countdown until the area lights up!
The orchestra continues to play until 8:00 PM when a gigantic Christmas tree is lit for the first time as well! This is a great place to get a picture to use for your holiday cards! While it's not the warmest place in Florida in winter, this is one of the best festivals that will warm your heart.
Throughout the festival, downtown businesses remain open later in the night. Take a train, trolley, or simply walk through the area to discover shops and restaurants while you bathe in the lights. Take a walking or horse-and-carriage tour to see the most scenic and photogenic areas!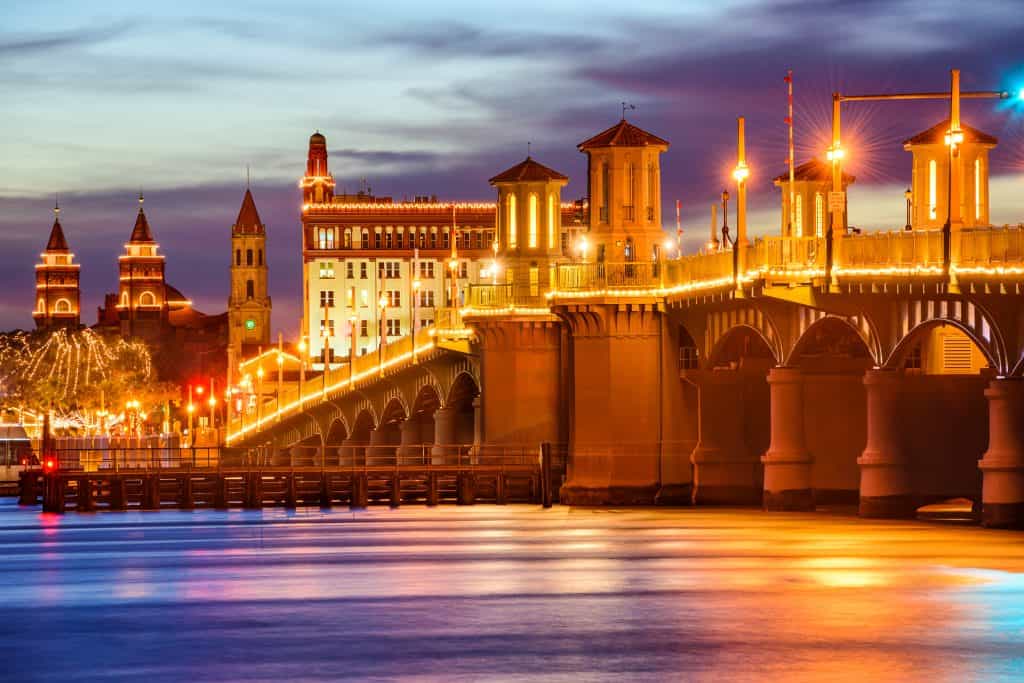 Pick Your Own Florida Citrus
Did you know that many fruits in Florida are only in season during the winter? Most varieties of Florida citrus are the sweetest and juiciest from October to June. Among the citrus, you'll find kumquats, lemons, limes, tangerines, grapefruit, and of course oranges.
The best groves are in the most southern parts of the peninsula. These areas have the lowest chances for overnight freeze, which can kill plants if not covered properly. Most Central Florida groves have closed down, but Polk County remains the top citrus-producing county in the state!
The best way to enjoy these fruits at their best is to take a trip to an actual grove. Take a tour and then actually pick and eat your own fruit! In Polk County, you'll find Ridge Island Groves, one of Florida's hidden gems, in Haines City where you can do just that.
Ridge Island Groves offers a vast variety of citrus including Pomelos, Valencias, Red Navels, Ruby Red Grapefruit, and Honeybell Tangelos. For $8 you can take a tour and pick one piece of fruit. Continue picking for $1 per pound. Make sure to try the orange blossom honey, candies, and ice cream.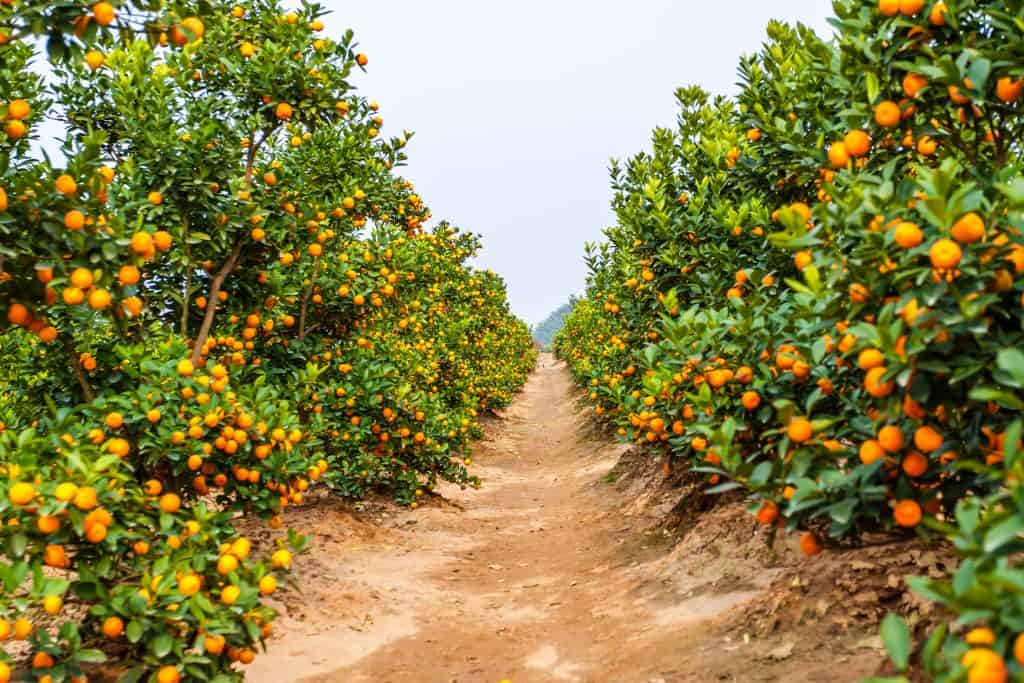 Daytona 500
If you're a NASCAR fan, then we don't have to tell you that the Daytona 500 is one of the most exciting and exhilarating sporting events. It takes place right here in Florida in mid to late February!
At the Daytona International Speedway near one of the prettiest beaches in Florida, the most important and prestigious of all the NASCAR races take place. It's not just the Daytona 500, you can watch four different races over five days.
Between the races, there is plenty of fun and activities. The UNOH Fanzone Entertainment Area has a main stage that showcases the area's top bands. Walk the Champion's Hall of Fame to see former winner's handprints and footprints preserved in concrete.
Win prizes with Daytona Rewards like a ride in a grand marshal car or sitting in on the Drivers Meeting. Parking is free and easy with a tram service directly to the stadium. Free wifi is offered in the stadium and on the surrounding campgrounds.
The race is televised every year, but why just watch on a screen when you can watch in person? There is no way to accurately describe the energy in the air on race day. Bring your earplugs and create the most exciting of memories!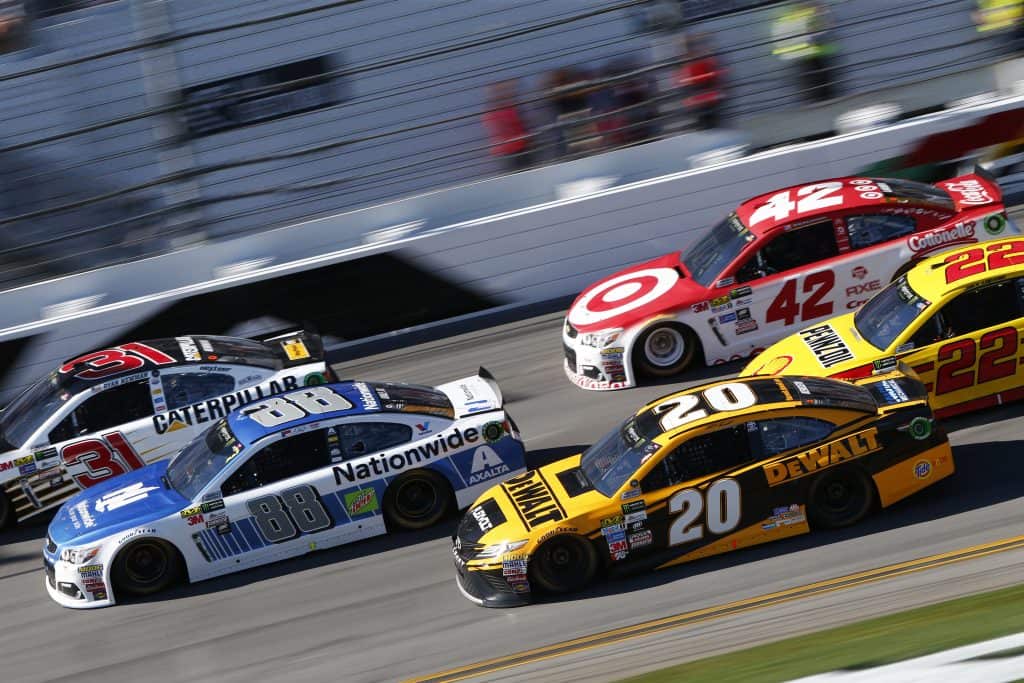 Mickey's Very Merry Christmas Party
Of all the parties at Disney, Mickey's Very Merry Christmas Party at Magic Kingdom in Orlando might be one of the most magical. This is a hard ticket event, meaning just having an annual pass or day pass won't grant you admission.
Once you've secured your ticket, the party starts at 7 PM but you can enter the park as early as 4 PM. This Christmas party runs on various nights on November and December.
When you enter, you'll be greeted with complimentary holiday refreshments! These are found throughout the park during the party and include favorites like hot chocolate, a variety of cookies, apple cider, and eggnog.
Make sure not to miss A Frozen Holiday Wish, a show where Elsa lights up Cinderella's Castle! Another highlight is the Once Upon A Christmastime Parade which features the vintage toy soldiers, iconic Disney staples since the 1960s.
If you're all about the costumed characters, there are very exclusive meet-and-greets at the party! Moana makes an appearance, as well as Burt and Mary Poppins together. Perhaps the most exclusive is Jack Skellington as Sandy Claws and Sally. Get in line early!
Most of the rides are open and since ticketing to the party is limited, wait times are relatively short! Some rides like Space Mountain even get special holiday decorations.
At the end of the night, don't miss the magical fireworks display that takes place later in the evening. For guaranteed priority seating, grab a seat at Minnie's Wonderful Christmastime Fireworks Dessert Party at Tomorrowland!
For the ultimate guide on how to tackle this expansive party, check out our full guide.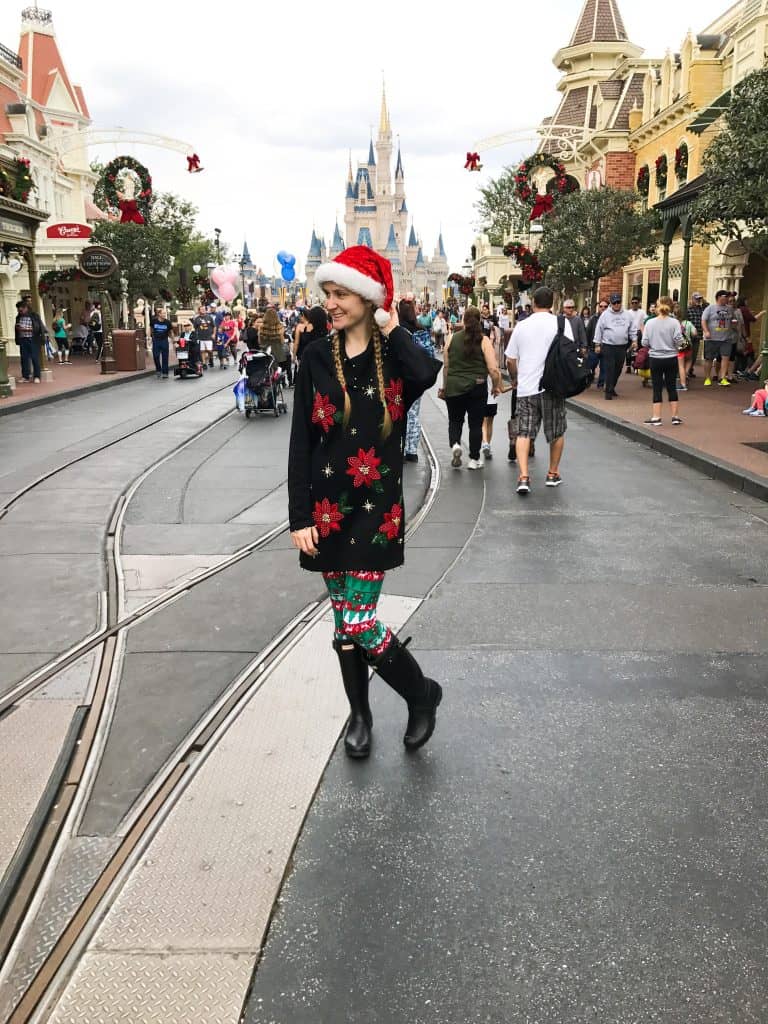 Surfing Santas at Cocoa Beach
Did you know that before Santa delivers presents, he hangs ten on Christmas Eve in Cocoa Beach? Surfing Santas started in 2009, but has evolved into a local phenomenon with over 800 Santas and 10,000 spectators in attendance!
People come from all over the world to the 3 Minutemen Causeway Beach to celebrate Christmas in the most Florida way possible: dressing up as Santa and going surfing! Young or old, beginner or expert, it doesn't matter. All are welcome!
In addition to surfing, there are costume contests! Dress up like Santa, Mrs. Claus, snowmen, elves, or gingerbread men. It doesn't matter, just be creative! Awards are given in a variety of age ranges, like a 2-night getaway to Port Canaveral. The grand prize? A Surfin' Santa surfboard.
There are performances by the Brevard Hawaiian Dancers and Sam Sims Band. If you go even earlier, you might have a chance to see skydiving Santas ring in fall in Florida. All proceeds go to Grind For Life which provides financial assistance to cancer patients.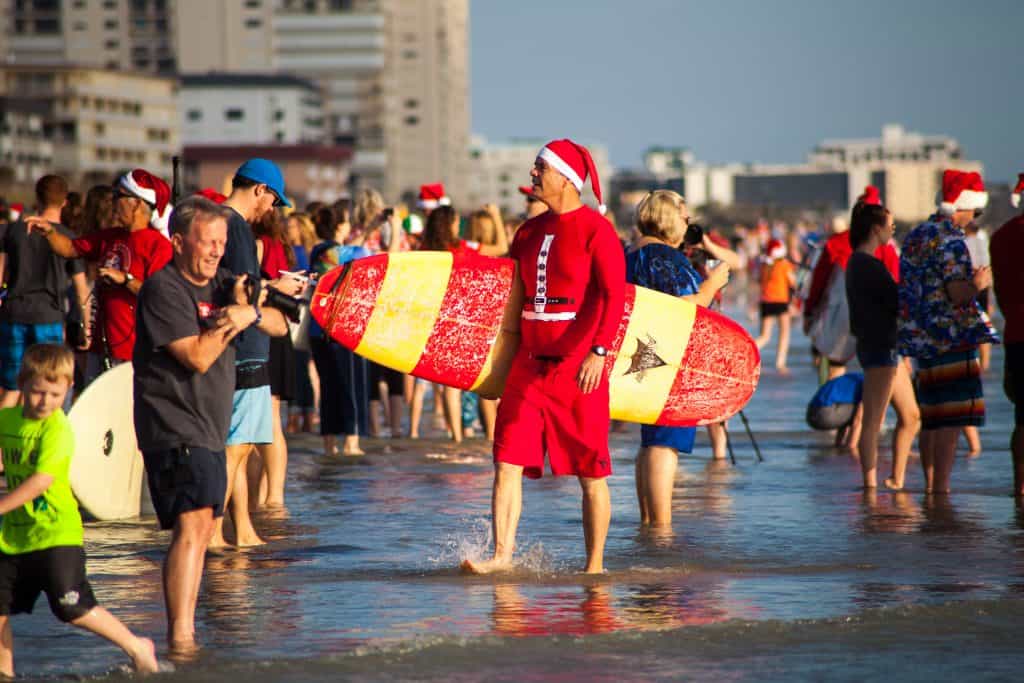 Swim With Manatees In Crystal River
Manatees are Florida's gentle aquatic giants. They are an endangered species, but you can actually swim with them in the natural springs!
Winter is actually the best time to see manatees, as they migrate from Florida's rivers to the springs. This is because the springs are constantly 72 degrees and manatees need warmer waters to keep them from freezing!
Just an hour north of Tampa is Crystal River, one of the best places to see manatees in Florida! Actually a series of springs that flow into rivers, the waters are crystal clear and surrounded by lush nature.
If you're not the strongest swimmer, you can always rent a kayak or canoe and see the manatees from above the water's surface. Be warned that if the waters are too crowded with manatees, in-water recreation may be closed. But you can always see the manatees from the bridges and boardwalks!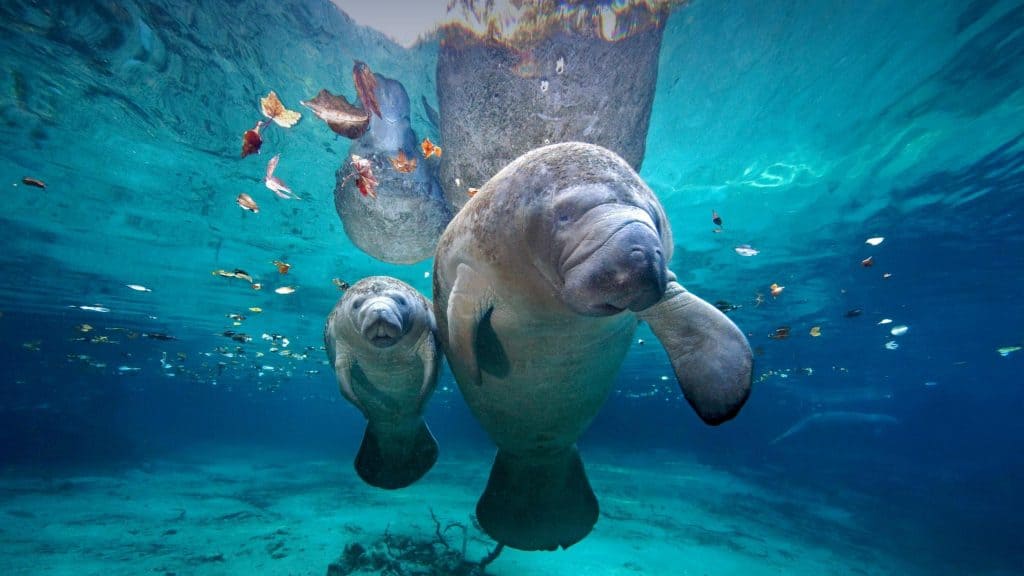 What To Pack For Florida In Winter
Florida's weather is always moody. It can rain at the drop of a hat, and cold fronts can sweep in out of seemingly nowhere! No matter what time of year it is, you should always check the local weather forecast for whatever event you are planning, especially during the winter in Florida.
That being said, the name of the game is layers. Mornings and afternoons will always be warmer thanks to the sun. During the night when temperatures dip down, you will need a cardigan or windbreaker.
If it's especially warm, you can get away with shorts in the daytime, but pants are a must at night. Jeans are especially good at shielding from cold winds. During a breezy day, you might be tempted to wear a jacket, but long sleeves should do the trick. You might get easily overheated due to the hot sun.
Don't bother bringing heavy down coats or snow boots. You will not need them. Sneakers and socks will be enough to keep your feet warm. Don't let the cold weather deter you from going to the beach either!
Just always remember to apply sunscreen. The cool weather may be deceiving, but the sun's rays are just as dangerous no matter the time of year.
Did You Find This Post Helpful?
If so, we would love to keep in touch! We enjoy seeing photos and comments about your experiences in Florida! You can follow us on Instagram and we will repost your photos on our feed and comment too! Just tag us at @floridatrippers and hashtag #floridatrippers. We can't wait to see your travels!