Are you looking for some stunning Seaside Florida Rentals? You are in the right place. In this article, we will go through Seaside Florida vacation rentals, beach house rentals in Seaside Florida, and cottage rentals in Seaside Florida.
If you looking for the perfect Florida destination then it doesn't get more picturesque than Seaside. It's a sea of pastel colorful beautiful houses with white picket fences.
The town was designed to be walkable what was at the time called New Urbanism. And if this town looks familiar it should it was the town that was used to film The Truman Show.
The motto of the town is "you never meet a stranger while in Seaside" which gives you an idea of what this town is all about. Seaside is quaint, picture-perfect, and has white sand beaches that look like they are from the Caribbean.
I feel the only way to describe this town is idyllic. There could be nothing more perfect than a getaway in this beautiful town.
A Seaside Florida rental will just be the icing on the cake. We have chosen some incredible Seaside VRBOs for you. A lot of them are really close to the beach and they all have something special.
Are you ready to see which Seaside Florida rentals we have chosen for you?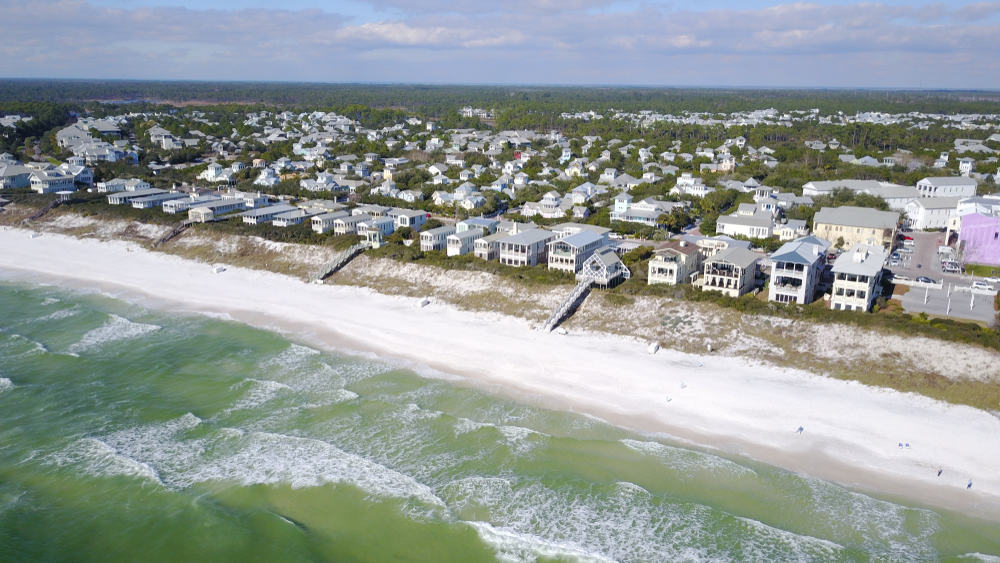 15 Stunning Seaside Florida Vacation Rentals
Homecoming
Homecoming is a lovely little guest house located just steps from the beach. This VRBO in Seaside is just charming and beautiful.
It sleeps two and there is everything you could need for a romantic getaway. With a beautiful large open deck with custom built-in seating, you will have your own little piece of paradise.
The landscaping is lush and the view is of the Seaside sundial. The private upstairs balcony will mean you won't miss a thing.
This is a perfect escape for a couple. Rental bikes are included in your stay and the hosts also add in beach towels and a bottle of wine.
The property is right across the road from the west end pool and all the town amenities are close. This property is beautiful, clean and will give you a great introduction to this incredible town.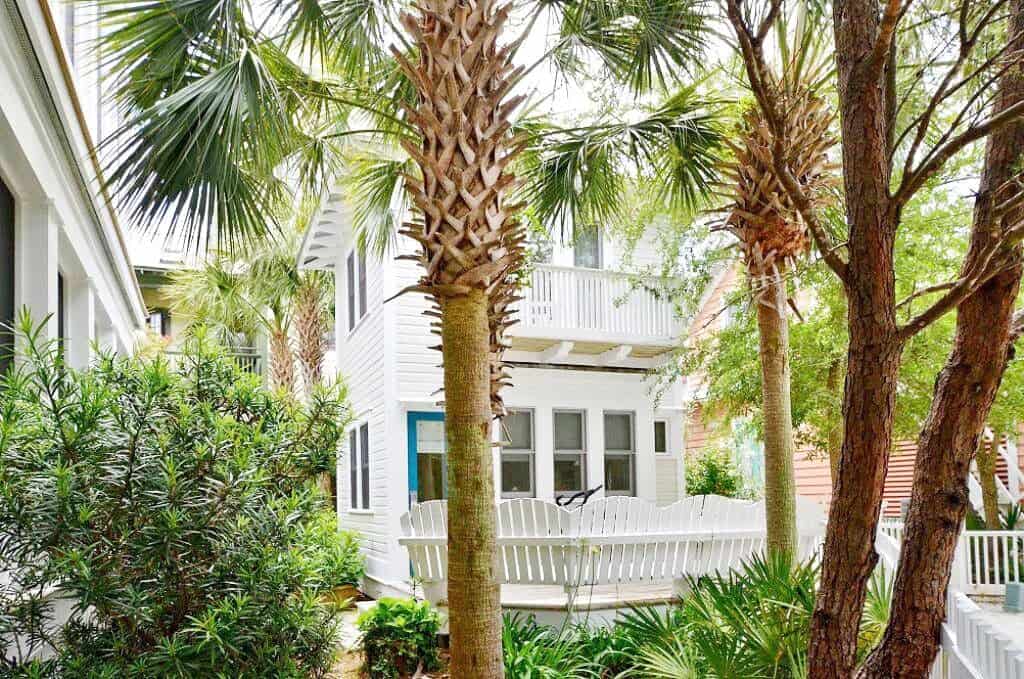 The Bungalows at Seagrove
Set in a charming community on a quiet street just a short walk from the beach The Bungalows at Seagrove has it all. It sleeps six and is appointed with everything you will need.
The Bungalow is one unit in the community and is close to the big pool and the hot tub. The house is designed to be family-friendly with a 42″HDTV with cable, free internet, Playstation II console with games and DVDs, and lots of board games.
It's about a 10-minute walk from the beach and there are a few state parks within easy driving distance.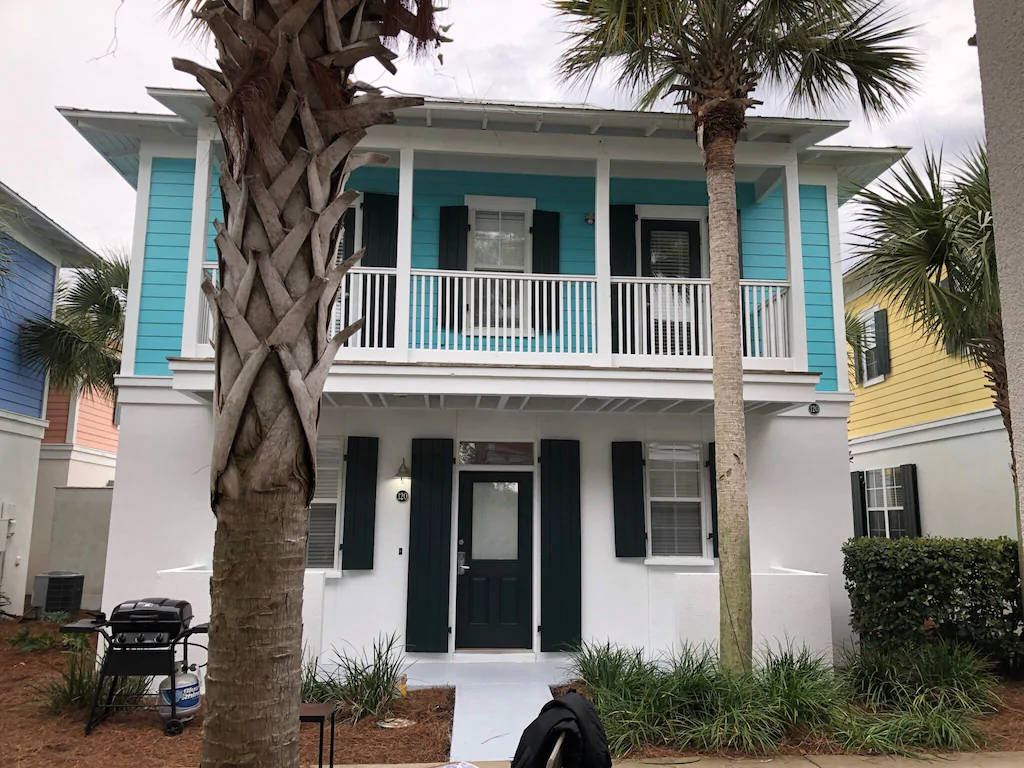 Watercolor Carriage House
This is one of those Seaside Florida vacation rentals that really is perfect. Watercolor Carriage House is not only beautiful but it is in an incredible location.
It's a spacious studio-like room with high ceilings and hardwood floors and makes a perfect romantic getaway. It sleeps two but there is also a queen convertible sofa bed and plenty of room for a crib if you have small children.
There is a microwave but no oven but honestly, it's so close to everything so just eat out. It's a great base to explore the town of Seaside.
The complex WaterColor was voted the #1 Family Resort by Travel and Leisure and this property overlooks a beautiful pond. This property also just steps away from the seven, yes seven pools.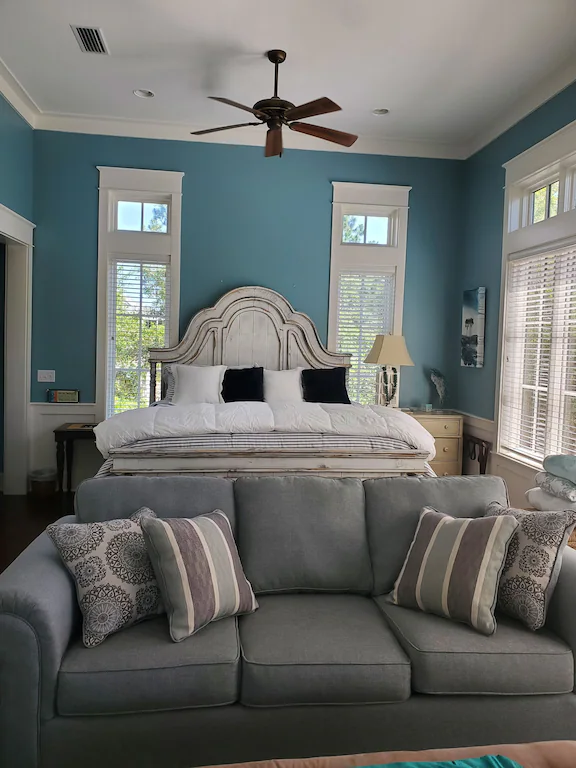 Heavenly Hideaway
With Heavenly Hideaway location really is everything. It's two blocks from Seaside and two blocks from the beaches it doesn't get better than this.
The biggest selling point of this property is its private pool which is in a beautiful walled courtyard. There is plenty of deck space and the foliage around the courtyard creates total seclusion.
The kitchen is bright and modern and stocked with everything you could need. The master bedroom has a king bed and opens onto the pool deck.
There are another two queen bedrooms and the media/game room has two twin beds so this property can sleep eight.
There is also a sunroom and screened porch for you to enjoy. This is one of the Seaside Florida rentals that really does have it all.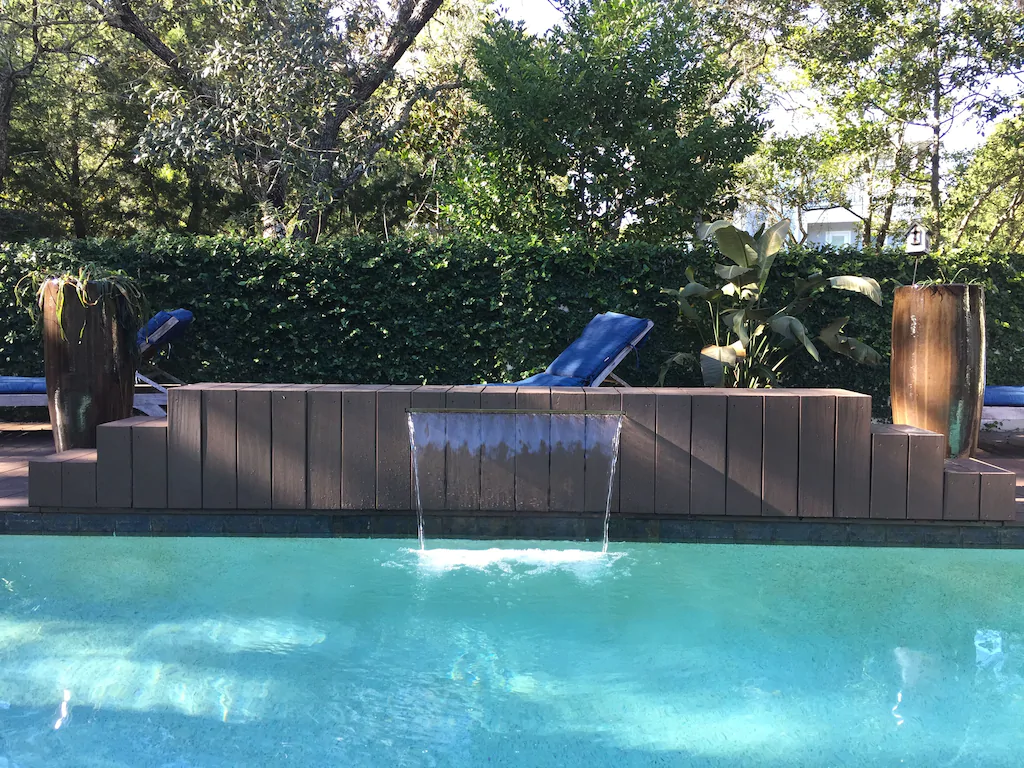 Salty Glass Cottage
You couldn't get any closer to the beach than Salty Glass Cottage in fact you can see the sea from the property. It is literally steps from the beach so if you are looking for a VRBO in Seaside on the beach, this is it.
Also worth noting there is an outdoor jacuzzi and two adult bikes on the property. Sleeping two it's perfect for romantic getaways.
This place is charming, chic, and elegant giving a real "Old Florida" feel. The views from the first-floor covered porch. are just incredible. The perfect place to watch the sunset.
The complex also has three polls and a private fitness area. This is one of the beach house rentals in Seaside Florida that would be perfect for a honeymoon.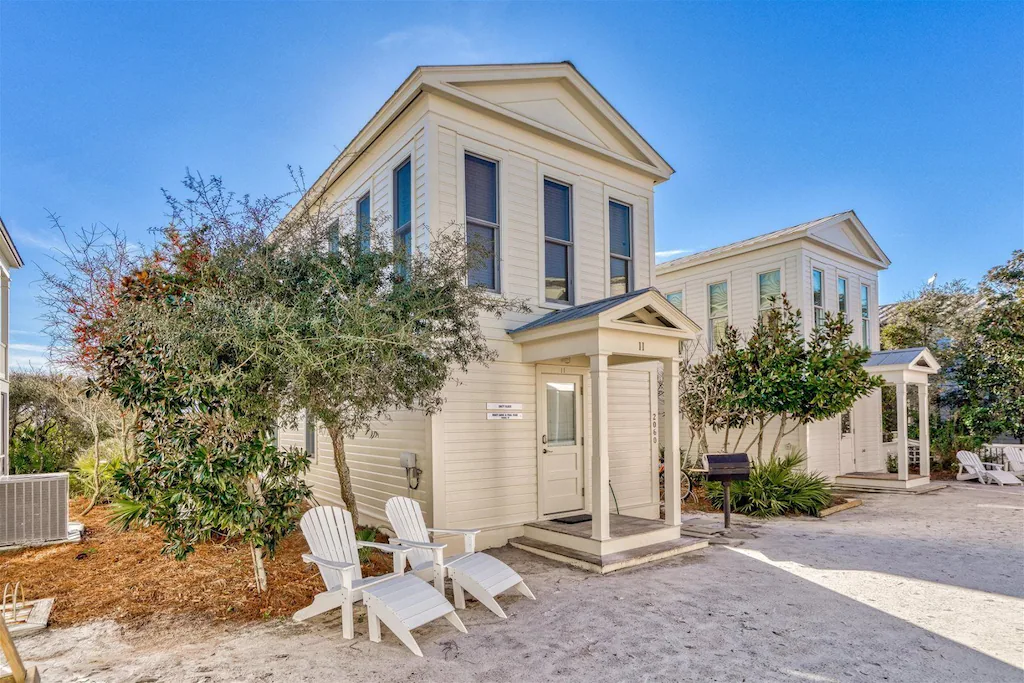 S'more
This is one of those Seaside Florida rentals that couldn't get any closer to the beach. S'more was featured in Designing For Small Homes and is beautiful.
Recently renovated this property can sleep 3, one person sleeping on the sofa sleeper. There is everything you would need in this small cute property including a small deck.
The bedroom has a balcony with incredible Gulf views. There is also access to three swimming pools.
If you need more room this property is the guest house to a bigger house Never Enough which can also be rented.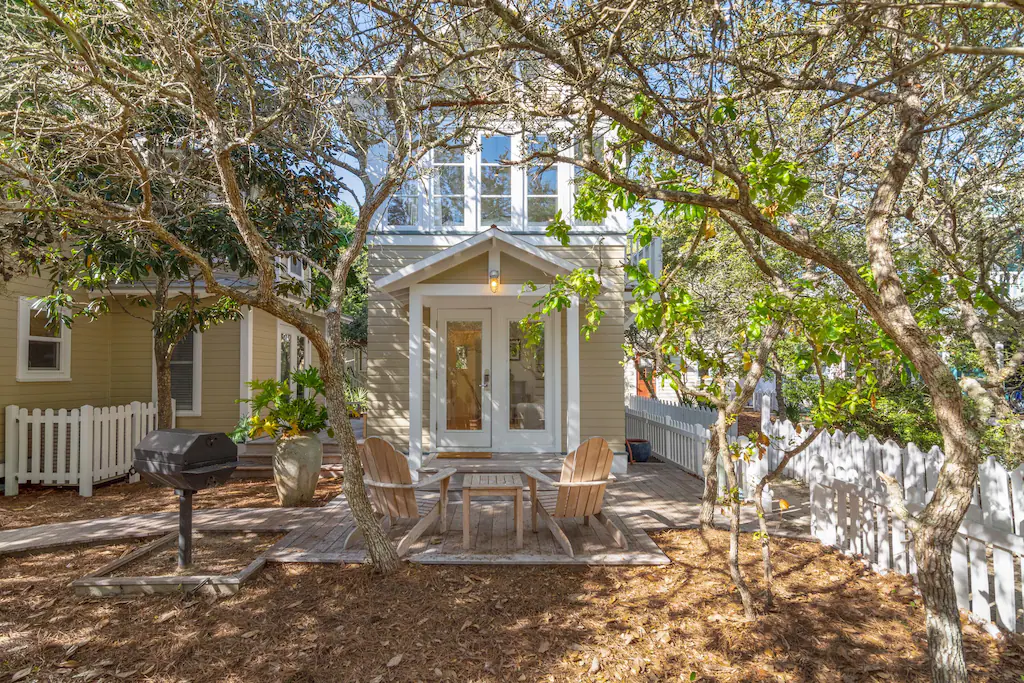 Frosé Rosé
This beautiful property is in Seaside Proper and is in a secluded and historic Rosewalk. and living up to its Rose name this property is pink and so so beautiful. Seaside Florida rentals do not get more beautiful than Frose Rose.
With two bedrooms and two bathrooms, it has a large front page and an open living and dining space. It is stocked with everything you would expect.
Nestled among magnolia trees with beautiful private pathways and gazebos it truly is stunning. The property is a few minute's walk to the private residential beach and is just over 3 miles into the center of Seaside.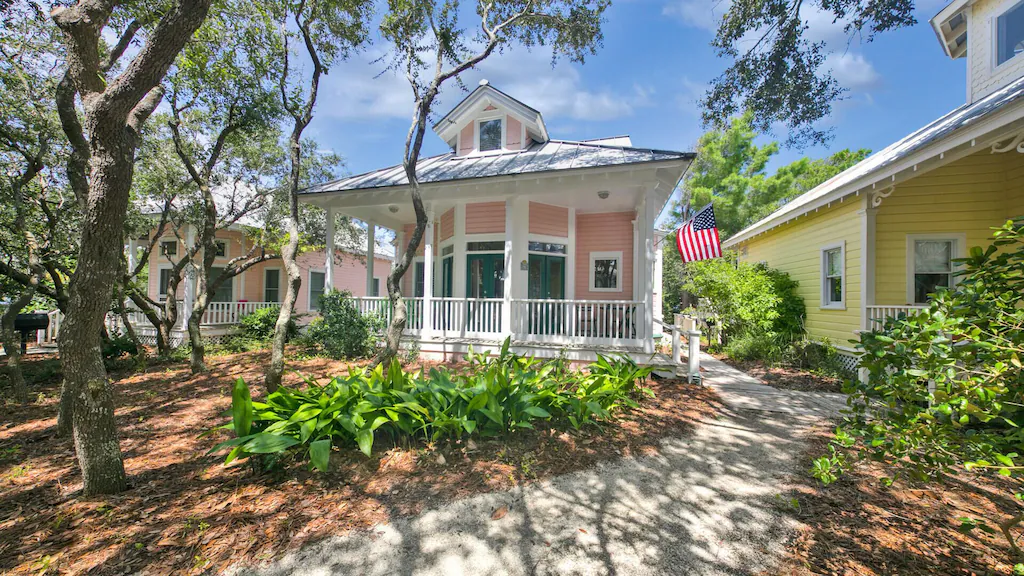 Fantasia Cottage
This cottage is magical and so serene, not to mention the incredible views. Fantasia Cottage can sleep seven and is just off Tupelo circle.
The property is open and spacious with a large screened-in porch. It's quaint, colorful, and has everything you will need and more.
There are three bedrooms one with a queen-sized bed and incredible views. The best bits however are the table for two in a hidden cozy nook and the ship's ladder which leads to the tower and some amazing views.
The property is steps from the town square and the beach so the location is just perfect.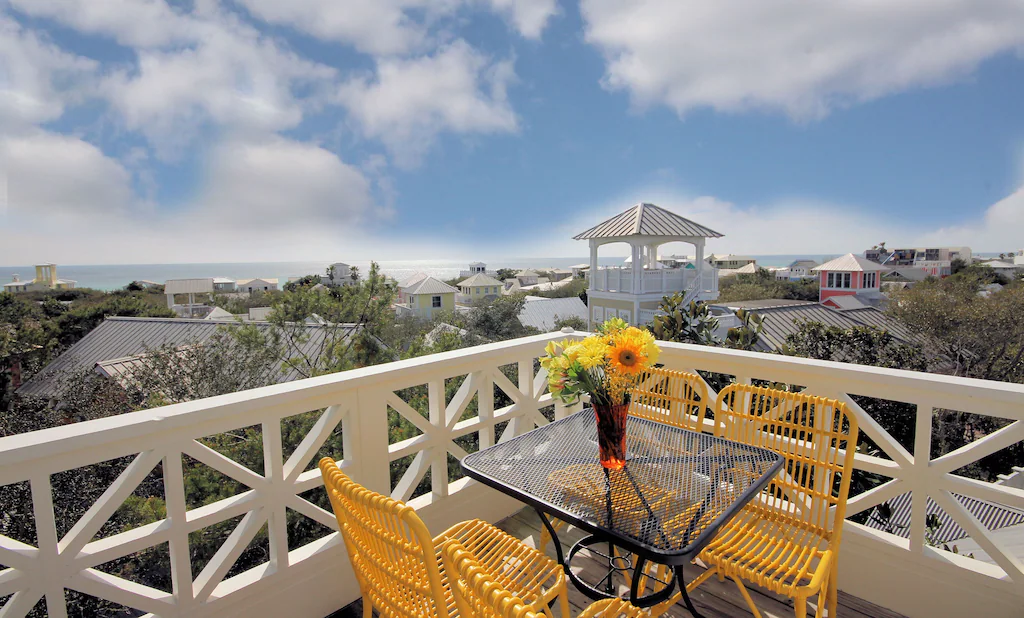 Golden Lady
Sleeping six this spacious and light property is just west of the town square and is a real dream. The living/dining space of Golden Lady is located upstairs to make the best of the views.
The rooms have a queen bed and private bathrooms. The loft space has a trundle bed that sleeps another two people. The upstairs is bright and light.
There is also a lovely balcony off the loft right at the top of the property which is a great place to enjoy the view.
A beautiful property in a great location.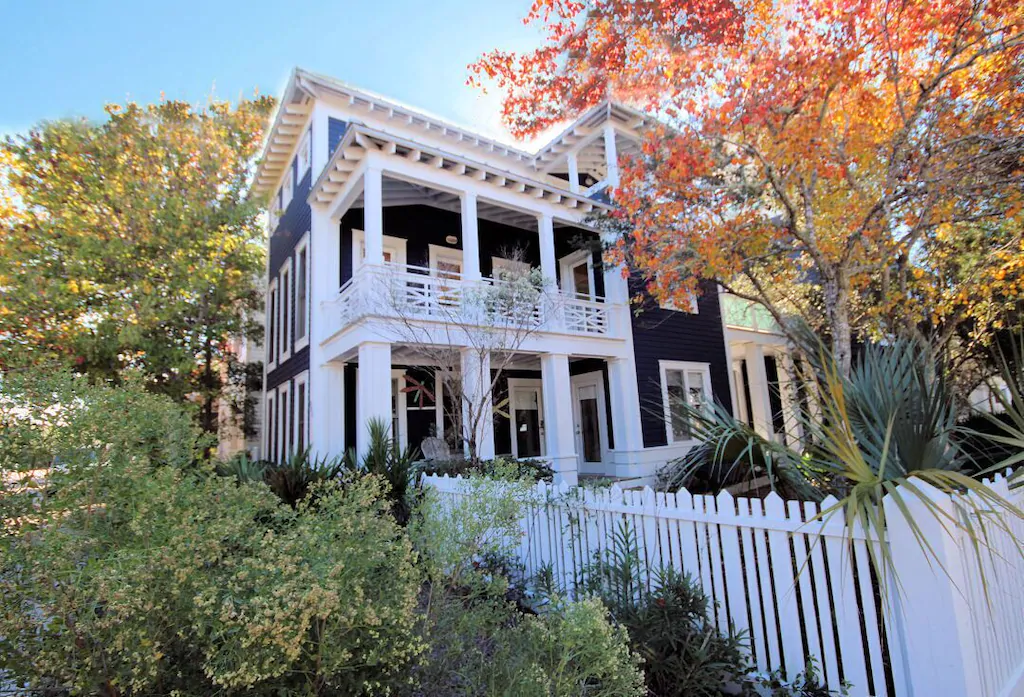 Duet
Sleeping four Duet is down a charming footpath and is spacious, bright, and really cozy. It's just across from The West Side Pool and a short walk to the private Odessa Pavillion beach.
There is a screened porch at the front of the property perfect for an evening glass of wine. Both bedrooms have queen beds.
This house has a simplistic casual style and it really would make a great base to explore this town.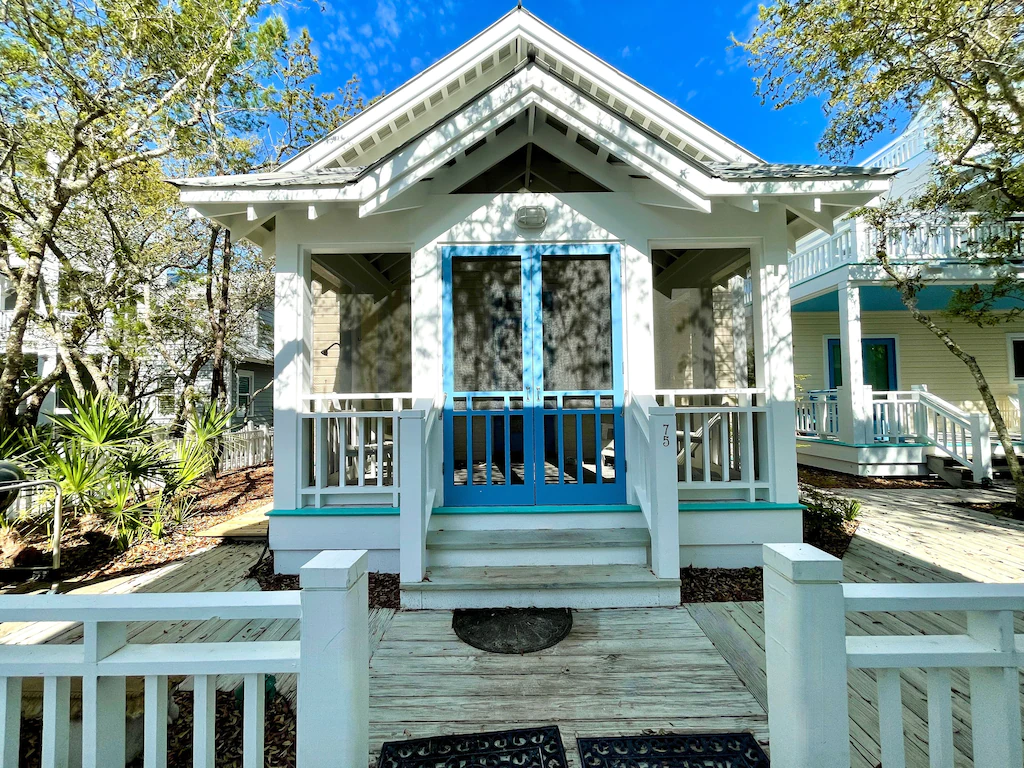 Little Dipper
Directly across from the beach in Seaside this cute property sleeps two and has everything you need for a great stay. Little Dipper is a real gem.
The guest cottage to a larger property Starry Night which you can hire them both if you need more room.
Little Dipper is across from the Odessa Pavilion and two blocks to the Seaside Amphitheater. This is a great little property in a fantastic location.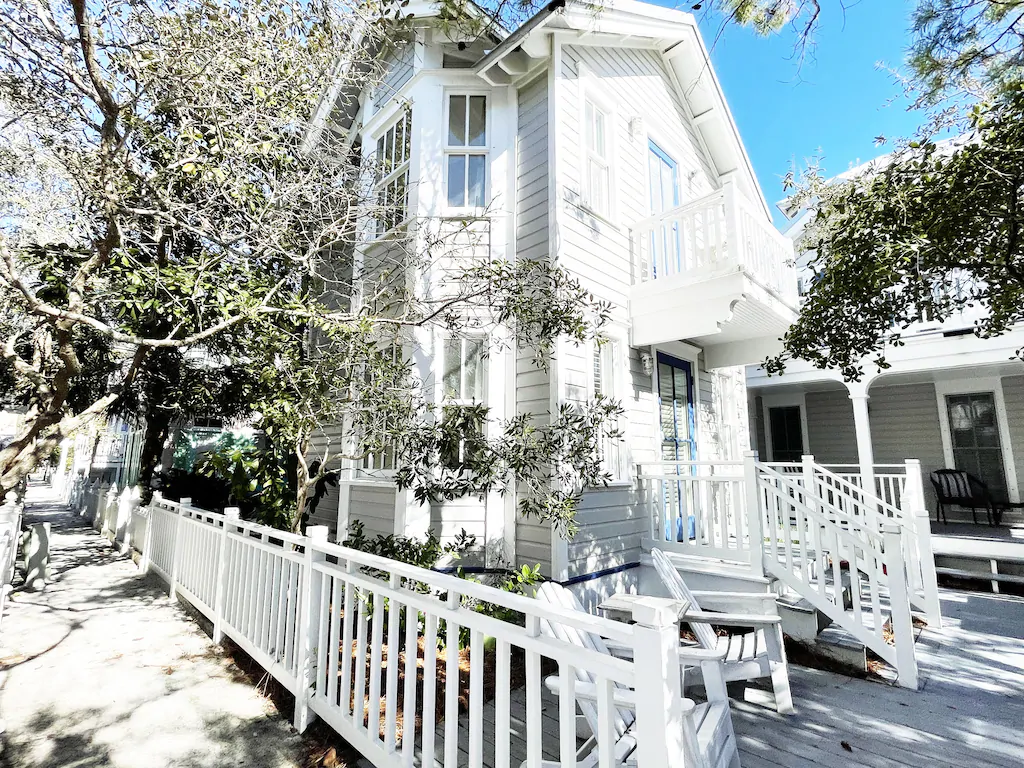 Amazing Grace
Amazing Grace is a dream in yellow that is literally two houses from the beach. There are gulf views from the three balconies and it is one street from Seaside town square.
This property is beautiful with three huge porches/ balconies and there is a designer spa-like bathroom.
There are four bedrooms three of them located on the main floor and one on the top floor with a private balcony and incredible view.
The living space is well appointed and has everything you need and opens up to an oversized balcony. This property sleeps eight and is an incredible property in an enviable location.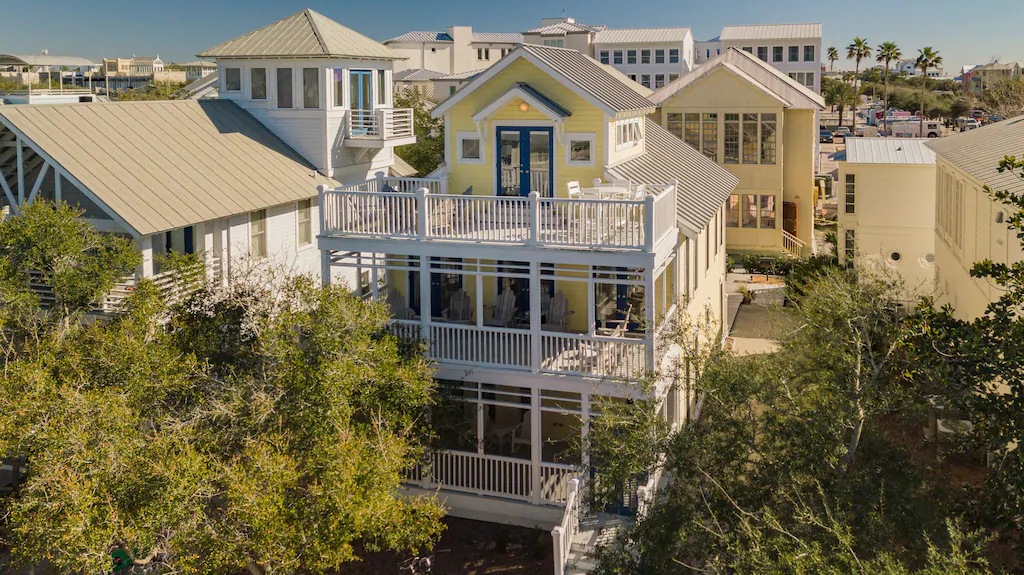 Dreamcatcher
A modern and designed home only 6 houses away from the white sandy beach Dreamcatcher is a perfect family rental. Dreamcatcher is a beach cottage with luxury finishes and elegant style.
There are large windows, cathedral ceilings and the light in this property is beautiful. The property sleeps eight in two queen-sized bedrooms and two twin bedrooms in the loft.
This property is well appointed has everything you need and has a really modern and stylish feel.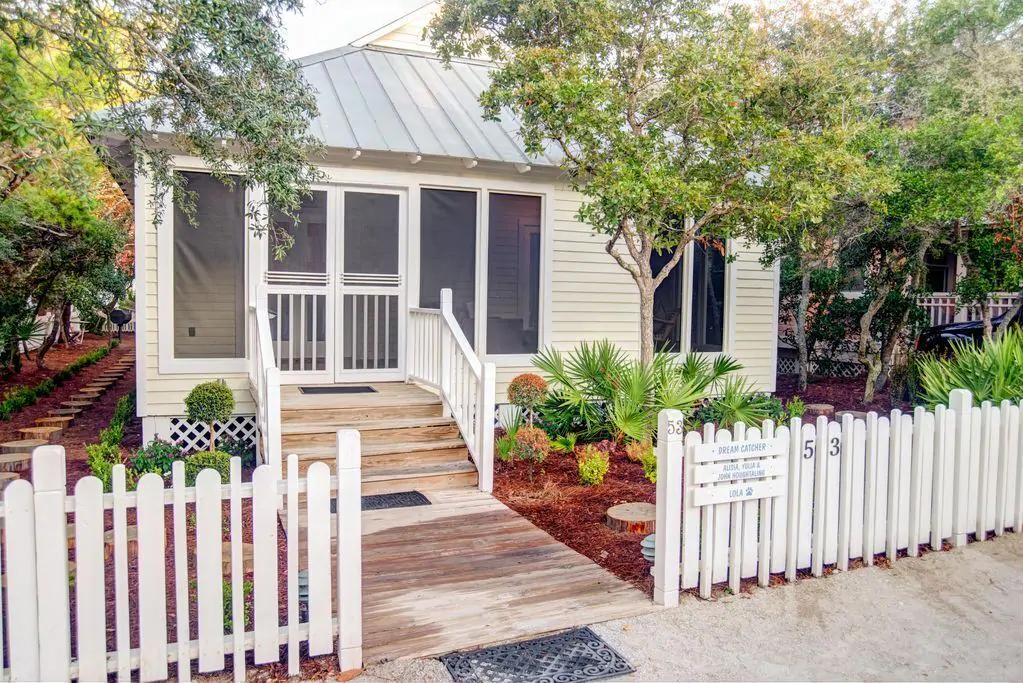 West Indian
An adorable one-bedroom cottage West Indian is just 100 feet from the Odessa beach pavilion and a 2-minute walk from the town center.
You have access to 3 pools, croquet courts, and multiple parks. You are also within walking distance of Airstream Row. There is a balcony and the property is light and open.
And it's a 90-second walk to the beach. A great property to enjoy all that Seaside has to offer.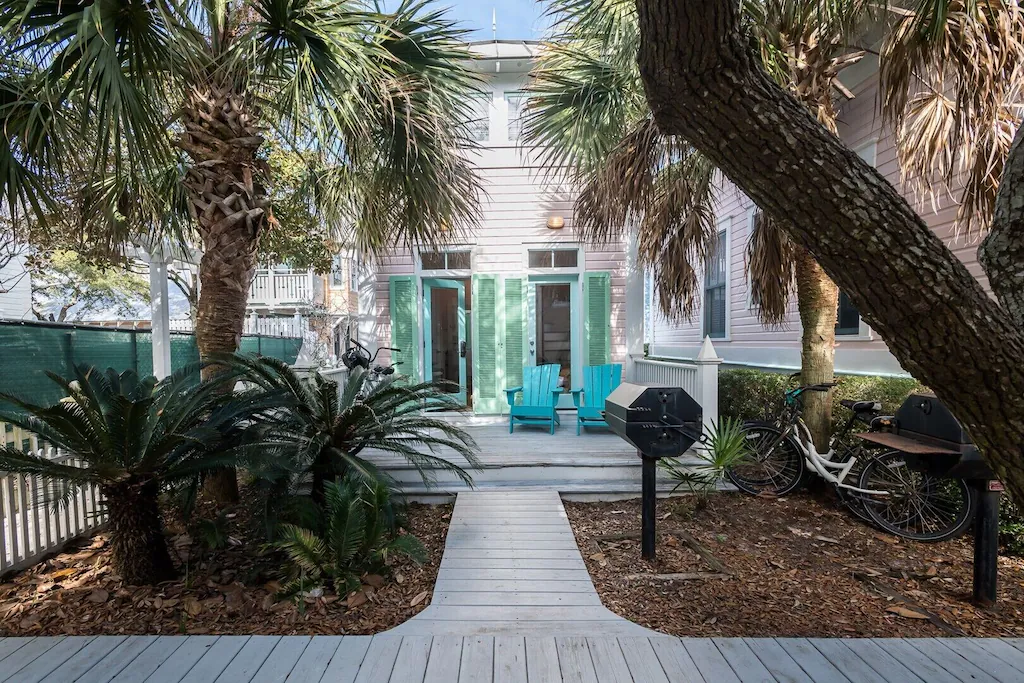 Turkish Delight
This guest cottage is located halfway between the beach and the Westside pool. Turkish Delight is perfect for a romantic getaway as it's cozy and secluded.
There is an open living and dining room leading onto a private deck. The kitchen is small but has everything you need. The queen loft bedroom has incredible views.
The owners have done everything they can to turn this place into a little oasis.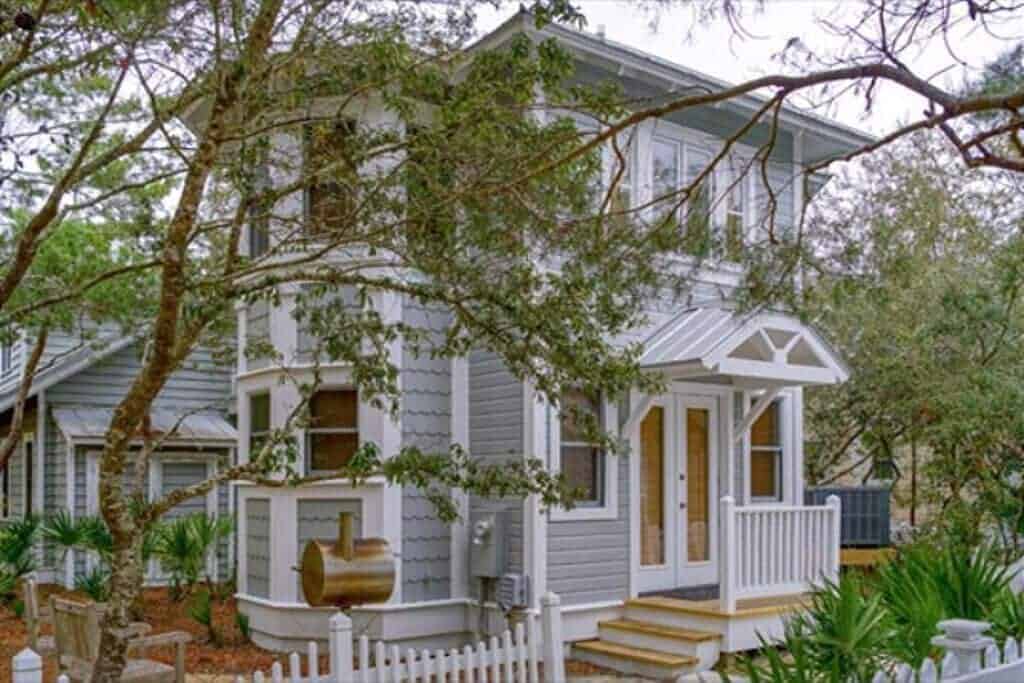 As you can see when it comes to Seaside Florida rentals there are so many to choose from. Whichever one of these Seaside VRBOs you choose we know you will have an amazing time.
Whether you chose one of the cottage rentals in Seaside, Florida, or one of the beach house rentals in Seaside Florida you are in for a treat. Seaside is so idyllic we know you will fall in love with this beautiful town.