If you're looking for something new to do for the holidays, why not try one of these Florida Christmas vacations? Whether you come from a cold climate and would like to enjoy some winter sun, or are simply looking for something new and festive to do for the holidays, we have you covered.
From cities that are all decked out in Christmas style to all-inclusive resorts to private hideaways to a full-blown theme park experience, there are many options for Christmas getaways in Florida. It is definitely a fun place to be over the holidays.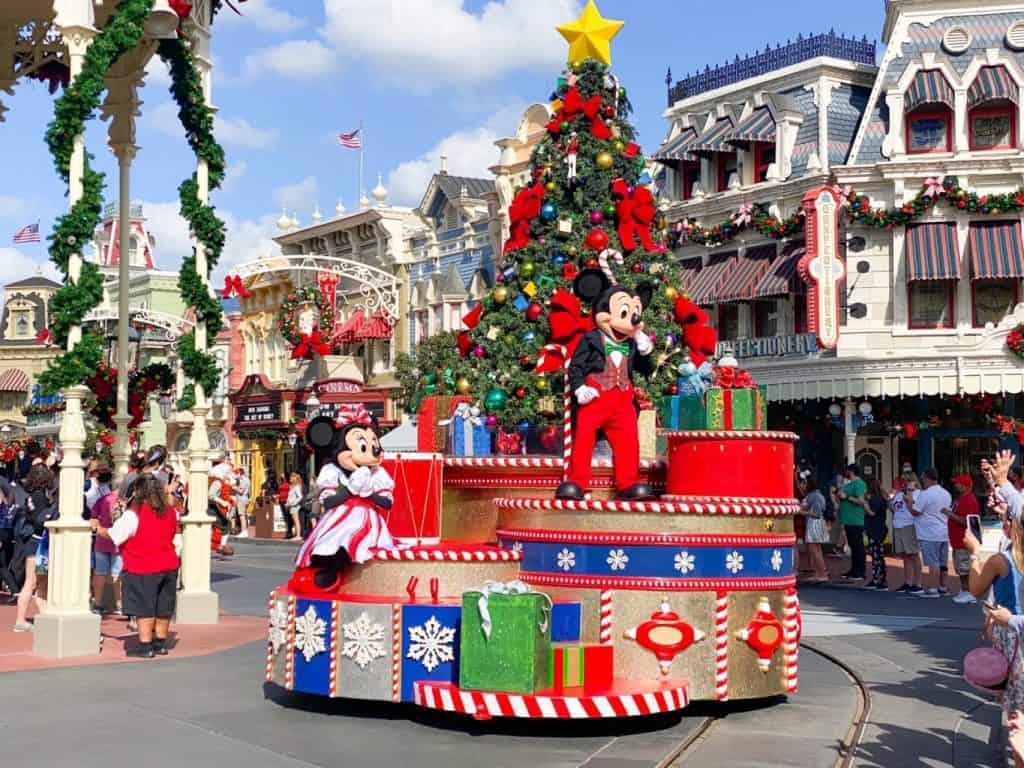 12 Best Christmas Vacation Getaways In Florida
Florida Cabin Getaway
If you're looking to get away from it all, Florida is a great place to find cabins to rent for Florida vacations in December. Here is a peek at some of the cozy cabins available to rent across the state.
Dragonfly Cottage is a tiny cottage just off the Suwanee River in Fanning Springs. If there are two of you wanting to escape to the Florida countryside, this is a great option. It is a great place to kick back, relax, and enjoy water sports such as kayaking and canoeing.
Another cabin for two, this Cottage is in horse country. It is a renovated and modernized barn that has been turned into the perfect spot for anyone wanting to really get away from it all. The place has all the modern appliances and a small private pool as well with no nearby neighbors.
For families, there is this beach house a mere 20 steps from the beach. It has two bedrooms and a private deck for outdoor dining and/or grilling. It is located on Belleair Beach near Clearwater.
For a slightly larger group, Sunrise Beach Retreat sleeps 8 adults and is right on the beach in Painters Hill north of Daytona. it is a great place to get away with your family and friends somewhere steps away from the water.
And there are a lot more cabins to discover across the state for those who want Florida Christmas vacations away from it all.
Where to Find a Cabin: Check Rates at vrbo.com
Orlando
Orlando is, of course, one of the most popular destinations in Florida at all times of the year, so it should definitely be on anyone's list of must-experience Florida Christmas vacations. There are many fantastical lights displays and other entertainment for visitors to enjoy over the holiday season in Orlando.
Besides the theme parks-such as Walt Disney World Resort, Universal Orlando Resort, SeaWorld Orlando, and Legoland Florida Resort-which go all out for the holidays, there are many other venues to be found across the city.
One of those is at the Florida Mall where the Crayola Experience store puts on quite a show, including a musical show for visitors to sing along with, holiday figures that move, and a scavenger hunt and crafting area to bring out the creatives in everyone.
There is also the new Dazzling Lights at the Harry P. Leu Gardens, which gives visitors a magical display of lights, sculptures, and more amidst a lush tropical garden. This is one of our favorite places to see Christmas Lights In Florida!
And the Orlando Museum of Art puts on a Festival of Trees for visitors to enjoy and purchase. The Lake Nona Town Center also gets involved, offering an outdoor winter wonderland where people can skate and enjoy holiday treats while experiencing festive holiday shows.
And appropriately enough for a city that contains the "happiest place on Earth," there is a lot more holiday cheer to enjoy across Orlando for anyone's Florida Christmas vacation. There are many fun restaurants in downtown Orlando, some fun nighttime rooftop bars, and much more.
Where to Stay in Orlando:
JW Marriott Orlando Bonnet Creek Resort & Spa: Check Rates on hotels.com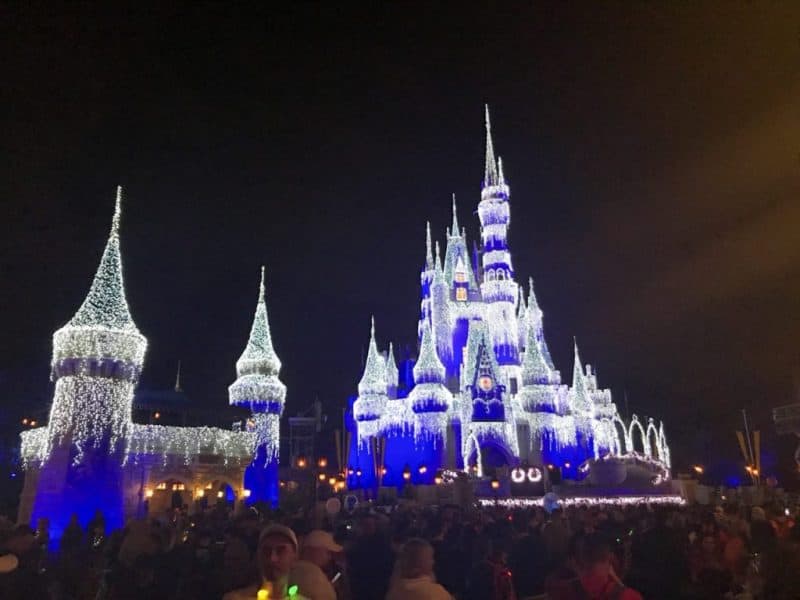 Saint Augustine
St. Augustine is one of the quaintest and most historic cities in Florida year-round, but at Christmas, it truly becomes a spectacular place for Florida Christmas vacations. One of the most famous of St. Augustine's holiday celebrations is its Nights of Lights. This festival owes its beginnings to when Spanish settlers lived in the area and would light candles and set them in their home windows for the holidays.
Make sure to check out our master post on the Best Time To Visit Florida including a breakdown by month, weather, events, and more!
In modern times, the festival begins at the Plaza de la Constitución where visitors can find a beautifully decorated holiday tree in the center of the plaza, and the nearby oaks strung with lights. From there the lights stretch throughout the historic district, covering everything from bed and breakfasts to shops to restaurants, as everyone gets involved in the holiday cheer, covering the area in more than 3 million white lights. The display is up from late November to the end of January.
And the fun doesn't stop there. There is a lot to do in St. Augustine. There are trolley tours, an aquarium, a winery, a chocolate factory, and much more for visitors to enjoy. There is also, depending on when you are in the area, a candlelight tour of the Villa Zorayda Museum, a beautiful Moorish Spanish Revival residence, built in the late 1800s that has in recent years been turned into a museum filled with antiques from across the globe.
Or if antiques aren't of interest, there is the family lighting event at St. Johns County Pier Park with food and entertainment, and one of the largest Christmas parades in Florida, with bands, floats, and even an appearance by Santa himself that winds through St. Augustine's historic district. All of this makes St. Augustine one of the best Florida Christmas vacations.
Where to Stay in St. Augustine:
Bayfront Marin House: Check Rates on hotels.com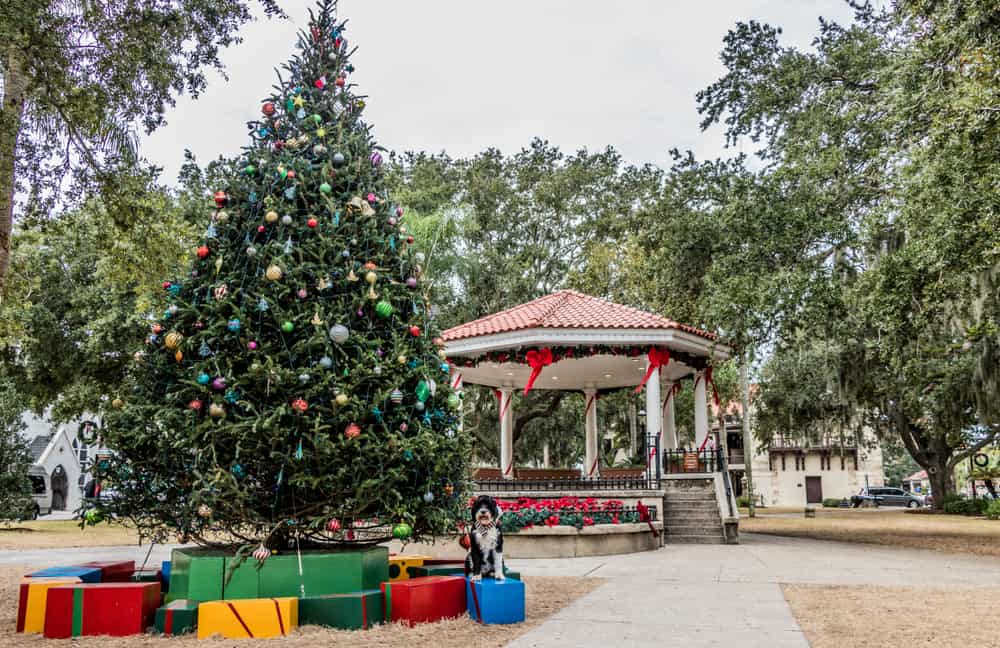 Tampa
Another spot on the map to consider for your Florida Christmas vacation is Tampa. The city has much to offer Christmas lovers of all ages.
The first of the places to visit in Florida in December is the Busch Gardens Tampa Bay Christmas Town. Extending from mid-November until just after the New Year, Christmas Town is a wonderland of lights, character meet and greets, and family-friendly shows. There are special holiday treats located throughout the park, and extended hours, so visitors can truly experience the awe-inspiring lights displays.
There is also a Winter Village that appears in downtown Tampa every mid-November until just after the New Year at Curtis Hixon Park. There is something there for the entire family, including an outdoor ice rink right on the Tampa Riverwalk, seasonal shows, a Cafe where visitors can taste the best of the season, and much more.
And speaking of the Riverwalk, every year Tampa decorates the waterway for the holidays with a light display for guests to stroll through. This includes a floating LED Christmas tree, a gingerbread lighted display, and a lighted pine tree forest on the Riverwalk Manor Dock. The restaurants and bars along the waterfront also join in with the fun, making the Riverwalk a winter wonderland of lights. There is also an annual Lighted Boat Parade that takes place in mid-December.
And for anyone who wants a bit of classical Christmas fun, the Carol Morsani Hall offers performances of the popular Nutcracker ballet a few nights in mid-December. And the Henry B. Plant museum-located in the old Tampa Bay Hotel-offers visitors a Victorian Christmas Stroll where they can experience firsthand grandiose decorations from a bygone era.
And these are just a few of the many things taking place in Tampa during the holidays. Tampa has a lot to offer anyone wanting to experience Florida Christmas vacations.
Where to Stay in Tampa:
Aloft Tampa Downtown: Check Rates at hotels.com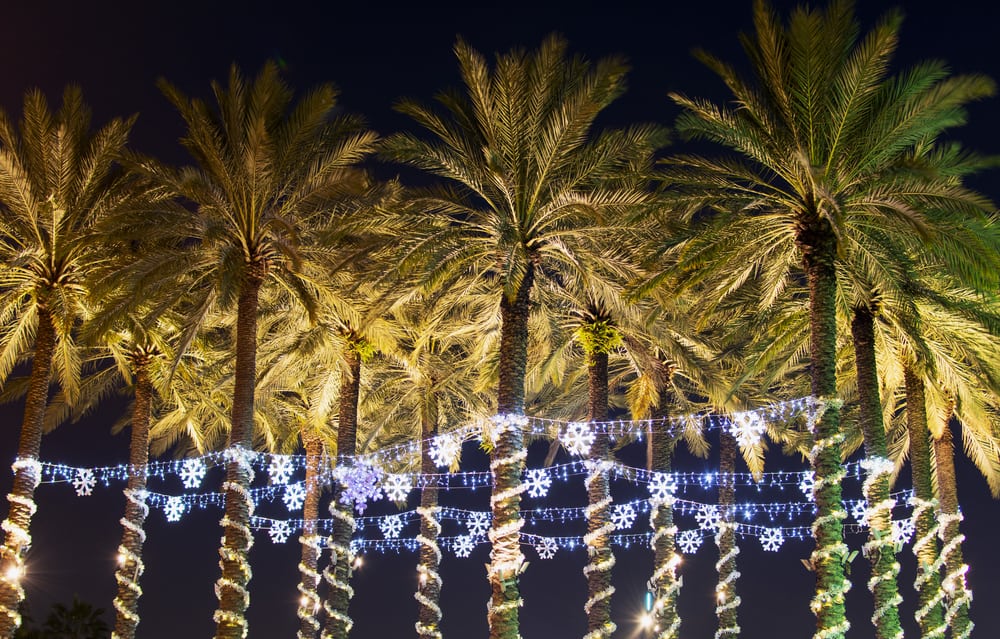 Miami
Miami is another city that should be on anyone's list of Florida Christmas vacations. The whole city seems to get involved in the holiday, so it's fun just to walk around and see all of the decorations, but there is much more to do than that.
Firstly, Miami is home to the largest holiday theme park in the world: Santa's Enchanted Forest. The park has rides for all ages and tastes from kiddie rides to thrill rides. There are also holiday-inspired shows and attractions, including huge displays of lights with many photo-worthy spots to capture memories. And, of course, it wouldn't be a Christmas theme park without delicious food and the opportunity to sit with Santa. The park has something for everyone.
For those interested in Florida's history, there is the Deering Estate, which has been preserved to show what the estate was like in the 1920s when Charles Deering, a Chicago industrialist, owned the home. For Christmas the place is done up in 1920s style, allowing visitors a glimpse of what it was like to celebrate during the "Gilded Age." The estate has a full range of holiday events for all members of the family, including Storytime with Santa, and Historic Holidays Evening Strolls.
Another historic estate in the area that does it up in grand fashion for the holidays is the Vizcaya Museum & Gardens. Besides the beautiful decorations, there is lantern-making for all ages where visitors can create stained glass-like lanterns for the holidays. And there is also hot chocolate and the opportunity to learn about the history of the estate while basking in all the holiday decor.
Another family favorite is the Miami Zoo, which is decorated in grand fashion with over a million lights decorating trees or shaped into different animal forms. There are also interactive musical performances, a Snowman's boat ride, photos with Santa, and much more.
And again, for those who like a more traditional Christmas event, the Miami City Ballet company performs George Balanchine's The Nutcracker for most of December.
And that is just the beginning. There is a lot to do over the holidays in Miami for those who make Miami one of their Christmas getaways in Florida.
Where to Stay in Miami:
Sixty80 Design Hotel: Check Rates at hotels.com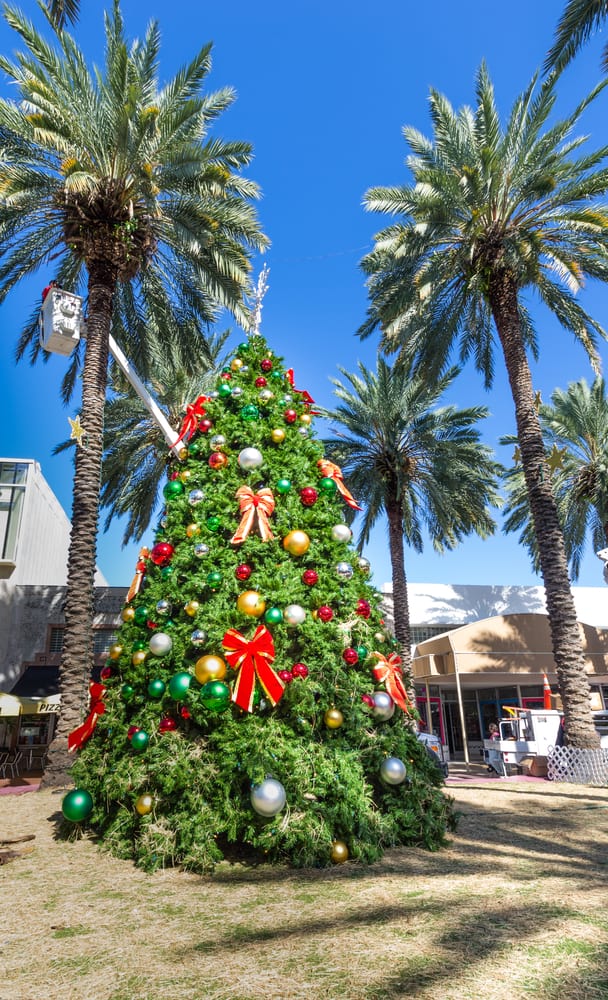 Key West
Key West is always a fun destination to visit, and it continues to be fun as one of the best Christmas getaways in Florida. The holiday season in Key West is filled with events that cater to all ages.
One of the unique venues Key West has to offer is the Key West "Bight" before Christmas with its Holiday Celebration and The "Harbor Walk of Lights." A bight is a bend in a shoreline that makes the harbor particularly wide, and Key West certainly goes all out along their entire wide harbor with the Christmas festivities.
The Harbor Walk of Lights runs from Thanksgiving to New Year and leads visitors past several Key West Christmas traditions, including the Fishing Buoy Tree, a Nautical Christmas Tree, and the original West Lobster Trap Tree. But those are only a few of the sights along the walk. The entire path is lit with a variety of nautical designs, including anchors, tropical birds, and many of Florida's most famous sea animals, including manatees, sea turtles, and dolphins. And, of course, no Florida holiday light display would be complete without the pelicans and flamingos!
And along the route, there is an assortment of fun boutique stores with something for everyone, and a wide range of delicious restaurants and bars when it's time for a rest. There is also a Lighted Boat Parade that is visible all along the Harbor Walk of Lights that is sure to please with its dazzling display.
Key West has many historic inns, and another way to experience the holiday season is to take the Holiday Historic Inn Tour to see all the decorations and enjoy great holiday food and drinks. Or if you'd prefer to ride, there are trolley tours that take visitors all around Key West to view the place dressed up like a Christmas wonderland. And there is a lot more to do than just look at lights. Key West has something for everyone and is certainly one of the top places to visit in Florida in December.
Where to Stay in Key West:
Oceans Edge Key West Resort, Hotel & Marina: Check Rates at hotels.com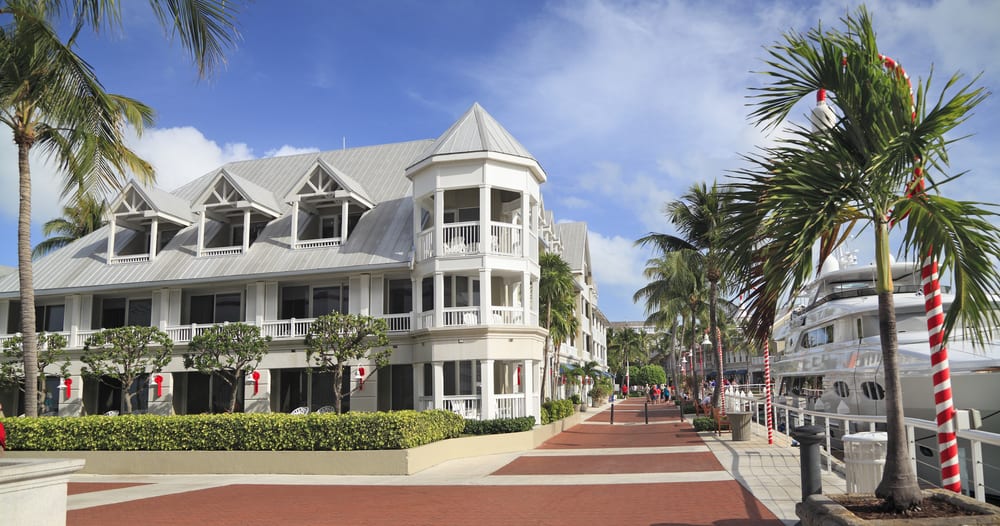 Sanibel and Captiva
Sanibel and Captiva Islands are off the west coast of Florida near Fort Myers. They are a small community with a great deal of old Florida charm, and they have much to offer anyone interested in Florida Christmas vacations.
The whole island community gives a unique take on celebrating Christmas as they come together to bring the holiday season to life. Everything is decorated in holiday style, including the boats, which boat owners take pride in decking out as festively as possible. There are boat parades for everyone to enjoy, but even a walk along the marinas at nighttime is a sight to behold as the lights dazzle the eyes.
Residents also enjoy lighting up their palm trees and other Florida plants in bright, vivid colors, which is something the whole family will enjoy strolling around to see. And there is always the chance of spying a display of Santa in a sled led, not by reindeer, but by flamingos or dolphins.
Sanibel Island offers a variety of holiday concerts each year, which is a fun way to get into the holiday spirit. And residents of Captiva Island annually turn their small island community into a quaint holiday village filled with thousands of lights.
Also worth a look are the 3 miles of roads on both Sanibel and Captiva Islands that people decorate with luminaries in paper bags, which light up a nighttime stroll in high holiday fashion. Along the way walkers can sometimes see Santa and Mrs. Claus as well as a live nativity set. And, of course, anyone wanting to leave the islands for a bit can also find a wide range of activities in Fort Myers to enjoy, which makes this a great location for those wishing to enjoy Florida Christmas vacations.
Where to Stay in Sanibel and Captiva:
Island Inn: Check Rates at hotels.com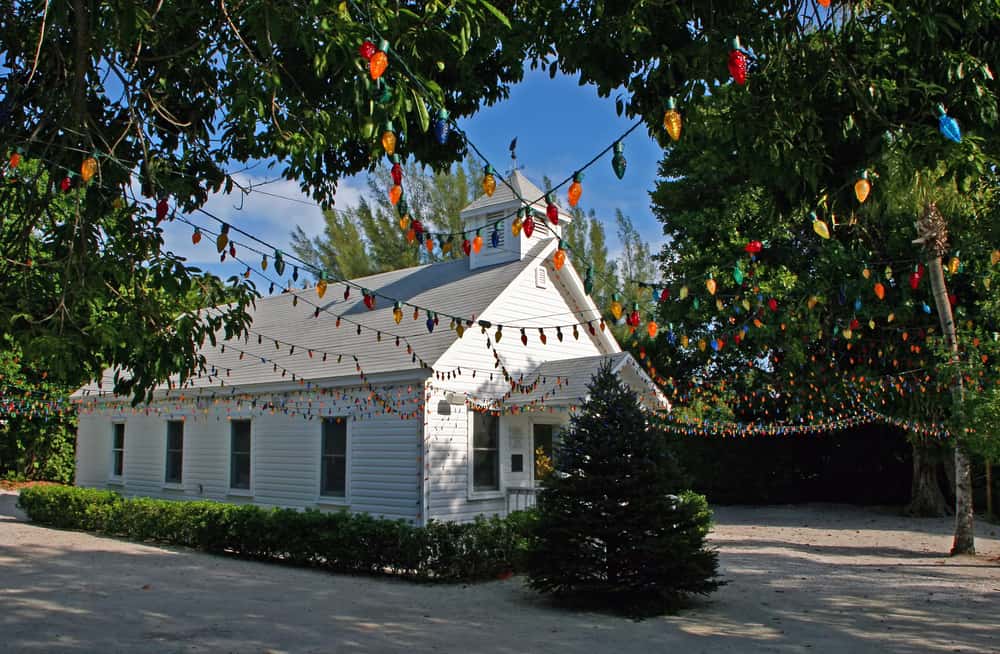 Sarasota
Like many cities in Florida around the holidays, Sarasota has a unique approach to Florida Christmas vacations, playing up the idea of mixing traditional winter Christmas images with those found in Florida in December, like dolphins and warm weather. And there are many things to do in the area for the holidays.
The first thing that kicks off the holidays in Sarasota is the St. Armands Holiday Night of Lights. Early in December, they have a tree lighting ceremony downtown with opportunities for photos with Santa. The whole area gets involved, and there are holiday specials at the shops and traditional holiday treats to savor at the nearby restaurants.
Another early December treat in Sarasota is their Downtown Sarasota Holiday Parade. The parade goes down Main Street and has more than a thousand participants on hundreds of floats and circus wagons, bringing a bit of old-time Sarasota to life for the holidays. And the parade ends with Santa and Mrs. Claus making an appearance.
Then there's the Sarasota Holiday Boat Parade of Lights, which contains over two dozen boats done up in brilliant lights with their festive decorations and seasonal songs. The parade passes in the water by the Bayfront Park and Centennial Park shorelines.
There is much more to do around the holidays in Sarasota, but one show that is completely unique to Sarasota is their Sailor Circus Season's Greetings entertainment. The show is put on by circus student acrobats aged 8-18 who put on a high-flying seasonal show that is sure to please everyone.
And speaking of youth performers, there is also the annual Gingerbread Festival that is put on by the Girl Scouts of Gulfcoast Florida. The Festival features a large gingerbread village of houses built by local groups, and visitors can vote on which house is their favorite, and the houses are actually for sale at the end of the viewing.
And, of course, this is just a sampling of the many fun activities available around Sarasota for the holidays, which makes Sarasota one of the best places to visit in Florida in December.
Where to Stay in Sarasota:
Art Ovation Hotel: Check Rates at hotels.com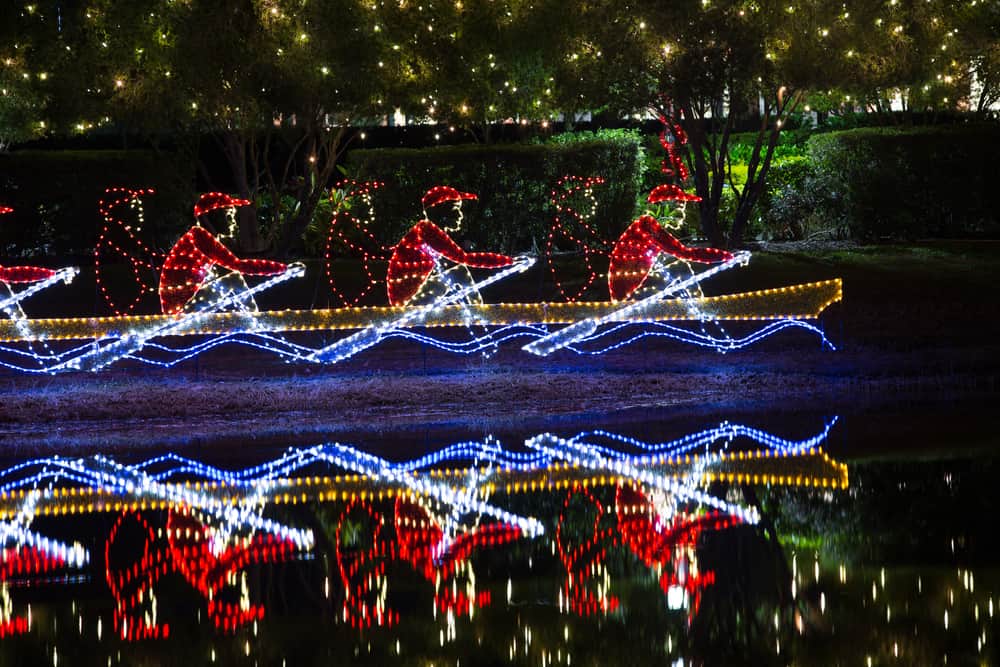 Disney World
Anyone who loves Disney World will want to consider it as one of the places to visit in Florida in December. The theme park goes all out for the holidays. Beginning in mid-November, all of the Disney theme parks are decked out in grand fashion, and there is a lot of fun to be had.
At the Magic Kingdom, one fun event they have that requires a separate admission ticket is Disney Very Merriest After Hours, which is an event filled with music, special Christmas lights on Cinderella's castle, and even snow falling on Main Street. There are also special character sightings, festive treats, and fireworks to round out the fun. And for regular admission, there is still all the holiday decor, special holiday treats, and much more.
Then there is the Epcot International Festival of the Holidays, where the World Showcase gets a Christmas makeover with holiday treats and decorations from around the world. Each country brings their home celebrations to Florida for visitors to experience for themselves with songs and visits from Disney characters. And people of all ages will enjoy the Holiday Cookie Stroll where guests can take their Festival Passports to five different locations throughout the park to purchase a special dessert and get a stamp for their books.
Disney's Hollywood Studios joins the fun with the Sunset Seasons Greetings projection show at the Hollywood Tower Hotel. There is also a Santa Claus Motorcade where he travels up Hollywood Blvd. in a bright red convertible. And top that all off with a Frozen holiday singalong led by popular Olaf.
And, of course, Disney's Animal Kingdom has the holiday spirit too. Watch for the different flotillas that can be seen throughout the day. Santa floats down the Discovery River on a flotilla accompanied by holiday songs. Donald Duck and friends have their own flotilla where they celebrate the season in style. And there's much more to see including festive decorations and the Tree of Life Awakenings-Holiday Edition where the tree sparkles and shines along with popular holiday tunes.
And this is just a sampling of all the Christmas fun for anyone wanting to experience Disney Florida Christmas vacations.
Where to Stay at DisneyWorld:
Disney Resort Hotels: Check Rates at disneyworld.disney.go.com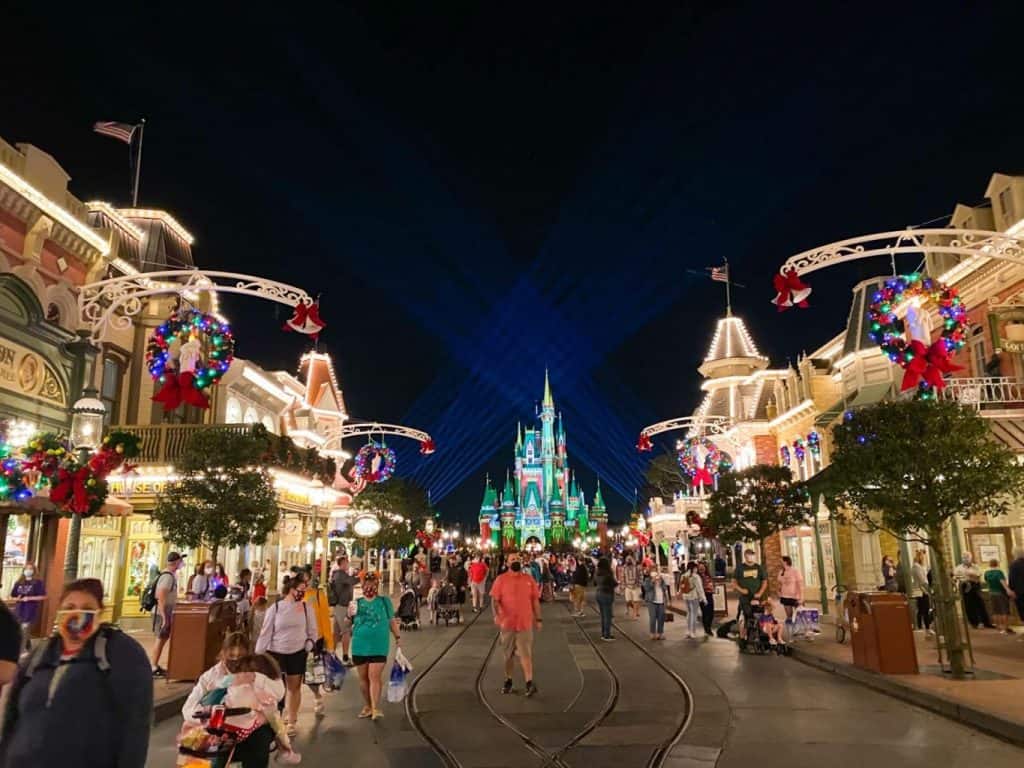 Naples
Naples is another of the fun and festive Christmas getaways in Florida. There is a wide variety of things to do in Naples in December, so there's sure to be something that everyone will enjoy.
One of the earliest holidays treats that Naples offers is the Annual Christmas Walk and Tree Lighting Ceremony. The walk takes place on Naples' Fifth Avenue and is an event filled with holiday cheer. The different shops and restaurants decorate for the holidays, and the walk ends at the large Christmas tree where Santa and the Mayor light the tree for the season.
For those who like the theatre, TheatreZone is putting on an original production Home for the Holidays. The show is made up of music and dance routines choreographed to holiday favorites with a live orchestra accompanying the performers. There is also the Harry Potter Magical Holiday Ball where visitors can dress up if they so choose, as their favorite Harry Potter character and join in for an evening of dancing, music, and other seasonal activities.
History lovers will enjoy Palm Cottage, an old Naples home that was built in the late 1800s and is now a museum. The home is decorated for the holidays in grand 19th-century style and shows a slice of past Naples.
One favorite entertainment that is offered each December is the Christmas Boat Parade on Naples Bay. Boaters go all out to decorate their vessels in brilliant holiday displays, mixing traditional winter-themed motifs with more Naples-like tropical themes. And speaking of holiday lights, one unique place to experience the beautiful lights of the season is at the Night Lights in the Garden at Naples Botanical Gardens. Their visitors can experience tropical plants in a way they never have before with thousands of lights illuminating them in grand holiday fashion.
There are also several neighborhoods around the Naples area that get together to put on amazing holiday displays of lights and other decorations. And there's a lot more to do in the Naples area for those interested in being in Florida for Christmas.
Where to Stay in Naples:
Latitude 26 Waterfront Boutique Resort: Check for rates at hotels.com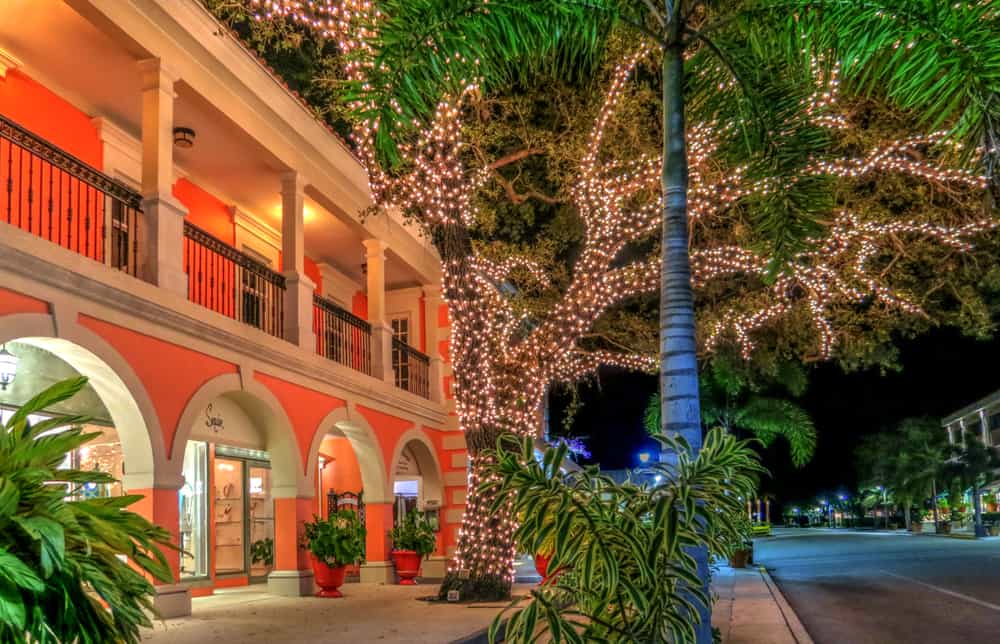 Stay at an all inclusive
Anyone looking for an all-inclusive resort to spend their Florida Christmas vacation has many options throughout the state. One family-friendly option for those who love to be active is the Club Med Resort at Sandpiper Bay near Port St. Lucie.
Located along the St Lucie River, the resort is located in a lush tropical area where visitors can wander amidst the sun and surf and relax in a safe environment.
Guests can choose from seven different restaurants and bars like the Marketplace restaurant along the St. Lucie River or the Lucky Lime, a taqueria at the center of the resort. There are also bars like The Infinity bar near the adult-only pool, or the Slice Lounge, located near the theater.
And there is a lot to do for those who wish to do more than just bask in the Florida sun. There are three outdoor pools, tennis, golf, a spa, and much more. There are also a few academies where guests can learn to improve their tennis, beach volleyball, or trapeze skills. And there is an on-site Fitness Academy filled with state-of-the-art equipment and facilities for fitness lovers. And there are daily activities offered such as Zumba, Pilates, and BODYPUMP.
And for those who want a bit of culture or socializing, there are day and night entertainments available. Those include parties, trapeze shows, dancing, fireworks, live performances, and more. The resort offers something for anyone looking for one of the best Christmas getaways in Florida.
Club Med Resort at Sandpiper Bay: Check rates at clubmed.us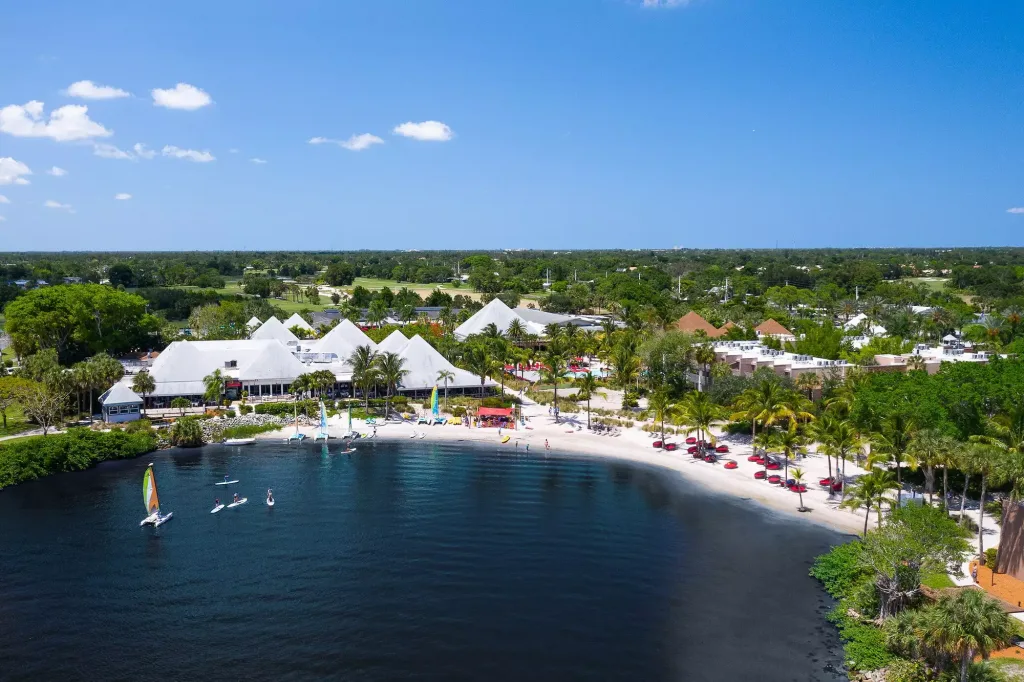 Jacksonville
Those who are in the north of Florida should definitely add Jacksonville to their places to visit in December. There are many family-friendly events in the area for those wanting to enjoy the best of the holiday season.
One fun thing to do in the areas is at the Alhambra Theatre where they put on a musical production based on Charles Dickens' holiday favorite Christmas Carole. And anyone interested in holiday music can also attend the Holiday Pops concert at the Jacksonville Symphony. Or for something different, there is the Hip Hop Nutcracker, which offers an evening of contemporary dance routines to Tchaikovsky's beloved music.
For those wanting to experience holiday lights, there are several places throughout the city that will thrill people of all ages. The first is Dazzling Nights at the Jacksonville Arboretum & Botanical Gardens. The gardens are transformed into a 3/4-mile interactive holiday display filled with forests of dazzling lights and gorgeous sculptures. For those who would prefer a drive-through experience, there is the JAX Illuminations Annual Drive Thru Holiday Light Show at the Morocco Shrine Center. There, visitors can tune into a special radio station to listen to holiday favorites as they drive through a Christmas wonderland.
One of the unique events Jacksonville has to offer is the Deck the Chairs event where more than 40 lifeguard chairs are decorated for the holiday. The light display is available from late November until New Year, but there is a kickoff event where the chairs are actually decorated and there is music, hot chocolate, and the chance to vote on favorites.
And for those who love the zoo, there is the Jacksonville Zoo and Gardens ZooLights. The place is covered in light displays with topical themes, and there are animal designs, moving sculptures, and even a visit from Santa and Mrs. Claus. And for those who would like the best of both worlds, Jacksonville offers the Winterfest at Adventure Landing, where guests can walk off the warm streets of Jacksonville into a world of snow and winter favorites such as ice skating, Santa's Workshop, and much more.
And there are lots of other things to do in Jacksonville for anyone wanting to Florida for Christmas vacation.
Where to Stay in Jacksonville:
Hyatt Regency Jacksonville: Check Rates at hotels.com