Are you on the search for beaches in Panama City to enjoy some of that Florida sunshine? Then you are in the right place! We have some of the best beaches in Panama City for you to choose from!
Whether you are looking for the best local hangout beaches of a secluded place to spend the afternoon with a good book we have you covered. We have Panama City beaches and beaches near Panama City. And the best part is that all of these beaches are an hour or a less to get to by car so you can be digging your toes into the sand in no time!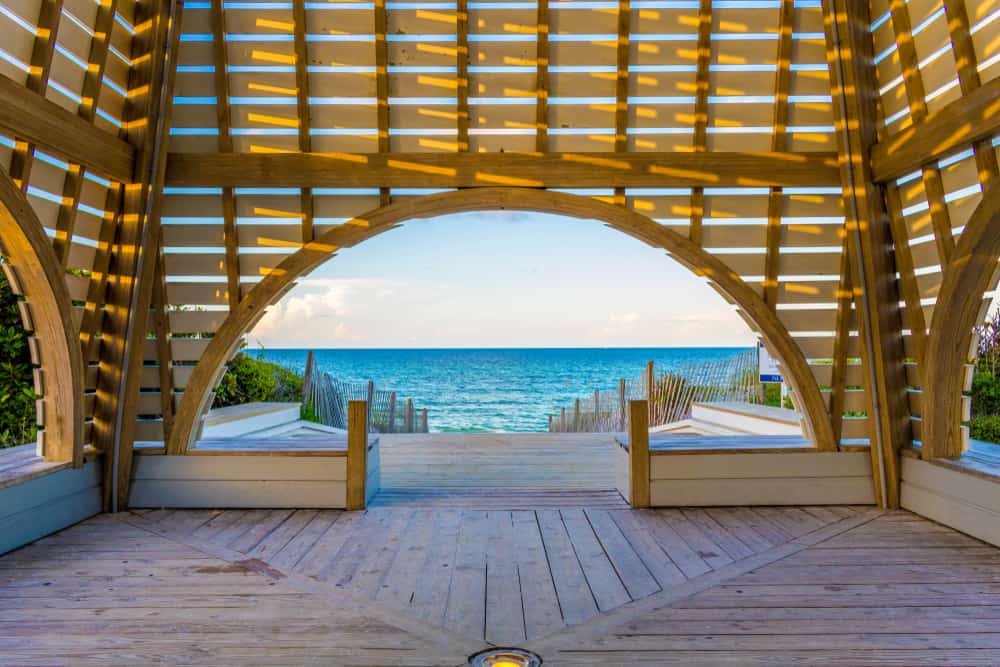 10 Best Beaches In Panama City Beach [And Nearby!]
Camp Helen State Park Beach
Camp Helen State Park Beach probably isn't the first beach that comes to mind when you think of beaches in Panama City Florida. But Camp Helen is everything you could want in a state park and is definitely worth the trip away from other Panama City beaches in Florida.
Camp Helen is really a geology marvel; it is both one of the largest coastal dune lakes in Florida and the rarest in the world. To find others like it you would need to travel to Australia! Not only that but this park has an incredible ancient history; they have found evidence here to show that humans inhabited the area more than 4000 years ago!
There are sandy beaches, with shallow parts perfect for young children, some of the best hiking in Florida, and even kayak rentals to add a fun activity to your beach outing. You can choose to swim at the beach on the Gulf of Mexico or head over to Lake Powell which is located in the same park.
There is parking on site but plan to arrive early as it can fill up fast and, of course, there are restrooms available. Plan for about a 10 minute to walk from the parking to the beach.
It only takes a little over half an hour to get here from Panama City and it is definitely one of the beaches near Panama City that you can make a day trip out of. The park is open from 8am to sunset everyday of the year and is only $4 per vehicle to enter!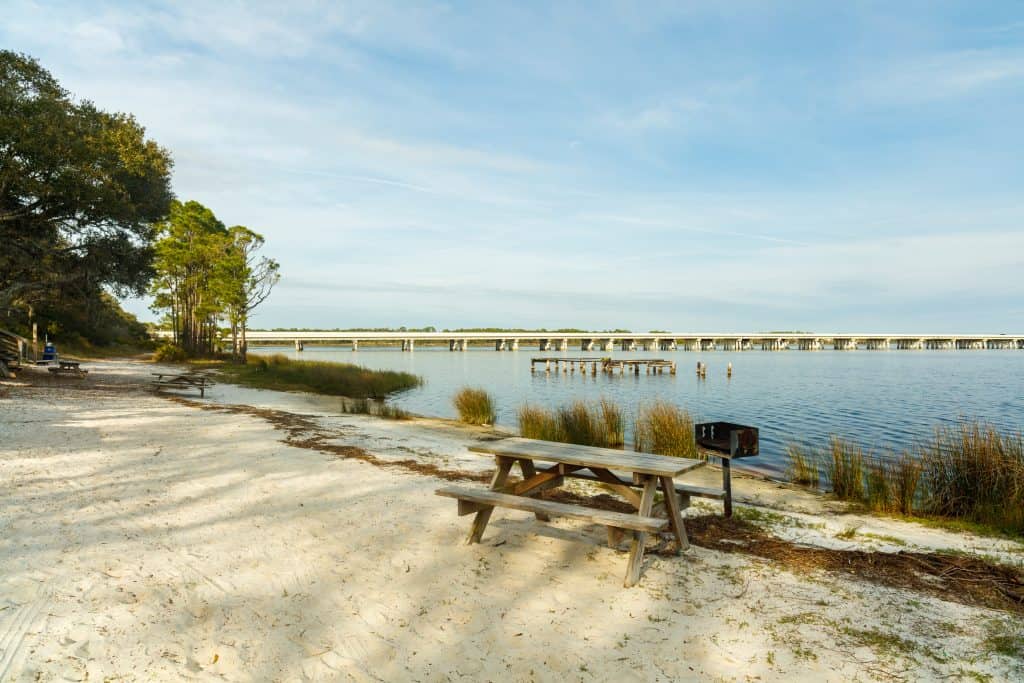 Panama City Beach and Pier
When you think of beaches in Panama City the Panama City Beach and Pier Park area is probably what you think of first. This is one of the best beaches in Panama City and is the most popular beach in the United States with college students and families alike.
To get the most of this beach plan on heading to the Pier Park area. Here you can arrange all sorts of rentals, have so many food options at your fingertips including some of the best restaurants in Panama City, and you have a nice big stretch of sugary soft white sand which is often synonymous with Panama City Beaches. There are also movie theatres, lots of shopping and kid activities like laser tag at Pirate's Quest Laser Tag! It's an area that people often spend their entire holiday in because of the variety available.
If you are looking for something more on the adventure side this beach is also a must see. Panama City beach is one of the best places in Florida for scuba diving. It even has more than 150 dive locations! Even the more recent dive locations are attracting plenty of sealife for you to check out. You are sure to find something to explore and wildlife to visit when you go scuba diving here; this area even has the claim to fame of having the largest population in the world of bottle nose dolphins!
There are also lots of places to grab snacks; be sure to try the dole whip from the snack stands at the beginning of the pier. If you haven't tried it yet, it is definitely a must! There are also places to find parking and restrooms available.
Speaking of the pier, if you are looking to do some fishing this is a great spot. The pier is nice and long (1500 feet!) and so there is plenty of room for people to enjoy a walk along the pier or to set up and try some fishing for the day. There is a daily fee for fishing but it's pretty nominal at $7 per person (children 6 and under are free). If you are just there to enjoy the scene on the pier the price is only $4 per person for a day pass.
You will find everything you need for enjoying many days at the beach here. Between shopping, snorkling, scuba diving, movies, and the actual beach you certainly won't be bored!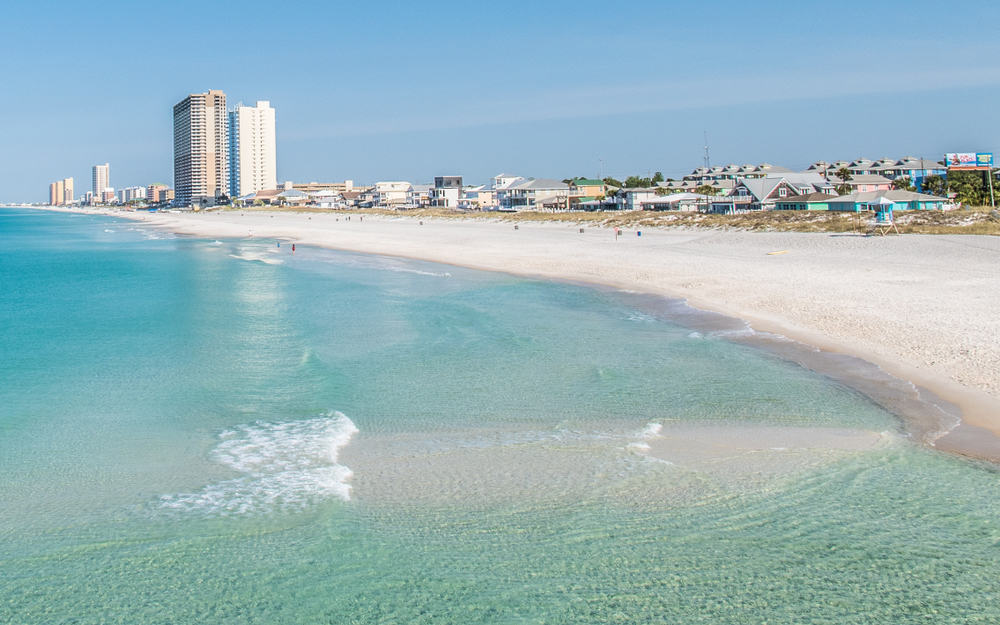 Shell Island
As far as beaches in Panama City FL are concerned Shell Island is a more rustic beach and only 30 minutes from Panama City. It is an undeveloped 7 mile stretch of beach. Once you arrive you can set up on either the bay side or the ocean side. They are both great but if you are looking for calmer and shallower waters then you are best to stick to the bay side. And, if you ever change your mind it is just a short walk between the two.
The Island (which isn't actually an island) is named for all the shells that used to be found there and it's one of the most beautiful shelling beaches in Florida. The beach has become a little more popular but there still shells to be found; just be sure the shells aren't a home for an animal first! And there are plenty of animals that can be spotted there! Beachgoers have spotted dolphins, sting rays, deer and even endangered species like the green sea turtles!
While this is definitely one of the best beaches near Panama City you will want to make sure you plan ahead. The beach itself has no services so you need to bring everything with you. As for getting there, you will need to arrange a boat to cross over which is easy to do with Shell Island Shuttle – they have several boats and even dolphin and snorkel tours available.
If you are just hoping for a boat ride to and back from the island then the shuttle is your best bet. Be sure to book ahead on their website ($22.95/adult $15.95/child) and make sure you put their new address into your navigation. They are located at 5709 N Lagoon Drive only 20 minutes from downtown Panama City.
An awesome bonus of heading across on the boats is that you get a chance to see a lot more marine animals on your way to the beach. Any way you choose to get there you are sure to enjoy yourself at one of the best beaches in Panama City just be be sure to take what you need with you!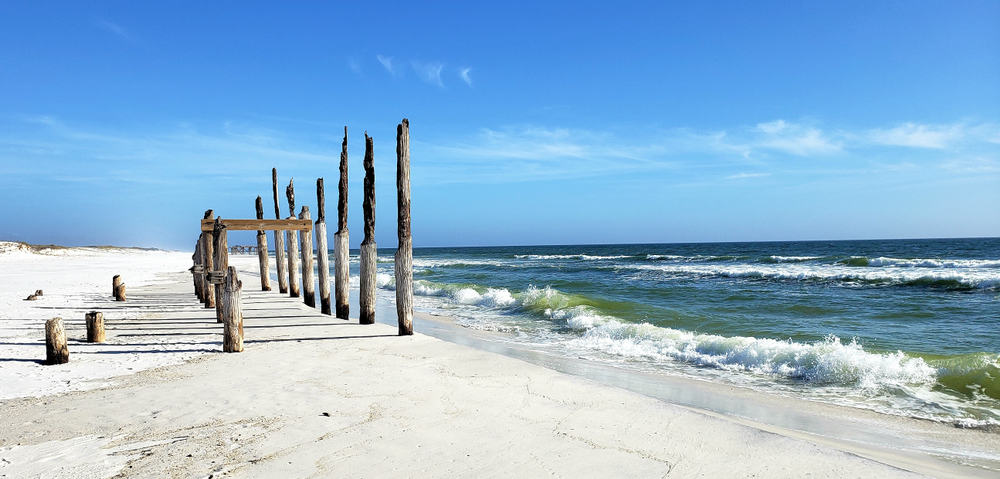 Saint Andrews State Park Beach
Saint Andrews State Park Beach is another one of the beaches in Panama City that shouldn't be missed. This state park is an absolute gem; it is 1200 acres and loaded with things to do. Not only that, but with a 20 minute drive from Panama City you could be at one of the best beaches in Panama City in no time! It truly is one of the best things to do in Panama City Florida!
The park itself has several beaches available and it is usually much less crowded than more popular beaches. Despite being a beach that attracts less people you aren't losing out on amenities available. There are paddle board rentals available, fishing sites, restrooms and plenty of the famous Florida sugar sand. If you want to extend your time here you can also camp in the park.
One of the awesome things about this beach is that the sea shelf stays level for a good distance in the area by the pier. This means that the water is only about 4 feet deep for a nice large swim area. It makes it easier to enjoy the water! And, when you are all done for the day, they have showers available for you to wash off the sand before hopping back into your car.
Saint Andrews State Park Beach is also known for being a great beach for beginner surfers to learn at. You can also enjoy amazing snorkling, walks among pine trees and scuba diving. Saint Andrews State Park Beach is open every day of the year from 8am to sunrise and is only $8 per vehicle to enter.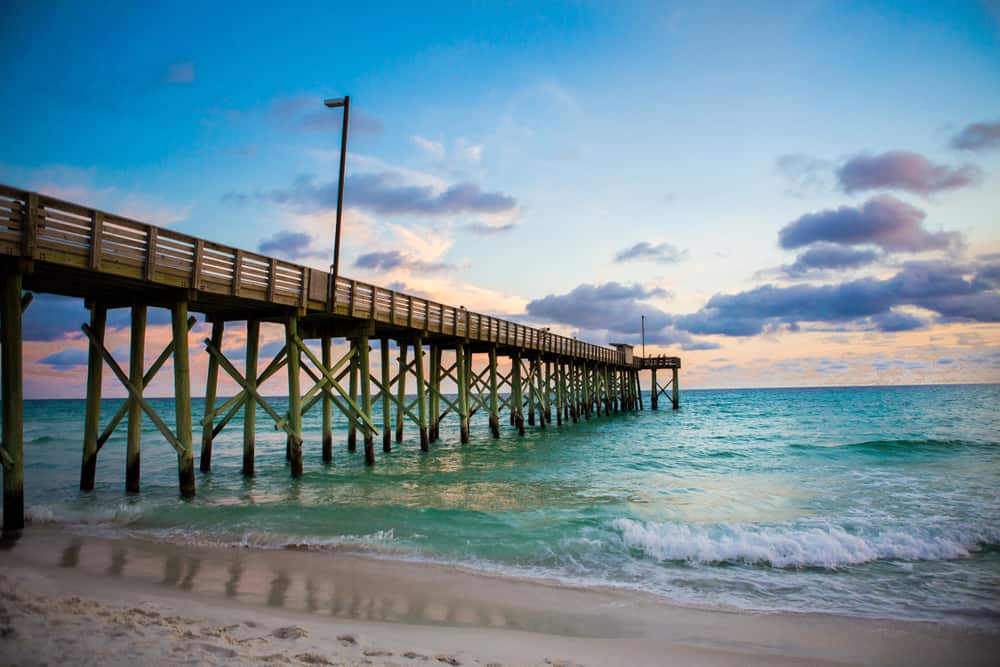 Crooked Island Beach
Crooked Island Beach is a treasure among the beaches in Panama City. Crooked Island beach is 30 minutes from Panama City and so unique because it doesn't attract tourists which equates to a quiet beach for you!
The amenities on the beach aren't many but there is parking, a toilet and plenty of soft sand. The waves here are pretty gentle as well so it's easy to enjoy a dip in the water. Sting rays, fish, crab and even dolphins are spotted here frequently so you may luck out with some extra nature to enjoy. It's also a really great spot to look for shells on the beach and the area is also really good for fishing.
There are a few things to be aware of while planning your day at Crooked Island Beach. Due to Crooked Island Beach's secluded nature there aren't any lifeguards on duty so you swim at your own risk. In recent years Crooked Island Beach has been incorporated to Tyndale Airforce Base so you will need to make sure you have a permit to head in.
Also, after Hurricane Micheal the access road was partly washed out so now you park a little further and have about a mile long walk. It is worth the walk though and it is definitely one of the beaches near Panama City that you need to check out!
Seaside Beach
Seaside beach has so many things going for it that it is a must see of beaches in Panama City FL!
The beach is located on the shore of Seaside Florida and between perfectly manicured lawns, white picket fences, pristine white beaches and that famous emerald coast it could be straight out of a movie scene – and it is! This idyllic location was where they filmed the Truman Show. And Seaside Florida not only has one of the best beaches near Panama City FL but the town is one that you will want to stay and hang out in.
Along the mile and a half stretch of beach you can find your favourite uniquely designed Pavillion (there are 9 of them!), snap some fun photos and then choose which one you want to enter the beach from.
If you are at the beach early on a weekday you can also enjoy a yoga class at the Pavillion; bring cash to pay or venmo, a mat (or use your towel!) and a water bottle and enjoy a little prebeach relaxation! Classes are first come first serve so arrive early; class starts at 8:30am.
The beach itself is well kept and easy to get to with a gentle surf that is great for families. There is parking nearby for $15 a day and you will need to get wristbands for beach access but it is definitely worth the trip.
You can stay the whole day and watch the sun set which is one of the best ways to close a day at the beach! Better yet, check out on of the stunning Seaside Florida rentals to stay overnight and make a weekend trip of it. There are so many fun things to do in Seaside that you will be able to make the most of your weekend!
Grayton Beach
Less than an hour away from Panama City you will find one of the beautiful beaches in Panama City. It is Grayton Beach in the Grayton Beach state park.
Entrance to the park is only $5 per car which is awesome and they have parking. The park opens at 8am each day until sunset but we advise to arrive early as they will close the gates when they reach capacity. This may sound like it will be a busy beach but it's for that reason that the beach stays uncrowded! Arriving early ensures that you are one of those people on a beach that won't allow many people.
The state park has several amenities. During the core season there are programs run by volunteers and rangers, you can rent kayaks, canoes or paddle boards to use on the lake, you could camp out with your own tent or RV, you could glamp in one of the coolest places for glamping in Florida or you could just lay back on the mile long beach and soak up the feel of the sun and the sound of the waves. They also do a great job of keeping their on site bathrooms clean!
Grayton Beach is also not to far from other beaches near Panama City FL that we've mentioned so you can easily spend a weekend trying out a few of them to pick your favourite! While you are in the area be sure to check out the nearby Red Bar restaurant – even the locals love it! Grayton Beach is definitely one of the Panama City Beaches in Florida that you are going to want to check out.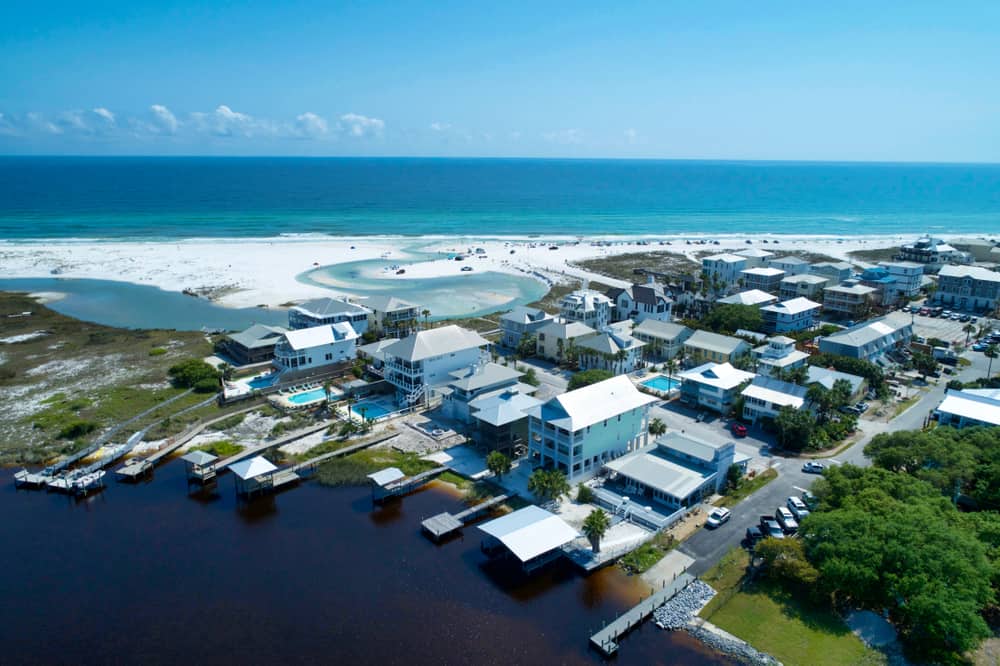 Deer Lake Beach
Located in Deer Lake State Park this is one of those sometimes elusive beaches in Panama City that still feels secluded. There are several sand dunes and plenty of sand on this beach and not a lot of people. What's really great is that there are no homes along the beach so it feels even more remote! And if you are there between May and October it's also sea turtle nesting season – just be sure not to take flashlights on the beach!
Like other state parks the park is open from 8am to sundown every day of the year. The park also boasts a rare coastal dune lake which can only be found in the US along the Gulf Coast and in very few places. Entrance to the park is only $3 per car for entrance just be sure to bring exact change as you pay in an honor box instead of to an attendant! You can also pay using a QR code posted at the entrance.
There is parking and restrooms on site but you will want to plan on bringing along your food and drinks as there are no food places. This really is one of the great beaches near Panama City to head to if you want a relaxing beach visit.
As you walk along the boardwalk to the beach you can check out the ancient dune system which has several endangered species that call it home. Be sure to bring a cart/wagon for your beach things as the boardwalk from parking to the beach is quite long!
There is also a 1.5 mile nature trail to enjoy a beautiful walk. You can also see how many wildlife you can spot; sea turtles, deer and snowy plover are just a few of the animals you may see. It is sure to be a restorative, low key trip to the beach at Deer Lake beach.
Santa Rosa Beach
Located in the South Walton area, Santa Rosa Beach is the largest (and oldest!) of the beach communities found here so when you are looking for beaches in Panama City this is sure to be on your list. The town itself was even named one of the top 5 favourite neighborhoods in America by Travel + Leisure!
The beach front itself can be found on the beautiful emerald coast about an hour from Panama City. There are restrooms and parking available and plenty of events that happen here.
The town area called Gulf Place right near the beach is known for it's artsy vibe and was designed to have a laid back feel. All the shops here are locally owned and are definitely worth a visit. Be sure to stop by!
The laidback nature of this beach and the shops make this an ideal beach for couples that want a part of that sugarsand beach to themselves or for families that don't want to be around the party beaches but still want a unique beach vibe. Santa Rosa Beach is definitely one of the beaches near Panama City Florida that has a unique, artsy, laid back vibe that you'll enjoy.
If you are looking for a busy beach with a lot of vacations rentals around this is not the beach for you. While there are plenty of events held both at the beach and at Gulf Place they are all set around sitting back and enjoying the time melt away before you. If you spend a day here you will be so glad that you did. Be sure to stay around for the sunset as it is a location not to be missed!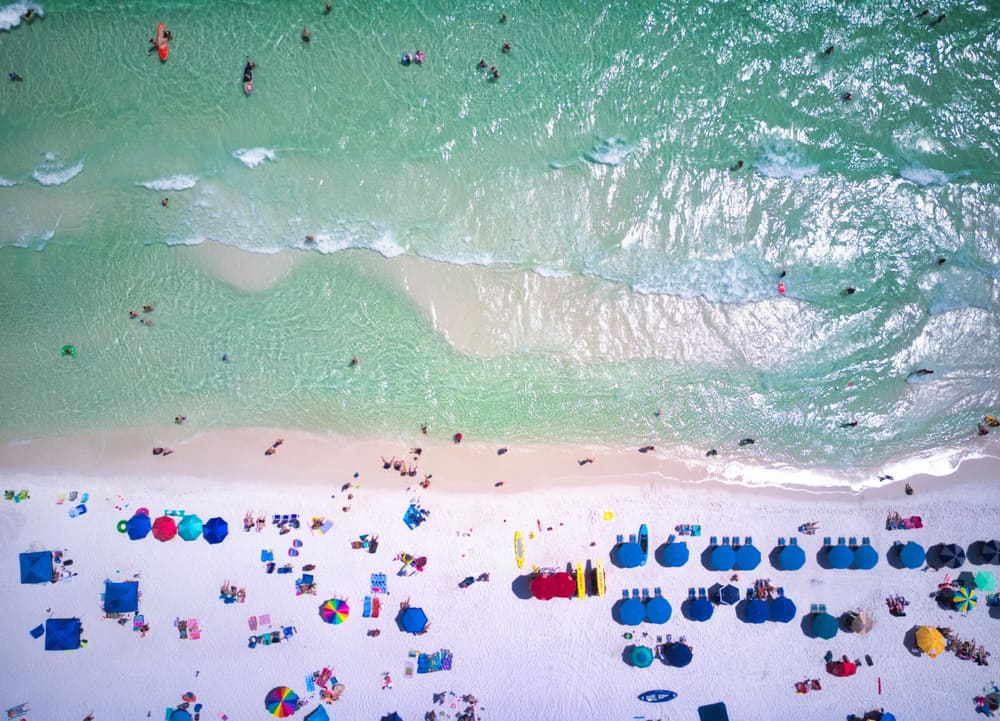 Rosemary Beach
We couldn't talk about beaches in Panama City FL without mentioning Rosemary Beach. This beach is less than an hour from Panama City and is a great getaway.
Since the beach has been privatized you will need to be a resident or staying in the area to have beach access. If you stay in the area you are given access to the private beach. The advantage to this is that the private beach never gets particularly crowded (with Spring break being an exception like most Florida beaches), already has beach chairs set up and is kept incredibly clean!
Staying in the area is also a really great thing because it's a gorgeous beach town. With wrap around porches, gables, wood beams and shuttered windows there is actually a fun French Quarter feel to the area with a distinct European touch. There is also plenty of shopping in the area and all the resources that you could possibly need during your stay.
If you would like to experience the area but don't have the time to or funds to stay overnight to get beach access then check out the nearby Inlet Beach. It is only a mile away and is a public access beach. Heading to Inlet Beach lets you enjoy the best of both worlds; the beautiful shops and restaurants at Rosemary Beach and the amazingly beautiful Inlet Beach just a mile away! These are two great beaches in Panama City Beach that do not disappoint!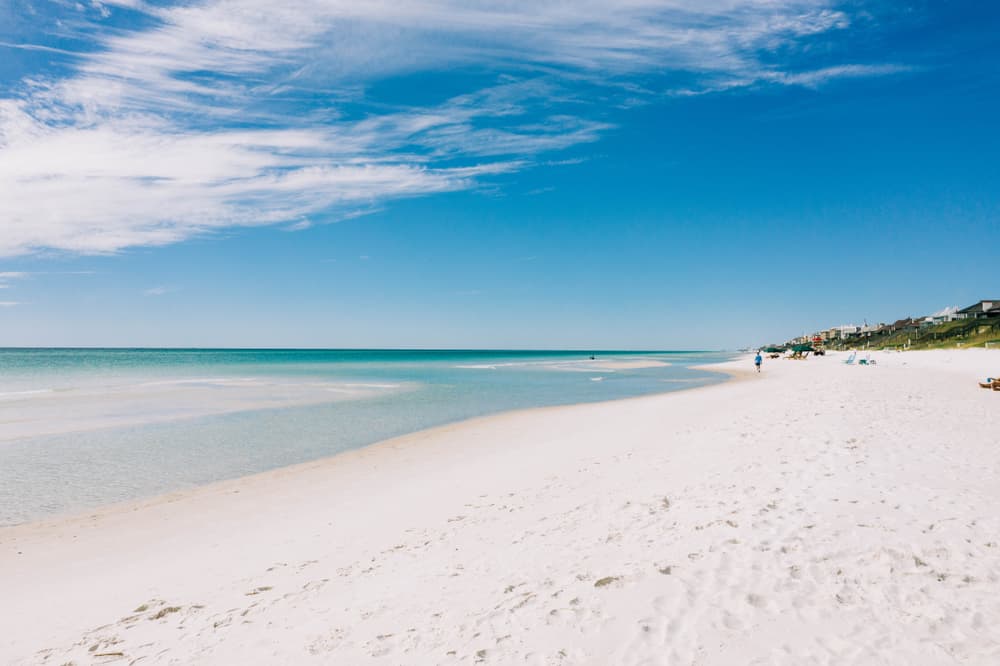 No matter which beaches in Panama City you choose to check out we hope you enjoy your days digging your toes in the sand and be sure come on back and let us know which was your favourite!