The perfect VRBO in Key West is waiting for you! Get ready to explore several different styles and locations. We can't wait for you to see all of the stunning views, fabulous pools, and amazing amenities.
Key West is a fabulous place to visit because it is filled with entertainment, beachside beauty, and friendly hospitality. After a long day of fun in the sun, you will want somewhere comfortable to rest your head. Staying at any one of these vacation rentals will be a missing piece to your ultimate trip!
In addition to amazing beaches and a perfect laid-back vibe, Key West has some of the most incredible Key Lime Pie you will ever taste. Check out the 7 Best Places To Get Key Lime Pie In Key West! Do you love breakfast food? Then, you'll definitely want to explore the 14 Best Places For Breakfast In Key West.
So, why should you stay at a VRBO in Key West? Well, for starters, you get a more home-like feel! Secondly, you tend to get more privacy. Lastly, you can find some really unique and fun properties!
Vacation rentals offer a wide range of prices, so whether you want a super luxe experience or want to stick to a budget, you can find it all here. Keep reading and we will help you find your ideal match!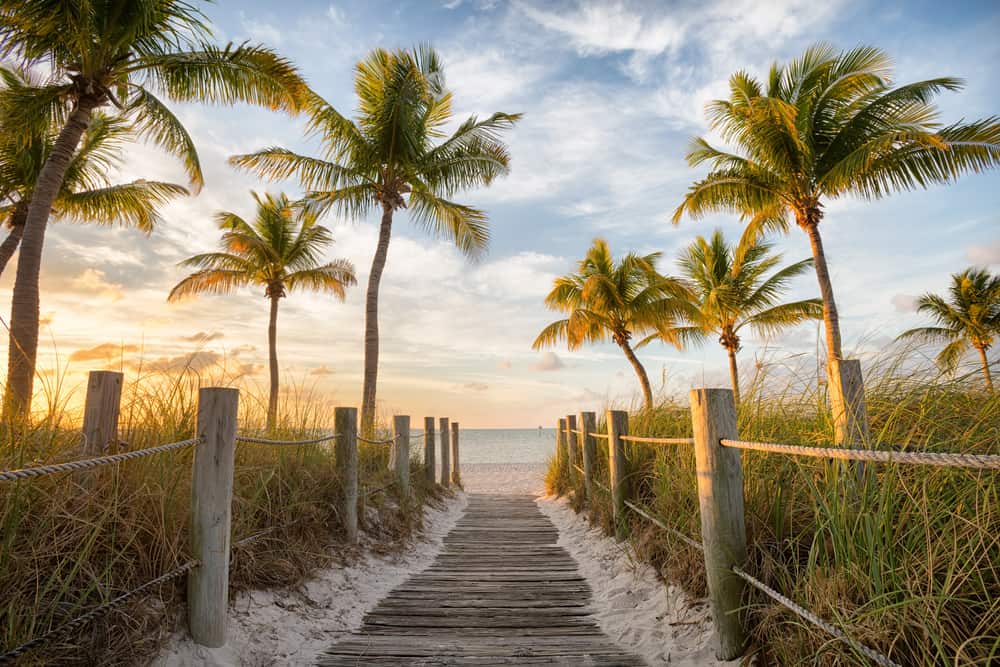 13 Best VRBO Vacation Rentals In Key West (Cottages, Beach houses, & More!)
Songbird
We can absolutely see why this VRBO in Key West is named Songbird! You will be as happy as a bird singing in Spring when you see this beautiful retreat. Songbird is a stunning home with 3 bedrooms and 2.5 baths.
The first thing that jumped out at us was the gorgeous pool! The pool and lounge area are very lush and peaceful. The second highlight is the phenomenal décor and styling throughout the home. It is fresh, bright, and welcoming! This is truly one of the Best Places To Stay In Key West!
Guests will love the soaking tub, French doors, and cozy living room. Up to 6 guests can be comfortably accommodated at the moderately priced "Songbird" house.
>>>Check Rates: VRBO.com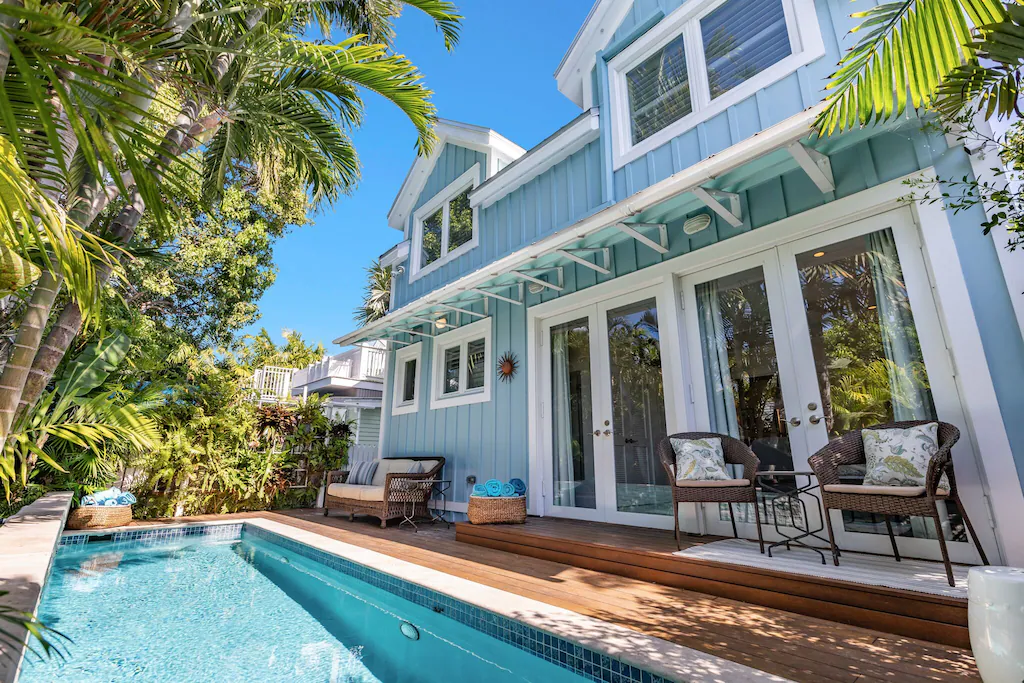 Mango Margarita
Next, we visit a luxury 2/2 that is located in Old Town. Mango Margarita is striking from the start! A bright orange front door greets you as you enter your very own tropical oasis! Fun pops of color continue throughout this VRBO in Key West.
In addition to being incredibly cute, this home is just one block from the very popular Duvall Street! Mango Margarita has 2 King size beds and a sleeper sofa, so up to 6 guests can enjoy a comfortable stay. This is truly one of the Best Places To Stay in The Florida Keys!
Mango Margarita includes a full kitchen, a living room, a formal dining table, and a pool with covered seating. We really love that you get to enjoy pool views from the living room.
>>>Check Rates: VRBO.com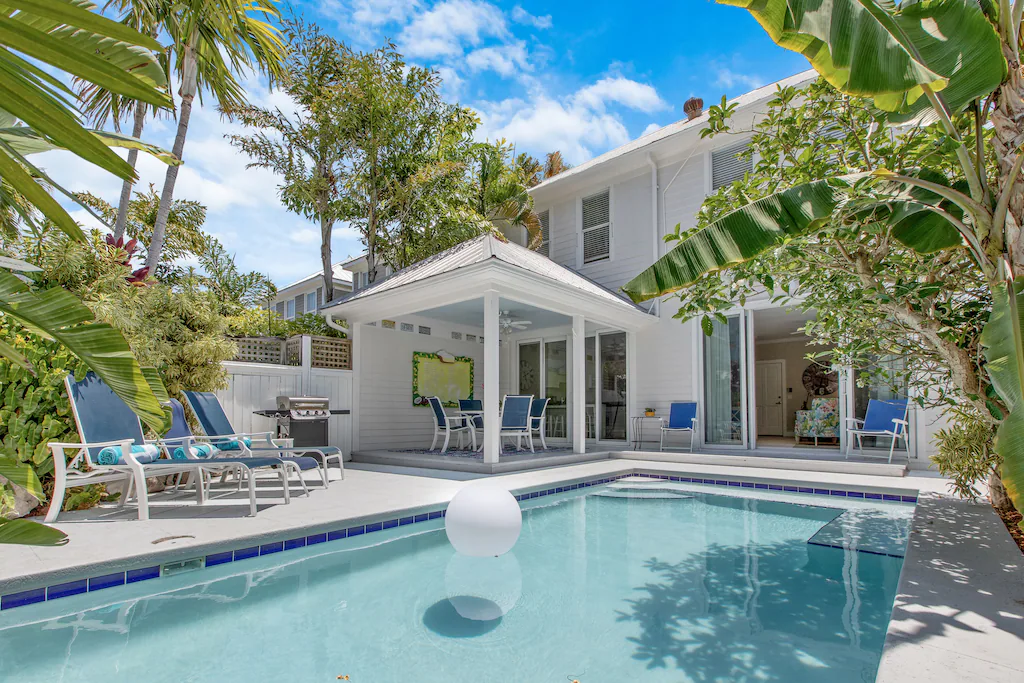 Luxury Yacht
Now, we get to share a truly unique vacation rental with you! Staying on this Luxury Yacht is the ultimate in tropical seclusion. Up to 6 guests can be accommodated aboard this stunning 3 bedroom and 2 bath yacht.
One of the special features of this VRBO in Key West is the bow access from the covered upstairs flybridge area. Guests will love being able to hang out upstairs for evening cocktails, morning breakfast, or sunbathing.
The yacht remains docked in a beautiful marina throughout your stay. Additional entertainment can be purchased including sunset cruises, fishing charters, and more!
>>>Check Rates: VRBO.com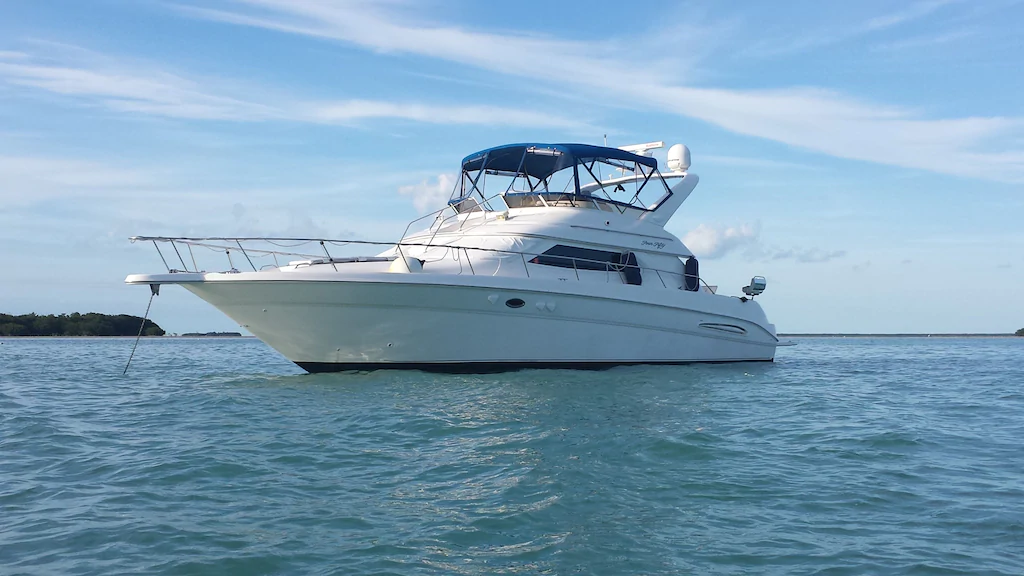 Charming 1 Bedroom Apartment
Are you looking for elegance and affordability? Well, look no further than this Charming 1 Bedroom Apartment! The apartment is located right on White Street and features wood floors, high ceilings, and a full gourmet kitchen.
The color palette consists of crisp white walls, stylish blue velvet lounge chairs, and warm blonde wood. The bedroom features a very romantic and chic crystal chandelier.
In addition to its wonderful interior, there is a lovely fenced-in backyard. Staying at this VRBO in Key West will conveniently place you within walking distance of a grocery store, sandwich shop, and fabulous Cuban coffee.
>>>Check Rates: VRBO.com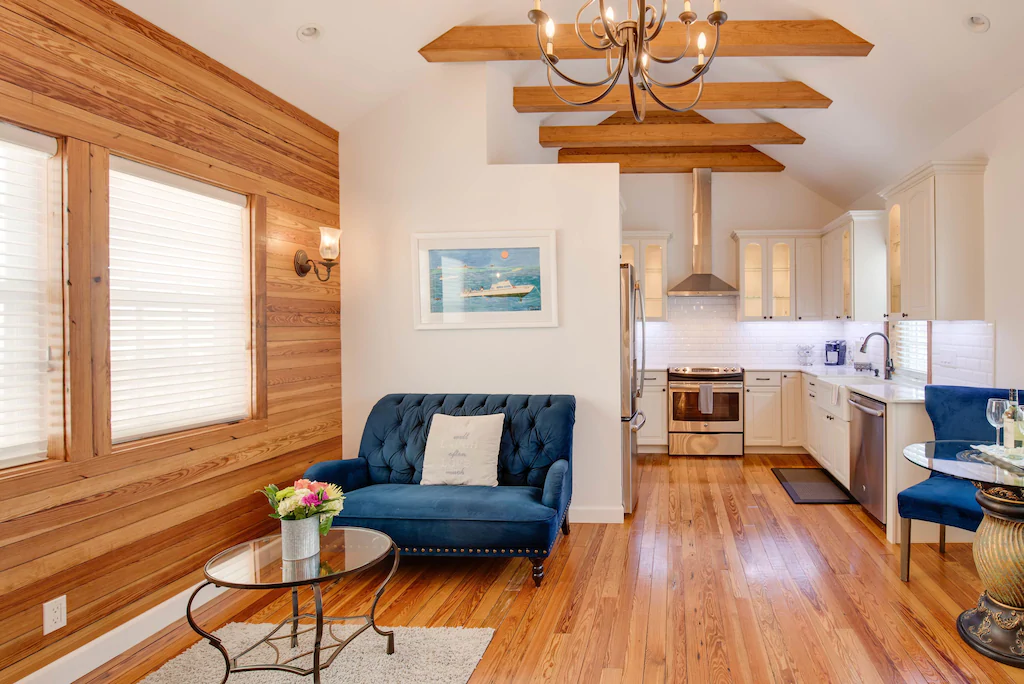 Key West Oasis
Now, we visit a really unique and special VRBO in Key West. The Key West Oasis is a 2 bedroom house, but the second bedroom is in a separate cottage. If you are traveling with another couple, this would be the ideal arrangement for privacy.
The entire home has been completely renovated to create a resort-style environment. The pool and lanai area are completely private with lush landscaping.
The Key West Oasis is a luxury stay located right in Old Town. You will be conveniently close to Duvall Street, restaurants, and bike rentals.
>>>Check Rates: VRBO.com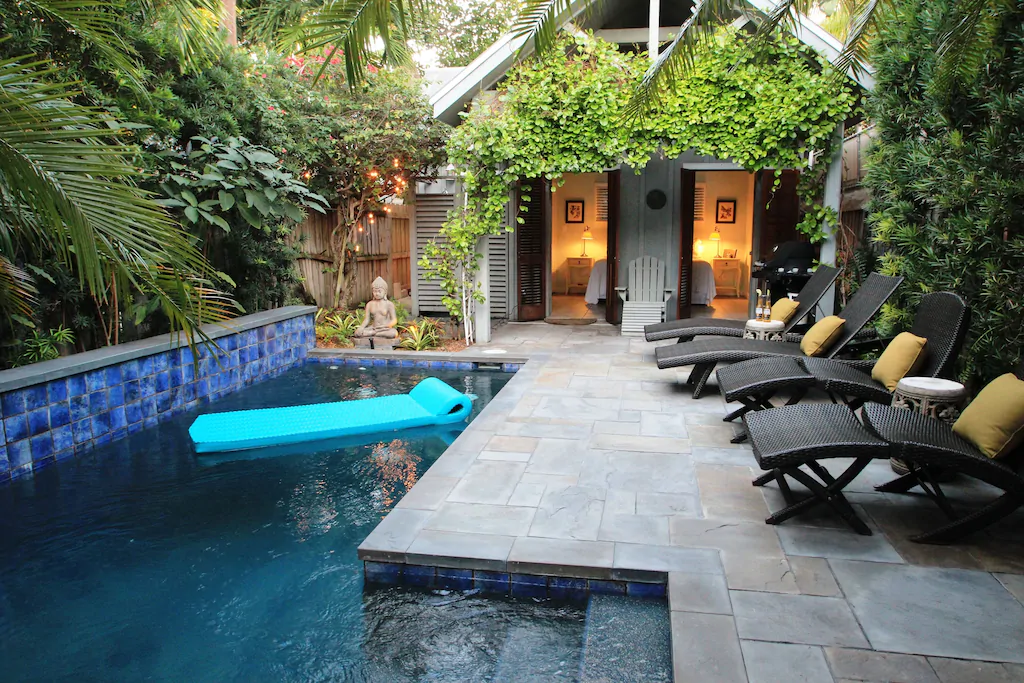 Serendipity
When we picture the quintessential Key West home, Serendipity is exactly what comes to mind! Serendipity is a grand 4 bedroom and 4.5 bath home that is incredibly dreamy!
Where do we begin? Well, for starters, the first impression as you approach this home is outstanding! You are met with a pristine white fence and a gorgeous two-story home with a wooden door just beyond it. Additionally, bold shutters and the upper balcony really stand out.
Secondly, you will be dazzled by the Brazilian cherry floors, Dade County Pine walls, and high ceilings that all come together to create a stunning aesthetic. Third of all, several sets of French doors allow you to open the home and enjoy a real island experience.
Other special highlights include a large pool with lounge area, indoor and outdoor dining, claw-foot tubs, and luxury bathrooms! Serendipity can accommodate up to 8 guests and allows cats and dogs(under 30lbs).
>>>Check Rates: VRBO.com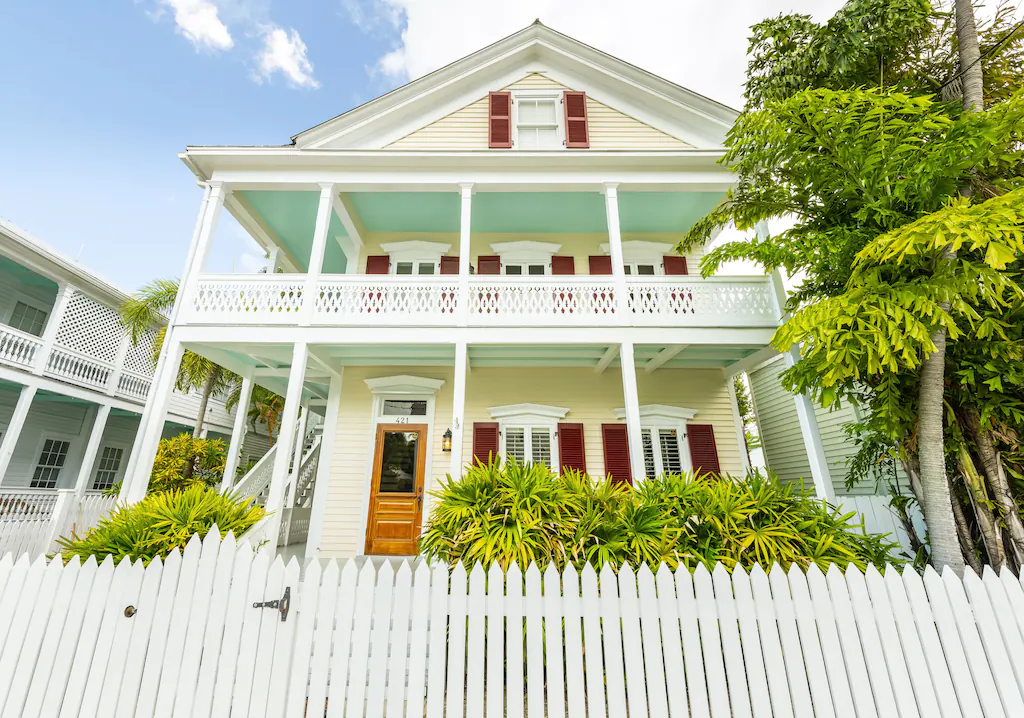 Octagon House
The Octagon House was formerly owned by Calvin Klein and is currently an iconic signature home in Key West. The decor is sophisticated with a subtle tropical flare. Staying at this luxury home will provide you with a relaxing and calming environment.
Highlights include a poolside entertainment lounge area, resort-style baths, and an integrated sound system. Up to 8 guests can be accommodated with 4 bedrooms and 4 baths. Octagon House is definitely a huge splurge, but it has style, location, size, and luxury!
Some other amenities include an outdoor shower, a ping-pong table, and a gourmet kitchen. The Octagon House is centrally located, so you can easily walk or bike to any destination.
>>>Check Rates: VRBO.com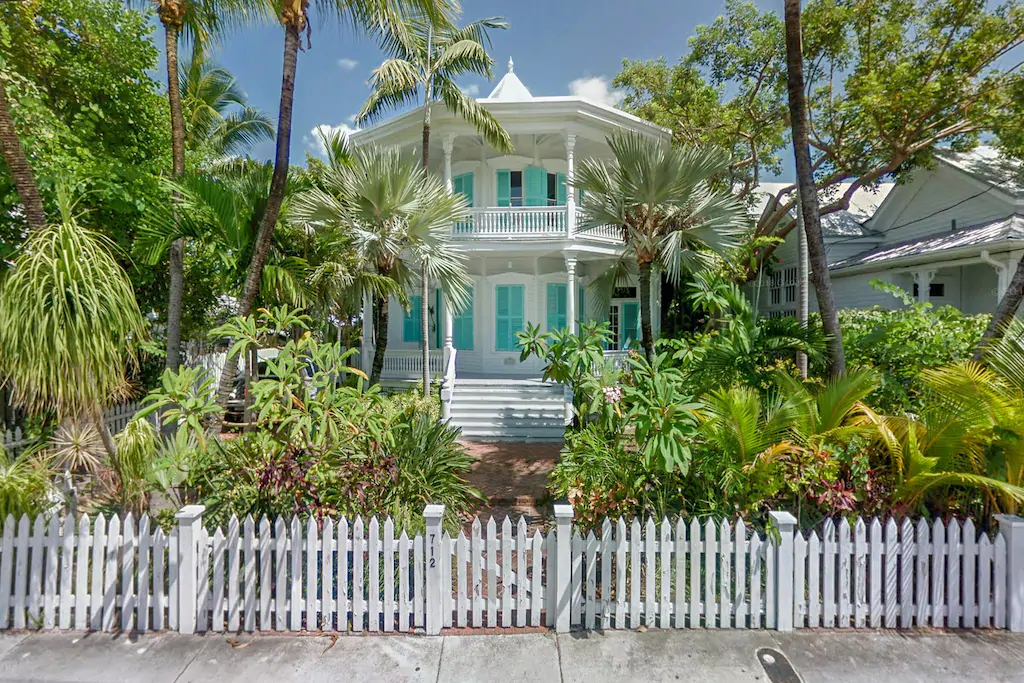 Petunia Cottage
Petunia Cottage is a super cute, cozy, and affordable VRBO in Key West. The cottage has been fully renovated, it is located in Old Town, and it can accommodate up to 4 guests.
If you want to be close to all of the most popular tourist attractions and historic homes, then this is the spot for you! Staying at the Petunia Cottage places you within walking distance of several shops, restaurants, and art galleries.
The cottage is appointed with beautiful artwork throughout. A covered patio is located just off the kitchen and would be perfect for evening cocktails.
>>>Check Rates: VRBO.com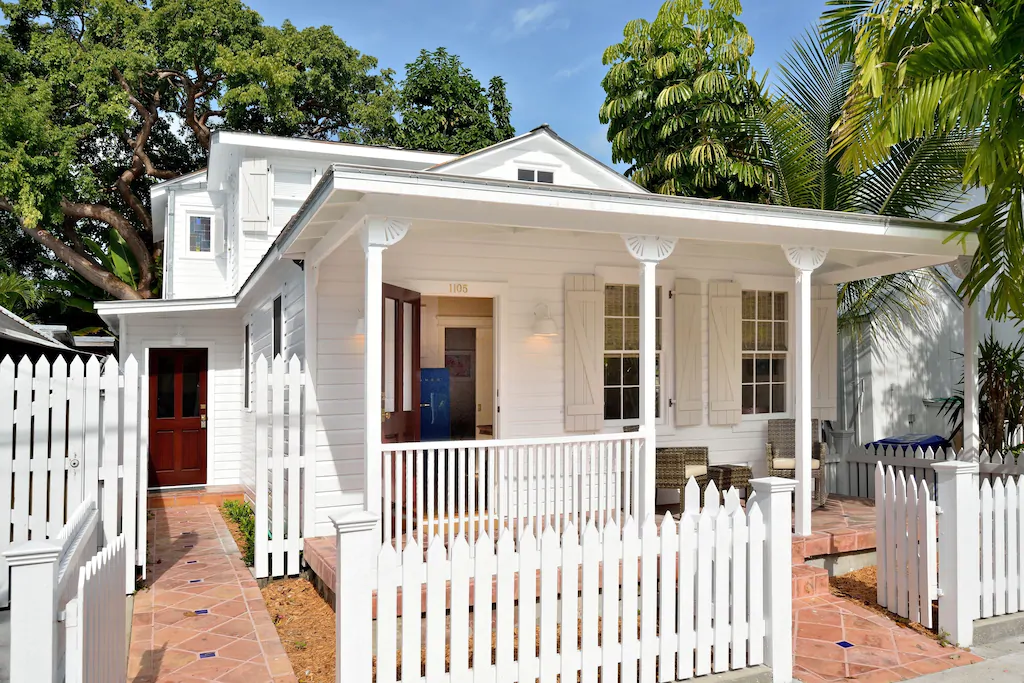 Caroline On My Mind
Caroline On My Mind is a wonderful 2 bedroom condo that features a private balcony overlooking Caroline Street. The second-floor condo is conveniently located just 2 blocks from Duvall Street.
Up to 4 guests can be accommodated at this affordable VRBO in Key West. We really love how the second bedroom is reached by a spiral staircase.
The condo includes a common area featuring a heated pool. Other highlights include antique glass windows, hardwood floors, marble counters, and designer furniture.
>>>Check Rates: VRBO.com
Dog-Friendly Home With Private Pool
Do you want to visit Key West and bring your dog with you? If so, this Dog-Friendly Home With Private Pool might be exactly what you need!
Conveniently located in Central Key West, staying at this home will place you in a prime location for exploring shops, restaurants, beaches, historic landmarks, and dog parks!
Enjoy your day sightseeing, then come back to relax on the porch or by the pool. The home is moderately priced and can accommodate up to 3 guests with 2 bedrooms, 2 beds, and 1 bath.
>>>Check Rates: VRBO.com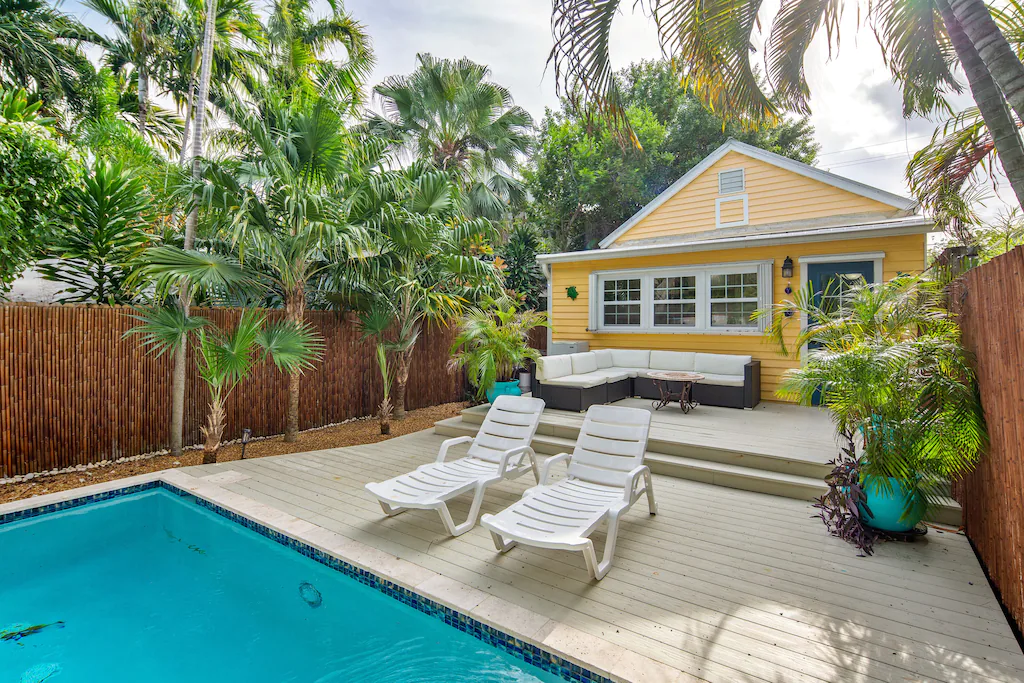 Casa De Cuba Beach House
Now, let's check out Casa De Cuba Beach House, which features a fabulous location, Cuban flair, and 21 foot-long pool. The beach house is definitely a luxe VRBO in Key West with tons of character and ambiance.
Casa De Cuba is just half a block from Duvall Street, so you will be in a prime location for all things Key West! It is worth noting that one of the best homemade ice cream parlors is just down the street. Just picture taking a short stroll for a cooling afternoon treat!
The beach house has 3 bedrooms and 2 baths, therefore, it can accommodate up to 6 guests! Some of the standout amenities include the front porch swing, pool with lounge area and covered seating, and the handcrafted spacious dining table.
>>>Check Rates: VRBO.com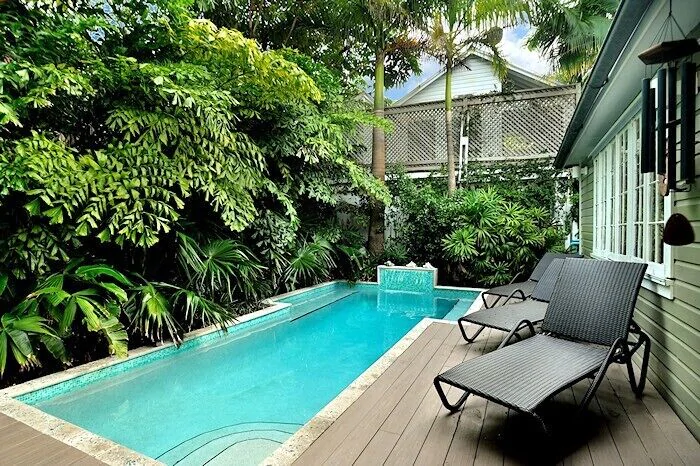 Oceanfront Paradise
The Oceanfront Paradise is a 2-story home with 5 bedrooms and 4 baths that features a breathtaking pool with a waterfall! Now, let us tell you, this pool is epic!! The pool not only has a spa and waterfall, but it also has one of the most stunning ocean views ever.
Up to 12 guests can enjoy this fabulous VRBO in Key West! There is a private entrance on each level for ultimate privacy. Guests will love exploring the waterfront with the included ocean kayaks!
Oceanfront Paradise is a complete luxury property with lush landscaping including banana, mango, and starfruit trees. Neighborhood amenities include mini golf, tennis courts, basketball courts, playgrounds, sand volleyball, and more!
>>>Check Rates: VRBO.com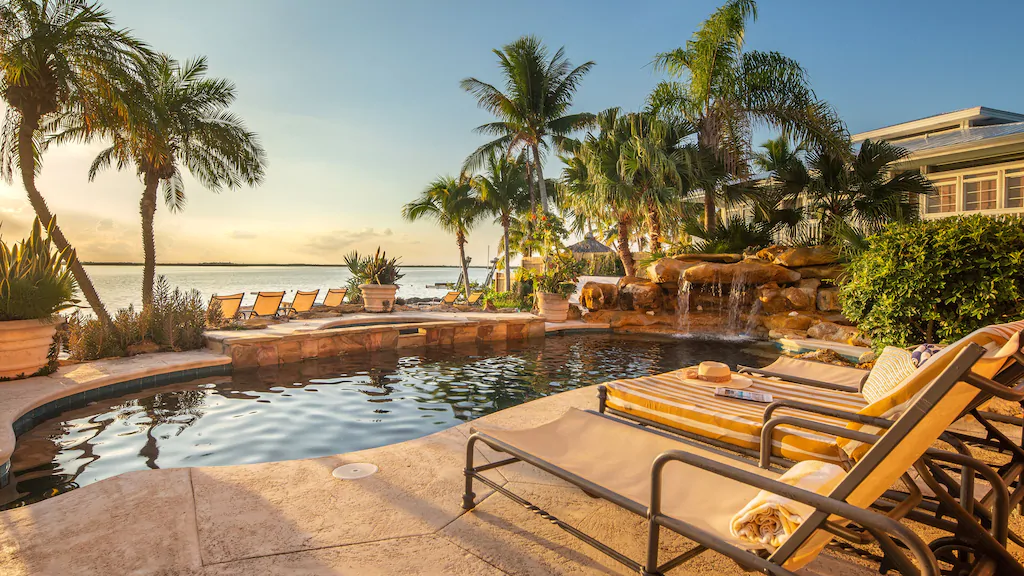 Casa Cayo Hueso
Casa Cayo Hueso is located in Old Town and is set at a very affordable price point. The 3/2 house has classic Shotgun architecture and Dade County pine wood floors.
The large and spacious kitchen that is fully equipped will make preparing meals super easy. The backyard deck is perfect for relaxing, grilling, and enjoying meals because it features covered seating and a dining table.
Special amenities include an outdoor shower, private Jacuzzi, and private parking. Watersports entertainment, restaurants, and shops are all within walking distance.
>>>Check Rates: VRBO.com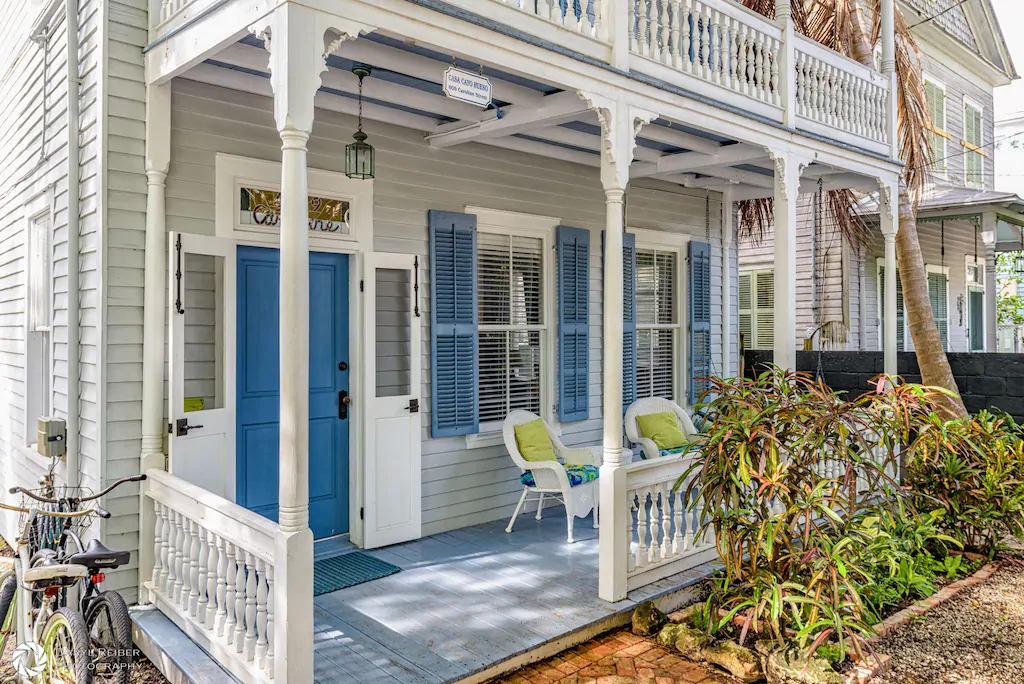 Well, hope you have enjoyed touring our selections and you find your dream VRBO in Key West! We wish you a wonderful vacation filled with sunshine, adventure, and special memories.