Are you looking for the best Airbnbs in Ocala? We have you covered with our list ranging from glamping to historic homes and more.
Ocala is a wonderful city in North Central Florida to visit. Known for its beautiful old oak trees, nature trails, biking, some of the most popular springs in Florida as well as museums, National Forest, horseback riding, and more.
If you are looking for accommodations we have you covered with these Airbnbs in Ocala ranging from family homes, historic cabins, cottages, treehouses, guest houses, bungalows and more.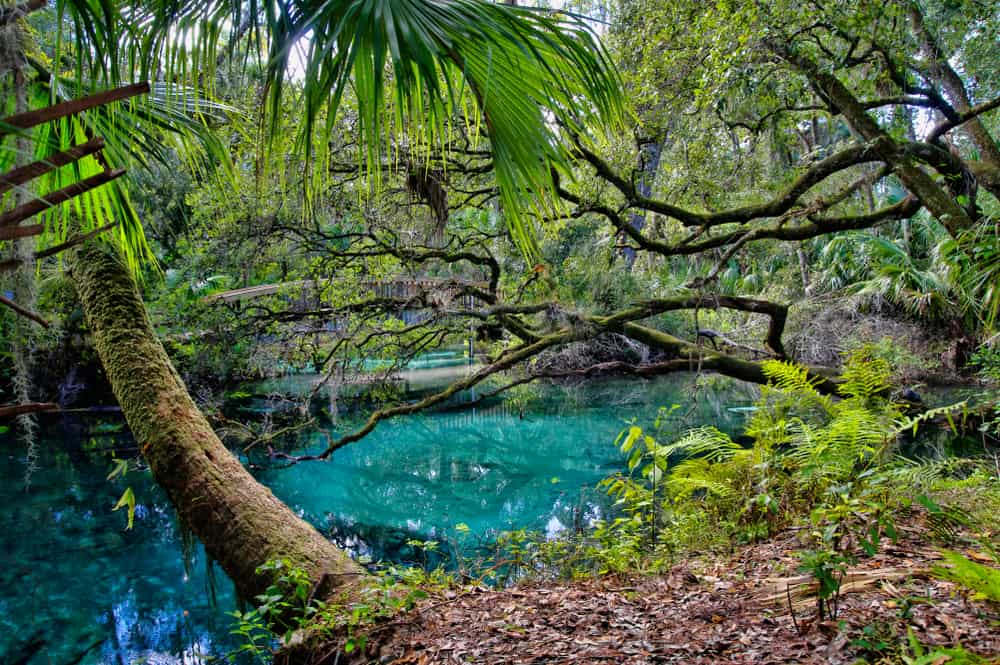 12 Best Airbnbs In Ocala (Cabins, Cottages, Homes and more!)
Pelican Cottage with Private Pool
The Pelican Cottage is the perfect place to kick back and relax in a beautiful, quaint, cottage while enjoying all Ocala has to offer. This is a perfect getaway for 2 guests. Imagine having your own private pool and outdoor BBQ in the middle of peaceful and relaxing farmland.
This property does allow pets! It has a fenced yard off of the dining room so your pets can enjoy the outdoors as well.
This is a quiet, farming area with lots of paths and trails for you to explore. Expect to see amazing old-growth oak trees and lots of cute farm animals! The reviews describe this cottage as the perfect place to get away from the hustle and bustle of daily life.
Check Rates: VRBO.com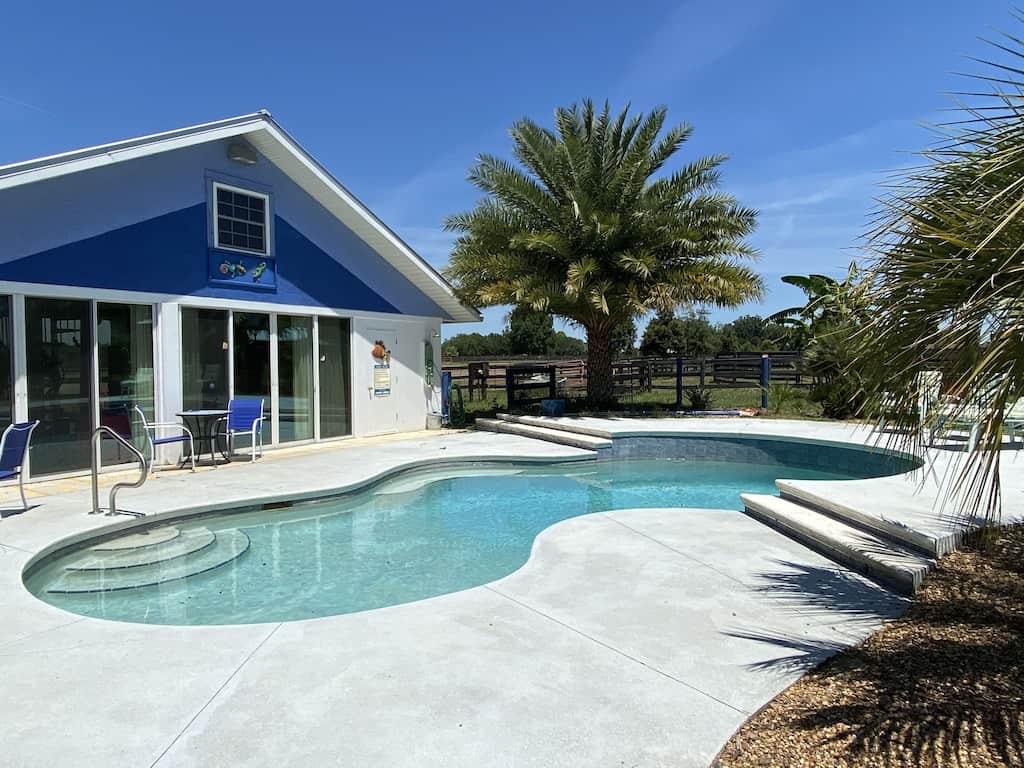 Family Friendly Farmhouse
The Family Friendly Farmhouse is located just west of Ocala and less than an hour drive from Orlando! This spacious house can fit up to 9 guests. It has beautiful grounds with lots of Ocalas iconic oak trees, and a private pool!
If you're visiting Ocala for the amazing horseback riding make sure to contact the property owner. The listing says they have room to board up to 4 of your horses, for an additional fee.
This 3 bedroom 2 bath home is a perfect country living escape. It has all the amenities you need for a great stay including air conditioning, a washer, a dryer, and a spacious modern kitchen.
Pets are welcome as long as you check in with the host about them. Your pets are sure to enjoy this relaxing country home as much as you are!
Check Rates: VRBO.com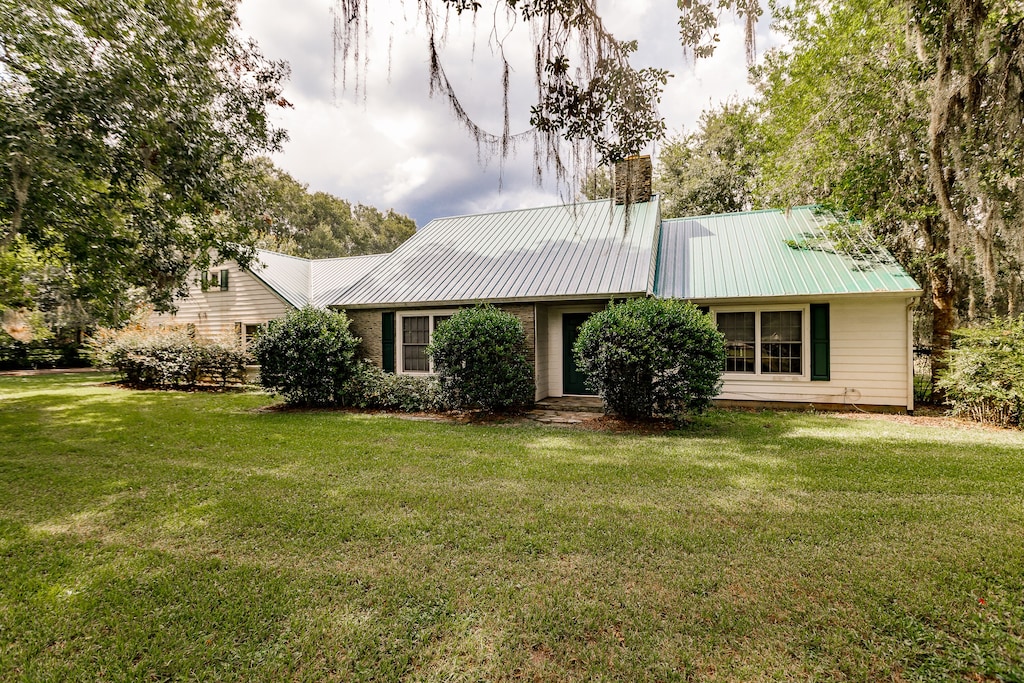 Kangaroo Treehouse
Right near Ocala, you'll find the Kangaroo Treehouse! This comfy, bohemian treehouse is so welcoming. It is definitely one of the of the prettiest options for glamping in Florida. This is one of the best Airbnbs in Ocala.
This Airbnb is actually a treehouse built on a real tree! The 8×15 space was is built around the tree! There are double french doors to let you in that you can keep open to enjoy the beautiful natural setting of this treehouse.
In the mornings, you can feed the horses from a porch a hammock swing, a table, and comfy chairs.
The treehouse does have light and one electrical outlet. Keep in mind this is a real treehouse, so there may be bugs! Think of this as an upgraded camping experience.
The Airbnb is located on a small farm with super-friendly owners. Make sure to ask them about their pet kangaroo! Please note this Airbnb is for adults only, no children or pets allowed.
Check Rates: Airbnb.com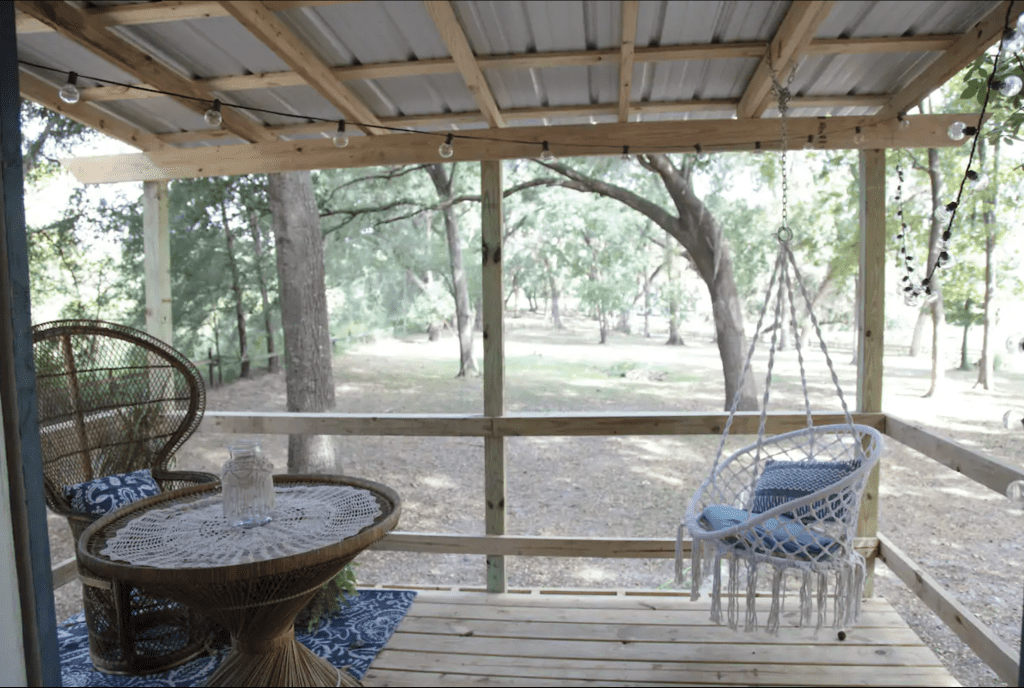 A frame Cabin on Grandaddy Oak Farm
If you are looking for glamping this is one of the perfect airbnbs in Ocala to check out! The Water View Cabin on Granddaddy Oaks farm is a tiny A-frame cabin that sits on a private farm covered in grandaddy oak trees. It's one of the best getaways in Ocala!
The cabin sits on the edge of a pond and is a single room with a queen bed adorned in all white giving the cabin a chic look. There is no AC or heat, but the unit does have power for a fan and lamp. The cabin wall closes and there is a privacy curtain! If you want to sleep with the wall open listening to the sounds of nature there is a bug net to provide protection while sleeping!
Enjoy the fire pit where you can cook a meal on the charcoal grill or just roast some s'mores. There is also a covered pergola with couches to relax and unwind with nature! An outdoor shower and restrooms are a short walk from the cabin.
This is a working farm with kangaroos, mini horses, and a zebra! Please note that no children or pets are allowed at this Airbnb.
Check Rates: Airbnb.com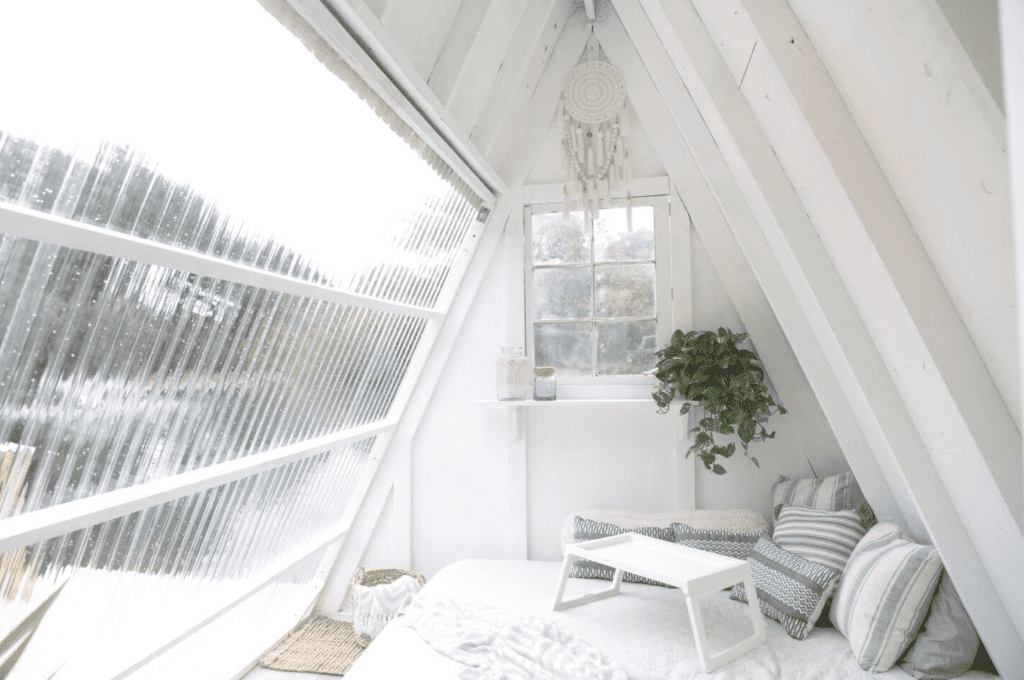 Historic 1891 Ocala Home
If you want to stay in the historic downtown area this is one of the best Ocala Airbnb. When you stay here you are less than half a mile's walk from downtown Ocala where you will find shops, restaurants, and entertainment!
The brick exterior and columned front porch of this VRBO exude classic southern charm. The home was built in 1891 and has been lovingly updated to keep lots of vintage touches. The inside has lots of cool antiques while still having all the modern amenities you need for an incredible vacation. This Victorian-era home is a 1 bedroom 1 bath and can sleep up to 5 guests. It has a fenced backyard and a lovely firepit.
Check Rates: VRBO.com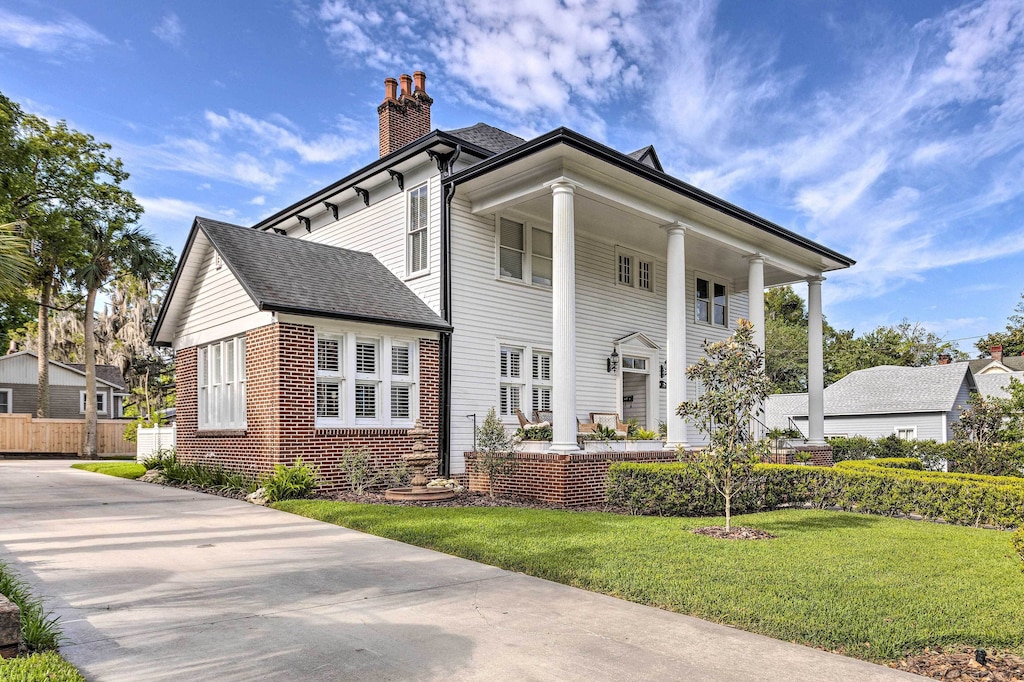 Lakefront Home
If your perfect vacation involves relaxing on a sandy beach, this is the Airbnb in Ocala for you! This 2000-square-front Lakefront Home has its own private sandy beach and two docks. It is located on the east side of Lake Weir, so you're sure to have incredible views of the sunset!
This is a 3 bedroom 2 bathroom home that can host up to 6 guests. You and 5 of your friends and family will have a great time at the beach during the day and then relax in the spacious home in the evening. It even has a game room! You're sure to enjoy the swaying palm trees and hammocks of this central Florida vacation rental.
Check Rates: VRBO.com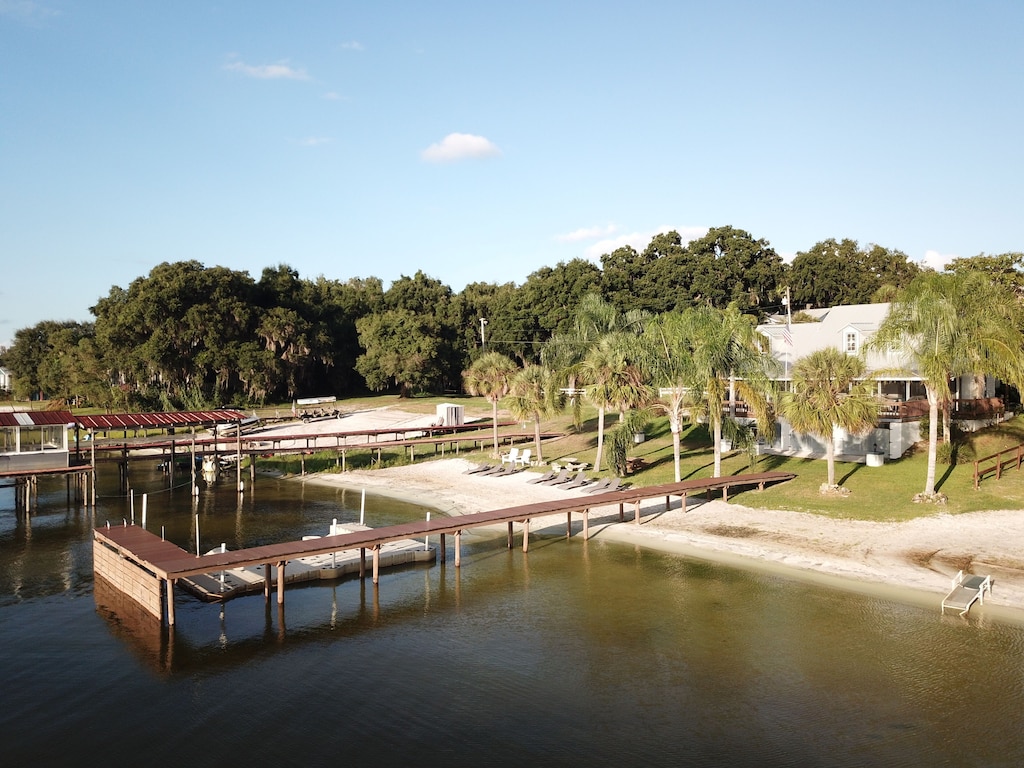 Adorable Vintage Camper
The Adorable Vintage camper is one of the most unique Ocala Airbnbs. This small camper has been newly redone with a new bed, ac unit, fridge, and bench couch. This would be the perfect get-a-way for a couple looking for a unique stay. Outside your camper, there is a table and chairs and the bathroom is a short walk away.
Located on the property of Enchanted Farms this camper sleeps 2 and has been done in white with pops of bright color. On the property, you will find outdoor grilling space, a pergola with seating, and animals on the 8.5-acre farm. You will find ducks, horses, and a beautiful outdoor space to explore during your stay.
Check rates: Airbnb.com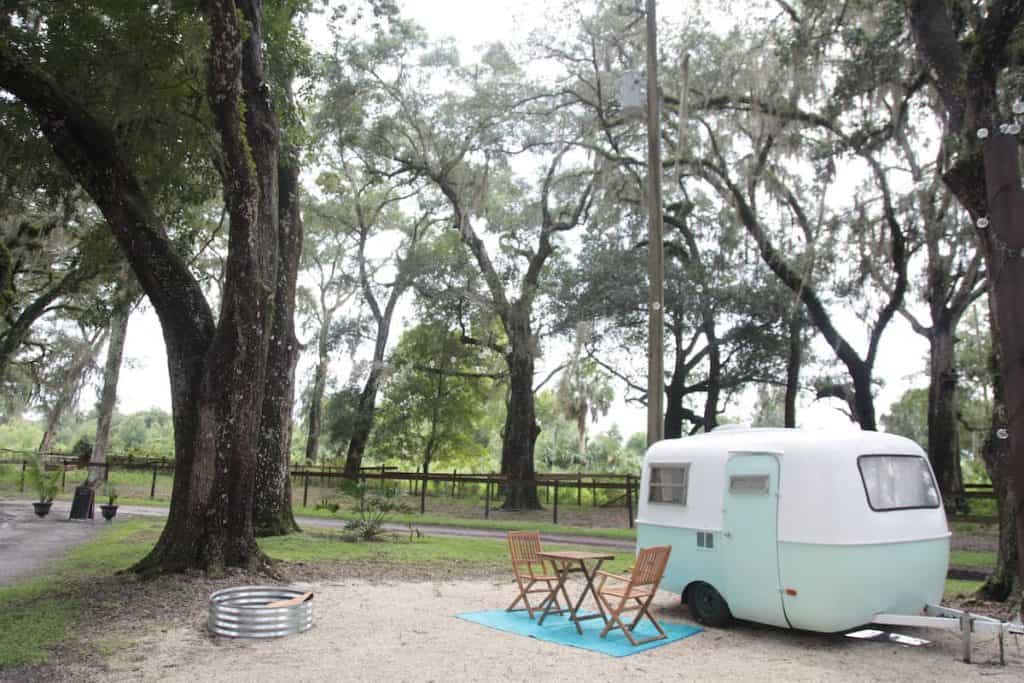 Guest House on 6 Lush Acres
This Guest house on 6 lush acres is located on a beautiful and tranquil property in Ocala. This property makes a great home base for visiting The Canyons Zip Line and Adventure Park, Hardrock Offroad Park, Sholom Park, Fort King National Historic Park, and Silver Springs State Park.
This 3124-square-foot home can sleep up to 13 guests in 5 bedrooms. Your whole crew is sure to have a great time on the screened-in pool and lanai, Pets are welcome at this property, and will love exploring the 6-acre property with you.
This is a great choice of Florida vacation rental if you want to take day trips to multiple areas. Some doable day trips are Gainesville (33.9 miles away), Orlando (85.4 miles away), Daytona Beach (86.1 miles away), and Tampa (99.7 miles away).
Check Rates: VRBO.com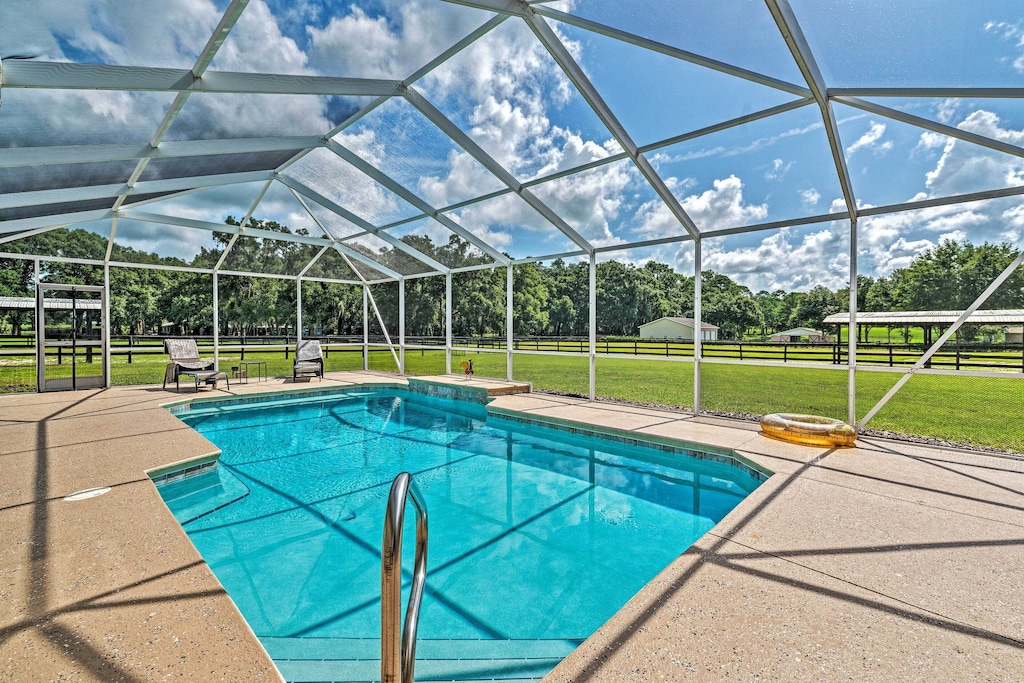 Spacious Lake House
Lots of folks travel to Ocala for its beautiful lakes. If you're a lake enthusiast, this is a great Airbnb in Ocala for you! The Spacious Lake House has its own dock on Lake Weir.
Beat the Florida heat by taking a dip or taking some watercraft out on the beautiful Lake Weir. This lake house can host 6 guests. It has 3 bedrooms and 2.5 bathrooms. You'll love soaking your cares away in the beautiful master bath ensuite soaking tub!
At 3000 square feet, this large home makes entertaining a breeze. The open-concept floor plan makes sure you'll get lots of quality time with all your family and friends. Cook up something delicious in the modern kitchen while enjoying views of the lake and old-growth oak trees.
Check Rates: VRBO.com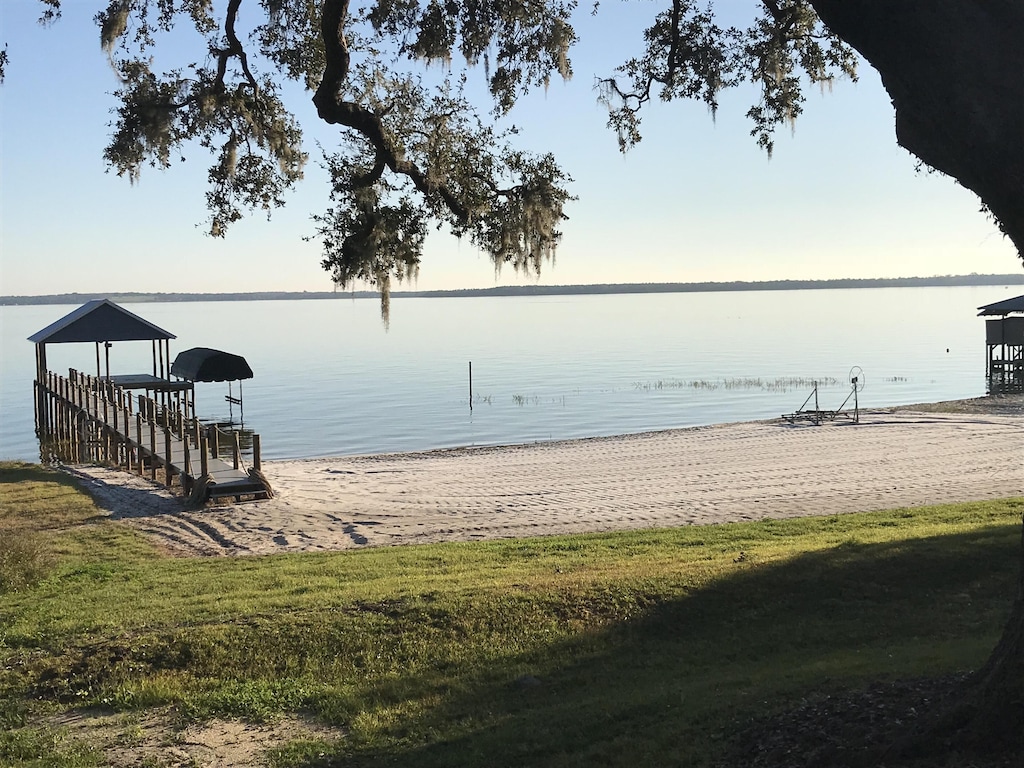 Secluded Waterfront Retreat
Come enjoy the natural beauty of Ocala in this home on the banks of the Ocklawaha River. You'll definitely be able to enjoy the river to the fullest, the home has a private dock and this property comes with kayaks, canoes, and fishing poles.
The Secluded Waterfront Retreat is a popular choice for family reunions. It can sleep 10 guests in 4 bedrooms. The home has 3 full bathrooms. This retreat has a cozy, rustic, log cabin feel while being spacious enough for the whole family to enjoy. It is 3120 square feet.
Just imagine stargazing around the fire pit at night, grilling up some delicious freshly caught fish for lunch, and birdwatching with your coffee on the dock in the mornings. This is a real nature lover's paradise in Ocala!
Check Rates: VRBO.com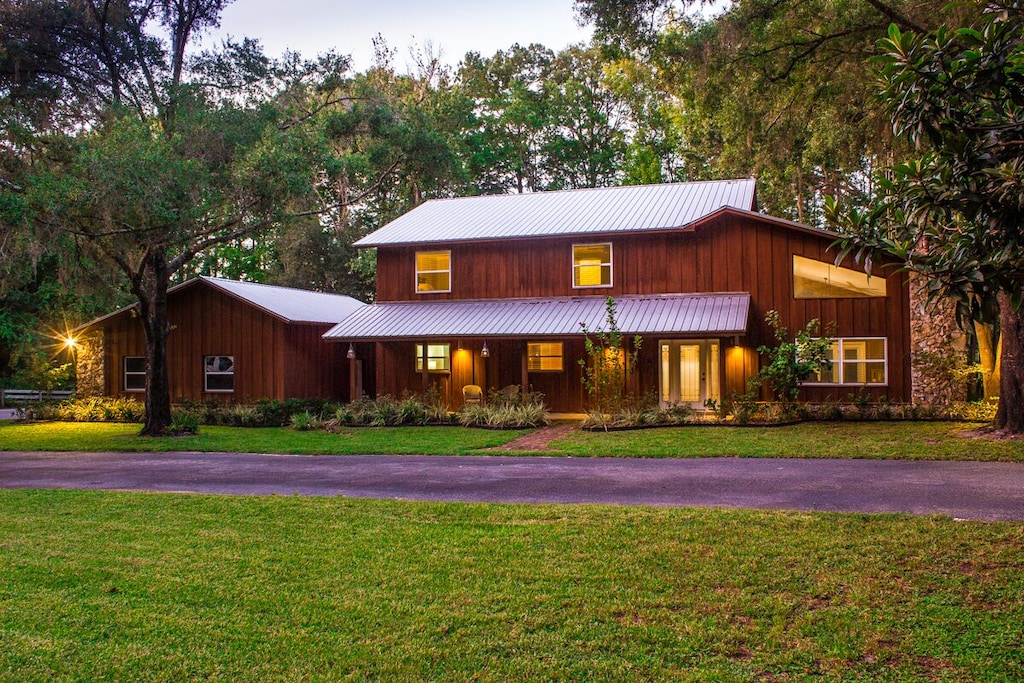 Cabin in the National Forest
If you are looking for a cabin in the Ocala National Forest this is the entry on our list of the best Airbnbs in Ocala for you! The cabin affords guests the privacy and ease of being in the National Forest close to hiking trails, fishing, and some of the best springs in Ocala. It also has canal access to Lake Kerr.
This sweet little cabin can sleep 4 guests in 2 bedrooms and has 1 bathroom. It has a quaint and cozy style, perfect for returning to after a day spent in nature. This is definitely a luxury stay for a cabin in a National Forest- it even has air conditioning, wifi, and a dishwasher.
You'll love the water view and exploring the Ocala National Park from this sweet home base. If you do wish to venture further out this cabin is only a few hours from Disney/Orlando, Tampa, and Jacksonville!
Check Rates: VRBO.com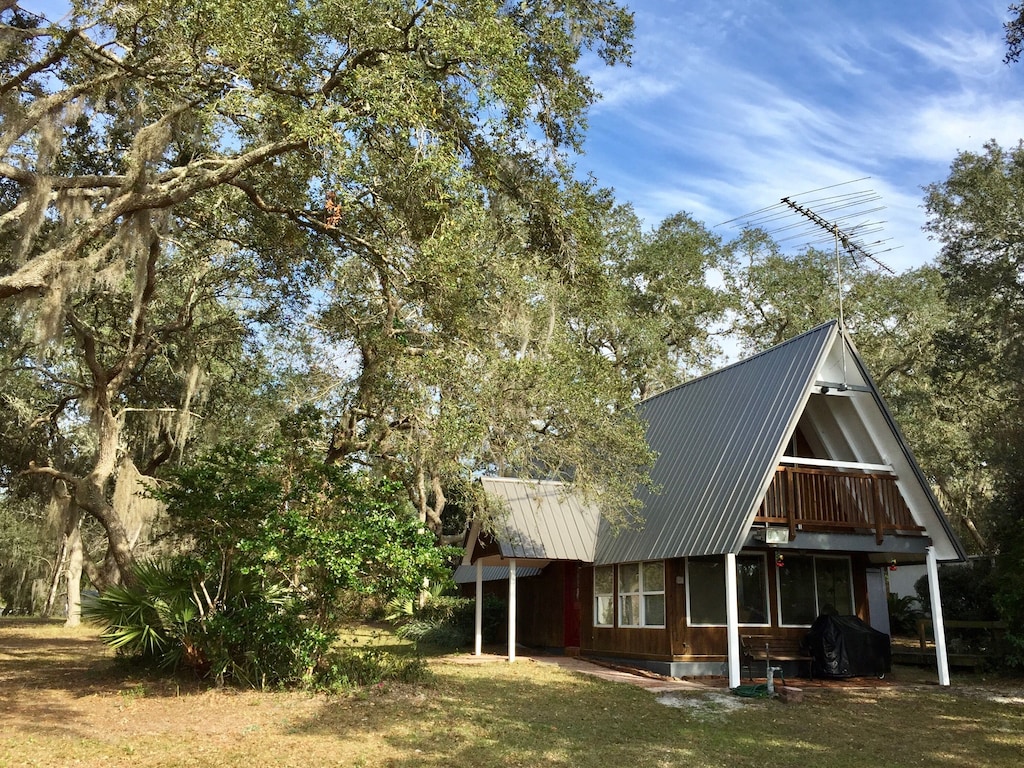 Silver Springs Cozy Cottage
The Silver Springs Cozy Cottage is a self-proclaimed artist's hideaway. Located inside the Ocala National Forest this older home is quaint and charming surrounded by large oak trees and grapefruit trees. Making it one of the Airbnbs in Ocala for those looking to be close to the springs.
You can spend your days at the springs, enjoying a picnic at one of the hiking trails, or enjoying the swing on the property. This cozy cottage is for those who admire the bones of an old house with not everything being modern and new. That being said the kitchen is modern and bright white, and the bedrooms are cozy and welcoming.
There is a screened-in art studio located for guests to use and a large screened front porch with a dining table an enjoyable place to relax or enjoy a cup of coffee. And even a Bowflex machine and weights for those looking to get a quick workout in.
Check Rates: Airbnb.com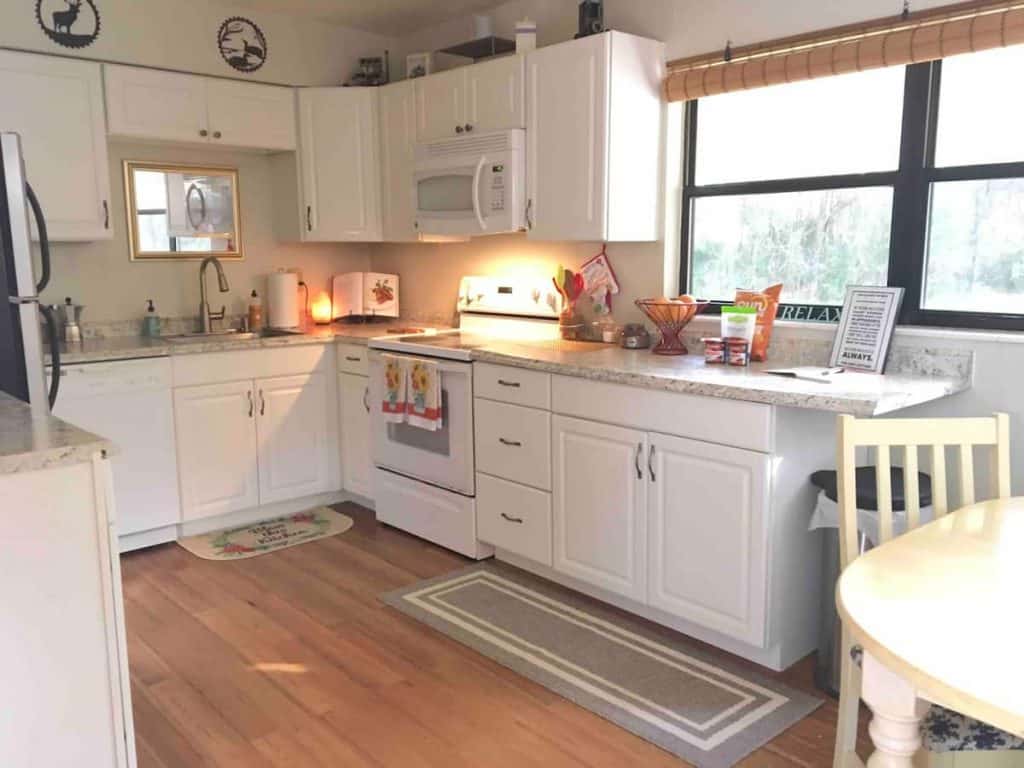 Sweet Log Cabin
You and 12 of your family and friends are sure to have an amazing time at this vintage log cabin. The cabin is located in a secluded 3 acres that include a fire pit, a fruit orchard, a chicken coop where you can collect fresh eggs, and a small vineyard. It also has lots of Ocala's iconic old-growth oaks covered in Spanish moss.
The cabin has 3 bedrooms and 1.5 bathrooms. It has an additional RV hookup if you want to invite another group to join in the fun! Pets are welcome with no additional charge or fees and they will love exploring the wooded property with you.
Check Rates: VRBO.com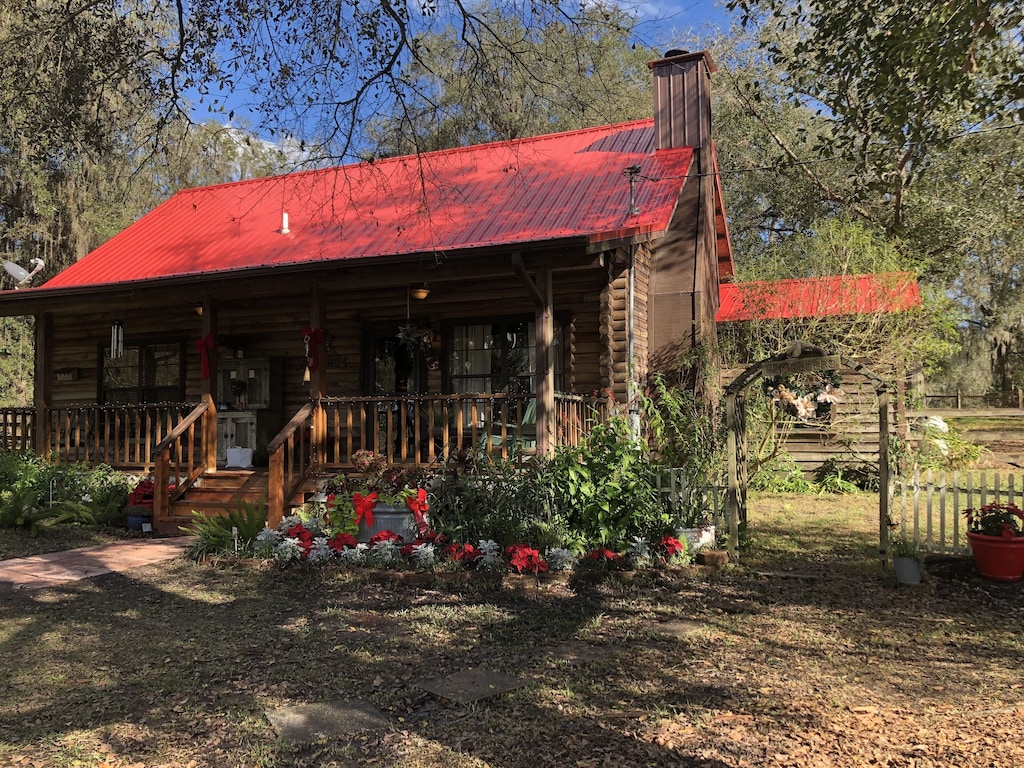 Lady's Lake Home
This spacious and light-filled 2 bedroom 2 bath home is ready to welcome you to Ocala! Located near the beautiful Lady's Lake this is a great home base for golfing and shopping in the area.
This 1332 square foot house can sleep 4 guests. If you want to bring up to 6 guests they do kindly offer air mattresses. This VRBO has brand new appliances and lovely modern upgrades. It is a single-level home with only one step to enter, making it great for guests with limited mobility.
This is a perfect vacation rental to choose if you're looking for a luxurious getaway in the heart of Florida.
Check Rates: VRBO.com