If you're looking for a fun new adventure, then skip the hotel and book your next stay at one of the exciting and glamorous treehouses in Florida!
Do you have childhood memories of playing in treehouses? Why not add an air of whimsy to your vacation? There are so many actual treehouses in Florida that you can stay in!
Some treehouses have more amenities than others of course, but there's a treehouse for everyone. It doesn't matter if you want an intimate experience in nature or a glamping extravaganza with a large group. The treehouses in Florida can do both!
So on your next vacation, ditch the hotels! Get an experience in nature that will leave you with memories for years to come. Check out the best treehouses in Florida on your next adventure!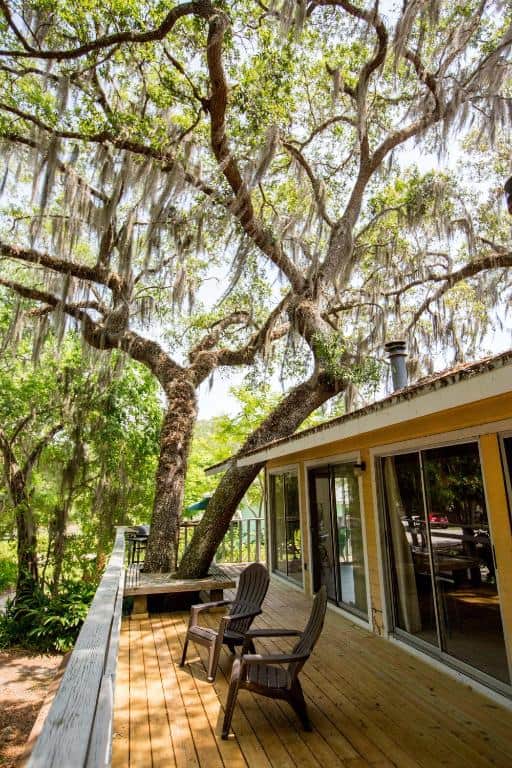 15 Best Treehouses In Florida for The Perfect Retreat
Gypsy Palace Treehouse
If you are looking for a truly unique experience, then look no further than this incredible Gypsy Palace Treehouse just 14 miles from St. Augustine! This treehouse sits oceanfront on a pristine beach.
The home is split into three levels, with the lower level rented out to guests. The one-bedroom has two queen beds and sleeps 5 guests with a layout that offers privacy.
There is a full bathroom and open kitchen and living room, filled with books, a large TV, and large leather lounging couches perfect for hanging out indoors after a day spent at the beach.
Wander along the gravel path to the beach, use the outdoor shower, or keep an eye out for wildlife like sea turtles, birds, dolphins and more. You are just steps away from your own private beach.
Check Rates: Vrbo.com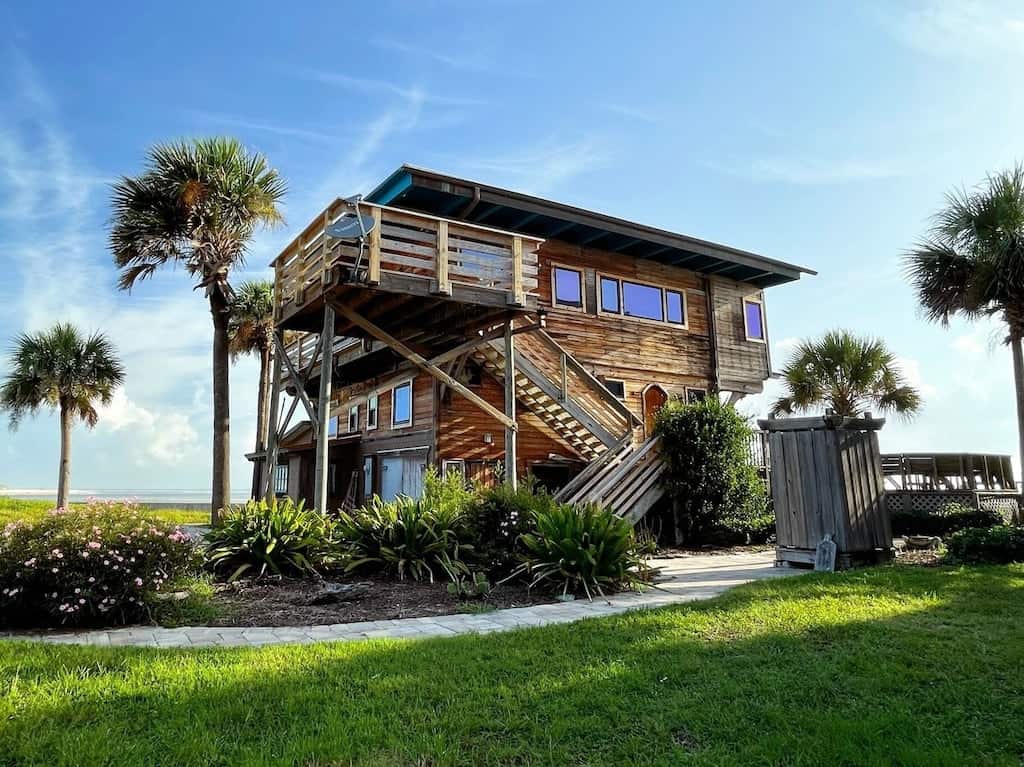 Treehouse at Crystal River
Crystal River is located 90 minutes north of Tampa and is known for springs and spring-fed rivers, boating and more. At the Treehouse at Crystal River you'll find your own private island neighborhood with access to 7 private springs!
This is one of the most family treehouses in Florida. With a large screened-in front porch, the open floor plan accommodates 6, with three bedrooms and two bathrooms it is perfect for large families or groups of friends. The modern chef's kitchen is perfect for cooking up a meal after exploring the springs all day.
Admire the hand-laid wood panel ceiling, the three-story tower perfect for relaxing on the hammock while watching the sunset and wildlife such as manatees and more! There is a floating dock for those bringing a boat or borrow one of the kayaks the owners leave for guests. Crystal River is home to one of the largest manatee populations in the US! Also featured is a large grass yard perfect for relaxing before or after a dip in the water.
Check Rates: Vrbo.com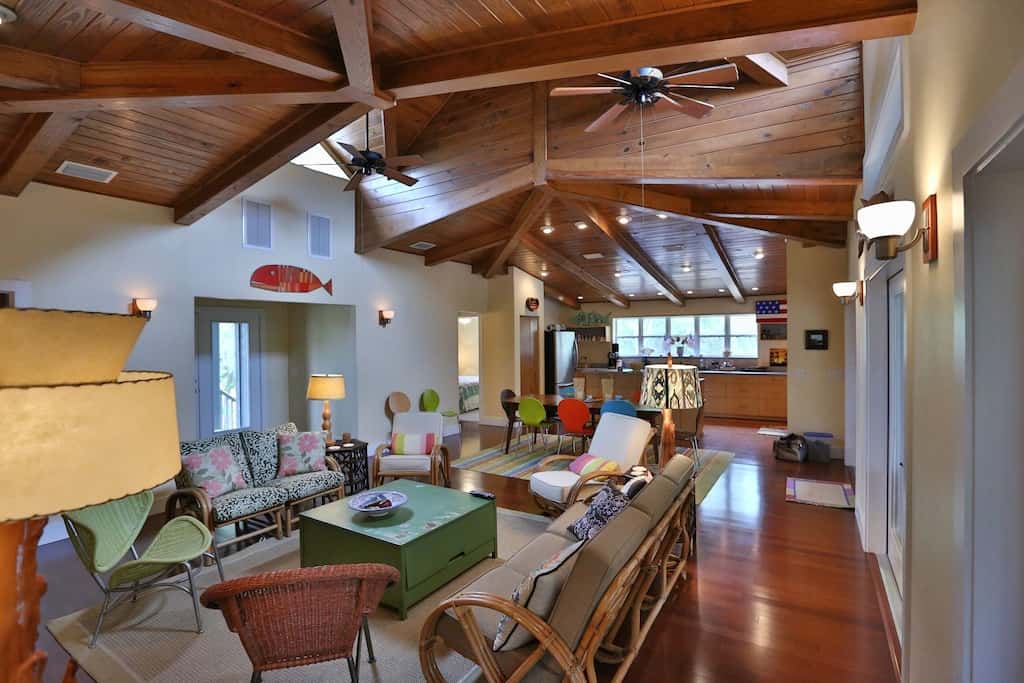 The Little Tree House
Located in Orlando, the Little Tree House is located at the Country Club of Orlando. Relatively close to Disney World and Universal Studios if you're planning to immerse yourself in all things, Disney, during your trip.
Despite its proximity to Disney, the treehouse bungalow itself is a secluded little getaway is perfect for two. Located just 5 minutes from downtown you have your own urban oasis in this renovated 1926 carriage house! The perfect place to relax in an overstuffed queenside bed read a book, enjoy the fireplace both indoor and out and talk with your significant other, well into the night. 
Start your day off with a complimentary small breakfast after which you can relax on the wooden front porch built around a tree trunk, bike under the moss-covered oaks or along the path to downtown. You'll feel cozy and happy as a child in one of the most unique treehouse getaways in Florida. Plus wifi is included!
Check Rates:Vrbo.com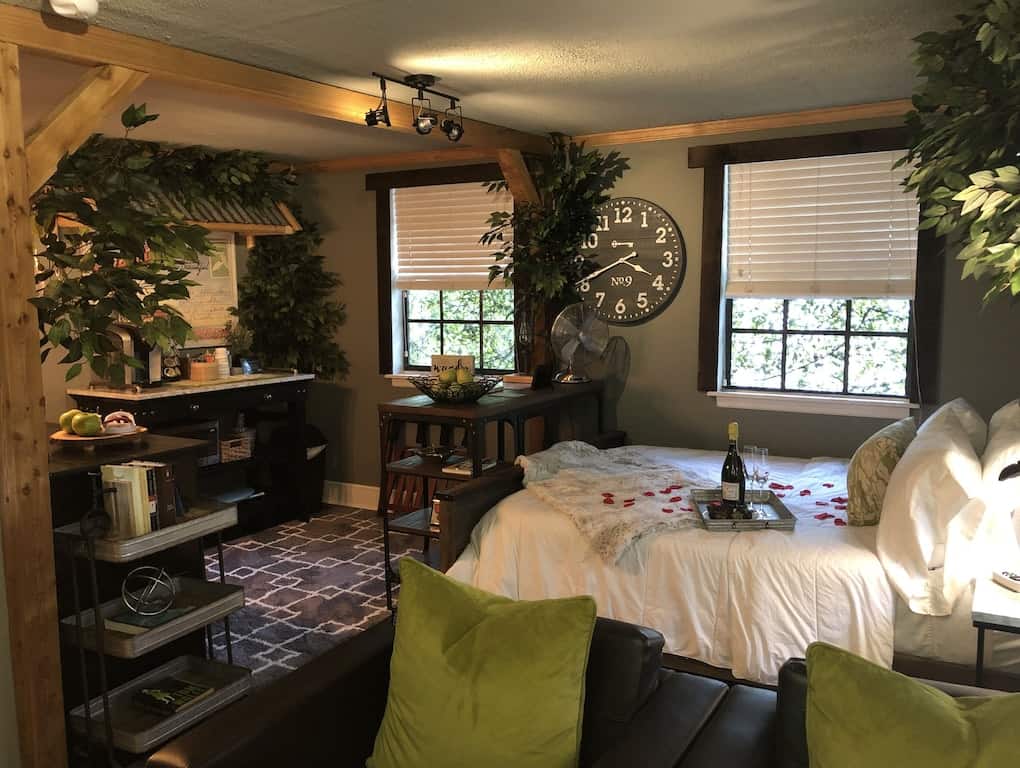 The Birdhouse
Located on the Suwannee River, this Florida glamping site is a quaint open-air building that looks like a birdhouse! This is perfect for those wanting to experience the great outdoors with hiking, fishing, swimming, and kayaking.
Inside the Birdhouse, you'll find 3 beds, a love seat, a rocking chair, and a mini-fridge. A quaint balcony faces the Suwannee River. With access to a charcoal grill, bring your steaks for grilling!
There is a floating dock on the river, perfect to swim to or fish from. Best yet, this site is minutes away from Madison Blue Springs, one of the best natural springs in Florida!
Check Rates: Vrbo.com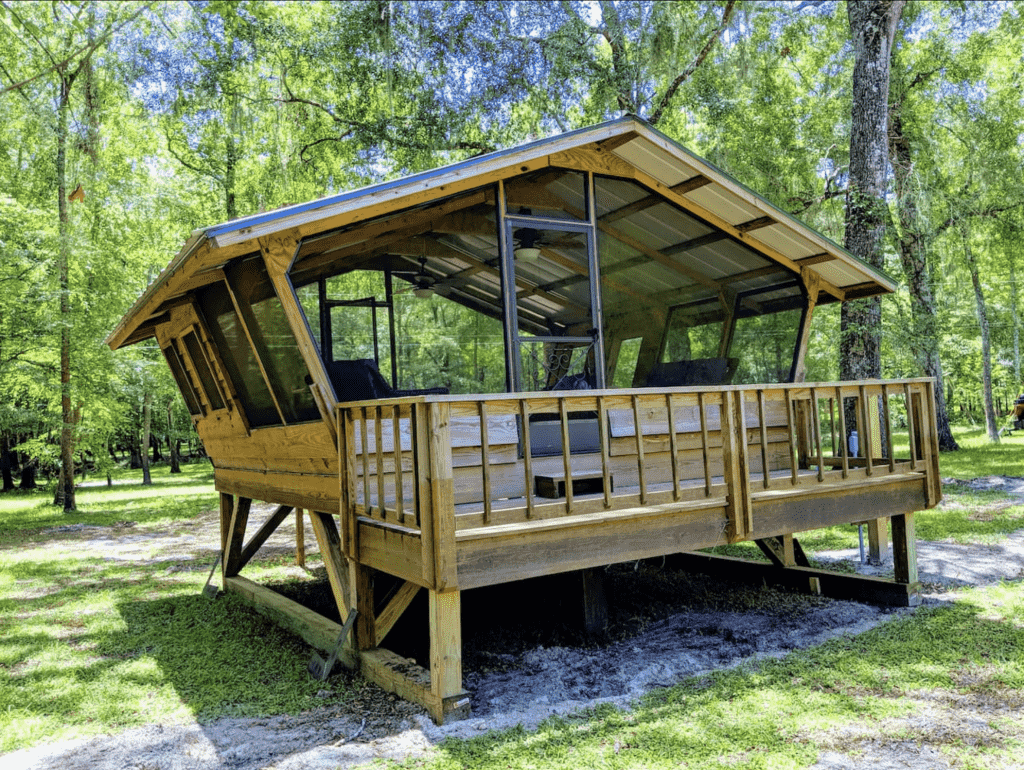 AMI Tree House
This treehouse is all about location! Our favorite part? It is steps to uncrowded Bradenton beach. Located near Anna Maria Island it has everything you could want! Not to worry though, the property is tucked away from beach traffic and offers privacy to guests.
AMI treehouse is two stories and can sleep 5. There are two bedrooms and two bathrooms, with a full kitchen as well as flat-screen tvs in every room where Netflix and pandora can be streamed.
There is an outdoor shower, a grill, as well as a patio area downstairs where you can find beach chairs, coolers, floats, towels, and more to take with you. And the property is pet-friendly if you email the owners ahead of time.
Take the free trolly that runs every 20 minutes to all of the island's restaurants, shops, bars, and sights!
Check Rates: Vrbo.com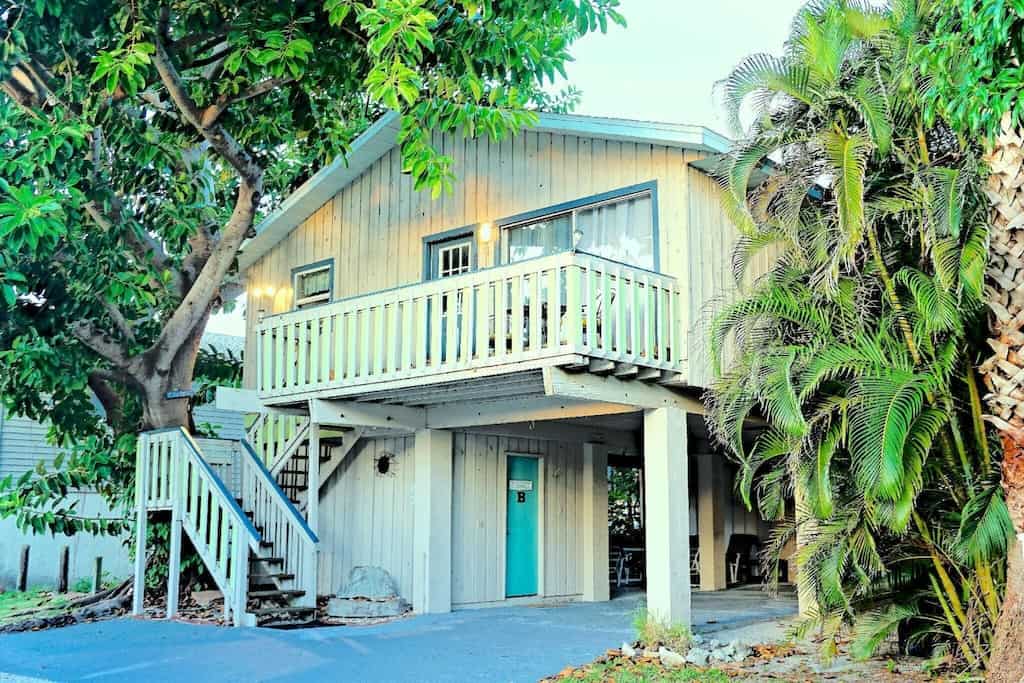 Treehouse at Cedar Key
Just to the southeast of Orlando in Cedar Key, you'll find the Treehouse Cabin Retreat! It is a spacious two-bedroom home that comfortably sleeps 4. Alongside a fully equipped kitchen, there is a dining room, washer and dryer, wifi, and a TV with streaming.
Manatee Springs State Park and Fanning Springs are an easy drive away. Boating or fishing the Suwannee River, hiking the Nature Coast Trail, kayaking Hart Springs, or driving down to lovely Cedar Key are all nice outings.
The home gets its name from being built around two oak trees that protrude from the deck. Located on a canal you can fish from the dock, relax on the large screened-in porch or walk into one of the prettiest small towns to enjoy Old Florida.
Check Rates: Vrbo.com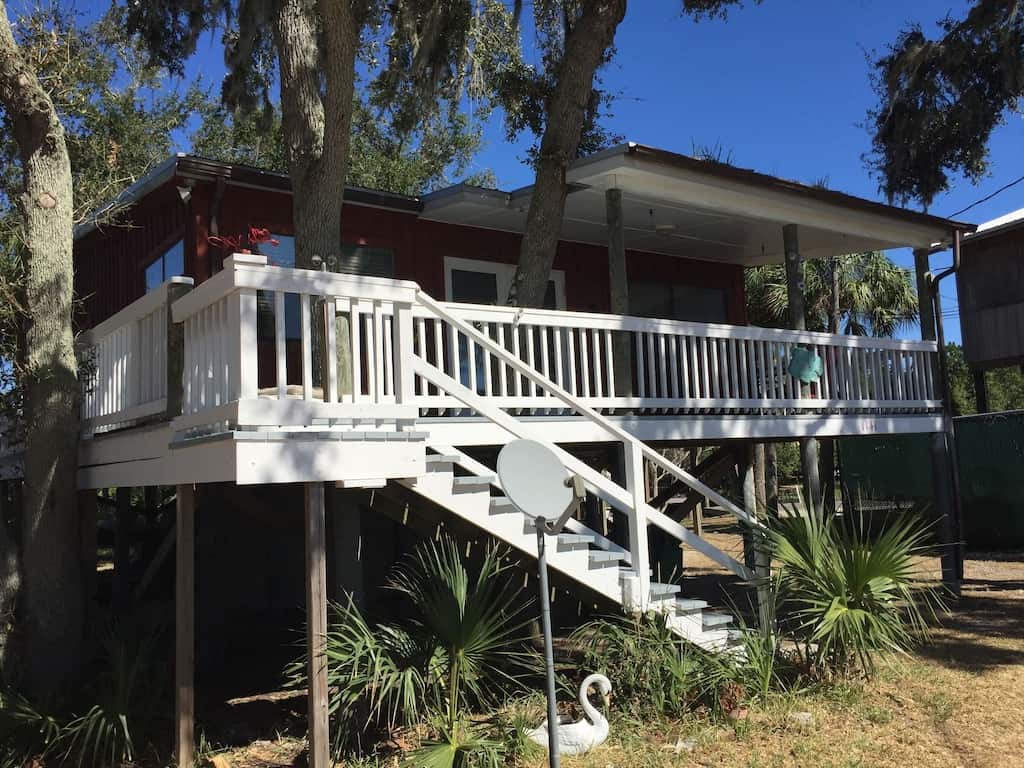 The Hive at Wanderlust Okto
Located in Orlando, you'll find the brand new treehouse the Hive at Wanderlust Okto. This one-of-a-kind treehouse is a perfect romantic getaway for couples as they can also accommodate a wedding in their barn. Or head here for a unique date night
From the wrap-around spiral staircase to the twinkle lights, swings and slide everything about this treehouse is magical. When you fall asleep, you'll drift off underneath the stars with a clear view of your surroundings.
There is a queen-size bed with the option to sleep upstairs or down, a full bathroom, a living area with an 80 inch TV, a private balcony with a claw foot bathtub, and more! There is even AC and wifi.
Check Rates: Vrbo.com
OakGrove Treehouse
If you're on vacation in the Florida panhandle, stay at the OakGrove Treehouse. It is just a mile from St. Joseph Peninsula State Park Beach. You can see one of the best Gulf Coast Beaches right from your front porch!
This gorgeous treehouse home has two bedrooms, three bathrooms, a full kitchen, a large living area, and AC. There is a spiral staircase up to the upper levels of the bedrooms.
Because the treehouse is nestled in a small oceanfront neighborhood, relax outdoors on one of the covered porches complete with swings. And an outdoor shower behind the staircase is perfect for rinsing off after a day spent at the beach.
Check Rates: Booking.com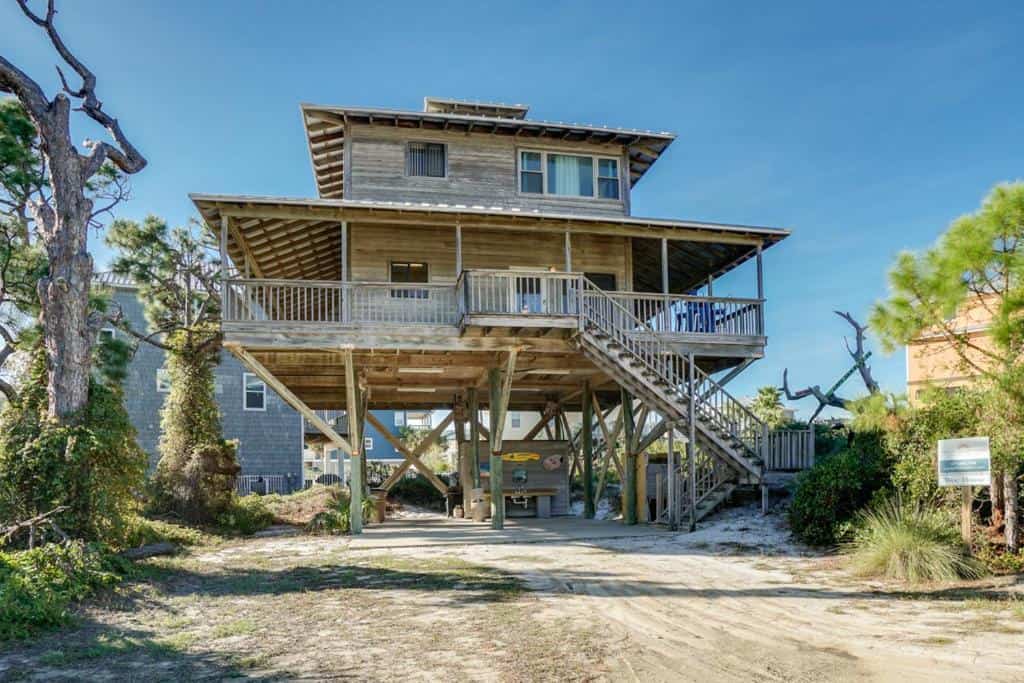 Treehouse At Vanderbilt Beach
In Naples, only minutes from the beach, you'll find one of the most magical treehouses in Florida! This unique getaway is complete with everything you will need including an outdoor tropical oasis, you won't find a better place for relaxation than at the Treehouse at Vanderbilt Beach
This 950 sq foot treehouse can sleep 6 guests, includes a full kitchen and dining room with all the modern amenities you could wish for while being nestled under the trees. Enjoy views of nature from the skylights in every room. Not to mention AC, Wifi, and bicycle rentals.
While staying here you will be close to the beaches, restaurants and shopping while being tucked away in your own private oasis!
Check Rates: Vrbo.com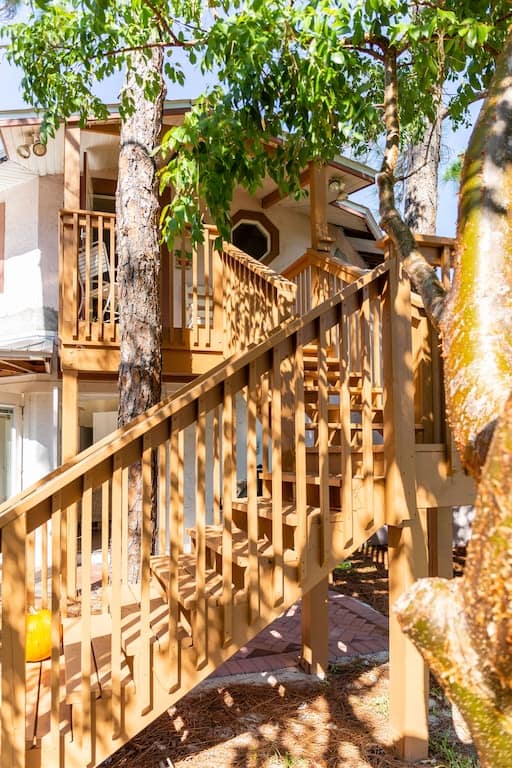 Treehouse Cottage
You'll find a perfect oasis on the road to Miami Beach and Key West. The Treehouse Cottage can be found in Islamorada, in the Florida Keys!
Inside one of the best treehouses in Florida, a cozy two-story home nestled in a lushly landscaped 2-acre prime oceanfront lot! Soak up the gorgeous sunrise over the Atlantic waters, lounge around the private pool, or use the paddleboards, kayaks, bikes, and more. There is even a dock for those traveling with a boat!
This one-bedroom one-bath oasis only sleeps 2 but is perfect for those wanting a romantic get-a-way. But, if traveling with others a total of 4 cottages can be rented. The open floor plan includes the bedroom, living area, bathroom, and kitchen.
Check Rates: Vrbo.Com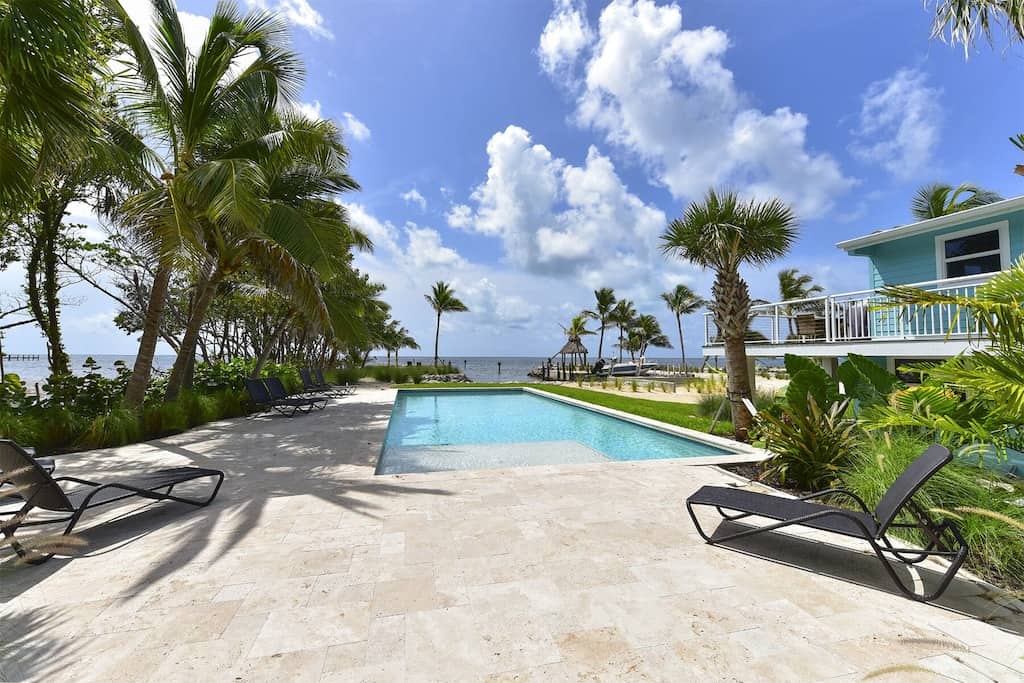 Riverfront Treetop Bungalow
Just to the north of Tampa in Homosassa, you'll find a quiet secluded escape perfect for adventurous travelers. The Riverfront Treetop Bungalow is one of the best treehouses in Florida!
This treehouse rental in Florida you will find a balcony, and a restaurant right outside the door offering anything you could want. It also has AC and wifi.
Inside, you'll find a spacious living area with an antique fireplace surrounded by a wooden ceiling and walls with a full wall of sliding glass doors overlooking the porch! The porch was built around the trees the house providing shade to guests.
There is a full kitchen stocked with everything you could need. This listing is perfect for those looking for a secluded escape but yet close enough to all the outdoor activities.
Check Rates: Booking.com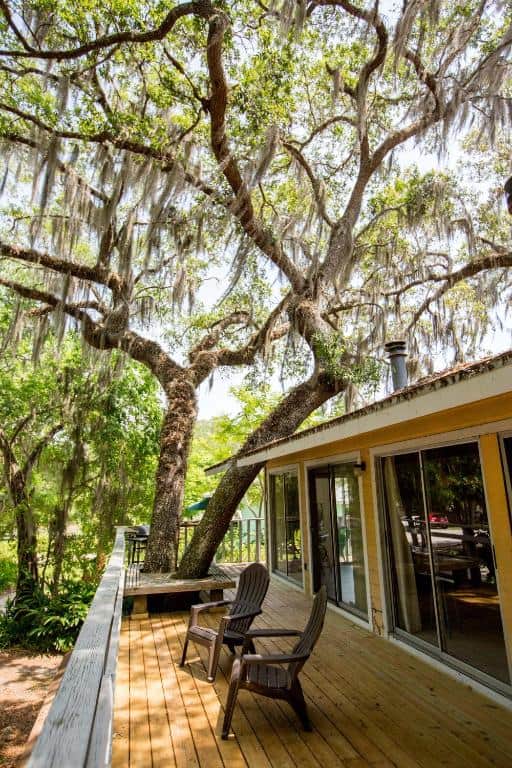 Tampa Treehouse
In the bustling city of Tampa, you can find one of the best treehouses in Florida. But at the Tampa Treehouse, you're actually renting the entire house too!
Perfect for big families or large groups, the two-story house can sleep 6-10 people comfortably! Each of the three bedrooms has flat-screen TVs, and the space has three full bathrooms.
The living space also houses a 60-inch flatscreen TV with beautiful bamboo flooring. The kitchen is equipped with stainless steel appliances. Downstairs, you'll even find a pool table, corn hole, and weber grill!
Guests can enjoy the scenic Rocky Creek, with access to fishing. Down the road, you'll find International Mall, a shopping and dining destination. Tampa International Airport is also right around the corner.
Check Rates: VRBO.com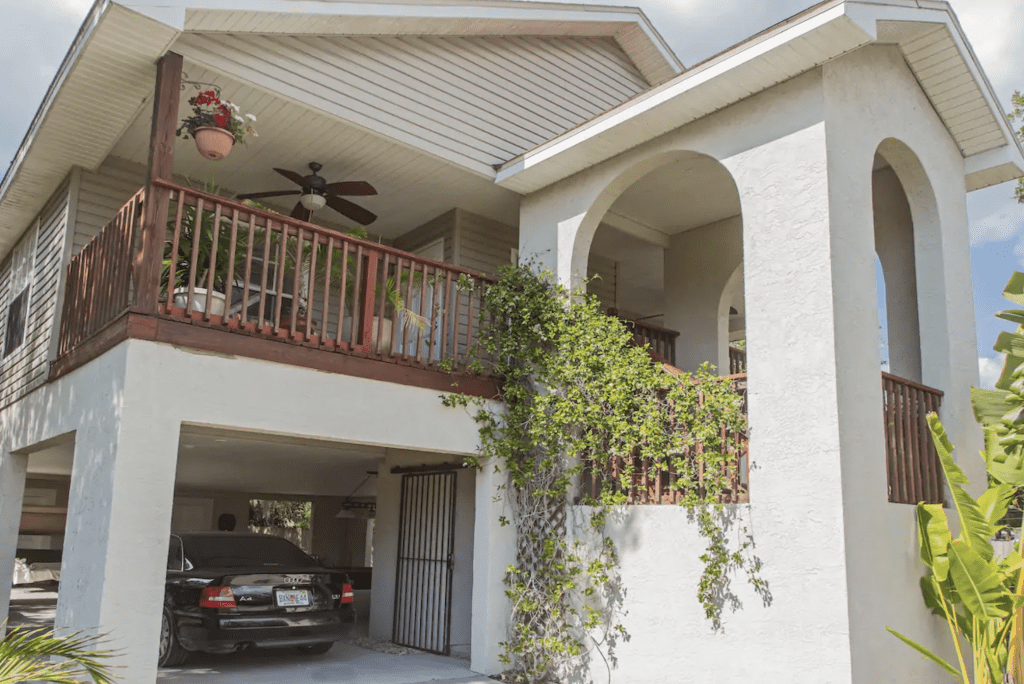 Luxury Glamping Suwannee River
Located in Branford, just miles from Ginnie Springs you need to stay at the Luxury Glamping Suwannee River treehouse! It is one of the best treehouses in Florida and is located near all the best springs in Florida.
This newly renovated home on the Suwannee River has a rustic farmhouse feel. But once you get inside, you'll find nothing but luxurious amenities!
The treehouse sleeps 4, in two bedrooms. Alongside a brand new full kitchen, a screened-in porch with rocking chairs overlooking the river. For those more adventurous make use of the two kayaks to explore the springs. There is a long dock connecting the home to the private dock.
When you're not relaxing in the treehouse, you can relax in the private jacuzzi looking over the river or grill out and enjoy the fire pit! You're only a short distance from some of the best springs in North Florida.
Check Rates: Vrbo.com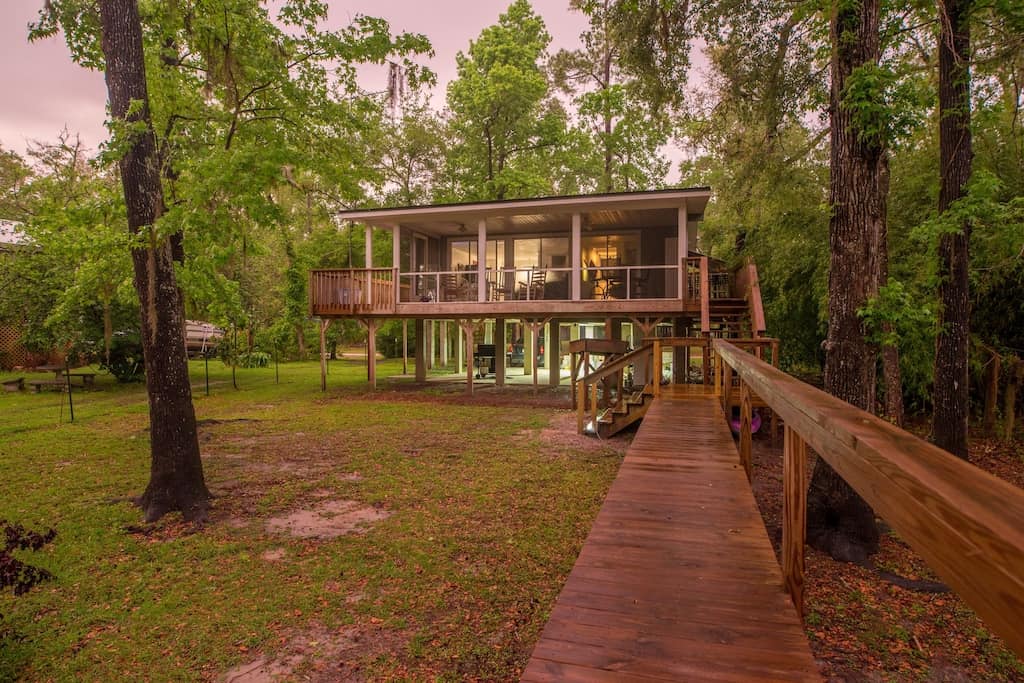 Seabird Key Treehouse
This next listing may be one of the most expensive treehouses in Florida, but it's so gorgeous we had to include it. A half-mile offshore of Marathon in the Florida Keys, the Seabird Treehouse is on your own private island! lt does run $1,400 per night!
Perfect for large family reunions or gatherings, the Seabird Treehouse is your private island escape. We're not kidding, the only way to get there is to take the 19′ Boston Whaler that comes with the rental! Best of all it is an Eco- Friendly property with solar panels and lights.
Once you arrive, you'll walk up to what looks like a page out of National Geographic. With multilevel porches, a 35′ "Widows walk" that offers those who brave its 360-degree view of both the Bay and the Gulf of Mexico.
At 3 bedrooms it can sleep 10 guests in total making it perfect for a friends or family vacation. Make use of the hammocks, paddleboards, kayaks, and more! Wander through the mangroves, salt flats or enjoy your own private sandy beach. Relax in the shade under the palm trees and under the straw huts, or head out on the boat for fishing, water skiing or more.
Enjoy the birds, as well as the lush tropical gardens that will have you feeling like the Swiss Family Robinsons in no time! But not to worry, there is wifi, TV's, and an alfresco kitchen. You can even hire a private chef if you want to go all out!
Check Rates: Vrbo.com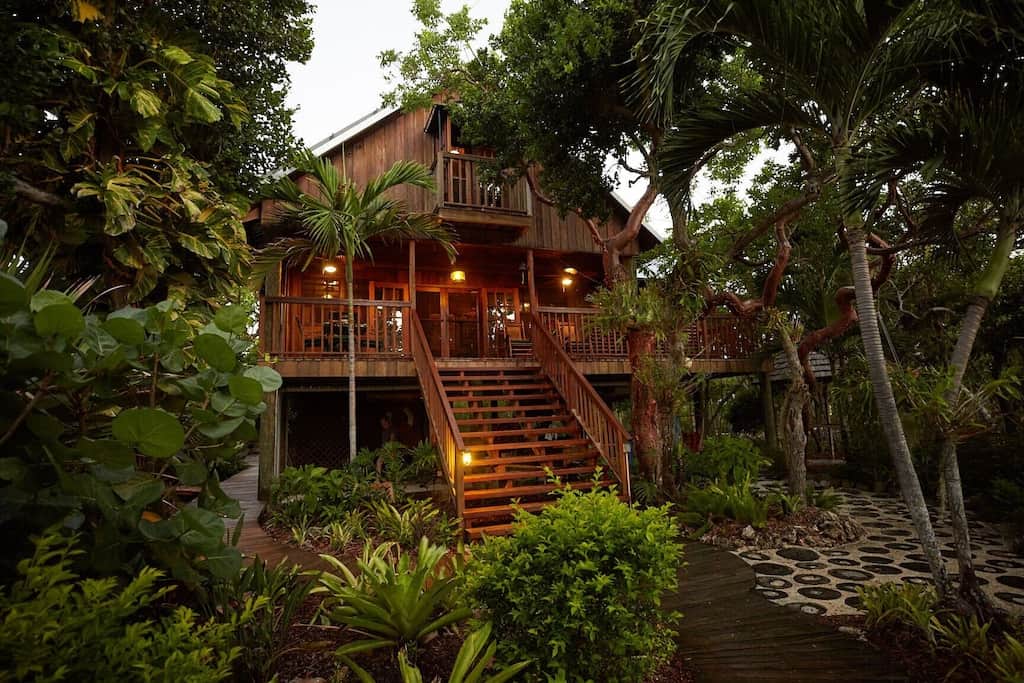 Luxury Glamping @ Lake Louisa
In Clermont, in between Kissimmee and Orlando, you'll find an escape inside Lake Louisa State Park! The Luxury Glamping at Lake Louise offers some of the best treehouse camping in Florida!
This luxury tent was built to bring back those fond childhood memories. Inside these carefree campsites offer guests a 200 sq foot tent with queen size mattress, seating area, AC and heater, chandelier, charging stations, and more. However, the bathrooms are located a short walk away in the bathhouse.
You also have access to a private pavilion around a campfire. Everything from pillows to blankets are included. If looking to make this a family affair, you can add two twin mattresses inside the tent or give children their very own camping experience right next door.
At Lake Louisa park you will find kayaks, canoes, bikes, hiking, and horseback riding alongside fishing spread through 4500 acre.
Downtown Clermont is just a 10-minute drive away for those looking for restaurants and shopping.
Check Rates: Vrbo.com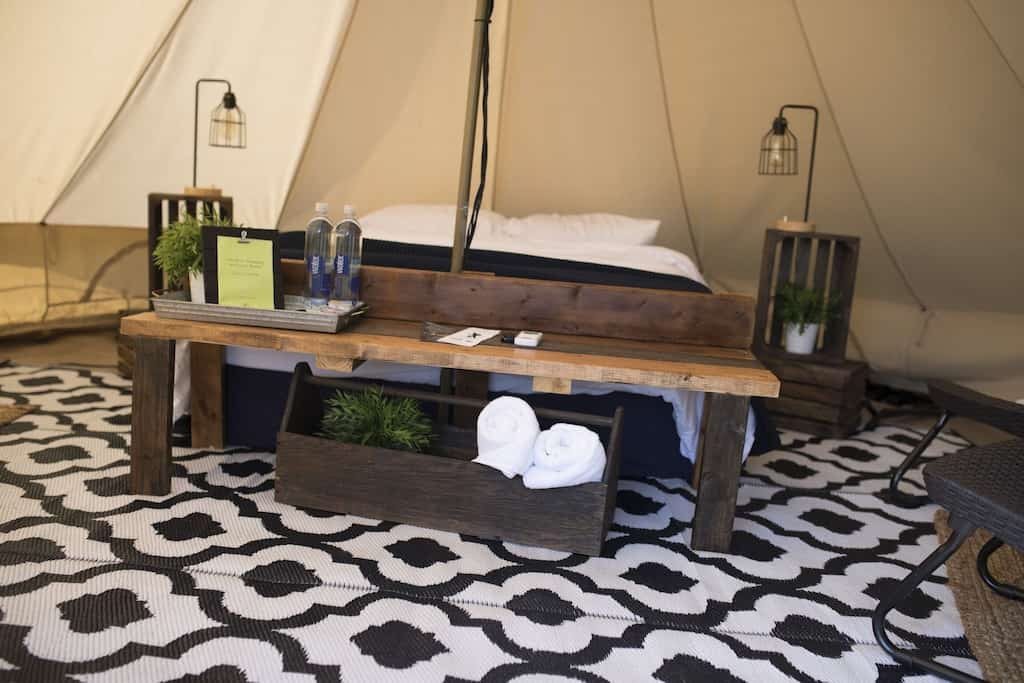 Did You Find This Post Helpful?
If so, we would love to keep in touch! We enjoy seeing photos and comments about your experiences in Florida! You can follow us on Instagram and we will repost your photos on our feed and comment too! Just tag us at @floridatrippers and hashtag #floridatrippers. We can't wait to see your travels!