If you've ever wanted to enjoy nature fully but hate the grit of camping then glamping in Florida is definitely for you! Don't know where to start? Don't bother getting out the sleeping bags and tents, we're here to help.
Glamping combines the experience of nature with the glamour of home amenities! No more sleeping on the ground and cooking over a fire. We're talking queen beds, air conditioning, and kitchenettes! It's like staying in a mini-hotel in the outdoors!
With options for couples, families, or even just by yourself, you can mix a stay in nature with luxury to get a travel experience that's not-so-touristy. Florida glamping is all about adventuring in style, so (lightly) pack your bags and let's go!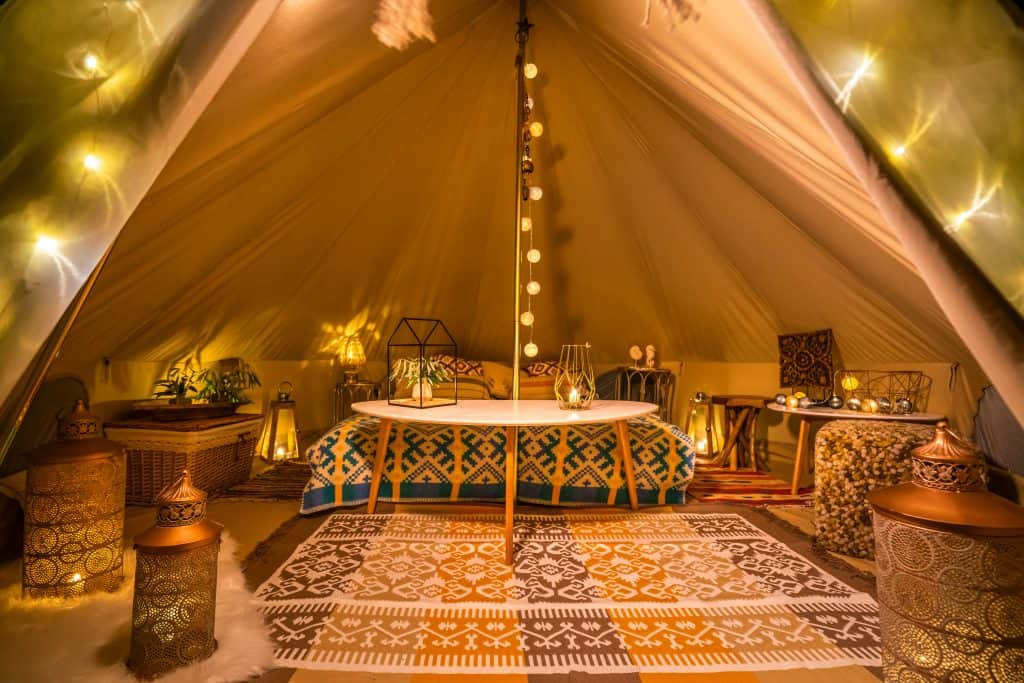 20 Coolest Places For Glamping in Florida
Little Slice of Paradise
Glamping is a great way to book an affordable trip to the iconic Key Largo. Key Largo is an island of the coast of Florida. You'll love the slow pace of island life here! Get ready to watch epic sunsets from your cozy glamping spot.
This VRBO is a beautifully remodeled two-bedroom one bath mobile home. It can sleep, 5 guests. You'll love living the tropical indoor-outdoor life with its outdoor kitchen and BBQ! Staying here also gives you access to a luxurious heated pool, first come first serve boat dockage on Buttonwood bay, a tennis court, basketball court, and kids playground.
Key Largo is a great spot for diving, snorkeling, fishing, boating, fine dining, and watersports. You're sure to have an amazing time glamping here!
Check Rates: VRBO.com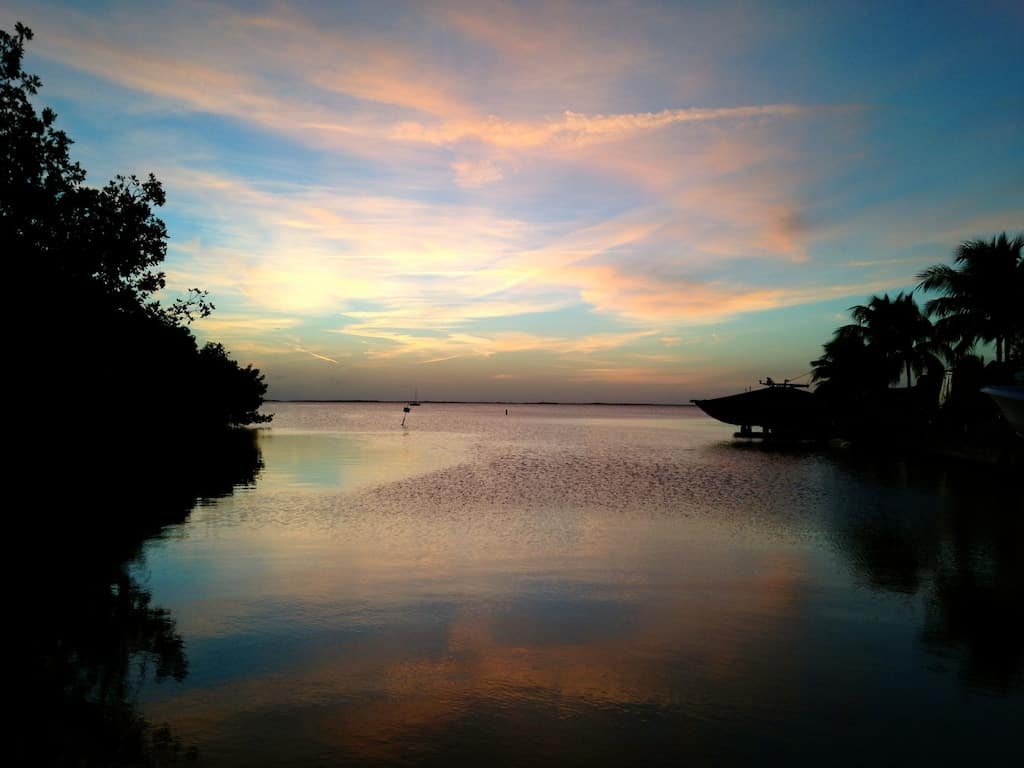 Suwannee River Home
Have you heard about the epic freshwater springs in Florida? As you may have seen on our Instagram or Tiktok, Florida springs have the bluest water in the world. From this lovely glamping spot, several of Florida's most famous springs are less than 13 miles away! Some of them can even be accessed by boat from your private dock. Click here to read about our picks for the prettiest springs in Florida.
This adorable cabin can sleep four people in two bedrooms. It has one full bathroom. The cabin has a quaint screened-in porch with rocking chairs so you can get the full southern comfort experience! You will love relaxing in the hot tub on the deck after a long day exploring the beautiful freshwater springs. This is truly one of the best glamping cabins in Florida.
Check Rates: VRBO.com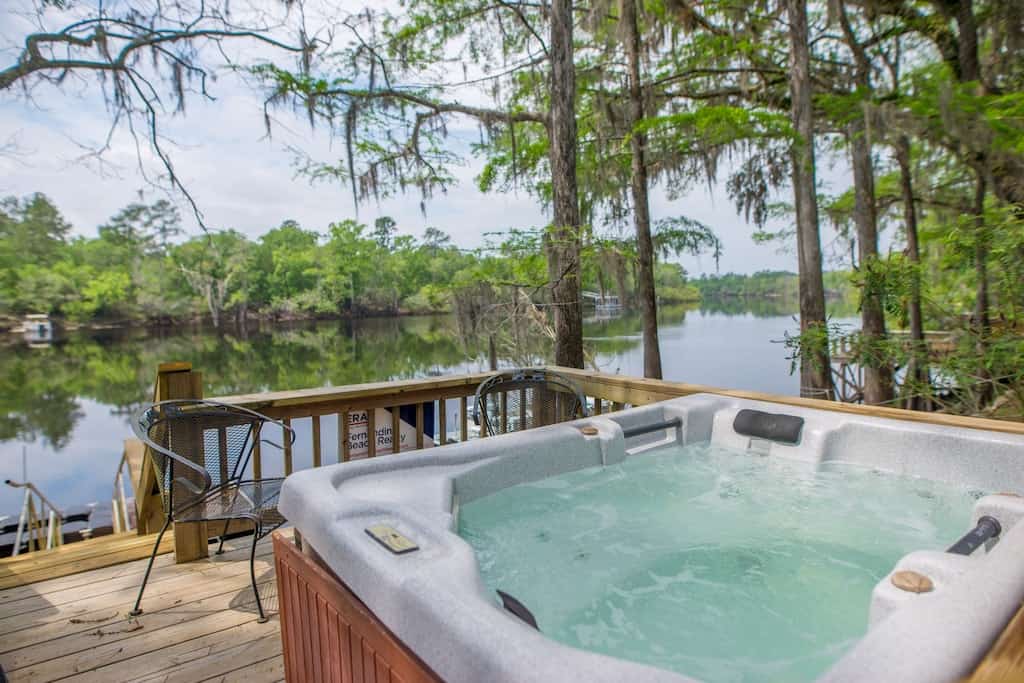 Glamping in Historic Florida
This lovely one bedroom one bath trailer is nestled along the Myakka River in Venice, Florida. It can sleep up to three guests.
Guests have access to all the Ramblers Rest RV resort has to offer, including a heated pool, a hot tub, a kids splash zone, a fitness center, a clubhouse, a playground, a riverside park with a fishing dock, a tennis court, billiard tables, volleyball courts, etc.
This glamping spot puts you in a prime location to visit Venice attractions like Warm Mineral Springs Park, the historic downtown area, and Oscar Sherer State Park. Dreamy Siesta Beach is only 30 minutes away from the Ramblers Rest RV resort. This is a great spot the whole family can enjoy!
Check Rates: VRBO.com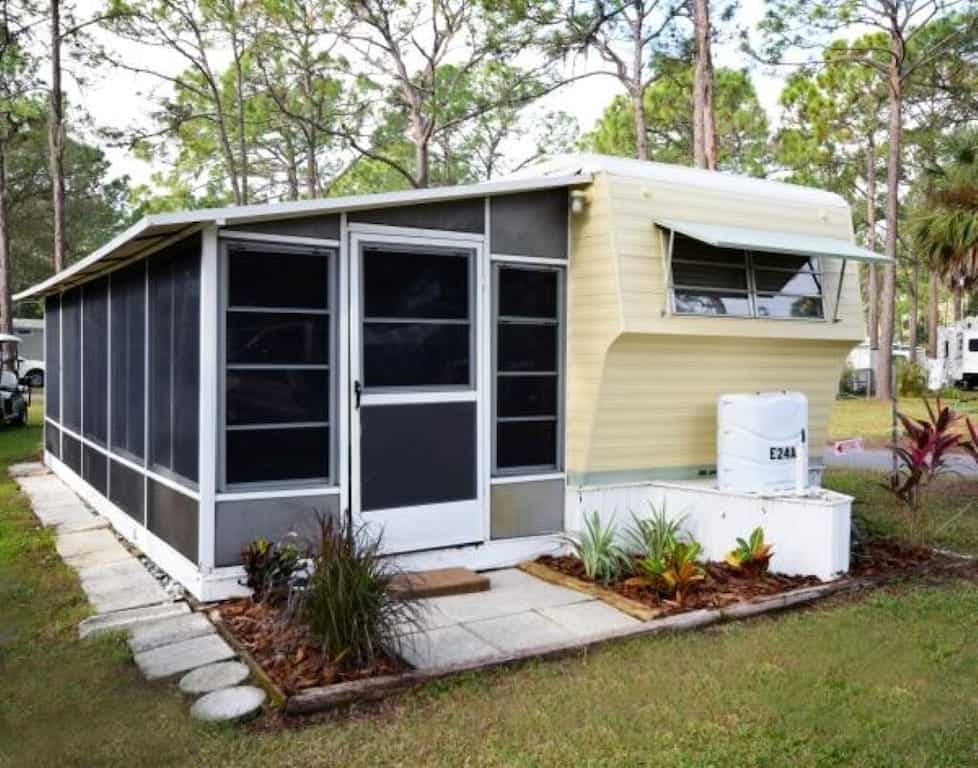 Peninsula RV Rental
If you want to experience glamping in Florida because you are looking for a private and quiet retreat, this is the property for you! This chic, updated RV is located on its own peninsula. You'll have lush water views on three sides of you!
This one-bedroom one-bath RV can sleep, 4 guests. The large windows throughout make the most of the beautiful peninsula views. The waterway surrounding the property connects to Little Lake Weir, one of Central Florida's top-rated lakes.
This property is a quiet retreat into nature. You'll get the full glamping experience with no wifi or TV! Spend your time at Little Lake Weir, hiking and swimming in the Ocala National Forest, or shopping and dining at nearby Mt. Dora.
Check Rates: VRBO.com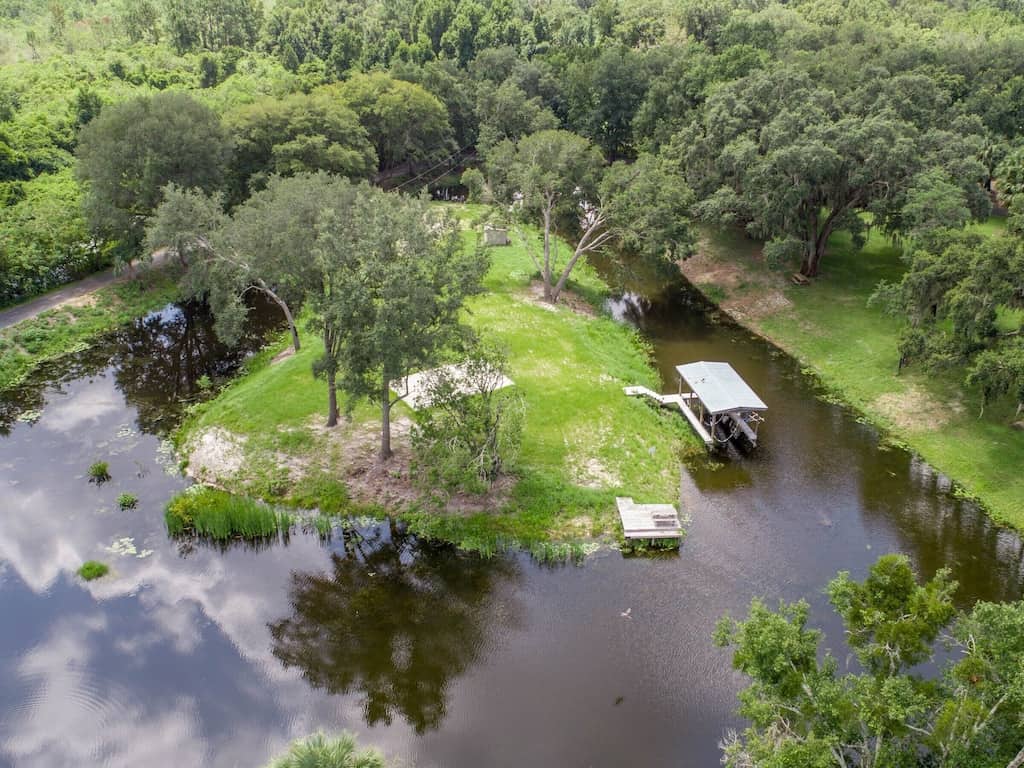 Lazy Turtle Lodge
This fully equipped 28′ RV is located on the picturesque Santa Fe River. Nestled among beautiful oak and cypress trees, this two-bedroom one-bathroom RV can sleep 3 guests. The large covered deck, picnic table, charcoal grill, fire pit, rocking chairs, and hammock all make sure you'll have a wonderful time in the outdoors while glamping here.
If you love watersports this is a great glamping spot for you. Lazy Turtle Lodge is near Lily Springs, downriver from Poe Springs and upriver from beautiful Ginnie Springs. Guests can float or paddle directly from the dock at the Lazy Turtle Lodge to nearby Rum Island. If you don't own your own watercraft, canoe and kayak rentals can be delivered on-site. There is no wifi, but this is a great place to canoe, kayak, paddleboard, float, fish or simply daydream while watching the flow of the river.
Check Rates: VRBO.com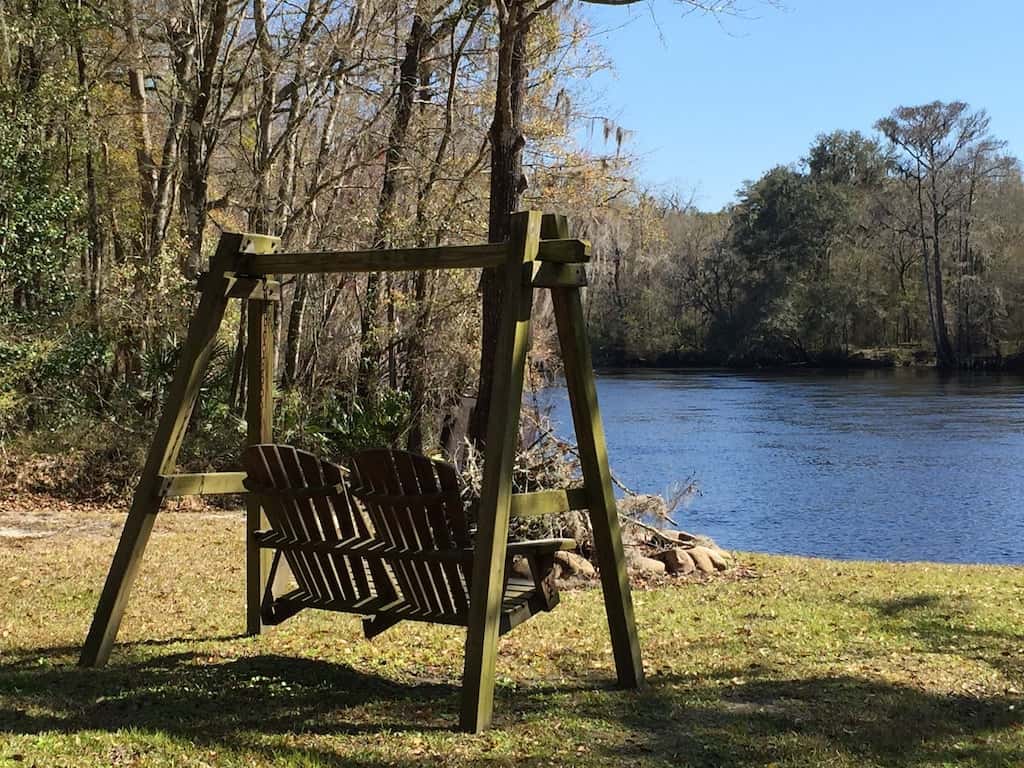 Luxury Glamping at Lake Louisa
This luxury bell tent is over 200 square feet, nestled in Lake Louisa State Park in Clermont! One step inside and you'll think a picture of this site should be listed in the dictionary next to "Florida glamping."
The tent is equipped with a queen-size mattress, AC/heat, and a charging station for electronics. Interior seating is luxurious with throw blankets, cozy pillows, and even a hanging chandelier. 2 twin air mattresses are available for a small fee to accommodate children.
Outside is a private pavilion with a picnic area and barbecue. A private bathhouse is just a short walk away! There is also a fire pit with outdoor seating for two.
The park grounds are available to you 24/7! So whether you're fancying a midnight hike, a sunrise paddle, or a view of the fireworks from Disney, this tent is perfect for you!
Check Rates: VRBO.com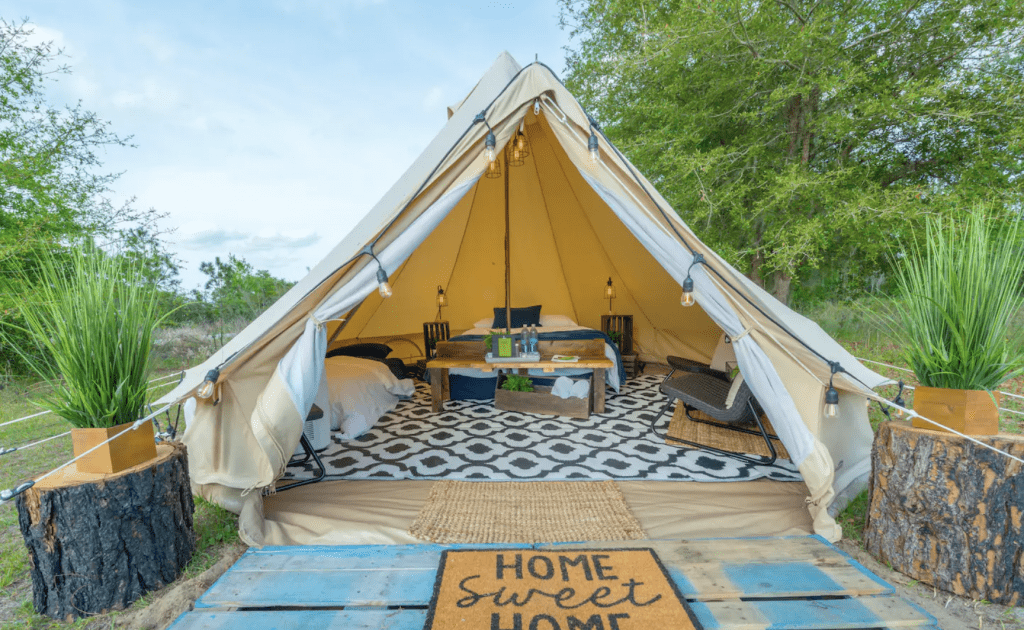 The Birdhouse
Located on the Suwannee River, this Florida glamping site is a quaint open-air building that looks like a birdhouse! This is perfect for those wanting to experience the great outdoors with hiking, fishing, swimming, and kayaking.
Inside the Birdhouse, you'll find 3 beds, a love seat, a rocking chair, and a mini-fridge. A quaint balcony faces the Suwannee River. With access to a charcoal grill, bring your steaks for grilling!
There is a floating dock on the river, perfect to swim to or fish from. Best yet, this site is minutes away from Madison Blue Springs, one of the best natural springs in Florida!
Check Rates: VRBO.com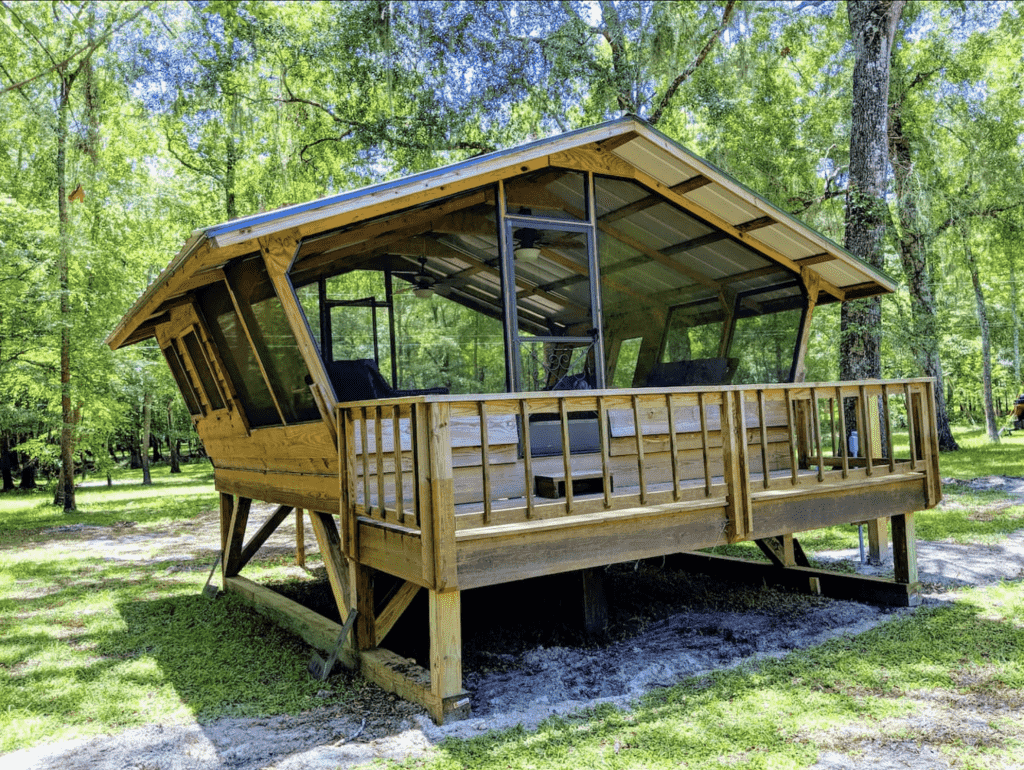 Your Safari Glamping
Your Safari is actually a set of two expedition-style tents on wooden platforms capable of holding 2 people each! This is a perfect getaway for a small group looking for hiking, swimming, and fishing, and everything outdoorsy.
The main tent houses a queen bed and the adjoining tent has two twin beds. Both are memory foam, and both tents have AC/heating! A bard-style full bathroom is a short walk away with hot water.
Outside, enjoy a fire pit with outdoor seating, a charcoal grill, gas stove, and a deck that overlooks the river. The area also has power, so you can bring your devices!
Kayakers will be eager to know that the site is only a five-minute paddle from the Wes Skiles Peacock State Park. If you want to swim with some manatees, you have a chance to see them as the Royal Springs County Park is only a 10-minute drive away!
Check Rates: VRBO.com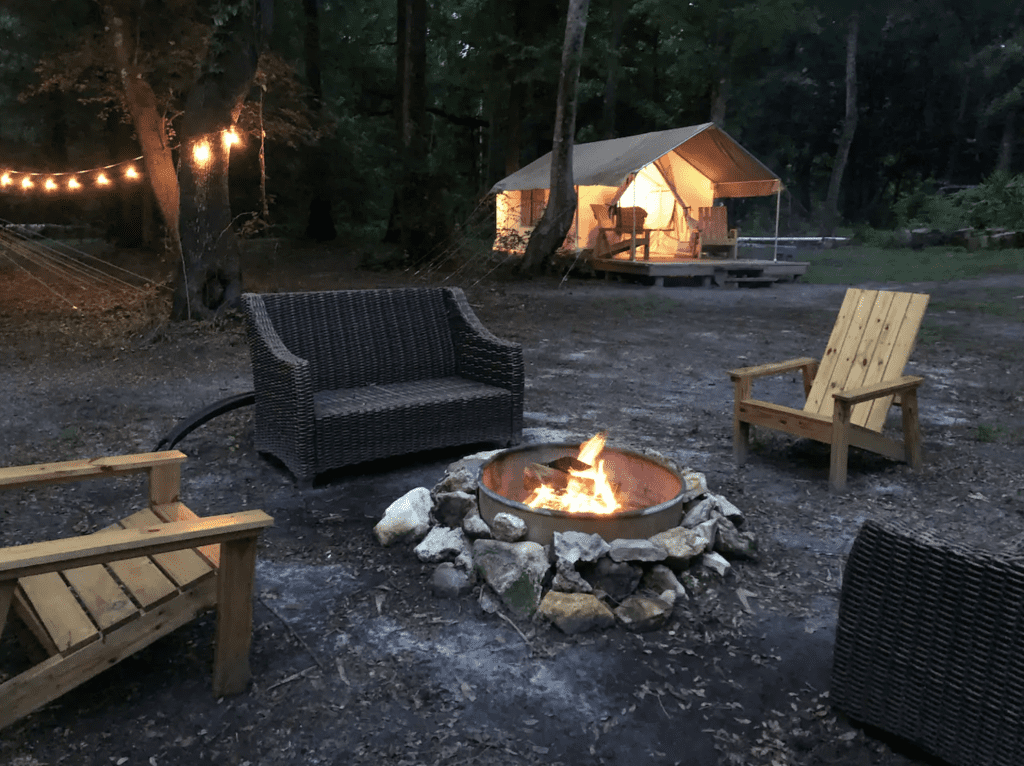 Beachfront Cabin
This beach cabin is in a truly special location! Escape to Little Gasparilla Island, a barrier island off the West Coast of Florida. This little island has no cars, roads, traffic, sea walls, or high rises. A truly unspoiled, romantic, glamping getaway! Enjoy Little Gasparilla's 7 miles of pristine white sand beaches from the comfort of this little cabin.
This cabin is right on the beach and can sleep four guests in two bedrooms. It has one bathroom. There is space for outdoor dining and a grill for serving up your fresh catch of the day! The miles of beach right outside your door are known as a great place to find prehistoric sharks' teeth fossils. You're sure to have an amazing time visiting this remote little slice of paradise!
Check Rates: VRBO.com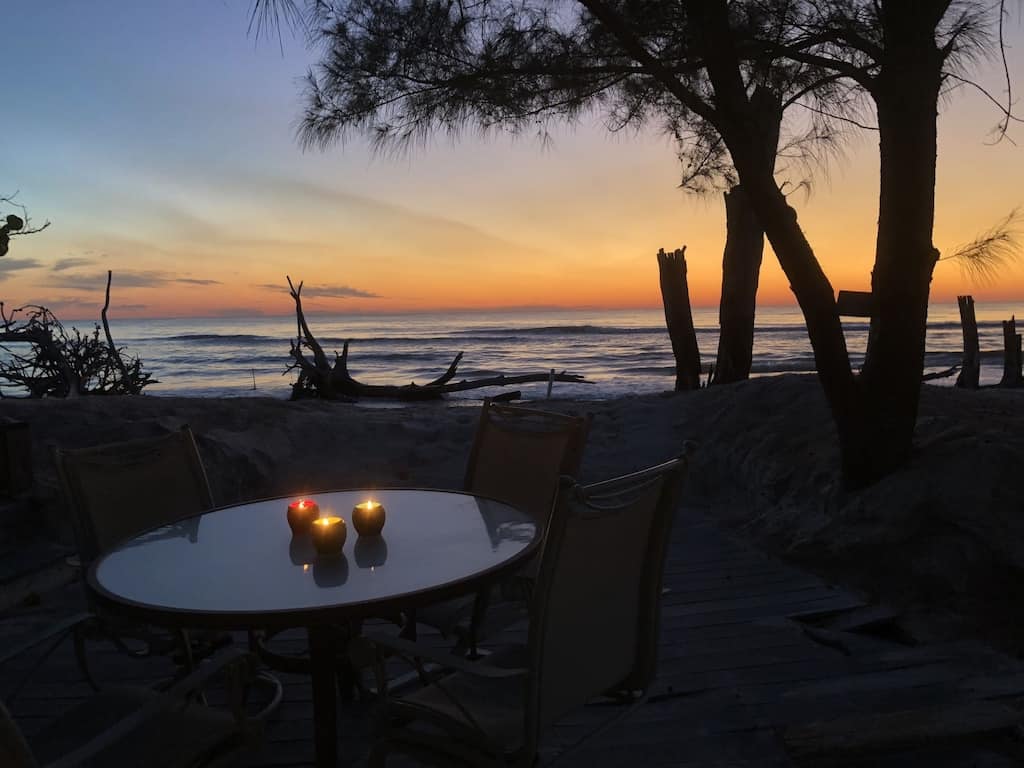 Unique and Charming Waterfront Cottage
One of the best parts of glamping is the opportunity to get up close and personal with native wildlife. This cabin offers unparalleled access to all the cool creatures of Florida. Located on the Homosassa River, which some call the "manatee capital of the world" you definitely want to click through the photos guests have taken of manatees and dolphins from this VRBO!
The hosts of this VRBO generously provide kayaks for guests to use so they can explore the lake and river that border the property. The cabin has two bedrooms and can sleep, four guests. It has one bathroom. There is a beautiful lakeside fire pit on the property and a lovely screened-in porch so you can spend lots of time in the great outdoors.
Check Rates: VRBO.com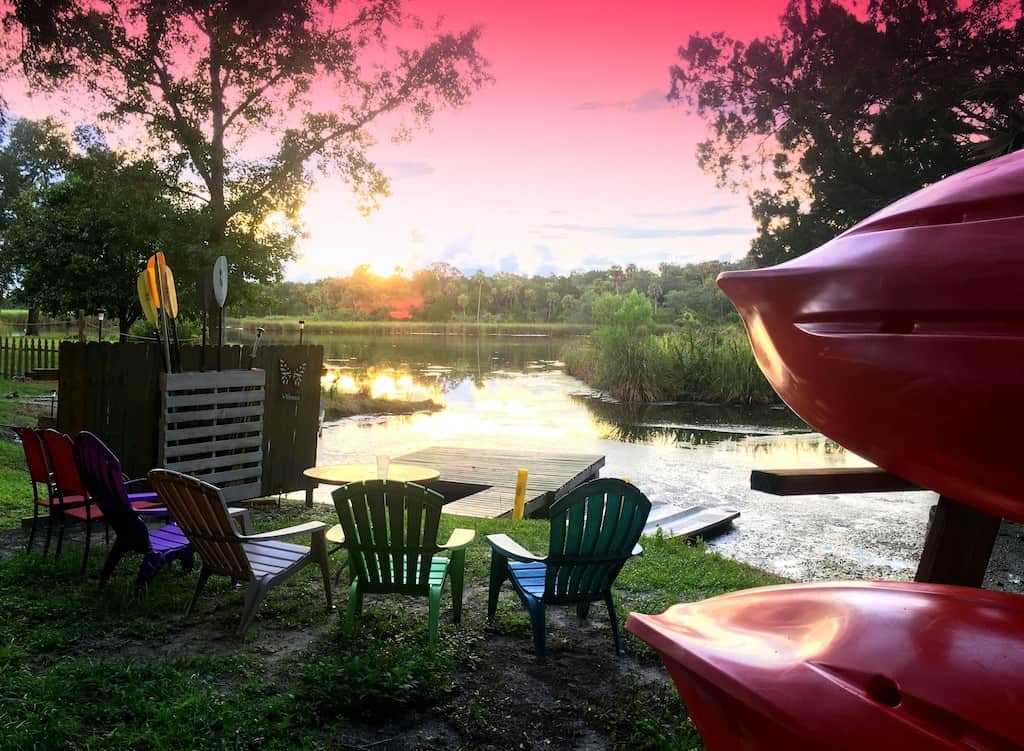 Retro Trailer in St. Petersburg
This next stop on our best glamping in Florida tour shows that you can even camp in style in a city. This groovy one-bedroom one-bath trailer is located only 2 miles from Downtown St. Petersburg. The trailer has outdoor seating and its own pool!
From your little oasis in St. Petersburg its a short walk to the town's major attractions like the University of South Florida, Boyd Hill Nature Preserve, and Tropicana Field. Reviewers say it makes a great romantic getaway. You're sure to have fun glamping in this fun, hip, college town.
Check Rates: VRBO.com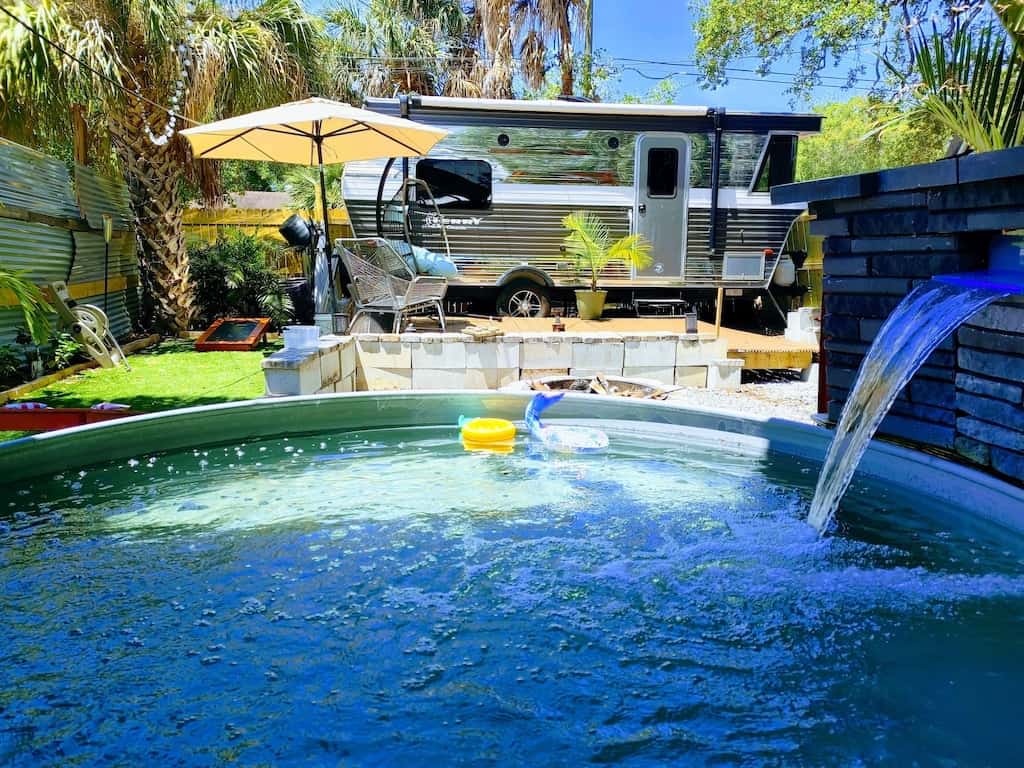 Rum Island Cabin
The phrase "cabin in the woods" doesn't always have to be scary! At Rum Island Cabin, in Fort White, you'll find a pristine paradise perfect for glamping in Florida.
Because this cabin is small, it doesn't feel cramped with a double bed, full kitchen, and full bathroom. There is also a TV and AC/heating. You can enjoy deer watching from the lovely screened-in porch. Outside there is a charcoal grill and picnic table with additional outdoor seating.
If you're a nature enthusiast, you'll love that a short walk from the Santa Fe River and a 1/4 mile walk from natural springs! This is perfect for kayaking, swimming, and even catching a glipse of alligators!
If you need to get back to civilization, High Springs has quaint shops and is 6 miles away. Gainesville is just 25 miles away and has all the offerings of a college town.
Check Rates: VRBO.com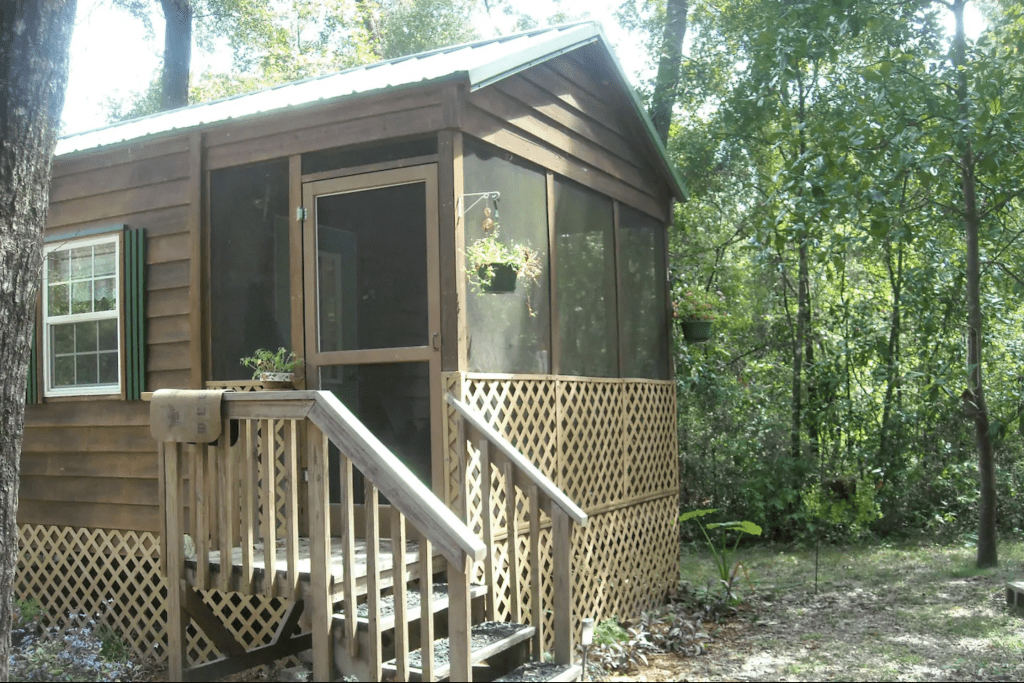 Goat Farm Stay in Sorrento
Do you ever dream of escaping the hustle and bustle of life to live on a cozy farm? This VRBO is the perfect way to live out that dream! This two-bedroom one-bath suite is tucked inside a remodeled barn. Four guests can stay on this adorable working farm.
The hosts have thoughtfully left out a list of tips and tricks for winning the affection of their herd of goats. They make goats milk-based beauty products right here on the farm! What a fun opportunity to spend time in nature and get to know some friendly critters. The firepit and grill on the porch are the perfect places to watch the sunset over the peaceful goat farm after a day of fun.
Check Rates: VRBO.com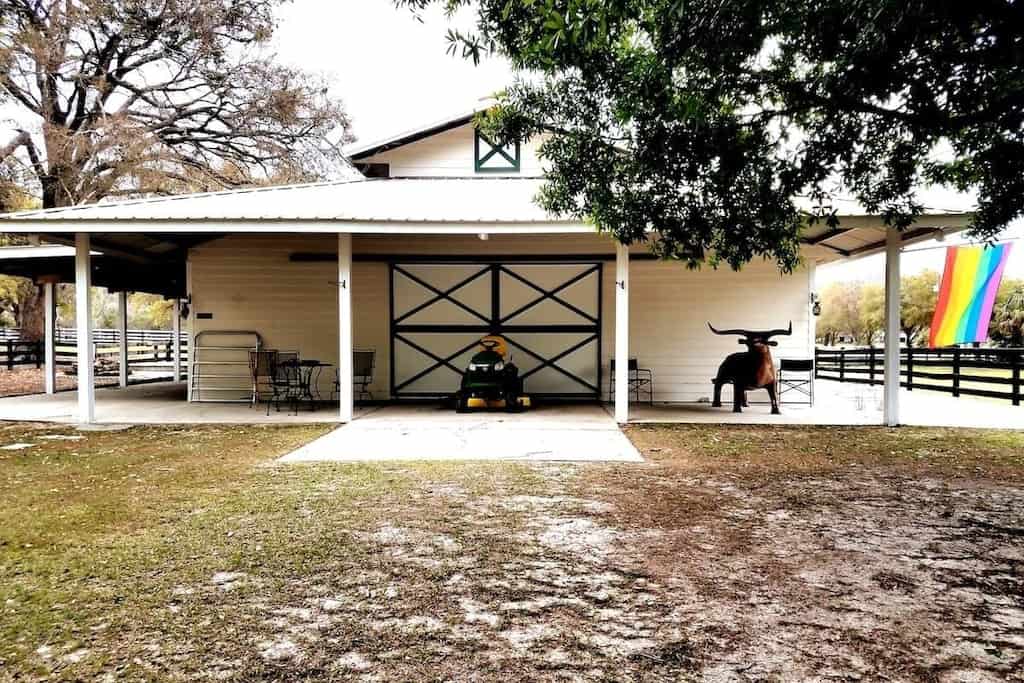 Floating Cottage
Let's take your Florida glamping adventure on to the beautiful St. Johns River. That's right, this cottage FLOATS! This epic cottage has one bedroom and one bathroom. The cathedral ceilings and plentiful windows keep the small space bright and airy.
This cabin has a remarkably spacious kitchen for a houseboat. There is also a grill on the deck perfect for cooking up something delicious after a stroll on the Lake Monroe Riverwalk.
The Boat Tree Marina where this floating cottage is moored has a deli and restaurant, bait shop, laundry, and pool. If you want to explore the St. Johns River further, the Mariana offers a 15% discount on boat rentals for Floating Cottage guests.
Check Rates: VRBO.com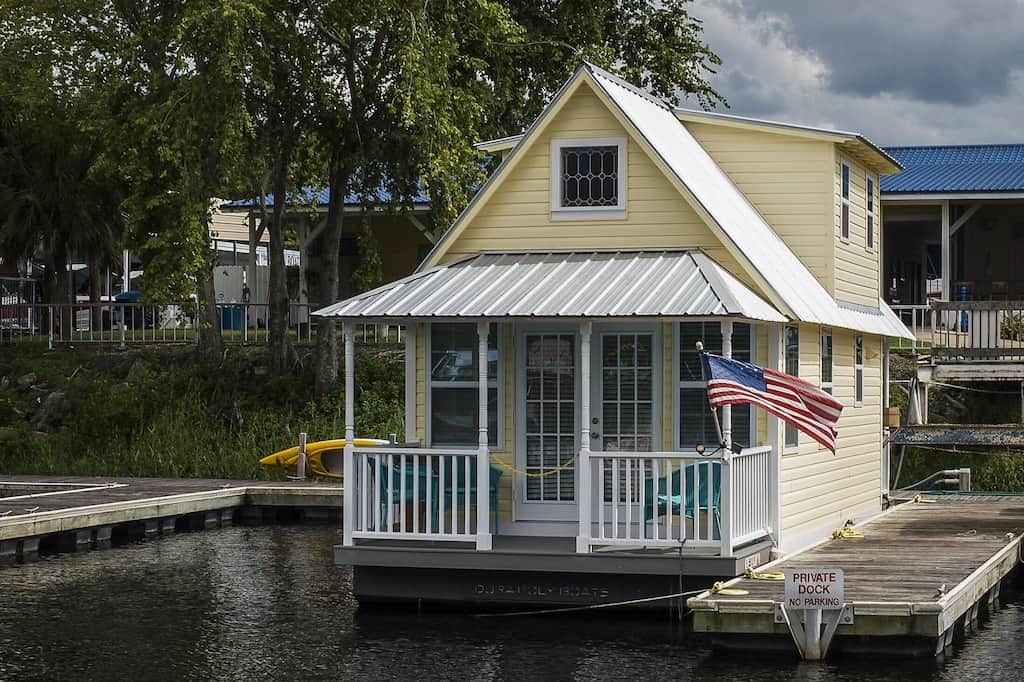 Chain of Lakes Houseboat
Here is another floating entry on our best glamping spots in Florida list. There are so many beautiful bodies of water in Florida, staying on a houseboat is a great way to experience the Sunshine State.
This charming houseboat has one bedroom and one bathroom. It can sleep 3 people in 3 beds (or "berths" if you want to get nautical.) It has a well-equipped kitchen for its size (which includes a stove, oven, & refrigerator) as well as a 55 inch smart TV.
This houseboat is permanently docked in beautiful Lake Miriam, part of Florida's Chain of Lakes. It is conveniently located near central Florida attractions such as Legoland and Chain of Lakes Park.
Check Rates: VRBO.com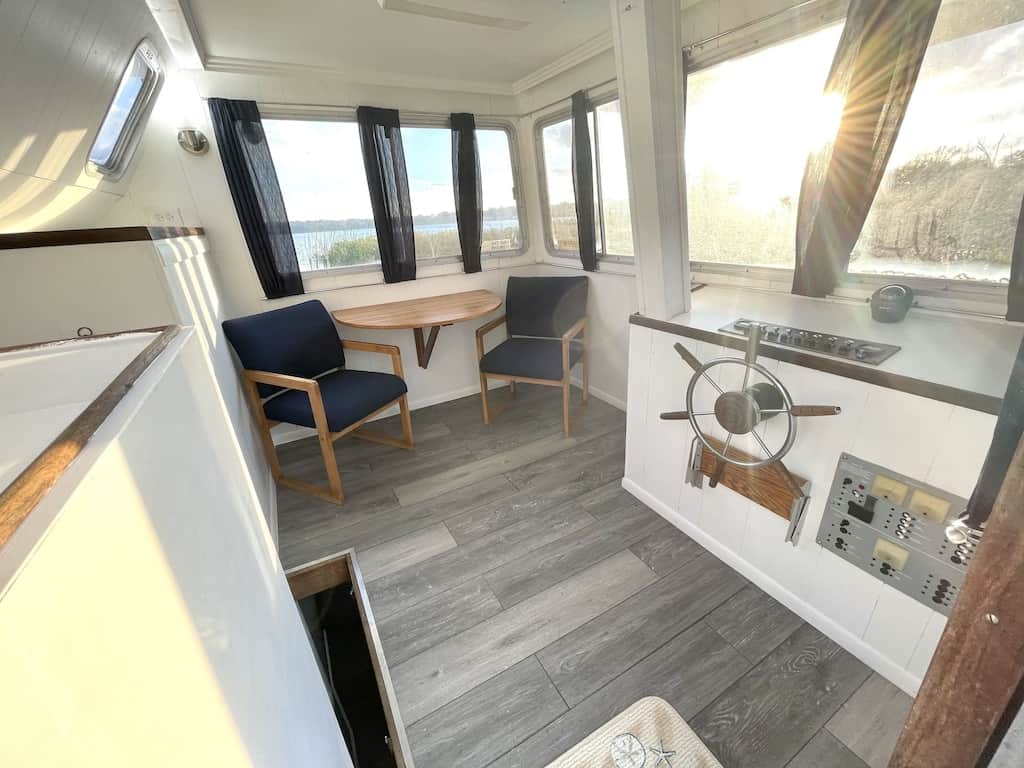 Weeki Wachee Canal Home
This is a great glamping spot for a larger family or group of friends, as it sleeps 8 guests. This canal home north of Tampa has three bedrooms and two full bathrooms. The kayaks you see in the picture below are included in the rental so your whole group can have fun exploring the Weeki Wachee canal system.
The fully equipped kitchen and large screened-in porch are perfect for unwinding after a day of exploring the canals. There is a grill, a fire pit, games, a water mat, and plenty of chairs on the porch. This is glamping at its finest, with wifi, a TV, and even a washer-dryer!
This rental is conveniently close to the Weeki Wachee River, Weeki Wachee Springs, and the Nature Coast Botanical Gardens. There's plenty for your crew to explore and do in this beautiful area of Florida.
Check Rates: VRBO.com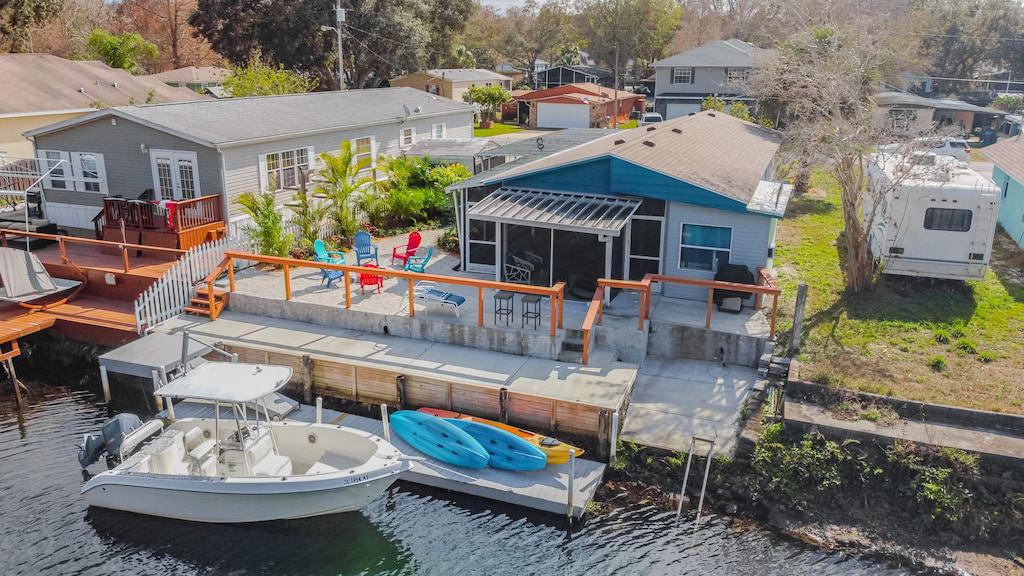 Navarre Airstream
This absolutely gorgeous vintage airstream is waiting for you to come to make memories in Navarre, Florida. The extremely considerate hosts supply bicycles, paddleboards, kayaks, and beach chairs, so you can enjoy your adventure to the fullest.
The airstream is an extremely well-thought-out 220 square feet with one bedroom and one bathroom. Because of a convenient convertible sofa, this airstream can sleep four guests. This is some truly luxury glamping, with 500 thread count sheets and complimentary wine and cheese.
This airstream is parked at the well-equipped Santa Rosa Waterfront RV Resort. The resort has lots of amenities including pool, beach, fishing pier, fire pit, pavilion, gym, and laundry. You can use the provided bicycles to visit nearby Opal Beach or the Gulf Breeze Zoo. This is such a standout entry on our list of the best places for glamping in Florida, you'll definitely have a great time there!
Check Rates: VRBO.com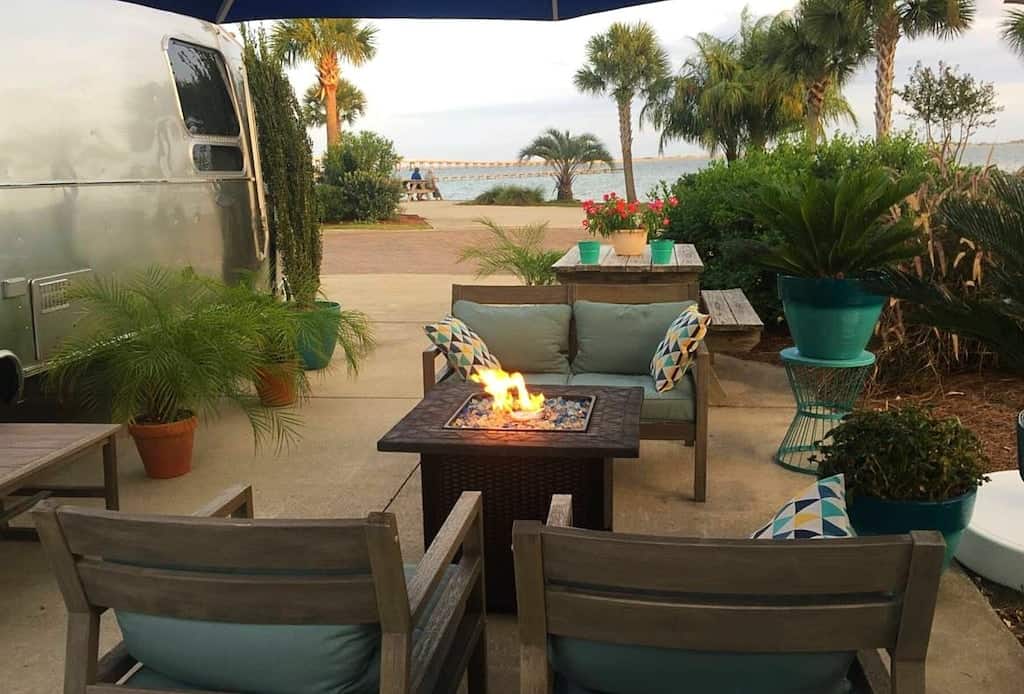 The Little Treehouse 2
With Orlando nicknamed "The City Beautiful," your glamping in Florida experience can be beautiful too. The Little Treehouse 2 is a converted 1926 carriage house with 260 square feet of charming and comfortable glamping.
Inside, you'll find a beautiful queen Tuft & Needle bed and kitchenette. There is a large screen TV with Netflix and Amazon Prime and AC/heating! Enjoy the full bath with modern appliances. Cozy up next to the fireplace while listening to your favorite artists on the Bluetooth speaker.
Outside, you'll find a seating area in lush backyard with a fire pit. 2 bikes are provided for your use. It's only a 5-minute ride to local bars, coffee houses, and popular restaurants on Edgewater Drive downtown!
Check Rates: VRBO.com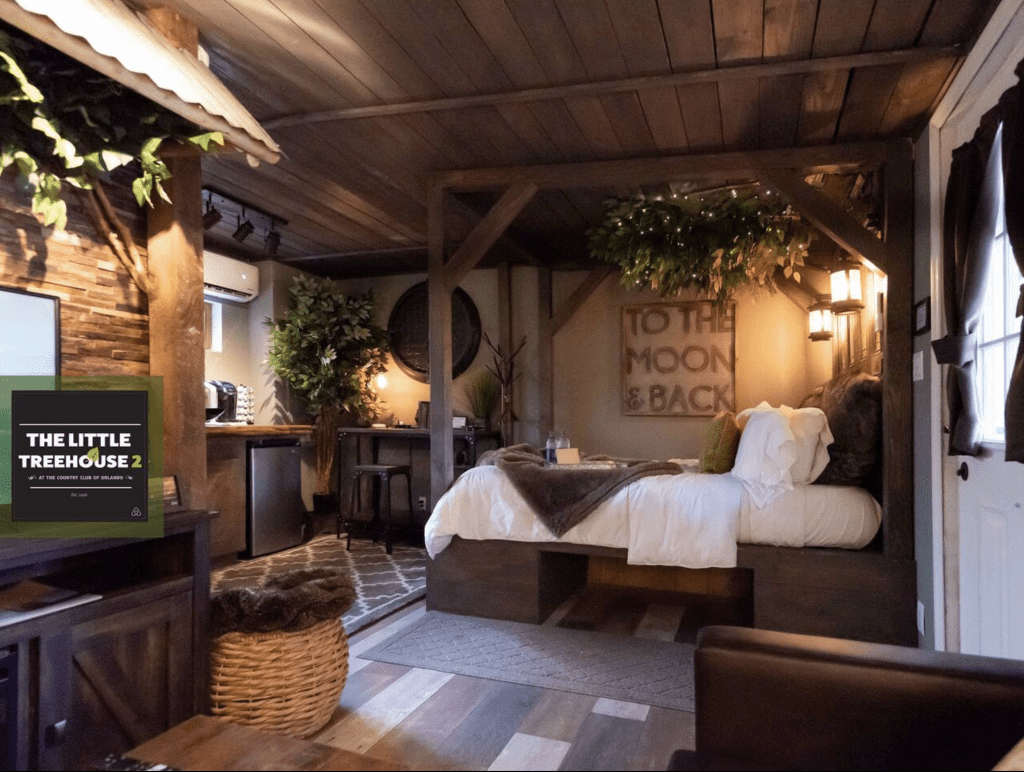 1930's Artist Cottage
This little vintage cottage is brimming with charm and good vibes. The sand and waves are visible from the spacious deck. The furnishings are totally unique and would look at home in any antiques store. This sweet 1930's beach cottage can sleep 6 guests. It has two bedrooms and one full bath.
This brightly colored cottage is just steps to Vilano beach. The beaches in this part of Florida are truly spectacular, click here to see a list of some of our favorites. If you want to wander further there are many restaurants and shops within walking distance of this coastal gem. One of the oldest towns in Florida, St. Augustine, is just over the nearby bridge if you want to dive into history on your glamping trip. Click here to see things we love to do when we're in historic St. Augustine.
Check Rates: VRBO.com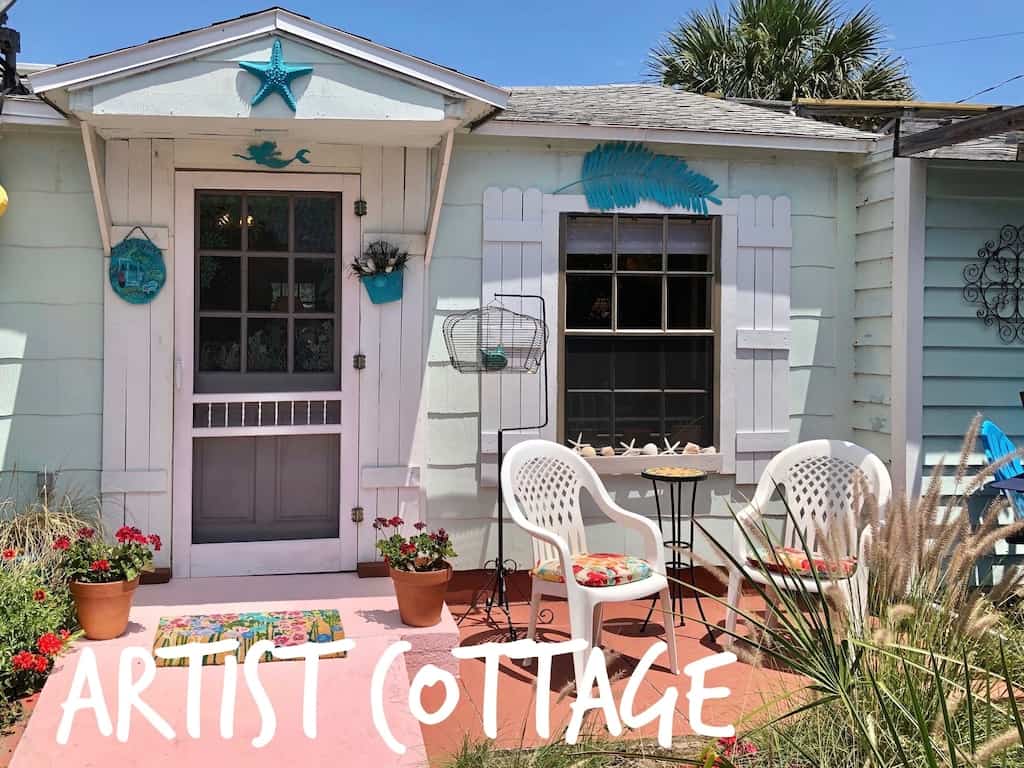 Did You Find This Post Helpful?
If so, we would love to keep in touch! We enjoy seeing photos and comments about your experiences in Florida! You can follow us on Instagram and we will repost your photos on our feed and comment too! Just tag us at @floridatrippers and hashtag #floridatrippers. We can't wait to see your travels!