Are you wondering which are the best things to do in Miami at night? Don't worry, we have a list of the best nighttime activities in Miami, FL!
While it is full of fun things to do at any time of day, Miami is known for its nightlife. Miami is occasionally called Florida's "Magic City" since it soared in popularity seemingly overnight. It is now one of the biggest urban and cultural hubs in Florida, with the neighborhood of South Beach being particularly known for its nightclubs and bars.
You can enjoy Miami beaches while the sun is out, but when the sun goes down, the city is still abuzz with light. From restaurants and rooftop bars to salsa dancing and jazz music, you never have to have a dull evening in Miami.
Whether you are staying in Miami with friends, family, significant other, or on a solo trip, you're all sure to find fun things to do in Miami at night!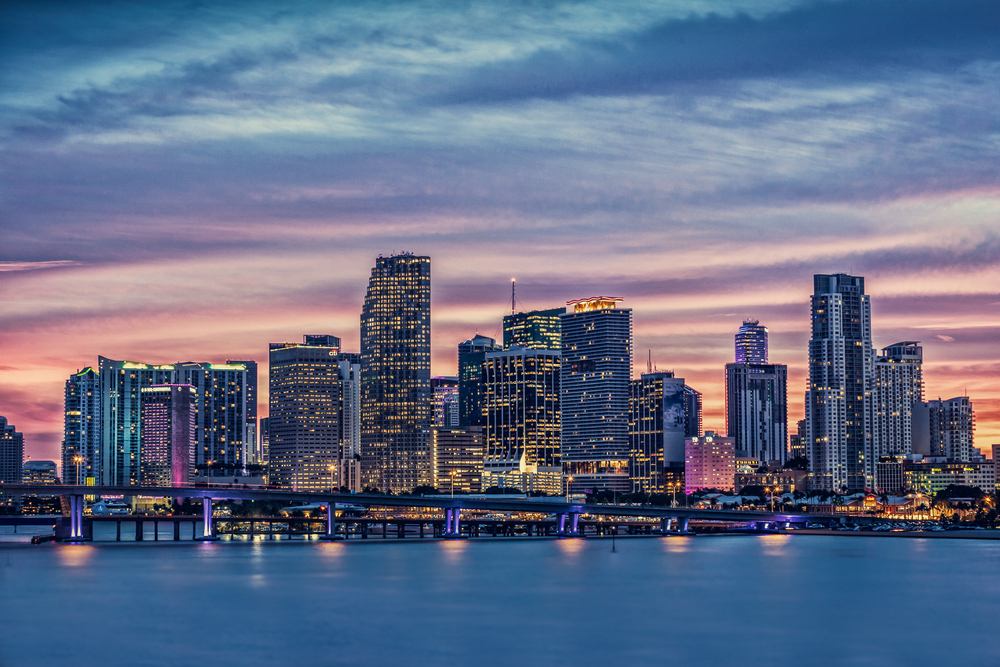 15 Best Things To Do In Miami At Night
Take a Salsa Class
If you are in Miami, FL, you should absolutely try your hand (and feet) at salsa dancing! Miami is also known as the "Gateway to Latin America", and Latino culture is prevalent in the city.
Learning to salsa while sipping mojitos is one of the most fun things to do in Miami, for those feeling adventurous. It's also a great way to meet new people! This is also one of our favorite things to do in Miami for adults.
Visit one of the most vibrant nightclubs in South Beach, and learn to salsa from a local expert. Once you're feeling confident (or even if you're not) you can hit the dance floor in front of a live band. The party literally goes all night so you can have the time of your life.
Book here: Salsa Class & Nightclub Entry w/ Mojitos & Appetizers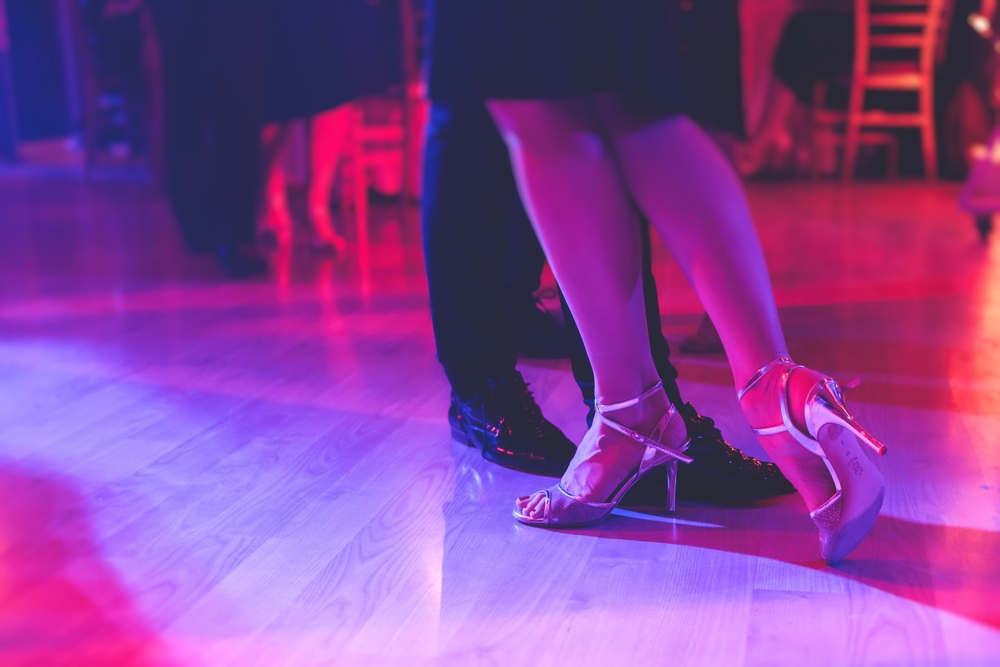 Ride the Skyviews Miami Observation Wheel
One of the best things to do in Miami at night is to take in the views. What better way to see the city than from above, in one of the best nighttime attractions in Miami?
The Skyviews Miami Observation Wheel has 42 private, enclosed gondolas. Each gondola is climate-controlled so even if it's hot outside, you'll stay nice and cool as you make your rotation above the city.
Take in views of Biscayne Bay, Bayfront Park, and the Downtown Miami skyline from all angles. The gondolas even have glass floors!
Skyviews Miami is open until 10 pm, so it could be one of the best things to do in Miami at night with kids before turning in for the night.
This is a super fun thing to do in Miami with Kids that you shouldn't miss!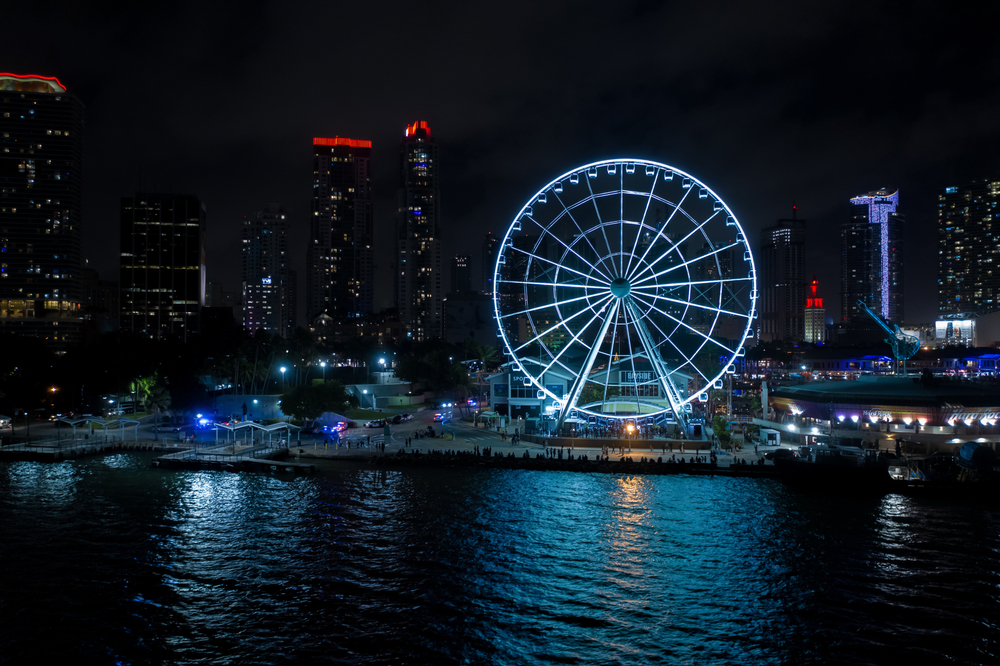 Carbo-load at Miami's Italian Restaurant
While Latino culture is predominant in Miami, there are a number of great Italian restaurants!
If you're preparing for a night in the town, one of the best things to do in Miami at night is to have a delicious Italian dinner. You'll need your energy for dancing!
Visit places like Ristorante Fratelli Milano and Fratellino Ristorante, where the pasta is made from scratch. If you're looking for traditional pizzas, head to La Locanda or Crust.
Of course, you are next to the ocean, so you can find excellent seafood dishes, like the baby octopus antipasto or lobster ravioli from Sapore di Mare in Coconut Grove.
Many of these Italian restaurants also come with extensive wine menus!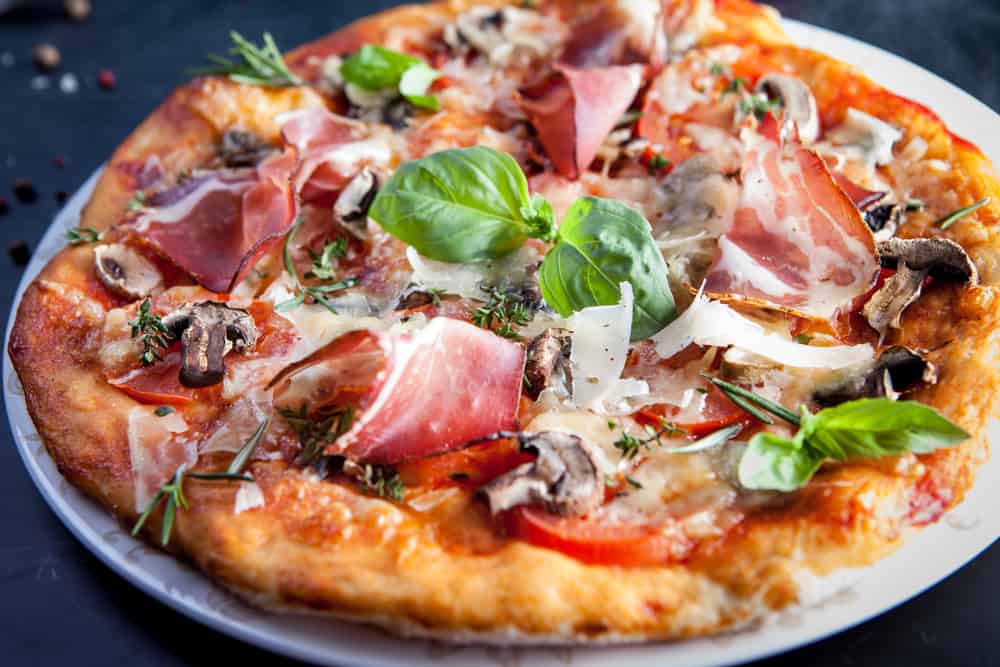 Paddleboard or Kayak at Night
Paddling around Miami would be a fun activity at any time, but it's even more fun to do after dark! Going on a guided paddle is one of the best things to do in downtown Miami at night.
After a brief instructional meeting, take a stand-up paddleboard or a kayak out on the Miami River. Take in the city lights as you float along the water, right through downtown Miami. This is one of the best things to do in Miami for those looking to escape the crowds and/or the sun.
After your tour, enjoy a complimentary drink with your crew!
Book here: City Night Lights Paddleboard or Kayak Adventure Trip
Visit the Wynwood Walls
One of the best places to visit in Miami is the Wynwood Walls. This art museum is full of colorful, graffiti and street art.
Once abandoned warehouses, the Wynwood Walls became canvases on which street artists could create. Since its inception in 2009, hundreds of artists from all over the world have since painted there. While some works on the Wynwood Walls are permanent, other murals are re-painted by new artists every few years.
If you have a busy few days planned for Miami, fear not! The Wynwood Walls are open until 7 or 8 pm, depending on the day. Thus, you can still visit one of the best attractions in Miami at night!
Check out our ultimate guide to visiting the Wynwood Walls for more info!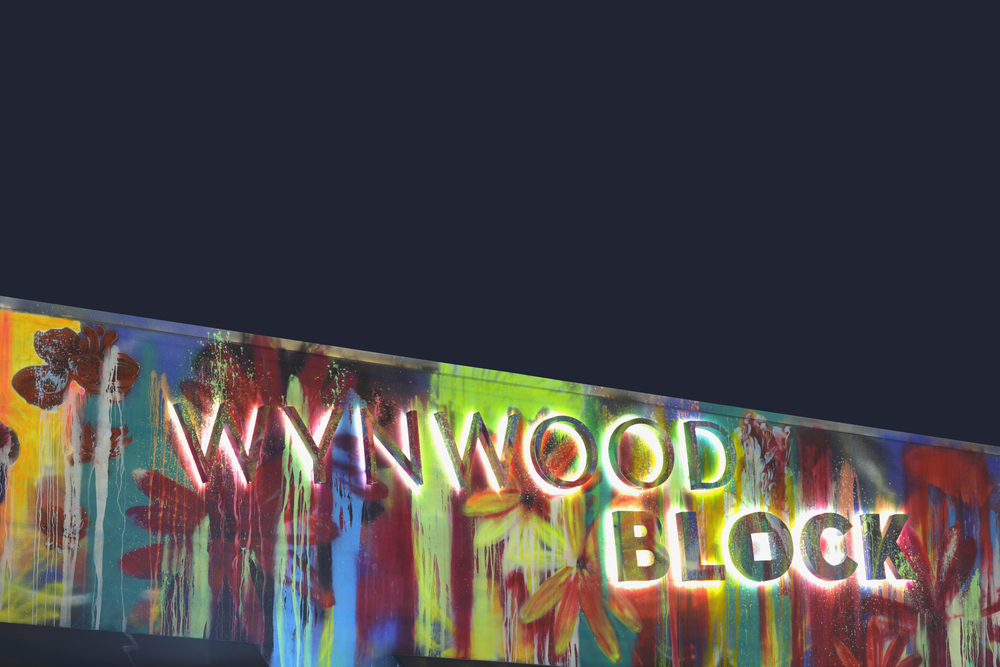 Have a Beverage at a Rooftop Bar
With year-round warm weather, visiting a rooftop bar is always one of the best things to do in Miami at night. Take in the views of the city and the water from various neighborhoods, while enjoying a refreshing drink at one of the many rooftop bars in Miami.
For a fancy occasion, head to Sugar Rooftop, an Asian-inspired bar on the 40th floor of the EAST hotel in Brickell. You'll want to make a reservation, and be aware there is a dress code once the sun goes down. Try one of their signature cocktails like "East of Miami", with gin, Japanese green tea, ginger, and citrus.
For a more laidback atmosphere, try Watr at 1 Rooftop in South Beach, which features a Peruvian-Japanese menu and has some of the best sushi around.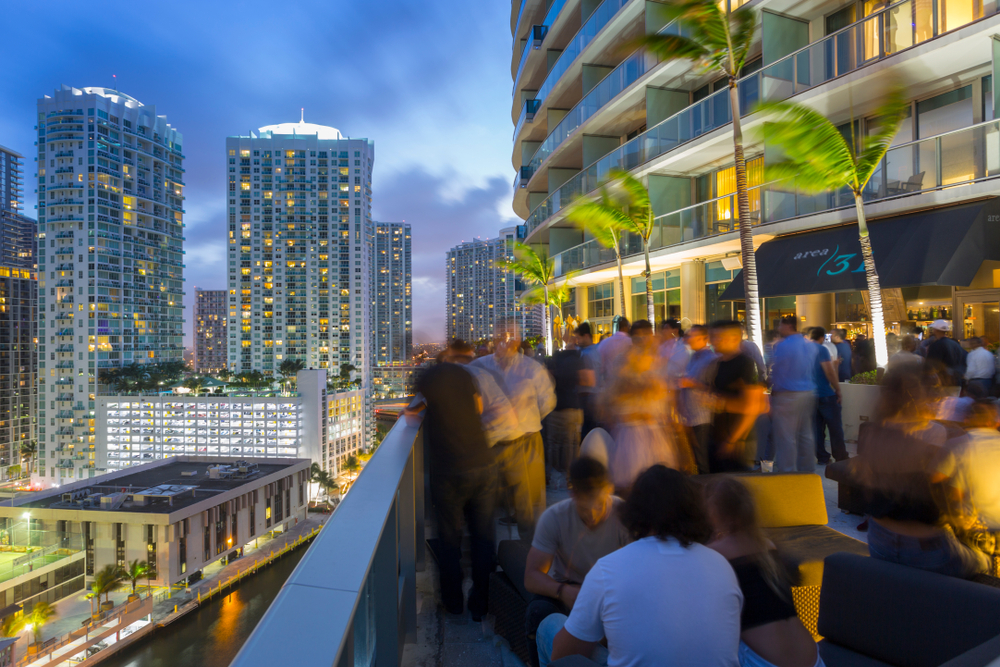 Go on a Bus Tour
One of the best ways to see a city is to go on a bus tour. It saves you some walking and usually a knowledgeable guide will teach you something you don't know. A bus tour of Miami is no exception!
Riding on an open-air, double-decker bus is actually one of the things to do in downtown Miami at night. You'll see the city from a whole new perspective as the sun goes down and the lights turn on.
Enjoy the ride through downtown Miami and Brickell, and cross the Key Biscayne bridge to see Miami's skyline. Learn about Miami's points of interest and take note of the places you'll want to check out during your stay!
Book here: Big Bus Night Tour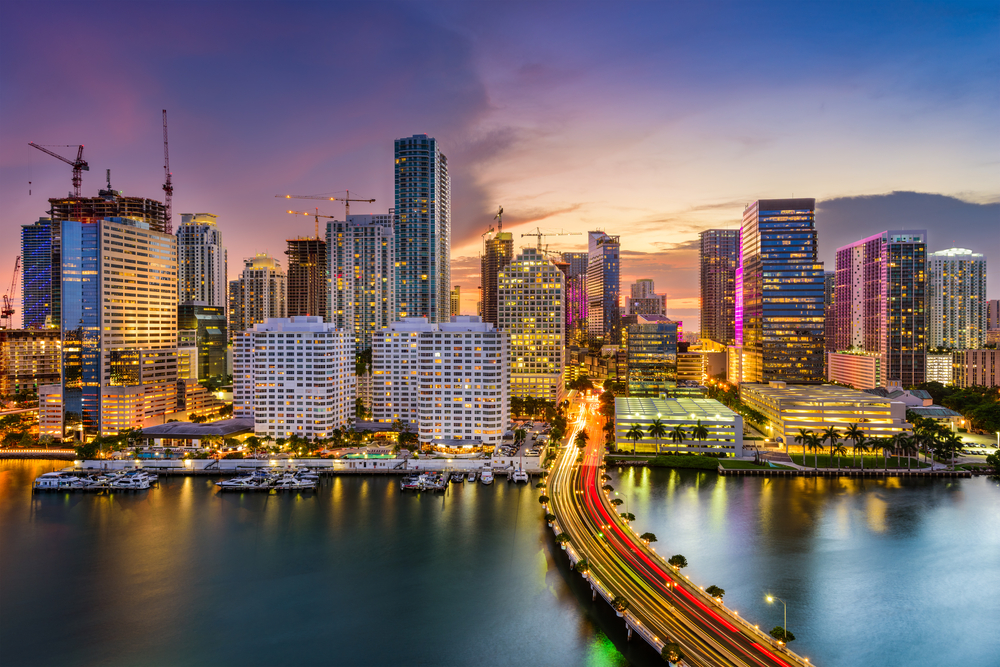 See a Show at FPL Solar Amphitheater
If you enjoy live music, one of the best fun things to do in Miami at night is to catch a show at the FPL Solar Amphitheater at Bayfront Park. Located in downtown Miami, this huge amphitheater offers awesome views of concerts as well as Biscayne Bay.
FPL Solar Amphitheater at Bayfront Park hosts concerts ranging from rock and pop to rap, hip-hop, and Latin music. Maroon 5, Robert Plant, and The Goo Goo Dolls have all played there!
In addition to concerts, the amphitheater also hosts holiday celebrations such as a New Year's ball drop and Miami's annual "America's Birthday Bash" on Independence Day.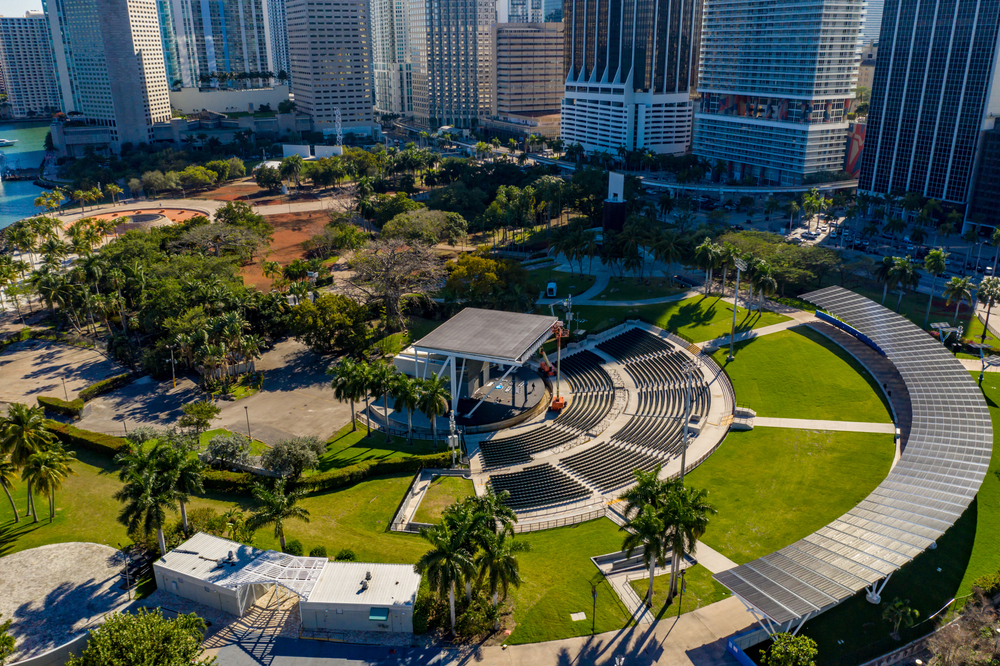 Go Through Paranoia Horror Maze
For those feeling brave, one of the best late-night things to do in Miami is to visit Miami's Paranoia Horror Maze. Imagine trying to find your way out of a haunted house…only it's a maze!
Grab a group of people who you trust (and don't mind hearing you scream) and make your way through the dark. Be prepared for jump scares, thanks to a host of talented actors. (However, if things get too intense, you have the option of a safe word to end things early.)
Located in the Wynwood area, Paranoia Miami is open late into the night, all year round! It's one of the best things to do in Miami at night for adults, although there is no official age limit.
Go on an Evening Cruise
One of the best ways to see Miami is from the water. By going on an evening cruise, you'll have unobstructed views of Miami's glowing skyline.
Climb aboard a cruise boat to see the best of Miami's sights, such as the homes along Millionaire's Row, Bayside, South Beach, and the Miami River. Sip your drink of choice as you watch the sunset and the moon come out.
An evening Miami cruise usually lasts about an hour and a half. If you're looking for Miami date ideas or romantic things to do in Miami at night, an evening cruise is a great idea!
Book here: 1.5-Hour Evening Cruise on Biscayne Bay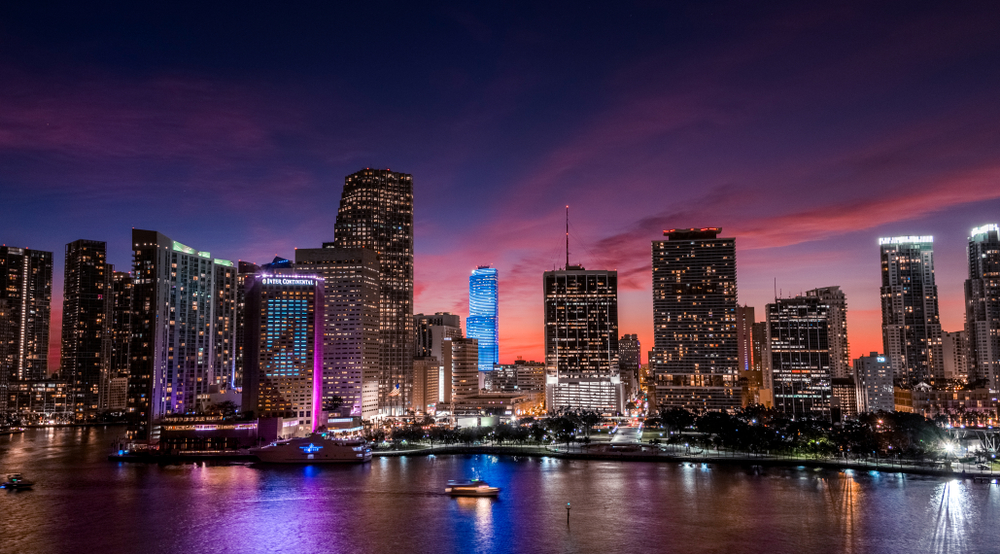 Stay in a Boutique Hotel
After your romantic evening cruise, why not stay at one of the awesome boutique hotels in Miami? Boutique hotels tend to be privately run and not owned by large chains. They have a more intimate, local feel, and make for great places to stay while visiting Miami.
If you enjoy the tropical Art Deco architecture in Miami, you'll enjoy Hotel Breakwater or The Marlin Hotel, both of which have been restored to their former glory. There is also Beacon South Beach, which is located right on Ocean Drive, with the beach across the street.
Visiting boutique hotels in Miami are on the list of fun things to do in Miami at night, even if you don't stay there. You can eat or drink in many boutique hotel restaurants and bars without being a guest!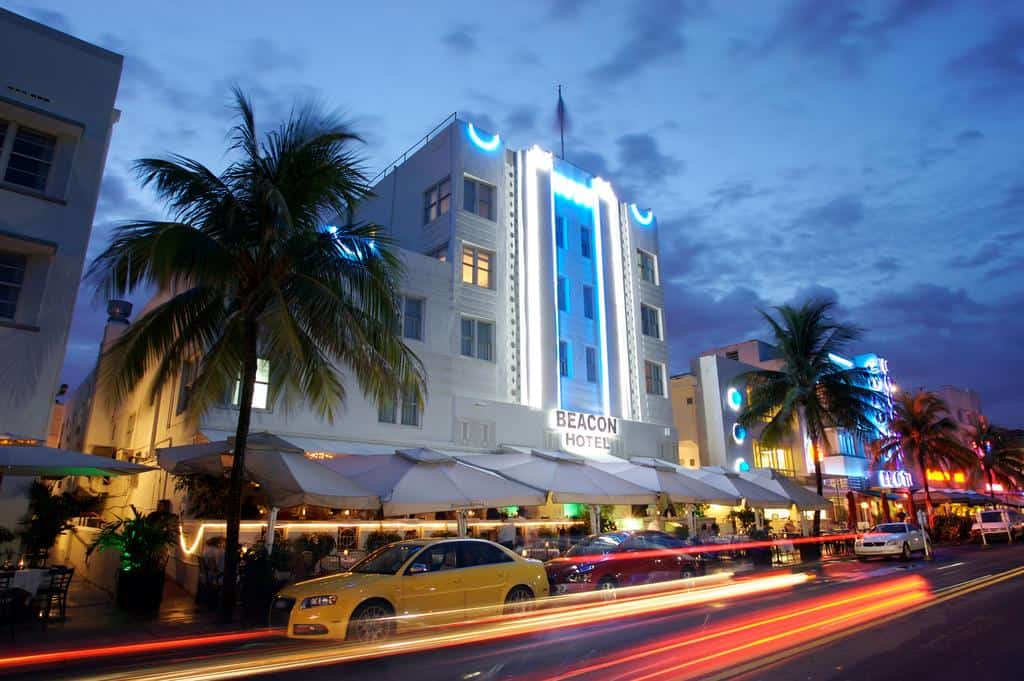 Attend a Free Jazz Concert
One of the best free things to do in Miami at night is to head to the Museum of Contemporary Art in North Miami.
On the last Friday of each month, MOCA presents a free, outdoor jazz concert. Headlining musicians change every month, so you'll never catch the same concert twice! Join in the laughter and dancing as the sun goes down. (Concerts usually start around 8 pm.)
In addition to the concert, the contemporary art galleries' admission price is whatever you can donate, from 7 pm to 10 pm.
Find a Speakeasy
While Miami is known for its nightlife, for those looking for something a little different, one of the best things to do in Miami is to find a speakeasy. It may not be the 1920s anymore, but the idea of speakeasy bars fits right in with Miami's Art Deco vibe!
In South Beach, if you go to the Stiles Hotel and follow the staircase tucked away in the lobby, it will lead you to Swizzle Rum Bar and Drinkery. Swizzle's feels like the kind of place pirates would meet to drink…if they liked craft cocktails.
Vinyl music lovers will love searching for Dante's Hifi- you literally have to follow the music! Located on a side street in Wynwood, they pipe music out of a speaker above their door. Inside you'll find an impressive sound system and a huge collection of vinyl albums. Cocktails are also album-themed!
There are plenty of other speakeasies in Miami, so if you're looking for the best things to do in Miami at night for adults, see if you can find them!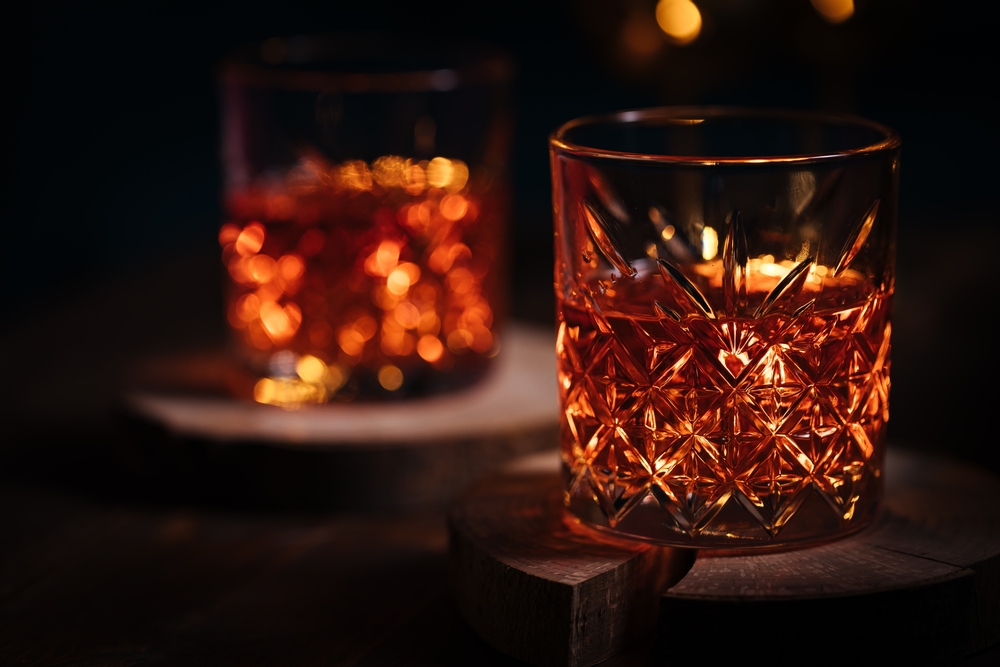 Discover ARTECHOUSE Immersive Art Experience
For art lovers, another of the best things to do in Miami at night is the ARTECHOUSE Immersive Art Experience. Even if art isn't usually your thing, this immersive art exhibit combines art and technology to create a unique experience.
Using state-of-the-art technology, ARTECHOUSE uses digital art to explore how art can be experienced. There are multi-sensory exhibits, large-scale pieces, and really creative innovations that will leave you dazzled.
ARTECHOUSE Immersive Art Experience is open until 9 pm, so it's one of the best things to do in Miami at night for families!
Book here: ARTECHOUSE Immersive Art Experience Entrance Ticket
Play at FunDimension
Another of the best things to do in Miami at night with kids is to visit FunnDimension. This giant entertainment center is full of fun for the whole family!
Kids, and those young at heart, will enjoy playing classic arcades and video games. Challenge your friends to a round of bumper cars or laser tag! There's even a virtual reality machine for those interested in games from the 21st century.
FunDimension offers food and drinks as well, so you can spend the whole evening all in one place. Depending on the day, they are open until 9, 10, or 11 pm.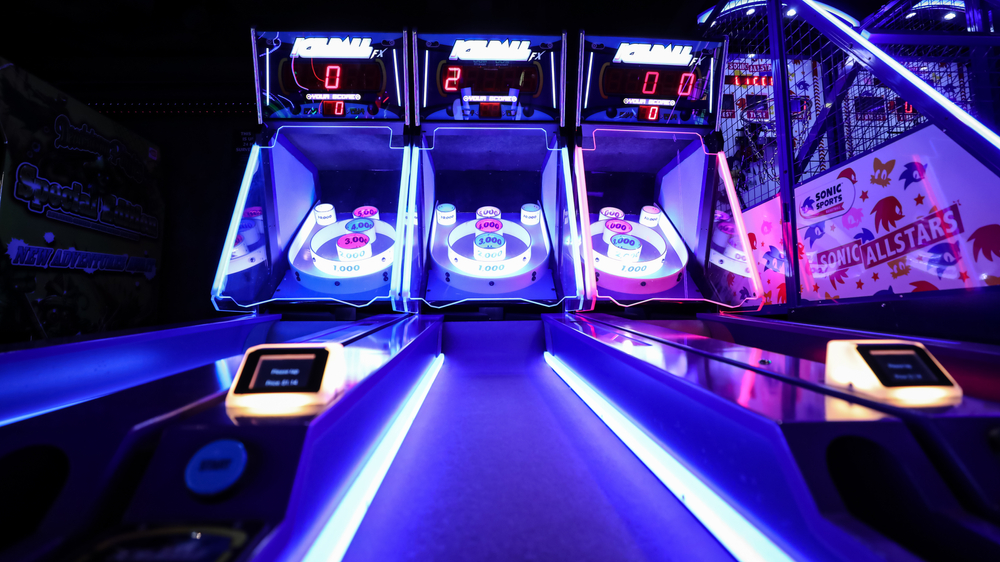 We hope you are able to explore all that Miami has to offer both night and day! As Florida's Magic City, Miami is certainly full of fun things to do at night.