If you're looking for some of the best beaches in Sarasota (and nearby), we have you covered. The beautiful Sarasota area has much to offer anyone wanting to spend the day (or longer) at the beach. And there is a wide variety of beaches to choose from, anywhere from beaches that feel like a deserted island to active fun-filled beaches with activities for everyone in the family to enjoy.
Sarasota is an area known for its soft white powdery sand beaches that are truly a paradise, no matter which beach visitors choose to visit. There are places to simply sunbathe and relax in nature; areas where people can get in better touch with Florida's wildlife; spots where visitors can rent equipment for many different types of beach activities, and much more. Here we list things people can expect to find at 9 of the best beaches in Sarasota.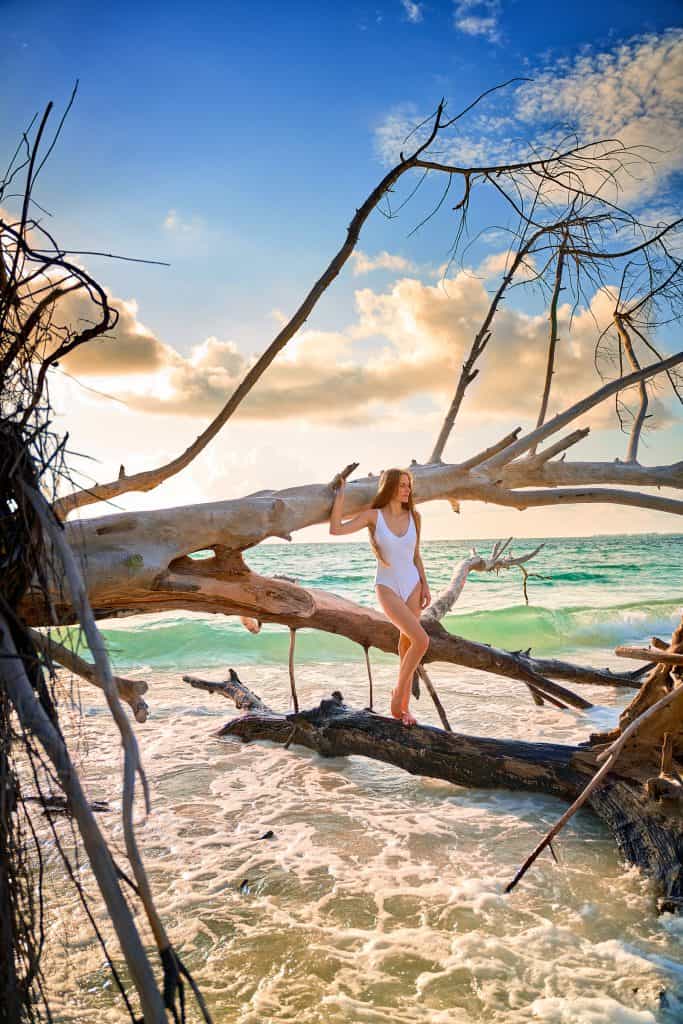 9 Best Beaches in Sarasota (and Nearby!)
Beer Can Island
One of the most iconic of the Sarasota beaches is Beer Can Island at the northern tip of Longboat Key. Popular with the local residents, Beer Can Island is a long stretch of beautiful undeveloped white sandy beach. Although a lot of the people who visit the beach arrive by boat, visitors without a boat can park on nearby North Shore Road and walk north along the gulf during low tide.
Because of its remote location, there are no amenities on site and no lifeguards, but for those looking for a bit of tranquility at the beach, this is one of the best beaches near Sarasota. One of the most popular attractions at the beach is the driftwood that has come up on the beach and the remains of trees that once grew upon the shore and have turned into picturesque "bones" that create small nooks and coves along the shoreline where people can relax in relative privacy. Some visitors, in fact, string up hammocks between two of the driftwood trees for an old school Florida style nap.
Those looking for one of the best beaches in Sarasota for some quiet beachside reflection, should add Beer Can Island to their list of spots to visit.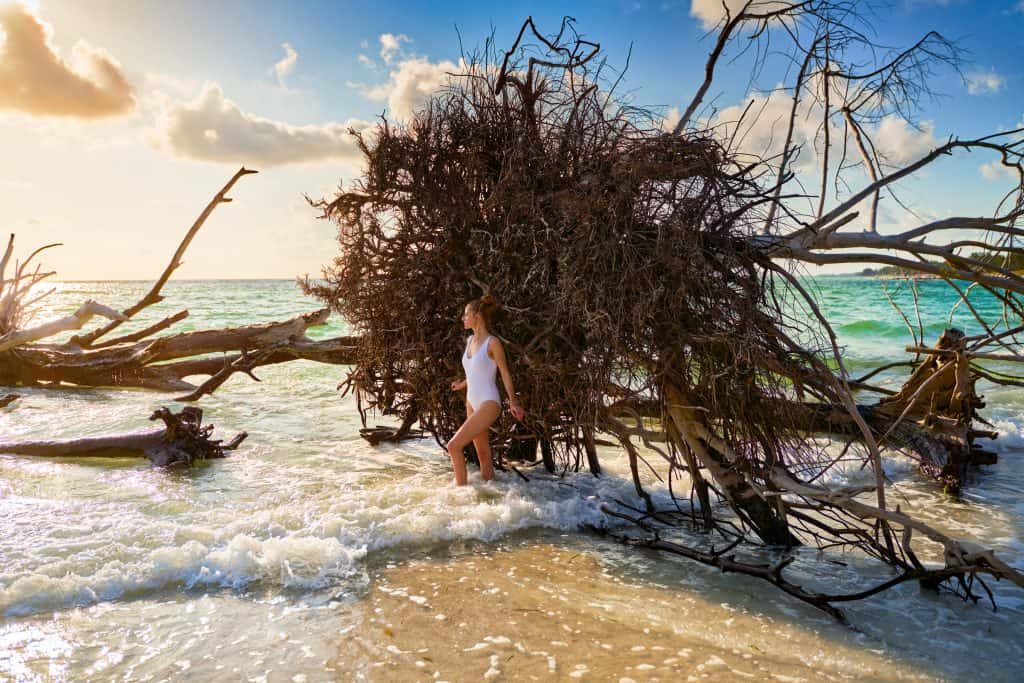 Lido Key Beach
Another of the beaches in Sarasota worth a visit is Lido Key Beach. This beach is also one of the pristine white sandy beaches near Sarasota that offers nature lovers an experience with Florida nature while also mixing that with a more urban setting.
Less remote than Beer Can Island beach, Lido Key Beach offers a concessions and picnic/pool area where people can relax and grill for a beachside meal. And the nearby St. Armands Circle provides visitors with an assortment of resorts, restaurants, and boutique shops when people are wanting something to do other than laze around the beautiful beach. There are many cafes and confection shops for those who have a sweet tooth, and the area is known for its delicious offerings of ice cream and fudge, amongst other things.
For those, however, who enjoy kicking back in nature, Lido Key Beach also offers other fun things to do such as the Eco-Paddle, where visitors can rent kayaks or paddle boards and make their way through the wild mangrove reserves found in the area, really soaking up one of the most unique Florida wildlife habitats. There are also rental places that provide everything a person would need to fish in the beautiful Florida gulf waters.
Also nearby is the Mote Marine Laboratory and Aquarium where those interested in Florida marine life can visit with everything from otters, dolphins, stingrays, sharks, to a myriad of other fish and sealife. They also have a center that preserves marine bird life where they teach about the conservation of our precious natural resources.
And this is just the start of the things visitors can find to do at Lido Key Beach, one of the best beaches in Sarasota.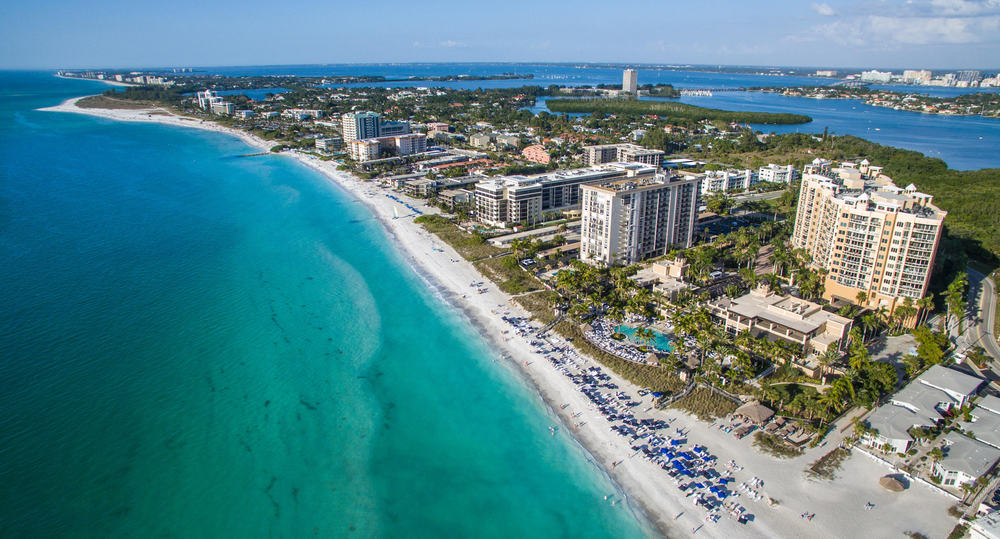 Turtle Beach
Turtle Beach is another one of the beaches near Sarasota that has much for outdoor lovers to enjoy. Named because of its sea turtle nesting habitat, it is a great place to relax with nature. Sea turtle season is from May to October each year, and visitors who want to experience this unique natural phenomenon can see green turtle and loggerhead nests in their natural habitats. It is truly one of the best places to see wild sea turtles in Florida!
But there is more at Turtle Beach than just the turtles. Visitors can rent canoes or kayaks and paddle through the natural mangrove lagoon. Or for those looking for a longer stay in nature, there is beachside camping with areas to grill and picnic, a playground and much more. It is one of the only campgrounds in Florida with direct beach access. And each of the 39 campsites comes with full hook up and free WiFi. There are also hot showers and coin operated washers and dryers. Pets are not allowed, except for service animals.
There is no lifeguard at the beach, but there is a volleyball court, a place to play horseshoes, outdoor showers, and restrooms offered on site. It is also a wonderful place for birdwatching, as the area has been kept relatively undeveloped and thrives with wildlife of all kinds.
Anyone who wants to visit nearby Siesta Village or Siesta Key Beach can do so by getting on the free trolley that travels back and forth between the community and the beaches. Turtle Beach is a great alternative for any visitors who want to experience the white sandy beaches of the nearby Siesta Beach with less crowds. It is a lovely, cleaner, more tranquil beach for visitors who really want to get away to one of the best beaches in Sarasota.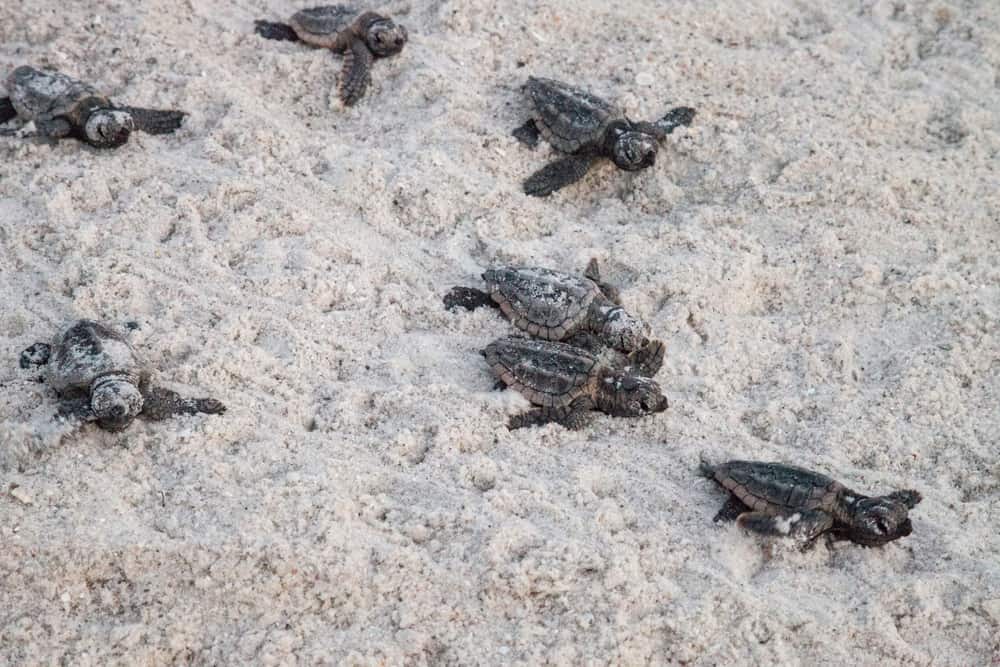 Siesta Key Beach
Siesta Key Beach is one of the most popular of the beaches in Sarasota as it is said to have one of the best white sand beaches in the world as well as beautiful blue clam gulf waters to swim or float in. In 2020 it was ranked the #1 Beach in the United States by TripAdvisor's Traveler's Choice Awards™. The reason for this owes much to the beautiful soft powdery sandy beach and ease of access.
It has a large parking lot, concessions, and there is a free trolley that takes visitors between the beach and the nearby Siesta Key Village, where visitors can find an assortment of restaurants and shops. And in the evening there is an active nightlife available for anyone interested in visiting more lively pubs and restaurants.
It is one of the most active beaches near Sarasota with plenty of activities for everyone to enjoy. Everywhere along the beach can be seen people running, playing volleyball, throwing frisbees, building sandcastles, and much more. There is good snorkeling to be found in the area, especially where Siesta Key Beach meets up with Crescent Beach or Turtle Beach to the south. It is truly one of the best things to do in Sarasota!
Also, every Sunday evening on Siesta Beach there is a Drum Circle where dozens of people gather together to enjoy a myriad of drummers and dancers who come out about an hour before sunset to basically just jam together and enjoy life at the beach and a glorious Florida sunset. Many of the spectators join in dancing and enjoying the rhythm of the drums.
If visitors want a break from the beach, there are also bikes available for rental for tours through the quaint Florida Siesta Village neighborhoods. And there is a lot more available for visitors desiring an active beach trip at one of the beautiful Sarasota beaches.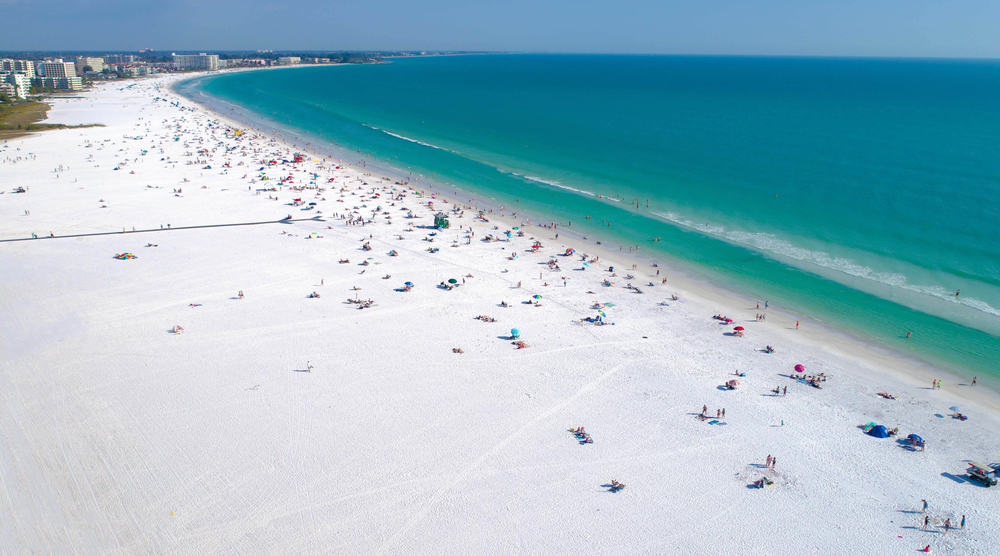 Crescent Beach
Just south of Siesta Key Beach is Crescent Beach, another of the popular beaches in Sarasota. Crescent Beach Is lined with condos and other rentals that are great for people who want to have an extended stay in the area. The beach is a perfect crescent shape (hence the name), and is great for those who love to stroll along the beach with their feet in the waves, enjoying the warm, gentle gulf breezes and the spectacular sunsets.
The white sand is so soft that people often compare it to powder rather than sand. If you are not staying in one of the condos along the shore, there is a public access point just south of Stickney Point with a small parking lot.
Like Siesta Key Beach, Crescent Beach is very popular and active, and visitors can usually see people playing frisbee, volleyball, or other games on the beach, and the water is filled with people surfing or boogie boarding in the brilliant Florida sun. Also the area known as the "Point of Rocks" at the very south end of the beach is a great place for anyone who enjoys snorkeling. It is filled with great coral formations, fascinating sea life, and is relatively shallow, so it is good for snorkelers of all ages and skill levels.
Although is is one of the active beaches near Sarasota, there are no amenities or lifeguards on duty as the beach mainly caters to those who are staying at one of the beachfront condos.
Longboat Key Beach
Like Lido Key Beach, Longboat Key Beach is another of the best beaches in Sarasota that is definitely a crowd favorite. The Longboat Key Beach area caters to visitors who are staying in the area, but it does have access for day trippers as well. It is 12 miles of white sandy beaches that abuts resorts, fine dining establishments, boutique stores, waterfront golf, a tennis club, and much more.
Unlike some of the more remote beaches in the area, Longboat Key prides itself on its mixture of culture and nature. Just about every beachside amenity is available for rent, including kayaks, canoes, surfing equipment, and snorkeling gear. One place, the Happy Paddler Kayak Tours & EcoVentures, offers visitors a laidback tour of the area with tour guides who know the best spots to look for manatees or dolphins in the water. Or for a more in-depth look at some of the sea life found in the area, visitors can visit the Mote Marine Aquarium.
For those who enjoy art, there are many art galleries in and around the Longboat Key area. One very popular attraction is The Ringling, which has 66 acres of beautiful grounds to wander, a Museum of Art, and a Circus museum that discusses the rise of the old-time experience. There are many other shows and exhibits offered throughout the year, and there is definitely something for all ages to enjoy.
For travelers looking for a place to not only enjoy the beach, but to also enjoy culture, fine dining, and other entertainment, Longboat Key Beach is one of the best Sarasota beaches to check out.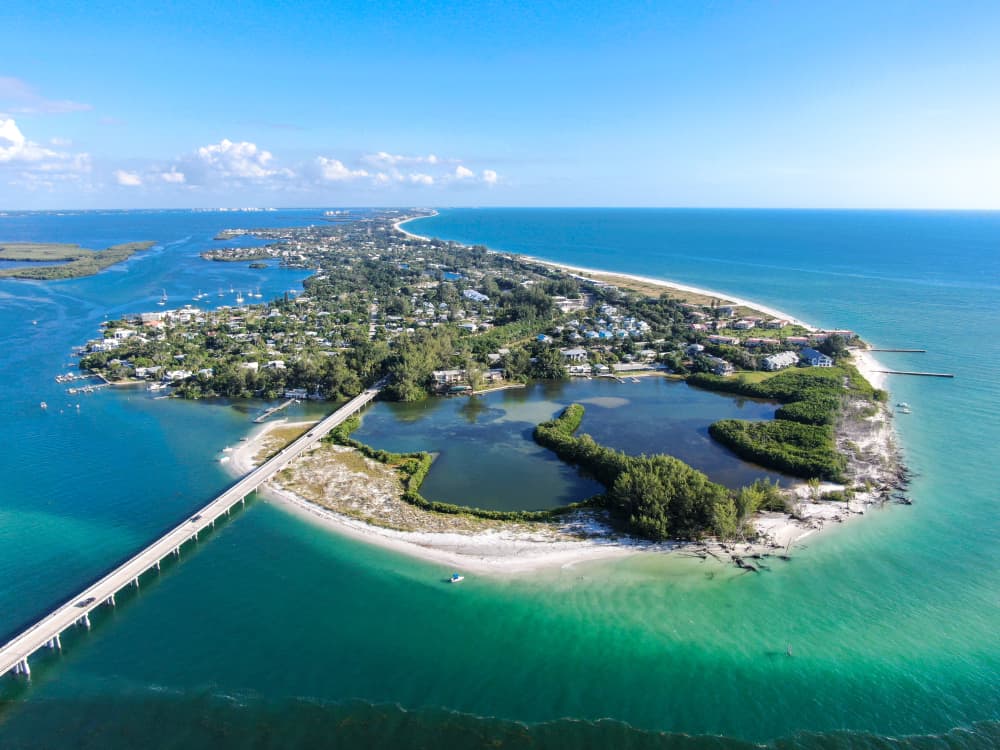 Caspersen Beach
Caspersen Beach earns its designation as one of the best beaches in Sarasota by its preserved coastal hammock.
The most southern parts of the beach have been left undisturbed, so visitors can take a walk through a nature trail of trees to the shoreline to look for shells and ancient shark teeth, as this is a great place to look for them. There is also an ongoing Dune restoration project at the beach, with walkovers to help preserve the natural shoreline.
The northern part of the beach has a canoe launch, fishing facilities, and picnic areas, as well as a playground and restrooms. So visitors can enjoy a more social setting, and then head south for a more private, secluded adventure. There are many opportunities for bird watching in the area, as well, as there is an area of mangroves, and both fresh and saltwater marshes.
If you're looking for one of the beaches in Sarasota that offers a mix of social and private fun, Caspersen Beach is a great choice to visit.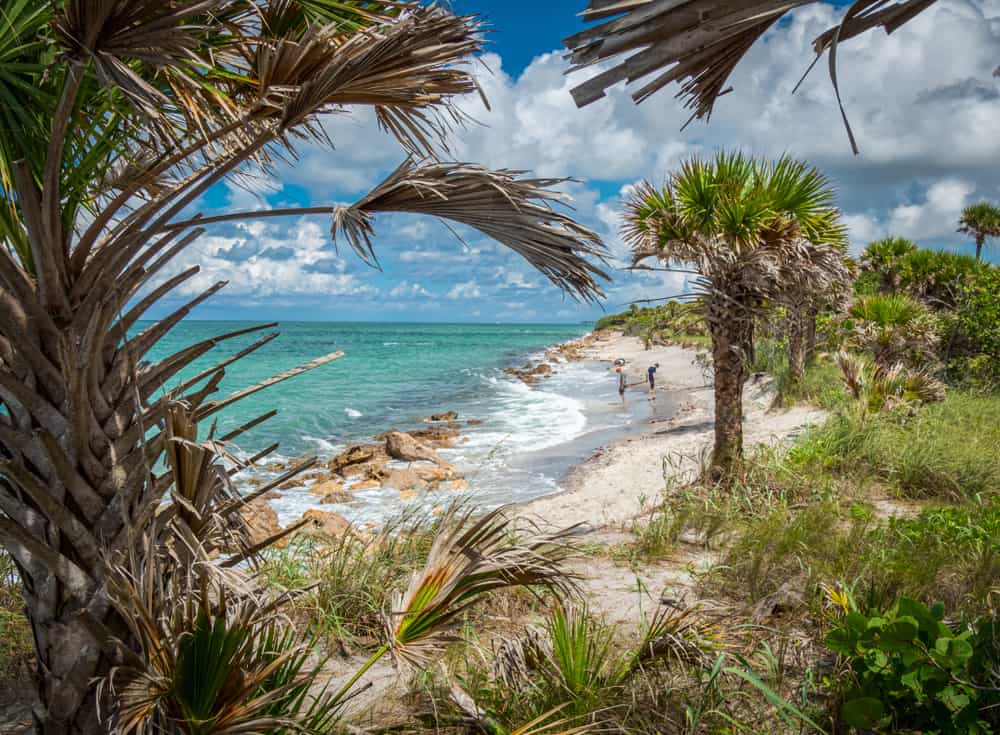 Casey Key Beach
Casey Key Beach is one of the unique beaches near Sarasota. Rather than the white sand as other beaches in the area have, Casey Key Beach has a coarser sand with mounds of broken shells. This makes it the best beach in the Sarasota area for those interested in looking for shells or shark teeth.
Visitors can walk for miles along the beach, and at Sunset in the evenings on Wednesdays and Saturdays, people can enjoy the sounds and rhythms of the Nokomis Beach Drum Circle that meets there to perform against the backdrop of the beautiful Florida sunset over the blue gulf waters.
There are no tall buildings to spoil the view at Casey Key Beach, which is great for visitors who are interested in a quieter setting, but there are small motels and restaurants in Sarasota available nearby. This is also a great place for those who have bikes and want to take a ride.
There are very few roads, and they tend to slow speed limits and be rather quiet, so bicyclists can ride through the quaint Florida neighborhoods relatively undisturbed. Or just 10 minutes away from the beach is the Legacy Trail, which is a traffic-free, paved trail where visitors can bike without any interference from motor vehicles.
Casey Key Beach is one of the best beaches in Sarasota to visit for those who want a quieter more laid back beach, but one that is not too far away from civilization.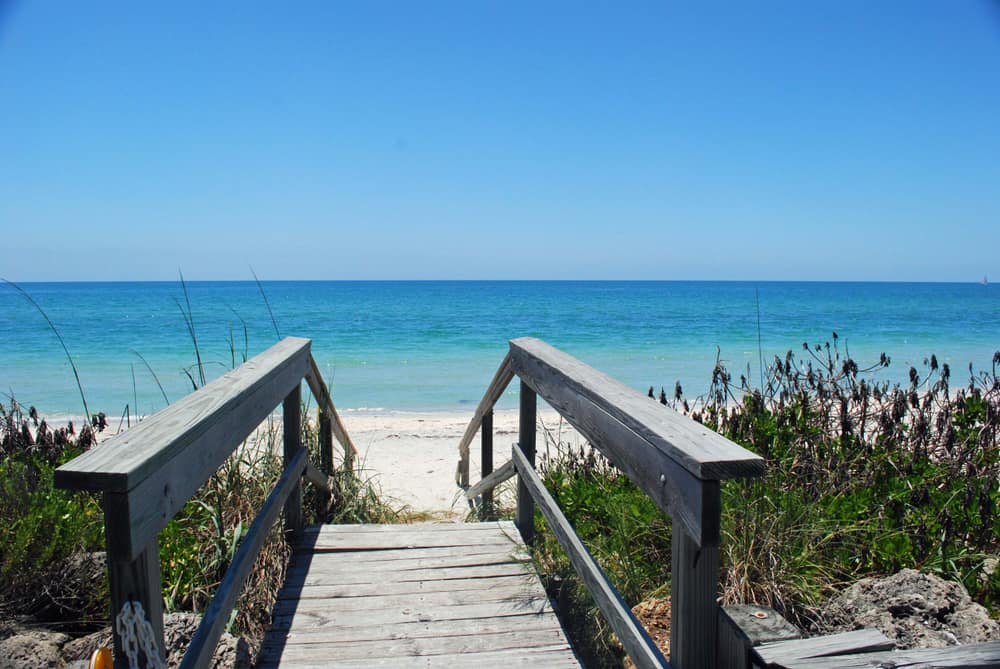 Stump Pass Beach
Stump Pass Beach is a state park with much to offer anyone wanting to explore the beaches near Sarasota. It is a rather secluded beach, and a great place for sunbathing and swimming for anyone who doesn't want an overly crowded venue. There are places to picnic, and some stretches of the beach that are great for shelling or looking for shark teeth.
If visitors like to hike, there is a wonderful 1.3 mile hiking trail that winds its way through five separate Florida wildlife habitats, including beach dune, coastal strand, mangrove swamp, a mudflat, and a maritime hammock. It is a wonderful place to explore the diverse Floridian wildlife, both flora and fauna, all in one place!
There is ongoing conservation being done in the park, and in the winters rangers will take visitors on a tour of the area to see some of the remarkable species found there. With or without the tour, visitors who are interested in spotting animals in the wild, will not be disappointed. There is everything there from shorebirds like terns and egrets to land animals like tortoises and gophers to sea creatures like manatees and dolphins, and there is much more.
For those interested in mixing sunbathing and swimming with learning more about our amazing planet, Stump Pass Beach is one of the best beaches in Sarasota.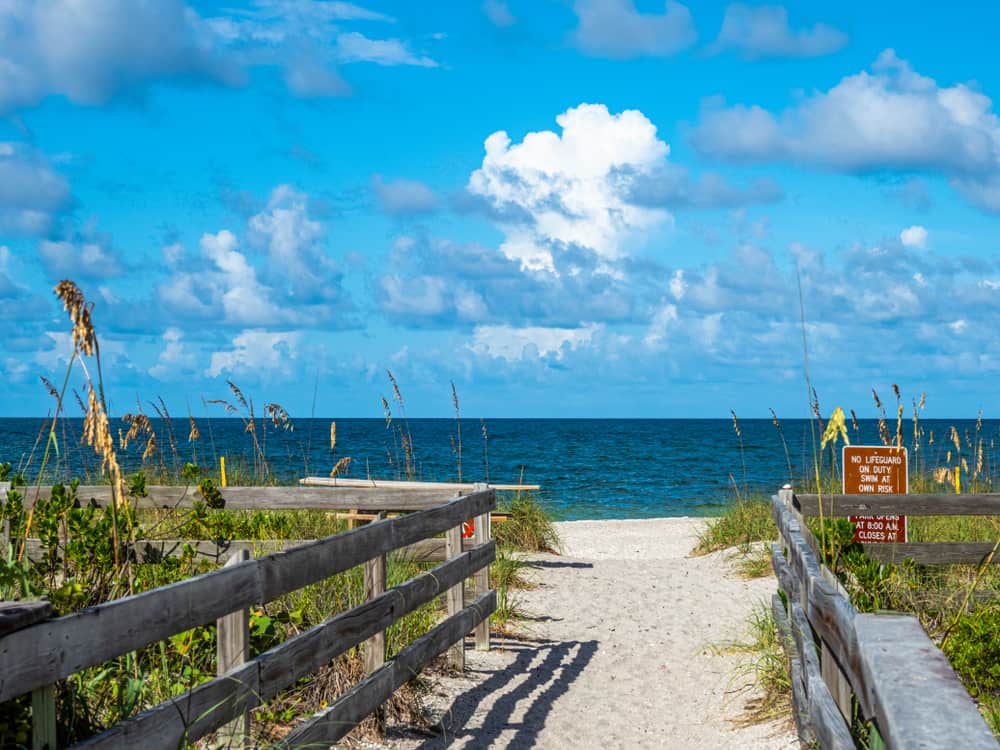 Want to Find out More about the Sarasota area?
These beaches are just a few of the things the beautiful Sarasota area has to offer. Here are some more ideas of things to do while in the area. And there are also great places to stay, as well.