Are you looking for a list of the best rooftop bars in Miami? We have you covered with the best places around the city!
Miami is known for its year round warm weather, amazing beaches and nightlife. Head to one of these rooftop bars in Miami for a unique birds eye view of the city. From downtown to South beach and Wynwood you will find a rooftop bar to suited to you.
From calm and relaxing tropical oasis, to all out party spots, to upscale dining and craft cocktails to watch the sunset a rooftop offers the perfect place to enjoy a day or evening out! This is truly one of the best things to do in Miami at night!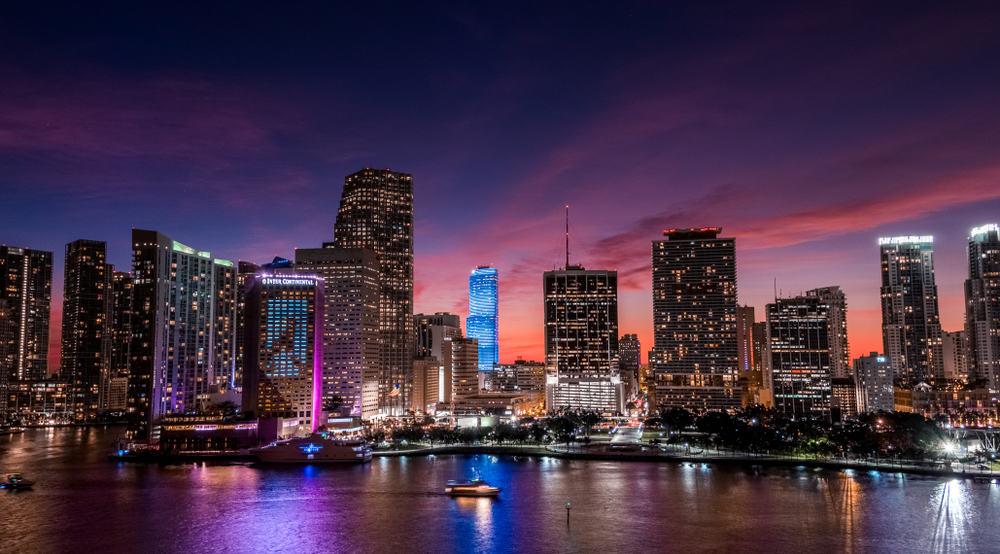 14 Best Rooftop Bars In Miami For A Night Out
SkyBar
SkyBar at the Shore club South Beach is a beach oasis that is the centerpiece of the resort. The atmosphere is very laid back and chill with a lush garden feel and a Mexican restaurant on site.
The cocktail menu showcases Sky bar Classics which is a collection of the drinks guests most request. From a watermelon smash to Skybar Martini, Skybar Lemonade, Palm Mojito and Cold Fashioned with whiskey, Oj and bitters.
Sugar Rooftop
Sugar Rooftop is an Asian inspired bar located on the 40th floor of the EAST hotel in the Brickell area. You should note that a dress code is required to enter after sunset. as the bar turns to a 21+ crowd. Sugar aims to be a fusion of Hong Kong meets Miami in a tropical garden setting.
The classic cocktails at Sugar include the Peony with vodka, rum, cream of coconut, pineapple, the EAST OF MIAMIa with gin, Japanese green tea, ginger and citrus, and LYCHEE with vodka, sake and lychee.
Or try a seasonal cocktail that blends Asia and Miami like the Big Boy Pastelito with tequila, guava and citrus, Inaperol Behavior with mezcal, April, virus and egg yolk, or the Oh you fancy with champagne, cognac, elderflower and pomegranate.
Try a sushi board if coming with friends or small bites like shrimp tempura, steamed prawn dumplings, pork belly buns, edamame, Korean Wings, and satay. Leave room for the 21+ Ice cream desserts!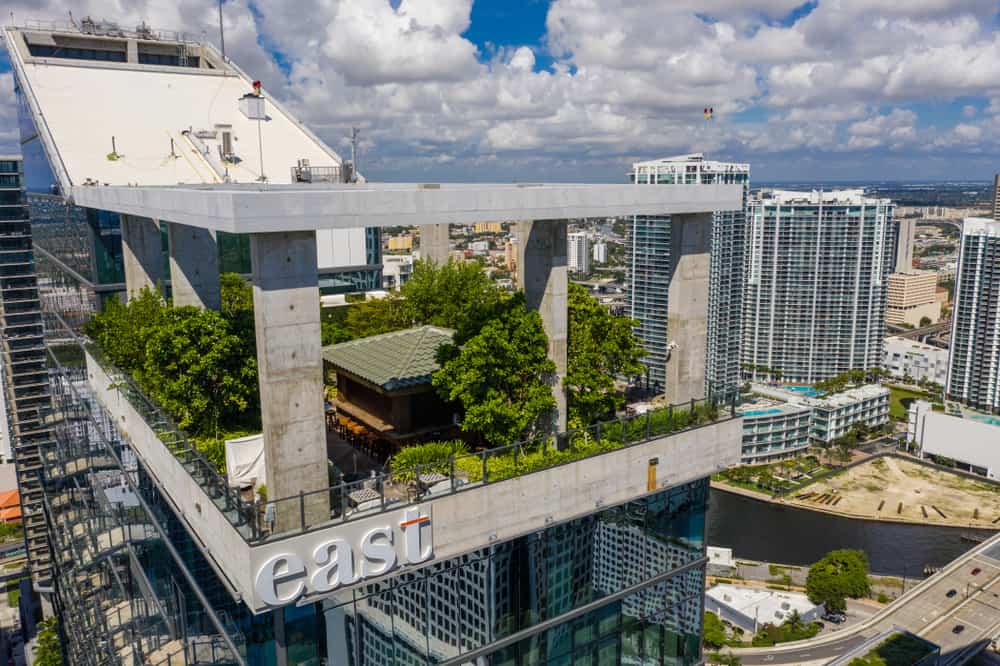 Bloom Skybar
Bloom Skybar is located on the rooftop of the swanky boutique hotel, Eurostars Langford with amazing views of downtown Miami. Under the twinkle lights relax and sip a signature cocktail while enjoying weekly events such as stand up comedy night or Spanish music Bachata Night, Ladies night, and Lice DJ's. You can enjoy both the rooftop open air terrace or inside lounge!
The Bloom menu includes a food menu with bites such as fries, guacamole and chips, mozzarella sticks, arepas, wings, sliders, and calamari. It centers around a bit of a Spanish flare and flavors.
All signature cocktails are $14 and include Hemingway with rum and grapefruit, Old Fashioned, Sazerac with Rye and Absinthe, Pisco Sour, Mint Julep, Mojito, Margarita and more.
Or try an imported beers such as Funky Buddha a Florida brew, Sapporo, Corona and La Rubia Golden Ale and more. Bloom also offers bottle service for tables if you would prefer !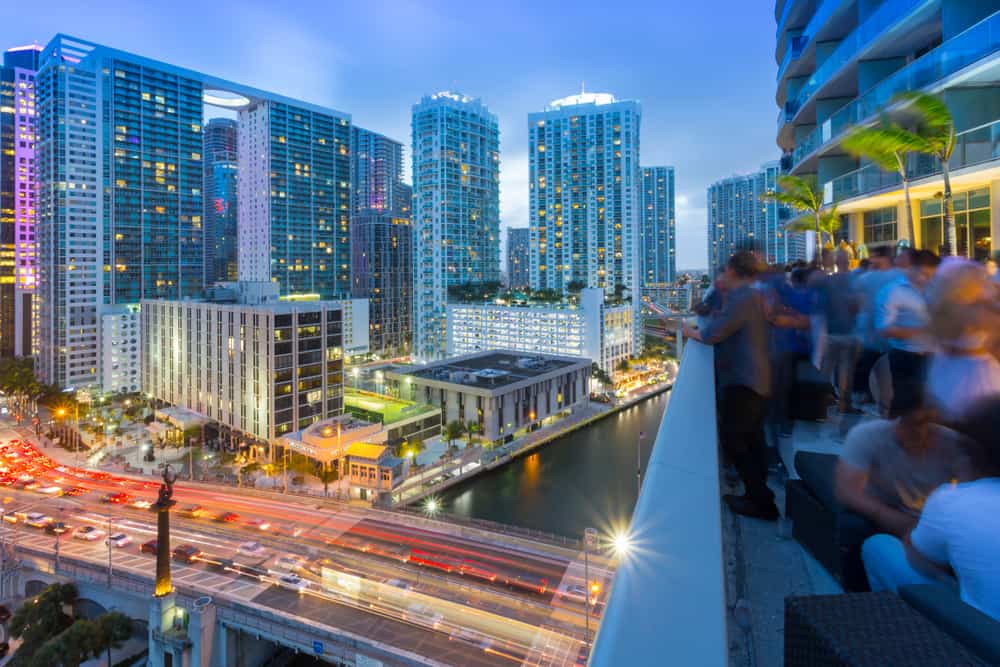 Terras
Terras is a rooftop bar in Miami located in the heart of little Havana and is open daily from 8 am to 2 am! This vibrant restaurant and bar's name plays homage to the earth. This is the place to come if you are looking for urban South American street food restaurant that turns into a late night hot spot.
What makes Terras a unique tropical rooftop hangout is that you the space also contains the restaurants garden. The cocktails make use of the rooftop garden and use herbs, fruit and spices to make the freshest craft cocktails!
You must try the garden mojito with rum, mint and garden herbs , Cuba Libre, Trade road, Wildflower mezcal with sage coconut water, lime and hibiscus, , Thyme for Rhume Lime with rum, pear, thyme and lime , Furisoa with tequila, firewater bitters, aperol and lime . Also offered are a selection of beers and wine.
Astra
Astra is a rooftop bar in Wynwood area of Miami. This Mediterranean themed rooftop restaurant and lounge offers amazing views of Miami and is the perfect place to catch a sunset. The rooftop sky garden is an open air terrace with 360 degree views with citrus trees that make for a beautiful backdrop.
Astra is the place to coming if looking to have a delicious dinner followed by drinks! Come for Sunday brunch with champagne trays served with fresh fruit and an assortment of juices. Along with Bloody Marys's, Sangria and Moijto pitchers! All served with a Greek themed brunch menu.
All the craft cocktails here are delicious. Try the ASTRA TO THR MOON with absolut Eryx, St Germain, Lemon and lychee juice or ASTRA MULE with fig vodka, fresh raspberries ans ginger beer along with a full wine and beer menu.
On the menu is Greek appetizers like spanakopita a filly pastry with truffle and feta, kebabs, calamari and spreads. For mains you can choose between large salads, fresh fish of the day, or fresh veggie platter to Brizola and Branzino.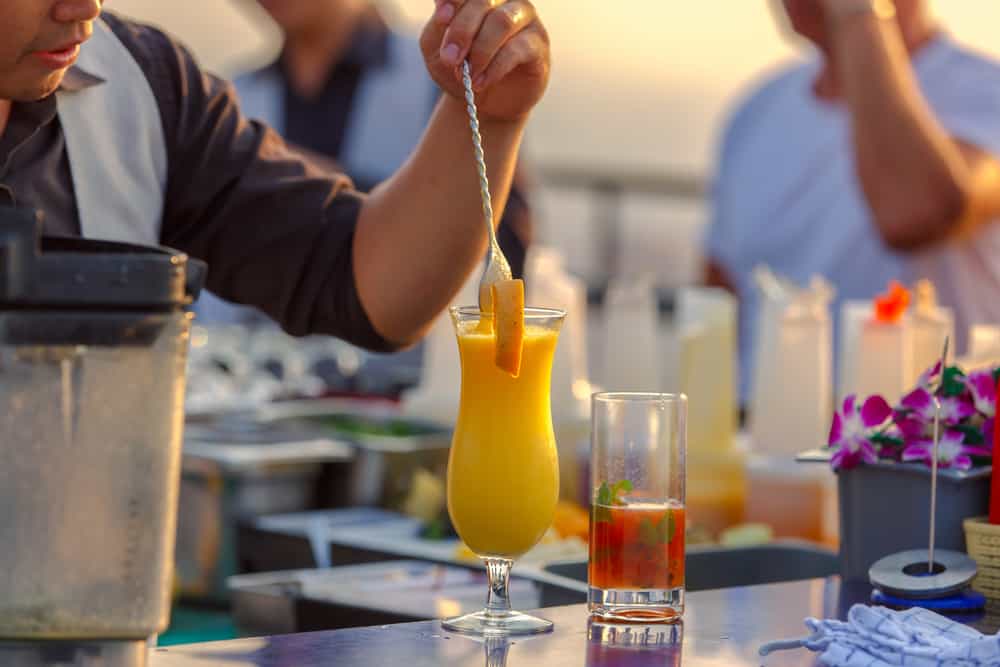 Juvia
Juvia is one of the rooftop bars in Miami South Beach known for its eclectic atmosphere on the top of a parking garage. Situated on top level of the Herzog & de Meuron building the space is gorgeous.
Located on Lincoln Road not only does Juvia impress with its large rooftop terrace, living plant wall and amazing views over the city but the food is equally as amazing as are the cocktails!
Normally, Juvia has a $65 buffet but during current times the menu is a little different. Instead they keep the unlimited bottomless brunch for 2 hours with your choice of Mimosa, Bellini, Prosecco or Avion tequila Margarita for only $30.
Come for the sunset dinner Wednesday through Sunday from 5:30 to 6:45 pm witha welcome glass of prosecco, your choice of appetizers from salmon tartare or a greek, choice of mains from organic chicken, branzino or steak and dessert!
Speciality cocktails include DUCKIN'Bag with grey goose vodka, grapefruit and St. Germain, PURPLE JUVIA with vodka, lemon juice, blackberries and chambord or AMIGO CALIENTE with tequila, aji limo aperol, lime juice.
Area 31
Located on the 16th floor of the Kimpton Epic hotel, Area 31 is one of the downtown Miami rooftop bars, offering panoramic views of the downtown skyline and Biscayne Bay!
With a pool as the backdrop this is a great happy hour spot! Witha menu that is heavily incluenced by the ocean the menu is seafood centered. Come on Thursdays for Tapas night with menu items like tapas trio, oysters, shrimp tortillas, seafood orzo and octopus and potatoes.
The cocktail list at Area 31 has favorites with many of the herbs coming from the rooftop garden. Try the Area 31 Lychee mojito, Highway 1, or DJDC palmoa!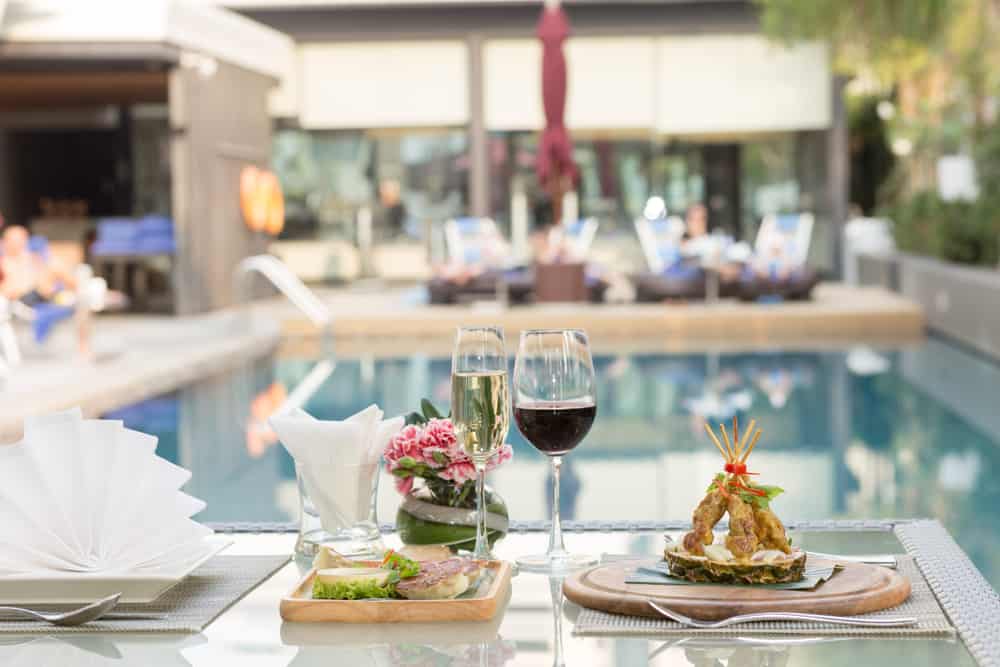 Watr at the 1 Rooftop
Watr at the 1 is one of the rooftop bars in Miami located on South Beach. Located on the 18th floor of the 1 hotel it is open Sunday to Thursday from 11 am to 10 pm and Friday and Saturday until 11 pm reservations are required for non-hotel guests.
This is the rooftop to come if you want amazing scenic views of the Atlantic ocean with a delicious dinner and cocktails in a luxury setting. They have been voted best sushi and best late night find by open table. The atmosphere is beach chic with white chairs and couches with wooden touches with live trees and a glass window wall.
Try one of the house cocktails like the Floridian with pink grapefruit gin, prosecco and lemon, Pineapple Caipirinha, El Jardinero with maestro dobel, cucumber, lime and aloe liquor, Frozen cocktails, and a large wine menu.
The food menu includes sushi rolls, a vegan or Watr burger, salmon poke, chicken yakisoba noodles and steak saltado bowl.
TH Rooftop
The TH Rooftop is another one of the South Beach rooftop bars located inside the Town Home hotel. This is one of the most unique rooftop spaces that is inspired by a beach bungalow with a laid back atmosphere. Open Tuesday to Thursday and Sunday from 7 pm to 12 am, and Friday and Saturday 7pm to 2 am, you can make reservations online!
The cocktail menu focuses on serving locally brewed beers from Wynwood brewery and Cigar City and other unique hard to find imported beers from around the US and abroad. Each of the cocktails served are curated by the bar tenders to be unique and seasonal.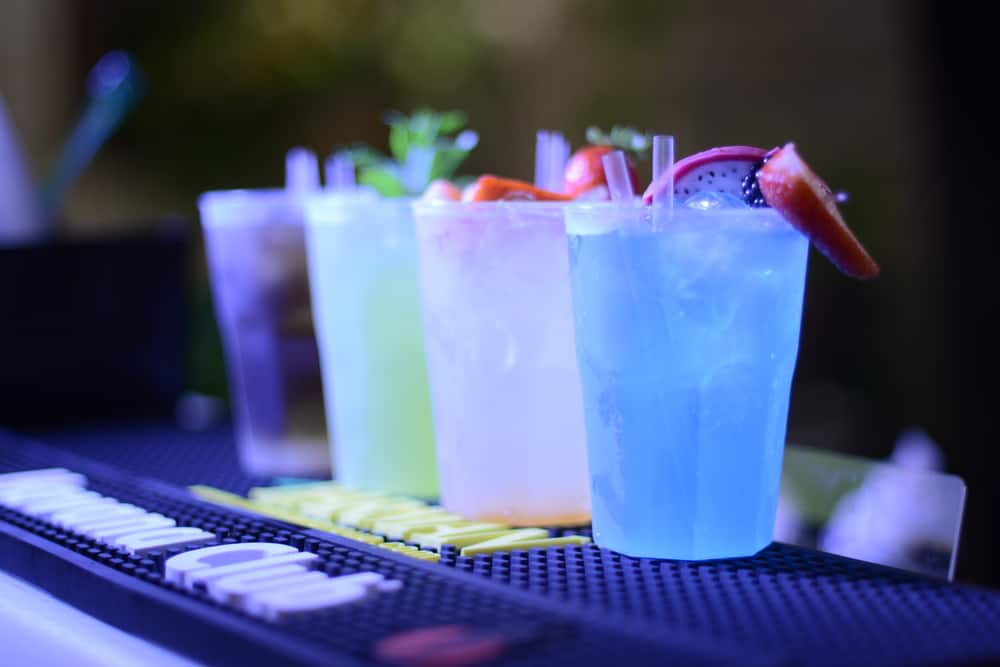 Highbar @ Dream South
As with most rooftop bars in South Beach, the HighBar is located on the rooftop of Dream South Hotel. This bar has a 70's theme with a pool at the center of this rooftop with lounge seating, delicious cocktails, and Mexician food from Naked Taco.
Unlike many other late night spots, HighBar is only open 10 am to 6 pm daily! Try one of the signature margaritas with a twist such as the Some like it Hot with jalepeno simple syrup, Mothers little Helper, Mr. Parney with grand marnier and volcanic salt.
Or try one of the cocktails that are perfectly pool-themed sucha s th Mermaid water with coconut rum, pineapple and blue curaco, Great Buffini with coconut vodka and watermelon liquor, Pink Flamingot with coconut tequila, and hibiscus agave, frozen cocktails and more.
Don't forget to try the fresh made chips and guac, signature chicharrones, tuna nachos, ceviche, elote off the cob, enchiladas, fajitas and the wide assortment of tacos.
Mila Miami
Mila is a Mediterrasian restaurant and one of the rooftops bars in Miami located in South Beach. They aim to bring "joie de vivre" or joy of living to this bohemian chic rooftop lounge with upscale food and drinks.
The bar was curated by top mixologists around the world and aims to reimagine how cocktails can be transformed to modern tastes. The restaurant strives to shy away from conventional up pricing to allow consumers to enjoy a day out.
Try the wide variety of champagne and wines as well as cocktails like Mila Bloody Mary, Shisoito with rum, limes, herbs and cucumber, Spa Water Spritz , The Library with rye, cognac and housemade old-fashioned.
The upscale food menu at Mila includes Tapas, Branzino Tataki, seafood platters, Shawarma Gyoza, Mushroom hotpot, Satay chicken and Miso sea bass.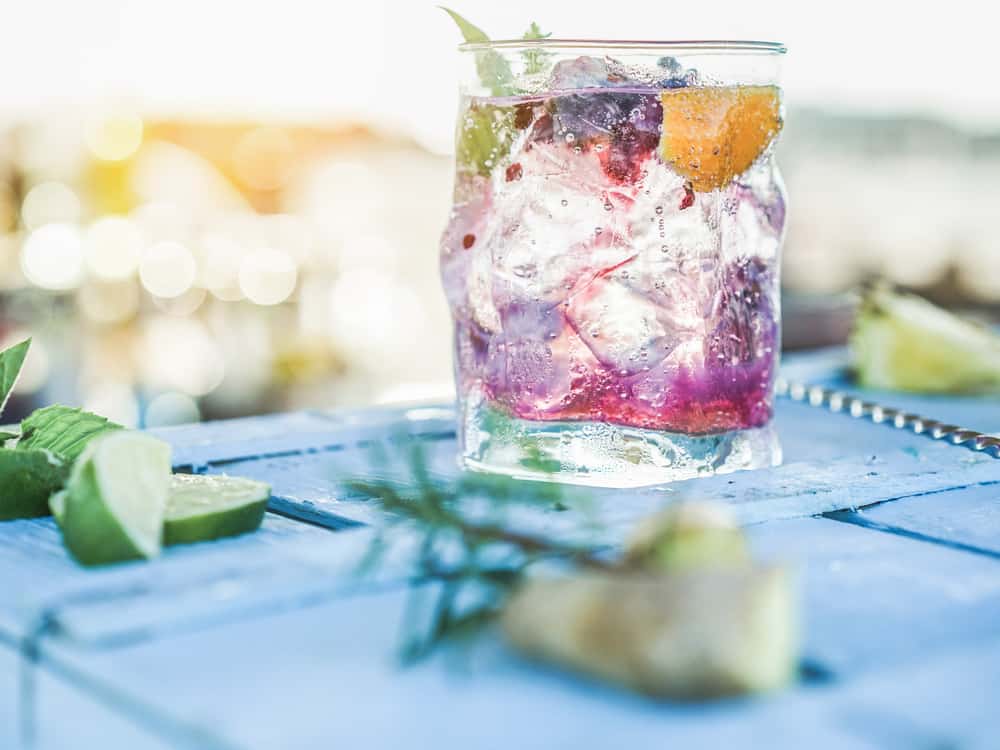 Rooftop at E11evn
Rooftop at E11even is one of the best rooftop bars in Miami. This 4700 square foot rooftop is South-Beach inspired with open air lounge with communal tables and sofa tables, fire pits and hookah area. That are all situated around a bandshell where live performances take place weekly.
What makes E11even one of the best rooftop spaces is that this rooftop club is an escape from E11even ultra club that is open 24/7. The cocktails here include Lychee Martini, White Chocolate Martini, All nighter with vodka, blue curaco and redbull, Raspberry lemon drop, Lavender lemonade with bombay sapphire, lemon and lavender syrup, and Mango Mimosa.
Food menu includes desserts like chocolate cake, cheesecake, cookies and menu items such as sweet potato fries, wagyu meatballs, steak frites, ricotta ravioli, Burger, pan seared salmon, asian spare ribs, pizzas, and chicken sliders.
thedeckwynwood
The Deck is another rooftop bar in Wynwood known for its laid back style, chill atmosphere and delicious handcrafted drinks. It is a mix of an Artisan market, music venue, food truck hangout, and craft cocktails offering.
The space includes a large astroturf lawn, with wooden tables and structures there is plenty of space to spread out and enjoy your craft cocktail. Or come for one of the musical performances where nightly specialty cocktails are offered.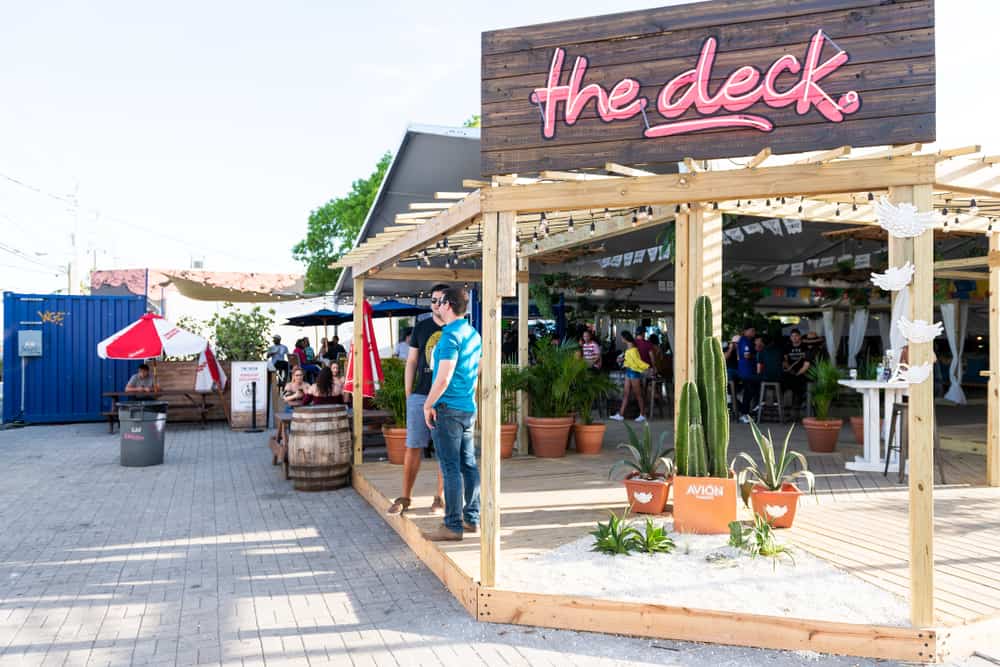 Three and No.3 Social
Three and No. 3 Social is a rooftop bar in Wynwood whose motto is two spaces one vibe! Come for happy hour, Wednesday to Friday from 4 pm to 7 pm, Saturday from 3 pm to 7 pm and Sunday 4 pm to 7 pm.
During cocktailhour you will find speciality cocktails for only $9 like fly me to tulum, perfect pear, rose water, $5 beers, and $7 wines! If coming with a date the Two plus Two is for you , your choice of two cocktails and two snacks!
The atmosphere is eclectic with bright pops of color fits right in with the arts area of Wynwood. If coming on the weekend this bar gets very crowded!
Did You Find This Post Helpful?
If so, we would love to keep in touch! We enjoy seeing photos and comments about your experiences in Florida! You can follow us on Instagram and we will repost your photos on our feed and comment too! Just tag us at @floridatrippers and hashtag #floridatrippers. We can't wait to see your travels!