Wondering which Florida Gulf Beaches to visit? It can be so overwhelming to choose. There are so many incredible Florida west coach beaches each unique in its own way. In this article, we will walk you through what we feel are the best beaches in the Gulf of Florida. We will give you all the information you need to decide which one of the gulf coach beaches to visit first.
From the popular Clearwater Beach to the lesser know Port St.Joe Florida gulf beaches are we feel among some of the best in the world. There is a beach for every personality type and every experience. There are beaches great for surfing, beaches great for shelling, family beaches, dog beaches, really pretty beaches even nude beaches. Florida draws a diverse array of visitors each year to its 825 miles of beaches.
Most Florida gulf shore beaches have the same relaxing warm waters, powder white sand, and a tropical feel but they each have a distant vibe. Some are more relaxing with few amenities; others go full out offering everything. Some are beaches loved by surfers others are very family-friendly. Some are more quirky and some are picture-perfect.
So are you ready for us to take your through our picks of the best?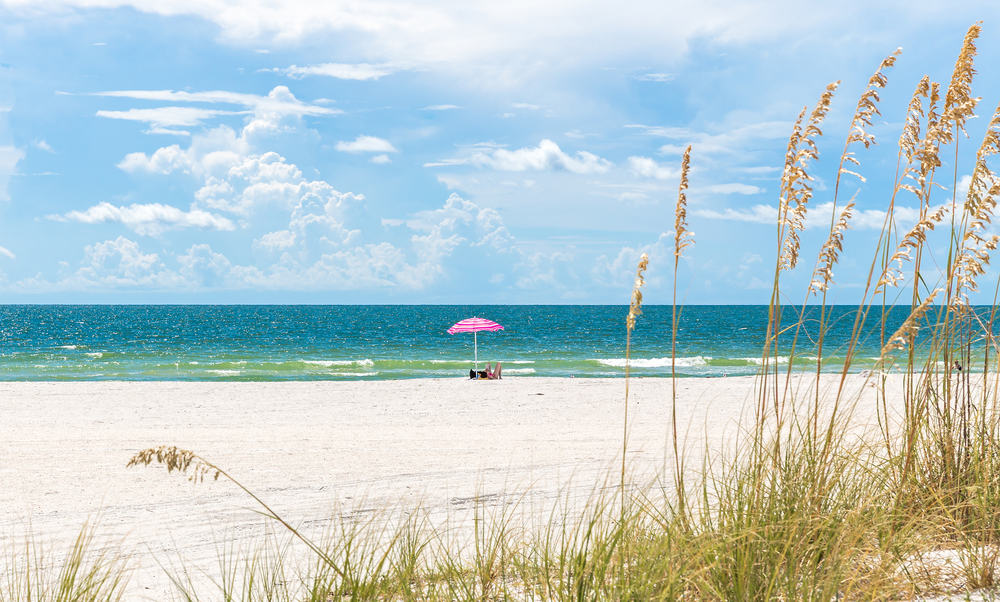 14 Beautiful Florida Gulf Beaches On The West Coast
Siesta Key Beach
One of the Florida Gulf beaches great for families. Named after the Spanish word for a nap this beach is a great place to relax and rejuvenate. This is truly one of the best things to do on the West Coast Of Florida!
Ranked the #1 Beach in the U.S. in 2020 by TripAdvisor's Traveler's Choice Awards™ it is one that just has to go on your list.
With quartz-crystal powdery sand, tranquil waves and the Florida sun this beach is perfect. Lots of watersports and boat rentals are available and you can even attend yoga classes in the morning.
In the evening the beach bars are the place to be or sampling the local seafood at one of the restaurants.
There is a large car park and all the amenities you would expect, there is even a free trolley to take you around the town if you get bored of the beach.
This is one of the beaches in the Gulf of Florida that really will suit most people. It's what most of us picture as the perfect beach. It's only a short drive from Sarasota so you can easily combine it with a trip there.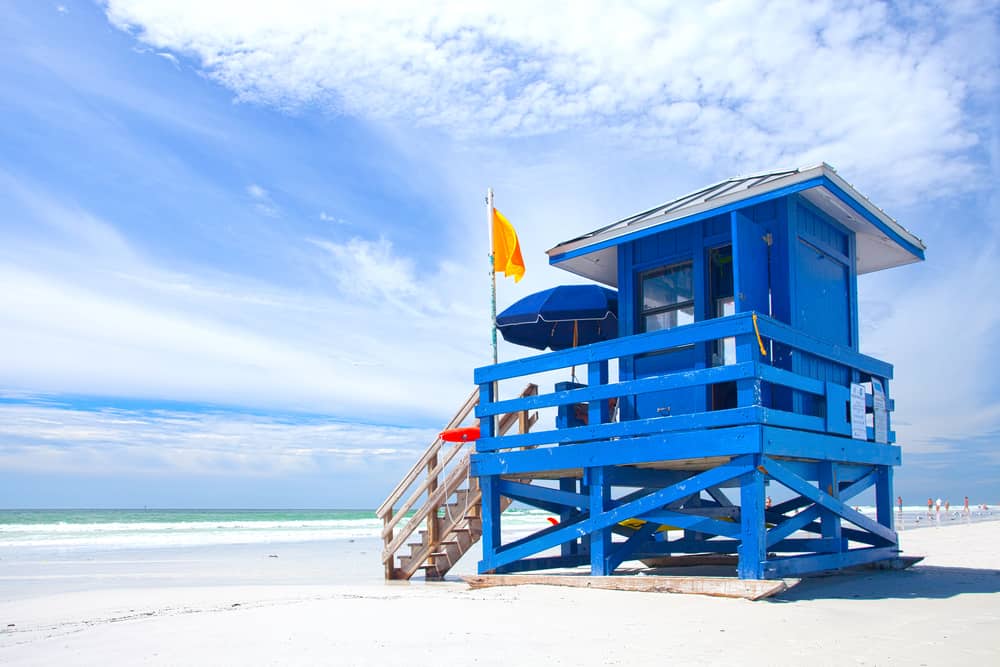 Beer Can Island
Don't let the name put you off this beach. This is not Beer Can Island that was named after beer cans left from day-trippers and now turned into a party island. No, this is the other one.
This Beer Can island also know as Greer Island is near Sarasota and is in Longboat Key. This spot is magical and beautiful and it took my breath away.
It can be tricky to find so make sure you read this article to find out the exact location. Tips For Visiting Beer Can Island (Longboat Key)
This is one of the Florida gulf beaches that will offer you seclusion. There is no parking and it's a bit of a trek through some mangoes to get to but nothing strenuous. However, if you go at the weekends it is likely to be crowded.
What's unusual about this beach is all the fallen trees and driftwood on it. It makes the beach look like a movie set and makes for some amazing photographs. And a visit at sunset because honestly, it's gorgeous.
This is one of Terrence's' favorite spots and I love it too.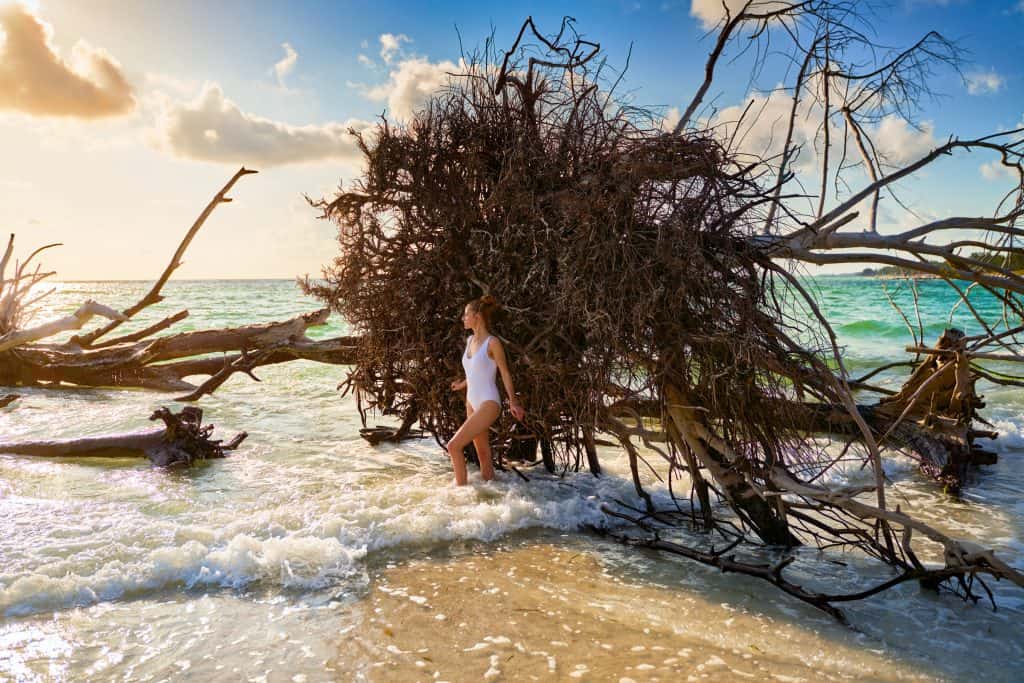 Honeymoon island
One of the Florida gulf beaches within a state park. The disadvantage is that it costs to get in($8 per vehicle), the advantage is there is a lot more to do. Before you go make sure you read our Tips For Honeymoon Island State Park: A Florida Gem.
Honeymoon Island State Park has 4 miles of beaches although there are only several areas that are good for swimming. The three popular beaches are Main Beach, North Beach, and Dog Beach.
Main beach is the beautiful typical Floridan type beach, North Beach is like a smaller scale Beer Can Island beach and is great for shelling. Dog Beach speaks for itself.
What we love about a trip here is that there is so much more than just the beach. The surrounding area is also well worth exploring and it makes a lovely day out.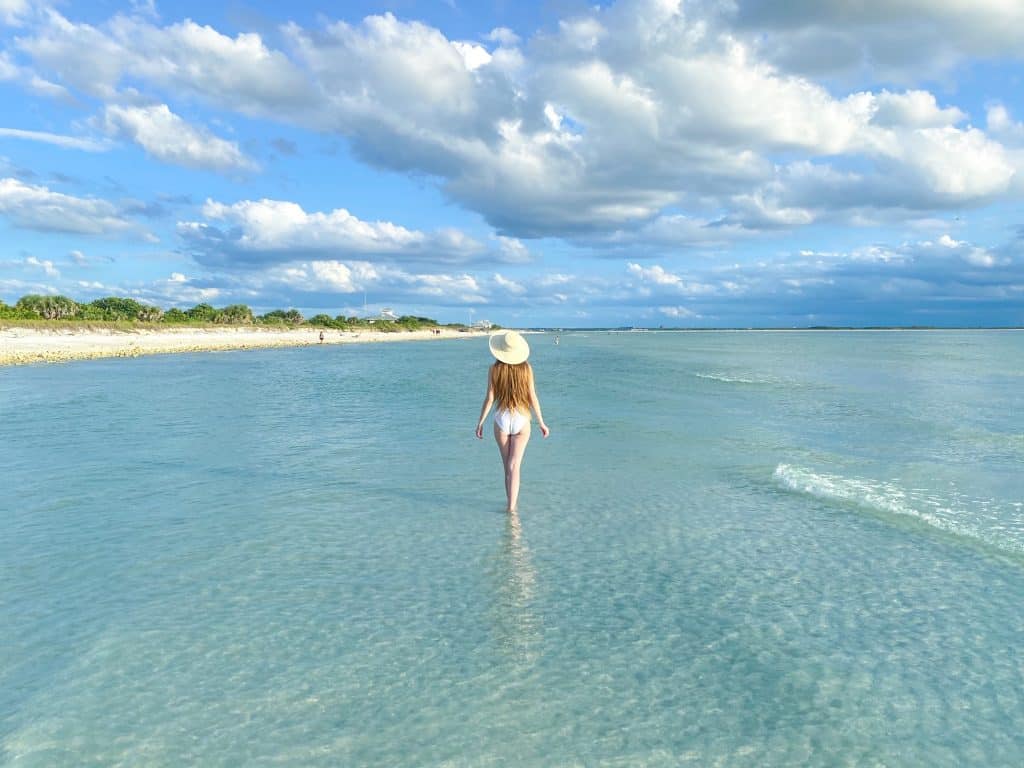 Fort De Soto
If you like your Florida gulf beaches to have a bit of history then Fort De Soto Park is just what you are looking for.
This park has it all, beaches, waterways, forts to explore, and a unique history. Southwest of St Petersberg the park consists of five offshore islands. There is parking with a $5 fee but the park is free to enter.
The largest park in the Pinellas County Parks system there really is something for everyone here.
There are 7 miles of coastline in the park and a few different beaches to explore. The popular ones are North Beach and East Beach.
North Beach is the more popular, East beach less so. There is also a beach near the fort but it is smaller and more prone to bugs. There is also a dog-friendly beach.
This is one of the Florida gulf shore beaches that has so much to offer and is for those who like to explore more than sunbathing, although the sunbathing is pretty good too.
Before you go check out our guide Tips For Fort De Soto: A Coastal Florida Playground.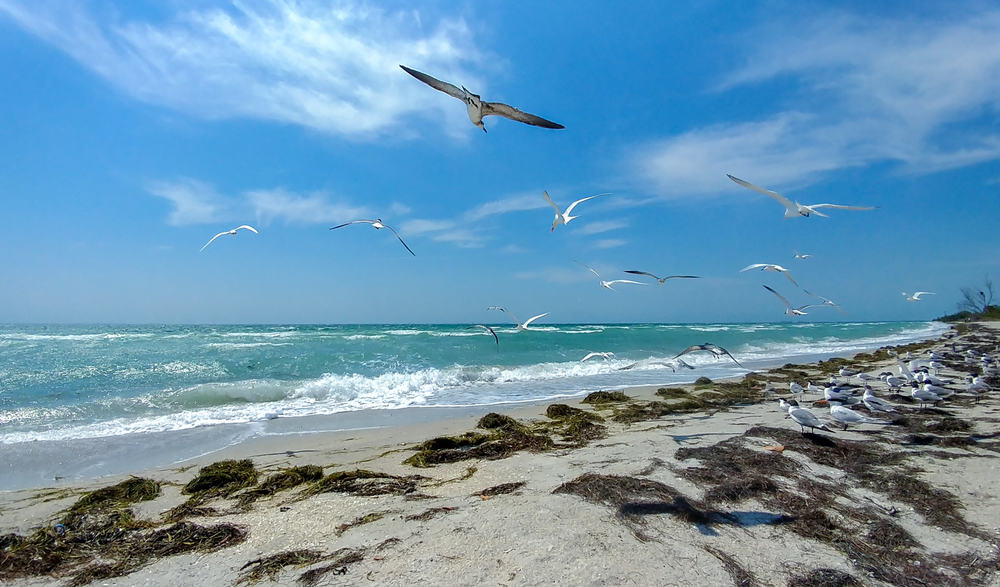 Navarre beach
One of the Florida gulf beaches at the northwestern tip of the state just east of Pensacola.
Relaxation is the name of the game here and with 12 miles of pristine white shoreline you will be spoilt for choice
The beach is beautiful and named year after year as one of the best in the nation. The beach is famous for having the longest fishing pier on the entire Gulf of Mexico extending out 1,545 feet in length.
With beautiful white sand, emerald water this beach offers solitude and simplicity far away from the tourist crowds.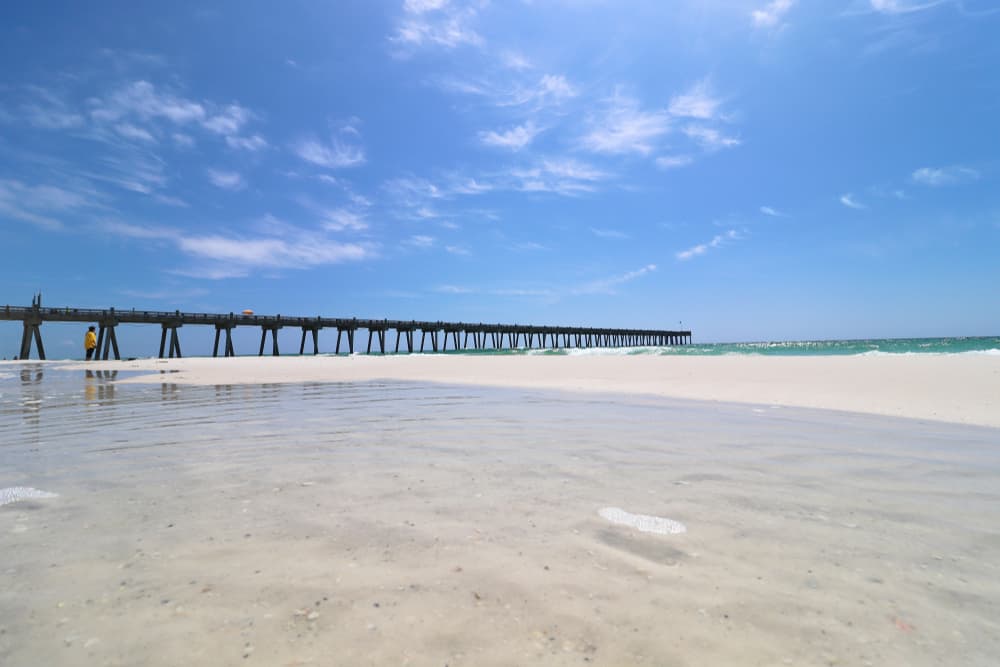 Clearwater beach
Named the #1 beach in America by multiple sources like TripAdvisor, USA Today, and Forbes. Clearwater beach is well loved for a reason.
It's the perfect Floridan Beach, white powdery sand, crystal clear water and the gentle Gulf coast breezes. This place really is heaven.
The sand is raked every morning to keep it clean and soft and there are lifeguards on duty year-round. It's a really safe beach with lots of amenities and even does Sunset Cinemas a few times a month.
Due to its popularity, it can get busy. However, if you head further north on the beach it does get less crowded. The best areas are near Pier 60 and South Beach.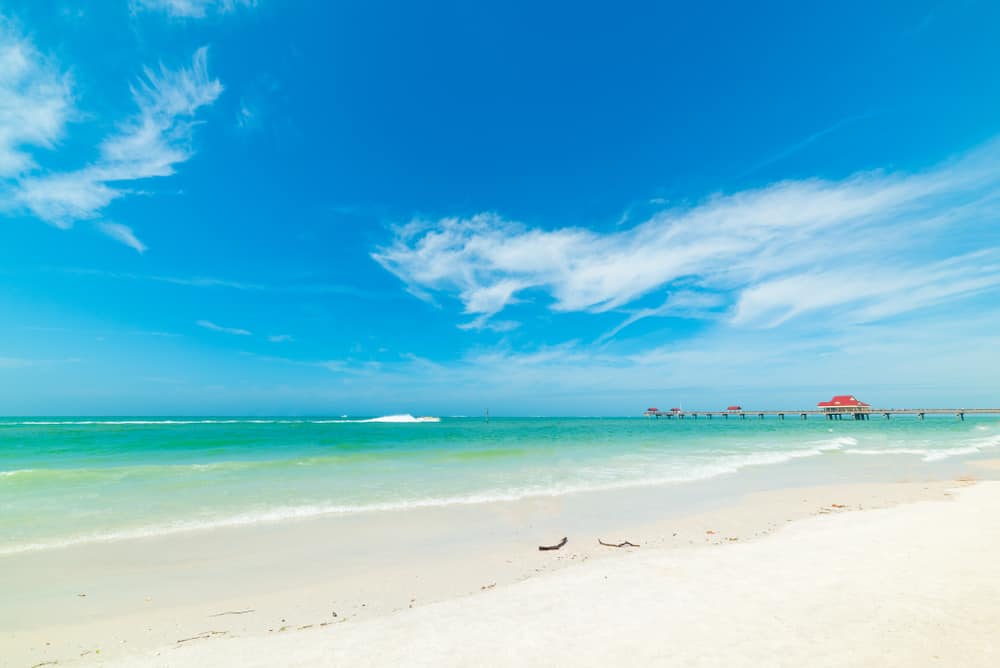 Marco Island
Marco Island is a barrier island in the Gulf of Mexico, linked to the mainland by bridges. The Island is beautiful and there are lots to do other than just visit the beach.
The island offers visitors three Florida gulf beaches to choose from and they are considered some of the top in the world. You can choose from South Beach, Tigertail Beach, and Sand Dollar Island. Tigertail Beach has a tidal lagoon which is great for kayaking and paddleboarding.
The beaches are great for shelling and people travel here from all over the world to hopefully find a rare Junonia shell.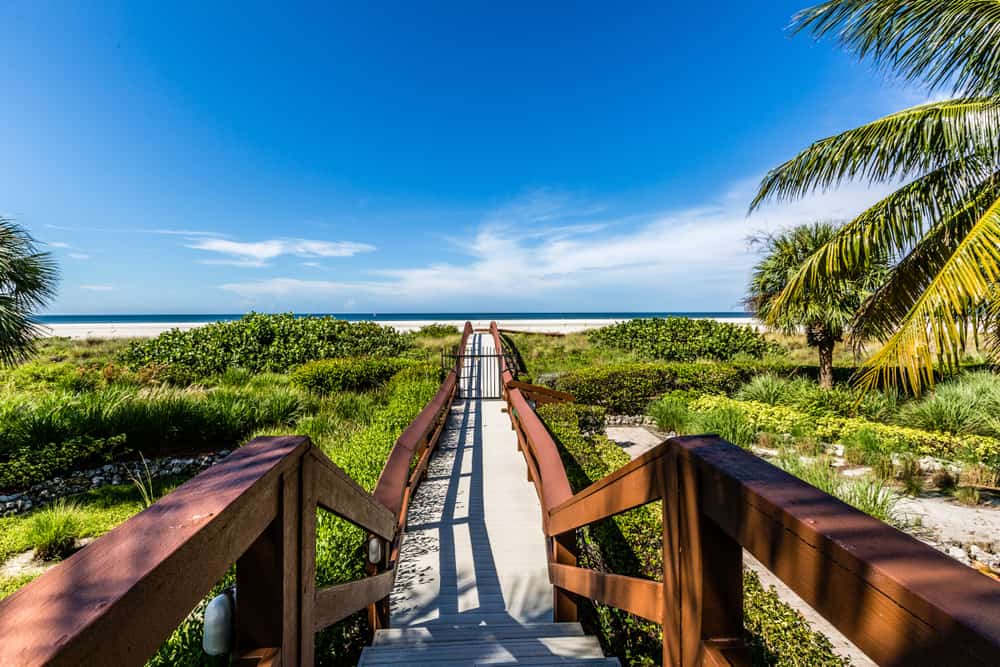 Destin Beach
We could talk about Florida gulf beaches without mentioning Destin.
On Florida's Emerald Coast this beach wouldn't look out of place in the Caribbean. It's picture perfect in ever way.
There is a lot of amenities here and things to do although it can get crowded and some say it's a bit touristy. If you want something quieter head to Pensacola which we have spoken about below.
It's also a great place to learn to surf and is known as the world's luckiest fishing village.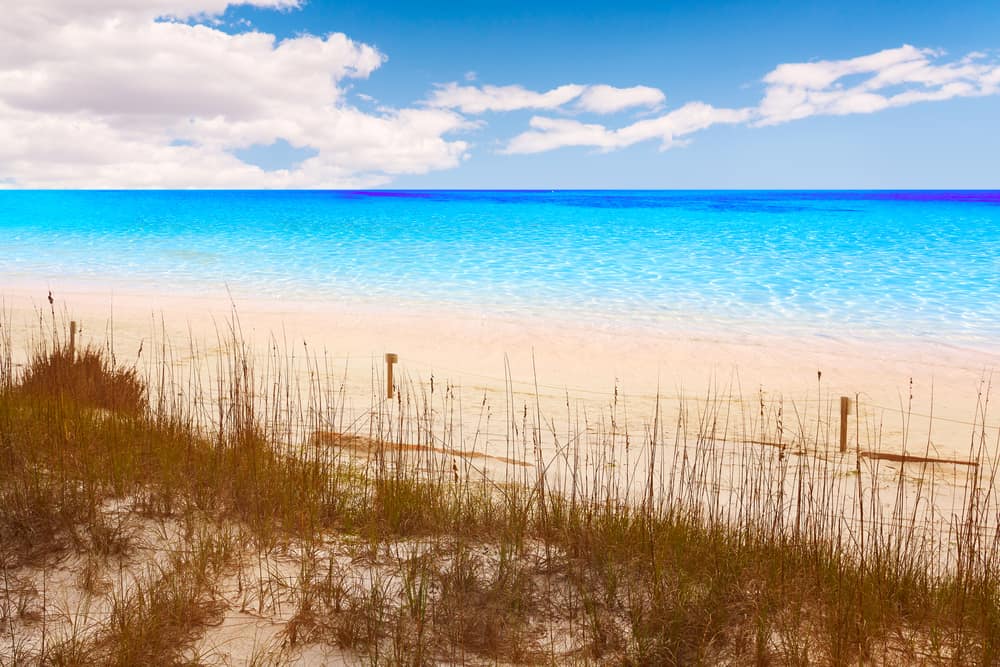 St Petersburg Beach
Often referred to as St Pete's this is one of those Florida gulf beaches that everyone has heard of. The shoreline is immaculately clean, the sand is soft and white and the sea is crystal clear. What is not to love?
About 40 minutes away from Clearwater these beaches sit on some of the longest undeveloped stretches of public beach.
There is lots to do here including kayaking, canoeing, speed boating, windsurfing, and parasailing.
St Pete's beach is easy to get to and a good all-round beach that never disappoints and always seems to have plenty of room.
It's also the home to the incredible Don Ceaser pink hotel which is well worth a visit.
Take a look at this article before you go 15 Best Beaches In Clearwater and St. Petersburg Florida.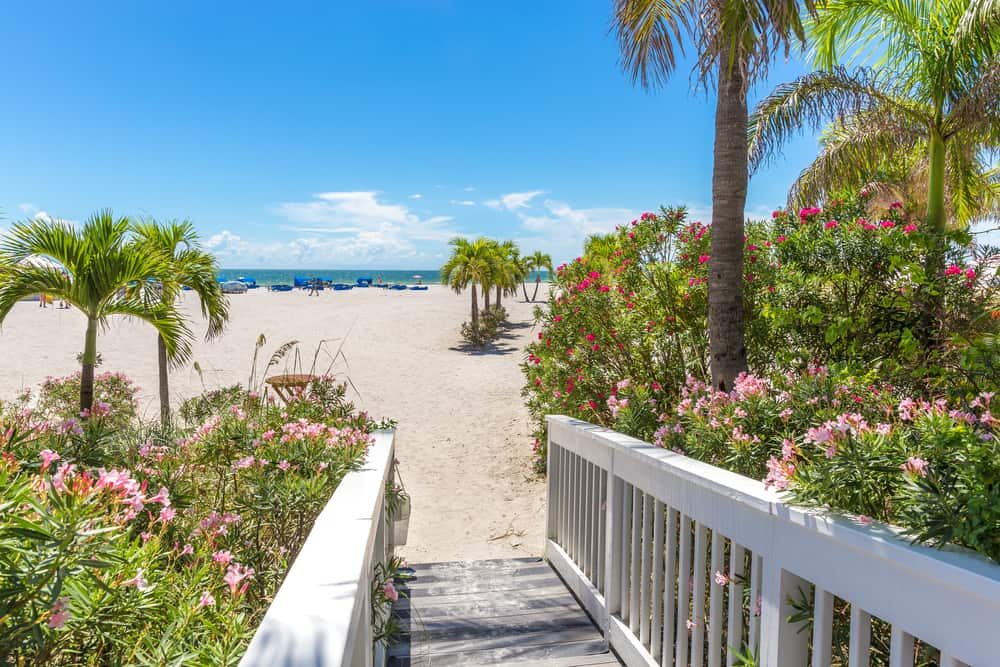 Vanderbilt Beach
This is one of the best beaches in Naples and has the most amazing sunsets. This Florida gulf beach is conveniently located, and easy to access.
It's a great beach to go shelling, especially at low tide after a storm.
A family-friendly beach with shallow water a distance from the shoreline and the sand makes great sandcastles.
You will feel a gentle breeze which will be a welcome relief from the heat.
This beach can get crowded and the car park has limited space so get there earlier and walk up the beach a little.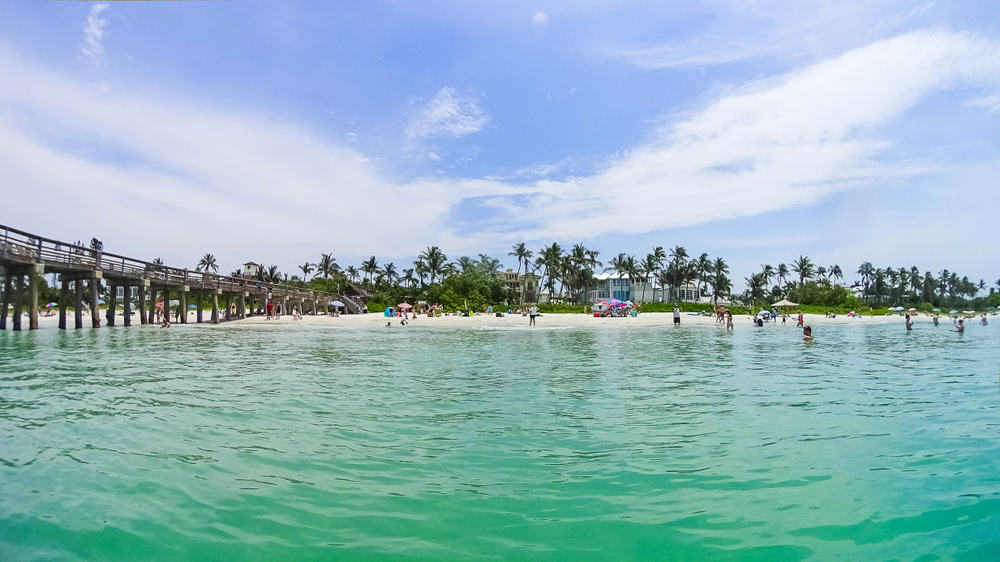 Naples Municipal Beach & Pier
If you can never being to Naples you are in for a treat. The sunsets in this area are stunning and you can often see pods of dolphins from the shore.
The beach area is vibrant and bustling and the large pier is free to fish from. The pier extends 1,000 feet into the Gulf of Mexico so you can get amazing views of this 10 mile stretch of public beach. Also, take a look at the water and don't be surprised to see some stingrays.
The beach has many amenities and you can pretty much get everything you need even fishing supplies.
The area around here is stunning so if you have time you might want to check out some of the other beaches in the area too. 8 Best Beaches In Naples Florida You Must Visit.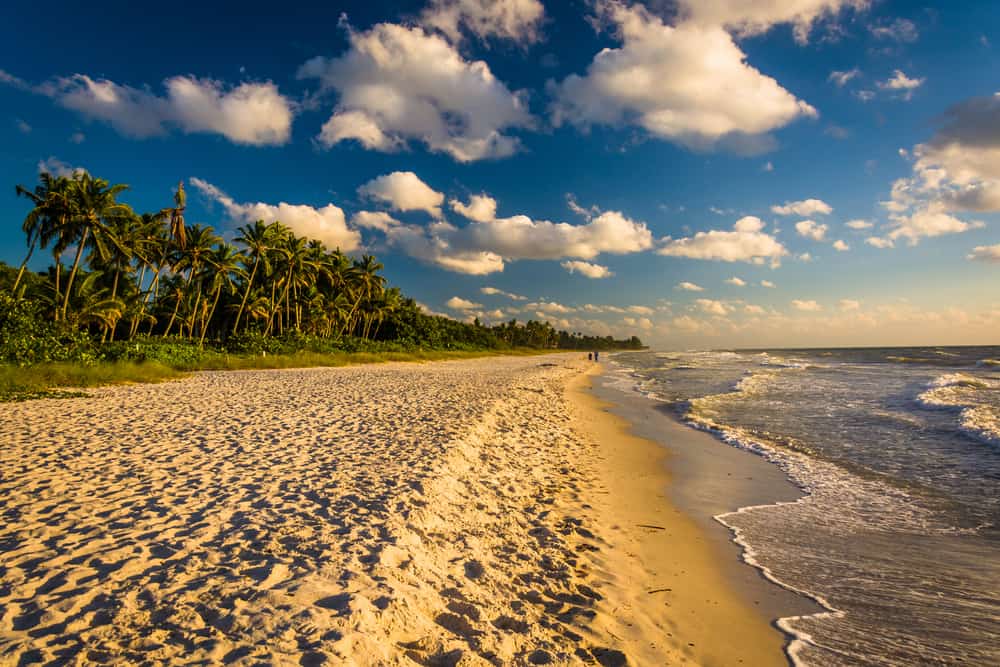 Sanibel and Captiva Island
Sitting off the coast of Cape Coral is a little gem of an island with some incredible beaches. Sanibel and Captiva Island are paradise and tend to be more secluded. Once you have found this place you won't want to leave.
The beaches are unique since they have an east-west orientation when most islands have a north-south orientation. This makes them not only perfect but great for shelling.
There are so many beaches in this area we suggest you look here so you can make the best decisions.
We tend to prefer the pristine and quiet Bowman's Beach or Captiva Beach which has been nominated for the Best Restored Beach in three different categories.
Whichever beach you choose we know you will be as charmed with this area as we are.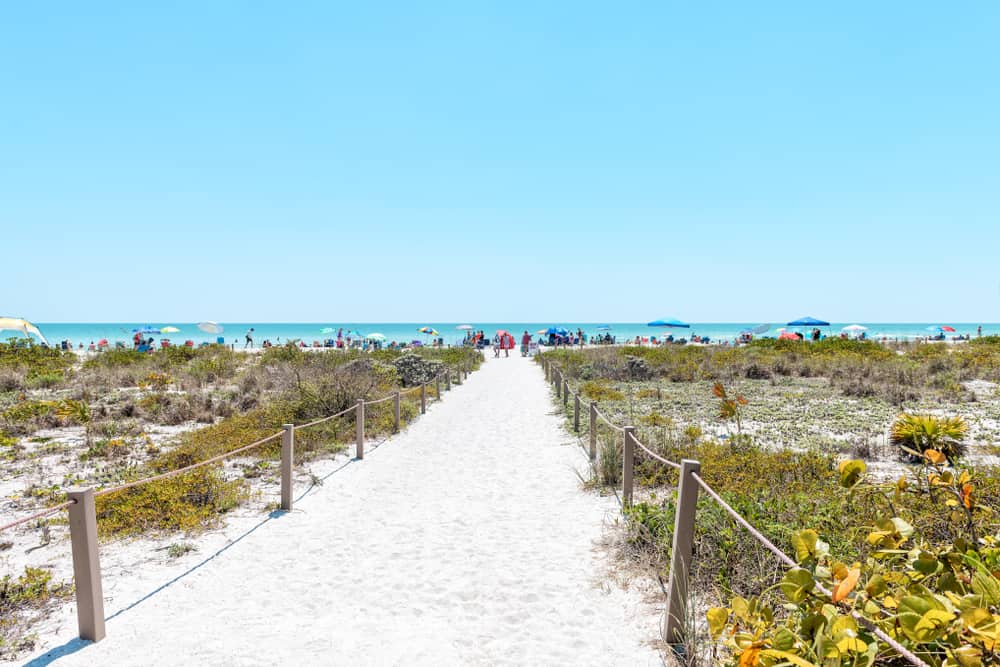 Port St. Joe
This beach is not only on Florida's forgotten coast but it's also here where the Eastern Time Zone meets the Central Time Zone
The area including St. Joe Beach and WindMark Beach is often just called 'The Beaches'. It's a laid back place with incredible sunset views.
Port St. Joe, call itself 'a small beach town with a big heart' and you instantly feel at home here. Nestled in the panhandle of the Sunshine State the beaches are pristine and unspoiled.
The mosquitos here can be quite bad so make sure you take some bug spray.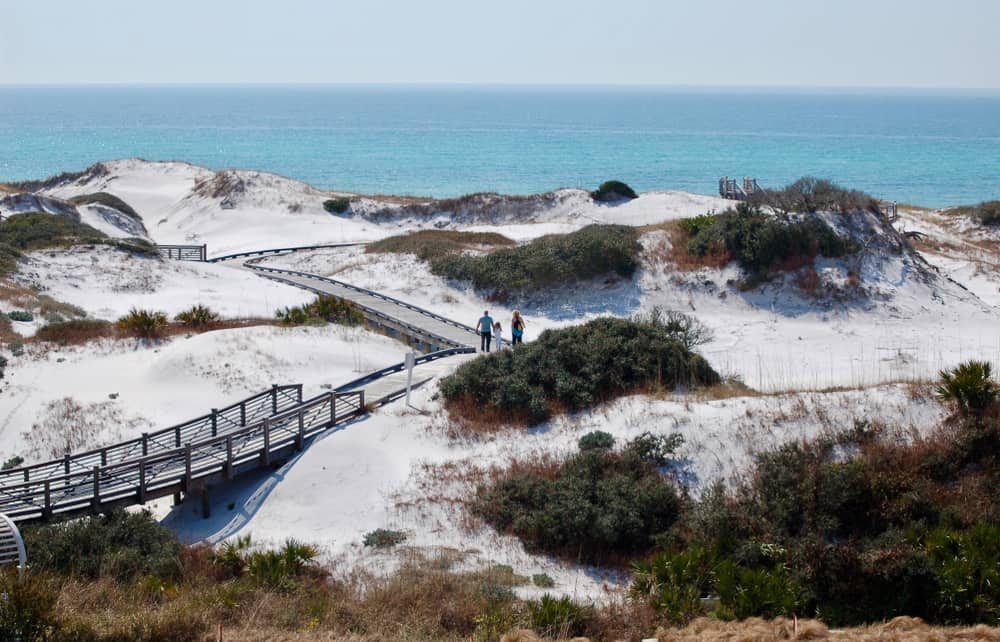 Pensacola Beach
A list of Florida gulf beaches wouldn't be complete without a mention of Pensacola. The water is crystal clear, the sand sugar white and it's pretty good for surfing too.
Nearly eight miles long this beautiful beach is on the 40-mile-long Santa Rosa barrier island. Surrounded on either side by the federally protected Gulf Islands National Seashore.
There is lots to do here including swimming, fishing, and kayaking.
Also, make sure you visit the 1,471 feet long Pensacola Beach Fishing Pier and Observation Post, the views are stunning.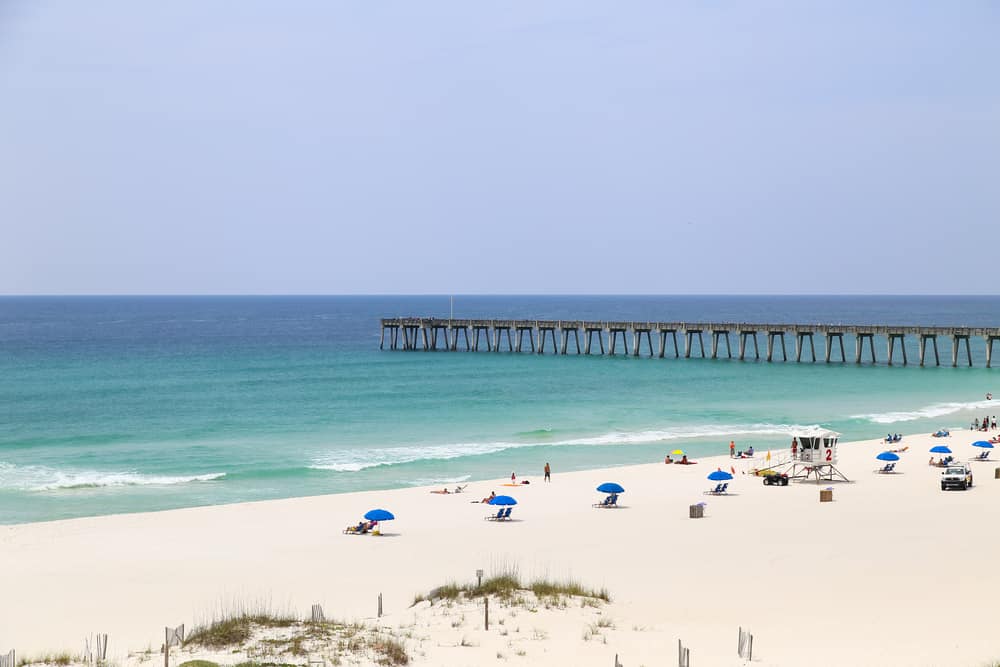 Whichever one of these Florida gulf beaches we know you will have a great time. The challenge with writing an article about Florida gulf shore beaches is that you have to leave lots out. Most notably Treasure island, Mexico Beach and Venice Beach.
However, the great thing about gulf coast beaches is that a lot of them are close together so you can visit more than one in a day. Please let us know which one you choose to visit and if you have any you would like to add let us know in the comments.