Are you looking for the best things to do in Destin, Florida? If you've never been, then you don't know how action-packed and exciting this town truly is! Along the emerald coast on the panhandle, Destin is a favorite family vacation destination for Florida natives!
Because it's known for its beaches on the Gulf of Mexico and lush golf courses, you can bet Destin's flora and fauna is unrivaled. In clear waters, marine life is abundant. Pods of dolphins, sea turtles, and tropical fish are all very common aquatic sightings.
Known as the "Luckiest Fishing Village In The World," it is a joke among locals that there are more charter boats in Destin than people. You can charter a boat for almost anything: fishing, snorkeling, guided tours, and more!
Nestled between Pensacola and Panama City, families keep coming back to Destin because there's something for everyone to enjoy. Whether it's the shops and restaurants downtown, the water parks, or the quirky festivals, you'll leave with nothing but smiles.
So pack your swimsuits and flip-flops! We've listed our favorite Destin attractions so you can kick back, relax, and create new memories in one of the best beach towns in Florida!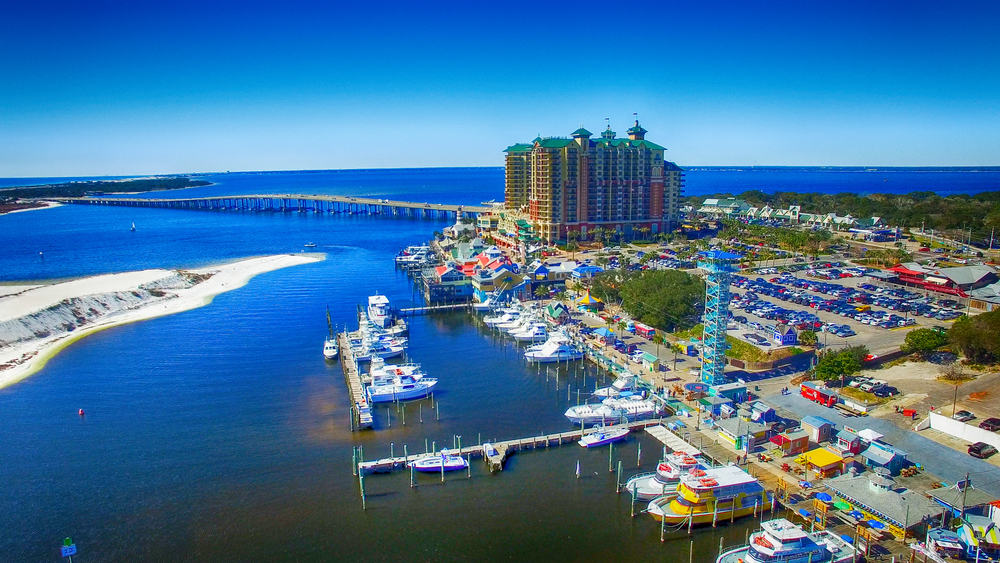 20 Best Things to Do in Destin, FL You Shouldn't miss
Explore Henderson Beach State Park
Just off the Emerald Coast Parkway is one of the best things to do in Destin. The most famous beach in Destin is Henderson Beach State Park, one of the most beautiful state parks in Florida.
Henderson Beach was designated a protected area for the preservation of the area's natural features and public enjoyment. In fact, Henderson Beach is the last remaining coastal scrub area in the city.
Along the shore, 30-foot white sand dunes meet the warm waters of the Gulf of Mexico. Enjoy fishing, nature trails, and over 60 campsites all attached by a boardwalk. It's one of the prettiest beaches in Florida.
Vibrant emerald green waters are the star of the park, perfect for swimming at a constant 75-80 degrees year-round. Because the water is so clear, you will have no trouble seeing marine life like tropical fish, dolphins, and sea turtles. This is truly one of the best beaches in North Florida!
When you visit, we advise avoiding the peak hours of visitation from 10 AM – 3 PM. Arriving early or later in the day is the perfect way to nab a great spot on the beach to soak up the sun!
If you go swimming, you won't find a lifeguard on duty. Keep your eyes out for flags indicating the different swimming conditions. Purple flags indicate stinging marine life have been spotted in the area. Double red flags mean swimming is not permitted due to high currents or rip tides. Don't forget to check out Where To Stay In Destin on your trip with our helpful area guide!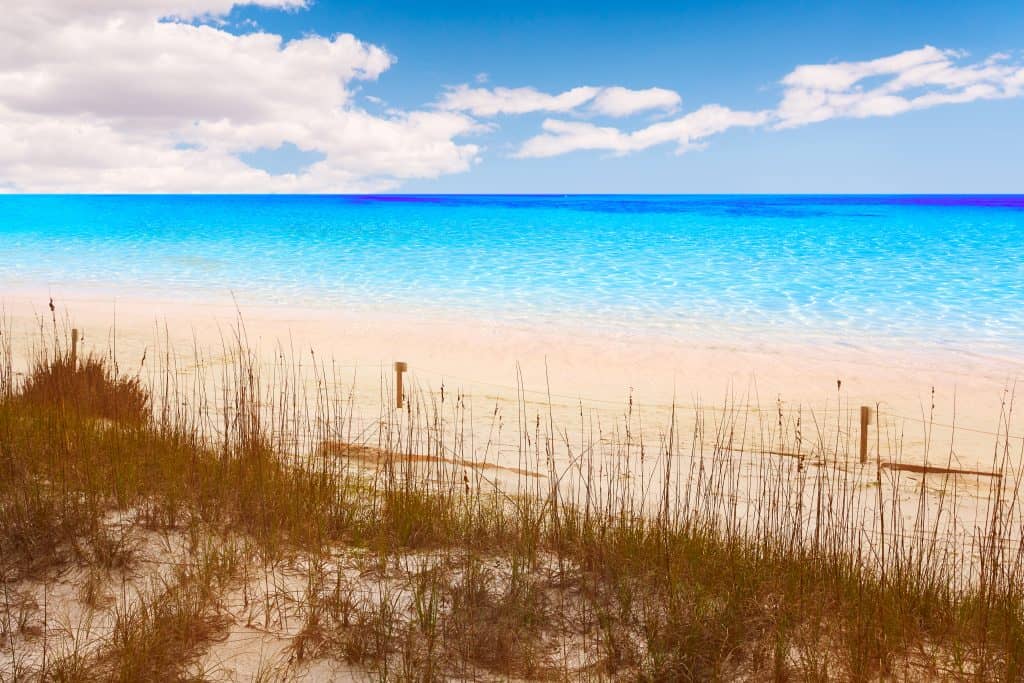 Play a Round at Kelly Plantation Golf Course
If you're looking for one of the best Destin attractions to relieve stress, pay a visit to Kelly Plantation Golf Course. One of the best-rated courses in Florida, Fred Couples and Gene Bates designed Kelly Plantation to overlook the scenic Choctawhatchee Bay.
At Kelly Plantation, you'll golf on its famously large fairways with fast-rolling greens. The course attracts golfers from all over the United States and even the world! Challenging but fun for novice golfers, veterans have to contend with long drives over the 7100 yards. Strategy and accuracy are crucial to beating par.
The fourth hole in particular is famous in itself for its panoramic views of the bay where lucky players can see pods of dolphins swimming in the glittering waters. The largest and most beautiful lakes torment players at holes nine and eighteen.
If you need to practice, hit the spacious hitting range. To work on your short game, try your hand at the TifEagle chipping green. Both mimic the terrain of the actual course with real Bermuda grass.
After you've finished your round on the semi-private eighteen holes, head up to the clubhouse. Cool off and enjoy complimentary refreshments like cookies, chips and salsa, popcorn, and chilled apples!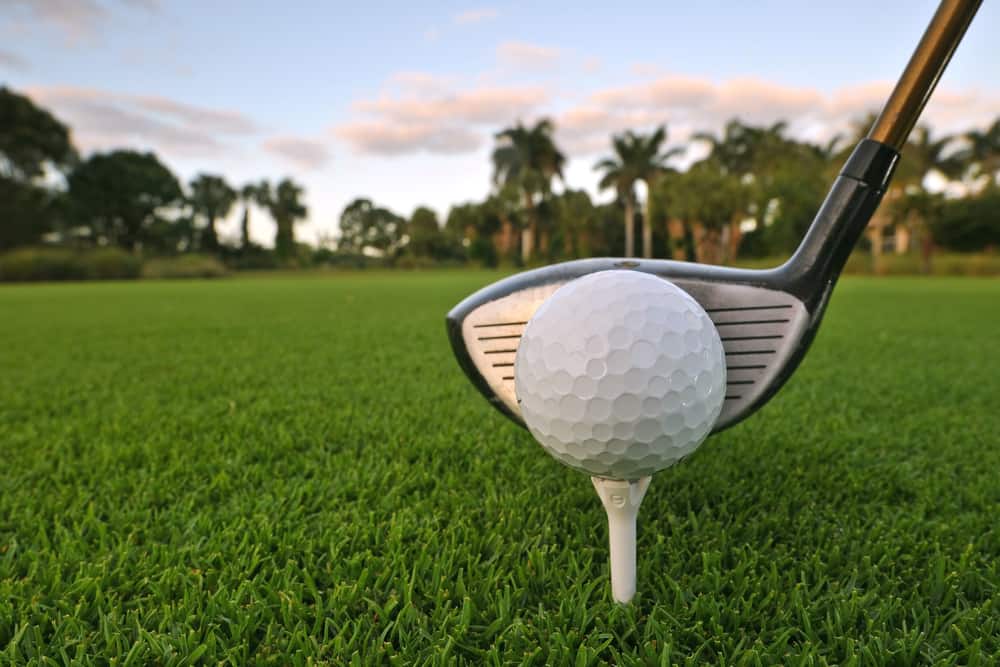 Stroll the Destin Harbor Boardwalk
When visiting, you have to see where the city of Destin all began. In the spot where Destin was founded by fishermen lies the Boardwalk, your gateway to the Harbor. Experience the unique character of the town, all in a quarter of a mile.
A premier family destination, you'll usually find one of the best festivals in Florida in full force on the Boardwalk. From fishing tournaments to parades or fireworks displays to the Destin Seafood Festival, there's never a dull moment here!
Boutiques sell designer shoes and sunglasses. You'll also find jewelry shops and specialty food stores. For dining options, try the Boathouse Oyster Bar or Dewey Destin's. Most restaurants even offer a "Cook Your Catch" option if you're coming in from a day of fishing!
If you bring the kids, make sure to stop at the Harborwalk Mining Company. Children can "mine" for precious stones, arrowheads, and shark's teeth! Then set them loose in an enclosed pool in a huge inflatable ball!
With so many amazing things to do, you cannot miss out on one of the best attractions in Destin!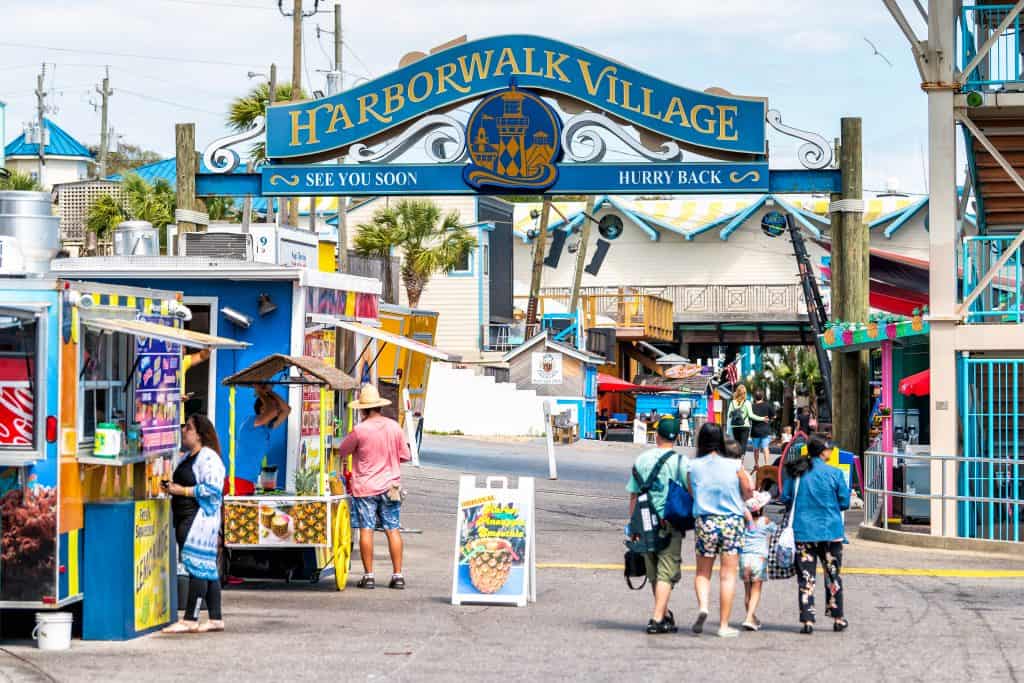 Spot Wildlife at Gator Beach
There are many places to see wild alligators in Florida, but there is no place safer to see them up close and in action than at Gator Beach inside Fudpucker's Beachside Bar & Grill.
Gator Beach is an alligator sanctuary right next to the restaurant that is completely free to the public. Gator Beach rescued hundreds of alligators from breeding farms. Gators live full lives instead of being killed for their meat and leather.
When you visit, walk around and see the gators, and ask the experts all your questions! There are gator feeding shows where you can see their massive jaws in action up close! You can even feed them using a long cane pole. They'll swim right up and take a bite!
Make sure to meet and greet Pearl, the albino alligator. Her skin and eyes are completely white! Albino alligators cannot survive in the wild due to their coloring, so Pearl was rescued. They are so rare, that there are estimated to be less than 50 albino alligators in the entire world.
Gator Beach is open from 11:00 AM – 8:00 PM daily. It is one of the best free things to do in Destin, Florida!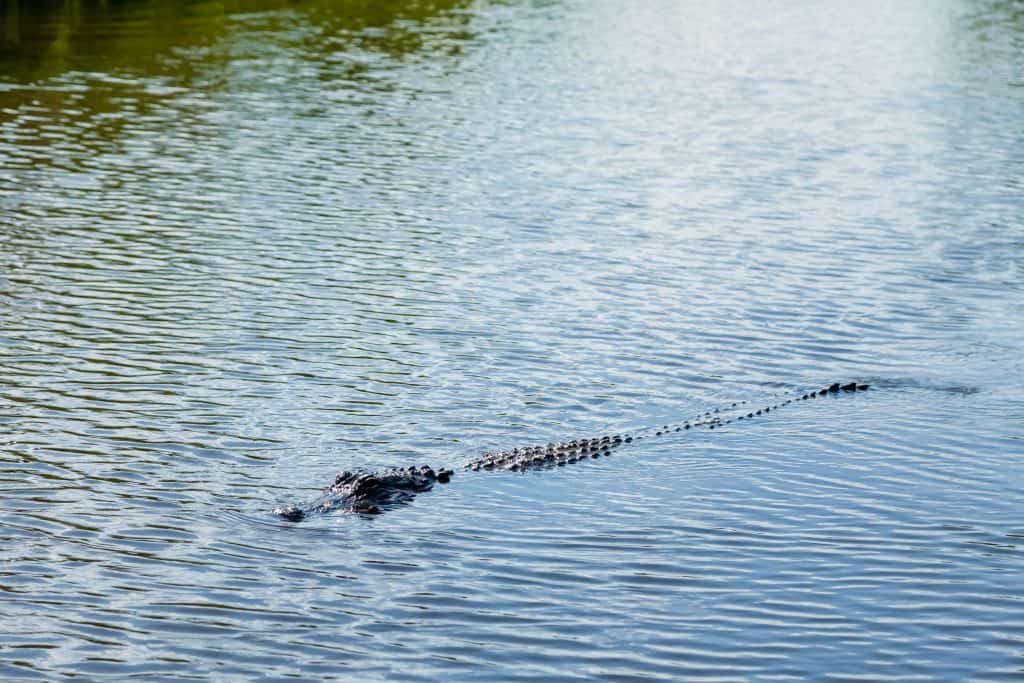 Eat at Uncle Buck's Fishbowl and Grill
One of the most fun things to do in Destin is to pay a visit to Uncle Buck's Fishbowl and Grill. No, you won't be stuck inside an actual fishbowl! But you will be immersed in an aquatic wonderland that will make you feel like you're in the middle of the ocean!
First, in the restaurant area, sit down for some dinner. Choose from soup, salad, sandwiches, and pizza. The main entrees include fish and chips, shrimp alfredo, and many other fresh seafood specialties.
Once you've had your fill, head over to the bowling alley. You heard us right, bowling alley! Twelve lanes are waiting for you with a fun underwater theme. Wooden lanes, or "docks," feature underwater scenery. Bowling balls are designed to look like mermaids and octopi.
There are hand-painted murals and fish hang and twirl from the ceiling. The ball return machines look like dangerous sea creatures like sharks, gators, and dolphins!
Because of this spot's popularity, we recommend arriving early. Tables and lanes are reserved on a first-come, first-serve basis. Waiting times can be as long as three hours, so plan accordingly!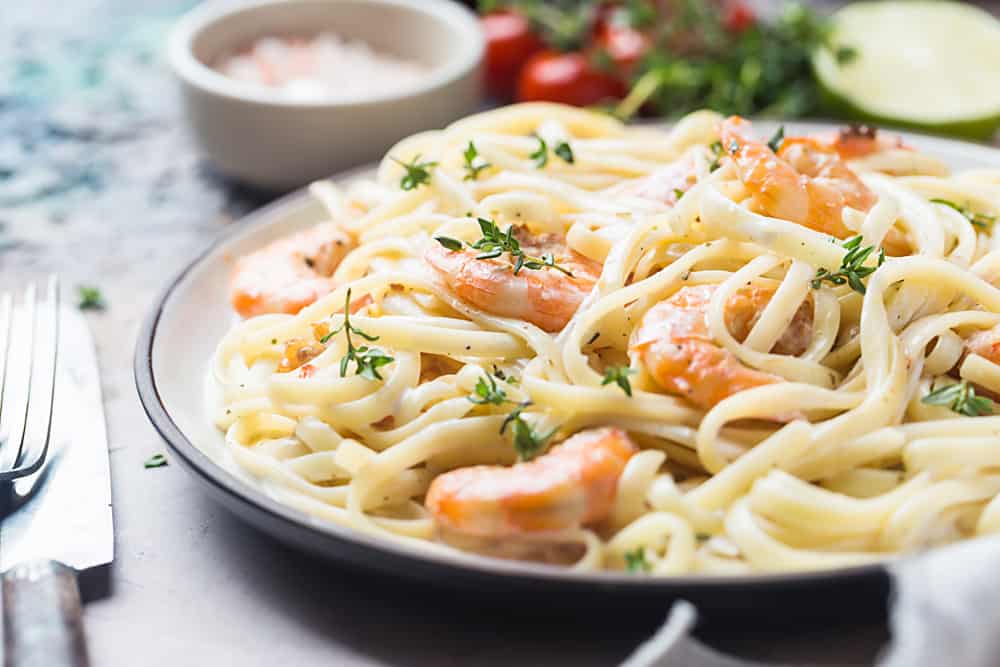 Fish in Choctawhatchee Bay
Because Destin is known as the World's Luckiest Fishing Village, you'll find no better spot in Florida to drop a line and reel in a big one! Also known as the Billfish Capital of the Northern Gulf, fishing at Choctawhatchee Bay is one of the best things to do in Destin.
The beauty of the Bay's green waters isn't restricted to the surface! It seems like Mother Nature spent a little more time in this part of the country. It's no wonder this town was founded by fishermen!
Luckily, Choctawhatchee Bay has miles of coastline and abundant marine life for fishing flats and shallow sandbars. Catch everything from snapper, grouper, tarpon, mackerel, amberjack, and more.
You will need a fishing license from the Florida Fish and Wildlife Conservation Commission before you hit the waters. You can pay $17 for a 3-day fishing license or you can book a fishing charter where you're covered by the captain's license!
After a day at sea, take your catch to a local restaurant. Most kitchens offer a "Cook Your Catch" option where they will scale, clean, and prepare the fish you just caught!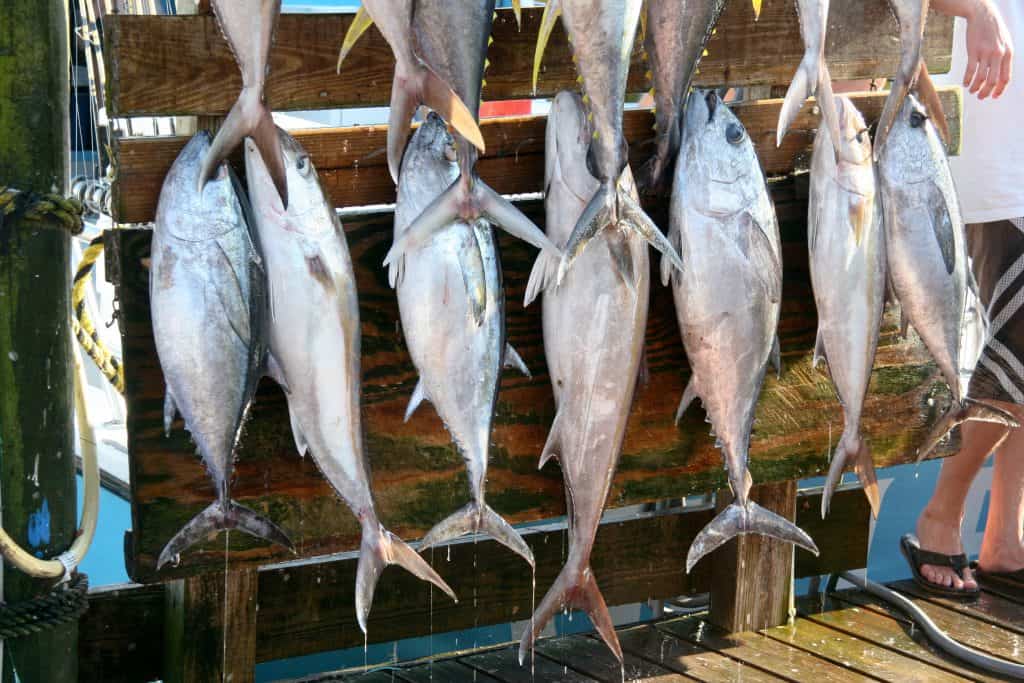 Learn About Conservation at the Emerald Coast Wildlife Refuge
Perhaps one of the most philanthropic of Destin activities is to pay a visit to the Emerald Coast Wildlife Refuge. Thirteen miles north of Destin and once the Sasquatch Zoo, today the refuge dedicates itself to the education, conservation, and rehabilitation of Florida's natural fauna.
Today, the refuge houses 130 animals of 35 species. These animals find sanctuary here from abusive captivity and zoo closings, or a temporary home during rehabilitation before re-release into the wild.
As a non-profit, the refuge supports itself completely through the donations of locals and businesses. Every day, a zookeeper gives an educational lecture at 10:30 AM. The topic of the lecture changes with the keeper on duty for the day.
You can meet a wallaby named Elliot, a white Bengal tiger named Kalua, as well as peacocks, turkeys, sloths, lemurs, and baboons! Zoo treats are available for $1 a bag to feed llamas, goats, and deer!
The Emerald Coast Wildlife Refuge is open from 10 AM – 5 PM on Tuesday through Sunday. Admission is $8 for adults and $5 for children ages 2-10. All proceeds support the Wildlife Refuge.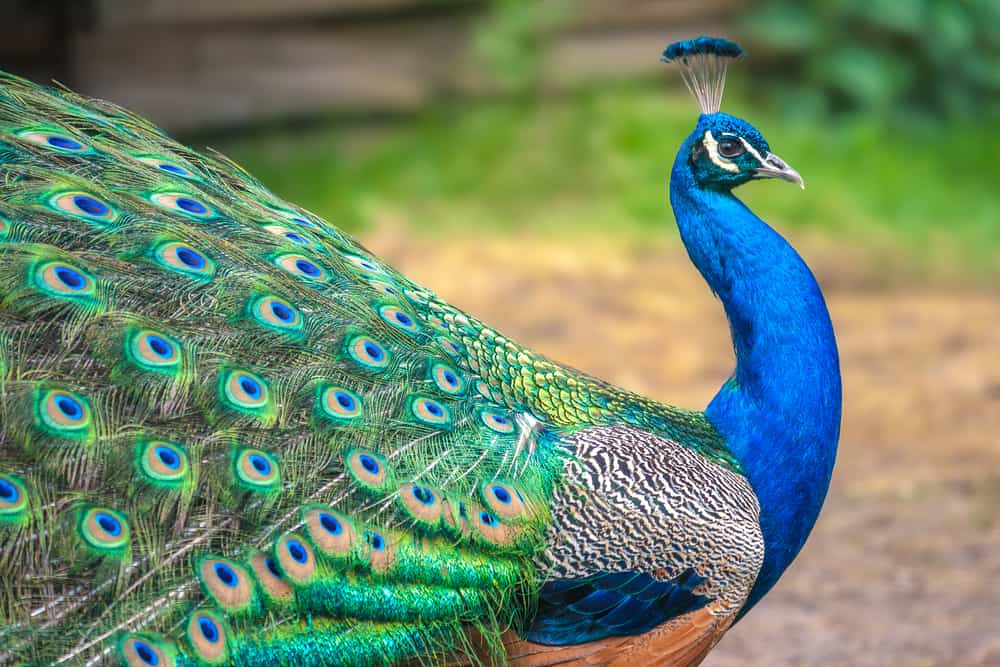 Visit the Air Force Armament Museum
One of the best things to do near Destin to get a taste of history is to pay a visit to the Air Force Armament Museum. This is the only museum in the world dedicated to the collection, preservation, and exhibition of memorabilia and artifacts of the Air Force Armament.
A sobering reminder of the price of freedom, you can see 29 different aircraft on display like the AC-130, F-15, and multiple others from the World War II era to the present. You can also see guns, bombs, and missiles that have been used in combat.
When you enter, catch a 32-minute documentary chronicling Eglin Air Force's role in the development of the armament, shown on a loop. Make sure to catch a sighting of the centerpiece SR-71 Blackbird, the fastest plane in the world.
The Air Force Armament Museum lies on Highway 85 South, 7 miles from Fort Walton Beach. The museum is open from 9:30 AM – 5 PM Central Time daily, closed on all Federal holidays.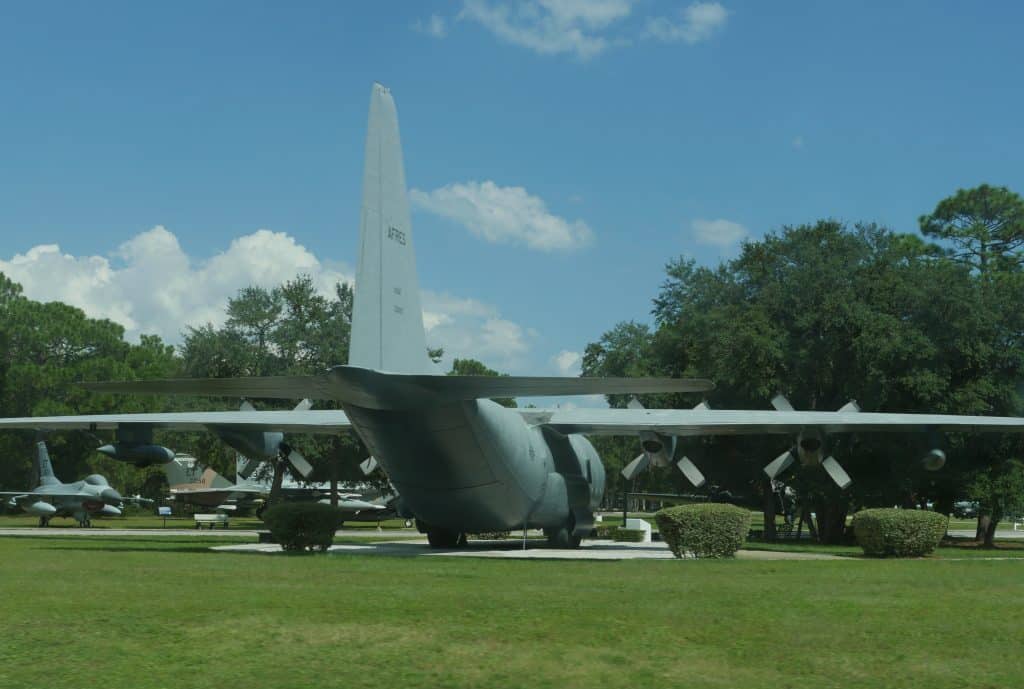 Dine Out At Primrose Restaurant
There are plenty of restaurants to choose from in Destin, but why not take your dining game to the next level by enjoying a meal at Primrose Restaurant?
Enjoy an inspired menu of the emerald coast's freshest seafood, the finest cuts of steak, and creative, healthy fare. At Primrose, you'll get stylish yet comfortable fine dining with a touch of elegance.
The menu constantly changes, especially the Chef's Dock-To-Table menu, utilizing whatever fish is most fresh that day. Guests can see the kitchen hard at work from the dining room. If you're in need of a more intimate affair, private dining rooms are available.
For breakfast, you'll find classic staples with an elegant twist, like avocado toast topped with arugula, a poached egg, and a side of berries. The dinner menu features more elevated cuisine like bucatini with tomato confit and a prime ribeye with a cabernet reduction.
After dinner, you can't miss out on Primrose's inspired cocktails. Our personal favorite is the Almond Joy, mixed with Malibu Rum, Godiva chocolate, Frangelico, and cream! This is certainly one of the best things to do in Destin for adults.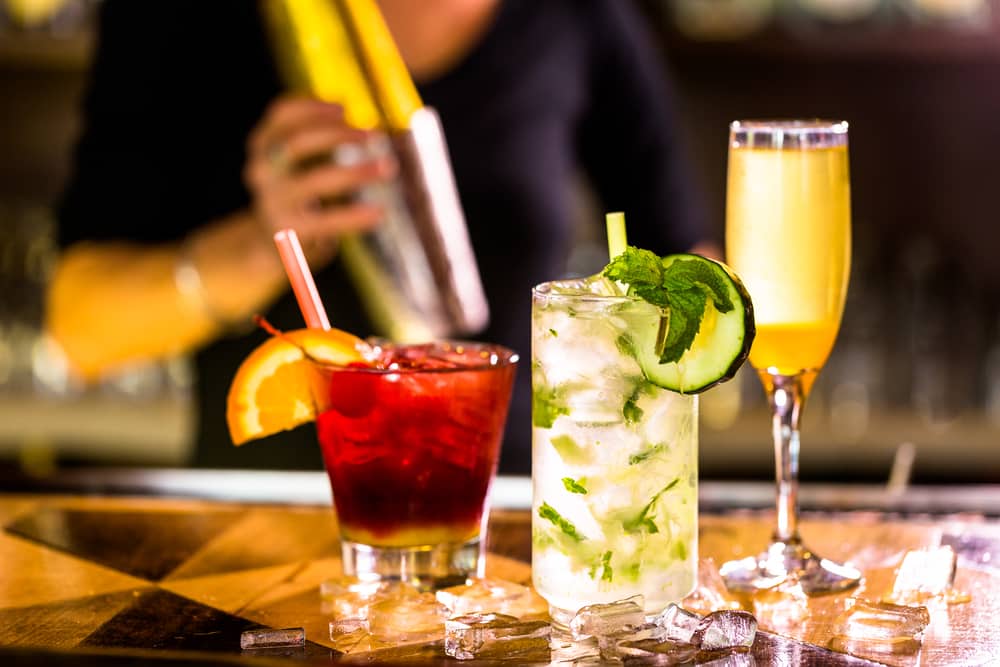 Enjoy Crab Island
We admit the name of this next Destin attraction doesn't sound inviting. But Crab Island isn't actually an island full of crabs! It's actually an expansive sandbar, a popular spot to anchor your boat to enjoy fun in the sun!
On the northern side of the Destin bridge, the shallow waters are protected from surf and waves typically found on beaches. Because the East Pass of Destin Harbor flanks the sandbar, the waters remain calm and easy for even novice swimmers to enjoy.
Along the four acres of the sandbar, you can swim up to floating restaurants and food boats to get refreshments! Keep in mind these eateries are only open from March through October. Snorkel around, play a game of water volleyball, or lie back on a raft and soak up the sun.
One of the best summertime things to do in Destin, you can be your own captain and charter a boat out to Crab Island. You could also kayak there if you want a good workout.
The most affordable way to get to Crab Island comes by way of the Crab Island Shuttle Boat. A 3-hour excursion on a boat with a glass bottom is perfect if you don't want to be responsible for your own boat.
Don't forget to check out some of the best beachfront hotels in Destin for planning your trip!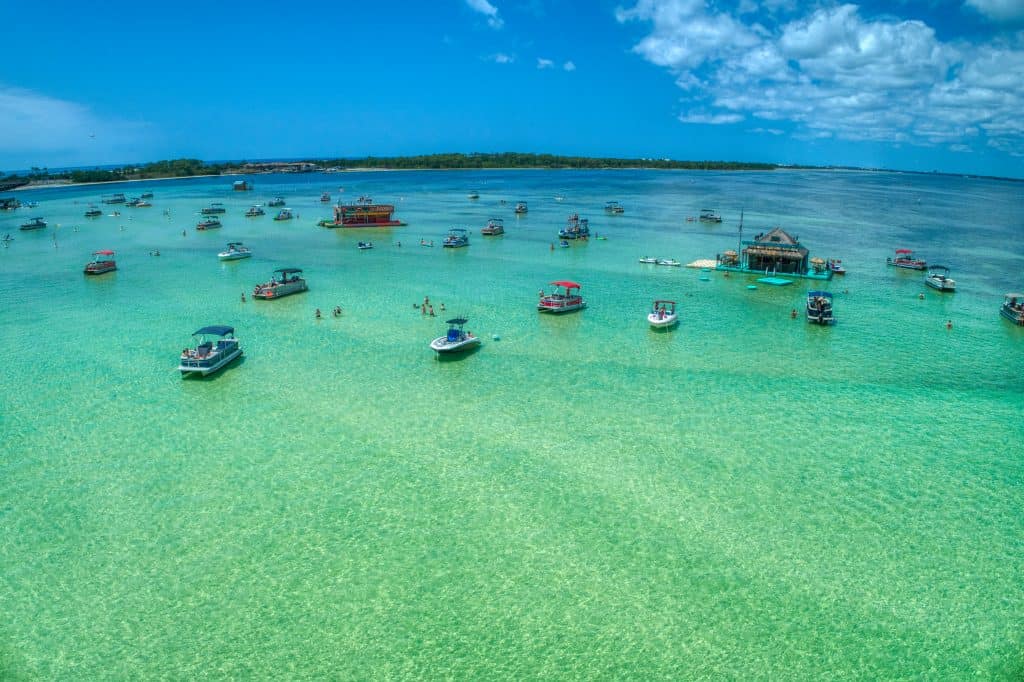 Catch a Dolphin Sighting
With 40,000 dolphins in the Gulf of Mexico, there are plenty of places to run into a dolphin. But because of its crystal-clear waters, you won't find a better place to spy on dolphins than Destin. Because the waters stay warm at 75-80 degrees year-round here, the dolphins don't need to migrate!
You are most likely to see dolphins in Destin in late spring through the end of summer. During this time, females travel to the area for the mating season! Dolphins like to appear at daybreak, so plan your outings from 10 AM – 12 PM or 2 PM to dusk.
Head to Okaloosa Island Pier, which boasts multiple dolphin sightings a day! For $2 you can walk up and down to see dolphins, sea turtles, and other marine life. You can't go wrong with Crystal Beach or Miramar Beach either.
Another option is to book an excursion with Southern Star Dolphin Cruise. Profiled on CNN and National Geographic, their motto is "expect a miracle." You're basically guaranteed a dolphin sighting in the 80-foot glass-bottom boat. You'll cruise from Destin Harbor around the Gulf of Mexico for two luxurious hours.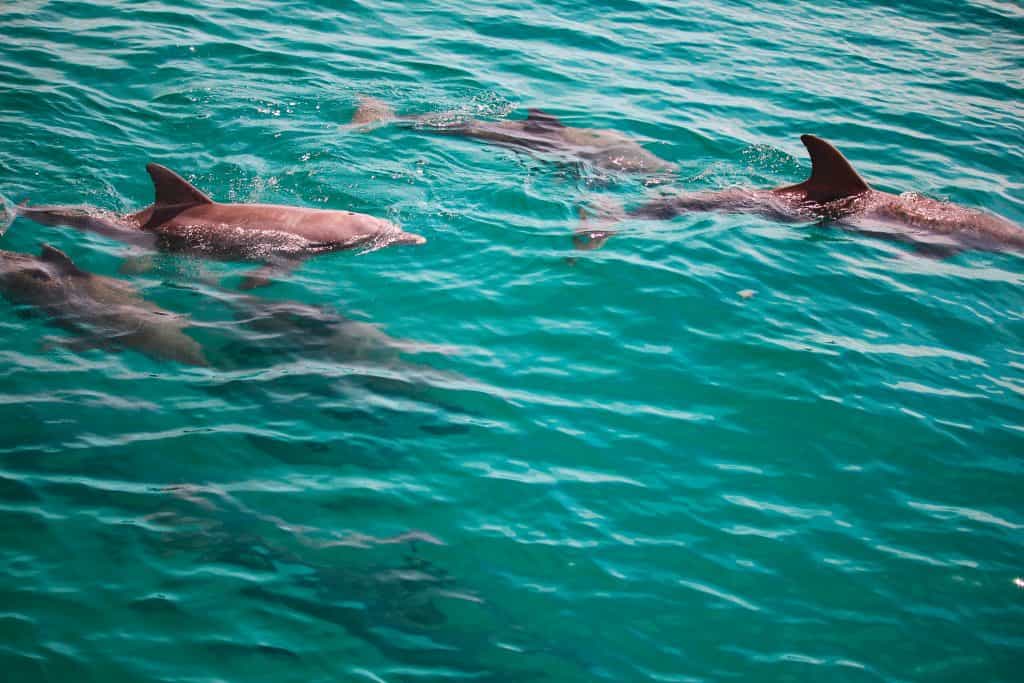 Learn at the Emerald Coast Science Center
For a hands-on day of science and discovery that's fun for the whole family, head on over to the Emerald Coast Science Center, one of the best places to visit in Destin. Dedicated to inspiring the next generation of STEM students, this museum engages visitors in a truly interactive fashion!
Inside, you'll find many exhibits that explore robotics, physics, engineering, and the properties of light, sound, and color. Make sure to go on a Thursday to see an exciting chemistry demonstration at 11:30 AM!
There's also a planetarium that features tours of the stars. Shows are scheduled on the first and third Thursdays of the month. Space is limited, so make sure to purchase your tickets in advance.
After the show, head to the SMALLab. Your entire family can play on what is essentially an iPad the size of an entire room! Motion capture cameras track your movements in a 15×15 space, making learning immersive. Work together to solve puzzles, create stories, and study the world.
Outside, you'll find the Marine Exhibit. Climb aboard a real boat and learn how vessels stay buoyant in the water and how radio communications work on board! Afterward, check out the Dino Dig Pit. Try your hand at paleontology and dig to see what mysteries lie beneath the sand.
Celebrate Mardi Gras at the Boardwalk
In Destin, Mardi Gras is a big deal. If you thought Gasparilla was one of the biggest events in Tampa, Destin will rival that notion. Mardi Gras in Destin celebrates with dazzling floats, colorful costumes, street performers, and live entertainment!
If you head to Lulu's Restaurant, you can attend the Birds of Paradise Ball, just one of the local celebrations. From 7-10 PM, enjoy an expansive buffet, open bar, and live musical guests. Dressing up is not an option and required "island elegant" attire is recommended.
For the kids, check out the Mardi Gras Masquerade at Destin Commons. An authentic Mardi Grass brass street band plays along with musical guests Mr. Big and the Rhythm Sisters. At stations throughout the Commons, kids can create Mardi Gras accessories and masquerade masks.
Once the kids are in bed, head out to the Mardi Gras Pub Crawl! $10 gets you samples at the local bars and your money directly benefits the Alaqua Animal Refuge. Here you'll find the Annual Mardi PAWS Costume Contest for pets! If your furry friend is festive enough, they can take home a prize for first, second, or third place!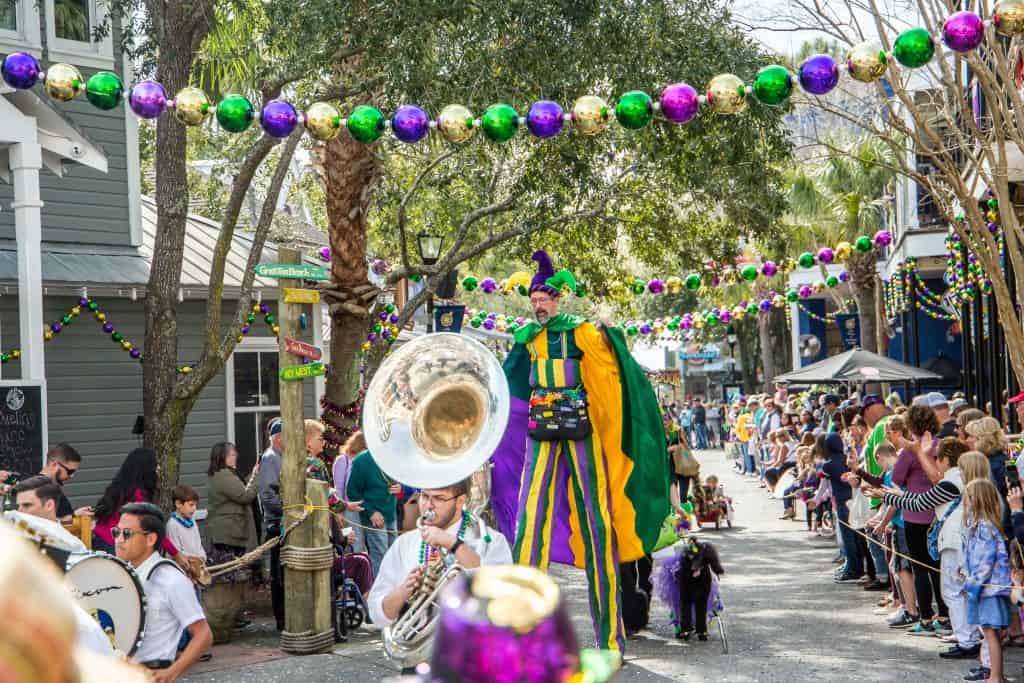 Shop at the Baytowne Wharf Pier
Along the shores of Choctawhatchee Bay, you'll find a small bougie village offering boutiques, restaurants, galleries, and nightlife. This is the community at Baytowne Wharf Pier, and it's one of the best places to go in Destin.
Located within the Gates of Sandestin Golf and Beach Resort, there are constantly outdoor festivals happening and special events scheduled. It's impossible not to have a good time here!
Start with the Wednesday Night Concert Series where local and regional talent is showcased. Artists play a variety of genres of music and it all happens from 7-9 PM on the Events Plaza Stage. Best of all, there is no admission!
Grab some treats at the Candymaker, where things like salt-water taffy and caramel apples are prepared before your eyes. Then head to Throwback Cinema Thursdays. Another free event, old, family-friendly movies are projected over an open-air lawn. Bring your picnic blankets!
Among the shops, you'll find Artful Soap, which produces handcrafted soaps and skincare products, even for dogs! Coconut Kidz is a fun, beach-oriented children's clothing and toy boutique.
Get a taste of the Wharf's nightlife at the Village Door. In the dance hall venue, you'll lose track of time as the DJ or band plays everything from 80s pop to modern hits. Dance the night away as the "Tooter Girls" serve up specialty shots!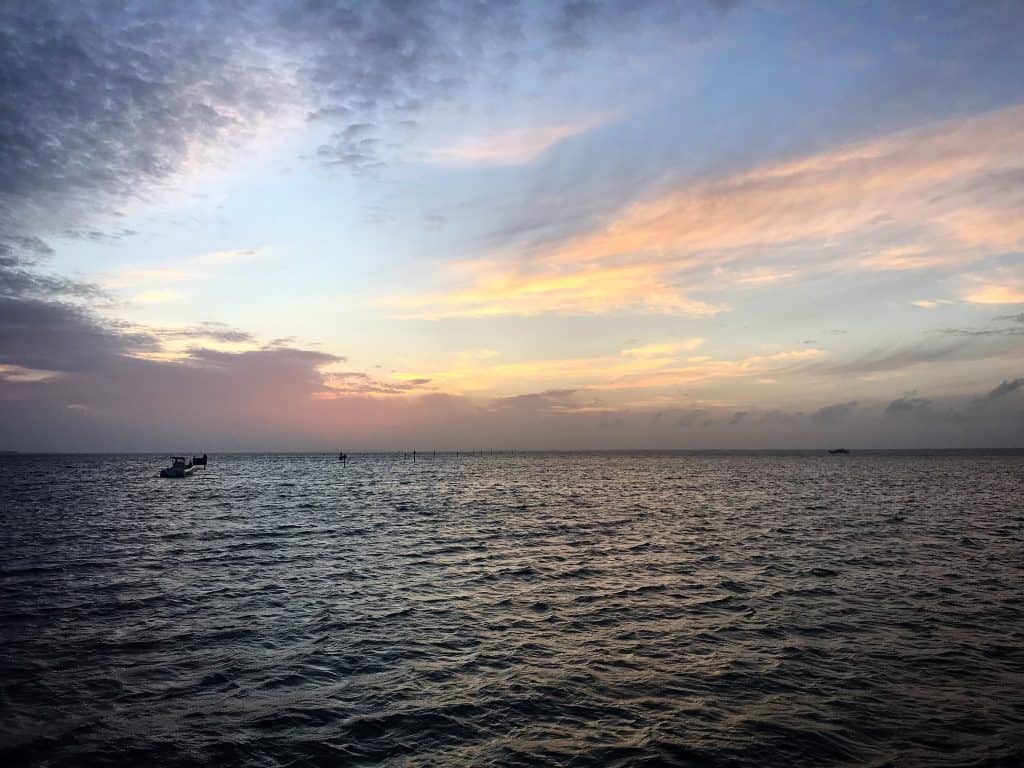 Become a Pirate For a Day
At one point, waters around Florida, the Caribbean, and the Gulf of Mexico were overrun and infested with pirates, scallywags, and plunderers. This bit of history has lived on in the local culture of Destin.
Begin your transformation with your family into a motley crew at Pirate's Alley at the Destin Harbor Boardwalk. You will find food trucks, Margaritaville, Hurricane Bowling, and entrance to the Buccaneer Pirate Cruise!
On the Buccaneer Pirate Cruise, your entire family will search for undiscovered treasure within Destin Harbor. Undergo training to become honorary members of the crew with sword fighting, water gun battles, treasure hunting, and authentic cannon firing.
During the cruise, you'll be encouraged to "unlock the treasure of your heart and let your dreams come true." If you're more content to let your kids do the pirating, the crew provides an area for adults to sip beverages and just enjoy the sunset on board.
Afterward, head to the Baytowne Wharf and say, "Arrgh, matey!" Destin celebrates Talk-Like-A-Pirate Day annually and takes it very seriously. Catch a sighting of Captain Davy. If you ask him nicely about his adventures, he might just pose for a picture with you.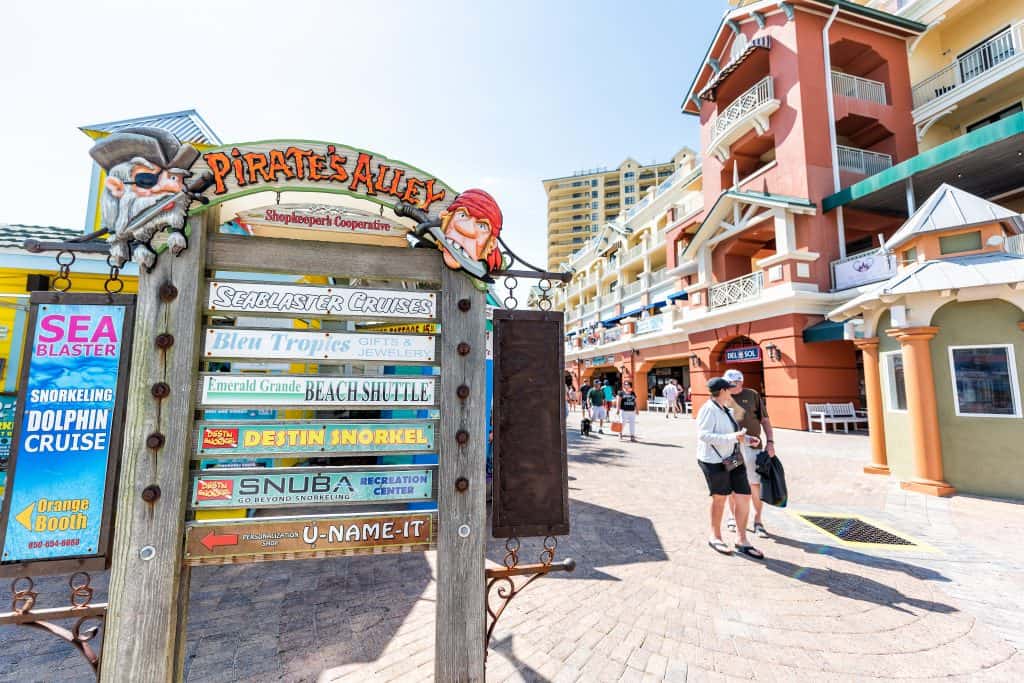 Take Sandcastle Building Lessons
Have you ever sat on the shores of the beach to build a pathetically puny sandcastle, only to have it washed away by the incoming waves? Your days of inferior construction are over when you take a lesson from Beach Sand Sculptures!
Beach Sand Sculptures offers 2-hour classes with professional and award-winning sandcastle builders. They don't just build castles, either. Under the instruction of these pros, you'll learn to sculpt amazing beach sand art.
Learn how different tools are used in a castle's creation. Hand-tampers are used to pack sand together to create high walls or turrets on the top of a tower. Barn and coal shovels are used for carving, and spray bottles are used to retain moisture.
At the end of your lesson, each person will have created a 3.5-foot high masterpiece. These instructors are only here as guides. These are not cookie-cutter creations, so everything you build will come from your own imagination!
Make sure to bring a camera to remember your creation forever. This class will cement these tools and techniques so it's just like riding a bike! You'll be able to show off on your next family beach trip! This is definitely one of the most unique Destin beach activities.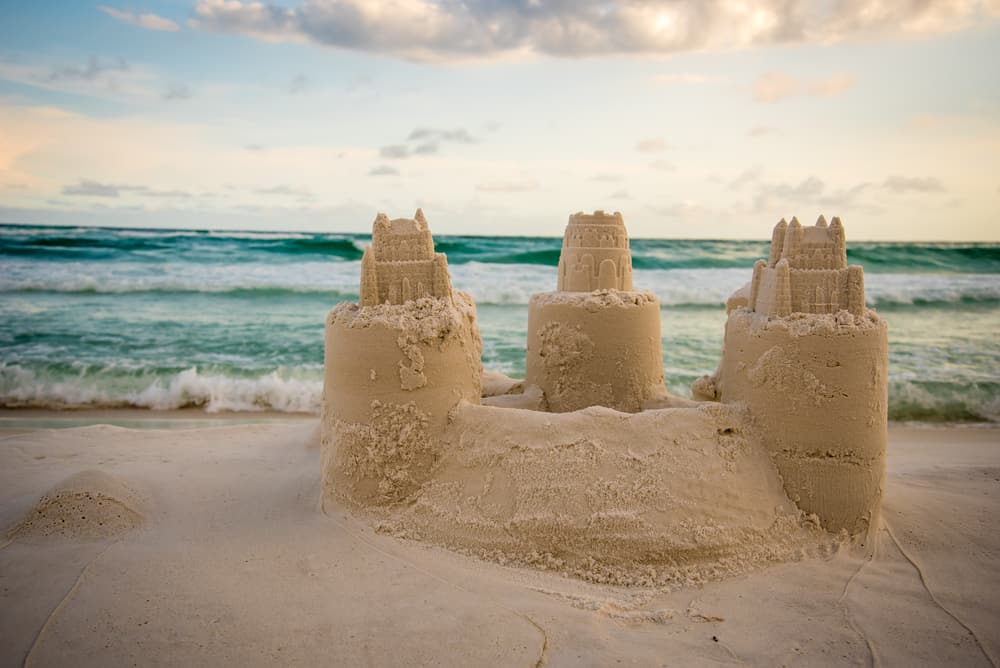 Have Thrills at Big Kahuna's Water Park
Since 1986, Big Kahuna's Water Park has been providing Destin residents with a big way to cool off and enjoy fun in the sun! A trip to Big Kahuna's will whet your appetite for adventure and adrenaline. With 40 different thrill rides, you won't get bored here.
Try the Honolulu half-pipe to surf on a continuous wave produced by 17,000 gallons of water pumping per minute! For some friendly competition, bring your family on the Kowabunga Racer, a four-lane racing slide over five stories tall and the length of a football field.
For kid-friendly options, check out the wave pool, lazy river, Blue Mamba, and Tahiti Twister. Bombs Away Bay is great for general merriment and Pleasure Island is a kid-sized paradise with a waterfall and low-depth pools.
Once you've had your fill of the water, check out the adventure area. The Cyclone Twister will send you screaming as you're strapped into a spinning bucket 140 feet in the air at 50 miles per hour! Tropical mini-golf offers 54 challenging holes on three unique courses.

Visit the Destin History & Fishing Museum
A trip to the Destin History & Fishing Museum is a great way to learn about the area's history and the influence of the fishing industry. The cool exhibits cover the town from when it was founded as a fishing village through to the present day.
The over 75 mounted locally caught fish will fascinate you. There are a ton of historic photographs and fishing equipment that will send you back in time.
You can even see the Primrose seine net boat which dates back to 1925. There is also a fishing rod that belonged to Ernest Hemingway on display here. How cool is that?
Young kids will have fun doing the museum's scavenger hunt or learning the science behind what makes the sand in Destin white.
This museum is also one of the best cheap things to do in Destin. Adult tickets are $5. Kids seven and older cost $3 while kids six and under are free.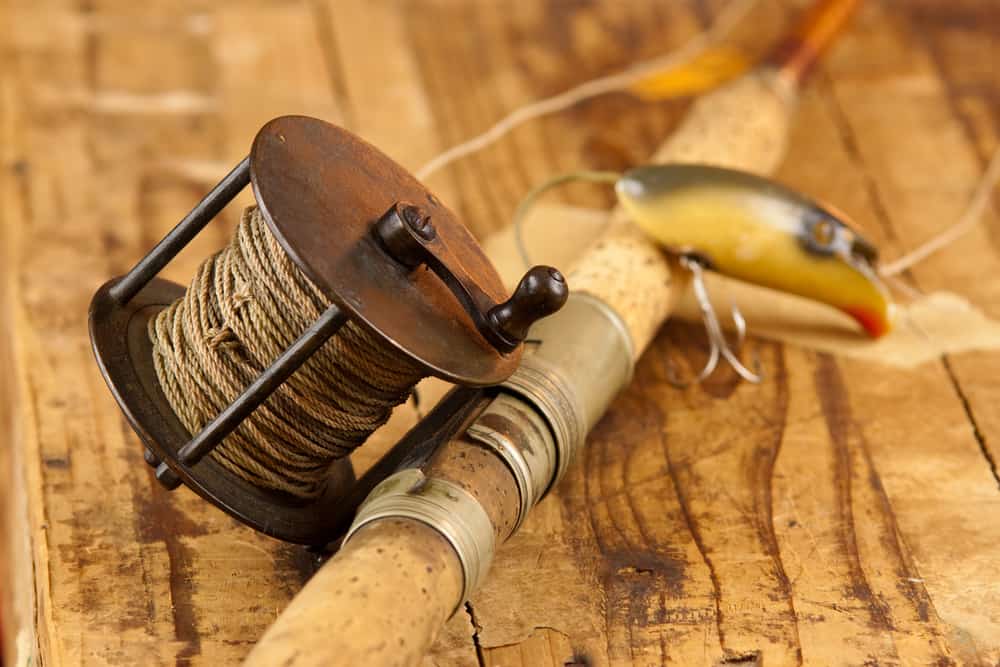 Be Awed at a Maximum Magic Show
If you are looking for one of the best things to do in Destin with kids, then take them to see a Maximum Magic Show at the HarborWalk Theater. Even adults will puzzle over how tricks were achieved.
This humorous and fast-paced show lasts 90 minutes and is great entertainment for all ages. You will be on the edge of your seat as you watch award-winning duo Noah and Heather Wells perform amazing illusions.
With audience participation, you might even get the chance to get on stage yourself! The VIP package includes a magic kit so you can start practicing your own tricks to wow your friends.
The HarborWalk Theater also hosts comedians and other fun shows. Add this place to your list of what to do in Destin, Florida.
Find Peace at the Mattie Kelly Park and Nature Walk
Mattie Kelly Park and Nature Walk is a hidden gem and one of the best free things to do in Destin. You can escape the tourist crowds and immerse yourself in nature.
This peaceful park is made up of wetlands and bayous perfect for fishing and birdwatching. Bald eagles, osprey, woodpeckers, and more bird species can be spotted here.
As you stroll the boardwalks, you can take in the beautiful scenery. The dock is a great place to catch fish, especially at dawn or dusk.
There is a small, hidden beach ideal for couples who want to spend time alone away from the crowds found at the main Destin beach. There is also a picnic area if you want to pack a lunch.
Keep in mind that the park has no public restrooms or trashcans. Make sure you carry out all trash to keep the flora and fauna healthy and happy.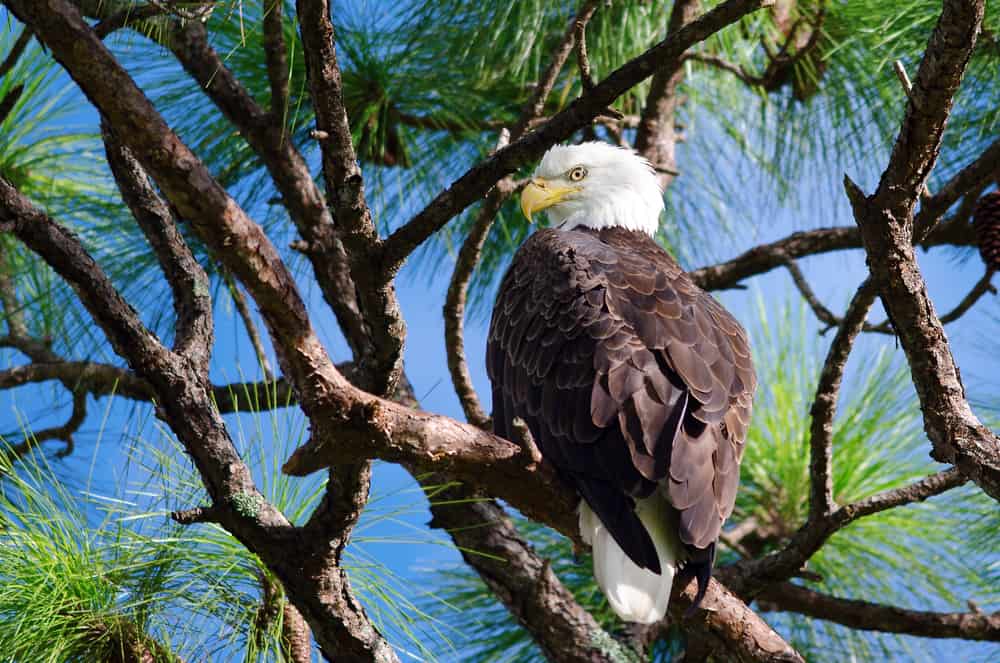 Did You Find This Post Helpful?
If so, we would love to keep in touch! We enjoy seeing photos and comments about your experiences in Florida! You can follow us on Instagram and we will repost your photos on our feed and comment too! Just tag us at @floridatrippers and hashtag #floridatrippers. We can't wait to see your travels!