If you are looking for a list of the best things to do in Celebration, Florida we have you covered!
Celebration is a suburb of Orlando and has a prime location just minutes to Walt Disney World Resort and its Parks! It's filled with amazing architecture, cute homes, and great neighborhoods!
The town is centered around Lake Rianhard, and has tons of walking and biking trails, a farmers market and town square with restaurants and shops as well as museums and golf courses.
Often referred to as Disney's Town of Celebration, is a great spot to stay if you're looking to be within a small distance to all the cool springs in Orlando, wanting to adventure around the city exploring all the free activities, experience some pretty hikes, or even just checking out the best things to do in Orlando, Celebration is an amazing town to explore.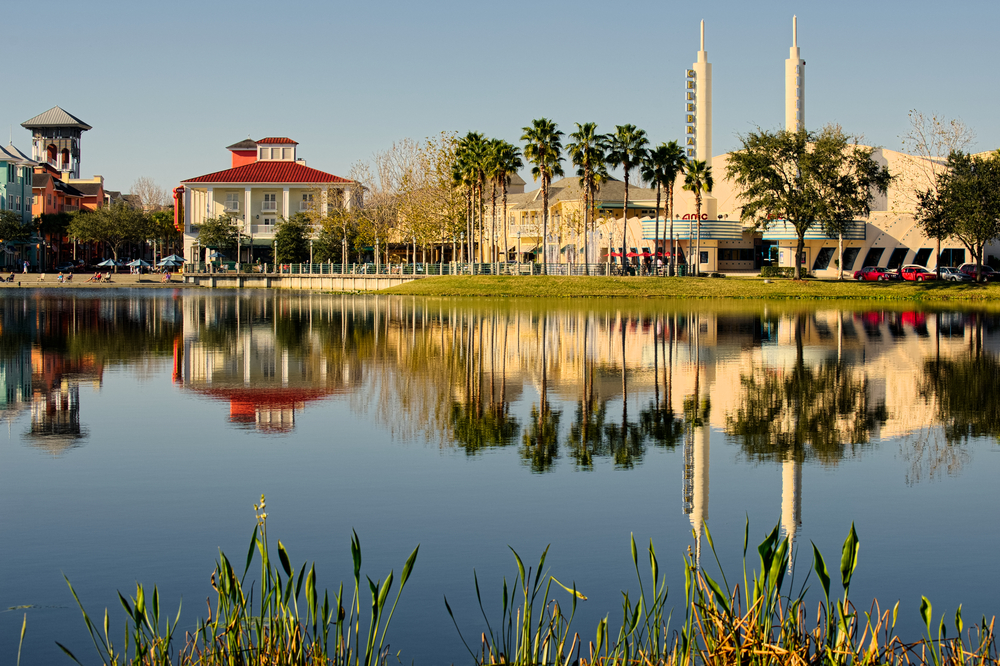 12 Best Things To Do In Celebration FL You Shouldn't Miss
Celebration Lakeside Park
One of the best activities in Celebration Florida is to head to the center of the city – Lake Rianhard. The Lakeside park, offers visitors a look at small town Florida. There are rocking chairs, tables, and umbrellas as well as a wooden boardwalk located around the lake.
This is one of the cool things to do in Celebration if you want to see wildlife. There are fish, alligators, turtles and birds located around the lake.
Enjoy strolling around the lake, or sit in one of the resting areas and just enjoy the outdoors! The mile long boardwalk takes you into the swamp, and offers the opportunity to enjoy the tranquility of this town.

Downtown Celebration
If you are looking for what to do in Celebration, head to Downtown area. From restaurants, shops, and more it is the centerpiece of the city. Downtown area is also the home of where all the yearly festivals and events like Octoberfest, Holiday Celebrations, and Art Walks.
We think the town center is one of the best things to do in Celebration as soon as you get into town. There are galleries, shops, hotels, and restaurants to explore. Or grab dessert at Kilwins or le Macron while you walk along the quaint streets.
From sushi, to Mexican and a diner there are plenty of choice to enjoy while enjoying the downtown area. This town was originally intended for families coming to visit the Disney parks, but it's family friendly design makes it perfect for a visit even if you're not going anywhere near the magic kingdom
Celebration Farmer's Market
For those who are in town on a Sunday, head to the Celebration Farmer's Market. During the winter the market runs from 10 am to 2 pm, and during summer it runs from 9 am to 1 pm.
This is one of the unique things to do in Celebration for individuals, couples and families. Enjoy local produce, food and crafts. You can check the website for a list of vendors that come to the town center.
Why not try some local produce or baked goods, and handmade crafts while you explore the town. If you are staying in town for a few days, why not stock up on groceries here!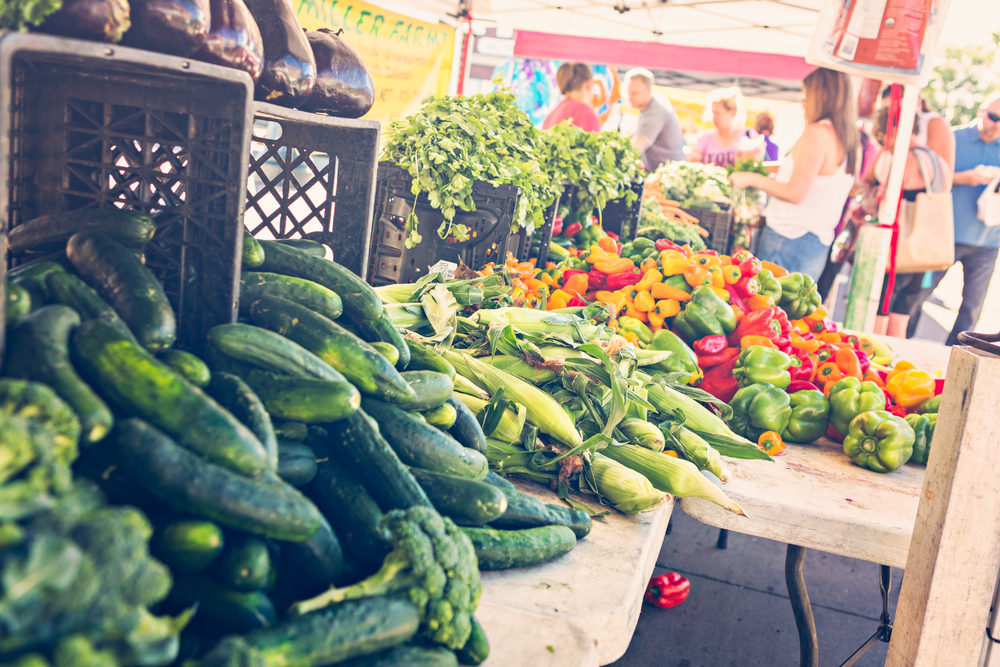 Celebration Bike Tours
Celebration Bike Tours is one of the best Celebration activities. The best park of renting from Celebration bike tours is that you can either rent bikes or go on one of their tours. This is a great way to explore the Walt Disney built town.
There is a 7 mile loop that will take about 2 hours to complete, showcasing all the Celebration has to offer. Follow the map to show you all the best places to bike to throughout the city. Rent single bikes or if looking at things to do in Celebration for couples rent a tandem bike!
For those traveling who would rather not bike, there is a model-T car that can take you around the city.
Celebration Golf Club
Since 1996, one of the best activities in Celebration for golf lovers is Celebration Golf Club. This course holds an important factor for golf enthusiasts as it was the last course designed my Robert Trent Jones Sr.
The lush natural feel of this course draws players from around Florida as it is one of Orlando's premier courses. This course has not only hosted a variety of tournaments, but it is just minutes to Orlando and Kissimmee if looking for things to do in the area.
From beginners through experts this is a fun course that offers a great fun for all levels. There is also the windmill restaurant to enjoy after a round. They are open for lunch, happy hour and dinner.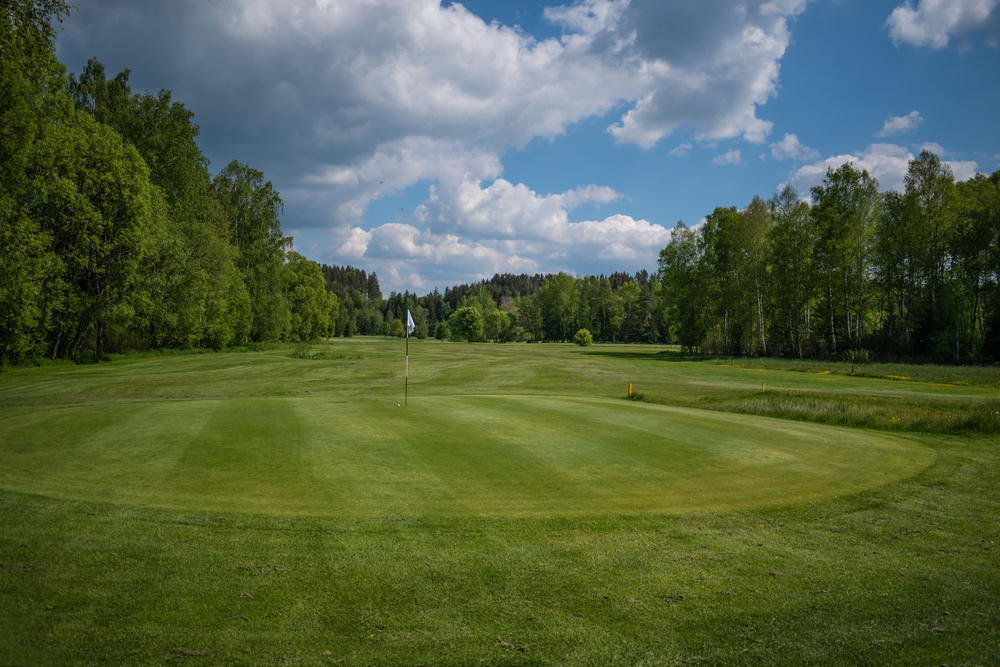 Disney Springs
Disney Springs is one of the things to do near Celebration Fl. Just like the town of Celebration, the downtown area was designed by Walt Disney World.
Whether looking for a daytime or nighttime activity in this area you can find restaurants, shops, nightlife and fun activities. This charming waterfront area offers visitors a wide variety of fun filled experiences and dining. We think is is one of the things to do in Celebration at night as the whole area is light up and is the perfect place to explore.
From listening to live music, nightclubs, to over 30 restaurants that offer something for everyone, to Disney shops and more. Let the children play in the fountain, go bowling, watch a movie or just wander around.
Walking Trails
For those looking at free things to do in Celebration, why not enjoy one of the 4 different scenic walking trails. All 4 are marked on google maps, and you can choose between different paths ranging from 1 to 3 miles.
The first walking trail, is two miles and takes you along the boardwalk at Lake Rianhard and along the waterfront. The second trail is the lake circle and it is the shortest of the trails at one mile.
The 3rd walking trail is a scenic nature walk through the woodlands of Florida and along the rive. The 4th walking trail is the longes at 3 miles. Walk from the center of town along the boardwalk and along millionaires row of waterfront homes.
Regardless of which trial you choose, you will get to experience the great outdoors of Celebration along with different sights around the lake.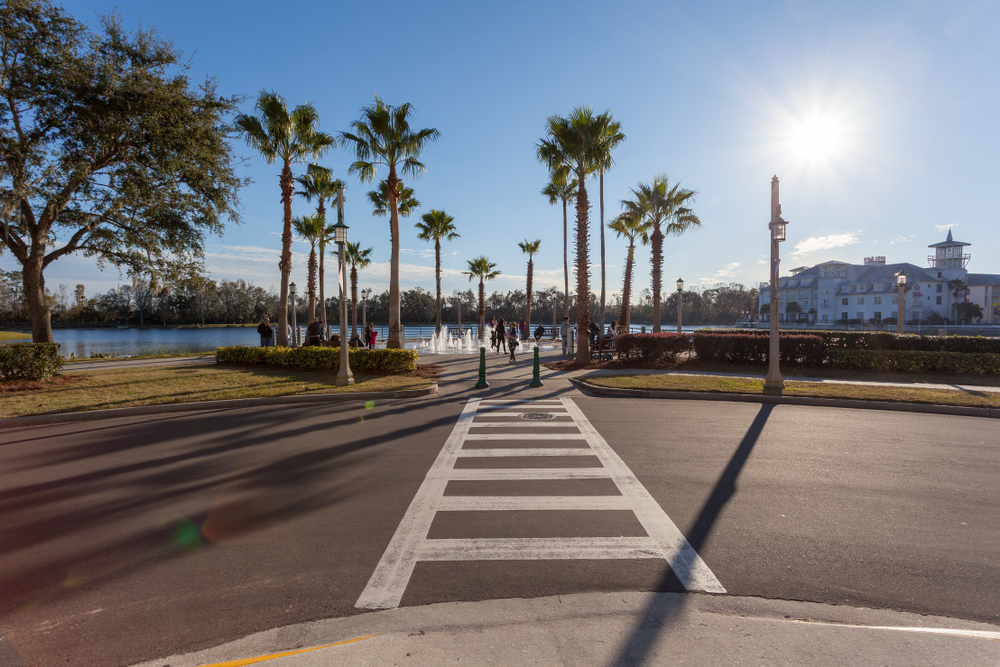 Columbia Restaurant
We couldn't think of a better place to grab a bite to eat than at one of the best restaurants in Florida you must try!
Here you will find award-winning Spanish and Cuban food alongside a fun dining experience. The restaurant serves family recipes that have been passed down from generations before.
If in the mood for a drink, make sure to order a pitcher of Mojitos or Sangria for the table. The 1905 salad, croquettas, and Cuban sandwich are all great starters for the table.
Entree favorites here are the la Completa Cubano feast with roast pork, empanadas, Grouper Jimmy, and stuffed shrimp! Save room for amazing dessert like flan, key lime pie or churros.
Lunch is served daily until 4 pm with many of the same choices, or you can try the chicken and yellow rice or sandwiches like Palomilla steak, Mahi Mahi, Meatloaf, or an original Cuban! We consider this one of the best restaurants in Celebration.
Holiday's Celebration Train
For those visiting the town of Celebration during the Holidays, the train is one of the best things to do in Celebration with kids! The season runs from November 26 though December 31st. If you are looking at the best Christmas towns in Florida to visit, you are in luck.
The event is free ( minus the train ride and horse-drawn carriage rides) but offers fun for the whole family. It "snows" nighty from 6 to 9 pm! Whether you are looking for a romantic carriage ride, or a family fun holiday sleigh and train rides this is a must visit for fun things to do in Celebration!
Whether you visit the annual tree lighting ceremony, a countdown to Christmas or the now snowing events the family is sure to have an amazing time in Celebration during the holiday season.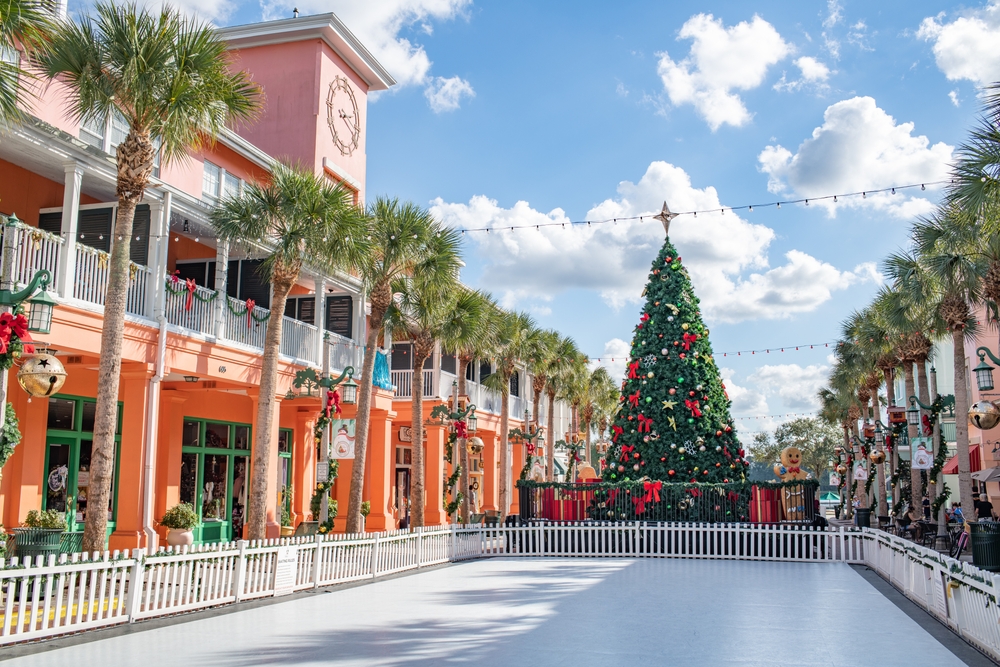 Museum of Military History
The Museum of Military History is one of the must visit attractions in Celebration for any history buff. At this museum the aim is to build awareness and teach how the American Military experience. The museum is open Tuesday through Sunday from 10 am to 6 pm.
Admission is $12 for adults, free for active duty military and free for children under 5. The exhibits showcase the wars throughout American history, as well as personal artifacts and mementos.
From the Revolutionary war muskets, to WWI gas masks and a large WWII exhibit to exhibits that showcase all 5 branches service members. Spend an hour or a few hours exploring the history of the American military history.
Imperium Food and Wine
A visit to Imperium Food and wine is one of the best things to do in Celebration for adults! Located on Market street, they are open daily from 11 am to 10 pm, and offer a Sunday brunch from 10 am to 2 pm.
The restaurants features an amazing wine list, outdoor patio and live music. We think this is the perfect spot for a girls night, or a date night. Sip on an extensive wine list while dining on cheese and charcuterie platters, baked brie bites, truffle fries or a tuna tartare to start.
Entrees include flatbreads such as a steak and cheese, or a fig and prosciutto. Sandwiches and wraps like club sandwich or Ying yang wraps and more.
The brunch menu includes egg and Omlette dishes, avocado toast, biscuits and gravy, stuffed French toast and more.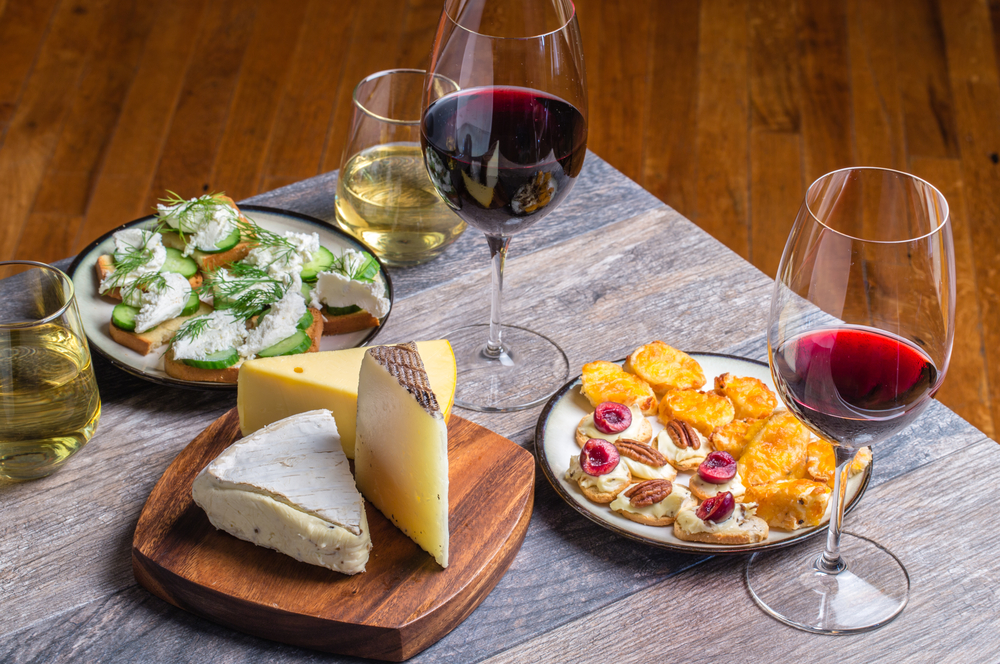 Architecture of Celebration
There are so many places to visit in Celebration that showcase the spectacular architecture of Celebration Florida.The town is considered a master town and was designed by Walt Disney World.
This town was established in 1994, and was planned as a 1930's American city. Designed by Jaquelin T. Robertson, this town is modeled after 1900's early American small towns. Complete with large town squares, fountains and buildings that showcase postmodern architecture.
Go by the post office, town hall and new town hall, Stetson university and the Suntrust Bank all showcase the architecture of Celebration. The Graham Gund hotel brings in Caribbean flavor into the town and is the perfect place to stay if visiting.