Are you looking for beautiful springs near Orlando? Are you wanting to enjoy a relaxing day after running around the theme parks? You have come to the right place!
In this article, we will walk you through the best Florida springs near Orlando, and give you information so you can make the best decision on which to visit.
Planning your trip to Orlando last minute?
Make sure to book ahead! Hotels and tours often sell out the closer you get to your trip. Here are our top picks for Orlando:
Top Experiences And Tours In Orlando:
Best Places To Stay In Orlando:
Most people don't associate Florida with natural springs. However, with more than 700 springs, Florida actually has the largest collection on earth. Eight billion gallons of water flow into Florida's springs each day, forming crystal clear water that stays at a constant 72 degrees Fahrenheit.
This abundance of springs is due to the thick sequence of limestone and dolomite rocks that are easily dissolved by rainwater; this is known as the aquifer.
Did You Find This Post Helpful?
If so, we would love to keep in touch! We enjoy seeing photos and comments about your experiences in Florida! You can follow us on Instagram and we will repost your photos on our feed and comment too! Just tag us at @floridatrippers and hashtag #floridatrippers. We can't wait to see your travels!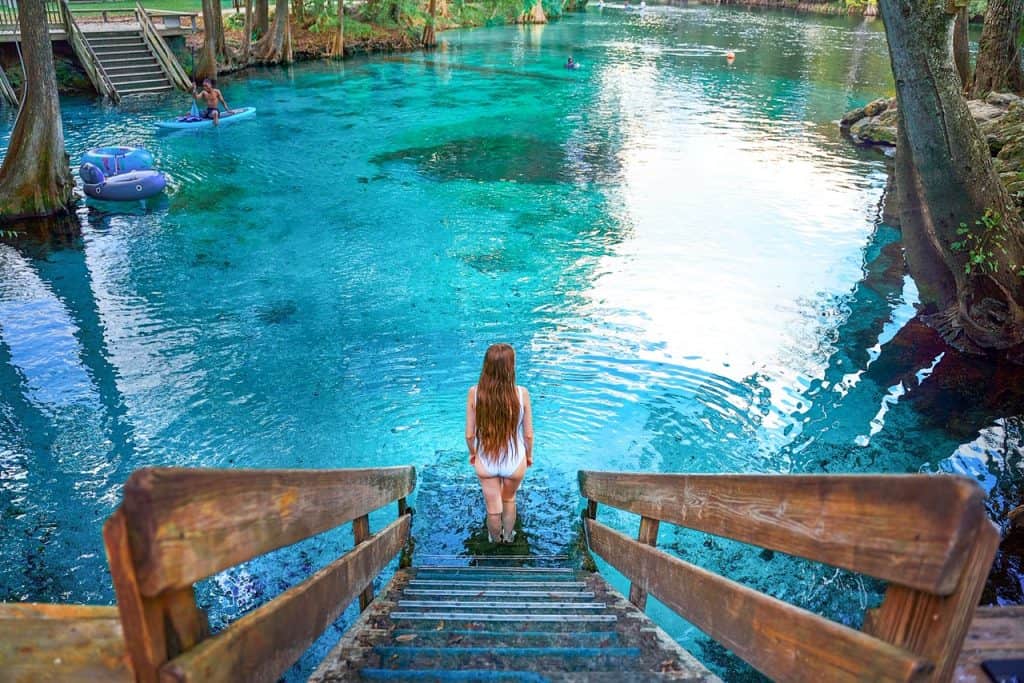 All the springs near Orlando are beautiful. Some offer lots of activities and some just allow you to enjoy the crisp water and the thriving ecosystems that thrive in the springs. Expect to see manatees, turtles, incredible rock formations, unusual aquatic plants, and picture-perfect topography.
Whether you want a family day out, a lazy day of self-care, or are looking for some more adventurous scuba diving, one of these natural Orlando springs will be perfect for you.
Florida springs were the original tourist attraction, way before the pull of the theme parks. Now, these springs near Orlando have much more to offer than they did in the later 18th/early 19th century. You can go diving, snorkeling, swimming, kayaking, and even on glass-bottom boat tours.
Listed below are our picks of the best springs near Orlando. They all have something different to offer and they are a great way to escape the Florida heat. So set your GPS, pack your bathing suit, and prepare to find these hidden gems.
Don't forget to check out some of the Best Places To Stay In Orlando when planning your visit!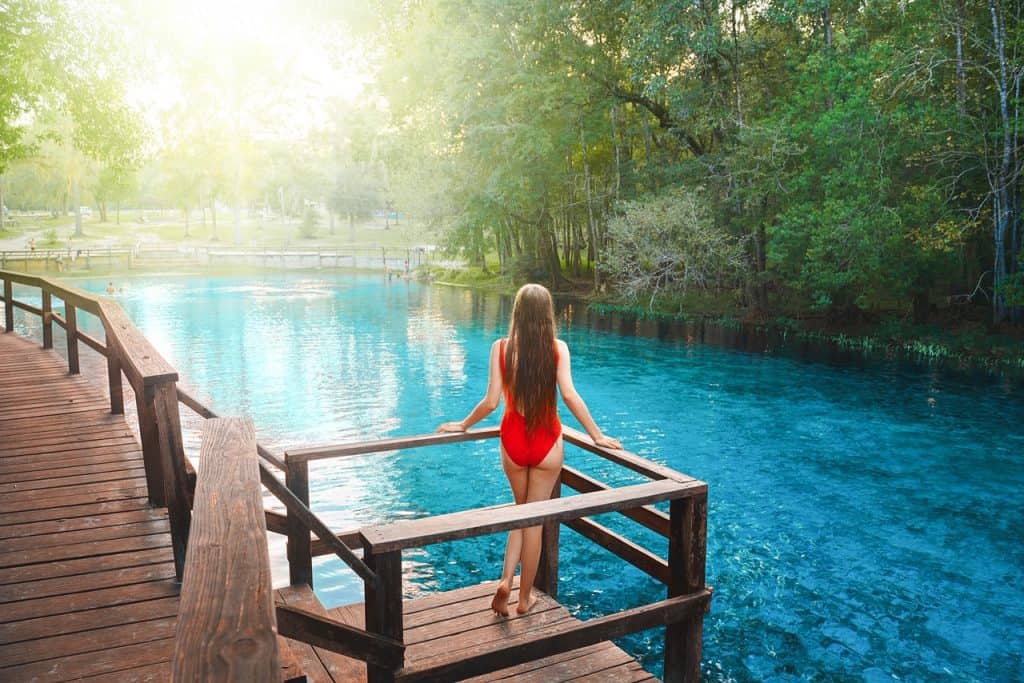 14 Best Natural Springs Near Orlando You Must Visit
Kelly Park/Rock Springs
Just under 40 minutes north of Orlando near Apopka, Kelly Park is a perfect oasis and houses Rock Springs, which has beautiful crystal clear water. This is one of the springs near Orlando you don't want to miss!
You might see either of the names Kelly Park or Rock Springs being used but to be clear, Kelly Park is a nature park that has hiking, camping, swimming, and trails. Rock Springs actually continues 8.5 miles outside of Kelly Park but the headwaters and the lazy river run start in Kelly Park.
It is suggested you get there early as the park is popular and can fill to capacity quite early.
While most of the springs near Orlando top off at a typical 72 degrees, Rock Springs is actually 4 degrees colder, so bear that in mind.
Rock Springs really is one of the best springs near Orlando and might be a way to get a welcome break from your hectic Orlando schedule. This is one of the fun things to do in Orlando with kids!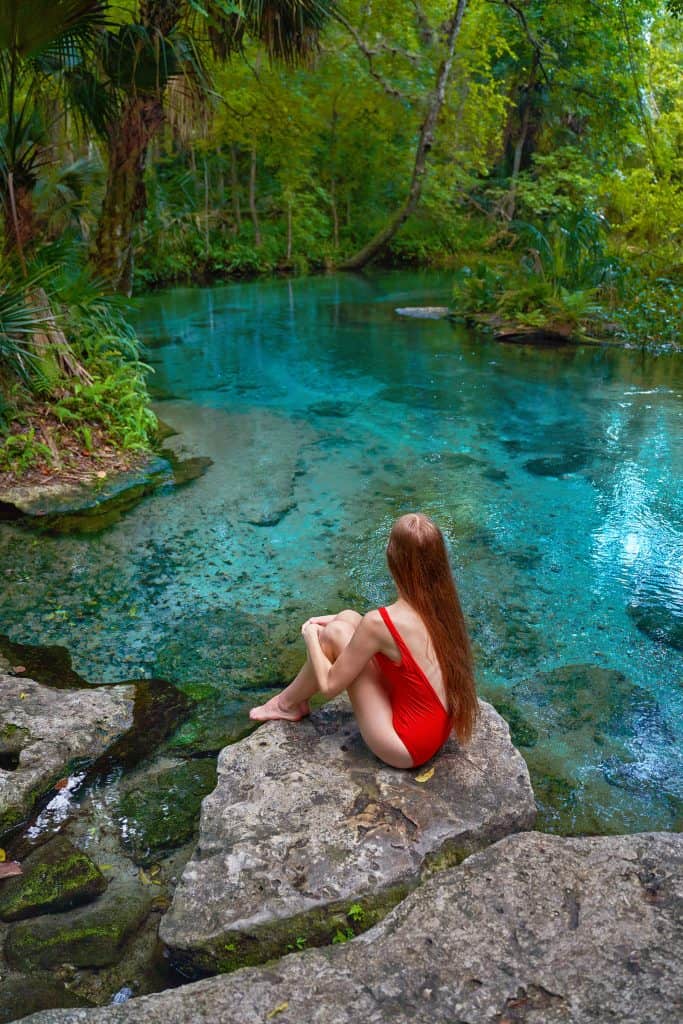 Wekiwa Springs
It's hard to believe that this natural wonder is just 20 minutes outside of downtown Orlando. Wekiwa Springs State Park really is a hidden oasis. With emerald springs, lush tropical hammocks, and miles of trails, this place just begs to be explored.
As Orange County's longest-running tourist attraction with azure spring waters and surrounded by the most incredible purple flowers, it's a beautiful spot.
There is plenty to do here. Swim, snorkel, scuba dive, canoe, kayak, or just laze around and enjoy the wildlife. You will soon agree that this is one of the best places to swim in Orlando!
This is one of the springs in Orlando that you can easily get to and is a quick break for all those sore feet that have been pounding around the theme parks.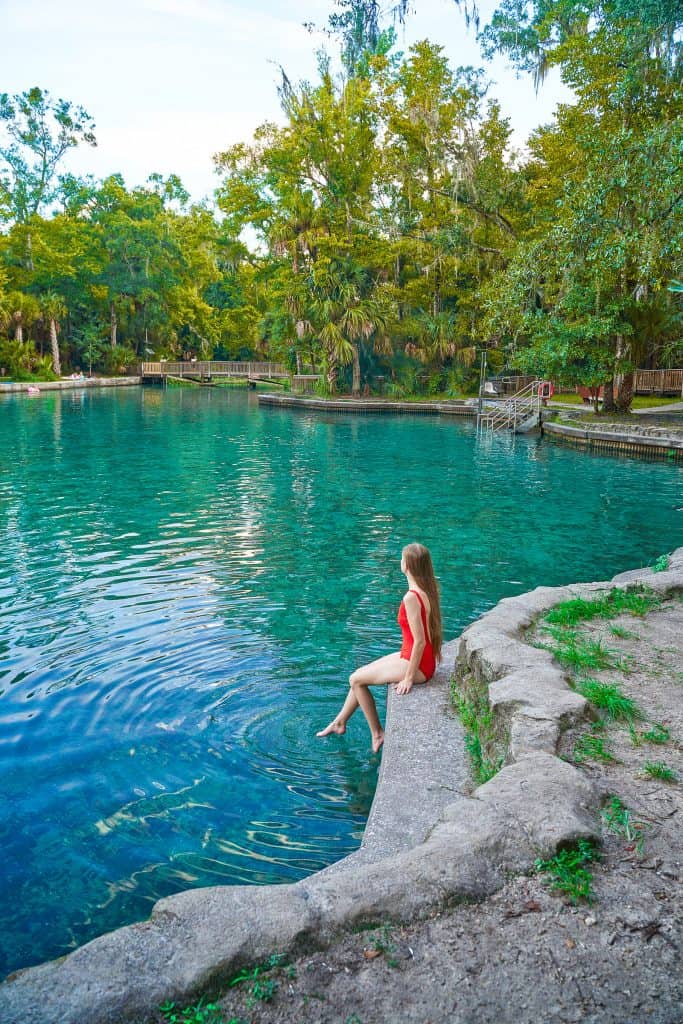 Silver Glen Springs
A bit of a further drive at about one and a half hours from Orlando is the aquamarine waters of Silver Glen Springs. It's perfect for swimming, snorkeling and just lazing around, letting the world pass you by.
The waters are teeming with fish and you may see manatees seeking solace from the colder water of Saint Johns River. The spring is surrounded by pine, oak, and cedar trees, which add to the magical feel.
Silver Glen Springs is a first-magnitude spring, meaning it discharges at least 64.6 million gallons of water per day or 100 cubic feet per second. In other words, it's big!
This is one of the springs near Orlando set in the Ocala National Forest, which is also an archaeological site. Remains of a major freshwater Timucuan Indian settlement are evident in shell mounds along the north side of the main springs. You will be able to spot a variety of fossilized snail shells embedded in the middens along the shores.
Locals claim this spring has the clearest water. It is shallower than most, meaning it is one of the best natural springs near Orlando if you have children.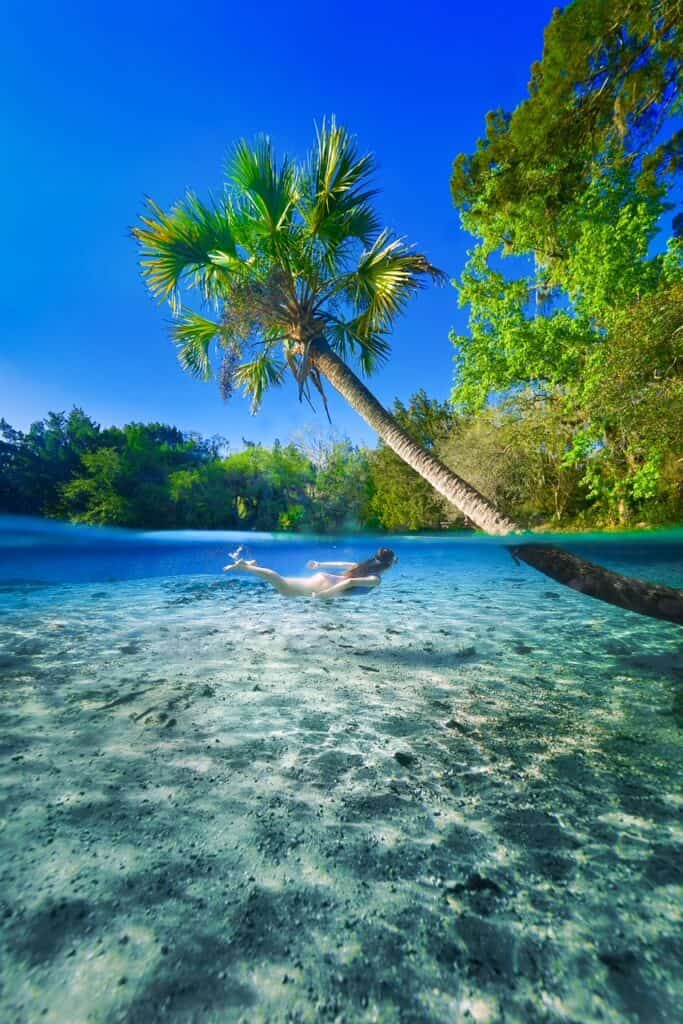 Blue Spring State Park
About an hour from Orlando, Blue Spring State Park is one of the best springs in Orlando to see wild manatees. Conservation efforts in the state park have seen the numbers of manatees grow from 14 to over 480.
You can go canoeing, scuba diving, kayaking, fishing, camping, hiking, wildlife watching, and swimming, so there really is something for everyone here.
Make sure you get there early as this park can get very, very busy, especially in summer. You do not want to miss your chance at exploring one of the best springs in Central Florida.
The spring is surrounded by woodland and is just a short distance away over a boardwalk. This is a really beautiful location to cool down from the Florida heat, or just spend some time watching the world go by.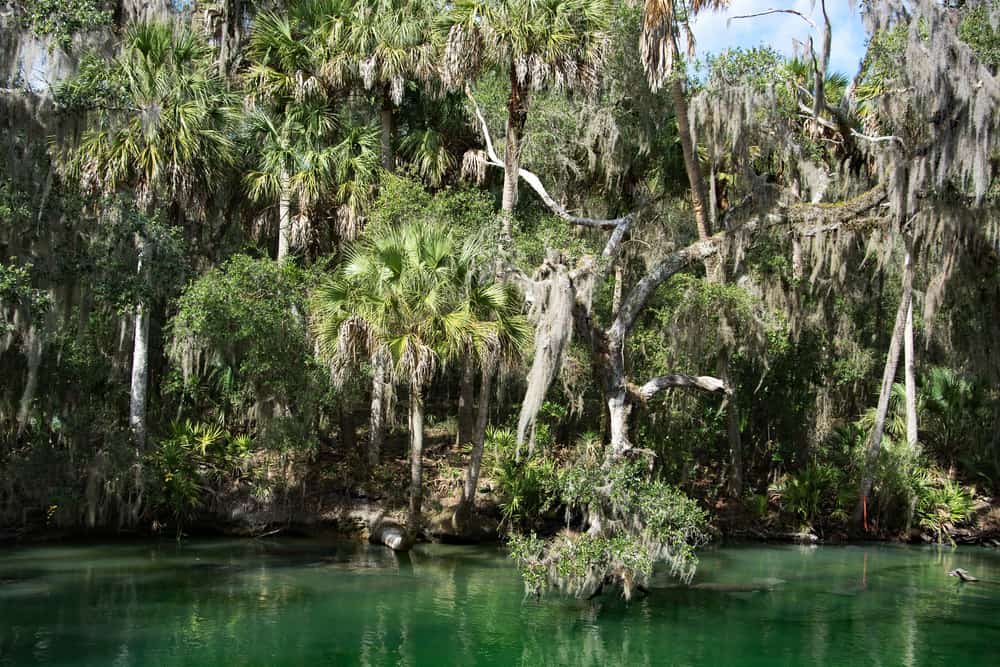 Juniper Springs
About an hour's drive from Orlando in the scenic Ocala National Forest, Juniper Springs is a little slice of paradise.
The seven-mile Juniper Springs run is one of the most scenic kayak routes in Florida. Surrounded by palm and oak trees, when the sun shines through the trees the dappled light makes this place look stunning.
Juniper Springs is perfect for swimming, snorkeling, paddling, bird watching, hiking, and picnicking. There is also a hiking trail that winds through the area, a historical campground, and RV parking and amenities, so you really can spend a lot of time here.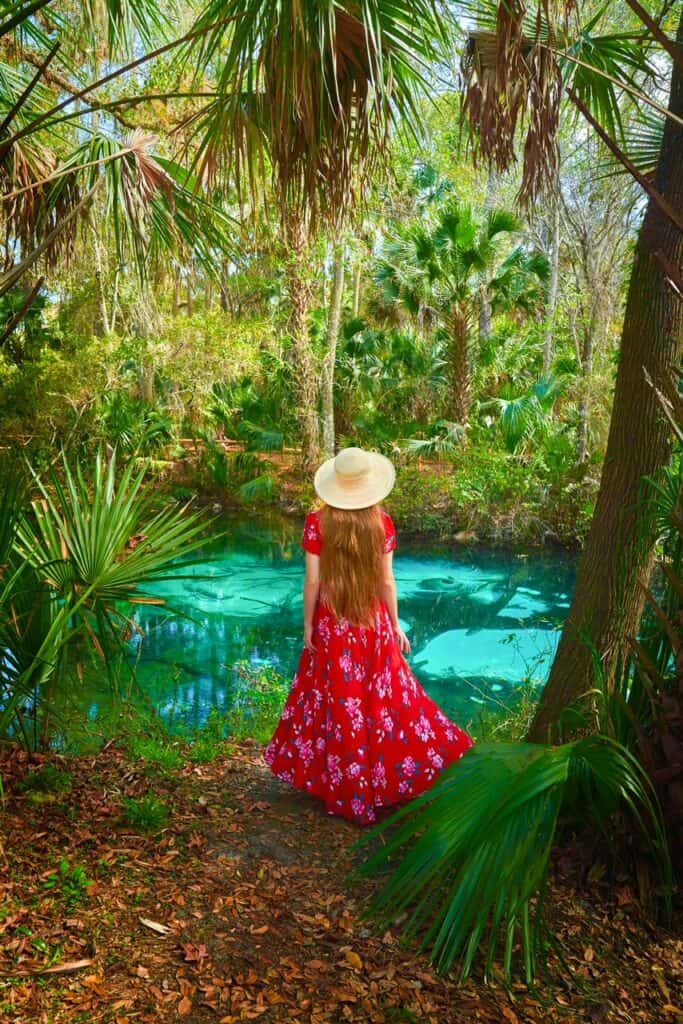 Alexander Springs
Of all the 700 springs in Florida, only 27 are first-magnitude springs, and Alexander Springs is one of them. In fact, it is one of the easiest and most accessible large springs, especially for families.
Activities available include such things as biking, horseback riding, fishing, kayaking, and canoeing. It's a lovely spring to swim in due to the slow gradient that eases into the deeper water, making it popular with families with smaller children.
At just over an hour from Orlando, this is another spring in Ocala National Forest, and it has a real tropical feel.
Once home to indigenous Timucuan people who thrived on the forest and vegetation, the nature trail has signage to educate you on the way.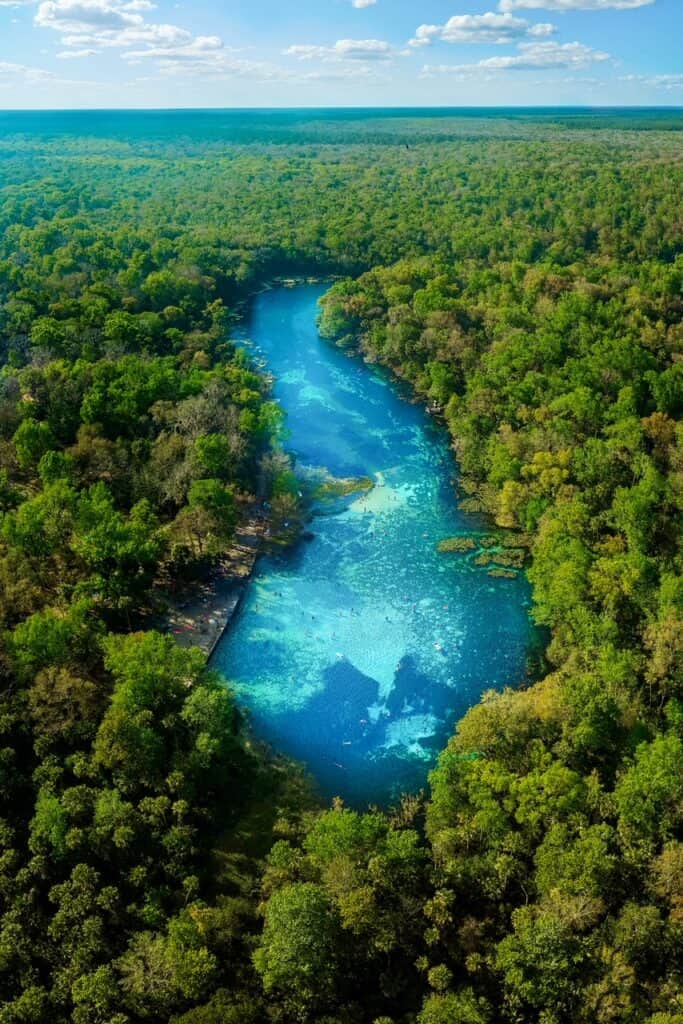 Silver Springs
About an hour and a half away from Orlando and also located in Ocala National Forest, Silver Springs is famous for its glass-bottomed boats.
Silver Springs really is as beautiful as it sounds. The aquamarine waters are surrounded by pine, oak, and cedar trees. Located in the 4,000-acre Silver Springs State Park, there is so much more to do than just marvel at the clear blue water.
Silver Springs is one of the largest and most visited Florida springs and has been since the 1870s. It's also one of the most famous springs, having been featured in Rebel Without a Cause starring James Dean, the James Bond movie Moonraker, Creature from the Black Lagoon, and more movies.
Along with swimming, you can also enjoy the springs by canoeing, kayaking and paddleboarding, snorkeling, and of course the green and white glass-bottomed boats.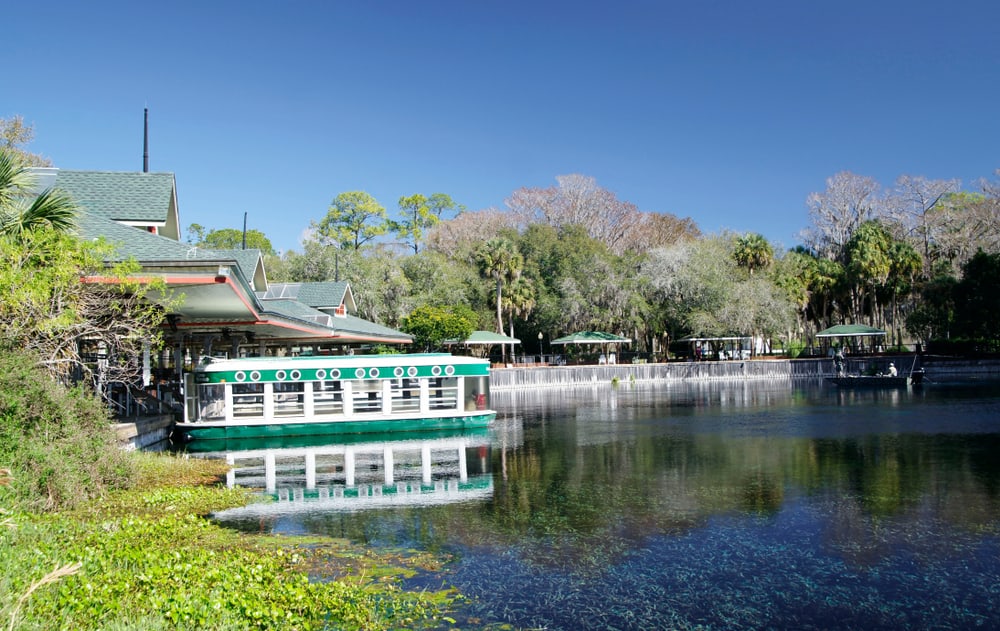 Salt Springs
An hour and a half from Orlando, Salt Springs is another jewel of the Ocala National Forest. Within the recreation area of Salt Springs, a natural spring rises from the cracks within the earth. The presence of potassium, magnesium, and sodium salts gives this spring its name.
Freshwater and saltwater fish, bass, turtles, and blue crabs as well as manatees call this spring home.
There is also plenty to do including swimming in the springs, fishing, snorkeling, hiking, and boating.
Hikers traversing the Spring Boils trail will be able to spy many smaller springs bubbling up and feeding into the streams that empty into Lake George.
Salt Springs has the largest campground in the Ocala National Forest and is the only one with full hook-ups for RVs.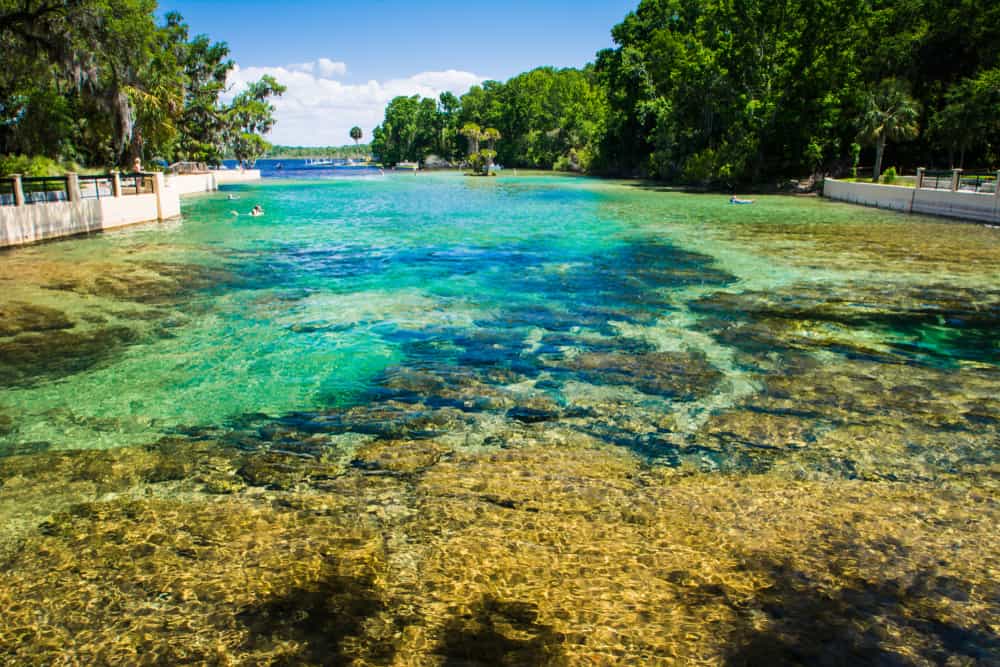 Ginnie Springs
If you are willing to drive a little bit farther, Ginnie Springs is well worth a visit. Just over 2 hours from Orlando, this spring has some of the clearest waters of all the springs.
Ginnie Springs calls itself a 'true slice of pure Florida' and it really is. It is made up of a group of seven springs with a sand/limestone bottom that opens up into deep caves.
This unique underwater cave system makes this spring one of the world's favorite freshwater dive spots. Jacques Cousteau dove here in 1974. It is a great spot for scuba divers, but there is so much more to do from tubing, kayaking, canoeing, swimming, picnicking, and hiking.
Ginnie Springs sits on 250 acres of wooded land, right on the Santa Fe River, and is privately owned. This is easily one of the best springs near Orlando with tubing.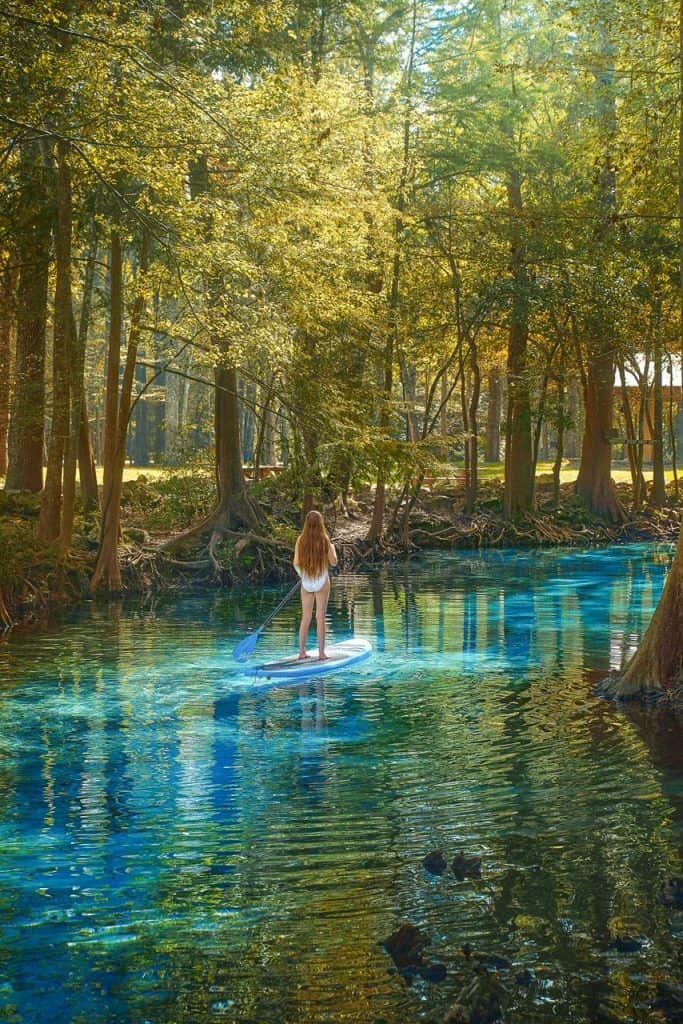 Gilchrist Blue Springs
Another spring a little further out at just over 2 hours from Orlando is Gilchrist Blue. It sits in Florida's newest state park, Gilchrist Blue Springs State Park.
The park contains a selection of springs, Gilchrist Blue being the biggest, a large second-magnitude spring that produces an average of 44 million gallons of water per day.
The 35 ft deep spring is surrounded by a small swimming area, edged on one side by a beach and on the other a large raised diving platform.
There is a lot to do here from paddling, snorkeling, swimming, camping, picnicking, and hiking. The crystal clear water is home to turtles, fish, largemouth bass, bluegill, and channel catfish.
If you are thinking of visiting, set off early so you arrive when it opens, as capacity is limited.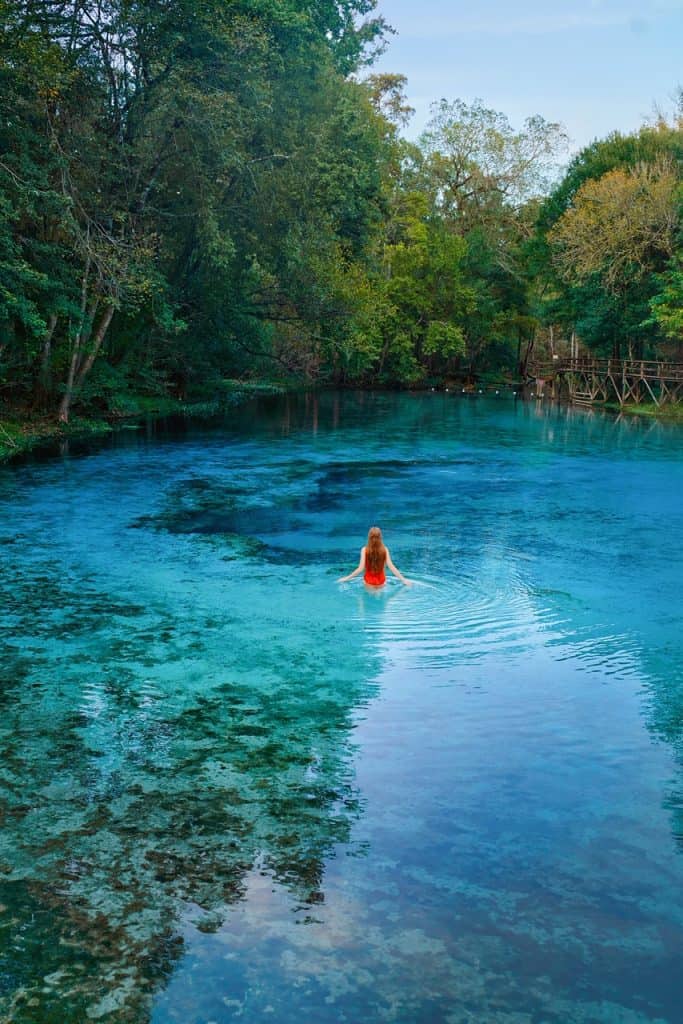 Rainbow Springs
Who doesn't want to go to a place called Rainbow Springs? It's a name that conjures up all kinds of beautiful images and this spring lives up to its name. When the sun hits the water just right you will see rainbows in the water.
At one and a half hours from Orlando, this spring is really worth a visit. Historically, native Floridians regularly visited these sapphire waters, believing they had healing powers.
This is a first-magnitude spring and the headspring is a gigantic swimming area with a sandy and limestone bottom.
Rainbow Springs State Park offers lots of other things to do and has some of the best hiking trails in Florida, featuring man-made waterfalls and natural gardens.
There is a lot to do here from bird watching, canoeing, hiking, snorkeling, and tubing, or just laze the day away watching wildlife.
This is one of the springs in Orlando where we suggest you pack your hiking boots and swimming suit. You will fall in love with one of the most gorgeous rivers in Orlando.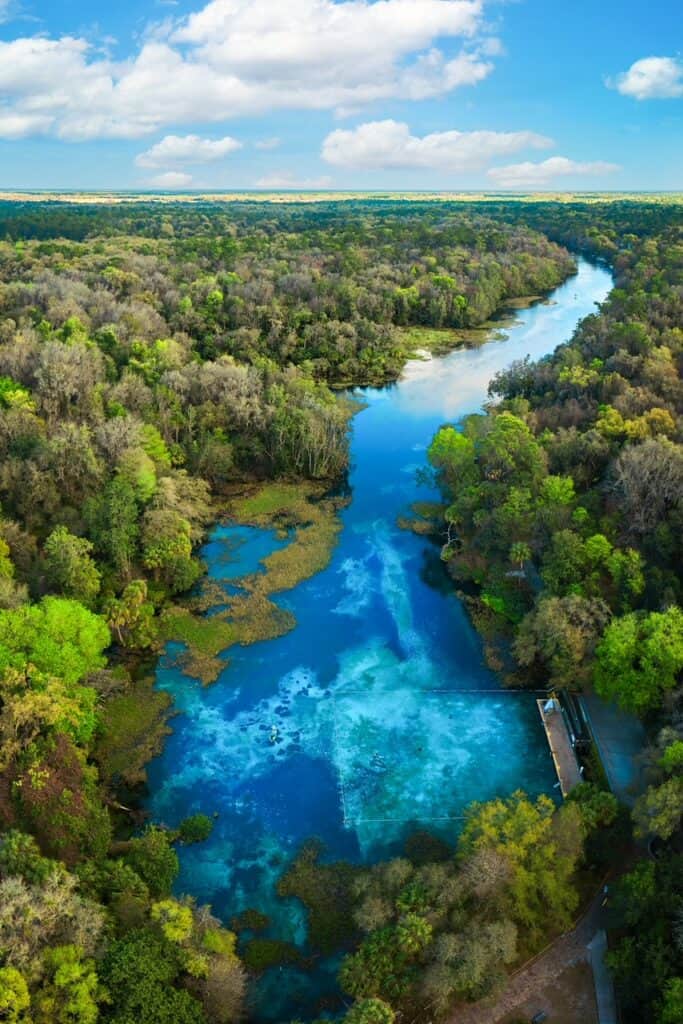 Devil's Den
This is the furthest on this list away from Orlando at about 2 hours and 24 minutes. However, this spring is so different and if you love snorkeling or scuba diving it is well worth a visit.
It is the most prehistoric and perhaps the most mysterious spring in Florida. Devil's Den is actually underground.
You can't just swim in this spring; you need a mask, snorkel, and fins to swim in Devil's Den. Either bring your own or rent them for an additional cost.
Devil's Dens is used a lot for training scuba divers due to its unusual upside-down mushroom shape and interesting geology.
To enter the spring you walk down a wooden staircase onto a platform and enter from there.
You are probably thinking is it dangerous due to its dark name but no, it isn't. The name was given by early settlers, as on cold winter mornings you can see steam-like smoke rising from the chimney opening, hence Devil's Den.
If you love snorkeling and scuba diving this is one of the springs in Orlando you really need to visit.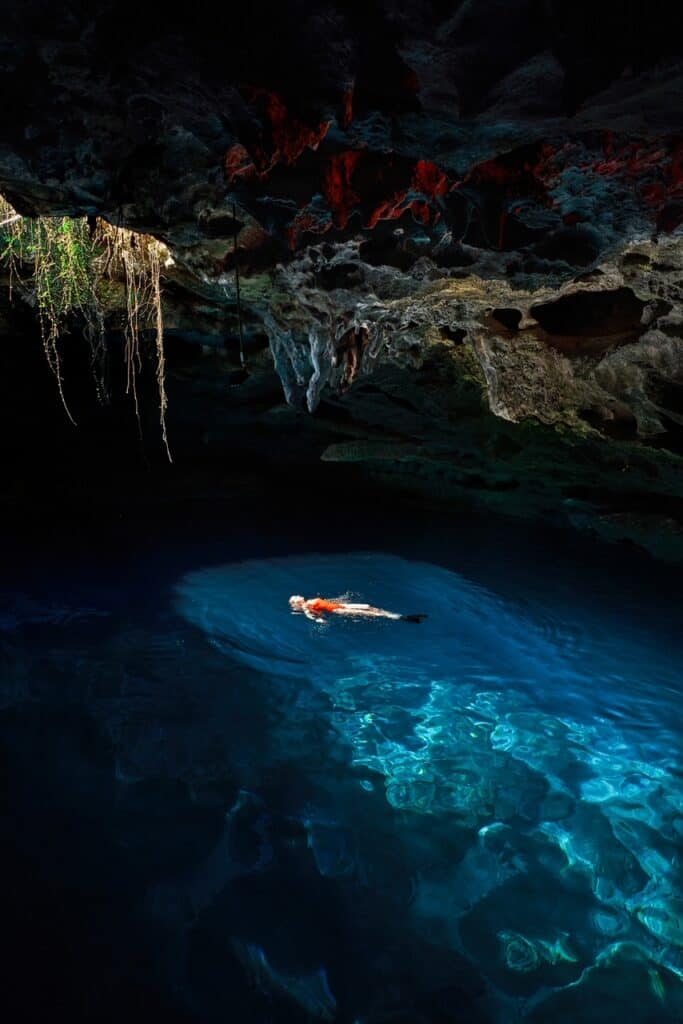 Emerald Cut
King's Landing is just a few minutes from Kelly Park and is where the Emerald Cut begins. This is a gorgeous kayak run perfect for a day out in a slice of tropical paradise.
The paddling route is three miles, a great length for beginners and families. The first half is against the current while the return trip lets you sit back and relax. Make sure to check out our Tips For Kayaking Emerald Cut At Kings Landing.
As this pretty waterway is a designated Wild and Scenic River in Florida, you will be amazed by the nature here. Among the ton of plants, you may spot alligators, otters, turtles, and birds.
The Emerald Cut is an easy 30-minute drive from the city, making it one of the closest springs to Orlando. It is great for a day trip. Take time from your theme park vacation to see some of Florida's authentic nature.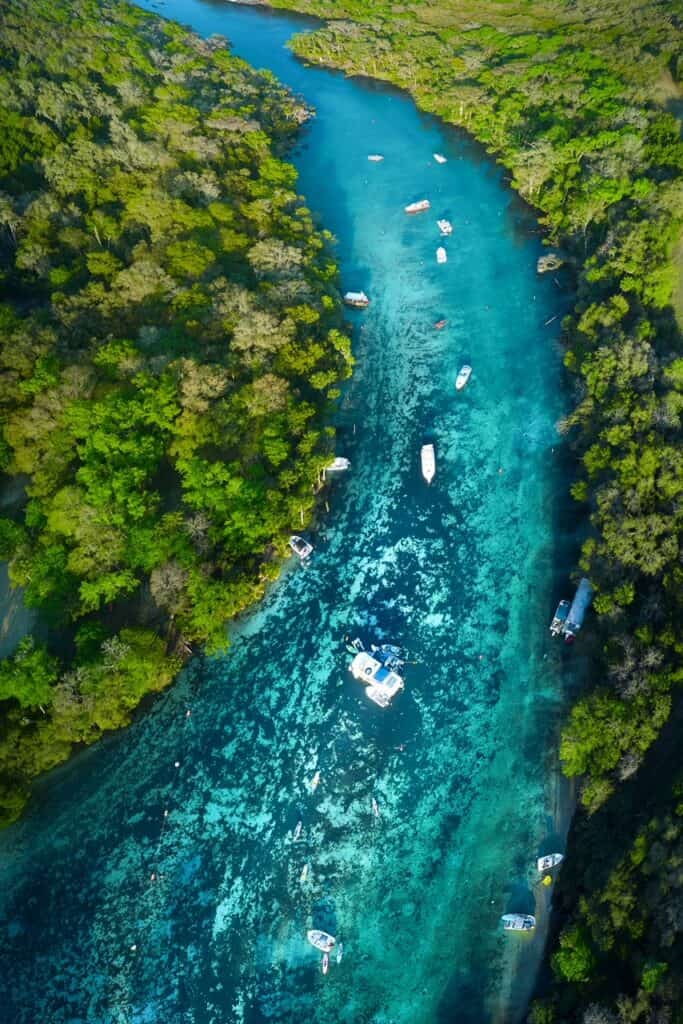 Green Springs
Green Springs Park is 30 minutes north of Orlando on Lake Monroe. As one of the best free springs in Orlando, this 31-acre park is ideal for anyone wanting to save money after splurging on Disney.
These sulfur springs have a long history in the area. The Mayaca and Seminoles believed the water had healing powers. In the 1840s, one of Florida's first health spas was built here.
While swimming is not allowed here, there are still plenty of things to fill your time as you enjoy this pretty park. There are nature trails and overlooks that showcase the green water.
There is also a playground that kids will enjoy and a picnic area where you can have lunch.
We hope you take time out of your busy schedule to visit one of these Orlando springs, we know you won't be disappointed. These Central Florida springs near Orlando are all so beautiful in their own way and all have so much to offer. So pack your towel and swimsuit, set your GPS and get out of the normal tourist spots and do something different!