When you think of activities in Orlando, Disney is what probably comes to mind most frequently, however we think that the scenery of these best hikes in Orlando rivals even that of Cinderella's Castle.
Planning your trip to Orlando last minute?
Make sure to book ahead! Hotels and tours often sell out the closer you get to your trip. Here are our top picks for Orlando:
Top Experiences And Tours In Orlando:
Best Places To Stay In Orlando:
As you grab your bug spray and sunscreen and head to face the sun, these hikes allow you to recharge and connect with nature at various skill levels in one of Florida's most trafficked cities. You can spend time walking around through beautiful gardens, taking in Florida's unique ecosystems, or decide to take advantage o the lakefront breeze around many of the urban trails.
There is so much to do in Central Florida that allows you to get outdoors and get away from the crowds. While most people tend to think of the coastline, there are hundreds of lakes in central Florida with trails, loops, and brilliant scenery just waiting to be explored.
If you're on the hunt for some unforgettable hikes in Orlando, here are some that you won't want to miss. So load up on some breakfast in Orlando and get out there!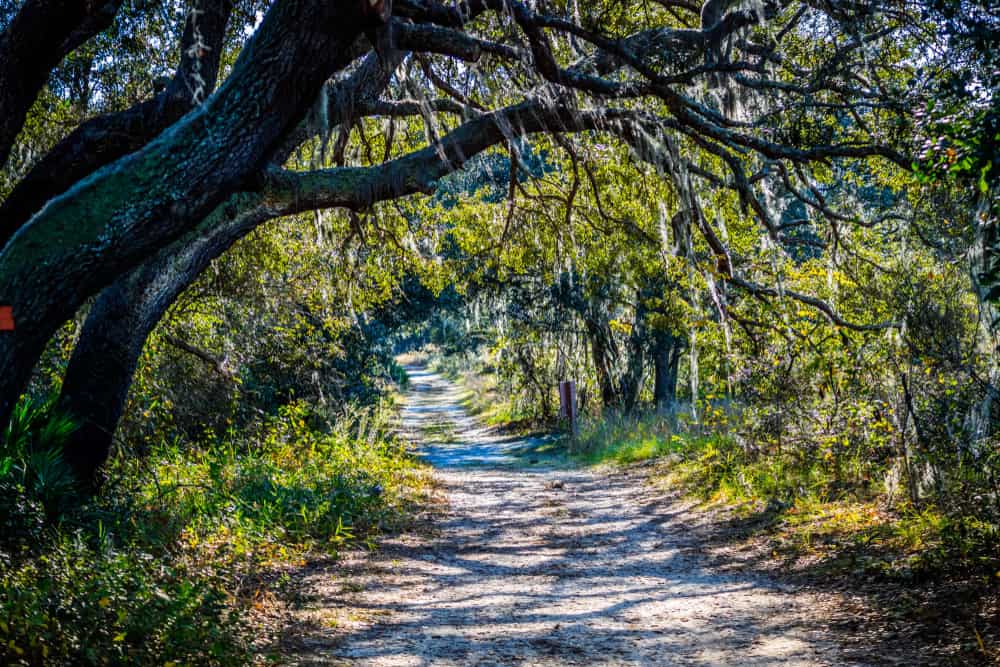 12 Best Hikes in Orlando You Shouldn't Miss
Shingle Creek Trail
While you're in the heart of Orlando, if you're looking to step away from the shopping and eating downtown, Shingle Creek Trail is the perfect suburban loop trail to step away from it all for a bit.
This is a one of the shorter hikes in Orlando with it's 2 mile trail surrounding Lake Fran. This waterfront ensures that you'll be able to take advantage of a breeze while soaking in the Florida sun. The trail's new expansion also includes two overlooks for the option to spot or document some of Florida's wildlife.
A perfect trail for multiple skill levels, Shingle Creek trail is free and is open to both pedestrians and cyclists. Don't forget to bring your bike and a camera and take in the nature!
Don't forget to check out some of the Best Places To Stay In Orlando when planning your visit!
Pine Island East Loop Trail
If you're looking for a Central Florida trail favorite, look no further! Located south of Downtown Orlando, this 3.4 mile trail is a perfect, relatively flat length for a Florida outing. This picturesque loop is a great place to walk around and then take a kayak out on the water, or watch for wildlife as you fish.
Pine Island is a great hike in Orlando if you're looking to immerse yourself in Florida's wildlife. Parts of the ecosystem have been restored and the trail is included as one of the featured Everglades trails.
Trail hours are from 8 a.m. until 4:30 p.m. daily, although parking is limited during the week. Amenities include a canoe boat ramp. This trail is free and open to pedestrians and cyclists. Leashed dogs are welcome.
Three Lakes Loop
If you're looking for a breezy Florida trail that takes around around the lakefront, this is the trail that you're looking for. Three Lakes Loop comes up consistently in best places to hike in Orlando, if only for the view! Like most popular Florida trails, this one surrounds several bodies of water to maximize the breeze for a hot summers day, or take advantage of spotting wildlife throughout various seasons.
The Three Lakes Loop is a sandy trail that allows you to feel like you're hiking to the beach while still right outside Orlando. It might even inspire you to take a day trip out to one of the beaches located near Orlando!
This 5.3 mile loop trail is great for beginners or kids and is is often used for nature trips. Dogs are not permitted.
Lake Lizzie Marsh Loop
While locals may be familiar with the Lake Lizzie Conservation Area which has previously offered a variety of hiking and equestrian activities, there is now a 1.7 mile trail that makes our best hikes in Orlando list.
Not to worry, despite it's name the Marsh trail isn't actually marshy, but we do recommend that you still bring some bugspray and closed toed shoes! The Lake Lizzie Marsh Loop is a great kid-friendly trail and a top location to check out the flora and fauna and do some bird watching!
This is a free trail, but you must pay and retain a permit to camp there. The park is open dawn to dusk. Leashed pets are welcome. This is one of the fun things to do in Orlando with kids!
Orlando Urban Trail
This urban trail also sits in the heart of downtown Orlando and runs about 3 miles long. This highly trafficked trail is appreciated for it's easy, paved trail that allows easy access for cyclists and pedestrians to have a walking trail of Orlando.
The Orlando Urban trail runs from Loch Haven Park to Mead Gardens (which is also on this list of best hikes)! Another benefit to this free trail is the access to all of the great energy of downtown Orlando, and the flexibility to stop and grab a bite downtown anytime.
So don't forget to grab your walking shoes and wallet to take advantage of this urban hike in Orlando!
Wekiwa Springs
When thinking of most popular trails in central Florida, Wekiwa Springs jumps to the top of the list. In fact, beyond the opportunity to hike around, it's even been featured in top springs near Orlando. One of the great things about Wekiwa Springs trails is the versatility of trail options, with trails ranging from 0.9 to 8.3 miles and easy to moderate difficulties.
After hiking the trails, the park allows for a great time swimming in the springs, and canoeing or kayaking around. There is also the option for camping, and amenities include a campground areas, as well as canoe or kayak rentals.
It's very likely that you'll be able to see some of the native fauna at this Florida park, so wear grab your sunscreen and be prepared to spend the day enjoying Wekiwa Springs! The park is open from 8am-6pm.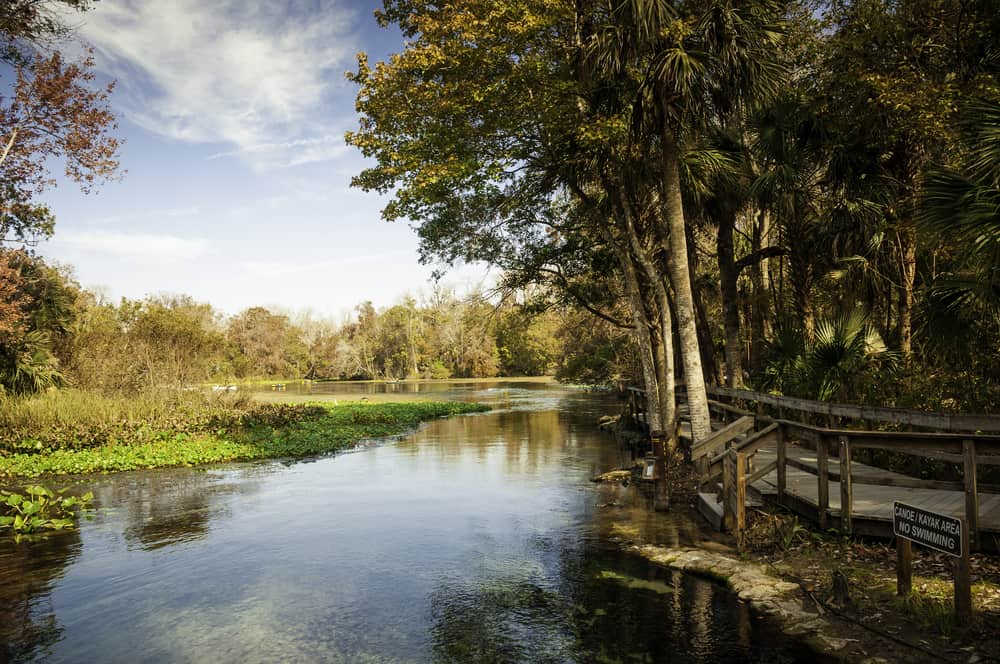 Airport Lakes Trail
The Airport Lakes Trail is our most accessible boardwalk trail, allowing wheelchairs and strollers to take in all the wildflowers and birdwatching the park has to offer. This hike in Orlando is perfect if you're looking for a quick getaway into nature.
The Airport Lakes Trail is one of our kid-friendly trails. It is a short .8 miles and offers space for recreational activities as well for those who want the flexibility to hike and sit outside enjoying the Florida sun.
This trail is free. The park hours are 6am-11pm. Amenities include public parking, bike racks, restrooms and drinking fountains.
Mead Botanical Gardens Loop
The Mead Botanical Gardens Loop is just over a mile and is good for all skill levels. This trail is commonly used for nature walks in Orlando let's you hike see beautiful wildflowers, and is the best trail for bird watching.
This Orlando trail provides a beautiful change of pace from the traditional scrub forests that normally encapsulate most of Florida's hiking trails. If you're a nature-lover, it might also inspire you to check out more of the botanical gardens in the state!
The trail is primarily used for hiking, walking, nature trips, and bird watching and is accessible year-round. Dogs are also able to use this trail but must be kept on leash.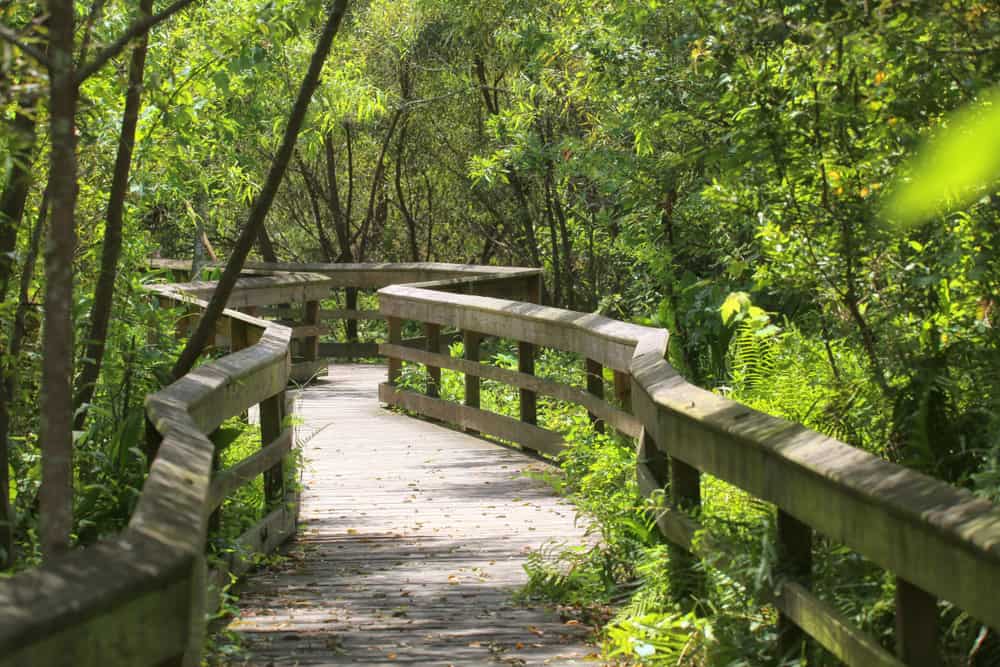 Lake Eola Park
This trail includes one of the most well spots in downtown Orlando, featured famously on Orlando's city flag: Lake Eola Park. This 1 mile urban trail in downtown Orlando makes a loop and is great for casual walking, running, or biking. Lake Eola Park is a paved trail is aptly named, and takes you around Lake Eola. As you're strolling around the park, if you're lucky, you may just be able to catch a show at the amphitheater or be able to sit in on a outdoor yoga session as you walk by.
Lake Eola is always bustling after hours and offers up a great spot to go picnicking, stop at the various events that take place on the park greens, or watch the many birds that gather on the water.
Dogs are allowed on the trail if they are kept leashed. As this is in downtown Orlando, parking may be scarce or required to pay to park.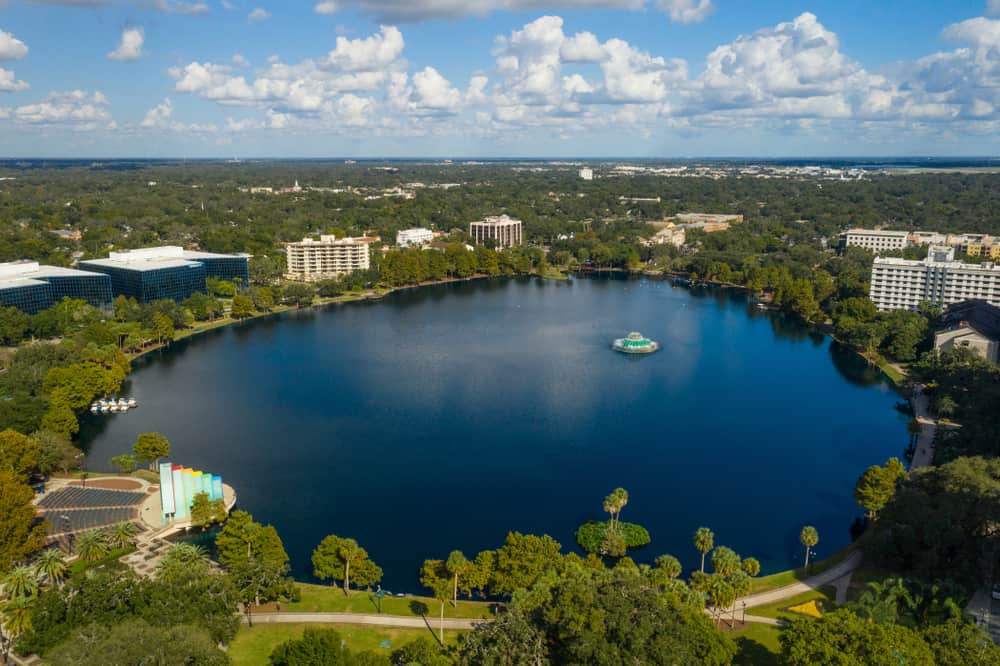 Lake Baldwin Park Loop
If you're looking for another urban hiking trail near Orlando, the 2.5 mile Lake Baldwin Loop is a very popular choice among locals for being on the water. This paved trail loops around considerable greenspace past all manner of flora and fauna.
Much like the Orlando Urban Trail, there are places to eat and several places to show nearby at Baldwin Park if you're looking for a change of pace after your stroll.
This trail has wheelchair accessible parking spaces, and the pavement is suitable for wheelchairs and strollers. Dogs are able to use this trail while on a leash.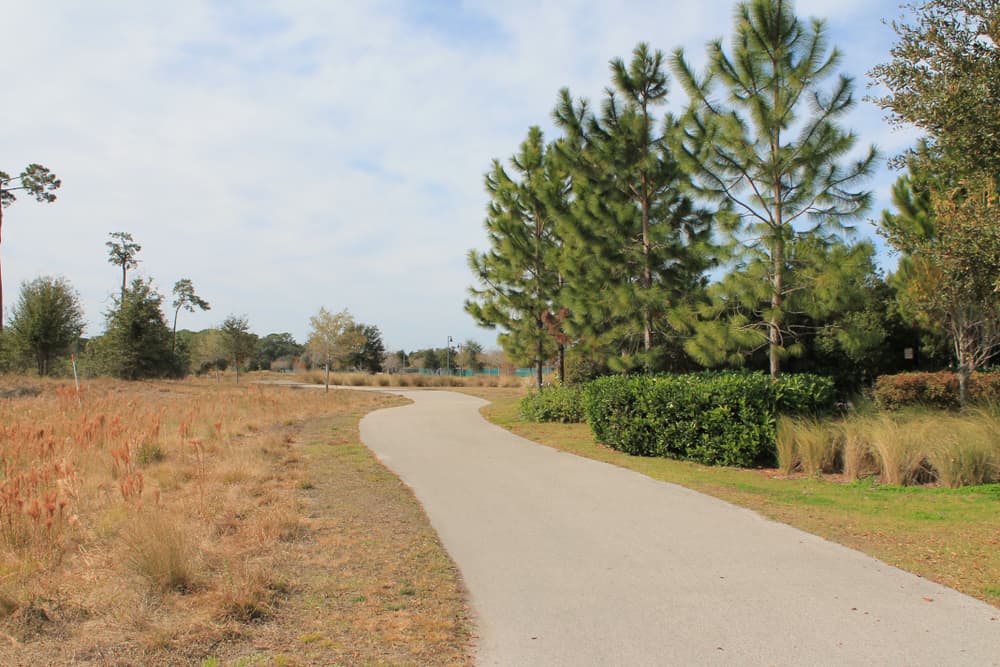 Split Oak Yellow Trail
Split Oak Yellow Trail is an easy trail that is perfect for getting away from the hustle and bustle of Central Florida. This calming loop trail is just over 4 miles and is perfect for wildlife watching on. While the loop is easily marked, there are also many trail offshoots to take advantage of while you're hiking in Orlando.
Make sure to wear sensible shoes as part of the trail can flood dependent on the weather.
Scenic Nature Trail Flower at Tibet-Butler Preserve
This 3.6 mile trail stems from an nature preserve which is perfect for seeing Florida's native flora and fauna. This location also has an environmental center for those wishing to learn more about the history and hike a nature walk in Orlando. There are various offshoots of different difficulties, but is primarily a kid-friendly hiking trail.
The Tibet-Butler Preserve is open from 8am-6pm. Dogs and bicycles are not permitted. Amenities include nature center restrooms, the environmental center, a butterfly garden, and picnic area.