Disney and Universal are great, yes, but do you know about the other fun things to do in Orlando besides theme parks? If you're all Disney-ed out and Universally in need of a new adventure, we're here to help!
Orlando is known as "The City Beautiful" for a reason. A metropolitan hub, the city draws more than 75 million people a year through tourism, major festivals, and convention traffic. If you've been to Orlando before, you probably went to visit one of its 12 theme parks.
Planning your trip to Orlando last minute?
Make sure to book ahead! Hotels and tours often sell out the closer you get to your trip. Here are our top picks for Orlando:
Top Experiences And Tours In Orlando:
Best Places To Stay In Orlando:
We're here to show you Orlando is more than theme parks and costumed characters! With fabulous restaurants, gorgeous parks and nature, and quaint neighborhood villages, there's always something exciting happening.
Orlando offers fun for everyone in the family, whether it be taking in a quirky museum or experiencing a thrill like indoor skydiving or taking a hot air balloon ride!
You don't need to rely on the Mouse for a good time in Orlando. The next time you're in the City Beautiful, take a cue from our list and experience the most fun things in Orlando! You won't be disappointed.
Don't forget to check out some of the Best Places To Stay In Orlando when planning your visit!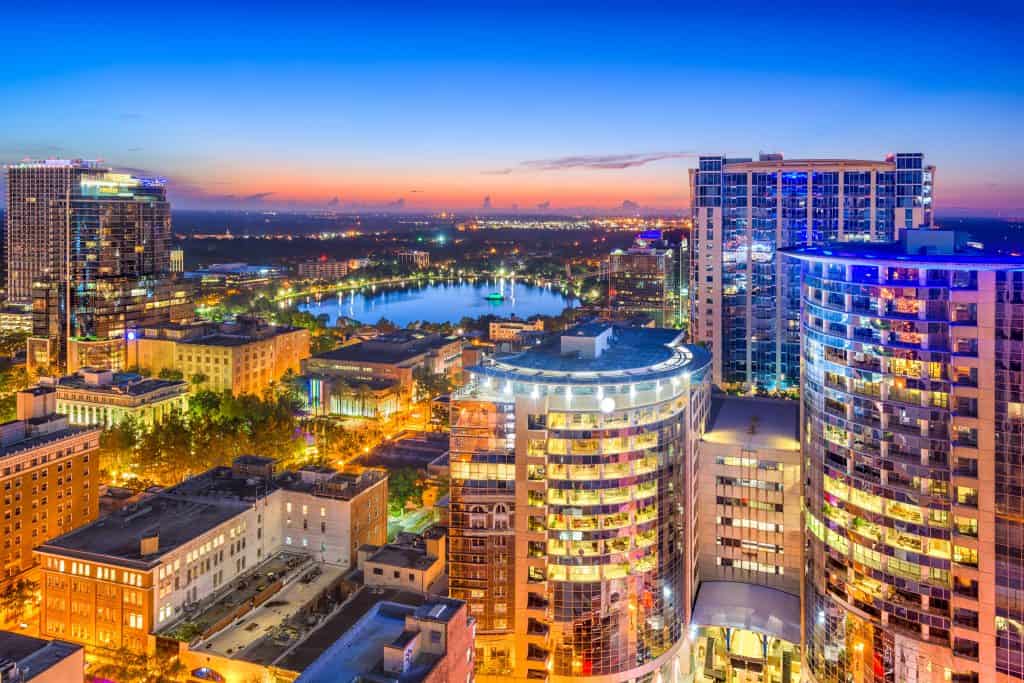 25 Fun Things To Do In Orlando Other Than Theme Parks
Lake Eola
In the center of Downtown Orlando lies Lake Eola, a beautiful park that offers stunning views of the city skyline, especially in the evenings. A stroll around the park that circles the lake is one of the best things to do in Orlando.
Take a break to relax amid the gorgeous flower beds with a beautiful view of the Orlando sunset. In the fall months, the park is strung up with thousands of Christmas lights. If you're lucky, you can catch a play or movie at the Walt Disney Amphitheater.
For the best views, take a pedal-powered Swan Boat! As you float along the lake, you can see the beautiful fountain up close. You might come face to face with actual swans that call this lake their home. Swan boats are $15 for a 30 minute rental, debit and credit only!
Afterward, finish the evening off at a romantic restaurant, all bordering the park. Grab a glass of vino and cheese board at Eola Wine Company, or enjoy cocktails and sashimi at Shari Sushi Lounge.
Wonder Works
If you want to experience a day of learning while still having fun, hit up Wonderworks in downtown Orlando! In other words, you'll be getting part amusement park and part museum at this Florida museum of "edu-tainment!"
One of the best things to do in Orlando with kids, everybody in the family will be entertained. Because the 100 exhibits are hands-on, they will stimulate young minds and spark your imagination. As a result, each of the exhibits are broken up into 6 zones.
The Extreme Weather Zone lets guests touch lighting with a tesla coil and feel what a 5.3 magnitude earthquake feels like. Explore physics like how pulleys make heavy lifting easier in the Physical Challenge Zone. You can even put on an actual space suit in the Space Discovery Zone!
Additionally, you can see Dr. Seuss' taxidermy in the Wonder Art Gallery or recreate that scene from Big in the Light and Sound Zone on a huge piano! Lastly, the Imagination Lab Zone is geared for toddlers with a lite-brite wall and interactive sandbox.
Wonderworks Orlando is open daily from 10 AM – 10 PM. Admission is $35 for adults and $25 for children and seniors. Additionally, admission includes access to Laser Tag, the indoor Glow-In-The-Dark Ropes Course, and the 4D XD Theatre!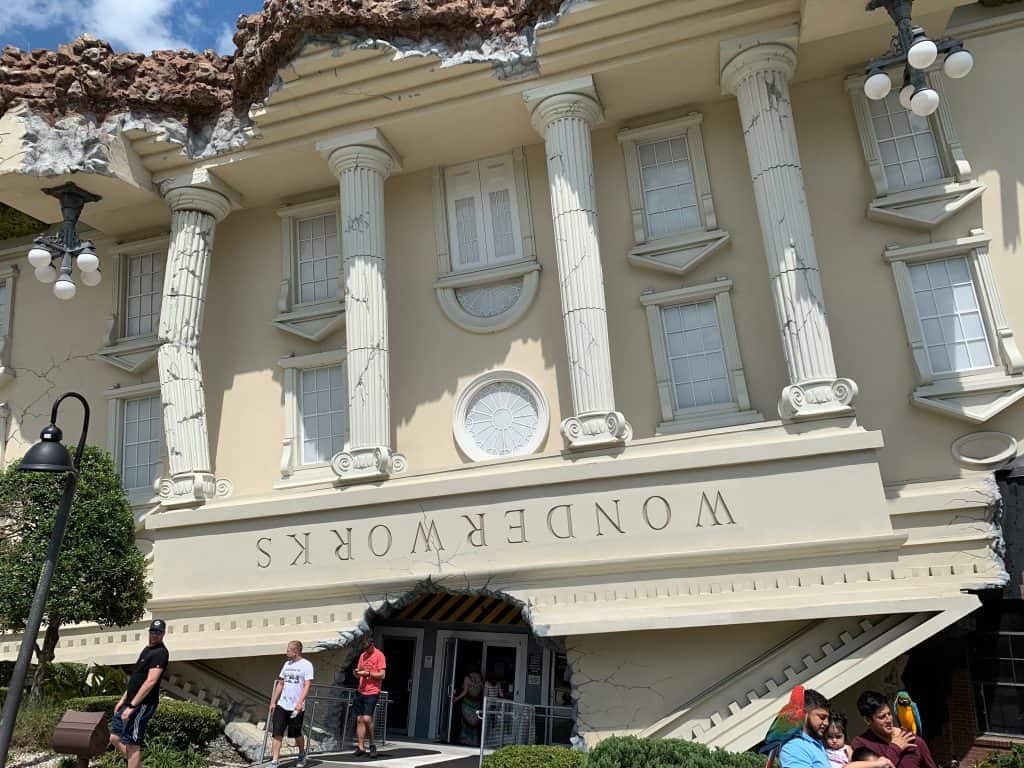 Kennedy Space Center
Did you know that the most well-known NASA base makes its home in Florida? The Kennedy Space Center, one of the best things to do in Orlando besides theme parks, lies on Merritt Island in Cape Canaveral, making it the ultimate day trip from Orlando!
If you've ever watched a space shuttle launch, it was probably from this museum in Florida! In addition to housing a stunning collection, the grounds are also home to the Merritt Island National Wildlife Reserve, one of the best parks in Florida.
During your time at the museum, check out the Astronaut Training Simulators where you can go inside the Atlantis Space Shuttle. Then, see replicas of the Mars Rover and test your skills as a recruit! Afterward, check out the U.S. Astronauts Hall of Fame where space explorers are remembered!
Before you leave, make a point to stop at the Space Mirror Memorial. Because it is covered in mirrors, the 24 names of astronauts lost to space emblazoned in black granite are constantly illuminated. Above all, it serves as a sobering reminder that space exploration can sometimes require the ultimate sacrifice.
Because the sheer number of exhibits to see is overwhelming, the Kennedy Space Center has put together a suggested itinerary! However, you can also find an option to customize your own itinerary!
The Kennedy Space Center is open to guests daily from 10 AM – 4 PM. Single-day admission is $57 for adults and $47 for children.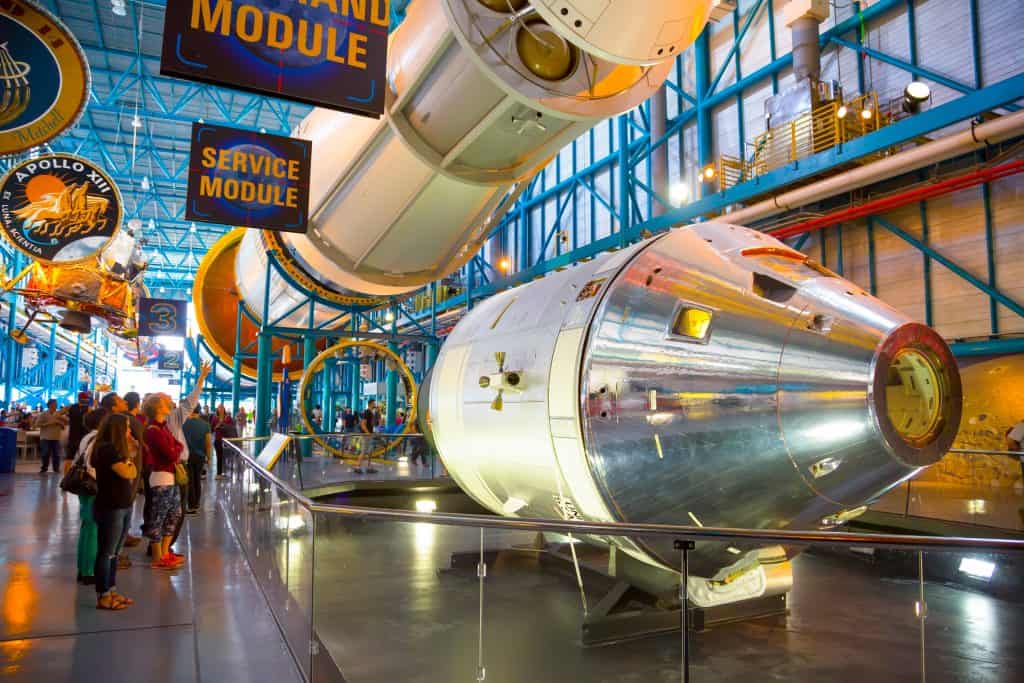 Bok Tower
While technically not in the City Beautiful, Bok Tower Gardens is the perfect day trip from Orlando worthy of your time. Just 50 minutes to the south, it is well worth the trip.
One of Florida's most beautiful hidden gems, Bok Tower lies in the middle of a meditation and reflection garden that doubles as a bird sanctuary. Today, the grounds have been transformed into what he called "a spot of beauty second to none in the country."
We couldn't agree more with this sentiment, especially as you take the time to explore the grounds. Wander the paved pathways and mulched trails to reach the Core Gardens, lush with native Florida plants.
When you arrive at the Tower itself, you will hear it ring out. Because Bok Tower is a Carillon, it's actually a bell tower that can be played like an instrument. Daily concerts happen at 1:00 PM and 3:00 PM and the tower's music can be heard throughout the grounds also at half-hour intervals.
Make sure to keep a close eye out, you'll be sure to see one of the 126 species of birds that call the reflecting pool and surrounding gardens their home. A variety of other native Florida wildlife also makes their home here.
End the day with soup or salads at the Blue Palmetto Cafe. Keep the magic alive and commemorate your visit at the Shop at Bok to take home unique treasures as well as plants to plant in your own garden.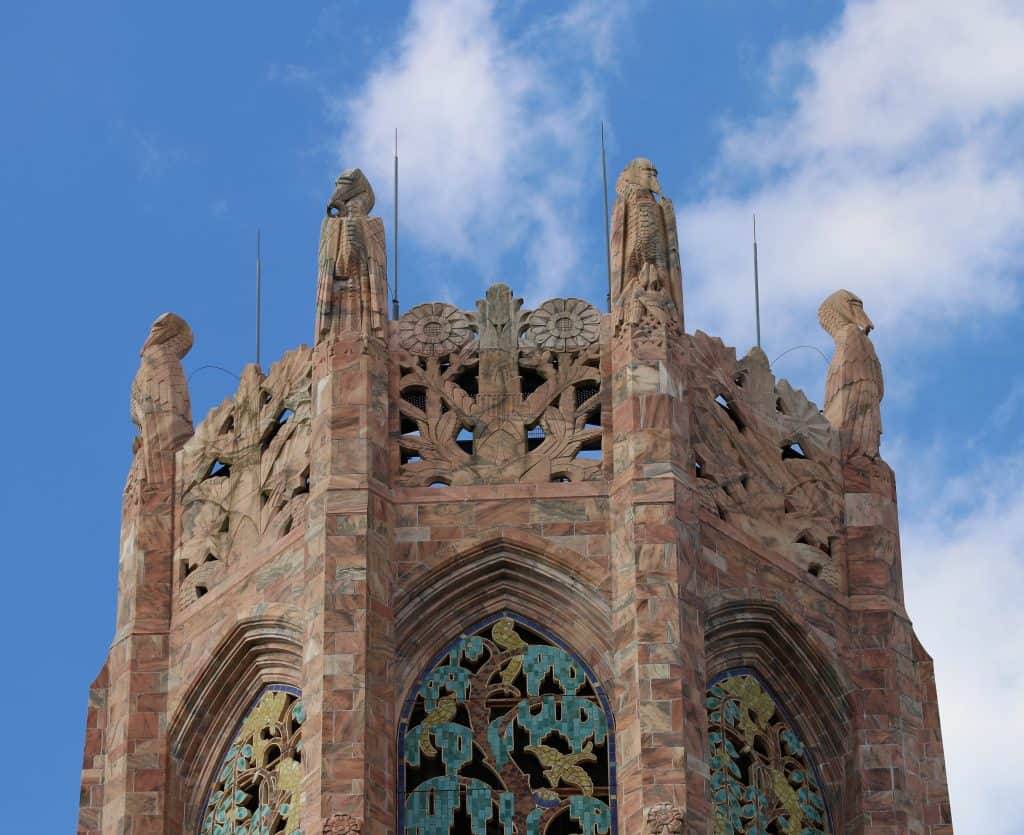 ICON Park
Whatever your interests or your favorite ways to have fun are, ICON Park is a dream destination for locals and tourists alike! An entertainment complex with fun and games for the whole family, spending a day at ICON Park is one of the most fun places in Orlando!
Best described as part-shopping mall, part-restaurant row, and part-amusement park, ICON Park has too many activities to accomplish in one day! Just minutes from International Drive, the complex highlights the best of the City Beautiful in the heart of Orlando.
Ride the Wheel where you'll get a bird's eye view of the city at 400 feet high, perfect for a date night in Orlando. Gear up and take the 7D Dark Ride Adventure, or play in Arcade City. Then take on the Orlando StarFlyer, the world's tallest swing ride!
Browse a number of casual boutiques and kiosks underneath festoon lights along a brick promenade. You'll find everything from Designer flip flops and stylish sunglasses to tasteful souvenirs to bring home.
Then sit down to eat at one of over 40 restaurants with dazzling international cuisines. If you're a morning person, grab crepes at iCafe de Paris, one of the best breakfast spots in Orlando! Get the best sushi and ramen at Mikado and finish your day with margaritas at Uncle Julio's.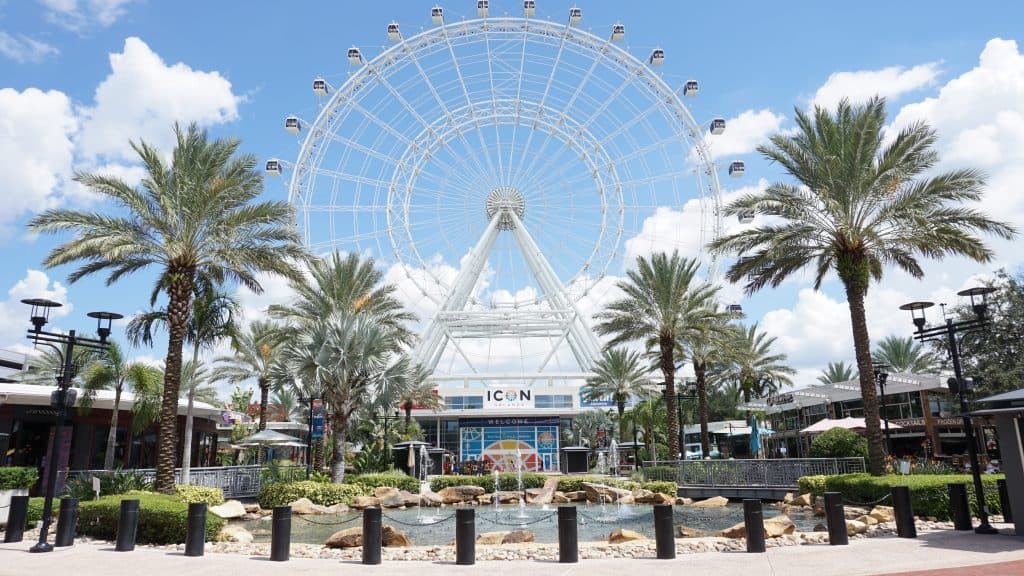 Disney Springs
Formerly Downtown Disney, Disney Springs will meet all your shopping, dining, and entertainment needs in one quaint village! One of the best things to do in Orlando for free, browse over 103 shops, 63 restaurants, and 22 entertainment attractions! The opportunities are endless. It is also one of the best places for breakfast in Orlando!
Shopping offers a fun mix of Disney merchandise and souvenirs as well as high-end luxury brands. Feel like a princess at the Bibbidi Bobbidi Boutique or watch a master builder craft a one-of-a-kind creation at the Lego Store! Don't forget to pick up a lightsaber at the Star Wars Galactic Outpost!
Your Disney Springs dining options feature a combination of bars, restaurants, lounges, and quick-service kiosks. Eat in the middle of the thunderstorm at the Rainforest Cafe! The Landing features fine-dining from Art Smith while Chicken Guy! serves up creations by Guy Fieri.
For an unforgettable experience, head to the Coca-Cola Experience. You can sample a variety of flavors like Black Cherry Vanilla, Green Tea Coke, and the infamous New Coke. Be a mixologist and create your own flavor!
After dinner, take in one of the many shows or attractions! Little ones can ride the Marketplace Train Express while parents can marvel at a Cirque du Soleil show! Catch a movie or bowl at Splitsville Luxury Lanes. Don't forget to walk the Christmas Tree Trail during the holidays!
For more information, check out our complete guide to Disney Springs.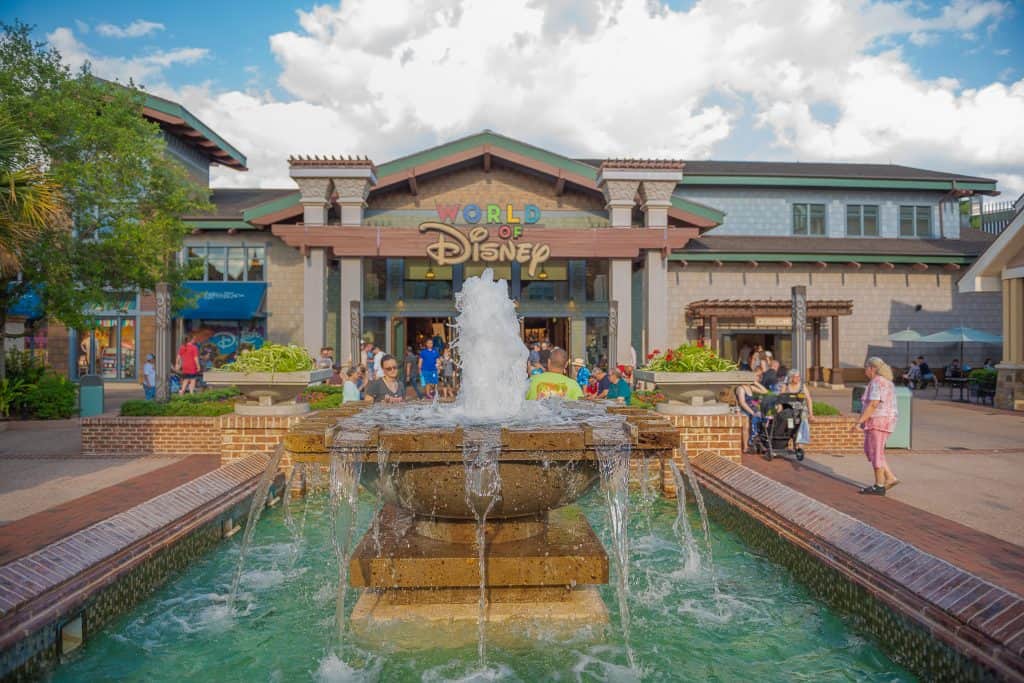 Hot Air Balloon Rides
There is no better way to take in the City Beautiful than from the skies above! Get ready for the experience of a lifetime. At Orlando Balloon Rides, you'll see Florida as you never have before.
As North America's leading hot air balloon company, Orlando Balloon Rides is one of the best things to do in Orlando. An experienced crew takes you up in a balloon up to 310,000 cubic feet in size. You can soar over Florida seven days a week, 365 days a year, weather permitting.
The baskets hold 16-20 people, so a balloon ride is perfect for birthdays, anniversaries, or even a Mother's Day treat. You can always charter a private balloon as well, so gentlemen, take note. There's no more romantic date in Orlando and could be a spectacular place to propose…
Right at sunrise, you will ascend several thousand feet in the air. Once you're airborne, your pilot will point out points of interest! Get "carried away" as you gaze at the orange groves, forests, and swamps. Each flight celebrates with a champagne toast once you've landed.
Each flight lasts about 45-60 minutes, but allow 3.5 hours total to include travel to and from the launch site. Tickets start at $169 per person, and $125 per child ages 6-14. Military, police, fire, and EMT first responders receive a 10% discount!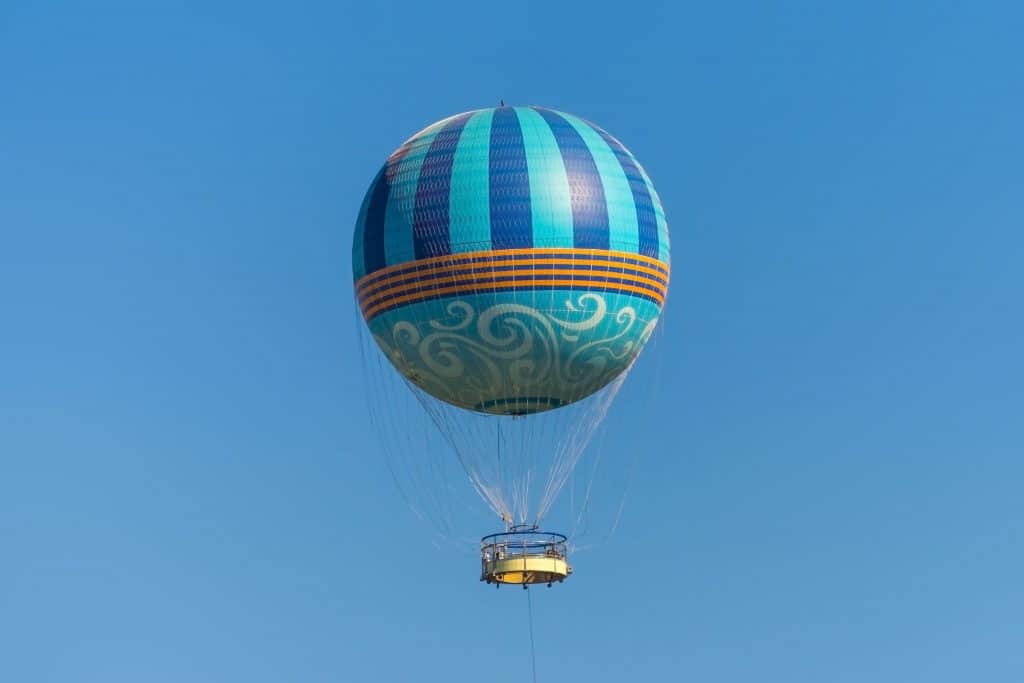 Madame Tussauds
If you're a pop culture junkie, you know all the stars and celebrities. What if you didn't have to travel all the way to LA to meet them? You can do just that at Madame Tussauds, one of the most fun places in Orlando!
Millions of people have flocked through the doors of Madame Tussauds. Through Marie Tussauds' storied history, her incredibly realistic wax sculptures have been passed down through generations, surviving the French Revolution and WWII bombings.
Through perseverance and respect, her techniques have been kept alive. Now with locations all around the world, you can see her techniques realized in celebrity wax sculptures!
Inside, party with the biggest A-list stars! Lift up a real helicopter with Henry Cavill's Superman or strike Wonder Woman's iconic pose with Gal Godot. Dance with Mr. 305 himself, Pitbull or activate the Trident with Jason Mamoa's Aquaman!
Special events include showcases of all the different James Bonds through the years, ranging from Sean Connery and Daniel Craig to Roger Moore and Pierce Brosnan. Space heroes from the Apollo 11 Moon Launch land at the Kennedy Space Center in July for special appearances.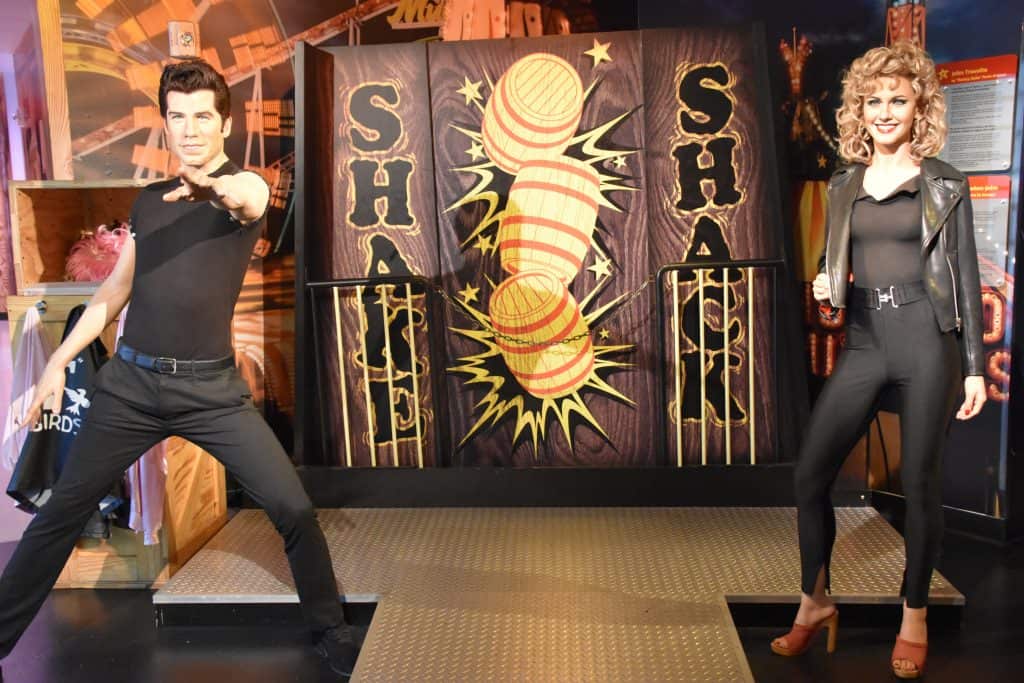 Crayola Experience
If you're a parent who's tired of Minions, exhausted by Disney princesses, and sick of Harry Potter, take the kids on an adventure sure to be a refreshing change of pace. The Crayola Experience is one of the best things to do in Orlando with kids!
Inside the Florida Mall, the Crayola Experiences brings the magic of Crayola to life with 70,000 square feet of attractions! The most colorful family destination, you can easily spend 3-4 hours indulging in interactive, creative play. Even if you're just a kid at heart, you're in for a wonderful, whimsical adventure.
At the Crayon Factory Show, animated crayon friends Scarlet and Turk (turquoise) show you how crayons are made in a live theatre show! See Bluetiful, the world's largest Crayola crayon, weighing in at 1,352 lbs and over 15 feet long!
Kids will love solving puzzles and riddles on "magic" tablets in the Adventure Lab. Or set them loose in the 2-story Color Playground where they can climb the Melted Wax Tower and bounce on the Paint Bridge.
You can even create your own Crayola Crayon! Come up with your own Crayola color name, then print an authentic Crayola Crayon label and wrap it up! You'll have created your own one-of-a-kind, unique Crayola Crayon!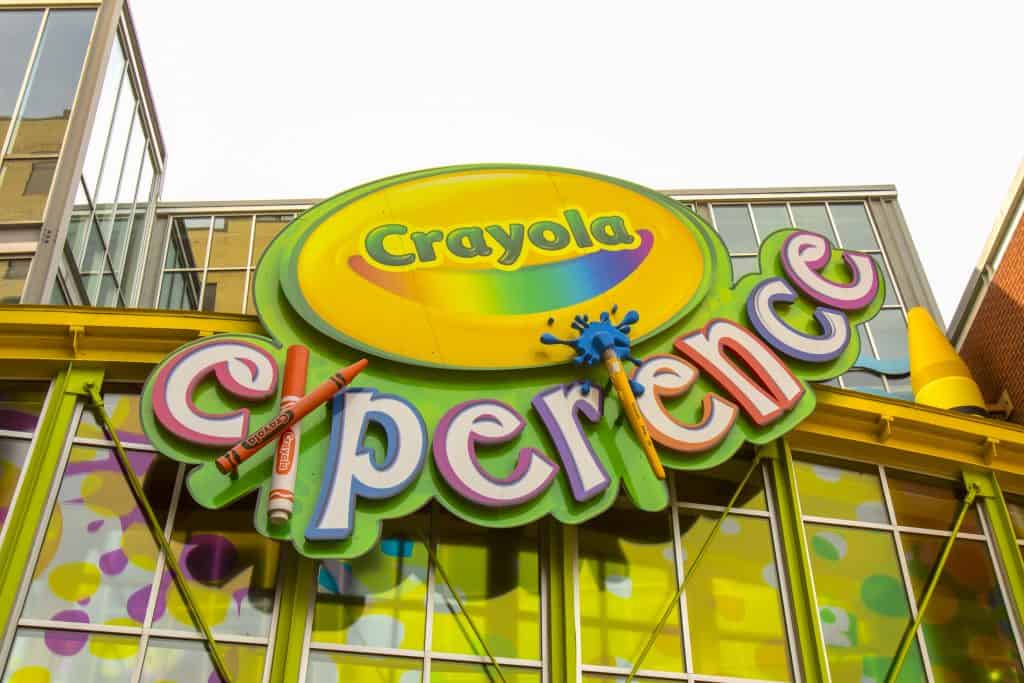 Pirate's Cove Adventure Golf
Orlando is home to some of the best golf courses in Florida. But what if you could golf on the seven seas! Landlubbers, get ready for a swashbuckling romp at Pirate's Cove Adventure Golf, one of the most fun things to do in Orlando.
Voted "Best in Florida" by Orlando Magazine, enjoy renowned innovative hole designs, lush landscaping, and a charming pirate theme on this golf adventure. Along 18-holes, you'll traverse through waterfalls and caves.
The adventures and lore of infamous Florida pirates come to life when you enter the world of 18th century buccaneers. Pick your own colorful golf ball and putt your way through sunken ships and dreaded pirate dungeons.
One of the best cheap things to do in Orlando, discover the wholesome fun for the whole family. Right on International Drive, start your adventure for just $15 for adults and $13 for children.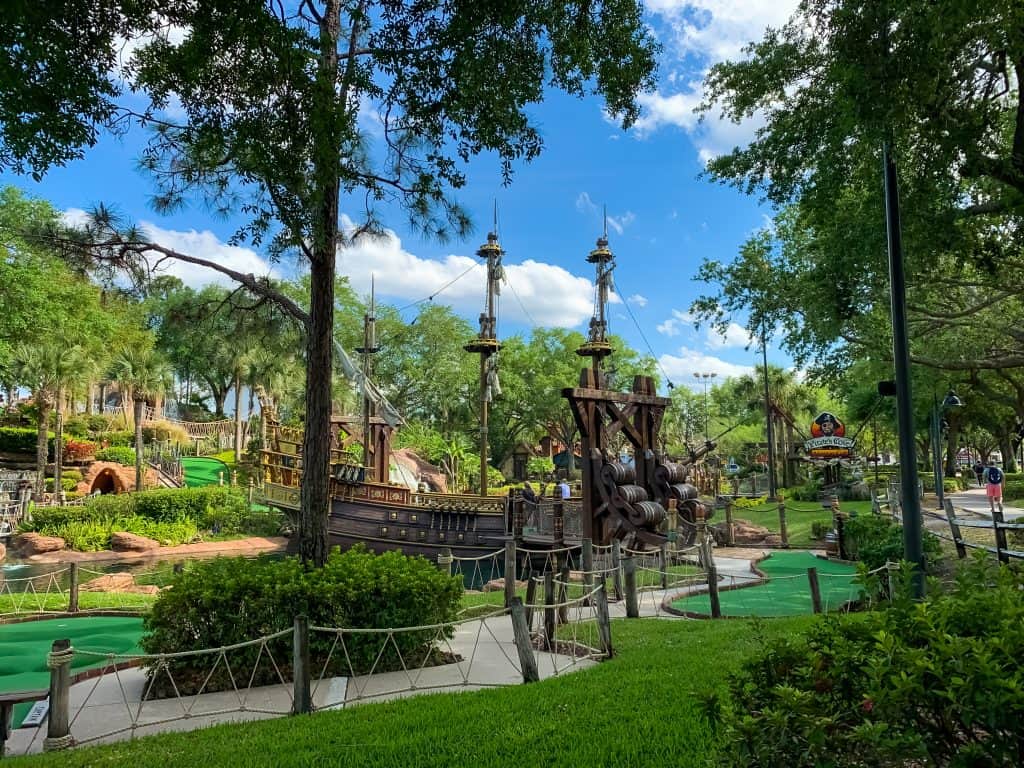 Winter Park Scenic Boat Tour
Just to the north of the City Beautiful in Winter Park, catch a boat ride and see the most beautiful sights on the water. On a Winter Park Scenic Boat Tour, enjoy a natural attraction for an easy, inexpensive adventure on one of the most exciting cheap things to do in Orlando.
Just ten minutes from downtown, you'll depart from tranquil Lake Osceola. Your tour will guide you through three of the seven lakes of the Winter Park chain. Each tour can hold up to 18 passengers and lasts for a relaxing hour.
On any given boat trip, you may see large cranes flying over the water to snag a fish lunch or water skiiers gliding in the wake of a speed boat. Lake Osceola is also one of the best places to see alligators in Florida!
On every tour, you're guaranteed plenty of breathtaking views of swaying palms, lush ferns, and towering Cypress trees. Bring a camera to capture the flourishing sub-tropical flowers. You'll also see the opulent private homes and exquisite estates dotting the shores, a key feature of the scenic cruise.
Afterward, check out Park Avenue only five minutes away, Central Florida's popular, upscale shopping district. Admission for a Winter Park Scenic Boat Tour is only $14 for adults and $7 for children.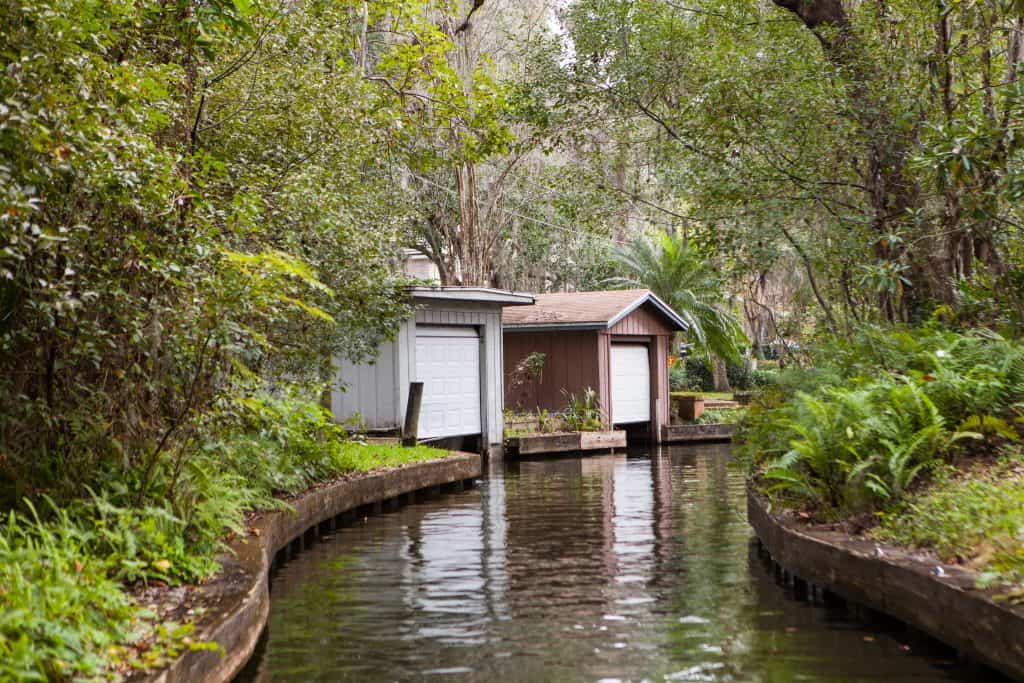 Catch an NBA Game
Florida's sports teams are slowly earning titles in the national circuits! The Tampa Bay Buccaneers won the Super Bowl in 2003 and the Tampa Bay Lightning took home their second Stanley Cup in 2020. Not far behind them is the Orlando Magic, bringing the fire of Central Florida to the NBA.
When you head to Amway Center for an Orlando Magic game, you'll be on the edge of your seat watching your favorite players on the court! Enjoy courtside seating or watch from VIP seating or a luxury suite.
During the game, you can enjoy a meal or a cocktail at one of the unique bars and restaurants inside Amway Center. At Jernigan's, enjoy a fine-dining experience while you overlook the game from the comfort of your table.
With interactive areas for the entire family, even those not-so-keen on basketball can have something to enjoy. Kids can romp on the STUFF's Magic Castle, an indoor children's playground. Before you head out, be sure to swing by the Orlando Magic Team Shop for official NBA merchandise.
Even if you're not a sports fan, the Amway Center hosts many other events like concerts and fabulous festivals in Florida. Notable past performers include Lady Gaga, Taylor Swift, Guns N' Roses, Justin Timberlake, Cher, Fleetwood Mac, and more!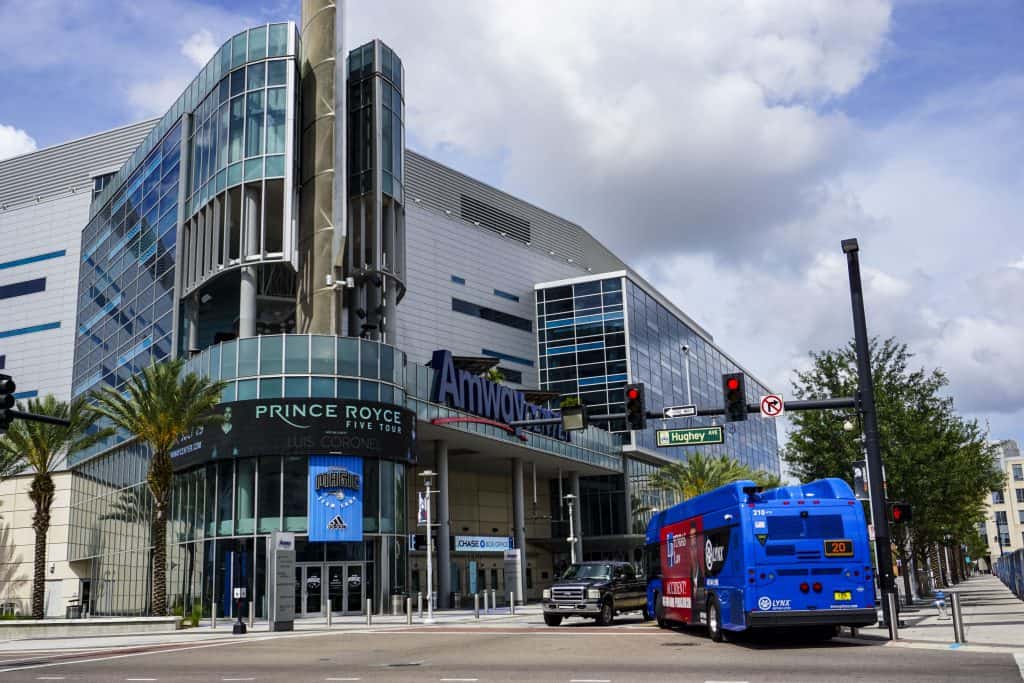 Blue Springs State Park
In 1970, a group of researchers tracked manatees migrating to these springs from the St. John's River to find warmer waters. Two years later, Blue Springs State Park was founded and is still one of the best places to see wild manatees in Florida.
One of Florida's best natural springs, the waters Blue Springs of blue springs never go above or below 72 degrees. Once you've submerged yourself in the cool waters, swim upstream to see the spring actually boil up from the limestone underneath your toes.
In addition to swimming, the park offers three pavilions on a first come, first serve basis. These are great areas to relax with friends or family. There are also pavilions on the lawn, where you can cook out on charcoal grills and sunbathe.
If you're not the strongest swimmer, have no fear! There are tubing, kayak, and snorkeling rentals available at the concessionaire. You can also take river boat nature tours, segway tours, or guided kayak tours!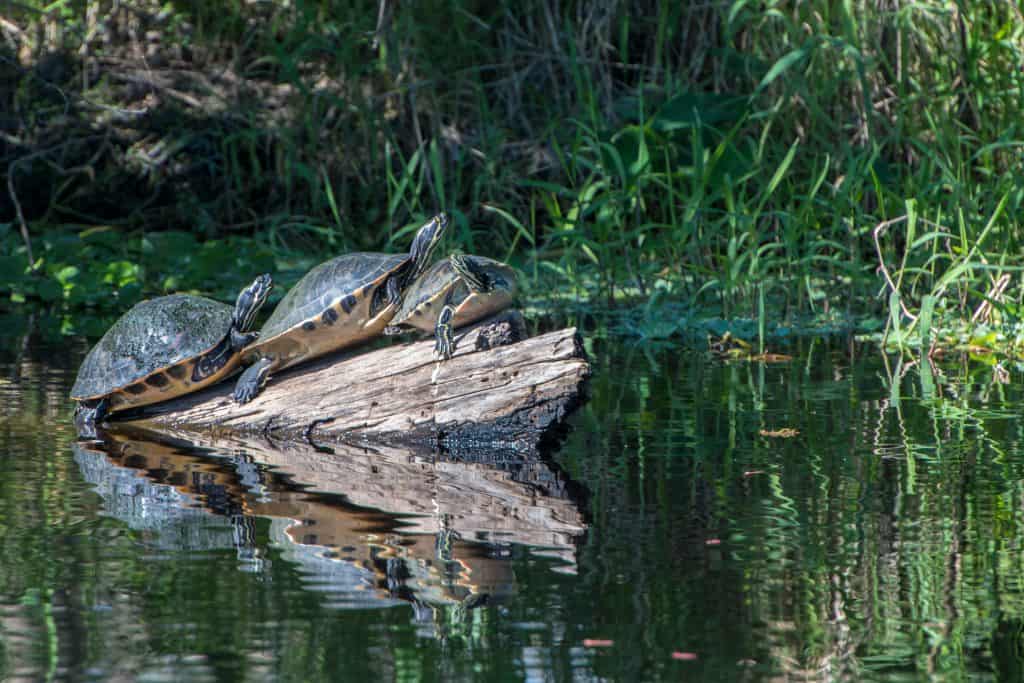 iFly Orlando
Do you ever want to experience the rush of skydiving but are deathly afraid of heights? At iFly Orlando, those high-flying dreams can become a reality! Skydive from the comfort of indoors without ever having to board a plane.
The most fun you can have in two hours, iFly Orlando uses an indoor wind tunnel to simulate a sky diving experience. You'll understand what it feels like to fly effortlessly through the wind. The best part? You don't have to worry about your parachute not opening!
You'll be matched with a world-class iFly instructor. After a short safety and instruction presentation, you'll put on a wind suit and helmet before stepping into a tunnel. Don't worry, your instructor will be in the tunnel holding onto you so you won't fly away.
To make your adventure even more magical, strap on a virtual reality helmet! Your headset will play a thrilling video of your choice, a VR skydive or a base jump. As you watch the video, your instructor will guide your body through the air, making your jump through Hawaii, Dubai, or the Swiss Alps that much more realistic!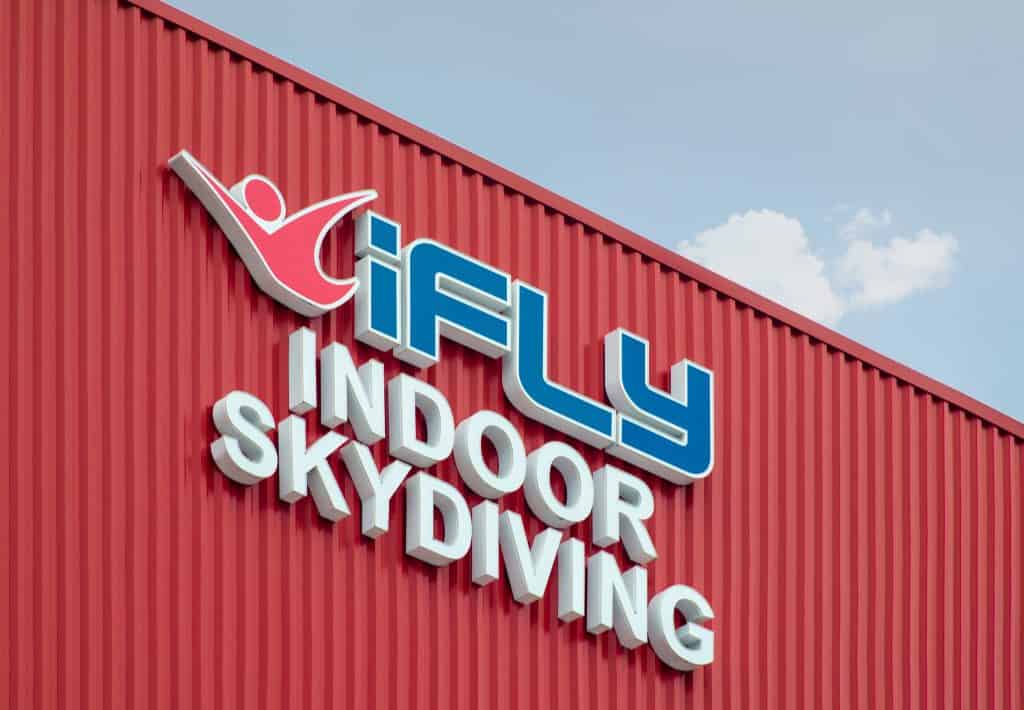 Gatorland
There are plenty of places to see gators in Florida, but why not experience the alligator capital of the world? Once a roadside attraction opened in 1949, Gatorland combines the sanctuary of a wildlife preserve with "Old Florida" charm at one of the best things to do in Orlando.
Over 110 acres, Gatorland offers family fun featuring thousands of alligators! You'll also see many other native Florida wildlife creatures, like crocodiles and native endangered birds.
Gatorland is also sanctuary to the US's largest collection of albino alligators who cannot fend for themselves in the wild. It is said that if they look you in the eye with their piercing, ice blue eyes, you will have good luck, according to Chinese legend.
Check out the Legends of the Swamp show where a daredevil host demonstrates the survival features of an 8-foot alligator! After the show, get closer to a gator than ever before with a meet-and-greet experience.
Kids will love the Gator Gully Splash Park where they can play and romp! Play in areas resembling the eponymous park residents as water spouts out of everywhere! Or climb aboard an authentic monster truck for a ride through the wetlands for a rough ridin' wild adventure.
The highlight of the park might just be the Screamin' Gator Zipline. Clip in and "zip" of on 1,200 feet of course! Over seven stories tall, you'll get breathtaking views as you glide over the treetops and over the alligator breeding marsh.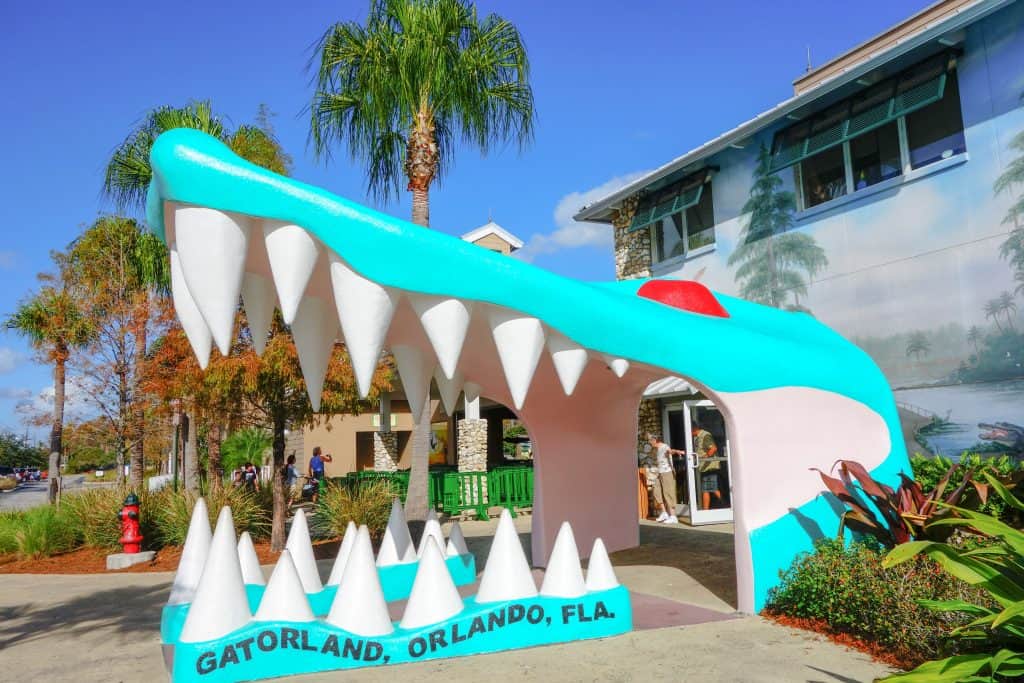 Discovery Cove
For a walk, err… swim on the wild side, head to Discovery Cove, the sister park of SeaWorld and Aquatica. While this article is dedicated to things to do in Orlando besides theme parks, we don't consider Discovery Cove to be a theme park.
On the contrary, it is an all-inclusive resort, and oasis to discovery marine life. Every visit includes complimentary amenities. With admission, enjoy unlimited food and beverages all day. You'll also be provided with fluffy, fresh towels, snorkeling gear, and wet suits.
During your getaway, relax on the sands of the tropical resort pool, Serenity bay. The scenic palms and the tropical atmosphere creates a beach-front paradise!
Discovery Cove also has, in our opinion, the best lazy river of all time. The Wind-Away River passes through sandy beaches, rocky terrains with cascading waterfalls, and an underwater cave. The crystal-clear water's depths are always changing, providing a more authentic river ride.
The highlight of Discovery Cove, of course, are the marine life encounters. Swim with bottlenose dolphins in the intimate Dolphin Lagoon. In the Grand Reef, snorkel through an expansive coral reef to swim with thousands of tropical fish and even eels!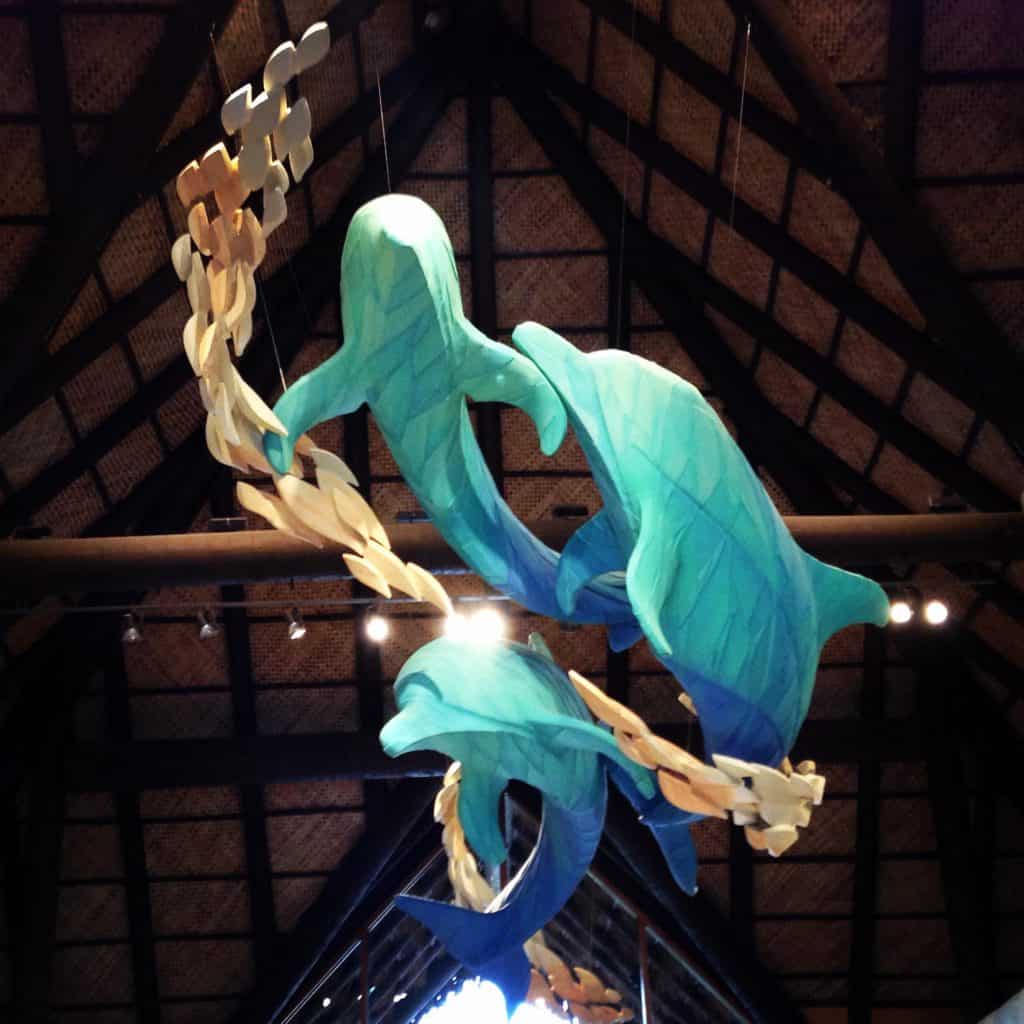 Movie Night at Leu Gardens
One of the best cheap things to do in Orlando is of course to get out and enjoy nature. What if you could watch a movie while enjoying the great outdoors? You can do just that at Leu Gardens!
This 50-acre botanical oasis was donated by Harry P. Leu and his wife to the city of Orlando. Today, it has been preserved and remains open to visitors. The gardens teem with life and vigor with azaleas, roses, and camellias. With a backdrop of camphor trees, elms, and oaks, it's no wonder this is a popular wedding destination.
Movies are usually shown once a month. A large projector shoots the movie at a screen over a huge lawn, underneath the stars. The movies are family friendly, never going above a PG-13 MPAA rating.
Arrive at Leu Gardens at 6 PM and stroll through the gardens beforehand. The movie begins promptly at 8 PM, so make sure to grab a good spot on the lawn. Pack a picnic basket and blanket to sit on! Don't be afraid to break out the wine, alcohol is permitted!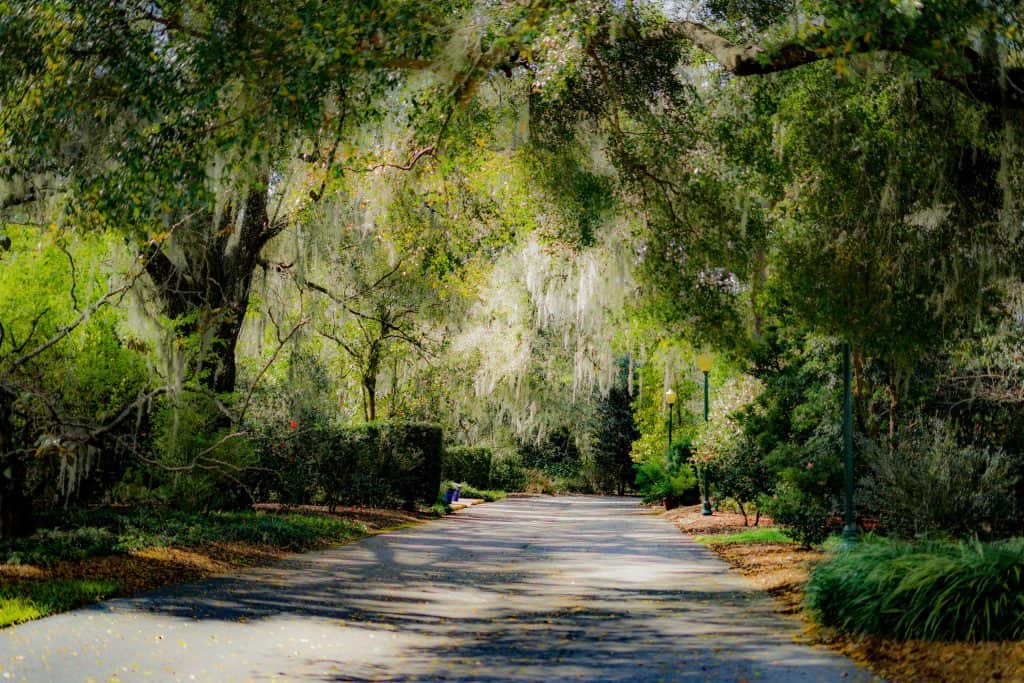 Kelly Park/Rock Springs
There's no better way to beat the Florida heat than to enjoy the state's beautiful natural springs. The next time the heat index is creeping higher and higher, take a trip to Kelly Park/Rock Springs for your next adventure!
It can get confusing, so let's clarify. Kelly Park is the name of the nature park. Here you'll find over 7 miles of hiking trails to enjoy! Rock Springs is the name of the natural Florida spring whose headwaters are found in Kelly Park.
Rock Springs is known as nature's lazy river. The pressure from 26,000 gallons of water at a constant 68 degrees pumping out from the headspring will naturally propel you gently down the river. There are no inner tube rentals, so bring your own. A pool noodle will work just fine!
A popular site for camping, each site includes grills, water, and electricity! At $23, this is a steal. You'll even see wildlife like owls, deer, and bobcats!
Because of the park's popularity, we advise arriving right at opening, especially if you want to float down Rock Springs. If you arrive between 8:00 – 9:00 AM, you shouldn't have a problem and won't be turned away! Check out our full guide with tips for visiting Kelly Park/Rock Springs: the perfect Florida Oasis!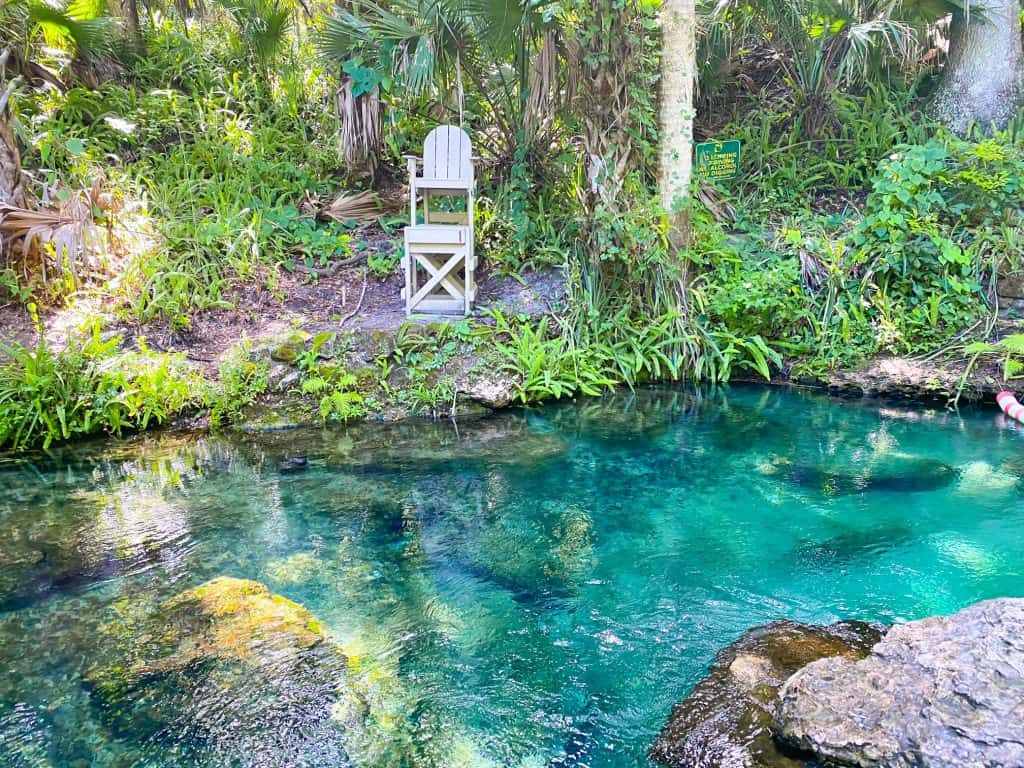 Church Street
If you're sick of International Drive and all its tourist traps, head over to the historic Church Street District. In the heart of downtown, explore the eclectic mix of sports, entertainment, and the arts in one of the best things to do in Orlando.
Deeply rooted in Orlando's history, the district was developed around the city's original train depot. The old Orlando Railroad Depot was made a local historic landmark! Over the years, local businesses along the street joined forces to create the vibrant commercial district found today.
Church Street is home to some of the best restaurants in Orlando. Head to the Rusty Spoon for classic American dishes, Kres Steakhouse for a new spin on surf and turf, or go inside the Grand Bohemian Hotel for an upscale experience. Don't forget Wahlburgers by the Wahlberg family.
Make sure to check out the Block Party in April! Bud Light and Jim Bean run drink specials at pop-ups. Take your picture with celebrity superstar cutouts! You can even enter to win fabulous prizes in one of the many giveaways hosted by the WWE!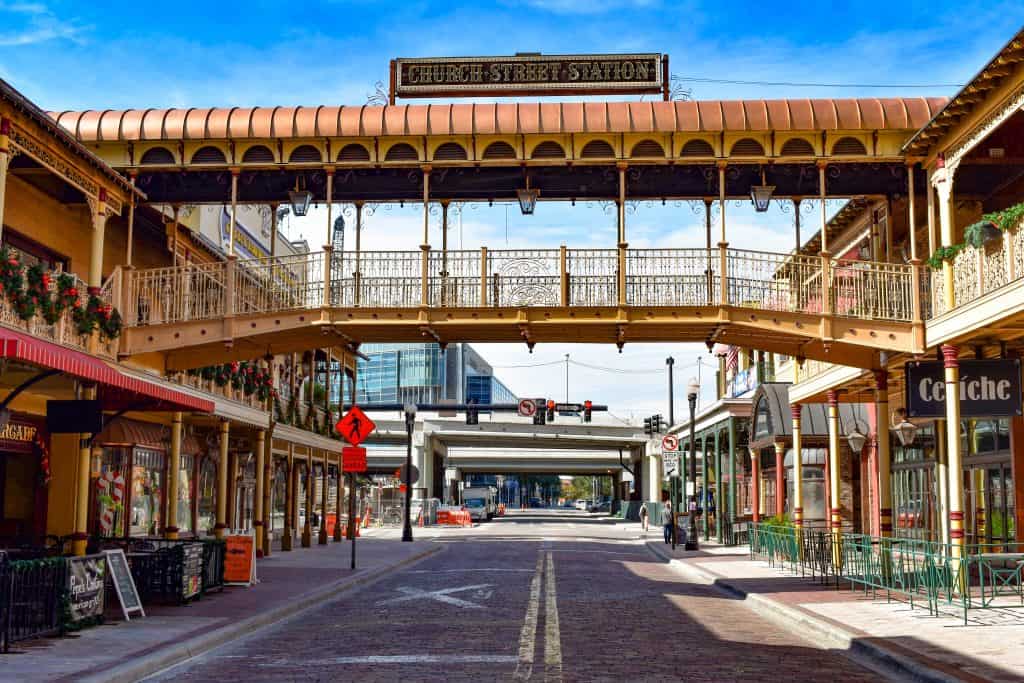 Titanic: The Artifact Exhibition
Almost a century later, people are still obsessed with the Titanic. It's been the focus of many documentaries, one of the highest-grossing films of all time, and even a Broadway musical! You can experience the Titanic phenomenon at one of the best things to do in Orlando.
A visit to Titanic: The Artifact Exhibition isn't a visit to one of the best museums in Orlando, it's an experience taking you back to April 1912. A truly immersive encounter, you will understand what it was like to be a passenger on the Titanic when it sank.
Walking through the space, you will see over 300 artifacts and historical items on display. The museum's design features full scale room recreations of the boat's Grand Staircase, a First Class Parlor Suite, the Verandah Cafe, and more.
On the Promenade Deck, the chill of the cold Atlantic air will send a shiver down your spine. Touch an iceberg outfitted to be the same temperature as the cold waters that killed so many passengers.
For a more immersive experience, attend the Titanic Dinner Gala. You'll enjoy a 5 course meal with actors playing the passengers on the "Ship of Dreams" like Captain John Smith and Margaret "Molly" Brown.
As a guest on the ship, you'll role-play what it was like when the news broke the ship was sinking. Your dinner experience also includes entrance to the Captain's Cocktail Party, a tour of the museum, and re-enactments of the evacuation of the ship.
Titanic: The Artifact Exhibition is open Wednesday through Sunday from 11 AM to 5 PM. Tickets are $22 for adults with discounts for children, seniors, and Florida residents.
Orlando Brewing Company
One of the best things to do in Orlando for adults is to enjoy libations of a different kind. Orlando Brewing is one of the oldest breweries in Orlando, opening in 2004 on Gore Street!
Founded by Ed Canty, who founded Florida's Brewer Guild, and John Cheek, this brewery uses the German Purity Laws of 1516 in their creations. As a result, the Orlando Brewing Company became the first USDA-certified organic brewery east of Colorado.
Conveniently located off of I-4 in Orlando's Industrial District, the taproom features over thirty different organic craft beers, like the O-Town English-style Brown Ale, a Kolsch Ale, a West Coast IPA, as well as blonde ales and Scottish ales!
The brewery offers tours, as well as wonderful specials like 30% off Growler fills on Tuesdays, Hoppy Hour on Wednesday, Thursdays are 2-4-1 on select beers, and Dog Day Sundays! Don't forget live music on Friday and Saturday nights!
While the brewery does not serve any food you can order from several restaurants around the area! Bring in your perfect food pairing for your beer of choice and enjoy the best libations the City Beautiful has to offer.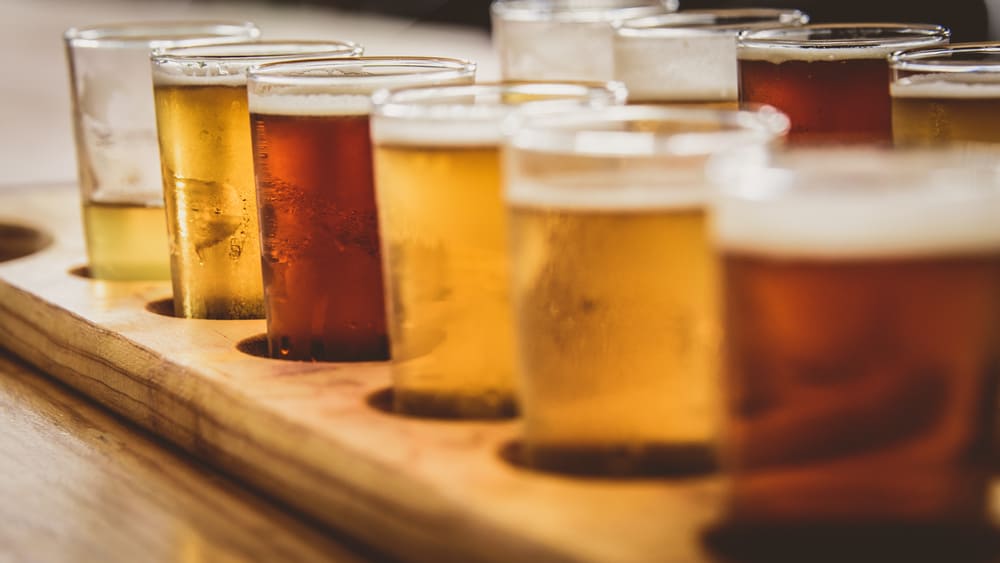 Take A Spa Day
If your feet are aching from park hopping at Disney and you need a break from being a tourist, there's no better way to unwind than by taking a spa day! Orlando has some of the best spas in Florida, so don't feel guilty about treating yourself!
Spa treatments are incredibly beneficial to the mind, body, and spirit! Not just an indulgence, many spa treatments help fight natural aging. Facials and body scrubs remove toxins and dead cells from the skin, clearing impurities, and reducing fine lines and wrinkles.
Mental health is just as important as physical health. So if you're over-stressed, head to the best spa in Orlando at the Four Seasons Resort and Spa! While there are so many Disney resorts to fit your every need, we're singling out the Four Seasons.
Restore your natural circadian rhythm of your body on a cellular level through Vibrational Sound Therapy. You'll reach a nirvana state with help from the sounds and vibrations of Himalayan Singing Bowls placed on and around your body.
If you've got insomnia, look no further. The Sleep Ritual Massage marries massage therapy with breathing techniques that focus on the seven somatic zones. Unlock your deepest, most satisfying sleep with the help of your therapist and aromatherapy. Afterward, take a Dreamkit home to continue your therapy and healing.
The Sticks and Stones Massage won't break your bones! Exclusive to this Four Seasons location, your therapist will use sculpted basalt stones and birchwood massage sticks. A variation of the hot-stone massage, flowing movements and muscle release techniques encourage tissue purification and total relaxation.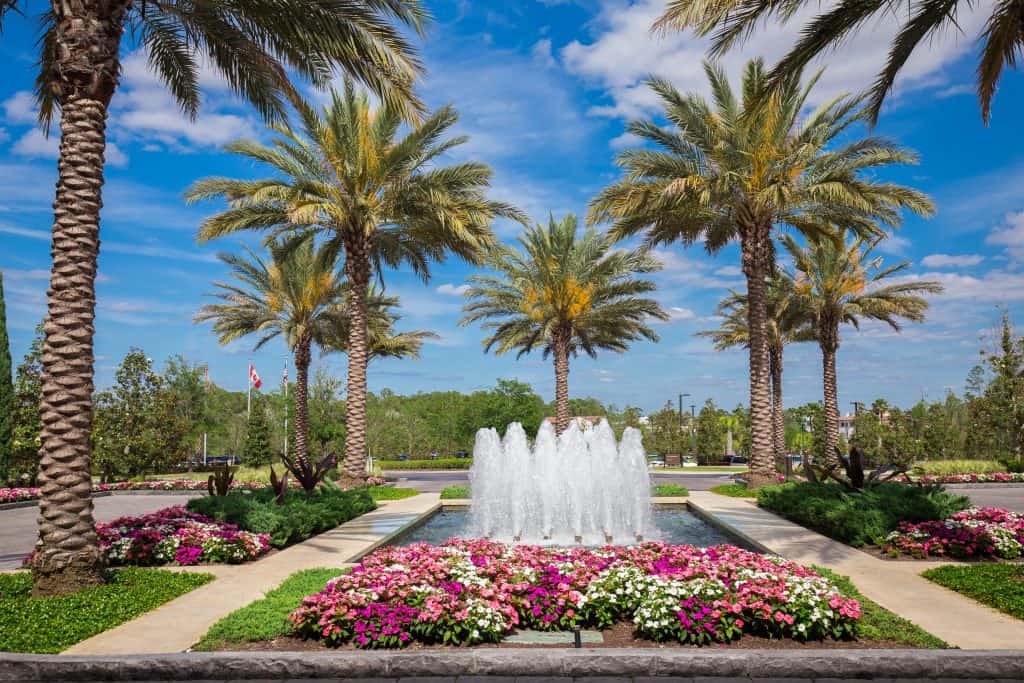 Kraft Azalea Gardens
In scenic Winter Park, just ten minutes north of Orlando, take the time to relax in a serene, public park. With lush scenery, Kraft Azalea Parks is one of the best things to do in Orlando.
Bordered on the north and west sides by Lake Maitland, Kraft Azalea Park was developed in 1938. At just over 5 acres, you'll find eight benches perfect for reading, picnics, or just spending a quiet, relaxing time. Get away from the hustle and bustle of downtown and spend time with yourself.
Enjoy the scenic trails for short walks. You'll also find a small dock near Lake Maitland. Bring your lines and lures and catch fish like largemouth bass, carp, bluegill, gar, and tilapia.
Make sure to check out the Exedra, a beautiful stone monument. Shaded by enormous cypress trees, this is an ideal location for a sunset wedding ceremony for up to 20 guests!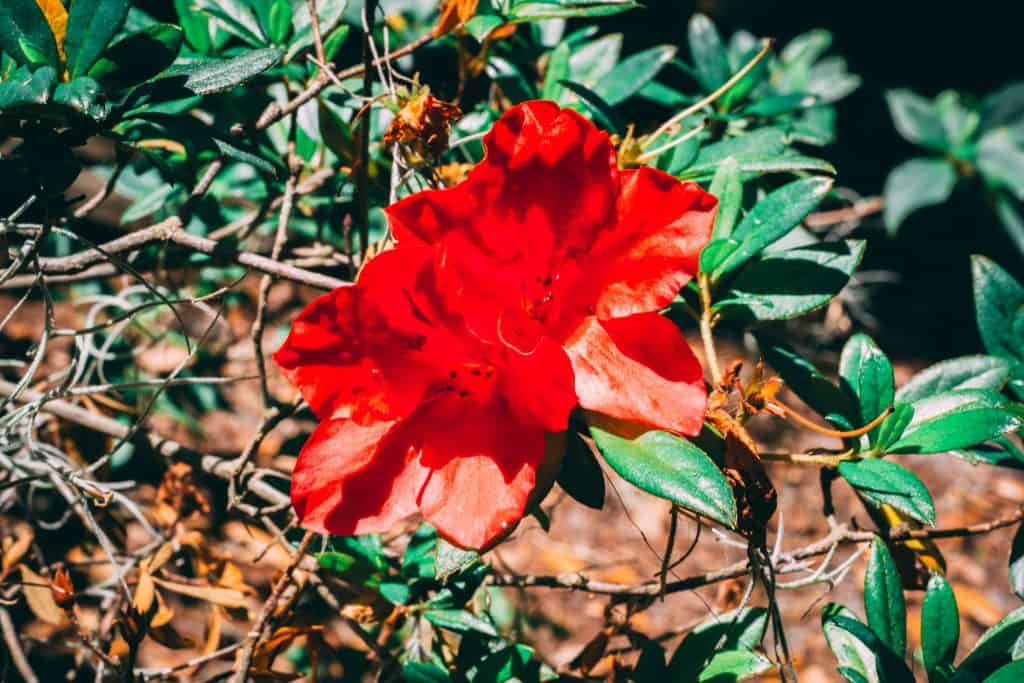 The Mall At Millenia
No matter if you're an Orlando native or visiting for business or pleasure, the Mall At Millenia is your one-stop destination for an extraordinary experience. As Orlando's premier shopping experience, you can wine, dine, and dress yourself to the nines!
One of the best things to do in Orlando, you can find all of your favorite retailers in one place. High-end, athleisure, gaming, beauty, home decor, and tech? You name it, the Mall at Millenia has got it.
The Mall at Millenia also produced the critically acclaimed Forbes Film Series! Some of short films explore the world of fashion, while the other explains the need to make forward progress as the world evolves, adapts, and changes around us.
Not sure what looks good on you, or even where to start! The Mall at Millenia can pair you with a personal shopper! Simply book your appointment, meet with them, and embark on a journey together to find an outfit for a special occasion, revamp your entire wardrobe, or picking out a gift to truly wow.
After you've shopped until you've dropped, sit down and grab a bite at one of the many restaurants inside. For quick bites, enjoy offerings from California Pizza Kitchen or Johnny Rockets. If you're in the mood for more high-end dining, head to The Capitol Grille or The Cheesecake Factory!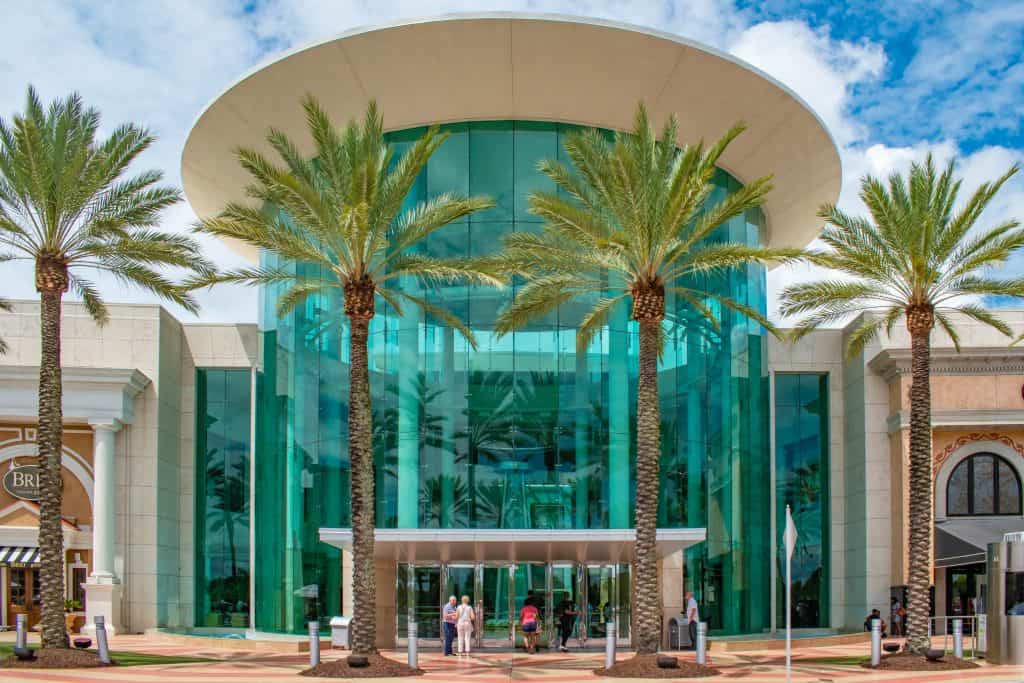 Winter Park Farmers Market
For shopping of a different pace, head to Winter Park just ten minutes north of Orlando to check out the Farmers Market! Every Saturday morning, wake up bright and early to check out the best that Central Florida has to offer!
Held every Saturday from 7 AM – 1 PM, the Winter Park Farmers Market is held in an old train depot that has since been restored and converted into a historical landmark! Here you'll find the number one produce and plant market in all of Central Florida.
Taste of the South listed the Winter Park Farmers Market on its top ten "10 Farmers' Markets in the South to Explore" for a reason! Browse several booths of fresh vegetables, baked goods, plants and flowers, hand-made arts and crafts items, and more.
This is a very popular attraction that brings out many visitors and even their dogs! You don't have to feel guilty about leaving your furry friend at home! Just make sure that your pup is leashed and you can explore the goodies together.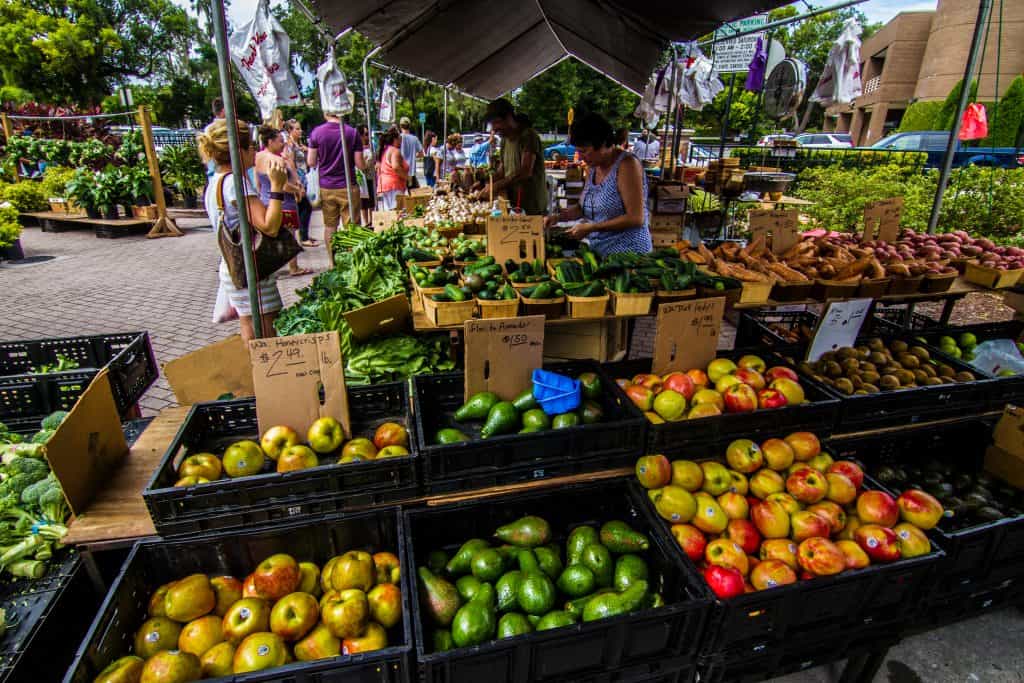 Did You Find This Post Helpful?
If so, we would love to keep in touch! We enjoy seeing photos and comments about your experiences in Florida! You can follow us on Instagram and we will repost your photos on our feed and comment too! Just tag us at @floridatrippers and hashtag #floridatrippers. We can't wait to see your travels!