Are you stuck in the same rut and need inspiration for your next date night in Orlando? Let us help you discover something new and exciting to do with your significant other.
Orlando is known as "The City Beautiful" for a reason. A metropolitan hub, the city draws more than 75 million people a year through tourism, major festivals, and convention traffic. If you've been to Orlando before, you probably went to visit one of its 12 theme parks.
We're here to show you Orlando is more than theme parks and costumed characters! With fabulous restaurants, gorgeous parks and nature, and quaint neighborhood villages, there's always something exciting happening.
The next time you're looking to plan a fun night out with your partner, take a cue from this list! If you're looking for a secluded spot or a unique adventure, date night in Orlando will never be the same.
Don't forget to check out some of the Best Places To Stay In Orlando when planning your visit!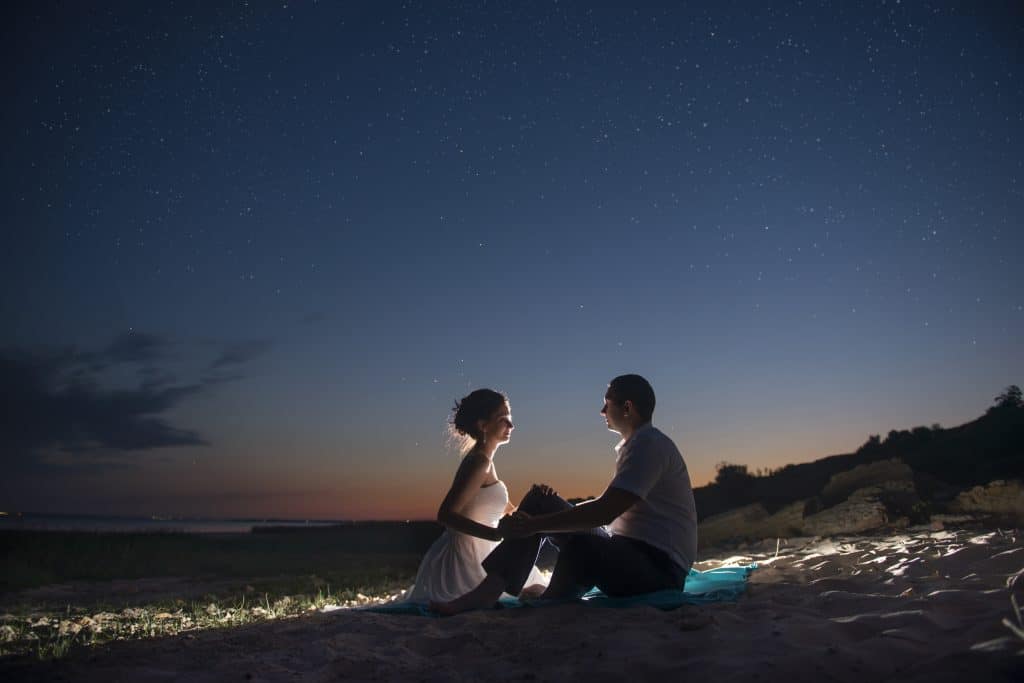 15 Romantic Ideas For A Date Night In Orlando
Park Avenue
One of the best date ideas in Orlando is to stroll down Park Avenue! A local hub for dining, shopping, and exploring, this is a great place to wander and enjoy your significant other's company.
Start off your date with a meal at one of the many restaurants on the Avenue. Try Pizza with a Brazilian twist at Braccia or grab cocktails at Park Station. If you like ginger, they make the meanest Moscow Mule in town.
Then enjoy a scenic boat tour along Lake Osceola and Lake Maitland. As you pontoon through the canals, you'll learn about Winter Park's history and see numerous estate homes with beautiful architecture.
After, take a tour through the Casa Feliz Historic Home Museum. Known as "Winter Park's Community Parlor," bask in the beauty of the red-brick architecture. On Sunday afternoons from 12 PM to 3 PM, enjoy live, acoustic artists at Music at the Casa.
Make sure to check out Central Park. No, it's not the one in New York, but Orlando's Central Park is perfect for an evening picnic. Catch a show at the amphitheater or just stroll through the rose garden. If you're there on a Friday from 5 PM – 10 PM, you can meet Paul, who will write a poem for you about any topic on his typewriter.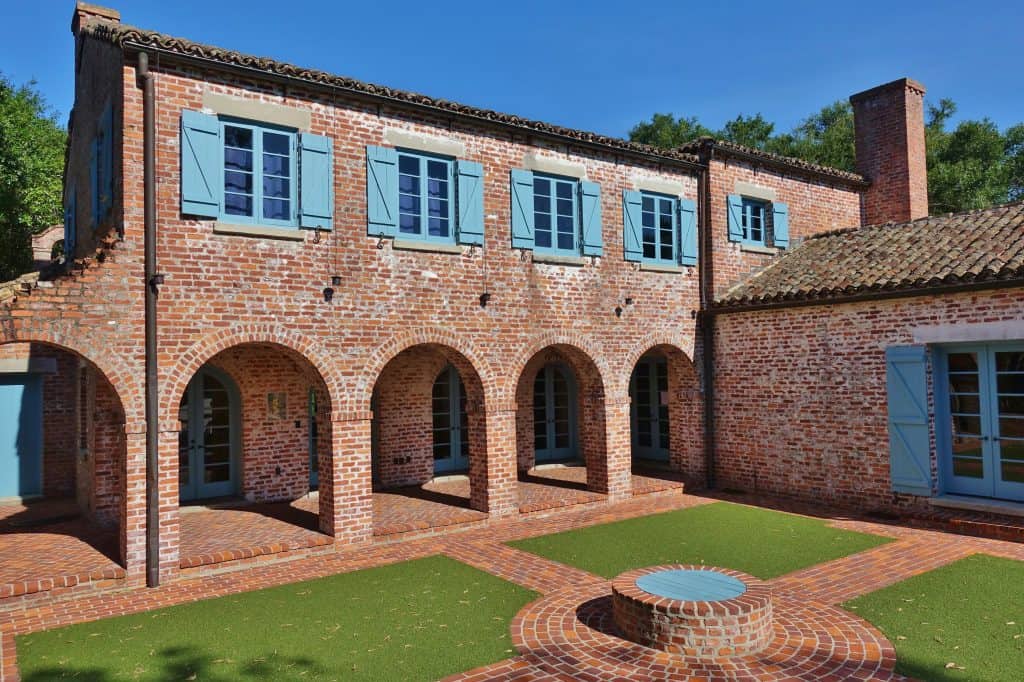 Orlando Eye
Have you ever driven past Orlando and seen that gigantic Ferris wheel? It's completely unmissable! It's called the Orlando Eye and it's one of the most romantic things to do on date night in Orlando.
A 400-foot tall observation wheel at the heart of downtown, the Orlando Eye offers you a bird's eye view of the city unlike any other. Equipped with 64,000 color-changing LEDs, the Eye illuminates the skyline at night with unique light shows.
Before you take a ride, check out ICON Park just below. Inside you'll find amazing shops, boutiques, and even Orlando's aquarium. The restaurants there are some of the best in the city, including iCafe de Paris, which serves one of the best breakfasts in Orlando.
Afterwards, jump into a capsule and take a ride on the brightest beacon in the Orlando sky! The Orlando Eye is perfect for special occasions. For $350, you and your partner can reserve a capsule all to yourself with champagne. This could be the perfect setting for a proposal!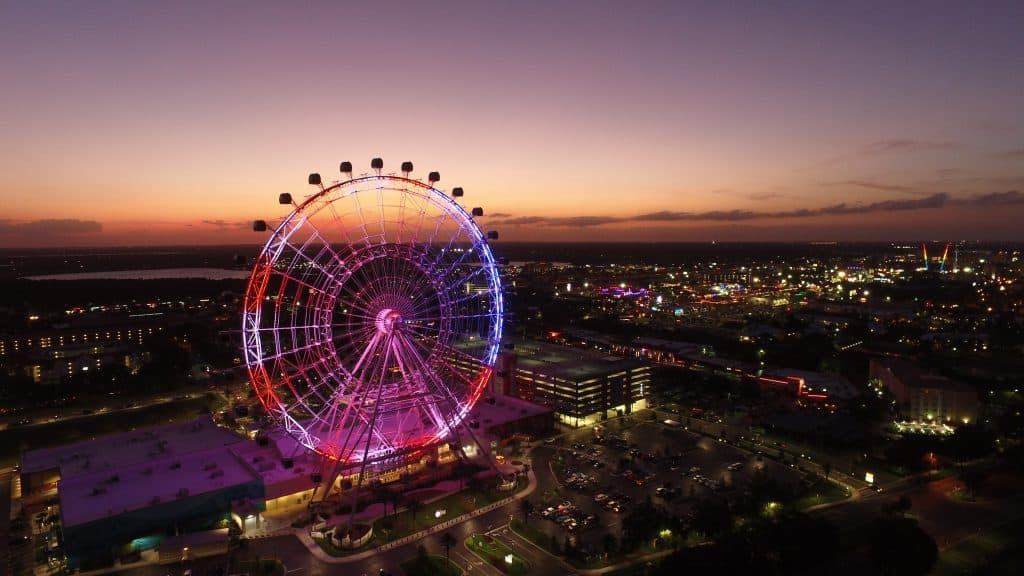 Lake Eola Park
In the center of Downtown Orlando lies Lake Eola, a beautiful park that offers stunning views of the city skyline, especially in the evenings. A stroll around the park that circles the lake is perfect for a date night in Orlando.
Take a break to relax amid the gorgeous flower beds with a beautiful view of the Orlando sunset. In the fall months, the park is strung up with thousands of Christmas lights. If you're lucky, you can catch a play or movie at the Walt Disney Amphitheater.
For the best views, take a pedal-powered Swan Boat! As you float along the lake, you can see the beautiful fountain up close. You might come face to face with actual swans that call this lake their home. Swan boats are $15 for a 30 minute rental, debit and credit only!
Afterwards, finish the evening off at a romantic restaurant, all bordering the park. Grab a glass of vino and cheese board at Eola Wine Company, or enjoy cocktails and sashimi at Shari Sushi Lounge.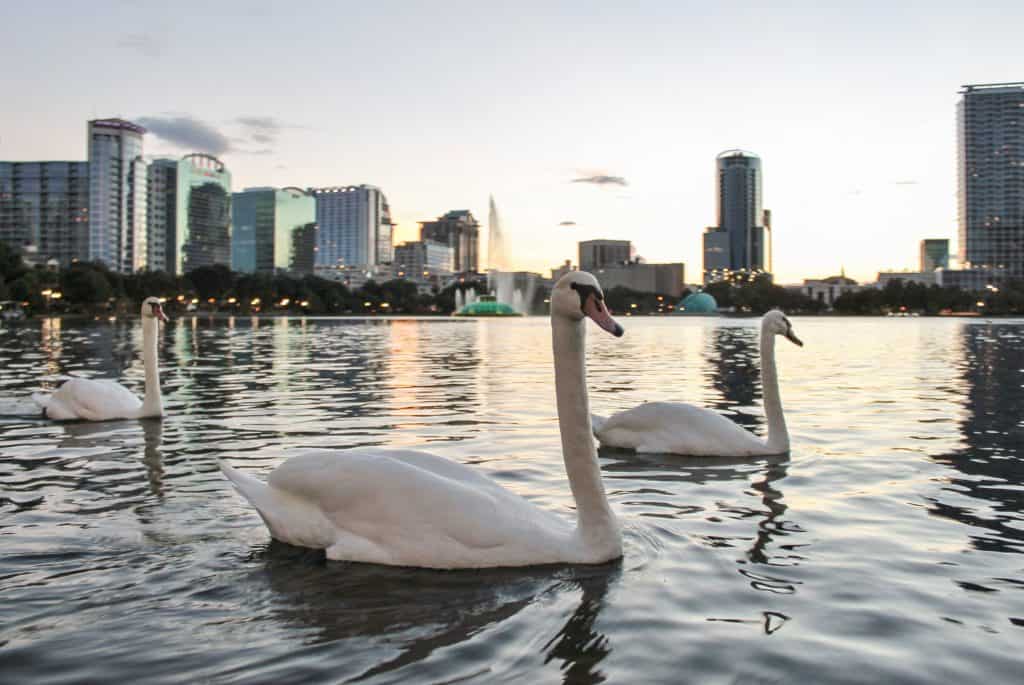 Food Truck Bazaar
If you and your significant other consider yourselves to be foodies, then make it a point to plan your next date night in Orlando around the Food Truck Bazaar.
Hosted by The Daily City, the Food Truck Bazaar brings Orlando food trucks together with locals in different communities in Central Florida. This results in a fun atmosphere of food sampling and meeting other couples!
Known as the "pied piper of food trucks," this food festival is constantly moving around town, so check their schedule. You can always plan an outing around them and your busy schedule! Anywhere from 10-15 trucks will be in attendance per event.
The food trucks serve a variety of different foods, from gourmet fare, ethnic cuisine, barbecue, and irresistible desserts. With trucks constantly moving in and out of rotation, this is the best way to experience the Orlando food scene in just one night!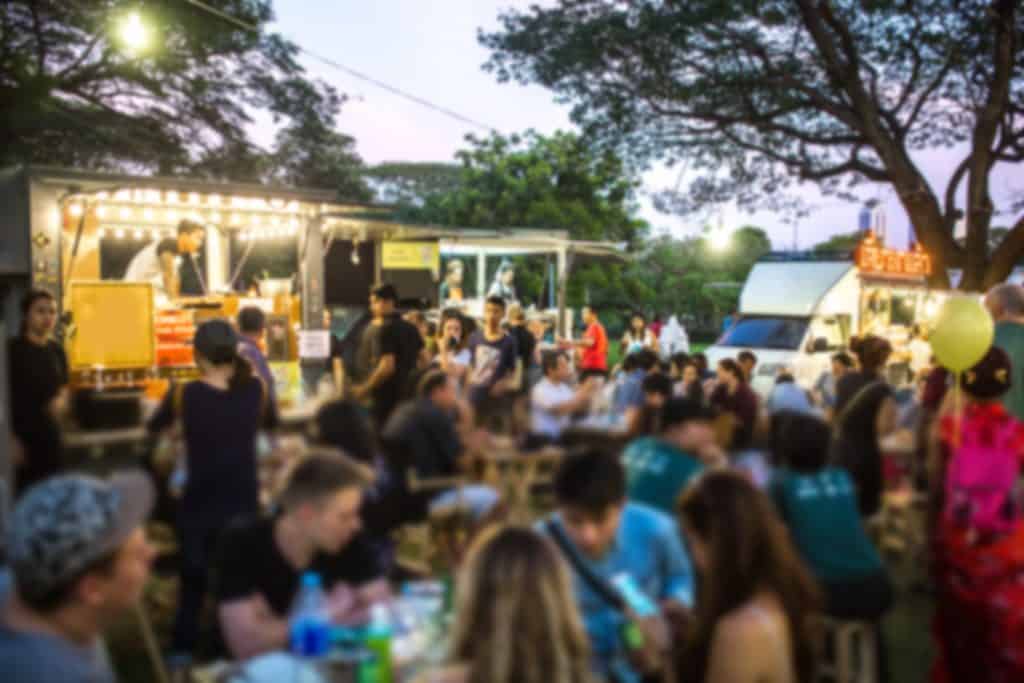 Bok Tower Gardens
While technically not in the City Beautiful, Bok Tower Gardens is the perfect day trip from Orlando worthy of your date. Just 50 minutes to the south, it is well worth the trip.
One of Florida's most beautiful hidden gems, Bok Tower lies in the middle of a meditation and reflection garden that doubles as a bird sanctuary. Today, the grounds have been transformed into what he called "a spot of beauty second to none in the country."
We couldn't agree more with this sentiment, especially when you and your partner take the time to explore the grounds. Wander the paved pathways and mulched trails to reach the Core Gardens, lush with native Florida plants.
When you arrive at the Tower itself, you will hear it ring out. Because Bok Tower is a Carillon, it's actually a bell tower that can be played like an instrument. Daily concerts happen at 1:00 PM and 3:00 PM and the tower's music can be heard throughout the grounds also at half-hour intervals.
If you and your partner keep a close eye out, you will see one of the 126 species of birds that call the reflecting pool and surrounding gardens their home.
End the day with soup or salads at the Blue Palmetto Cafe. Keep the magic alive and commemorate your visit at the Shop at Bok to take home unique treasures as well as plants to plant in your own garden.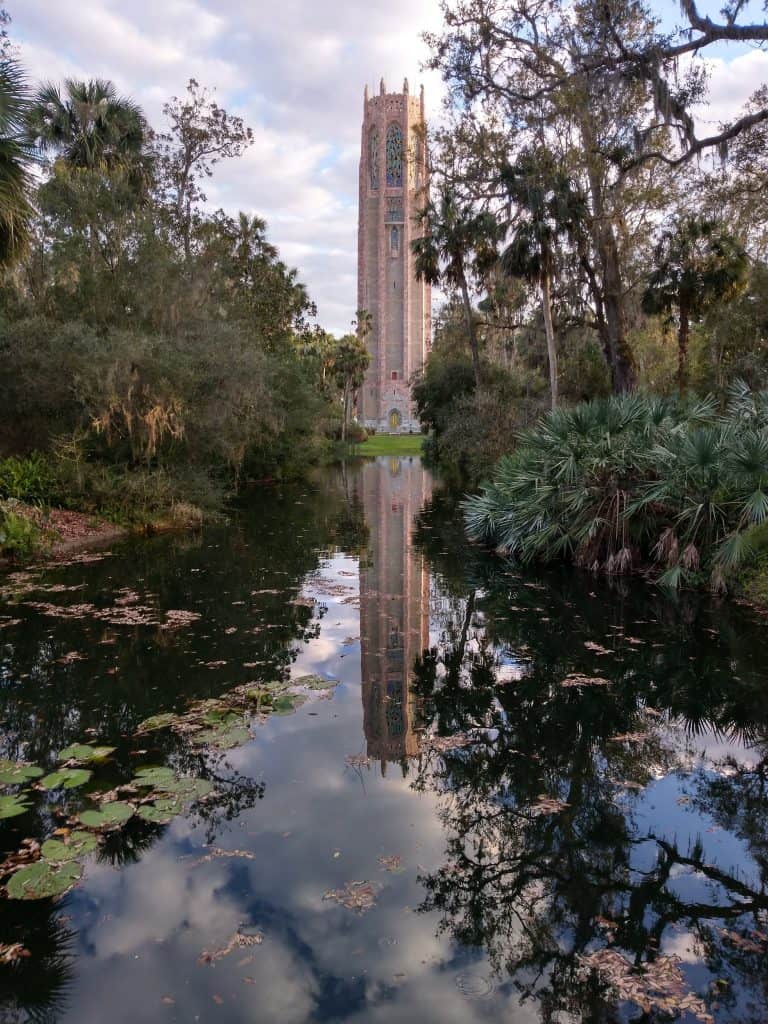 Movie Night at Leu Gardens
Dinner and a movie. It's the oldest date night in the book. Pretty stale, right? Why not change things up and watch a movie under the stars at Leu Gardens?
This 50 acre botanical oasis was donated by Harry P. Leu and his wife to the city of Orlando. Today, it has been preserved and remains open to visitors. The gardens teem with life and vigor with azaleas, roses, and camellias. With a backdrop of camphor trees, elms, and oaks, it's no wonder this is a popular wedding destination.
Movies are usually shown once a month. A large projector shoots the movie at a screen over a huge lawn, underneath the stars. The movies are family friendly, never going above a PG-13 MPAA rating.
Arrive at Leu Gardens at 6 PM and stroll through the gardens beforehand. The movie begins promptly at 8 PM, so make sure to grab a good spot on the lawn. Pack a picnic basket and blanket to sit on! Don't be afraid to break out the wine, alcohol is permitted!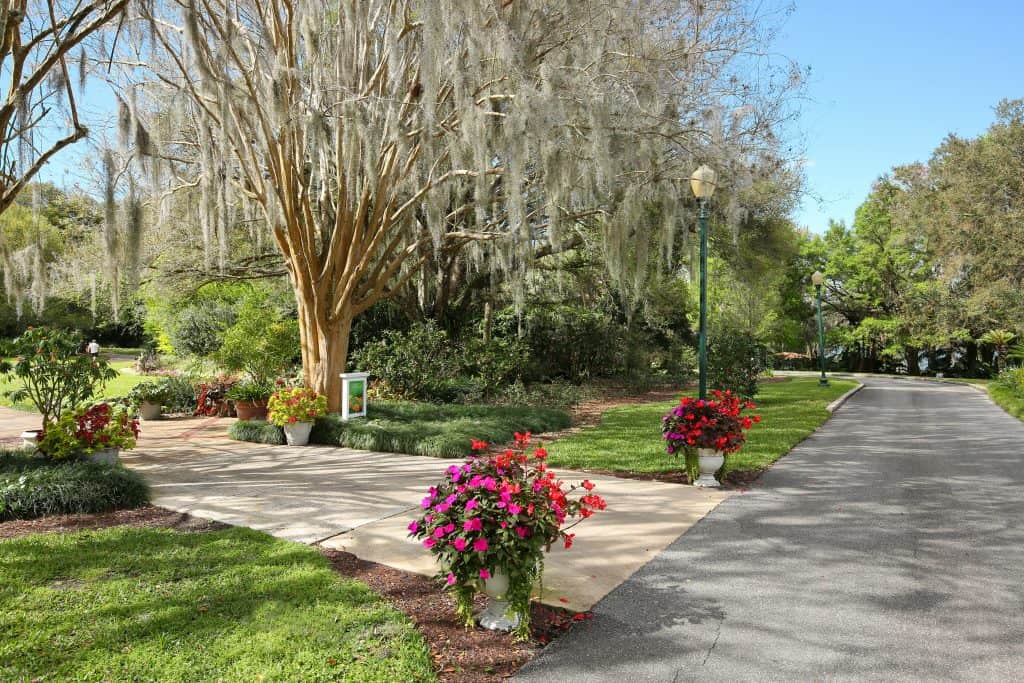 Wild Florida Drive-Thru Safari Park
Some Florida road trips will take you through the state's best parks. Others will take you through notable towns and cities. At Orlando's Drive-Thru Safari Park, the animals and jungle come to you!
Hop in the car with you partner and explore the African savanna and the thick forests of North America all in one place! With over 85 acres of scenic landscapes, you'll get up close and personal with animals from the comfort of your vehicle.
Usually you can only see exotic animals in nature documentaries at home on the couch. At the Drive-Thru Safari, you'll see zebras, antelope, American bison, mouflon sheep and more!
After your drive, hop onto the feeding platform. You'll meet, greet, and feed friendly and hungry giraffes. Then catch an exotic animal show. There are many places to see wild alligators in Florida, but only here can you see their massive jaws in action at the Gator Feeding Show!
Moonlight Walking Tour
If you're looking for a date night in Orlando off-the-beaten-path, but in a spooky way, take a Moonlight Walking Tour. Get ready to clutch your significant other a little tighter, this walking tour takes place in Greenwood Cemetery.
Greenwood Cemetery is owned and operated by the city of Orlando. Established in 1880, the cemetery offers scenic views and historical importance. Notable figures in Orlando's history have been laid to rest here, like city officials and mayors.
The Moonlight Walking Tour takes you on a 4-mile trek through the 100 acres. You'll visit about 100 graves of notable individuals in Orlando's history. While this isn't a ghost tour, it is still kind of spooky.
Moonlight Walking Tours happen about once a month, and are very popular in the community. They sell out quickly, so book your ticket in advance to secure your spots!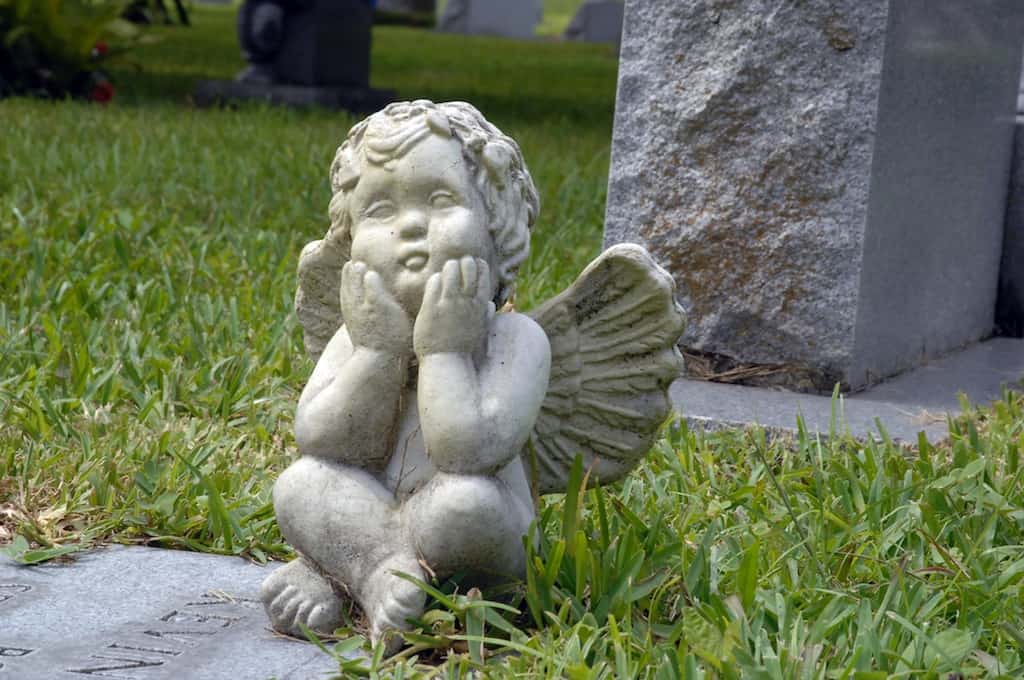 Fireworks at Disney
Watching the fireworks at Disney at the end of the day is one of the best ways to enjoy the magic of the parks. While it is one of the most romantic things to do in Orlando, the best part is you don't have to pay park admission to enjoy them!
That's right, you don't even have to be inside of a Disney Park to see the fireworks. Magic Kingdom and Epcot have the fireworks shows that are most visible from outside the parks. It's one of the best free things to do at Disney!
At Magic Kingdom, you can easily see the fireworks show from one of the hotels and resorts. Grab a lounge chair at Disney's Polynesian Village Resort. Make a night of it and go resort hopping! You can also see the show from the bridge between Disney's Contemporary Resort and Bay Lake Tower.
If you're looking for Epcot's show, head to Disney's Boardwalk! Not only will you see the fireworks, you'll have a great view of Cresent Lake. Make a complete night of it and visit the bakery for some tasty treats. Rent a surrey bike or party at the Atlantic Dance Hall!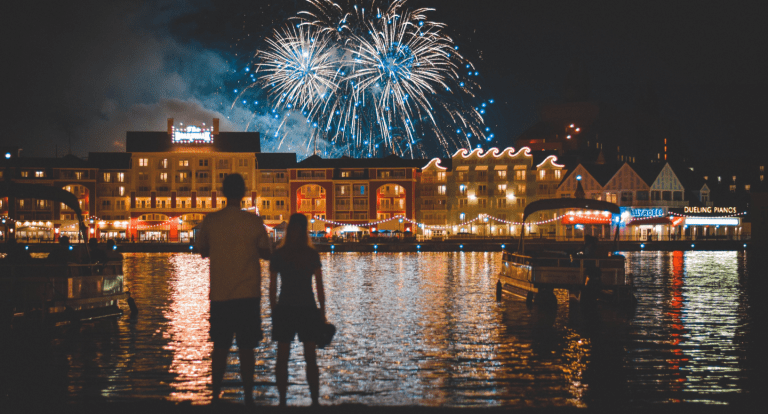 Bioluminescent Kayaking
If you've never heard of bioluminescence before, it's essentially when living organisms like plankton produce and emit light! It sounds pretty wild, but if you've ever seen fireflies, that's an example of bioluminescence!
In Florida, this natural phenomenon can be rare, but not in Orlando! With Florida Adventurer, you can go on a moonlit kayak tour to see it in action. When your paddles hit the water, you'll see blue lights ripple through the water. Don't worry, it doesn't hurt the organisms!
Launching from Haulover Canal, just 45 minutes away from downtown Orlando, you'll coast through the Indian River Lagoon and it's waterways. You can take a single kayak, or a double to be closer to your significant other.
We recommend leaving your cameras at home. Bioluminescence is very difficult to photograph unless you have high-grade equipment. Put down the phone and enjoy your 90 minute moonlit kayak tour and the company of your partner.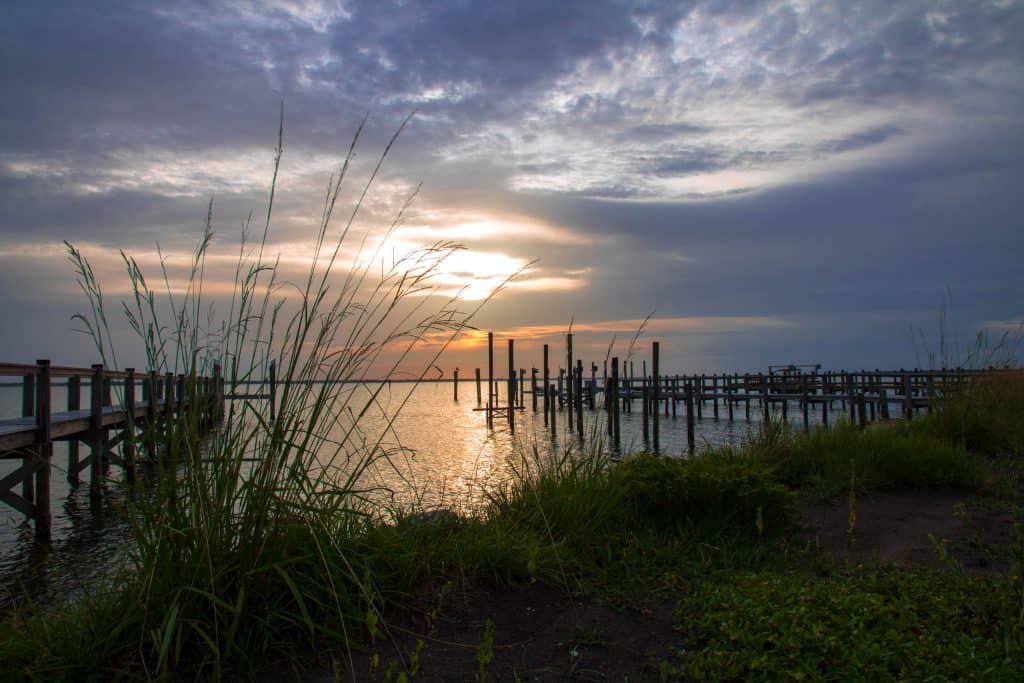 Orlando CityWalk
CityWalk is not just the gateway to Universal Studios and Islands of Adventure, but an experience in itself. From exciting entertainment to unforgettable cuisine, this is the perfect spot for your next date night in Orlando.
After 6:00 PM, admission and parking is free. Just park where you normally would park to get into Universal's theme parks and walk on in! From innovative dining to out-of-this-world attractions, there's something for everyone to enjoy at CityWalk.
Start your night off by choosing your restaurant out of an array of different cuisines! Our favorites are the Toothsome Chocolate Emporium and Savory Feast Kitchen and the Cowfish Sushi Burger Bar. Yes, you heard us. Sushi burgers!
Afterward, you can catch a showing of the Blue Man Group. With three hosts, completely painted blue, experience a multi-sensory show that captivates you through sound and color! If you want to catch a blockbuster flick, do it at AMC 20 which has an IMAX screen.
If you're feeling brave, sing some live karaoke at CityWalk's Rising Star! You'll feel like a superstar as you rock out to your favorite songs backed by a live band.
To feel like a kid again, get your fright on, and step into one of the best rounds of golf in Florida straight out of a 1950s thriller. Choose between two putt-putt courses, The Haunting of Ghostly Greens or Invaders from Planet Putt. Encounter scares as the green takes you through haunted houses and a flying saucer.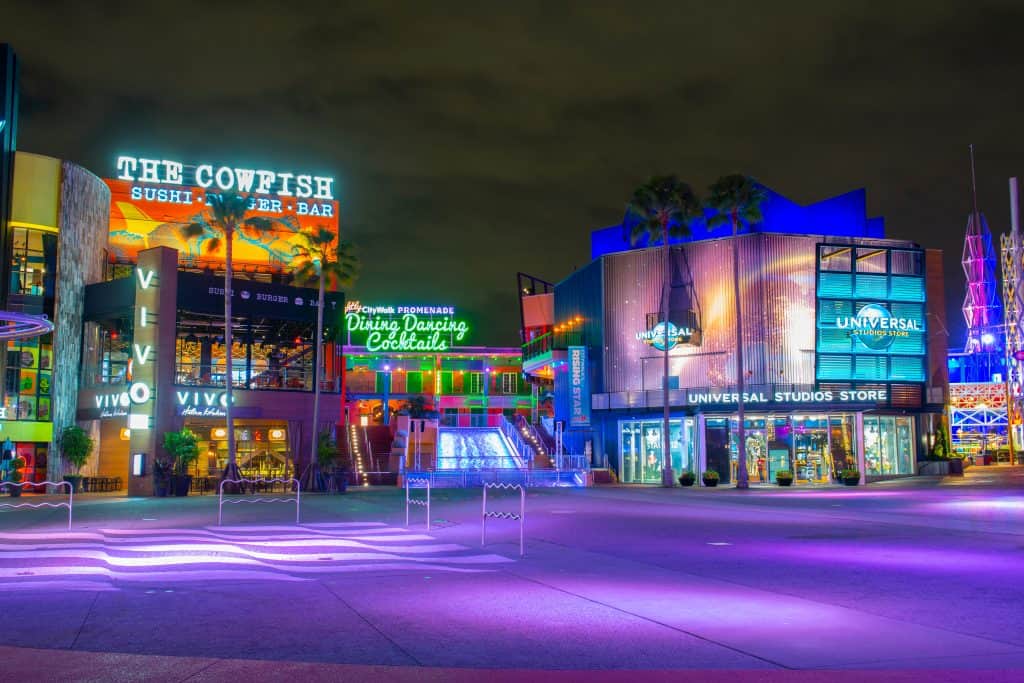 First Thursdays at the Orlando Museum of Art
For a classier, quieter date night in Orlando, take your partner to First Thursdays at the Orlando Museum of Art. On the first Thursday of every month, this local festival celebrates local artists in a lavish party!
Run by a volunteer group, the mission of First Thursdays is to encourage the appreciate of the visual arts. You'll discover local artists, listen to live music, and mingle with an eclectic array of guests from art-lovers to artists themselves!
Each Thursday has a theme and the special exhibit curated celebrates this! Past events have featured emerging artists still attending UCF. Awards are given for Best in Show and People's Choice.
Make sure you bring money for the cash bar which serves wine, beer, soft drinks and cafe offerings from area restaurants. However, parking is free in the Orlando Loch Haven Park.
First Thursdays at the Orlando Museum of Art run from 6:00 PM – 9:00 PM. Admission is $15 and grants you access to the featured exhibition as well as the party!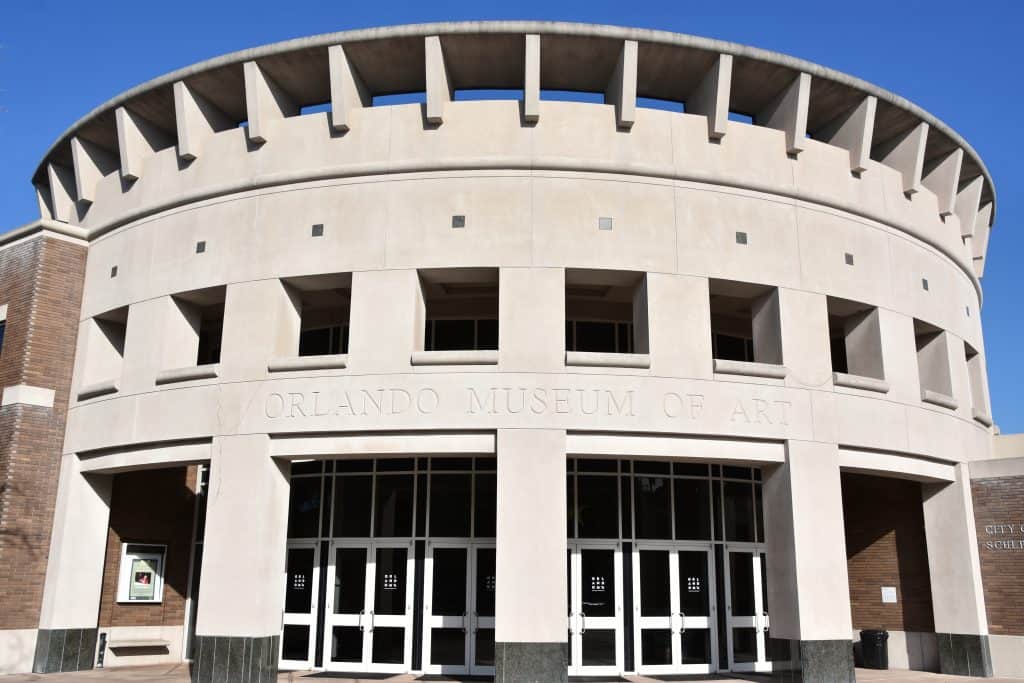 Visit Mount Dora
Just a 35 minute drive northwest of Orlando, Mount Dora is a sleepy town known for its antique shops and the best festivals in Florida. Small enough to explore in a day, but interesting enough to lure visitors back, this is a great place to explore with your significant other.
As you walk through Mount Dora, you'll notice the historic buildings downtown dotted with palm trees on the streets. Filled with boutique shops, walking tours, and art galleries, there is so much to explore.
The highlight of the town is Renninger's Vintage Antique Center & Farmer's Flea Market. Over 117 acres of scenic, rolling land are filled with vendor booths selling everything from produce, meats, cheeses, and a variety crafts.
On the second Friday of every month, catch the Mount Dora Art Splash. Walk through an outdoor art gallery, where the quirkiness of the town really shines. The shops stay open late and there is live music to enjoy!
The crown jewel of the town is Lake Dora. 6 miles long and a third of a mile wide, enjoy the sunset on the Palm Island Park Boardwalk. Take a tour of the 35-foot tall working lighthouse! There are not many freshwater lighthouses in the state, so take advantage!
Mount Dora is said to be magical, and once you visit, you'll understand why. Extend your stay with a charming Airbnb and take in the small town in all of its allure.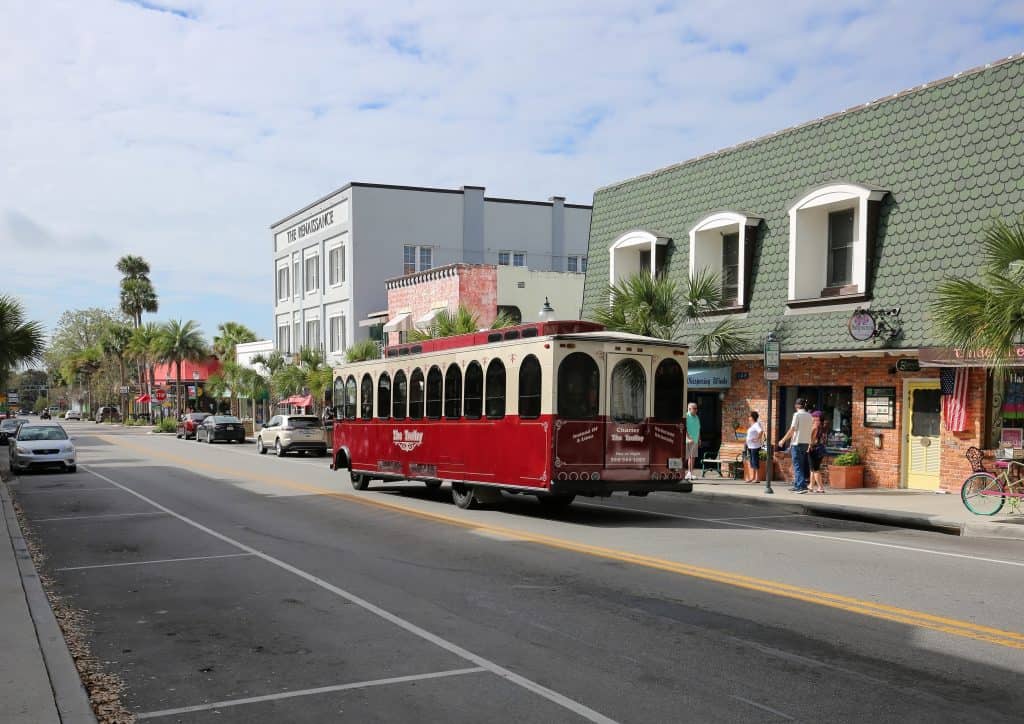 RDV Ice Den
You could go swimming to beat the Florida heat, but why not lace up your skates and hit the ice at the RDV Ice Den? Ice skating doesn't just have to be a holiday activity in Orlando. Here, you and your partner can skate on NHL and Olympic-sized ice rinks!
Public skating is available in the afternoons and evenings. $13 grants you access to the rinks as well as skate rental! If you get hungry, grab a nosh at Bear Bites concessions for hot dogs, corn dogs, and pizza.
For something more intimate, take a skating class with your partner! In a relaxed and judgement-free zone, you can learn to ice skate without one of those embarrassing walkers. Classes are 30 minutes with 15 minutes of free practice afterward.
Once you've gotten the hang of skating, RDV Ice Den also offers figure skating lessons! All instructors are members of the Professional Skaters Association, so you will be in good hands. You can book private or group lessons so you and your partner can learn some tricks on the ice together.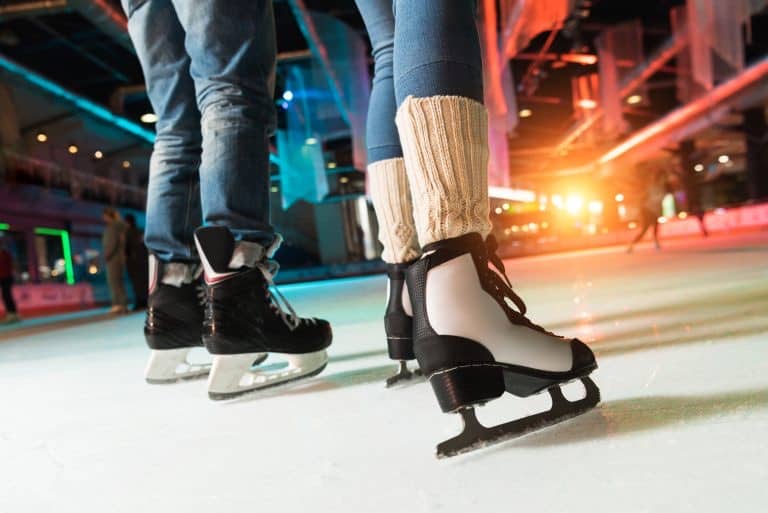 Kelly Park/Rock Springs
Did you know that Florida has some of the most beautiful natural springs in the country? Did you know that one of the best springs is right in your backyard in Orlando? Make a trip to Kelly Park/Rock Springs for your next adventure!
It can get confusing, so let's clarify. Kelly Park is the name of the nature park. Here you'll find over 7 miles of hiking trails to enjoy! Rock Springs is the name of the natural Florida spring whose headwaters are found in Kelly Park.
Rock Springs is known as nature's lazy river. The pressure from 26,000 gallons of water at a constant 68 degrees pumping out from the headspring will naturally propel you gently down the river. There are no inner tube rentals, so bring your own. A pool noodle will work just fine!
A popular site for camping, each site includes grills, water, and electricity! At $23, this is a steal. You'll even see wildlife like owls, deer, and bobcats!
Because of the park's popularity, we advise arriving right at opening, especially if you want to float down Rock Springs. If you arrive between 8:00 – 9:00 AM, you shouldn't have a problem and won't be turned away! Check out our full guide with tips for visiting Kelly Park/Rock Springs: the perfect Florida Oasis!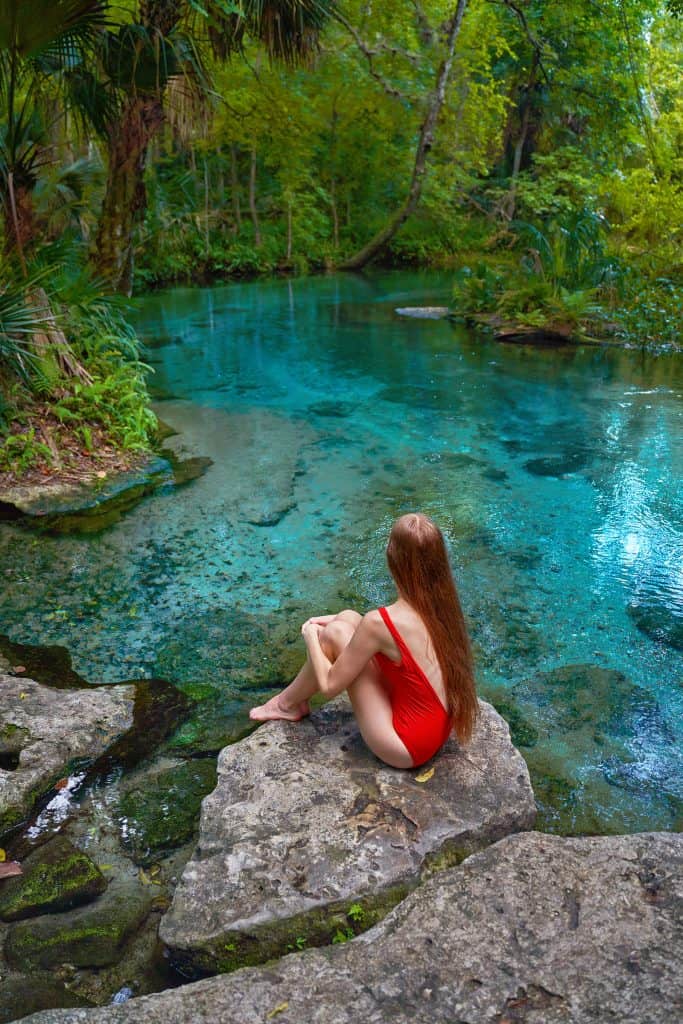 Did You Find This Post Helpful?
If so, we would love to keep in touch! We enjoy seeing photos and comments about your experiences in Florida! You can follow us on Instagram and we will repost your photos on our feed and comment too! Just tag us at @floridatrippers and hashtag #floridatrippers. We can't wait to see your travels!