Have you been wondering if visiting Florida in September is a good idea or not? This guide will help you decide if the Florida weather in September is best for your vacation. We will share all the best things to do in Florida in September like festivals, beaches, springs and more.
If you haven't considered visiting Florida in September before, think again. The Sunshine State has many advantages when it comes to visiting Florida in September. First, the best theme parks have awesome Halloween-themed celebrations going on during the month.
On top of that, with the weather in Florida in September being what it is, there are less heavy of crowds to compete with. The best part is, even though the temperatures cool off a bit, the waters are still warm and perfect to swim in.
Visiting Florida in September is not so much for people who have to stick to a plan. With constantly changing weather throughout the month of September, plans have to be made loosely. Those whom are able to adapt quickly and go with the flow of things, will love experiencing all of the best of Florida in September.
So let's get to it. Here are some of the top things to know before booking Florida trips in September.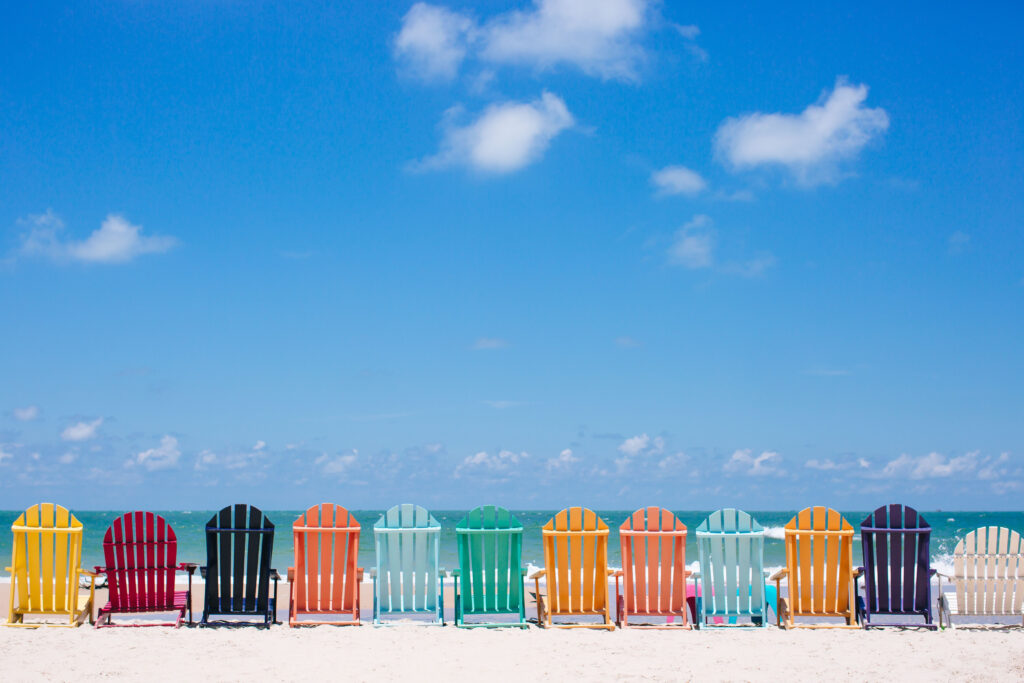 Things To Know Before Visiting Florida In September
#1- Florida Weather in September is Rainy, But Better Than in Summer
Okay, yes. Visiting Florida in September is still pretty warm. Average temperatures in Florida in September are around 86-90°F (30-32°C). However, there is quite a bit of rainfall in September to tame the summer's heat and give some reprieve. Expect about 4.2-5.6 inches of rainfall in Florida in September, with less rainfall expected as the month goes on.
The good news is- rainfall does not necessarily mean that plans are ruined.
In fact, Floridians are so prepared for adapting to the rainy season that amusement parks and theme parks typically will not close down due to rain. Although, if the weather starts to become dangerous, the parks will close down. Practically, unless there is thunder or lightning nearby, the parks stay open.
While most people clear out of the parks when it rains, those with rain gear get the park to themselves. Florida has an average of 19 days of rainfall in the month of September. Our best advice is to always pack rain gear when visiting Florida in September.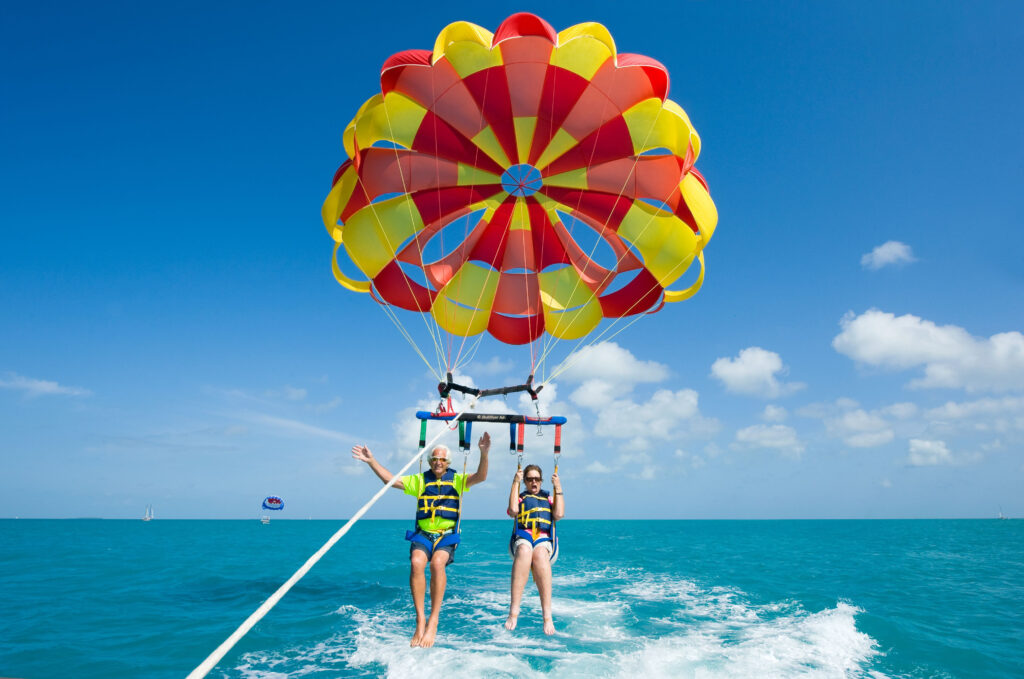 #2- Water Temperatures are Still Warm Off the August Heat
Florida trips in September should include lots of swimming at the beach. Both the Atlantic and Gulf of Mexico have waters that are warm enough to snorkel in, ride jet-skiis, and surf.
September is not the time of year that you have to worry about cold temps making the beaches unpleasant. The waters are quite pleasant as they are still warm from the summer. On average the water temperatures in Florida in September hang at 86°F. During September there is no need to dip the toes in first; the waters invite you to just run in.
Another advantage of visiting Florida in September is that there will be less crowds to deal with at the beaches. Even the best beaches in Florida will have plenty of room for you to choose a premium shoreline spot.
#3- Halloween Events Kick Off in Orlando and Around the State
If you are a Halloween fanatic, you will be pleased to know that Florida starts the season of terror a whole month early. There are so many Halloween-themed things to do in Florida in September that you just won't want to miss.
Get your freight on at the Halloween Horror Nights in Universal Studios. Catch spooky movie set-quality haunted houses, scare zones scattered throughout the park, and a Terror Tram in September.
Similarly, Bush Gardens also kick off their Howl-O-Scream nights in September too. They have spooky sinister shows, unpredictable hordes, and haunted houses that will make you scream. These events are well known, super fun, and sell out quickly in the month of October. That's why these theme parks are some of the best places to visit in Florida in September.
Even kids will love visiting Florida in September. Mickey's not so Scary Halloween Party is a great alternative to those who don't enjoy the scary parts of Halloween. Catch the four big attractions during the MNSSHP like the Mad Tea Party, Monsters, Inc. Laugh Floor, Space Mountain and the Pirates of the Carribean which all feature a Halloween Special. Kids will love the fantastic Halloween parades with favorite characters like the Hocus Pocus Sisters and Jack Skellington. Even Constance from The Haunted Mansion joins the celebration too!
Halloween festivies are some of the all-time best things to see in Florida in September. Even more, some of the best deals for these theme parks occur in September. Many hotels will also feature low prices at some of the best vacation spots in Florida in September. We're telling you, Florida in September is a gold mine of fabulous deals and fun.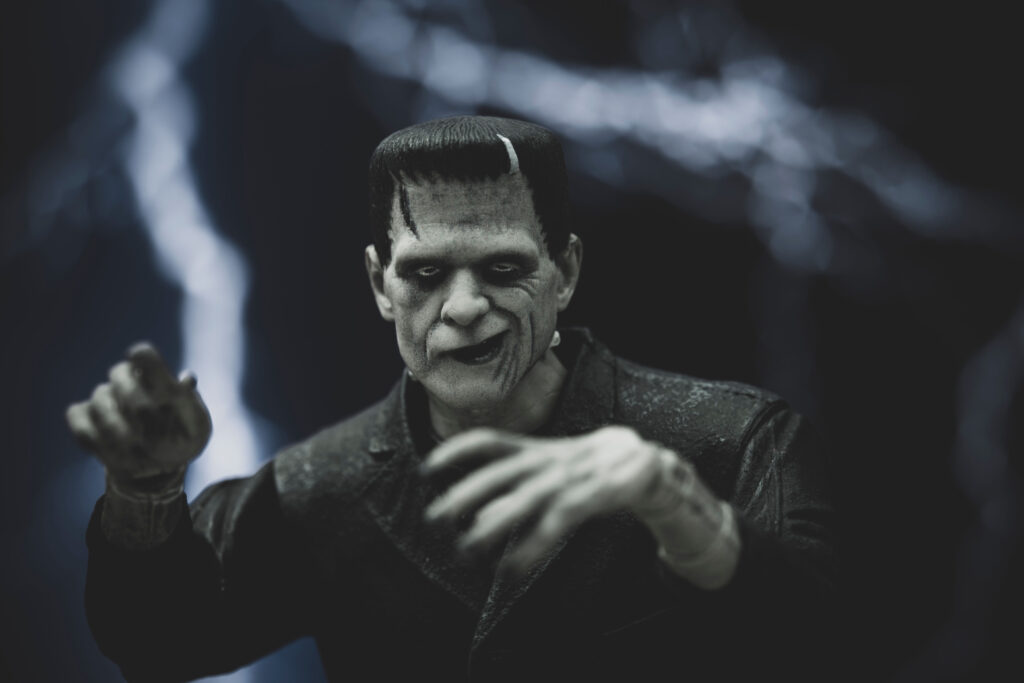 #4- September in Florida is the Most Active Month for Hurricanes

Those traveling to Florida in September should also know that September is the most active month for hurricanes. While hurricane season extends from June 1- November 30, September is the month with the highest chance for hurricanes to hit landfall in Florida.
An average hurricane season in the month of September will see four named storms. Specifically, Florida in September on average has one major hurricane of a CAT 3, or higher, and two hurricanes CAT 2, or lower.
Tropical storms are also highly likely during these months. While tropical storms do not reach high enough wind speeds to be labeled a hurricane, these storms will still bring lots of rainfall and wind.
Hurricanes are dangerous due to flooding, storm surge, and windspeeds capable of causing damage to structures. Those traveling to Florida in September should know that hurricanes can change course within the matter of hours. It is very important to stay aware of the changing weather during these months especially.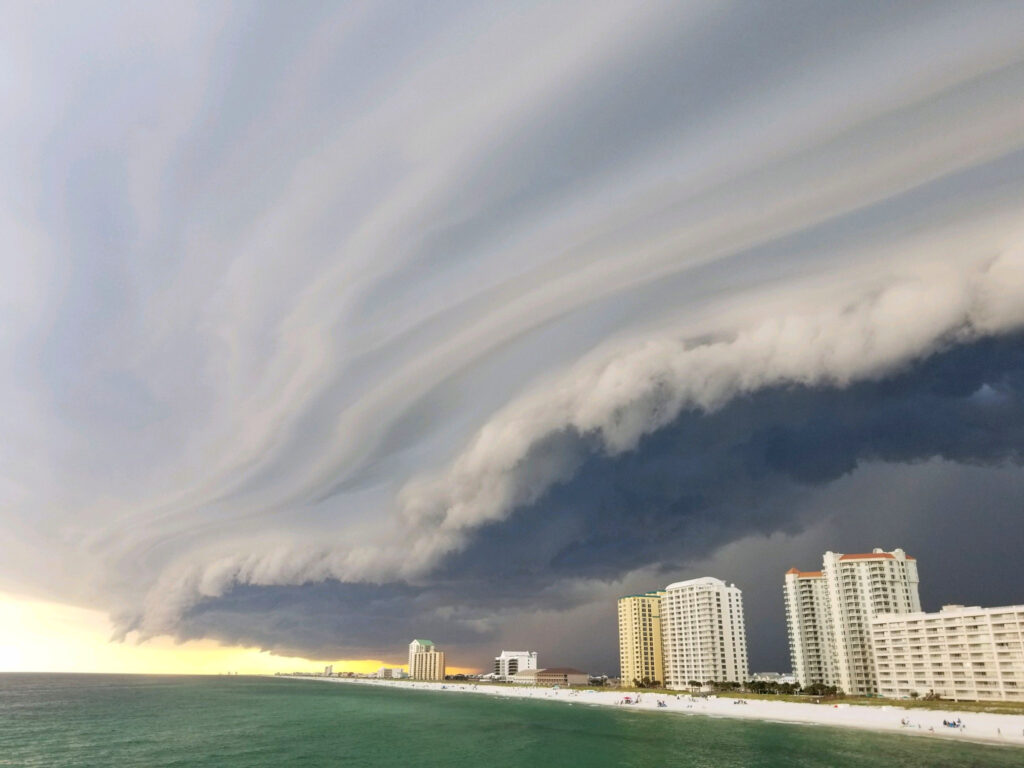 #5- Prices are the Cheapest of the Year for Visiting the Florida Keys
For those seeking Florida getaways in September, you'll be happy to know that September and November are the cheapest months to visit the Florida Keys. By saving money on booking hotels and activities, there is more leftover to spend on the things that truly make a vacation feel like a getaway.
However, you should be aware: the cheap rates are so great due to the unpredictable weather due to storms. Afterall, September is the biggest month historically for hurricanes to hit.
That being said, the Florida Keys has so much to explore whether rain or shine. Play on the beautiful Key West beaches and soak up the sun while it is out, then when it rains, discover Duval Street. Grab a drink at one of Earnest Hemingway's old watering holes, like the famous Captain Tony's dive bar. Stop by the iconic Sloppy Joe's too. Catch live music, dancing, and yummy bites to eat along many of the best bars in Key West for nightlife. If you're brazen enough, you may even be interested in trying out one of their clothing-optional bars along Duval Street.
From great snorkeling spots on the best beaches in the Florida Keys, to famous bars along Duval Street, we have you covered on the all the best things to do in the Keys for every type of traveler.
Pro tip: Make sure to look at the cancellation policies before booking your trip to the Florida Keys in September.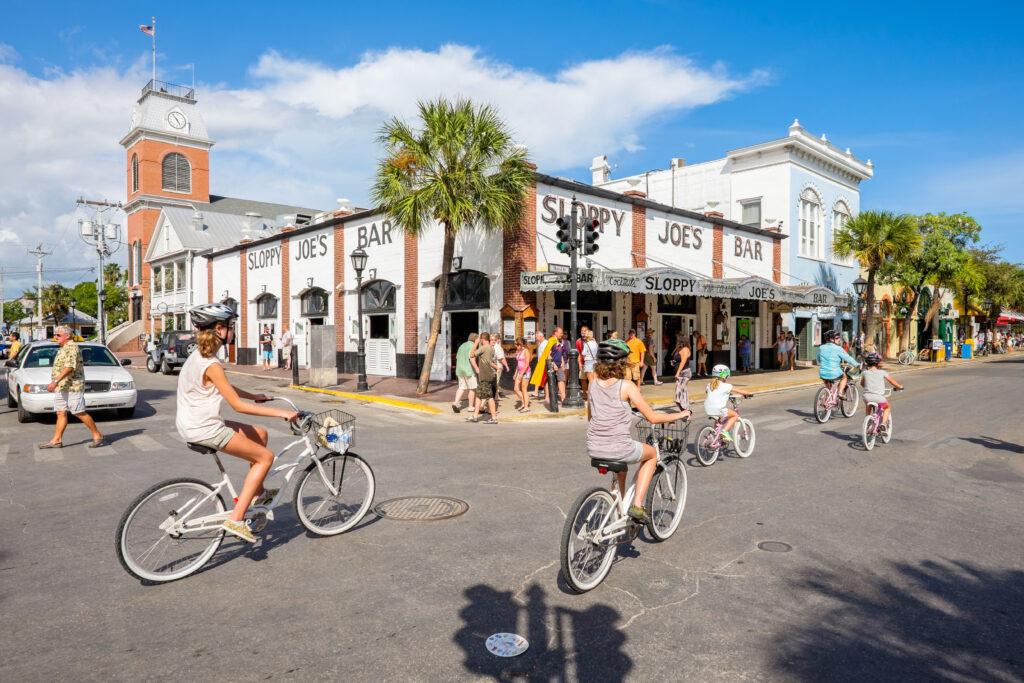 #6- Clearwater Beach is the Best Florida beach to Visit in September
September is the prime time to visit Florida's best beaches. Clearwater Beach, just under an hour's drive from Tampa is an impressive Florida beach to visit in Florida in September. With sugary white shores and clear emerald waters, this beach is a total gem.
Clearwater Beach is a very popular beach near Tampa, and it is best experienced in the month of September. While the school season has kicked off, vacationers who don't have class to attend can freely lay back on the Clearwater shores. The beach is less busy during this time which gives you more power to get that beautiful sun-kissed tan. Just relax on a beach towel along the sugary white shores, or take a dip in the warm waters.
Clearwater Beach is one of the best places to visit Florida in September because it has many great attractions for everyone to enjoy. Discover yummy places to eat, a cool fishing pier to walk down, a grand theater, pirate ships and more in Clearwater.
This is such a great vacation spot that we wrote a whole article dedicated to exploring all the best things to so in Clearwater Beach, Fl. We also have the best Airbnbs in Clearwater Beach to make planning a trip to Florida in September even easier.
Our best advice is to take the advantage of visiting Honeymoon Island State Park while you are near. It is one of our all-time favorite beaches in Florida and we also think it is one of the best islands in Florida too.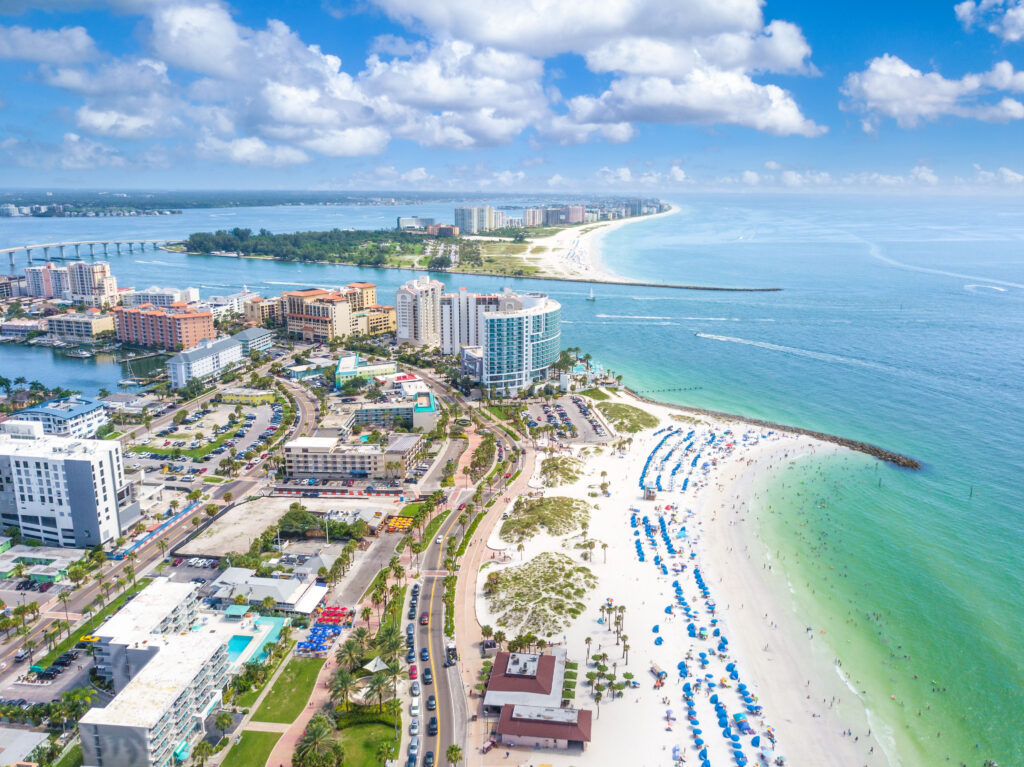 #7- The Florida Springs Start to Clear Out in September
The natural Florida springs make for great vacation spots in Florida in September. The Sunshine State is well known for its impressive crystal clear blue water springs scattered throughout the land of the pines and mangroves.
Not only are the natural springs absolutely gorgeous this time of year, but taking a dip can be so refreshing from the warm September weather. Even though the beaches may be warm enough to warrant a plunge and not a toe-test, the springs will feel a bit colder. The water temperatures of most springs stay around 68-72°F all year long.
Swimming is not the only thing to do at the springs either. Many of the springs have deep underwater cave systems that are awesome for scuba diving. However, with miles of complex underwater systems, it is critical that you are either scuba certified or with an instructor before diving at any of these locations. The great news is that a few springs do offer scuba diving courses for anyone interested. Otherwise, floating down the springs is fun with floaties and paddle boards too!
The springs are great things to see in Florida in September because the crowds are smaller than in the summertime. With kids going to school, college starting back, and the summer having offically left, it is the perfect time to visit. If you are wanting to avoid crowds altogether, try visiting the springs during the weekdays.
There are many great natural springs in Florida to visit. Some are close to destination cities like Orlando and Tampa. Other springs can even be found in the Panhandle near Tallahassee and Pensacola. If you aren't sure which one of these Florida gems are near your vacay location, check out our article on all the best natural springs in Florida to visit.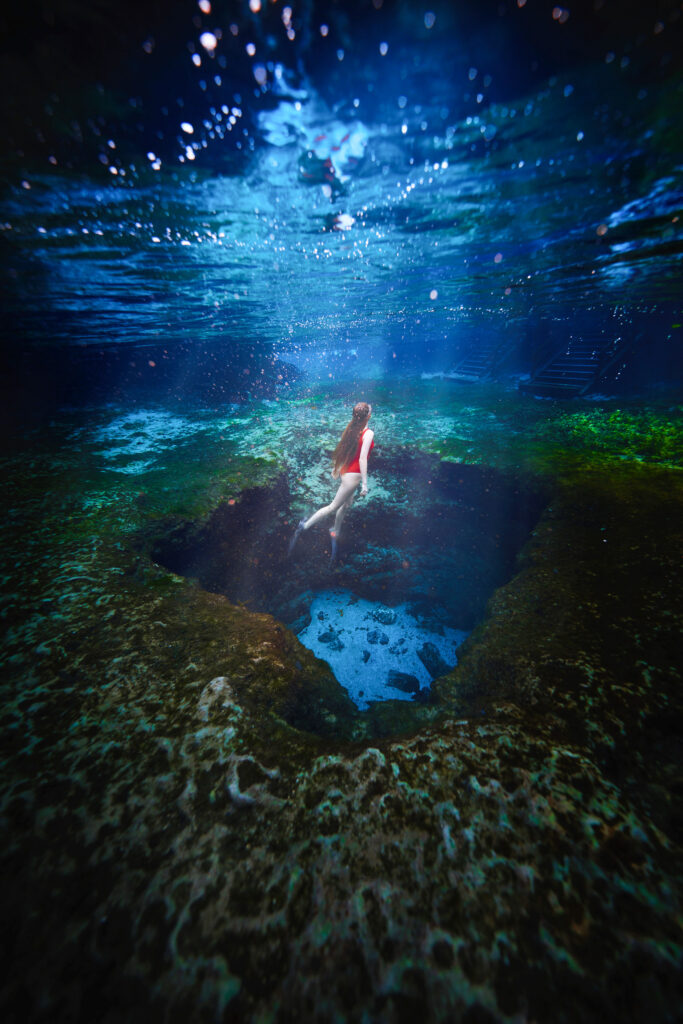 Traveling to Florida in September can mean a great many things. For one, that means deals. Hotels become cheaper, as do tickets for awesome events. Secondly, planning Florida getaways in September also mean that you can kick off your Halloween celebrations early with fun festivals. Third, the crowds become a thing of summer's past which makes every Florida experience feel even more like yours for the taking.
So, if a little rain doesn't bother you, visit Fl in September. Cash in on some of the best deals of the year and have tons of vacay-filled fun.