Are you traveling to Florida in December? We've got you covered with eight things you should know before you begin your adventures! From Christmas and Holiday events, to the coolest weather the state will see, beaches, and smaller crowds, this is the perfect time to visit.
Truly. Florida in December includes nice weather, the Florida "Spring Season", less busy beaches, and no promise of hurricanes! December in Florida is always a blast, so keep reading for all the things to see in Florida in December! We promise you won't be disappointed with the weather, the state, and the tons of things to do. Florida in October is the best!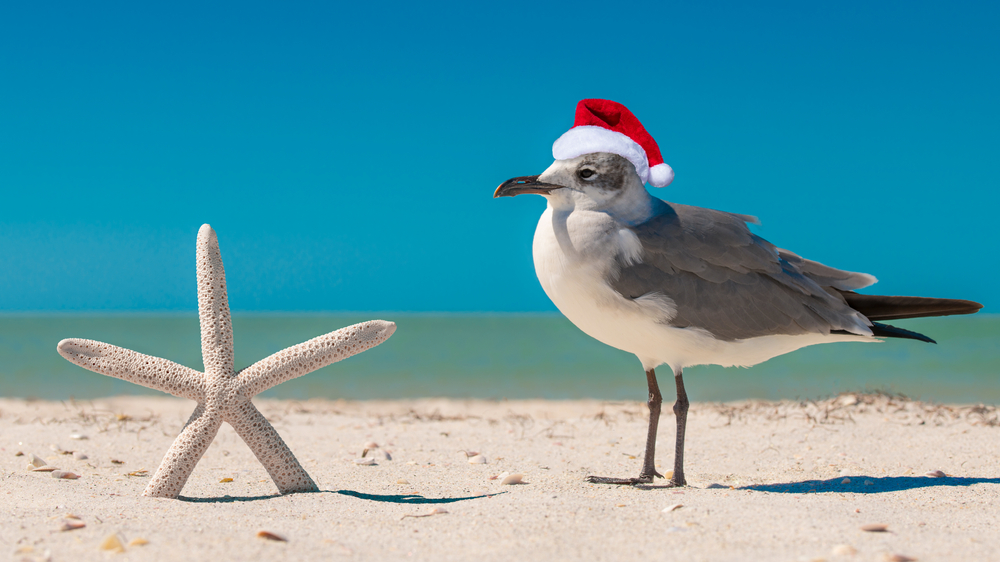 8 Things to Know Before Visiting Flordia in December
December Weather in Florida is Cool and Dry
Florida weather in December cannot be beat! Thankfully, this weather is typically the coolest and driest of the year. It also brings higher levels of winds and you can commonly see fog during this time frame too!
However, it is important to remember that the further south you go, the warmer it is. This means that Southern Florida (Miami, the Keys, etc.) feature slightly warmer temperatures than what you would see and feel upstate. There is a major difference between those northern and southern locations– visiting places like Jacksonville may ensure you never see weather about 70 degrees Fahrenheit! Talk about not feeling like Florida!
The weather in Florida in December averages between 64- 76 degrees Fahrenheit. Due to the direness of the season too, it naturally feels cooler. Rain is rare, with only averaging about 2 inches of rain per month. But be warned with those winds! The coolness of the wind picks up in the morning, and the heat and the humidity definitely decreases. Especially in the evenings!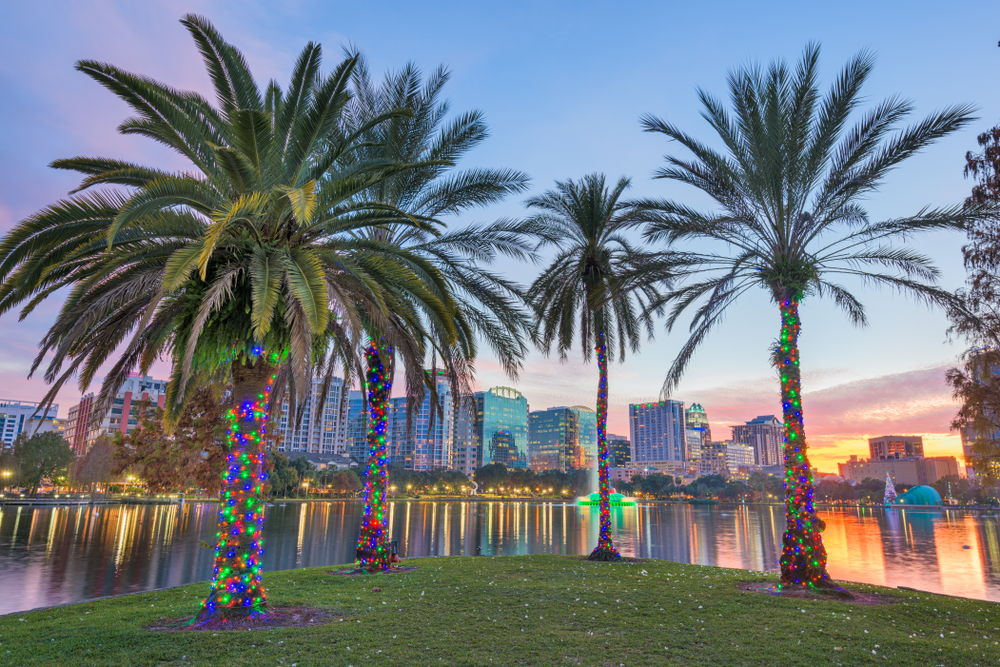 December is a Great Time to see Manatees Because of Cooler Weather!
If you have never heard to the Three Sister Springs in Florida, you're missing out! Isn't it everyone's dream to swim with manatees? Thankfully, you are able to see and/or swim with manatees during Florida in December!
That's right! When Visiting Florida in December make sure to put "swim with gentle giants" on your to do list. This time of the year is a peak month to be in the water with these creatures. Not only do they come to the warmer water in the cooler months to relax, but there are always TONS of them around.
Crystal River is a fantastic natural spring and should be on the top of your things to see in Florida in December list. This river brings in between 500 and 1000 manatees each year. It is also one of the few places to have an in-water experience with the manatees– especially in their own, natural environment! Take a tour of the river, go over "Manatee Manners" and see these sea cows up close! You'll fall in love! We promise it is one of the top things to do in Florida in December.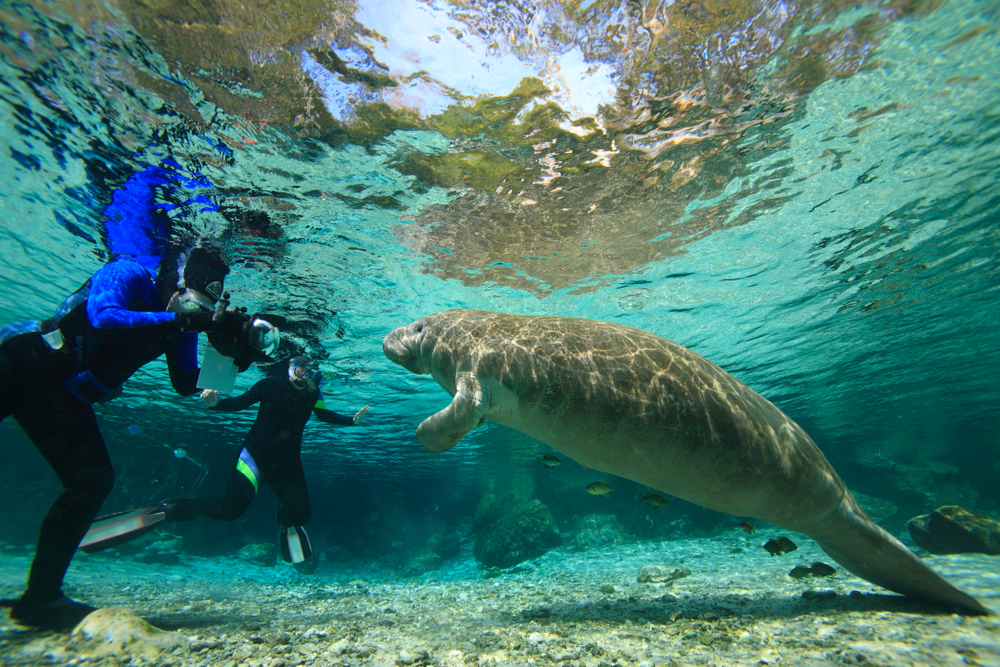 Water Temperatures are Cooling Down But you Can Swim in Florida in December!
When we think of December, we often think of freezing temperatures. Thankfully, and as alluded to before in our note about swimming with the manatees, it is still possible to do water adventures in the winter months!
While the ocean waters are rather cool during December in most locations, you always have the option of swimming and diving with a wetsuit. Especially if the area is experiencing a cold snap! However, the water becomes warmer the further south you go. And thus, it becomes more suitable for swimming.
For example, in Miami, people still enjoy the water and all its activities! The average temperatures in Florida in December for the water vary on location and other factors like cold snaps. But, as a rule of thumb, remember that you'll find the coldest waters in the Northern part of the State. Also! The Atlantic side tends to be warmer than the Gulf side. So, Jacksonville or Saint Augustine may be warmer than the Panhandle. Plan accordingly when considering the best places to vista in Florida in December!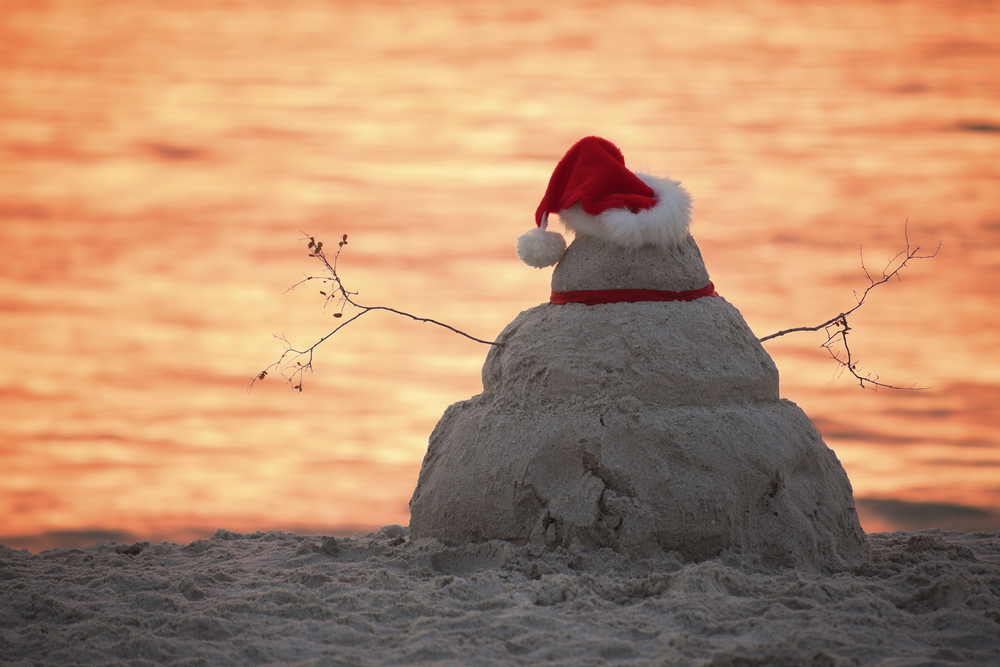 Christmas Events are in Full Swing!
Christmas and New Years Eve obviously take place during the last week of the month of December, which means that all the holiday things are in full swing when you're here! From events, festivals, and more, the festivities exist across the state and in dozens of different cities.
These events do mean, however, that crowds will be more prominent during the Holiday. When visitors have their time off, they always seem to end up traveling to Florida in December! But just because the week of Christmas is crowded, doesn't mean that these events aren't worth it.
Just consider: Christmas Town at Busch Gardens, a Christmas Celebration at SeaWorld, the Holiday events at Disney and at Universal. The list is endless! In addition to this you can can see ICE! at Gaylord Palms, return to Santa's Enchanted Forest in Miami, visit the lights at any local zoo and more. There is always something festive to do!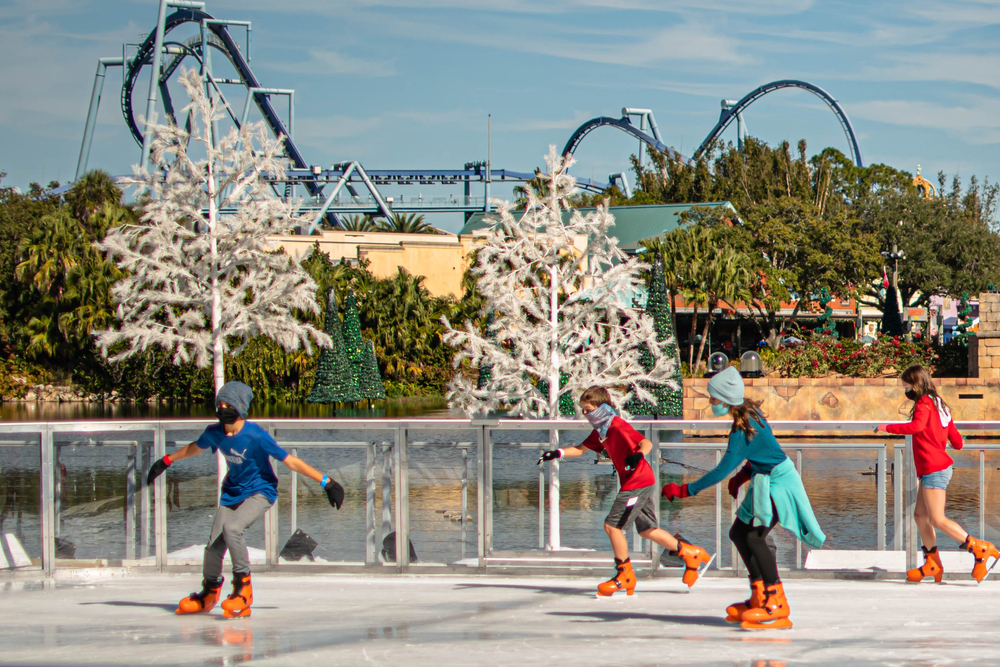 December in Florida is Finally Out of Hurricane Season!
One of the best things about taking Florida trips in December is the fact that you are officially clear of the hurricane season during this month! While hurricanes can happen at any point during hurricane season, it's important to know that mid-August through late October is when most storms occur.
Even though most storms make landfall during August- October, the official Hurricane season runs until November 30th. This means, when you visit in December, you have escaped the prime time chances of a storm! However, we want to note that despite the lack of heavy tropical storms, or category levels, the wind is cooler during this time. Rain is minimal. The weather is overall cooler!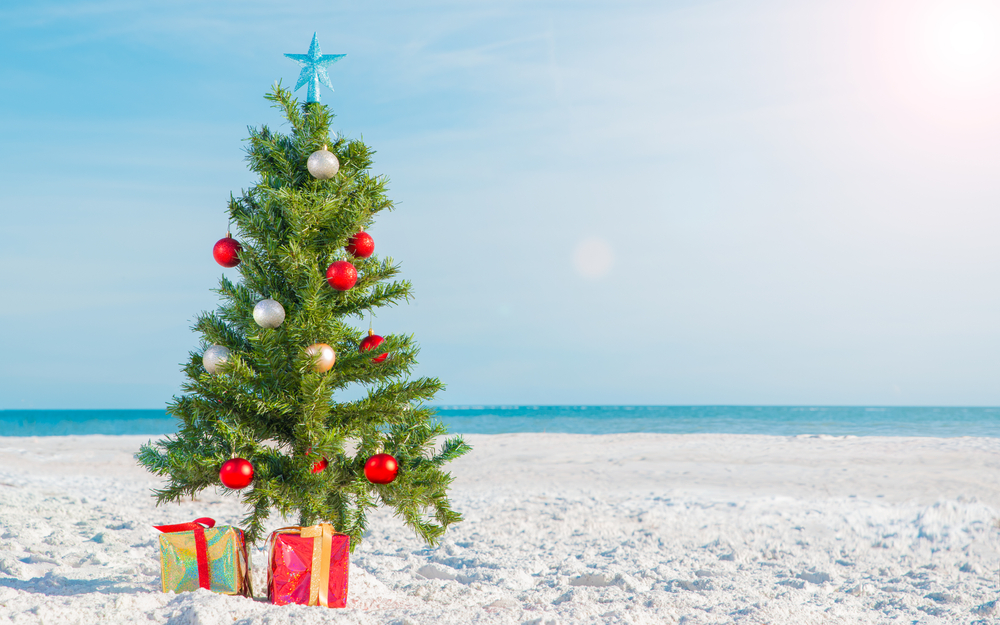 New Years Eve in Key West is a Must
We all know and love the ball drop! But have you heard of a shoe drop? What better way to ring in the new year than in Florida's most southernmost city. Here there is an entire menu of "drops." For example, renowned drag queens start in the "Red Shoe Drop!"
Or if you find yourself in the Key West Historic Seaport, you can watch a pirate wench be lowered form the top of a tall ship's mast. Right when she reaches the deck, the clock will strike and you can welcome a new year!
Between this, live music, dancing, and more, you can also gather around a huge replica of a Key lime wedge on top of a GIANT margarita on the Sunset Pier. In Key West, New Years starts early in the day with annual fireworks, glow parties and more. It is one of the top vacation spots in Florida in December to ring in the new year.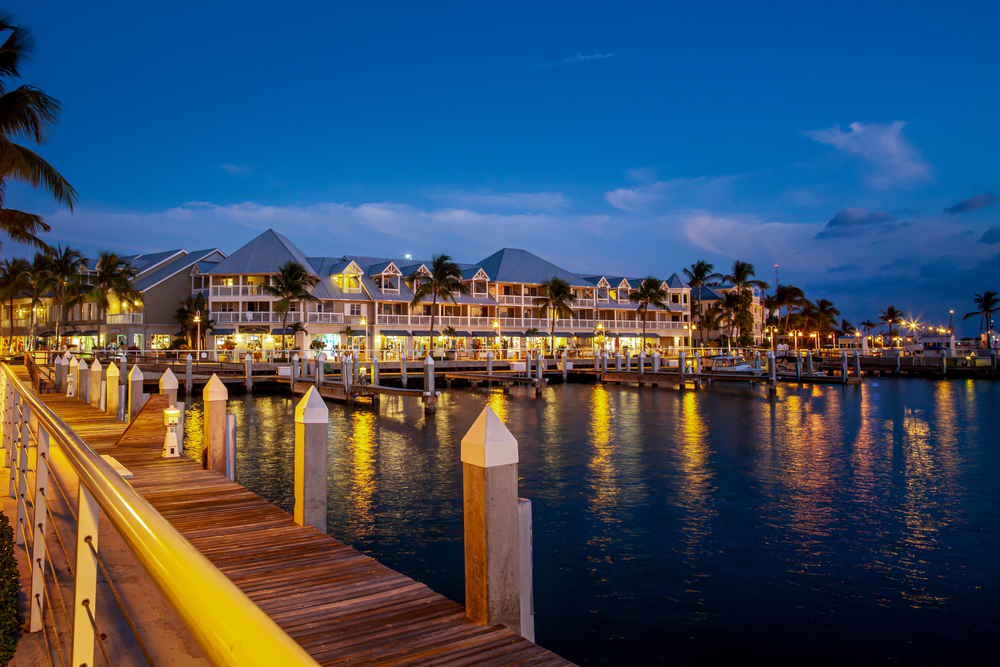 Smathers Beach is the Best Beach in Florida in December
If you remember earlier, we talked about how the further south you go, the warmer it is. This applies for both the average temperatures in Florida in December in regard to both the air and water. Thus, if you want to go to a beach in the winter, go as far as south possible!
Knowing this, we recommend Smathers Beach. This is one of the largest public beaches in Key West. It features nearby parking and bathrooms, and has the most stunning blue waters.
Despite the daylight hours being a little less in December, the UV index is also low, which means you can spend more time here. In addition to this, the water averages at about 77 degrees Fahrenheit which means it is perfect for relaxing and swimming for long and short periods!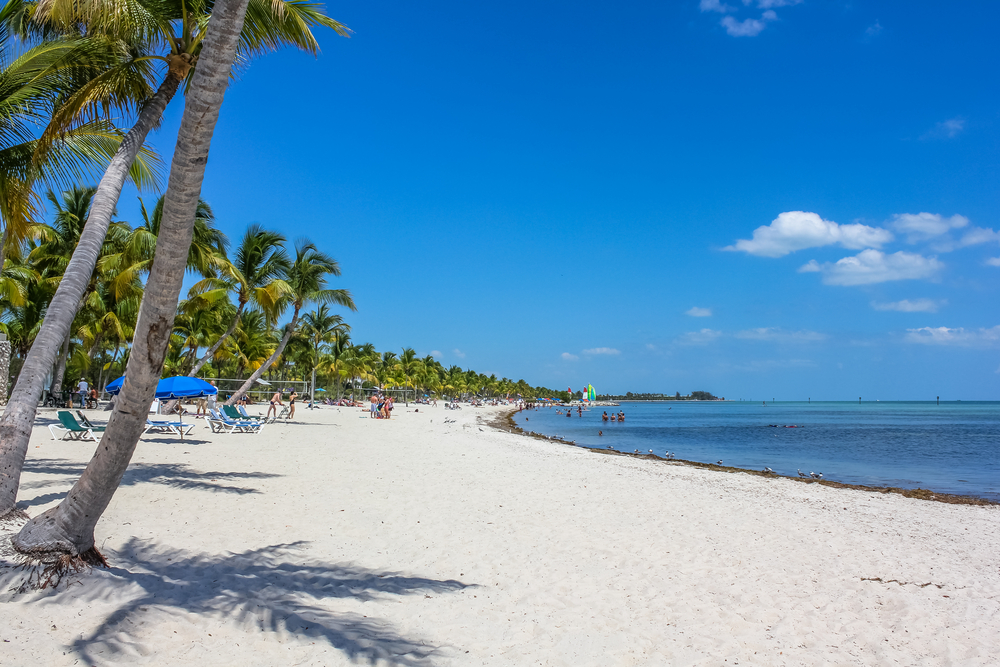 December is Florida Spring Season
As alluded to throughout this article, December is truly one of the best times to visit Florida. This "Spring Season" features kids in school (except for the week of the Holidays), and there is a serious lack of summer crowds. Except for those snow birds!
This is also one of the best times to resume visiting the Florida Springs without a massive influx of people– especially if you go on a weekday! The water is warmer at the springs too! With the cooler temperatures continuing, the crowds stay minimal unless you are oober close to the holidays. The spring season is the perfect mini trip: these Florida getaways in December is something you won't want to miss!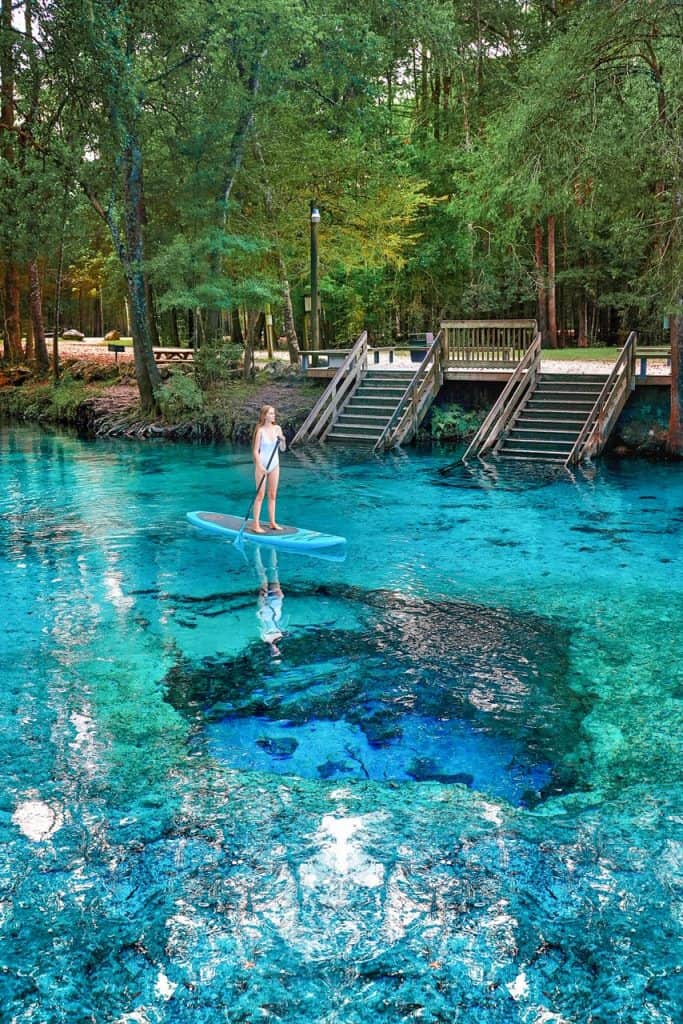 And there you have it folks! Things you need to know about visiting Florida in December. We promise there are so many things to do, whether this is Christmas related, New Years related, or just simply Florida themed. Each city has its own adventure, and with cooler weather and smaller crowds, the opportunities are endless. Florida in December becomes the best vacation spot! Time for a getaway or one of the best Florida trips in December around!