A melting pot of culture, you can always find unique and fun things to do in Miami. The city's diversity, seen through its food, art, and entertainment, represents destinations from all over the globe.
Known for its beautiful art deco architecture, Miami's streets burst with color and life. The city has been featured in hit shows life Miami Vice and Dexter, movies like The Birdcage, and even video games like Grand Theft Auto!
One of the few places in America with a year-round subtropical climate, Miami has the prettiest beaches in Florida. Even during hurricane season, sudden rain showers are always replaced quickly by endless sunshine!
With endless art galleries, an array of incredible restaurants, museums, and even rooftop cocktail bars, Miami drips with chic ambiance. With top-rated dining, glamorous accommodations, and the best spas in Florida, you'll want for nothing more.
If you're looking for an adventure, a chic, luxury vacation, a weekend getaway, have no fear. Miami has everything! Check out our top picks for things to do in Miami!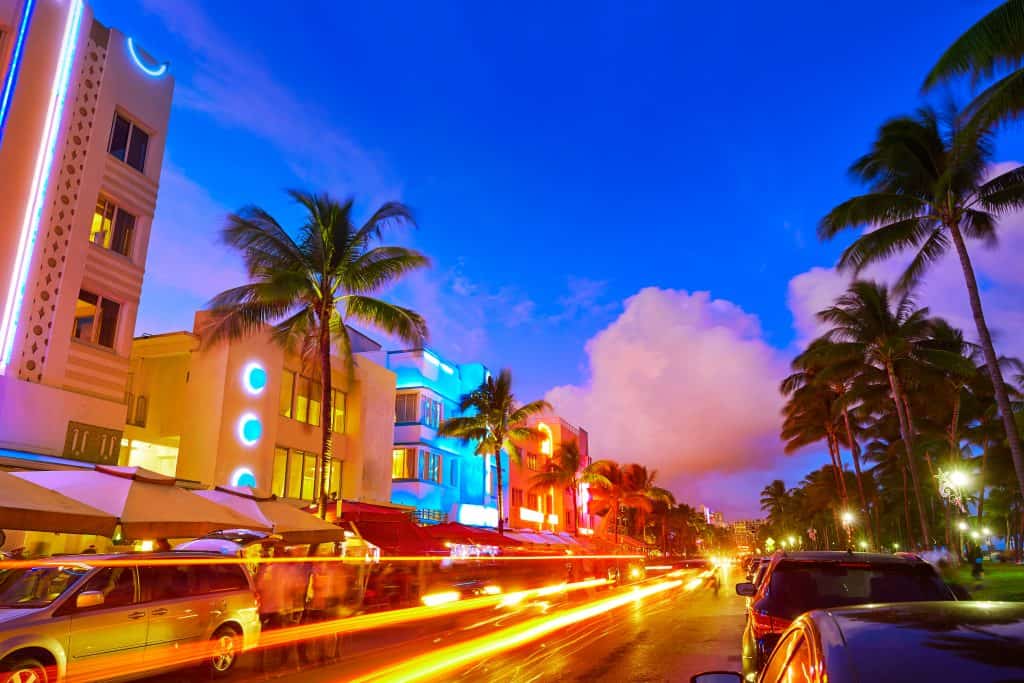 20 Fun Things To Do In Miami You Can't Miss
Vizcaya Museum and Gardens
Previously the Villa Vizcaya, this was formerly the villa and estate of businessman James Deering. Overlooking the Biscayne Bay, this is a gorgeous attraction to visit in Miami and one of the prettiest museums in Florida and one of the best things to do in Miami.
Because of its timeless Mediterranean-style architecture, a visit to the Vizcaya is like taking a tour through the Gilded Age. As a result, the 32 decorated rooms and 10 acres of gardens have been pristinely preserved.
Only the first floor is open to the public, but this still includes several reception rooms, the Music Room, and the Dining Room. You can also see a layered collection of artifacts intended to suggest the passing of time.
Once you step out into the gardens, you'll be transported to Europe. This because the gardens are reminiscent of those from 17th and 18th century Italy and France. Low hedges in geometric patterns divide the garden into a series of rooms. Admire the sculptures made of porous coral stone!
The Vizcaya Museum & Gardens is open on Thursdays through Monday from 9 AM – 4:30 PM. Admission is $22 for adults with discounts for children and military.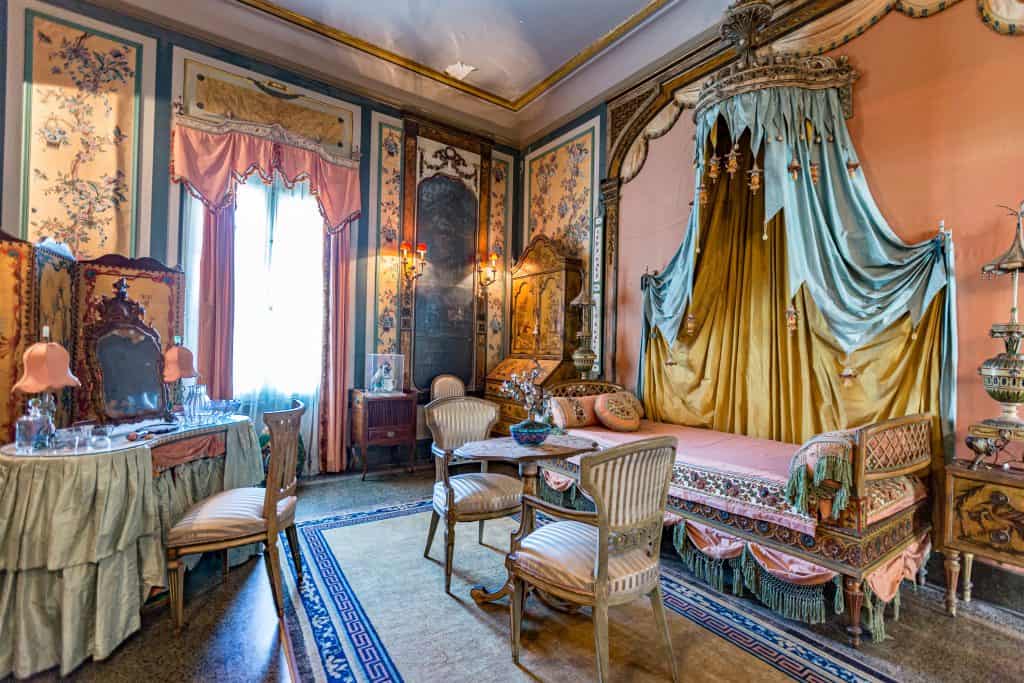 Bass Museum of Art
To experience the most contemporary of modern art, head over to the Bass Museum of Art. Because the Bass is in Miami, it's a must-see attraction on your way to Key West as one of the best museums in Florida!
The Bass seeks to bridge the gap between international contemporary art and the diverse audience of Miami Beach. Moreover, the museum has been a major player in answering the question, "What is art?" by incorporating modern disciplines like design and fashion into their collection.
Consequently, permanent collections include commissioned works by Sylvie Fleury who uses contemporary iconography to suggest irony. You can also see Jim Drain's works who notably uses textiles, specifically yarn!
Outside, don't forget to gaze upon Miami Mountain. The 42-foot tall stack of megalithic boulders creates a sense of romantic minimalism while making reference to many cultures' tradition of stacking stones.
Of all the museums in Miami, the best art classes are found at Art After Hours! Classes include charcoal, experimental watercolors, and kinetic art. If you want to continue your studies at home, you can even take virtual classes with the Bass.
The Bass Museum of Art is open from Wednesday through Sundays from 12 PM – 5 PM. Admission is $15 for adults and $8 for students, seniors, and children.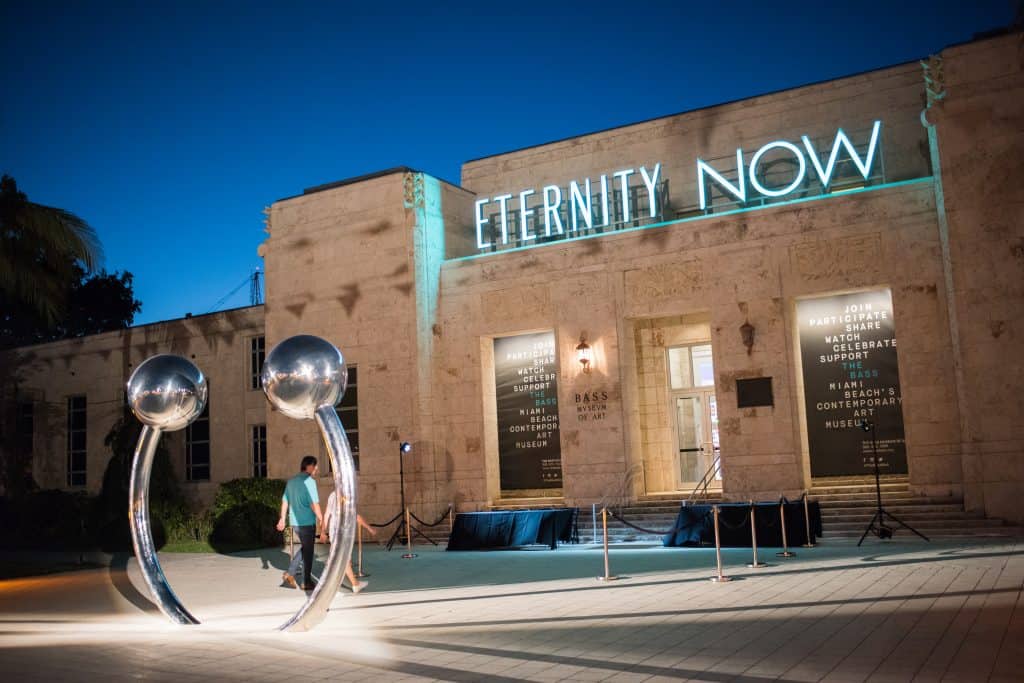 Everglades National Park
Everglades National Park is the largest subtropical wilderness in the United States, and is the largest wilderness east of the Mississippi River. This National Park in Florida is so huge that it spans 1.5 million acres over the southern part of Florida.
The park is broken up into three main areas. The southern section can be accessed from Homestead, but when you're in Miami, you'll want to enter from the northern end of the park. Due to the expansive amount of land, it is essential to know what section you want to explore so you can get the most out of your visit.
The landscape is unparalleled, home to a diverse and fragile ecosystem with tropical hammocks, coastal lowlands, mangroves, and cypresses.
This habitat includes a wide variety of rare and endangered species, such as the American crocodiles, the great blue herons, alligators, manatees, panthers, dolphins, and many other native Florida animals.
This National Park in Florida offers a variety of activities for families, groups, or individuals to explore and have fun in the great outdoors. So what activities can you do?
You can bike on trails, you can birdwatch and hopefully catch a glimpse of the great blue heron, you can fish, you can geocache, you can hike on trails, or you can go slough slogging which is off-trail hiking that brings you deeper into the park. You can also participate in ranger lead programs in which rangers lead guided tours or activities throughout the park.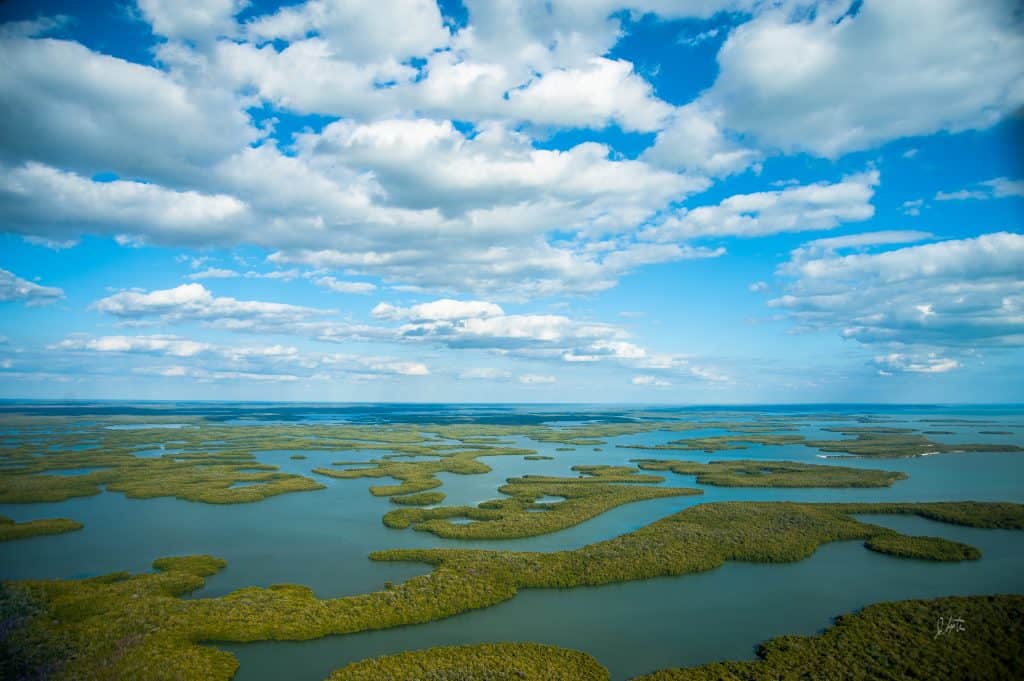 Fairchild Tropical Botanical Garden
When the temperatures drop in fall in Florida, it's time to grab the binoculars and head to the Fairchild Tropical Botanic Garden in Coral Gables. Just a few minutes to the south, this tropical oasis is one of the best things to do in Miami!
The grounds are an 83-acre botanic garden, laden with palms, flowering trees, and the largest collection of bamboo on earth with 125 species. The Bird Festival attracts birders from all over the state to get a glimpse at some rare breeds.
Guests can walk down the "Warbler Zone" on the Kushian Bird Trail, where Barn Swallows, Red-shouldered hawks, and Ovenbirds have been sighted. The paths and trails are filled with tropical garden flora, with more than 30 species of butterflies dancing about.
If you visit during the Bird Festival, one of the best festivals in Florida, you'll find arts and crafts booths, activities for children, and many vendors selling plants that attract birds to take home! Guest speakers are also present to speak about findings within the birding community.
Even if you're not a birder, this festival welcomes all that are interested in birds or beginners wanting to learn, making it one of the most unique things to do in Miami.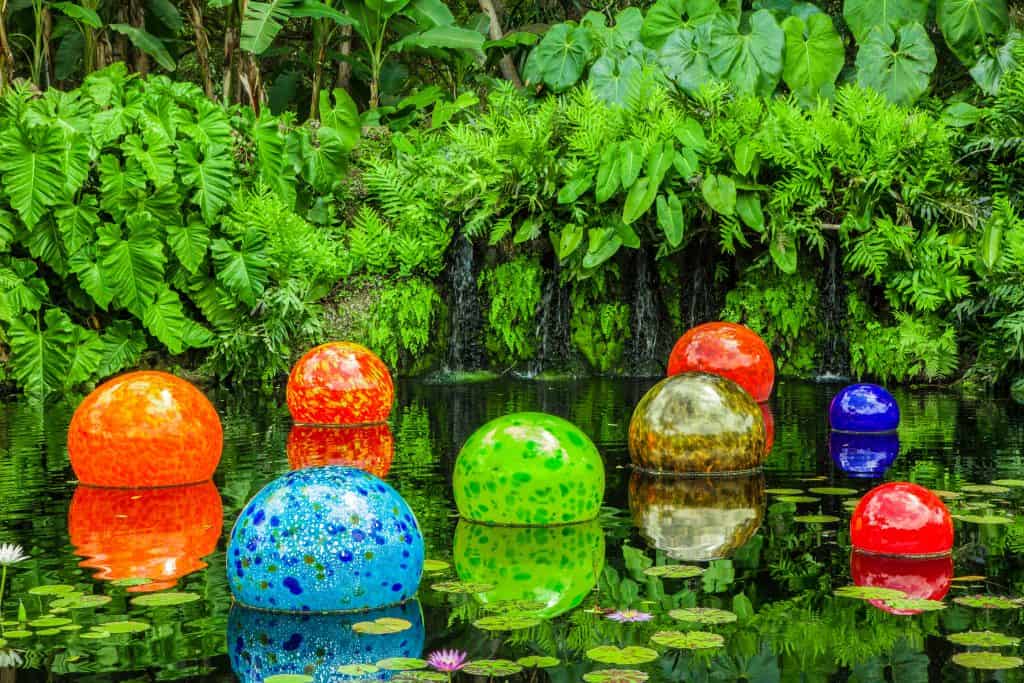 Jungle Island
If you're looking for adventure in Miami, then look no further than Jungle Island. You don't have to travel all the way to a zoo to get up close and personal with animals. In this animal sanctuary, there's something for the whole family.
Jungle Island is Miami's premier entertainment destination, combining Miami's landscape with rescued animals from around the world. Over 80 years old, the sanctuary was even featured in the opening credits of Miami Vice!
Evolving from the "Parrot Jungle," you can see a variety of exotic animals like colorful parrots and pink flamingos. Don't forget Pinky, the high-wire bicycle riding cockatoo!
In addition to the avian residents, you can also see unusual flora and fauna. Stroll through the 1.35 miles of shaded trails to see the incredible African sausage tree and even a rare collection of cicadas.
Enjoy animal shows featuring marsupials and birds from around the world. Kids will love the Tree Walk Village over 8 feet high! Then enjoy a spider web climb, a balance beam, and wooden bridges at the Playground.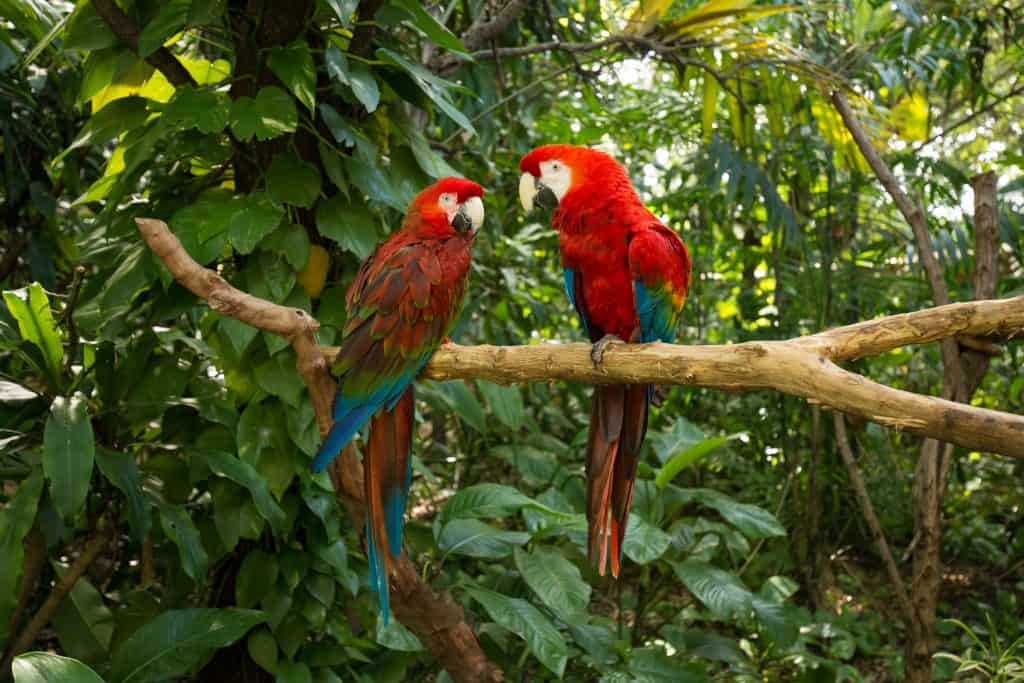 Little Havana
Infamous for its culture, Miami draws influences from Latin America and the Caribbean. It permeates every facet of life from culture to recreation to dining. All of Miami's Cuban influences meet at Little Havana, a bustling district.
The de facto "capital" of Latin America, Little Havana brightens up Miami's city scape with vibrant colors, giving voice to all backgrounds taking root in the neighborhood. You're likely to hear locals talking politics over a game of Dominoes or grabbing an afternoon cortado.
Make sure to walk down Calle Ocho, or 8th Street. At Versailles, you'll find a local gathering spot for the Cuban diaspora with golden chandeliers and casual Cuban cuisine. The Tower Theatre screens independent and revival films. Dance to live Latin music in one of the many clubs!
You will never see a bad performance at the Cuba Ocho Performing Arts Center, a haven for local musicians and intellectuals. Grab a milkshake or juice made with organic exotic fruits at Los Pinarenos Fruteria, the oldest open air market in Miami!
To get a more comprehensive taste of the district, take a walking tour to gain insight on the rich history and cultural traditions. To get a true "taste" of Little Havana, take a culinary tour, rated in the Top Ten Cultural Experiences of the World!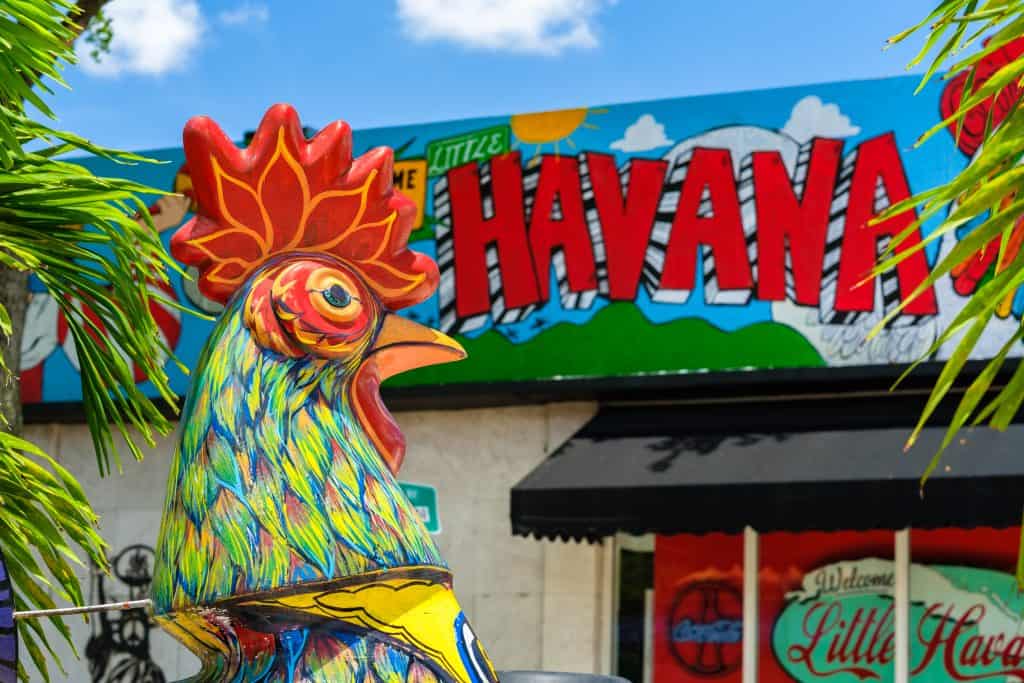 South Beach
Florida is home to some of the most beautiful beaches, and Miami takes the cake. Sure, it's famous for its white sands and crystal-clear turquoise waters. But South Beach's notoriety comes from its glamorous scene and culture.
One of the best things to do in Miami, South Beach was the first section of Miami Beach to be developed. Known by locals as SoBe, what was once farmland has been cultivated into a bustling community with its own booming economy.
When you step onto the white sands of South Beach, you'll notice the bright and colorful lifeguard stands. Architect William Lane donated his design services after Hurricane Andrew hit. Now, his lifeguard towers have become the symbol of all Miami Beach.
Popular with tourists all over the world, South Beach draws tourists with its multiple entertainment options. Some people even have permanent or second homes here! And if you are looking for food, we have a list of the best restaurants in South Beach you shouldn't miss!
South Beach also is very permissive than most beaches in the US when it comes to topless sunbathing. While the practice has not been officially legalized by the local government, you're more than likely to see it happening with officials turning a blind eye.
South Beach is also the home to Miami's Pride Parade and Pride Festival! Running from Ocean Drive to Fifth and 15th Streets, Miami Beach Pride gathers 130,000 people every year in one of the most loving festivals in Florida.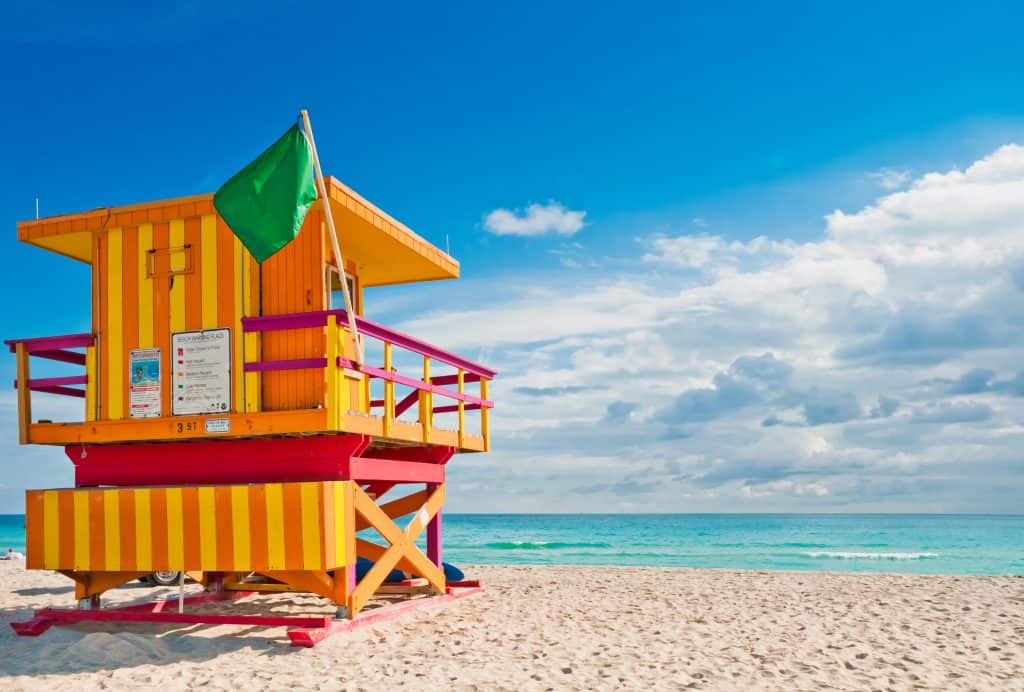 Coral Castle
To this day, Coral Castle's origins remain a mystery. We know that from 1923-1951, Edward Leedskalnin carved 1,000 tons of coral rock. We know that he designed an elaborate rock garden. What we don't know is how he did it by himself.
A true eccentric, Leedskalnin attributed this feat because he "knew the secrets used to build the pyramids." Some have said he had supernatural powers. Perhaps we'll never know how he did this single-handedly. But the Castle's legacy endures today.
Built as an everlasting monument to his lover that canceled their wedding the day before the ceremony, there's something quite romantic about the gardens. Bougainvillaea trees shade the gigantic rock walls.
Among the garden's features are a 9-ton gate that opens with the touch of a finger, a Polaris telescope, and functional rocking chairs. All of them made completely of coral stone.
When you walk through this castle in Florida, you'll be in awe of the structure. While scientists debate how Leedskalnin built this castle, it stands as a testament to the power of love. One of the best things to do in Miami, Coral Castle is a must on your way to Key West.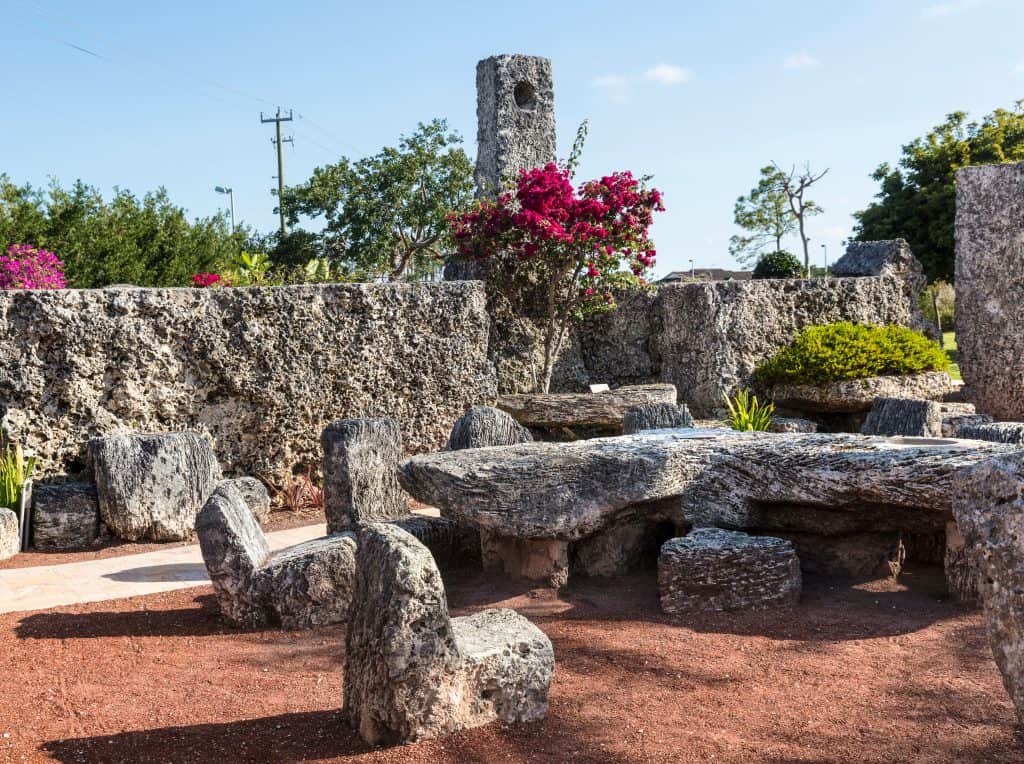 Ultra Music Festival
Ultra Music Festival is held across the Globe, with Miami being the only destination in the United States! Held every March at Bayfront Park, this outdoor electronic music festival was founded in 1999.
The festival is held alongside the Miami Music Week, an electronic music concerts, performances, parties, and programming leading up to Ultra. One of the best things to do in Miami, you won't find a more exciting festival in Florida!
This is one of the best music festivals in Florida known for its all-out party atmosphere and amazing musical lineups! Over 165,000 attendants come to Bayfront Park to listen to the best of hip hop and electronic music sets.
If you're looking to make a full vacation of the festival, we have you covered with the best places to stay!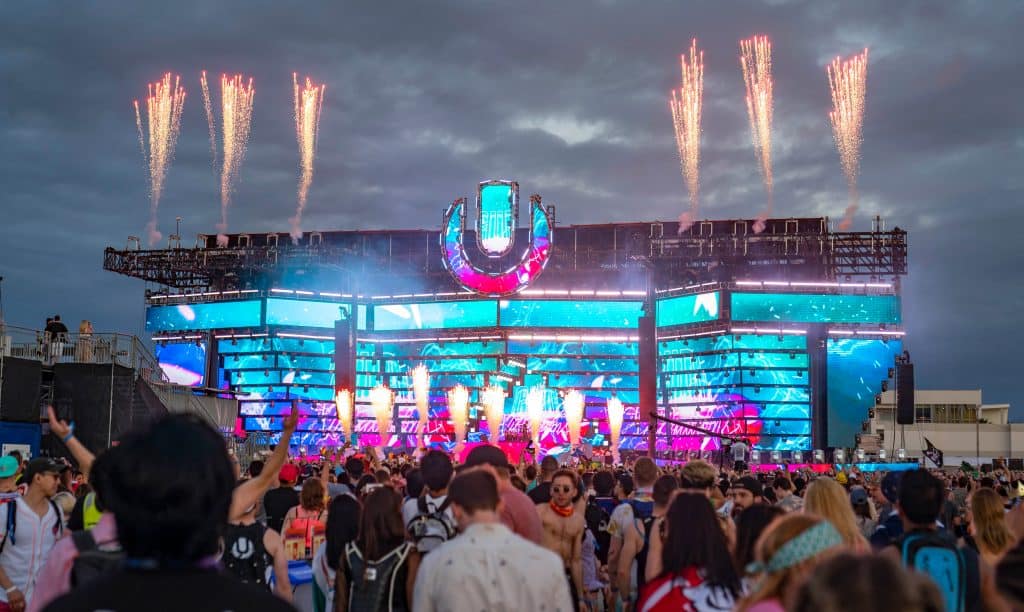 Ocean Drive
A major thoroughfare in South Beach, you'll find the heart of Miami's vibrant community on Ocean Drive. Known for its iconic destinations, Ocean Drive is one of the best places to go in Miami.
Known mostly for its Art Deco style, you'll find over 900 preserved buildings. Many of these bars and restaurants have become pop culture icons!
The Sunny Apartments were featured in Scarface while the Carlyle Hotel was the drag club seen in The Birdcage! You'll also see Casa Casuarina, home of the late designer Gianni Versace, now one of the best boutique hotels in Miami.
Listed on the National Register of Historic Places, make sure to check out Mango's Tropical Cafe for their Caribbean food with live dancers and singers! Make a stop to the cabaret and drag shows at the Palace Bar, dedicated to the LGBTQ community.
Fashionistas will love the high-end shopping on nearby Lincoln Road. Afterward, check out a boozy pool party at the Clevelander Hotel or High Bar with celebrity DJs!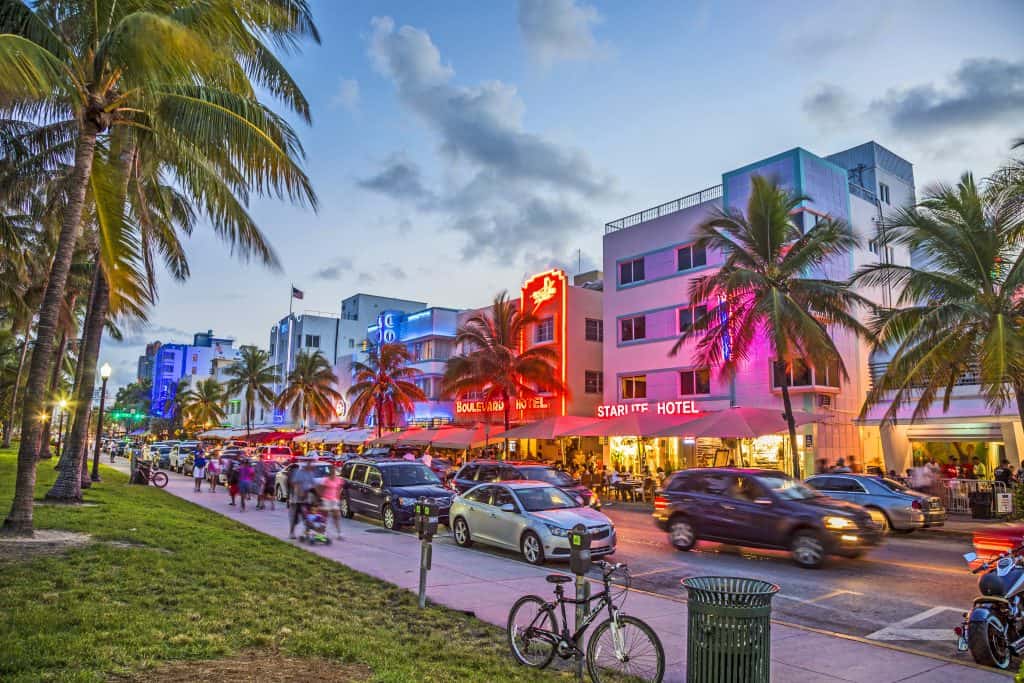 Frost Museum of Science
Dedicated to sharing the power of science, the Frost Museum of Science sparks wonder and investigation in all of its guests. One of the most fun yet education Miami activities, this science museum fuels innovation for the future.
Found in Downtown Miami's waterfront Museum Park, the Frost is divided into four buildings: the Planetarium, Aquarium, and North and West Wings. Guests can explore science in an experimental setting with interactive exhibitions and unique shows.
Experience 16-million-color 8k projection when you take a visual odyssey on a vast dome screen at the Frost Planetarium. The three-level aquarium features many native Florida animals from the Gulf Stream, Mangrove forests, and the Everglades.
In the North and West Wings you'll find permanent and traveling exhibitions! Learn about all creatures of flight from dinosaurs to our modern space travel in Feathers to the Stars. In the MeLab, see the ways our bodies and minds work in tandem!
One of the best museums in Florida, the Frost Museum of Science is one of the best things to do in Miami. Check it out from 9:30 AM – 6 PM daily with tickets at $25 for adults and $21 for children!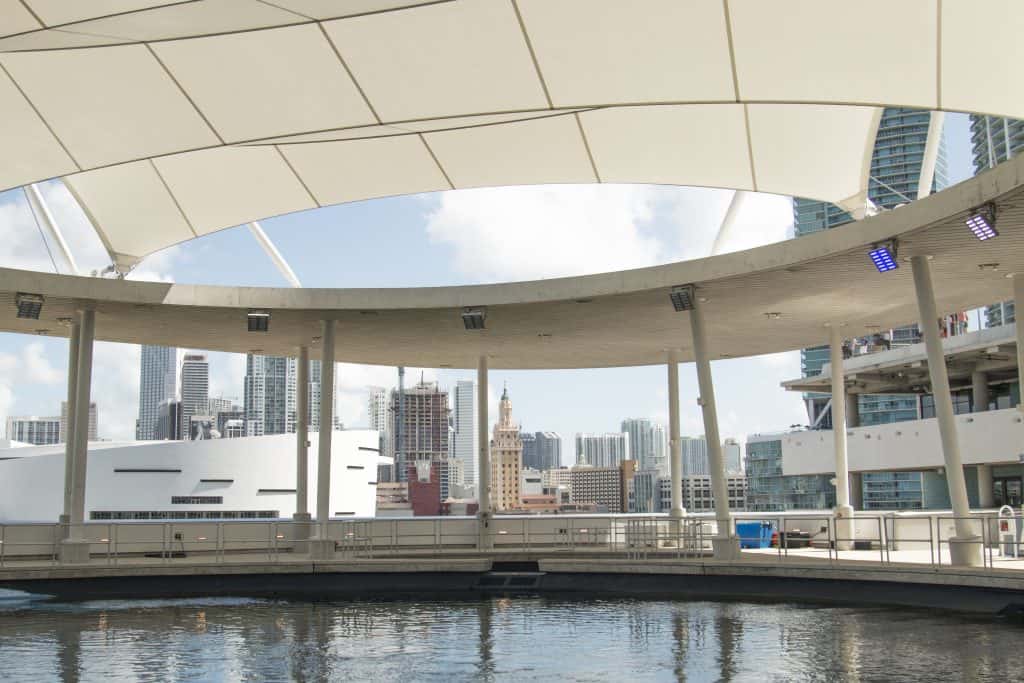 Robert Is Here
In 1959, a little boy opened a fruit stand to help his father sell produce from their family farm. To get attention, his dad wrote "Robert Is Here" on two signs. After selling all his produce by noon, a budding entrepreneur was born.
Today, Robert Is Here has become a local mainstay, one of the best things to do in Miami. It's not just a fruit stand, Robert Is Here has become a Miami tradition, a gathering place, and a daily community service!r
Robert Is Here features the most rare and exotic fruits and vegetables. On any given day you can find avocados, purple plumbs, herbs, sunflowers, Idaho potatoes, kale, asparagus, seedless watermelons, and pomegranates!
It's not just fruits and veggies either. Robert Is Here also hand-makes and sells their own unique condiments! Try honeys infused with lemon, tangerine, peach, mango, or raspberry. A local favorite is the dill pickle mustard!
Locals absolutely rave about Robert Is Here's frozen tropical fruit milkshakes! The most popular flavor is definitely Key Lime, but try other rotating flavors like mango, pumpkin, mamey sapute, canistel, passion, and dragon fruit. Don't forget to grab a cuban sandwich or Capri pizza for lunch.
Robert Is Here is open seven days a week from 9 AM – 5 PM.
Sugar Rooftop Bar
In Miami, there's no more hip places to et a cocktail than on a chic rooftop bar. There's no better place to indulge in libations than the Sugar Rooftop Bar at the Bickell City Centre.
Sugar sits atop the 40th Floor of the East Miami Hotel. Surrounded by a lush garden creating a tropical deck paradise, this is one of the top things to do in Miami. Enjoy unparalleled sunsets with 360 degree views of the city.
No matter if you're grabbing a sunset mojito or a late night moscow mule, you'll enjoy the vibrant nightlife. The cocktail menu also features chic exotic drinks mixed with Hong Kong vibes!
For small bites, choose selections form an Asian-inspired tapas menu. Have a fresh sushi roll, boneless Korean barbecue wings, or a truffled pistachio tatiki.
One of Miami's hidden gems, you won't find a more chic spot. Dress to impress, as a dress code is enforced. We recommend making reservations in advance, as Sugar sometimes has a long line to get in.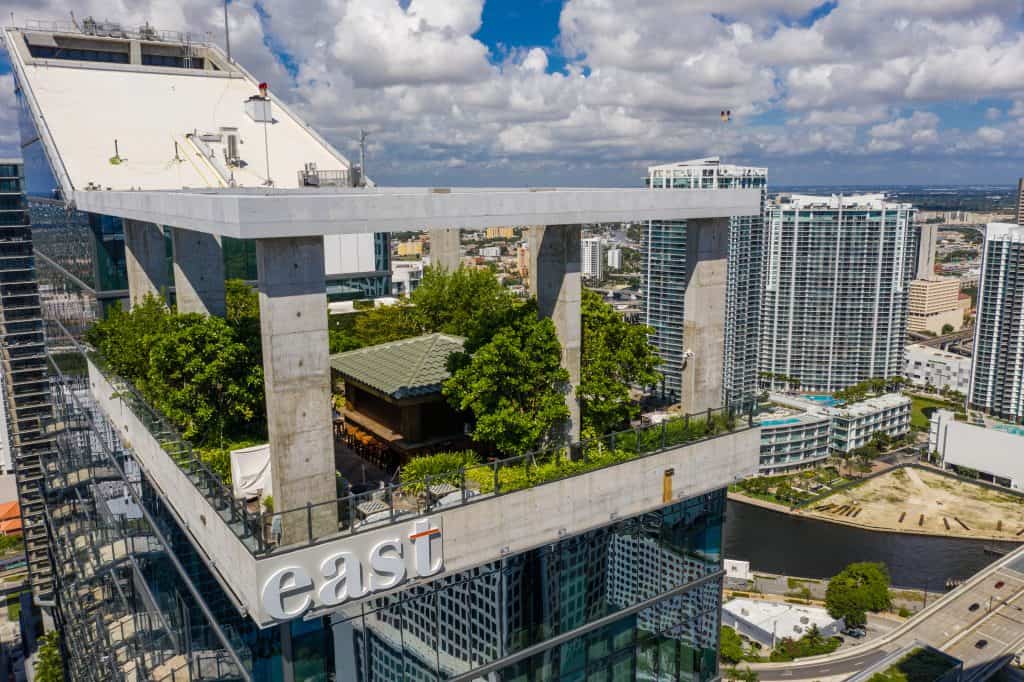 Miami Circle
When you think of history in Miami, early settlers and cigars may come to mind. What if we told you Miami might contain evidence of a prehistoric-era structure?
In the heart of the Brickell District, the mystery of the Miami Circle is alive and going strong to this day, one of Florida's spookiest attractions. A perfect circle of 24 mysterious holes dates back to prehistoric time. To this day, archeologists have no idea what the structure used to be.
Discovered when demolishing a 1950-era apartment complex, a visit to the Miami Circle is one of the most unique things to do in Miami. Nicknamed "America's Stonehenge," visit the circle and gaze upon the holes built into the bedrock.
Theorized to have been once occupied by the Tequesta Indians, the holes may have been part of the foundation of a building. What's even more curious is that artifacts found in the circle are made from stone not indigenous to Florida.
Certainly one of the best things to do in Miami, tourists and locals still marvel at the mystery of the circle today. You may not know the full story behind it, but when you gaze at the Miami Circle, you'll know you're looking at history.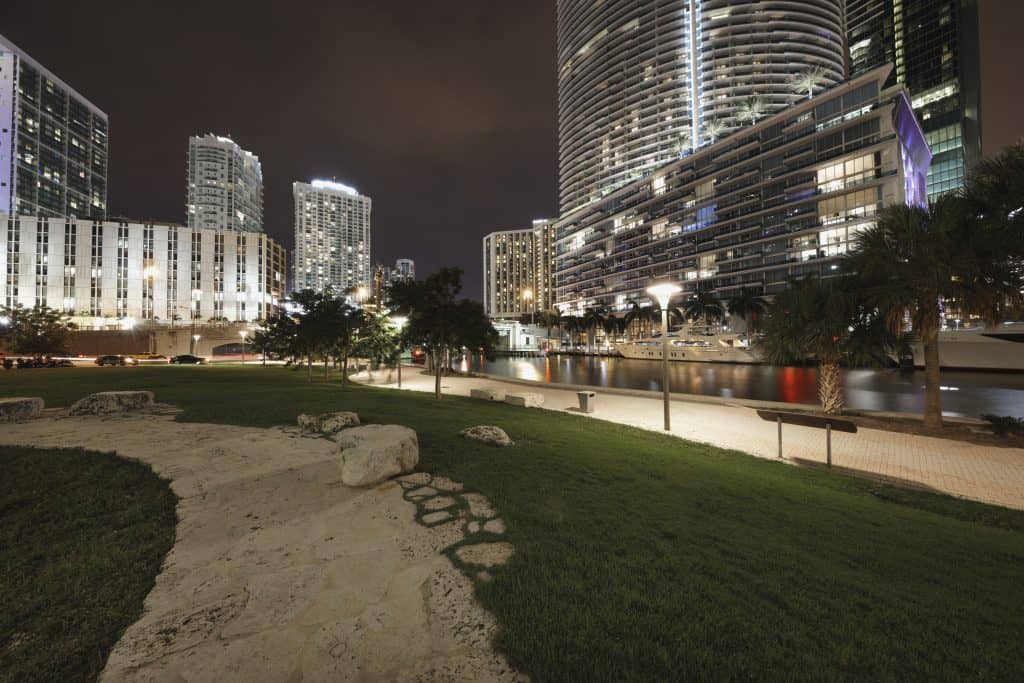 Wynwood Walls
Miami already has a strong foundation in the arts with its fashion districts and colorful Art Deco architecture. No visit to Miami would be complete without a visit to the city's most unique attraction: the Wynwood Walls!
A collection of graffiti and street art, the Wynwood Walls holds the spot as one of the best museums in Florida. Here Miami's diversity and culture truly shine.
Minutes from downtown, muralists were commissioned to turn the giant walls from six buildings to create a cultural oasis from a failing neighborhood!
Today Wynwood is pedestrian friendly. Everywhere you turn, you'll be surrounded by art. The buildings surrounding the park continue to be covered in murals as artists come to Wynwood to find inspiration.
For the biggest party, visit on the second Saturday of the month for the Wynwood Art Walk. Here, Wynwood District transforms into a late-night street party complete with food trucks and live music! Surrounding art galleries stay open late and hand out drinks.
During Miami's most popular festival, Art Basel, artists and art lovers flock to Wynwood from across the world. Many Wynwood muralists return at this time to update their art or create new pieces.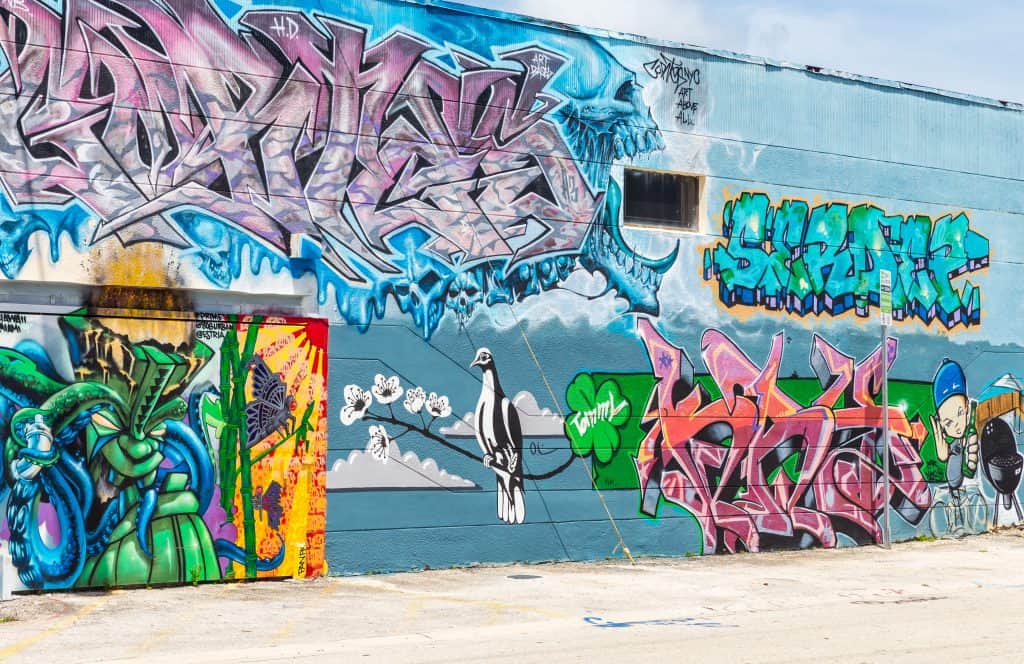 Venetian Pool
You've been to the theme parks and the water parks, but you've never been to a water attraction quite like this. A swimming oasis, the Venetian Pool is one of the best things to do in Miami with kids!
An aquatic facility like no other in the world, the Venetian Pool was created in 1923 from a coral rock quarry. The original coral rock was used to create a beautiful, natural border for the pool.
The 820,000 gallon pool is fed with spring water from an underground aquifer. Filled and drained daily, the clear aqua waters sparkle and cascade down two waterfalls. Climb two lookout towers to get a bird's eye view of the city.
Surrounding the pool are loggias, porticos, palm trees and the signature Venetian bridge. Inspired by Mediterranean architecture, cave-like grottos resemble the waterways and canals of Venice.
The Venetian Pool opens to guests on Tuesday through Sunday from 10 AM – 4:30 PM and closes on Federal holidays. Tickets are $15 for adults and $10 for children with discounts for Coral Gables residents.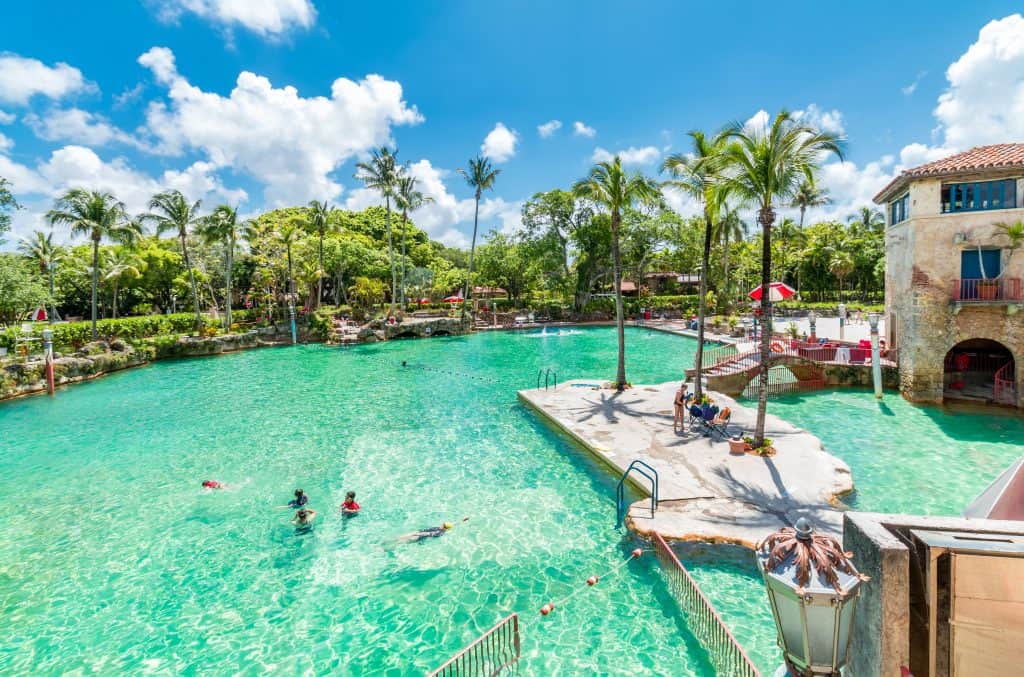 Spanish Monastery
The monastery of St. Bernard de Clairvaux was completed in 1141 in Spain. Over 800 years later, the structure was dismantled and reassembled in Miami. Time Magazine called it "the biggest jigsaw puzzle in history."
Presented to the Bishop of Florida upon completion, today the parish church of St. Bernard de Clairvaux is an active Episcopal Church! Its incredible architecture and history makes a visit to the Spanish Monastery one of the best free things to do in Miami.
Today, you can see the Romanesque and Gothic architecture in all its glory. In all its cloisters, you can admire the stone enclaves and archways. Scattered throughout and around the structure are beautiful and lush gardens.
A popular tourist attraction, the Spanish Monastery opens to the public daily from 10 AM – 4:30 PM. Admission is $10 for adults and $5 for students and seniors. Tours are self-guided although you do receive a brochure that highlights the history and architecture.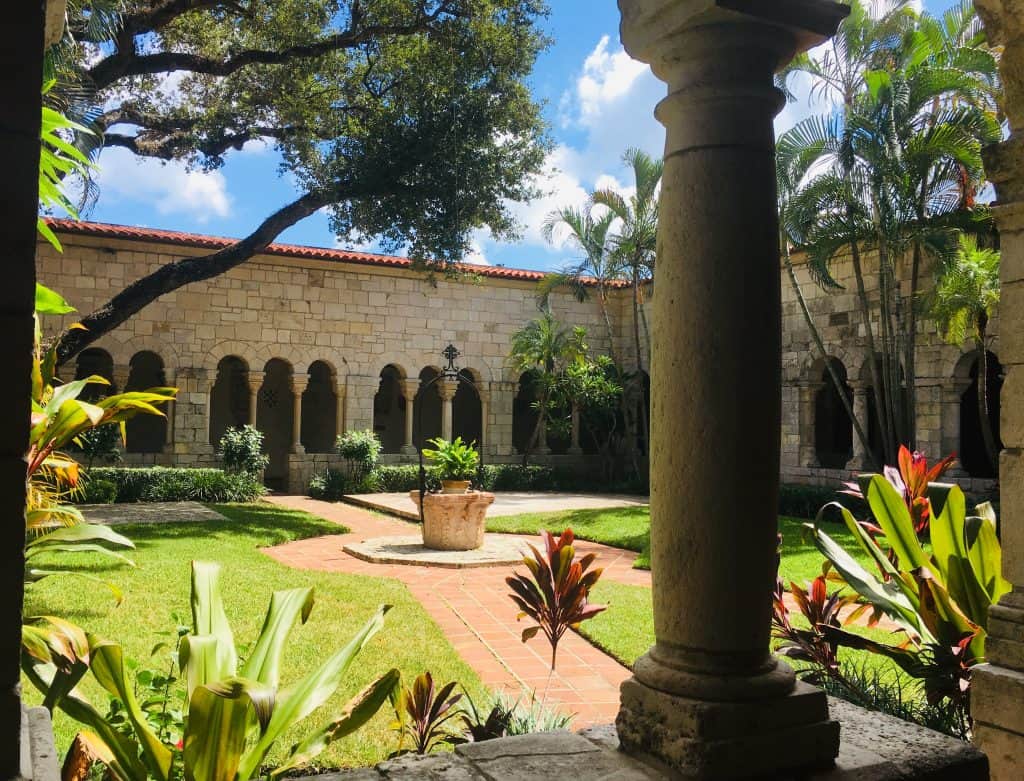 Stiltsville
On the south side of the Biscayne Bay, you can find one of the most unique things to do in Miami. Stiltsville, a group of wood stilt houses, stands on reinforced concrete pilings.
A group of pastel buildings, they appear to hover over the greenish water. At a distance, they even appear to be boats. There are currently seven houses, although a number of them have been destroyed due to hurricanes.
In Biscayne National Park, one of the best national parks in Florida, you can take a boat tour of the mysterious community. The ride to get there lasts an hour, but the sight of the Miami skyline makes it worth it. You can even see native Florida animals like sea turtles!
You are free to charter your own boat as well! Try Monty's in Coconut Grove or Haulover Marina in North Miami Beach. Be advised the area around Stiltsville can be difficult to navigate. With only one deep channel running through the houses, pay attention close attention to markers.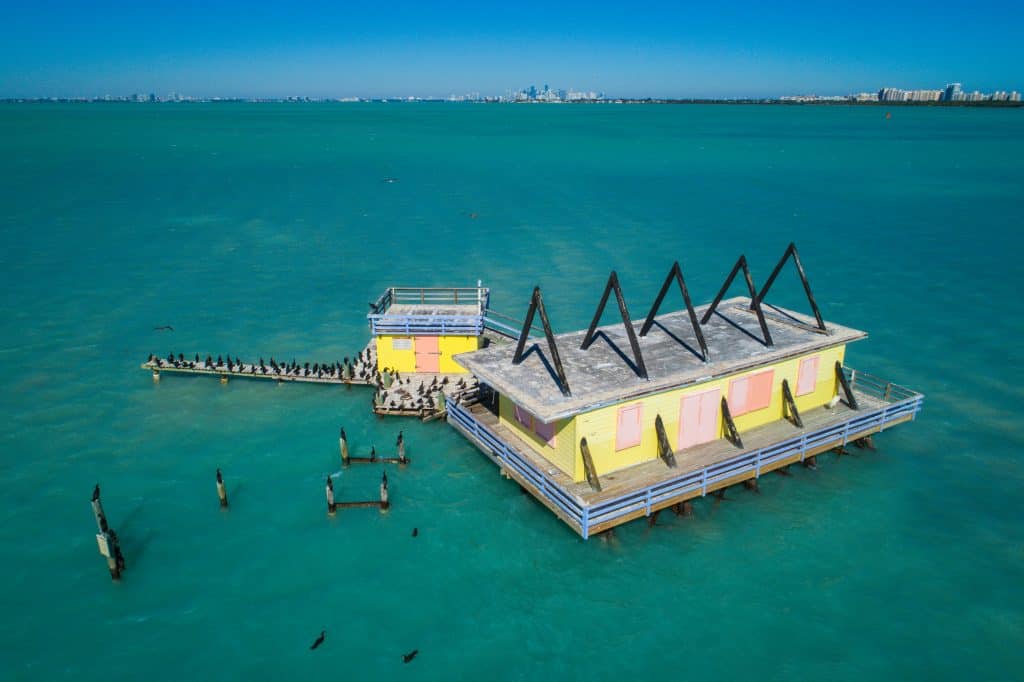 Thai Temple
Built in 1982, the Wat Buddharangsi, or Thai Temple is a Theravada Buddhist Temple that services the Miami community. On five acres of land, the temple is one of the most serene things to do in Miami, Florida.
Composed of five buildings (a religious hall, an all purpose building, two classrooms, and a bell tower), visitors will be met with an inner peace when entering the grounds. The symmetry in the architecture along with the gold trim will leave you breathless.
Inside the religious hall lies a gorgeous Buddha statue, erected for worship. Sculpted by a master in Thailand, the statue stands 23-feet tall. Made of bronze, copper, brass, silver, and gold, the statue weighs over five tons!
Visitors are always welcome to visit the Temple! If you are seeking peace of mind or simply want to learn more about Thai culture, the monks and regular patrons of the Temple will eagerly help you.
There are always special events going on too! Classes are open to the public on Saturdays and Sundays from 3 – 5 PM that teach meditation practices. On special Buddhist holidays, you can also attend a weekend retreat to practice the Buddhist eight precepts.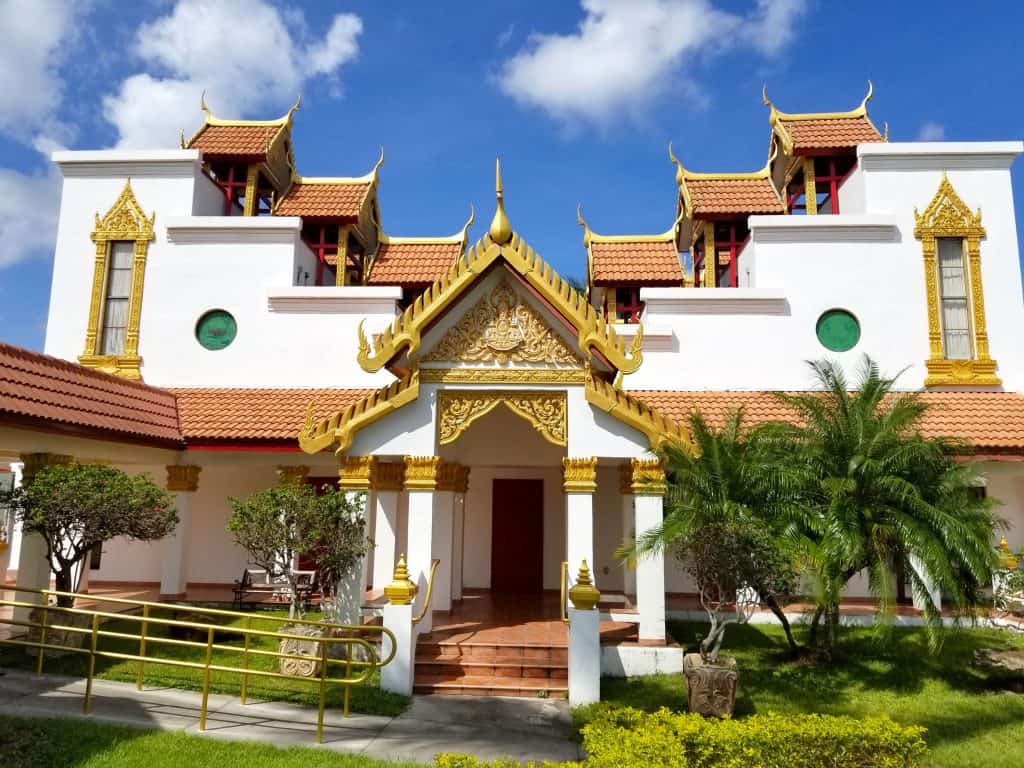 Miami Design District
To get a full and comprehensive taste of Miami's culture and atmosphere, head to the city's Design District! A creative neighborhood, this is one of the best things to do in Miami.
In Midtown you'll find over 130 art galleries, show rooms, creative services, stores, antique dealers, eateries, and bars. Here, art is everywhere!
One of the best free things to do in Miami, simply walk through the area and take in the abstract sculptures and fountains.
Not just a home to funky galleries and art, you'll also discover a high-end shopping haven. Stroll and window shop through the displays from Christian Louboutin, Prada, Louis Vuitton, and Hermes.
Afterward, discover the culinary magic that matches every facet of the neighborhood. Try Kaido with its sexy, dark energy and Tokyo-inspired menu. For a low-key bistro, grab a croissant or cappuccino at the Buena Vista Deli!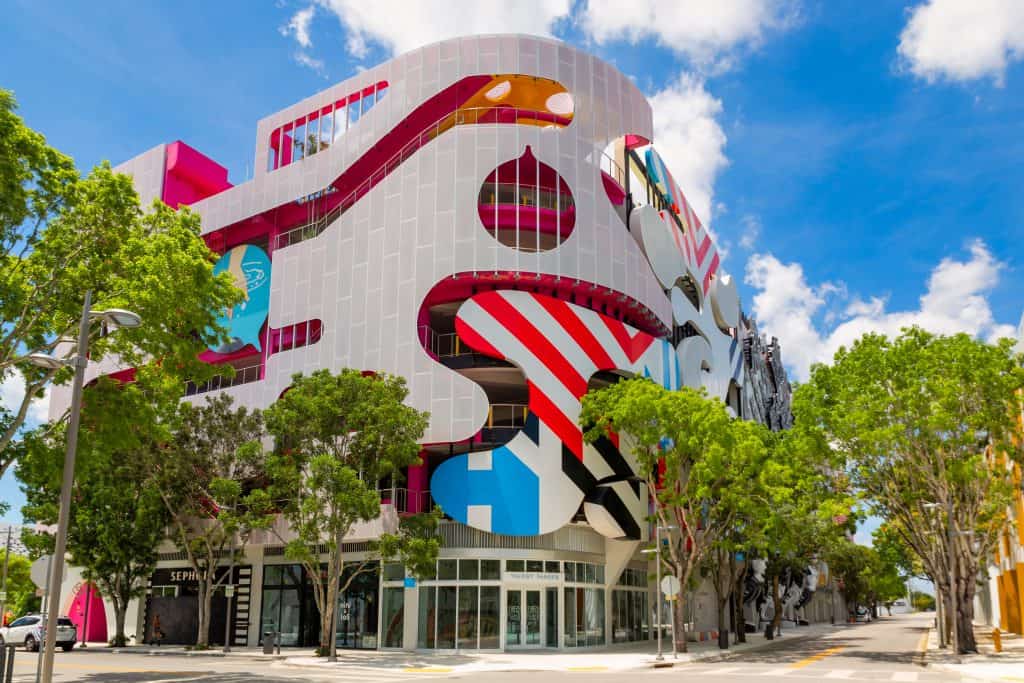 Did You Find This Post Helpful?
If so, we would love to keep in touch! We enjoy seeing photos and comments about your experiences in Florida! You can follow us on Instagram and we will repost your photos on our feed and comment too! Just tag us at @floridatrippers and hashtag #floridatrippers. We can't wait to see your travels!