The first of the Florida Keys, there are so many incredible things to do in Key Largo. Widely recognized as the "Dive Capital of the World," you might think that Key Largo is just beautiful beaches and pristine waters. While it does in fact boast those things, there's a whole island of adventure waiting for you.
One of Key Largo's nicknames is the First of the Keys, given its geography within the chain of islands at the tip of Florida. It also used to go by the names of Planter and Rock Harbor. That is until 1948 when the classic Humphrey Bogart film called Key Largo changed everything.
An easy drive from the mainland, you'll find a welcoming island paradise. Enjoy incredible diving opportunities, glittering beaches, and clear water. It doesn't matter what time of year you go, the weather is always tropical, warm, and perfect for swimming, kayaking, snorkeling, sunbathing, and more.
So the next time you're looking for a weekend getaway, consider making the trek down to one of the most inviting places in all of the state of Florida. But be warned, Key Largo is so much more than just tourist attractions. Here are our favorite things to do in Key Largo.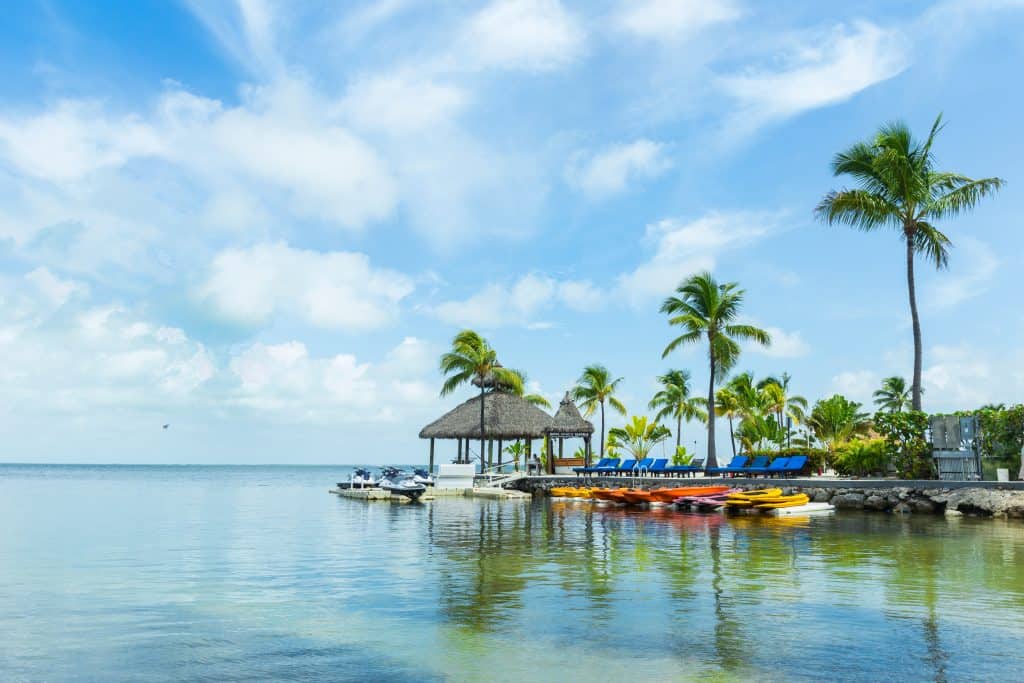 14 Best Things To do In Key Largo You Shouldn't Miss
John Pennekamp Coral Reef State Park
The first undersea park in the United States, John Pennekamp State Park in Key Largo boasts over 70 nautical miles of beautiful coral reefs! If Miami's nightclub scene is getting old, trade-in your boaters and high heels for a snorkel and jump in!
A Florida National Marine Life Sanctuary, the living, shallow-water coral reefs are alive and vibrant with color. Divers from around the world travel here to experience the area's extraordinary wildlife. There's a reason Key Largo is called the "Dive Capital of the World."
While the park boasts mangroves and tropical hammocks, the reefs are the star attraction. You are permitted to scuba dive and snorkel to get a closer look. If you want to stay dry, rent a glass-bottom boat to see the beauty underneath you!
For a truly unique experience in one of the prettiest state parks in Florida, exploring the underwater worlds of Key Largo is a must! Seeing the shipwrecks and sunken statues beneath the surface is one of the best things to do in Key Largo!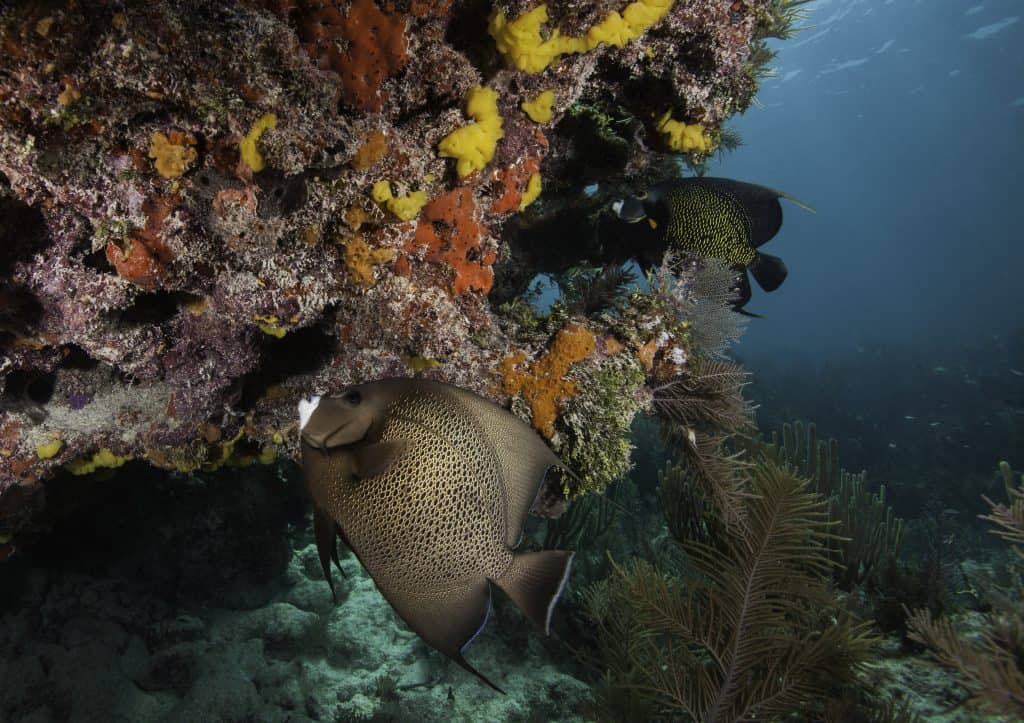 Take A Glass-Bottom Boat Tour
If you want to see the beauty of the ocean and coral reefs but not get wet, you can be sure there's a way. When you take a glass-bottom boat tour, similar to glass-bottom paddling, you can see underneath your vessel! That's why we recommend taking a tour with Key Largo Princess, one of the best things to do in Key Largo!
The Key Largo Princess, a luxurious 75-foot, 140-passenger, glass-bottom yacht will take you on the adventure of a lifetime. While you enjoy a panoramic view of the Keys, you can see the beautiful ever-changing colors of the Atlantic Ocean beneath your feet!
First, you'll take a 45-minute voyage out to the reefs. Relax on the sun deck and sip on a tropical cocktail and enjoy snacks from the bar. There's also an air-conditioned cabin if you get overheated! Then when you approach the reef, you'll see it through large viewing windows at the center of the boat.
A tour guide on board will be able to describe the reefs below. You'll see many varieties of living coral that teems with an array of sea creatures. You'll catch glimpses of sea fans, sea plumes, and hundreds of different fish, tropical and larger species!
The Key Largo Princess sets sail three times a day at 10 AM, 1 PM, and 4 PM. Each cruise lasts about two hours. Tickets are $40 for adults, while children 11 and under gain access for $25.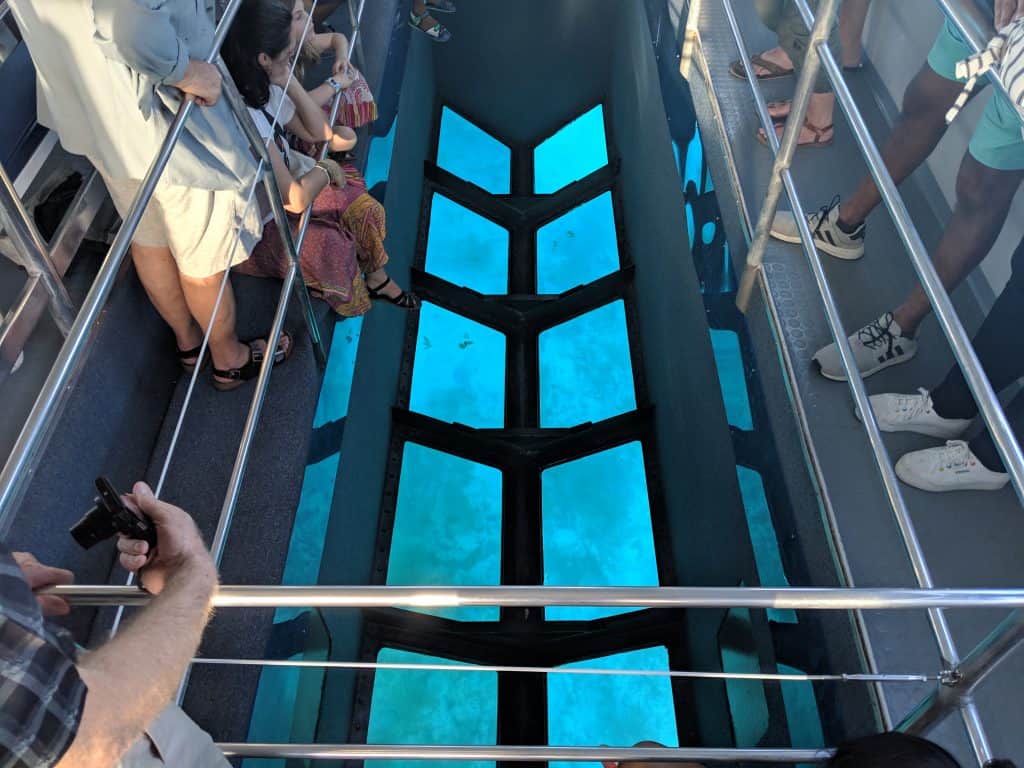 Spiegel Grove Wreck
The Spiegel Grove was a U.S. Navy Landing Ship Dock that was commissioned in 1956, named for the Ohio estate of President Rutherford B. Hayes. After the ship was decommissioned in 1989, Hurricane Dennis turned the ship upright on June 10, 2002.
Thus, it has become an incredibly popular spot for divers. Unfortunately, it cannot be seen well from snorkeling alone: its minimum depth is 45! Even so, its descent is not for the beginner diver. To see it, you must have knowledge of proof of certifications regarding diving in overhead environments.
After its sinking, the ship began to attract marine life. Today it is well on its way to becoming an entire reef ecosystem of its own. Marine biologists expect the natural corals to completely envelop the ship in a matter of time. Because of the ship's size, it is larger than any natural reef structure in the Keys.
Among the coral and sea ferns, you'll be able to see entire schools of shimmering smaller fish and colorful tropical fish. There are even large grouper that frequent the wreck. On the clearest days, the sandy bottom can be visible at a depth of 130 feet from the surface, making it one of the best things to do in Key Largo.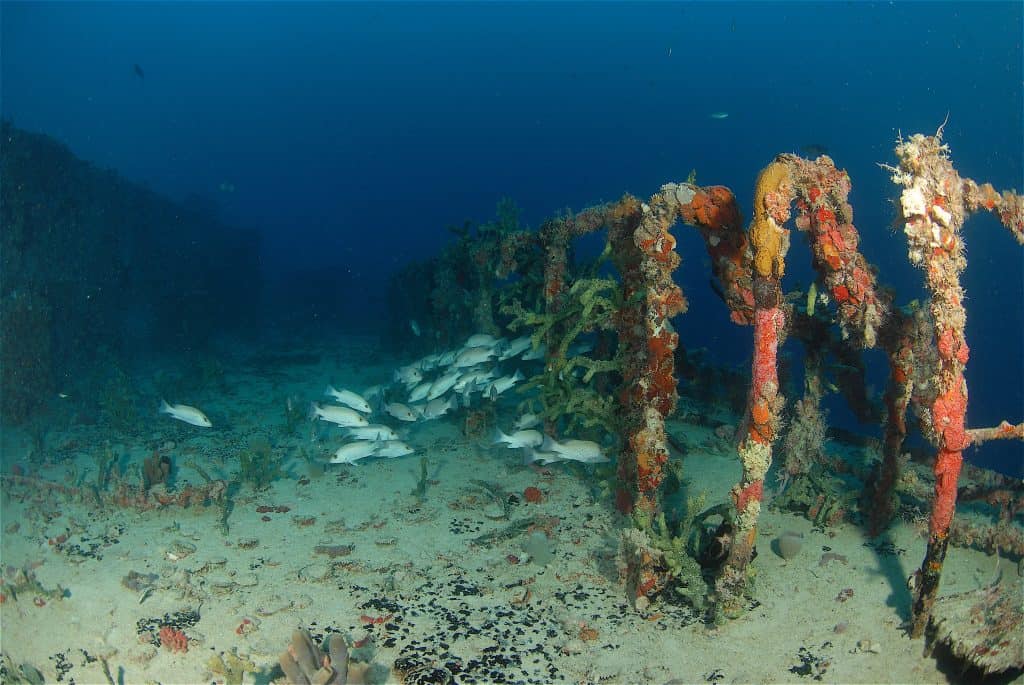 Florida Keys Wild Bird Rehabilitation Center
If you have a love of animals and all things avian, then you need to visit the Florida Keys Wild Bird Rehabilitation Center! Incorporated in 1988, they are dedicated to the rescue, rehabilitation, and release of native and migratory wild birds. They also provide shelter for birds who cannot be released back into the wild.
In the sanctuary, you'll see over 90 non-releasable birds of 40 different species. Every bird housed on the property passed through the Mission Wild Bird Hospital on the premises and was deemed non-releasable. This means they suffered injuries that prevent them from doing things like flying, perching, and walking.
Here they can live out their lives in a large enclosure with enriching activities. Each bird is given their appropriate food so they can maintain a healthy diet. You can walk through the sanctuary and interact with the birds every day! Unfortunately, no dogs are allowed.
Kids will love seeing the Pelican feeding! Every day, the interns feed the center's resident Brown Pelicans at 8 AM and 2:30 PM. There's even a gift shop next to the hospital filled with fun souvenirs like t-shirts, stuffed animals, tote bags, drink tumblers, and much more!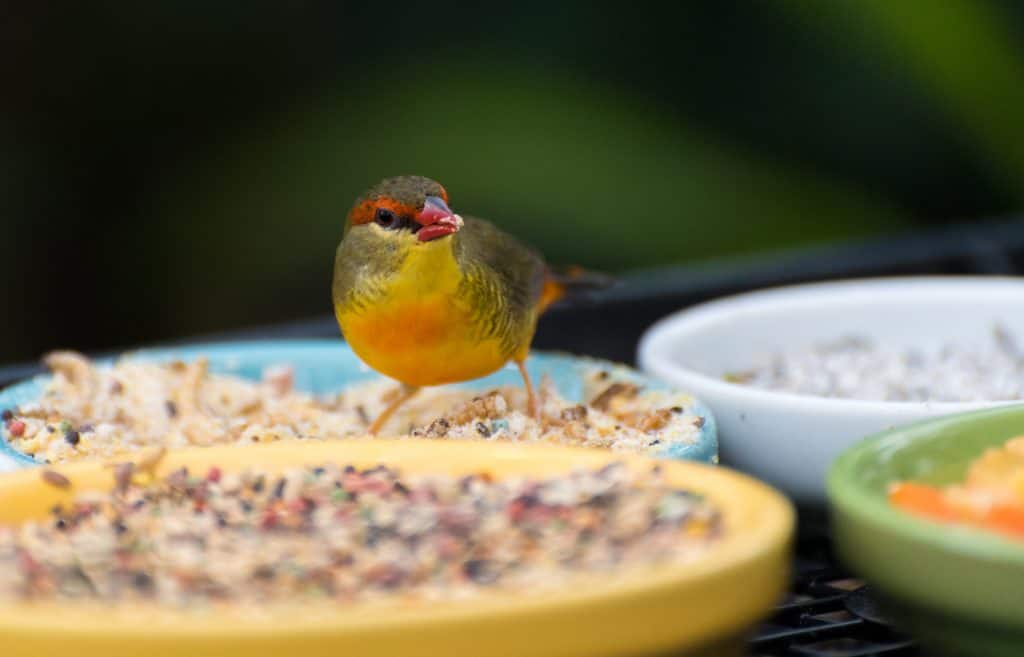 Go Kayaking
There are literally thousands of places to launch a kayak in Florida, but taking a paddle through the waters can be one of the best things to do in Key Largo. When you're out on the water, the breeze gently going through your hair, you'll remember why the Florida Keys are paradise.
If you're looking for a good guided tour, check out Florida Bay Outfitters although you can launch independent of their tours. You can launch your own kayak if you bring one for a nominal fee. However, the launch fee is waived if you rent equipment. The store is well stocked and the staff never tries to oversell you!
You can launch from the shore of Blackwater Sound into Dusenberry Creek. This path will take you into lovely, quiet mangrove tunnels. Be warned though, it is a long paddle along windy open waters to get to Dusenberry Creek. The area at times may be infested with power-boats, too.
Consider launching from John Pennekamp Coral Reef State Park, which offers 2.5 miles of marked mangrove trails to explore. The park's harbor concession rents kayaks and canoes. Or you can try Harry Harris Park to kayak through the oceanside islands of Rodriguez Key, Tavernier Key, and Dove Creek!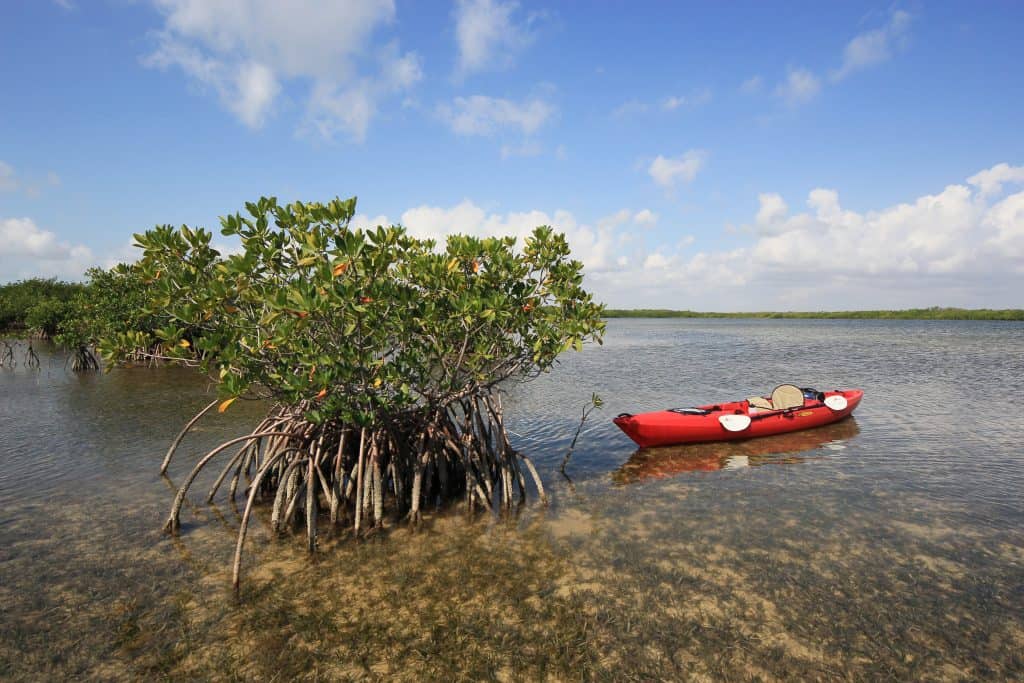 Dagny Johnson Key Largo Hammock Botanical State Park
When you're in the Keys, sometimes it's nice to see a side of nature that isn't just beaches and ocean. One of the best things to do in Key Largo is to explore Dagny Johnson Key Largo Hammock Botanical State Park!
This area was once slated to become a condominium development! We're so glad that never came to pass because it would have meant tearing down one of the largest tracts of West Indian tropical hardwood hammocks in the United States!
Dagny Johnson State Park, for short, houses 84 different protected species of plants and animals. These include wild cotton, mahogany mistletoe, and the American crocodile. Walk the Port Bougainville Trail to see these incredible creatures or go on a trek with a Ranger to guide you!
The Port Bougainville trail begins at the park's main entrance where you'll hear warblers playing and flitting by. Small birds fly through the bushes and you can see spider webs glistening in the morning dew. When you look up, you'll see the incredibly extensive tree canopy making this one of the best things to do in Key Largo.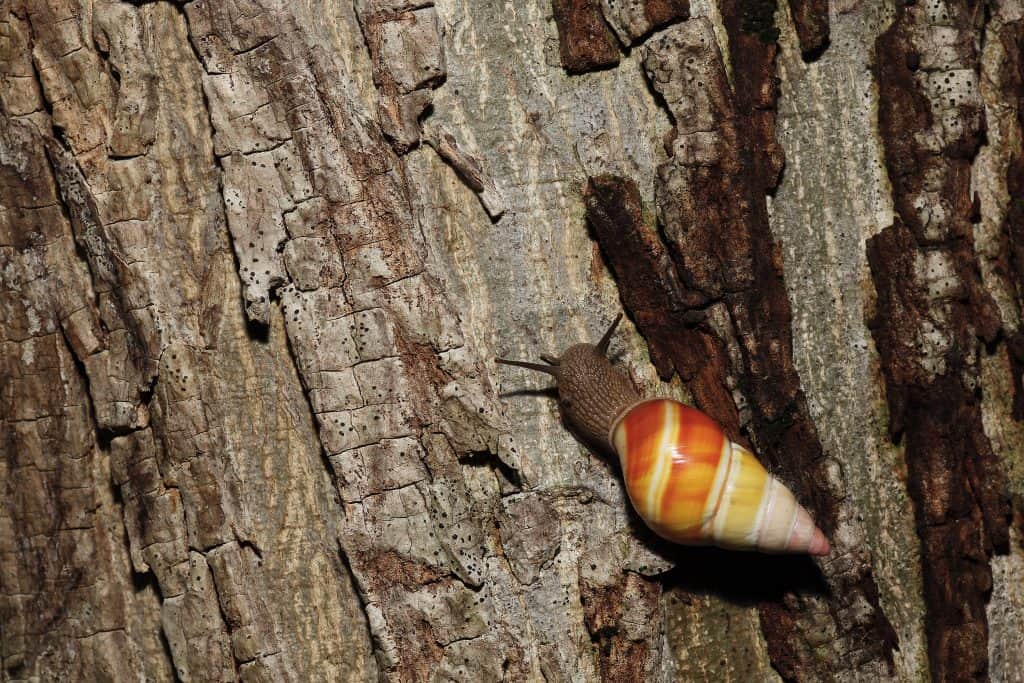 African Queen Canal Cruise
In case this next entry has you cocking your head, yes. This is that African Queen. Film buffs will know it from the 1951 movie of the same name starring Humphrey Bogart and Katharine Hepburn. Taking a ride on the famous speedboat is one of the best things to do in Key Largo!
The African Queen was built in England in 1912. She was still in service when she appeared in the 1951 John Huston movie. When she finally retired from international work in 1982, she became the pride and joy of Key Largo. Now a National Historic site, you can actually take a ride on this steamboat!
Completely restored, take a ride through the waters of Key Largo along the Port Largo Canals and through the Atlantic Ocean. You'll see local points of interest and panoramic views of the Keys! You can even ask the Captain for a turn at the helm!
There are five cruises daily to choose from: 10 AM, 12 PM, 2 PM, 4 PM, and 6 PM. Each cruise lasts an hour and a half. Tickets cost $59 for adults.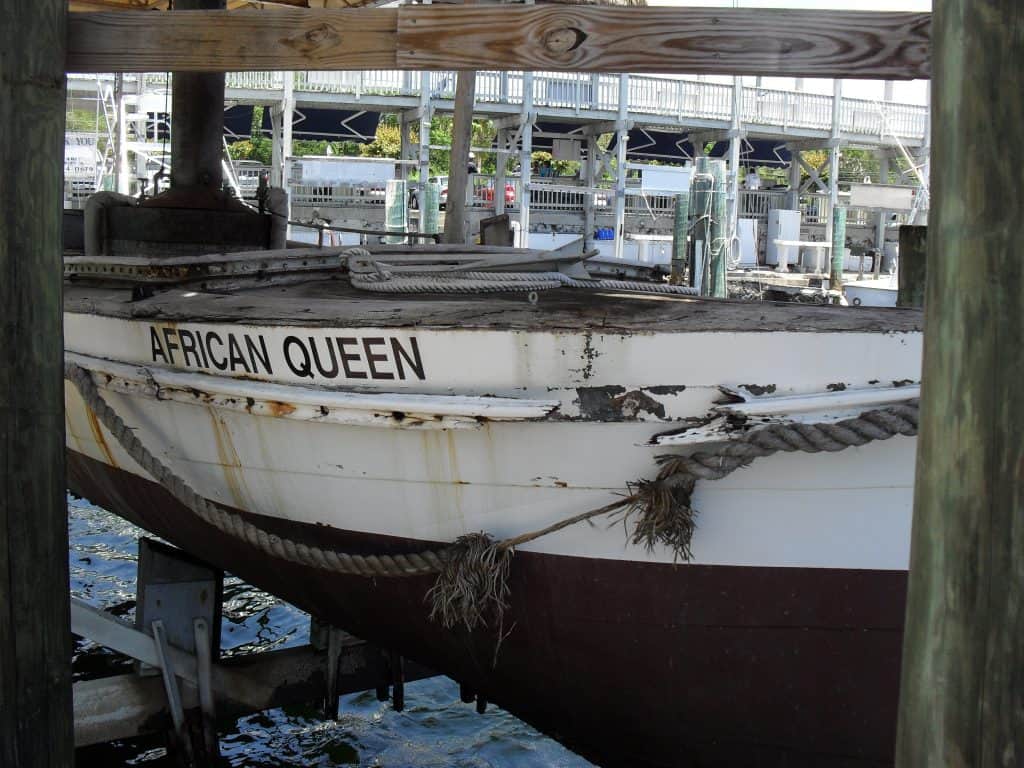 Harry Harris Park
When you're looking for a day of outdoor fun that combines the best of a beach and a recreational park, then you need to go to Harry Harris Park. The apple of Monroe County's eye, a visit here is one of the best things to do in Key Largo.
The name of the game at Harry Harris Park? Amenities, amenities amenities! Including the beach area, there are 11 pavilions, 12 barbecues, 34 picnic tables, one full-size basketball court, a playground, two baseball, and even a tidal pool for the little ones to wade in!
Fisherman and boaters can launch their boats from the jetty as well! Harry Harris Park is also a popular spot for kayakers too! Paddle through the oceanside islands of Rodriguez Key, Tavernier Key, and Dove Creek!
Dogs are allowed on leash, although they need to be kept off the beach. While swimming is more common, don't be afraid to venture out and do some snorkeling. Always remember to put up a dive flag so that people know you're there!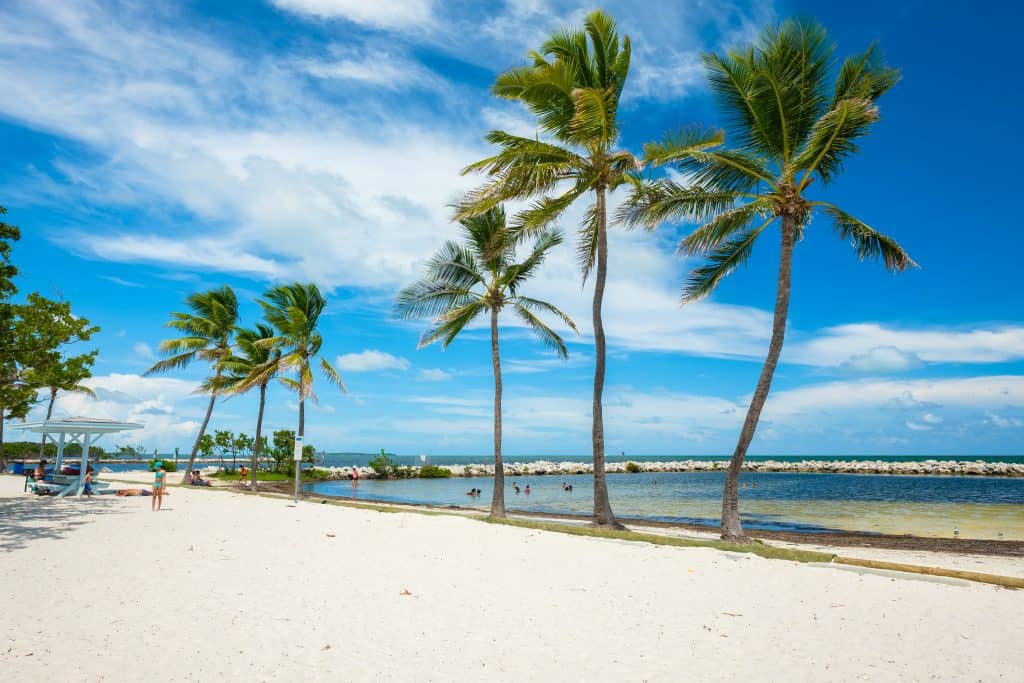 Crocodile Lake National Wildlife Refuge
Any Floridian will tell you that alligators are the number one animal force to be feared in the state. Did you know that their often confused counterparts are found right here in Florida? The Crocodile Lake National Wildlife Refuge was established in 1980 was to protect and preserve critical habitat for the American crocodile!
Part of the Florida Keys National Wildlife Refuges Complex, this is one of the best things to do in Key Largo. It spans over 6,700 acres with 650 acres of open water.
When you explore, you'll notice a mosaic of habitat types. These range from tropical hardwood hammock, mangrove forests, and salt marshes. You'll also be able to observe the eight federally listed endangered species that call this place home.
If you are determined to see the Crocodiles, we advise going in the early winter months when the Crocodiles will venture up onto the land. Early spring yields sightings of many avian varieties during bird migration season. Head back in July and August if you want to see the Crocodiles' eggs hatching!
This is truly one of the best things to do in the Upper Keys!!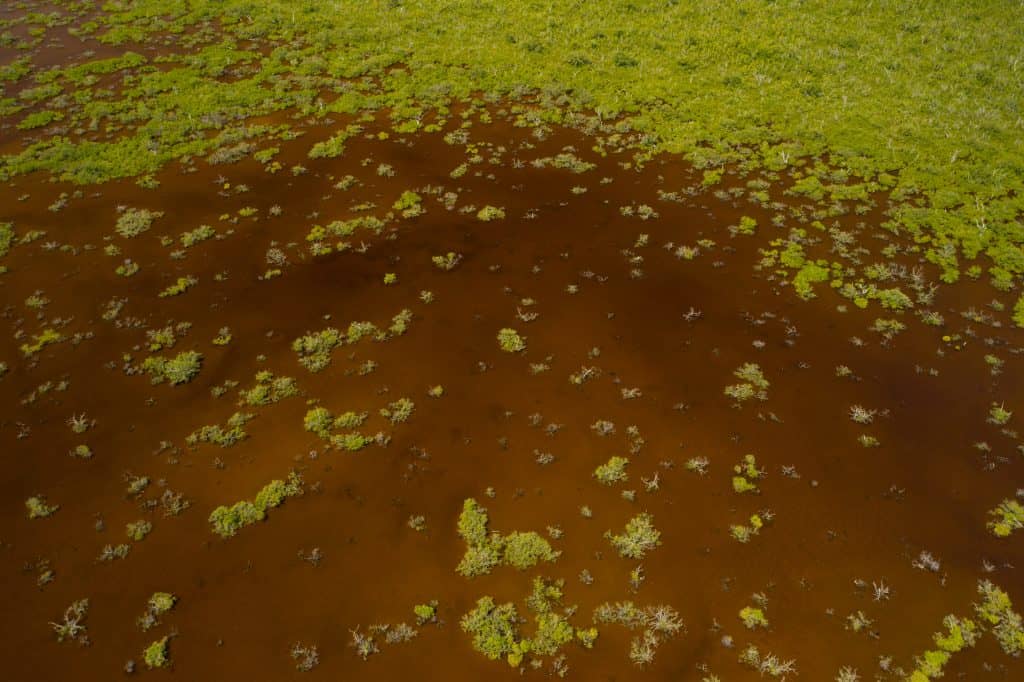 Florida Keys Overseas Heritage Trail
Sure, you can drive the Seven Mile Bridge on a road trip, but there's a different way to experience the Florida Keys. One of the best things to do in the Keys is to take it all in from the Florida Keys Overseas Heritage Trail.
Many existing pathways and bridges from the remains of Henry Flagler's Florida East Coast Railway make up the trail. Currently, it features 90 linear miles of transportation corridor, soon to be 106 miles in total spanning from Key West to Key Largo.
The inspiration for the Florida Keys Overseas Heritage Trail parallels Highway 1 in California. The FKOHT today aspires to be a National Scenic Highway and All-American Road.
Pedestrian and bicycle-friendly, here you can go hiking, running, bicycling, skating, sightseeing, fishing, and paddling. Always check the weather and fishing pier closures before heading out. Conditions on the bridges may be treacherous.
From the trail, you can access many points of interest like Everglades National Park, Biscayne National Park, the Florida Keys National Marine Sanctuary, and more! You also have access to 10 Florida State Parks as well as private campsites.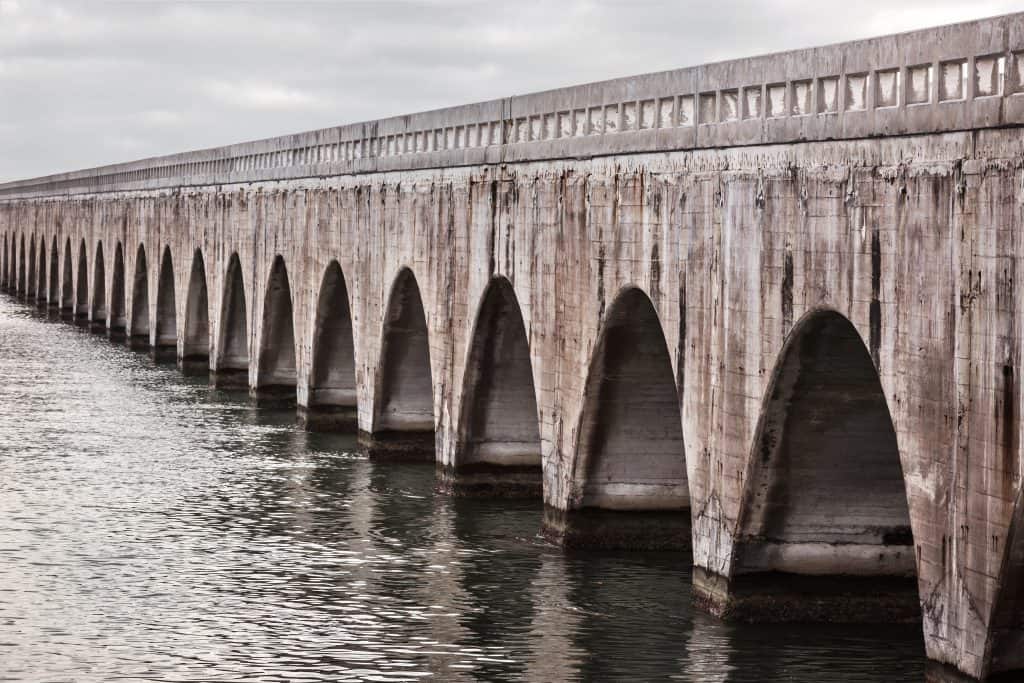 Florida Keys Marine Sanctuary
You've heard a lot of about the best snorkeling in the Keys, but we're here to tell you the most beautiful places lie within the Florida Keys Marine Sanctuary. From beautiful coral reefs, marine life, to mysterious shipwrecks, this is one of the best things to do in Key Largo.
The Florida Keys Marine Sanctuary is actually a 2,800 square nautical mile area surrounding the Florida Keys and reaching into the Atlantic Ocean. This is actually the only coral reef in North American and it's the third largest barrier reef in the world. Only the Great Barrier Reef and Mesoamerican Reef are larger.
When you're boating through the area you might see manatees and even sea turtles! If you go snorkeling, your views are breathtaking through the crystal clear waters. There's no telling what you might see!
If you don't want to charter your own boat, you can take some fabulous tours that will lead you to the best of the best in the reef. Take the Half Day Snorkel Trip on Reefs in the Florida Keys for only $55 per person. If you don't want to get wet, you can still get stunning views on a Sunset cruise through the waters.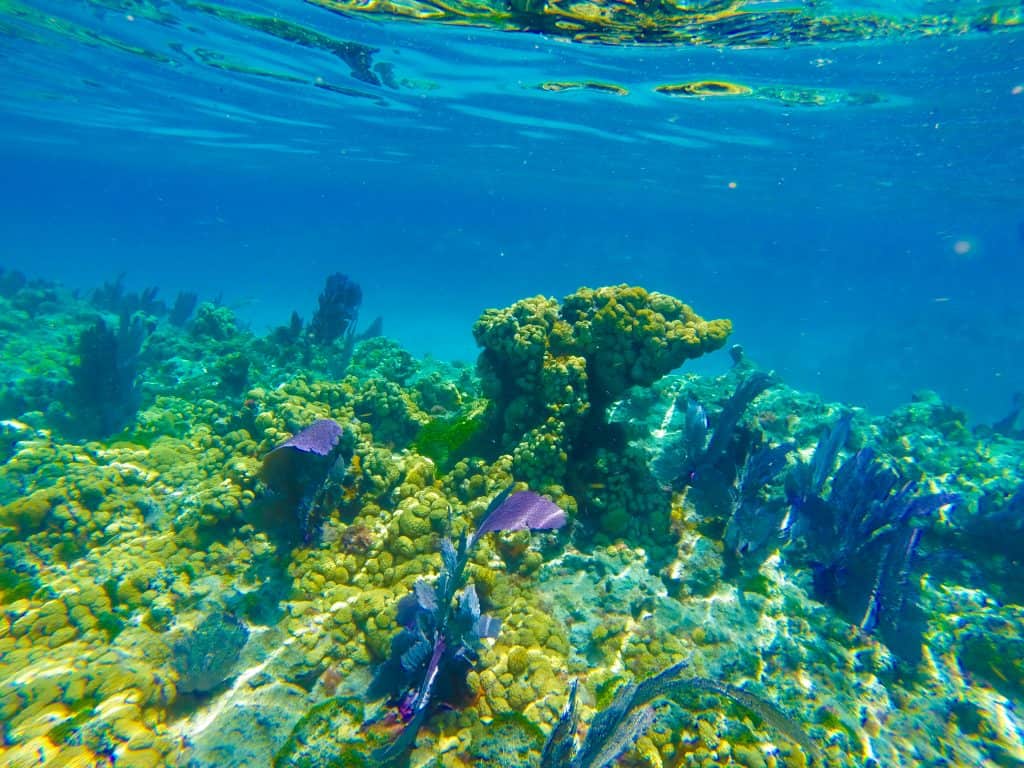 Jules Undersea Lodge
Why stay at a VRBO or a hotel when your lodging can be an adventure in and of itself? At the Jules Undersea Lodge, you're in for an experience like no other. Your hotel room? It's underwater!
The Jules Undersea Lodge is the only underwater hotel in the United States. It is 30 feet deep sitting literally on the ocean floor. Guests must scuba dive to get to their rooms! Your room will be stocked with plenty of water, soda, and iced tea. You'll even get a pizza delivery from a scuba diver himself!
If you're not an experienced scuba diver, have no fear. Jules Undersea Lodge provides beginner scuba diving courses to get new certified divers into the water! They also offer advanced diving lessons all in the Jules' Lagoon. No matter your level of comfort, the instructors here will help you!
If you don't want to stay overnight at the lodge, you can still take guided scuba diving tours of Jules' Lagoon. Here you can learn and see the beautiful ecosystems that have thrilled guests for years. This will also allow you to tour and get an inside look at the Underwater Lodge itself!
Island Dolphin Care
Dolphins are incredibly smart creatures. They have their own language and travel in pods. At Island Dolphin Care, one of the most incredible non-profit organization, the volunteers here use interactions as therapy for veterans with PTSD and children with special needs.
At Island Dolphin Care, these dolphins are not bred in captivity. They don't have to perform shows that can be exhausting and mind-numbing for the animals. Island Dolphin Care prides itself by taking a "zero exploitation" policy with its dolphins. They don't use their dolphins for monetizing purposes.
Island Dolphin Care plans therapies that are tailored to your special needs. They offer therapies for PTSD, autism, developmental disabilities and more. The therapies can help with sensory integration, attention, fine motor skills, and even your attention span.
You can even attend a Yoga class on the docks. An all-level flow class, you will meet either in the morning or in the evening by candlelight. Dolphins will be curious and swim by to see what you're doing! There is no cost, but the suggested donation is $10 per class. Remember, this is a non-profit, and this is an easy way to support an incredible organization.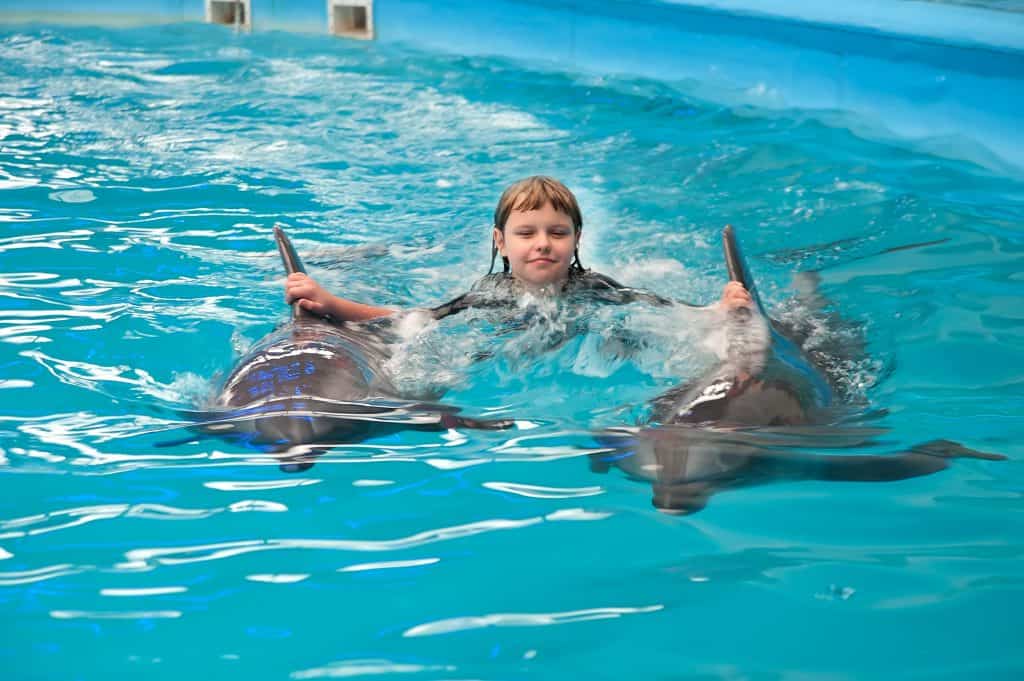 Snorkel Key Largo
Halfway between Key Largo and Key West, you'll find a group of islands beckoning you with the call to adventure. Curry Hammock State Park protects mangrove swamps, Rockland hammocks, and seagrass beds that are essential to the Florida Keys ecosystem.
Rent a kayak or paddleboard and take your choice between two trails on Little Crawl Key. You'll paddle your way through a mangrove tunnel, deep lagoons, sandbars, and an open ocean. If you look closely at the water's bottom, you'll see starfish, horseshoe crabs, and upside-down jellyfish!
The shorter of the two paths is 1.5 miles and circles Little Crawl Key in approximately one hour. The longer of the two paths is 5 miles long and requires at least four hours. But this path will take you along mangroves and out to another island for kayak fishing.
If the tide is low, the mangrove tunnels may be difficult or impossible to navigate. Not to worry, you can enjoy the sandbar just to the east of the kayak launch instead!
Single kayaks cost $17.20 and tandem kayaks and stand-up paddleboards cost $21.50 per day to rent! Always check the weather before going, as the park does not rent out equipment when there is a small craft advisory.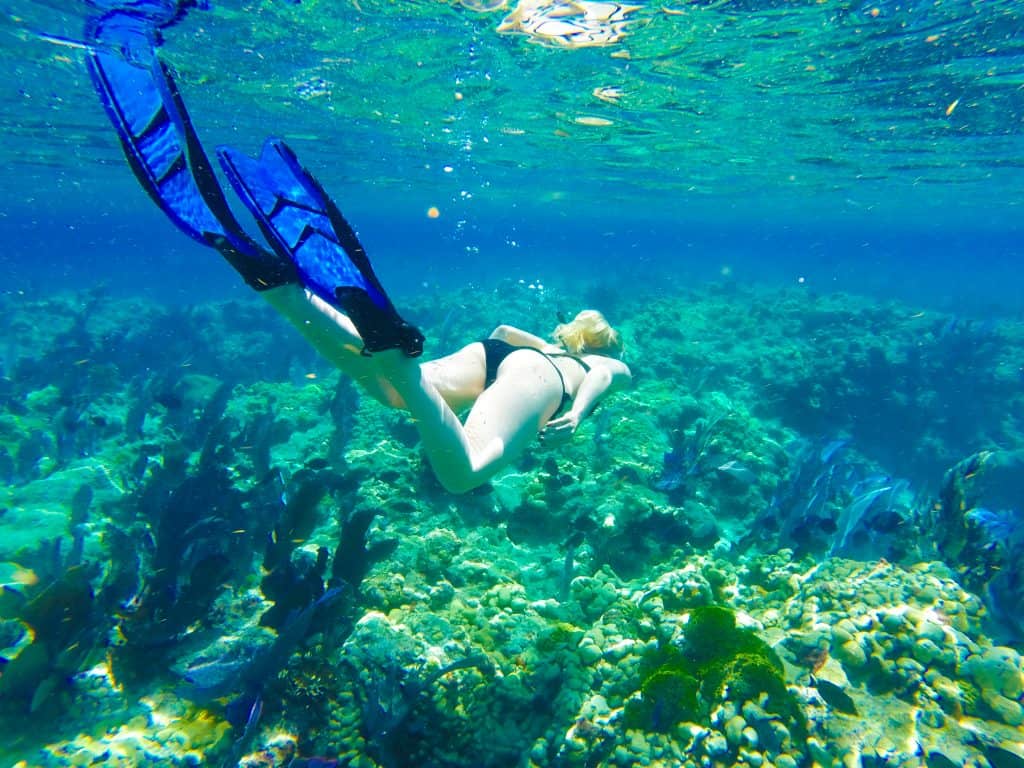 Where To Stay In Key Largo
If you are looking for where to stay in Key Largo, look no further than Baker's Cay Resort Key Largo! We stayed here for 3 nights and it was totally incredible!
Staying here is like something out of your Caribbean dreams and you don't have to fly internationally or use a passport as a USA citizen to visit and stay here.
This beachfront hotel in Key Largo also has two restaurants and a beach bar. Included with your stay, you also receive access to stand-up paddleboarding and kayaking which was a nice touch.
Make sure to book the Coconut Wing for the best beach views!
Click Here To Book Baker's Cay Resort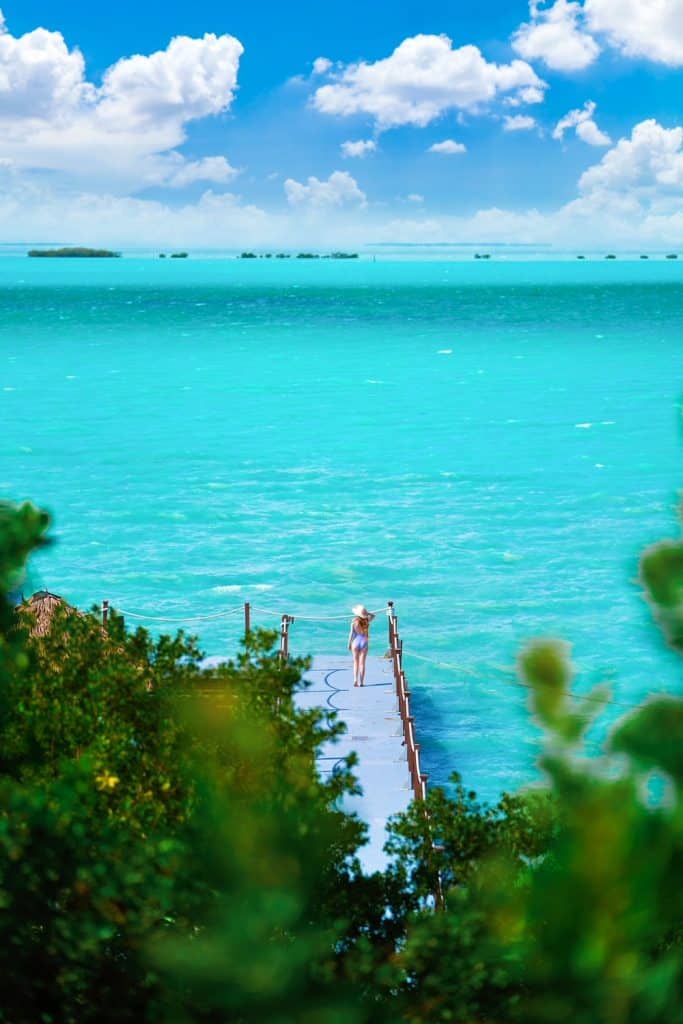 Did You Find This Post Helpful?
If so, we would love to keep in touch! We enjoy seeing photos and comments about your experiences in Florida! You can follow us on Instagram and we will repost your photos on our feed and comment too! Just tag us at @floridatrippers and hashtag #floridatrippers. We can't wait to see your travels!