Of all the things to do in Miami, perhaps the Wynwood Walls are the most incredible. There are so many great museums in Miami showcasing the best art from all over the world, but Wynwood really takes it to the next level.
Throughtout all of Miami, you can find art! From the beaches and colorful condos of South Beach to the monuments and statues that capture history, art is everywhere you look.
If you're truly an art lover or you're looking for something unique to do, you must visit the Wynwood Walls. Celebrating and capturing Miami's unique culture, you won't find a better representation of raw street art anywhere else in the world! This is truly one of the Best Places To Stay In Miami!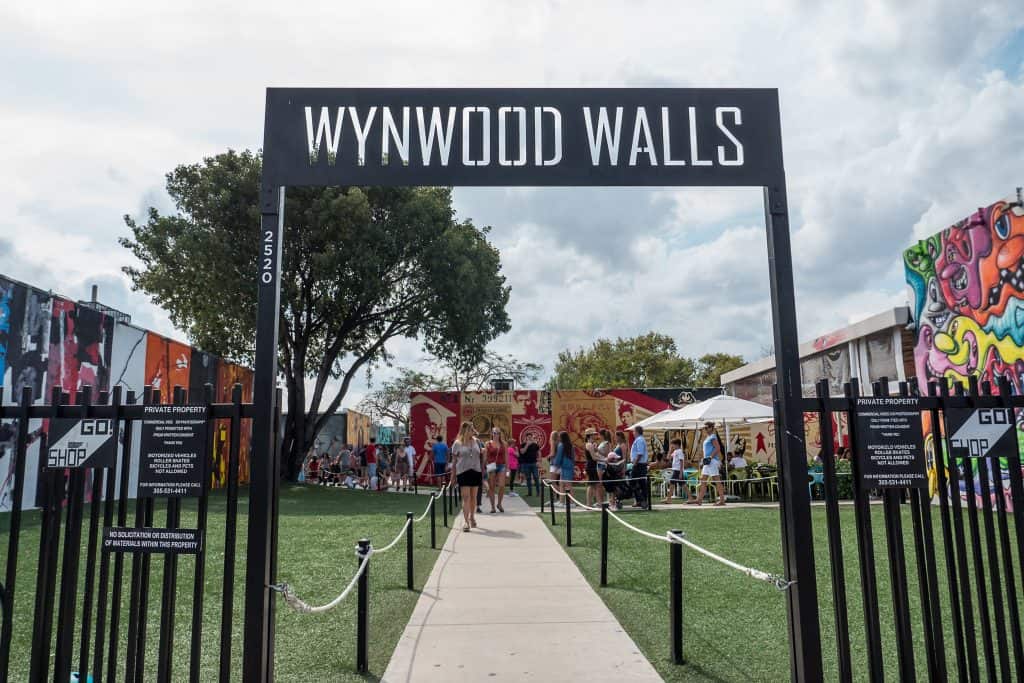 What Are The Wynwood Walls?
The Wynwood Walls are a series of murals in Miami in the warehouse district of Wynwood. It is one of the largest open-air art installations in the world.
It all began in 2009 when the late Tony Goldman used the walls of the warehouses as canvases for artists to create art. He successfully built a bustling community out of the ashes of a forgotten neighborhood.
What started with the buildings 25th-26th Street complex has grown into a bustling art district. Every wall has been transformed into a giant canvas, arguably creating the greatest collection of street art ever seen in one place!
Over the years, the community has expanded to include the Wynwood Walls Garden. The space showcases four additional murals in a beautifully landscaped, lush open area for guests to relax and take in the art.
The most recent addition to the community is the Wynwood Doors! A piece of land, formerly a dump, was transformed into a park with boulders and elegant trees. Metal rolldown gates were installed onto the surrounding walls, giving artists even more space to create!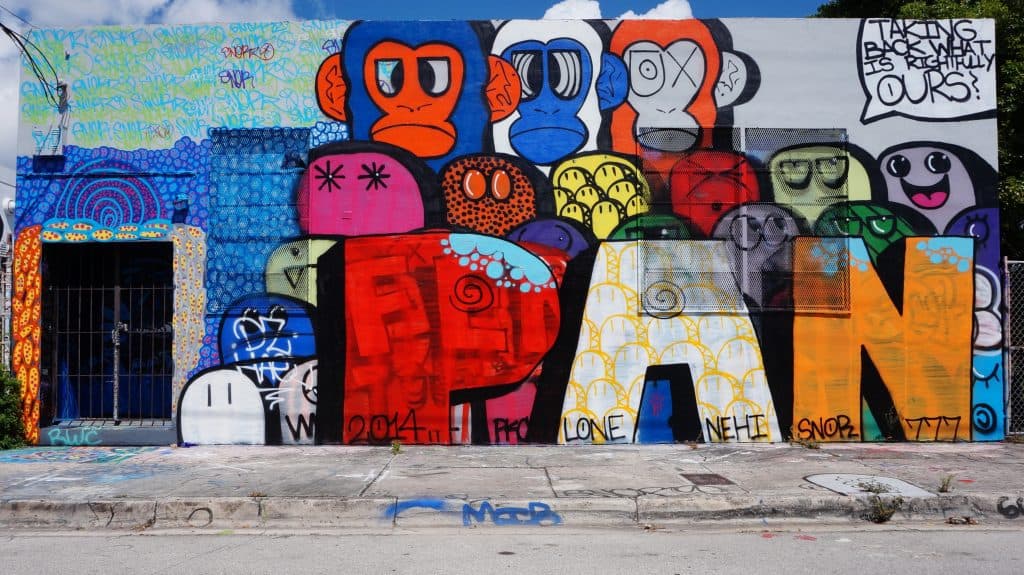 How Do They Choose Artists For The Wynwood Walls?
Every artist in the world wants to leave their mark on Wynwood. All eyes are on the district. It doesn't matter what kind of artist you are, to have your work at Wynwood Walls means it will be seen by a lot of people.
While a few of the murals are permanent, the collection changes. Usually once an artist has painted a mural, it remains there for one to three years. But if the art on the walls change, how do you get to be chosen?
Artists submit project proposals to a board at Goldman Properties. These proposals must include images of the proposed mural. The artists selected are a combination of emerging new artists and established, world-class artists.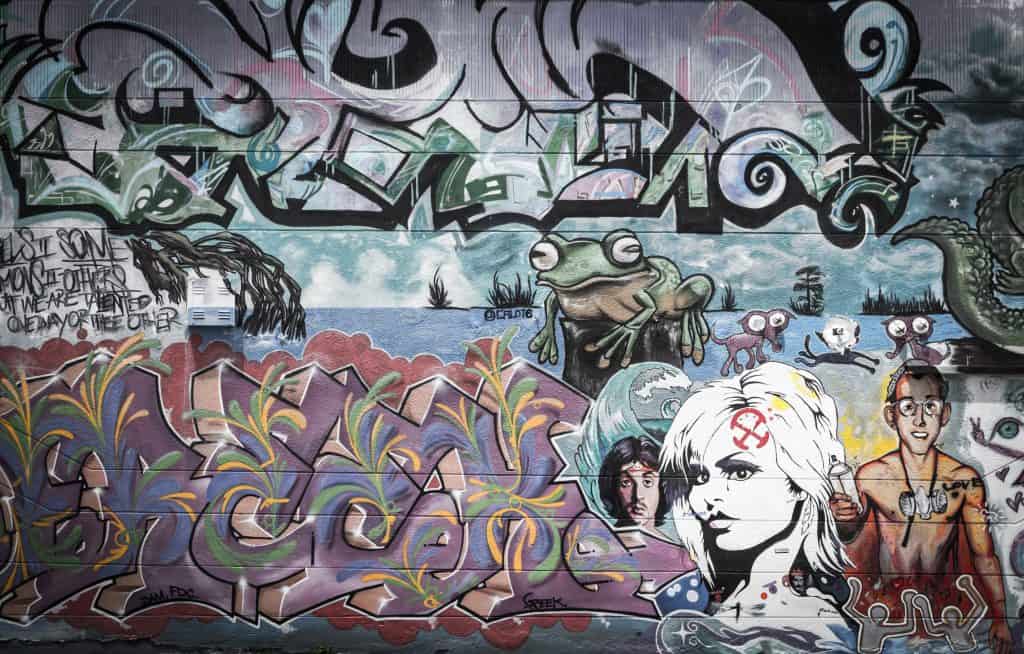 Parking In Wynwood
Parking in Miami can be challenging, so if you're planning on driving to the Wynwood Walls you need to be prepared. Keep in mind, you will have to do some amount of walking no matter where you park.
Parking in Miami is not free, but luckily the city has made payment easier. Miami is the first city in the United States to accept mobile payments for parking! Simply download the PayByPhone app.
With PayByPhone, you don't have to track down a meter to pay for parking. You'll even receive push notifications when your time is about to expire! You can even pay on the spot to extend your time. No more parking tickets!
Nearby street parking is difficult to obtain, but if you can find it, you'll pay $1.50 an hour from 7 AM – 2 AM, or a flat $5 fee during special events. If you plan on staying in Wynwood for more than three hours, you will have to move your car to a new "parking zone."
If you plan on spending the entire day, you will probably want to find a garage. Your closest option is the Midtown Miami North Block Garage at 3401 N Miami Ave, about 18 minutes away on foot. You can also try the Design District Lot at 175-187 NE 36th St.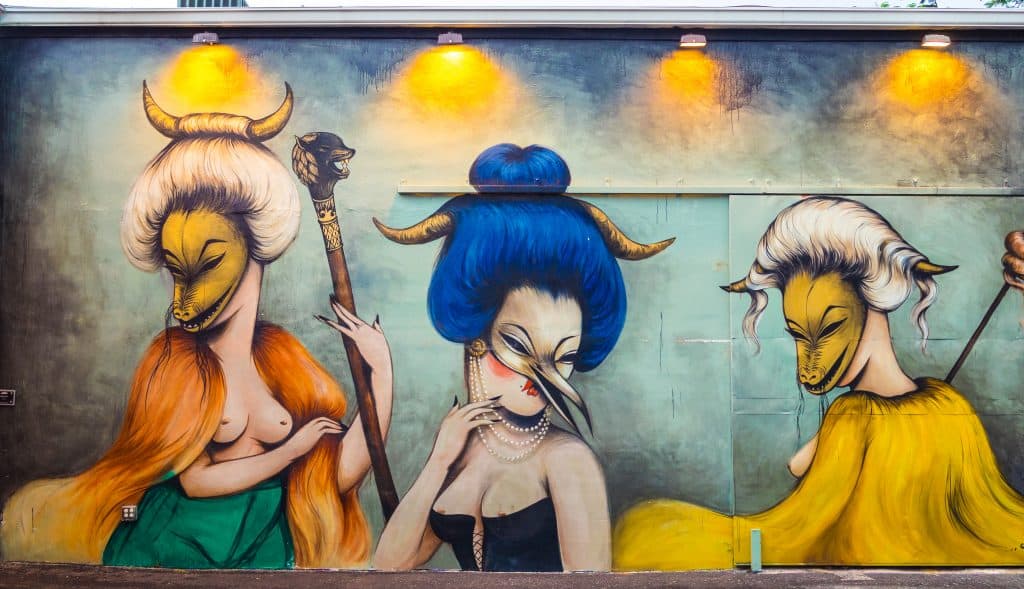 How Long To Spend In Wynwood
How long you spend at the Wynwood Walls depends solely on what you want to do. Some people just want to see the most famous art while others really like to explore the area!
If you get in the car and just drive through the neighborhoods, you can easily see most of the murals from your vehicle in about 30 minutes to an hour. Keep in mind you're just driving by, so you won't get any pictures.
Two hours will be the perfect amount of time to get in, see the art, take pictures, and then make your way back to your car. But if you want to see more, we recommend allowing for five to six hours.
There are so many incredible shops and restaurants all through the district that are worth exploring. Allowing time for a meal, window-shopping, picture-taking, and admiring the art and gardens can easily take up your entire day!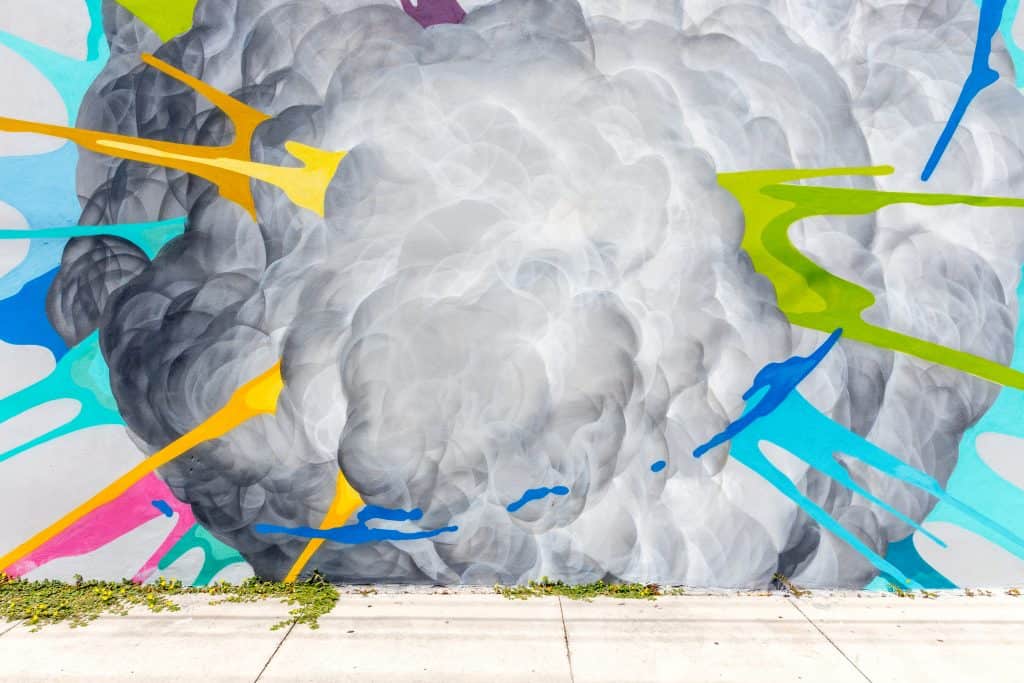 Tours At Wynwood Walls
Wynwood Graffiti Golf Cart Small-Group Tour
This tour is perfect for visitors who may not be so good on their feet. Here, you'll get an express tour of the Wynwood Walls from the comfort of a golf cart!
You'll ride around the district with your driver/guide who will give you plenty of opportunities to stop and take pictures! With no more than five on a tour, the small-group tour creates an intimate atmosphere.
This tour lasts approximately one hour. Tickets start at $39. You can park near or around 301 NW 26th St.
Miami Food and Art Walking Tour of Wynwood Neighborhood
Seeing the art isn't the only thing to do at the Wynwood Walls. On this tour, you'll hear the story behind the neighborhood's creation and its history. You'll also visit the galleries and learn about the artists whose murals first graced the walls.
After that, you'll visit some of Wynwood's most exclusive restaurants for private tours. The cuisine captures the culture of the neighborhood which you'll taste as you go. You'll eat the equivalent of a full lunch, so arrive hungry!
This tour departs at 12:30 and lasts about 2 hours. Park at the lot on the corner of North West 27th street and North West 2nd Avenue or on neighboring streets. Tickets start at $69.
Wynwood Graffiti Bar Tour
This tour actually takes place on a 15-seat pedal pub. Gather your friends and family to enjoy a drink while you pedal around Wynwood Walls to see some of the best graffiti street art around!
You can rent the bike privately for your group or join another small group if you don't have 15 people to party with. The pedal pub is BYOB, so bring your drinks of choice, and the guide will keep them cool for you!
The Wynwood Graffiti Bar Tour departs from Punch Bowl Social Miami and lasts about an hour and 30 minutes. Tickets start at $48.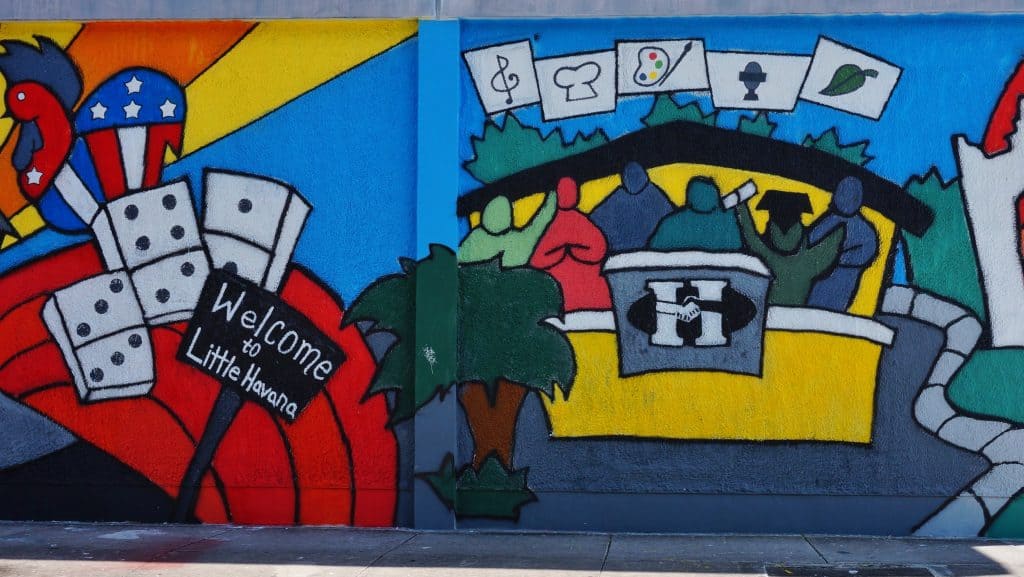 Tips For Visiting Wynwood Walls
Even though Wynwood has become more and more developed over the years since it opened in 2009, the area is not the safest at night. We advise going early in the day, at least while the sun is still up.
If you stay into the night, stick to the highly populated areas. You can also frequent the many restaurants and bars in the area. Just steer clear of walking through poorly-lit alleyways, especially if you're alone.
It's also best to approach the Wynwood Walls with an open mind. If you're returning, don't expect to see the same mural. The art is constantly changing, so there's a good chance it's already gone.
You should also come to the Wynwood Walls with an empty stomach. Some of the best restaurants in Miami are in the Wynwood district, as well as some of the best nightlife. Be prepared to feast and indulge in a few libations as well.
If you're an Instagram influencer or just want to get a good picture, be careful of your outfit choice. A lot of the murals feature busy patterns, so wear solid colors (or even white) so you don't clash with the art behind you!
While we explored parking options earlier in the post, you will have to walk a great deal to get to most of the best murals and restaurants. Unless you're ready to scour the streets for a parking spot there, we recommend taking a Lyft or Uber to make things easier.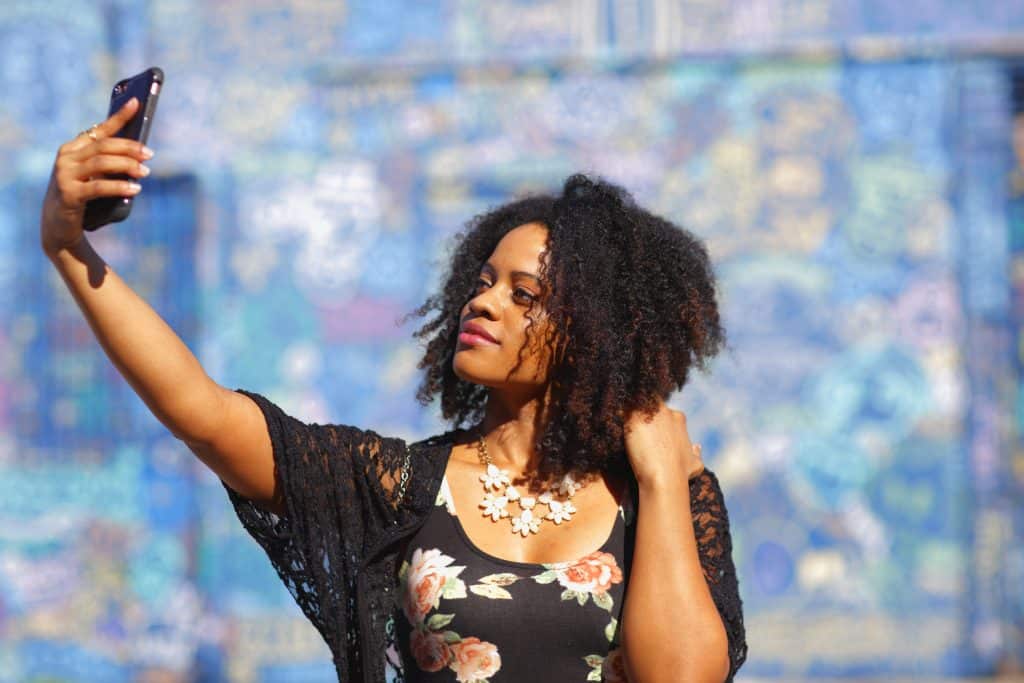 Best Things To Do In Wynwood
Wynwood Art Walk
From 6 PM to 10 PM on the second Saturday of every month, you can attend the Wynwood Art Walk. A monthly festival that takes place throughout the neighborhood, we recommend planning your trip around this recurring event!
After you've spent the day exploring the streets, you can support the local artists whose work you've just admired. You can purchase original artwork, prints, pins, and more directly from the artists themselves!
While you're mingling with the local talent, you can enjoy live music, walk through pop-up art galleries, or just sit in the garden with a beer! Make sure to check out the food trucks that line up during the event!
Museum of Graffiti
The Museum of Graffiti is Wynwood's only museum. The only museum in the world dedicated completely to the art of graffiti, they celebrate the preservation and the process of creating street art.
Preserving graffiti's history, the museum celebrates its history and emergence into design, fashion, and advertising. You can see this through an indoor and outdoor exhibition space. You can also find eleven more murals outside!
The Museum experience also includes a fine art gallery. Don't forget to visit the world-class gift shop. You can pick up limited-edition merchandise and items created exclusively by the world's most infamous graffiti artists.
Wynwood Walls Shop
It's easy to lose a few hours in the Wynwood Walls Shop because there's so much to see! Featuring merchandise from the current artists of the Walls, the shop's wares are constantly changing.
There's something for everyone at the Wynwood Walls Shop. You can find stickers, books, prints, pins, keychains, and magnets. You can even purchase apparel like hoodies, t-shirts, backpacks, and hats!
You can even find skateboard deck, hydro flasks, action figures, and incredibly stylish playing cards. Be prepared to empty your wallets, we promise you're going to want to go crazy in here.
Hit up the Thrift Stores
Bargain hunters looking for unique finds and the best deals know that thrift stores are where it's at! The Wynwood Walls are actually home to some of the best thrift stores and boutiques in all of Miami.
First hit Out of the Closet, which is a unique national chain whose proceeds benefit the AIDS Healthcare Foundation. Here you'll find gently used trinkets and apparel. You can also bring your prescriptions to the on-site pharmacy and get a free, confidential HIV test.
Then head to the Lotus House Chic Thrift Boutique where proceeds benefit the Lotus House Women and Children's Center. The store is divided into two sections: vintage and thrift. If you're looking for a pair of quirky earrings or a vintage armoire, Lotus House is your best bet.
If you still have some scratch to spend, head to The House of Findings. Just like its name suggests, you're bound to find a unique piece here. Featuring vintage and up-cycled wares, this is the perfect place to find a piece of art to hang on that empty spot on your wall.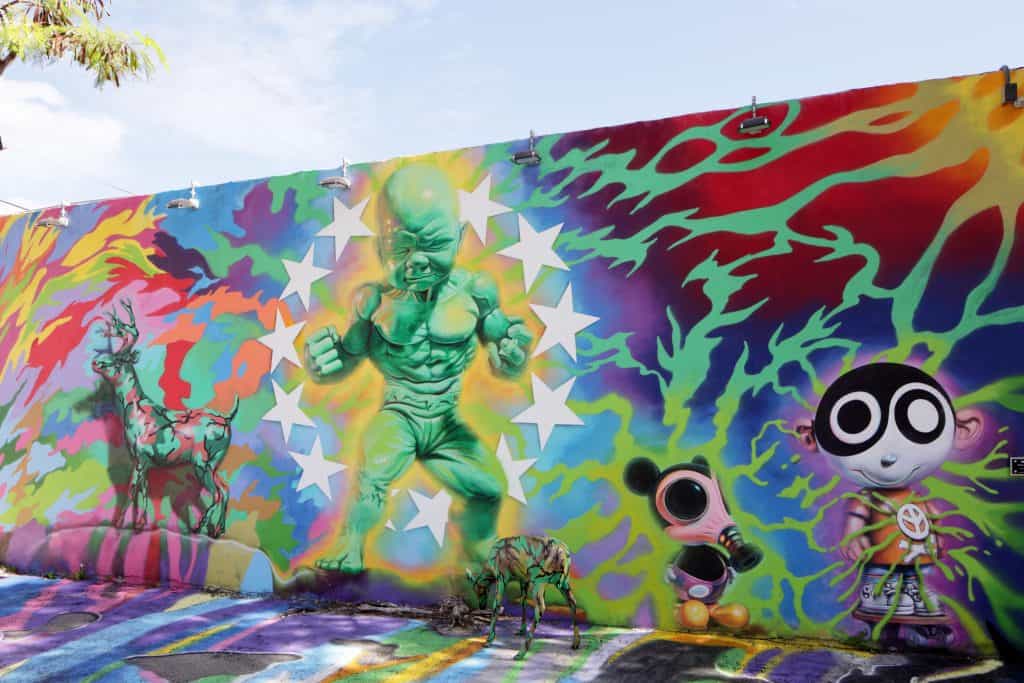 Where To Eat In Wynwood
Wynwood Kitchen and Bar
The Wynwood Kitchen and Bar is an Arts District hot-spot you won't want to miss on your tour of Wynwood Walls. With indoor and outdoor seating, the artwork of Shepard Fairey surrounds you as you dine.
Featuring delectable and innovative cuisine, a tapas style menu gives you the freedom to try a variety of dishes. Paired with house cocktails, artisanal beers, and an international wine list, you'll be at one of the hippest dining destinations in Miami.
Find the Wynwood Kitchen and Bar at 2550 NW 2nd Ave.
The Deck
If you're looking for a festive atmosphere, The Deck is your best bet. In the heart of Wynwood, The Deck transforms into a haven for tourists and locals alike.
The chic outdoor venue has a lush, artificial lawn strewn with luxurious cabanas. Food trucks line the venue, so grab whatever smells the most delicious and get ready for good vibes all night.
You can also enjoy innovative, fun cocktails at the bar and partake in fresh hookah. A DJ plays music so you can dance the night away!
Find the Deck on 2250 NW 2nd Ave, open on Thursday from 4 PM – 2 AM, Friday from 4 PM – 3 AM, Saturday from 12 PM – 3 AM, and Sunday from 12 PM – 2 AM.
Alter
From the mind of renowned Chef Brad Kilgore comes Alter, a New American restaurant that focuses on indigenous Florida ingredients. Kilgore aims to "Alter" your perspective through creative flavor combinations in a tasting menu format.
The kitchen makes Crispy Brussel Sprouts taste good, and the Bahn Mi is not to be missed. Alter even features vegan options like the mouth-watering Gnuddi and Watermelon and Vine-Ripened Tomato Salad.
"Alter" your perspective at 223 NW 23rd St, open every day from 12 PM – 9 PM.
Kush
Kush has won every award under the sun, from best restaurant, burger, key lime pie, chicken n' waffles, veggie burger. When you get a taste of their food, you'll understand why.
All of the food at Kush is sourced locally from Florida farms and made completely from scratch. We love the Bababooey Burger with caramelized apples and melty brie cheese. Don't forget the Crab Cake Salad and the Baja Fish Tacos.
With one of the most incredible beer menus, Kush collaborates with local breweries to offer rare releases and craft beers exclusive to Kush. You can also attend many special events and participate in their monthly home brewers series!
Experience Kush at 2003 N Miami Ave, open on Sunday through Tuesday from 12 PM – 10 AM and Wednesday through Saturday from 12 PM – 11 AM.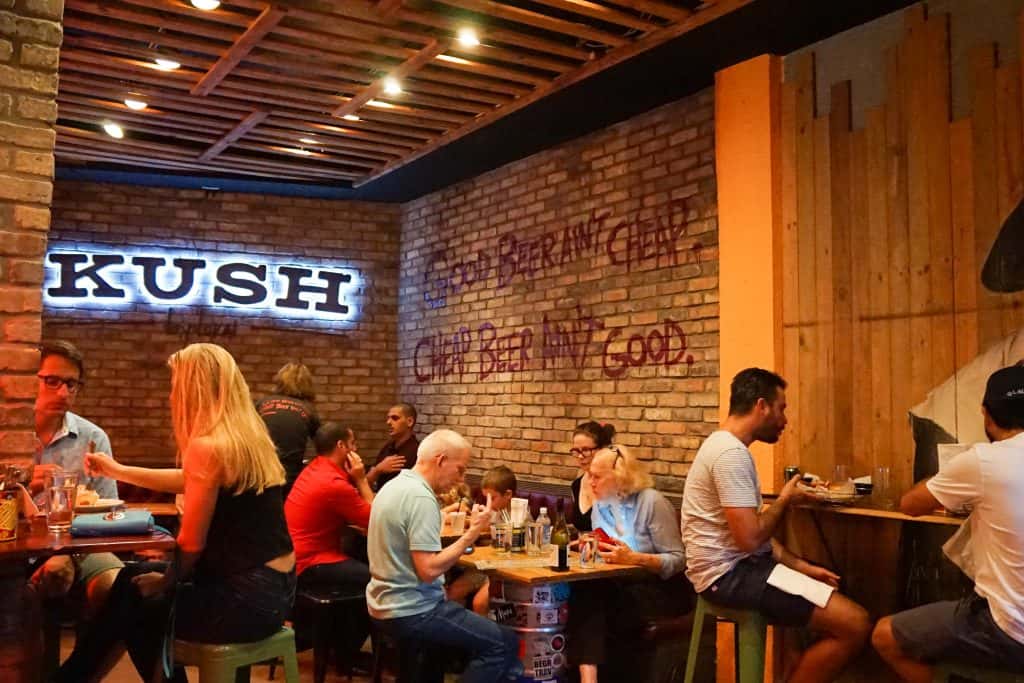 Best Places To Stay Near The Wynwood Walls
Miami has plenty of unique and fun Airbnbs in which to stay during your vacation or road trip. Here are our favorite Airbnbs right along the Wynwood Walls so you don't have to work too hard to get there!
The Golddigger Inn
For a truly magical experience, stay at The Golddigger Inn. Within a historic, two story home, you'll stay in one of six bedrooms, each with two single beds. You will have to share bathrooms, but the experience and decor is worth it.
The common area has a small kitchen with a microwave, coffee maker, and fridge. Because the house has so many rooms, you'll spend most of your time in the screened in patio area. Chat and get to know your fellow vacationers.
You'll also receive a 15% discount on food and drinks at Mr. Wright's Golddigger saloon right next door. The unique space is filled with antiques and art, and right outside, you can experience the murals and art of Wynwood Walls.
Check Rates: Airbnb.com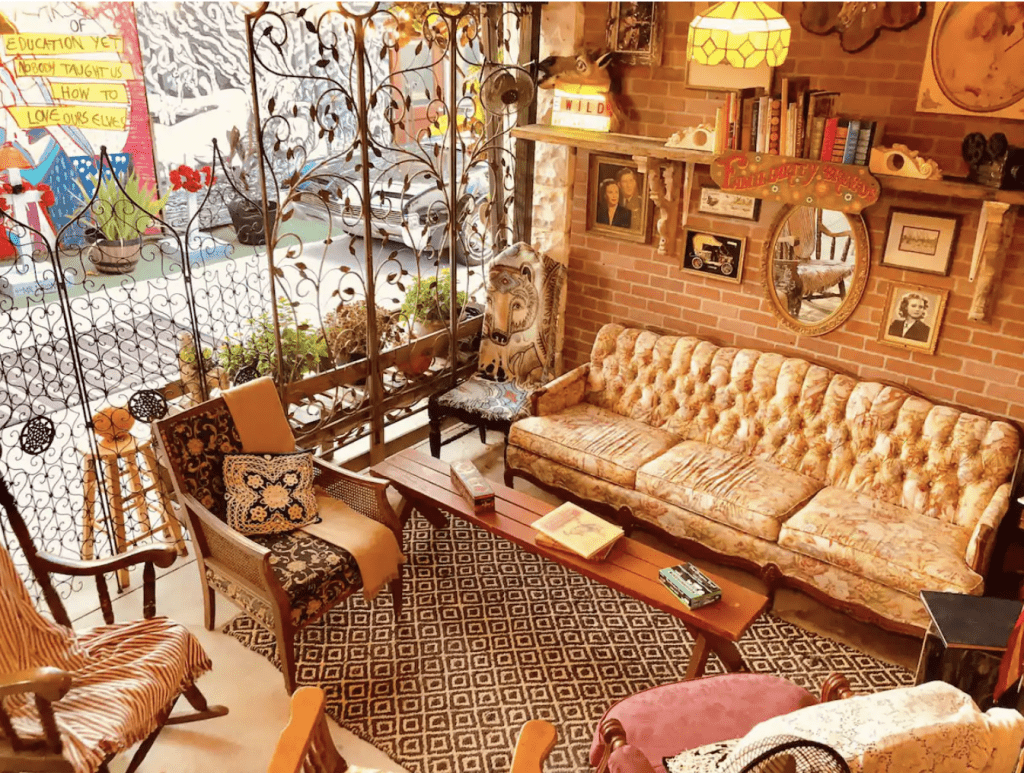 Miami Vibes
This is one of the most fun listings, as you'll be staying in a space that just screams, "Miami!" You'll even make friends with Gigi, the house cat!
The living space is decked out with fun and games including a dart board, giant jenga, and giant connect four! You'll also have access to Apple TV, Amazon Firestick, a Nintendo Switch, and a Playstation 4.
You can easily fit two people in the full bed. There's also a private bathroom. Best of all, this Airbnb is 420 friendly.
Check Rates: Airbnb.com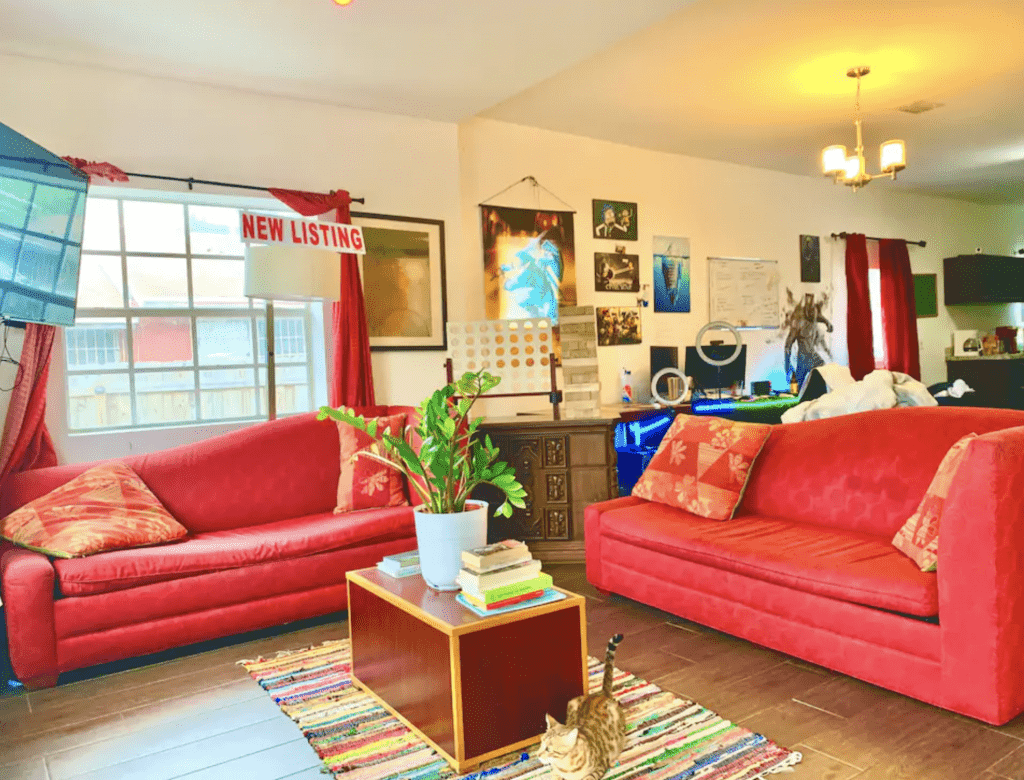 Wynwood Suite
The Wynwood Suite offers immense privacy, perfect for those wishing to escape the hustle and bustle of Miami-life. And let's face it, peace and quiet is welcome. Miami can be loud.
Only five blocks away from the Wynwood district, you'll enjoy higher end furnishings in an oversized suite filled with original art. After a day exploring, enjoy the king size bed and full size sofa bed.
You'll have a steam shower, refrigerator, and microwave and a private patio. You also have free parking off the street as well as bike and kayak rentals on site!
Check Rates: Airbnb.com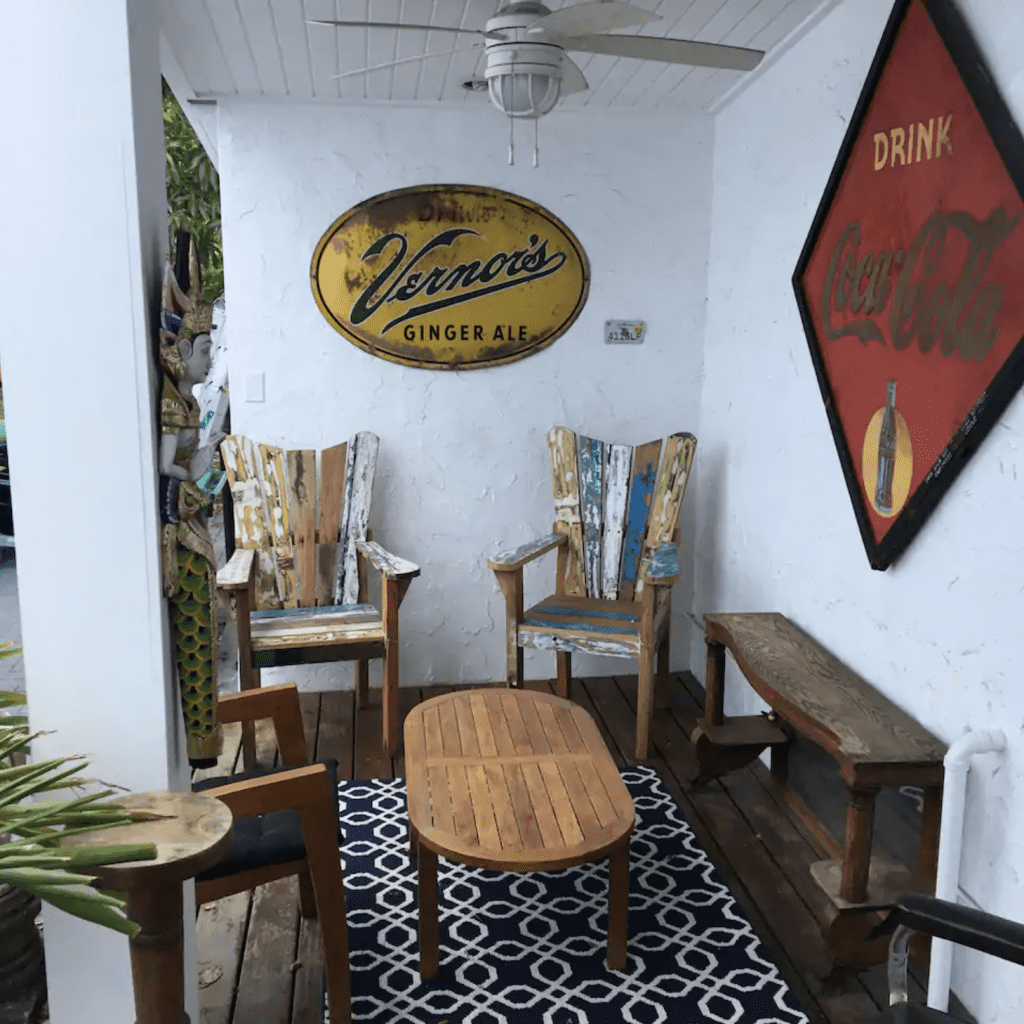 Did You Find This Post Helpful?
If so, we would love to keep in touch! We enjoy seeing photos and comments about your experiences in Florida! You can follow us on Instagram and we will repost your photos on our feed and comment too! Just tag us at @floridatrippers and hashtag #floridatrippers. We can't wait to see your travels!