Are you looking for the best Florida beaches for couples? You are in the right place. In this article, we will walk you through romantic beaches in Florida, honeymoon beaches in Florida, and secluded beaches in Florida. Whether you are after somewhere for a romantic getaway, a place to celebrate, or just somewhere to get away from it all we have you covered.
We will give you all the information you need to make a decision about which beach is best for you.
Beaches for us are just romantic wherever they are and nothing beats a secluded Floridian beach in our opinion. We have white sugary sand, crystal clear waters, some of the best sunsets, and a beach for every occasion. And the weather here is nearly always on your side.
Floridan beaches all have something different to offer too. Perhaps you want something luxurious and special, or maybe something out of the way, perhaps you want a more party-style atmosphere or just want to enjoy nature. Whatever you want Florida can supply it.
With names like Lovers Key and Honeymoon Island you know Florida has you covered when it comes to romance. So let's get going as we walk you through our pick of the best Florida beaches for couples.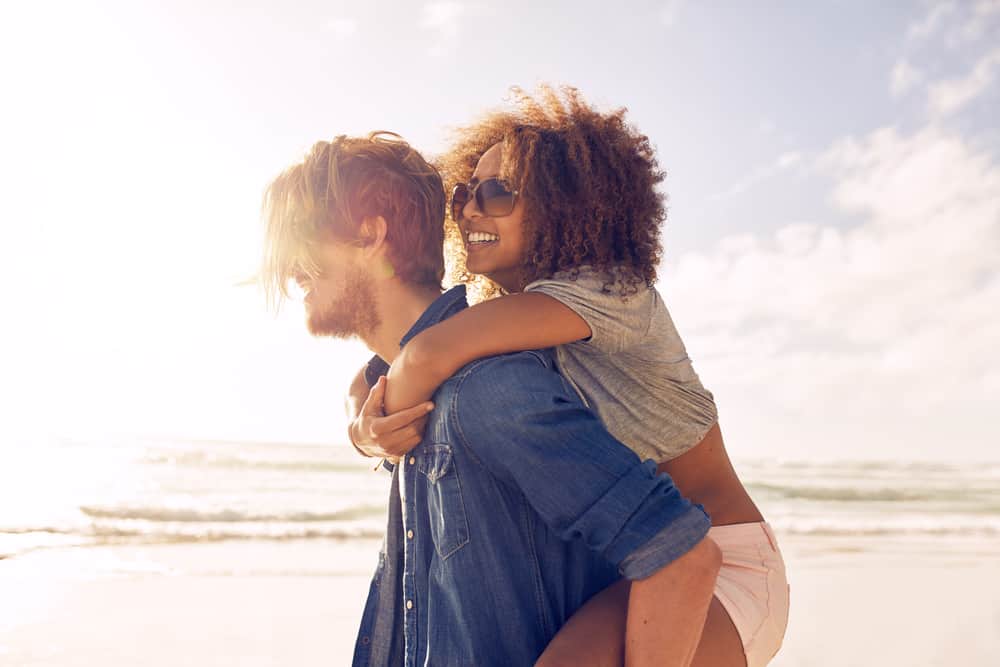 12 Best Florida Beaches For Couples
Beer Can Island
We honestly love this spot and can't get enough of it. Whatever you do though don't get this mixed up the party Island Beer Can Island, this is not that.
This Beer Can island is stunning and is also known as Greer Island and is near Sarasota. And it's a beach for those that like seclusion, it's not easily marked and a little bit challenging to get to but is so so worth it. If you are after some alone time don't go at weekends as it tends to get busier then.
When Terrance and I first saw this beach it took our breath away as it unusual, unlike other Florida beaches. It's somehow magical and looks like a scene from a movie.
At sunset it's extra special and would make the perfect surprise date night.
Check out our tips on visiting Beer Can island one of the best Florida beaches for couples. Tips For Visiting Beer Can Island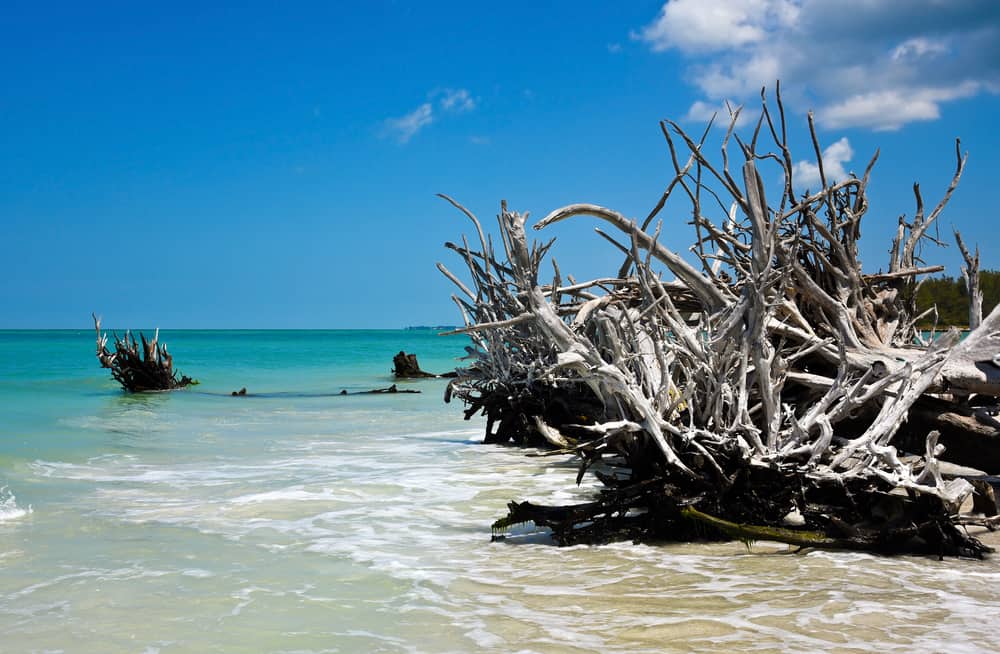 Fort Desoto
If a romantic getaway to you has to be a little more active and you prefer to do things as well as sunbathe then Fort Desoto might be for you. It's a state park full of beaches, trails, and a lot of history.
Southwest of St Petersberg the park is made up of five offshore islands and is the largest park in the Pinellas County Parks system.
The park has 7 miles of coastline. East beach tends to be a little less busy as most people go to North Beach.
If you want to make a night of it you can camp here too, it's a beautiful location with lots to keep you busy.
Before you go check out our tips Tips For Fort De Soto: A Coastal Florida Playground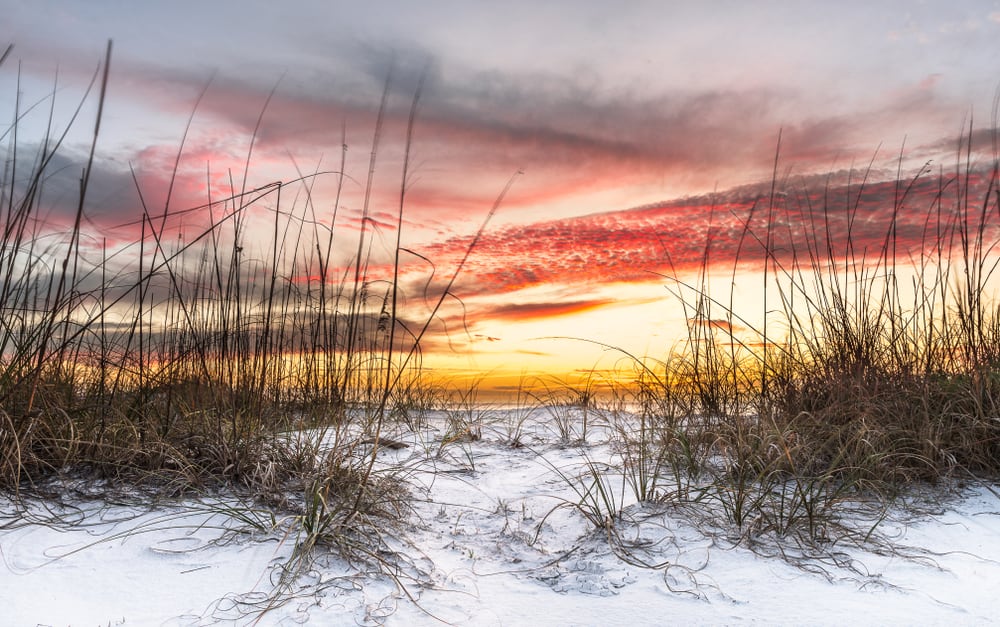 Honeymoon Island
Honeymoon Island is as beautiful as it sounds, with over 4 miles of beaches there is lots of space to spend some quality time with your certain someone.
This barrier island sits west of Tampa really is a delight. You also have three miles of trails to explore which go through one of the last remaining slash pine forests in Florida.
It's a state park and you will pay $8 to get in but it really is worth it. It's open from 8 am until sundown so you can't stay there but there are lots of places to stay nearby.
Main beach is the beach to go to for relaxing and North Beach for those that like something a little more natural.
It's an incredible natural environment to spend some time with your partner and you can get a boat from here to Caladesi Island State Park so you can get two beaches for the price of one.
Before you go check out our Tips For Honeymoon Island State Park: A Florida Gem
Lover's Key
With a name like Lovers Key, there was no way we could leave this beach off a list of the best couple beaches in Florida. And with miles of beach, miles of sandy beach and crystal clear water it really is paradise.
In the southwest corner of Florida on a barrier island Lovers Key is a state park and has two miles of perfect undeveloped beach. Since it's a state park you can only spend the day there but nearby Fort Myers makes a great location for the evening with lots to see and do.
Sunset cruises, Dolphin cruises, and Kayak tours are all popular here but the real draw is the beautiful island and the beautiful beach.
Why not take your lover for a day at lovers key, oh and they do weddings on the beach.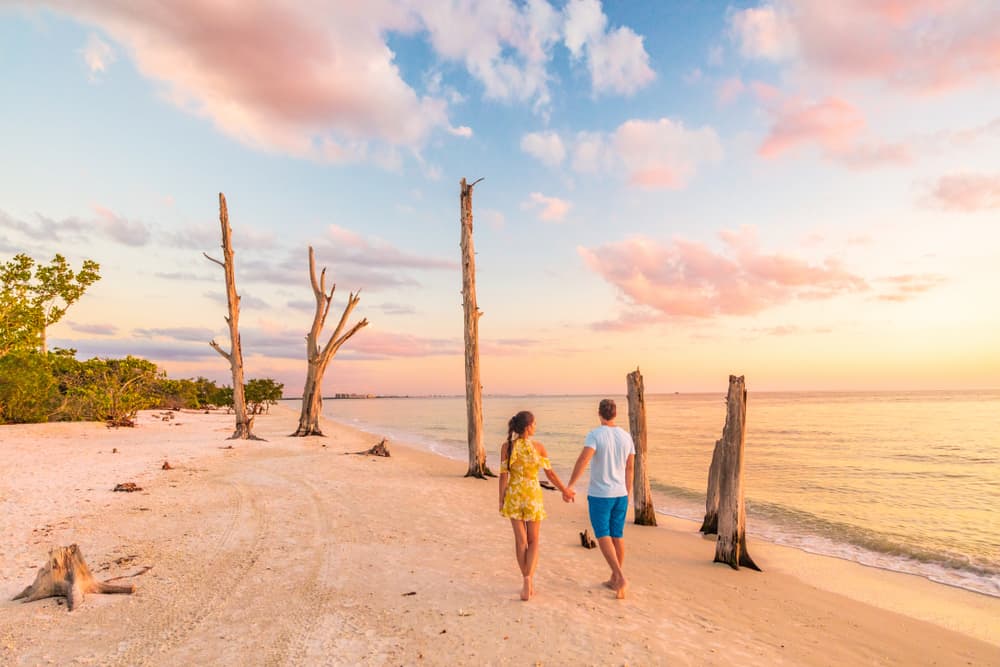 Key Biscayne
While Key West may get all the attention we think Key Biscayne has a lot to offer those seeking a romantic getaway. Firstly it is just minutes from Miami and the white sand beaches and turquoise water are just as beautiful as any at Key West.
It's a great little getaway if you haven't got much time to spare. And there is so much to see literally, The view from the top of the lighthouse, the sunset, and perhaps a seaplane tour over Miami.
The beaches here are laid back with a Miami vibe and decidedly fewer people. Crandon Park Beach is two miles of bliss and used to be a coconut plantation. Bill Baggs Cape Florida State Park is quiet and quaint and home to the lighthouse.
It's the perfect spot to find some alone time with your partner.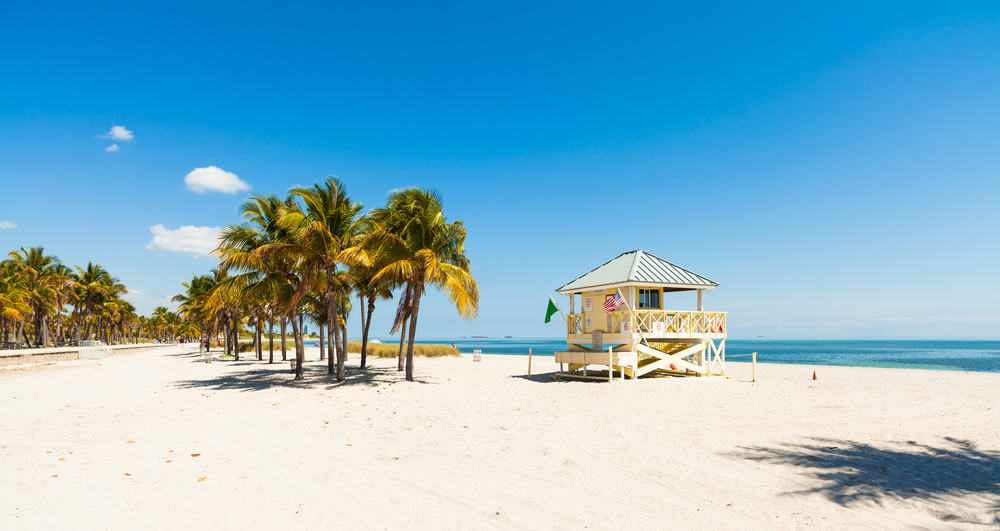 St. Petersburg Beach
We couldn't do a list of the best beaches for couples in Florida without including one near Tampa. In 2020 the TripAdvisor Travelers Choice Awards named St. Pete Beach the #2 beach in the United States. So when we say we love this beach we are not alone.
It's a popular place with fun nightlife and an art scene, it's a happening place. There is so much to do in this area and we are sure it will steal your heart.
Now onto the beach, what can we say it's immaculately clean, has soft sand and crystal clear water. Along with Clearwater, these beaches sit on the longest undeveloped stretches of public beach in Florida.
And if you really want to make a romantic stay of it St Petes is also the home to the famous Don Ceaser pink hotel.
If you don't mind things a little busier then this area is beautiful and has everything you will need for a romantic getaway.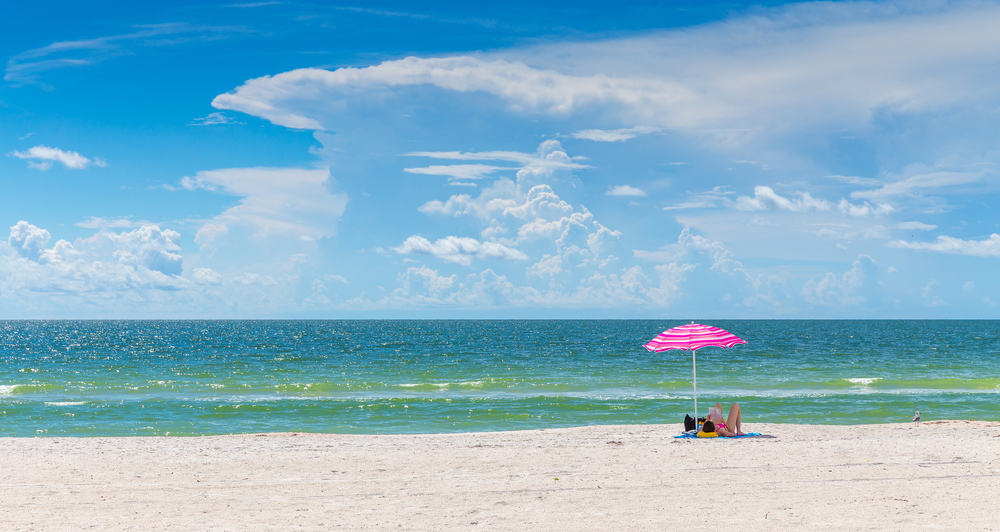 Vero Beach
If you want to experience a little of the old Florida then this is the place to go. Located on the beautiful "Treasure Coast" Vero Beach is definitely one of the best beaches for couples in Florida.
Go on an airboat tour and explore the marshes, visit McKee Botanical Gardens or take a trip to Round Island Beach State Park and see manatees.
There is also plenty to do in the evenings with lots of intimate restaurants and riverside theatre.
Vero Beach has it all a beautiful beach, a historic downtown, great shops, and some arts and culture.
It's really easy to get to and makes a perfect getaway if you don't want to go too far.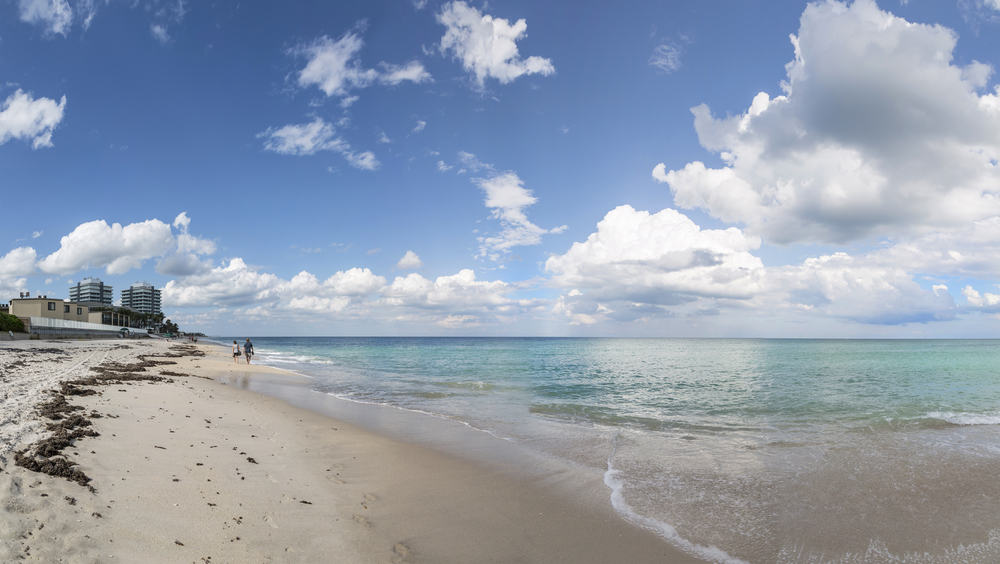 Gasparilla Island
Home to Gasparilla Island State Park and the restored Port Boca Grande Lighthouse Gasparilla Island is a gem. It's reminiscent of New England with colorful beach houses, beautiful estates, and luxury shops.
For all the glamour there is a laid-back feel. It's like everyone here knows they have a secret hideaway and just enjoy it.
If you love fishing then you will love the island but it's also great for swimming, snorkeling, and shelling.
The island has all you need if you and your partner love nature and understated glamour.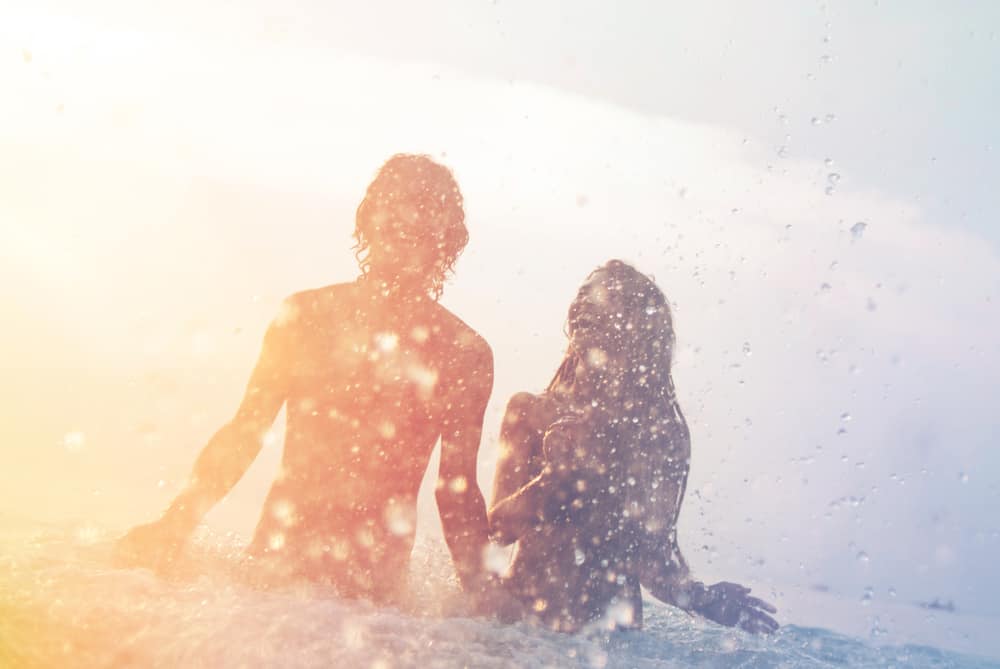 St George Island
Romantic and tranquil are two words we would use to describe St George Island. The beaches are some of the best in the States and the island is pretty unspoiled.
On the island, you with find nine miles of beaches along with marshes and sand dunes.
If you like the idea of beach houses, walks along the beach and a laid-back atmosphere this might be the place for you. They also have some incredible seafood restaurants here, it's the perfect place for a romantic getaway.
And if you really want the ultimate romantic evening head out to Dr. Julian G. Bruce St. George Island State Park. The park has low light pollution and is a great place to spend the evening stargazing.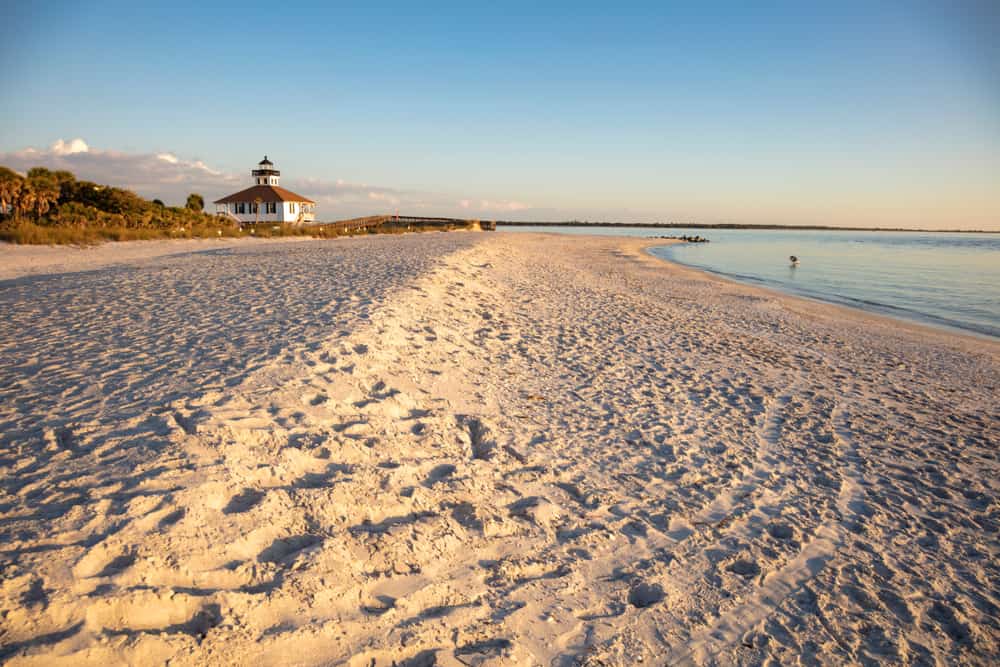 Caladesi Island State Park
If you are looking to get away from it all then the three miles of untouched beaches on Caladesi Island State Park might be just what you are looking for. The park is only accessible by boat but honestly believe us it is well worth the effect.
The beach is perfect and you might find yourself one of only a few people there. And since it's a state park there is so much more to see and do. You will find plenty of nature paths, trails that lead through mangroves, and the historic Scharrer Homestead.
This place truly is an experience.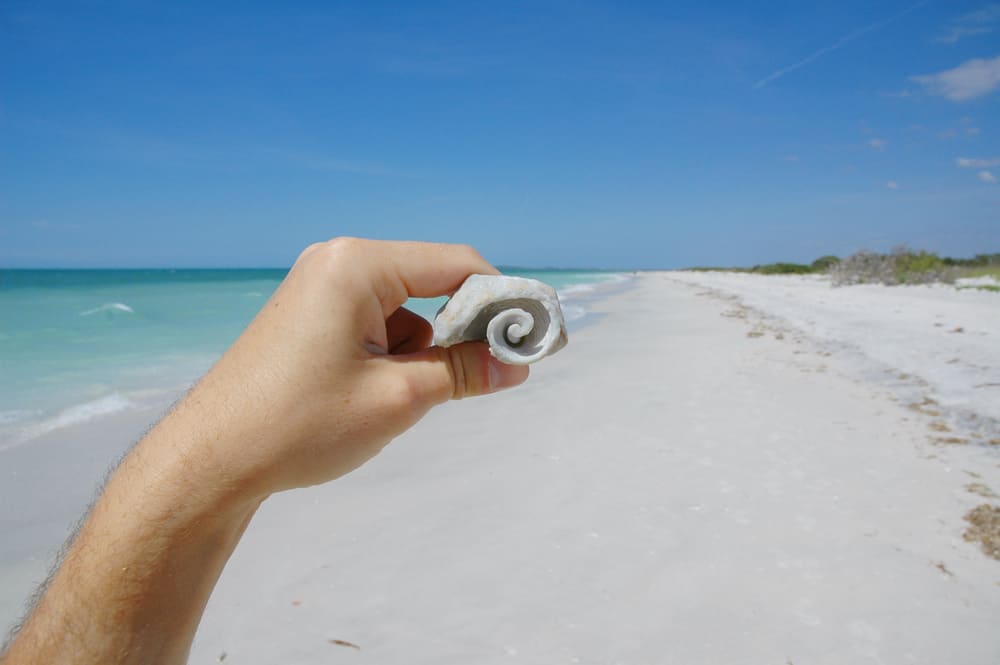 Santa Rosa Beach
If you like your beaches to have turquoise waters and sugar-fine white-sand then look no further than Santa Rosa Beach. Situated on the 26-mile stretch of Florida's Emerald Coach this beach is truly gorgeous. The area on the panhandle of Florida is just picture perfect.
The area around the beach is also beautiful with luxury beach houses, incredible dining establishments, and a thriving art scene. This place a romantic charm all of its own.
And if the beach gets a bit too much for you it's just a few minute's drive away from Point Washington State Forest where you can explore 15,000 acres of cypress swamps and wetlands.
An added bonus here is that the sunsets are incredible and you can get a great view from the beach.
Dry Tortugas
If you are a little more adventurous and are up for some primitive beach camping under the stars then take a look at Dry Tortugas.
A seriously underrated and beautiful national park that has a fort and a lot to see and a truly magnificent beach. This park is 70 miles off Key West and you can only reach it by ferry or seaplane and you will need to book in advance.
There are no facilities other than a bathroom on the island not even drinking water so you will have to bring your own supplies. But we think it's well worth the effort as the night sky is great for stargazing and the primitive nature of the place adds to the romance.
If you bring your own kayaks/canoes you can also explore the surrounding island too.
If you are not up for the primitive experience maybe hire a boat and explore at your own leisure.
Before you go check out Tips For Exploring Dry Tortugas National Park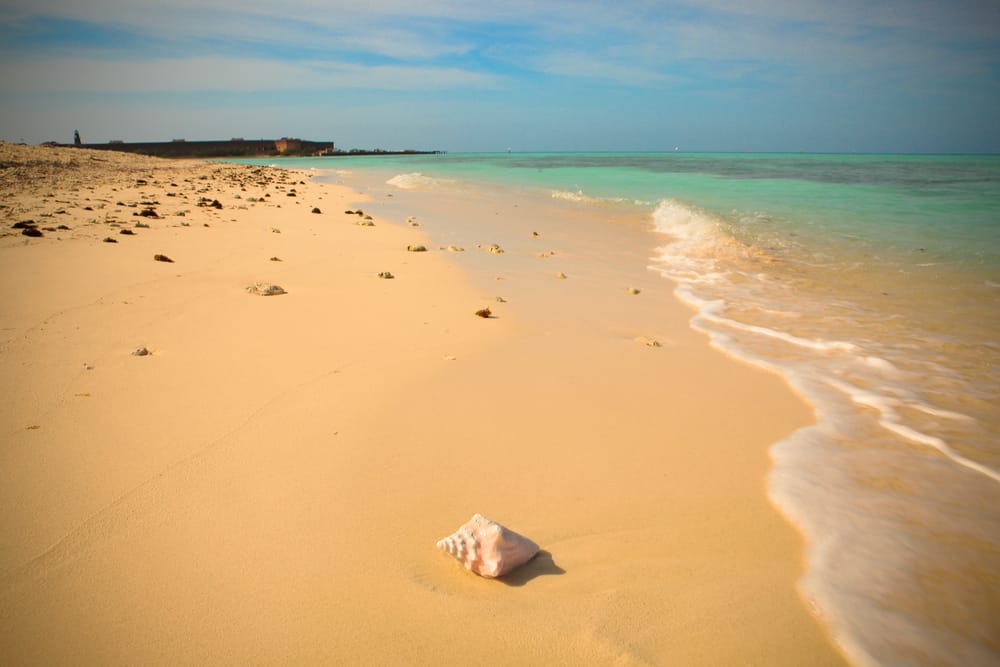 We hope you find what you looking for in this article about best Florida beaches for couples. Florida beaches are the best and really do make for a great romantic getaway. Some of these beaches are close together so I encourage you to explore a few if you can.
We hope you have the best time and we can't wait to hear all about it. Please let us know how your trip goes.