Because some of the downtown Tampa restaurants have become nationally acclaimed, the Bay Area is quickly becoming a dining destination. In fact, Trip Advisor named Tampa as one of seven up-and-comers.
The arts community in Tampa has been becoming more elevated in recent years, and the dining scene is following in hot pursuit. With overwhelming culinary choices, innovation never stops. Let's not forget that Tampa invented the Cuban sandwich.
Tampa created culinary stars like Greg Baker, Chris Ponte, Jeannie Pierola, and Ferrell Alvarez. But the city also draws in big names like Top Chef star Fabio Vivani from Top Chef and James Beard Award winner Art Smith!
No matter what time of day, there's always a great dining option available to you. Whether you're looking for breakfast, brunch, lunch, dinner, or a late-night snack, Tampa has you covered.
It doesn't what kind of cuisine you're looking for, Tampa has it. So check out our list of our favorite downtown Tampa restaurants. We hope you're hungry!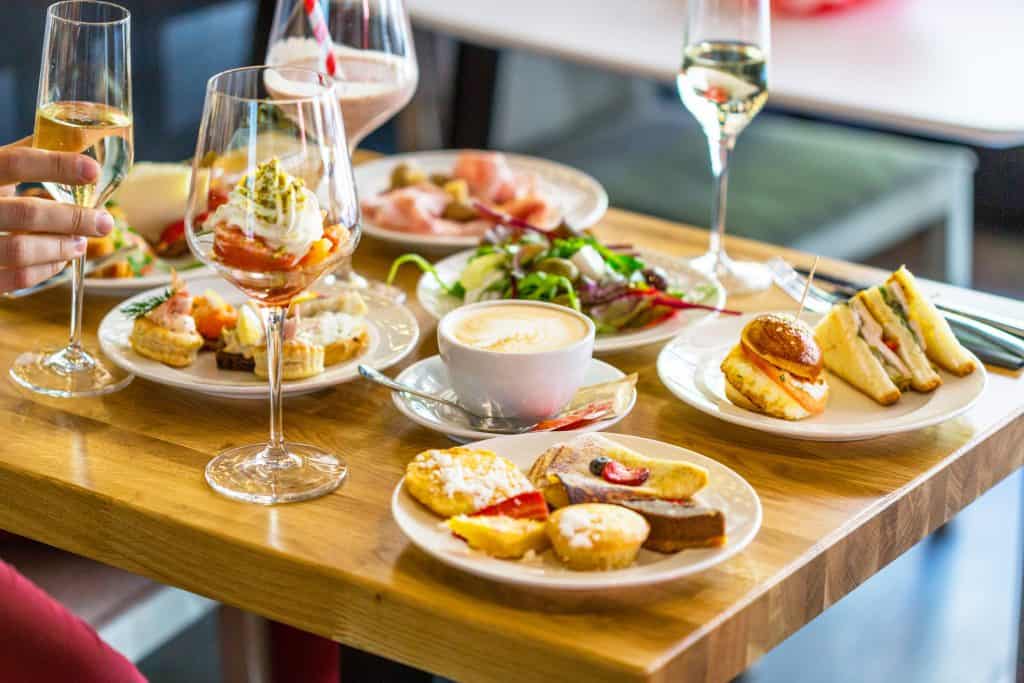 14 Best Downtown Tampa Restaurants For Any Occasion
211
Found in the Hilton, 211 has it all: the best breakfast and lunch in downtown Tampa and a lounge/bar area from which to watch your favorite Tampa sports teams play!
Once you navigate the hotel to get into 211, you'll be soothed by the waterfall flowing in the five-story atrium. Lush tropical plants surround you at your table. But 211 isn't just pleasing to the eye, it will please your palate as well.
Start with the Bavarian Pretzel with Beer Cheese fondue. Or try delicious sandwiches like the Ybor Cuban, Turkey Club, or Crispy Buttermilk Chicken Sandwich.
You also have your choice of Flatbreads like the Margherita or Buffalo Chicken. If you're feeling more indulgent and want a hearty meal, choose from entrees like the NY Strip or the Fettuccini Alfredo.
Find 211 in the Hilton Hotel at 211 N Tampa St, open on Monday through Friday from 6:30 – 10:30 AM and 11 AM – 2 PM, and Saturdays and Sundays from 7 AM – 12 PM. The lounge is open on Monday through Friday from 2 PM – 12 AM, and Saturday and Sunday from 11 AM – 12 AM.
Boat Run Oyster Company
In the Channelside Bay Plaza, you'll find an area similar to Armature Works. Sparkman Wharf has a collection of the best downtown Tampa restaurants all in one easy-to-navigate plaza!
One of the best places to eat in downtown Tampa can be found right in the Wharf: the Boat Run Oyster Company. Here you'll find some of the best seafood that Florida has to offer. Most notably, oysters fished right out of Cedar Key.
Now one of the most decorated downtown Tampa restaurants on the water, try Boat Run's variety of oysters. You can try Oysters from Cedar Key, Massachusetts, California, Arkansas, and even Washington state.
If oysters aren't your thing, there's lots of other seafood to enjoy! The Ceviche of the Moment features the freshest fish, or you can indulge in the Shrimp Roll on bread that's always garlicky and buttered. Don't forget the Nori Fries and the Chowder Fries!
Find the Boat Run Oyster Company at 615 Channelside Drive, open on Tuesday and Sunday from 11 AM – 9 PM, Wednesday and Thursday from 12 PM – 9 PM, and Friday and Saturday from 11 AM – 10 PM.
Ulele
Just at the northern end of Tampa's Riverwalk, you'll find one of the most iconic restaurants of late. Ulele makes its home in a renovated water-works building, beckoning a rustic, industrial-chic vibe.
This downtown Tampa restaurant was inspired by the indigenous people of Florida, the menu combines fresh and local ingredients in new, exciting flavor combinations. As a result, the menu changes seasonally.
One of Ulele's must-try staples is their Yellowfin Tuna crusted with pumpkin seeds served with Alligator hush puppies. Don't worry, the menu offers many gluten-free options as well.
In the dining area, you'll see gorgeous views of the Hillsborough River. Grab a specialty cocktail on one of the two outdoor bars with lawn seating or on the rooftop lounge. If you look carefully, you'll find rustic metal artwork by local Rusty Creations.
Ulele can be found at 1810 N Highland Avenue. Their hours are Sunday through Thursday from 11 AM – 10 PM and Friday through Saturday from 11 AM – 11 PM.
Datz
Datz is an American gastropub that elevates your average comfort food. Described as "if Willy Wonka owned a restaurant," Datz is no doubt one of the best downtown Tampa restaurants.
Even Food Network has profiled Datz as one of the restaurants responsible for championing the gastronomic revival in Tampa. Datz also offers vegetarian, vegan, and gluten-free options.
Datz features a highly eclectic menu that puts original spins on your favorite American classics. You'll first receive a complimentary popcorn basket! Afterward, try the Chicken-skin Tacos, or Bacon and Jalapeno Mac and Cheese with Sriracha aioli. Our favorite is the Short Rib Sloppy Joes.
Afterward, grab an unforgettable Bacon Bloody Mary. Then, head next door to Dough. The sister-bakery offers the craziest sweets like Creme Brulee and Froot Loop Donuts, homemade gelato, and delicate French Macarons.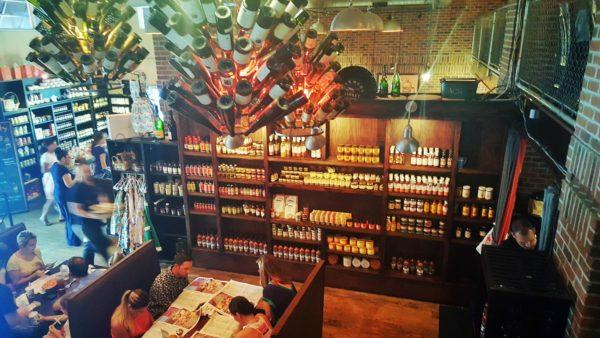 American Social
Right at the north end of Harbour Island, you can find one of the best waterfront downtown Tampa restaurants. American Social describes itself as "your place." We suggest you take advantage of it!
The place is massive! Over 15,000 square feet, you'll find four full-service bars, a raw bar, an intimate dining space, and a special outdoor VIP bar. More than just a sports bar, American Social celebrates friends and community over American classics and craft beer.
With friends, a dinner date, or your family, share the Goat Cheese Croquettes with a Red Chili Guava Glaze or the Fried Brussel Sprouts tossed in a Bacon Mustard Vinaigrette. If you're feeling more selfish, then try the Key West Shrimp Cakes or the Buffalo Chicken Fries.
When it's time to move onto entrees, you can indulge in the Horseradish Cheddar Burger (add a fried egg!) or the Ribeye Sandwich with melted provolone. You can also have Pepperoni Pizza or if you're hungrier, get it with All The Meats.
Find American Social at 601 S Harbour Island Blvd, open on Monday through Wednesday from 11:30 AM – 12 AM, Thursday from 11:30 AM – 1 AM, Friday from 11:30 AM – 2 AM, Saturday from 11 AM – 2 AM, and Sunday from 11 AM – 12 AM.
Eddy and Sam's
For some of the best pizza in downtown Tampa, head to Eddy and Sam's. Open since 1998, they have been a staple downtown serving up New York-style pizza and gelato. Eddy and Sam's successfully brought New York to Tampa.
Classic New York pizza has wide, foldable slices with a thick, flavorful crust. That crust is made possible by the minerals in New York City tap water. In order to truly make New York pizza, Eddie and Sam's imports New York waters in order to bring their dough to life.
You can of course have classic appetizers like garlic knots and mozzarella sticks before moving to the main event. Customize your own pizza with toppings like Italian sausage, ham, pepperoni, eggplant, chicken, roasted peppers, and olives.
If you're not having a craving for pizza, you can also get classic pasta dishes like Baked Ziti, Spaghetti and Meatballs, and Chicken or Eggplant Parmesan. You also have the option of Hero sandwiches, salads, and wings with mild, medium, hot, BBQ, medium garlic, mild garlic, or hot garlic sauce.
Find Eddie and Sam's on 203 E Twiggs St, open Tuesday through Sunday from 11 AM – 10 PM.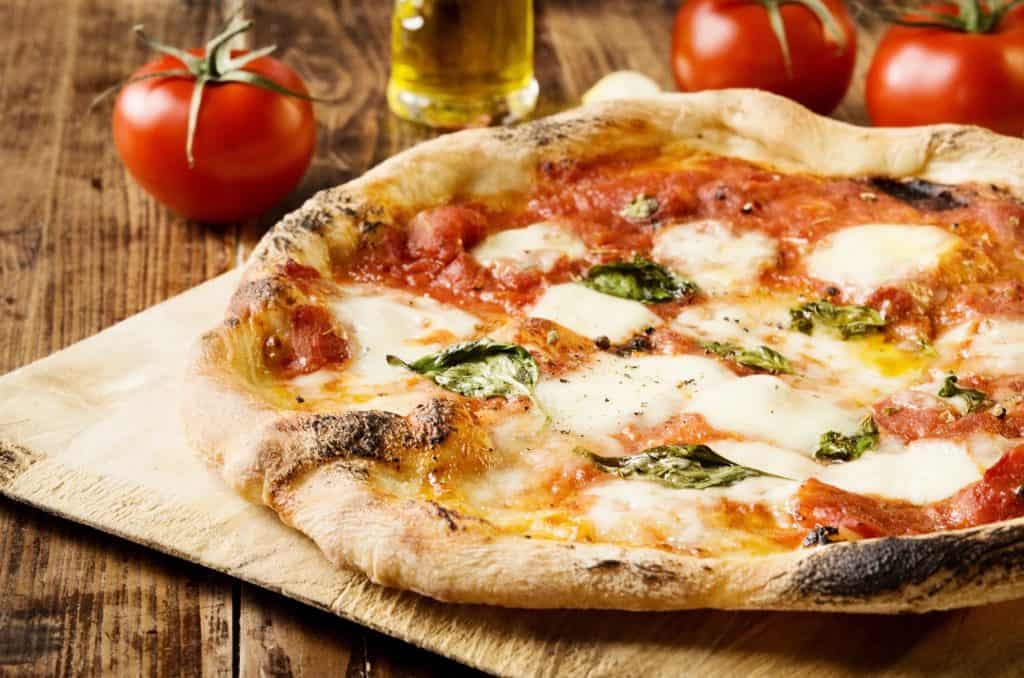 Oxford Exchange
A visit to the Oxford Exchange is not just a visit to one of the best downtown Tampa restaurants. One step into Oxford Exchange and you're transported into a bookstore, lifestyle gift store, design studio, and eatery all in one!
The founders sought to bring people together over food and drink. You can do just that by sharing the best breakfast in downtown Tampa, weekend lunch, weekend brunch, or afternoon tea with your friends and family.
Enjoy smoked salmon, breakfast tacos, salads, specialty sandwiches, and flatbreads in the art-filled dining room. You also have the option of dining in the beautiful conservatory filled with creeping vines, a central fountain, and a glass roof.
In the Champagne Bar, sip on bubbly or rose and craft cocktails while browsing the Shop. Here you'll find greeting cards, linens, candles, jewelry, vases, frames, and many more goods.
Visit the Oxford Exchange on 420 West Kennedy Blvd. Hours are Monday through Friday from 7:30 AM – 5:30 PM and Saturday through Sunday from 9:00 AM – 5:30 PM.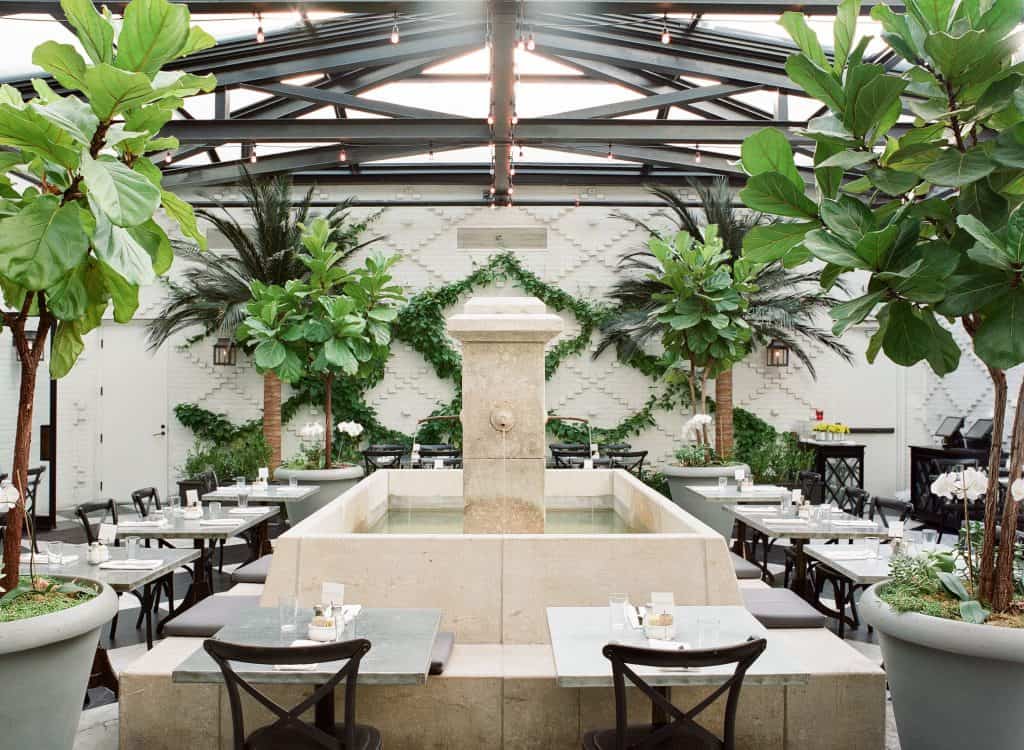 220 East
Davis Island has been known for its restaurants, often frequented by Tampa professionals at lunchtime. 220 East may be one of the area's biggest mainstays for the past decade as one of the best downtown Tampa restaurants.
All of 220 East's soups, sauces, and desserts are made fresh, completely from scratch in their kitchen. They maintain their high standards by purchasing the best quality seafood, meat, and produce. As a result, they have created long-lasting relationships with guests to make them a neighborhood favorite.
At 220 East, you'll find a menu of American classics. That includes pizzas, burgers, sandwiches, pastas, and more! Start with appetizers like Baked Brie, Fried Green Tomatoes, or the gigantic Bavarian pretzel.
When it's time to move on to entrees, your many choices include staples like Fish and Chips, Fish Tacos, Homemade Quiche, Shrimp Scampi, Chicken Piccata, Smothered Steak, Asian Chicken Salad, and more!
If all of that sounds overwhelming, you can keep it simple and order half a sandwich to go with soup or salad. Your sandwich options include the BLT, Cuban, or Chicken Club.
Find 220 East on 220 E Davis Blvd, open for lunch on Monday through Friday from 11 AM – 3 PM. Dinner hours are Monday through Thursday from 5 PM – 11 PM, and Friday and Saturday from 5 PM – 11 PM.
On Swann
You won't have trouble finding this next downtown Tampa restaurant. On Swann's name reflects its location. You'll never forget where it is because On Swann is literally on Swann Avenue!
Chris Ponte's second restaurant marks a departure from his fine dining flagship. Thanks to his studies at Cordon Bleu, France's iconic culinary institute, On Swann features a menu of thoughtfully sourced contemporary American Fare.
On Swann is a perfect jumping-off point for those wishing to expand and explore their palate. The open kitchen prepares dishes meant for sharing or constructing your own coursed meal.
Must-try items include the buttery Foie Gras, Mussels, and Beef Carpaccio. You must also try the parmesan fries topped with shaved truffle, a savory staple found at all three of Ponte's restaurants.
Afterward, wash down your meal with craft sodas and specialty cocktails. Like all of Ponte's restaurants, On Swann also features a thoughtful and expansive wine menu that pairs with every bite you take.
On Swann can be found on 1501 West Swann Ave. Lunch service runs Tuesday through Sunday from 11 AM – 2 PM. Dinner service runs on Sundays, Tuesdays through Thursdays from 5 PM – 10 PM, and Friday through Saturday from 5 PM – 11 PM.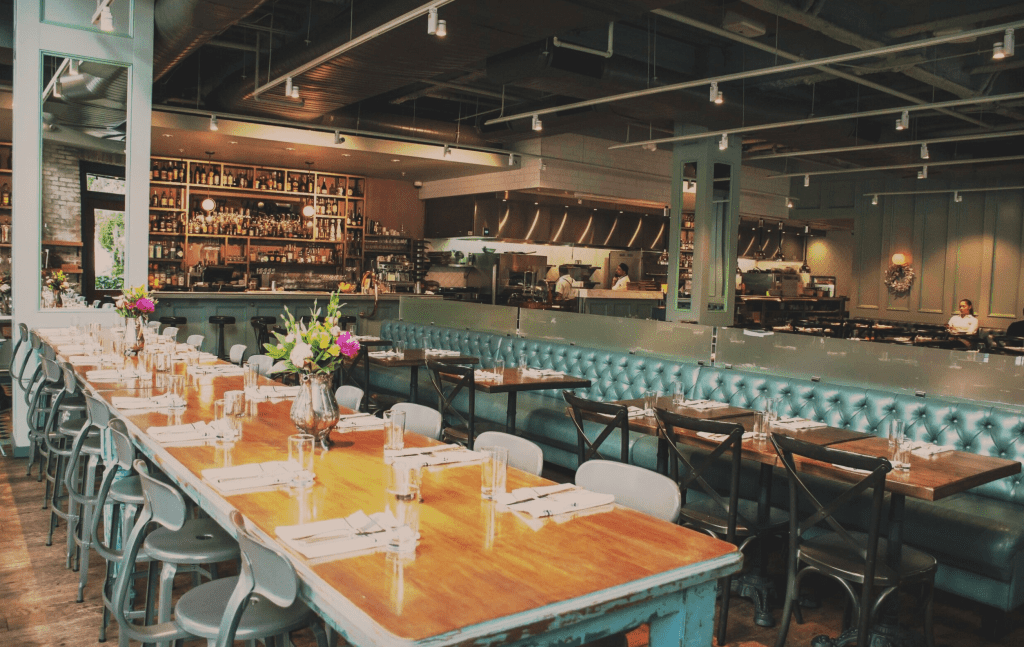 Bamboozle
Bamboozle Cafe specializes in Asian and Vietnamese fusion. If you've never had Vietnamese food before, you're missing out! Of all the downtown Tampa restaurants, Bamboozle offers a special section of its menu dedicated completely to vegan food!
Start out with the house specialty: the Spring Rolls. All rolls are made with fresh produce prepared daily & served with house made dressing. You can choose between Lemongrass Tofu, Haas Avocado, Tofu Papaya, or Garlic Mushroom. Yum!
Move on to Shirataki Mushroom Stuffed Tofu or a small portion of Vegan Pho before tackling the entrees. Choose between dishes like Sesame Glass Noodles, Vegan Banh Xeo, or Papaya Salad with tofu.
Find Bamboozle Cafe in Downtown Tampa at 516 N Tampa St on Monday through Friday from 11 AM – 9 PM and Saturday and Sunday from 5 PM – 9 PM. There's also a location in Channelside at 109 N 12th St on Monday through Friday from 11 AM – 9 PM, on Saturday from 11:30 AM – 9 PM, and Sunday from 11:30 AM – 4 PM.
Farmacy Vegan Kitchen + Bakery
At Farmacy Vegan Kitchen + Bakery, you're getting a meal's worth of satisfaction without compromise. That's their motto. Serving up some of the best vegan food in Tampa, Farmacy is a can't miss.
Dubbed Tampa's Best Vegan Kitchen, nothing here looks vegan. Farmacy urges you to "trust your eyes, your tastebuds will thank you." We're heavily inclined to agree.
Whether you're biting into a rich Philly Cheesesteak or scooping a huge spoon of Macaroni and Cheese, the food is rich, decadent, and most of all, inviting. You're getting familiar food without the consequences.
At this downtown Tampa restaurant, try the Impossible Burgers whether it be a Frisco Melt, the Jerk Burger, or just the house Farmacy Burger. If you want something lighter, you can always grab salads, wraps, or the Jerk Pasta on the side.
Find Farmacy Vegan Kitchen + Bakery at 803 N Tampa St, open every day from 11 AM – 4 PM.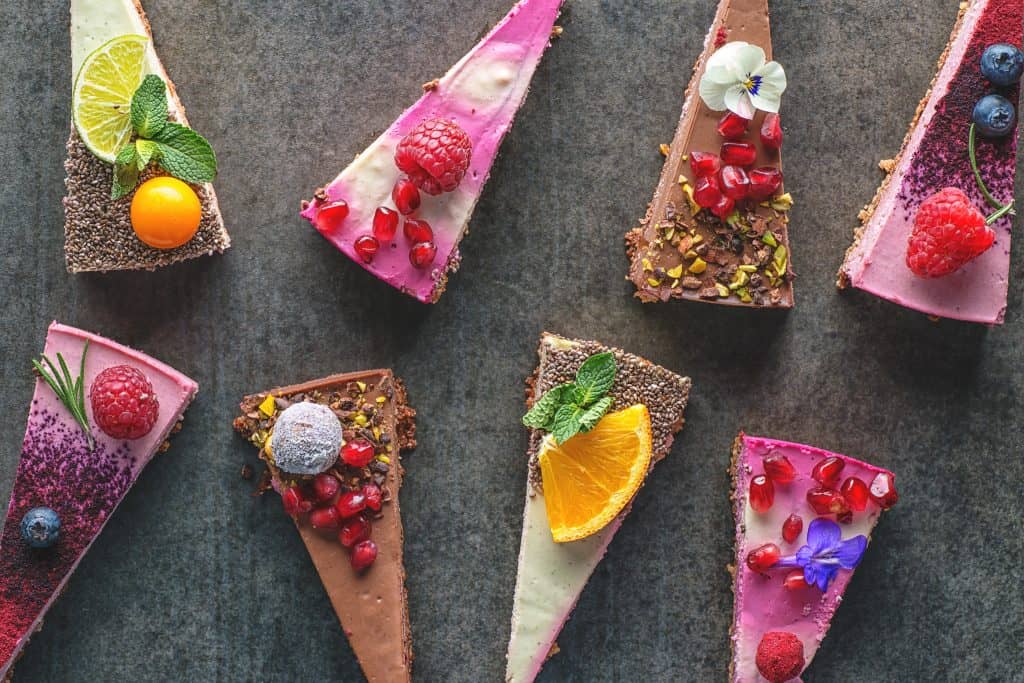 Taco Bus
Before street food was the next big trend, Taco Bus did it best and did it first. The original food truck, Taco Bus is now one of Tampa's best Mexican restaurants with trucks and brick and mortar establishments all over the Sunshine State.
However, the brick and mortar location in East Hillsborough is where it all began. The vision of Chef Rene Valenzuela, Taco Bus is synonymous with the best Mexican food you can grab on the go in Tampa.
In fact, Guy Fieri visited Taco Bus on his hit show Diners, Drive-Ins, and Dives. He infamously said the chain had "the best torta [he'd] ever had." Buzzfeed also recognized Taco Bus as one of the Nation's Top 25 Food Trucks.
With vegetarian, vegan, and gluten-free selections, enjoy all your favorites on an expansive menu. Grab some extra napkins and try not to overeat their tacos, burritos, chimichangas, and burrito bowls.
Afterward, wash it down with pineapple and watermelon water. It tastes as if the kitchen just stuck a straw in the actual fruit. Don't forget the Horchata and Sangria too!
Find Taco Bus on 505 N Franklin St, open from Sunday to Thursday from 11 AM – 11 PM and Friday and Saturday from 11 AM – 1 AM.
Olivia
Florida Native Chris Ponte's newest addition to Midtown's restaurant scene is named for his youngest daughter. Similarly, Olivia celebrates family with the most sophisticated Italian cuisine in Tampa fused with the contemporary.
While the flavors here could have come straight from an authentic trattoria, the interior design by Ponte's wife, Michelle, is anything but. Traditional and industrial styles are married by fixed long French windows and warmed with tiered spherical chandeliers.
Some of the best Italian in downtown Tampa, the food here is best-enjoyed family-style. Sample everything including the Roasted Oysters, the fluffiest Gnudi made from ricotta, and the best Chicken Milanese in town. Don't forget exciting pizzas and of course, the cannolis!
Afterward, grab a specialty cocktail at the open bar. Our favorites are the Espresso Martini garnished with a mini macaron and the Honey and Oatas made with bee pollen! Then make sure to watch the kitchen make their pasta and fresh mozzarella in the Working Dough Room.
Olivia, one of the best downtown Tampa restaurants, can be found on 3601 West Swann Ave. Hours are Sunday and Monday from 5 PM – 9 PM and Tuesday through Saturday 5 PM – 10 PM.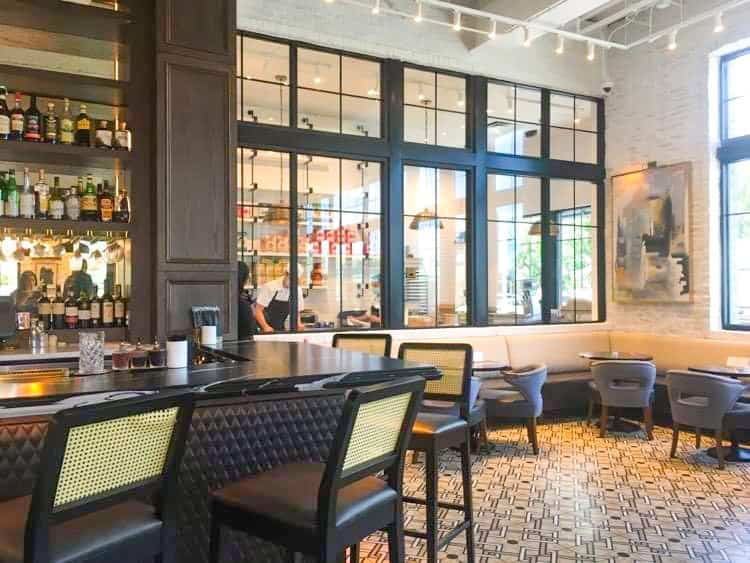 Anchor and Brine
Another of the fantastic downtown Tampa restaurants in hotels, you'll find Anchor and Brine inside the Tampa Marriott. With a cozy dining room and a lovely terrace, there's no seat in the house where you won't have a beautiful view of the water.
Chef Richard Sandoval is in charge of the cuisine and he pulls no punches. Using inventive techniques, he combines authentic Latin ingredients with international flavors. The result is unexpected concepts in cuisine like Latin-Asian, modern Peruvian, and Pan-Latin.
You'll taste his style in appetizers like the Burrata Salad with marinated watermelon and black garlic vinaigrette. Also, please trust us and order the Pan-Seared Octopus. The combination of the crispy garlic and pequin chiles is simply divine.
For dinner, stick with seafood and share the Seared Scallops in a poblano emulsion. You can't go wrong with the Pappardelle either with lobster, rock shrimp, roasted pecorino, mushrooms, and charred green onion.
Find Anchor and Brine on 505 Water St, open Monday through Thursday from 11 AM – 10 PM, Friday from 11 AM – 11 PM, Saturday from 9 AM – 11 PM, and Sunday from 9 AM – 10 PM.
Did You Find This Post Helpful?
If so, we would love to keep in touch! We enjoy seeing photos and comments about your experiences in Florida! You can follow us on Instagram and we will repost your photos on our feed and comment too! Just tag us at @floridatrippers and hashtag #floridatrippers. We can't wait to see your travels!