Are you looking for the best Florida shelling beaches? We have you covered with our list of the best beaches in Florida for shells!
Florida shelling is a very popular hobby! We have put together a list of some of the best shelling beaches in Florida to collect a wide variety of seashells, sea glass and sharks teeth!
Collecting shells is often tiring and back breaking work digging in the sand and water all day, so make sure to pack lots of sunscreen, water, snacks, and tools needs. As you will be visiting some of the prettiest beaches in Florida as well don't forget to relax after a hard days work!
Shell collecting or a " conchologist" is the perfect hobby for all ages and we have best beaches in Florida for shells from southern tip of Florida, to the Northern tip, Panhandle and everywhere in between to collect unique, rare, and beautiful shells. From super popular shelling destinations like Sanibel to lesser known spots like Cedar Key!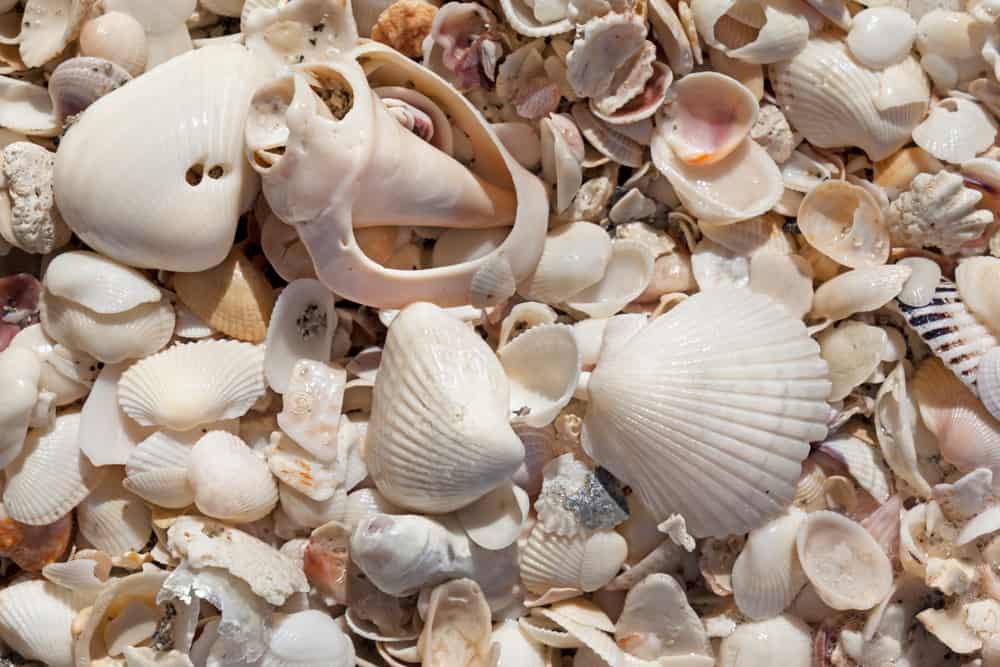 12 Beautiful Shelling Beaches In Florida
Sanibel Island
Sanibel Island is a Florida island located near Fort Meyers. This island is known for having some of the best beaches in Florida for shelling due to its geography. Every year, Sanibel makes the list of the best shelling beaches in Florida.
Shelling is what draws people to Sanibel Island, however the beaches are very rarely crowded. Types of shells you can expect to find here include whelks, conchs, sand dollars, scallops, and clams are plentiful. If looking for a Florida beach with shells to collect there are around 250 species of shells in this area.
Please be aware, however, there is a very strict policy against taking home living creatures from the beach. Removing these live animals destroys the ecosystem. Double check the shells you have collected are free of living creatures before taking them home.
Turner Beach is the best beach on Sanibel island for shelling! While a little further of a drive, if you are hunting for rare shells this should be your first stop! Look near the rocky jetty for the best shells. Other popular areas to shell are on the Gulf-side near the lighthouse and near North Captiva.
As shelling is so popular in Sanibel Island there are shelling tours and many of the area hotels offer special supplies, sinks, and work spaces to assist beachcombers in cleaning shells.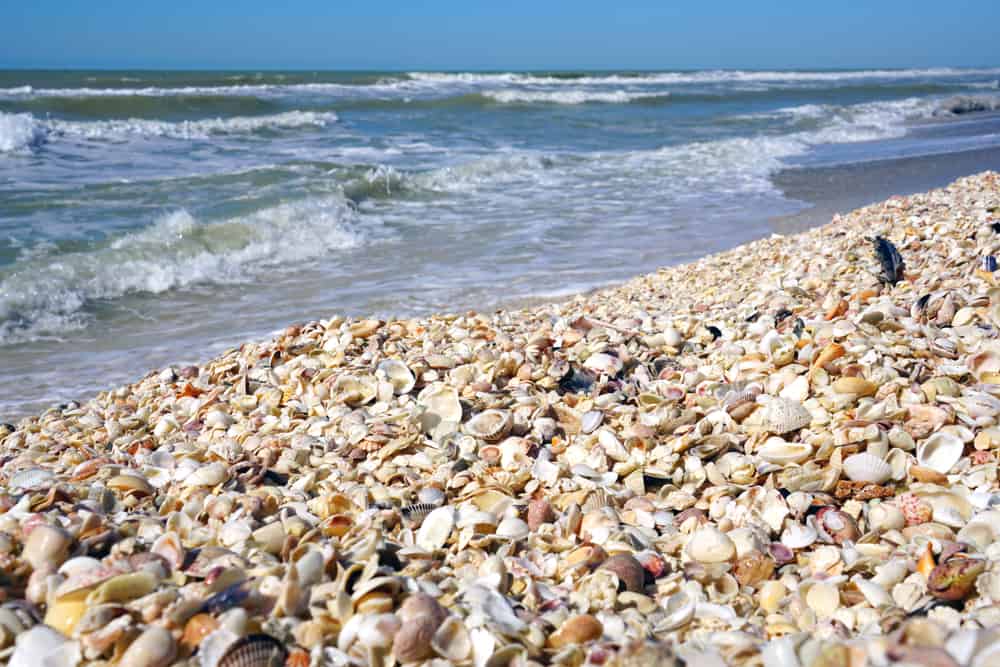 Barefoot Beach State Preserve
For those looking for a more natural and secluded beach shelling experience head to Barefoot Beach State Preserve, ranked one of the best beaches in Naples.
Barefoot Beach is an undeveloped barrier island with over 342 acres of natural land and a mile of one of the best beaches for Florida shelling. Bring your supplies and get ready to bend down and collect some gems!
Head towards the jetty at Wiggins Pass and you will find corals, sand dollars, sharks tooth, skoot, alphabet cone, wormies, kitten and lion paws and more. Shelling is hard work and after a back breaking day of bending over collecting shells, don't forget to take a relaxing swim in the calm water.
In addition to shelling, Barefoot Beach is also one of the best places to see sea turtles in Florida, as Loggerheads are known to nest here.
Honeymoon Island
Honeymoon Island is located just outside of Tampa in Dunedin, Florida. Over a million people visit Honeymoon Island each year. There is over four miles of beach making it one of the best beaches in Florida for shells. It's a great place to find unique shells.
Florida shelling is popular at Honeymoon Island and you can often find shell hunters and beachgoers alike hunched over looking for sea glass and seashells like conch, coral geodes, turbans, mermaid money, sand dollars and shivas . Be careful not to disturb the sea turtle nests!
The best part is you can bring your family pet along with you as this is one of the best dog beaches in Tampa Bay!
As there is over 4 miles of beach you will want to head to North beach area for the best shelling. Past Main Beach you will find North Beach. It is similar to Beer Can Island as it is a narrower section of the beach filled with a lot of small rocks, shells, and driftwood perfect for collecting.
Honeymoon Island is a State Park as such you can purchase seasonal or annual passes if your hobby is shelling! For those coming for the day entrance is just $8 per vehicle or $4 for a single person. Honeymoon Island is often voted one of the most beautiful islands in Florida!
If looking for an even more remote island for Florida shelling head to Caladesi Island. There are three way to get to the island, first, your own boat, second you can take the ferry (adults $16, children $8) and third you can rent a kayak.
On the dock at Caladesi Island you will find a board showing all the different types of shells that can be discovered as well as information on each shell.
Rarer type shells include scotch bonnet, olives and sand dollars. Just make sure to check no living sea creature is still in the shells. There are "shell trees" just outside the entrance where each visitor is to hang a shell they found!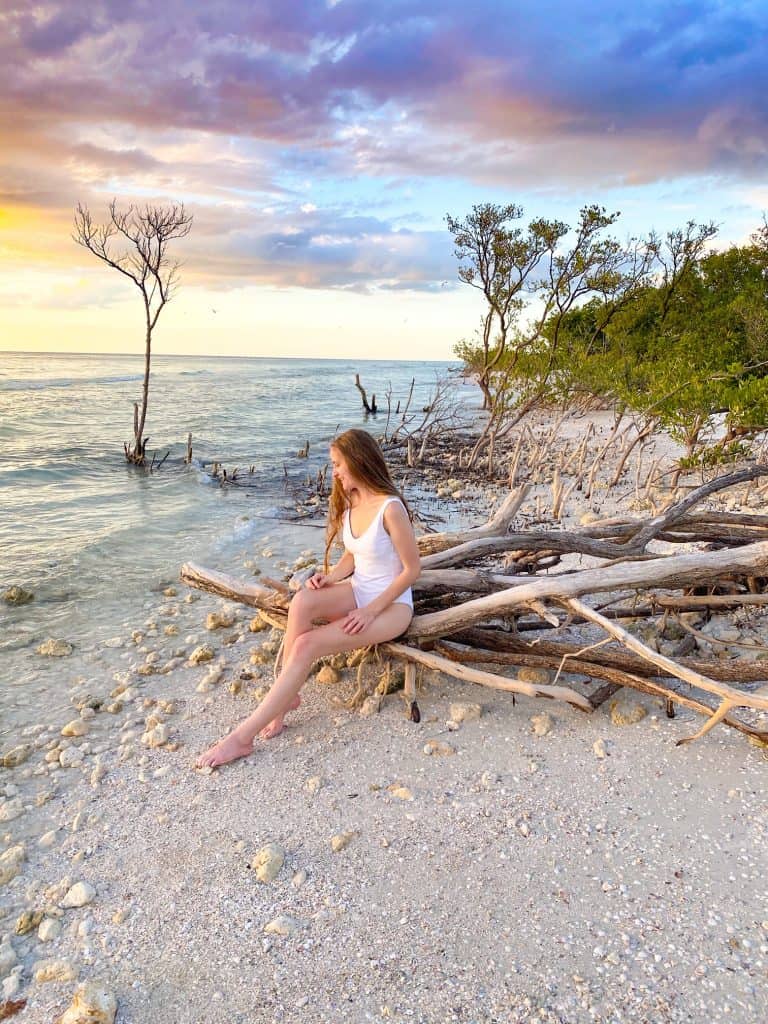 Amelia Island
On the Northeast coast of the Sunshine State near Jacksonville is Amelia Island, one of the best Florida shelling beaches in North Florida. Winter is one of the best times to go shelling as the stronger currents bring shells into the shores of Amelia Island.
Amelia Island is the perfect spot to collect seashells in Florida! Popular shell species you will find here are whelks, olives, clams, periwinkles and sand dollars. But like with Venice, many come in search of fossilized sharks teeth!
One of the most popular shelling beaches in Florida on Amelia Island is Fernandina beach for the assortment of small and unique seashells you will discover. Another great beach for shelling is Fort Clinch State Park. Finding beautiful seashells here is fairly easy at low tide.
If looking for best hotels in Amelia Island check out our suggestions here!
Lover's Key State Park
Lover's Key State Park was once accessible only by private boat. Today, these beaches are part of four barrier islands that now make up Lover's Key State Park! Located just 30 minutes from Sanibel. As this is a State Park entrance fees range from $2 to $8 depending how many are in the car.
While Lover's Key is still a regarded as a romantic hotspot! The 2 miles of beachfront making this State Park one of the best shelling beaches in Florida.
Perfect for those looking for an unusual date spot. You can shell all day and then pack a picnic or opt to purchase food, beverages and ice cream from the Park Store and watch a gorgeous sunset over the Gulf Coast.
Here at Lovers Key State Park you can find starfish, sand pipers, rose petal tellins, angel wings, wormies, conch shells, and sand dollars. If you head to either of the less populated islands like Cayo Costa you will discover even rarer shells. There are around 60 different types of shells you can find.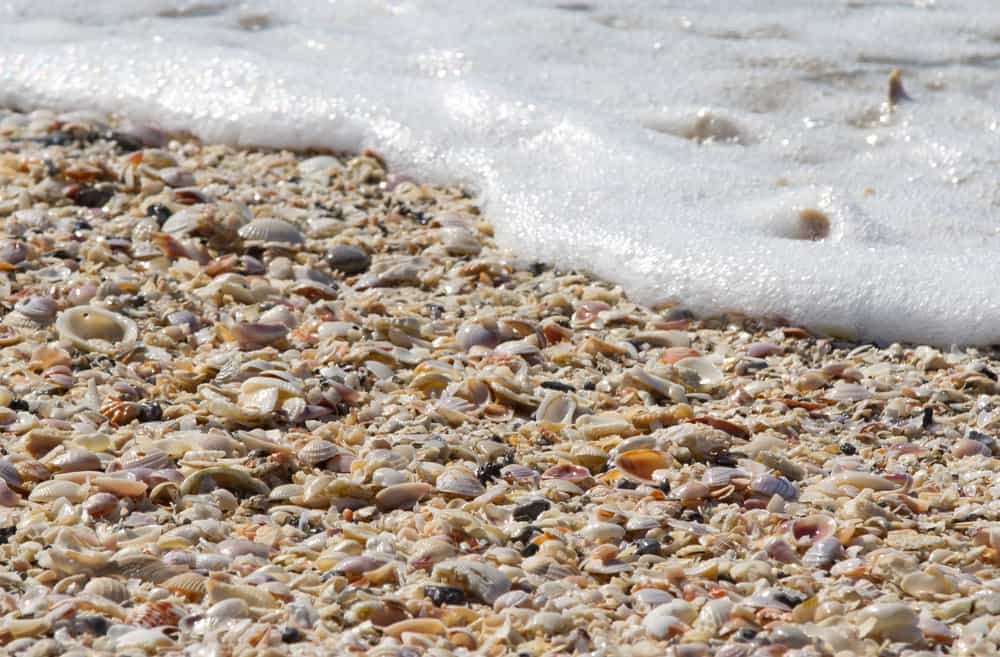 Little Talbot Island State Park
Little Talbot Island State Park is also located just North of Downtown Jacksonville. With over 5 miles of beach coastline this is the perfect state park to explore for the day! Entrance is $5 per vehicle and the park is open 8 am to 5pm.
After climbing over the sand ridges one of the best shelling beaches in Florida here at Little Talbot is located near the range station towards Fort George Inlet. It is about a 2 mile hike in.
If you happen to come after a storm keep your eyes out for rare sightings of the Pilocene! You are in for a treat as over 50 species of shells such as clam, oyster, clam, periwinkle and others can be found in this area. As most people come for the beaches you will have the beach to yourself while collecting seashells.
As this is a State Park if you are new to shelling, ask the ranger staton for a shark teeth and shell handout that explains different types of shells that can be found on Little Talbot.
Venice Beach
Like many top Florida beaches along the Gulf Coast, Venice Beach near Sarasota has soft and pristine sand to dig your feet into and one of the best beaches in Florida for shells!
Beachcombing is one of the locals' favorite activities as the beach is brimming with treasures like prehistoric shark teeth and shells. Venice is actually the shark tooth capital of the world and if you are looking to find shark teeth Venice Beach is the place to come!
For those not looking for prehistoric sharks teeth not to worry! You can find shell varieties like arks, coquina, starfish, augers, turkey wings, kitten paws and more.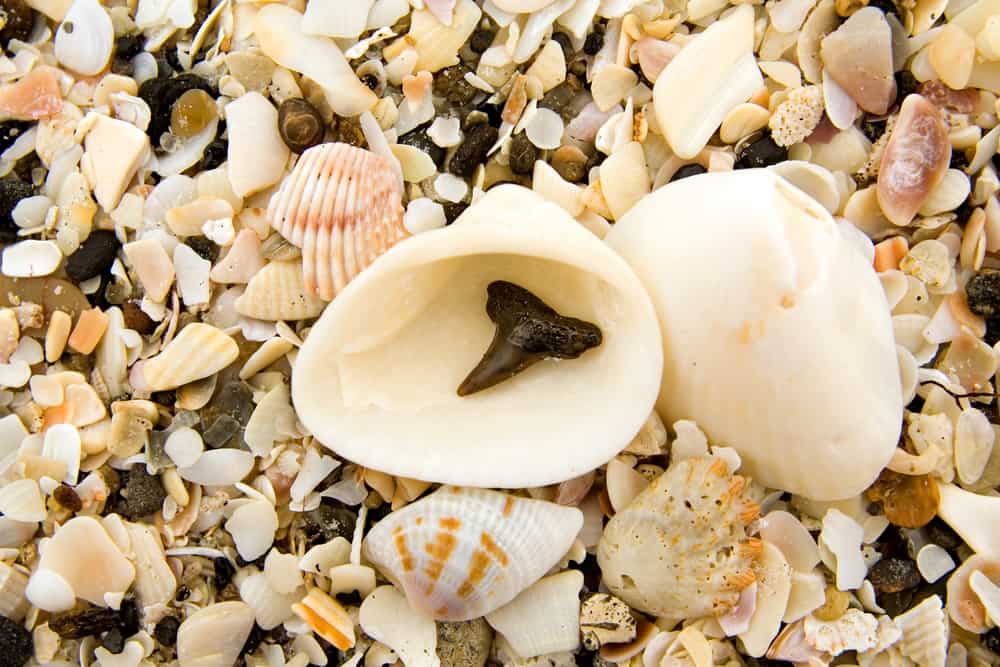 Pensacola Beach
Pensacola Beach is one of the prettiest beaches in Florida and has perfect year round weather making this the perfect Florida shelling destination during the winter time.
Long after the spring break crowds have departed, winter is a time when the shoreline is covered with shells for those looking to collect. Shell types that can be collected include murex, the rare junonia, whelks, turbans, lion paws, olives, conchs, cocqina, scotch bonnets and more.
Early morning is the best time to go right as low tide is coming exposing all the shells on the tidal shelf for you to find! Gulf Islands National Seashore is also a great place to explore the shoreline for shells especially sand dollars. As is Navarre beach is one of the best sea glass beaches in Florida as well as for jingle and wing shells.
Marco Island
If you opt to take a popular shelling tour, many make stops in Marco Island because it is a great Florida shelling beach. We recommend Sand Dollar Shelling Tour as they offer shelling, dolphin and fishing tours!
Marco Island is part of the Ten Thousand Islands group. There are tons of shelling spots to choose from! The advantages to coming to Marco Island on a shelling tour is the crew and captain know all the secret shelling spots! And many take you to the remote Keewaydin Island where Junonia shells are known to be found.
Many shell collectors come here from around the world looking for Junonia shells. They are very rare and difficult to find but the value of the shell keeps shell hunters coming back!
For those not on tours you will want to head to either South Beach or Tigertail beach on the north side of the island. You can expect to find conch, wormies, whelk, moon nails, cones, sand dollars, and junonia. If looking for sand dollars head to the Sand Dollar Spit on the far side of the lagoon.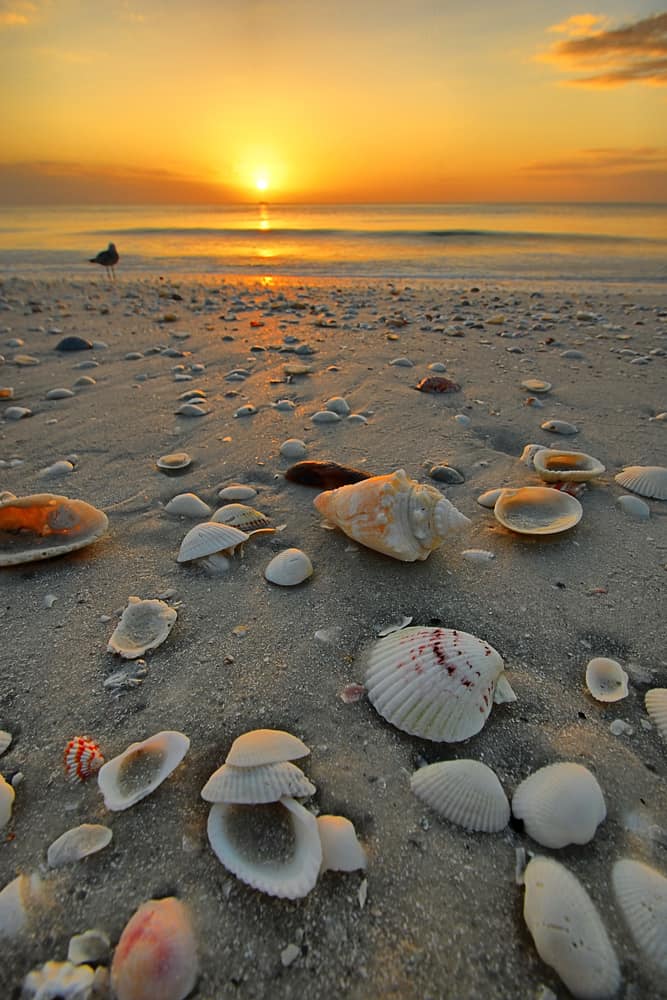 Shell Island
Shell Island is located near Panama City Beach. As it is an island you have several options to reach the island. First, you can take a boat tour to Shell Island, rent your own private pontoon boat, or you can take a tour from St. Andrews State Park. The rates are $17 for adults and $9 for children from the State Park.
This pristine island is 7 miles of untouched land and is the perfect places to explore and collect seashells. As it is undeveloped island you can find the elusive junonia shells, olives, conchs, perwinkles, whelks, tulip, moon snails, and slipper shells.
Just remember to pack all the supplies you will need for a day of shelling as nothing is on the island. Water, snacks, shelling supplies, and towel or umbrella for shade.
Anna Maria Island-Gulf Coast
Anna Maria Island is located about 20 minutes drive from Bradenton and Sarasota area. Probably best known for allowing horse back riding on the beach, Anna Maria Island is also a great place to visit for shelling in Florida.
This is one of the Florida beaches with shells where you can casually look and you will find pretty and colorful shells scattered over the sand. IT is worth nothing that shellers come from all over to Anna Maria Island. Types of shells to be found on Anna Maria Island include tulip, cockle, olive, murex, conch and more!
Some of the more popular beaches for shells include Palmetto Beach known for special shells like sand dollars and auger that are often hidden and in pristine condition.
Cocquina Beach is know for shells as well as sharks teeth and Bean point is home to large conch shells! Anna Maria City beach is the least popular beach so you often have no competition when shelling!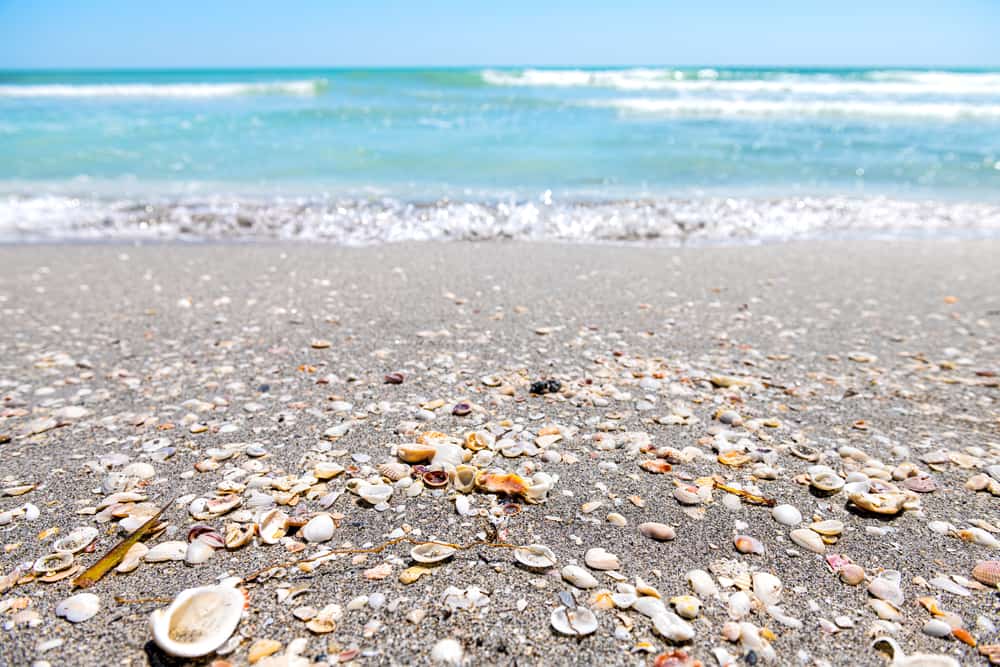 Cedar Key
Cedar Key is one of the best small beach towns in Florida. Located on the Gulf Coast of Florida about 50 miles southwest of Gainesville, Florida. With only a population of 800 residents you will have the three miles of unspoiled beach to yourself. The beach area is only accessible by boat or kayak.
What makes Cedar Key a great Florida shelling destination is the amount tide pools in area allowing collectors a chance at low tide to hunt for shells. If you are a little more adventurous rent a kayak and head to Shell Mound. You will have a chance to kayak over shallow oyster bays.
Did You Find This Post Helpful?
If so, we would love to keep in touch! We enjoy seeing photos and comments about your experiences in Florida! You can follow us on Instagram and we will repost your photos on our feed and comment too! Just tag us at @floridatrippers and hashtag #floridatrippers. We can't wait to see your travels!