Are you thinking of visiting Dry Tortugas National Park? You have come to the right place. In this article, we will walk you through everything you need to know when planning a visit to Dry Tortugas National Park.
We will walk you through things to do in Dry Tortuga, the ins and outs of Fort Jefferson, and the Dry Tortugas National Park ferry. Dry Tortugas National Park is a unique and beautiful park and you will want to make sure that you make the most of your visit. We hope this guide helps you plan accordingly and that you have a great day out.
Here are some more National Parks in Florida to take a look at 12 Best National Parks In Florida To Explore.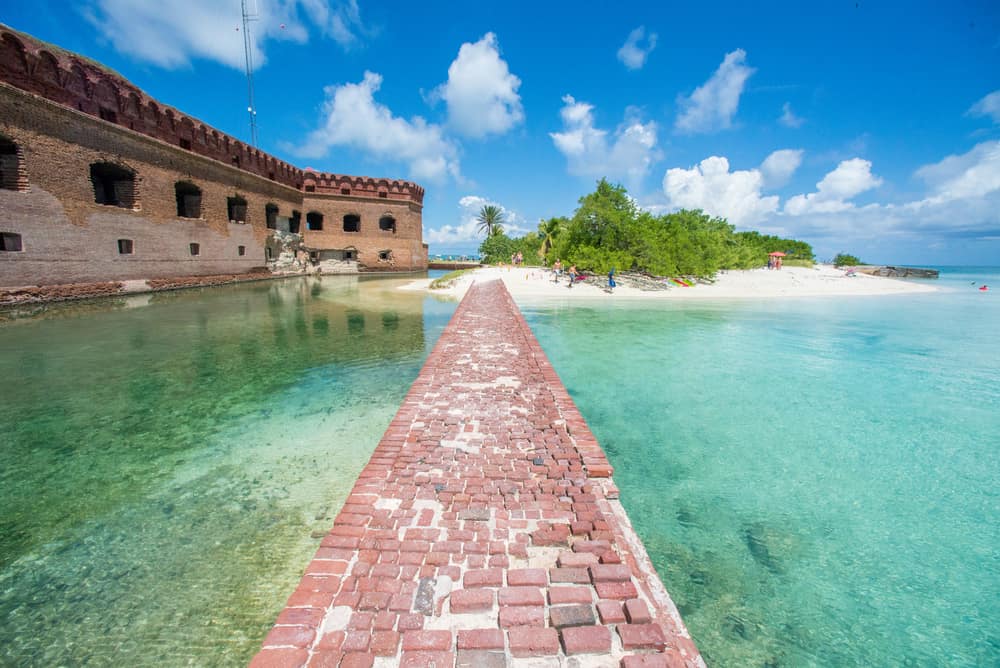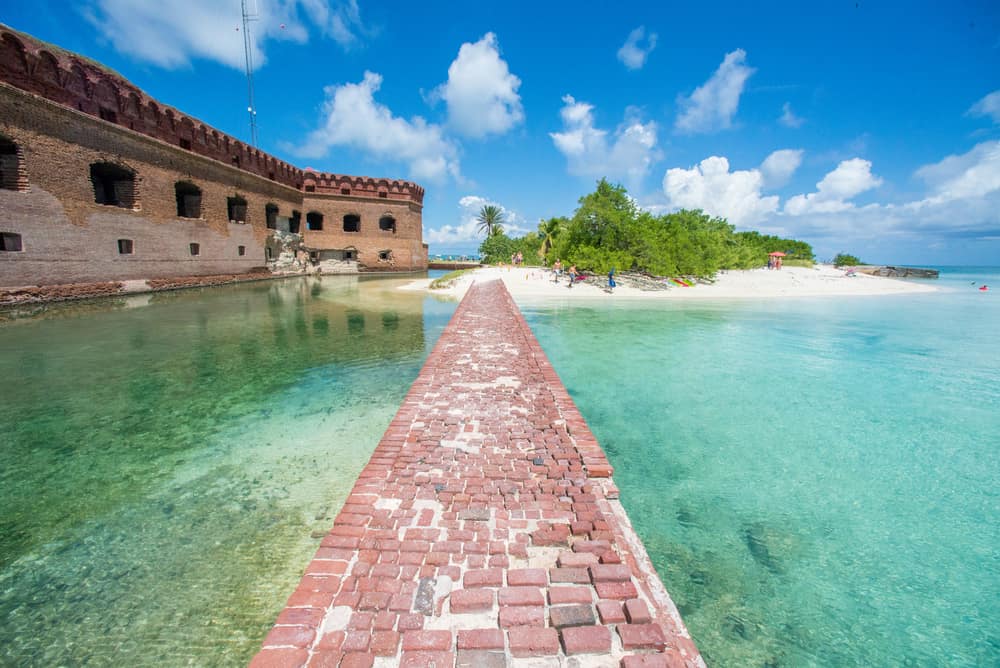 What Are The Dry Tortugas?
The Dry Tortugas are a group is islands in Florida located in the Gulf of Mexico. Dry Tortugas National Park is a 100-square mile park with seven small islands. It's a tropical paradise that is known as the home of magnificent Fort Jefferson. This island is a place where nature, history, and relaxation meet to form something quite special.
The history of Dry Tortugas is chequered and somewhat brutal which a stark contrast to the idyllic setting.
The Fort named after named for Thomas Jefferson was a place where soldiers served and died.
The waters surrounding it have many a tale to share about pirates, hidden treasure and it is believed that most of Key West fortunes were built on the regulated wrecking of Spanish treasure ships. In 1985 $450 million in silver and gold was salvaged from this area.
This area was declared a national park in 1992 and most of the park is actually underwater. Dry Tortugas is the only tropical reef in the States and the third-largest in the world.
And the bonus is due to its remoteness the park only attracts approx 60,000 a year so it's never really crowded. The best time to visit is November to April as the winds tend to be less strong and therefore the water is less turbulent.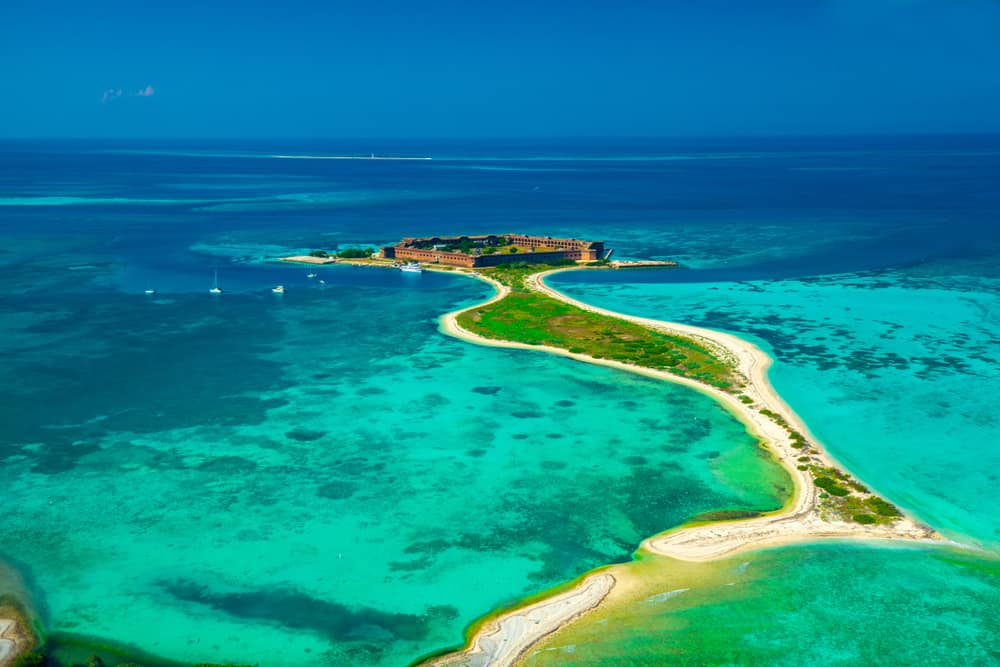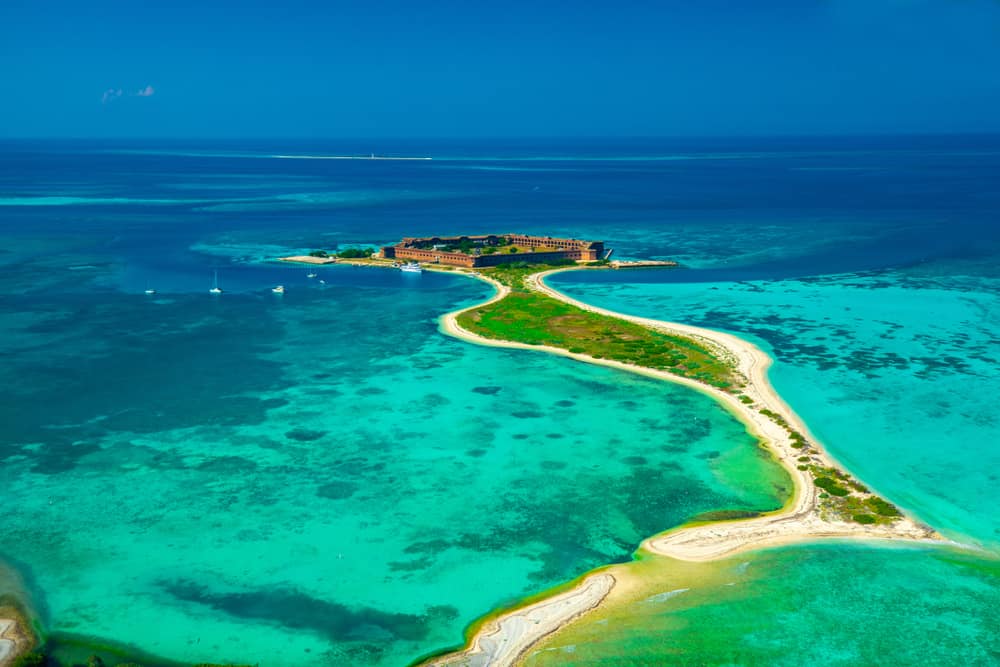 Where Are The Dry Tortugas Located?
Dry Tortugas National Park is 70 miles west of Key West in the Gulf of Mexico. The seven islands that make up the area are Loggerhead, Bush, Long, Hospital, Middle, East keys, and the largest Garden Key.
The total area of the islands adds up to less than 1/5 of a square mile. Most of the 101 square miles that make up the park are underwater.
To sum up, Dry Tortugas is a remote spot in the middle of nowhere, but well worth the journey.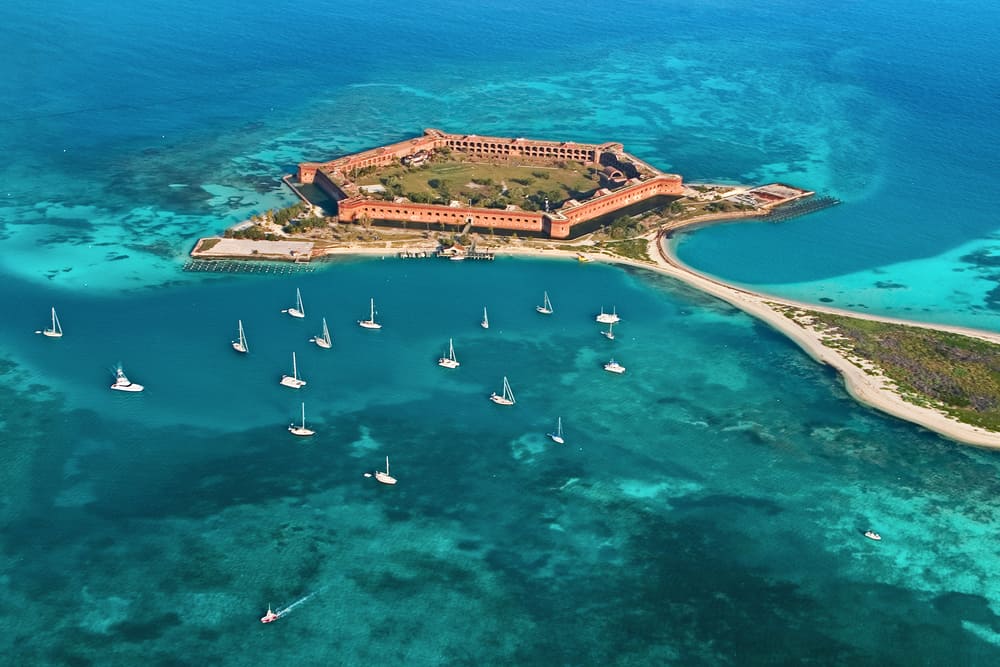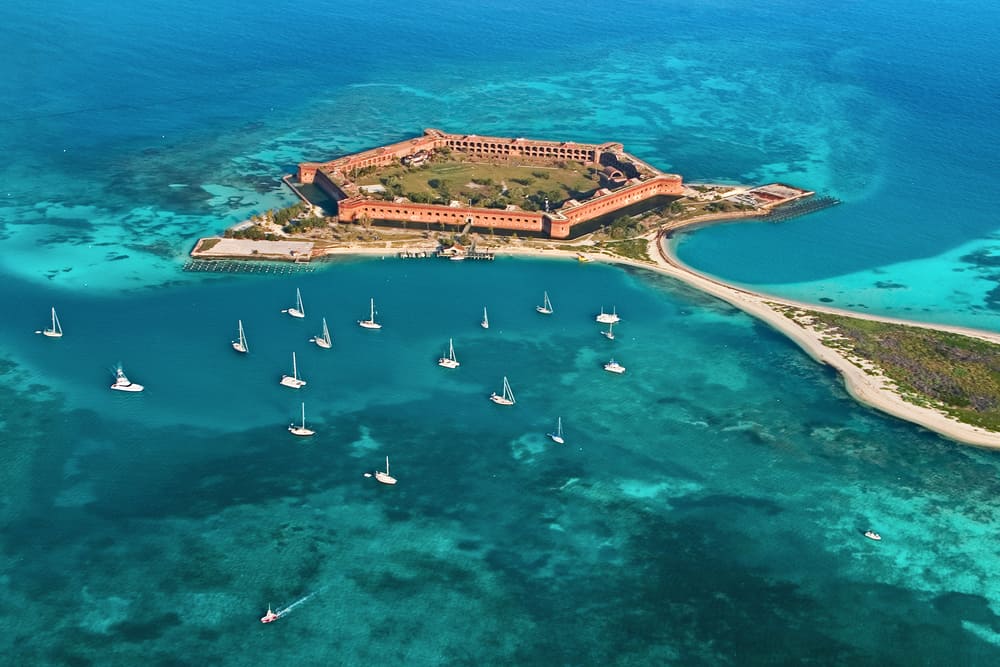 How To Get From Key West To Dry Tortugas National Park
There is no road to Dry Tortugas National Park, the area is remote and can only be reached by boat or seaplane.
Entry to the national park is $15 and this is included in the price of the Dry Tortugas National Park ferry.
Ferry To Dry Tortugas
The ferry from Key West to Dry Tortugas is the Yankee Freedom III. The journey takes about 2 hours 15 minutes. The ride can be very choppy so if you are prone to motion sickness this may not be the best way to travel.
The Dry Tortugas ferry is $190 per person with children going for $135. The ferry leaves at 7.30 and departs back at 5.15 pm. The prices include park entrance and breakfast and lunch and complimentary snorkeling equipment plus a fort Tour.
Again book the Dry Tortugas national park ferry in advance as there are a limited number of seats. It's best to plan at least a couple of months in advance.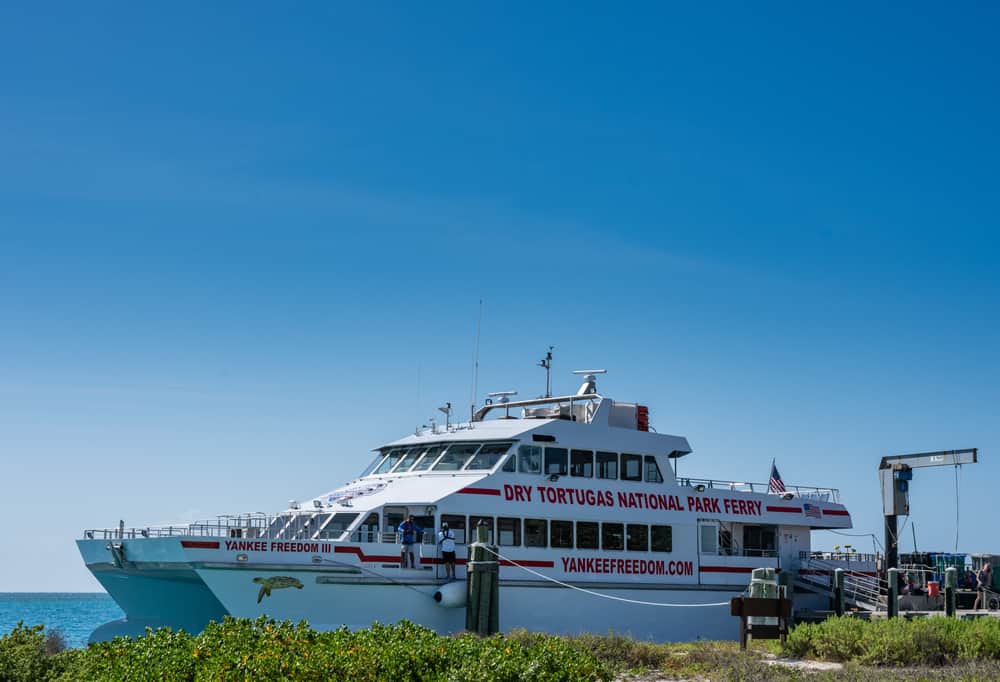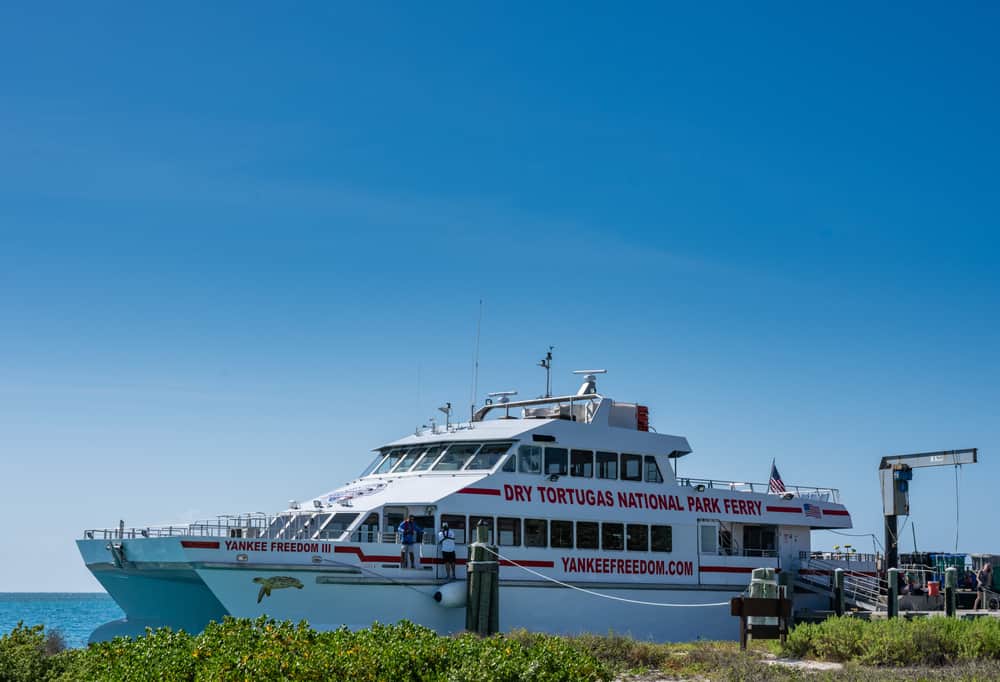 Dry Tortugas Seaplane
Key West Seaplane Adventures is the only seaplane service to Dry Tortugas. The Dry Tortugas seaplane takes about 40 minutes. This option isn't cheap coming in between $361 – $634 per person. You will need to book in advance and during peak season visitors numbers are limited.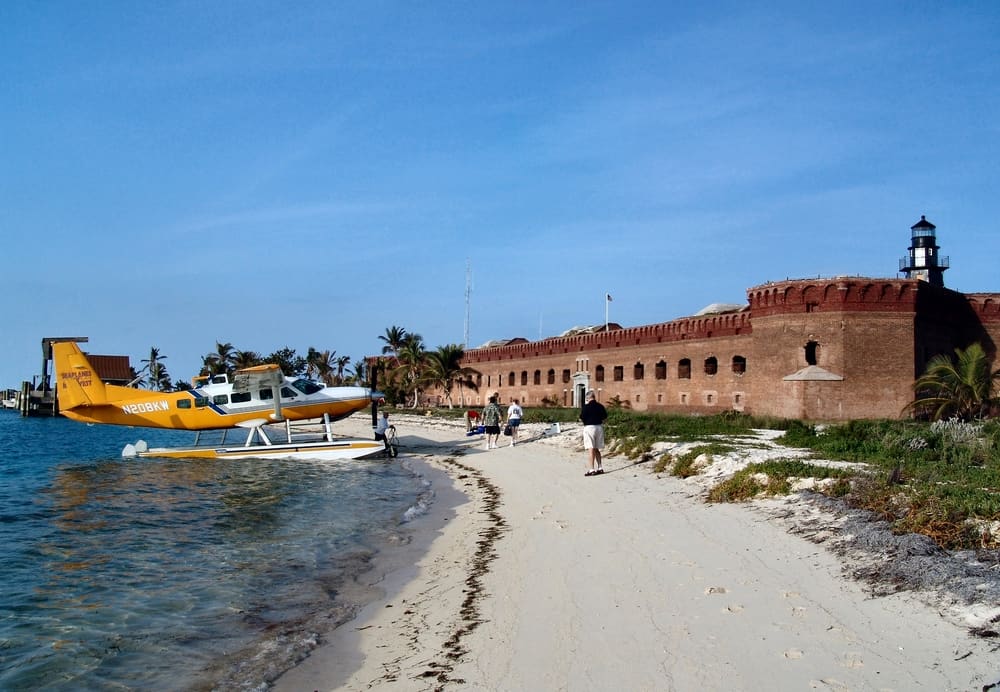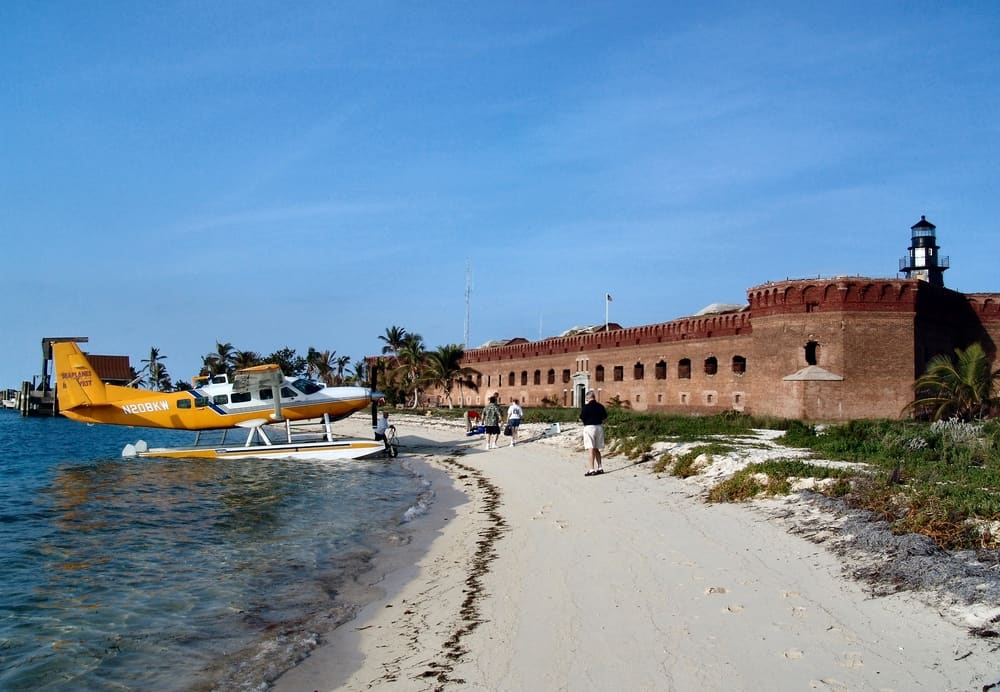 Dry Tortugas Charter Boats
You can also of course charter your own boat which may be a cheaper option if there is more of you. Or if you have your own boat you can use that, or perhaps make friends with someone with a boat. Either way, you can go on a boat that isn't the ferry.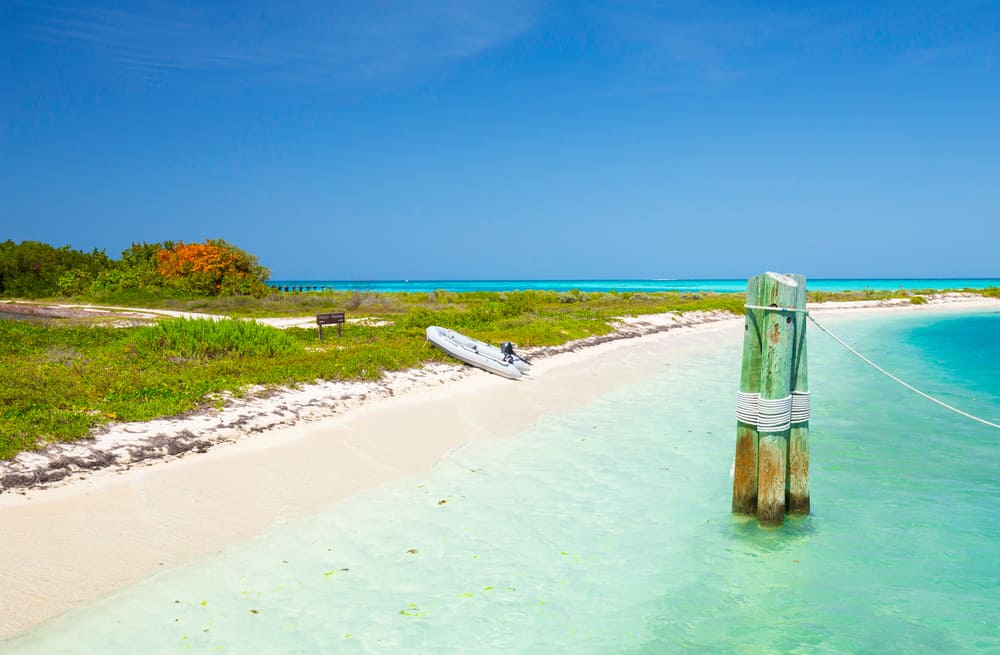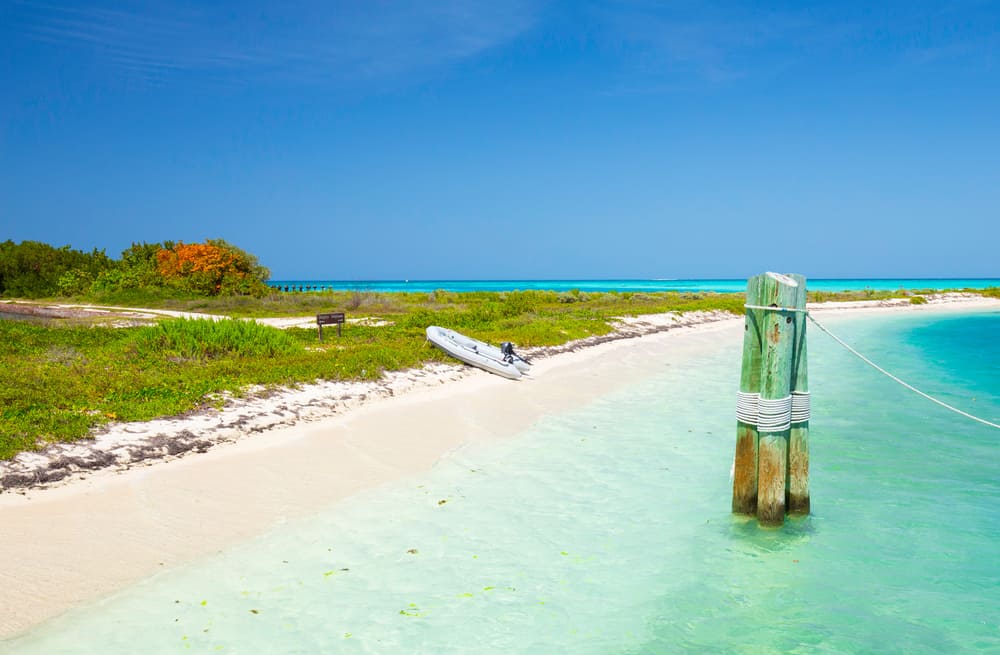 How To Get Around The Dry Tortugas
The ferry and seaplane will drop you off at Garden Key, the largest island, and do not offer transportation to the other islands. It's a small island and easy to walk around.
To visit other areas you will need your own boat and you must file a free boat permit with the park when you arrive.
If you are planning on camping bringing a kayak or canoe will provide you with access to the other areas of the park. Just make sure you co0ordinate this with the ferry before you travel.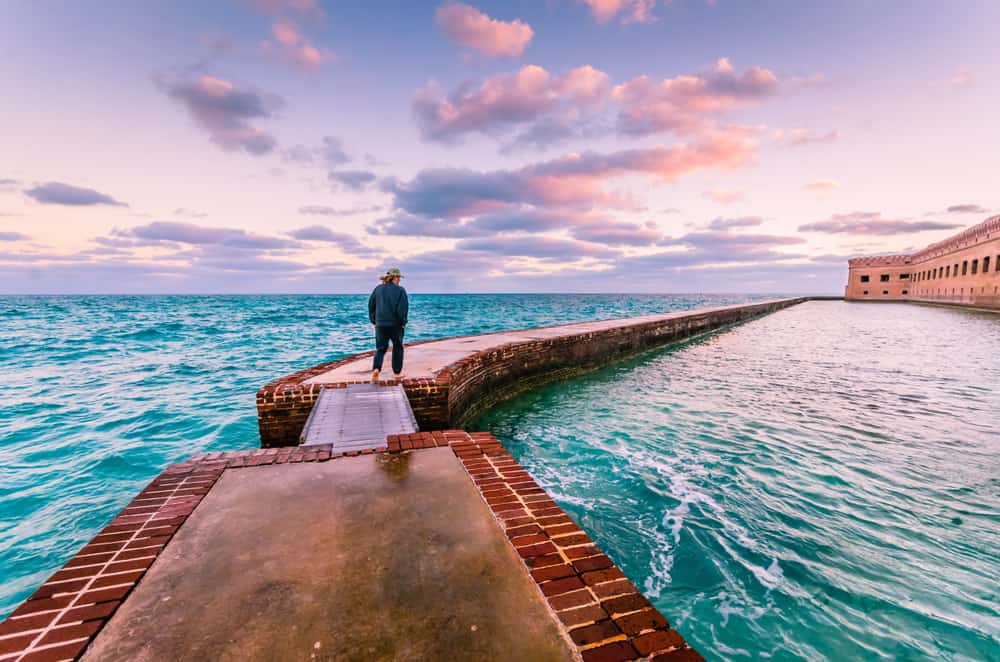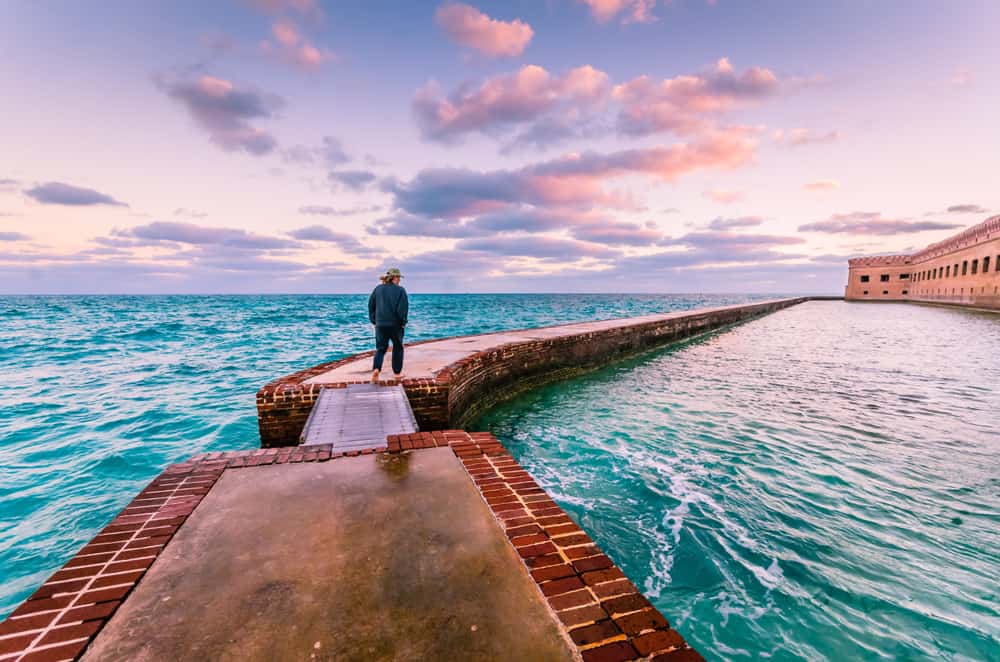 How Long To Spend In Dry Tortugas National Park
How long you spend at Dry Tortugas obviously depends on what you want to achieve. If you just want to see the fort, wander around and get a feel, then a day will be sufficient. There isn't a lot on the way of amenities on the island so bear that in mind. Most people who stay a day seem to end up wishing they have stayed longer or want to go back.
You can camp but it's primitive and most snacks and drinking water you will have to get from the ferry when it arrives. Most campers feel one night isn't enough due to putting tents up and down and it seems the consensus is that two nights is a good length or stay.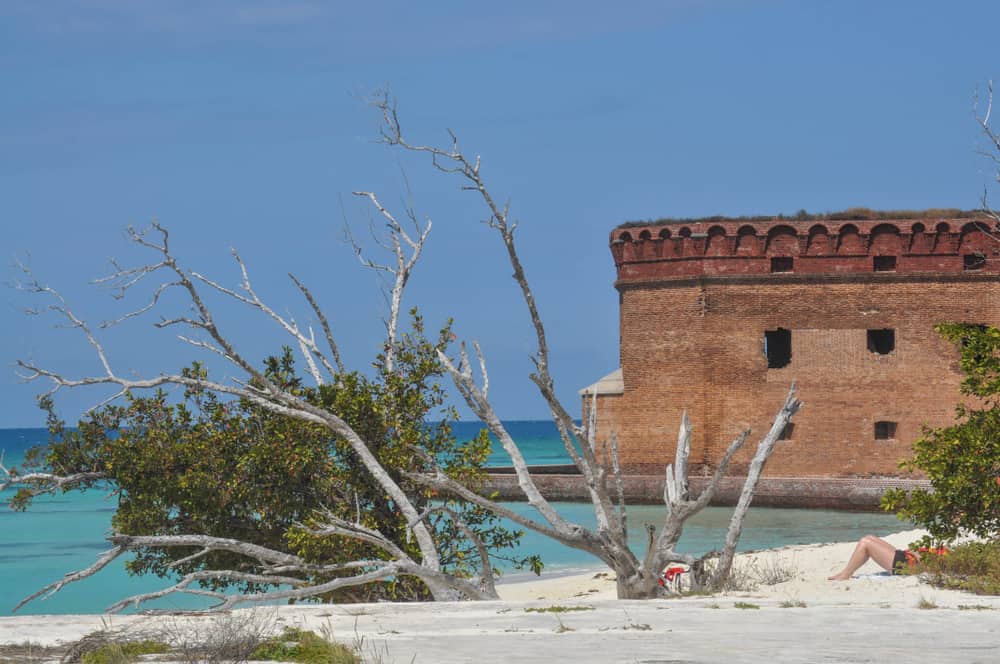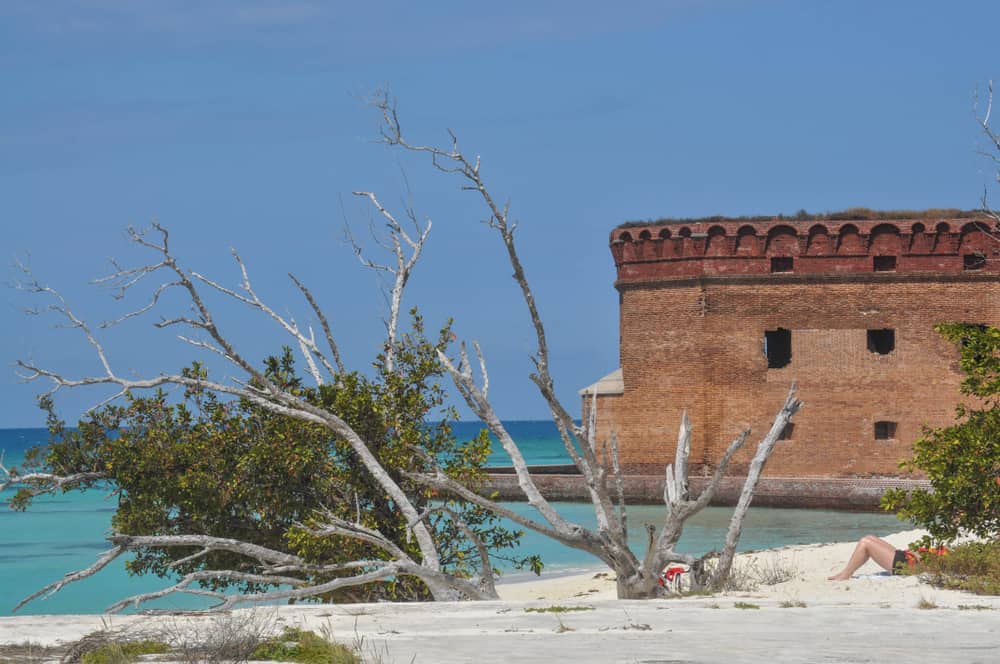 Best Things To Do In The Dry Tortugas
Here are the things to do in Dry Tortugas that we feel everyone can enjoy.
Visit Fort Jefferson
No visit to Dry Tortugas National Park would be complete without a trip to the Fort. Named for Thomas Jefferson it was built to protect the southern coast of the USA. Soldiers served here and lots lost their lives.
If you arrive on the ferry you have the option of joining a 45- to 60-minute guided tour of the fort and we highly recommend it. There is a self-guided tour however if you don't fancy this.
The fort took 16 million bricks to build and consists of walkways, brick buildings, storerooms, gunrooms, and barracks. Jefferson Fort is the largest masonry structure in the western hemisphere.
At its height, it housed nearly 2000 people and was described as "a dark, mean place."
The fort has a turbulent and sordid past. During the building, laborers were imprisoned in what become the country's largest military prison. In 1087 the resident's population was halved as yellow fever ravaged the area.
During the building of the fort incarcerated laborers were imprisoned in what become the country's largest military prison. In 1087 the resident's population was halved as yellow fever savaged the area.
History lovers will love learning about this fort in the middle of the sea.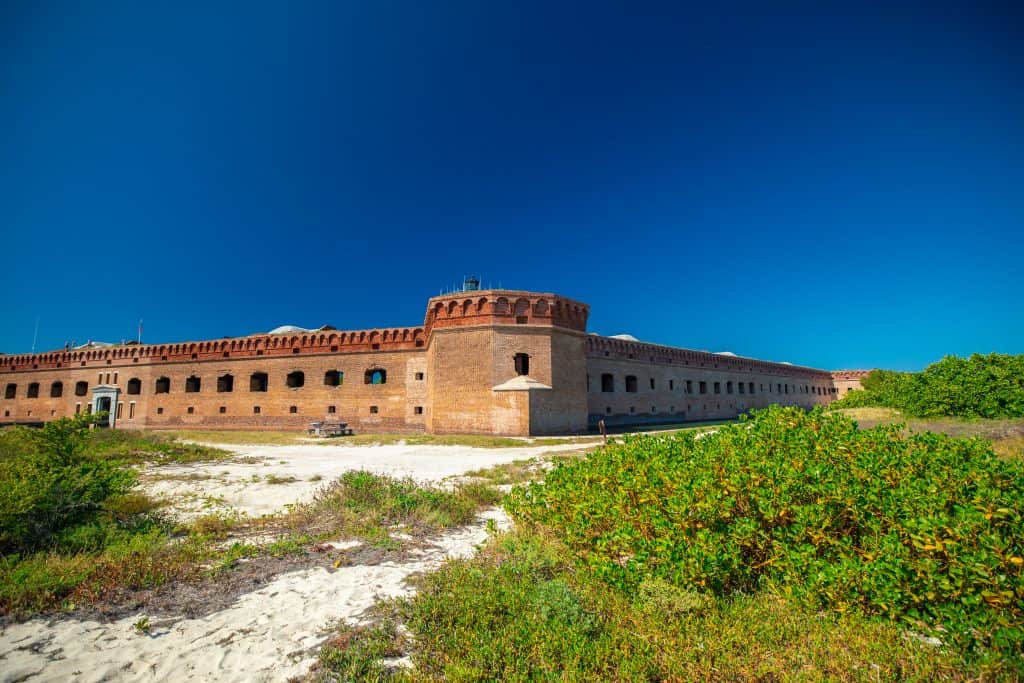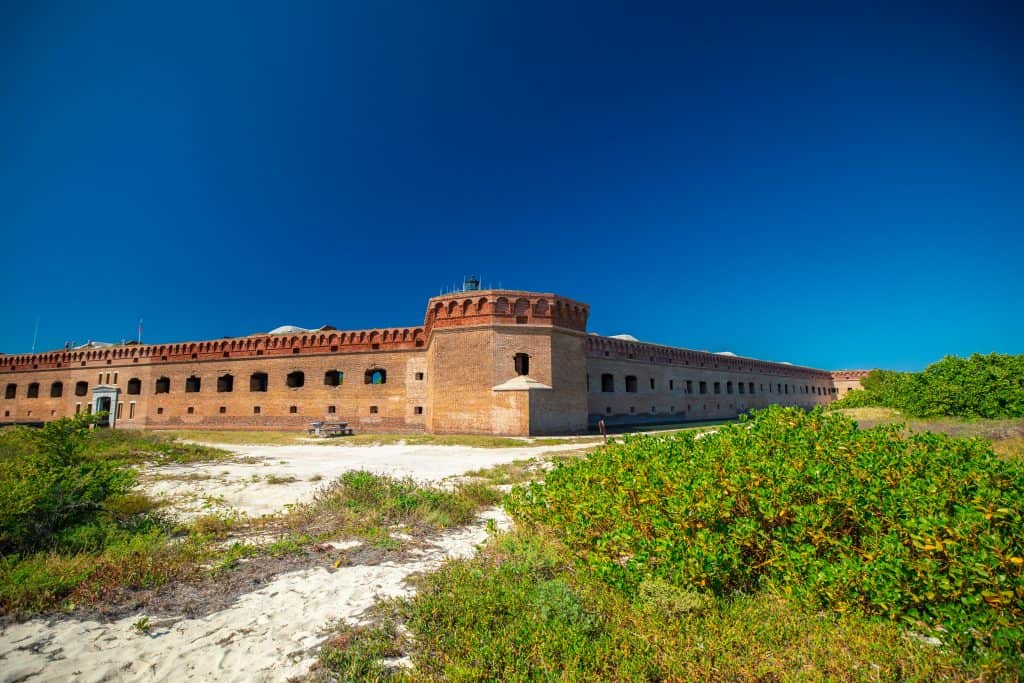 Relax on the Beach
The beaches on Dry Tortugas National Park don't come anymore whiter or beautiful. The white sand slopes into crustal clear waters creating a perfect tropical paradise.
There are four main beaches South Swim Beach, Seaplane Beach, Dinghy Beach, and North Swim Beach. The names are pretty self-explanatory. Some areas are no swim zones and some reserved for snorkelers.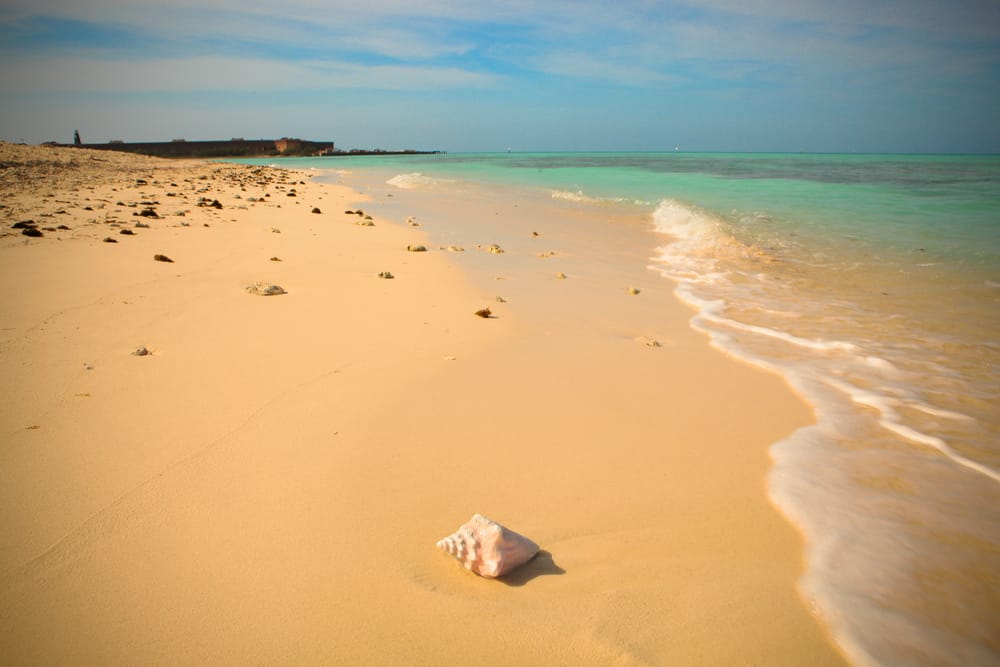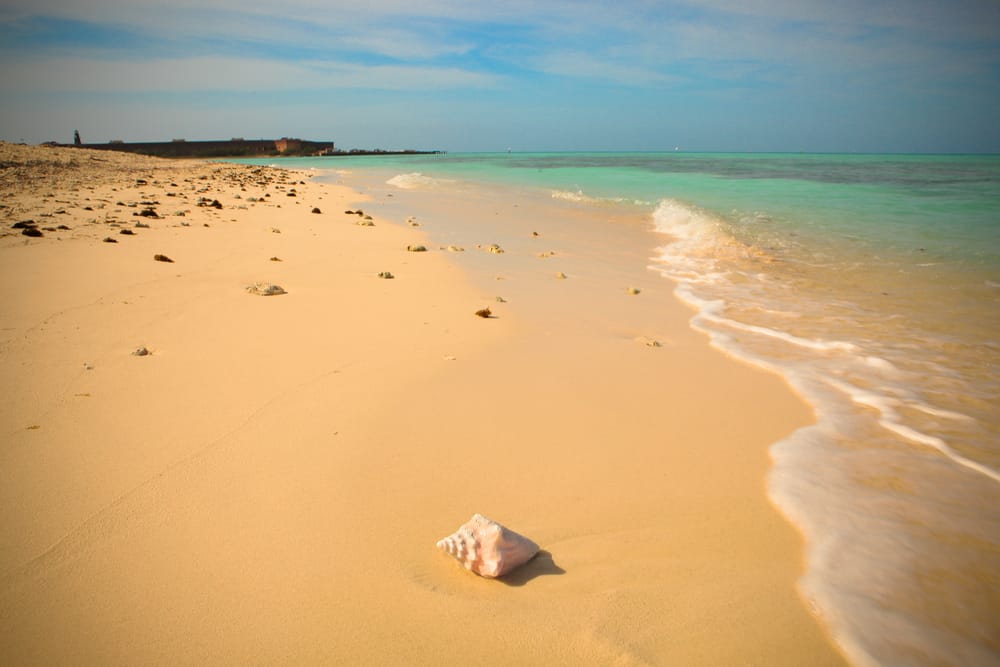 Go Snorkeling
Snorkeling doesn't get much better than this. Dry Tortugas National Park is home to the most vibrant coral reefs in the States. Dry Tortugas snorkeling will not disappoint.
The water is shallow (5-15 feet) making this a great experience for everyone even a complete beginner. Access is easy too just walk in from the sand.
Expect to see tropical fish, vibrant coral, starfish, and queen conchs. Also, keep your eyes open for turtles as the islands are named after them after all. Tortugas is Spanish for turtles.
If you arrive on the ferry you will be provided with a snorkel, fin, and mask free of charge. There are many designated snorkel areas.
You can snorkel and see the Historic Coaling Pier Pilings, the Moat wall, and the Coral heads. If you have your own boat you can also snorkel Little Africa Reef and the Windjammer Wreck.
Remember look and don't touch this area is fragile and protected.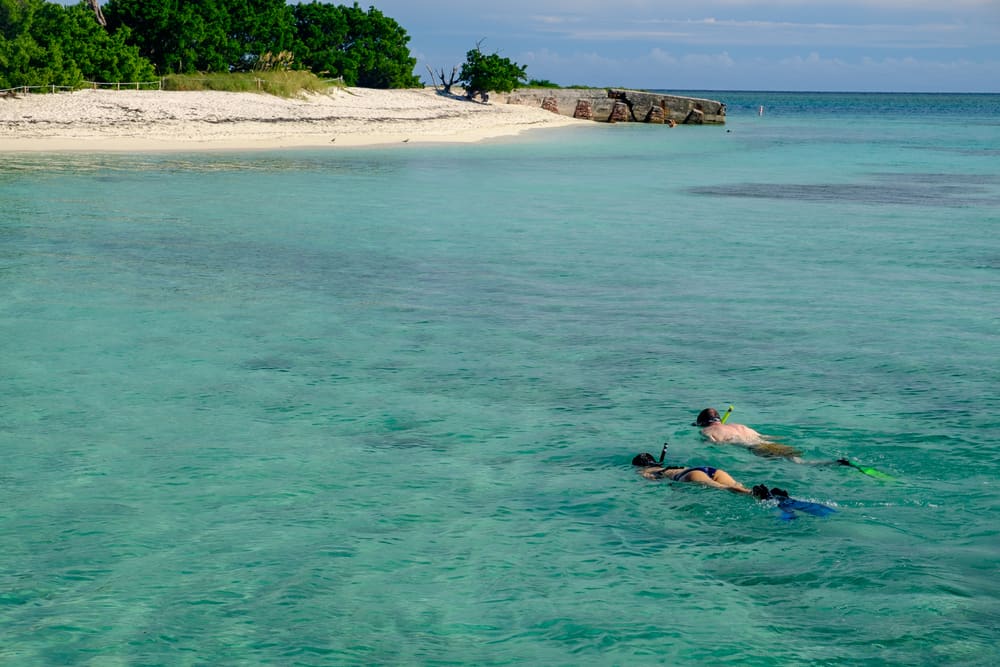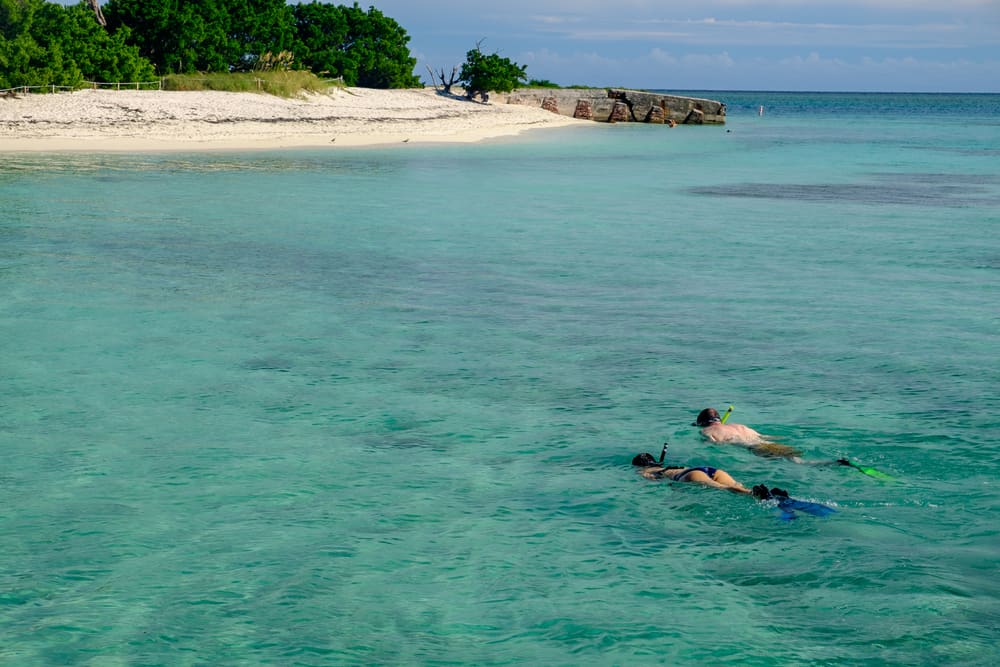 Kayak / Paddleboard
A great way to get around this area is by kayak or paddleboard. You will be able to see the clear water below and get to places that most people can't get to.
Water paddles are not allowed near Garden Key. For quick paddles, Bush and long key are the closest. Loggerhead Key will take several hours to get to and involves crossing deep open waters.
You will need to get a boating permit to use these items. The Park has no services in the park so you will need to bring everything with you including safety equipment which is required.
Recreational Fishing
Fishing is allowed but only in certain areas. Make sure you know where you can and can not fish and you will need to bring all equipment with you.
Bird Watching
If you prefer dry land to the open waters then a spot of bird watching might be for you. And you won't be disappointed as Dry Tortugas National Park has over 300 species. The Frigate bird, and Sooty Terns, nesting nowhere else in the States apart from this area.
The best time to visit for birds is spring and fall migration times especially Spring.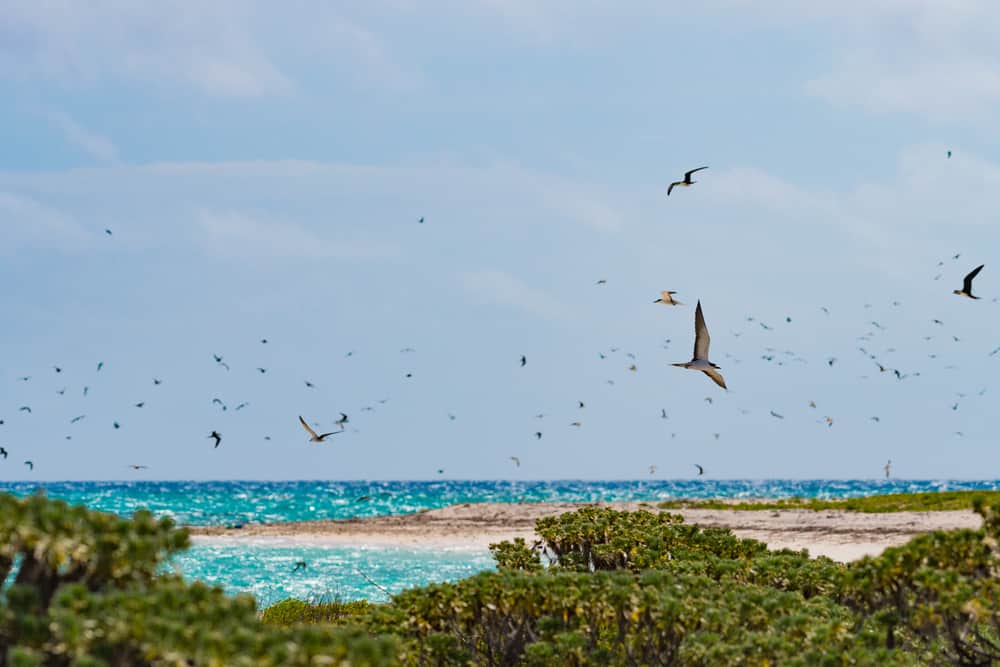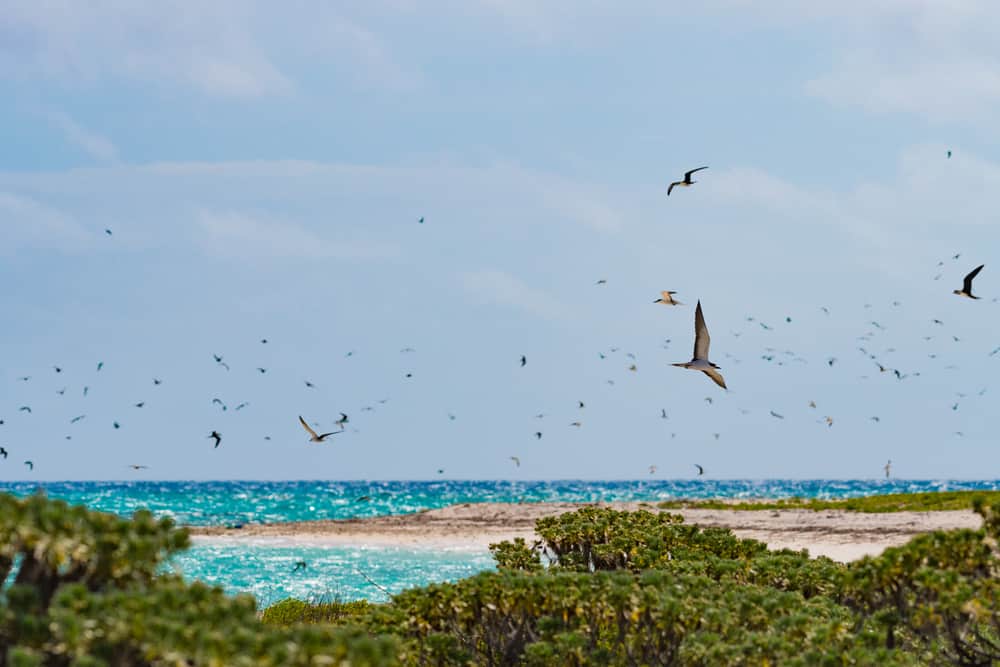 Visit Tortugas Harbor Lighthouse
Located at Fort Jefferson this is a lighthouse that never really did its job properly. Built-in 1826 Shipwrecks and navigation issues increased until 1858 until a more adequate one was built.
The lighthouse was damaged in 1873 and 1875 by hurricanes and a new one was constructed.
You may also hear this lighthouse called Garden Key Light and Loggerhead Lighthouse.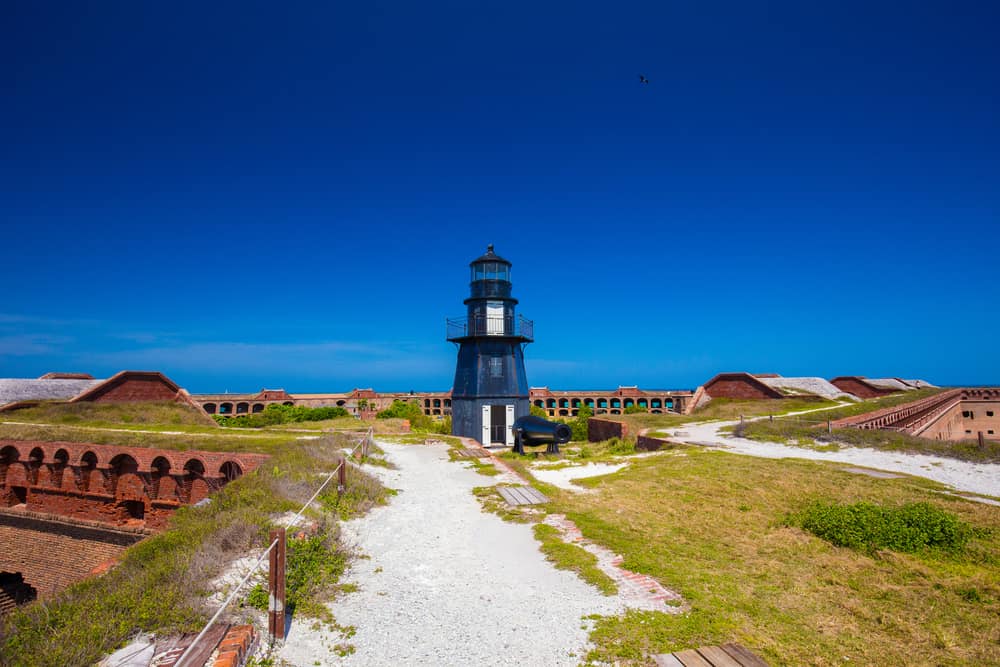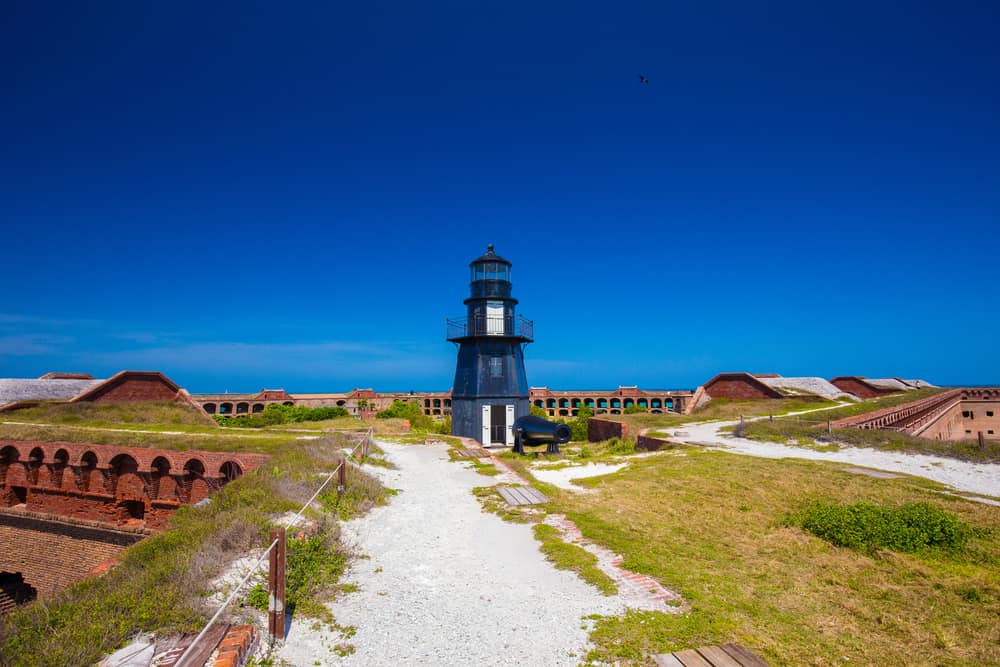 Camping At Dry Torguas
Ever dreamed of pitching your tent on the beach and spending an evening looking at the stars and listening to the waves? Well if you have you're in luck as this is camping at Dry Tortugas National Park.
Be warned though it's primitive camping and you must bring everything including water, there is nothing on the island apart from a bathroom.
You will need to plan ahead as the eight campsites are available on a first-come-first-served basis.
Camping takes place on Garden Key and the only way to get there with your gear is by private boat or the Yankee Freedom Ferry. The Ferry takes all your gear and only has space for 10 campers each day. So book the Ferry and your camping slot ahead. You will need to arrive at 6 a.m. at the Ferry terminal.
Bring enough supplies to last longer than you need as sometimes ferries are canceled.
The campsites are designated by tables with stenciled numbers on and each area has picnic tables and a grill. There is a group site and if you need this book in advance.
There is a $15 fee per campsite which needs to be paid in cash. You must vacate the site at 10.am.
Camping here is an experience you won't forget but please plan ahead. This is remote camping with nothing other than a composting toilet.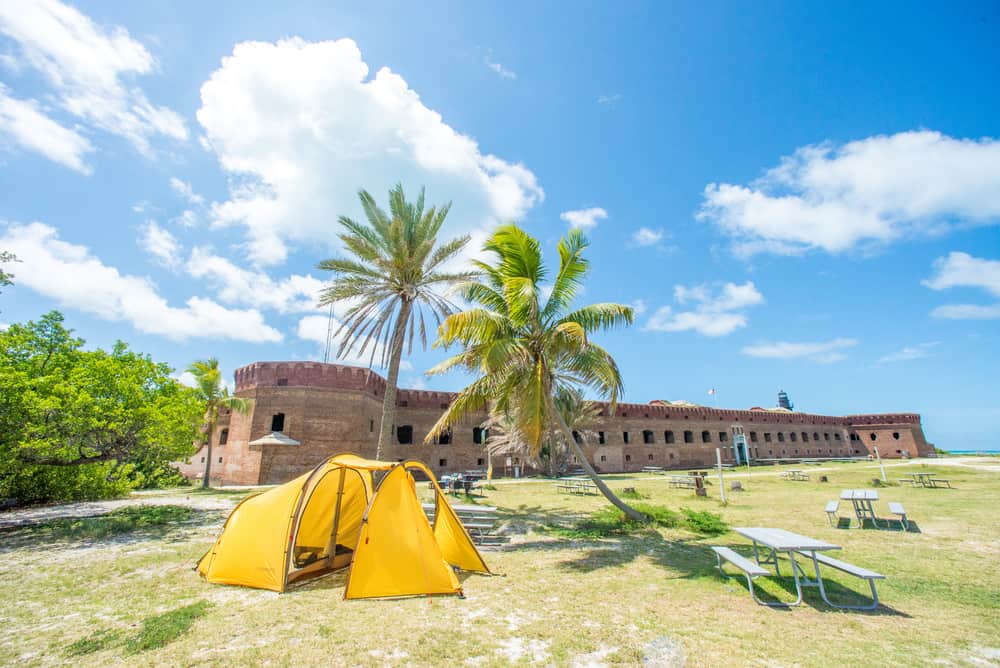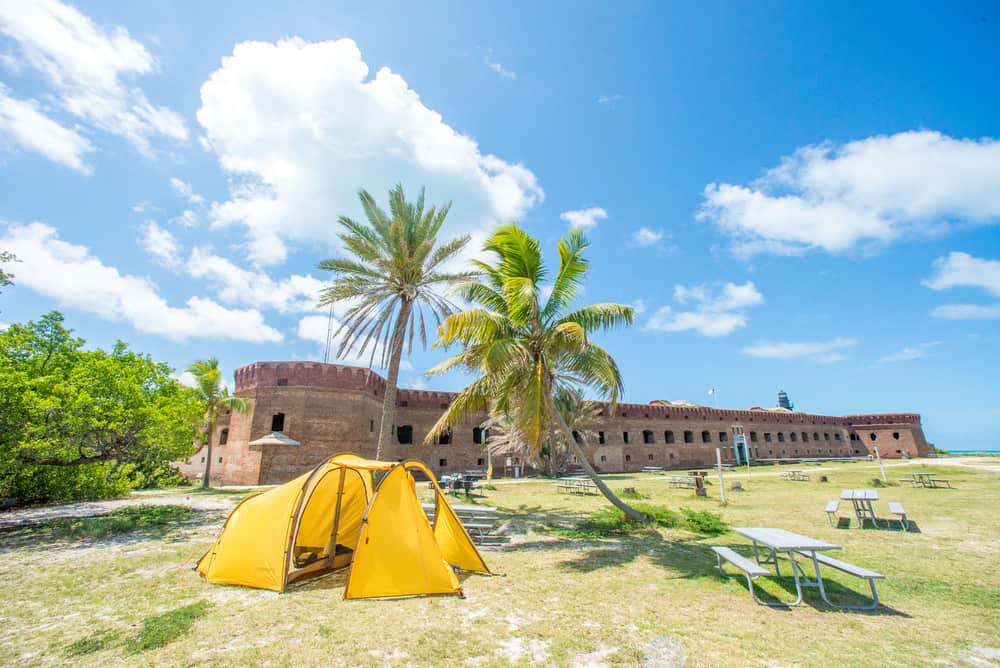 We know your visit to Dry Tortugas National Park will be memorable. It really is an amazing experience that not many have the pleasure of. Getting there might be a little expensive but we feel it is well worth it. Dry Tortugas is unique and has a lot to offer. We hope you have an amazing time and can't wait to hear about it.