Are you looking for all the best springs in North Florida? We gathered a list of only the best springs, so you don't have to! These springs are great for a day trip, or even a short getaway. 
North Florida is home to the beautiful emerald coast. Not only does the state offer visitors its relaxing Caribbean-like shores, it also has a lot of crystal clear natural springs. With over 700 springs in the state, Florida has more springs than found anywhere else in the world!
The waters are naturally regulated to stay between 68-72 degrees, making it a great destination spot for anyone looking to swim year around. Some of these springs are shallow, while others on this list have depths of more than 100 feet!
Use this list to discover which springs in North Florida are perfect for you. If you have time, take the drive to visit them all!
When visiting these incredible North Florida springs, please make sure to keep the waters and land clean! As most of these Florida springs are a HUGE source of drinkable spring water, it is up to us to protect the springs. Help leave no trace aside from footprints by packing any trash out.
Just have fun and be respectful of the park rules!
Did You Find This Post Helpful?
If so, we would love to keep in touch! We enjoy seeing photos and comments about your experiences in Florida! You can follow us on Instagram and we will repost your photos on our feed and comment too! Just tag us at @floridatrippers and hashtag #floridatrippers. We can't wait to see your travels!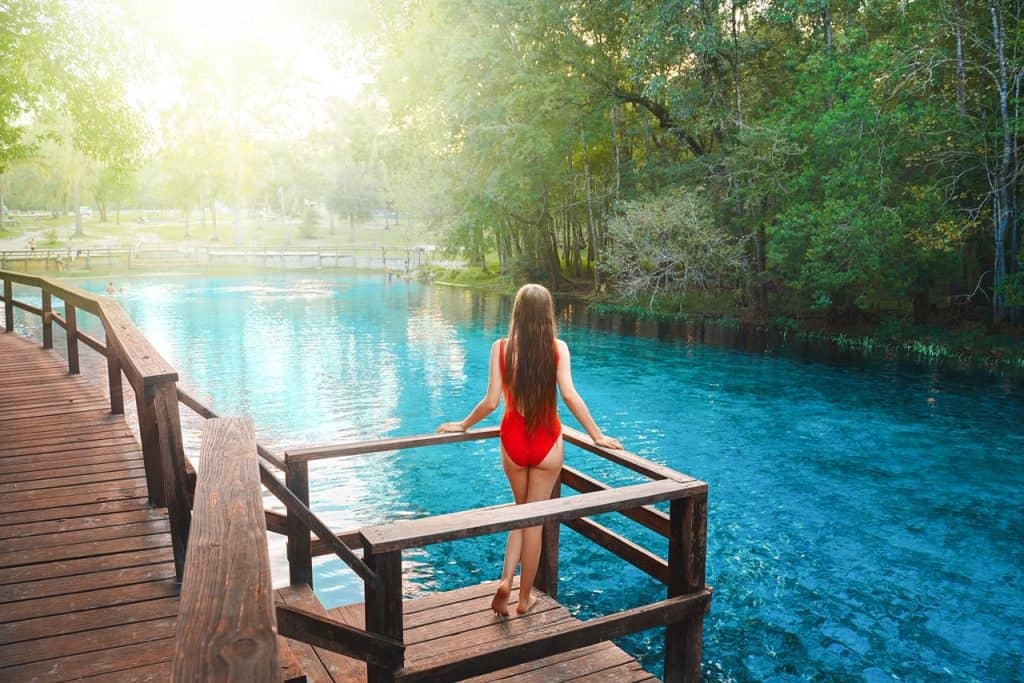 12 Best Natural Springs In North Florida
Ginnie springs
The turquoise waters at Ginnie springs is a constant 72/22C. The waters can seem chilly to some, but we think it just makes the sun feel even better. These springs are crystal clear with multiple stair entrances into the waters, so you can tip toe into the waters if you need.
We love Ginnie springs in North Florida for its affordable water activities like stand up paddling, tubing, canoeing, and kayaking. We also love that you can see manatees gather here in the spring time!
These springs are part of an expansive cave system. You can see straight into the opening of the caves!
Only certified divers should attempt to swim any part of the cave system. The best places to dive here are Devil's Ear, Devil's Eye, and Devil's Spring.
With so many activities here and a great campground facility, Ginnie Springs is one of the best springs in Florida with a campground. Be sure to book a reservation early as these springs near Gainesville are a popular place to visit!
Check out our super helpful tips for this perfect Florida oasis so you can plan your next visit to Ginnie Springs!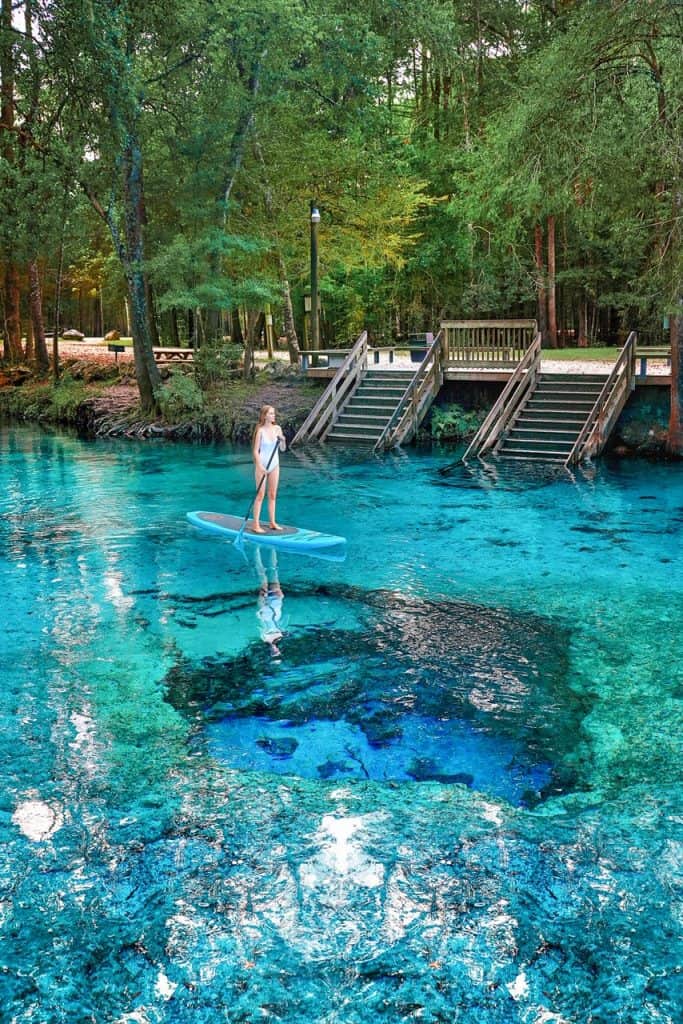 Gilchrist Blue Springs
Located a short 10 minute drive from Ginnie Springs, Gilchrist Blue Springs is totally worth the visit.
The beauty at Gilchrist Blue springs in North Florida is unreal. The spring pumps out more than 44 million gallons of fresh water each day.
The second magnitude spring sits beside the Santa Fe River. Along the river there are 23 other springs, making it a great place to kayak, rent a stand up paddle board, or canoe. A barrier just before the Santa Fe River keeps most wildlife separated from the public swimming area. It is a perfect place to relax with a tube or floaty.
Not only is this a great place to swim at, it also made it on our list of the 15 Best Florida Springs With Camping You Should Visit.
For a great time at Florida's newest state park, check out our complete guide with all the tips for enjoying Gilchrist Blue Springs.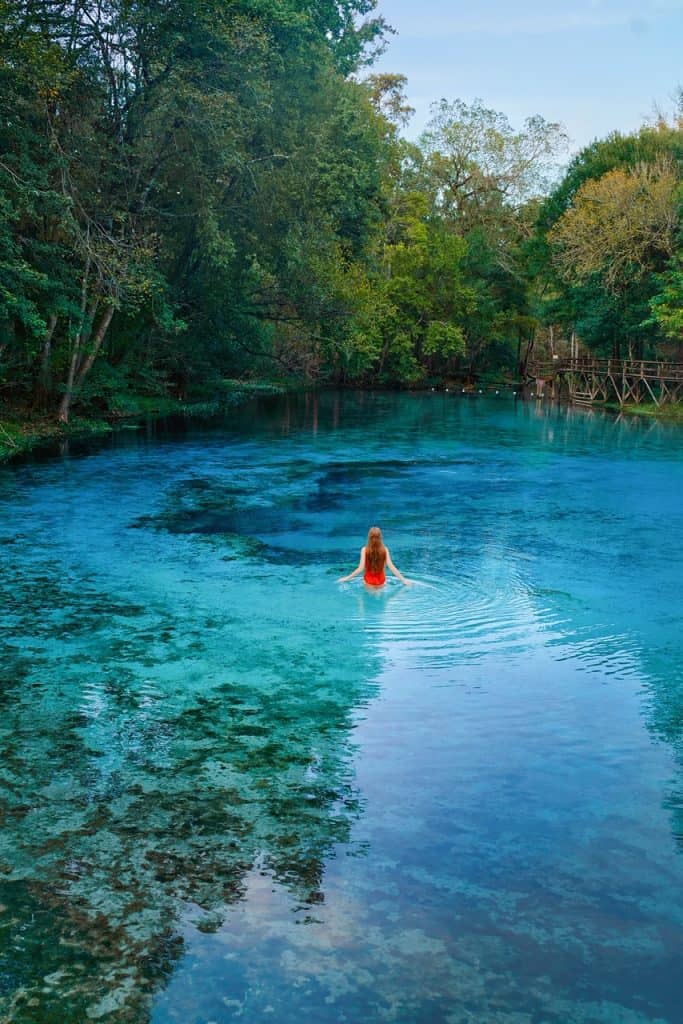 Wakulla Springs
Wakulla Springs are popular springs near Tallahassee located a convenient 14 miles and 20 minutes south of Tallahassee. The springs are located within the Edward Ball Wakulla Springs State Park, a 6000 acre park in total! As Wakulla Springs are the World's Largest Natural Spring, you will have plenty of space to relax, play, and explore.
These springs are a bit on the chilly side. Waters here stay a constant 68-70 degrees throughout the year.
When you want to cool off, jump into this magical oasis. There are two level wooden swimming platforms to jump off, a large roped off swimming area, and a few sunbathing platforms for everyone to enjoy. After you play in the waters, warm back up on the shore in the Florida sun!
Make a weekend trip out of your visit and book a reservation to camp. After all, we do think it is one of the best springs in North Florida to camp at! If camping is not your thing, book a stay in one of the 27 rooms available at the Wakulla Springs' The Lodge. Your lodge stay even comes with full service!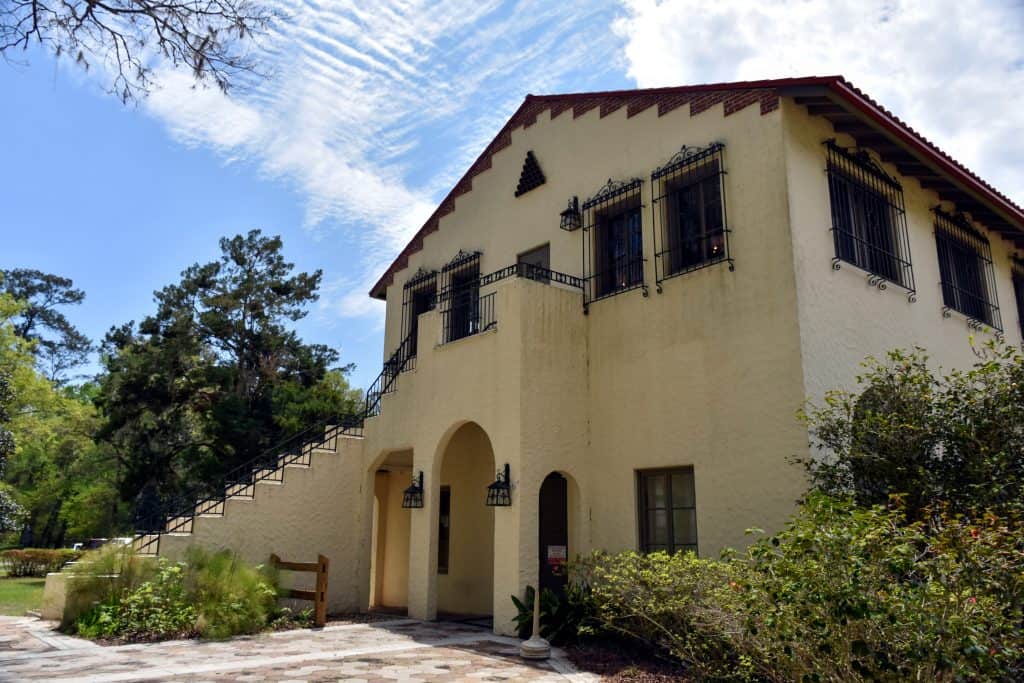 Madison Blue Springs
Located on the West Bank of the Withlacoochee River, Madison Blue Springs in North Florida is is known for its 150-foot spring merging into the river. Sitting at 82 feet wide and 25 feet deep, there is plenty of space to enjoy your time in the cool waters.
You can also explore the cave system here or get a tan on the beach. You will love visiting Madison Blue Springs State Park with friends, families, or as a couple.
When you are looking for the best springs near Tallahassee to visit, look no further than this sweet spot nestled in a lush forest. Madison Blue Springs are a favorite for locals and travelers alike. In fact, it was voted the #1 swimming hole in the country by USA Today!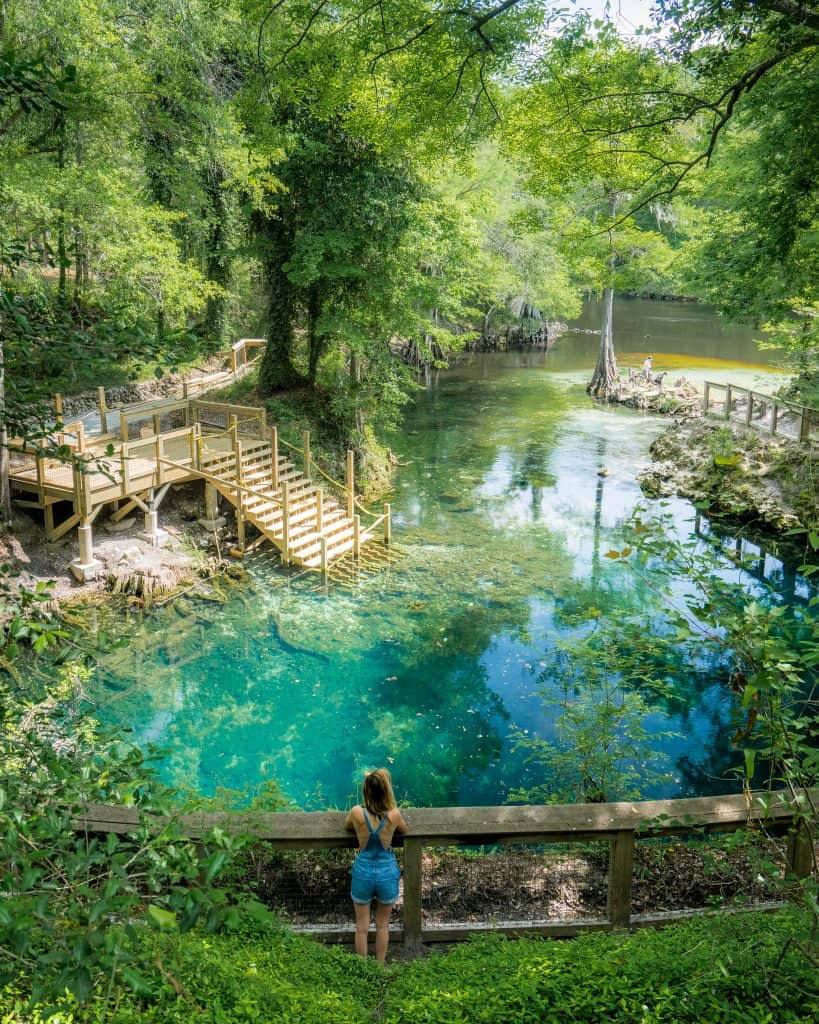 Devil's Den
If you have ever seen a picture of Devil's Den, you will undoubtedly be sure to put this place on your bucket list. Visitors are led down a wooden staircase into a cavern, and it looks other worldly!
To swim at Devil's Den, you will be required to wear a mask, snorkel, and fins. Here, divers can descend up to 54 feet to experience the crystal clear prehistoric waters within the cave.
Because this spot is so beautiful, it is also frequently visited. When planning a visit here, you must make a reservation in advance. Visits are limited to 90 minutes.
We love this spring so much we think it is one of the 12 prettiest natural springs in Florida. You will love it too!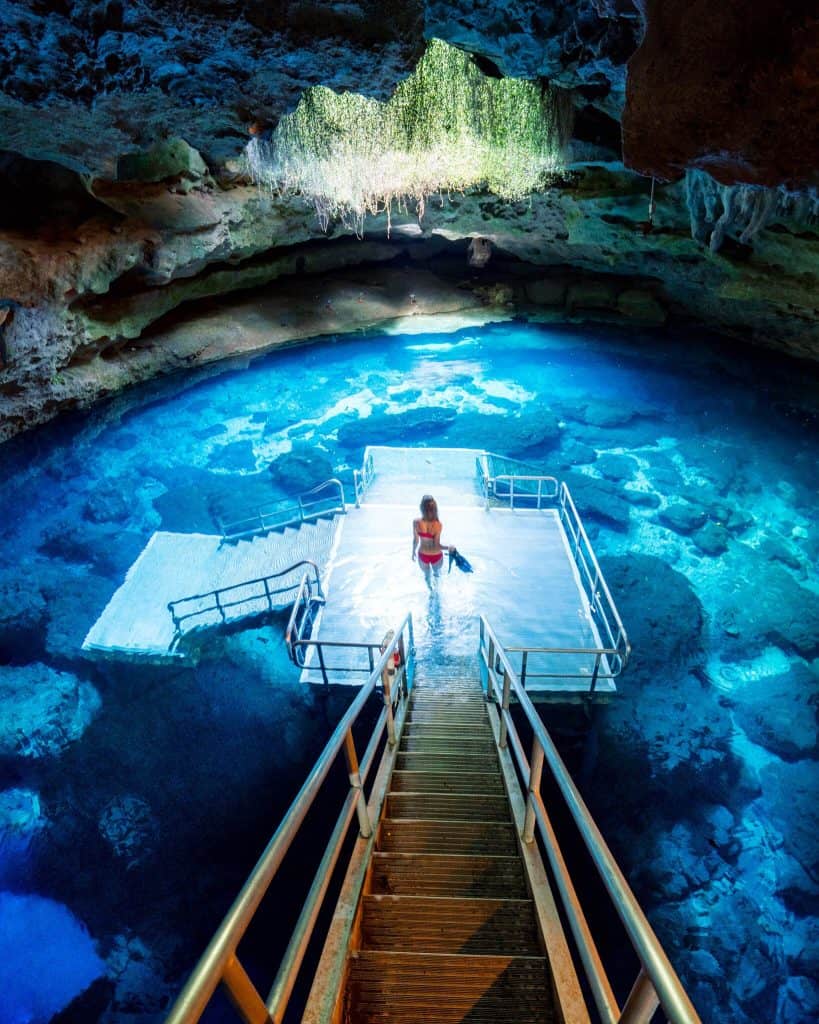 Peacock Springs
If you drive down the bumpy dirt road, you will find the haven of Peacock Springs. Peacock springs contains 5 second magnitude springs.
This is one of the best springs in North Florida to dive at, as there are over 10 miles of surveyed cave exploration for the avid diver. The winding passageways of the caving system connects two major springs, six sinkholes, and is a smaller part of the Suwannee River.
If diving isn't your thing, you will love the award winning nature trails. Educational signs along the trail help visitors trace the expansive underwater caving system from above.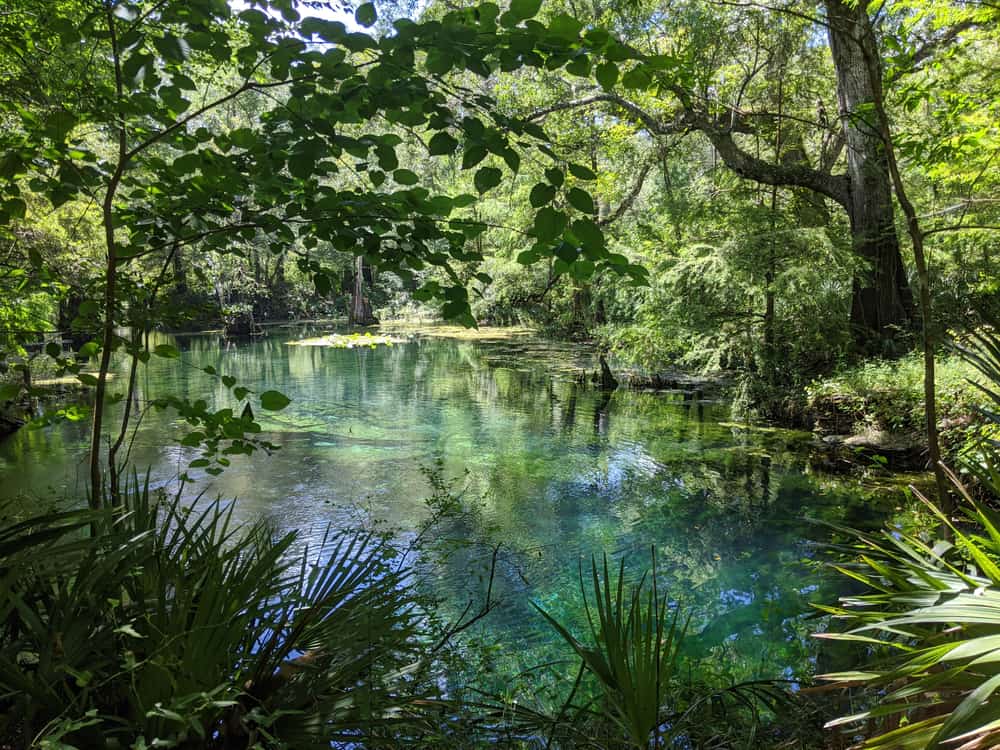 Little River Springs
Little river springs sits along the Suwannee River. The picturesque springs in North Florida is perfect for swimming, diving and snorkeling.
This is the best natural spring to visit if you want to swim. At over 150 feet long, this spring is one of the bigger ones on our list.
We love visiting Little River Springs because it is more secluded than some of the others on this list. With fewer visitors and a large swimming area, the natural environment of the translucent waters is kept pristine and beautiful.
If you dive, you will enjoy the cave system here. The cave at this North Florida spring has an interesting corkscrew entrance to the main cave at about 60 M or 200 feet in! Although it is smaller than other caves on this list, this 1,200 foot long cave system still has much to see.
Other amentities at this park include picnic tables, barbecue grills, and running toilets. Check out the many walking trails this 125 acre park holds.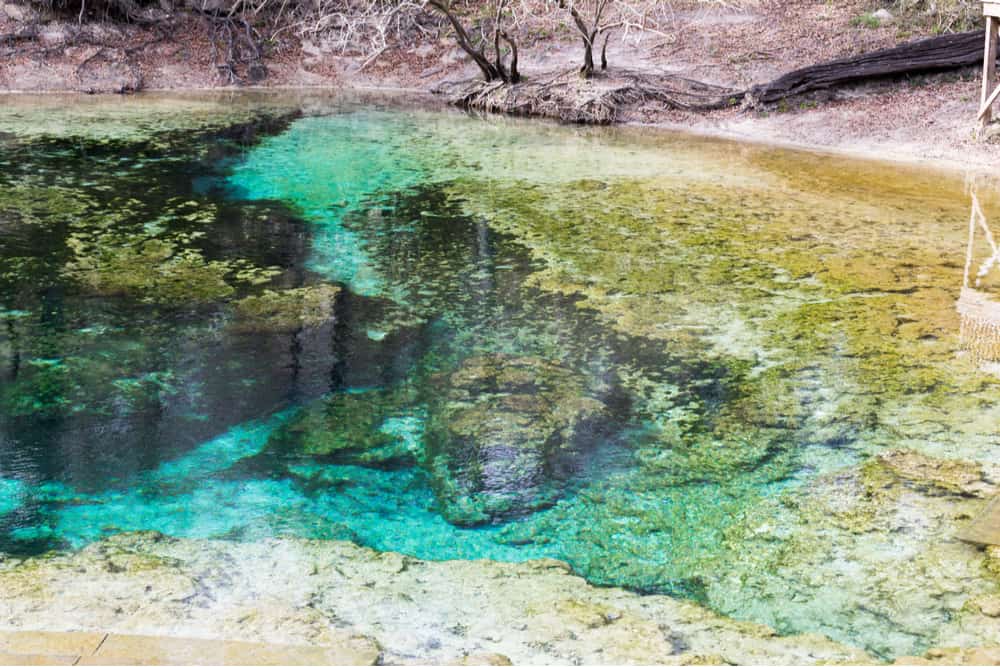 Telford Springs
Telford Springs is a hidden public spring. If you take the dirt road off State Route 51, you will see these springs carved off the side of the Suwannee River.
You should know that Telford springs is undeveloped facility, meaning you will not find flushing toilets at this spring. Please use the land respectfully by burying any makeshift-bathroom hole made in the area.
Because the area is not directly managed by staff, this spring has become a popular for drinking as most parks do not allow drinking.
So if you and your friends are looking for a spring to unwind with a drink and swim, look no further than the hidden oasis of Telford.
Low ceiling and high ceiling passageways can be found in the cave systems here. Some of the caverns in the system are so rocky, divers can hardly believe it is still a limestone cave! The average depth of the caves are 50 feet. Still, diving should not be attempted by anyone other than professional divers.
To explore some of the best springs in North Florida for beautiful cave systems, visit Telford springs. You will be happy that you made the trip!
Ichetucknee Springs
Ichetucknee Springs are by far one of the best springs near Jacksonville for tubing! The drive is an easy hour and a half whttps://floridatrippers.com/ichetucknee-springs/est of Jacksonville and only 84 miles away.
We love tubing here because this first-magnitude spring has three different entry points and is available year-round. Ichetucknee Springs makes tubing convenient with a bus service that will bring you back to the parking lot after you finish your refreshing tubing trip down the river.
Many snorkelers and divers love to swim Blue Hole Springs. This cave has more than 600 feet to explore and is a larger part of the first-magnitude springs in North Florida.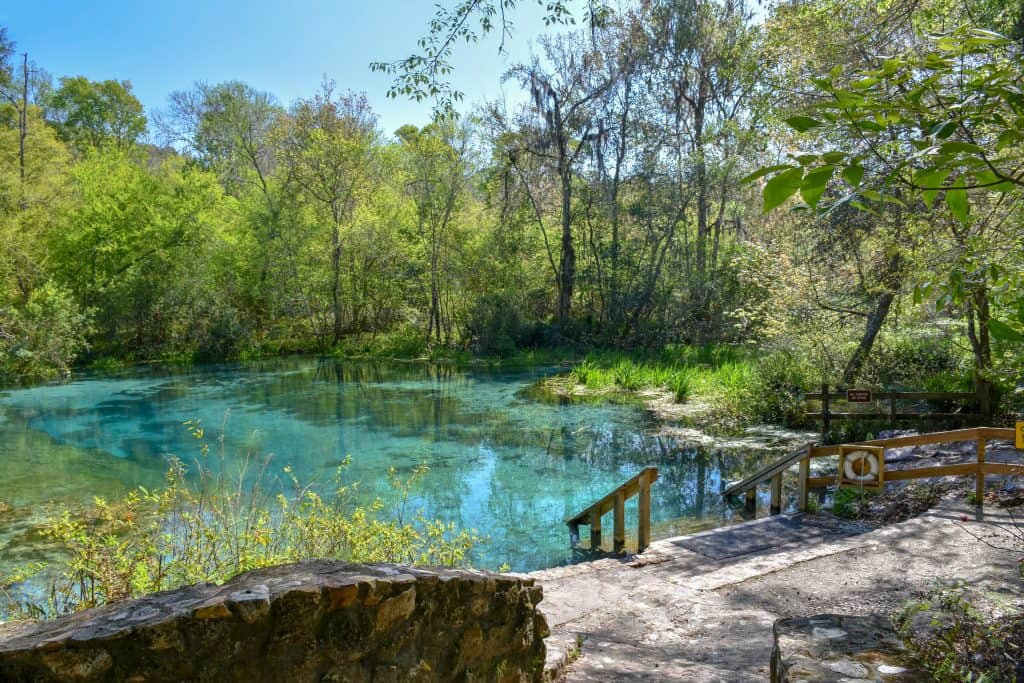 Alexander Springs
If you love the natural springs in North Florida but don't like the deep water, visit Alexander Springs. This first magnitude spring's limestone floor has a very gradual slope which helps ease its visitors into its refreshing waters. This large Floridian oasis is perfect to swim, wade, sunbathe, or dive.
At just an hour and a half of a drive away, this quiet springs near Gainesville is the perfect place to stay for a weekend getaway. Plenty of shaded camp and tent sites are available to rent.
If you or your friends want more adventure after your swim, then try out the other MANY activities this place has to offer. With activities such as biking and camping also offered here, everyone will find something they love!
Horseback riding is one of our favorite activities offered at this North Florida spring. Opportunities such as the Ocala 100 mile Horse trail, the LAM Trail give riders an unforgettable equestrian adventure. This activity does require a permit, so be sure to obtain one before setting out!
Be sure to ring your own cooler packed with lunch when you visit Alexander Springs as this park does not have concessions. Make sure to leave any alcohol at home, as it is not allowed in the waters. Please be respectful by following the posted rules, as this park is protected by the Ocala National Forest State Park rangers.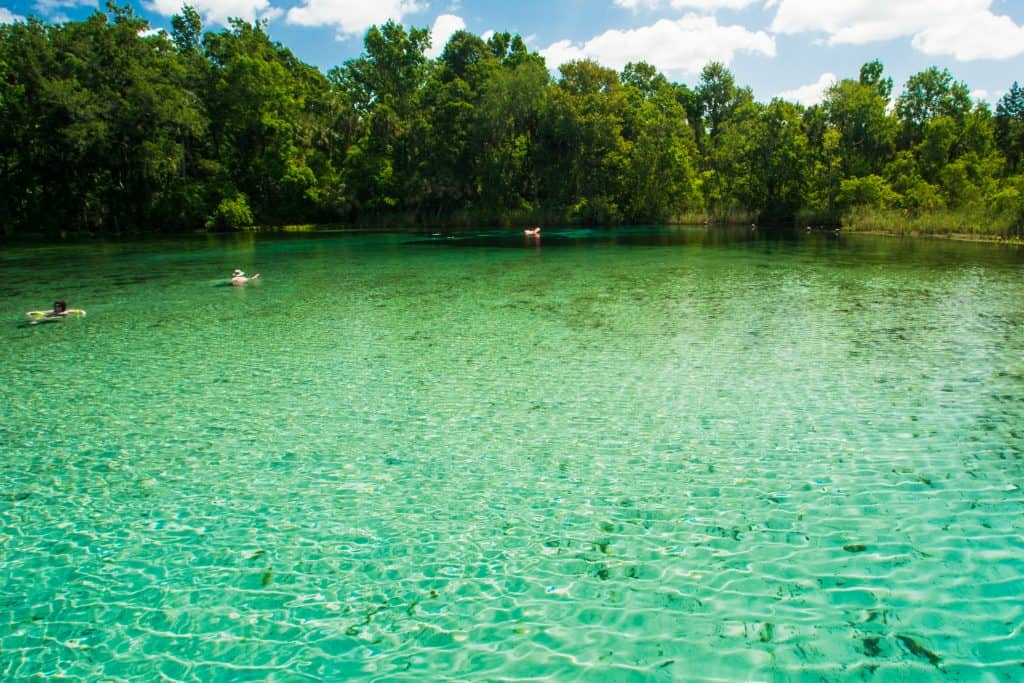 Juniper Springs
Juniper springs is home to one of the most scenic kayak routes in florida, making it a spot you will not want to miss. Float along the 7-mile long Juniper Run for the best possible experience at this North Florida springs!
Crystalline waters here are winding and narrow in nature. A very dense canopy of palms, oaks, and cypress trees provide ample shade along Juniper Run. Natural tapegrass grows along the bottom of the spring and provides a home to a variety of wildlife such as turtles, eels, and other cool fish.
Plan to spend 3 to 5 hours to kayak the whole Juniper Run.
This spring is perfect to accommodate large groups of friends or families. At 135 feet long and 80 feet wide, the basin of this spring is perfect to swim with everyone!
Located within the Juniper Prairie Wilderness, Juniper Springs is the best spring to visit to get the most out of your time off. Explore some of the other popular springs in this area we love such as Salt Springs and Silver Glen Springs.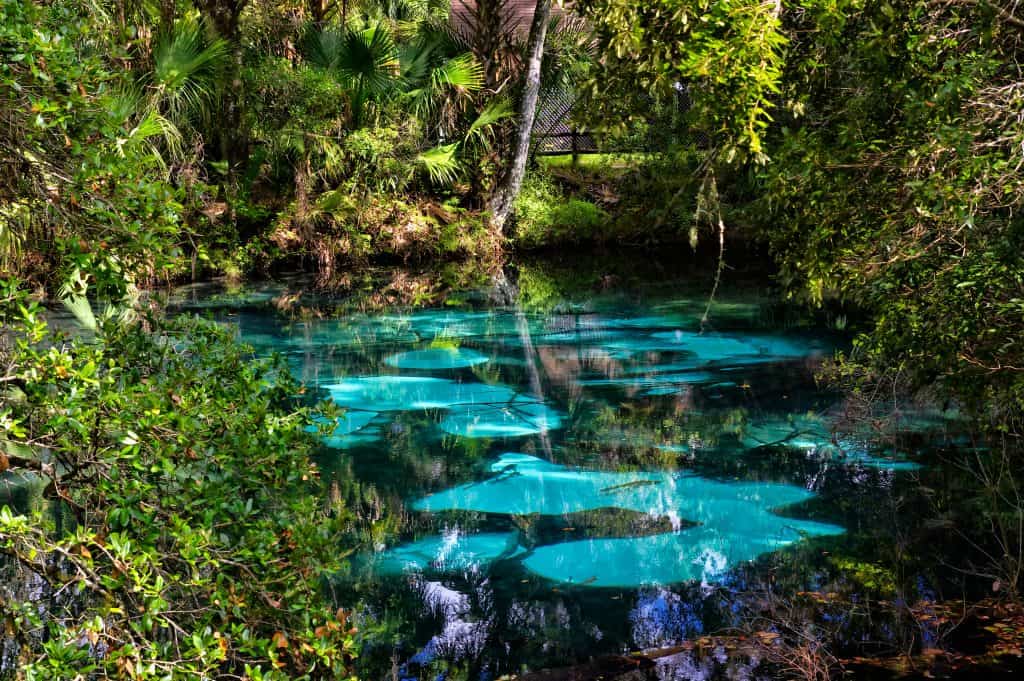 Vortex Springs
Vortex Springs in North Florida panhandle is one of the largest diving resorts in the entire state. As recognized in 1972, Vortex Springs is also one of the best and safest diving paradises in the country.
Light filters through the large clear blue spring waters to illuminate all the tropical looking fish swimming below.
You will be able to see Koi, Gar, Blue Gill, and even American Eels among the tapegrass here. It is said that the fish are so tame, you will see many trying to eat from out of your hand!
The spring has one of the deepest basins on our list at 200 feet.
Haven't ever dived before? No worries! Vortex Springs offer SCUBA diving training at any level so you can be a part of the fun!
At a constant 68 degrees Fahrenheit, these springs are some of the chilliest on our list.
Whether you are looking for a unique cave diving experience, tranquility among the crystalline waters, or the most scenic waterways in the state, we are sure you will love one of these springs in North Florida. All you need to do is get there.
So pack your flippers, break out the goggles, and put on your snorkel for some amazing clear waters hidden among Florida's lush forests.