If you've never gone bioluminescent kayaking in Florida, then you missing out!
Bioluminescence is one of the coolest natural phenomena in the world. Witnessing it is like seeing magic happening in the water.
Bioluminescent bay kayaking is a must for any bucket list!
So what is bioluminescence? Where does it happen? Can you see it in Florida?
Well have no fear, we're here to explain and guide you to where you can go bioluminescent kayaking in Florida!
Our Pick: Best Bioluminescence Kayaking Tour In Florida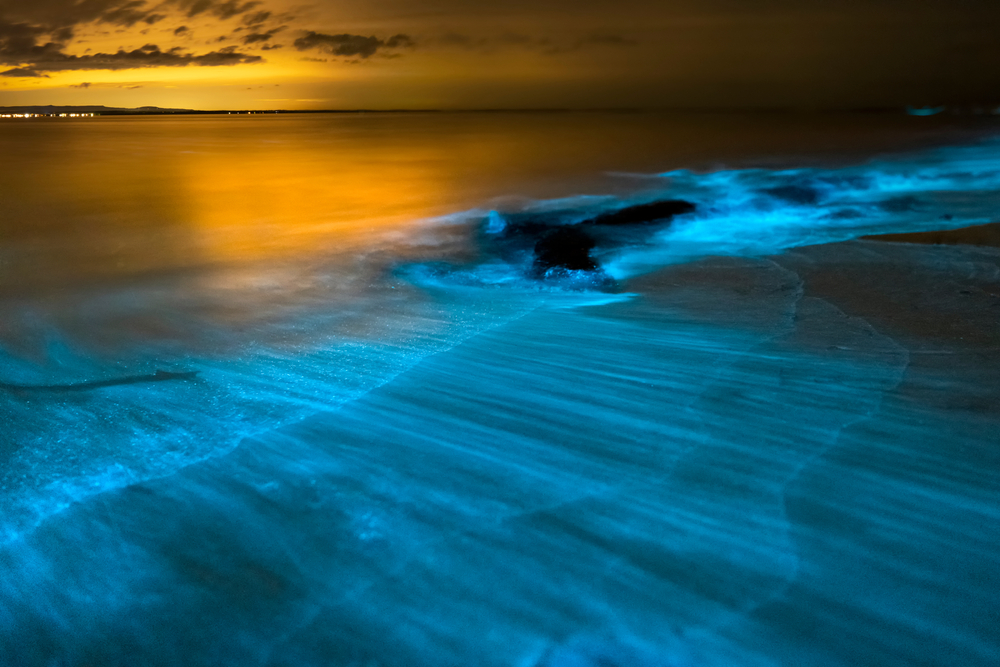 What Is Bioluminescence In Florida And Why Is It Blue?
In short, bioluminescence is light produced by a living organism. If you've ever seen a firefly, you have seen bioluminescence!
The light is produced by energy released by chemical reactions inside the organism.
In the rivers and oceans of Florida, bioluminescence is not as rare as you might think! Actually, many kinds of animals, from the smallest of bacteria to the mightiest of sharks have some species that are bioluminescent!
We don't know all of the functions of bioluminescence in all animals. While some deadly fish like anglerfish use it to lure their prey, most species found in Florida will only use bioluminescence as a form of communication. Mainly to warn or evade predators.
So why does the light in the water appear blue? If you paid attention in science class, light has different wavelengths. Thanks to its intermediate wavelength, blue light travels the fastest.
While animals do emit other colored lights, those with longer wavelengths (like red) and shorter wavelengths (like purple) are absorbed into the water and filtered out to the human eye. This is also why the ocean appears blue every day!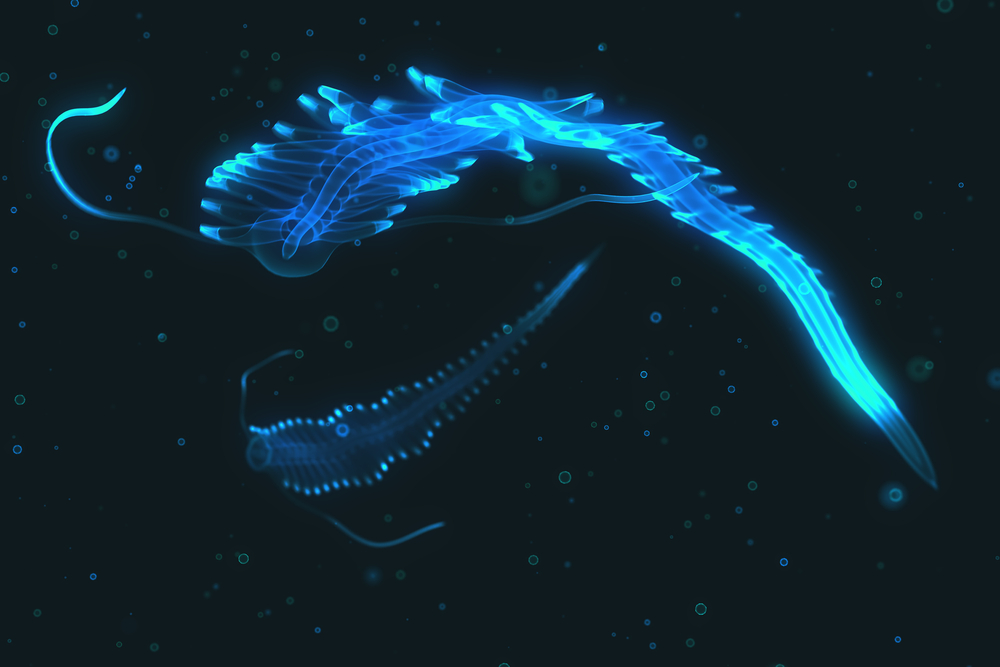 When Is The Best Time To See Bioluminescence In Florida?
Bioluminescent organisms love warm weather. You're going to want to go bioluminescent kayaking in Florida in the warmer summer months, after the sun has gone down of course!
Generally, the Florida bioluminescence season is from the middle of May through the summer until early October.
It is thought by scientists that you will see the most activity five days after the full moon of the month.
It is important to note that visibility is never guaranteed. That being said, your best chance of seeing the magic lights is two hours after the sun has gone down.
You're going to want dark conditions, because the lights may be faint.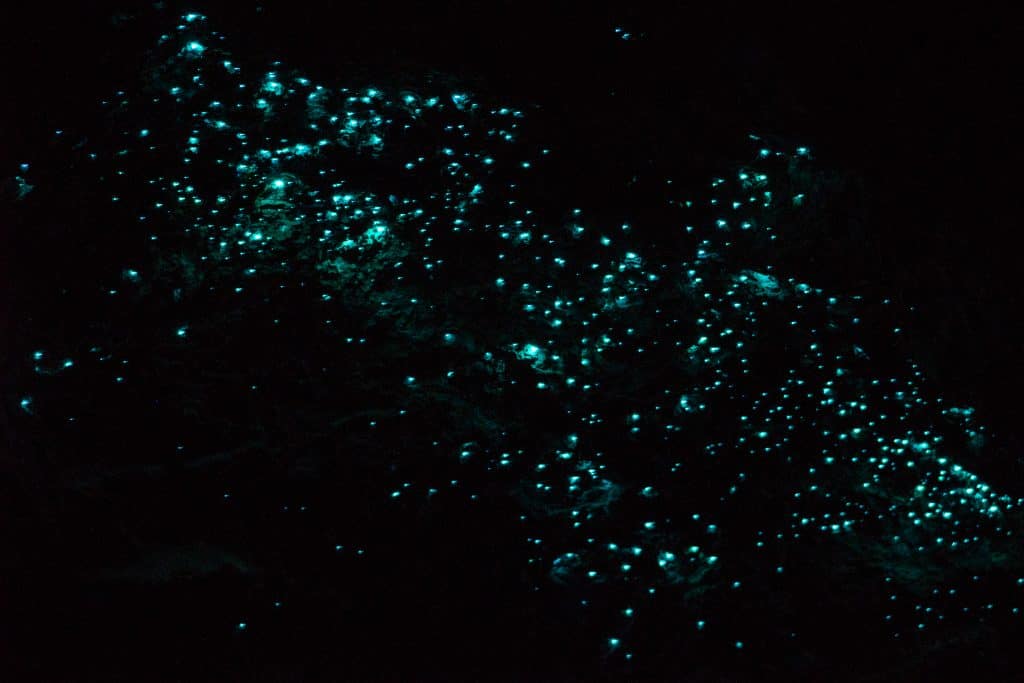 What To Pack When You Go Bioluminescent Kayaking In Florida
Because Florida has been lovingly referred to as a "lawless swamp" by its adoring natives, you need to be prepared. You are going to want to protect yourself from the elements, especially the bugs.
When choosing your apparel, it's best to wear water or river shoes. You're going to have to have to take your kayak out and you don't want that river gunk or sand between your toes all night!
Fabrics that dry quickly are a must. You are going to be a little bit wet, and there's nothing worse than feeling uncomfortable on a particularly swampy Florida night.
Do not wear bikini-style bathing suits or just trunks. In fact, long sleeves are highly recommended.
Besides long sleeves, you're going to need more protection against insects. Bug repellant is a must and absolutely essential whenever you go out into bodies of fresh water in Florida. You need to protect yourself against those pesky mosquitos.
Because you're kayaking at night, you definitely want to wear life vests and bring glow sticks, especially if you're not going alone. If you're not on a tour, it's easy to get separated from your group, so some glow sticks should keep you lit just enough to still see the bioluminescence!
Consider packing a dry change of clothes and a towel to leave in the car. If you get more wet than you anticipated, you'll want to be dry for your drive home at night.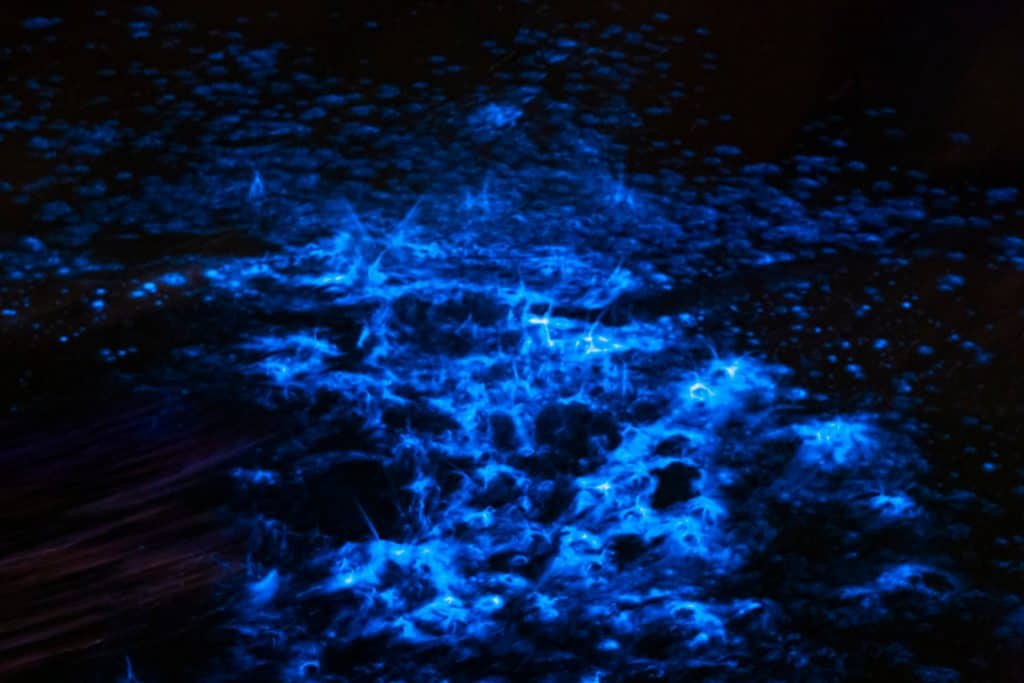 Best Places For Bioluminescent Kayaking in Florida
While bioluminescence in Florida is rare, it does exist. You can mainly find the plankton and their magical lights on Florida's Space Coast. If you're not directly located near the East Coast or Central Florida, you will be in for a drive.
That being said, here are the best places to go bioluminescent kayaking in Florida.
Merritt Island Wildlife Refuge
On one of the prettiest islands in Florida lies a 140,000-acre National Wildlife Refuge.
The land, originally acquired by NASA to build the John F. Kennedy Space Center, was designated a national reserve to protect these marshes, lagoons, and wetlands.
The best place to see bioluminescence in Merritt Island Wildlife Refuge is Haulover Canal. Found right in the middle of the refuge, here you'll have the best chance because the canal is hundreds of thousands of acres of nothingness. It will be pitch black with no light pollution!
Merritt Island Wildlife Refuge is also a terrific place to see native Florida animals, like manatees and alligators.
If you want, you can spend the day seeing the animals and then come back at night to go blue water kayaking in Florida.
Book Here: Bioluminescence Kayak Tour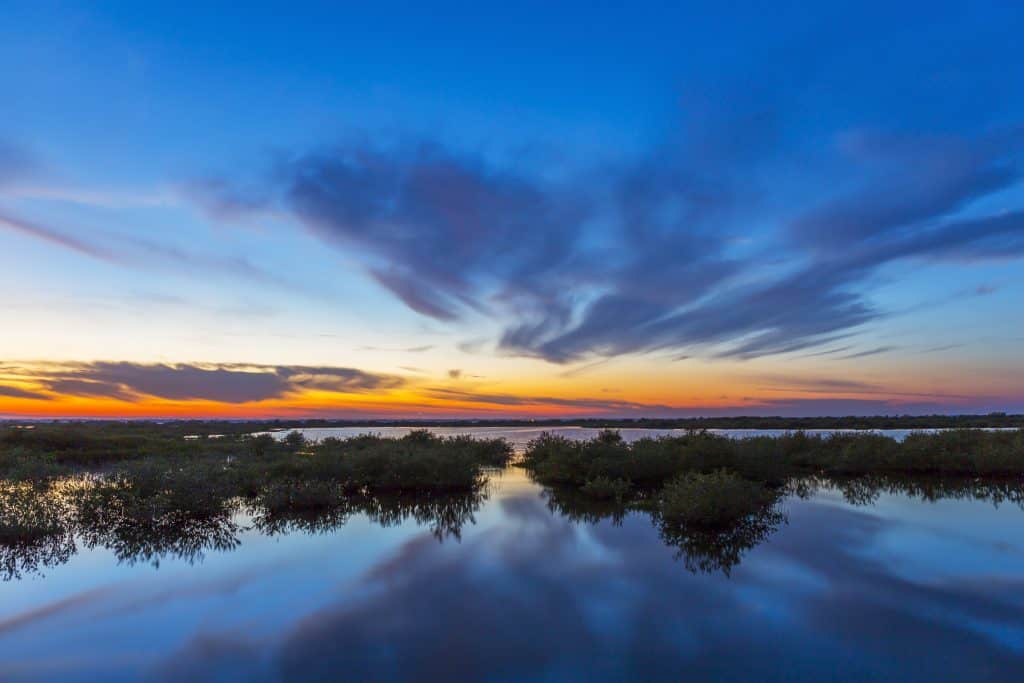 Indian River Lagoon
A group of three lagoons, the Indian River Lagoon is made up of the Mosquito Lagoon, the Banana River, and the Indian River.
Because its waterways are so isolated, it's a perfect place to go bioluminescent kayaking in Florida.
Off the Atlantic Coast of Florida, this is one of the most biodiverse places in the Northern Hemisphere! The Indian River Lagoon is home to more than 4,300 species of plants and animals in addition to the plankton that causes bioluminescence.
Most kayaks launch from Mosquito Lagoon. As miserable as that sounds (remember when we said to pack bug spray?) this is your best chance to see bioluminescence in the Indian River Lagoon! You've been warned!
Book Here: Florida Bioluminescent Paddleboard / Kayak Excursion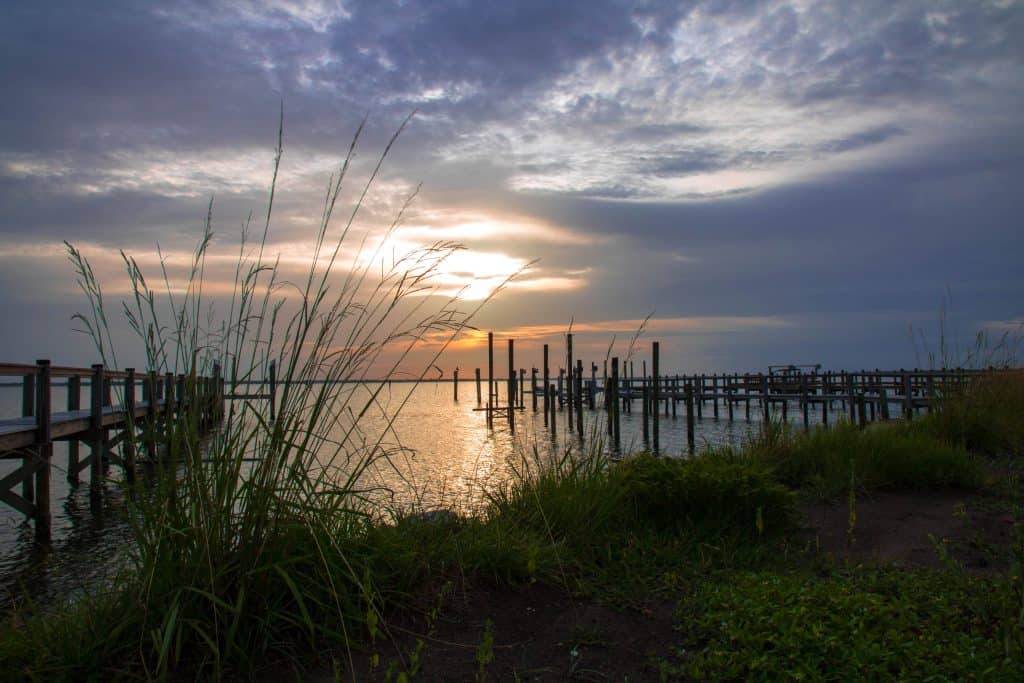 Cocoa Beach
Besides being a quaint beach town and one of the best surfing spots in all of Florida, Cocoa Beach and its shorelines aren't just great for families.
They're the last great place to catch a glimpse of bioluminescence in Florida!
For the best views, you're going to want to venture around Cape Canaveral. Specifically, the Banana River Aquatic Preserve. Because it is flanked on both sides by nothing but roads with no major development, it is completely isolated!
Its isolated nature makes it perfect for bioluminescent kayaking in Florida! The most popular launch sites can be found along the Banana River, where there are many guided tours to take advantage of!
Cocoa Beach bioluminescence kayak tours will be a highlight of your Florida vacation!
Book Here: Cocoa Beach Bioluminescent Kayak Tour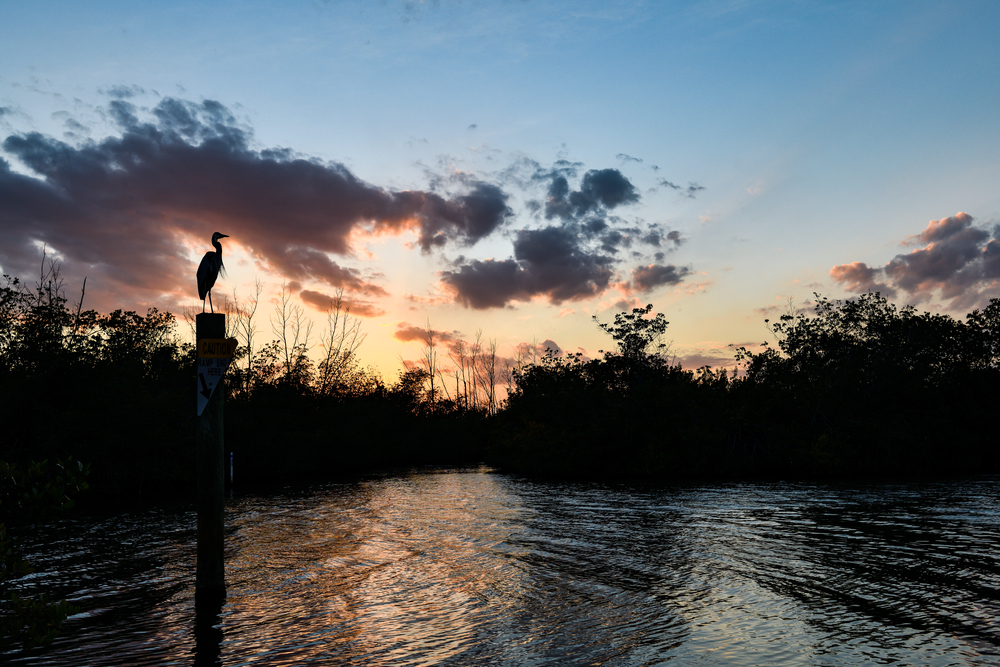 Suggested Bioluminescent Kayaking Tours
If the idea of getting in a kayak at night by yourself sounds scary, you're not alone. There are a lot of incredible tours that will guide you through bioluminescent kayaking in Florida.
While they may be pricey, taking a tour is worth it if you want an organized experience.
Guides know the perfect conditions and times to go out on the water. They'll guide you just to the right places and teach you a few things along the way!
Here are our favorite tours to go bioluminescent kayaking in Florida.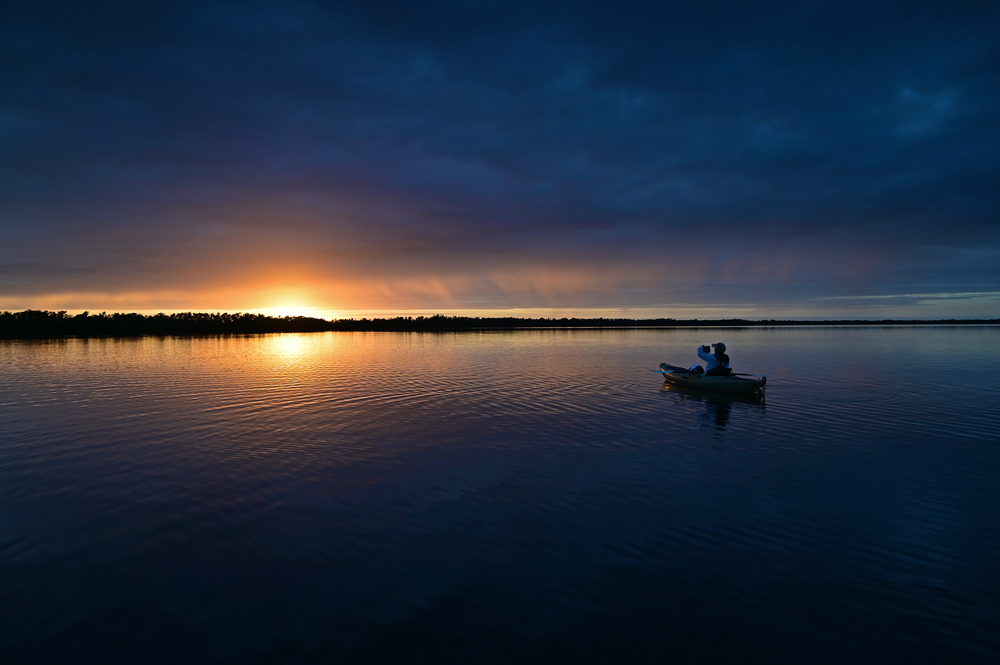 Bioluminescence Kayak Tour by A Day Away Kayak Tours
If you want to explore Merritt Island National Wildlife Refuge at night, then book the 2-hour Bioluminescence Kayak Tour by A Day Away Kayak Tours.
As you paddle through the lagoon, you'll learn about bioluminescence from the knowledgeable guide. Keep an eye out for fish in the water. You might also spot dolphins or manatees.
This is a great family-friendly tour that all ages will enjoy! It will be a great memory you hold onto forever.
The tour begins and ends at the Haulover Canal Kayak Launch.
If you are looking for a fun bioluminescent tour in Florida, this is it!
Book Here: Bioluminescence Kayak Tour
Florida Bioluminescent Paddleboard / Kayak Excursion by A Paddle in Paradise
Head out onto the Indian River during this Florida Bioluminescent Paddleboard / Kayak Excursion by A Paddle in Paradise.
The tour lasts an hour and 45 minutes. During your glow-in-the-dark kayaking, you will be amazed by the shimmering bioluminescence.
This is a small-group tour with a maximum of 12 so it is more intimate and unrushed.
Along with kayaks, you have the option of using a stand-up paddleboard with an attached chair. Snacks, bottled water, and bug spray are provided.
You will love the chance to scoop jellyfish out of the water with small nets to see them close up.
This is the best place to see the Titusville bioluminescence! It is also the top bioluminescent kayaking near Tampa.
Book Here: Florida Bioluminescent Paddleboard / Kayak Excursion
Cocoa Beach Bioluminescent Kayak Tour by Fin Expeditions
The Cocoa Beach Bioluminescent Kayak Tour by Fin Expeditions will take you out into the Banana River Lagoon in search of bioluminescent water in Florida. You might also see manatees!
This tour provides all the equipment you need plus nets for catching jellyfish.
For an hour and a half, you will paddle at your own pace through the pretty Banana River. Learn from the guide as you take in the views.
It is a small-group tour with only a max of 10 people. Tourists of all ages are welcome to join.
You will start and end this bioluminescence tour in Florida at the Cocoa Beach Country Club.
Book Here: Cocoa Beach Bioluminescent Kayak Tour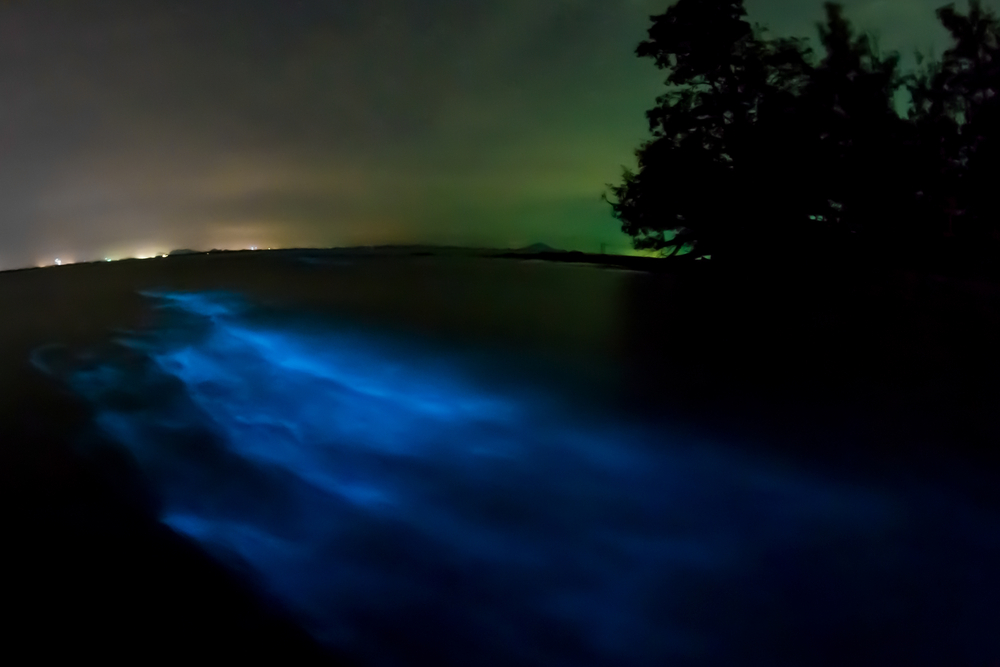 Tips For Getting Good Photos Of The Blue Water
Bioluminescence is notoriously hard to capture on camera. In fact, a lot of tours will discourage you from trying to take pictures on your phone because you'll waste so much time trying to get a shot that you'll miss the beauty.
However, capturing the magical lights is not impossible. It can be tricky if you don't have the right camera. The reason it's so difficult is because the light emitted from the organisms is very dim!
For the best results, you're definitely going to want to use a DSLR camera. Any premium low-light camera will do the trick.
You'll want to use a smaller aperture (f/5) so the amount of light entering the camera is lower. This way the depth of focus is increased so you can capture more of the light.
The recent development in smartphone technology has made capturing bioluminescence easier, but it's still not a piece of cake for an amateur.
While the camera quality has gone up, you're still going to want to purchase an app that will utilize low-light technology.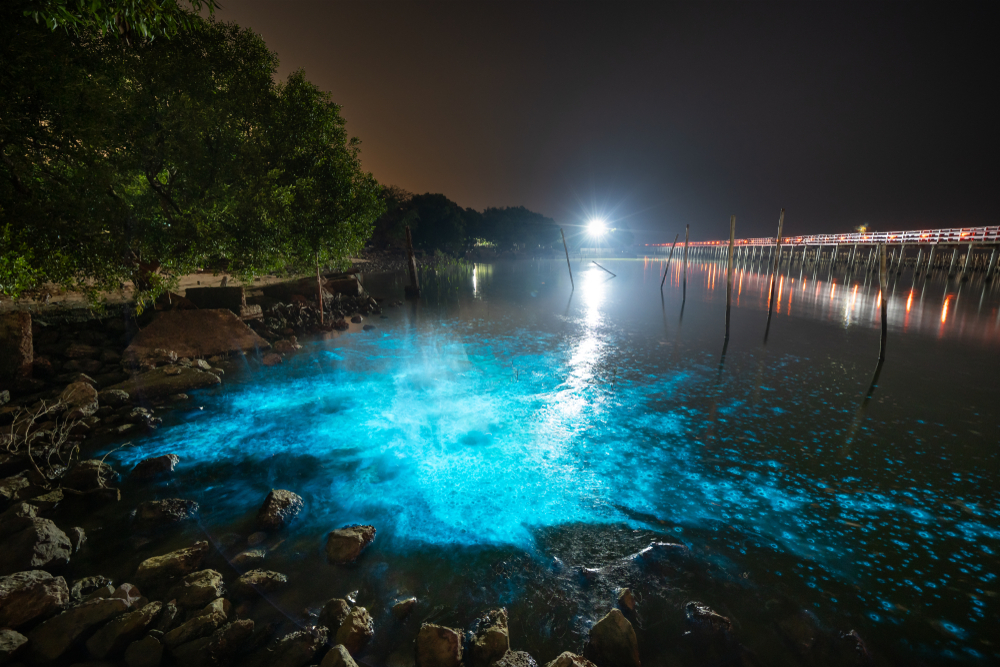 Now you know the best places for Florida bioluminescent kayaking!
Did You Find This Post Helpful?
If so, we would love to keep in touch! We enjoy seeing photos and comments about your experiences in Florida! You can follow us on Instagram and we will repost your photos on our feed and comment too! Just tag us at @floridatrippers and hashtag #floridatrippers. We can't wait to see your travels!