Looking for a list of the best beach towns in Florida? We have you covered with all the Florida beaches for your bucket list. From quaint small beach towns in Florida to well known hot spots be sure to checkout out all these Florida cities on our list!
Florida is known as the Sunshine State and is surrounded by water from the Atlantic on the east coast and the Gulf on the west coast. Pair that with warm weather year round and you can visit these beautiful beach detinations anytime of the year!
This list includes best cities to enjoy a beach vacation throughout Florida. Stretching from the southern Florida Keys north to the Florida/Georgia border. Wherever you are located in Florida you are just a quick drive to one of these amazing beach cities in the sunshine state!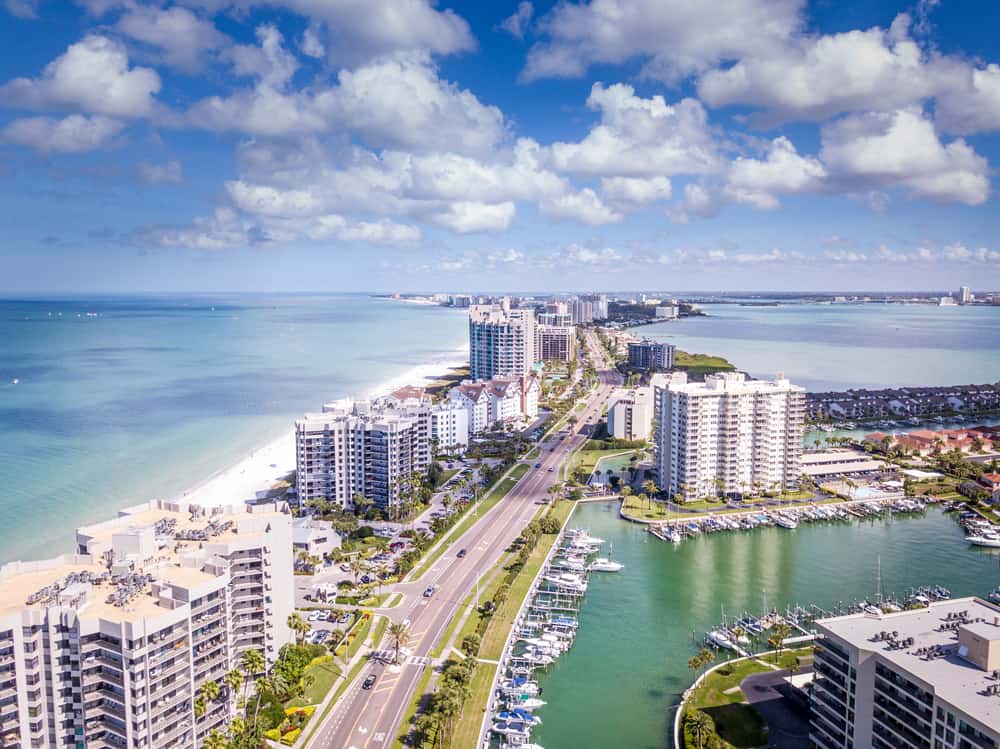 15 Best Beach Towns in Florida
Captiva Island
Captiva Island is located 1 hour from Fort Meyers, Florida on the gulf coast. One of the quaint beach towns in Florida it only 5 miles long and ½ mile wide! Located just north of Sanibel island (across the Blind Pass Bridge), what makes this quaint Florida beach town unique is no cars are allowed!
The island slogan is "naturally you will love it here". For those looking to disconnect and unwind Captiva island should be on your list of quaint florida costal towns to visit! But, not to worry there are still plenty of shops and restaurants.
Captiva Island is broken up into 3 areas: Big, North, and South villages. The North side of the island is privately owned, while the south village has shops, restaurants and bars! Try the Mucky Duck restaurant and Bar decorated in a colorful ocean theme, or the Key lime Bistro. There a free tram service to various business on the island.
Captiva island is a best family beach towns in Florida with uncrowded stretched of warm white sand beaches. Home to the JN Darling National Wildlife Refuge, Captiva island is an outdoor wildlife paradise. Lucky visitors will spot dolphins, birds, and wildlife.
This is an an adventurer lovers destinations with the opportunity to kayak to nearby Pine Island sound, or take an eco-tour of the island. For a more romantic vacation be sure to check out Captiva Beach with its incredible views.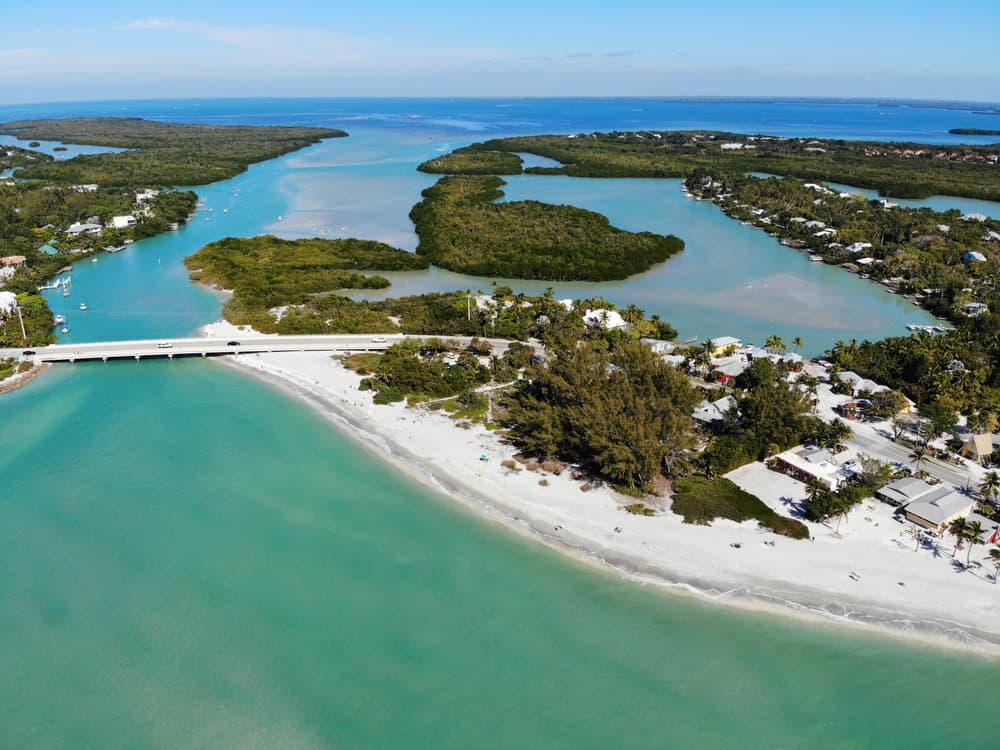 Anna Maria Island
Anna Maria Island is located 30 minutes from Sarasota on the Gulf Coast. This 7-mile island is one of the small towns in Florida on the beach that keeps its distinctive old Florida feel by not allowing any big development on the island.
With a population of less than 2000 residents making it one of the quaint beach towns in Florida. Divided into Anna Maria, Holmes beach and Bradenton Beach. Making it the perfect place to spend a low key spring break beach vacation!
Best of all there is a free trolley on the island that runs every 20 minutes, and the Monkey bus for those wanting a more entertaining experience.
The island is one of the few places that allows horseback riding on the beach. And for divers the Bradenton Shipwreck site just is just off the coast. Anna Maria Island is also bird sanctuary, and dolphins, manatees and turtles can regularly be seen on the island.
If you take the free trolley to the last stop you can visit Bean point beach a beach made of quartz rock that stays cool year round, perfect for those hot summer days. Or visit Coquina Beach is one of the best shelling beaches in Florida. Keep an eye out for sharks teeth. For those more adventurous, a visit to nearby Beer Can Island is a must!
The northern side of the island and home to the Florida Maritime Museum, beaches, restaurants, galleries and more! While Bradenton beach is on the Southside with Bridge street being home to lively atmosphere.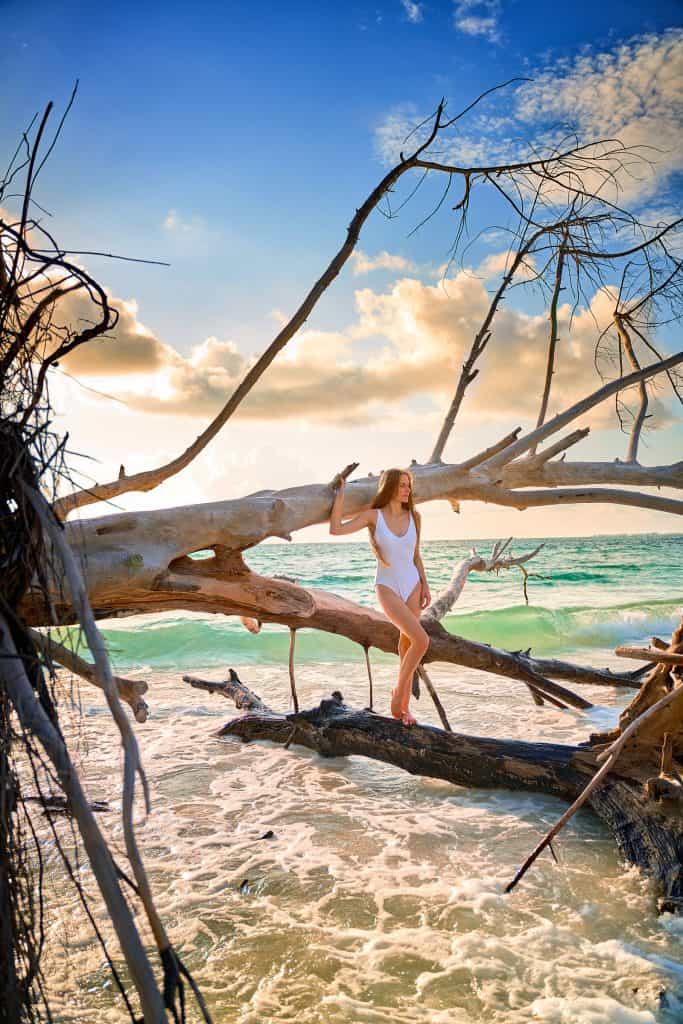 Cedar Key
Cedar Key located on the Gulf Coast of Florida located 50 miles Southwest of Gainesville Florida. This is one of the most quaint Florida costal towns located off of Highway 24, and only has a population of 800 residents.
With 3 miles of unspoiled Gulf Coast, Cedar Key is the second oldest town in Florida, and a true hidden gem of Florida. Time has stood still for this small beach town in Florida. With historic buildings downtown, and homes and business built on stilts along the waterfront.
This quaint town was founded in 1849 and wiped out by hurricane in 1896. This allowed the cedar trees to regrow over the last 100+ years making a picturesque backdrop with lush foliage.
Cedar key is an old tranquil fishing village and the best way to experience the town is by riding bikes, or kayaking along the coast line. Don't forget to try the clam chowder that can be found on every menu in town.
For those looking to visit an uninhabited island you can take a 30-minute kayak ride out to Atsena Otie Key part of the 891-acre Cedar Keys National Wildlife Refuge founded in 1929. Here you will find pelicans, bald eagles, and spoonbills. For those looking to stargaze head to Cedar Key Scrub State Reserve where you will experience one of the clearest views of the night sky.
If you are craving unique accommodations why stay the night in a treehouse!
Saint George Island
Saint Geroge island is the best family beach towns in Florida for those looking to visit 28 miles of unspoiled barrier islands! Constantly voted as one of the top beaches in the Unites States you find pristine white sands and calm Gulf coast beaches on the forgotten coast of Florida.
Plus the island is pet friendly! Bring the whole family to enjoy beaches, restaurants and shops.
Make sure to visit St. George Island state park which costs $6 per vehicle to enter and is located on the east end of the island providing swimming, water sports, hiking trials, birding, and loggerhead migration from May through October. It ranks as one of the top RV parks to visit in Florida, making it one of the best places for those looking to camp. St. George is also home to luxury resorts as well.
One highlight is a visit to the 79-foot-tall lighthouse is located in the center of the island and costs $5 to enter. The local chamber of commerce run events such as Yoga and SUP on the beach. They also have weekly and monthly events such as Art and Wine Splash. A chili charity cook off in March, and a Rock by the Sea musical event!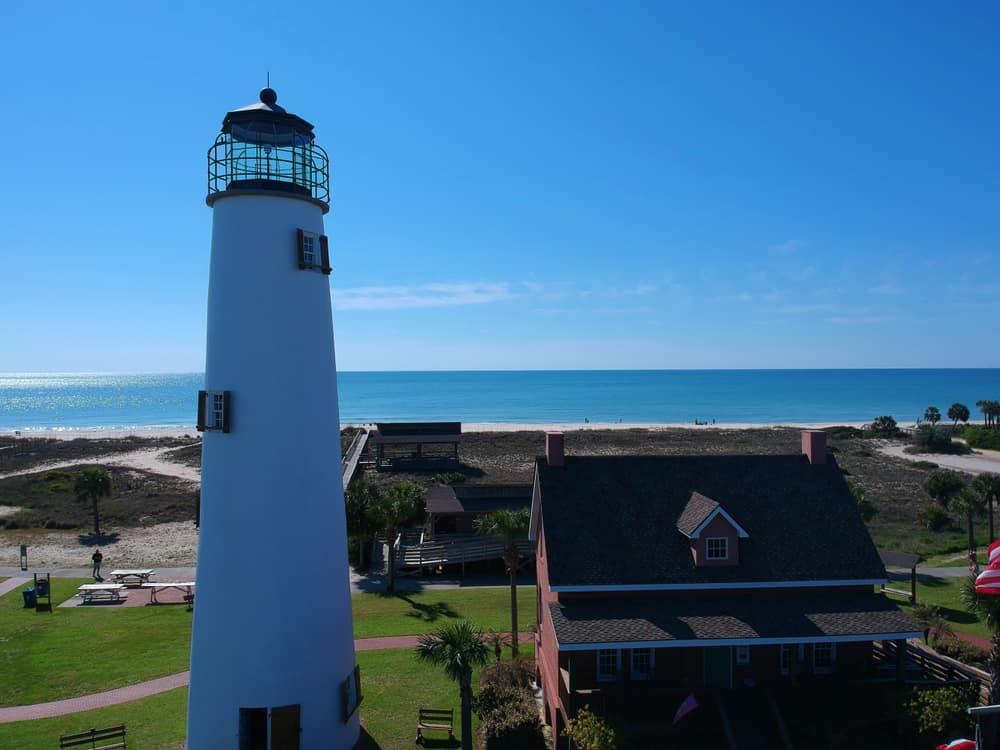 Maderia Beach
Maderia beach is located just west of St. Petersburg beach, one of the best gulf coast Florida towns! Pirate John Levique was the first European to call Maderia beach home after the 1848 hurricane created a new pass.
Maderia beach is a retiree community that has a laid-back vibe mixed with all things pirate. You can take daily pirate charters out of Hubbard's marina or go deep sea fishing on a charter. "Mad Bea" as it is affectionately referred to by the locals is home to John's Pass Village.
A destination in itself. Built on an 1100-foot boardwalk the village center is home to over 100 restaurants and shops. For those wanting to visit one of the beach towns in Florida with endless choices for dining and entertainment, Maderia should be at the top of your list.
At John's Pass for seafood lovers there is Friendly Fisherman located on the dock and is the perfect place for dinner and drinks. For those 21+ there is the local Florida Winery is located at John's Pass offering free tastings of their 20 wines and for beer lovers try Mad Craft brewing company brews beach friendly beers.
With only a population of 5000 this is one of the small towns in florida on the beach. Perfect for those looking for a weekend escape or day trip from Orlando or Tampa.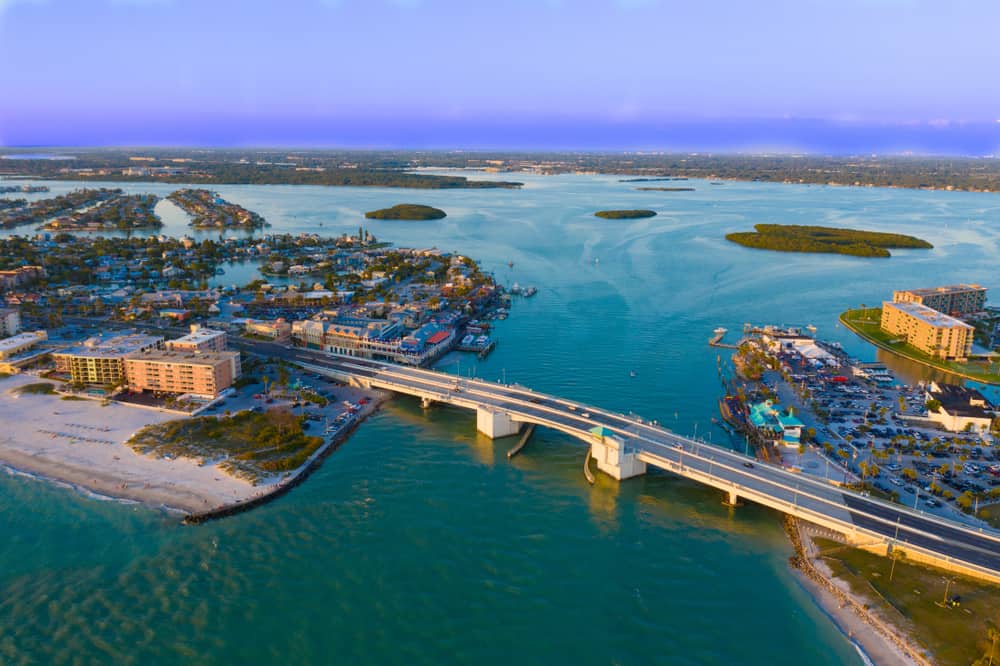 Amelia Island
Amelia Island is one of the best east coast Florida beach towns, and is located on the northeast coast of the Sunshine State just 30 miles north of Jacksonville. Part of the Sea Islands, visitors will be greeted with 3 miles of beautiful and uncrowded beaches all with a small town charm.
Perfect for those looking for romantic honeymoon in Florida, it is worth noting this area is known to cater to more luxury travelers and budgets. Not to worry though as it offers everything from budget to luxury accommodations, golf resorts, and nature.
Visit either Main Beach or Fernandina Beach. Fernandina Beach is northernmost beach in Florida and is unique due to history of having flown 8 nations flags. The history of the 8 flags is celebrated at one of the many festivals celebrating the history of the area.
There is so much todo on the island from cycling the Amelia Island Trail, visiting the Civil War Era Fort Clinch, learning the history of the area at the Amelia Island Museum of History or venturing to the 200 acer Amelia Island State Park where you can go horseback riding on the beach and enjoy the untouched beauty of the area.
For those interested in history, visit the 50-block historical downtown of Fernandina Beach featuring a plethora of restaurant and shops to explore.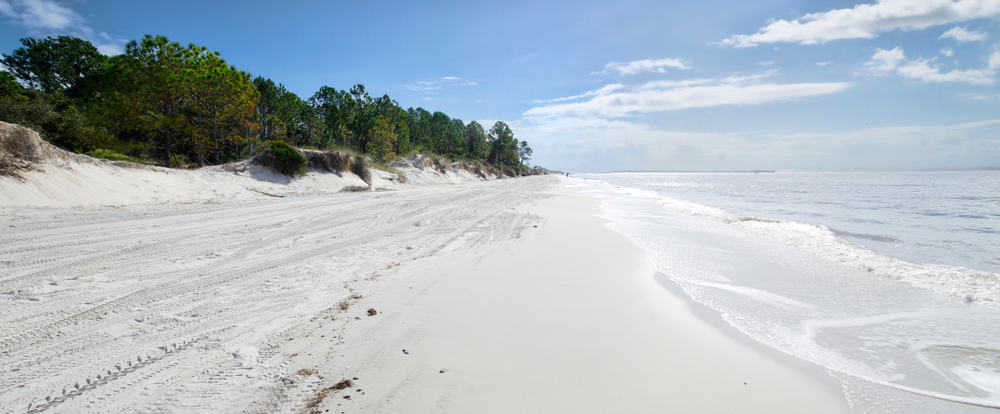 Siesta Key
Siesta Key has become a popular spring break destination due to its beautiful beaches, amazing restaurants, shops and proximity to major towns in Central Florida. The towns architecture is reminiscent of a small Italian village.
Crescent beach is popular with families as the water is shallow and calm making it perfect place for children to play. IF looking to snorkel head past Crescent beach to Point of Rocks where the limestone rocks provide ample opportunity to see various fish right off the coast.
Proximity to nearby Sarasota and St. Armund's circle makes this one of the best beach towns in Florida. Take part in free beach yoga, or make sure of the Siesta Key Trolley also free to get around to the various restaurants and shops.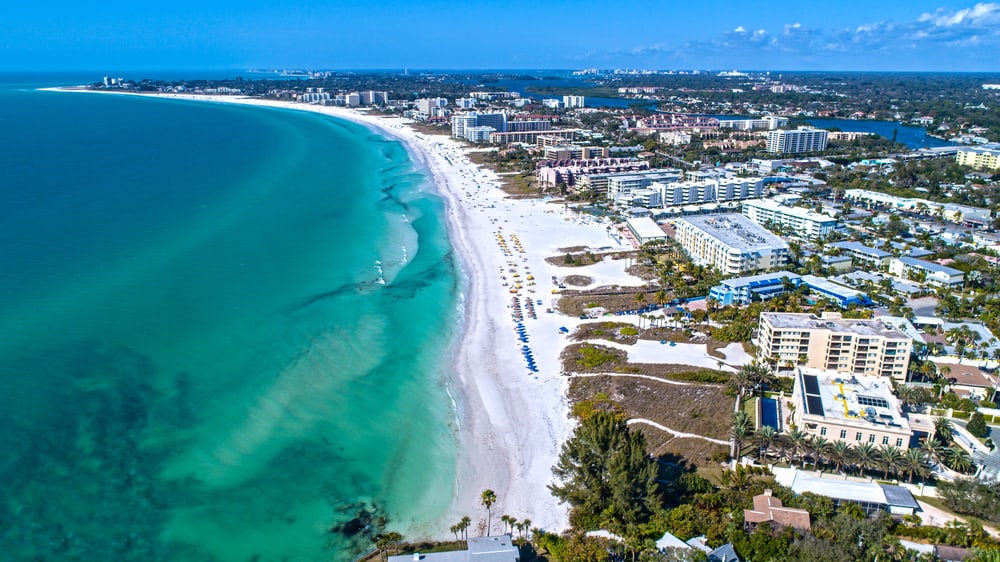 Key West
Key West is the southernmost of the beach cities in Florida. This slice of paradise is known for its nightlife, spring break destination, restaurants on popular Duval Street and relaxing island vibes. With so much to explore, why not checkout our our list for the best tours in the area! The vibe in Key West is unique transporting visitors to a Caribbean island without leaving the country.
You will find accommodations ranging from camping to budget, and luxury accommodations. Making it one of the best beach towns in Florida Keys for any budget!
While not your typical Florida beaches think more Caribbean style they offer shallow turquoise water with tropical fish that often swim close to shore. From nude beaches to gay beaches to family friendly beaches, the southernmost tip of Florida has it all.
Key West is known for America's only living coral reef which is the third-largest coral reef in the world. For those looking to snorkel or scuba dive on vacation, Key West needs to be on the top of your list of Florida beach cities to visit.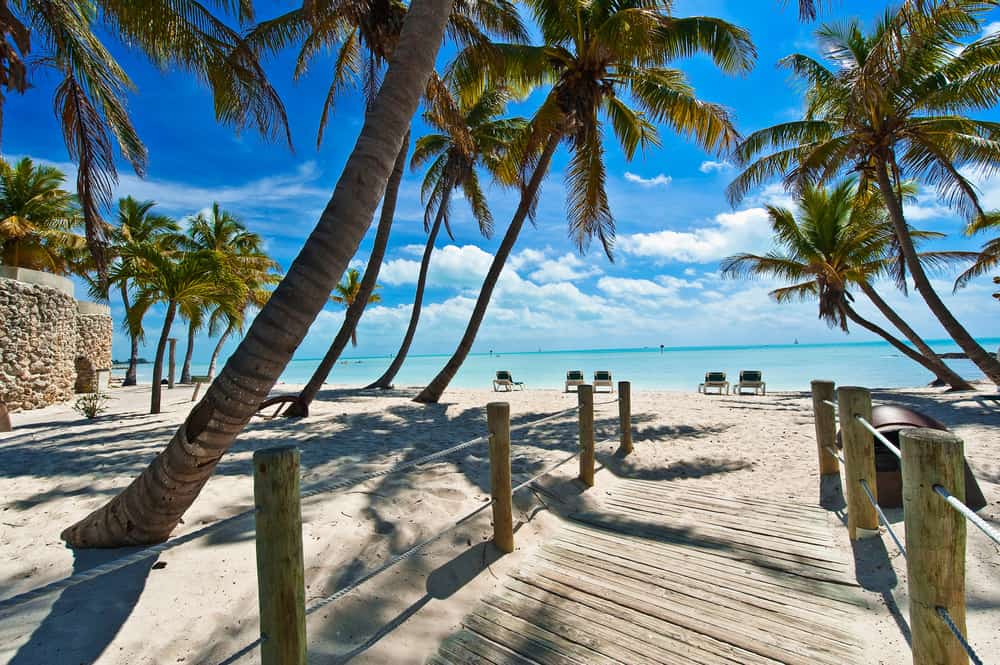 Tarpon Springs
Tarpon Springs was first settled in 1876 and named after the first inhabitants saw tarpon jumping! Officially becoming a town in 1876, Tarpon springs town is on the historical Florida registry of places of visit. Visit one of the art galleries, sponge shops, antique shops, Greek restaurants or bakeries!
What is unique about this quaint florida costal towns Florida is that Tarpon Springs is home to the largest Greek population in the United States! With a strong Greek influence an Epiphany celebration held at the Greek Orthodox Church as well as the Opa' Palooza Greek Seafood festival held in November.
Tarpon Springs has recently become a destination for microbreweries! Visit Two Frogs Brewery with a speakeasy vibe and Saint Somewhere a brewery opened in an old home! After enjoying a brew head for Greek food at Mama's or Mykonos!
Known as the sponge capital of the world, you can take a St. Nicholas Boat tour to see how sponge divers collect one of 18 varieties of sponges from wool to yellow sponge. Those preferring to stay on land can wander along Dodecanse Blvd where all the sponge docks are located.
For those wanting to explore nature visit Fred Howard Park a 155 mile state park connected by a one-mile causeway that brings you to the white sandy beach with unobstructed views of the Gulf. Parking to enjoy the park is $5 for parking.Or go hiking just outside Tarpon Springs at Brooker Creek Preserve. There is so much to explore at one the hidden gems of small beach towns in Florida.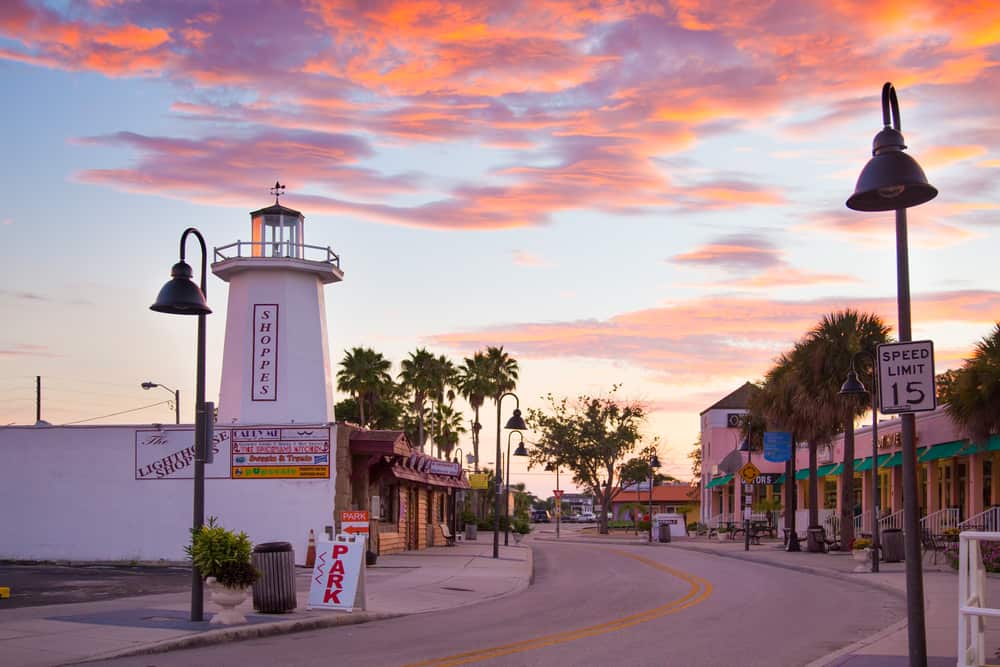 Cocoa Beach
You must visit Cocoa Beach as it is the closest beaches to Orlando. If arriving at Orlando International Airport you can have your toes in the sand less than hour enjoying the warm Atlantic water on the Space coast. Known for being family friendly, great for shelling and surfing! If lucky enough to visit during Christmas time you can watch surfing Santa's.
At the Cocoa Beach Pier, visitors can dine at any a variety of restaurants, enjoy drinks at one of the bars or shop at the boutiques while live music is performed. Make sure to check out our list of the Best Things To Do In Cocoa Beach for your trip.
Cooca Beach is one best east coast Florida beach towns with tons to do nearby. Visit Kennedy Space Center, Merritt Island National Wildlife Refuge where you can spot alligators and other wildlife.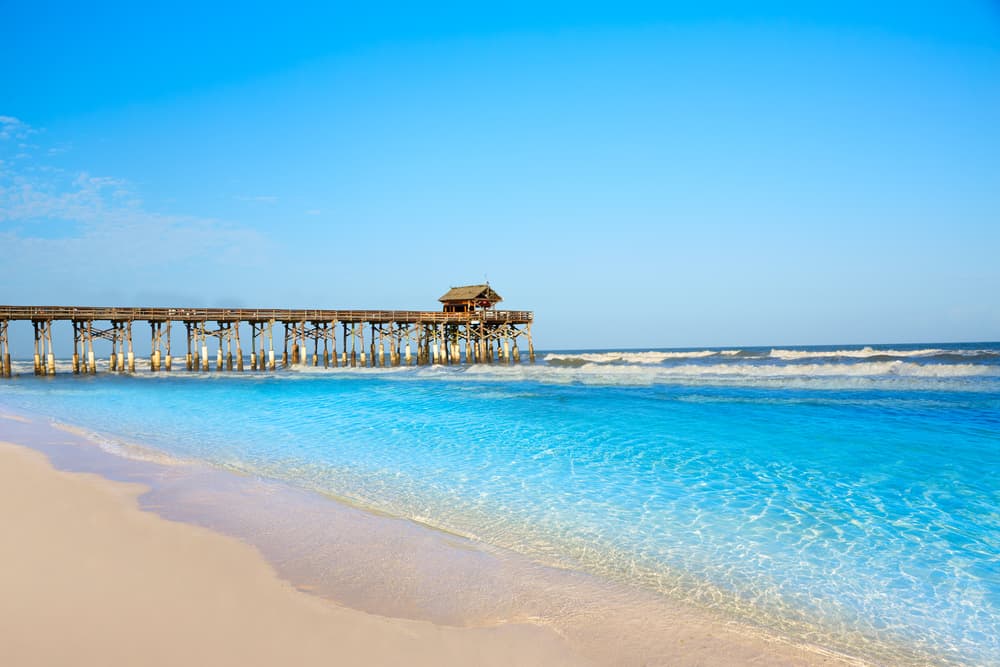 Islamorada
Islamorada or "purple island" is located in the Florida Keys! Located 15 minutes from the local airport or just 1.5-hour drive south from Miami. If you are wanting to splurge after visiting one most popular beach cities in Florida why not take a seaplane tour from Miami.
At 7 miles long, Islamorada is the best beach town in Florida to visit for those on a road trip from Miami To Key West. Comprised of six islands the the 6-block cultural downtown, is where you will find tons of art galleries,shops, and restaurants.
Surrounded by the Atlantic Ocean on one side and the Gulf of Mexico on the other, the views are spectacular. Peak season in December through May!
You can find over 500 species of fish here in the sports fish capital of the world. Stop by Robbie's marina located at MM 77 to feed tarpon for $2.25 per person, or for the more adventurous you can rent a kayak to visit Indian Key state park. Make sure to stop by at lunch time to try the famous hogfish sandwich.
Theater of the sea is a great place to get up-close to dolphins, sea lions, or take a glass bottom boat ride. For those looking for an all-inclusive resort at one of the upscale yet relaxed destination resorts.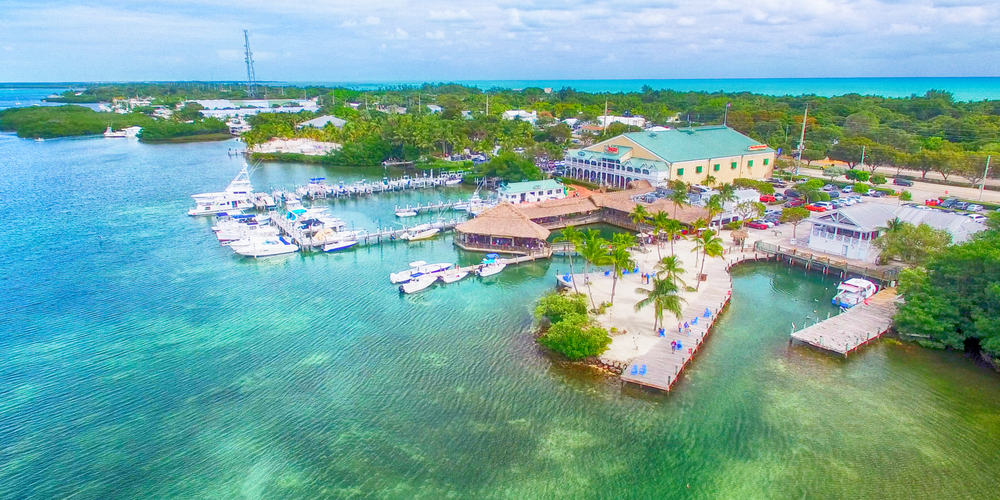 Key Biscayne
Key Biscayne is one of the best hidden beach town, located just over the Rickenbacker causeway from Miami.
In 1940, the Matheson family donated land that is now home to Crandon Park on the north side, and in 1948 Cuban exile Aleman donated land that is now home to Bill Baggs Cape State Park on the south side with the oldest Lighthouse in the United States built in 1825! Free tours are given at 10 am and 1 pm Thursday through Monday and a great beach.
Crandon park, is one of the best beach in South Florida with 2 miles of white sand beaches which are often uncrowded unlike more popular Miami Beach. The Biscayne National Park, and Marjory Stoneman Douglas Nature Center and a 13-mile heritage bike trail are all located on Carandon park.
Just off the coast is Stiltsville, built in 1930 it is a community of homes built on Stilts in the Biscayne Channel. There is also a Fossilized mangrove reef, only one of 2 in the world and is over 6000 years old.
The Ritz Carlton hotel calls Key Biscayne home for those looking for a luxurious stay!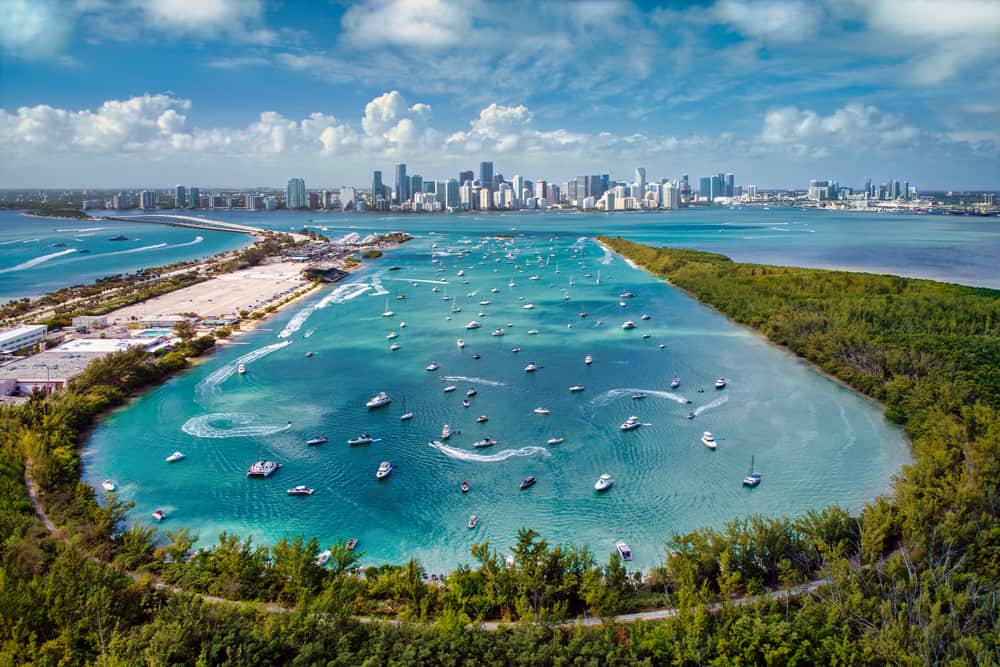 Seaside
Seaside is a small beach town in Florida located in South Walton off of highway 30A. It is colorful and white picket fences it was designed to be the perfect layout making it one of the cutest cities in Florida! Called New Urbanism it is centered around a walkable layout making it one of the best gulf coast Florida towns!
If Seaside looks recognizable that is because the Truman Show was filmed here.
This quaint Florida beach town is known for both its architecture and atmosphere. With white sand beaches, and centralized downtown for shops and restaurants, and hotels this is one of the panhandles great beach towns on the Gulf.
The motto of Seaside is "you never meet a stranger while in Seaside". For a dining experience try Vue on 30A voted on the best waterfront dining and sunset in the area! Or try dining at one of the many airstream trailer food trucks.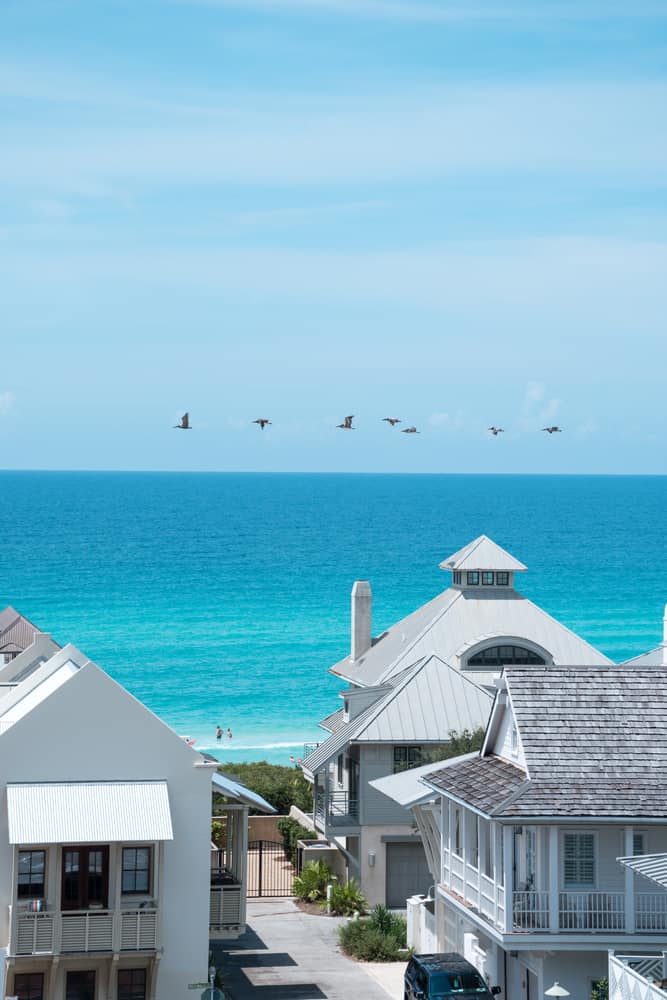 St. Petersburg
St. Peterburg or St Pete is known as the Sunshine City. Located between Tampa Bay and the Gulf of Mexico, it is a quick trip from both Tampa and Clearwater! St. Pete Beach is one of the best beach towns in Florida, located on the Gulf Coast in central Florida.
The beaches here are known for their turquoise Gulf of Mexico waters and surgary white sand. After the beaches, make sure to explore the hidden Sunken gardens, museums, free murals across downtown area , restaurants, beach bars and rooftops and breweries. There is something for everyone to do here making it the perfect family friendly beach town in Florida!
Located southwest of Saint Petersburg you will find Fort De Soto, consisting of five offshore islands. It has a little bit of everything from history to natural coastal beaches.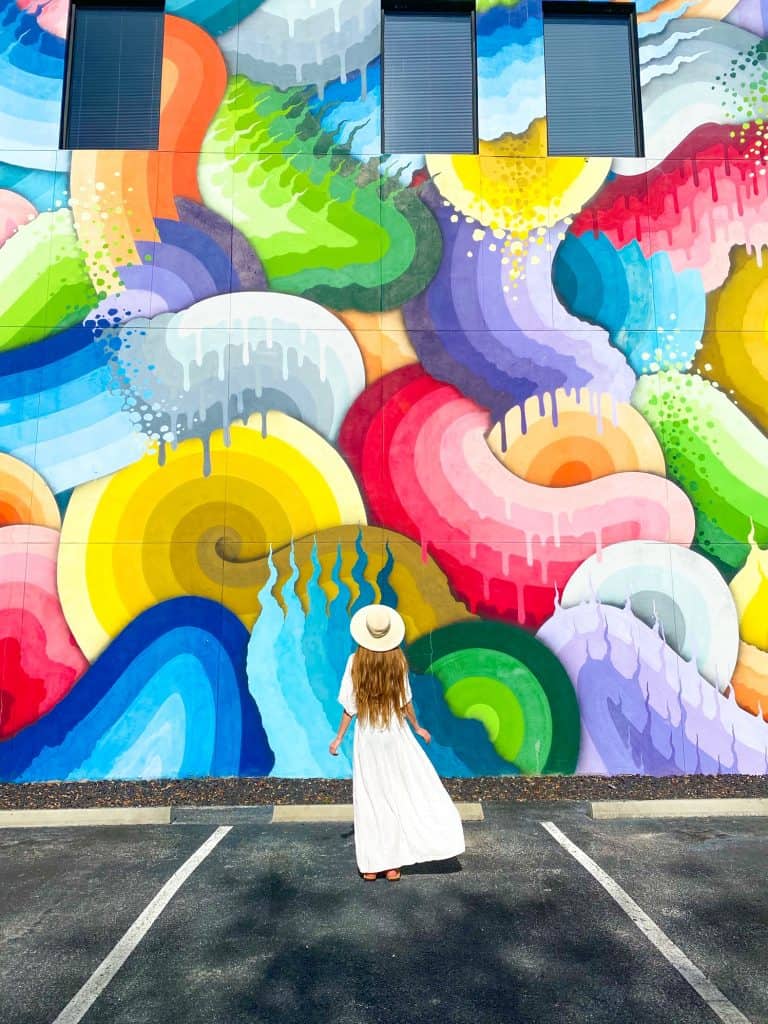 Did You Find This Post Helpful?
If so, we would love to keep in touch! We enjoy seeing photos and comments about your experiences in Florida! You can follow us on Instagram and we will repost your photos on our feed and comment too! Just tag us at @floridatrippers and hashtag #floridatrippers. We can't wait to see your travels!