Are you looking for the most unique places to go kayaking in Florida? Luckily your options are by no means sparse! The Sunshine State has so many waterways, oceans, and natural springs perfect for your next adventure.
There aren't many outdoor activities that offer a wide range of experiences as kayaking in Florida. Whether you want an exhilarating adventure or a peaceful paddle, you can get both throughout the entire state of Florida.
There are two types of kayaking: flatwater and whitewater! Flatwater kayaking involves lazy floats on calm waters while whitewater demands navigating swift-moving river rapids!
Believe it or not, you can find both in Florida! Most scenic trails in Florida are perfect for flatwater kayaking. While rapids in Florida are rare, you can find them in Big Shoals State Park and Hillsborough River State Park.
When you go kayaking in Florida, you gain access to sights and scenery that only a small percentage of people are able to access. Not only that, experienced kayakers can attest to the peace and tranquility that comes with canoeing in Florida.
Kayaking in Florida also has incredible health benefits! You can expect to see improved cardiovascular fitness and muscle strength; it takes a lot of strength the paddle a canoe!
Because kayaking is a low impact activity, you'll have a reduced risk of wear-and-tear on joints! Compared with high impact interval training, kayaking can be appealing to many because of its low intensity.
There are plenty of reasons to go kayaking in Florida, but if you're not convinced yet, never fear. Maybe our list of unique kayaking destinations will turn the tide.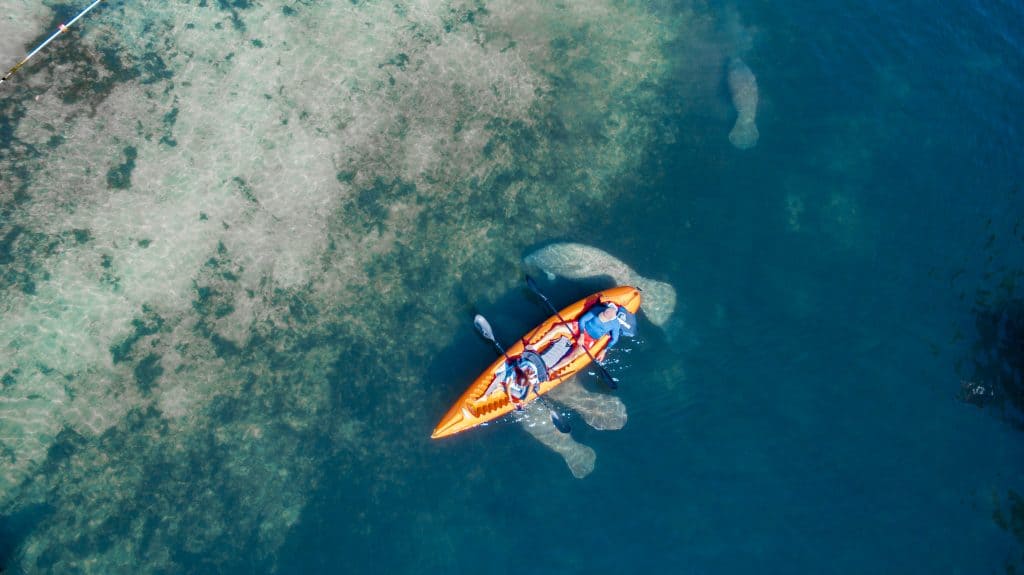 15 Unique Places To Go Kayaking In Florida
Indian River Lagoon
If you've never heard of bioluminescence before, it's essentially when living organisms like plankton produce and emit light! It sounds pretty wild, but if you've ever seen fireflies, that's an example of bioluminescence!
In Florida, this natural phenomenon can be rare, but not in Orlando! With Florida Adventurer, you can go on a kayak tour to see it in action. When your paddles hit the water, you'll see blue lights ripple through the water. Don't worry, it doesn't hurt the organisms!
Bioluminescent kayaking makes the best day-trip from Orlando! Well, it's really a night-trip. Because the light produced by the organisms is so faint, you'll have to kayak in the moonlight at night.
Launching from Haulover Canal, just 45 minutes away from downtown Orlando, you'll coast through the Indian River Lagoon and its waterways. You can take a single kayak or a double for a romantic date night.
We recommend leaving your cameras at home. Bioluminescence is very difficult to photograph unless you have high-grade equipment. Put down the phone and enjoy your 90-minute moonlit kayak tour and the magical ambiance.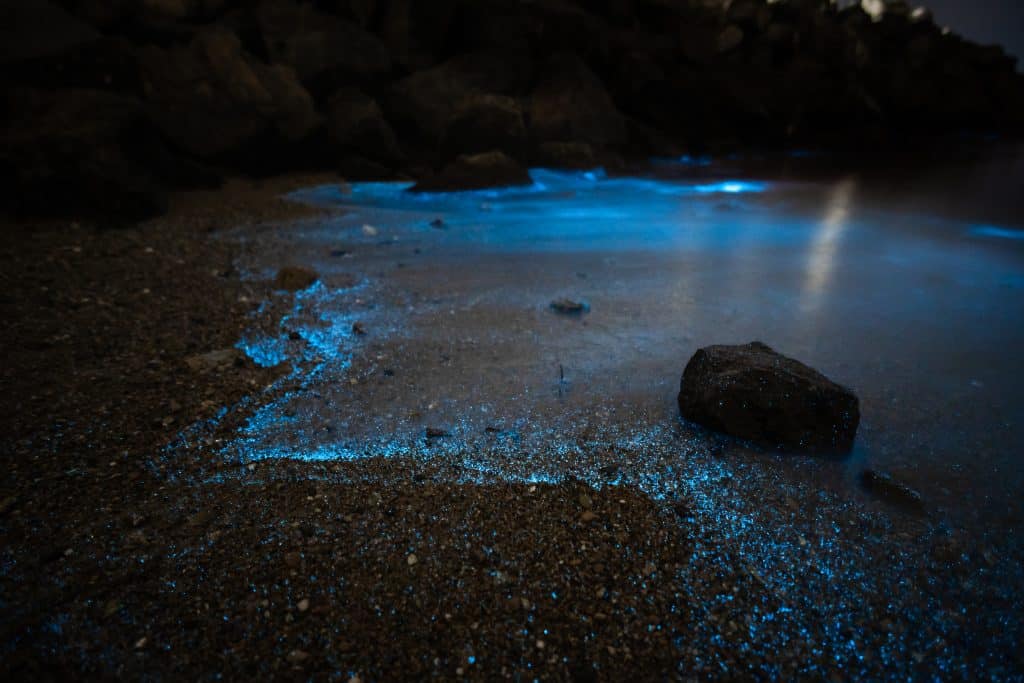 Weeki Wachee
North of Tarpon Springs on US-19, you'll find a strange monument to the Florida tourism of yesteryear. At Weeki Wachee, one of the best springs near Tampa, you can experience some of the best kayaking in Florida.
Weeki Wachee's clear blue waters carve out waterways through Old Florida forests, creating beautiful scenic highways. In fact, this state park remains one of the most popular for outdoor recreational water sports.
If you don't have paddling equipment, rent some from Weeki Fresh Water Adventures located conveniently on the river! Keep in mind that if you bring your own equipment, you are responsible for transportation.
A single kayak rental costs $32 while a tandem kayak costs $48. Kayakers are expected to complete their journeys within 2 hours of their rental time, or face a $50 per hour, per boat late fee! Reservations are required. This is also one of the best places for Kayaking Near Tampa!
Weeki Wachee is also a great destination for families! The springs are also home to Buccaneer Bay, the only water park fed by a first-magnitude spring.
While swimmers can bask in the beautiful blues and greens of the Florida natural springs, divers can explore the freshwater cave system, confirmed in 2007 to be the deepest in all of North America.
When you visit Weeki Wachee, parking is free! Tickets run $13 for adults and $8 for kids ages 6-12. Kids five and under are free!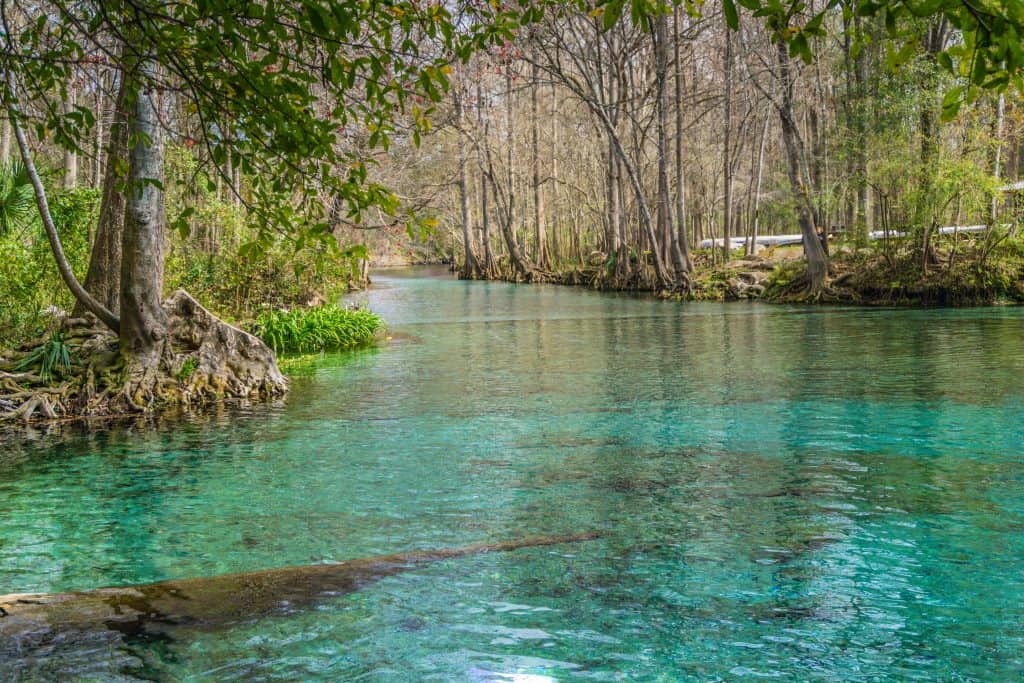 Wekiwa Springs
With natural wonders just outside of Orlando, Wekiwa Springs makes the perfect escape. One of the most unique State Parks in Florida, you can beat the heat with its relaxing emerald waters!
Right next to Rock Springs in Kelly Park, Wekiwa Springs is Orange County's longest-running tourist attraction. While there are many hiking trails waiting to be explored on foot, bike, or horseback, there are even more kayaking trails!
Through the dense hammocks, you can take a canoe passing the purple blooms of pickerelweed. When exploring the spring vent which feeds the Wekiwa River, you'll see a variety of Florida wildlife.
If you want to dip in the spring to swim or snorkel, be advised there is no lifeguard on duty. The waters are 4 feet at its deepest, so no jumping or diving is allowed. You can also find a swim lift for ADA accessibility!
Entrance fees are just $2.00 per person, per day! Canoe and kayak rentals are available at the concession stand. Guided trips and shuttles are also available if you're looking for a more organized outing.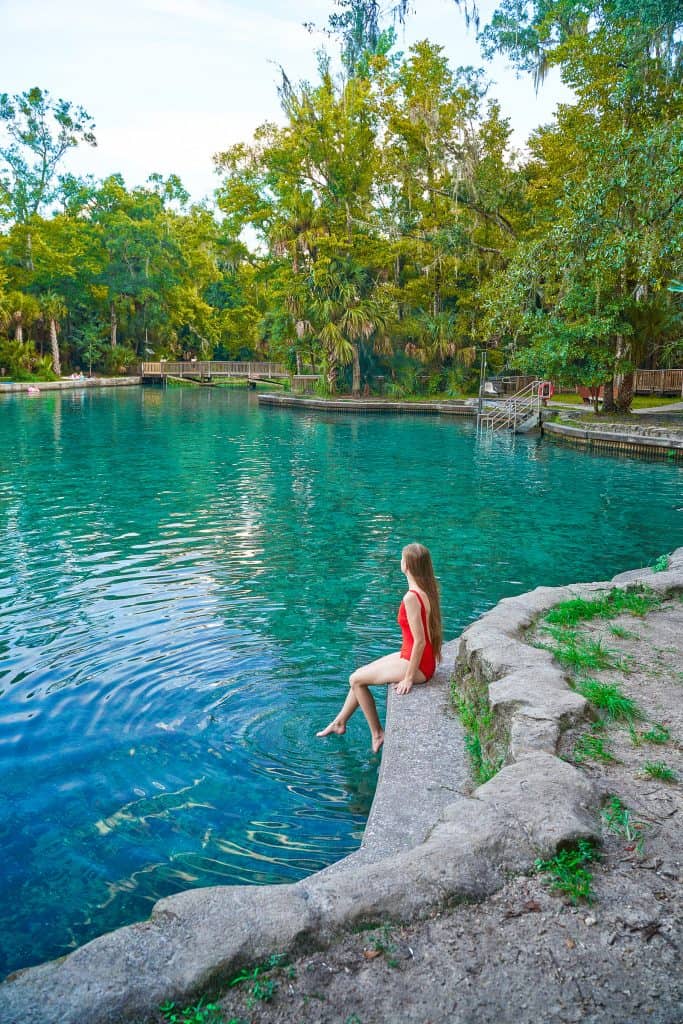 Ginnie Springs
Just 48 minutes west of Gainesville, you'll find Ginnie Springs near a town called High Springs. Perhaps the most famous of the Sunshine State's natural springs, Ginnie Springs has some of the best kayaking in Florida.
You'll love going for a swim or paddle boarding through the ice-blue waters. Because Ginnie Springs is near college towns, weekends can get crowded. Weekday visits are the best way to ensure a chill camping experience.
You can rent kayaks, stand-up paddleboards, and canoes for $12 for 3 hours. If you want to rent it for 6 hours, the cost is $20. There is no drop-off service so you have to paddle upstream right at the start which really sucks!
Aside from that, you'll love peering through the cool, ice blue waters. Trees tower on either side of you, creating scenic and intricate waterways.
Tubing is another popular activity. While you're tubing on the Santa Fe River and not the spring itself, the run lasts an hour, which is long! Most only last 15-30 minutes.
READ NEXT: Tips For Ginnie Springs: A Perfect Florida Oasis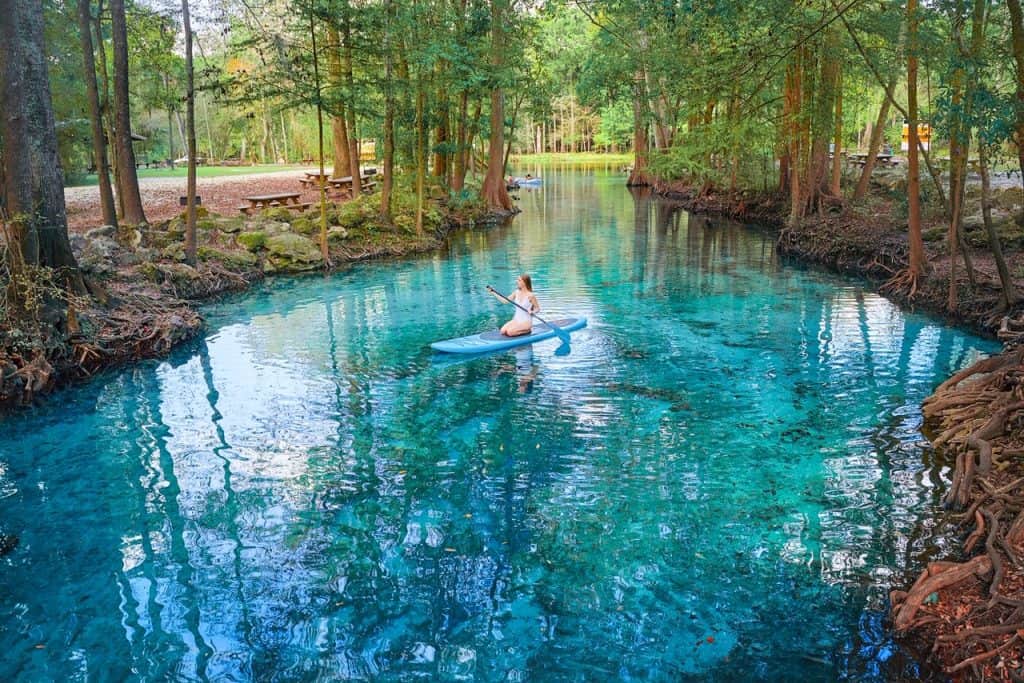 Honeymoon Island/Caladesi Island
Honeymoon Island can be found in Dunedin. It's very close to Caladesi Island as well (about 15 minutes by kayak)! Here you'll find 4 miles of beaches and three miles of trails that traverse a pristine virgin slash pine forest. This is one of the last remaining slash pine forests in all of Florida!
Honeymoon Island is a famous location for weddings and romantic getaways. It never gets too crowded like some other Florida beaches, so it's a great place to relax and enjoy the company of your special someone.
The romantic vistas make Honeymoon and Caladesi Islands perfect for kayaking in Florida! Rent equipment through the concession stand and kayak around the bay area. If you bring your own kayaks or paddleboards, you can explore the lovely Pelican Cove.
While you're on the water, you'll see native Florida wildlife like ospreys, turtles, rattlesnakes, and armadillos. Keep your eyes peeled to find unique shells.
You can purchase seasonal or annual passes, but a day trip is only $8 for a full car or $4 for a single person.
Before you go, check our full guide for tips when exploring Honeymoon Island!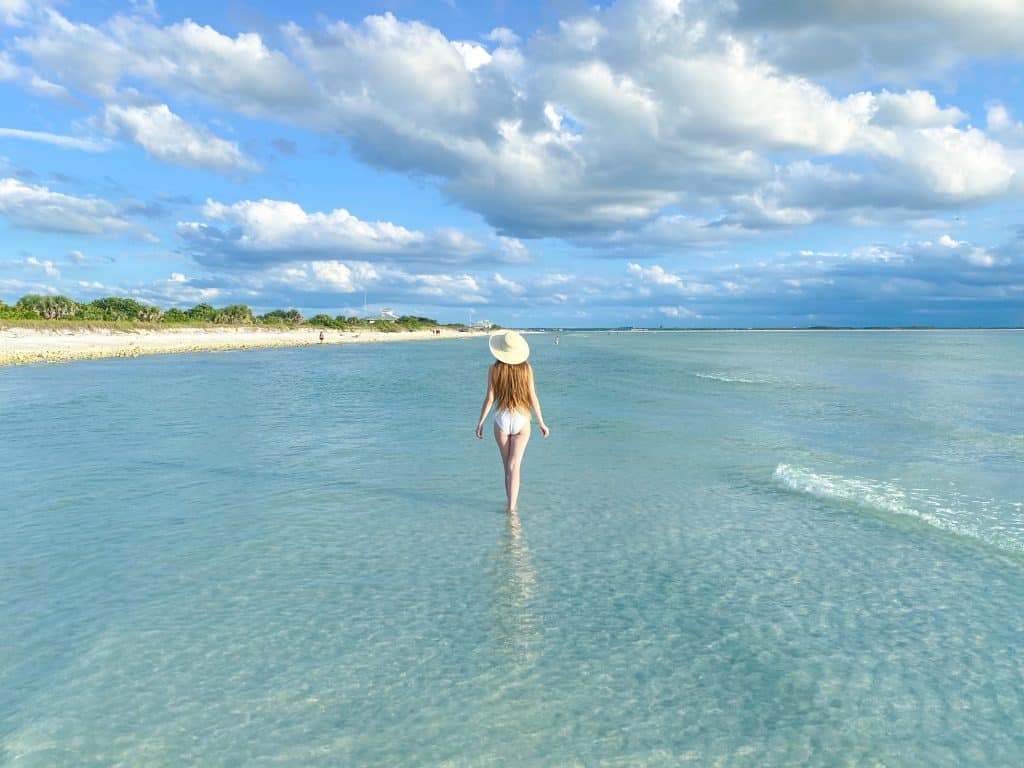 Curry Hammock State Park
Halfway between Key Largo and Key West, you'll find a group of islands beckoning you with the call to adventure. Curry Hammock State Park protects mangrove swamps, Rockland hammocks, and seagrass beds that are essential to the Florida Keys ecosystem.
Rent a kayak or paddleboard and take your choice between two trails on Little Crawl Key. You'll paddle your way through a mangrove tunnel, deep lagoons, sandbars, and an open ocean. If you look closely at the water's bottom, you'll see starfish, horseshoe crabs, and upside-down jellyfish!
The shorter of the two paths is 1.5 miles and circles Little Crawl Key in approximately one hour. The longer of the two paths is 5 miles long and requires at least four hours. But this path will take you along mangroves and out to another island for kayak fishing.
If the tide is low, the mangrove tunnels may be difficult or impossible to navigate. Not to worry, you can enjoy the sandbar just to the east of the kayak launch instead!
Single kayaks cost $17.20 and tandem kayaks and stand-up paddleboards cost $21.50 per day to rent! Always check the weather before going, as the park does not rent out equipment when there is a small craft advisory.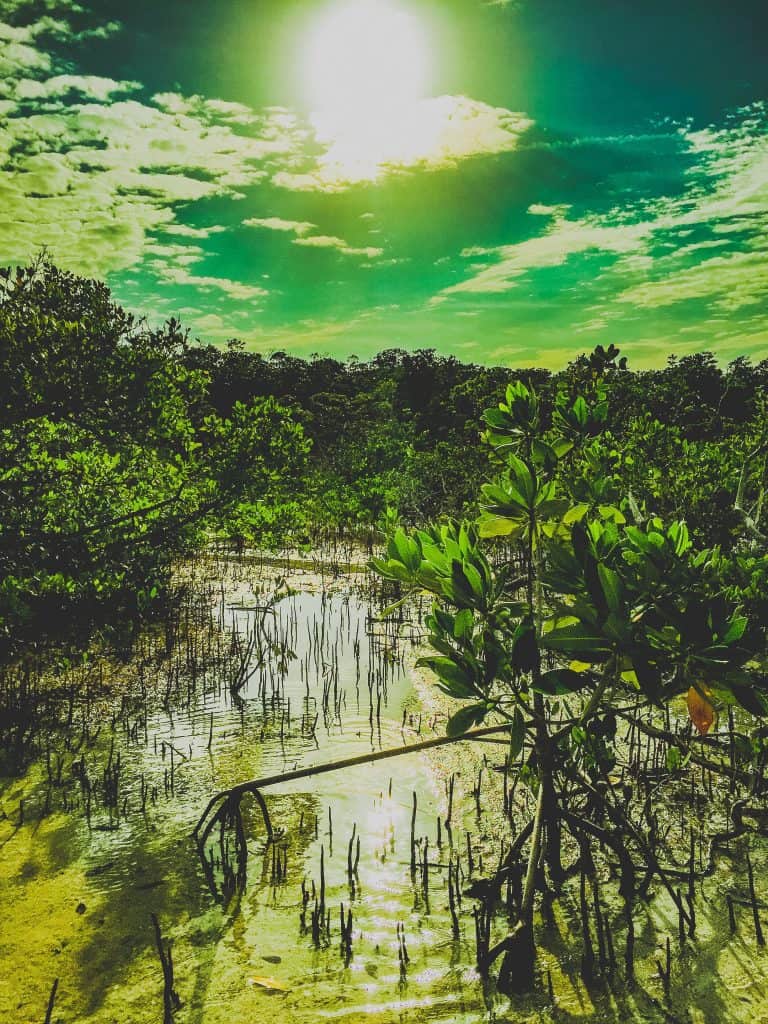 Blue Springs
Kayaking alone is okay, but what if you had manatees joining you? Blue Springs is one of the best springs near Orlando to do just that. Conservation efforts in the state park have seen the numbers of manatees grow from 14 to 485.
In addition to kayaking and canoeing in Florida, there are activities for everyone! Enjoy scuba diving, fishing, camping, hiking, wildlife watching, and even swimming!
The spring itself is surrounded by woodland and is just a short distance away over a boardwalk. A really beautiful location to cool down from the Florida heat, or just spend some time watching the world go by.
So what makes this so great for kayaking? Blue Spring Run is actually a "No Wake Zone" which means the waters are always calm. This is because to this day, over 300 manatees have been spotted in the winter months at one time!
Admission to Blue Springs State Park is $6 per vehicle. Make sure that you get there early as this park can get very, very busy, especially in summer as it is some of the best Kayaking In Orlando!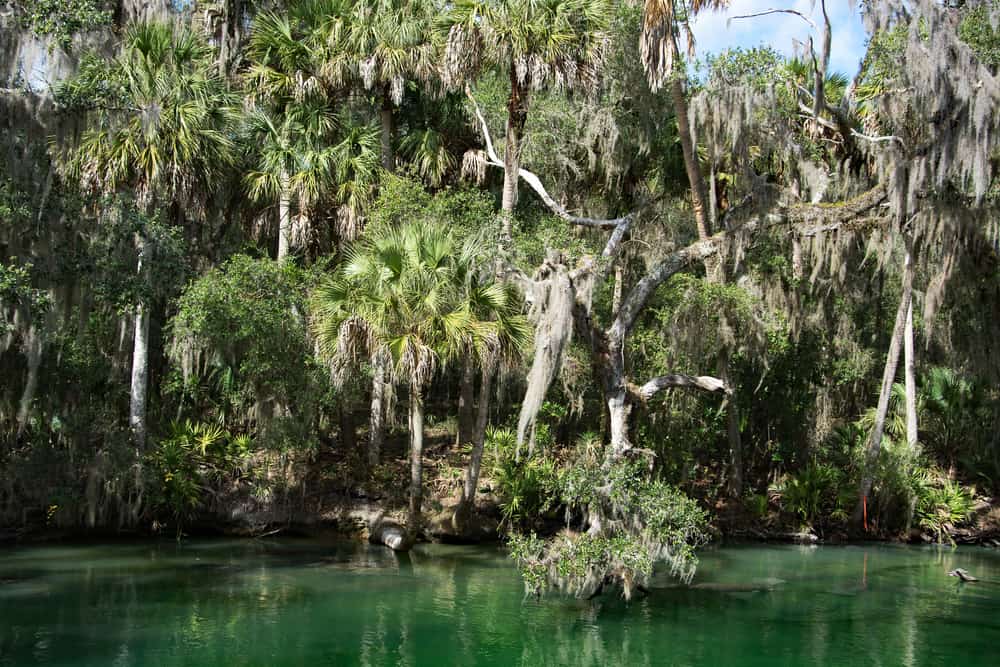 Big Shoals State Park
About a mile east of White Springs, Florida lies Big Shoals State Park, positioned right on the Suwannee River. Limestone bluffs towering 80 feet above the banks of the Suwannee River create outstanding vistas not found anywhere else in Florida.
When you think of Florida bodies of water you probably picture a calm clear spring, or maybe a beach with a few small quiet waves. The Suwannee River however is quite the opposite!
Big Shoals State Park does not have a traditional waterfall, but rather the whitewater rapids of the river. These are the only rapids in Florida to have earned Class III Whitewater status.
For this reason, many people like to take their canoe or kayak for an adrenaline-filled ride down the rapids. This activity however should only be attempted by those with some whitewater rafting experience.
To find the entrance, pass the Little Shoals entrance and turn right at the Big Shoals entrance down a dirt road. From there, you can follow signs for the canoe launch into the park.
While the park itself doesn't rent out equipment, you can rent from nearby facilities like American Canoe Adventures. If you're an inexperienced kayaker, you can take group tours that will adequately prepare you for your adventure!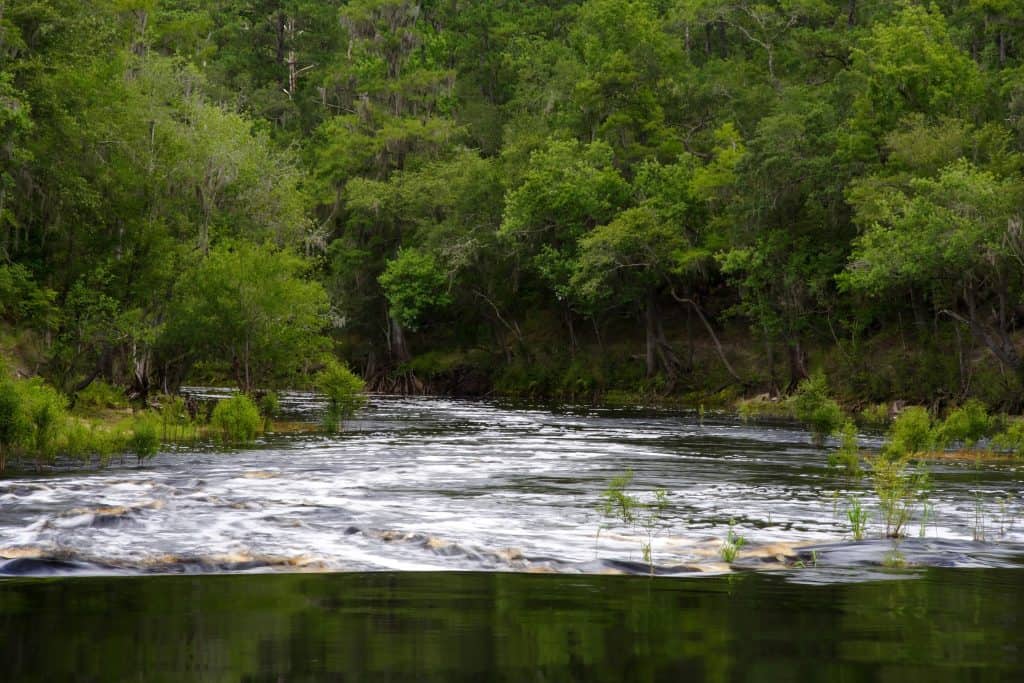 Seven Sister Springs
South of Ocala, only an hour and 15 minutes away from Tampa, inside the Chassahowitzka National Wildlife Refuge, you'll find a hidden gem. Perfect for kayaking in Florida, Seven Sister Springs won't disappoint!
Not only can you enjoy swimming in the actual springs, but a connection to the Chassahowitzka River creates a special kayak trail. Affectionately known as the Chaz, you're likely to see native Florida wildlife. Even if you don't, the scenery will still be a feast for the eyes.
Launch your kayak right near the Chassahowitzka River Campground and take an immediate right at the marina. Here you'll find the Seven Sister Springs with their crisp, ice-blue waters shimmering! Many people just start heading downriver, so don't forget to take that right first!
With a map from the marina, you can traverse many tributaries, each gorgeous in its own way. Your trip through the turquoise waters can be as long or as short as you want.
If you paddle to an area known as "The Crack" in Baird Creek, you'll find a swimming hole with a rope swing!
If you don't have equipment, you can rent from the marina at the Chassahowitzka River Campground. Single kayaks cost $25 per day while tandem kayaks cost $35 per day! Parking is plentiful and costs $5 per day.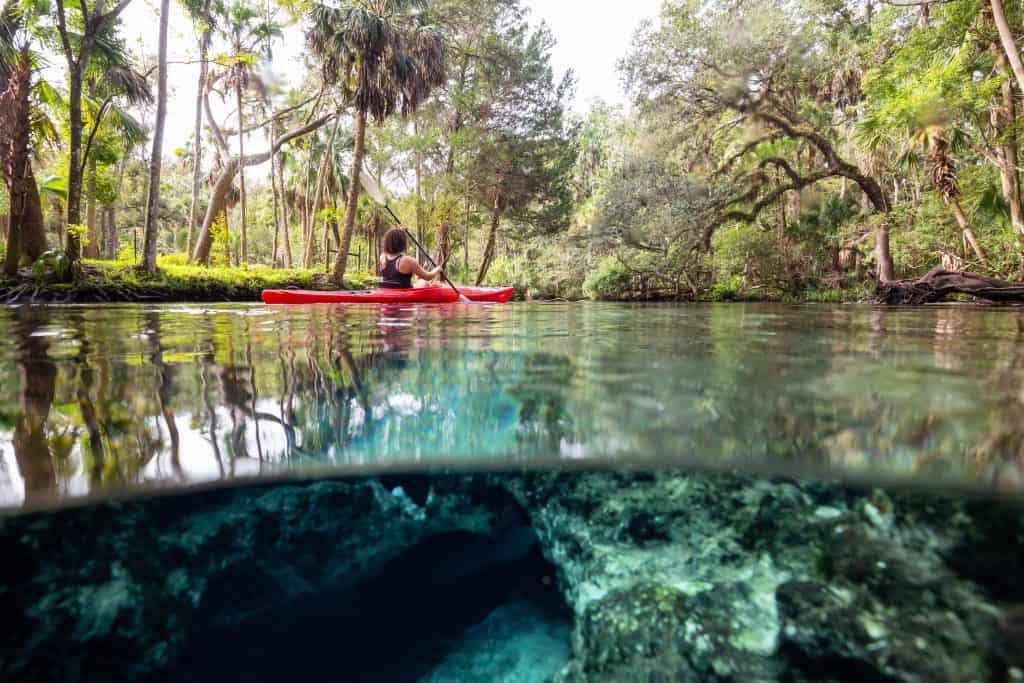 Sawfish Bay Park
On Florida's Atlantic coast, Jupiter is one of the best destinations for canoeing in Florida. Through the blue-green brackish waters, you'll come face to face with the best of Florida's scenery.
Jupiter provides many opportunities for kayaking adventures: intracoastal highways, oceans, and even the Indian River. Among these, the waters of Sawfish Bay Park are our favorite for kayaking in Florida.
Inside 2.5 acres along the waterway, you'll find a launch dedicated only to kayaks, canoes, and paddleboards. You won't have to worry about the wake from other boats here!
Along the waters, you'll take in stunning vistas of the Jupiter Lighthouse and the Jupiter Sandbar.
Sawfish Bay Park is a coveted slice of paradise that people really don't know about. When the locals care this deeply about a park, you know its for a good reason.
If you're not navigating the Jupiter Waterway Trail, you can also enjoy a fishing pier and a boardwalk along the waterway.
There is not a place to rent kayaks within the park, but you can find many rental companies directly in the park's vicinity.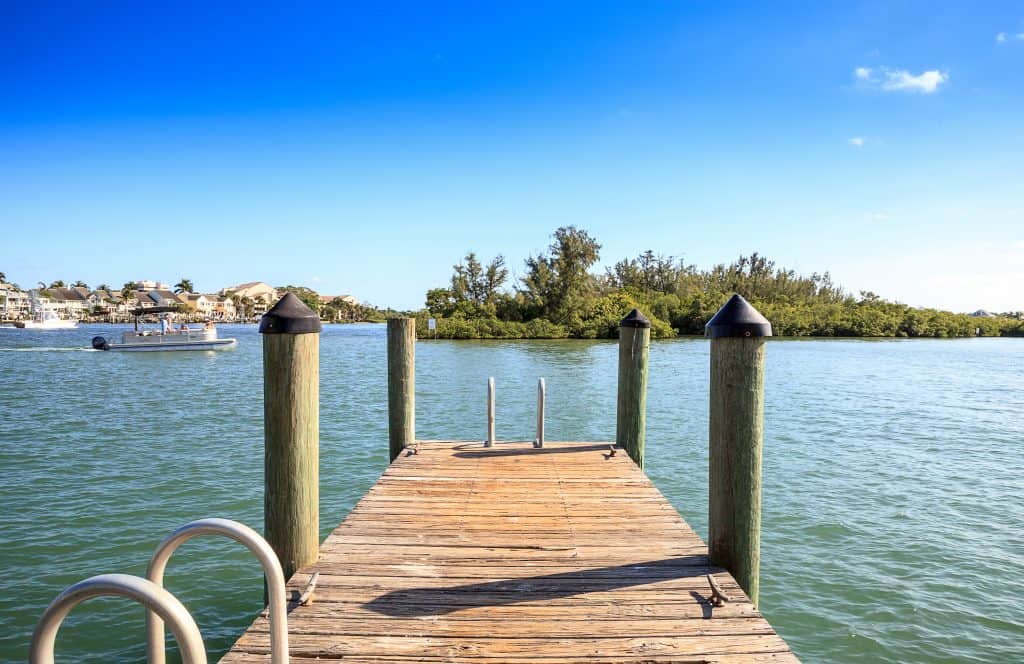 Rock Springs/Kelly Park
The free-flowing springs at Rock Springs at Kelly Park are a bit cooler than its counterparts, usually topping out at a chilly 68 degrees, making this destination perfect for the hottest of Florida summers.
It can get confusing, so let's clarify. Kelly Park is the name of the nature park. Here you'll find over 7 miles of hiking trails to enjoy! Rock Springs is the name of the springs near Tampa whose headwaters are found in Kelly Park.
Kelly Park can be found in the middle of Apopka. It's proximity to Orlando attractions make it a great day trip, especially if you're sick of theme parks.
Rock Springs Run originates in Kelly Park and awaiting its challengers is a 27-mile adventure suitable for beginners. If you want to complete the entire run, launch at King's Landing. For a more leisurely experience, we recommend launching from Camp Joy.
Admission to Rock Springs is $3 per vehicle for 1-2 people; $5 per vehicle for 3-8 people; and $1 for additional person/walk-ins/motorcycles/bikes. Kayak/Canoe/Paddle Board Launch at Kelly Park's Camp Joy runs $3 for 1-2 people; $5 for 3-8 people; and $1 for each additional person.
READ NEXT: Tips For Rock Springs At Kelly Park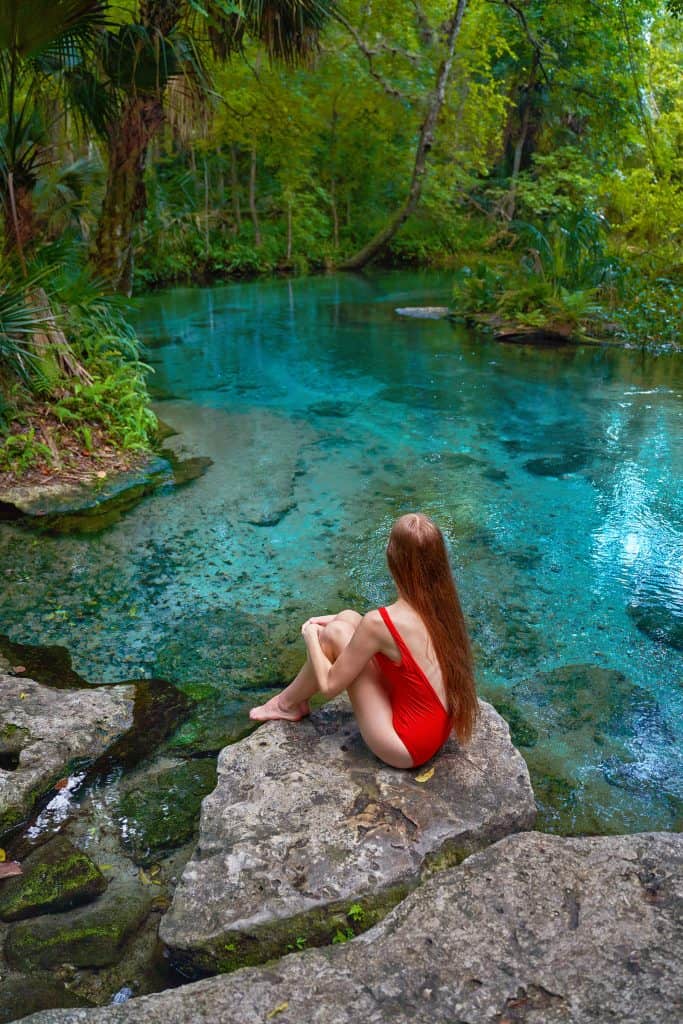 Blue Cypress Lake
Right above Lake Okeechobee, you might not think there's much of anything to do. As most good explorers know, you just haven't looked hard enough.
Blue Cypress Lake remains one of Florida's most stunning hidden gems. As you paddle, you'll navigate a forest of bald cypress trees shooting out from the water.
The lake itself has a completely natural shoreline, unmarred by development. This is because the lake is the headwater of the St. Johns River, a major player in Florida's ecosystems.
To see the most scenic vistas, paddle clockwise north along the shoreline. Surrounded by the trees, which jut far out into the center of the lake, it feels like you're paddling on a cypress swamp rather than a lake.
Make sure to keep your eyes peeled as you gaze at the trees. Blue Cypress Lake is home to over 200 osprey nests! There are so many, we think this is an undercount!
Blue Cypress Lake is a bit off the beaten path and hard to find. Simply head west on SR 60 from Vero Beach. After 18 miles, turn right (north) at the Blue Cypress Lake sign.
The sign is very small and easy to miss, so keep your eye out for it on the right side of the road. Follow the dirt road for another 4.5 miles to park at Middleton's Fish Camp, where you'll find the boat launch.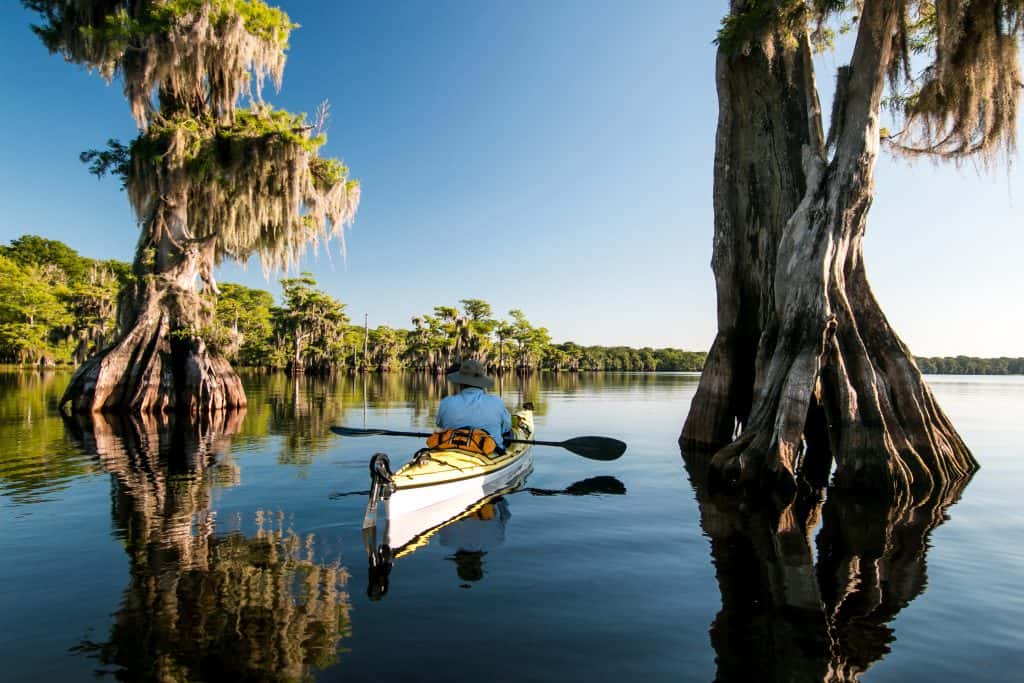 The Everglades
With over two million acres to explore, the Everglades provide endless recreation in Florida's most beautiful ecological feature. So grab your bug spray, no kayaking guide would be complete without the Everglades, one of the best national parks in Florida!
The opportunities for kayaking in Florida are endless here. If you want a week-long trek or a quick morning paddle, anything is possible. No matter your skill level, there's a waterway for you.
Over 99 miles long, in Wilderness Waterway, you'll find a navigable recreational waterway, also known as the Marjory Stoneman Douglas Wilderness. With many interconnecting creeks, rivers, lakes, and inner bays, only the most experienced paddlers should tread these waters.
A full trip along the Wilderness Waterway takes an experienced paddler around eight days to complete. Travelers can however use additional route options to extend or shorten their trip.
If you truly love the great outdoors, plan an overnight kayak trip! Choose between Tiger Key or Picnic Key in the Ten Thousand Islands for a view of the brilliant night sky from your own private beach! Overnight camping sites on the island are limited and must be reserved in advance.
For a more relaxed approach, check out Tigertail Beach on Marco Island, one of the best beaches in Naples. From here, you'll get a great view of Sand Dollar Island to spy on terns, black skimmers, and sandpipers.
READ NEXT: 11 Best Things To Do In Everglades National Park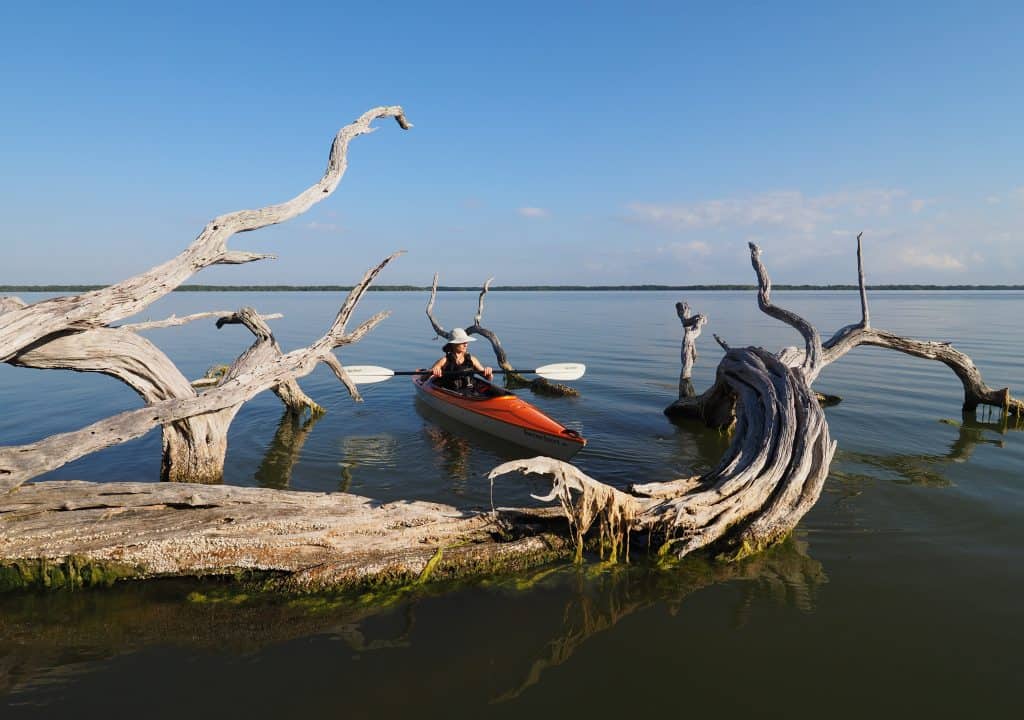 Biscayne National Park
If you're tired of the high-paced hustle and bustle of Miami, take a break at Biscayne National Park. One of the most pristine destinations for kayaking in Florida, you'll be paddling through the famously warm waters of the Miami coast.
A wide expanse of open water and mangrove-fringed shorelines, these waters are perfect for kayakers. Too shallow for motor boats, you'll never have to worry about wakes!
Many return visitors to Biscayne National Park use the small islands in Adams Key as a base camp. From here, you'll have access to the creeks, channels, and lagoons at the southern edge of the park.
Jones Lagoon never fails to give paddlers a number of face to face encounters with rays, upside-down jellyfish, schools of fish, and many wading birds!
If you kayak through Hurricane Creeks, bring some snorkeling equipment. Underneath your kayak, you can find a hidden world of sea squirts, crabs, anemones beneath the mangrove roots.
While canoe/kayak rentals are not currently offered, launching from a designated area in the park is free of charge. Biscayne National Park requires no pass or fee to enter.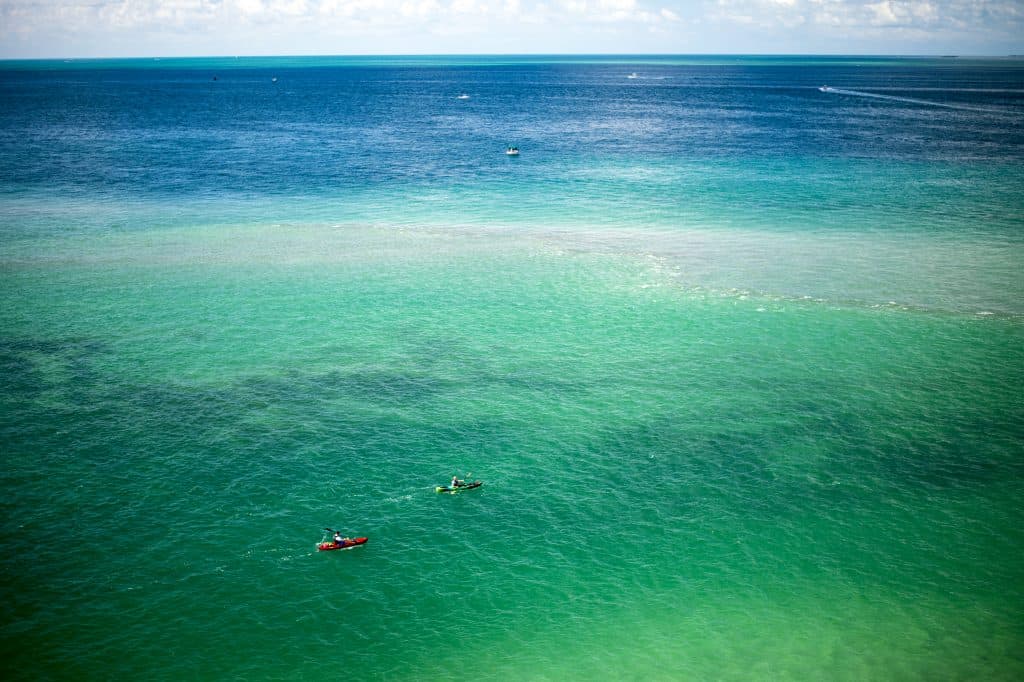 Did You Find This Post Helpful?
If so, we would love to keep in touch! We enjoy seeing photos and comments about your experiences in Florida! You can follow us on Instagram and we will repost your photos on our feed and comment too! Just tag us at @floridatrippers and hashtag #floridatrippers. We can't wait to see your travels!