Wondering about surfing in Florida? While Florida may not be known as a surf destination it has produced world-class surfers such as Kelly Slater. If you know where to look, are patient, and can travel a bit, Florida surfing may surprise you.
In this article, we will walk you through the best Florida surf spots, where to catch Florida waves, and all you need to know about Florida surfing.
The typical surfing season in Florida runs from early August through to spring. However, November through March tends to be when you get the best waves. And if you are more experienced June to September, Hurricane season, can also bring great waves.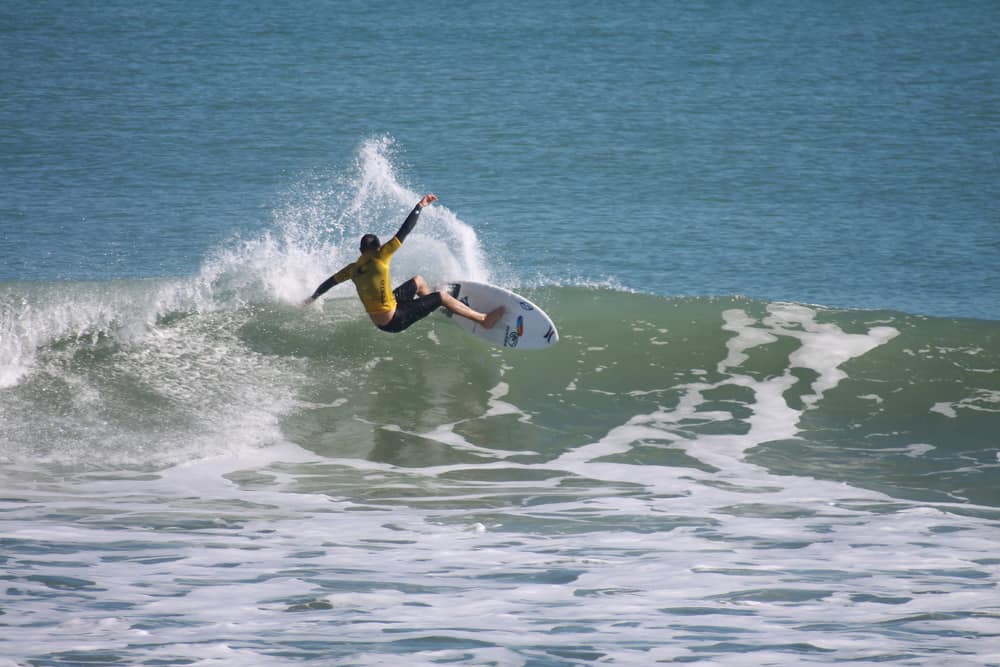 Surfing in Florida can be a bit hit and miss. The East Coast of Florida tends to be the most consistent with the southern part getting higher quality waves. Often you go to one spot and there is no surf and you just drive a little further and the surf is perfect. The west coast is very inconsistent although sometimes when a storm hits just right the waves are surfable.
Florida surfing doesn't require any specific equipment; often what you wear for swimming and lots of sun cream and of course your board and you are away. Most surfers agree that most of the time you will need a small-wave shortboard for when the waves are good and a longboard handy for the many days when the waves aren't up too much.
Most beaches offer rental and tuition but some of the more out of the way beaches may not, so please check before you go.
Ready to grab your board, sun lotion, and hit the waves? Let us walk you through the best places to surf in Florida. Then you can make a decision about which of these Florida surf spots will be best for you.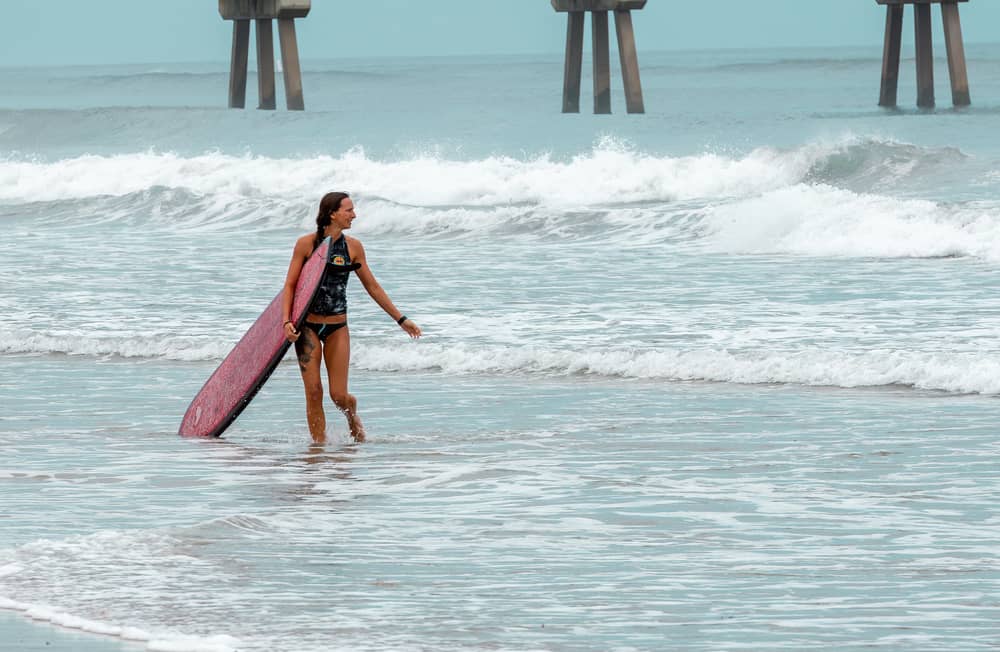 Cocoa Beach
If you are new to surfing in Florida then this is the place you want to start. As well as being a great place for beginners it's also home to 11-times World Surf League #1 pro, Kelly Slater, and the world-famous Ron Jon Surf Shop. Cocoa beach is one of the biggest and most loved Florida surfing spots.
It's a great beach for longboarders and beginners but not so great for more experienced surfers. The best and busiest spot is the Cocoa Beach pier.
There is also plenty to do here for non-surfers. Cocoa Beach has been called the quintessential beach town. At just an hour's drive from Orlando, it's a great day out if you want a break from the theme parks.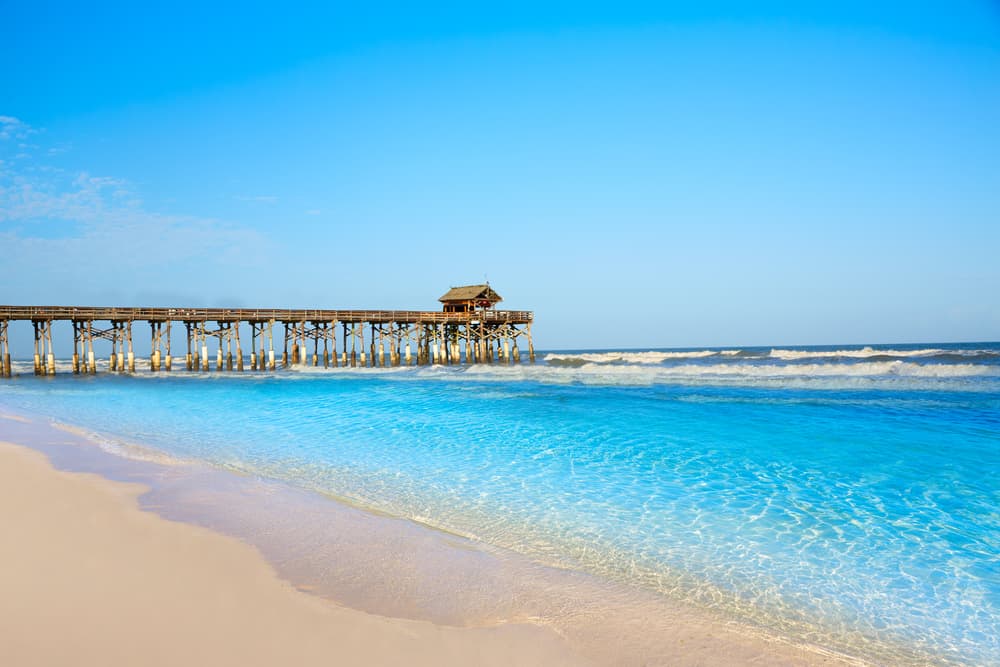 New Smyrna Beach Inlet
If you are looking for consistent waves and want to make sure you at least get some surfing done on your trip then New Smyrna Beach might be the place for you. It's called the wave magnet by locals, so it's a great place for surfing in Florida. You will find some of the best Florida surfing here.
There are 13 miles of beach here so you are sure to find a spot and the surf is best at high tide. It's a great spot for stunt surfing.
Located on Florida's Central Atlantic Coast just south of Daytona Beach, New Smyrna Beach has the most biologically diverse estuary in North America. Apparently, it's home to 400 species of birds, dolphins, manatees, alligators, turtles, and many more.
New Smyrna Beach also has the affectionate name of The Shark Bite Capital of the World. This gives you a little indication of who you might be sharing the waters with. As long as you aware and take care this is a safe place to catch some great waves.
A great all round place for surfing in Florida.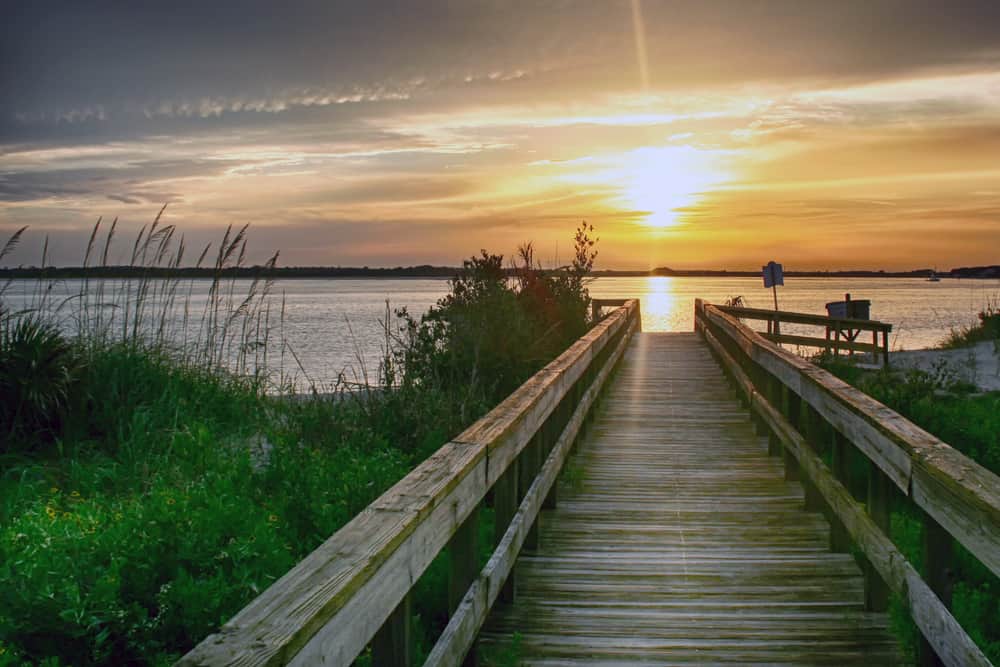 Jacksonville Beach
Jacksonville is another consistent surf spot but the waters tend to be gentler. Surfers tend to call the spots they surf after landmarks and in Jacksonville Officer's Club, Lighthouse, Hanna Park and Mayport Poles tend to be the best spots.
With vast stretches of beautiful beach, Jacksonville Beaches has 22 miles of golden sand. Found along northeast Florida's "First Coast," north of St Augustine, this area has a lot to offer besides surfing.
This family-friendly location offers a newly redesigned golf course, beach volleyball, surfing, fishing, and a wide variety of places to eat and drink.
Jacksonville Beach has some of the best waves in the region and if you are lucky you might find yourself surfing alongside dolphins.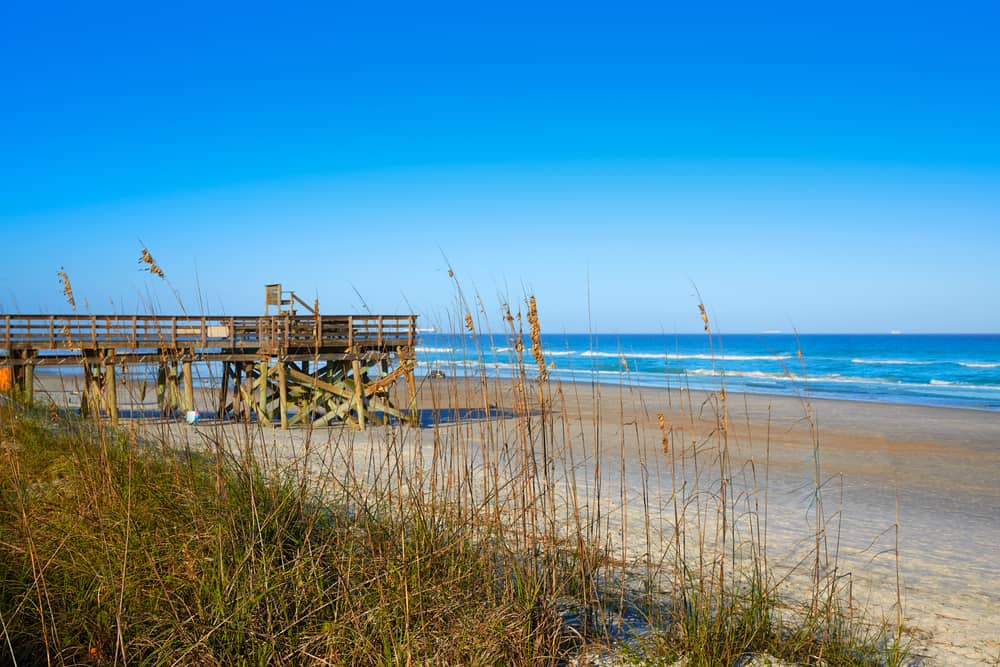 Pensacola Beach
Surfing in Florida doesn't get much better than this. Crystal clear water, sugar-white sand, and consistent great surf; welcome to Pensacola Beach.
Pensacola Beach is a resort community on the Gulf Coast barrier island of Santa Rosa, right at the top end of Florida.
This emerald green coastline is award-winning and ranges from lively crowded areas to more secluded quiet spots. Make sure you visit the Pensacola Beach Fishing Pier and Observation Post which stretches 1,471 feet into the Gulf of Mexico, offering incredible views.
The Father of Gulf Coast surfing, Yancy Spencer III hailed from Pensacola. The Pier and the Wall offer the best surfing spots and you will find great surf here at any time.
If you like your surfing in Florida to look like paradise then this is for you.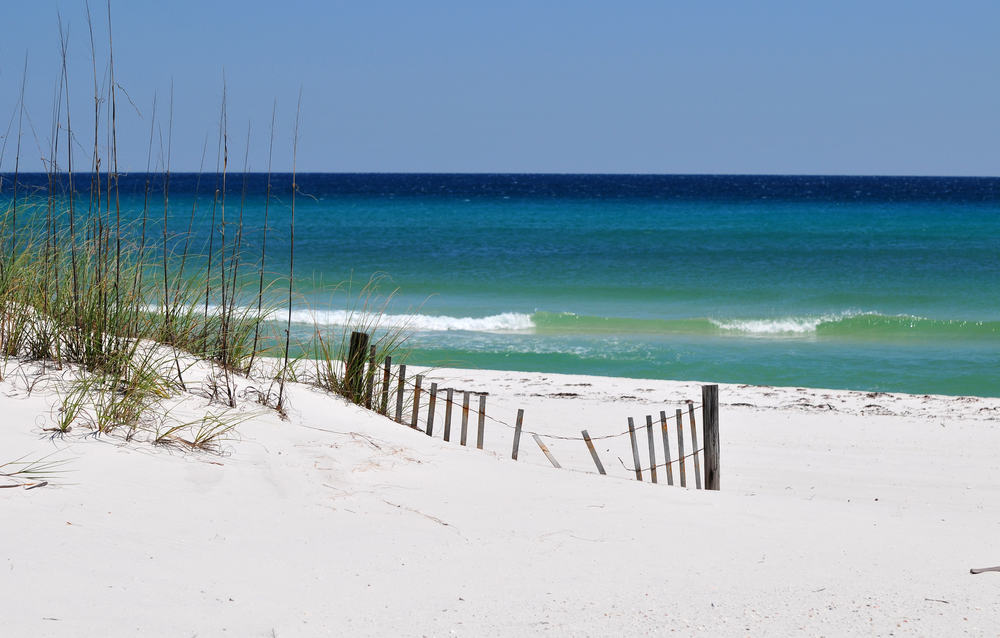 Sebastian Inlet
If you like you surfing in Florida with big waves and aerial surfing then Sebastian Inlet is the place for you. Most agree it was the birthplace of aerial surfing.
Located in Melbourne Beach on Florida's East Coast, Sebastian Inlet has three miles of great surf with the biggest breaks at Monster Hole. Thanks to a man-made sandbar here you can ride 10-foot waves.
Sebastian Inlet is a rocky jetty and there are two sides, the North Side being the better at low tide as the waves are easier to handle.
Melbourne itself also has lots to offer with miles of beach and an historic downtown with a huge variety of shops and restaurants.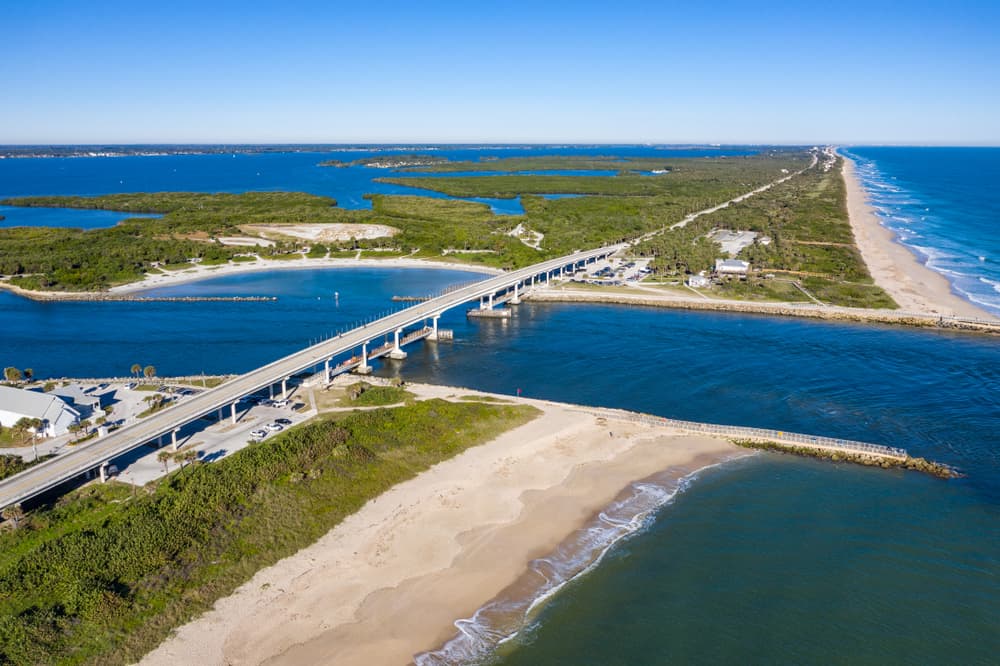 Palm Beach
When it comes to Florida waves Palm Beach's Reef Road wins hands down. It's the state's big wave spot with waves that can reach up to 15 feet. And during winter and hurricane season you are in for a real treat here.
Not only is this place amazing for big waves but it's also beautiful, with lovely beaches and crystal clear waters.
Set in the glamourous area of West Palm Beach where you will find boutique shops, fine dining, Broadway shows, art museums, and more, West Palm Beach has something for everyone, especially the avid surfer.
If you are looking for big Florida waves then this is the place to go.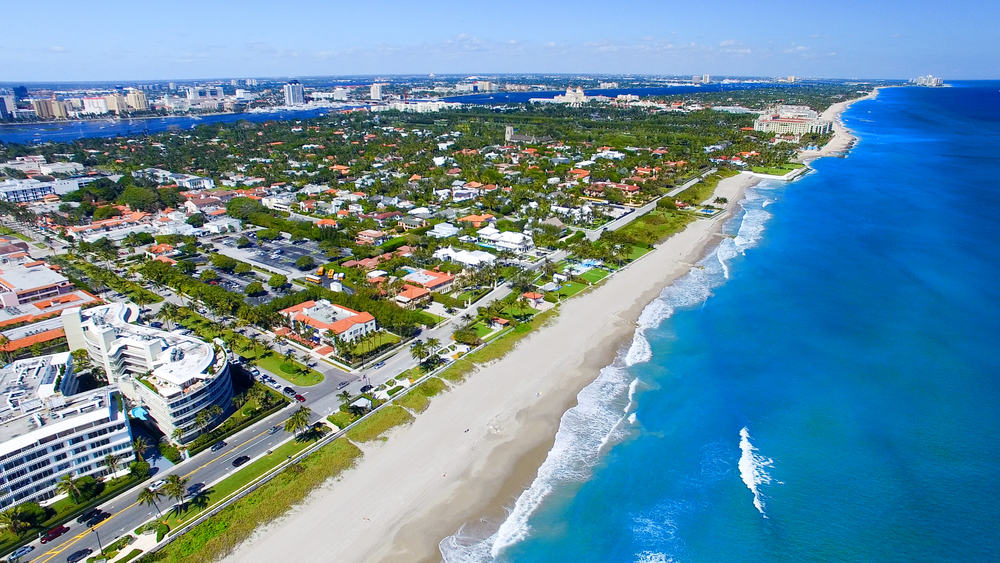 Boynton Beach Inlet
If you like your surfing in Florida a bit more chill with fewer crowds, then Boynton Beach Inlet might be the place for you.
South of West Palm Beach, the South Lake Worth Inlet, also known as the Boynton Inlet, is an artificial cut-through connecting the south end of the Lake Worth Lagoon in Palm Beach County, Florida with the Atlantic Ocean.
It's a great place to find surf and if you paddle about a quarter of a mile out there is a sandbar that gives some long breaks. If there is a south-east wind head to the north side; you might find yourself alone with some great surf.
There isn't really a lot to do, which makes it a great place if you like solitude. Do head to Nomad Surf Shop, a family-owned shop that has been here since 1968. We are sure they will appreciate a visit.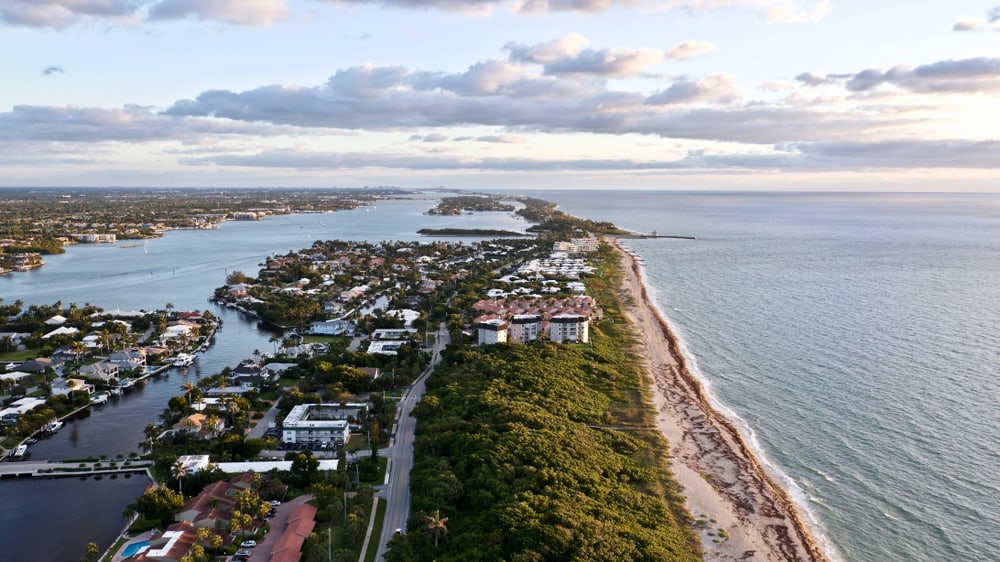 Destin Beach
Crystal Beach in Destin is a great beach in Florida to learn surfing, mainly due to its larger waves. The waves are also consistent for surfing and sometimes a bodyboard will be all that the waves can manage. It's a great place to learn the energy of waves and if you are in luck they will be big waves to surf on.
Located on Florida's Emerald Coast, this is one of those surfing in Florida destinations that looks like it could be in the Caribbean. It's picture-perfect. Crystal Beach is a great place to spend time with family or leave them enjoying the beach while you go and catch some waves.
And if you want to try your hand at something else Destin is widely known as the world's luckiest fishing village.
Surfing in Florida here can be teamed with some great fishing.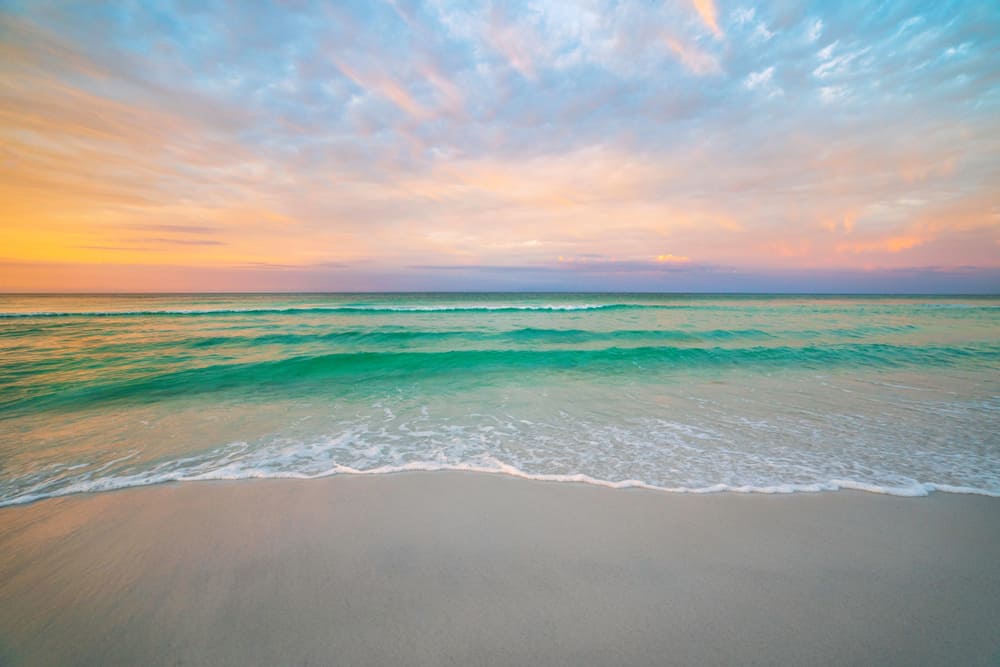 Flagler Beach
If there is a cold front closing in then head to Flagler Beach. Located between Daytona and St. Augustine, there are six miles of crowd-free beaches and plenty of surf if the weather is right. A low incoming tide during a cold spell tends to produce the best surf.
Frieda Zamba, one of the greatest female surfers was born here. It is also home to the Z Wave Surf Shop.
But this beach has more to offer than just surfing. It's considered to be one of Florida's finest beaches for natural, unspoiled beauty. With over 19 miles of uncrowded beaches, it a laid-back place to spend some time.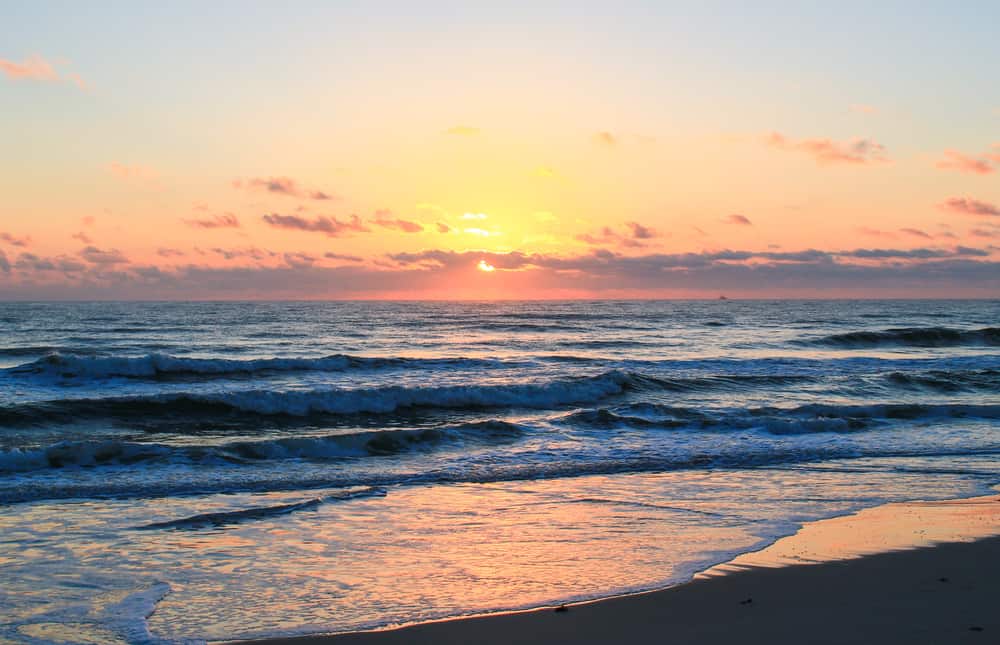 Jupiter Beach
When it comes to surfing in Florida, Jupiter describes itself as laid-back mixed with full-throttle adventure. It's location at the confluence of the Loxahatchee River, Intracoastal Waterway, and the Atlantic Ocean make it ideal for most kinds of water sports.
Jupiter has a lot to offer the surfer. To the south, the best breaks are Juno Beach Pier, Ocean Reef Park, and Pump House. To the north there are numbered spots and heading towards the inlet you have the Xanadu/Ocean Walk break toward Carlin Park and Civic Center, going up the final spot at the inlet.
With nearly 3½ miles of beaches, this is where the Gulf Stream flows nearest to the United States making the water a comfortable 78 degrees. These warm, clear waters are surrounded by dunes and mangroves and an army of locals who keep the beaches clean
It's a great beach for kids to swim safely too, so why not bring the family? It was also named by Coastal Living magazine one of the Top 10 Happiest Seaside Towns in the USA as if you needed another reason to visit.
Surfing in Florida doesn't get much happier than this.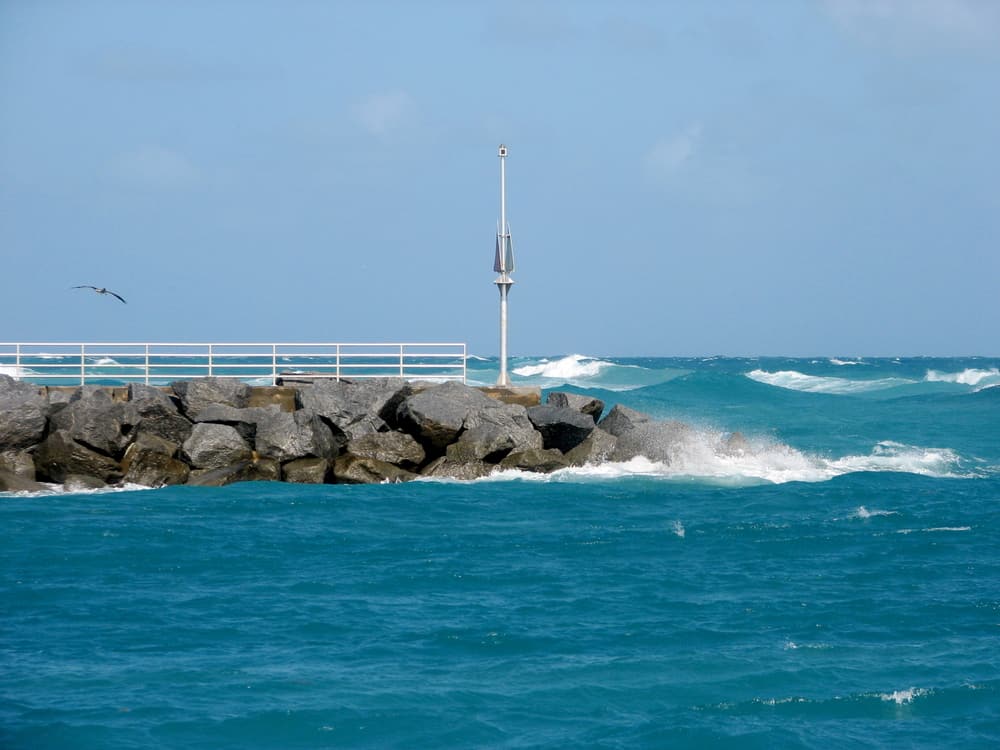 Daytona Beach
Daytona Beach needs no introduction but as well as being able to drive on it you can also surf. And if you are a beginner there are ample rental shops and tuition available. It's a great place to start learning. Surfing in Florida here is more strictly regulated due to the high number of visitors.
The waves are unlikely to get above 5 ft but the sandbar break means the surf is quite consistent.
Favorite surf spots in the area include the Main Street and Sunglow Piers in Daytona Beach, Ponce Inlet, Ormond Beach, and the New Smyrna Beach Inlet. Daytona and Ormond were named in 2018 as two of the top places to surf in Florida by Coastal Living
If you are new to surfing and want to catch some Florida waves then this might be a great place to start.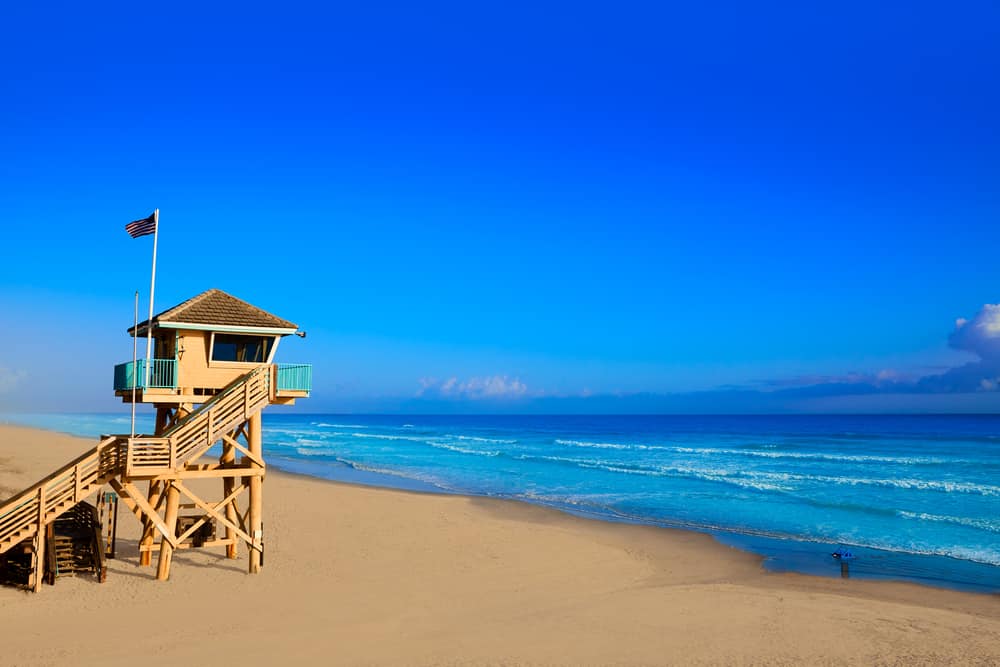 Honeymoon Island Beach
A short drive from Tampa, Honeymoon Island is a state park. It offers visitors four miles of beach to explore, along with a three-mile trail through one of the last remaining virgin pine forests.
Winter is the best time for surfing here and when the wind direction is from the east. It's a sandbar break and is known to produce some great point break waves when the weather conditions are right. There are rocks on this beach so watch out as it can be hazardous.
Swimming, fishing, shelling, hiking, and bicycling are all popular activities, so there is a lot to do other than surf.
This is a beach the locals love and one of the less visited, particularly by surfers.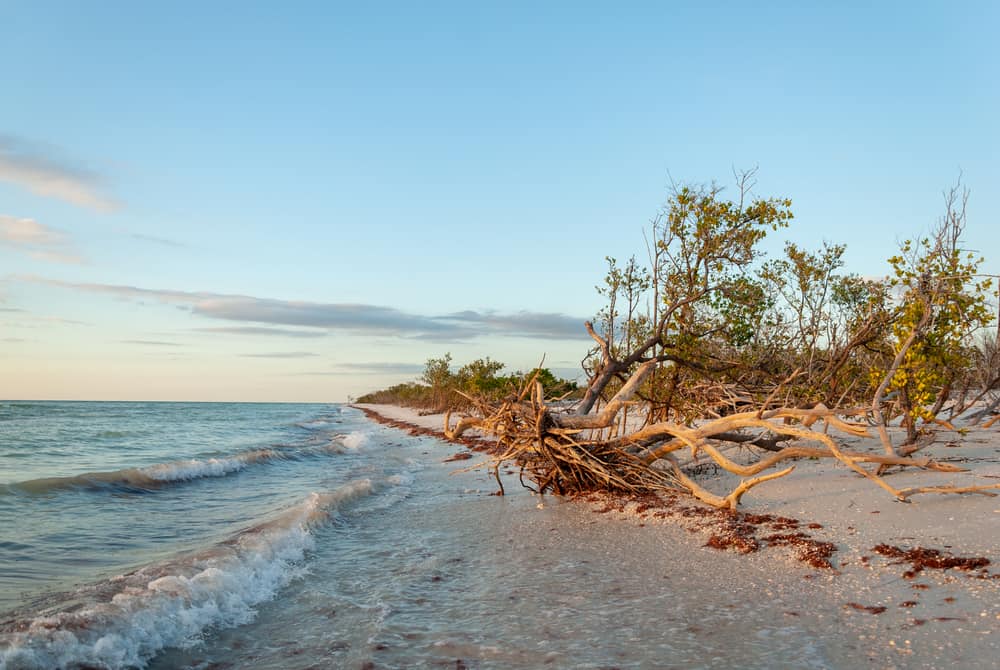 St. Augustine Beach
St. Augustine is not just famous for its haunted lighthouse, it's actually growing a pretty big surf community. Not only are the beaches beautiful but the waves are pretty consistent and varied. This in Florida is rare, making it a great spot.
Places to surf include the Blowhole, or just north of it to be exact. This is where you will find the biggest waves, especially at low tide. The Middles is another which is best during low- to mid-tide.
It's a beach that has something to offer every level of surfer. There are surf schools locally if you need some tuition.
And there is also so much to do in St Augustine from its history, shops and restaurants and of course that haunted lighthouse.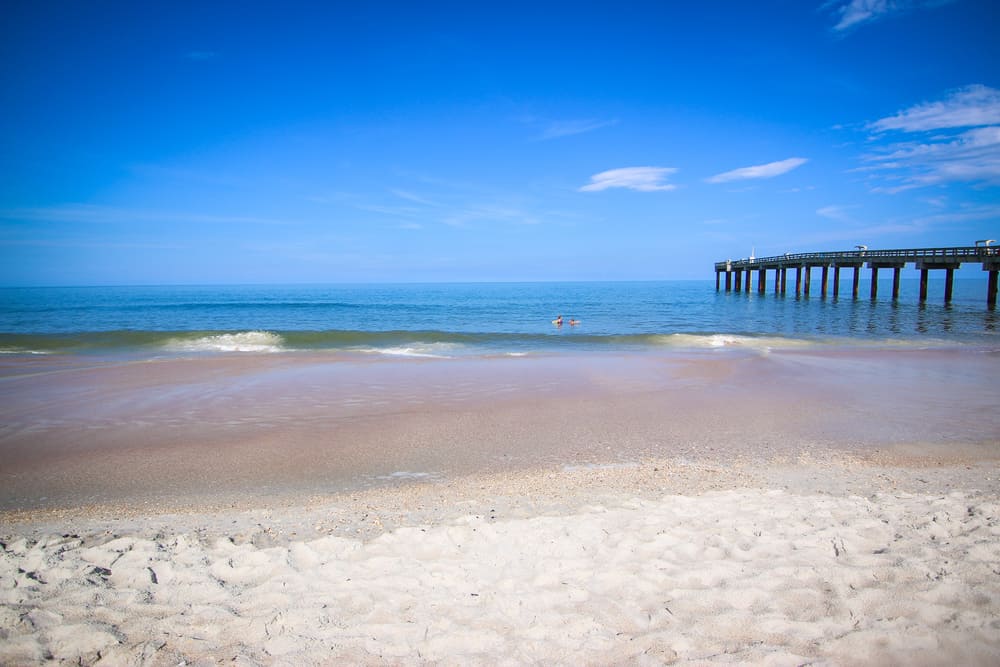 We hope we have convinced you that surfing in Florida has a lot to offer. Whether you are a beginner or have been riding waves since you were little, you will find the perfect spot and the perfect Florida wave to ride.