With so many dog beaches in Florida, you never have to feel guilty about leaving your pup at home again! Instead of hiring a sitter or crating them for the afternoon, bring them along for some fun in the sun!
That's right, your dog can be right next to you as you swim in the crystal-clear waters of the Gulf or the blue-green waves of the Atlantic! A beach day is the easiest way to get all the energy out of them.
Whenever you go to one of the dog beaches in Florida, it's important to be extra vigilant. A trip to the beach is much more demanding than a visit to a regular dog park.
Make sure to keep plenty of fresh water on hand. Especially if your pup likes to lap at the salt water, you need to keep them hydrated. Dehydration can sneak up on humans and dogs alike underneath the Florida sun.
Speaking of the sun, you should also seek out shady areas and take frequent breaks to cool off. Consult with your veterinarian about special sunscreen for dogs for an extra layer of protection!
You should also make sure your pup is up to date with vaccinations. Some dog beaches in Florida will require you to have your pup's paperwork on hand. Make sure your pup is protected against heartworms, as many dog beaches in Florida have mosquitos.
Be aware that while most dog beaches in Florida are off-leash, a few require your pooch to be on a leash at all times. Please adhere to the rules of the beach you're visiting and be respectful!
Creating memories with your best friend has never been so easy. So pack up the car, grab some tennis balls and a frisbee, and get ready to explore the best dog beaches in Florida!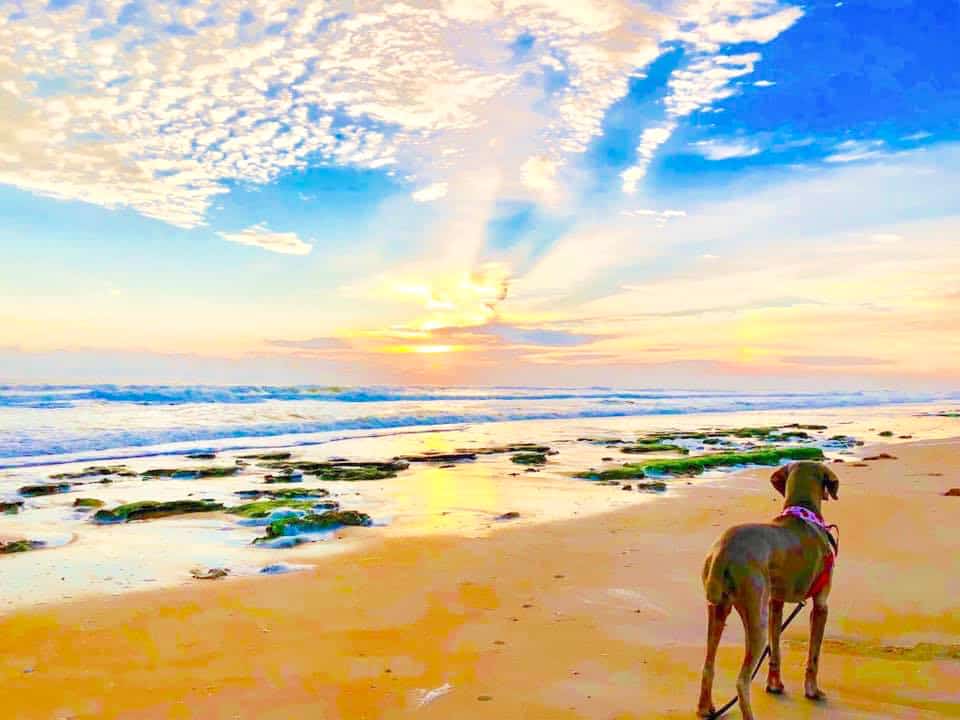 15 Best Dog Beaches In Florida For Your Furry Friend
Jupiter Off-Leash Dog Beach
Jupiter, the northernmost town in Palm Beach County, can be found just above West Palm Beach. While having some of the prettiest of the East Coast Beaches, you'll love the Jupiter Off-leash Dog Beach!
Home to one of the few remaining truly off-leash dog friendly beaches in the state, Jupiter's Town Council has adopted a stretch of land for you to bring your pup to run free!
Find the dog-friendly area beaches on the 2.5 mile stretch from beach marker #25 (Marcinski Road) going north to beach marker #57 (Carlin Park property line). Find a full map here.
While dogs do not have to be on a leash, they should be well-behaved, respond to voice commands, and not act aggressively to other animals. Keep your dog on a leash from the car to the beach, and also pick up after your dogs' waste.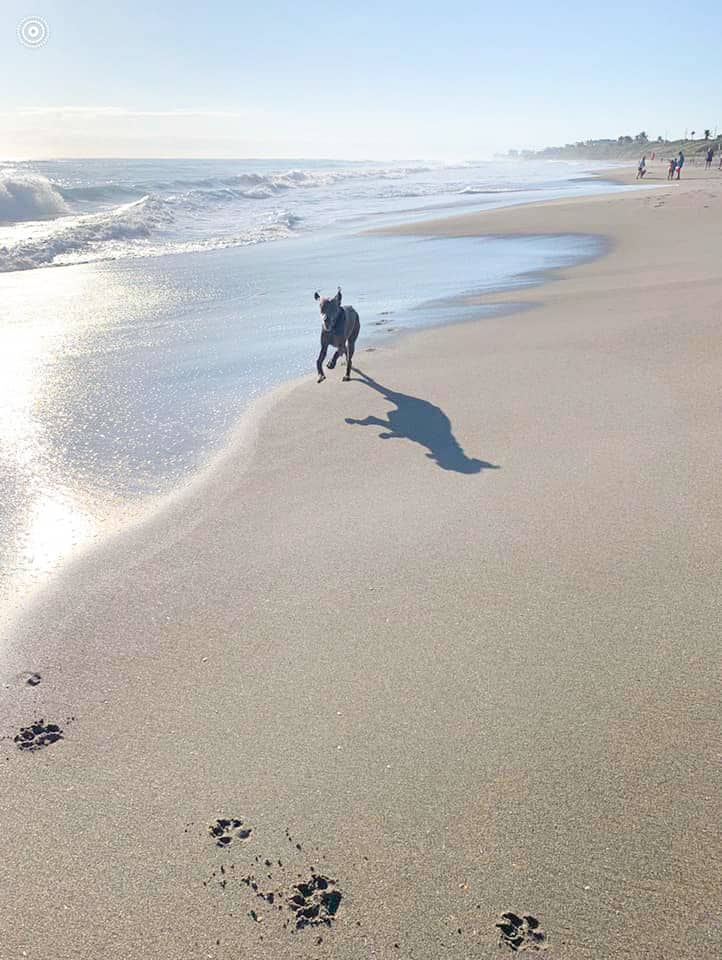 Haulover Beach Dog Park
In Miami, it can be difficult to find dog-friendly places especially at bars, restaurants, and even rental accommodations. But what if we told you that you could make the perfect day trip with your dog in tow!
While Haulover Beach is designed mostly for Miami's human visitors, guests of the canine variety can have some fun in the sun too! Better yet, your pups will be guarded by two lifeguard towers.
Look for lifeguard tower #3, as dogs are only allowed daily from 8 AM – 3 PM. This portion of the beach is directly across from a dry dog beach park which is accessible through parking lot #3 and #4.
If you're worried about the size of your dog, never fear! There are two marked off areas for smaller and bigger dogs. Just be wary, a lifeguard will come promptly to direct your dog off the beach right at 3 PM.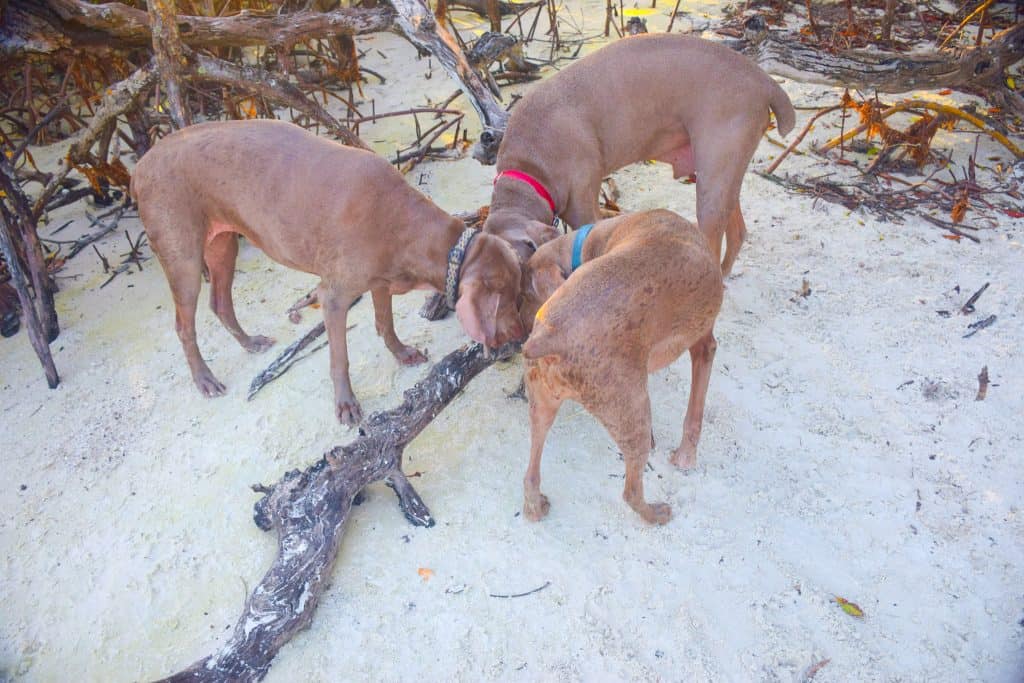 Davis Island Dog Beach
Any Florida native will tell you David Island is full of posh boutiques, great restaurants, and has the best views of downtown Tampa. But did you know it is home to one of the best dog beaches in Florida?
At Davis Island Dog Beach, dogs are allowed to run and play in a fenced-off section of pristine white-sand beach! This beach is great for first-time swimmers, as there are hardly any waves. It is easy for pups to wade in the water and get their bearings!
The parking lot has a shower station to rinse all the sand off of paws and feet before you get back in the car. If that's not enough activity for your pups, you can always head over to the fenced grass area so your dogs can run even more!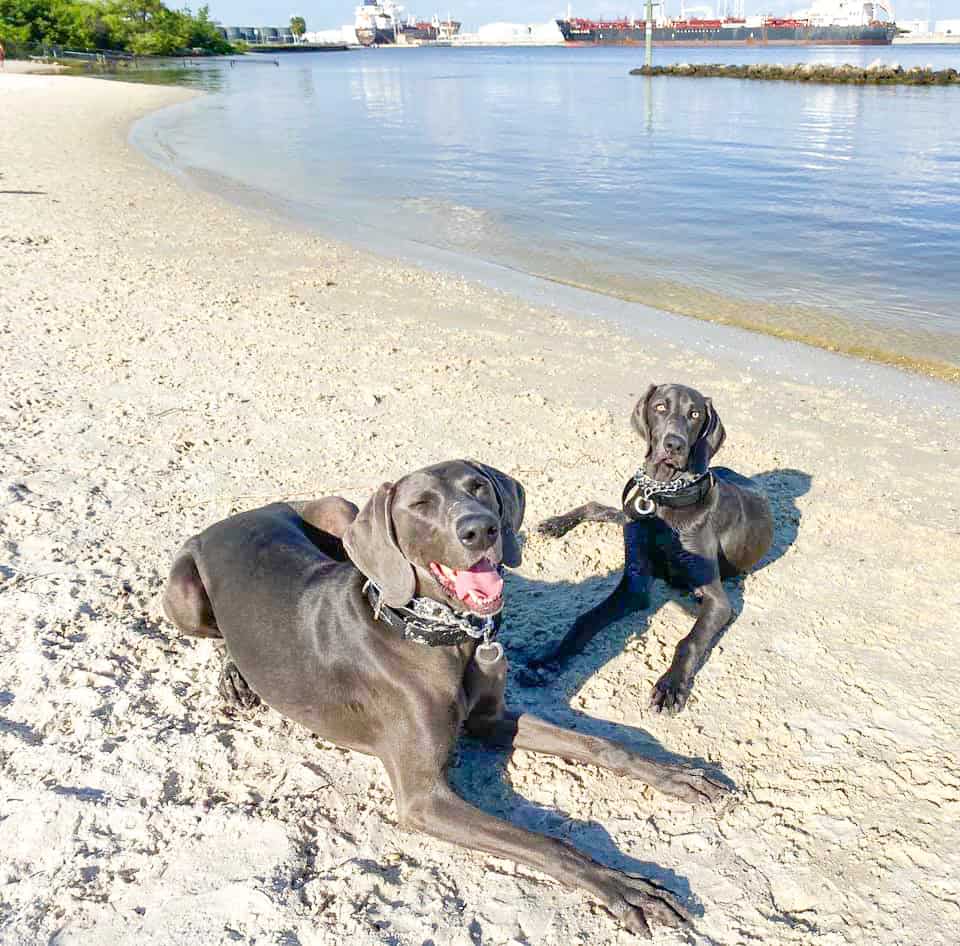 Brohard Paw Park
In scenic Sarasota, you'll find one of the best pet-friendly dog beaches in Tampa just an hour to the south! Brohard Paw Park is perfect for your fur babies because the Gulf waters are always glistening!
Not only is the beach off-leash, but there is also off-leash access from the parking lot. Your pup can immediately run to the beach straight from the car. No more leash tugging!
Along the shores, you'll find plenty of room to splash and jump around. If you have kids with you, they'll have fun finding shark teeth in the sand. Beaches in the area are littered with them!
After you go swimming and playing, you can take a walk on the pier and see the beautiful sunset. Once you've wrapped up, there is a convenient dog washing station to wash the day away!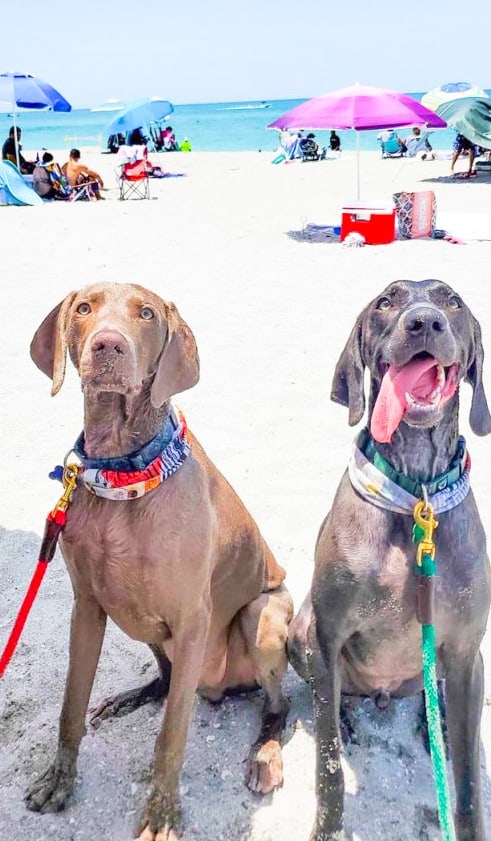 Pass-A-Grille Dog Beach
On the southern-most tip of St. Pete Beach is historic Pass-A-Grille, one of the most quaint beach towns in Florida. You can enjoy the boutiques, outdoor art markets, and restaurants, but you'll love the Pass-A-Grille Dog Beach.
Because this is a smaller beach, it is more secluded and therefore less crowded! Find it at the tip of the beach near the pier. This is perfect for frolicking in the waves and throwing a frisbee! Make sure to always have your pup's leash handy and pick up any dog waste.
After you're done romping on the beach, take some time to explore the Merry Pier, a popular fishing site! Then walk over to one of the many pet-friendly restaurants like Paradise Grille or Sea Critters Cafe! Making a visit to this dog beach is one of the best things to do in St. Petersburg!
Pensacola Dog Beach
One of the oldest European settlements in Florida, there are so many fun things to do in Pensacola! But did you know they have one of the best dog beaches in Florida?
Dogs are welcomed at the designated shorelines located at parking lots 21.5 and 28.5. Hours are sunrise to sunset daily. The only exception is during sea turtle season from May 1 – October 31 where hours become 7 AM – sunset daily.
Dogs must be vaccinated, especially a current rabies tag must be on your dog at this beach. Doggie bags and disposable bins are available at both locations, but they might run out. Bring your own just in case!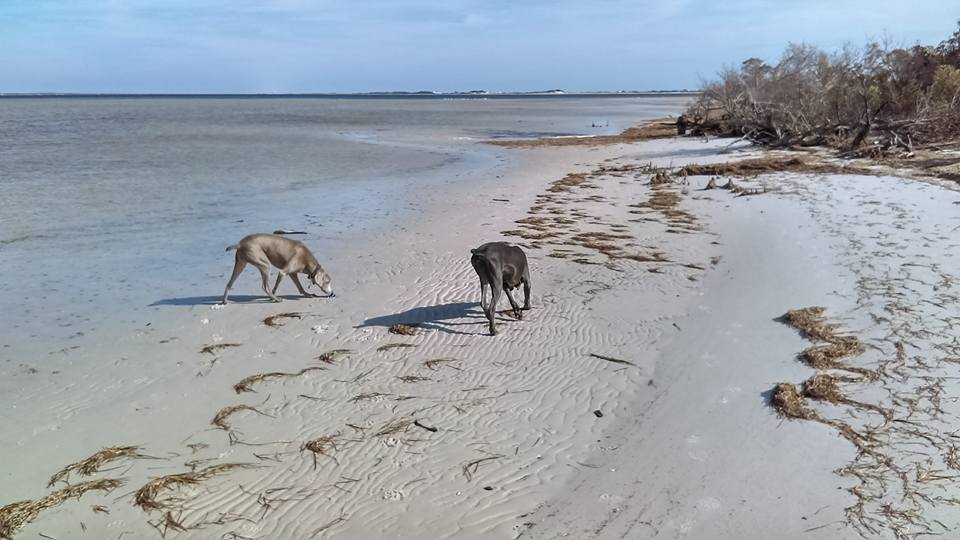 Juno Beach Dog Park
The second dog beach in Jupiter can be found along Beach Marker #25 to the north to Beach Marker #60. Friends of Jupiter Beach dedicates themselves to keeping the sands fun and playful for all!
While your dog may be off leash here, keep a close eye on them and have them under control. Supervise them at all times. Keep them leashed from the car to the beach and around small children.
Don't bury poop or throw it in the ocean! There are special FJB bags provided at every beach crossover. Stock up as you pass them, or bring your own from home!
We recommend bringing your animals either early in the morning or late in the afternoon. Here you're likely to beat the heat and crowds. Also, don't litter. If you bring it to the beach, take it home with you!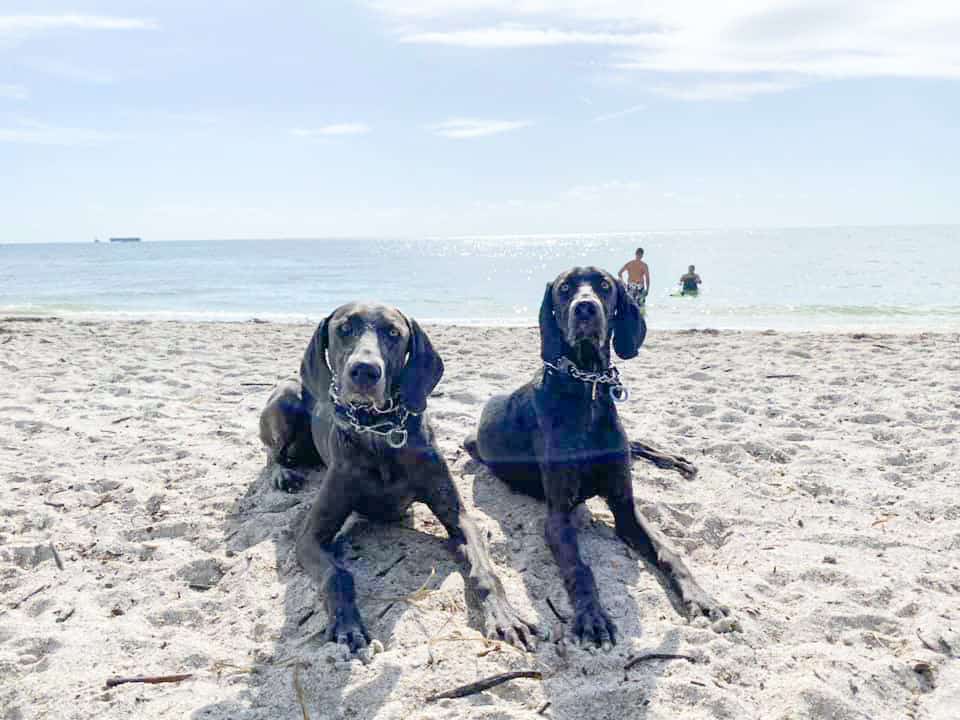 Jungle Hut Beach
Palm Coast, Florida is a hidden gem. With a hearty population of the rare ruby-throated hummingbird in the summer, you'll also find one of the best dog beaches in Florida.
Jungle Hut Beach is one of the ten most isolated beaches in Florida. Its empty shores also welcome pups, making it one of the best dog beaches in Florida!
Your pup must be on a leash no longer than 6 feet and well behaved at all times. You should always follow the local ordinances, but if its isolated enough, you can take your chances with letting your pup off-leash.
The coolest thing? Cats and other pets are allowed! No matter what kind of animal you plan to bring, call ahead before your trip to confirm the breed and vaccinations. (386) 313-4020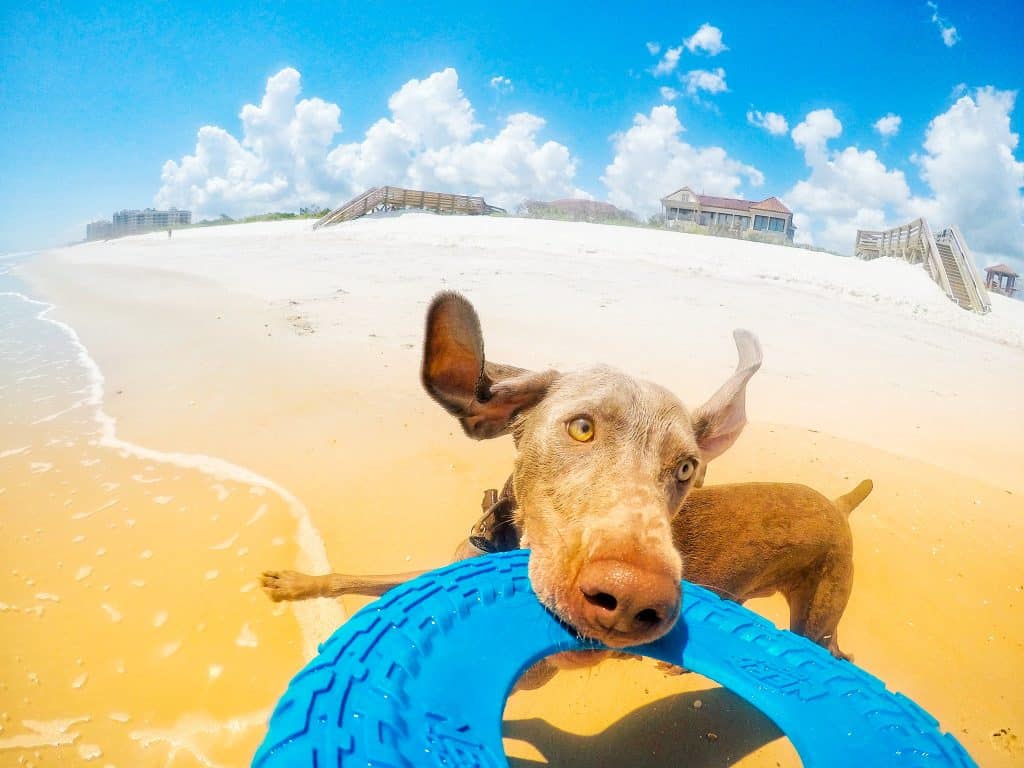 Fort De Soto Dog Beach
Aside from being one of the best national parks in Florida, Fort De Soto has one of the best Tampa dog beaches! In sunny, St. Petersburg this park is actually 1,136 acres made up of five interconnected islands.
Once you cross the bridge onto park grounds, you'll find one of the most lush ecosystems in Florida. Miles of firm-bottomed shallows make for excellent wading angling! Two piers are perfect for fishing access. The best feature for dog owner's of course is the Paw Playground Dog Beach!
The waters are clear and cool and perfect for swimming after balls! Just make sure not to swim past the posted signs. You'll love chasing your pup in the sun on the smooth sand!
While Paw Playground Dog Beach is one of the best off-leash dog parks in Tampa, your dogs must be leashed upon entering and exiting. You must also carry a leash with you at all times. Make sure you keep your dog in your sights at all times! After you're through, there is a gated lawn area with hoses to rinse off your dog!
There is a $5 parking fee for visitors. Cars with disabled car tags are admitted for free.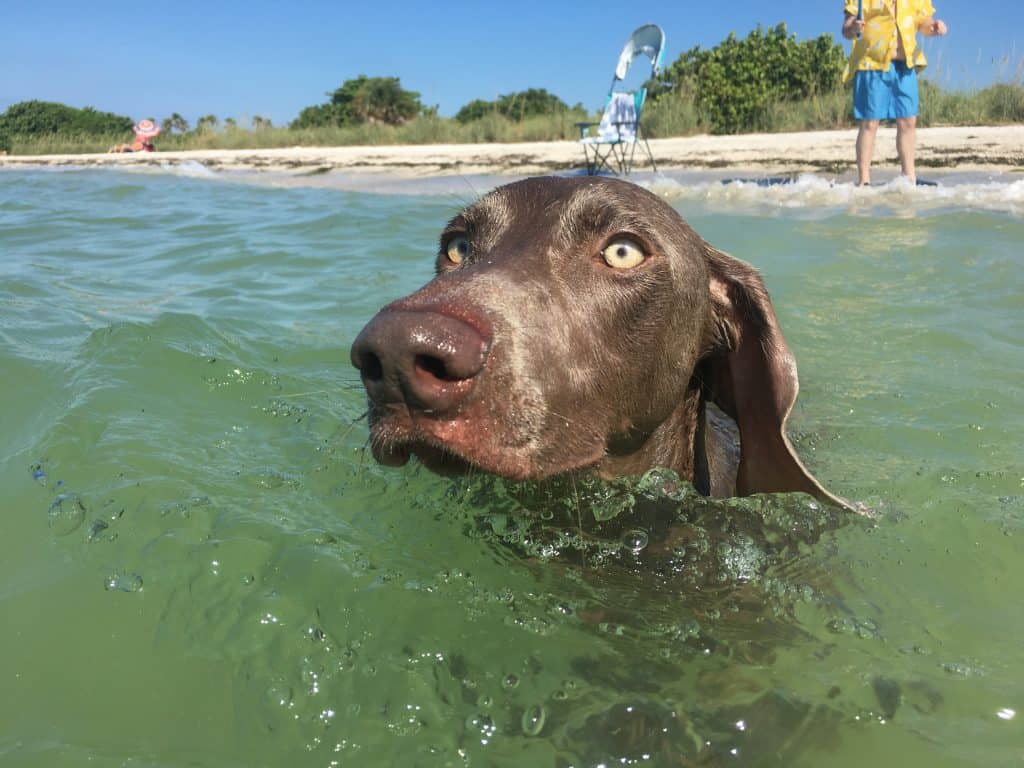 Walton Rocks Dog Beach
Jensen Beach to the south of Vero Beach might be a hike. An outing to Walton Rocks Dog Beach Park in Jensen Beach is a perfect day trip from Tampa for you and your furry friends!
Walton Rocks Dog Beach is one of the biggest in the state with over 24 acres of white sand beaches filled with playing pups! Because of its size, it is a popular destination for dog-lovers all over the state. You and your pups are sure to make a few new friends while romping in the sand and surf!
The entire beach is completely off-leash, so take the time to take a freeing jog with your dog or swim in the open waters with a toy! Bring some umbrellas to cool off and enjoy a picnic lunch with your pup!
Once you're all tuckered out for the day, head over to the bathrooms to find a rinsing shower for both humans and dogs!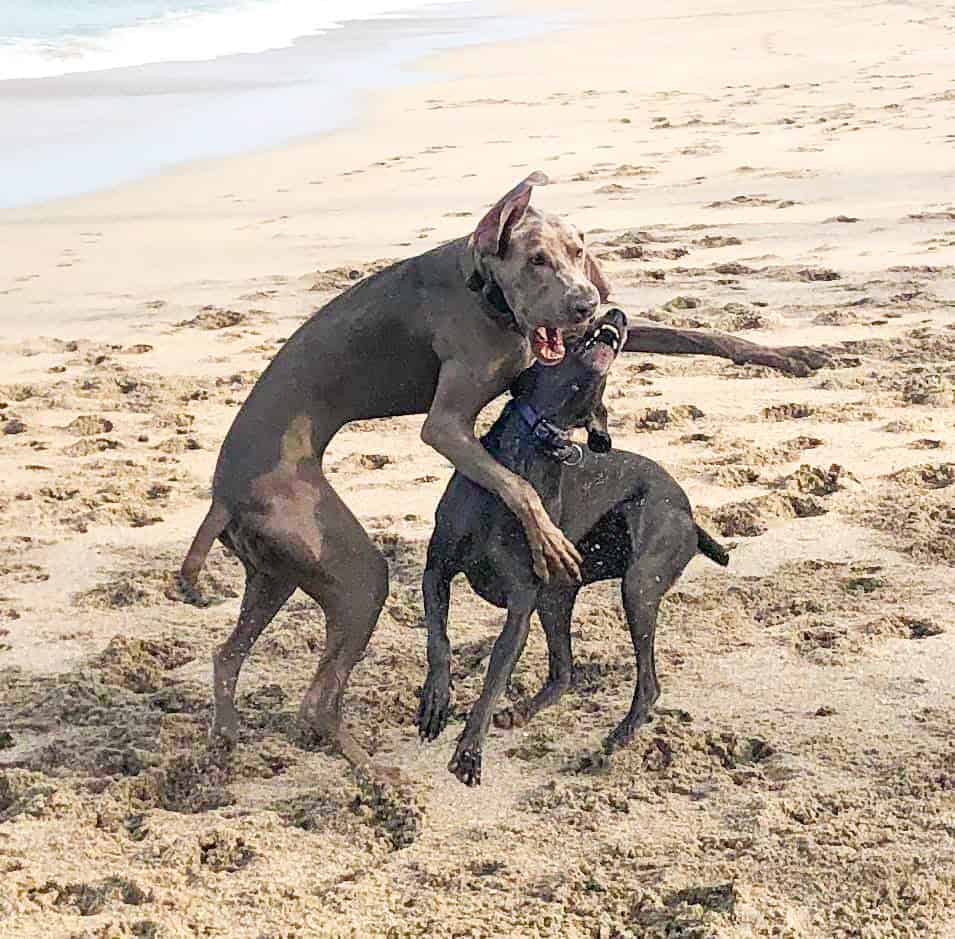 Honeymoon Island
Honeymoon Island is one of Florida's most beloved state parks in Clearwater. With its many scenic nature trails through virgin slash pine forests, it also has four miles of beaches. The lush background makes it one of the prettiest beaches in Tampa Bay!
Did you know that on these four miles of white sand beaches, you can bring along your dog to join in the fun? That's right, Honeymoon Island has a designated area dedicated to canine fun! Come enjoy one of the best pet-friendly beaches in Tampa!
Because there are very few rocks and shells, it's easy on puppy paws! Most visitors think that the dog beach is actually nicer than the regular humans-only beach! The waves are always gentle and it's never too crowded, but dogs must be on a leash at all times.
There is a $4 per vehicle parking fee. You and your dogs will have a great time on one of the most beautiful islands in Florida!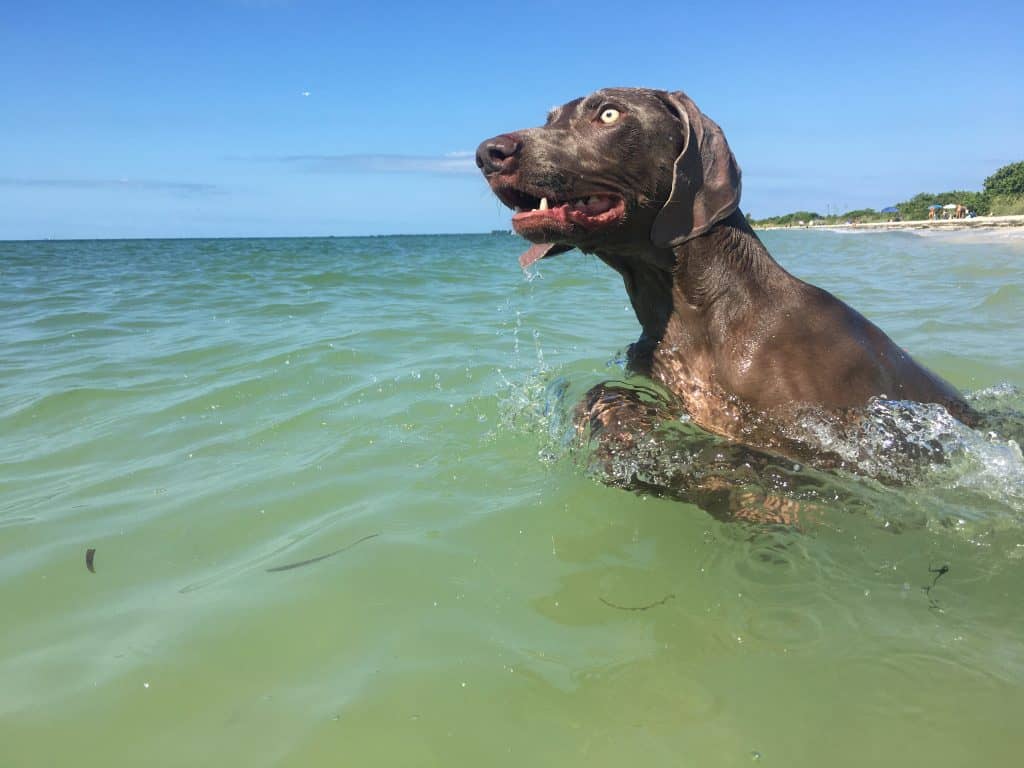 Bowman's Dog Beach
Sanibel Island is known as one of Florida's hidden gems for its white-sand beaches, lodging, restaurants. It feels like a slice of paradise tucked away! Bowman's Dog Beach is south of Tampa on the west coast, but the drive is worth it to bring your pup to play!
From the parking lot, walk 1/4 mile over a freshwater bridge. From there, you'll traverse a few sandy trails before arriving at miles of turquoise water and white sand.
There are no houses or hotels, so this is a quiet secluded area. Enjoy swimming, hiking the trails, or catching a bite to eat at the picnic areas with charcoal grills. Dogs must remain on leash!
To get to Sanibel Island from the mainland, there is a $6 bridge toll fee. Once you've arrived, parking is $5 an hour.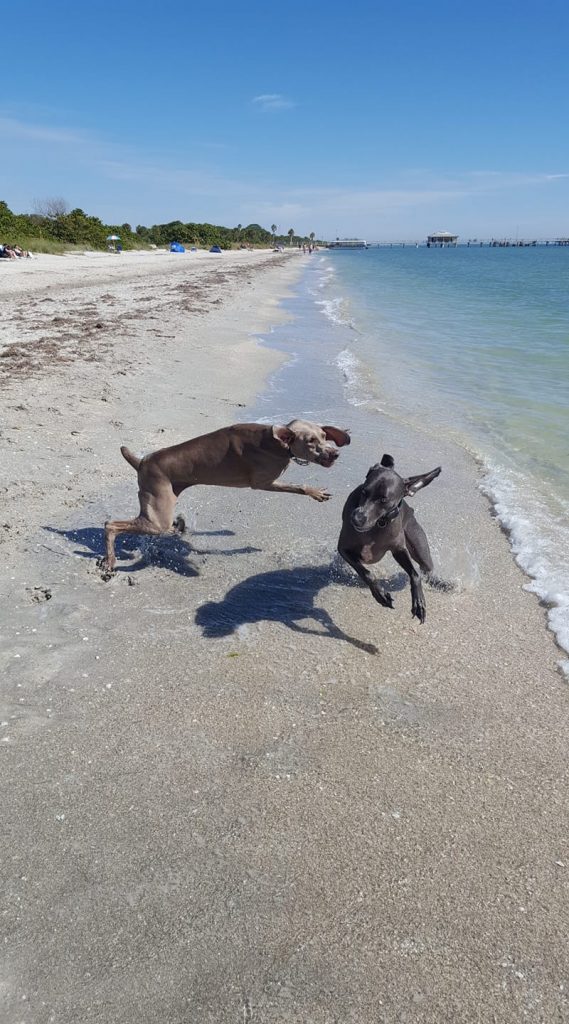 Smyrna Dunes Beach
New Smyrna Beach is home to some of the most beautiful beaches on Florida's East Coast, but did you know that one of the best dog beaches in Florida can be found here too?
Just south of Daytona Beach, you'll find Smyrna Dunes Beach, perfect to bring your pup for a jaunty walk along the water. Use walkways 4, 5, 6, 7, and 8 to reach the beach!
Spring and summer hours are 6 AM – 9 PM. During Daylight Savings Time, the park's hours change from 6 AM – 6 PM. Admission is $10 per vehicle, but free for military, handicapped, and disabled veterarns.
Pups are allowed on the inlet shore beach area! Please keep them leashed and keep an eye on them. Of course, pick up after them; leave no trace. Pets are also not allowed on the Atlantic Ocean Beach or elevated park boardwalks after 10 AM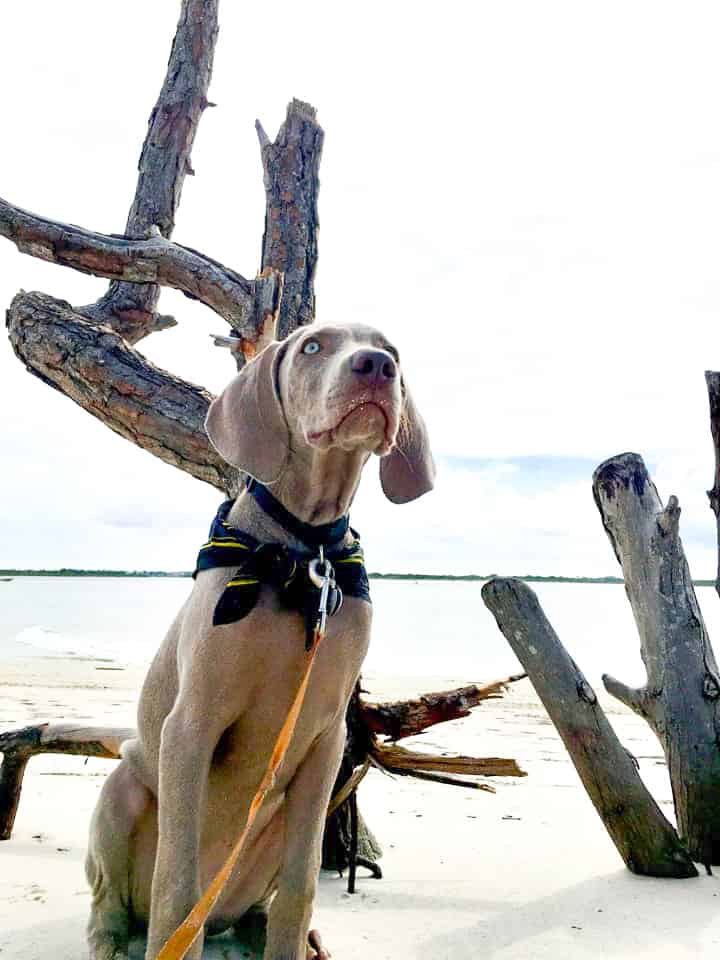 Miami Beach Bark Beach
Miami's Bark Beach is one of the most popular Florida pet friendly beaches! In addition to jogging trails, exercise stations, and picnic pavilions, the oceanfront natural area of North Shore Open Space Park is pet-friendly as well!
Directly adjacent, you'll find Bark Beach. Only open to dogs on Friday, Saturday, and Sunday, only bring your pups from 1:30 to 5:30 PM. Admission is $5 for residents and $25 for non-residents. Proof of vaccination required.
Once you've had to fill, walk along the National Register of Historic Places. You can explore old Miami Beach while you dry off after your evening swim.
There are even a few great restaurants nearby with pet-friendly outdoor seating! Look out for Burgers and Shakes at Collins an 74th Street.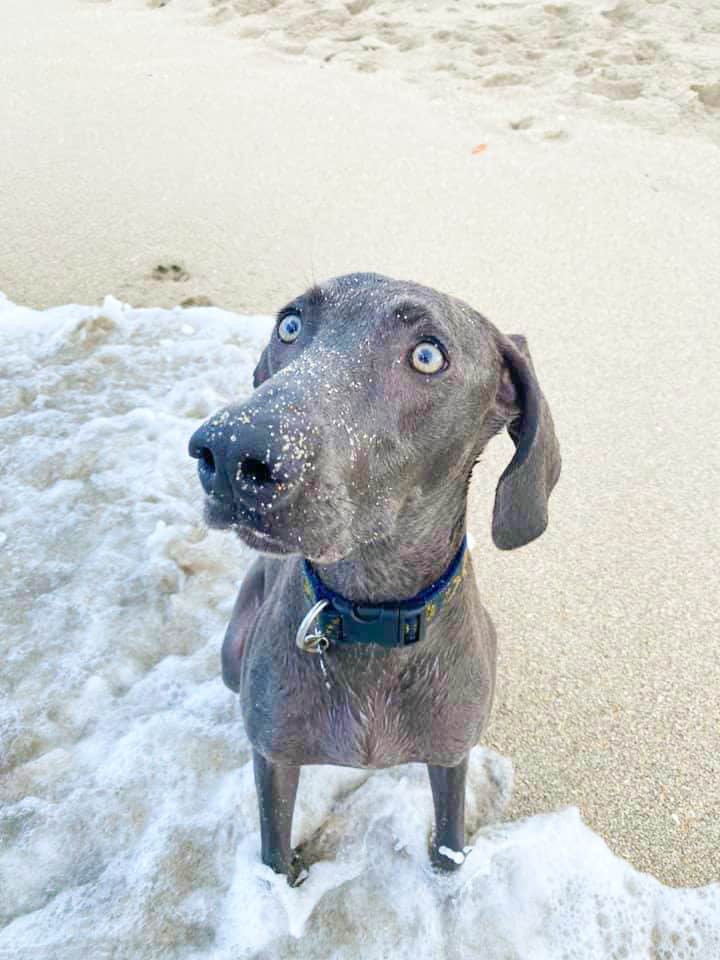 Mexico City Beach
If you're an avid reader of Florida Trippers, you might notice that the panhandle doesn't get as much love. That's all about to change! Look out Mexico City 20 miles east of Pensacola.
Here you'll find the preserved beauty of Florida's natural land and sea. By day, you'll find boaters skating along the water. By night, dolphins jump along the horizon. You'll also find a quaint dog beach here!
Dogs are only allowed on the St. Joe Beach portion of the beach. Dogs are required to be on leash, but you can unclip them, at your own caution. Keep eyes on your dog at all times and be prepared to re-leash them should trouble arise.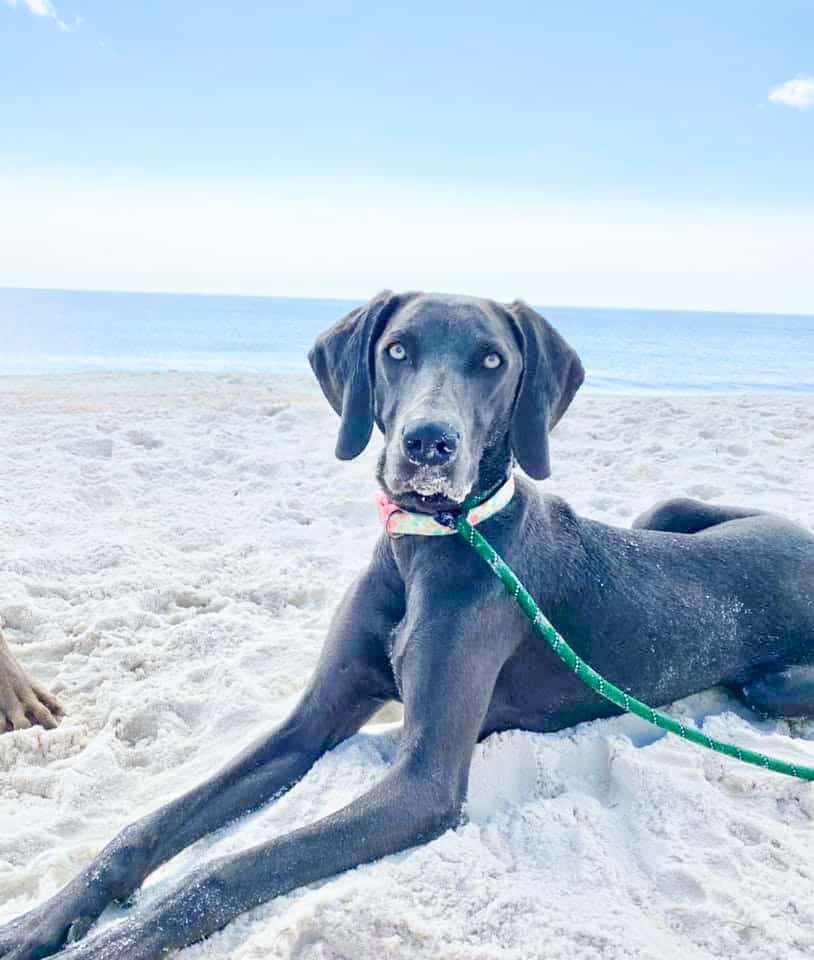 Did You Find This Post Helpful?
If so, we would love to keep in touch! We enjoy seeing photos and comments about your experiences in Florida! You can follow us on Instagram and we will repost your photos on our feed and comment too! Just tag us at @floridatrippers and hashtag #floridatrippers. We can't wait to see your travels!