Are you looking for a list of things to do in St. Petersburg Florida? We have you covered!
While St. Petersburg or "St. Pete" is known as the sunshine city, there is more than beaches to see here! Located between the Tampa Bay and Gulf of Mexico it is a quick drive from Tampa or Clearwater!
From hidden gardens, museums, murals, restaurants and breweries there is something for everyone on our list of things to do in St. Petersburg Florida!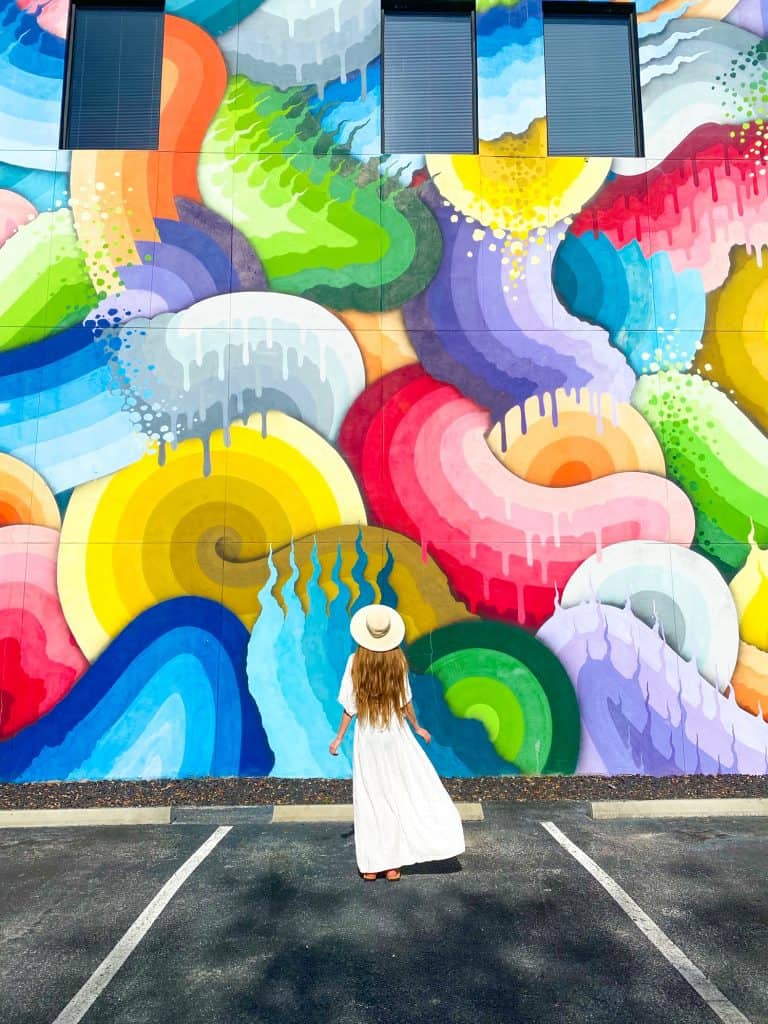 14 Fun things to do in St. Petersburg Florida
St. Petersburg Suken Gardens
The Suken Gardens are a hidden tropical oasis located in old Northwest St. Petersburg. Open Monday though Saturday from 10 am to 4:30pm and on Sunday 12pm to 4:30 pm.
Admission is $12 adult, but they often run specials on Groupon, so keep an eye out! For those living in the area they have annual family passes for $100!
Suken Gardens made our list, as it is one of the best things to do in St. Petersburg Florida. At 100 years old it is the oldest living museum in St. Pete, and also the last authentic roadside attraction. Home to over 50,000 plants!
The ADA accessible paths are home to waterfalls, tropical environments, bird habitats and flamingos! There is plenty of shade in the gardens so this a great activity if do you don't know what to do in St. Pete during the summer!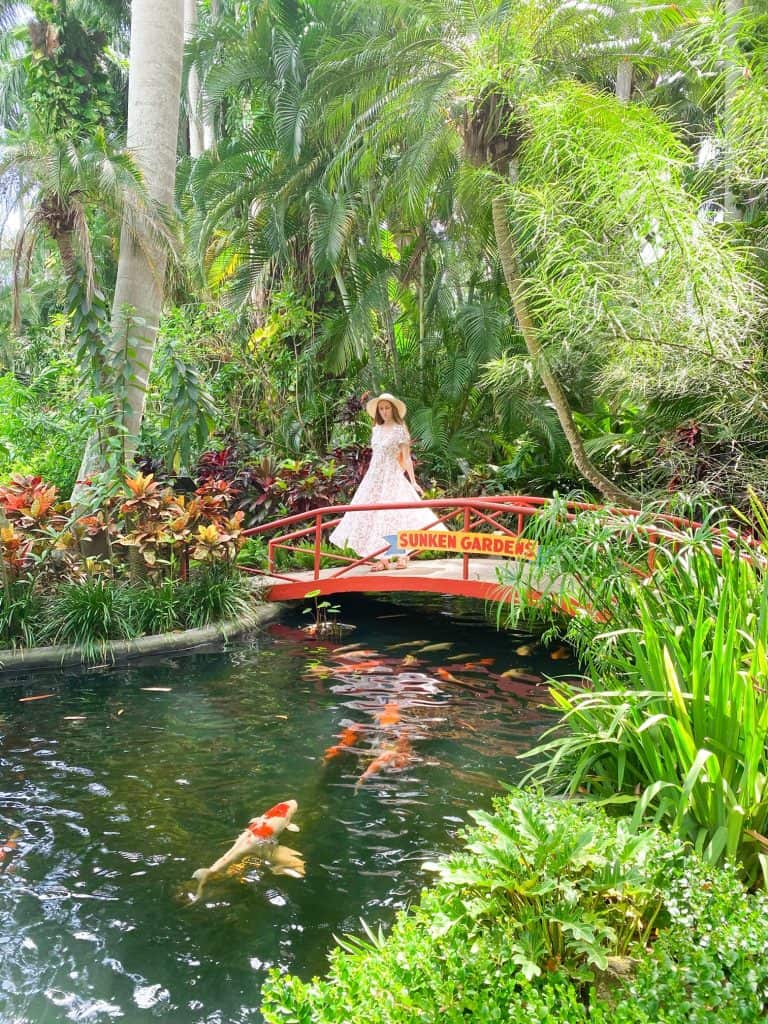 Murals and Street Art, St.Petersburg
If you are looking for free things to do in St. Pete walking around the 600 block of Central avenue has over 90 street art murals to admire. Staring in 2014, St. Pete embraced the artistic culture of the city.
Every year the two-week Shine festival held in October gives local, national and international artists the opportunity to paint murals. This year over 26 new murals were added to the already 90 located in St. Pete.
One of the more popular murals in downtown Saint Petersburg is the Black Lives Matter outside the Carter G. Woodson African American Museum. In the warehouse arts district, you have several "sunshine on my mind" as St. Pete is the sunshine capital!
From ocean theme, to feelings, to retro, portrait and pride these colorful murals provide a great free thing to do in St. Pete! If looking for somewhere just as unique to stay try our suggestion of a tiny house oasis!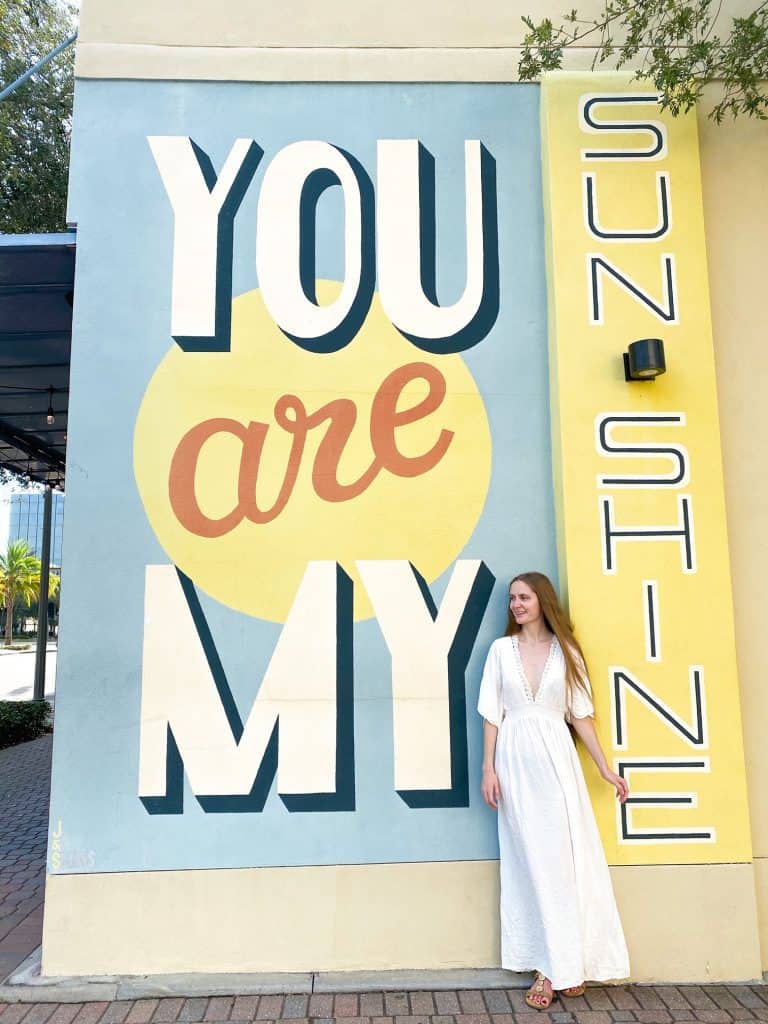 Dali Museum
St. Pete is home to the largest Salvador Dali collection outside of Europe. If looking for a museum add this one to your list of things to do in St. Petersburg Florida! The museum opened in 2011, and most of the collection belonged to the Morse family who donated it in 1982.
The Dali museum is home to over 2000 works ranging throughout every period of Dali's life. The collection contains drawings, sculptures, photos, documents and oil paintings. The museum is also a work of art with a glass dome known as the "enigma" and a spiral staircase leading to the roof!
Dali museum is one of the best things to do in St. Petersburg Florida as it is home to 8 out of 18 Dali masterworks! You can also digitally tour the museum.
The museum is $25 and open Wednesday through Sunday 11 am to 6pm. Special priced tickets are available Thursday 5pm – 8 pm for $12.50. If looking for free things to do in St. Pete the gardens are always free!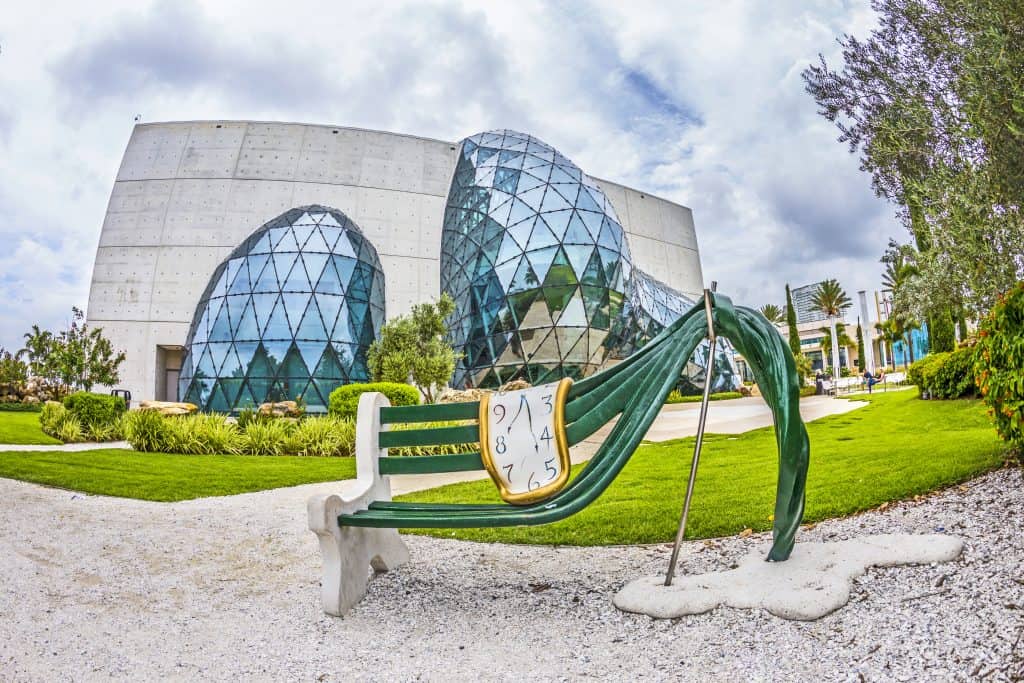 Don Cesar Hotel
Built in 1928, the Don Cesar hotel known as the "pink palace" is the crown jewel of St. Pete beach. Add this hotel to your list of the fun things to do in St. Petersburg Florida.
For those interested in using the pool, beach, fitness center, restrooms and showers you can buy a day pass for $40 to make use of the facilities and beach!
If looking to stay, the hotel has 241 rooms starting at $279 night. This is the place to stay in St. Pete, Florida if looking for total luxury and relaxation. Once the playground to wealthy elite during the Jazz age, Fitzgerald, Al Capone and Franklin Roosevelt are all past guests.
During World War II the hotel became a military hospital, and later a Veteran's administration office. Officially reopened in 1973 as a hotel.
For those looking for a bite to eat try Uncle Andy's Ice cream parlor and the Sea Porch Café or upscale dining Maritana and the Row Bar. If relaxing poolside try the Beachcombers Bar and Grill!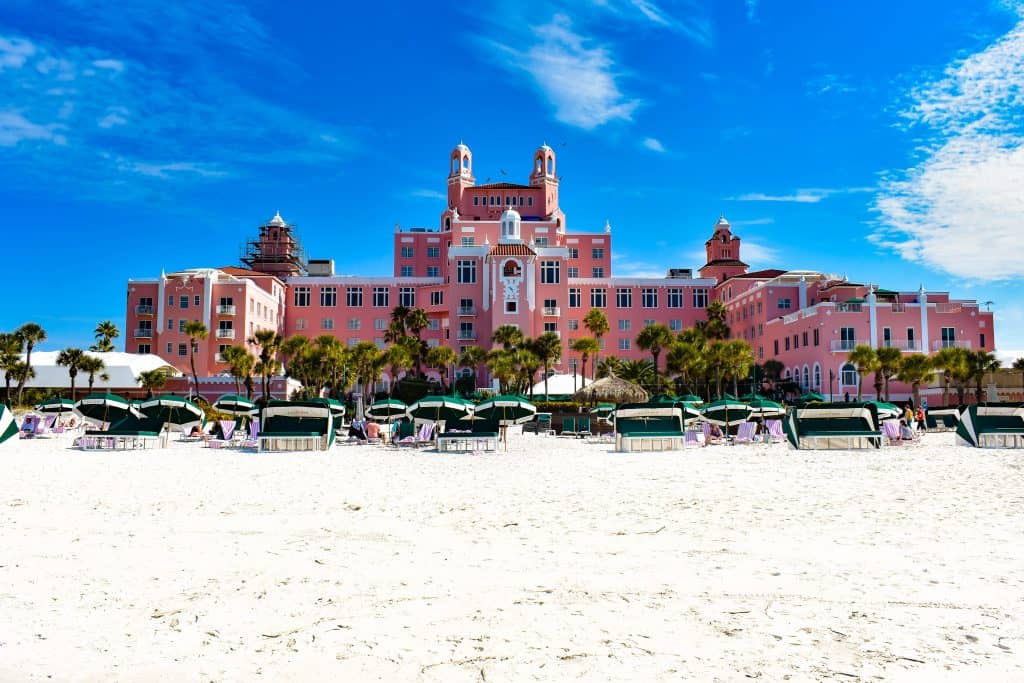 Chihuly Collection Museum
The Chihuly museum opened in 2010 and houses the works of Dale Chihuly a pioneer of the glass art movement. If you are downtown St. Pete and looking for fun things to do in St. Petersburg Florida make sure this is one your stops!
Open from 10 am to 5 pm Monday through Saturday and 12 pm to 5 pm on Sunday admission is $20, or included if purchasing a Tampa City Pass. You can also purchase a St. Pete Art Experience ticket for admissions to the Morean Art museums as well.
Chihuly is known for his large scale colorful sculptures blown from glass, such as Ruby Red Icicle Chandelier hanging in the lobby. His work has been seen in museums such as the Louvre, Chichuly over Venice or Chichuly in Jerusalem!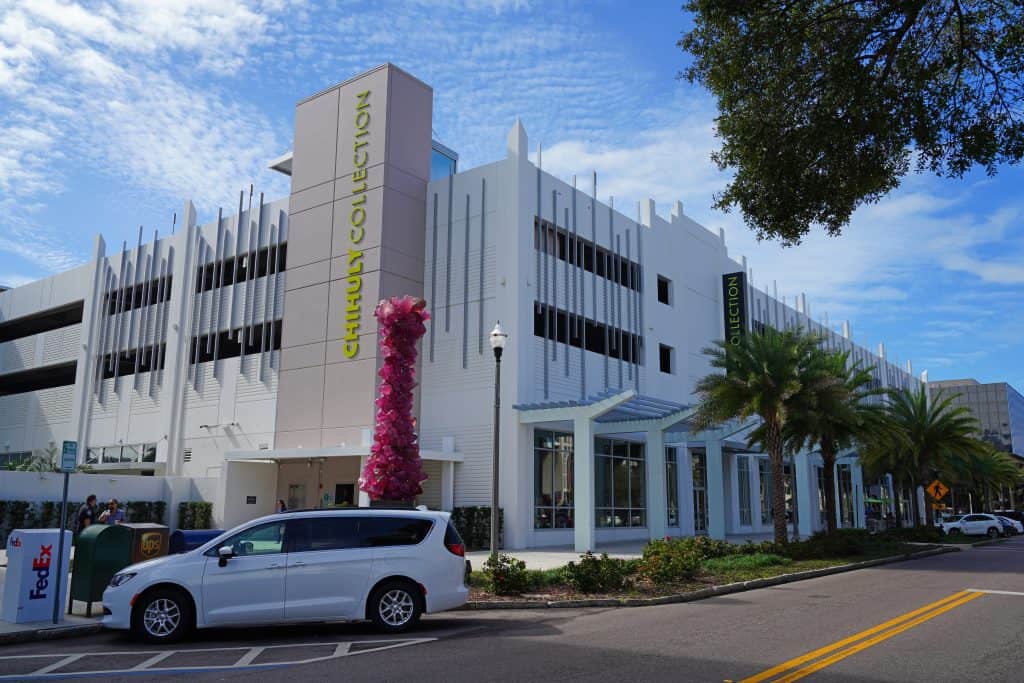 Skyway Fishing Pier
The Skyway fishing pier should be on your list of things to do in St. Petersburg Florida if looking to fish! This state park located at the mouth of the Tampa Bay is home to a fishing pier that spans the entire length of the bridge.
Open 24 hours 7 days a week, this bridge is lit up at night for fishing, has concessions, restroom and a bait shop. Snooke, grouper, mackerel, snapper and sea bass are all popular catches due to the 65 artificial reefs off the bridge.
The history of the pier dates back to 1980 when a freighter collided with the bridge and collapsed pilings of the old sunshine skyway Bridge. When being rebuilt they decided to use the old bridge as a fishing pier.
Opened in 1994 spanning 4 miles it became the largest fishing pier in the world! There are two entrances to the bridge, the North and South Pier. Also, popular with bird watchers, kite boarders, kayakers and wind surfers!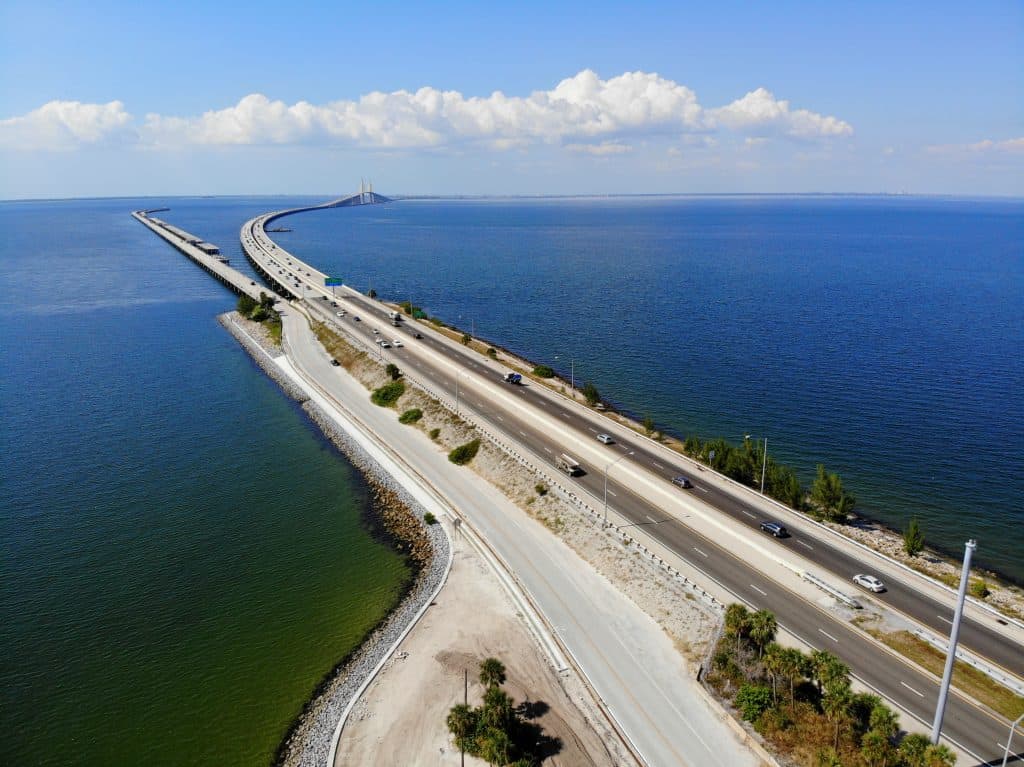 The St. Pete Pier
The new St. Pete pier is a great free thing to do in St. Petersburg. It is not just a pier but a new attraction on the waterfront! You can bike, swim, dine and be entertained at numerous venues.
If looking for educational things to do in St. Petersburg Florida, the St. Pete pier is home of the Tampa Bay Watch. An interactive classroom experience providing education on how to restore the Tampa Bay Estuary!
For those looking to dine, the Pier Port is home to three restaurants, an upscale restaurant, rooftop bar and a casual café. For Caribbean fare and a lively atmosphere head to Doc Ford's Rum Bar!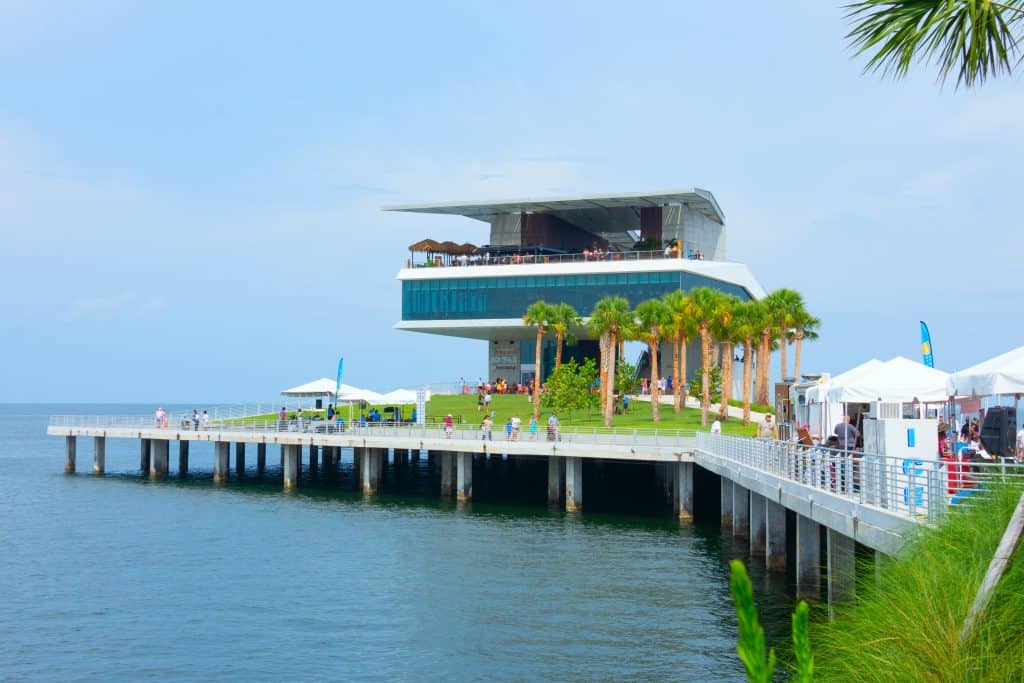 The Vinoy Hotel
The Vinoy is a Mediterranean style hotel owned by Marriott group located in downtown Saint Petersburg. Perfect place to stay if looking for a weekend escape as it is near the Dali, Chihuly, and Fine arts museum. Tons of restaurants and shops are short walk away.
For those looking for recreational things to do in St. Petersburg Florida you can charter a boat from the marina or play a round of golf!
Built in 1925 by Aymer Vinoy Laughner, famous guests such as Babe Ruth and Herbert Hoover has stayed. During World War II, it was used as an army training school. The Vinoy closed from 1970 to 1990, and finally reopened in 1993.
A great thing to do in St. Pete if is visit the lobby bar for live music and drinks! The hotel is home to Paul's landing a local seafood and smoked meats restaurant and Marchand's Bar and Grill the hotel's signature restaurant!
Or try the St. Pete location of Datz for one of Tampa Bay area's most popular breakfast and brunch spots!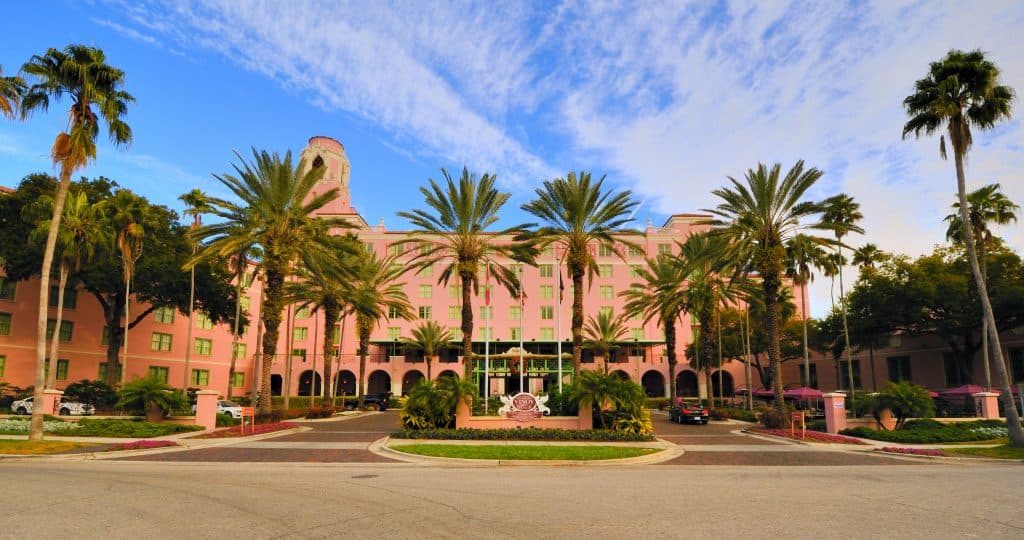 Florida Holocaust Museum
The Florida Holocaust Museum was opened by philanthropist Walter Loebenberg in 1998 in memory of those who lost their lives during the Holocaust.
This museum makes our list of things to do in St. Petersburg Florida as the museum's goal is to teach about the worth of all human lives regardless of gender, skin color, race or culture!
Loebenberg escaped Nazi occupied Germany in 1939, and later served in the US Army during World War II. The museum is credited with helping pass Florida legislature in 1994 for Holocaust history to be taught in schools.
The museum is open daily from 10 am to 4 pm. Tickets are $16 but is a free thing to do in St. Pete for US Military, USF students and children under 6.
There is a docent led tour of the first floor Saturdays at 1:30, and Anne Frank virtual tour is free with all ticket purchases. The "History, Heritage and Hope" exhibit housed original photographs, videos and a box car all used during the Holocaust.
Holocaust museum mission statement is to empower people to make positive changed in the world! It is home to the largest library of genocide and Holocaust documents in the United States.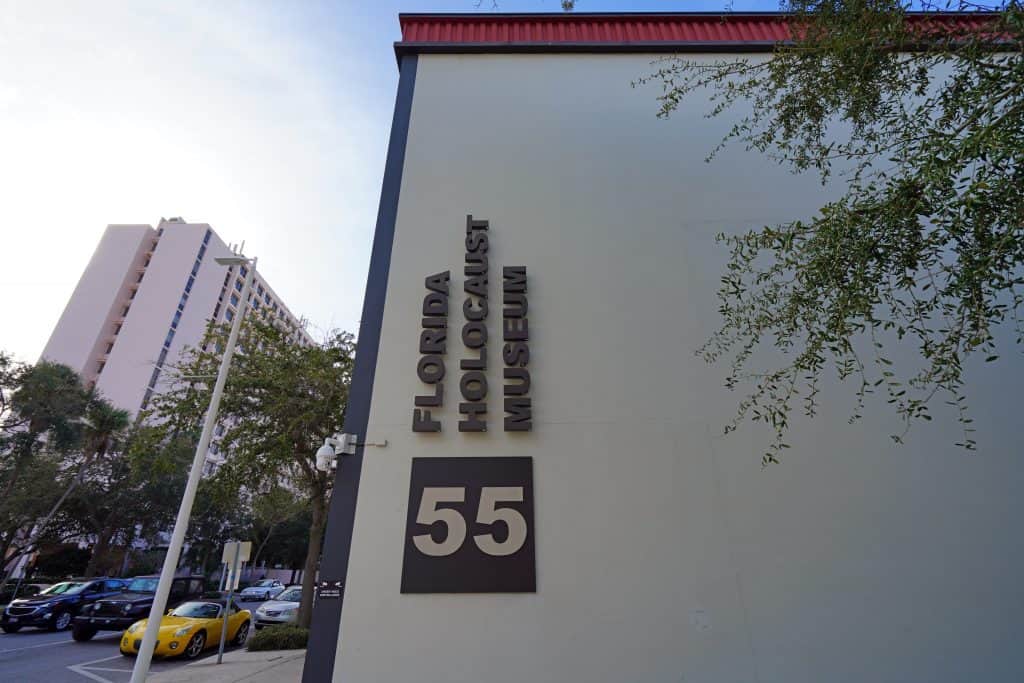 Fort De Soto
For those interested in history, Fort de Soto should be on your list of things to do in St. Petersburg Florida.
The fort dates back to the Civil War when it was used to block the Tampa Bay. Named after Spanish explorer Hernando de Soto it was completed in 1900 and abandoned 23 years later.
During WWII it was used as a bombing range, and in 1962 was opened once again as a public park.
If museums are on your list of free things to do in St. Petersburg Florida, check out the Quartermaster's museum which does a great job of explaining the history of the fort! You can even explore a battery and for those willing to climb the stairs are rewarded with a view of the gulf!
Open 7 days a week, from 7 am until dark. The entrance is free, but there is a $5 parking fee. Fort de Soto is the best choice if a beach is on your list of things to do in St. Petersburg Florida.  
If you want to visit, check out our Tips For Fort Desoto!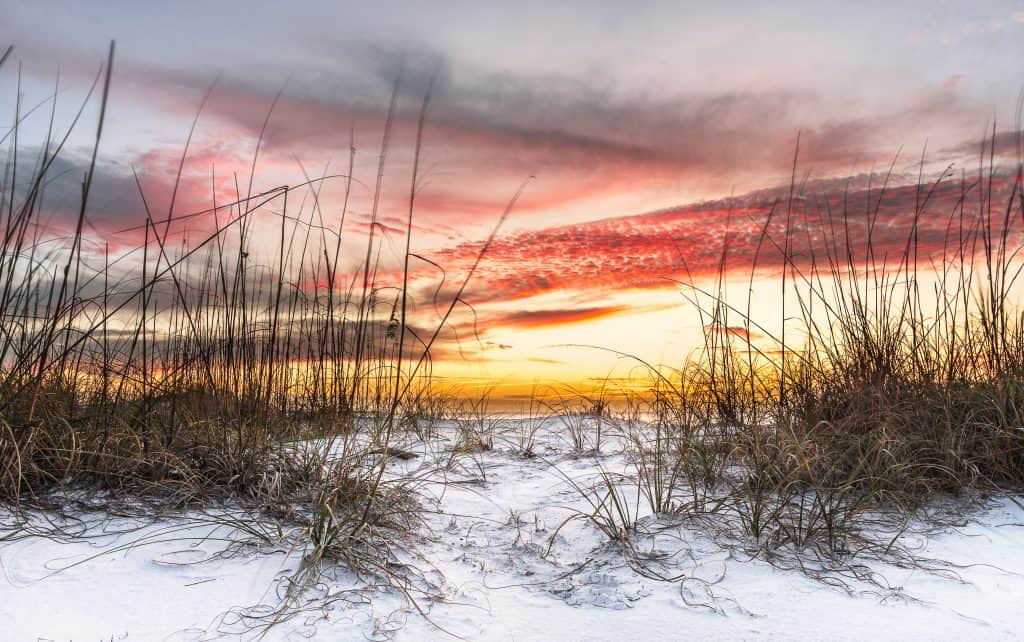 The Cider Press Café
The Cider press café makes our list of the best things to do in St. Petersburg Florida if looking for a vegan lunch spot! This Asian inspired eatery in downtown Saint Petersburg focus on farm fresh ingredients and is open daily from 12pm to 8 pm.
The restaurant focus is on "veganista" or someone who loves plant based foods! Open for 5 years, they have an award-winning menu of delicious vegan menu.
Standout on the menu include Bang Bang Schrimp, Cauliflower bites, Bahn-mi made with grilled seitan, ghost bean burger, Avo BLT, Buffalo chick'n, and mac n'cheese.
For those visiting with families or friends, they offer several family style meals that serve four people such as stuffed peppers, of Shepard's pie! Kombucha and a wide variety of hard ciders are also on the menu.
The cider press café is a great lunch spot after exploring the murals or museums in downtown Saint Petersburg.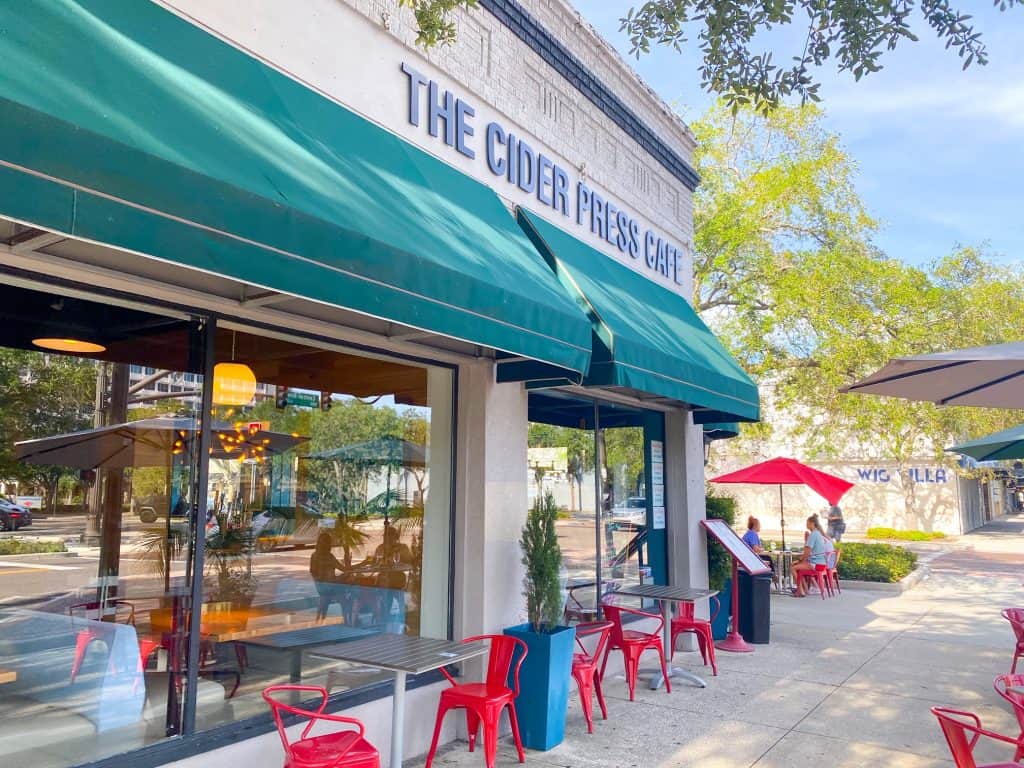 Morean Arts Center
The Morean Arts Center should be on your list of free things to do in St. Petersburg Florida as the art gallery is free and open to the public. It is open Monday through Saturday 10 am to 5 pm and Sunday 12 pm to 5 pm.
Founded in 1917 as the Art club of St. Pete, the Morean Arts center is home to the Art Gallery, Chihuly Museum, the Morean Center for Clay, the Bank of America Children learning center and the Moran Glass Studio.
If looking for interesting things to do in downtown Saint Petersburg try a glassblowing class at the Moran glass studio, or stop in for a local demonstration Wednesday though Saturday 10am to 2pm.
Or you could try a hands on class at the Morean center for Clay open Tuesday through Saturday. There are 42 resident clay artists working at the museum which is home to the largest pottery studio in the South.
The Bank of America children's learning center hosts story and art time on Saturday mornings. The Moran Arts center hold many affordable classes and workshops open to the community.
Reduced admission for those on EBT or WIC admission to the museum is only $3! And first responders and medical workers and family is $5!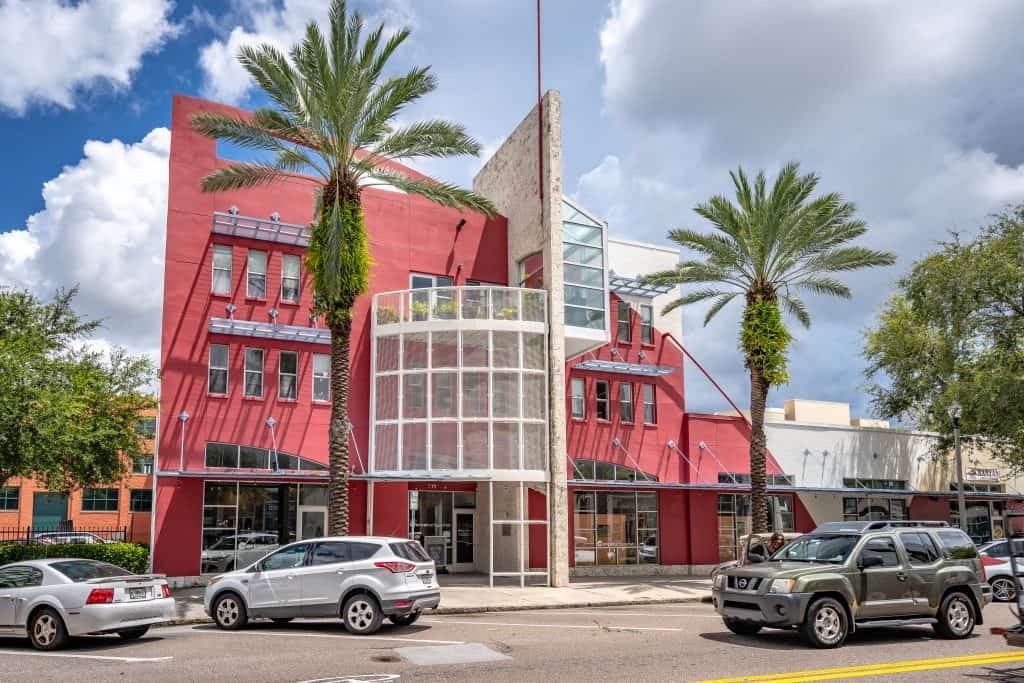 Boyd Hill Nature Preserve
If you are looking for outdoor things to do in St. Petersburg Florida visit the Boyd Hill Nature Preserve. It is a 245 acre protected preserve in St. Pete located on Lake Maggiore.
Open Tuesday though Friday 9 am to 6 pm and Saturday 7 am to 6pm, facilities include water fountains, restrooms, picnic tables, playgrounds, and kayak rental. Entrance costs $3 for adults and $1.50 for children.
There are 3 miles of trails, many of which are ADA friendly, but a tram tour does run at 1 pm, and on Saturday 10 am and 1 pm for $5 adult and $3 children.
The Nature preserve is home to a Bird of Prey aviary for permanently injured birds now taken care of park staff. At the nature preserve you will see different ecosystems, from the marsh, swamp, pine flat woods, hammock and sand scrub.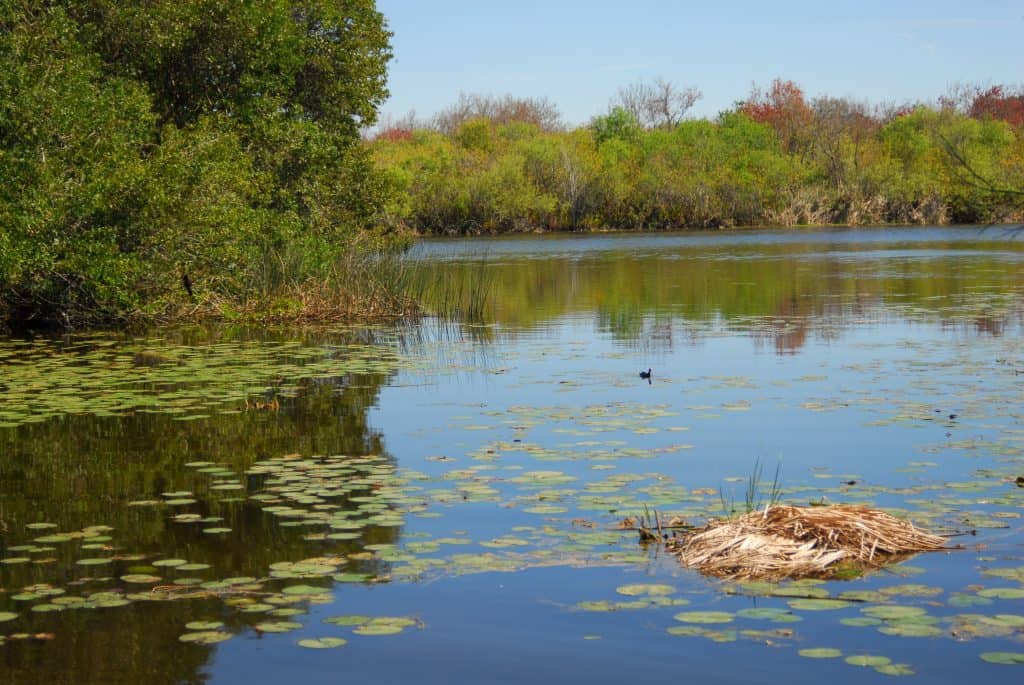 3 Daughters Brewing
Started in 2013 by Mike and Ty, the name stems from asking how many beers they would have to sell to send three daughters to college. The 3 daughters brewing made our list of things to do in St. Petersburg Florida if you want to visit a family friendly brewery!
In 2013, the first beer was brewed after trying to make beer battered fish, and it quickly outsold every other beer offered. The brewery is one of the largest independent breweries in Florida. And home to the only seltzer made in Florida!
A family friendly environment the brewery is home to live music and events, a tasting room, food trucks, games. 3 daughters brewing offers a brewery tour for those wanting a behind the scenes look at the brewery, and has 60 beers on tap.
On this list of 14 things to do in St. Petersburg Florida we have chosen the best the Sunshine city has to offer. From free things to do in St. Pete such as museums, outdoor murals, and pier's to amazing museums and hotels that should be on any list of things to do in St. Petersburg Florida we hope you enjoy!
Did You Find This Post Helpful?
If so, we would love to keep in touch! We enjoy seeing photos and comments about your experiences in Florida! You can follow us on Instagram and we will repost your photos on our feed and comment too! Just tag us at @floridatrippers and hashtag #floridatrippers. We can't wait to see your travels!