Are you looking to try some amazing restaurants in Winter Park? We have you covered with our list of the tastiest places to eat in Winter Park, Florida!
Winter Park is located just 15 minutes north of Orlando. It was once a winter destination known its outdoor nature, parks, and plenty of lakes. You can take a boat tour in Winter Park of Lake Osceola and even spot alligators!
From museums, outdoor adventures, breweries like The Bear and the Peacock Brewing, or if visiting during the Holiday season you can't miss Winter Park Christmas Parade one of the oldest running parades in Central Florida there are tons to explore in Winter Park.
After exploring and working up an appetite, Winter Park has a variety of restaurants to enjoy. From Mexican, French, Vegan, Wine Bars, Italian and Pizza, Sushi, Brunch, BBQ, American and Southern restaurants there is something for whatever you are craving!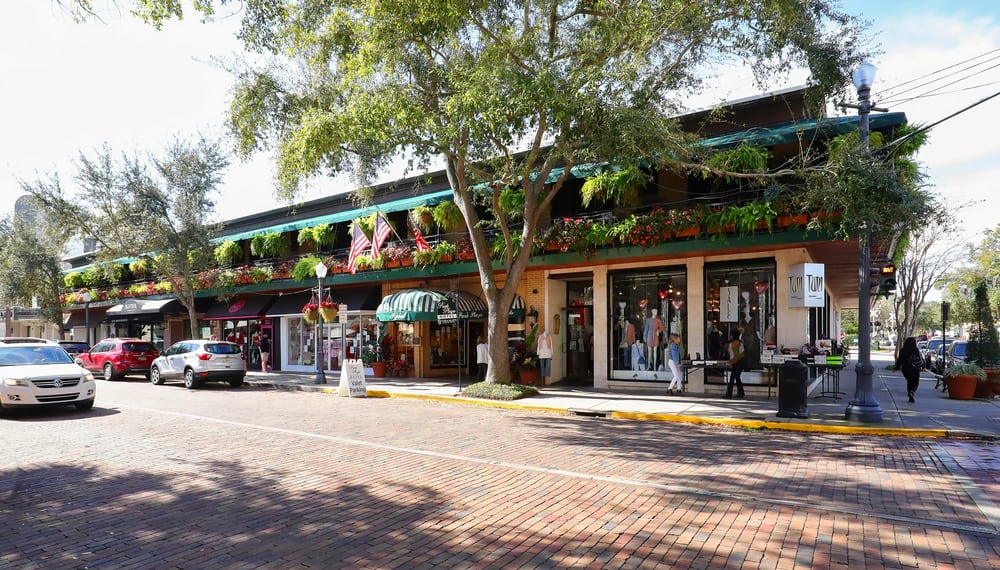 15 Tasty Restaurants in Winter Park You Must Try!
Agave Azul
Agave Azul Cocina Mex is one of the restaurants in Winter Park serving up delicious Mexican food! Inside Agave Azul you will find a stylish instagrammable wall with the motto "tequila made me do it!" They are open daily from 11 am to 9 pm.
On the menu you will find Mexican favorites like guacamole, ceviche Crudo with shrimp, alongside menu favorite tacos.
The taco entree comes with three tacos and your choice of meats like carne asada, al pastor, carnitas, shrimp, fish or for vegetarians roasted cauliflower. You can also find burritos, chimichangas, enchiladas, fajitas and a large assortment of shrimp dishes.
For those wanting a drink there is a large assortment of margaritas and sangria. Try the Night in Tulum a passion fruit margarita or Rico Suave a watermelon margarita.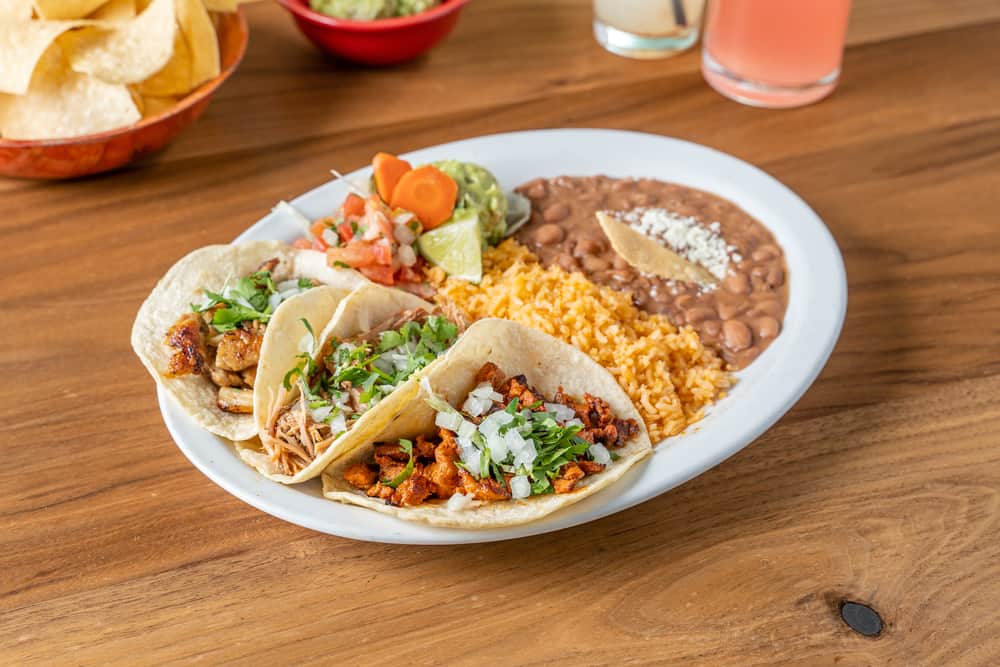 The Coop
The Coop is one of the Winter Park Restaurants serving up comfort food from scratch! They serve up breakfast, lunch, and dinner!
The Coop is part of the 4 rivers restaurant group that aims to serve up delicious southern food with southern hospitality.
Breakfast menu items include classics with eggs, potatoes, grits and bacon, Catfish and grits, Chicken fried steak, Benedicts, Chicken and Waffles, and a fried green tomato BLT and egg sandwich!
On the lunch and dinner menu you can find southern comforts like chicken and dumplings, mom's meatloaf, pot pie, the Coop burger, low country shrimp and grits and fried chicken with or without a waffle. They also serve salads like the Southern Spinach salad with apples, cranberries and pecans.
For families dining they offer family buckets of fried chicken and tenders, with sides and home made biscuits.
Umi
Umi is one of the best restaurants in Winter Park for Asian Fusion food. The chef features menu items with a Japanese twist featuring bold flavors. They aim to provide a gastronomical experience whether seated around the robatyaki grill or in the restaurant using the freshest ingredients many of which are sourced locally.
Appetizers include gyozas, fried calamari, kobachi, and spicy kimchi. Entrees include grilled wagyu, yellowtail, skirt steak, Korean Beef. Robatyaki Grill menu items include squid, salmon, pork belly, chicken thighs, or peppers. Or you can do an Omakase Sushi tasting with Chef Seng.
Umi is a great choice for sushi in Winter Park with a full sushi and sashmi menu, bento boxes, ramen, bibimbap, yakisoba. On the sushi menu you will find rolls like the firefly a spicy tuna with jalapeño, the Lemon Kiss a vegan roll with roasted cauliflower, Mango Tango, Drunken Lobster with lobster tempura topped with snow crab.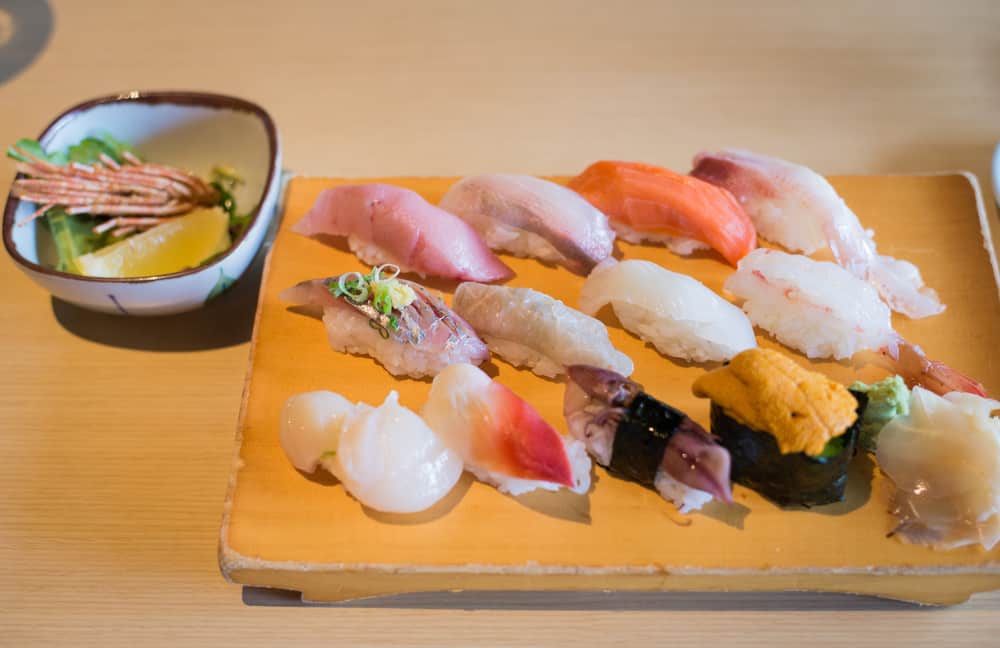 Thai Palace
Thai Palace is one of the restaurants in Winter Park serving Thai food. Thai Palace has been a family owned restaurant since 1999. And takes pride with sourcing its ingredients like spices and herbs directly from Thailand's markets.
The lunch menu is served Monday through Friday from 11 am to 3 pm. You can try one of the rotating specials like chix lover a crispy chicken with a hot sweet chili sauce or Salmon panning curry. Other Thai favorite include Pad Thai, Pad Se-Ew, Drunken Noddles, and an assortment of red, green, peanut and yellow curries. Don't forget to order the Tom Koa Gai a chicken coconut soup for a starter or fresh summer rolls!
The Dinner menu at Thai Palace serves the lunch menu with additional dishes like Spicy Chicken Lava, Thai Place fried rice with crab and shrimp, Tiger Tear a NY strip with veggies, Volcano Beef with Shrimp or the Thai Palace Paradise a seafood dish in a green curry sauce.
For those who love Duck you are in luck they have house specials like Hot Basil Duck and Shrimp, Duck Pad Thai an Duck Curry!
Bosphorus
Are you looking for Turkish restaurants in Winter Park? If so, head to Bosphorus! Here you will find delicious Turkish delights and a setting to transport you to Turkey. With Turkish pantings, silk carpets and a hookah bar with a large outdoor patio!
The restaurants only serves Halal meats and fresh vegetables and spices imported from Turkey. The focus of the menu is on Anatolonia cuisine with plenty of vegetarian options.
For an appetizer we suggest the mixed appetizer with hummus, babaganoush, eggplant, tabouli, ezme, haydari Dolma and more!
Entrees are served with rice pilaf, vegetables, pickled cabbage and a cucumber yogurt with you choice of chicken, lamb, beef, seafood or a variety of vegetable sautés like stuffed cabbage, moussaka and more.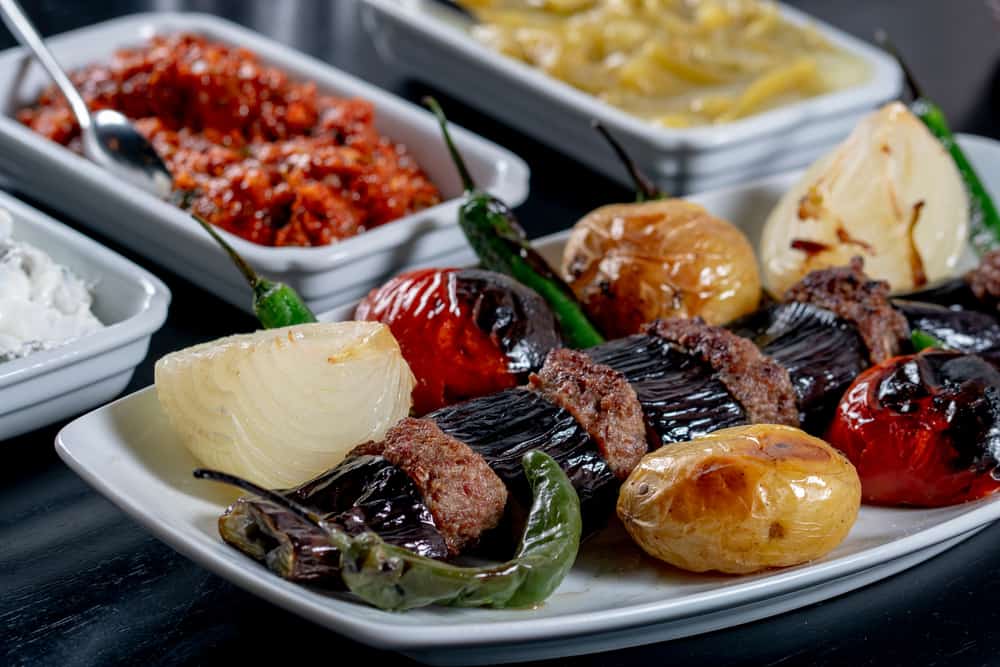 Hillstone Restaurant
Hillstone Restaurant is one of the best restaurants in Winter Park for upscale American dining. Please be aware that this restaurant has a dress code, collared shirts are required for men and no tank tops, athletic attire, or flip flops.
The setting of this restaurants perfect for a date night or special occasion and you can opt to dine on the outdoor covered deck overlooking lake Killarney.
For starters the menu includes jumbo shrimp cocktail. House smoked salmon, or grilled artichokes with house roulade. They have a large selection of salads on the menu from the classic Casar, to Emerald Kale and Chicken, pan seared Ahi to a Thai Steak and Noddle Salad.
House specials at the Hillstone restaurant include Vince's Fried Shrimp, Red Snapper, Ruby Red Trout, Knife and Fork Pork Chops, and a Filet. Along with Burgers – both traditional and veggie, and the Famous French Dip.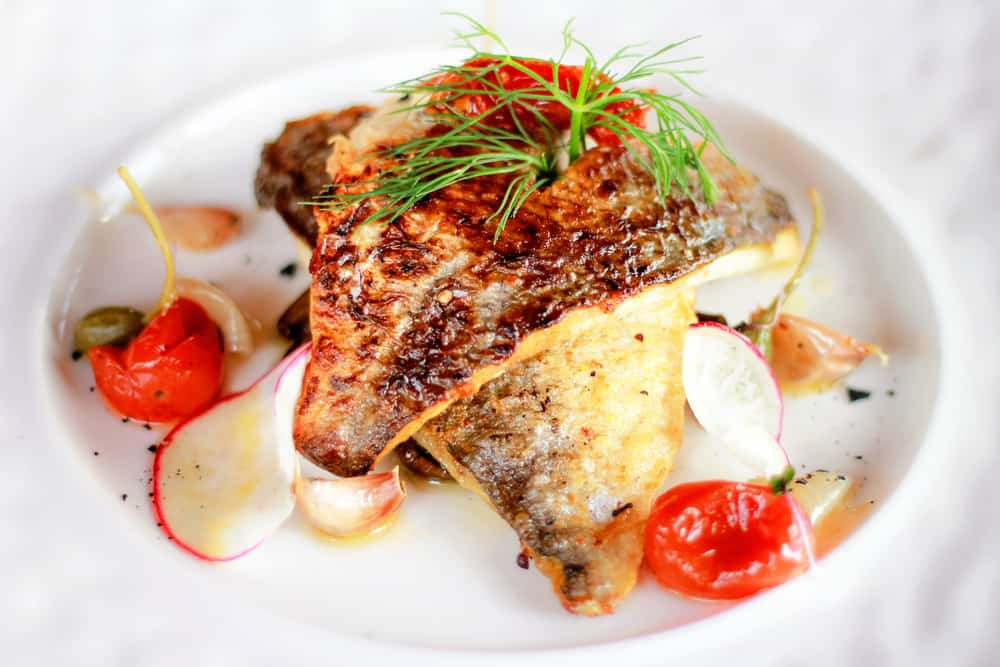 Prato
If you are looking for an Italian restaurant in Winter Park or Winter Park Pizza head to Prato. Expect a rich ambiance with wooden walls, dark tables and a large bar seating. Serving up dished from Italian classics with a modern twist using the best seasonal ingredients.
The restaurant is set up as a communal space with a long bar, and outdoor seating like you would find in Italy. Lunch is served Wednesday through Sunday from 11:30 am to 3:00 pm. Lunch favorites include Prato meatballs, panini like beef carpaccio or duck confit.
Pizzas include margherita, funghi, fiorentina, winemaker or dolce e salato with figs and capicola. Or pastas like butternut squash ravioli, farm egg rigatoni or short rib tortellini.
For dinner try the pretzel crusted calamari, ahi tuna Crudo, wood fire octopus, whole roasted branzino, duck breast, braised short ribs and veal Milanese.
There is a full bar as well and make sure to leave room for the homemade Italian desserts like tiramisu, gelato or a trio of seasonal desserts.
Briarpatch Restaurant
The Briarpatch Restaurant serves up a delicious Winter Park brunch! Located on Park Avenue they have been a staple in the Winter Park dining scene since the 1980's! They focus on highlighting Florida's local ingredients in Modern American brunch fare.
The highlight of Briarpatch is the large alfresco dining at the outdoor café tables overlooking central park where southern hospitality is served up!
Brunch menu favorites include roasted pear pancakes, a breakfast BLT with local Sullivan street bread, crab cake benedict, fried group sandwich and pork belly waffles! Don't forget to order a speciality cocktail like a pumpkin spiced latte, or a kahlua mocha.
For more savory brunch items Briarpatch offers rock shrimp po'boy, french dip sandwich, grouper sandwich, cobb salad and a veggie quesadilla.
If you are more in the mood for breakfast in Winter Park try the nutella waffle, pecan pie french toast, Avocado Toast, crimini mushroom omelette, or a smoked salmon benedict.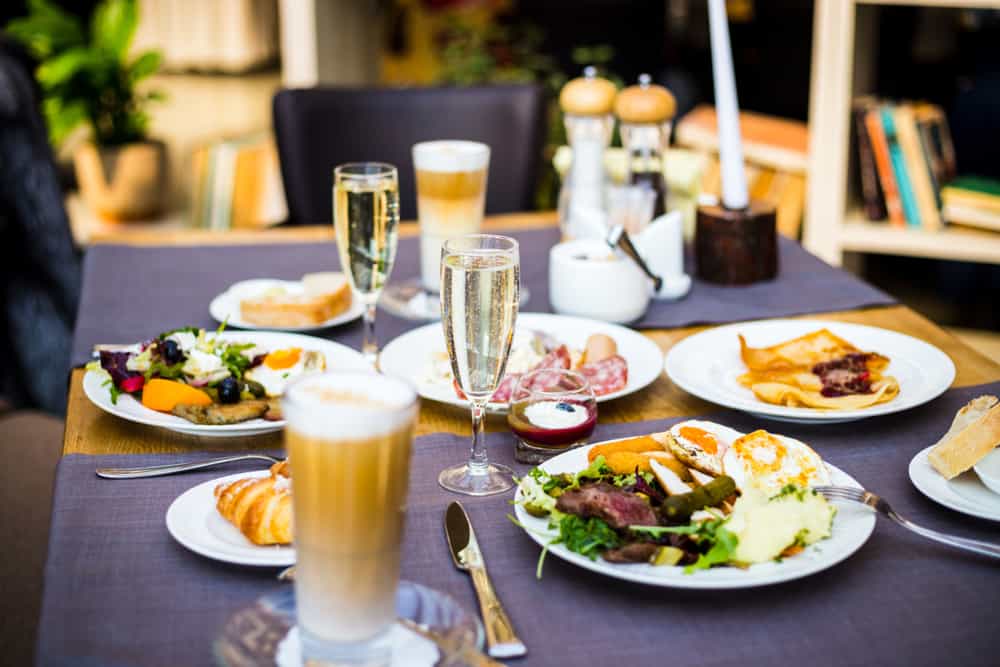 Ethos Vegan Kitchen
Ethos Vegan Kitchen is one of the top ranked restaurants in Winter Park! The restaurant is brightly colored with an industrial vibe serving a 100% vegan menu in the historic district of Winter Park.
For non-vegans the food is made from scratch and serves homestyle hearty dishes. Think more than salads! This is a great Winter Park brunch spot for vegan's as they serve a brunch on Saturday and Sundays from 9 am to 3 pm.
On the breakfast menu you can try the breakfast skillet made with tofu scrambled with veggies and vegan cheese. A short stack of pancakes and a carafe of mimosas for $14! On the brunch menu is biscuits and gravy, french toast, tofu scrambler.
For lunch ethos serves appetizers like bruschetta, crispy green beans and boxty an Irish potato pancake. They also offer fresh made soups of the day and blackened tempeh, bay cakes made chick peas, coconut curry wrap, lasagna and a 10′ pizza.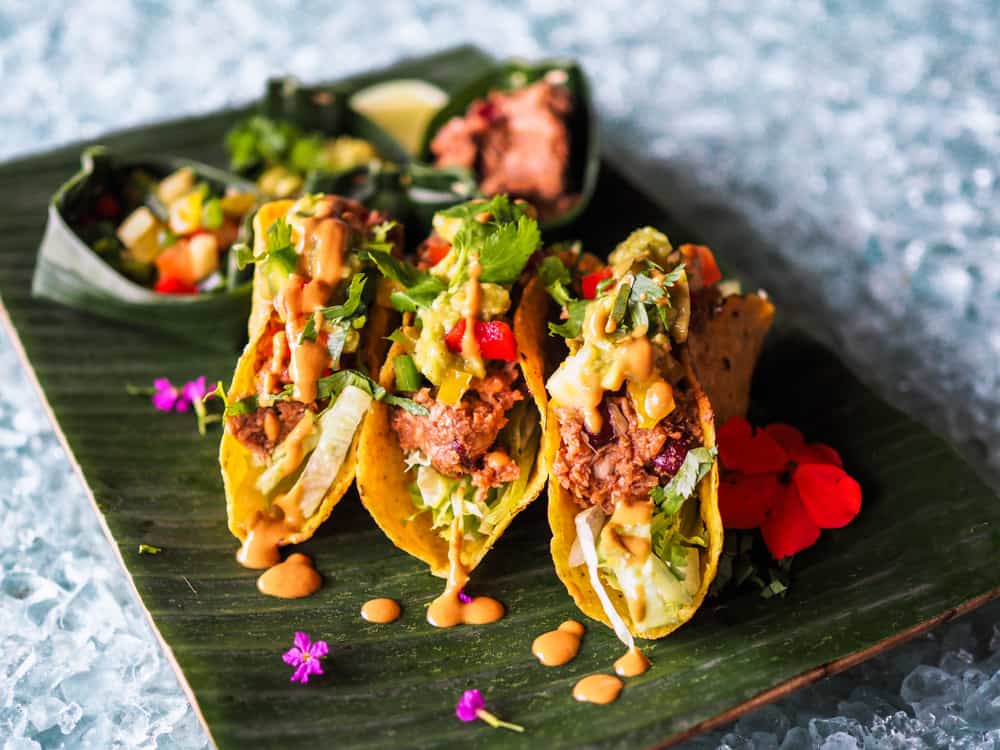 Winter Park Fish Company
If looking for seafood restaurants in Winter Park, Winter Park Fish Company should be on your list of places to dine! Not only does Winer Park Fish Company serve up some of the freshest fish and seafood in the area, you can watch your meal being cooked in the open air kitchen.
Opened in 2008, the menu constantly changes depending on fish available. If you would rather prepare your own meal at home you can stop in and purchase fresh raw fish.
Menu favorites include the seafood combo plate, boom bang pow shrimp, panko seared monk fish, ahi tuna chili, and calamari fingers with a cajun remoulade.
All sauces and dips are made in house daily to accompany menu items. From Spicy shrimp alfredo, to fish and grits serves with a sweet pecan praline butter sauce, to lobster rolls, skillet jerk tacos with broiled or jerk chicken to burgers there is something on the menu for everyone!
4 Rivers Smokehouse
4 Rivers Smokehouse serves up some of the best barbecue in Winter Park. At this restaurant you can order at the counter, choose all your sides, meat options and dessert before taking a seat. All meals are served on a metal tray together.
The Classics at 4 rivers can be ordered in several ways a sandwich, meat and sides, or just meat! Choices include angus brisket, pulled pork, burnt ends, beyond burnt ends a 1000% plant based option, smoked turkey, sausage, pulled chicken and st. Louis ribs.
If you come with the family order the happy head a sampler of 4 types of meats, 2 sides and 4 pieces of bread enough to feed a family of four.
Homestyle sides include baked beans, mac and cheese, smoked jalepenos, sweet potato casserole, okra, bread pudding, fried okra and french fries, and salads. You can also order a side sampler with three sides!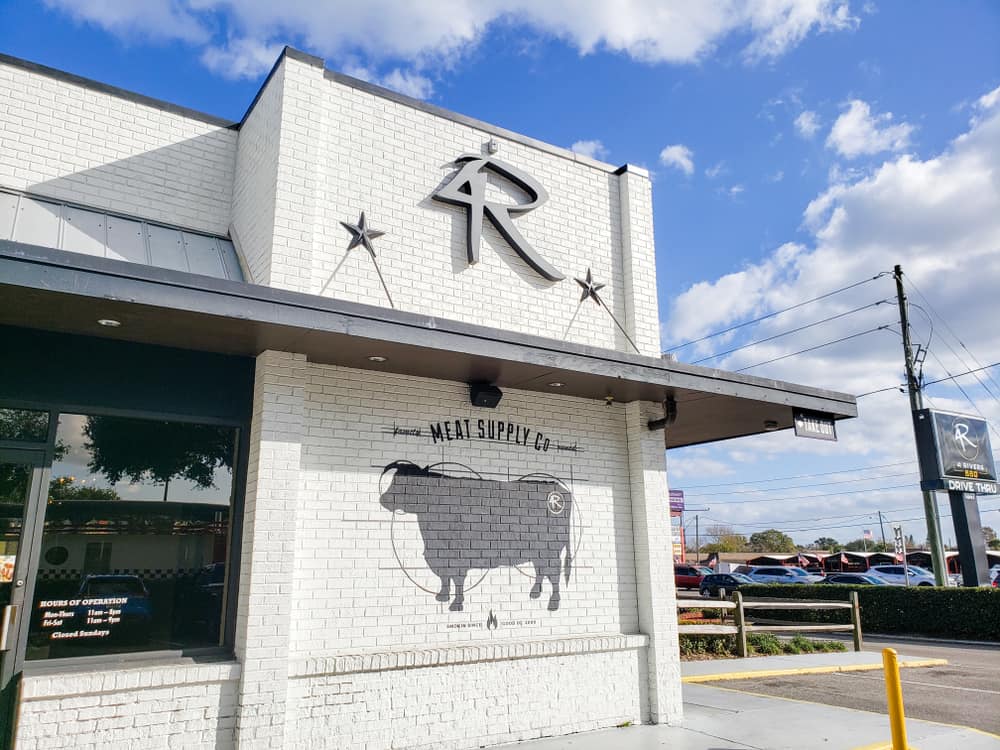 The Wine Room on Park Avenue
If you are looking for something unique or a romantic date night spot head to the Wine Room on Park Avenue. The large open space has over 150 wines from around the world that can be sampled from one of the wine dispensing machines.
For $3 you purchase a wine card that you load money onto they you can start tasting! Each machine is marked with a price. You can choose either 1 oz, 2.5 oz or 5 oz pours. Not to worry for those looking to eat they serves cheese, charcuterie, flatbreads and small plates.
Small plates include truffle mac and cheese, short rib quesadillas, maple roasted brussel sprouts, smoked salmon rueben slides, roasted beet hummus and lamb kefta kebabs.
Also on the menu is baked brie, cheese flights, and desserts. Try the white chocolate raspberry or espresso cheesecake, carrot cake or a hazelnut bombe.
The Ravenous Pig
If looking for gastropub restaurants in Winter Park head to the Ravenous Pig. The Ravenous Pig has a general store, brewery and restaurant.At the general store you can pick up all your favorite menu items to-go.
While at the brewery you can experience small batch craft beers right next door to the restaurant. From Golden ale's, porters, saison and more you can also taste the beer on tap at the restaurant.
The menu includes items like mushroom and gruyere beignets, wings, oysters, a southern board with fried green tomatoes, dates with pimento cheese and pecan beet hummus.
Other menu items include chilled foie gras, beer mussels, salads, tacos, burgers, a brown butter tagliatelle pasta with venison sausage and butternut squash, rock shrimp and blue grits and steak frites.

Bulla
Bulla Gastropub is one of the Winter Park restaurants serving delicious Spanish food in a tapas style. Bulla hopes to transport you back to a Spanish bar with small plates made with the freshest ingredients with a Bulla twist.
You can find a brunch, lunch and dinner menu as well as a happy hour menu at Bulla. Happy Hour is served everyday from 4 pm to 7 pm with amazing drink specials and happy hour priced tapas.
The Bulla brunch menu is price fixed three course menu for $27 and you can add bottomless sangria and mimosas for $18.
Lunch is also price fixed at 2 courses for $18 or 3 for $23. Menu items include ham croquettes, garbanzo frito, veggie burger or bulla burger, cuban iberico, and desserts like flac de coco or churros. Or you can choose items off the regular menu like patatas bravas, Pintxos or ceviche.
While there is no price fixed menu for dinner, the menu has tons of options for small plates, seasonal dishes and large entree style dishes like Truffle carbonara, churrasco or lamb chops.
Cafe de France
Cafe de France is one of the best French restaurants in Winter Park that has been serving the area since 1982. They serve lunch Wednesday through Sunday from 11:30 am to 2:30 pm and dinner Tuesday though Sunday from 6 pm to 10 pm.
All the menu items are designed from French recipes and made fresh daily. Expect delicious French food served in a casual atmosphere.
On the lunch menu try the escargots or snails, french onion soup, salads, a rotating vegetarian entree, duck roti, beef bourguignon, croque monsieur, and chicken galette a buckwheat crepe.
For dinner try the steak tartare or terrine maison, rack of lamb, seas scallop risotto, mallard half duck and desserts like an assortment of cheeses, sorbet, chocolate fondant, tarte tatin, and a large assortments of tea or coffee to end you meal.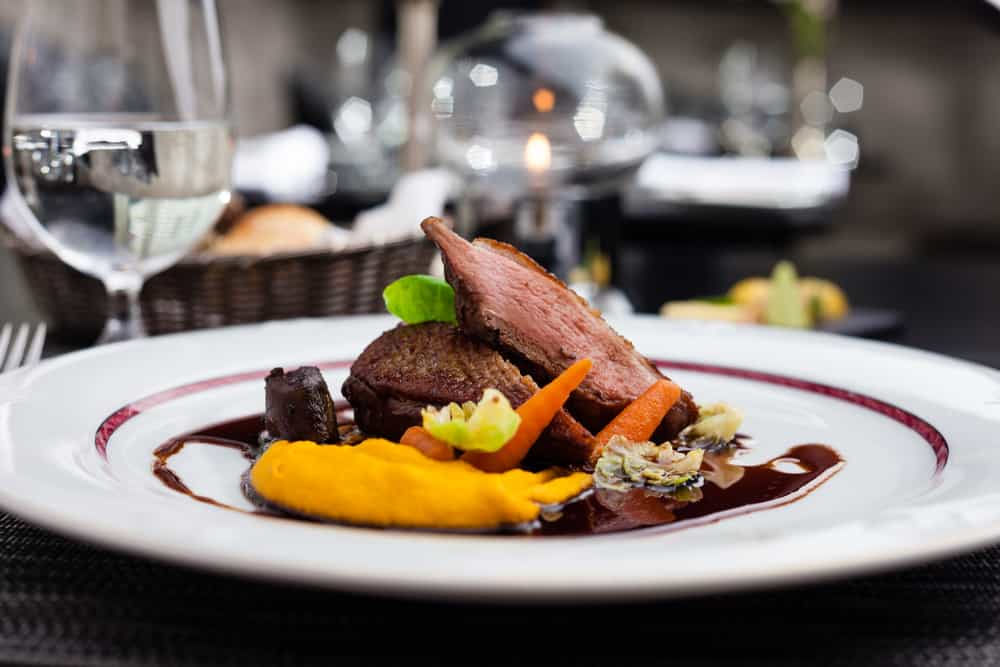 Did You Find This Post Helpful?
If so, we would love to keep in touch! We enjoy seeing photos and comments about your experiences in Florida! You can follow us on Instagram and we will repost your photos on our feed and comment too! Just tag us at @floridatrippers and hashtag #floridatrippers. We can't wait to see your travels!