It's finally here: Christmas in Orlando! Celebrating the holidays in this metropolitan area helps give Orlando its nickname: "The City Beautiful."
One of the most-visited cities in the world, driven heavily by tourism, Orlando packs a punch. It's certainly too much to accomplish in one trip. At Christmastime, the city lights up and there is so much to do! From festivals and parades to ice skating and sight-seeing, Orlando at Christmas has it all.
There is no better way to get yourself and your family into the holiday spirit by taking advantage of one of the many attractions offered by the city and its surrounding theme parks.
Here are our favorite things to do in Orlando at Christmas! Discover the best holiday fun for you and your family!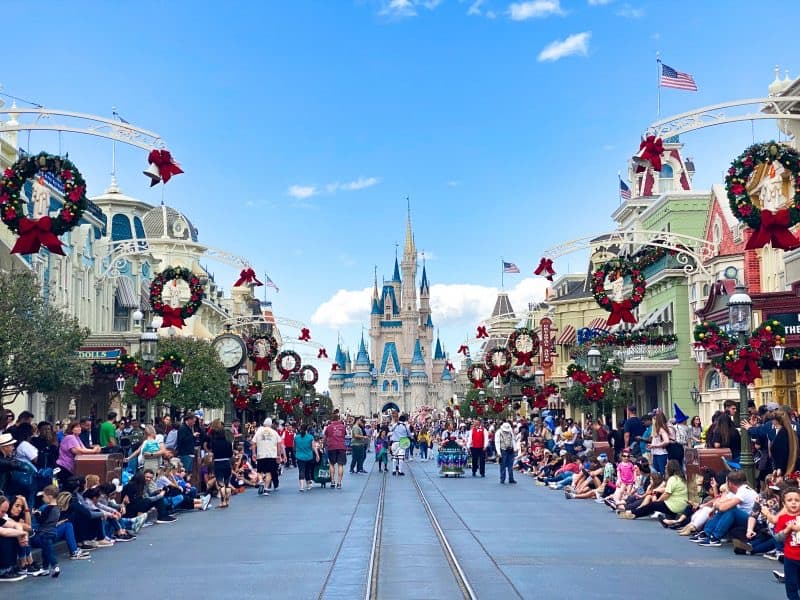 Christmas in Orlando: What To Do and Where To Go
Eola Wonderland Christmas Tree Show
At the beginning of December in Eola Park in downtown Orlando, the city holds a tree lighting ceremony free to anyone who wants to attend.
It may not be Rockefeller Center, but the tree is usually 72 feet tall and is adorned with lights and ornaments. The walkway leading up to the tree is guarded by life-size Nutcracker soldiers.
Once the tree has been lit for the first time, a full light show synchronized with music occurs once an hour between 5:45 and 9:45 PM daily!
The entire park is decorated with wreaths and thousands of twinkling lights. Guests can enjoy live entertainment and grab a nosh at the Daily City food truck bazaar.
Santa even makes a special appearance to take photos at the Eola House! Catch him on Friday and Saturday from 4:30 PM – 9:00 PM and Sundays from 5:00 PM – 8:00 PM!
Disney Springs Christmas Tree Trail
The Christmas Tree Trail is among the newest installments at Disney Springs, making it one of the most festive Christmas activities in Orlando!
Disney Springs is a sprawling area filled with shops and restaurants, and during Christmastime, the Christmas Tree Trail is revealed. Guests can walk through the areas and see trees themed after all your favorite Disney movies.
The Tangled Christmas Tree wraps Rapunzel's long blonde tresses in place of garlands. Rafiki's hands hold up Simba as the topper for the Lion King tree. Look for the lanterns on the tree, inside are ornaments which can be purchased at the "Days of Christmas" ornament center!
Around the trees, the shops and lamp posts are all adorned with wreaths and bows. Grab some eggnog at the popup concession stands, and enjoy the Disney Magic as it begins to "snow."
The Disney Springs Christmas Tree Trail is free and open to all guests from 11:00 AM – 11:00 PM. Parking is also free in a garage that connects to the area.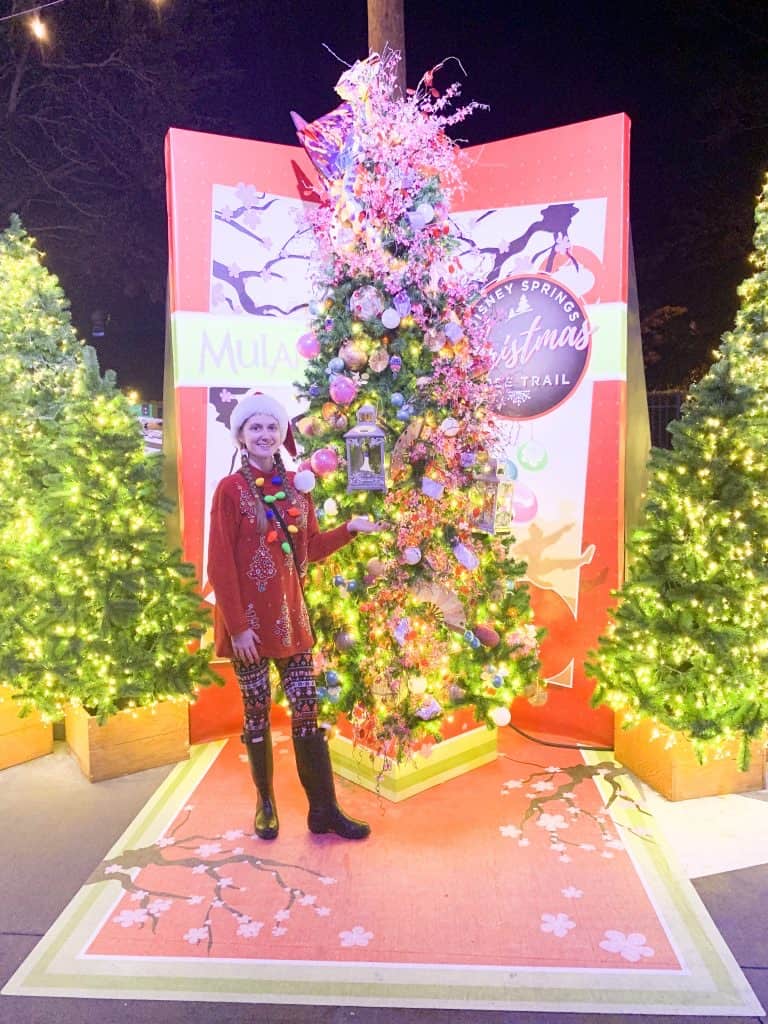 Winter Park Christmas Parade
One of Central Florida's longest running parades, the Winter Park "Ye Olde Hometown" Christmas Parade is one of the most beloved things to do during Christmas in Orlando.
This celebration is a huge affair: more than 100 bands and dance troupes perform along the parade route and floats carry city figures like the mayor as well as the police and fire departments! Santa Claus, of course, makes his entrance fashionably late, on the last float of the parade.
Get there early at 7:00 AM to buy a ticket for the annual pancake breakfast. Pancakes, fruit and candy toppings, sausages, coffee, milk, and juice are all included in the price. The proceeds go to leadership development programs adults and youth.
The parade is hosted by the Winter Park Chamber of Commerce and travels down historic Park Avenue, immediately north of Orlando. It starts at 9:00 AM and runs through 10:30 AM.
Hotel Hop and see all the decorations at Disney Resorts
Whether you're looking to relax after a long day at the parks, scoping out options for your next vacation, or just looking for a free way to get a taste of Disney, Resort hopping is one of the best Christmas activities in Orlando.
Do your research before you go and decide what you do and don't need to see. There are countless Disney Resorts, and visiting all of them would take over two days. Each resort is decorated differently.
The Wilderness Lodge, for example, holds a large tree in its log-cabin themed foyer, adorned with pinecones and antlers. The rustic-charm of the design looks as though it was decorated by woodland creature!
The Contemporary, for example, has a display of giant gingerbread castles, and some of the best Christmas cupcakes Disney has to offer. The Boardwalk Inn holds an elaborate gingerbread display replicating the Disney promenade on the water.
Hopping from resort to resort is the Disney version of driving through neighborhoods to look at Christmas lights. Hop on the tram and enjoy the sights!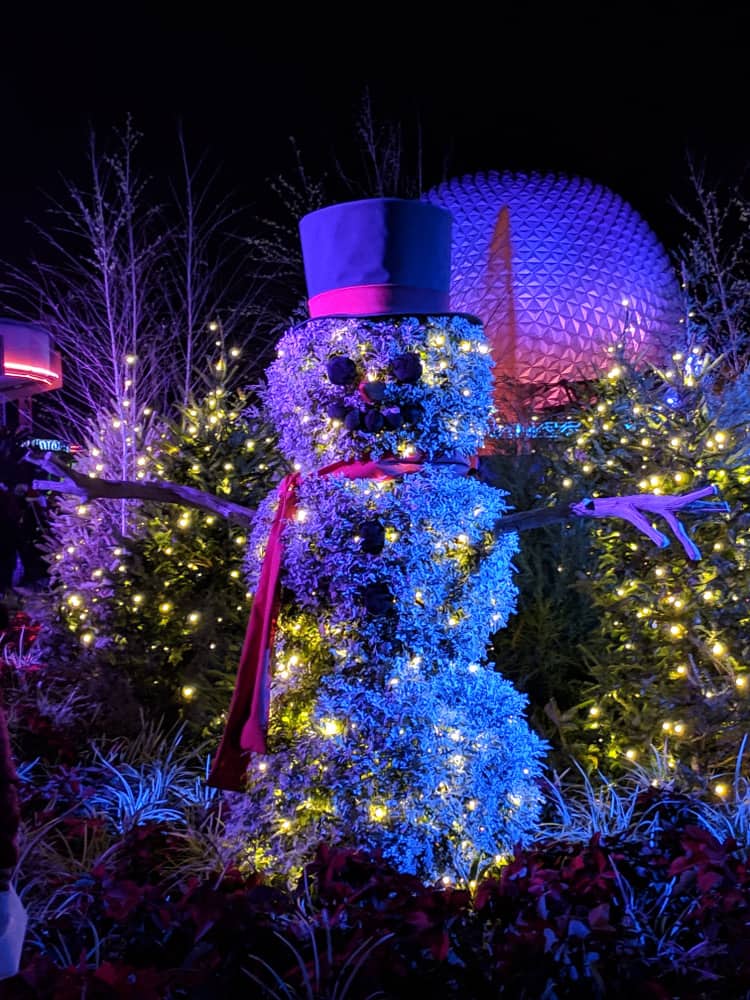 Light Up UCF
The University of Central Florida is Orlando's biggest college campus and in turn, they celebrate Christmas in an even bigger way with Light Up UCF.
One of many fun things to do in Orlando for Christmas, the campus is decorated with 200,000 lights, making things merry and bright. The largest open-air outdoor ice skating rink is built in the middle of the campus.
A free holiday film festival runs every Friday and Saturday with showings at 7:00 PM and 9:30. Films screened are appropriate for the whole family like It's A Wonderful Life and White Christmas.
Buy a ticket for $12 and you can take unlimited rides at the pop-up amusement park on campus. More adventurous riders can take on the Winter Whirl, the Light Up Express, or the Arctic Ice Slide, while families with small children can ride the Ferris wheel or the Carvana Carousel.
If you attend on the weekends, Santa has been known to make an appearance, accept wish list letters, and pose for pictures with those on the "nice" list that year.
Mickey's Very Merry Christmas Party
Disney World hosts a multitude of parties, but Mickey's Very Merry Christmas Party is perhaps the most magical. What better way to celebrate Christmas in Orlando than to wander through Disney World with Mickey and Minnie?
Right when the party starts at 7 PM, snow begins to fall on Main Street as you walk towards Cinderella's castle. Snow will continue to fall intermittently throughout the night.
Rare characters like Moana, Jack Skellington as Sandy Claws, and Scrooge McDuck make appearances at special Meet and Greets and you can gather to see Elsa light up Cinderella's castle with snow and icicles in "A Frozen Holiday Wish!"
Make sure to grab a good spot to see Mickey's Once Upon A Time Christmas Parade full of dancing nutcracker men, reindeer, gingerbread people, and even Santa himself!
There are special, exclusive dining options like Minnie's Dessert Party at the Tomorrowland Terrace, which provides a special view of Minnie's Wonderful Christmastime Fireworks display. Free seasonal beverages are included with the price of admission. Health-conscious and gluten-free options are available upon request.
Like most holiday parties, Mickey's Christmas Party is a separately ticketed event, with tickets starting at $99 for adults. The event runs from 7 PM until midnight on select nights from November 8 through December 22. While the party doesn't start until 7 PM, guests can arrive as early as 4 PM!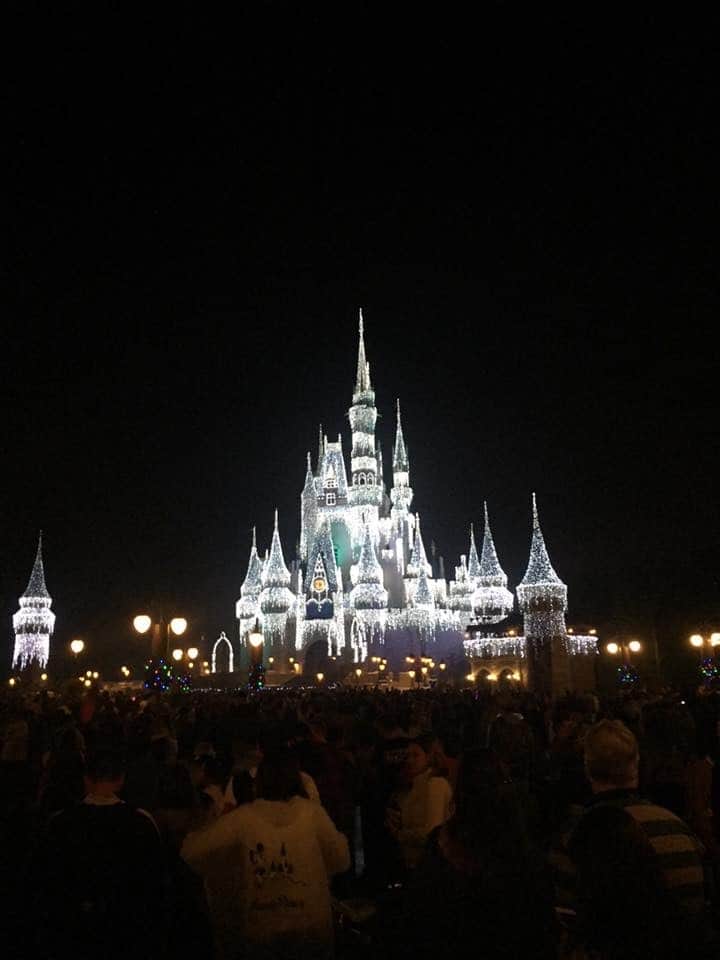 Festival of Trees at the Orlando Museum of Art
The Orlando Museum of Art is reflective of Florida's bustling and developing art scene, and the celebration they put together annually is one of the best Christmas activities in Orlando.
The Festival of Trees is a two week showcase of designer Christmas trees decorated in different art styles. Have you ever wondered what an art-deco Christmas tree might look like? Now you can find out.
Custom handmade wreathes, tabletop displays, and decor like dining-table centerpieces are created by local designers, and all are available to purchase to take home to your home!
The Museum kicks off the celebration with an elaborate gala, but subsequent nights of the festival include holiday vignettes, live musical performances by local artists, and fun, educational programs for all ages to enjoy.
The Festival of Trees runs November 16 – 24, and is open from 10:00 AM – 5:00 PM daily. Admission is $15 for adults and $7 for children with discounts available for Florida residents and students.
Grinchmas Who-liday Spectacular at Universal Islands of Adventure
Universal Studios decks the halls in both of their theme parks, but the Grinchmas Who-liday Spectacular at Seuss Landing at Islands of Adventure will make your heart grow three sizes guaranteed.
The town of Whoville an area geared for young children at Islands of Adventure, complete with a forest of Truffula Trees and the Lorax, but at Christmas Time, Whoville is lovingly decorated by the Whos with wonky, twisty Christmas trees, wreaths, and garlands.
Visitors can get the best view of the decorated area by riding the High In The Sky Seuss Trolley Train. For a more up-close experience, you can meet Cindy Lou Who and friends at Meet and Greets, or enjoy a character breakfast with Whos at the Circus McGircus Cafe.
The Christmas season culminates in Seuss Landing with the Grinchmas Who-liday Spectacular, a stage show starring none other than the Grinch himself. You can watch as the Grinch steals Christmas from Whoville and learns the true meaning of the holiday as he creates an even bigger celebration.
After the show, you can meet the Grinch an in exclusive Meet and Greet, and even meet his trusty sidekick, Max the Dog with his one antler tied to his head.
The show is included with park admission. There are approximately 6 shows a day, running from 12:00 PM – 6:30 PM.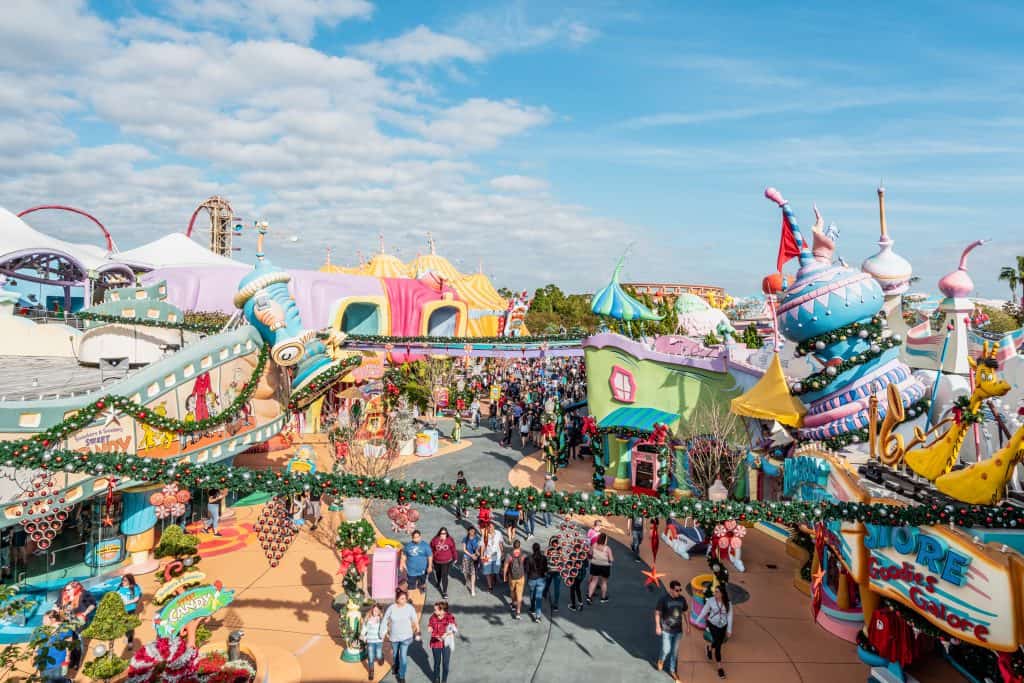 The Nutcracker Ballet by the Russian Ballet of Orlando
What is Christmastime without a family trip to see the Nutcracker? Enjoy the arts this season with this Tchaikovsky classic.
Every year, the Russian Academy of Ballet performs one free performance of the most famous Christmas ballet, the Nutcracker, at the Walk Disney Amphitheater in Eola Park in downtown Orlando!
The entire family can dream of sugar plums dancing in their heads after watching the actual Sugar Plum Fairy dance on pointe and the toy soldiers pirouette around the stage.
The performance is free, but we recommend arriving early, as there are limited seats available. Check the Russian Ballet of Orlando's website to confirm dates and times to plan your experience!
ICE at Gaylord Palms
The Gaylord Palms Resort and Convention Center, a major player in the Orlando hospitality market, offers shopping, a spa, and the Everglades-themed Cypress Springs Water Park. During Christmas in Orlando, the resort takes celebrating to the next level with ICE.
Every year, over 2 million pounds of ice are brought into the Gaylord Palms and carved to represent Christmas scenes, centering around a theme. 2019's theme was "The Polar Express." Make sure to dress in warm clothes, it is a chilly 9 degrees Fahrenheit (-12 degrees Celsius) to keep the ice from melting.
You can watch Frostbite Factory Live, an ice-carving showcase. Or you can slide down two-story ice slides or race in an eight-lane snow tubing course.
If you get too cold, you can always see the 60-foot tree in the St. Augustine Atrium, which has a light show synchronized to your favorite Christmas tunes. You can also walk around the Gaylord Palms Christmas Tree Trail with 9 other heavily decorated Christmas Trees.
For additional payment, you can decorate cookies or build a gingerbread house with Cinnamon and Nutmeg, the official Gaylord Palms gingerbread couple ($23). If you're adventurous, you can participate in an escape room, where you must remove your name from the naughty list before Santa returns ($17)!
Admission to ICE at Gaylord Palms is $29 for adults and $15 for children with special discounts for Florida residents.
Santa's Tree Farm
Did you know that evergreen trees grow in Florida? Did you know that there are Christmas tree farms in Florida where you can cut down your own tree to take home to decorate?
At Santa's Christmas Tree Forest, just north of Orlando, a winter wonderland awaits you and your family. You can take a hayride around the grounds, choose your own tree, cut it down, and load it up and take it home with you! Trees are also available pre-cut if you don't want to get your hands dirty.
The fun doesn't end there! For an additional $10, children can jump on Buddy's Pillow Bounce and get lost in the Elf Maze and Crazy Maze. You can even go down the Comet Chase Double Barrel slide in an actual barrel. Adults are only permitted if they are escorted in these areas by a child.
Children can also take a pony or horse ride and take unlimited zip line rides over the grounds for an additional $10 dollars.
Santa's Christmas Tree Forest is open from Black Friday to Christmas Eve with $2 admission for children and adults.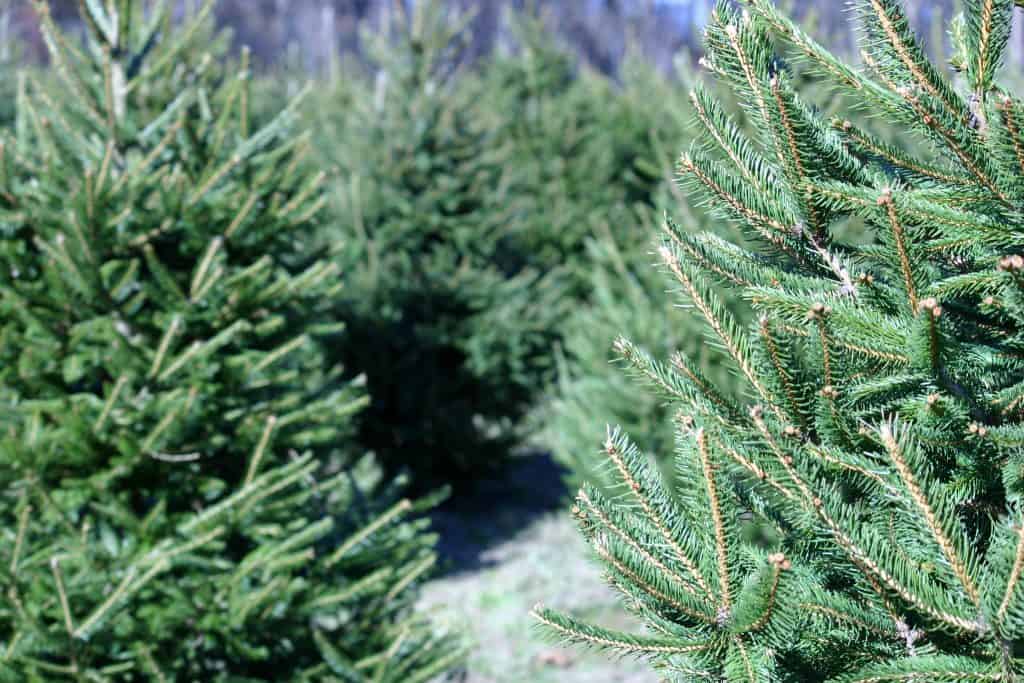 Winter Park Boat Parade & Water Ski Extravaganza
Only in Orlando at Christmas can you celebrate by watching an elaborate holiday-themed show on Lake Virginia!
The activities start at 3 PM with the Rollins Ski Team performing a daring and holiday-themed showcase of water acrobatics choreographed to your favorite Christmas tunes. The best views can be seen from Rollins College, the Cornell Fine Arts Museum, and Dinky Dock.
At 5:30, the competitive boat parade begins! Contestants take this community tradition very seriously and completely deck out their boats, with prizes awarded for Best Boat, Best Winter Park Boat, and of course, Best Santa Boat.
The Winter Park Boat Parade & Waterski Extravaganza is free, but donations are accepted. A concession stand is also available. All proceeds go to the Winter Park High School food pantry, which alleviates hunger in the area.
Now Snowing in Celebration, Florida
A Winter Wonderland might be the last thing you think of when you think of Christmas in Florida. Now Snowing in Celebration, Florida doesn't let a little tropical weather get in the way.
Now Snowing transforms the hot and humid Florida weather into a frosty paradise with nightly snowfall on the hour from 6 PM – 9 PM every hour! Just a hop, skip, and a jump from Disney, this is the perfect way to cool down after a day at the park.
While admission is free, for $10 extra, you can ride the Celebration Express Train, or for $45, take a carriage and sleigh ride! Wagon rides for children are $5.
You can even get your picture taken with Santa and then go enjoy a live concert with big stars, like Justin Bieber or Keke Palmer!
Now Snowing also has a large open-air ice skating rink! $10 will get you 30 minutes of skating time with ice skate rental included. The ice skating rink is open from 4:00 PM – 10:00 PM every day.
Now Snowing in Celebration, Florida is open every day from November 31 – December 31!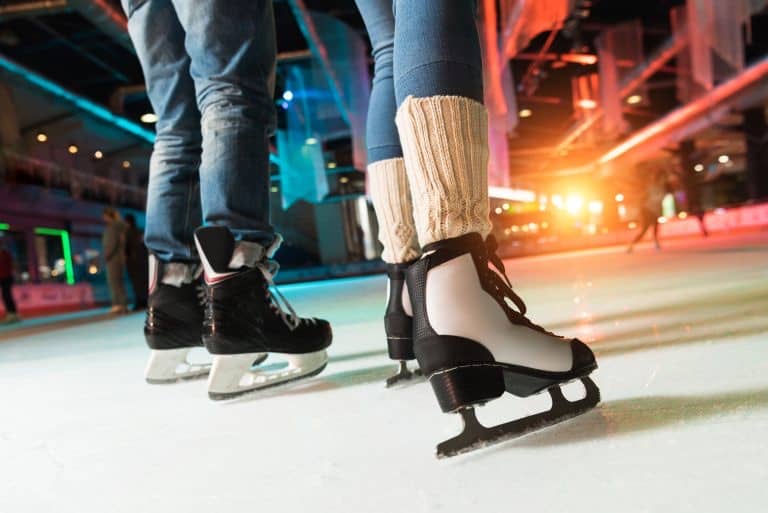 Legoland's Christmas Bricktacular
The newest of Florida's bustling theme parks, Legoland offers family-friendly fun with the Christmas Bricktacular celebration!
Included with the price of general admission, you and the family can revel in awe at the 30-foot Christmas tree: completely made of Lego bricks! Meet Lego Santa and his toy soldiers.
Thousands of bricks also make up Lego Christmas wreaths, snowmen, and reindeer! Make sure you bring your camera!
Live entertainment includes the Holly Jolly Jubilee show with Santa's elves who take you inside Santa's workshop. DJs also host fun dance parties around the park.
Legoland's Christmas Bricktacular runs November 30-31 and December 1, 7-8, 14-15, 20-31. Tickets start at $89 if you purchase online.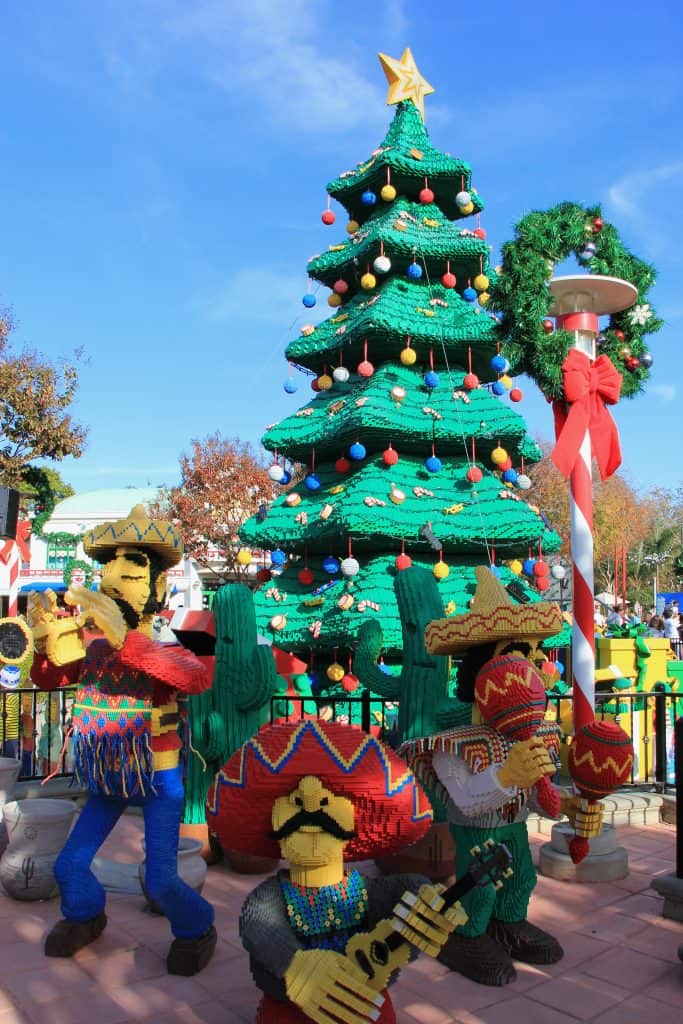 Visit the Great Christmas Light Fight House
If you've ever watched The Great Christmas Light Fight on ABC during the holidays, you'll know that the Johanessen family are local stars!
Their house was featured on the competition, and rightly so! 250,000 lights are hung annually throughout the family's front yard, on the house, and throughout the backyard. It takes them about 3.5 months to assemble, and weeks to take down after the season ends.
Known as the Johanessen Lights, visitors can walk through the front yard and take pictures as bubbles float down, "snowing" every night. $10 will allow you to walk through the backyard, an even more expansive display of lights.
This site is a private residence, so parking is limited. Be prepared to walk. If you go, be respectful, this is a private neighborhood. Admission is free, but donations are accepted.
The Johanessen Lights are located at 7849 Georgeann Street, Winter Park, Florida.
Christmas in Christmas, Florida
At the intersection of State Road 50 and Ft. Christmas Road, you can discover a slice of Orlando where it is literally Christmas every day of the year!
Christmas, Florida is a sleepy town of only 1,100 residents, named for the day U.S. Army soldiers arrived and built their fort. Local roads are named after Santa's reindeer: Cupid and Blitzen Avenues, and Rudolph and Dasher Streets. There is even a St. Nicholas.
Many people travel here to have their Christmas cards and packages postmarked from "Christmas, Florida." If you're lucky, Santa himself will set up shop in the local post office to stamp your cards and packages himself!
Skydiving Santas at Cocoa Beach, Florida
Cocoa Beach technically isn't in Orlando, but just 45 minutes away by car, it makes for a perfect day trip. We had to include this event because it truly captures the essence of Christmas in Florida.
If you go to the Cocoa Beach pier, you can see Santas jumping out of planes and skydiving to the ground to celebrate! Who said Santa needs reindeer to fly?
Jumping Santas perform disciplines like Flying Canopies, where they join hands and spin in the air. Santas will also execute high speed landings through an inflatable Christmas tree obstacle course. A competition between the flying Santas is held to see who can land on a large, inflatable Santa chair!
Presented by the Air Sports Parachute Team, the exhibition runs from 11:00 AM – 3:30 PM! Quintessentially Florida, watching Santas leap from the sky down to the beach is one of the best Christmas activities in Orlando.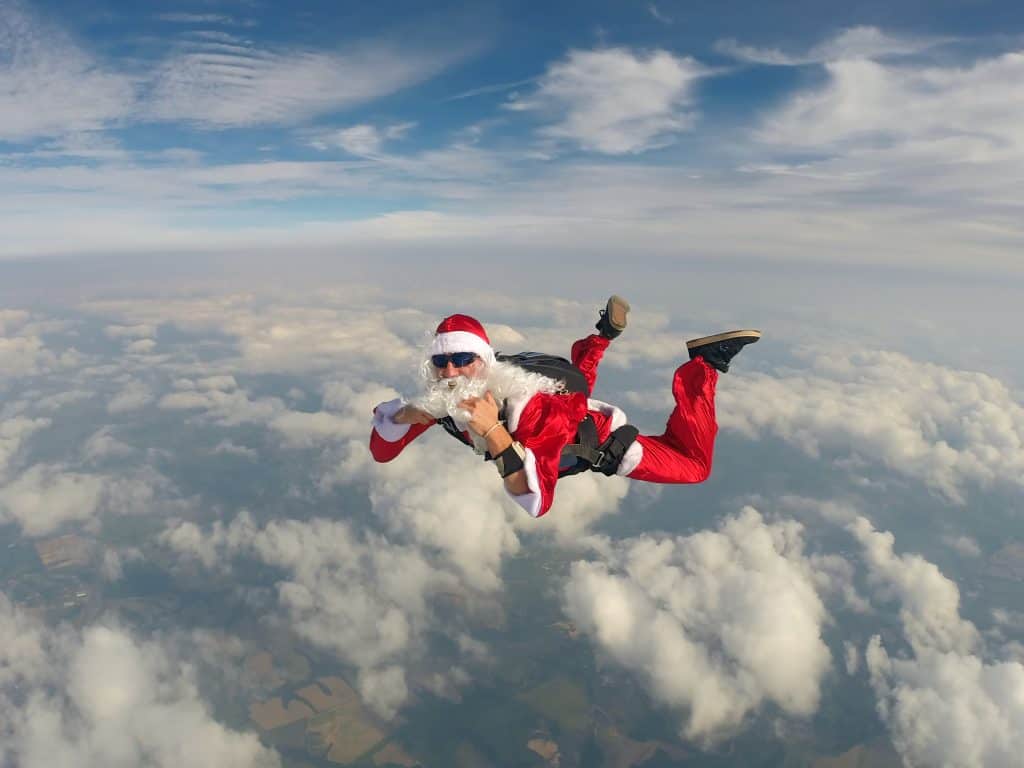 OH WHAT FUN! at Lake Nona
OH WHAT FUN! is a premiere Christmas party event in Lake Nona, one of the newest Christmas activities in Orlando.
Featured events include an open-air ice skating rink surrounded by Christmas trees and twinkling lights! A mailbox is even available to mail wish lists to Santa.
Lake Nona also hosts a Holiday movie festival, with showings on Friday nights. Sometimes Santa even attends to kick back and watch with some popcorn, so make sure to bring your camera.
OH WHAT FUN! offers free admission and free parking and is open from 11:00 AM – 10:00 PM. Bring cash for ice skating, food, and drinks!
Santa's Winter Wonderland Village at Waterford Lakes
Located in the Waterford Lakes Town Center, Santa's Winter Wonderland Village is one of the best things to do in Orlando at Christmas!
Open Fridays through Sundays through December 22, the Village features pictures taken with Santa. He also has storytime for tiny tots. There is also an official Toys for Tots collection center. Bring a new, unwrapped present to receive a voucher good for two rides at the Village's amusement park!
The Wonderland Village also features a grand variety of European-style amusement park rides, all decorated for the holidays. If you're an adrenaline-junkie, you can take your chances on the Giant Wheel or the Mini Tea Cups. $25 will buy you unlimited rides all day.
Santa's Winter Wonderland Village is free to the public, but bring cash for food, drinks, and the amusement park.
Did You Find This Post Helpful?
If so, we would love to keep in touch! We enjoy seeing photos and comments about your experiences in Florida! You can follow us on Instagram and we will repost your photos on our feed and comment too! Just tag us at @floridatrippers and hashtag #floridatrippers. We can't wait to see your travels!