Are you looking for springs near Jacksonville? If so this article is just for you. We are going to walk you through the natural springs near Jacksonville. From the beautiful Juniper Springs to the mysterious Devil's Den. We will give you everything you need to decide which of these Jacksonville springs is the best for you to visit.
Anyone who has visited Florida, especially in the summer months knows how hot and humid it gets. It sometimes feels like you can't cool off no matter what you do. That is why we love springs. With waters at a constant 72 degrees, they are very crisp and refreshing places to take a cooling dip. Spending some time at one of the Jacksonville springs is not only relaxing but will be one of the cooler days you spend in Florida.
Florida isn't really known for its springs. You might be surprised to learn that Florida has the largest collection on earth with over 700. This is due to the natural underground aquifer, the limestone and dolomite rocks that are easily dissolved.
These springs become their own little ecosystems with interesting animal life, wildlife, rock formations, and wildlife forming around them. However, springs were the original tourist attraction in this region and were once what drove people to Florida in the 18th/early 19th century.
Most Tourists head to the popular attractions in Florida not ever knowing that these springs exist. And these springs have stood the test of time and offer the modern-day visitor a lot to do. From diving, snorkeling, swimming, kayaking, and even on glass-bottom boat tours.
Did You Find This Post Helpful?
If so, we would love to keep in touch! We enjoy seeing photos and comments about your experiences in Florida! You can follow us on Instagram and we will repost your photos on our feed and comment too! Just tag us at @floridatrippers and hashtag #floridatrippers. We can't wait to see your travels!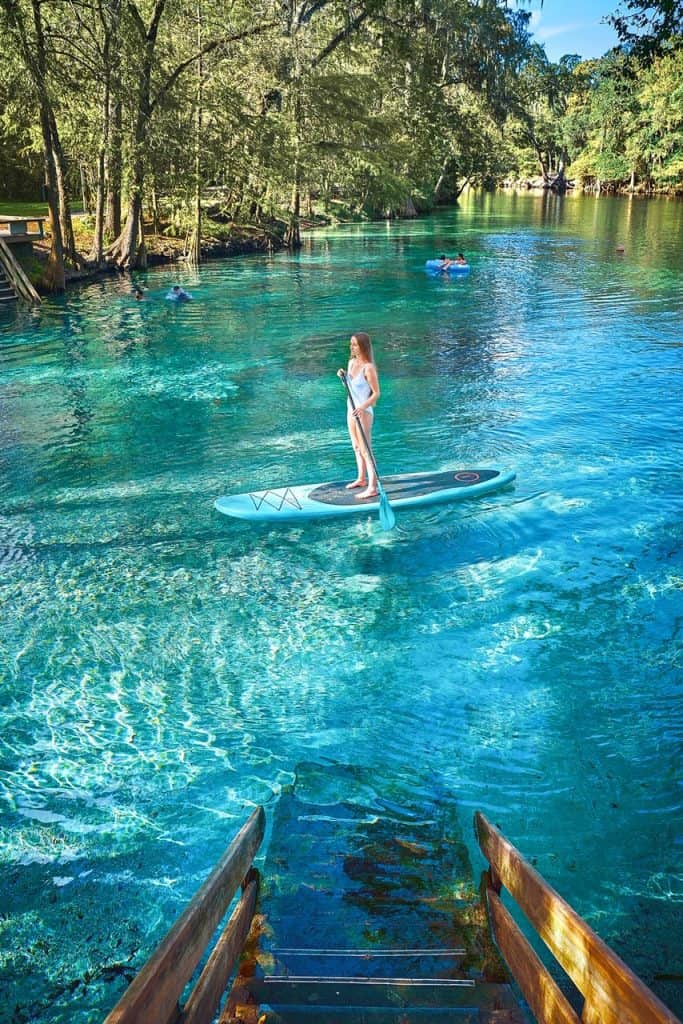 Springs Near Jackonsville
All these natural springs near Jacksonville are beautiful and all very different. Some just over an hour away, some a little bit further, some lively and some quieter. Whichever you choose take your camera because these springs often have picture-perfect topography and you never know what interesting wildlife you might want to capture on your camera.
Listed below are our picks of springs near Jacksonville. We have made sure to let you know how far each of them are from Jacksonville and any other relevant information that might help you.
All you need to do is pick a location, set the GPS, pack a bathing suit, and get ready to have a great day.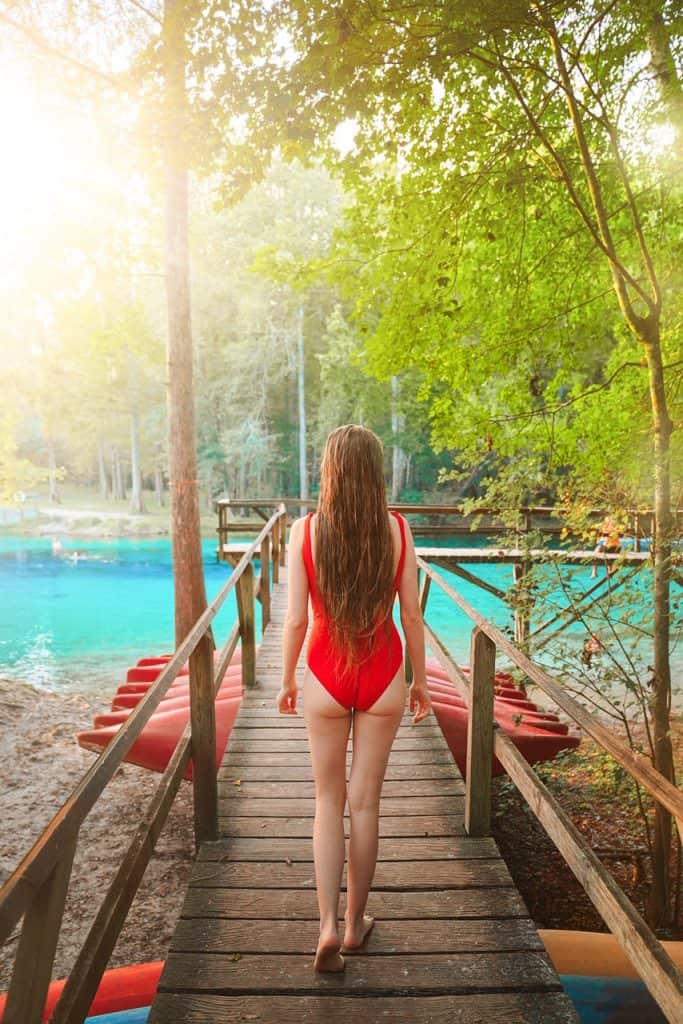 10 Prettiest Natural Springs Near Jacksonville
Ginnie Springs
About an hour and a half from Jacksonville you will find Ginnie Springs. Of all the springs near Jacksonville, this one has the clearest waters.
This is one of the best springs for freshwater diving and is quite famous for it. This spring has a unique underground cave system also loved by scuba divers. For the swimmers, it's lovely too with a sand/limestone bottom.
This is one of the Jacksonville springs that you can also camp at. It's also privately owned with is unusual.
Ginnie Springs sits on 250 acres of wooded land, right on the Santa Fe River, so there is also lots to do that doesn't involve the water, such as hiking and picnicking. There are also volleyball courts if you fancy a break from tubing, kayaking, canoeing, or swimming.
If you want a quieter time visit during the day, outside of holidays, the springs can be very popular with young people particularly during spring break and summer holidays, making it sometimes less child friendly.
The price to get in is $14.90 or $19.40 per adult depending on when you visit and $3.73 for children under 12. We feel this is one of the springs near Jacksonville that is really worth a visit.
If you decide to give Ginnie Springs a visit make the most of it with our Guide Tips For Visiting Ginnie Springs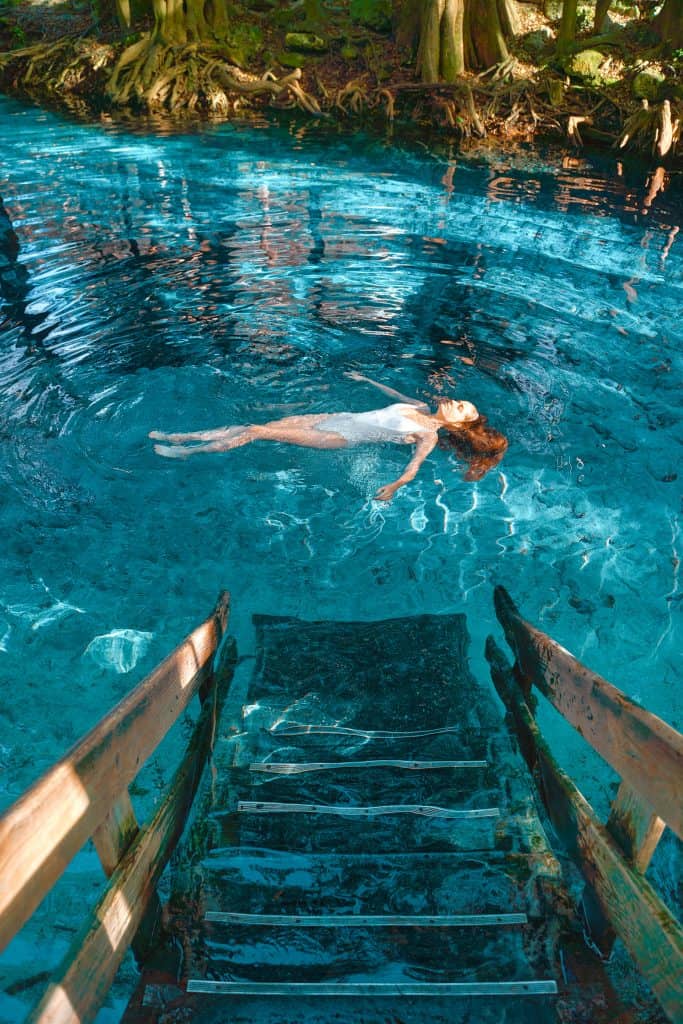 Ichetucknee Springs
Ichetucknee Springs is about an hour and a half from Jacksonville. Eight major crystalline springs unite to form the Ichetucknee River and this spring has a lot to offer.
It one of the best springs near Jacksonville for camping due to its beautiful grounds. It also offers three hiking trails. Set within a State park it's great for tubing, kayaking, and canoeing.
It's also somewhat of a wildlife haven and you could spy beaver, otter, gar, softshell turtle, wild turkey, wood duck, and limpkin to name but a few.
There are eight springs for you to visit here including the picturesque Ichetucknee Headspring, Cedar Headsprings in the forest, Devil's Eye Spring, Grassy Hole Spring, and Mill Pond Spring. The one most come to see though is Blue Hole Spring, also known as Jug Spring.
A scuba divers and cave divers paradise and a first magnitude spring. It's also great to bring a snorkel here and even swimmers can catch a glimpse of the impressive underground cave system.
There is a lot to do here and Ichetucknee Springs makes for a great relaxing or adventurous day out, whichever you prefer.
Admission is $4 for a single occupant vehicle, $6 per vehicle with 2-8 passengers, and $2 for pedestrians, bicyclists, extra passengers etc:.
A really lovely Jacksonville spring to visit if you want to see a first magnitude spring.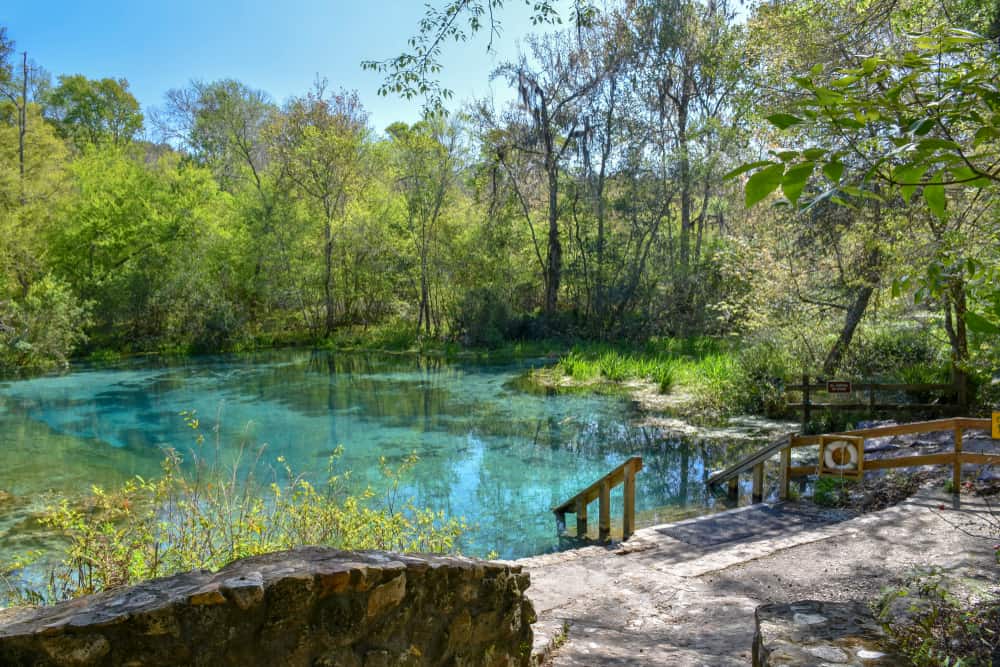 Gilchrist Blue Springs
Florida's newest state park Gilchrist Blue Springs is an hour and a half away from Jacksonville. It's also one of the springs near Jacksonville that you can camp at, in fact, the park has 25 campsites.
Gilchrist Blue is the largest spring in the park; it's a second magnitude spring and produces an average of 44 million gallons of water per day. The area is home to all kinds of fish, wildlife, and fauna.
There are lots to do here including swimming, snorkeling, camping, picnicking, or hiking.
Admission is $6 and if you are thinking of going please arrive early as it can get busy.
And before you go, check out our complete guide to enjoying Gilchrist Blue Springs! We know you will love this Jacksonville spring.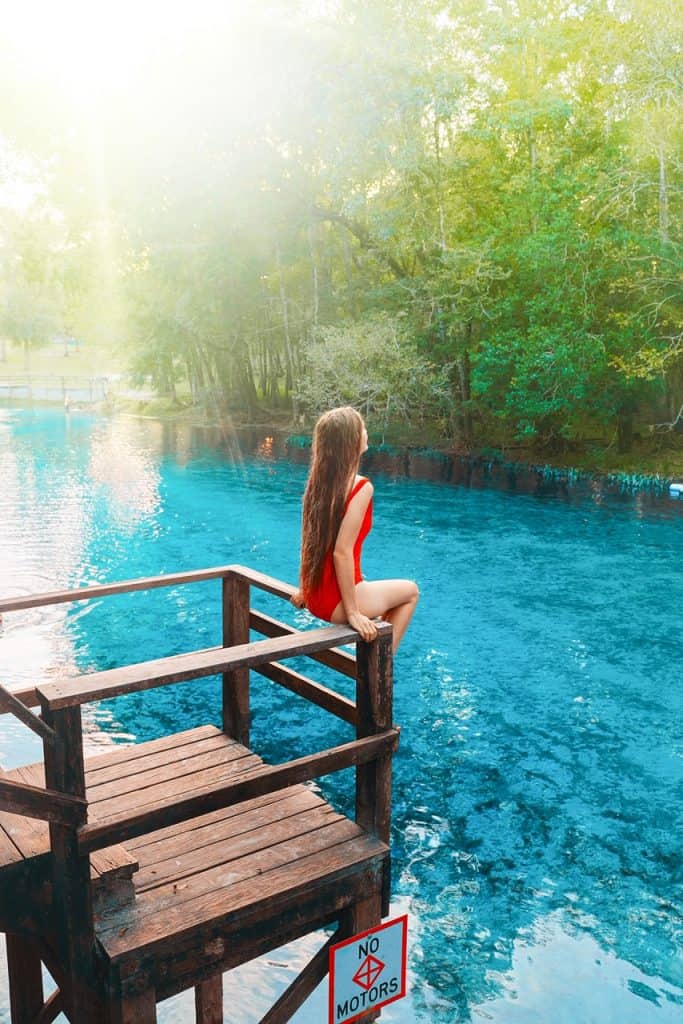 Alexander Springs
This first magnitude spring is one hour and 45 minutes away from Jacksonville. It's an easily accessible spring and is great for families and smaller children. A gradient slow, slope eases swimmers and divers into the cooling water and the limestone floor is easy on the feet.
As well as being able to camp here you can enjoy such activities as biking, horseback riding, fishing, kayaking, canoeing, and of course diving and swimming.
There is also something here for the history lovers out there too. This area was once home to indigenous Timucuan people and one of the trails educates you on their way of living.
This is one of the springs near Jacksonville that has plenty to do is large and has lots to see. The entrance fee is $6 and we really recommend a trip here.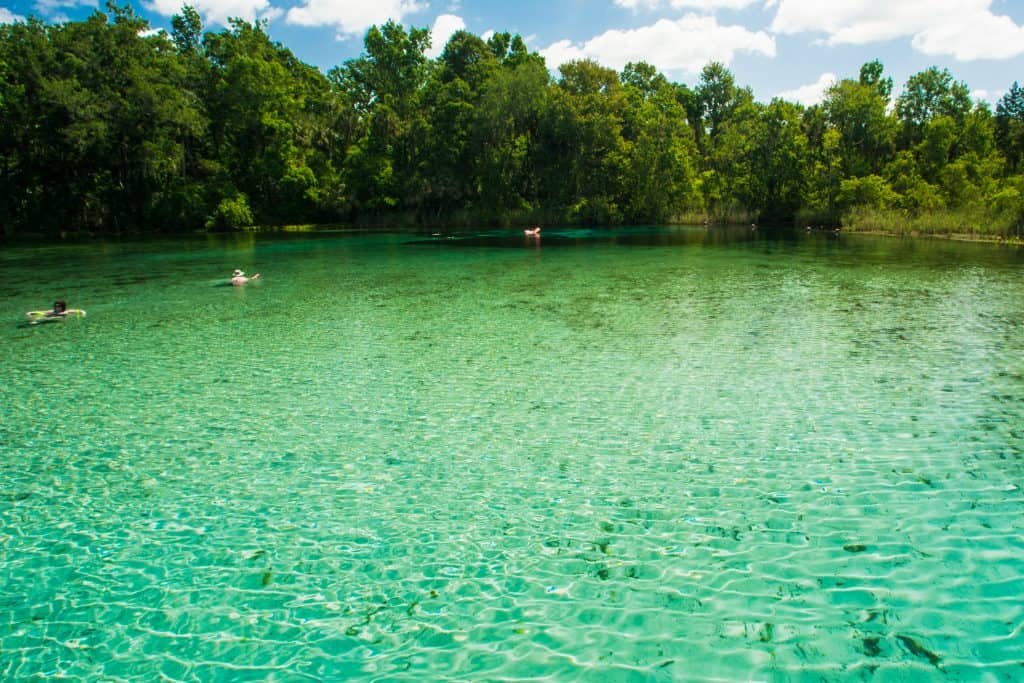 Devil's Den
At one hour 50 minutes away from Jacksonville if you are a scuba diver then you really want to put this Jacksonville Spring top of your list.
Devil's Den is not as ominous as it sounds but it is very unique. Inside a cave, this spring does not allow swimming but does allow snorkeling and scuba diving. Under the water lies interesting geology that looks like an upside-down mushroom. You enter the 54 feet deep spring via wooden stairs and a wooden platform.
This spring gets its name because steam comes out the top opening of the cave on cold mornings. This Jacksonville spring really has a mystical and magical feel about it.
The grounds also have cabins, RV parking, and a swimming pool. Admission is $15 per person Monday through Friday, and $22 per person on holidays and weekends. Admission does not cover any equipment hire.
A real must for the scuba divers.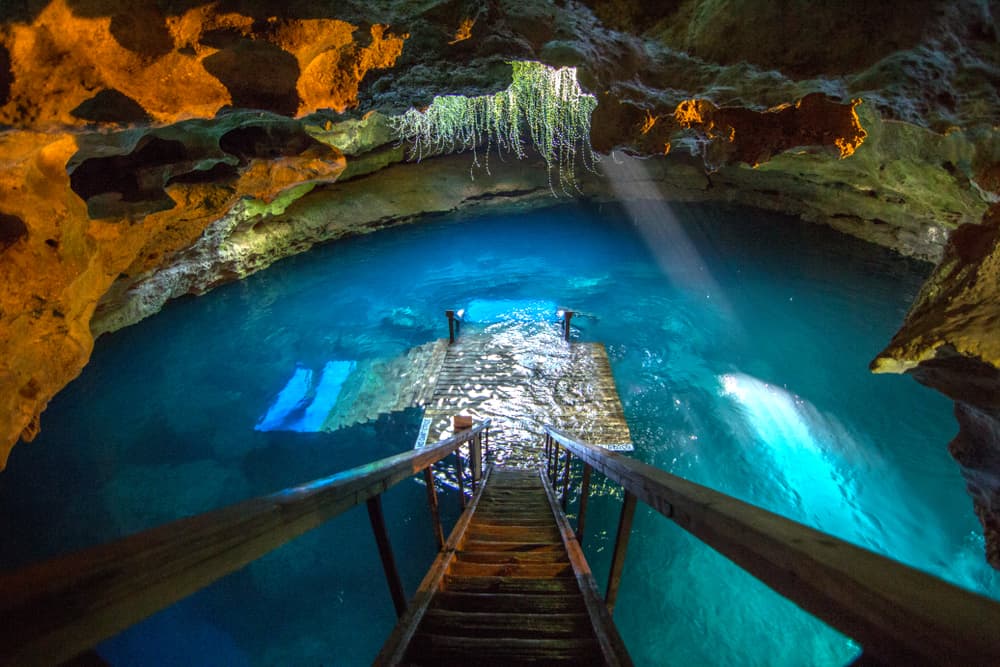 Juniper Springs
If you are looking for a spring near Jacksonville to enjoy nature and relax a bit this spring might be for you. It's an hour and 50 mins drive from Jacksonville. Juniper Springs has the most scenic Kayak routes many say it's the best in Florida. The 7-mile Juniper Run is stunning and even has a haul back service for your canoes and kayak.
In Ocala National Forest there is enough here to please the avid hiker as there are those that love water activities. Look out for turtles, deer, black bears, and turkey.
You can swim, snorkel, paddle, bird watch, and picnic. This really is a beautiful spring with dappled light shining on the water and palm and oaks lining the water, it's like a little paradise.
Entrance is $6 per person per day with camping at £22 per night.
If you are looking for a Jacksonville spring that really shows off nature then this one is for you.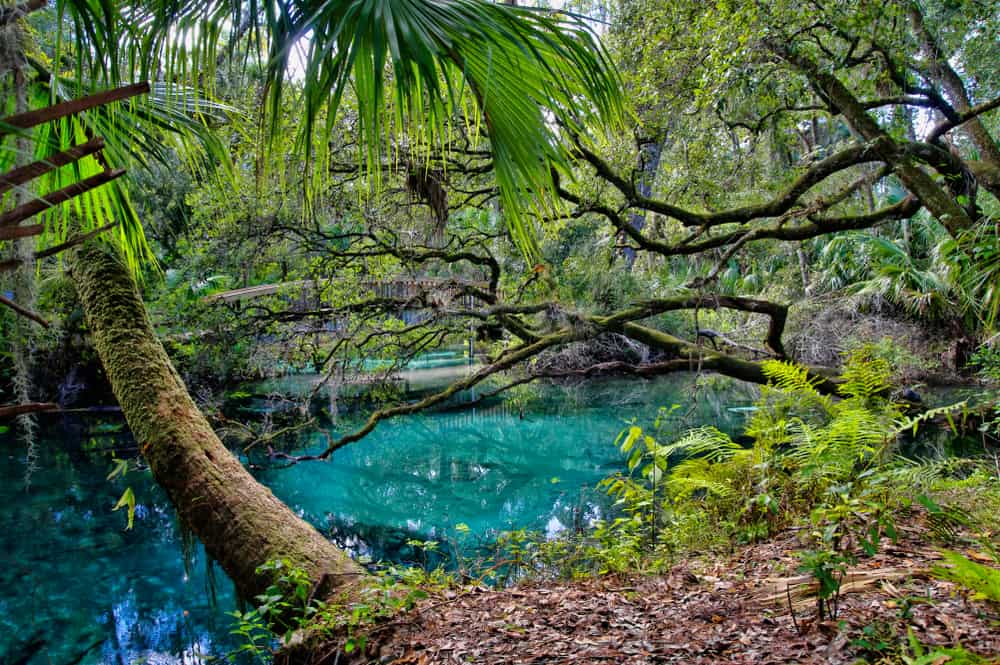 Silver Springs
One hour and fifty miles away from Jacksonville. Silver springs are located in the Ocala National Forest and are one of the most visited springs and perhaps the most famous.
It has featured in many Hollywood hits including Creature from the Black Lagoon. And it's the spring that has the glass bottom boats that drew the tourist in their flocks in years gone by.
The spring has 4,000-acre surrounding it and the turquoise blue water is surrounded by lush trees. One visit and you see why this spring drew the crowds in days gone by.
Swimming is currently not allowed but you can paddleboard, snorkel and canoe. Prepare to see freshwater and saltwater fish, manatees, and even fossilized snail shells
Entrance is $8 per vehicle and capacity is limited so please arrive early. This spring near Jacksonville is a firm favorite.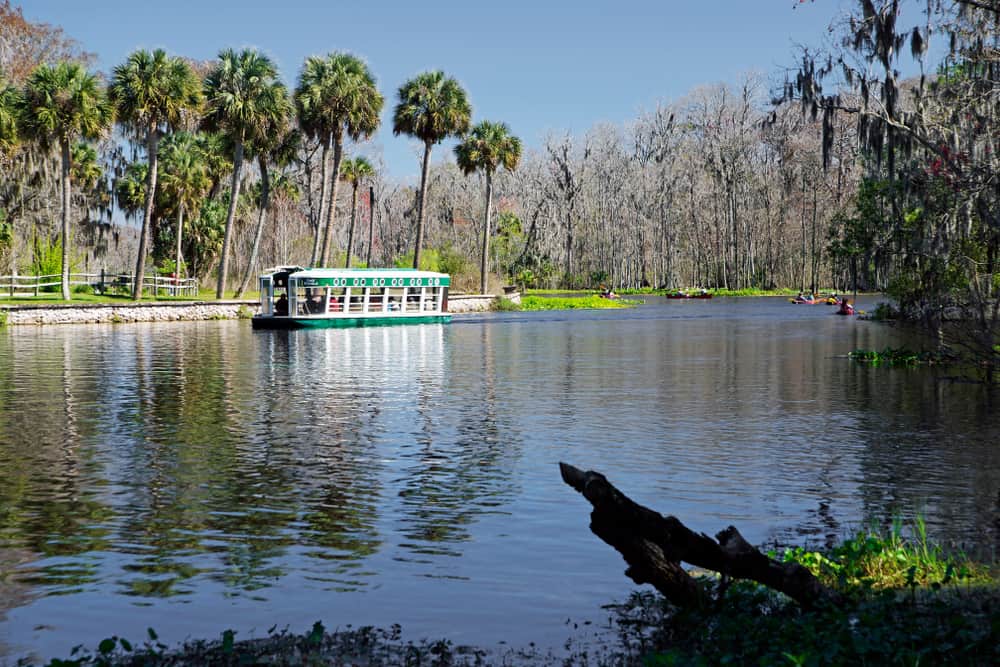 Kelly Park/Rock Springs
Just under two hours away from Jacksonville, Rock Springs is in Kelly Park. This spring is a little colder than most at 68 degrees so keep that in mind.
Kelly Park has over 7 miles of hiking trails to enjoy and Rock Springs are found within the park.
You can of course do all the things one would expect at a spring including just floating among the mangroves. There are also glass-bottomed boats here too and a campground too if you wish to make a whole day and night of it.
Kelly Park gets busy quickly and can often be closed by 9 am so get there early. It costs just $3 for a car of 2 people and $5 for 3-8 people.
Before you go read out Tips For Rock Springs At Kelly Park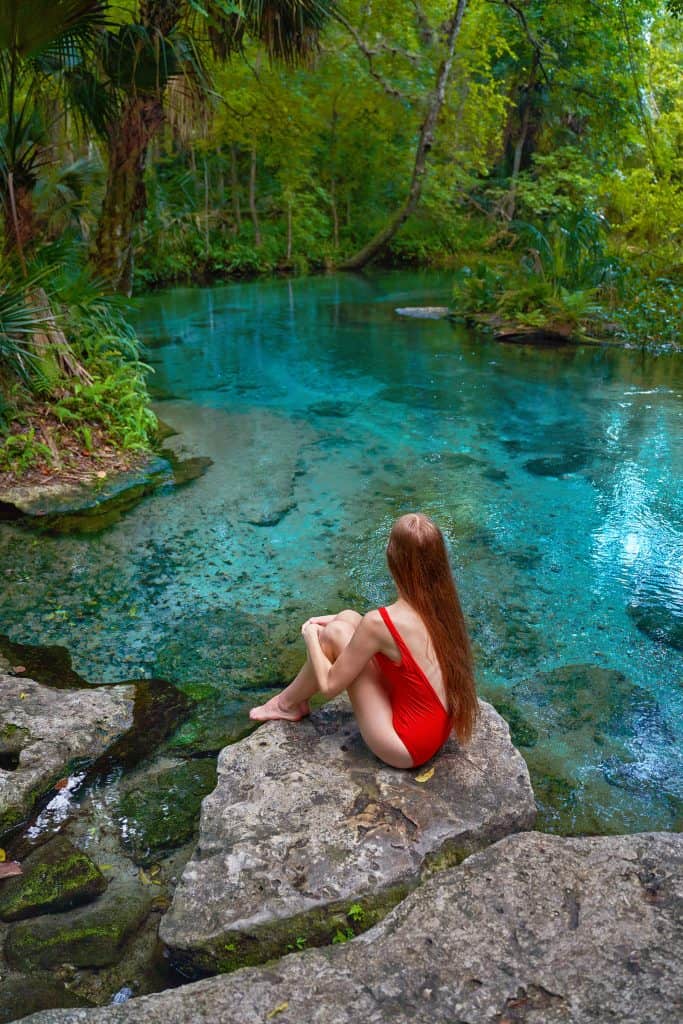 Madison Blue Springs
One hour and 45 miles away from Jacksonville Madison Blue Springs was voted the #1 swimming hole in the country by USA Today. When it comes to springs near Jacksonville this one really is worth a visit.
The crystal clear water is surrounded by lush scenery and mature trees and the 82 feet wide and 25 feet deep spring is really inviting on a hot day.
Manatees are known to swim in the water and you can dive in a vast underwater cave system or just relax on the small beach and watch the world go by.
This is another first-magnitude spring near Jockonsville and there only 27 in Florida so make sure you put this one on your list. Often referred to as the 'Real Florida' Madison Blue Springs has plenty to offer in and out of the water.
The admission is $4-$5 per person and $2 for a pedestrian.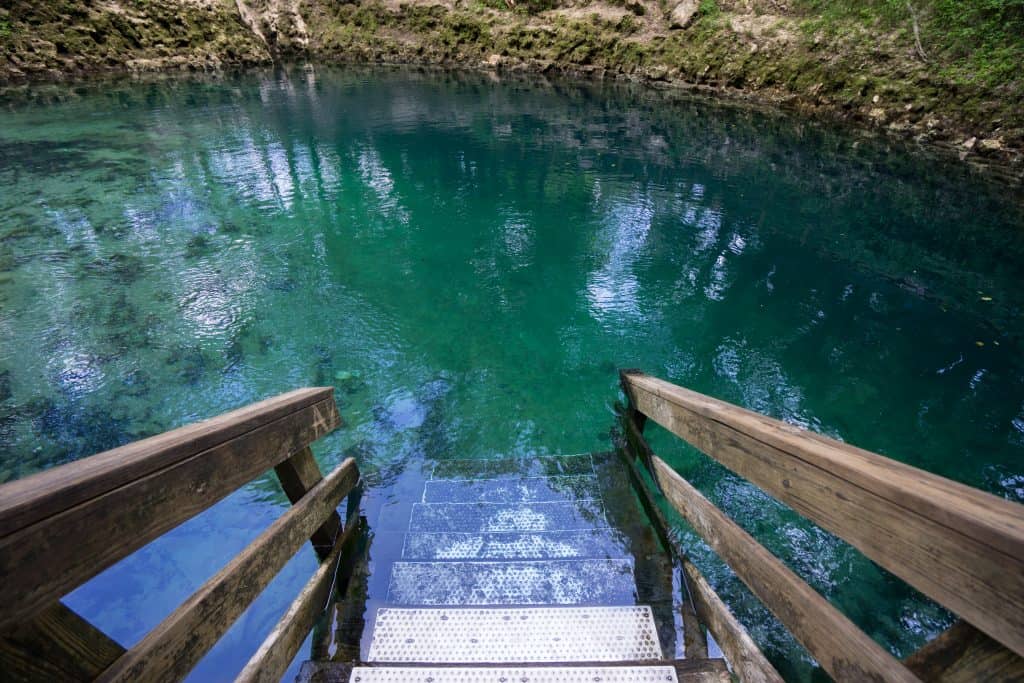 Blue Springs State Park
If you want to visit a spring near Jacksonville to see manatees then this is the spring for you. One and a half hours away from Jacksonville, conservation effects in this area have seen the manatee population grow from 14 to 485.
It's surrounded by woodland and is a really beautiful location to escape the Florida heat.
Canoeing, scuba diving, kayaking, fishing, camping, hiking, wildlife watching, and swimming, are all available. However please check before you go as these are not allowed during manatee season.
This is one of the springs near Jacksonville that gets very busy so get there early as it reaches capacity quickly especially in the summer. Admission is $6 per vehicle.
Read more about State Parks in Florida.
If you are in Jacksonville and don't want to drive so far then there are some more local springs you can visit. However, they don't offer the facilities these bigger ones do and are not half as pretty.
A 45-minute drive away will take you to Green Cove Springs, both the name of a town and a spring. You can't swim in the spring and the spring has only a 20-foot opening. Water is diverted from the spring into a large public swimming pool and from there diverted into the St. John's River. The area has picnic tables a cafe and a children's playground. it's only a couple of dollars to swim in the pool so real value.
About 11 minutes from Jacksonville is an Urban Spring. It's a third magnitude spring situated in a marshy and heavily wooded area. Pottsburg Spring at Pottsbury Creek has no facilities and is pretty quiet. This is a spring near Jacksonville for the more adventurous who like to go it alone.
We hope that you can combine a trip to Jacksonville to visit one of these Jacksonville Springs. These springs near Jacksonville all have something different to offer. They are a break from the typical normal Florida tourist attractions. If you visit any of these springs please let us know how it goes we would love to hear from you.
Did You Find This Post Helpful?
If so, we would love to keep in touch! We enjoy seeing photos and comments about your experiences in Florida! You can follow us on Instagram and we will repost your photos on our feed and comment too! Just tag us at @floridatrippers and hashtag #floridatrippers. We can't wait to see your travels!