A hub of nightlife, entertainment, and culture, there are too many things to do in West Palm Beach! Famous for its upscale boutiques and tantalizingly turquoise beaches, the city beckons new visitors to the best of Florida!
Through the vibrant neighborhoods with palm-lined streets, you'll feel electric energy found nowhere else. Separated by gorgeous Intracoastal Waterways, West Palm Beach may be the most serene gem along the Eastern Seaboard.
Originally founded by Henry Flagler as a haven for the rich and elite, West Palm Beach certainly has blossomed into an urban center. Today, the city boasts cultural and historical treasures as well as 47 miles of the best beaches in Florida.
If you are looking for what to do in West Palm Beach, the city has something for everyone in the family! Visit art museums or take the kids to the aquarium. Catch a baseball game or build the most enormous sandcastle you can! With so many options, it's easy to become overwhelmed.
When you arrive, you'll realize you won't have enough time to experience the full glamour of West Palm Beach. Luckily, we've narrowed down all the activities to our twenty favorite things to do in West Palm Beach!
Don't forget to also check out our list of the best things to do in Palm Beach, which is nearby!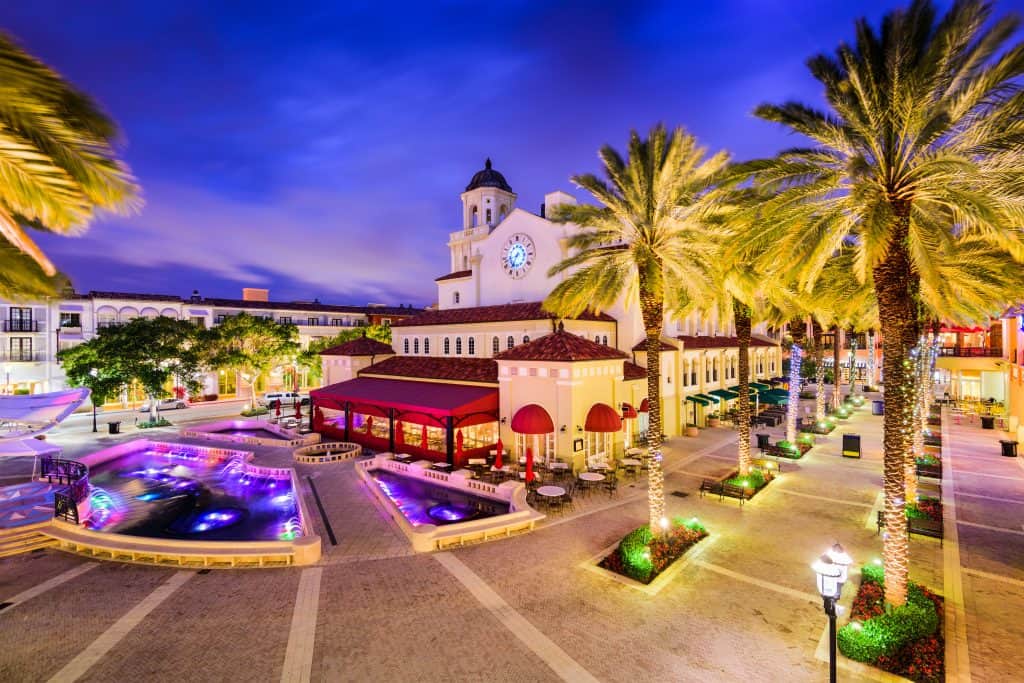 20 Best Things To Do In West Palm Beach You Shouldn't Miss
Stroll Clematis Street
On the Intracoastal Waterway at Flagler Drive, walk west to experience the flavor of South Florida. Clematis Street pulsates with life as the historic heart of Downtown West Palm Beach.
See Clematis Street's historical origins at the still-standing Cormeau and Harvey Buildings. These landmarks were both some of the first high-rises built during Florida's land boom. As you explore, you'll see the progress West Palm Beach has made over the years.
This progress culminates at the end of Clematis Street at Rosemary Square. Also known as City Space, here you'll be charmed by the old-world architecture with retail shopping, restaurants, a movie theatre, and a performing arts center! Enjoy the open-air plaza with beautiful fountains.
Pick up a cigar at Havana Quest Cigars or munch on pastries at Paneterie! If you can't decide on food, take a walking food tour that covers the best restaurants! But before you go, make sure to score a rare find at Kismet Vintage.
For quick and easy transportation, catch a ride on Molly's Trolley. Pickups occur every 10-15 minutes throughout downtown West Palm Beach. Consider Molly's Trolley especially if you plan on going on Clematis Street's pub crawl!
Book Here: Downtown West Palm Beach Food Tour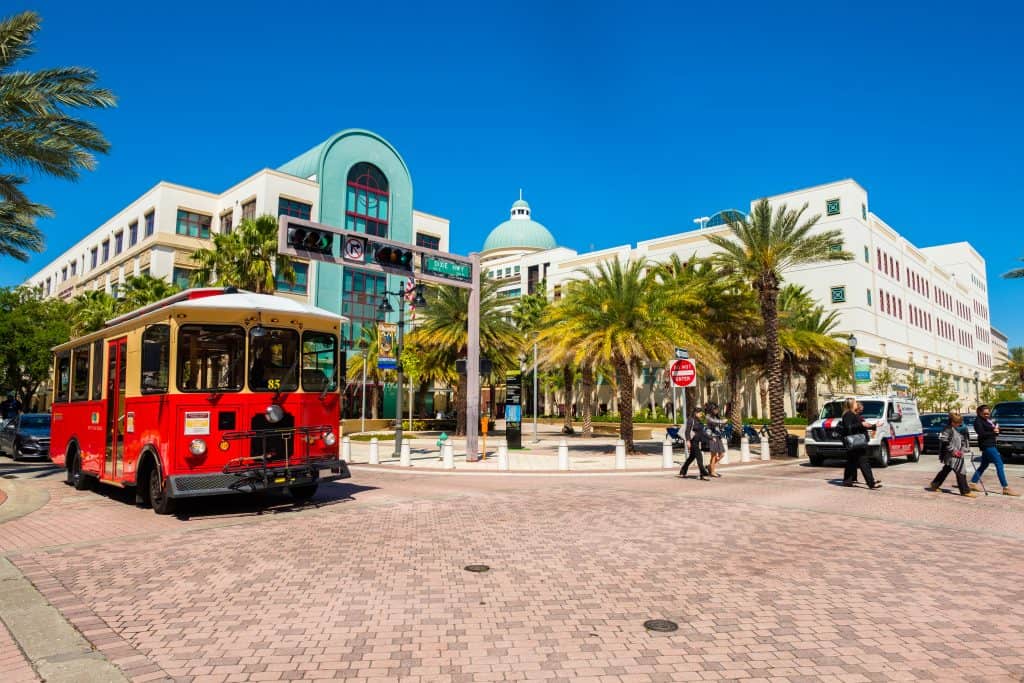 Find Culture at the Norton Museum of Art
To experience the best of art in South Florida, make a point to visit the Norton Museum of Art, one of the best museums in Florida. Housing over 8,200 works, browse the museum's five collections: European, American, Chinese, Contemporary, and Photography.
After you've browsed the collections, stay for Art After Dark on Friday nights for special programming. Most recently, the Norton focused on its newest collection of film posters. Programming included special lectures, trivia contests, and screenings of classics like "Snow White" and "Singin' In The Rain."
The Norton also makes a point to highlight prominent female artists. Since 2011, you can view an annual exhibition celebrating living female painters and sculptors. The Norton also furnishes the Rudin Prize for Emerging Photographers.
Don't forget to grab a bite at The Restaurant at the Norton. As you dine on modern, American fare, you'll enjoy stunning garden views. Try the shrimp and white cheddar grits, lemon ricotta pancakes, or smoked salmon Benedict. Sip on old and new world wines and specialty cocktails. This is one of the best things to do in West Palm Peach for adults wanting time away from their kids.
Visit the Norton Museum of Art from Monday through Thursday and Saturday from 10 AM – 5 PM, Friday from 10 AM – 10 PM, and Sunday from 11 AM – 5 PM. Admission is $18 but guests don't pay on Fridays and Saturdays, making the Norton one of the best free things to do in West Palm Beach.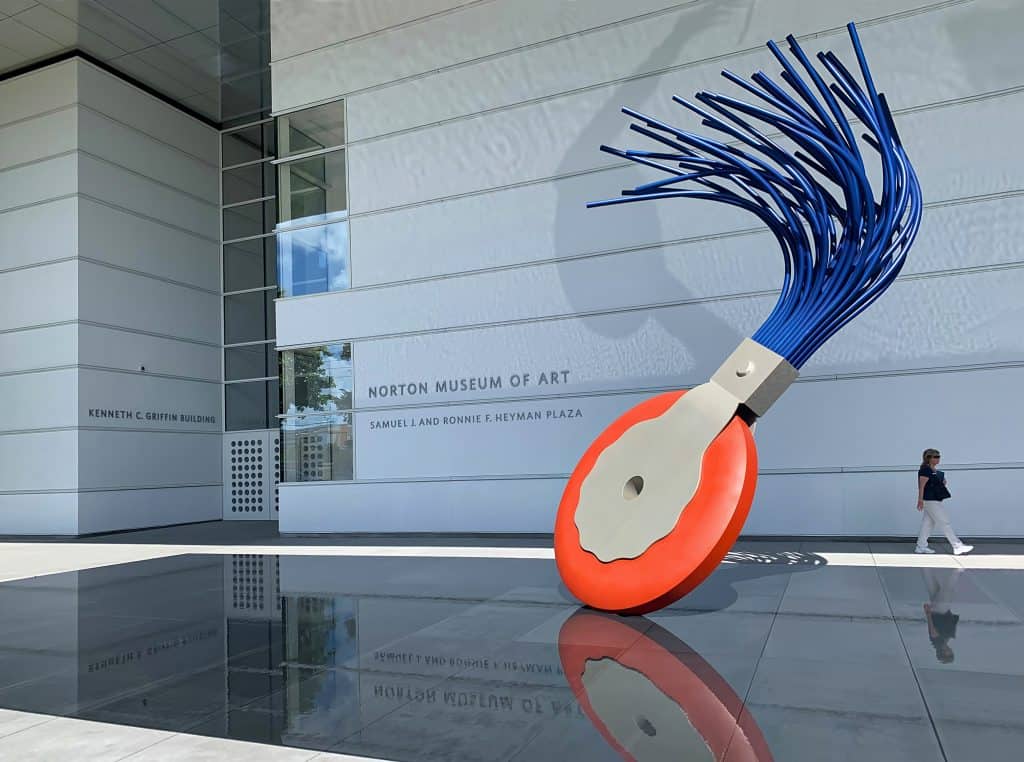 Learn at the South Florida Science Center & Aquarium
With a mission to "open every mind to science," the South Florida Science Center & Aquarium is a perfect way to enjoy West Palm Beach attractions with kids! Come for the science, but stay for the fun!
Inside, explore the Hall of Discovery with more than 100 hands-on exhibits, a recently upgraded planetarium, an interactive theatre, and a science laboratory. Rotating exhibits include the Science of Espionage, which explores spy tech, and the Bodies Exhibit.
As you enter the Journey Through the Human Brain, you'll learn how our brain carries out simple functions. While it is the most advanced exhibit on the human brain in the world, it is one of the most fun things to do in the whole museum!
In the Backyard, you'll find the 1/4 mile long Fisher Family Science Trail, the Physics Forest, an interactive splash pad, gem panning station, and dinosaur walk!
Play mini-golf on the Conservation Course, which highlights Florida's native habitats. Travel Magazine went as far as to name the 18-hole course one of the Top 13 Miniature Golf Courses in the Nation!
Visit the South Florida Science Center & Aquarium on Monday through Friday from 9 AM – 5 PM, and Saturday and Sunday from 10 AM – 6 PM.
Shop at the Palm Beach Outlets
Fashionistas, rejoice! From the former Palm Beach Mall arose the new and improved Palm Beach Outlets! Just hop off of I-95 near Palm Beach Lakes Blvd and discover your one-stop shopping destination with over 130 stores and restaurants!
Because the former Palm Beach Mall housed so many closing businesses like Burdines, Borders, and Sears, the entire space was converted into an open-air mall. Known for its glamorous shopping, you'll find the best shops in West Palm Beach right here.
Browse luxury brands like Calvin Klein, Coach, J. Crew, Saks Fifth Avenue, and Kate Spade. The Marketplace at the Outlets includes Bed Bath & Beyond, Nordstrom Rack, Homegoods, Ulta Beauty, Old Navy, and even a Whole Foods Market!
Once you've shopped 'til you dropped, relax at many of the Palm Beach Outlet's dining options like First Watch, BJ's, and TooJay's. Even if you want just a quick nosh, you can grab a gelato at Gelato-go or a cinnamon roll at Cinnabon.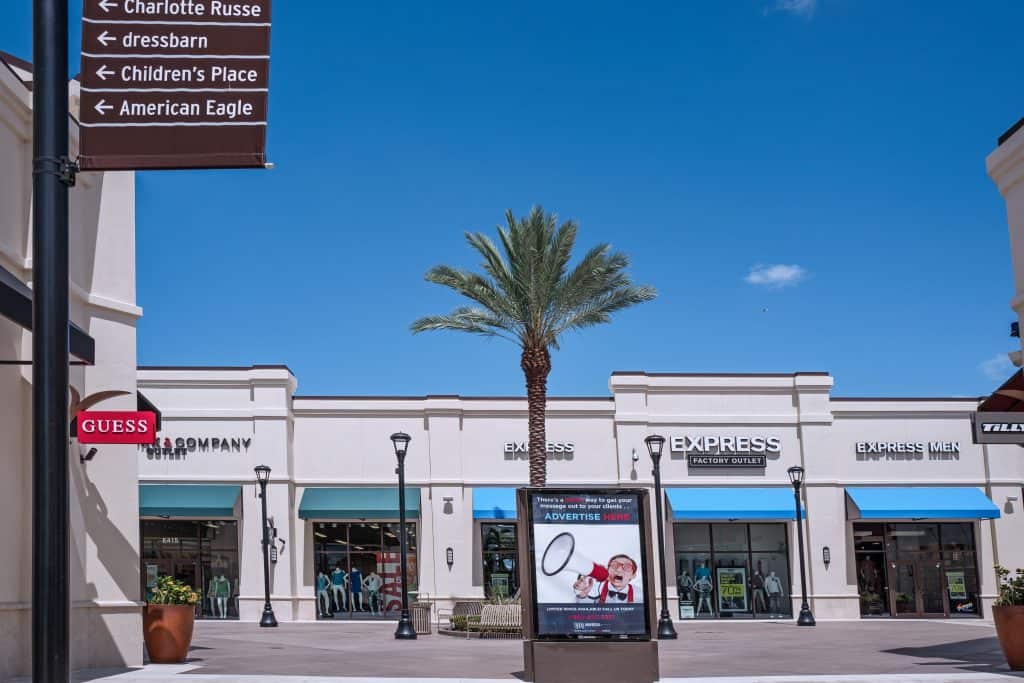 Find Natural Beauty at Mounts Botanical Gardens
One of the most relaxing activities also happens to be one of the best things to do in West Palm Beach! A walk through Mounts Botanical Gardens will inspire and educate its guests through the beauty of nature.
The oldest and largest public garden in Palm County, Mounts Botanical Gardens has wowed guests for over 40 years with 14 acres of tropical oasis. Inside, you'll find twenty-five display gardens with 2,000 species of plants, including those native to Florida.
See a variety of the world's most popular flowers in the Rose and Fragrance Gardens, which also has many fragrant, flowering trees. In the Dry Stream Bed Gardens, water runs through a common swale surrounded by plants like eucalyptus and bamboo.
The O'Keeffe Rain Garden filters pollution out of runoff water before traveling to streams and creeks. Don't forget to visit the Butterfly Garden with plants that both attract butterflies and are beneficial to caterpillars in metamorphosis.
Mounts Botanical Gardens hosts many programs and societies where gardening masters help you grow your plant knowledge. You can put your skills to the test by taking home hard-to-find exotic plants from the nursery.
Mounts Botanical Gardens is open from Tuesday through Sunday from 9 AM – 3 PM. Admission is $10 per person.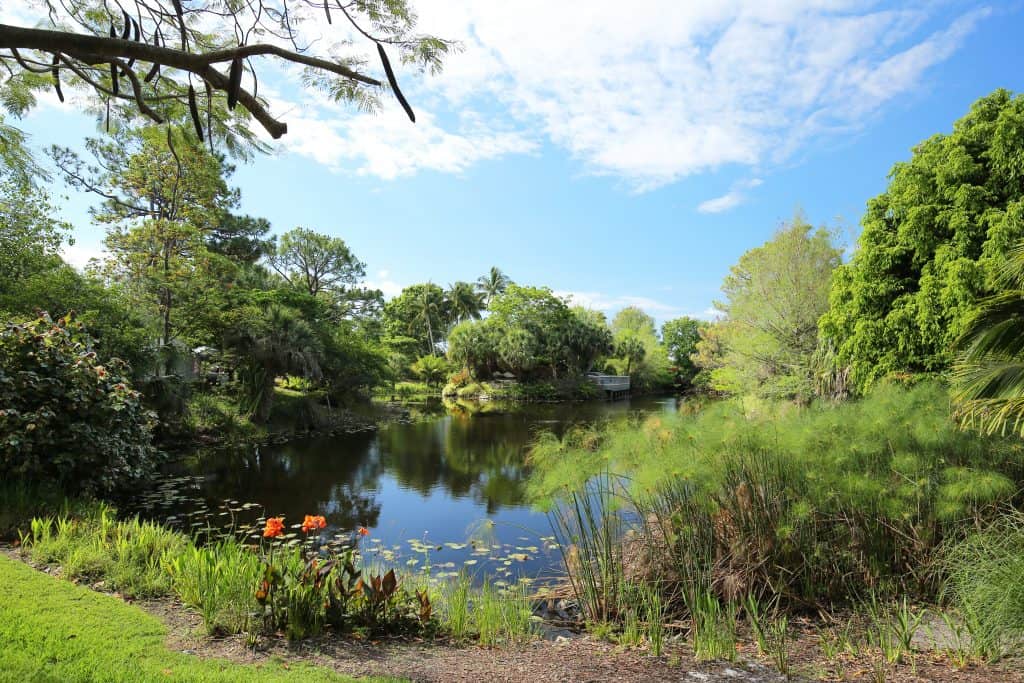 Watch a Game at the Ballpark
One of the best things to do in West Palm Beach is also its newest attraction: The Ballpark. An expansive 160-acre complex, the Ballpark is the newest of Florida's Spring Training Facilities, a home run for recreation in West Palm Beach!
The Ballpark hosts the Houston Astros and the Washington Nationals during Spring Training. If you just can't wait until April for baseball season to start, then you're in luck. You can catch games starting as early as February!
Enjoy the games from the Suite Levels at 1st and 3rd base. You'll have a beautiful bird's eye view of the diamond while enjoying an all-you-can-eat menu and personal bar! High-end lounges feature luxury seating, flat-screen televisions, and plenty of space for groups!
It's not all baseball at the Ballpark, however. Across the 360-degree concourse, you'll find the Banana Boat lawn that hosts soccer and lacrosse tournaments! Lincoln Park inside features a large playground, four basketball courts, and a 1.8-mile walking trail.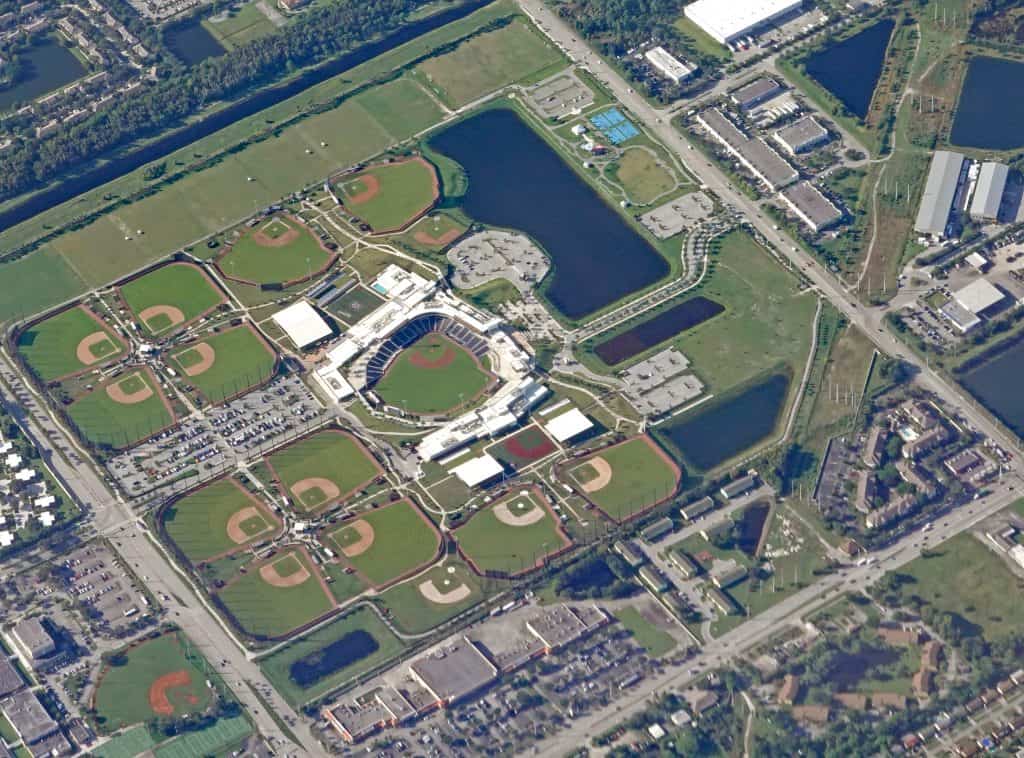 Step Back in Time at Flagler Museum
The New York Herald described this West Palm Beach attraction as "more wonderful than any palace in Europe, grander and more magnificent than any other private dwelling in the world."
The building was originally the private residence of Henry Flagler, Florida's original railroad magnate. Today, this 75-room Gilded Age mansion features neoclassical Beaux-Arts architecture. At the center, you'll find an open-air courtyard, modeled after other palaces in Spain and Italy.
Inside, admire the marble floors, walls, and columns. There are murals on the ceiling and heavy gilding everywhere. All of the details are custom and are as ornate as they are breathtaking.
The Flagler Museum reigns as a must-see on any Florida road trip itinerary! Take a tour Monday through Saturday from 10:00 AM – 5:00 PM. Admission starts at $18 with discounts for children.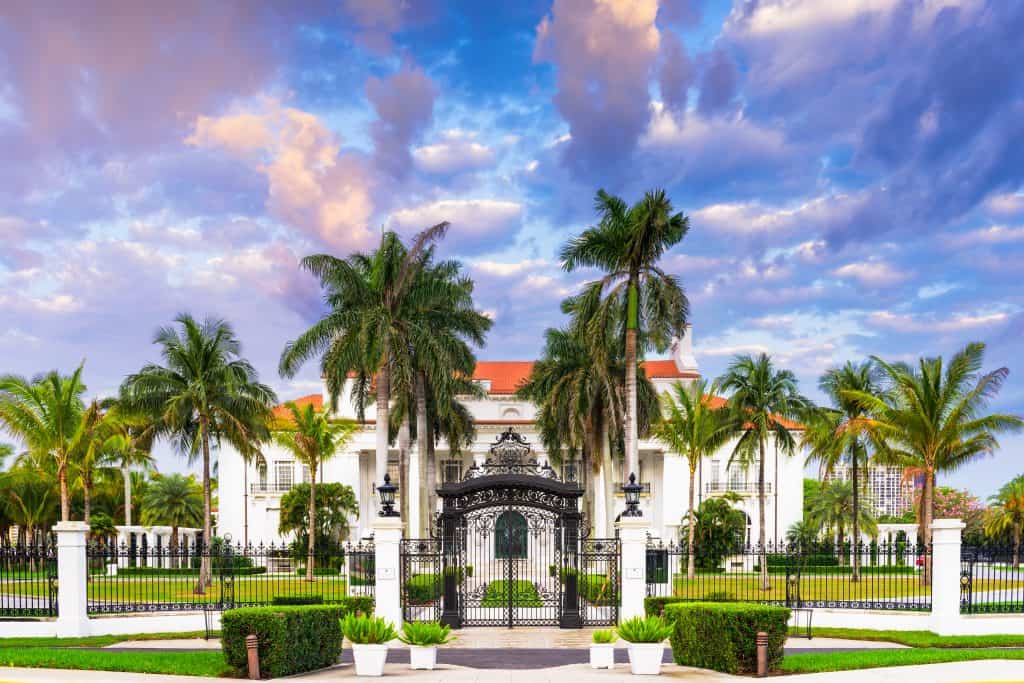 Birdwatch at the Grassy Waters Nature Preserve
The Grassy Waters Nature Preserve is actually a reservoir! Wide sheets of sawgrass, once the River of Grass, feeds directly into the Everglades. Preserved and untouched, the water from the preserve feeds into the water supply for West Palm Beach and surrounding counties.
For the easiest access, enter on the south side of Northlake Road and you'll hit the Wilderness Pavillion. Inside, learn about Florida's ecosystems and get up close with swamp critters. This is also where you can rent canoes!
Before you head down the boardwalk, make sure to pause and gaze across the Loxahatchee Slough. Admire the pine forests, cypress stands, and open marshes.
Once you pass the canoe point, you'll see loblolly bay and wax myrtle. Birds wade in the waters surrounding young cypress roots. You'll even pass under a chickee, a traditional Seminole hut, which functions as a rain shelter.
The Grassy Waters Nature Preserve is open daily from 9 AM – 5 PM. Admission is $1 per person or a suggested donation of $5 per carload.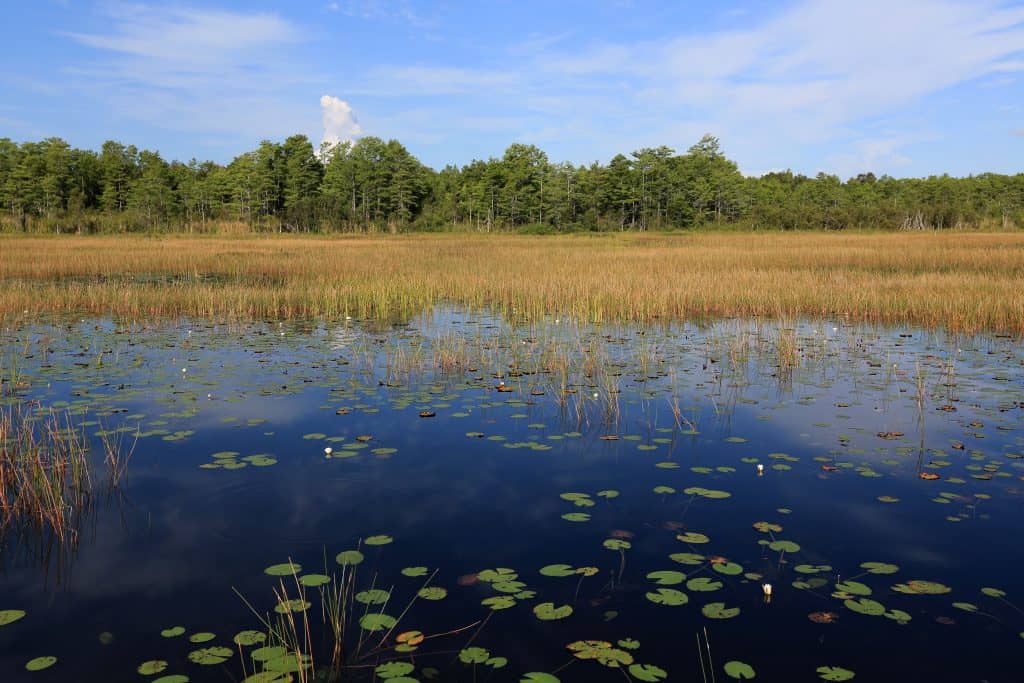 Celebrate Christmas the Florida Way at Sandi Land
West Palm Beach is home to some of the best festivals in Florida, but it doesn't get any more cheery during the holidays than at Sandi Land! A showcase of Christmas decorations, everything is made completely out of the sands of West Palm Beach.
The centerpiece of Sandi Land is a gigantic Christmas tree on the beach. Standing 35-feet on the Great Lawn, the tree weighs over 600 tons, completely made of sand. Standing through the entire month of December, you'll find many more displays!
Strewn around the Great Lawn are four more sand sculptures. You'll see angelfish kissing under the mistletoe, mermaids luxuriously lounging in a garden, and Santa taking a break from his duties to have some hot cocoa with his elves.
If you haven't found your photo opportunity yet, stick your face through some holiday-themed photo boards! You can also play a round of golf at Peppermint Putt-Putt with nine holes. Make sure to stay for the nightly light shows where the gigantic tree is lit from 6:30 – 9:30 PM.
Just down the street at Snowieville, sculpt your own life-size, sand snowman and get the most tropical Christmas selfie! Then join Santa for holiday classics like "Home Alone" and "It's A Wonderful Life."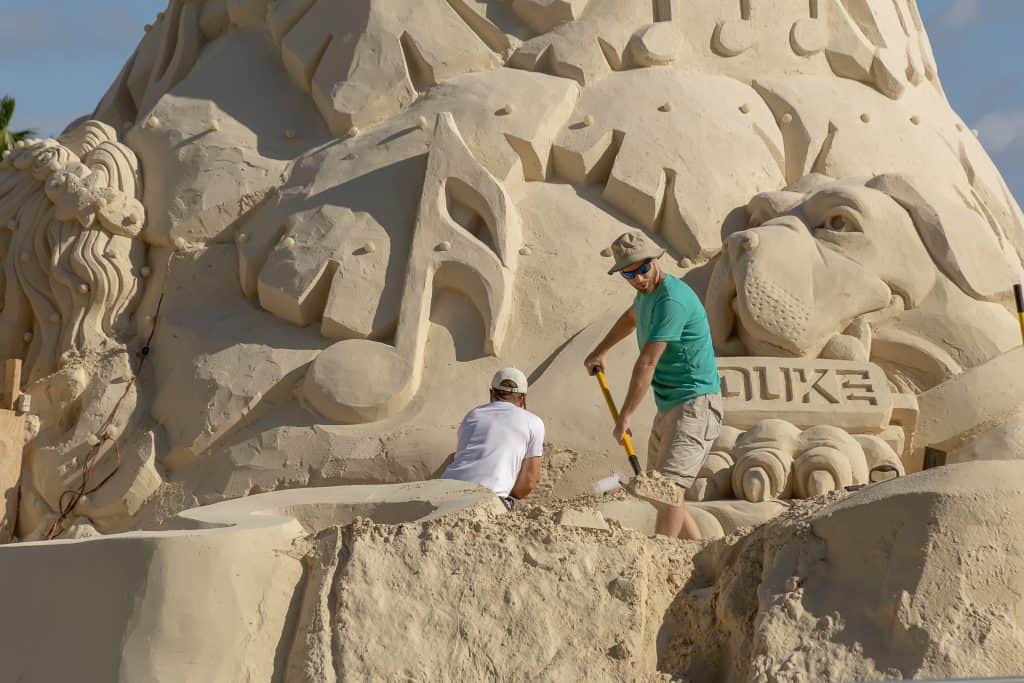 Pick Up Groceries at West Palm Beach Green Market
Green Markets bring the freshest of local produce and goods to their neighborhoods. Perhaps the biggest and the best in all of South Florida is the West Palm Beach Green Market, running for over twenty years.
Drawing locals, visitors from surrounding counties, and tourists, here you'll find farm fruits and organic vegetables. Locally sourced, only foods of the highest quality are sold!
You can also snack on baked goods and then grab some coffee beans and tea leaves to brew at home later. Don't forget to grab some exotic plants for your porch. Many of these vendors sell exclusively at the West Palm Beach Green Market, so your only other chance to shop with them is online.
Enjoy the sights, sounds, smells, and tastes on Clematis Street on Saturdays from 9 AM – 1 PM. Parking is free from 9 AM – 11 AM, so arrive early! Only running from October to April, this is one of the best ways to celebrate fall in Florida in West Palm Beach.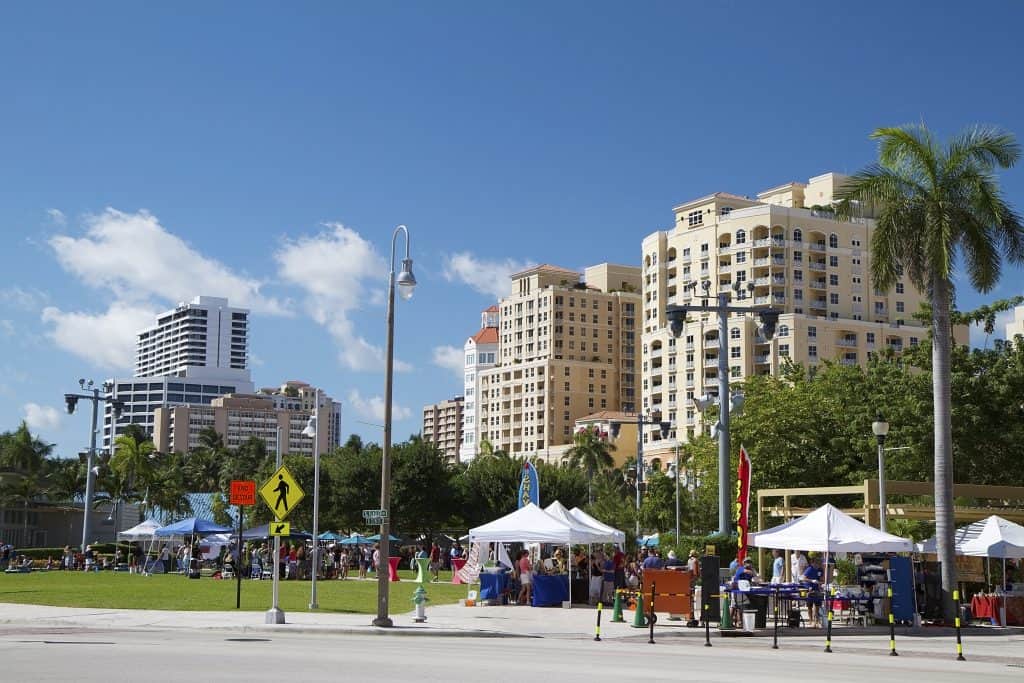 Exercise at Okeeheelee Park
Sure, there are so many amazing state parks and national parks in Florida, but some of the best parks are just in your backyard. Okeeheelee Park isn't just your average park. It's a recreation haven with more West Palm Beach activities, setting the bar high for what to expect of your local parks.
Over 1,700 acres, Okeeheelee ranks as one of the largest parks in South Florida. Just east of the Florida Turnpike on Forest Hill Blvd, join in on the fun from sunrise to sunset daily.
Sports enthusiasts will love the disc golf courses, BMX tracks, mountain bike trails, pickleball, grass volleyball, and tennis courts. There's also freshwater fishing as well as kayak and canoe launches and rentals along Shark Wake Park. Don't forget the one-mile fitness course with twenty exercise stations!
Feel free to put the cart before the horse on the Jim Brandon Equestrian Center. Trot along a 111-acre equestrian showplace with a covered arena. You'll also find open riding areas and training rings. Just outside the center, enjoy nine miles of dedicated equestrian trails!
Golfers, rejoice! One of the best golf courses in Florida can be found in the park with three nine-hole courses. The courses give beautiful views of the vistas of Clear Lake. Okeeheelee means "quiet waters" in Seminole, so you know you're getting a pristine, quiet experience.
Okeeheelee Park is also home to a new aqua park and wake park. The aqua park features a floating, inflatable obstacle course with monkey bars, climbing towers, and slides. The wake park allows you to be pulled by a cable on a pulley system over ramps and rails on a small surfboard! Doesn't that sound like one of the most fun attractions in West Palm Beach?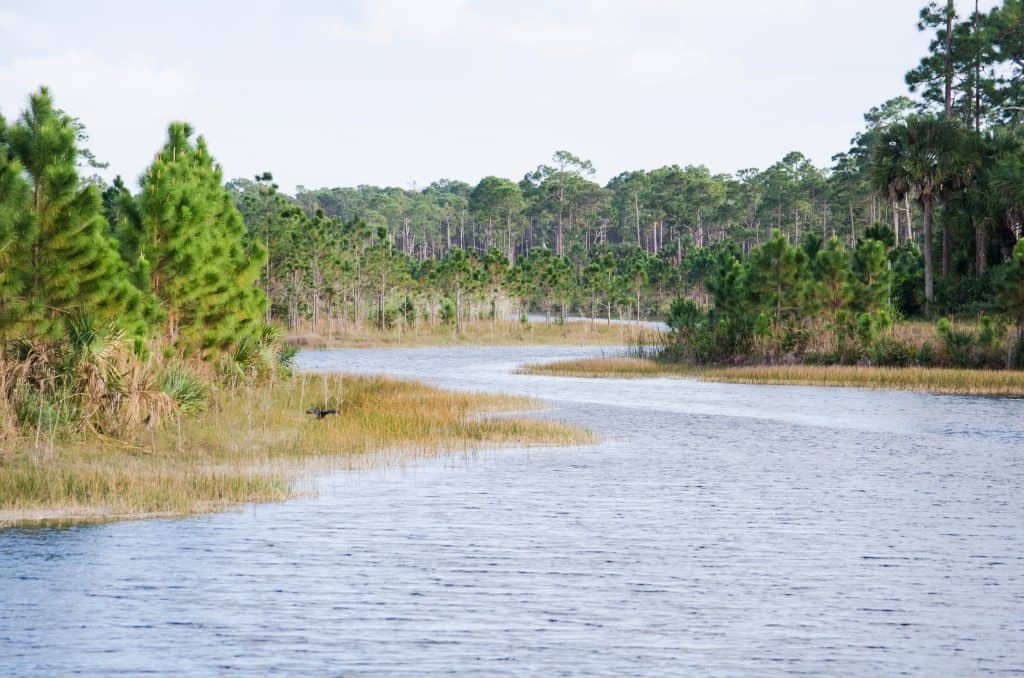 Explore Peanut Island
Near the Lake Worth Inlet, you'll find West Palm Beach's best hidden gem sitting just off the coast of Riviera Beach. Named for its original function as a shipping terminal for a peanut oil production plant, Peanut Island awaits you!
Perfect for adventurers and beach bunnies, Peanut Island may only be 79 acres, but its small size provides a quiet intimacy perfect for your next day trip. You can take a water taxi for $10, or simply kayak the 300 yards to get there.
Specific sections of the beaches are cordoned off for swimming and sunbathing. Lifeguards only man the beaches on weekends, so swim at your own risk. Make sure to bring water shoes, as parts of the beaches may be rocky.
Because the waters are a pristine turquoise, Peanut Island boasts great snorkeling sites in the lagoon. In the calm waters through the mangrove channels, you'll be able to see parrotfish, starfish, sea turtles, and even manatees!
If you're not much of a swimmer, then rent a kayak and glide on the clear waters. Take in the beauty of the natural rocks and swaying palm trees. For a bigger adrenaline rush, rent a jet ski and circle the island for the best views! You couldn't ask for better things to do near West Palm Beach.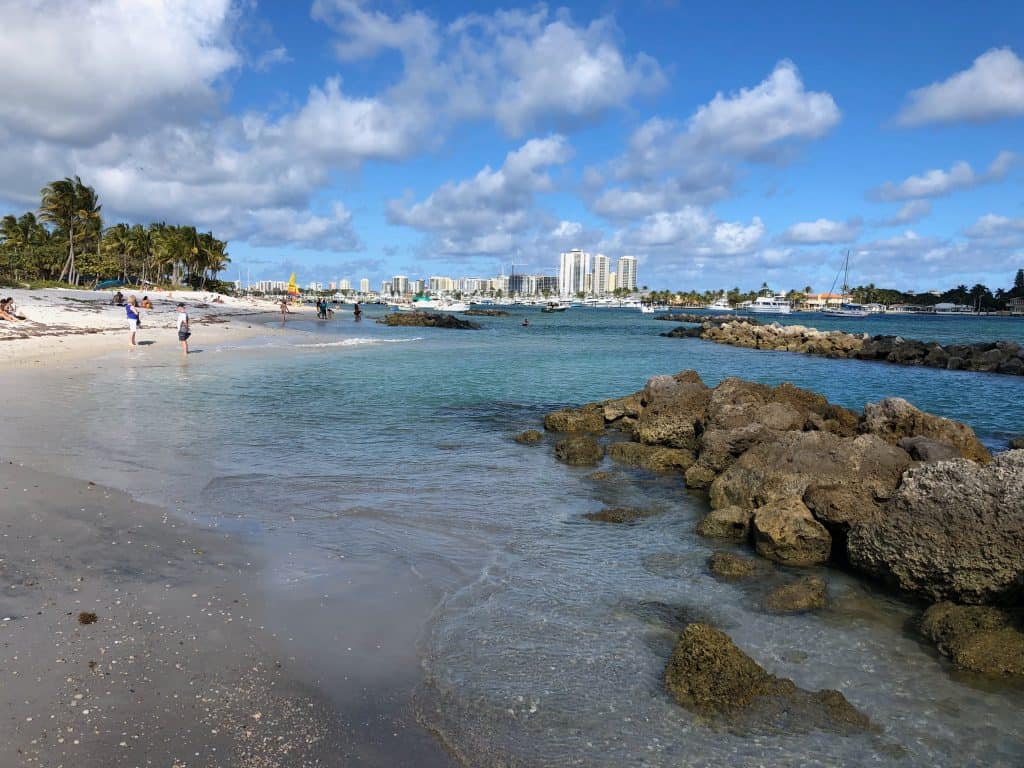 Relax at Delray Beach
In "Florida's Village by the Sea," you'll find a small community with a glamorous edge. Just south of West Palm Beach, Delray Beach is one of the prettiest beach towns in Florida, perfect for a day trip from West Palm Beach.
Tour the Morimaki Museum and Japanese Gardens and explore South Florida's connection with Japan. You'll tour six, lush gardens and a world-class bonsai display. Then grab a Pan-Asian breakfast at the Cornell Cafe!
Afterward, head to the actual beach that gives the town its name! On Delray Beach, you'll bask in the warm Florida sun and frolic in the gentle surf. Rent some snorkeling gear or paddleboards and have an adventure! Metered parking is $1.50 an hour.
Then cool off at the Sandoway Discovery Center where you'll learn more about the marine life you just saw on the beach! You'll see shark and stingray feedings, seeing the aquatic creatures up close! This is also a great place to see wild alligators in Florida!
Finally, end your day in paradise at the Pineapple Grove. An art district with plenty of nightlife options, your choices are endless. For a quieter night, walk the streets to see public art pieces or browse the boutiques. To really paint the town red, choose from a variety of nightclubs!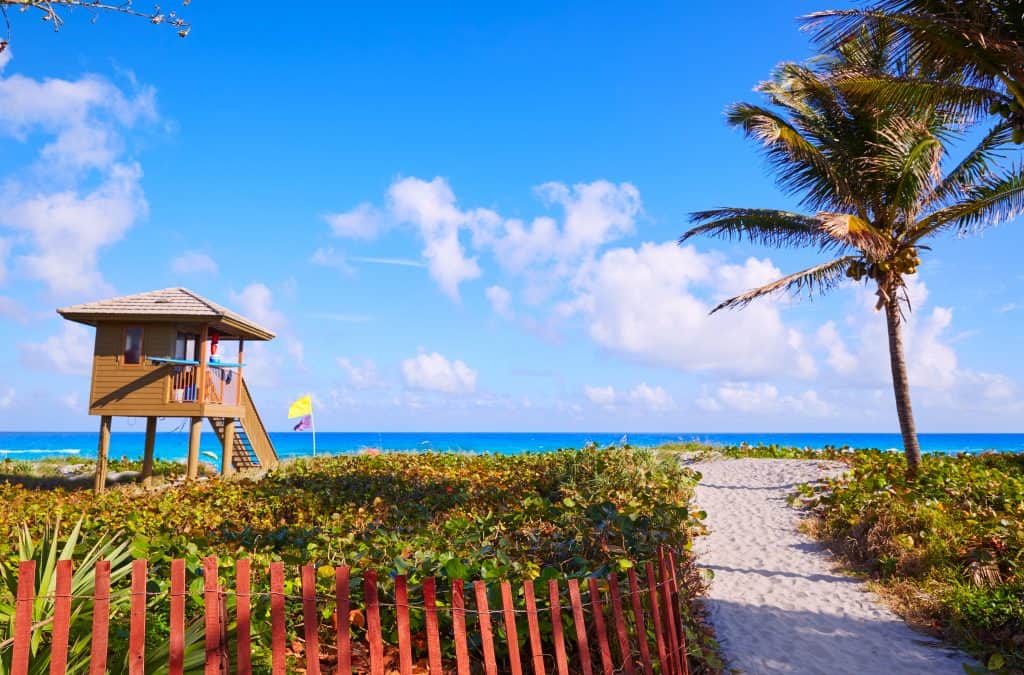 Find Gentle Giants at Manatee Park
Located in south West Palm Beach, the Manatee Lagoon is a center devoted to the education of all things manatee-related. The center also advocates preserving all manatee environments and ecosystems!
Right next to Florida Power & Light's Power Plant, warm water rushes out into the lagoon from cooling the equipment. Manatees need this warm water to survive in the winter months, making Manatee Lagoon one of the best places to see wild manatees in Florida!
Go on a walking tour of Lake Worth Lagoon, where a docent will teach guests about "all things manatee." The tour lasts about 45-60 minutes, but advance registration is recommended.
If you're looking to learn more, the center hosts a Lecture at the Lagoon series given by manatee masters. The lectures feature never-before-seen, close-up footage of manatees in their natural habitat in the Lake Worth Lagoon.
The Manatee Lagoon even hosts educational groups for children ages 10-13 called Lagoon Explorers. Explorers learn about how manatees migrate here in the winter months and how to identify and safely interact with them!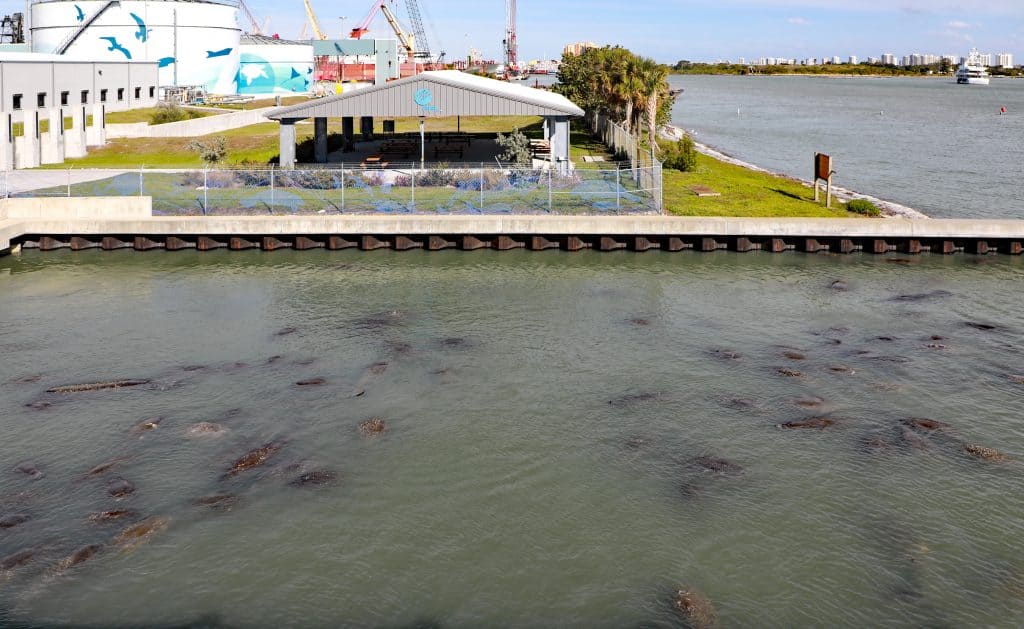 Have Fun at the National Croquet Center
Did you know that South Florida is home to the world's largest dedicated croquet facility? If you don't remember croquet, let us refresh your memory. Similar to polo, wooden balls are hit with mallets through hoops embedded on a grass lawn. You might have played croquet at a garden party!
The National Croquet Center is the ultimate destination for blossoming enthusiasts and seasoned professionals. One of the best-kept secrets, this is one of the most fun things to do in West Palm Beach! You'll even find a pro-shop with hand-made mallets and balls by master craftsman John Hobbs.
Beginners can take lessons and learn croquet for free on Saturdays at 10 AM. Reservations are required! Afterward, a day of play costs $30, but that includes equipment rentals, which makes it a great deal!
You'll be playing on nineteen different lawns that span over four acres. Even on the busiest of days, hundreds of players can be accommodated. Because the facility takes croquet so seriously, the lawns are manicured: perfect for optimal croquet play!
Afterward, head to the 19,000 square foot clubhouse! Relax in the Florida Keys decor and nosh on snacks from the full-sized kitchen. Cool down with a cocktail from the full bar after a day of play!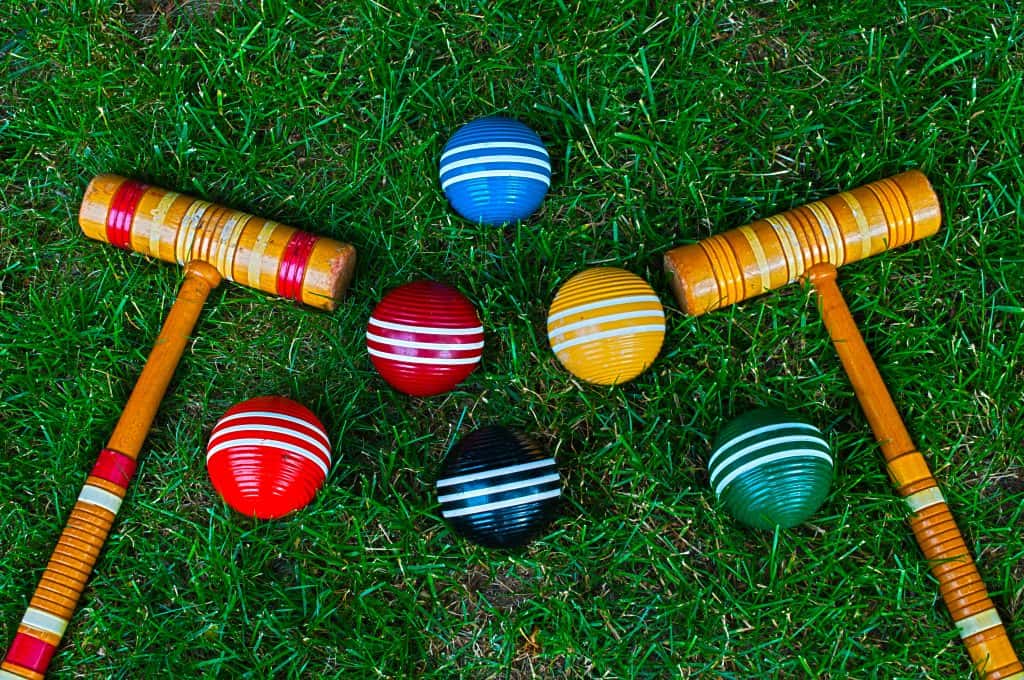 Catch a Show at Kravis Center for the Performing Arts
The Kravis Center for the Performing Arts is one of the best places to visit in West Palm Beach to soak in some culture and fun. This is one of the premier performing arts centers in the Southeast and the shows will not disappoint!
The Kravis Center opened in 1992 with speeches from Burt Renolds, Elle Fitzgerald, and more. There are three main venues, the Alexander W. Dreyfoos Jr. Concert Hall, the Rinker Playhouse, and the Helen K. Persson Hall. Each has a different seat capacity from large to more intimate.
If you want a great place for a romantic date night or to introduce your kids to famous Broadway musicals, then make sure to book tickets in advance. Plays, musicals, concerts, dances, and more take place here throughout the year.
There are two bistros at the Kravis Center where you can enjoy a light meal or cocktail before the show. If you order drinks ahead, you can skip the intermission lines. This is one of the best things to do in West Palm Beach at night.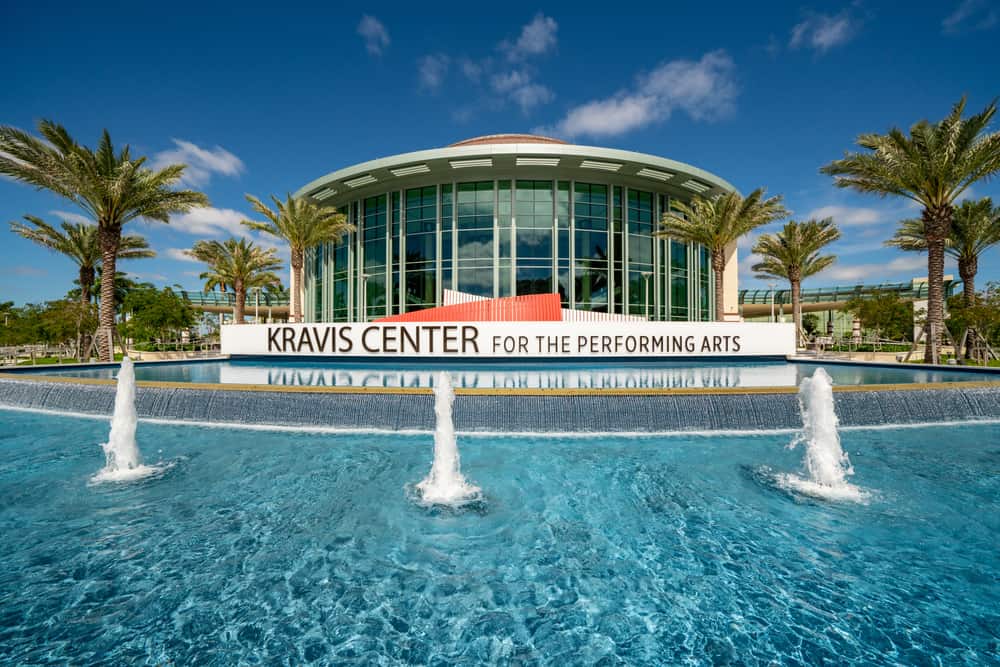 Have High Tea at Serenity Garden Tea House
If you want to pretend you are in the U.K. instead of Florida, then the Serenity Garden Tea House is the place to be! You can enjoy a traditional British tea service in an adorable setting. This is one of the best places to go in West Palm Beach if you want something more than a simple meal, but a cool experience as well.
Located in a 1919 cottage in downtown, this cute restaurant features a fireplace, antique furnishings, and an incredibly cozy atmosphere. You will feel as if you are having tea at your grandmother's house.
Along with tea, you will get to taste homemade goodies, including scones, finger sandwiches, and gourmet pastries. A la carte items include cakes, pies, quiches, and sandwiches. There are gluten-free options as well.
Satisfy Your Sweet Tooth at Bulk Candy Store
If you are looking for things to do in West Palm Beach for kids, then head to the Bulk Candy Store. This family-owned store has hundreds of candies, chocolates, and gourmet popcorns to choose from. They also have a selection of nostalgic candies that will send you right back to childhood.
This unique thing to do in West Palm Beach is more than getting a sugar rush, though. You can take a candy tour which will teach you the history and evolution of candy. The 40-minute activity is led by a guide that makes the experience memorable.
You will get to sample sweets and learn how candy is made. There are picture-perfect backdrops for epic Instagram shots as well. If you take the tour, you also get a discount to use at the store, so it is worth it!
Book Here: Bulk Candy Store Tour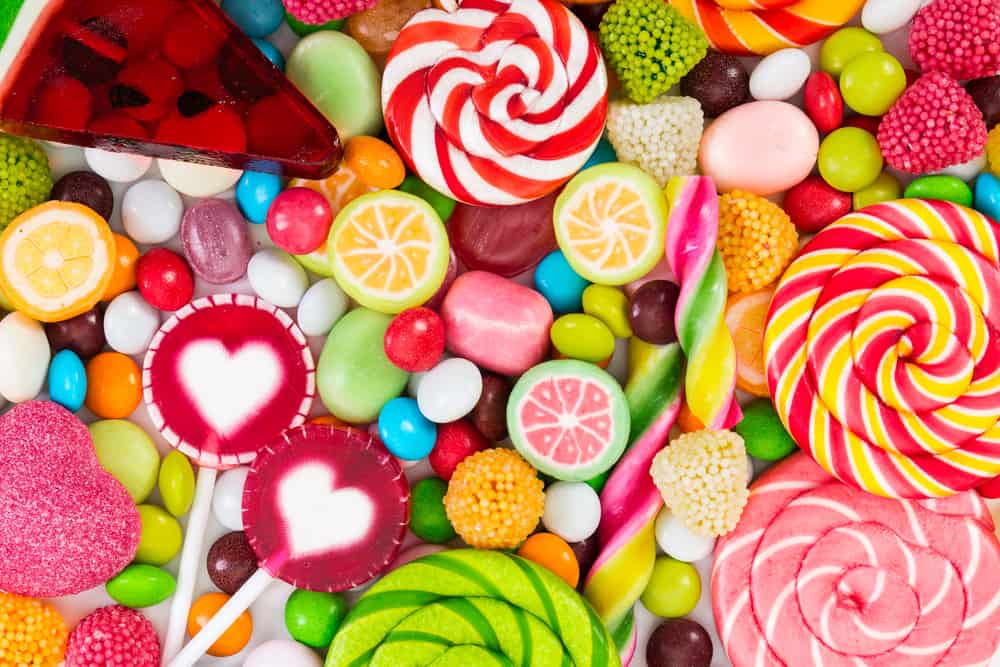 Grab Brunch at Aioli
Aioli is one of the best restaurants in West Palm Beach for breakfast or lunch. You can dine in or pick up a gourmet meal to go! Aioli focuses on casual food that utilizes local and seasonal ingredients.
Start the day with a breakfast of eggs, wraps, and other healthy options. The lunch menu consists of soups, sandwiches, and salads. The sweet treats menu includes brownies, cookies, breads, and more.
The kitchen is open Monday through Saturday from 7 AM to 4 PM. Make sure to fit this local restaurant into your West Palm Beach itinerary.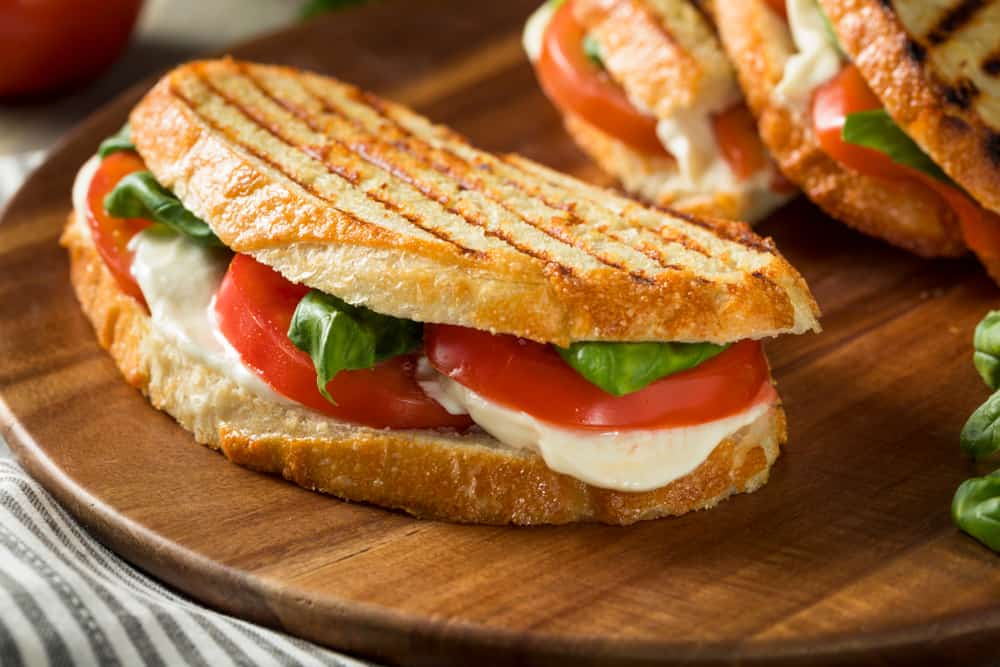 Did You Find This Post Helpful?
If so, we would love to keep in touch! We enjoy seeing photos and comments about your experiences in Florida! You can follow us on Instagram and we will repost your photos on our feed and comment too! Just tag us at @floridatrippers and hashtag #floridatrippers. We can't wait to see your travels!