Are you looking for the best restaurants that are vegan in Miami? We have you covered with the best places in Miami to find vegan food.
Vegan restaurants are popular in Miami as they are found to be a healthy plant-based meal that also tastes delicious. The vegan restaurants in Miami have transformed vegan dining into a popular cuisine.
We have found the best of the vegan dining scene in Miami, from vegan brunch spots, to amazing lunch and dinner spots, to high-end dining, juice shops and more. Even if you are not a vegan you can enjoy a delicious plant-based meal at one of these amazing restaurants!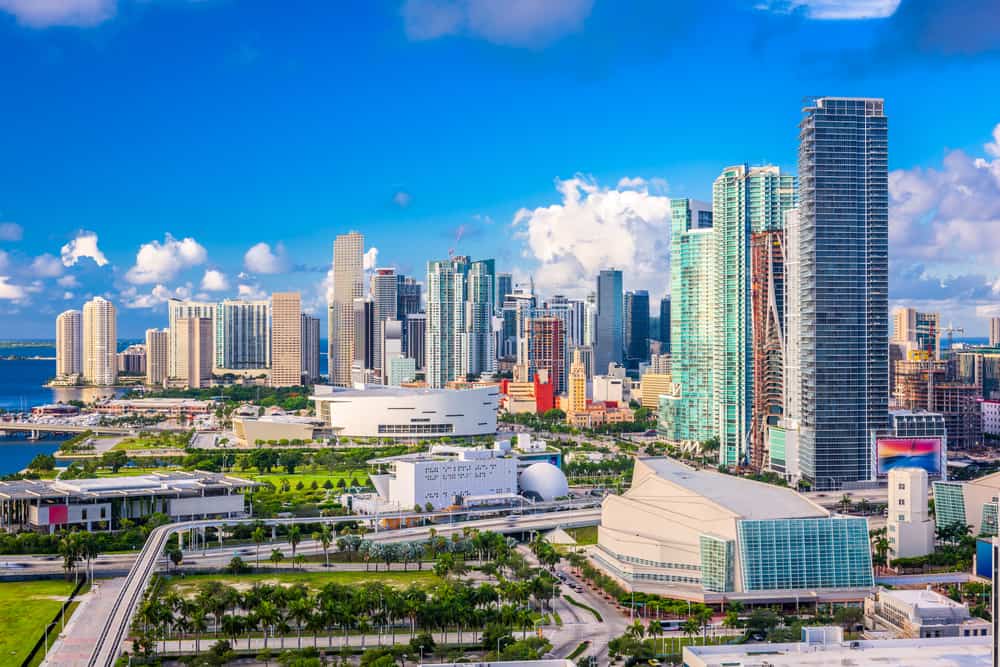 15 Best Restaurants To Eat Vegan In Miami
Full Bloom
If you are looking to eat vegan in Miami head to one of the best vegan restaurants in Miami, Full Bloom. Full Bloom is a gourmet restaurant serving vegan cuisine in Miami Beach. First opened in 2015, they have ben serving up vegan in a fine dining setting. Open from 5 pm to 10 pm Monday through Thursday and until 11 pm on Friday and Saturdays.
On the menu you will find vegan, organic and raw options. As you are in Miami, they serve American-Spanish fusion foods. Try the Palmito ceviche made with hearts of palm, smoked jackfruit dip, or wild mushroom bruschetta as an appetizer.
For the main courses you have your choice between dishes like tagine a chickpea stew with moroccan spices, black ravioli, beyond bacon cheeseburger, picadillo with protein hash. Don't forget to leave room for desserts such as tiramisu, fruit cheesecake, Raw Key lime pie or Lava cake.
Bunnie Cakes
Bunnie Cakes is the place to go if looking for a bakery that specializes in Vegan in Miami! Located in the Doral area (they moved from Wynwood location), this brightly colored offers and assortment of vegan treats such as cupcakes, cookies, cakes, and donuts for those with a sweet tooth. Bunnie Cakes also specializes in gluten-free options too! Open daily from 11 am to 9 pm.
What started out as mother baking for her son's diet turned into a business in 2013. You can even find Bunnie Cake's cupcakes in the Whole Foods stores in Miami Dade! They have also been awarded best vegan bakery in Miami and best cupcake in Miami by Tripadvisor!
You can choose from the popular gluten-free or vegan cupcakes in an assortment of flavors such as guava, vanilla, passion fruit, dulce no leche, cookies and cream, chocolate, red velvet, cinnamon sugar, key lime, funfetti and more! Also on the menu are custom cakes, brownies, cookies, sweet treats and more!
Charly's Vegan Tacos
Are you looking for authentic Mexican vegan in Miami? Head to Charly's Vegan Tacos! They are open from 5 pm to 10 pm Tuesday to Friady and from 1 pm to 10 pm on Saturday and Sunday. Please note they only accept credit cards, NO cash! They are located in the popular Wynwood area of Miami, and should be your choice for restaurants that are vegan in Wynwood.
Charly's is a great choice for Miami vegan food, and is known for the award winning vegan nachos and tacos. Everything is made in house using high quality vegan ingredient in a very chill atmosphere and artfully presented.
Try the tacos with you choice of soy Chorizo, Yuba Carnitas, Carne Asada with seitan steak, or smoked portobello, and if you come on Tuesday you get 4 tacos for the price of 3!
You will also find burritos, Charly's Torta, Quesadilla, Nacho's with a chipotle leek cheese and carne asada, street corn, fried plantain and avocado fries!
Plant Miami
Plant Miami is the best choice for vegan in Miami if you are looking for a place that is known for being a tropical oasis. Located in the garden space Sacred Space of Miami there is a large outdoor space known for its holistic approach to architecture and food.
Plant Miami is a vegan restaurant in Miami focusing on organic, living foods with vegan, vegetarian, gluten-free and kosher options that highlight South Florida. Then menu focus around plant-empowered cuisine. Most of the ingredients are sourced from Plant's farm – Paradise farm including micro-greens and edible flowers.
Currently the restaurant offers Plant Miami Market for pickup on Saturday and Sunday's. You can choose from market food like sushi, truffle kelp noodles, coconut chickpea curry, butternut squash soup, collard green wrap with almond chili pate, truffle cashew cheese, cheesecake with nutritional yeast crust, apple starfruit pie, be culture temphe, be honest burgers.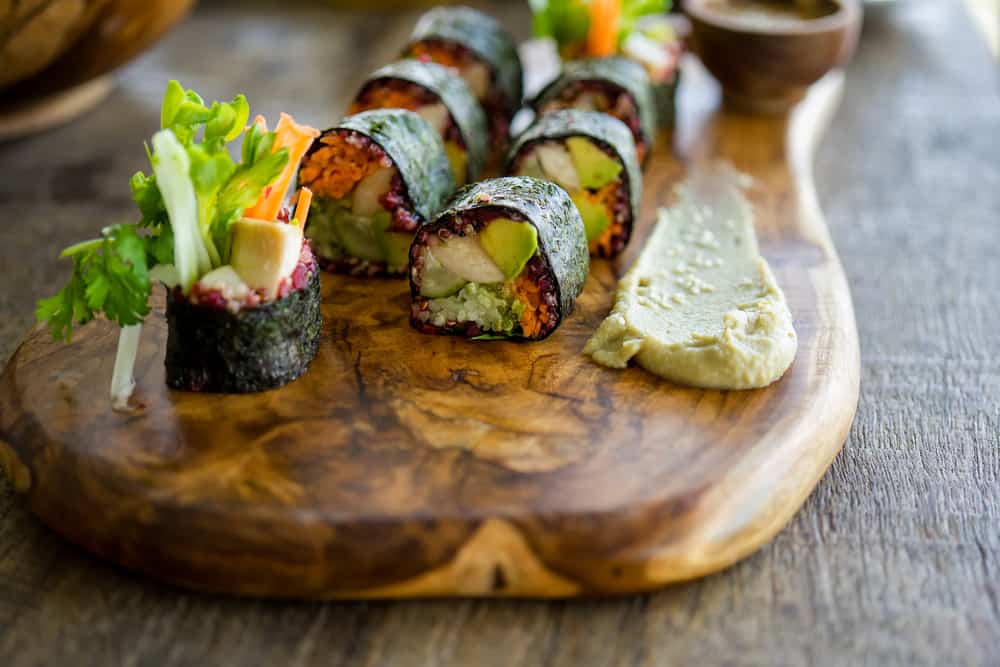 Love Life Cafe
Love Life Cafe is owned and operated by Veronica and Diego who believe plant-based food and eating brings awareness towards loving life and respecting the planet. This is one of the restaurants where you can find a vegan breakfast in Miami, lunch or dinner!
For breakfast Love Life Cafe serves just egg patty with "cheese" on a vegan croissant, omelets, jackfruit breakfast tacos and avocado toast with sweet potato fries.
For lunch try one of the homemade soups like curry lentil or sancoho soup, the love life salad, taco salad with lentil walnut "meat", wynwood salad with meatless balls, superfood patty burger voted the best veggies burger in America, beyond meat cheeseburger,BBQ pulled jackfruit, pizza which can also be made gluten-free.
You can also order superfoods bowls, tacos, burritos with black bean sofrito, zucchini pasta, lentil mac and cheese, and for dessert apple cobbler or guava rose cheesecake!
While you are in town, don't forget to check out our list of Best Places For Brunch in Miami!
Holi Vegan Kitchen
Holi Vegan Kitchen has two locations for vegan in Miami, one in North Miami Beach and one in the MIMO district! The restaurant name stems from the word holistic and owners believe using the freshest ingredients from local markets and farms works to heal and enhance the mind, body and spirit.
This is a great spot for a vegan brunch in Miami, as on Sunday they serve a brunch platter with Pancake, pesto garden scramble, vegan sausage and roasted potatoes served with one mimosa. Other breakfast is offered daily with choices like banana buckwheat pancakes, acai bowl, pesto garden scramble made with tofu.
On the lunch and dinner menu you will find loaded roasted potatoes, empanadas with corn or spinach, nachos with homemade vegan cheese, salads and sandwiches like raw sandwich with turmeric or pulled jackfruit.
Or try one fo the pizzeta and flatbreads, wraps like avocado chickpea wrap, vegan chicken quesadilla or jackfruit tacos. If in the mood for burgers you are in luck. You can choose from lentil, beet, impossible, beyond or black-bean burger options!
Thatch
Thatch is a plant-based restaurant with vegan options located in the Wynwood area of Miami. They serve a plant-based menu in the market, bar and restaurant. The restaurant is open Tuesday through Sunday 11 am to 9 pm and the Market is open 9 am to 9pm Tuesday through Sunday.
This vegan restaurants in Miami serves an all day menu. You will find crispy cauliflower, Thatch mac with cashew sauce, Nachos, Fiesta or Buddah or Falafel bowls, sanwiches, beyond burgers, crispy "chicken" sandwich, salads, wood roasted portobello steak, Tom Kha noodles, Pad Thai, Pizzas with naturally fermented dough, sushi.
If looking for a vegan brunch in Miami served on Saturday and Sunday from 11 am to 3 pm. You can choose from morning veggie scramble with tofu and root veggies, blueberry or banana almond pancakes that are gluten-free or buckwheat waffle. You can add sage bacon, smoked tempeh, chipotle sausage ( all vegan). They also have a juice menu with tonics, nut mylks, fruit juices, and juice cleanse menu!
Manna Life Food
Since 2016 Manna Life Food has focused on serving a plant based menu with an emphasis on superfoods making it the perfect option for vegan restaurants in Miami. Located in the Dupont building they are open Monday through Friday from 10 am to 6 pm and Saturday from 11 am to 4 pm.
The menu is varied with a warm quinoa bowl, peanut butter and chia jam arepa, seasonal gluten free waffles, several types of chia seed pudding such as matcha, vanilla or coffee.
The superfood bowls are very popular and you can add Vega protein to any of the housemade bowls like acai, green bowl, pink bowl, energy or power bowl made with coconut meat, manna granola and a variety of toppings.
Try one of the arepas that are gluten free and baked, like the avocado, cashew cream, falafel or veggies and pesto or middle eastern or tofu. Or Manna's take on burritos with a sheet of nori and your choice of toppings from raw falafel, roasted veggies. Or one of the savory bowls – try the eat the rainbow with turmeric coconut brown rice, mixed greens, cucumber, edamame, almonds and goji-berry.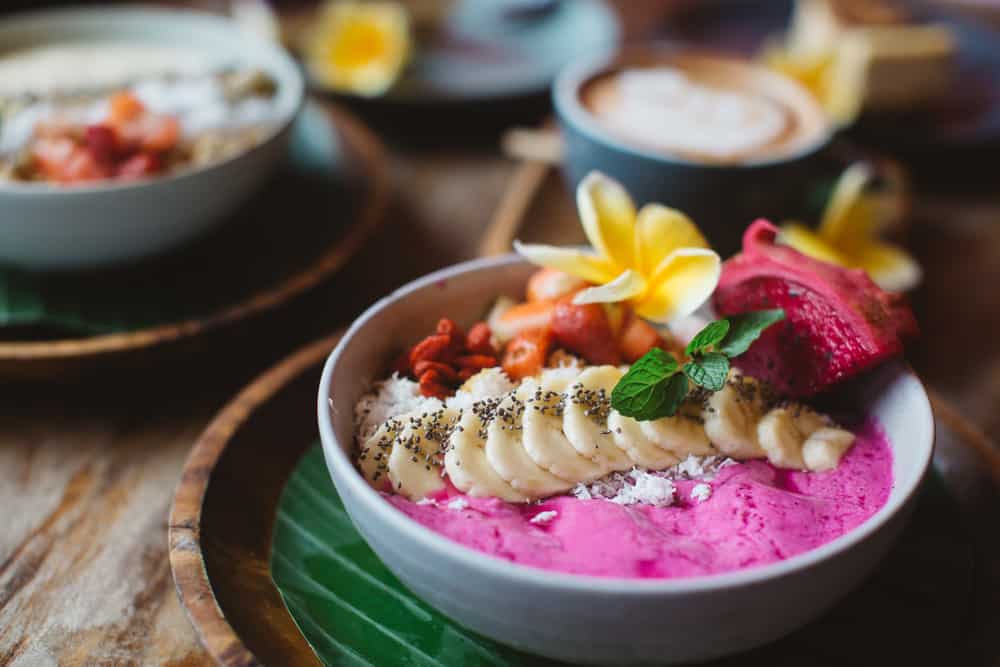 Organic Food Kings
Are you looking for comfort food vegan in Miami restaurants? Head to Organic Food Kings a family operated business that offers vegan meals that are made fresh daily! They are open daily from 11 am to midnight.
On the menu you will find a wide offering from smoothies like Reeses cup with almond milk or Mango Madness. Then you will find tacos like cauliflower or vegan shrimp tacos, vegan bacon burger or cheeseburger, vegan bang burger, loaded fries, sloppy joe with BBQ jack fruit.
If in the mood for a full meal aptly named " get in my belly" menu section try the wings or vegan friend chick'n.For dessert you can try the vegan chocolate cake, vegan carrot cake, or ice cream sandwich.
Screaming Carrots
Screaming Carrots is the place to go if looking for delicious restaurant that serves vegan in Miami. Located in Hallandale Beach, they are open daily from 12 pm to 9 pm Tuesday to Thursday, and 10 Am to 9 Pm Friday to Sunday. This is truly one of the best things to do in Miami at night!
On the menu you will find a something for everyone in your group. If looking for delicious vegan food in Miami you are at the right place!
Another great vegan brunch in Miami that is served all day. From Tofu scramble to lentil scramble or a chickpea omelet to oatmeal that is gluten free and pancakes made with organic wheat coconut and garbanzo floour.
For appetizers they serve spring rolls, vegetable dumplings, bruschetta, falafel and cabbage roll to mac and cheese. Or try a mediterrean soup of the day like mushrooms in coconut milk, or an Asian inspired soup like sour and spicy, Thai noodle soup, or a Thai salad.
All sandwiches on the menu are made with organic breads and an organic side salad. From falfel to schnizel soy and wheat patty to a thai-gor-lae red curry patty. For mains you can choose between noodle dishes, curries, stir-fries, to paella with tofu and saffron the menu has tons to offer. You will also find fresh pressed juice, smoothies, juices and teas.
Ittle Litaly
Previously known as Veganaroma, Ittle Litaly is the place to go for Italian vegan food in Miami! They are located in the Coral Gables are and open daily from 12 pm to 8 pm.
If looking for delicious Italian restaurants that are vegan in Miami you are in luck. Try one of the delicious pizzas made with cashew mozzarella, tomato sauce and almond parmesan filled with your choice of vegetable toppings such as caramelized onions, mushrooms, kale, red onion, pesto and more!
For more traditional pasta dishes there is Spaghetti and housemade "meatballs", lasagna with zucchini pasta, stuffed porchini mushroom. Or try a sandwich with vegan tuna, meatballs or cashew caprese sandwich.
Planta
If looking for food that is vegan in Miami and near south beach head to Planta. Planta, is one of the best vegan restaurants in Miami. Whether looking for a vegan brunch in Miami or dinner, Planta is the place to go! Open on weekdays from 11:45 am to 10 pm and open Saturday and Sunday for brunch from 11 am to 4 pm and dinner 5 pm to 10 pm.
Chef David Lee serves an plant-based menu in an upscale innovative dinning scene without the use of any animal products! As part of the Chase hospitality group sustainability plays a big role in leaving the planet a better place and as such sources most of their produce locally and seasonally!
There is a rooftop garden that provides most of the fresh fruit and vegetables on the menu, which grow year round with Miami's climate. While there are several locations, this South Beach location is one of the flagships of the brand.
On the all day menu you will find sushi, like ahi watermelon nigiri, torched and pressed avocado, spicy watermelon tuna, rainbow roll, coconut ceviche, and poke bowl.
For main courses try the Planta burger, lettuce wraps with crispy Korean cauliflower, udon noodles in a truffle cream sauce. If in the mood for pizza there are several options from Bianca, Hawaiian, Italian, or Shroomami.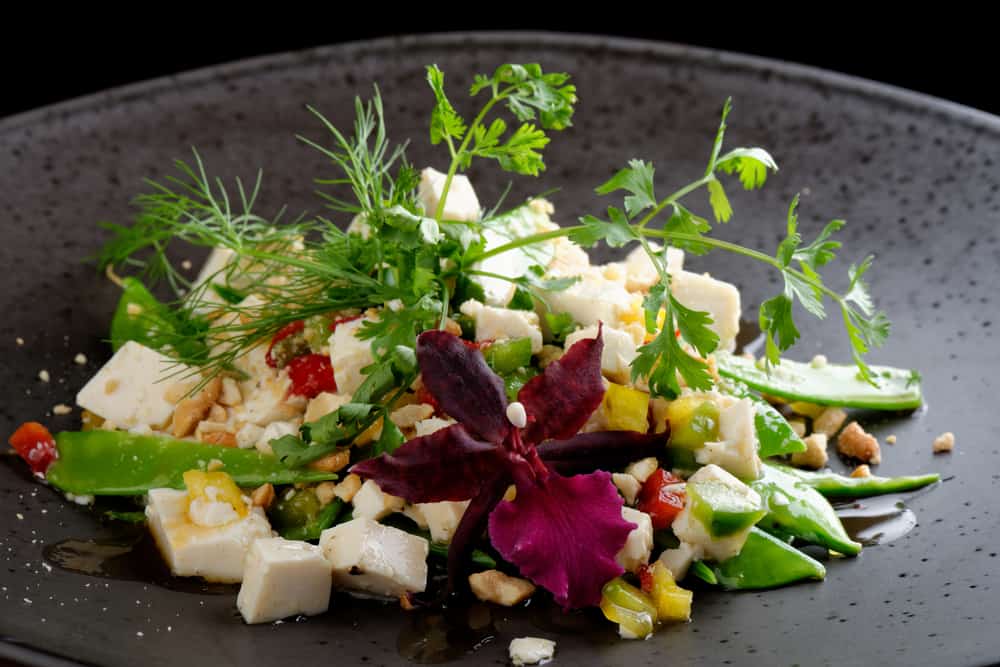 Vegetarian Restaurant by Hakin
The motto at Vegetarian Restaurant by Hakin is food so good you won't believe it is vegan! This is one of the best vegan restaurants in Miami located on Miami Beach. Not only are they an amazing vegan restaurant they specalize in selling some of the top hollistic brands.
If looking for vegan breakfast in Miami head here! Breakfast is served daily from 8:30 am until 11 am. Try the vegan pancakes and scrambled tofu, breakfast burger, kale scramble or a wrap.
They offer daily specials every day of the week. From vegan fish, to vegan short ribs, to a gluten free special. From BBQ ribs seitan, to Ban Mi vegan ginger chick'n to salads, burgers like kale cashew burger or a quinoa burger.
If in the mood for pizza you are in luck. Try the supreme with veggies, grilled mushroom and spinach or a create your own gourmet.
Delicious Raw
The Delicious Raw has 4 locations throughout the Miami area. They aim to be a sanctuary for those wanting to improve own wellbeing. The Delicious Raw serves up delicious smoothies and juices with the freshest and most highly nutritious ingredients.
You don't have to be a vegan in Miami to enjoy the menu here. From nourishing food like superfood bowls, health bowls, raw juices, smoothies, special coffees, cold pressed juices and more!
Zuuk Mediterranean Kitchen
Zuuk Mediterranean Kitchen aims to bring the flavors of the Mediterranean in a made from scratch bowl or pita in vegan, vegetarian, fluten free and keto options.
The idea is to build your own bowl, pita, or salad. For a bowl you choose from turmeric rice, bulgur, cauliflower rice, greens or a mix. Next you choose a base of hummus, tzatziki, feta, roasted red pepper, baba ganoush, and next you choose protein like falafel or seasonal roasted veggies or a meat option like lamb or chicken. Making this a great choice for those looking for a vegan and non-vegan restaurant.Last you can choose unlimited toppings for your bowl and a sauce.
Did You Find This Post Helpful?
If so, we would love to keep in touch! We enjoy seeing photos and comments about your experiences in Florida! You can follow us on Instagram and we will repost your photos on our feed and comment too! Just tag us at @floridatrippers and hashtag #floridatrippers. We can't wait to see your travels!