Are you looking for restaurants with the best breakfast in Miami, Florida? We have you covered!
The diversity of cultures in this city means there are so many great places to eat in Miami.
You will enjoy classic American diners, Cuban ventanitas, and trendy restaurants that combine distinct flavors to create something completely unique.
As incredible as the food is, breakfast and brunch in Miami are also about the ambiance, the entertainment, and most importantly, the company.
We've listed places across the city that serve exceptional traditional breakfast favorites and others that feature fantastic flavor combinations.
You never know, you might find one of the best breakfast places in Miami right around the corner from where you're staying during a weekend in Miami.
Now, let's look at the best Miami breakfast restaurants!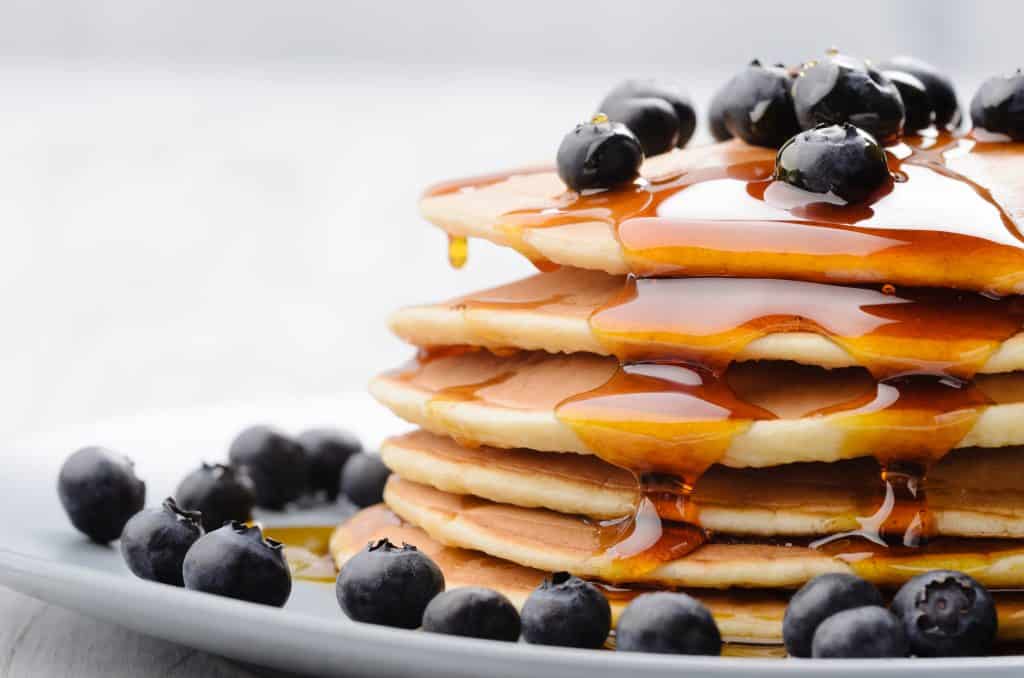 16 Best Places For Breakfast In Miami, FL, You Must Try
Lots Of Lox Deli (South Miami)
This local Jewish diner is popular among the locals for a reason! Lots Of Lox Deli consistently delivers some of the best breakfast in Miami, and they do so fairly quickly.
You'll never wait more than 30 minutes for a table and the service is fast, so you won't stay hungry for long.
The eggs are always fluffy, the bagels perfectly toasted, and the lox and nova selections are so fresh.
The waffles are beautifully toasty on the outside and soft on the inside, just as you'd want them to be. If you're undecided, just know you can never go wrong no matter what you choose for breakfast.
An entire breakfast meal of eggs, a meat of your choice such as sausage or bacon, a bagel from their wide selection, as well as a side of fruit, oatmeal, and other options comes at a relatively low price and leaves you feeling satisfied.
You'll become a regular here to enjoy the best downtown Miami breakfast.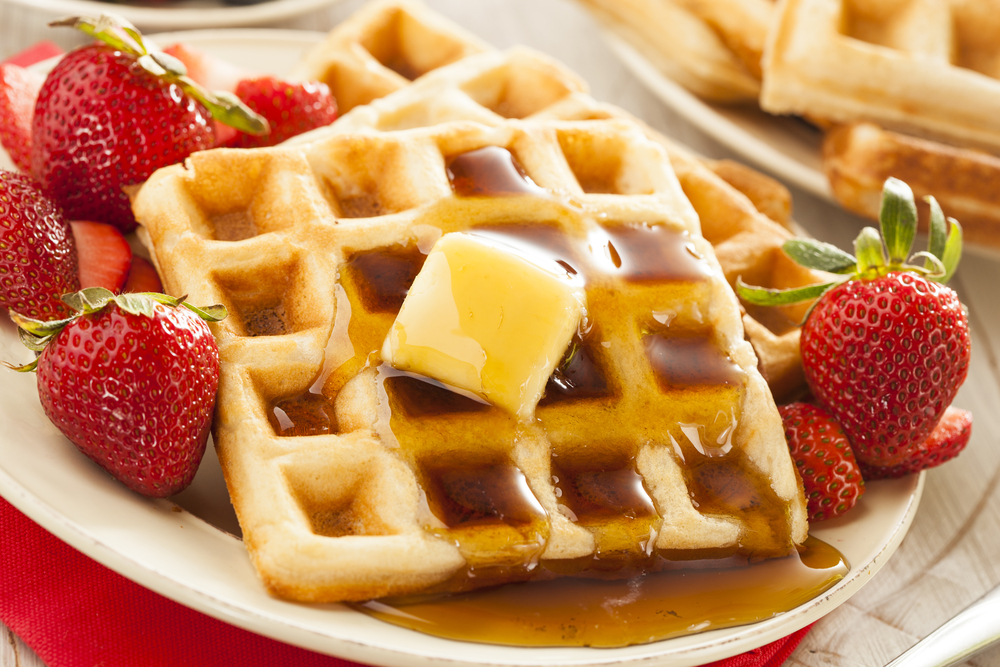 Honey Uninhibited (South Miami)
Since it opened in 2019, Honey Uninhibited has quickly gained popularity, becoming one of the best breakfast spots in Miami. Its incredible breakfast menu is inspired by owner, the Bengals defensive end, Carlos Dunlap's travels.
The combination of metal and wood textures as well as the vibrant art and variety of greenery give this brunch spot in Miami a New York or Chicago loft vibe.
The menu has an entire section dedicated to eggs benedict in so many combinations, with the Short Rib Benny and the Lobster Benny among the most popular.
Locals also rave about the Sweet Chick, the 'gram-worthy chicken and waffles dish, as well as the Challah Berry and the Crème de la Crème French Toast.
Besides the fact that the extensive menu has a nice variety of sweet and savory breakfast options, there are also vegetarian and vegan options available. This is a great place to visit if you are living in Miami too!
Roasters 'N Toasters (South Miami)
What started as a humble coffee shop Miami in 1984 has evolved into a traditional New York-style deli that's become the go-to for the best Miami breakfast.
As a Jewish deli, Roasters 'N Toasters has high standards, and the quality of their deli meats is unparalleled. The pastrami, in particular, is a local favorite.
Their bagels are always fresh and perfectly toasted. Their portion sizes are enormous, often large enough to share.
The omelets are so tasty! You can either choose a few toppings or just go for the Kitchen Sink omelet with everything in it but the kitchen sink!
The nova bagel or the nova platter are other great savory breakfast options, but for those with a sweet tooth, their challah French toast is the way to go.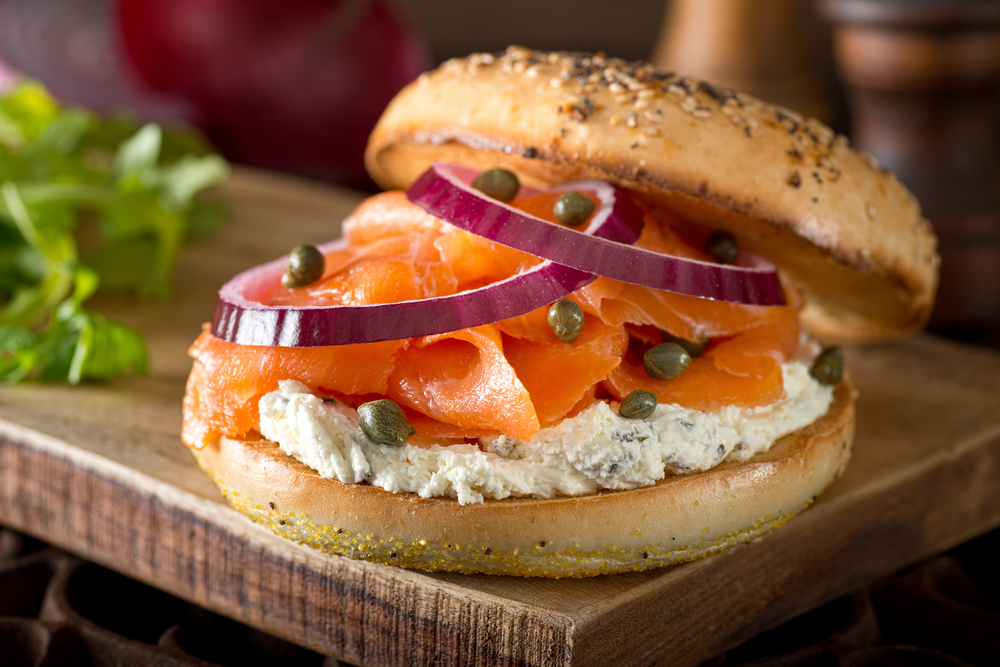 GreenStreet Cafe (Coconut Grove)
Not for nothing is GreenStreet Café known as one of the best breakfast places in Miami.
Nestled in the heart of Coconut Grove, GreenStreet Café offers outdoor seating and fantastic menu items that are sure to satisfy any taste.
Their rotating selection of specialty pancakes, such as cinnamon roll pancakes, is always a hit. The red velvet pancakes are a crowd favorite and their French toast options are tempting as well.
If you're looking for something savory, any of their made-to-order omelets are excellent, such as their goat cheese and tomato or the spinach and feta.
The scrambled eggs with nova and onions or their nova eggs benedict are also popular choices.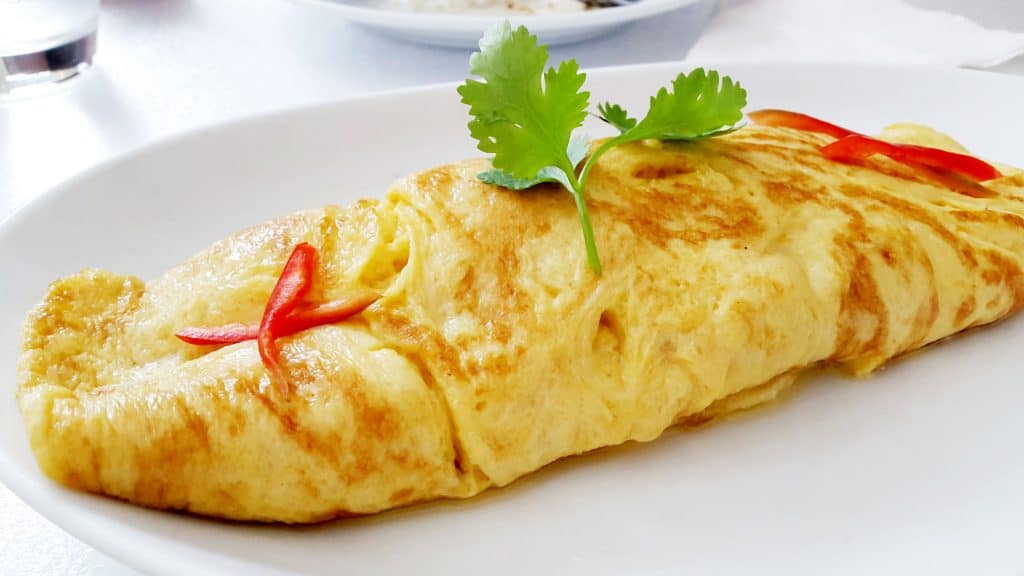 Berries in the Grove (Coconut Grove)
For breakfast in Coconut Grove, grab a table at Berries in the Grove! The Miami restaurant uses the freshest fruits and vegetables as well as cruelty-free ingredients in their meals.
The breakfast menu is served until 3 pm so you have plenty of time to stop by for some of the best breakfast food in Miami such as steak and eggs, chicken and waffles, avocado toast with eggs, or breakfast sandwiches.
For a light and healthy breakfast in Miami, order the yogurt parfait with granola and a mix of fruit.
Berries in the Grove is also known for their yummy smoothies. You will get a healthy boost with these fruit blends.
The Edge Steak & Bar (Brickell)
Located inside the Four Seasons hotel in Brickell, it's no surprise the Edge Steak & Bar is the best breakfast in Brickell.
It offers exquisite breakfast options throughout the week, infusing quintessential Miami flavors into classic dishes.
The Belgian waffles are served with guava jam as well as whipped vanilla cream cheese. The Cuban Hash features maduros, or plantains, as well as pulled pork, mojo onions, and hash, all served on tostada, or Cuban toast.
For something that's light and easy, try the honey nut granola or an acai bowl instead.
The incredible variety of options for the best Miami brunch buffet is truly astonishing.
Not only does the Edge serve a-la-carte items, but they also offer so many different stations including a barbeque station, an extensive seafood bar with the freshest oysters and other marine food, and more.
For an additional price, you can enjoy bottomless brunch drinks like mimosas, Bellinis, and Bloody Marys.
Casa Florida (Little Havana)
Casa Florida is the cutest cocktail bar in Little Havana. It may well be one of the weekend's best breakfast in Miami with a fantastic cocktail menu to boot.
The whole aesthetic is reminiscent of Old Florida with a fun pink flamingo inspiration and color palette throughout.
The converted 1969 bus is now a cocktail lounge and there are a few games, like ping pong, that people can play while they wait for their breakfast.
Dine under a fluttering pink canopy, order a refreshing cocktail at the bar, and enjoy the atmosphere in one of the hidden gems in Florida.
Though the menu is limited, it just means everything is perfectly delectable.
The breakfast sandwich and the lox bagel will satisfy your savory taste buds while the coconut chia pudding and the acai bowl are refreshing brunch options.
Those with more indulgent tastes should try the incredible dulce de leche + banana waffles when it's available!
R House (Wynwood)
As a restaurant alone, R House is unique because it is also an art gallery featuring local artists. We wouldn't expect anything less from a restaurant in the Wynwood art district, of course.
But what truly makes this a popular brunch in Miami is the Drag Brunch hosted on Saturdays and Sundays!
R House offers four different packages for brunch that include a main dish and a choice of either unlimited side dishes, bottomless brunch drinks – mimosas, white wine sangria, mojitos – a combination of both, or two sides and the bottomless drinks.
The steak and eggs as well as the shrimp wrap are popular choices. For those who want something on the sweet side, the French toast with fresh berries and cream frequently gets rave reviews.
Though this food is generally well-received, people love this brunch because the drag show is fabulous! The queens' performances are always fantastic and the energy is unlike anything you will ever experience at brunch anywhere else.
Come prepared with singles to tip the performers; they certainly werk for it and put on an amazing show!
After the show, go explore the artsy Wynwood Walls.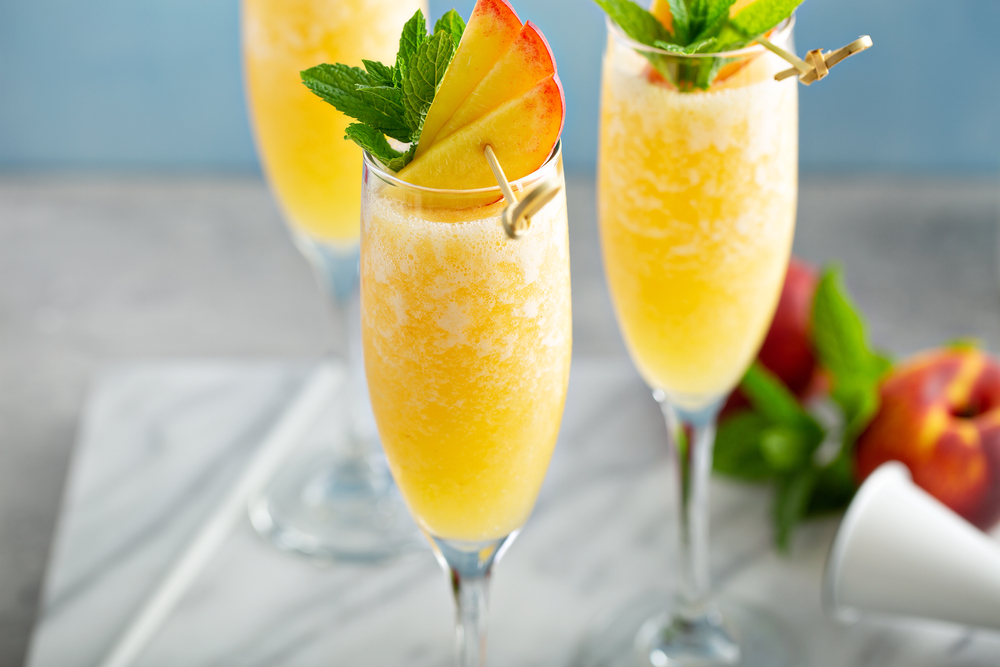 Three (Wynwood)
Indulge in the best Wynwood breakfast at Three, a unique concept that includes the restaurant as well as the culinary school In The Kitchen and the No. 3 Social, one of the best rooftop bars in Miami.
This brightly-colored restaurant serves up a brunch menu influenced by the tropical flavors of Miami as well as other flavors from around the globe.
One of the highlights is the Platano Maduro Pancakes, or the sweet plantain pancakes, which are served with a banana-passion fruit jam, whipped cream, and vanilla bean maple syrup.
The Aged Manchego & Tomato Jam on Brioche as well as the Fried Chicken 'N Toast and the Huevos Rancheros are all standout menu options. There's no shortage of incredible flavor combinations to choose from!
The brunch cocktail selection is equally intriguing! The Rabbit Pose, for instance, features white rum, carrot juice that's been freshly pressed, and grapefruit bitters that make this drink smooth and tart.
The Late Bloomer cocktail is also a great choice if you want something rich and sweet, as it incorporates vodka and the flavors of elderflower, apple, lemon, and basil.
Three has a wonderful selection of cocktails and a range of sparkling wines as well.
Morgan's Restaurant (Wynwood)
The "modern comfort food" served at Morgan's Restaurant is soul food, but made with organic ingredients, making it one of the best breakfast spots in Miami.
The menu includes the classic breakfast and brunch fare, like sticky buns or eggs benedict with exceptional hollandaise sauce.
Morgan's also offers a new take on these classics. The Benedict Burger is a great example of that as well as other intriguing items like the Beet and Goat Cheese Tacos.
The thick, light, and fluffy French toast is a big crowd-pleaser, whether it's served on its own or stuffed with sweet cream and raspberry for a touch of decadence. The maple bacon is another favorite among the patrons at Morgan's.
Best of all, this breakfast in Wynwood serves these tasty dishes every day, with its brunch menu available on the weekends.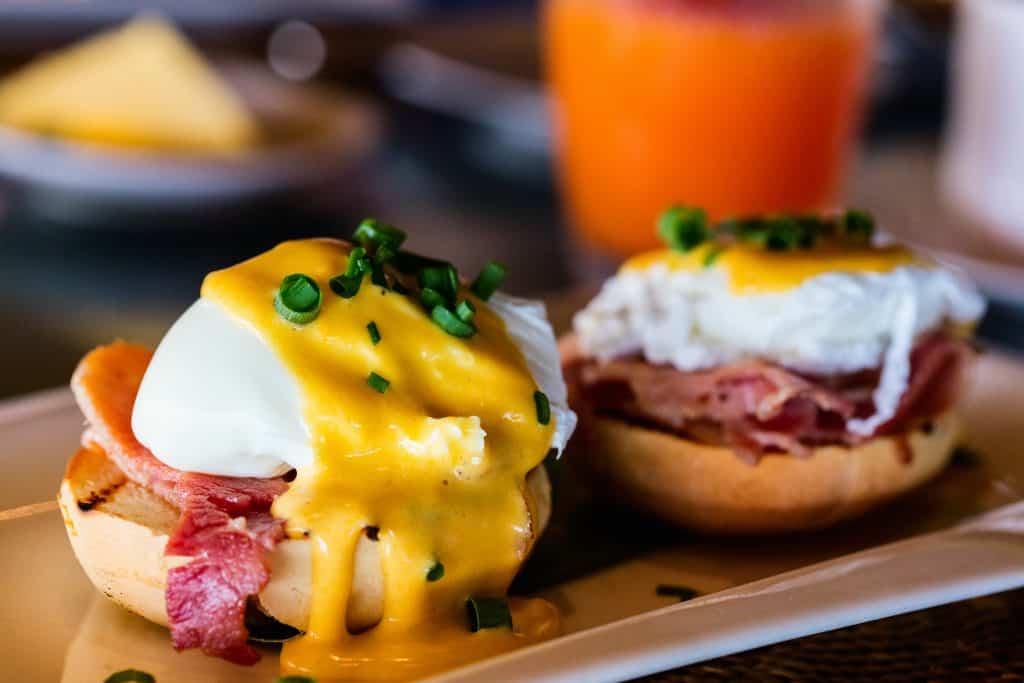 Daily Creative Food Co. (Edgewater)
Midtown's Daily Creative Food Co. is true to its name, offering unique breakfast options the locals love.
From the fried rice served with an egg sunny-side-up to challah French toast, breakfast is going to be great no matter what you choose from the menu.
Not only do they offer filling and tasty breakfast dishes like peanut butter, banana, and bacon sandwich – a.k.a. The Elvis Sandwich – but the service is pretty quick, so you can satisfy your brunch cravings in no time.
You will agree this is one of the best breakfast restaurants in Miami, Florida!
Little Hen (Midtown)
Stop by Little Hen for the best brunch in Midtown Miami, FL!
This English-inspired restaurant refers to itself as a boutique, and you will love the decor. The outside is decked out with flowers and has a lovely outdoor dining area.
Inside, you will find pink and gold furnishings with floral accents. It is definitely ready to be featured on Instagram!
The menu utilizes high quality and freshly sourced ingredients to create delictable meals!
Want something sweet? Try the rose petal pancakes, the bourbon batter French toast, or one of the croissants.
For something savory, order the crab cake eggs benedict, cavier omlets, or Little Hen rancheros.
Little Hen also serves an afternoon tea fit for royalty. It include petite four, French macarons, scones, mini sandwiches, and, of course, tea.
Enriqueta's Sandwich Shop (Midtown)
Enriqueta's Sandwich Shop might look unassuming but you will find incredible sandwiches and the best breakfast in Miami.
Located just outside of Wynwood, the old-school Cuban eatery serves up a few great options depending on what you're craving.
The breakfast special includes eggs, ham or crispy bacon, a warm tostada smothered in butter, orange juice, and café con leche or a colada.
The breakfast sandwich is a great on-the-go option. For a smaller breakfast portion, opt for a ham croqueta or a pastelito – a Cuban pastry filled with either guava, cream cheese, guava & cream cheese, coconut, or beef.
When it comes to breakfast in Miami, you can never go wrong with the classic choice of tostada and café con leche. As any Cuban will tell you, dipping the buttery tostada in the café con leche is an absolute must!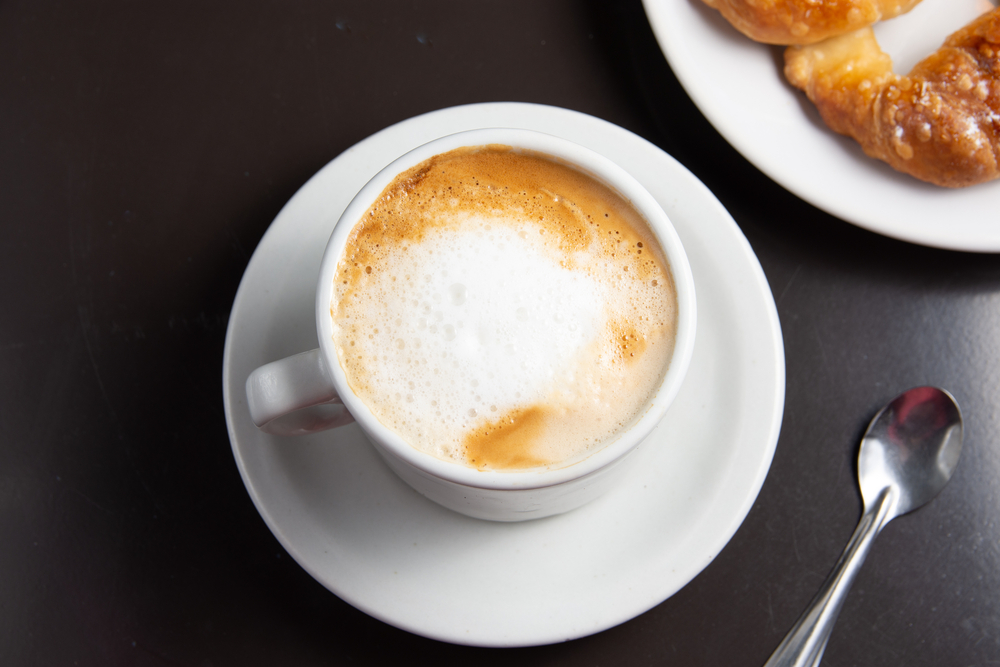 Yardbird Southern Table Bar & Co. (Miami Beach)
One of the best breakfast spots in Miami has to be Yardbird Southern Table Bar & Co.
The farmhouse aesthetic, the blues music, and the absolutely delicious menu lend themselves to the overall Southern ambiance of the restaurant.
Whether it's a chicken biscuit, the chicken and waffles, or something else, you don't want to miss Lewellyn's Fried Chicken.
Yardbird's infamous fried chicken is brined for 27 hours, seasoned with a secret mix of herbs and spices, then fried to crispy perfection that holds up no matter how much honey hot sauce or bourbon maple syrup you pour on it.
Other popular items include rich and creamy mac & cheese, fried green tomatoes, and buttermilk biscuits. Yardbird also has an impressive array of bourbon and concocts so many great cocktails, including the blackberry bourbon lemonade.
The portions are large and the food is served family-style, so get ready to dig in and enjoy the fantastic food and even better company at one of the best restaurants in Miami Beach.
Planta (Miami Beach)
Miami's culinary scene is diverse, so it's no surprise there are plant-based options, including Planta in Miami Beach, where you can find the best vegan breakfast in Miami on the weekends.
Many of the ingredients used in each dish are grown on the rooftop garden, so they're guaranteed fresh!
The chefs will take classic breakfast and brunch staples and adapt them with vegan ingredients in creative and delicious ways.
The "Chicken" & Waffles, for example, use mushrooms in place of chicken and is served with maple sriracha. It's one of the more popular brunch options.
This vegan brunch in Miami is also known for its wonderful banana pancakes with caramelized pecans as well as the banana bread with cashew nut butter and jam.
How about some sushi? People rave about the spicy tuna roll made with watermelon!
For dessert, the soft serve of the day is usually a hit, and if you're in luck, it might just be the activated charcoal and coconut flavor.
Whether you're a vegan or not, the menu options are so delicious in the most unexpected ways.
Jimmy's Eastside Diner (MiMo District)
Now known as the diner from the Oscar-winning film Moonlight, Jimmy's Eastside Diner is bright, friendly, and feels like the kind of place people go to hang out. It is "Your Friendly Neighborhood Eatery" according to the sign out front.
In a city full of sleek, modern restaurants with the latest culinary trends, Jimmy's remains one of the authentic diners left from the 1960s.
Like any true American diner, this is an all day breakfast in Miami so you can get your faves any time of day.
Jimmy's serves all the classic breakfast foods like eggs any way you like them, pancakes, bacon, hash browns, and so on, but everything always turns out simply delicious and will certainly hit that spot when you're craving comfort breakfast food.
The portions are large and the breakfast specials are a great deal.
Hopefully you enjoyed this list of the best places for breakfast in Miami! Next, check out our complete guide of where to stay in Miami, FL!
Did You Find This Post Helpful?
If so, we would love to keep in touch! We enjoy seeing photos and comments about your experiences in Florida! You can follow us on Instagram and we will repost your photos on our feed and comment too! Just tag us at @floridatrippers and hashtag #floridatrippers. We can't wait to see your travels!
Did You Find This Post Helpful?
If so, we would love to keep in touch! We enjoy seeing photos and comments about your experiences in Florida! You can follow us on Instagram and we will repost your photos on our feed and comment too! Just tag us at @floridatrippers and hashtag #floridatrippers. We can't wait to see your travels!