As Florida's capital city, there are countless things to do in Tallahassee! Here you'll find larger-than-life festivals, exciting nightlife, award-winning dining, over 700 miles of nature trails, and countless outdoor adventures!
With rolling hills and roads draped with oak canopies, you'll discover a whole new side to Florida. Tallahassee doesn't have theme parks or tourist traps. It's easy to spend 2-3 days discovering the city at a leisurely pace as it doesn't have the hustle and bustle of bigger cities like Miami or Key West.
Instead, Tallahassee makes a commitment to preserving the past with its deep-rooted history. The area has the largest concentration of original plantations in the US, giving visitors a sobering, firsthand look at our nation's dark history with the Peculiar Institution.
Don't worry, Tallahassee is more than a history lesson! With a vibrant, bustling college community, the state's capital houses the campuses of Florida State University and Florida A&M. Downtown has a dedicated College Town community with quaint shops and exciting nightlife!
A center for trade and agriculture, Tallahassee is the largest city in Florida's Panhandle region. Because the city is in Nothern Florida and so close to Georgia, Tallahassee is the exception to the Florida standard: there are actually seasons!
However, in Tallahassee, while the summers are wet and sticky, fall is actually brisk, and the leaves change colors. Winters see freezing temperatures, and it's even been known to snow! Springtime is marked by the colors and aromas of the beautiful azaleas and camellias, so make sure to bring some allergy medication!
When you visit, you'll find the best things to do in Tallahassee all center on the city's best feature: good, old-fashioned Southern hospitality. Discover the best Tallahassee attractions in a beautiful Southern-genteel city!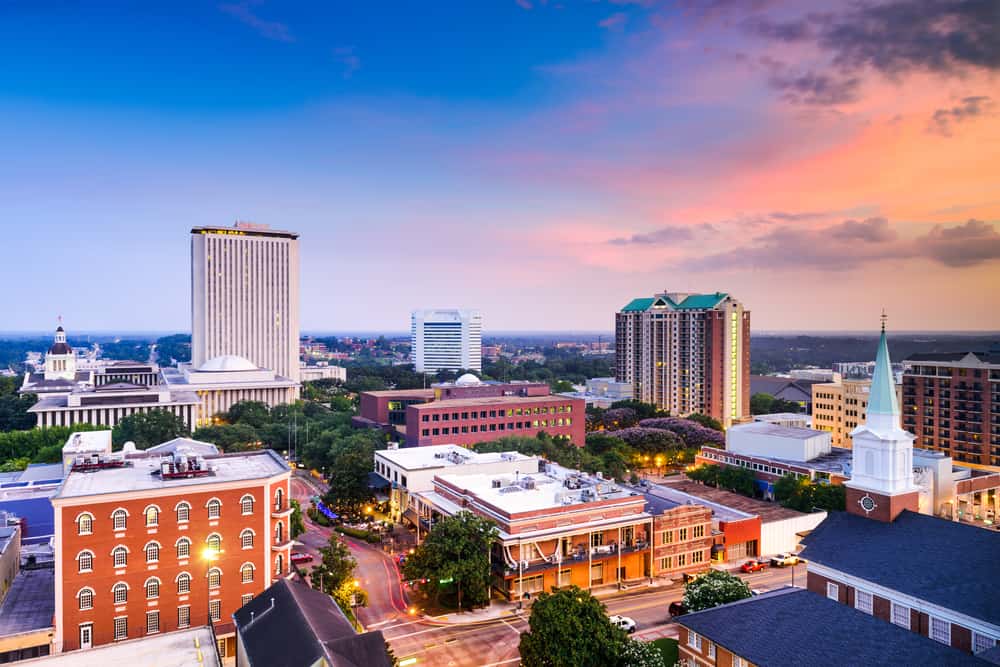 20 Best Things To Do In Tallahassee, FL, You Shouldn't Miss
Visit the Challenger Center For Space Science Education
The newest of Tallahassee attractions, families of the Challenger vowed to honor the crew's mission after the tragedy of the Challenger 51-L launch on January 28, 1986. Today, the Challenger Center For Space Science Education honors the legacy of that brave crew by broadening scientific knowledge through education.
Since March of 2003, the center provides "hands-on, minds-on" education experiences for K-12 students and the general public. In the heart of downtown Tallahassee, celebrate the efforts of the Challenger crew and open your mind to the odyssey that is space travel.
At the "edu-tainment" center, try your hand at a mission in the Space Mission Center, the next best thing to actual space travel. Onboard, you'll work with fellow "astronauts" and their counterparts in a Mission Control Simulator to fly a mission. You'll face plenty of challenges, all of which can be tailored based on age group.
Afterward, check out the dome theatre and planetarium, standing 150 feet high while seating 128. With a high-definition screen with a 20,600-watt Dolby Surround Sound System, you'll watch programming about our galaxy for the young and young at heart.
Then, catch a flick at the center's IMAX theatre, the largest in Tallahassee. In addition to showing commercial blockbusters, you can also see educational and entertaining documentaries about the survival of the fittest and predator-vs-prey.
Stop By the Museum of Florida History
The state of Florida has a vast and storied history. See it chronologized in one convenient place in one of the best museums in Florida. A visit to the Museum of Florida History is one of the most fun things to do in Tallahassee!
The Museum of Florida History tells the story of Florida's past and present by collecting, preserving, and exhibiting evidence of these cultures. Through this, they promote the appreciation of knowledge, reflecting the ways that people and events have impacted cultural and natural environments.
Explore the Civil War in Florida! You can read about the Battle of Olustee and other operations by Florida's Confederate soldiers. The exhibit also chronicles the everyday lives of women and African-Americans. You'll also learn about the rare Unionism efforts in Florida.
The World War II Memorial Exhibit depicts the Sunshine State's response to the war. See artifacts depicting activities on the home front and the establishment of military training bases throughout the state. Learn about the 248,000 Floridians that served, including women and African-Americans.
Other exhibits feature the efforts of Floridian suffragettes who fought to pass the 19th Amendment, securing the right of women to vote. You can also learn about Florida's Emancipation Day when Union forces took control and read the Emancipation Proclamation.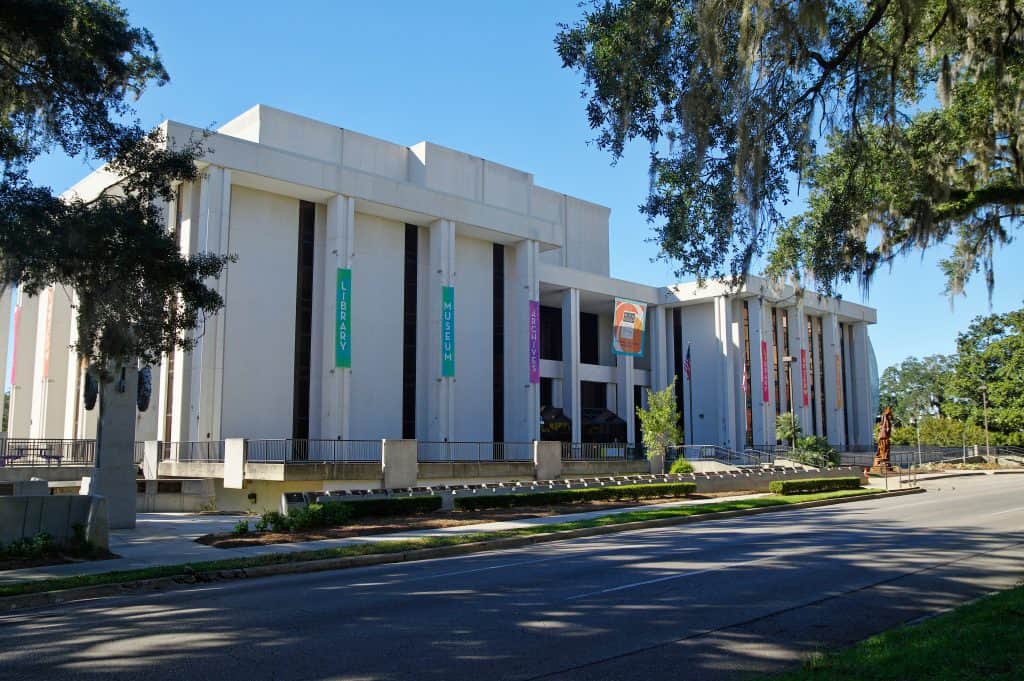 Feel Like a Kid at the FSU Flying High Circus
Many circus acts around the world have recently come under attack for the use of animals in their act. What if we told you there was a guilt-free way to enjoy all the fun of the circus with no ethical battle involved?
The Flying High Circus at Florida State University will make you feel like a child again. Sitting on the edge of your seat, you'll only see high-flying stunts and acts that showcase the power of human strength. It's one of the best things to do in Tallahassee with kids!
At the circus, student performers rig all their own equipment, erect the circus tent, sew costumes, and produce light and sound for their performances. Founded in 1947, the circus is an extracurricular activity under the Division of Student Affairs at FSU. All performers are currently enrolled and seeking a degree.
If you are an FSU student, you can see if the circus life is for you by taking a one-hour credit class, the "Circus Skills" course. Here you can learn the basics of juggling, hand-balancing, aerial ballet, and equipment rigging!
To see the FSU Flying High Circus in action, catch performances all throughout the Southeastern United States. In Tallahassee, the circus hosts weekend shows every spring at the Jack Haskin Circus Complex on the FSU campus!
You'll see the "Flying Seminoles" swing on the flying trapeze, as well as high-wire walkers, jugglers, fire poi and fire eaters, and a bicycle built for five. Just don't try to replicate these stunts at home!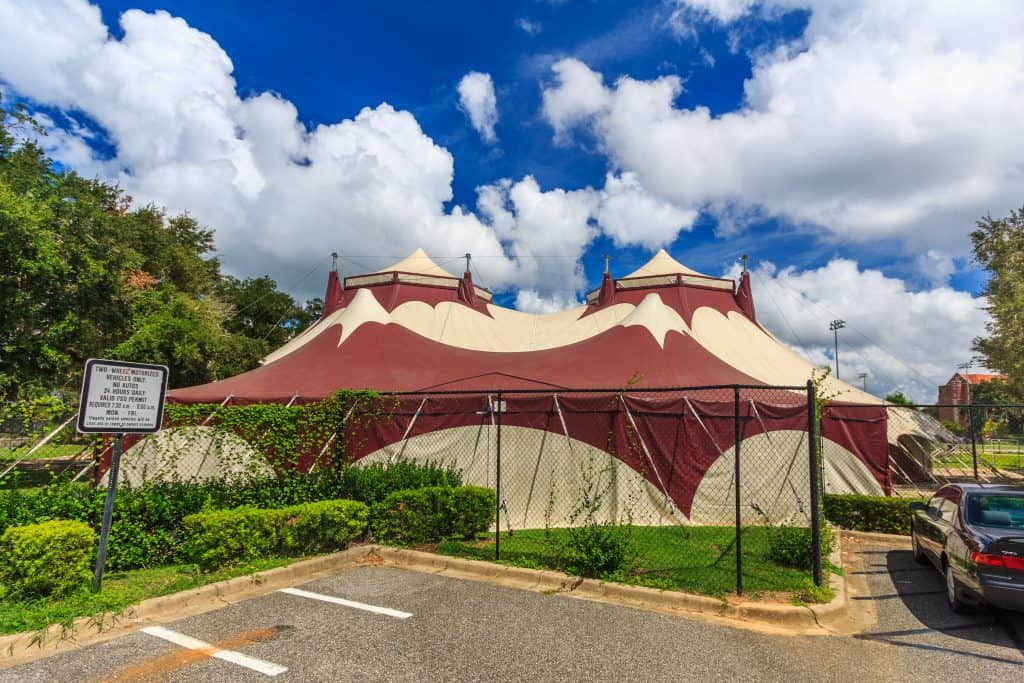 Stroll the Railroad Square Art District
In the middle of Tallahassee, in between Florida State University, Florida A&M, and FAMU, you'll find the haven for creatives in the state capital. Railroad Square Art District is Tallahassee's arts and creative district. Here you can shop local, be creative, and support the arts.
If you're a Seminole, you've probably been to Railroad Square for First Fridays. A local festival on the first Friday of each month, patrons can experience open galleries and shops, live music festivals, and the best of local food!
No matter when you visit, you'll be supporting local businesses and finding goods and wares you won't find anywhere else in the country! Browse a variety of shops including thrift and vintage stores, antique shops, a non-profit theatre, and more.
Catch a cult cinema classic at Cap City Video Lounge or play a game at Flippin' Great Pinball which houses vintage pinball machines. Visit the Tallahassee Rock Gym, housing the largest indoor rock climbing wall in the region, over 32 feet high.
For quality food and beverages, Oh'Lemonade features unique hand-crafted flavored lemonades! Check out the Railroad Square Craft House serving craft beer, craft wines, and cocktails in a renovated Art Garden. The most quaint is perhaps the Crumbox Castgarden, the only cafe in town constructed out of a real railcar caboose!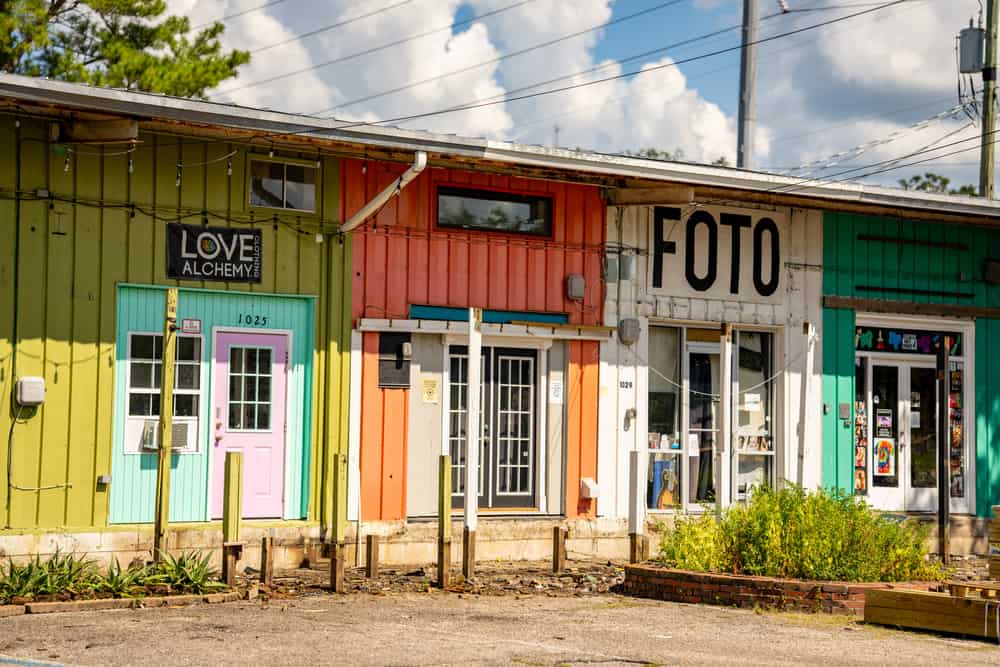 Tour the Capitol
For those who have traveled to Tallahassee from the south, the sight is all too familiar. Driving north on US 19, you dead end straight into Tallahassee's beautiful Capitol Building, soaring high into the capital skyline. You know you've arrived in Tallahassee.
The current building, erected in 1972, features a tall tower with two adjacent domes which house the House and Senate chambers and offices. The 22-story tower holds office spaces constructed in an international style to reflect a modern, developing Florida.
Touring the Capitol, one of the best free things to do in Tallahassee, has never been easier. You can visit on weekdays from 8 AM – 5 PM! Grab a brochure from the Welcome Center. Here you'll find information as you take a self-guided tour! You can also book tours guided during the Legislative Session.
On the First Floor Rotunda, make sure to admire the architecture of the art-glass dome. You can also grab souvenirs here at the gift shop. Then in the Historic Capitol Theatre, watch a short documentary explaining how the State Government and its leaders serve Florida's citizens.
Afterward, you'll see the Governor's Suite, resorted to its former 1902 glory. You'll also see private offices, the cabinet meeting room, the stenographer's office, and reproductions of governor portraits through the years.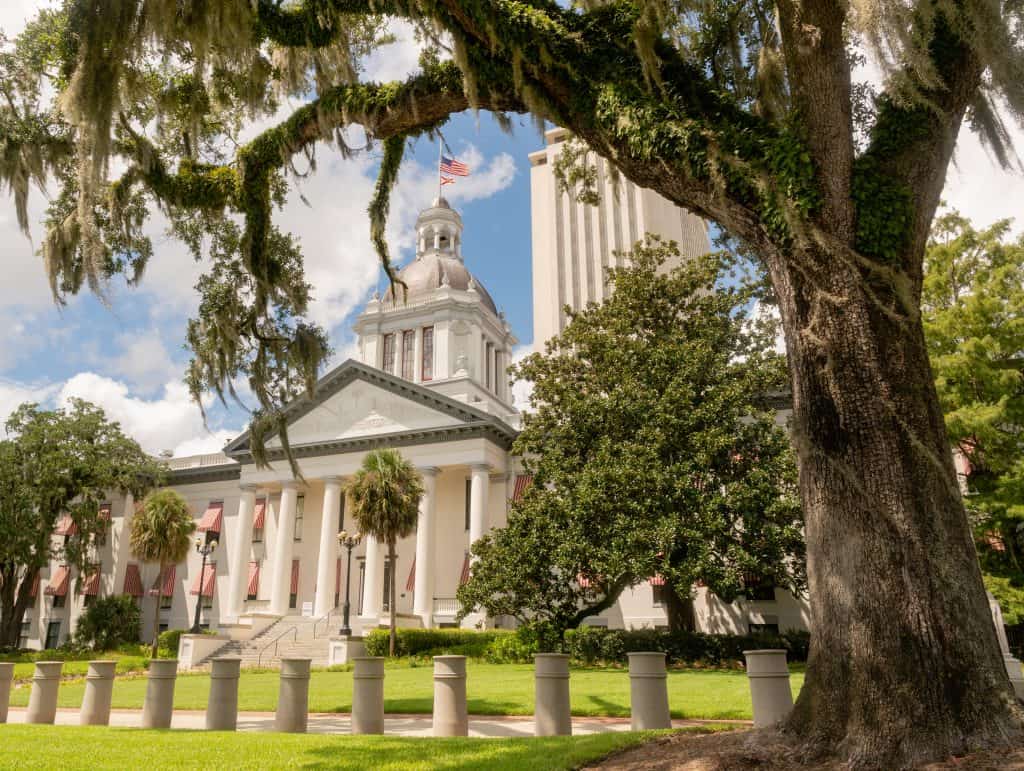 Enjoy Nature at Alfred B. Maclay State Park
To get in touch with nature and understand what makes Florida's capital city so beautiful, head to one of the prettiest state parks in Florida. A masterpiece of floral architecture, the Alfred B. Maclay State Park remains one of the best things to do in Tallahassee.
A U.S. Historic District, the gardens were first planted in 1923 by Alfred and Louise Maclay. In the personal gardens for their winter home, you'll find an array of plants native to Florida. The Maclays also imported azaleas and camellias, the backbone of the garden.
Today, the bloom of azaleas and camellias is the harbinger of springtime in Tallahassee. The season peak of these flowers happens from January to March. A lot of blooms mean a lot of pollen! So make sure to bring your allergy medication!
At the front of the gardens, you'll also find a native plant arboretum showcasing blooming white wild indigo, English dogwood, and Florida anise. Make sure to find the secret gardens past the reflecting pools along the picturesque brick walkway.
Among the three lakes on the grounds, you'll find opportunities for swimming, fishing, and kayaking at Lake Hall. Afterward, enjoy lunch at the pavilions and grills for a picturesque picnic in paradise.
The Gardens also host many annual events. When the flowers are in bloom, take a tour of the restored Maclay house in May. Kids can enjoy Fishing Day in June! Enjoy Jazz in the Gardens during Moon Over Maclay. Finally, don't miss the magical wonder of Camellia Christmas in December.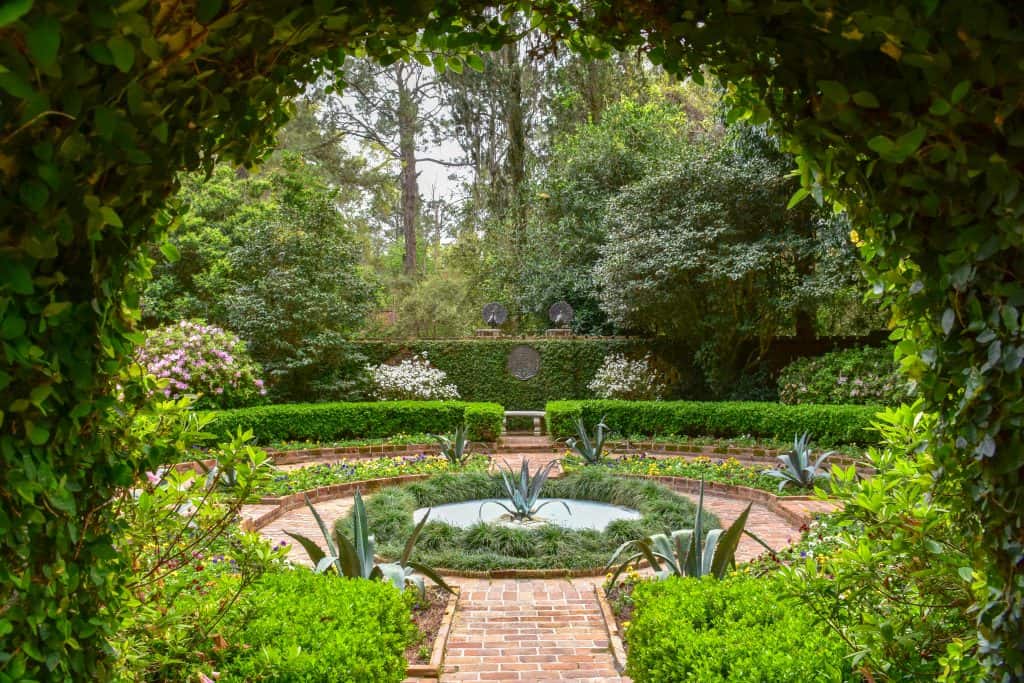 Explore College Town
Steps from the Doak S. Campbell Stadium, the Donald T. Tucker Civic Center, and the Dick Howser Baseball Stadium, buckle up. You've entered College Town, the home and neighborhood for students, locals, alumni, and tourists in Tallahassee.
On Fridays before home football games, check out the Friday Night Block Parties! From 5 – 10 PM, enjoy this traditional tailgate party celebrating the Seminole spirit. Dance to live music, browse the wares of onsite vendors, and get hyped for special surprise appearances during the night.
Afterward, on game day, make the walk to Doak S. Campbell Stadium. It's impossible to miss it! Just look for the giant statue depicting Seminole riding a horse with a flaming spear out front! Don your garnet and gold and get ready to do the Seminole Chop to cheer on the team!
There's more to College Town than sports! Shop until you drop at local vendors, like Tally + Fin, a beach boutique. You'll also find Urban Outfitters, Gypsea Boutique, and Barefoot Outfitters.
There are also many food and beverage options, but the most infamous spot is Madison Social. Kick back and grab a cold one at this gastropub featuring New American small plates and sandwiches. You can always catch sports on the televisions here!
College Town is one of the best things to do in Tallahassee at night!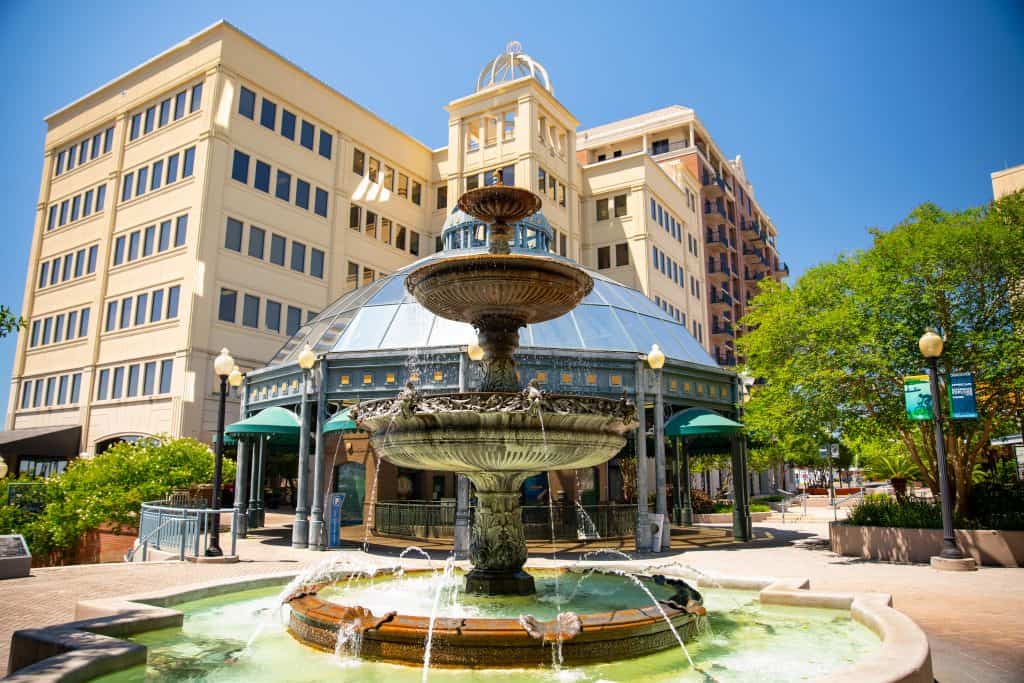 Chill at the Midtown Kava Lounge
Sometimes, among the hustle and bustle of a college town, you need to slow down and take a breather. The Kava Lounge is a laid-back, hip joint in Midtown that proves you don't need alcohol to enjoy a fun night on the town!
For those that are unfamiliar, Kava is a refreshing beverage that hails from Fiji. After pounding sun-dried kava root into a powder, it is strained and mixed with cold water. Known for its sedative and euphoriant properties, kava is great for treating short-term anxiety!
When you walk into Kava Lounge, you'll find a warm community where all are welcome! The owners are deeply devoted to creating an atmosphere where guests can connect and celebrate in a chill environment. And they'll show you just what "bula" is all about!
The menu also features many strains of Kratom, a tea similar to Kava, which can positively affect your mood, pain, and energy. Try it with mixers like mango, pineapple-guava, or passion fruit juice. When you order Kava, it is served in a ceremonial bowl called a shell. Just make sure to yell "Bula!" or Fijian for "to life" before you drink!
The best times are had at Kava Lounge when the community joins together for special events. Saturday Night Bula features live music from great local artists, like Rachel Hillman, and $1 shells at midnight. Komedy Nights showcase local comedians and Sunday Jams are open mic performances!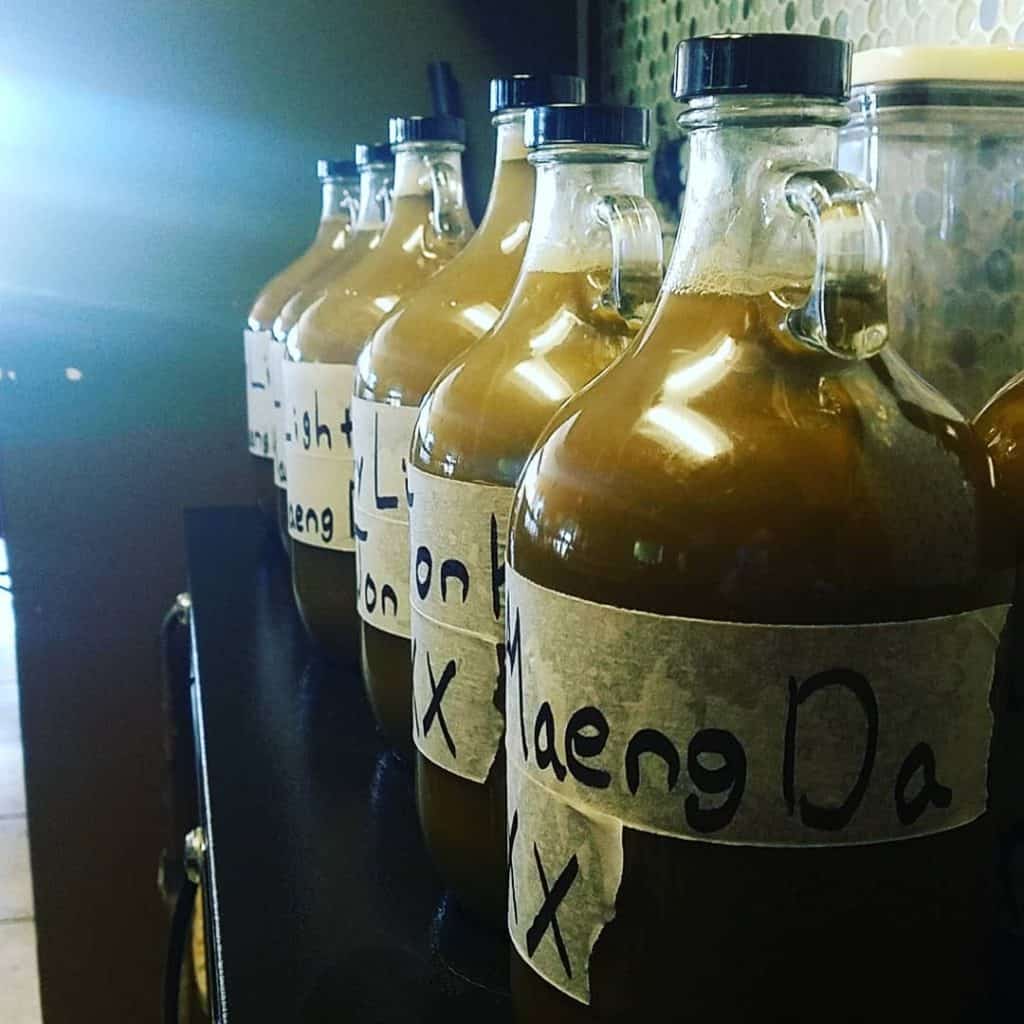 Get Drinks at Proof
Proof is Tallahassee's first craft production brewery with a refined tasting room and outdoor beer garden! Formerly in the Railroad Square Art District, Proof recently moved a quarter of a mile away to the former Coca-Cola bottling plant!
The move has turned a local favorite into a bustling brewery experience, as well as increased their production fivefold. Instead of 6,000 barrels, Proof now has the capacity to brew 30,000 barrels per year of their beloved craft beers.
Inside, discover the "Proof" for yourself in the tasting room, one of the best things to do in Tallahassee for adults. Sample everything in a modern, inviting Tap Room from malts and lagers to wheats and sours.
All of the innovative beers are big, bold, and flavorful. No wonder Proof has received awards and recognition around the world like the World Beer Cup and Best Florida Beer!
While of course, you must be 21 to drink, minors are still allowed in with a guardian or parent. This is because Proof is more than a College Town hotspot! It's also a gathering place for families, especially in its adjoining restaurant!
One of the best things to do in Tallahassee, Proper is the sister restaurant to Proof's brewery. Food and beer just belong together! Elevate your experience by sampling tasty pub fares like K-Town Hot Chicken, the Hazed + Confused Mushrooms, and Bratstickers!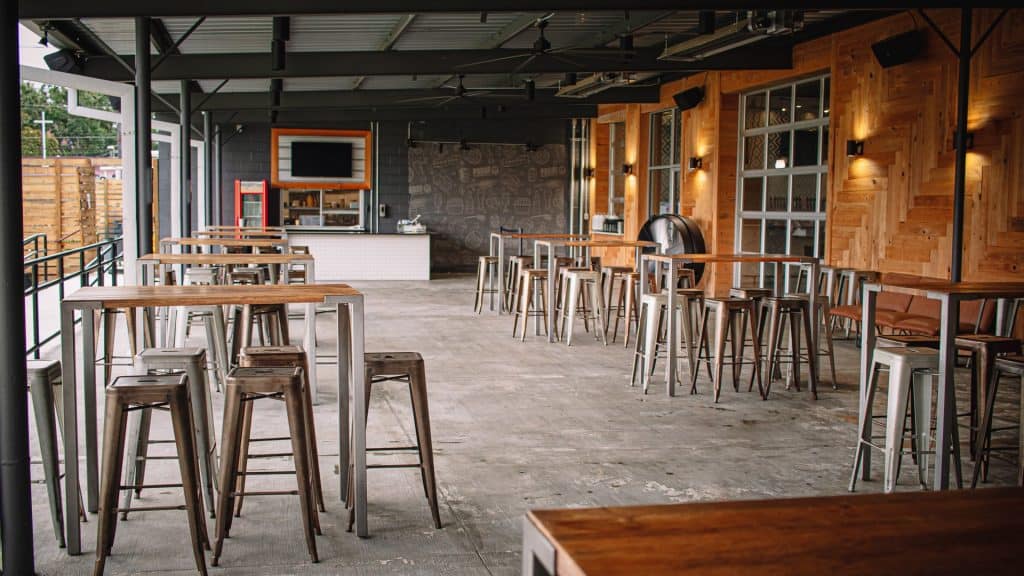 Visit St. Mark's Lighthouse and Wildlife Refuge
A short drive away from the capital, you'll witness the true beauty of Florida's history, flora, and fauna in Wakulla County. A visit to St. Mark's Lighthouse and Wildlife Refuge is one of the best things to do in Tallahassee to unplug and take a walk on the wild side.
First, stop by the Visitors Center. Here you'll get information about all the great Tallahassee activities that await you. Inside nature's classroom, you can take wildlife photography classes, among others offered.
Afterward, head to St. Mark's Lighthouse to see the second oldest of its kind in Florida and the oldest on the Gulf Coast. The Keeper's House is open for tours on Tuesdays and the first Friday and Saturday of the month. Unfortunately, the stairs are incredibly old and made of wood, so you can't climb the actual lighthouse.
Take a trek on 7 different hiking trails to walk through slash pine forests, oak hammocks, and salt marshes. For water sport enthusiasts, paddle or canoe along the Crooked and St. Mark's Rivers You also have the option of creating your own hiking trail based on your abilities! Just refer to a refuge map.
You'll see a variety of protected wildlife if you keep your eyes peeled. As the gateway to the Florida Birding Trail, it's not uncommon to see woodpeckers and bald eagles! Also, keep a close eye on the marshes, this is one of the best places to see wild alligators in Florida!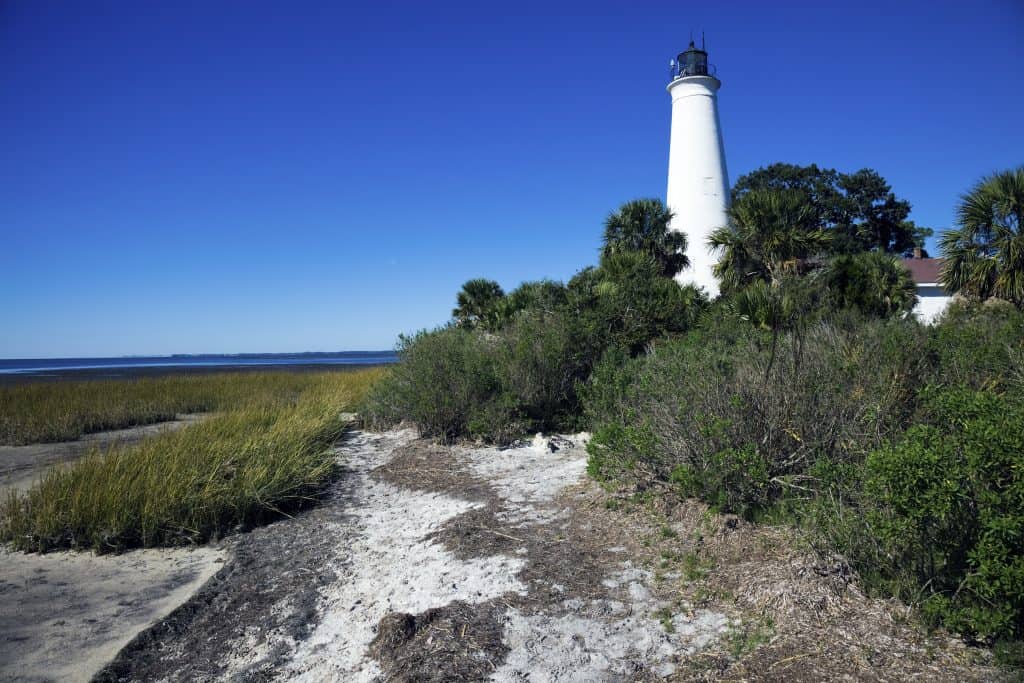 Walk Around Lake Ella
In central Tallahassee, just north of downtown, you'll find Lake Ella. One of the most quaint and relaxing Tallahassee attractions, a walk around the lake is perfect after a day of shopping in Midtown or gallery-hopping in the Railroad Square Arts District!
Originally Bull Pond, Lake Ella has a rich and storied history like most Tallahassee attractions. When Florida was ripe with working plantations, local black churches held baptisms in the lake's clear waters. On May 20, 1865, when slaves were released, many of them celebrated in the waters.
Today, Lake Ella has been incorporated into Fred Drake Park. Here you'll find picnic shelters and open fields. You'll often see community activities happening such as astronomy, exercising, and even Live Action Role Playing, or LARPing.
The cottages built in the 1930s have been converted into the Shops at Lake Ella! Just a few hundred feet away, check out Quarter Moon Imports for unique home furnishings. Diva's & Devil's always has great finds like a vintage and consignment shop.
Make sure to visit Lake Ella on Thursday nights every week for Food Truck Thursdays! Bring your appetite and try a variety of cuisines from the best food trucks in Tallahassee! Live music plays to get the party going from 5:30 – 8:30 PM.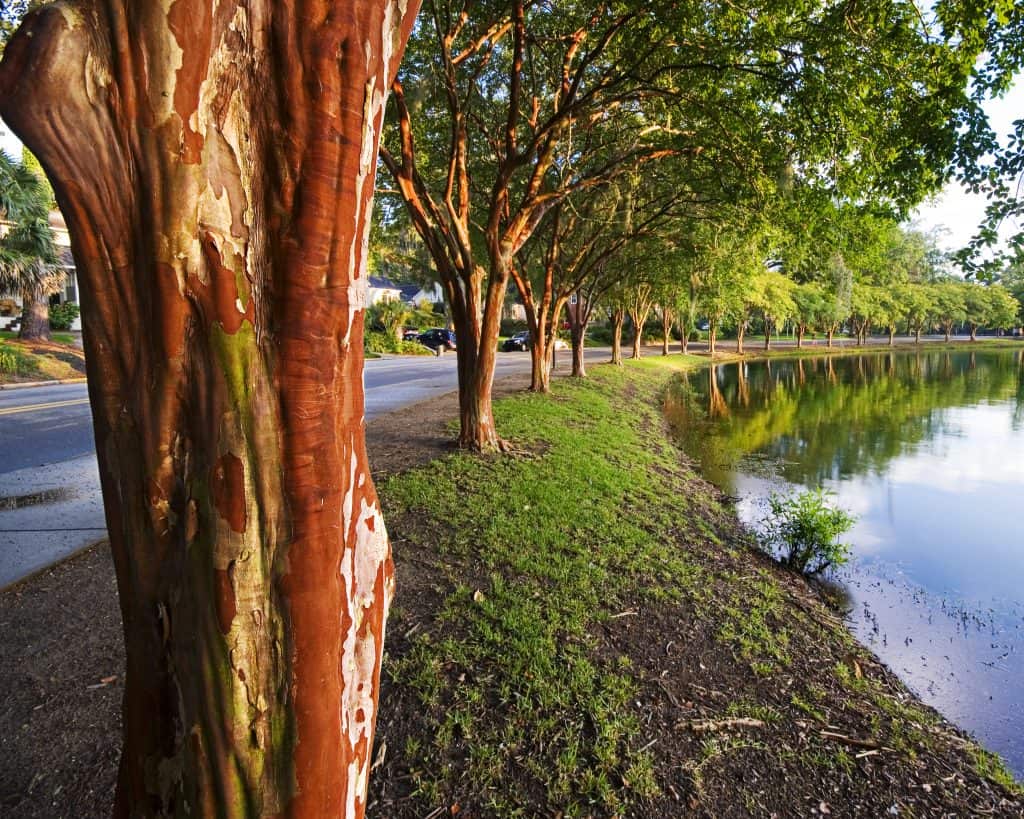 Step Back in Time at Knott House
Knott House is arguably the most historic building in Tallahassee. For history buffs, taking a tour of Knott House is one of the most exciting things to do in Tallahassee.
Constructed in 1843 by George Proctor, a free black builder, ownership changed hands until after the Civil War ended. Union Brigadier General Edward M. McCook used the residence as his temporary headquarters when he occupied Tallahassee.
From the Knott House's very porch, he read the Emancipation Proclamation on May 20, 1865. As a result, this effectively freed all enslaved persons from the many plantations that dotted the Florida-Georgia line.
In 1928, the Knott family acquired the house, adding renovations that stand restored today. When the family line ended in 1985, the home and land were turned into a public museum under the direction of the Museum of Florida History!
Today, take a guided tour and learn why Knott House was nicknamed "The House That Rhymes." Luella Knott's original decorations have been preserved. She adorned the house with Victorian-era furnishings, and the rooms are filled with her poems that blend together history and moral lessons with Southern charm and wit.
Take a tour from Wednesday through Friday on the hour from 1 to 3 PM and Saturdays on the hour from 10 AM to 3 PM. While this is one of the best free things to do in Tallahassee, donations are encouraged.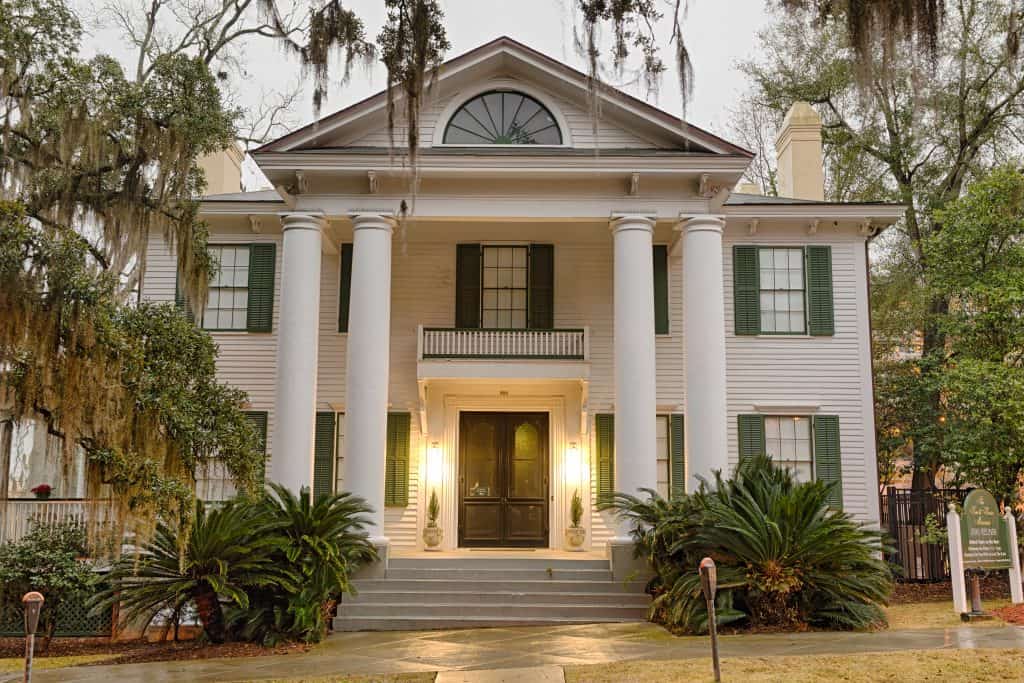 Find Unique Treats at Lofty Pursuits
It's time to embrace your inner child at Tallahassee's happy place! Lofty Pursuits started with humble beginnings but has evolved over the years as a beloved city institution. What started as a vintage skill toy store transformed into a full-service soda fountain. Today, Lofty Pursuits features a full kitchen to serve breakfast, lunch, and dinner, and of course, make candy!
If you've ever seen a viral video about Victorian-era candy making, it probably came from Lofty Pursuits! When you visit, you can see the process in action, usually on Friday evenings and Saturday afternoons. As the colors are rolled together and cut, you'll feel like a kid again!
You can even create custom candy! Make your own one-of-a-kind creation with designs in the center like kiwis, watermelons, crystal roses, sunflowers, red apples, and even the Tardis! Popular for weddings and special events, you can design a personalized souvenir to take home: a "public display of confection."
You can still also find toys and board games as well as the soda fountain. Bring your appetite to enjoy a tasty brunch and still have room left over for a towering milkshake! With over 25 delicious flavors, Lofty Pursuits also offers vegan ice cream and sorbets.
If you are wondering what to do in Tallahassee with kids, this is it!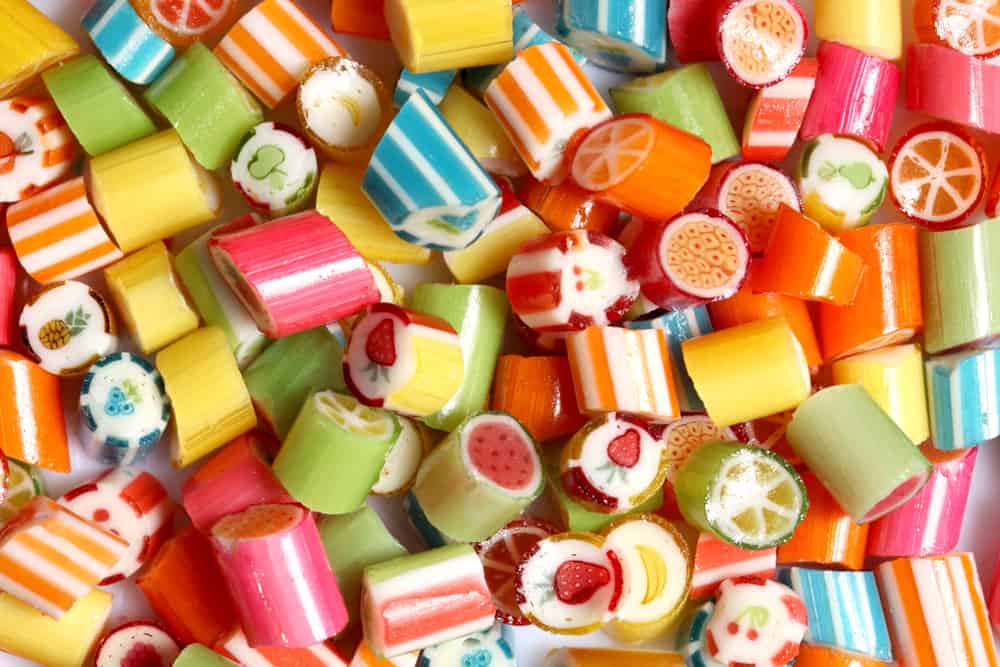 Attend the Springtime Tallahassee Festival
Springtime in Tallahassee is unparalleled. With flowers in bloom and a cool breeze lingering over from winter, it can't be beaten. One day, some locals said, "We should have a festival in the spring when Tallahassee is so beautiful!"
The very next spring, the Springtime Tallahassee Festival was born. One of the best festivals in Florida, the extravagance grows each year. Since 1968, the festivities showcase and celebrate the capital city, usually on a Saturday in March.
The Springtime Tallahassee Festival events also continue year-round! At Springtime in the Summer, children enjoy their own parade and jubilee with face painting and arts and crafts. Jubilee in the Park continues with live music festivals, food, and arts and crafts.
The main event, of course, is the Grand Parade. One of the biggest in the Southeast, 70,000 spectators come annually to celebrate. Come see over 100 floats, marching bands, and dance troupes.
On the floats, nothing is off-limits. You'll see everything from pirates throwing beads to the crowd, vintage horse-drawn carriages, and even Mario, Princess Peach, and all of Mushroom Kingdom!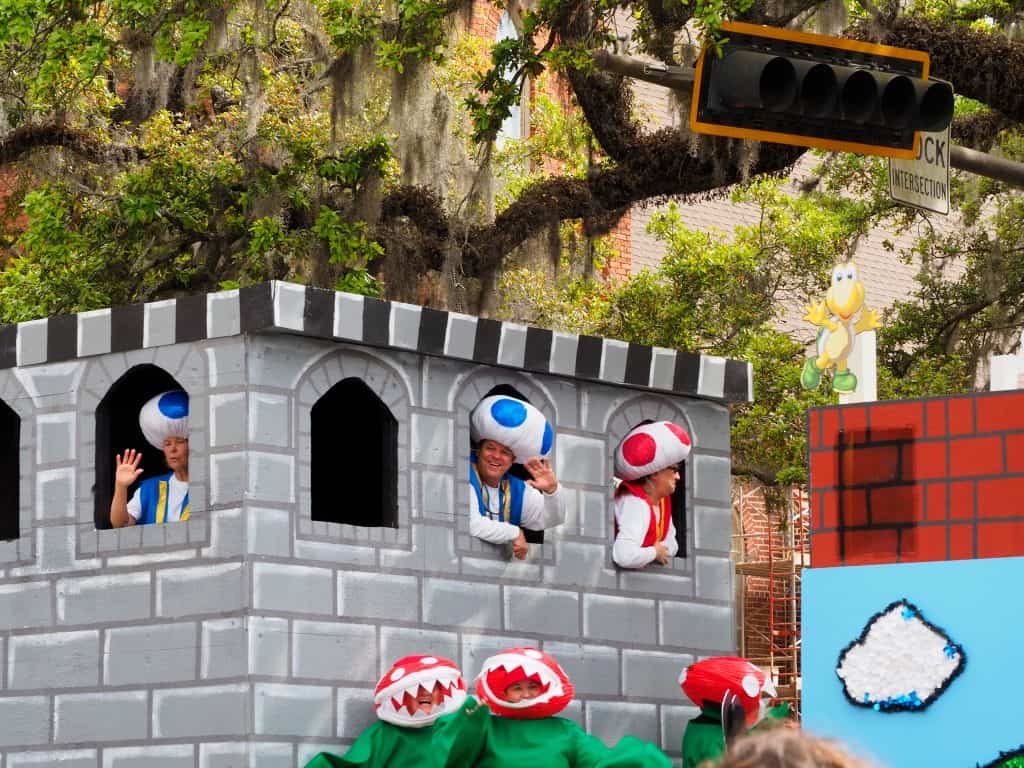 Discover Wakulla Springs
About 14 miles south of Tallahassee, Wakulla Springs is the world's largest and deepest freshwater spring. The waters are surrounded by a lush and ancient cypress swamp.
In the age of Old Hollywood, Wakulla Springs was used as a backdrop in films like Creature From The Black Lagoon and Tarzan's Secret Treasure. Today, the grounds and habitat have been restored into what has become a popular manatee breeding ground.
The springs are so nice, that some manatees in Florida have chosen to make Wakulla Springs their permanent home. You can take a swim with these manatees, but you cannot touch them!
Deep within Wakulla Springs stands the Lodge, a full-service 27-room hotel! Book a room, see some manatees, and make your trip a weekend getaway!
While the waters are perfect for swimming, snorkeling, and kayaking, be warned. Because Florida's natural springs come from the aquifer below, the waters are always 70 degrees Fahrenheit. So it might be a bit chilly for you!
However, if you don't want to get wet, take in the great views on the Jungle Cruise. This boat tour runs every hour from 9:00 AM to 5:00 PM from the springs upstream!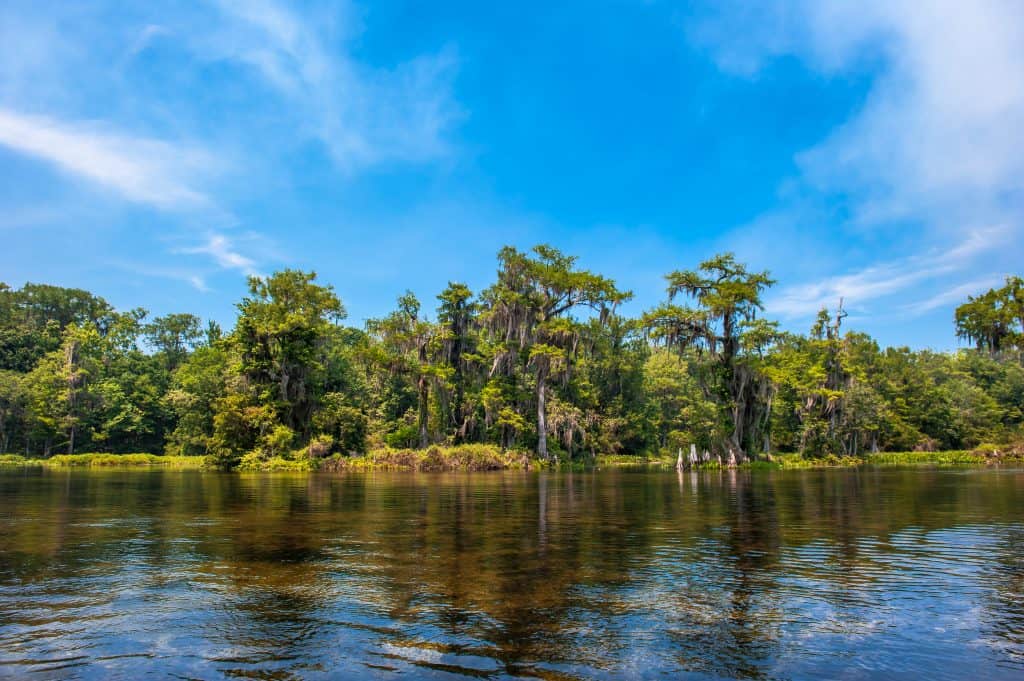 See a Show at Club Downunder
At the center of Florida State University, you'll find the Oglesby Union Complex. What was once a snack bar with a jukebox and room for dancing has transformed into a complex with lounges, offices, meeting rooms, and most infamously, Club Downunder, one of the most fun places in Tallahassee.
Club Downunder is FSU's on-campus venue, hosting touring musicians, comedians, and special events. Every event is coordinated by Union Productions and run completely by undergraduate students!
Union Productions and Club Downunder have hosted big names in the music world. Past headliners have included Montreal, OK Go, The Mountain Goats, Aly & AJ, Lucero, Mae, and Matt and Kim. You can check out the polaroid wall which features photos of past shows, some even signed by the performers!
The best part is you don't have to be a student to attend these shows! Even if you don't feel like going to a college campus for a concert, Union Productions also hosts events around the city. The Wilbury serves hot barbecue and frosty drinks. Bigger names play The Moon, a nightclub with bars and lounges.
Find History at Lake Jackson Mounds Archaeological State Park
North of Tallahassee, you will find Lake Jackson Mounds Archaeological State Park, one of the best historic sites in Florida. Over 800 years ago, Native Americans used this land to create earthen temple mounds.
Of the six mounds found in the park, two are available to be viewed by the public. Enjoy a picnic while viewing the outstanding mounds which were important in the Mississippian culture. Many artworks, tools, and other items have been found by archaeologists.
The park has two hiking trails that will lead you through beautiful forests and past historic sites such as an old mill from the 1800s. This is also a wonderful place to spot wildlife, especially birds.
This park is one of the best activities in Tallahassee if you love a mix of nature and history.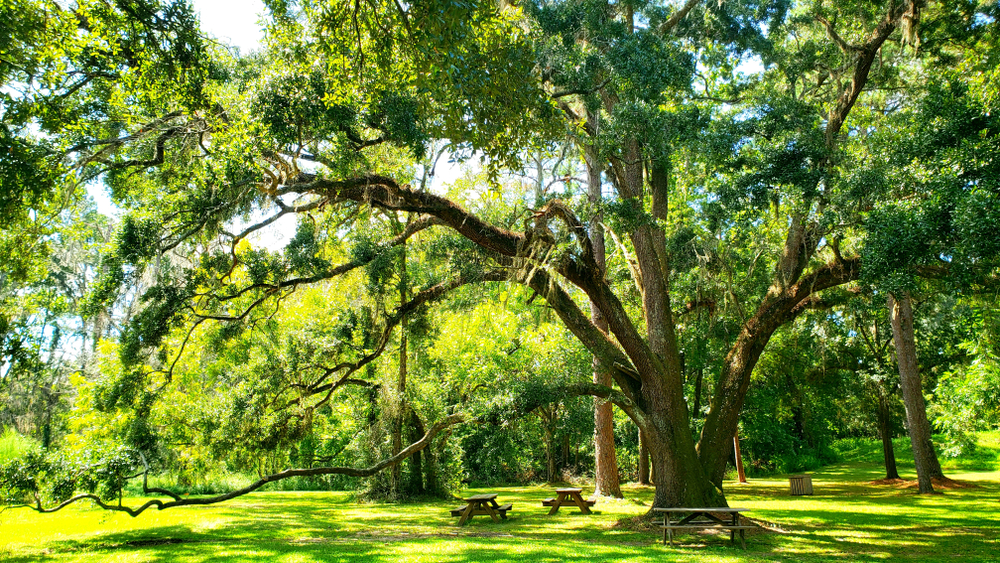 Listen to Music at the Bradfordville Blues Club
If you are looking for romantic things to do in Tallahassee for couples, head to the Bradfordville Blues Club in a rural part of the city. This music club is an amazing experience. Relax and soak in the cool atmosphere as you listen to talented blues musicians in one of the best places to visit in Tallahassee.
In the one-room cinder block building, you will find dozens of autographed portraits of the "Kings and Queens" of the Blues. There is also outdoor seating with a roaring bonfire each night. Enjoy a cold beer and get the chance to chat with the performers.
There are many events and concert series held throughout the year that guarantee a good time. If you are a music lover, you need to add this attraction to your Tallahassee itinerary.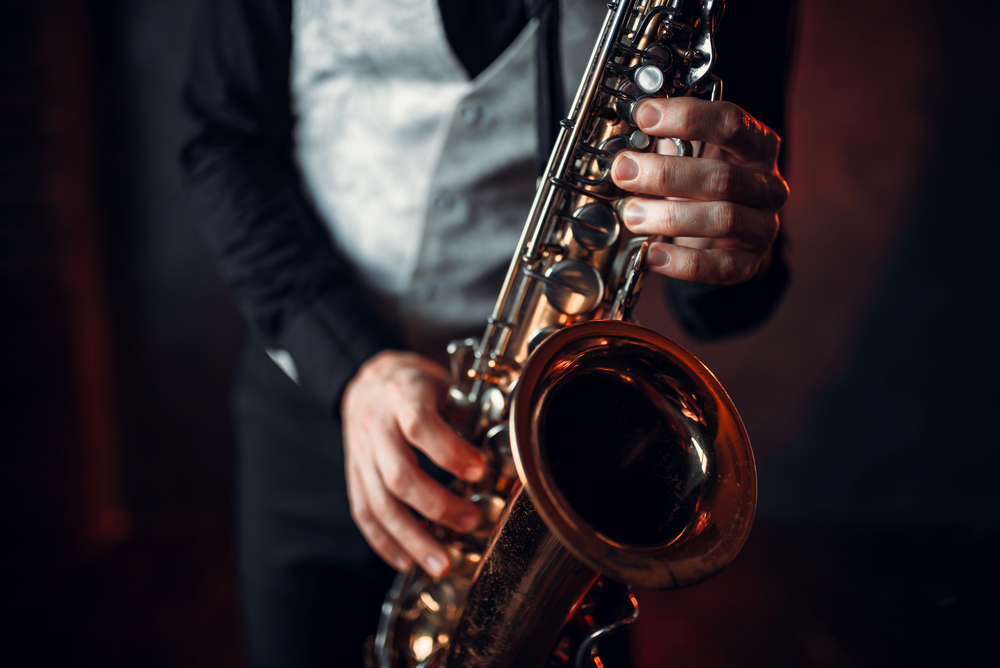 Admire Old Cars at the Tallahassee Antique Car Museum
If you love old cars, you will think the Tallahassee Antique Car Museum is one of the best attractions in Tallahassee. The museum holds over 160 automobiles, mostly American-made models, many of which are important to the nation's history and culture.
You will see Abraham Lincoln's horse-drawn hearse, multiple movie Batmobiles, muscle cars, and even an amphibious vehicle. As you walk through the collection, you will see how the auto industry has developed over the years.
Interestingly, cars are not the only collectibles on display here. You will also see huge collections of Case Knives, boats, motorcycles, fishing lures, and many more antiques.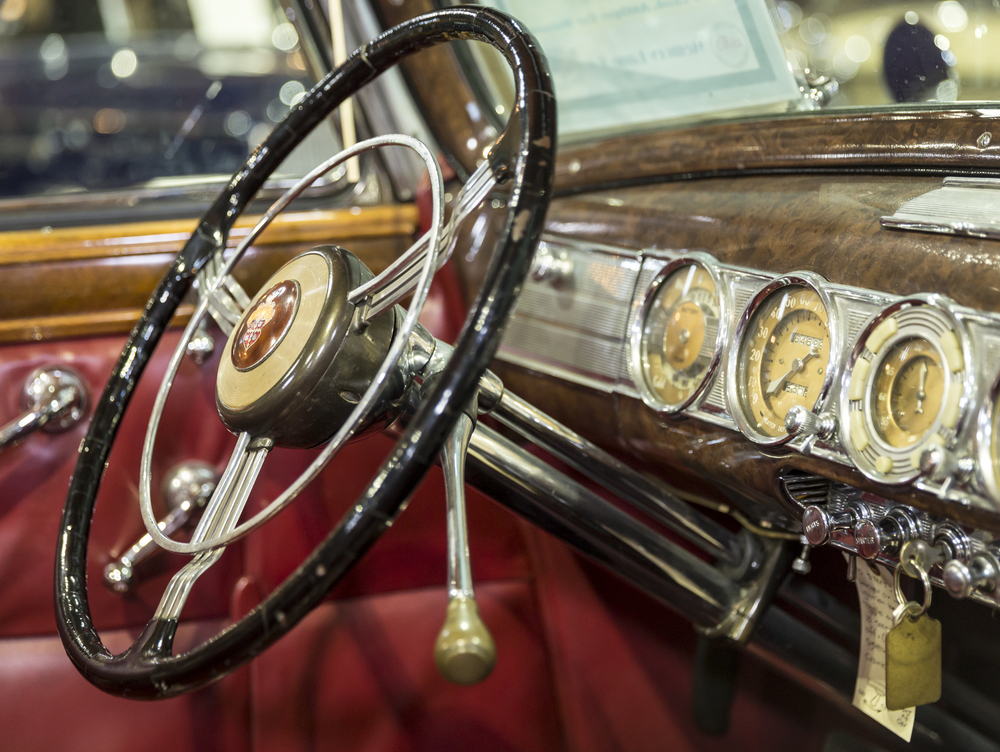 Take a Day Trip to St. George Island
While Tallahassee is landlocked, it is not impossible to have an awesome time in the sun and sand. About an hour and a half from the city is St. George Island. This beautiful barrier island makes a great day trip from the city and offers one of the best beaches near Tallahassee.
Your family will have fun exploring the 28 miles of coastline. The uncrowded beaches are perfect for swimming, shelling, and fishing. Many of the beaches are also dog-friendly!
Dr. Julian G. Bruce St. George Island State Park has a wonderful, undeveloped, white-sand beach. This Florida state park is also great for kayaking, canoeing, hiking, and stargazing.
You might spot dolphins playing in the water and bald eagles flying overhead. Sea turtles and many shorebirds also nest here in the summer.
This island is clearly one of the best things to do near Tallahassee!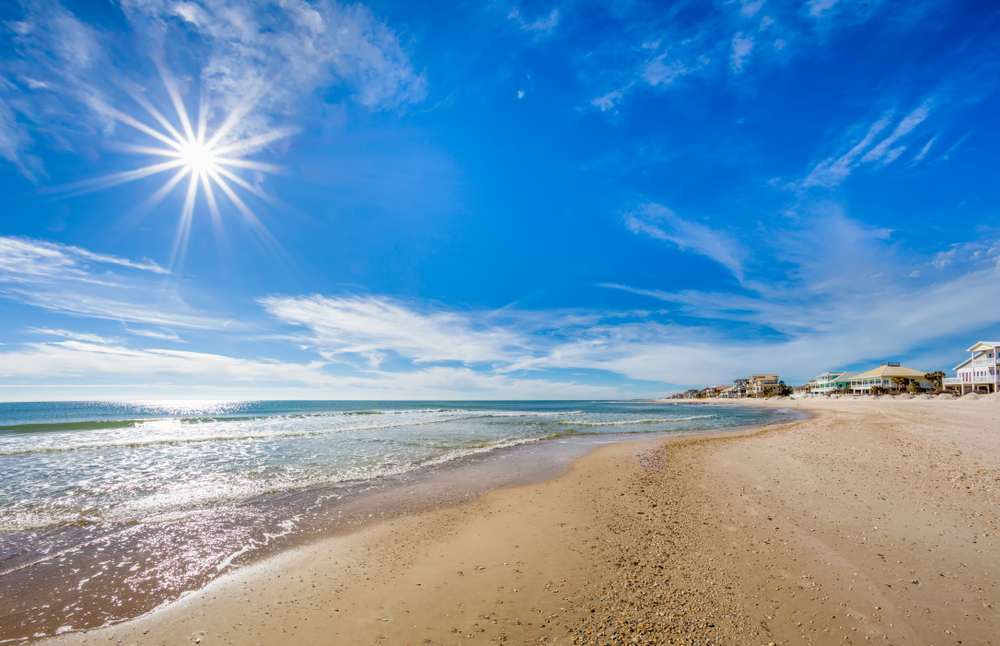 Did You Find This Post Helpful?
If so, we would love to keep in touch! We enjoy seeing photos and comments about your experiences in Florida! You can follow us on Instagram and we will repost your photos on our feed and comment too! Just tag us at @floridatrippers and hashtag #floridatrippers. We can't wait to see your travels!