If you're looking for the best beaches in Naples, then look no further! Off the Paradise Coast of Florida lies one of the prettiest beach towns in the Sunshine State. Slather on the sunscreen because your next adventure is waiting for you!
Naples has been named the happiest and healthiest city in the country for a reason. An up-and-coming hotspot, you'll find the best golf courses and a bustling cultural scene making it the perfect town in which to "winter."
As if that wasn't good enough, Naples is warm year-round. This means the waters of the Gulf of Mexico are, on average, 80 degrees Fahrenheit! You'll only experience sweater weather for a few short months, so for the rest of the year, you can suit up and hit the beaches.
Naples has some of the prettiest beaches in Florida. With white-sand beaches dotted with swaying palm trees, it's a favorite spot to unplug here for a weekend getaway. Tourists may come for Naples' fun attractions, but they stay for the beaches.
The beaches here are clean with hardly any litter. The sugar sand is smooth, so rocks won't cut up your feet. Naples' beaches are perfect spots for shelling, so you can scout out and take home that elusive find. Don't be surprised when you see many tourists hunched over!
The waves are calm enough for swimming, snorkeling, and other water sports. The best time to swim in Naples beaches is in August. On average, the Gulf waters are 87 degrees Fahrenheit, so you'll never get cold.
Every beach is unique, like a fingerprint or snowflake, and the same goes of those found in Naples. You'll find hotspots full of tourists, but you can also escape to secluded, quiet paradises if that's more your speed.
We've compiled our list of the best beaches in Naples, Florida so you can sit back and relax. So grab your flipflops, throw on a swimsuit, and get ready to soak up the sun! And don't forget to wear sunscreen!
8 Best Beaches in Naples Florida You Must Visit
Naples Municipal Beach & Pier
Residents say that Naples has the best sunsets in Florida. To see what all the fuss is about, head down to the Naples Municipal Beach & Pier, one of the best public beaches in Naples!
At the end of 12th Avenue South, the Naples Pier stretches over 1,000 feet out into the Gulf of Mexico. Walk all the way to the end and sit on the benches to enjoy one of the most beautiful sunsets you've ever seen.
Surrounding the pier are beaches perfect for shelling. In the waters, if you look closely, you'll see a variety of aquatic life. Pods of dolphins are known to swim by, and pelicans swoop down looking for their next meal.
If you want to go fishing, you're in luck. Visiting anglers don't need a fishing license on the pier! Hit the concession stand halfway down the pier to pick up bait, snacks, and other beach supplies.
When you're ready for a nosh, head to Cosmos Cafe & Pizzeria, which serves Italian classics and of course, pizza. Choose between eating in the warm, casual dining room or outside on the patio on the pier. Cosmos is open from 9 AM to sunset every day.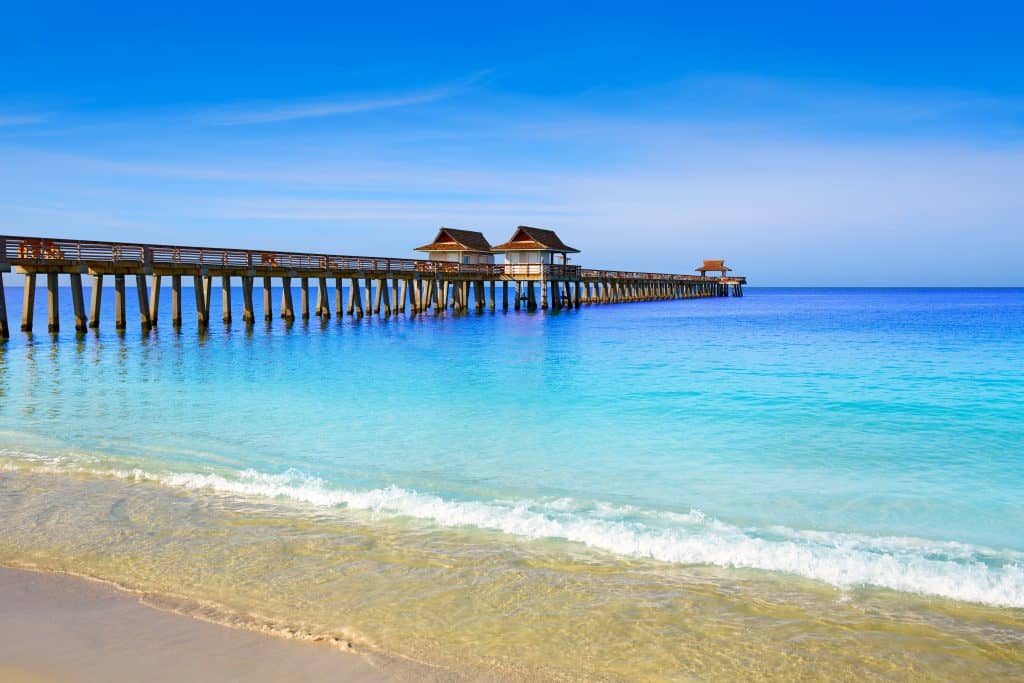 Bonita Beach
Just 15 miles from the heart of Downtown, you'll find public beach access in Naples to Bonita Beach. Here, you'll find some of the best weather in the state of Florida as well as gorgeous scenery and exciting attractions.
Just between Fort Myers and Bonita Springs, the beach at Bonita spans to include 2.5 acres of beachfront parks. Open year-round from dusk until dawn, this is a family-friendly spot perfect for tourists to enjoy the surf, sun, and each other.
Along the shore, enjoy plenty of room to swim and a boardwalk perfect for fishing. Sand dunes and coastal vegetation surround a gazebo. Nearby, you'll find plenty of picnic shelters, perfect for bringing a lunch to the beach.
Afterward, you can enjoy water sports like jet-skiing and parasailing. Kids can enjoy a playground and sand volleyball courts. Jet skis are available to rent, but bring your own kayaks and canoes.
Bonita Beach also has a dog beach! You can no longer feel guilty about leaving your best friend behind. Now your pup can be right next to you catching a ball and frolicking in the blue waters of the Gulf of Mexico! Just make sure you have leashes and clean up after your pup!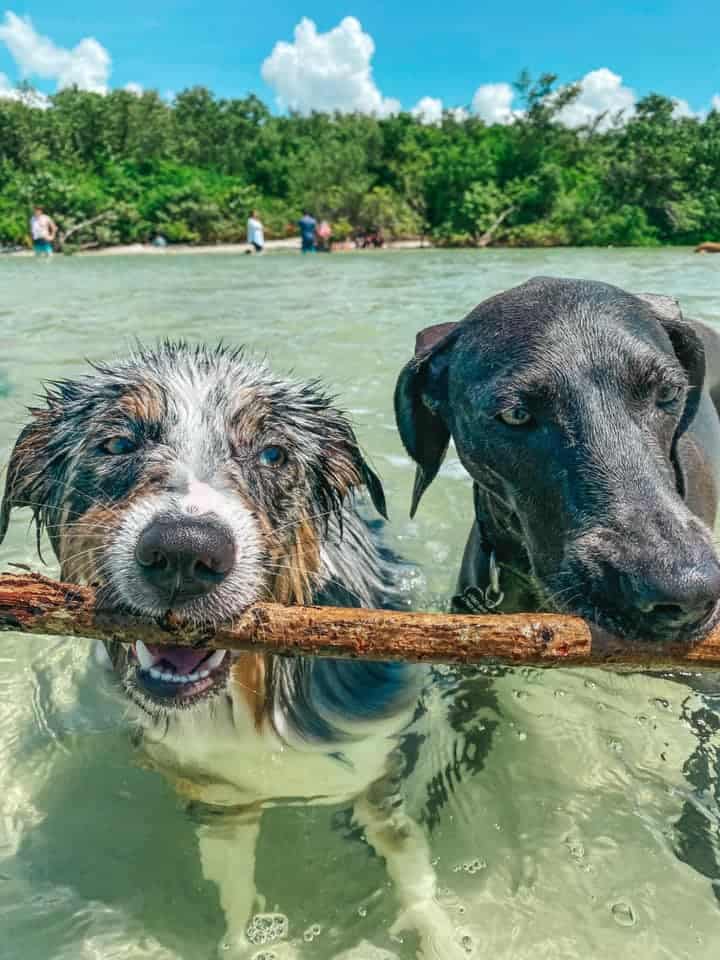 Barefoot Beach State Preserve
For those looking for a more natural, secluded beach experience head to Barefoot Beach State Preserve, for the best beach in Naples. One of the best state parks in Florida, you'll feel miles away from tourists, highways, and high rises.
Barefoot Beach is one of the last undeveloped barrier islands found on the Southwest coast. Explore 342 acres of natural land and a mile of beaches where you'll meet the swift currents of Wiggins Pass.
Barefoot Beach State Preserve is also one of the best beaches for shelling, so get ready to crouch. When your back is sore after finding conches and sand dollars, the gentle surf and shallow waters are perfect for sunbathing or swimming with small children.
Among the sand dunes and the tropical hammock, you'll find a nature trail where you're likely to see gopher tortoises burrowing. This is also one of the best places to see sea turtles in Florida, as Loggerheads are known to nest here. It's also not uncommon to see bottle-nosed dolphins breaching the waves on the horizon.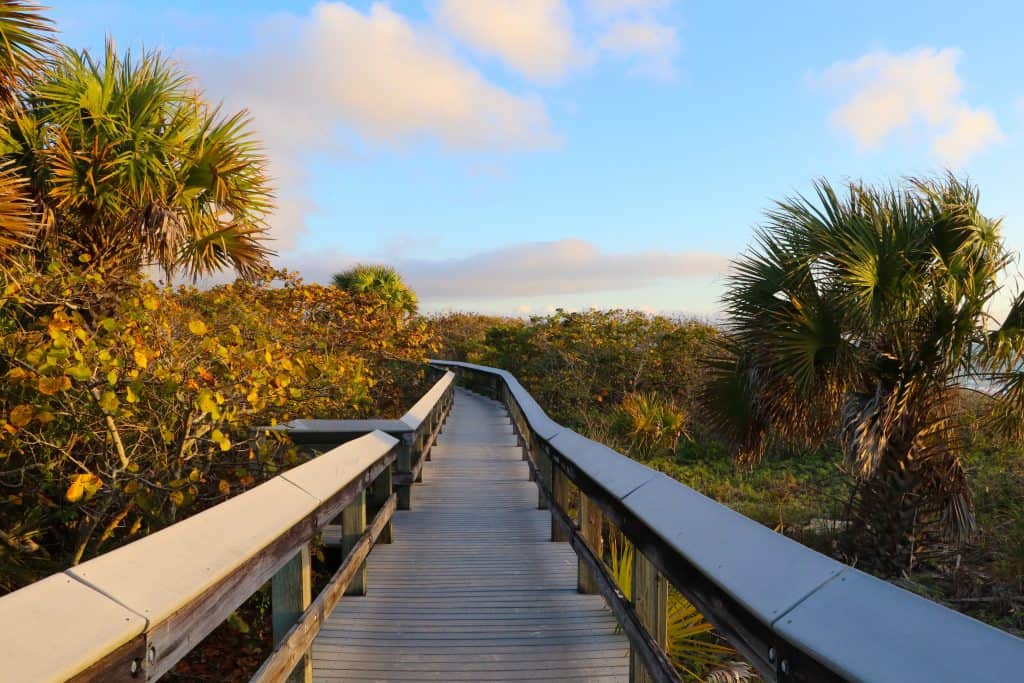 Vanderbilt Beach
Found in North Naples, a warm refreshing coastal breeze always washes over the shores of Vanderbilt Beach, one of the best beaches in Naples. Come for the fun in the sun, but stay for the most beautiful sunsets in all of Florida.
Once you've settled and found your spot on the beach for the day, there is plenty to do! If you want to make your home base more comfortable, you'll find a concession offering rental beach chairs and cabanas close by!
Vanderbilt Beach infamously has notoriously good shelling! We recommend searching at low tide, just after a gusty storm has passed through the area. Remember never to take shells that still have critters using them as homes!
The sands of Vanderbilt Beach are perfect for building sandcastles. Here you'll find fine, soft sand that packs very well when exposed to moisture. The water is shallow enough for younger children to splash around at quite a distance from the shoreline.
Coastal breezes are just cool enough to grant sunbathers some relief from the hot Florida sun. The same breezes are also just strong enough to enjoy windsurfing! If that's too extreme, you can enjoy kayaking and beach volleyball.
For those that don't want to drive, we recommend taking the Naples Beach Trolley! Not only is it free, it also services Denlor-Wiggins Pass State Park. Otherwise, you can take your chances with 375 spaces in the car lot with metered parking for $8.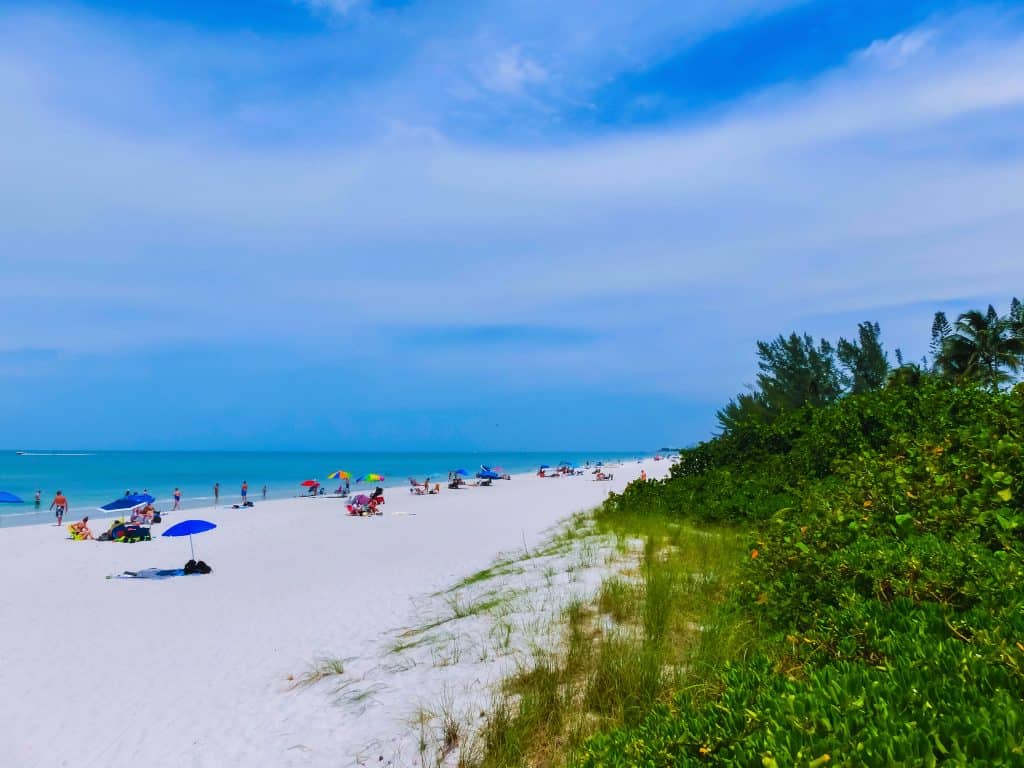 Marco Island
Just off Naples' shore, you'll find the largest island chain called the Ten Thousand Islands. Within close proximity to Naples' most popular tourist beaches, you'll find Marco Island, truly a hidden gem in Florida.
You'll find two public beaches here, South Marco Beach and our favorite which we'll focus on for the purposes of this article: Tigertail Beach. Tigertail has more public amenities available as well as the most scenic landscapes to take your breath away.
At Tigertail Beach, you'll find a bathhouse and five different boardwalks winding through mangroves that take you to the soft, white sands of the beach. At the concession stand, you can rent beach chairs and umbrellas as well as a handicapped beach wheelchair.
As you stroll along the shore, gaze out at the waters of the Gulf of Mexico. You'll be able to see Sand Dollar Island, a bustling area for nesting birds, some of which are endangered species. So you can easily spy on terns, black skimmers, and sandpipers from a safe distance.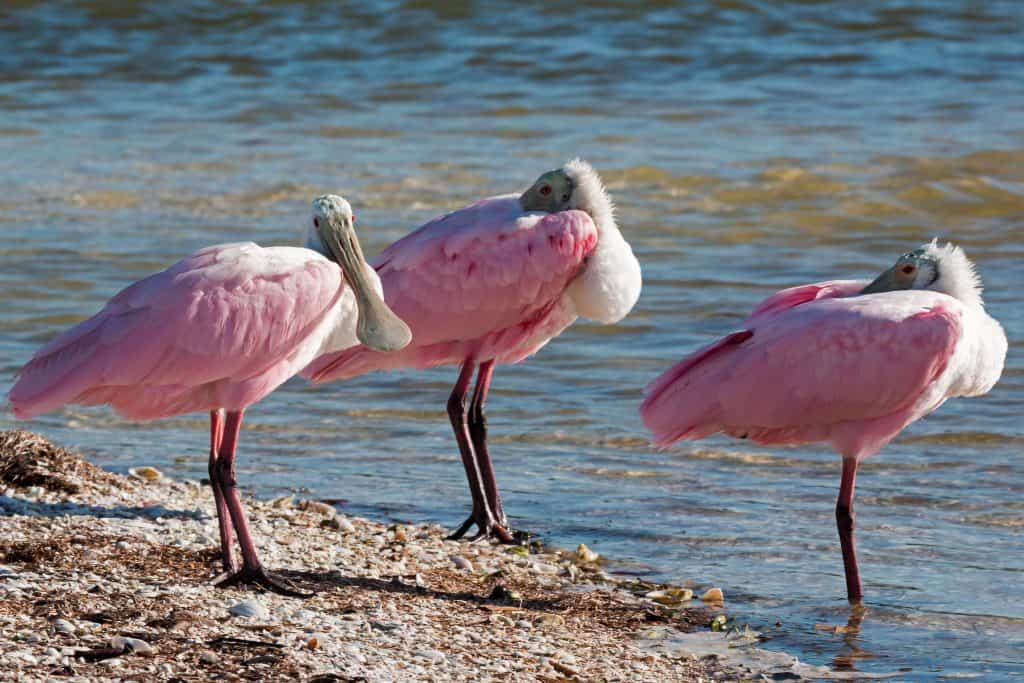 Clam Pass Beach
One of the most unique public beaches in Naples is a beautiful beach access point called Clam Pass. While it is in close proximity to the public, it is fairly unknown to tourists. The beach actually feels like a private area on a bougie resort.
It is also one of our favorite secluded beaches in Florida!
Getting to Clam Pass is an adventure in and of itself. Hidden behind Naples Grande Beach Resort and Spa, you have to cross a three-quarter-mile boardwalk, cutting through the 35 acres of coastal habitat.
Once you arrive, you'll see the actual pass itself is a narror river-like opening in the brush of the mangroves. When you wade into the waters of the pass, you'll be gently pulled by the tide. The waters are shallow enough for an adult to stand and be submerged to the neck.
Adults should be wary when swimming with small children. There is no lifeguard on duty, and the currents can easily overpower younger swimmers. Even if you do get swept out into the Gulf, these waters are shallow enough to stand and walk back to shore.
Clam Pass is incredibly unique. Please do not attempt to swim in larger passes like it: they are not as shallow and the currents can be much stronger.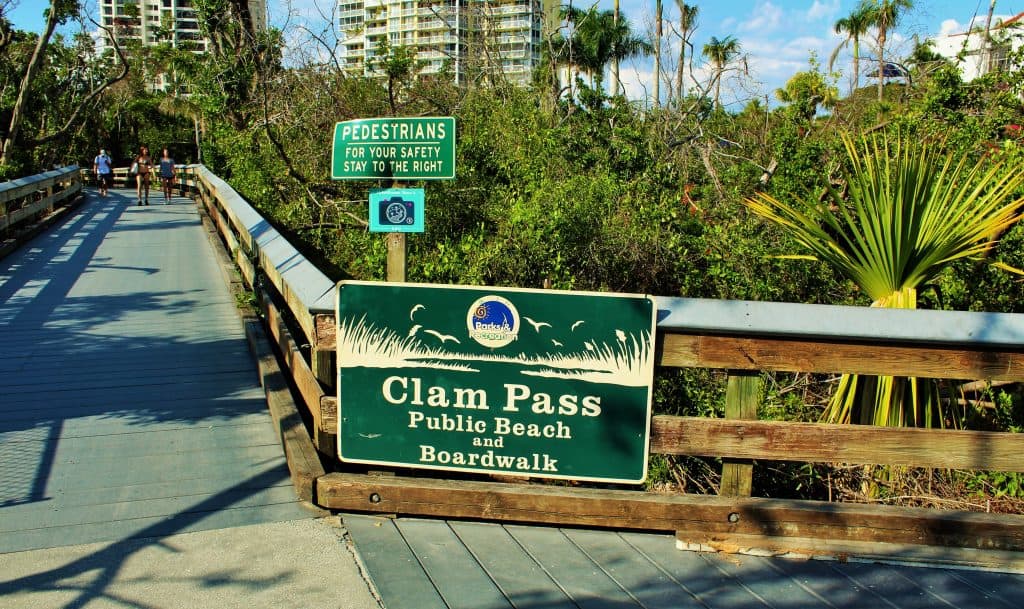 Denlor-Wiggins Pass State Park
You'll find one of the most beautiful State Parks in Florida just off of the Naples coastline on a small barrier island. Denlor-Wiggins Pass State Park is one of the best things to do in Naples with kids!
Over 199 acres, Denlor-Wiggins Pass State Park has pristine stretches of beach, but 80% of that land is actually submerged mangrove swamps! Here you'll find wildlife like dolphins, manatees, and sea turtles!
Because the park is plentiful in waterways, take a kayak, canoe, or paddle board on the water! The backwaters of the Cocohatchee River provide more shade. If you're looking for more of a workout, hit the beach where the waves are bound to make you paddle harder.
If you hit the concessionaire, Naples Beach Adventures is there to set you up with all the gear you need. Rent everything from paddleboards, kayaks, canoes, umbrellas, and beach chairs! Park rangers are also available for guided tours!
Because this is such a popular tourist attraction, we recommend visiting on weekdays. If you must go on the weekend, avoid arriving during high visitation from 10:00 AM – 3:00 PM.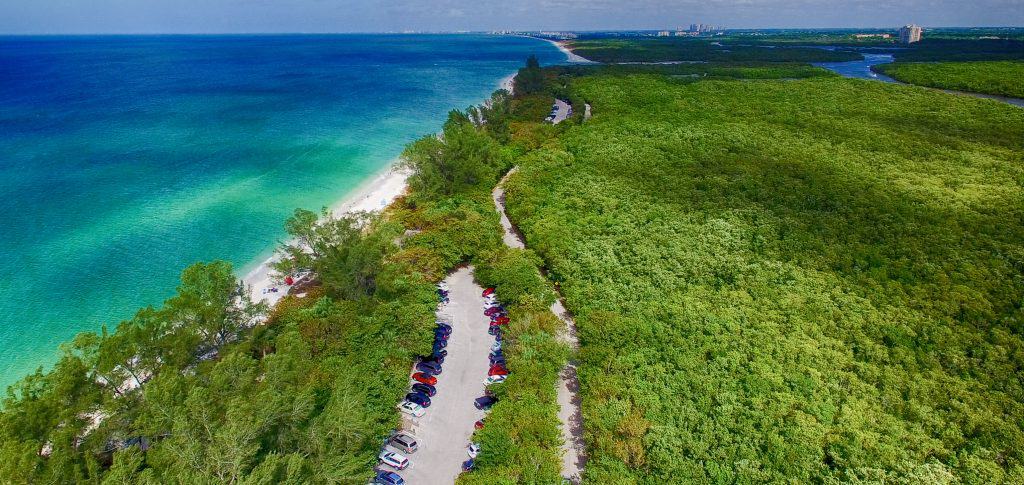 Keewaydin Island
Only reachable by boat, Keewaydin Island makes the list as one of the best beaches in Naples with nearly 8 miles of untouched, pristine beach. Another one of the Ten Thousand Islands off Naples' coast, 80% of the land is untouched while the rest is dotted with private homes.
To get there, you'll have to catch a ride on the Hemingway Water Shuttle. The shuttle departs seven times a day daily for drop off and pick up. Otherwise you can rent a boat from the marinas in Naples and on Marco Island. Several sightseeing boat tours also make a stop here because it is great for shelling!
If you want to bring your furry friend along to the beach, you're in luck! The Hemingway Water Shuttle and Keewaydin Island are both pet-friendly! Parks and Recreation services only asks that you clean up after your pet and keep them on a leash at all times.
Keep in mind that Keewaydin is undeveloped, so there are no restrooms or shower facilities. So plan accordingly! You have the option of packing a cooler to bring with you, but you can also catch the "Burger Barge." Dropping anchor on the east side of the island, you can grab hot dogs, sandwiches, ice cream, and frosty beers!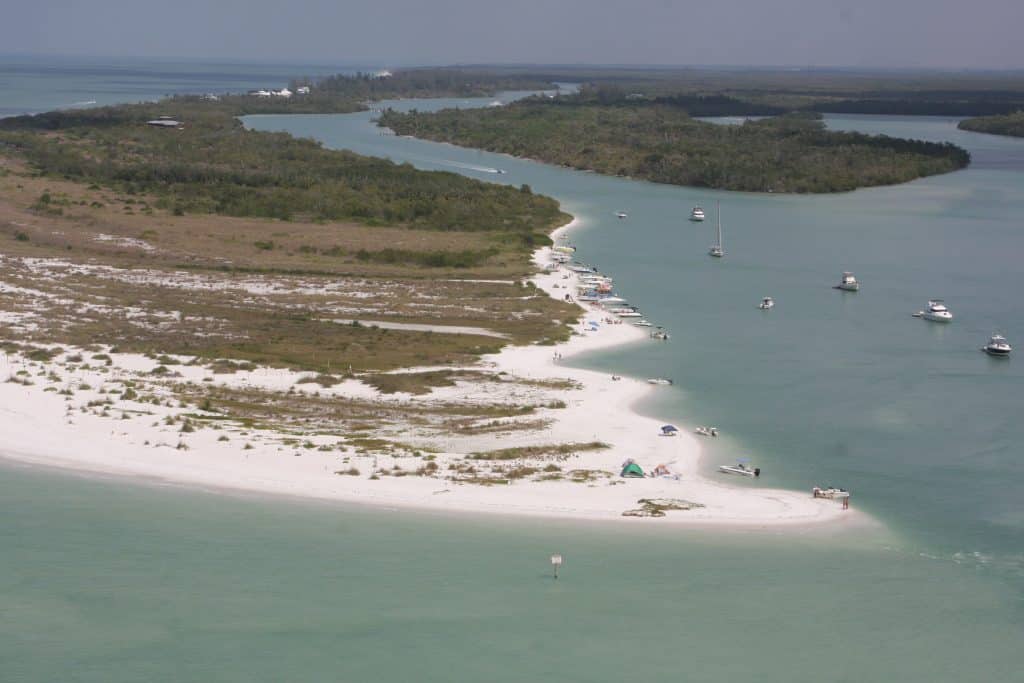 Did You Find This Post Helpful?
If so, we would love to keep in touch! We enjoy seeing photos and comments about your experiences in Florida! You can follow us on Instagram and we will repost your photos on our feed and comment too! Just tag us at @floridatrippers and hashtag #floridatrippers. We can't wait to see your travels!