If you're looking for the coolest things to do in Fort Myers, look no further. Just north of Naples and to the south of Sarasota, Fort Myers hails as one of Florida's most beloved vacation spots, perfect for the whole family!
Because Fort Myers hosted many notable citizens like Thomas Edison and Henry Ford, the city became famous for its historical estates. These homes once housed guests like Hedy Lamarr, Teddy Roosevelt, and Charles Lindbergh.
Regular citizens and tourists continue to flock to Fort Myers for its pristine beaches, entertainment like professional theatre and baseball, and its litany of nature preserves.
Consequently, Fort Myers actually houses the largest population of burrowing owls! You can also spy on aquatic life like dolphins, sting rays, and manatees!
There's something for everyone in the family to enjoy on a vacation to Fort Myers. Indulge in museums, bustling night-life, shopping, and sea excursions!
With a laid-back vibe, Fort Myers creates a mood of tranquility and inspiration. Be moved by what's natural on our list of the best things to do in Fort Myers!
Did You Find This Post Helpful?
If so, we would love to keep in touch! We enjoy seeing photos and comments about your experiences in Florida! You can follow us on Instagram and we will repost your photos on our feed and comment too! Just tag us at @floridatrippers and hashtag #floridatrippers. We can't wait to see your travels!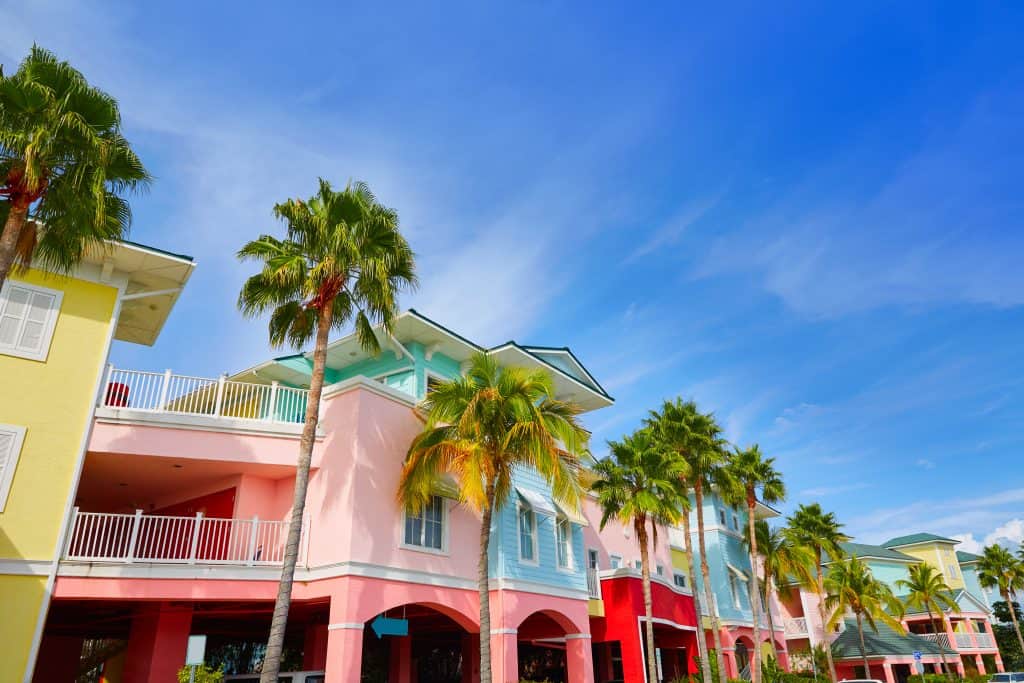 17 Cool Things To Do In Fort Myers
Edison & Ford Winter Estates
Did you know that Thomas Edison and Henry Ford wintered in Fort Myers? Sitting next to the Caloosahatchee River in Fort Myers, the Edison & Ford Winter Estates is one of the best museums in Florida that transports you to turn-of-the-century America.
One of the best things to do in Fort Myers, you'll see acres of botanical gardens, a laboratory, and the museum itself. Additionally, you can also take tours of Edison and Ford's actual homes!
Inside the residences, you will see artifacts of their lives, their caretakers' cottages, and their massive shared swimming pool complex. Afterward, stroll through the 20 acres of gardens with towering Ficus trees they planted together.
The Laboratory showcases featured equipment from the Edison Botanic Research Corporation. Edison and Ford were trying to find an alternative for America's dependence on rubber. Consequently, the American Chemistry Society designated this site a National Historic Chemical Landmark, the only one in Florida.
Afterward, head inside the museum. You'll see featured exhibits of more artifacts from these two innovative American icons. Notably, see the Model T that Ford gifted Edison on his birthday. Then at the Smithsonian Spark!Lab, get hands-on experiences in STEM activities. This is where visitors become inventors.
The Edison & Ford Winter Estates are open to tour every day from 9 AM – 4:30 PM. Allow at least 90 minutes to see everything! Admission is $25 for adults, $20 for teens, and $15 for children.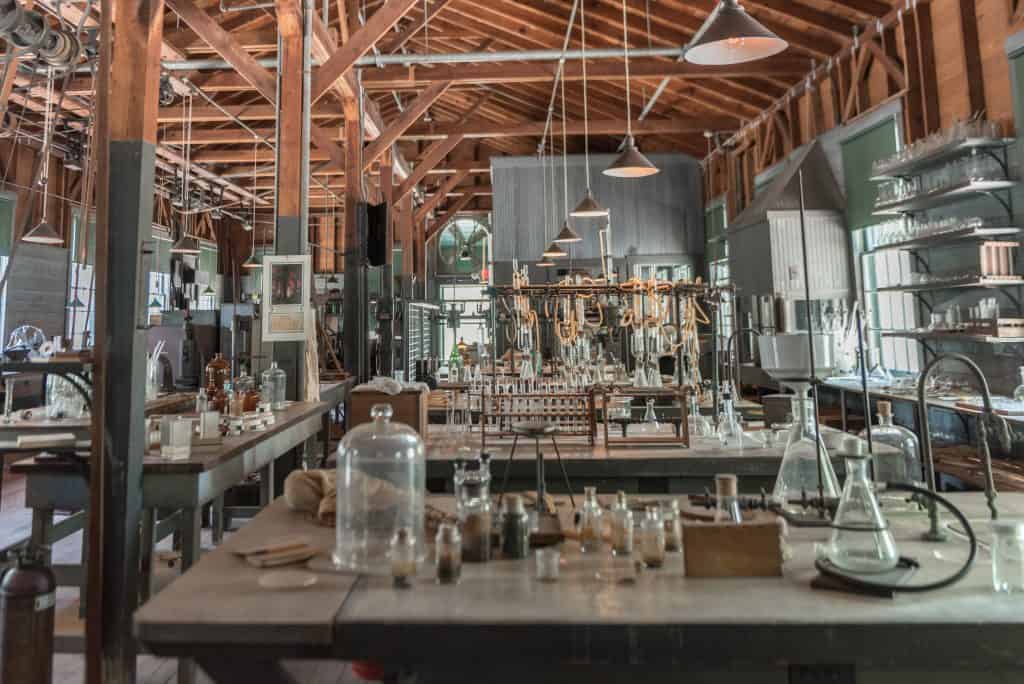 Lover's Key State Park
For years, the only way to access Lover's Key was by boat. It was said that only lovebirds would make their way out to the shores to enjoy solitude and peace. Today, these beaches are part of four barrier islands that now make up Lover's Key State Park.
Consequently, Lover's Key is still regarded as a romantic hotspot! Between the mangrove forests, sugar-sand beaches, and the chance to spot manatees or a pod of dolphins, the park is a perfect backdrop for weddings. It also makes a perfect destination for a weekend getaway with campsites available!
On your visit, take advantage of the 2 miles of beachfront with fantastic shelling and gorgeous sunsets. Take your pick between hiking and biking trails to explore the maritime hammock and float through the inner waterways on a kayak or canoe.
The Park Store offers kayak, canoe, and bike rentals for your convenience. Satisfy your hunger with food and beverages, and don't forget the delicious ice cream!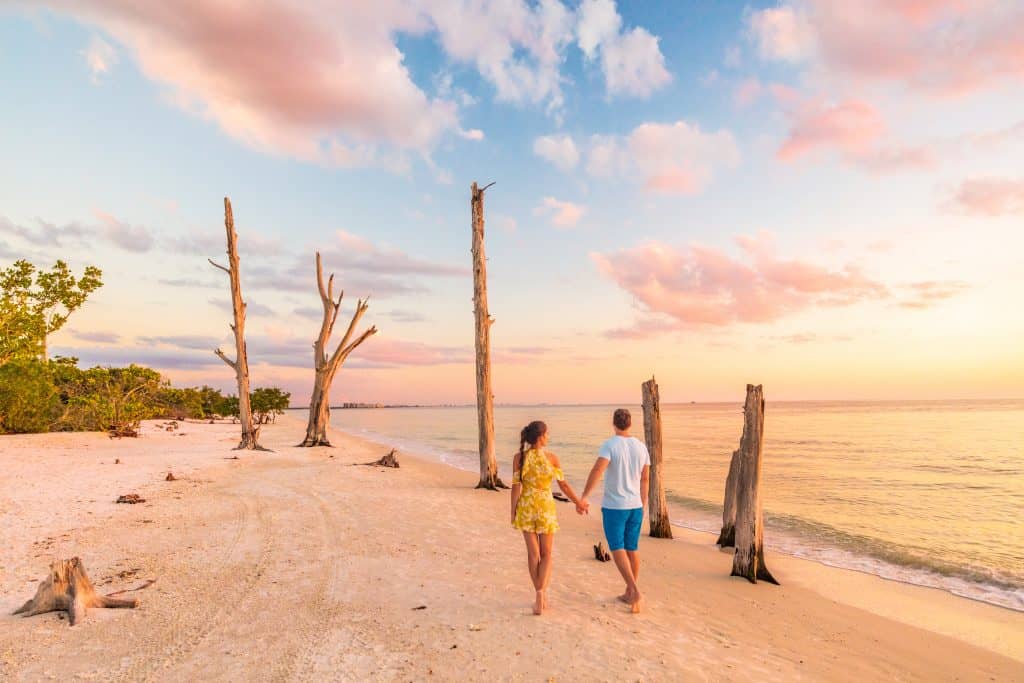 Captiva Island
Just off the coast of Fort Myers, you'll find one of the prettiest islands in Florida waiting for your escape to paradise. Captiva Island is all about the outdoors. As a result, you'll feel the magical current in the air through the island's slightly off-kilter vibe.
Because Captiva boasts some of Florida's best beaches, you'll find some of the clearest waters for swimming, scuba diving, and parasailing. Head to Bowman's Beach, one of the best dog beaches in Florida! Additionally, Turner Beach is great if you don't want to travel by car.
Captiva Island also boasts many nature and historical walks and tours! You can see lots of animals at the Clinic for the Rehabilitation of Wildlife! Then visit Chapel By The Sea, a tiny, historic one-room schoolhouse!
For the most unique dining experience that captures the quirky vibe of Captiva Island, you must visit the Bubble Room. Because it is decorated as a Florida Christmas Wonderland, palm trees are strung with lights year-round. You'll also always see a tiny model train running through the themed rooms.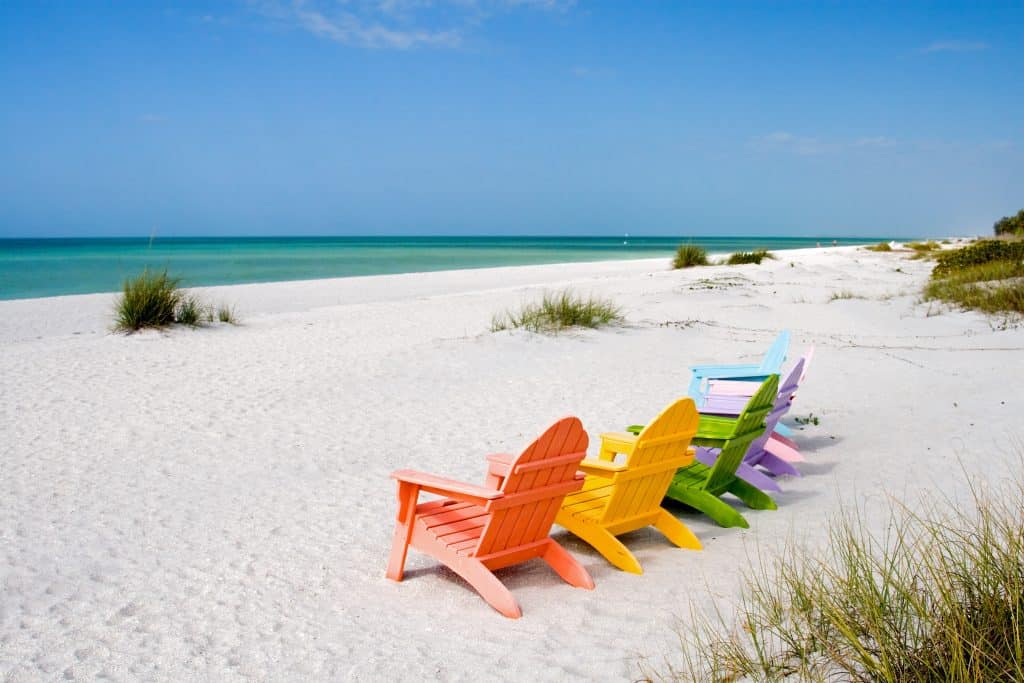 Spring Training
Baseball fanatics rejoice! Because Florida's sub-tropical climate makes it a paradise year-round, many NBL teams travel to Florida for Spring Training! Catch the games from February to March, one of the most fun things to do in Fort Myers.
Fort Myers hosts two teams in the Florida Grapefruit league: the Minnesota Twins and the Boston Red Sox! Other competing teams travel here for their away games, so you have the chance to see the Mets, Yankees, and Devil Rays!
The Boston Red Sox train in JetBlue Park, modeled after Fenway Park in Boston. Look carefully in the left field to see the Big Green Monster who stands 37-feet tall!
Similarly, the Minnesota Twins train in Hammond Stadium at CenturyLink Sports Complex. Inspired by the facade of Louisville Churchill Downs, the only racing happens between the bases. Hammond Stadium doesn't have the capacity of their home field, but it also doesn't have snow!
After Spring Training ends in March, Hammond Stadium transforms into the home field for the Mighty Mussels! You can catch Minor League Baseball games until early September, so you can enjoy baseball all summer in Fort Myers!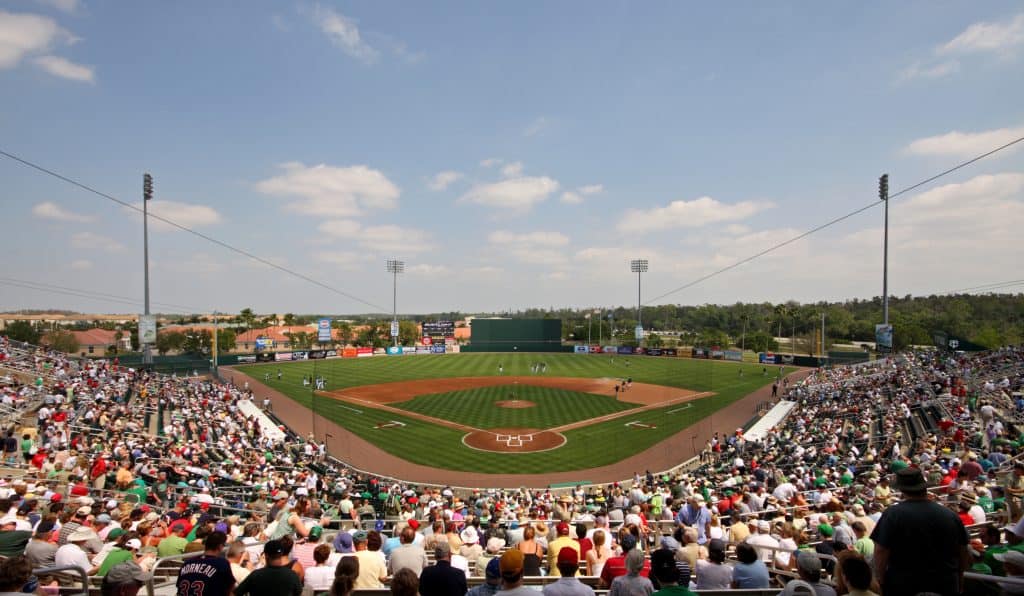 Manatee Park
Lee County Manatee Park, is one of the best places to see wild manatees in Florida in their non-captive, natural environment. Your best opportunity to see these gentle giants is from December to January when they migrate to warmer waters.
While swimming with manatees in Lee County Manatee Park is permitted, do not enter areas marked "No Entry: Manatee Refuge." To avoid getting wet, rent a kayak or canoe to see the manatees above the surface.
Make sure to play a game of Manatee Bingo! Grab a bingo card furnished by Lee County, and check off things like cabbage palms, different ferns, poison ivy, and manatees, of course!
If you purchase a pair of polarized sunglasses at the rental shop, the manatees become much easier to see. There are also native plant and butterfly gardens to browse after you dry off!
Make sure to bring some cash, there is a $2 parking fee per hour. Lee County Manatee Park is open 365 days a year!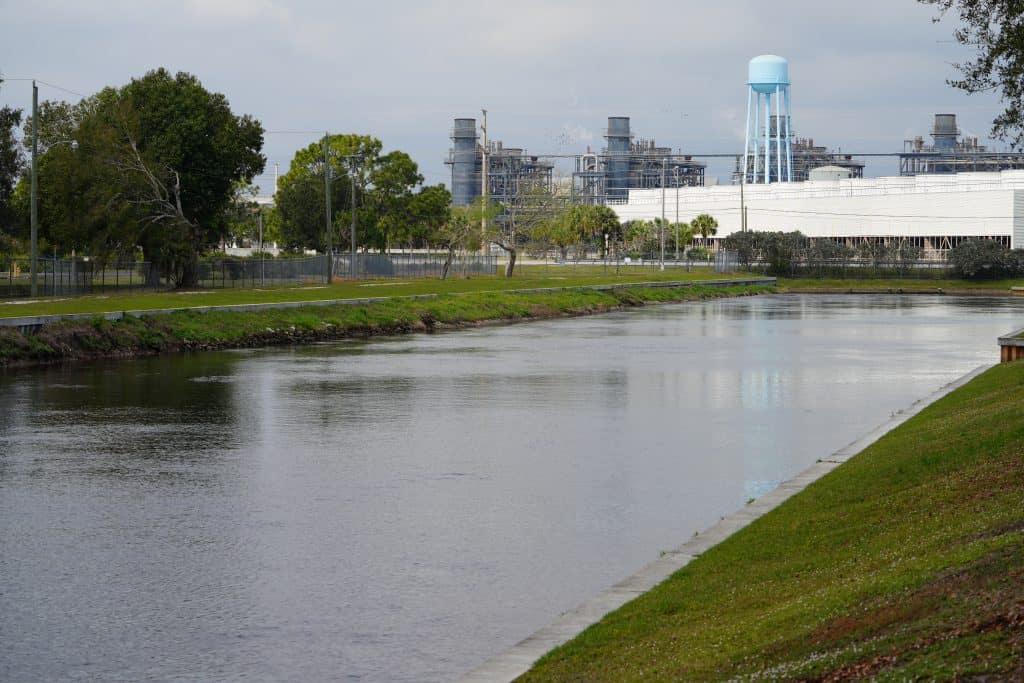 Florida Panther National Wildlife Refuge
The Florida Panther is unfortunately an endangered species, a subspecies of the Puma. While they look cute, they are anything but! They are dangerous predators, but still their numbers are dwindling.
One of the best things to do in Fort Myers is to see them in a protected. natural habitat. The Florida Panther National Wildlife Refuge is a federally conserved habitat! There is also a research facility to help grow their numbers in the wild.
Inside you'll find a mix of dry habitats and wetlands. These pine rock lands tropical hammocks are the home of rare plants. Keep your eyes peeled for a chance to see the Night-scented and Cow's Horn Orchids in bloom.
Be respectful and only walk on one of the two designated hiking trails to protect the panthers. Look out for fox squirrels, black bears, coyotes, and of course, Florida panthers. This is also one of the best places to see wild alligators in Florida!
The Florida Panther National Wildlife Refuge is open year-round from sunrise to sunset. Admission is free! The refuge is closed only when the wet season creates treacherous water levels.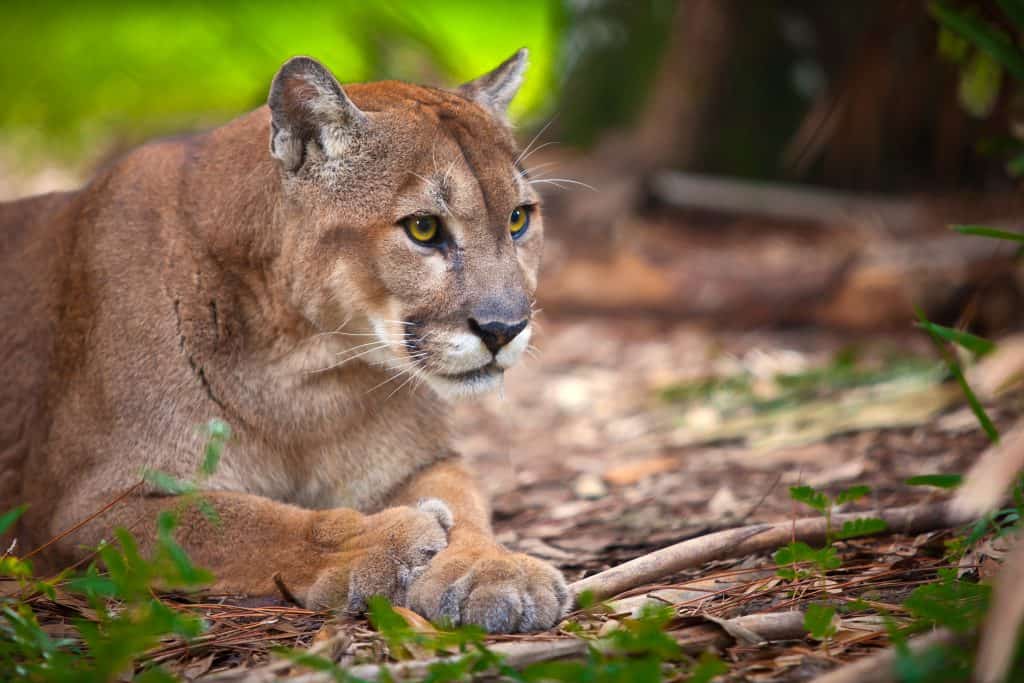 Koreshan State Historic Park
Florida welcomed all sorts of pioneers, Cyrus Reed Teed was the strangest of all, who sought to create a "New Jerusalem" here with his religion, Koreshanity. The colony believed the entire universe existed in a giant, hollow sphere.
Luckily, what the Koreshans left behind is anything but! A visit to Koreshan is a step back in time in one of the best state parks in Florida. As you walk through the 11 immaculately restored buildings, you'll learn about life a century ago in a very eccentric community.
Catch a tour of the Koreshan settlement twice daily. If you visit from January through March, you can stop at the Cast Iron Cafe to taste foods and desserts eaten by the Koreshan! An authentic 19th century wooden stove cooks all the food.
This park is beautiful for another reason: the Koreshans didn't skimp on decorating. They imported a variety of flora from around the world. Monkey puzzle trees from Australia drop seed pods the size of footballs! They also brought sausage trees from Africa. You'll also find mango trees, eucalyptus, and bamboo.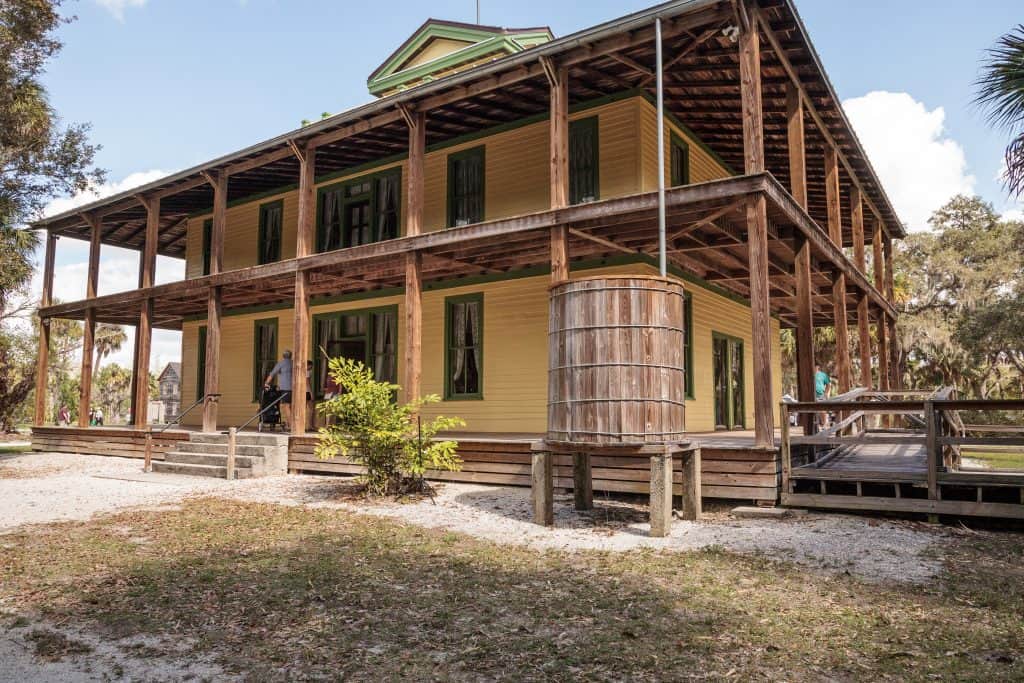 Fort Myers River District
One of the best things to do in Fort Myers is to visit its downtown area. Also known as the River District, it sits on the banks of the Caloosahatchee River and is a scenic destination for shopping, night-life, and entertainment!
A stroll down the streets of the River District is magical. The Beaux Arts and Neo-Classical architecture creates a magical atmosphere. Royal Palms line the streets, a decoration element designated by Thomas Edison himself!
When you visit during First Fridays of the month, you'll experience Art Walk. In other words, you'll be celebrating Fort Myers' bustling art community. "Meet the Artist" at local galleries and watch live art demonstrations on the street.
The River District is also home to some of the best festivals in Florida! Check out the Edison Festival of Light, Art Fest, the Fort Myers Film Festival, the Southwest Florida Reading Festival, and many more!
If you want to learn about the city's developments and historical landmarks, check out True Tours. You'll learn about Fort Myers' origins as a military base for Florida settlers in their war against the Seminole Tribe.
You'll also find many dining options here! The Veranda Restaurant is a charming historic cottage with a courtyard garden. Then, for something more swanky, hit up the 86 Room, a modern speakeasy with specialty cocktails. You also can't beat the sunset views on the rooftop terrace of Hotel Indigo.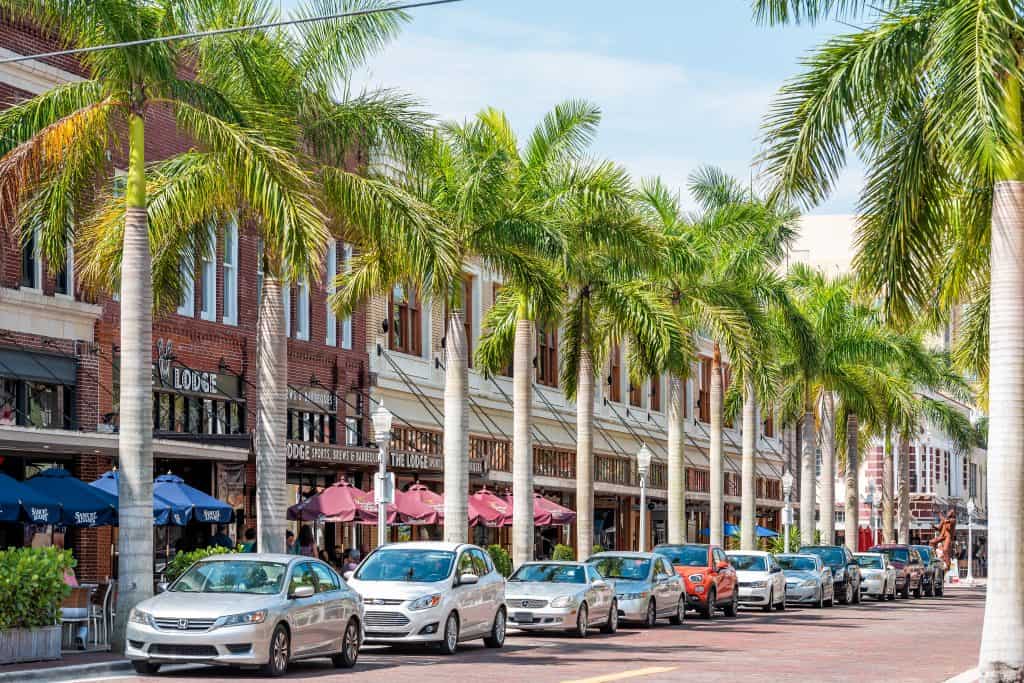 Fleamasters Flea Market
With over 400,000 square-feet and 900 shops, the Fleamasters Flea Market is perfect for your next thrifting adventure! Because of its notoriety, you won't be surprised to learn Fleamasters has been a Travel Channel Featured Destination!
Inside, you'll find a festive, bustling atmosphere. A popular tourist destination, you can find souvenirs like shell wind chimes for the family. However, Fleamasters remains intriguing enough to keep the locals coming back with fresh produce, vintage wares, and garage sales.
With shops constantly changing, you'll never step into the same Flea Market twice. Find everything from golf equipment, fishing gear, and tackle shops to kitchen wares, electric bikes, and clothing.
Afterward, check out the new Music Hall at Fleamasters. The stage area seats 300 guests! The Music Hall hosts concert series perfect for an evening after a long day of bargain-hunting.
The Fleamasters Flea Market is open on Fridays from 8 AM – 3 PM and Saturdays and Sundays from 8 AM – 4 PM.
Glamping at Little House in the Woods
Do you love spending time in the outdoors but hate having to rough it while camping? Luckily your solution lies with glamping, which fuses camping with glamour and luxury! The Little House in the Woods in Fort Myers is one of the best glamping sites in Florida.
Unplug in a cozy 16×14 cabin 12 steps up in a tree. Inside you'll find a queen bed, tables and chairs, a mini-fridge, toaster oven, and Keurig coffee maker. Don't sweat it with central AC/heating! Downstairs, you'll have access to a full outdoor bathroom.
Outside, make some s'mores on the fire pit next to a grassy lawn. You'll also have access to a chicken coup on location. Help yourself to some eggs to fry up for breakfast!
A perfect paradise nestled in the country, you'll be surrounded by lush oaks and pines. You're only five miles from I-75 so you'll still have access to stores and restaurants!
Check Rates: Airbnb.com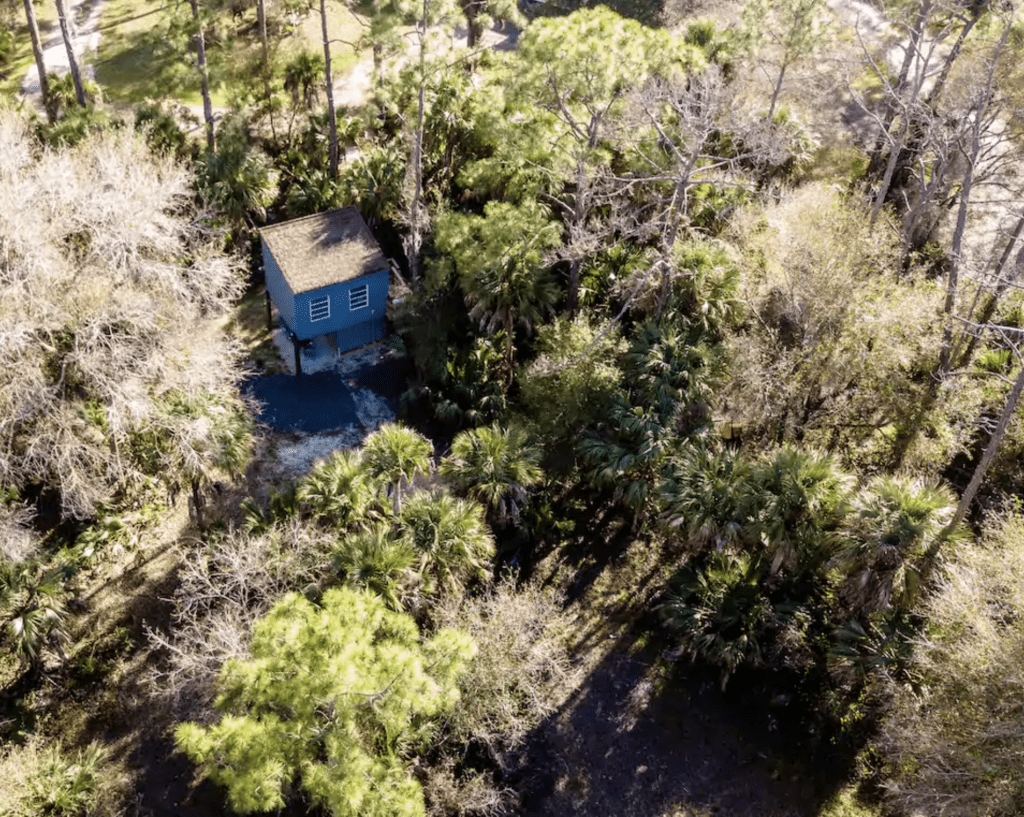 Times Square
We know what you're thinking, "I thought Times Square was in New York!" Imagine what that would look like if it was in Key West. Then, you've got Times Square in the heart of Estero Island, Fort Myers.
Because its adjacent to the Pier, Times Square is the perfect way to unwind after a long day on the beach. Here you'll find the best restaurants, unique shopping, and entertaining street performers!
Among the unique shopping, check out the West Coast Surf Shop. Grab a boogie board or surfboard and beach accessories! At Local Color, you'll find a quaint art gallery and gift shop in one!
For dining, check out the Pierside Grill, with the best happy hour specials in town. They have $1.50 drafts, $6.50 pitchers, and $3.50 wines. For the best seafood, Pete's Time Out, famous for their mojitos!
Every Friday and Saturday night, Times Square hosts Sunset Celebrations! Enjoy the food trucks lining the street, live music, and street vendors. Times Square really knows how to celebrate the weekend's arrival!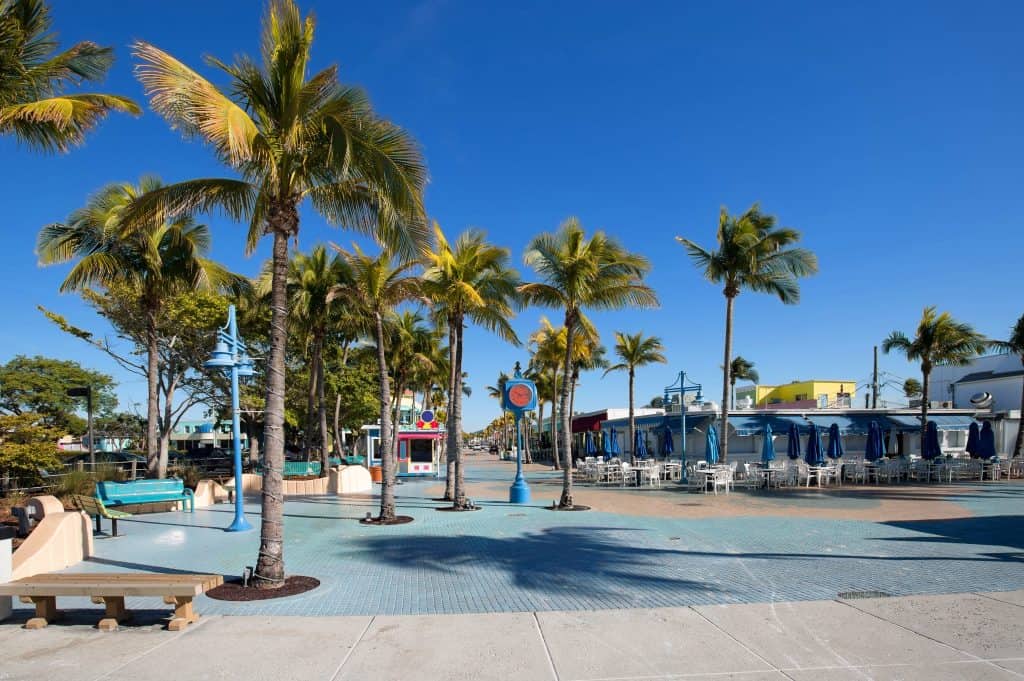 Burroughs Home and Gardens
Tour the most luxurious estate in Fort Myers for a taste of history, the Burroughs Home and Gardens. The home of Nelson Burroughs, this was a jewel of "Millionaire's Row" on First Street.
With a Georgian-Revival style, you'll see bay and stained glass windows, a widow's walk, a sweeping veranda, and dancing porch. Imagine the social events here that hosted the elite of early settlers in Fort Myers!
Inside, you'll see 11-foot high ceilings and pine flooring. A winding staircase leads down to four receiving rooms with a parlor, music room, and library. You'll see antique furnishings and turn-of-the-century artifacts like sleigh beds and original dining room set.
Outside in the gardens, admire the free-standing fountain and the first grotto built in Fort Myers fed by an artesian well. Tour the servants' quarters with an electric bell system. There's also a secret garden with elephant ears, birds of paradise, bougainvillea, and a reflecting pool.
Tours are by appointment only on Tuesdays, Wednesdays, and Thursdays starting at 11 AM. Admission is $17 for adults, $15 for seniors, and $8 for children ages 5-15.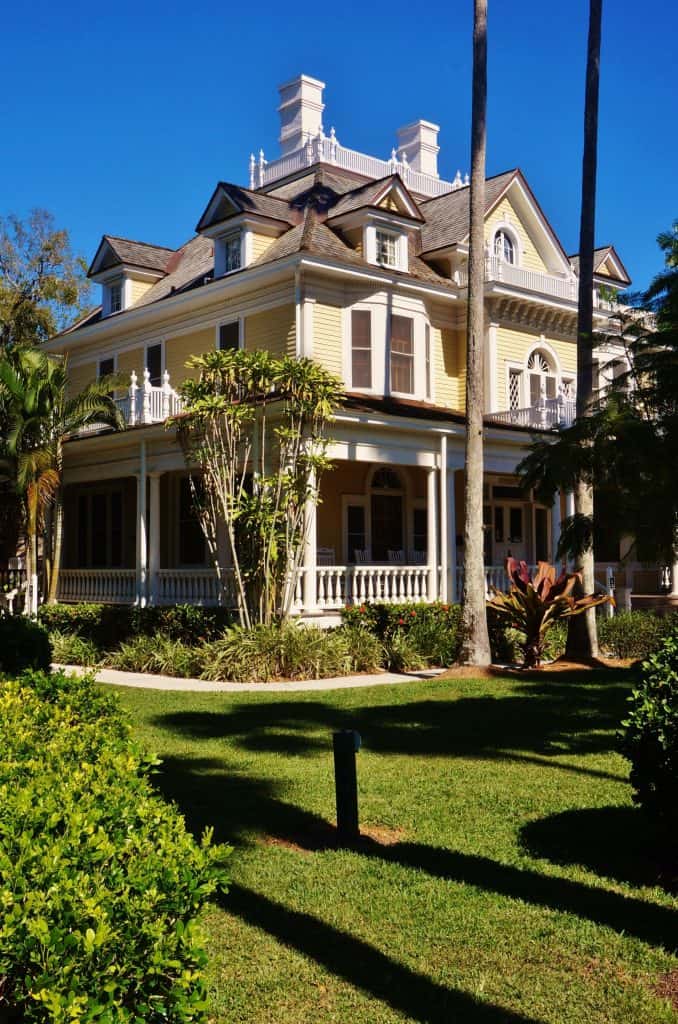 Florida Native Butterfly Society
Located in The Shops at the Butterfly Estates in Gardner's Park, you won't find a better place to connect with nature. One of the most fun things to do in Fort Myers, this non-profit protects native Floridian butterflies!
Opened in 2009, the 3,600 square-foot glass conservatory was erected as part of the city's "green-friendly" initiative! An education facility hosts programs and conducts research that helps butterfly populations flourish in the wild.
All the butterflies here are hand-raised. In the crysalis window, you can see usually around 40 cocoons. If you're lucky, you'll see a butterfly emerge and spread its wings! This sanctuary is not for entertainment and you won't be able to feed them. Be respectful and only observe.
At the shops, pick up a gardening kit to help attract butterflies in your garden at home! If you want a quick nosh, check out Bullig Coffee & Bites.
The Florida Native Butterfly Society is open on Tuesdays through Sundays from 10 AM – 3 PM. Admission starts at $10 for adults, $6 for children 3-12, and discounts for Florida residents, seniors, and students. Children under 3 and military enter for free.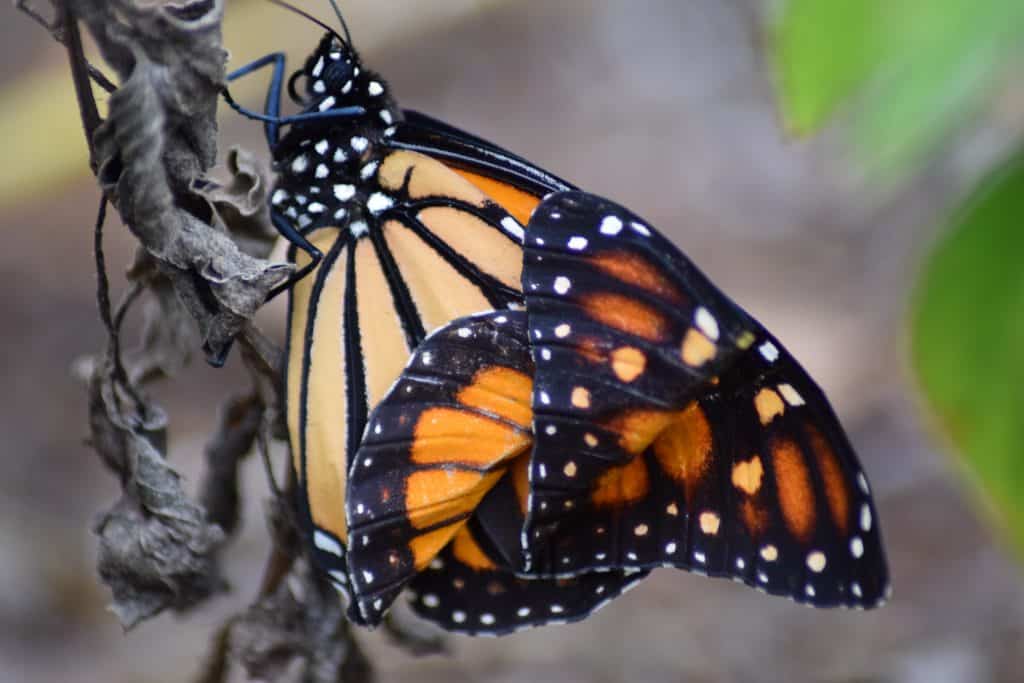 Bailey-Matthews Shell Museum
Bailey-Matthews Shell Museum, one of the best museums in Florida, allows you to get connected with our aquatic world through a love of shells and the animals that create them!
The only museum in the United States dedicated solely to shells, you'll learn about the diversity of shells and the mollusks that call them home. Found on Sanibel Island, this is one of the best things to do near Fort Myers.
See exhibits featuring shells of Sanibel and Captiva, shells from around the world, and shells in architecture and art. You can also see record-breaking shells including some of the biggest ever found!
The newest addition, an aquarium gallery, hosts living mollusks like fighting conches, cuttlefish, and the Giant Pacific Octopus. Children especially love the two 15-foot long touch pools, so you can get up close and personal with the mollusks!
Daily programming includes shell crafting. Unlock your creativity by making different animals out of shells. There's even a take home kit, which makes a great gift. You can even participate in a scavenger hunt to test the knowledge you've learned with prizes for all who complete it!
The Bailey-Matthews Shell Museum is open daily from 10 AM – 5 PM. Admission is $23 for adults, $15 for children ages 12-17, and $9 for children ages 5-11.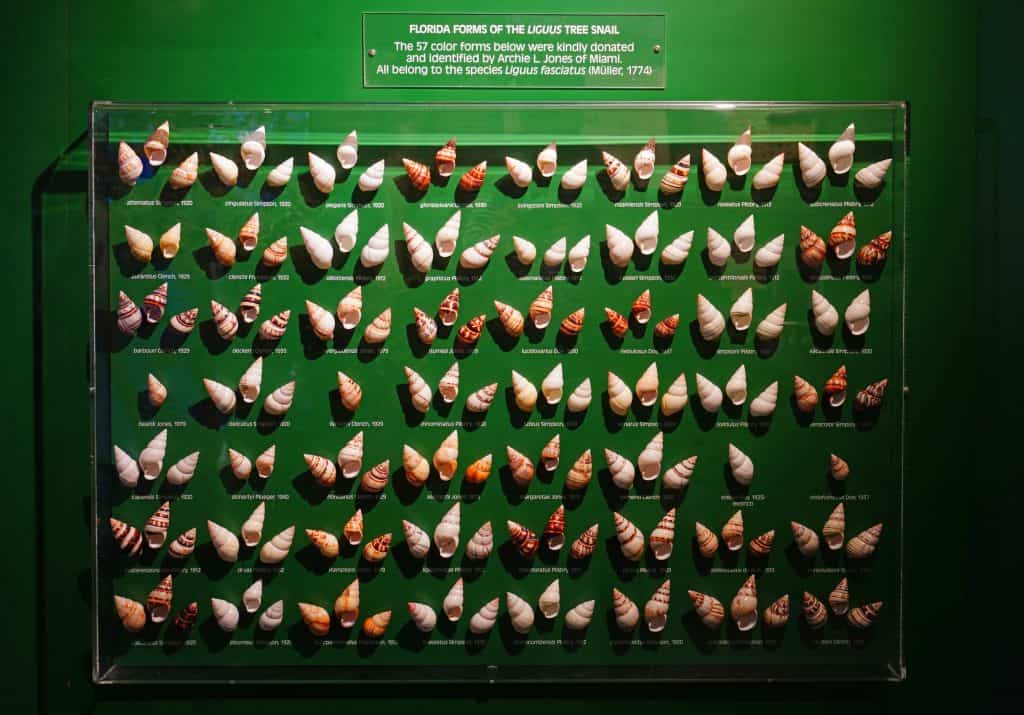 Sanibel Lighthouse
For a taste of history, visit the Sanibel Lighthouse, one of the first lighthouses built on the Gulf Coast! On the east tip of Sanibel Island, you can learn a lot about the history of Sanibel and Fort Myers, Florida!
Built after the Civil War, the Lighthouse provided guidance for ships that would have crashed. Also increasing trade in the area, the Lighthouse survived hurricanes, erosions, and recessions before being acquired by the city.
Unique with its iron skeleton frame, keepers used to climb 127 steps up a spiral staircase to reach the top at 98 feet. Take a tour of the area to learn more about the history of the Lighthouse! Unfortunately, visitors are not permitted to climb the steps due to its dangerous nature.
Afterward, visit some of the prettiest beaches in Florida that surround the Sanibel Lighthouse. The perfect backdrop for a romantic interlude, get ready to do the "Sanibel slouch" as you look for shells on the beach!
Parking is $5 an hour, but if you don't want to pay, take the five mile bike path to the Lighthouse on Periwinkle Street.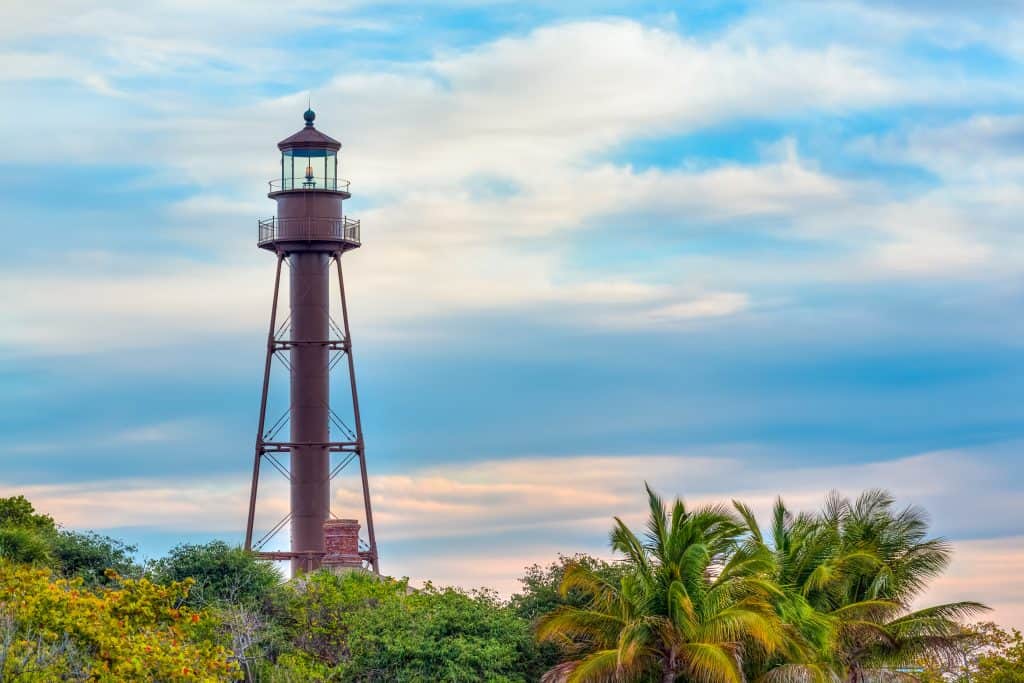 Verandah Golf Club
There are many beautiful golf courses in Florida, but Fort Myers is home to some of the best in the entire state. Perhaps the most beautiful is the Verandah Club with 36 holes nestled in the lush beauty of Fort Myers.
The Verandah Club offers two courses. Whispering Oaks, while more challenging, incorporates natural elements like difficult greens and amazing fairway vistas. Old Orange attempts to recapture the "Golden Era" of golf. A visual feast, the landscaping enhances the area's natural beauty.
A practice facility is ready to help you work on whatever is lacking in your game. Practice long drives or your short game on an expansive, dual-ended range. You can also just focus in a separate short game practice area.
After a day playing hard, relax at Blossom's for cocktails. If you stay into the evening, share a meal at the River House. An expansive menu will please every palate from traditional favorites to daring flavor combinations.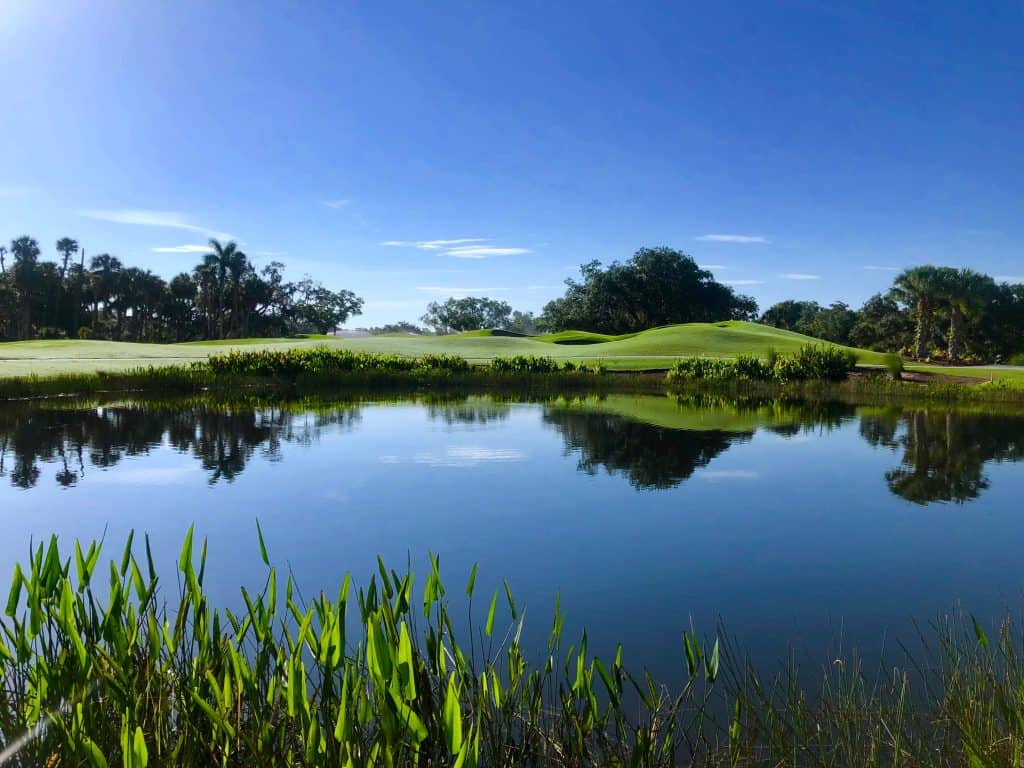 Lakes Regional Park
While not a state or national park in Florida, Lakes Regional Park boasts 279 acres of lush gardens and scenery. Found on Gladiolus Drive, the park is named after its main attraction: 158 acres of beautiful, man-made freshwater lakes.
Inside the park you can enjoy a variety of activities. Romp around on a splash pad or play beach volleyball on sand courts. There are also charcoal grills, walking paths, and a playground for children!
The Lakes Park Enrichment Foundation maintains multiple gardens on the grounds. Check out the lush beauty of the Fragrance Gardens, the Children's Garden, the Community Garden, and the Succulent Garden.
Perhaps the best attraction here is the Railroad Museum of Southwest Florida. An Interpretative Center teaches the history of Florida railcars with outdoor exhibits like a cosmetically restored 1905 Atlantic Coastline Locomotive.
Afterward, take a miniature train ride! On a one mile track, you'll travel between lakes and wooded areas. The fifteen minute scenic tour takes you through a trestle bridge, a 100-foot tunnel, and mini-Southwest Florida villages circa 1950.
The Lakes Regional Park is open from 7 AM to dusk every day. Parking is $1 per hour, or $5 for the whole day.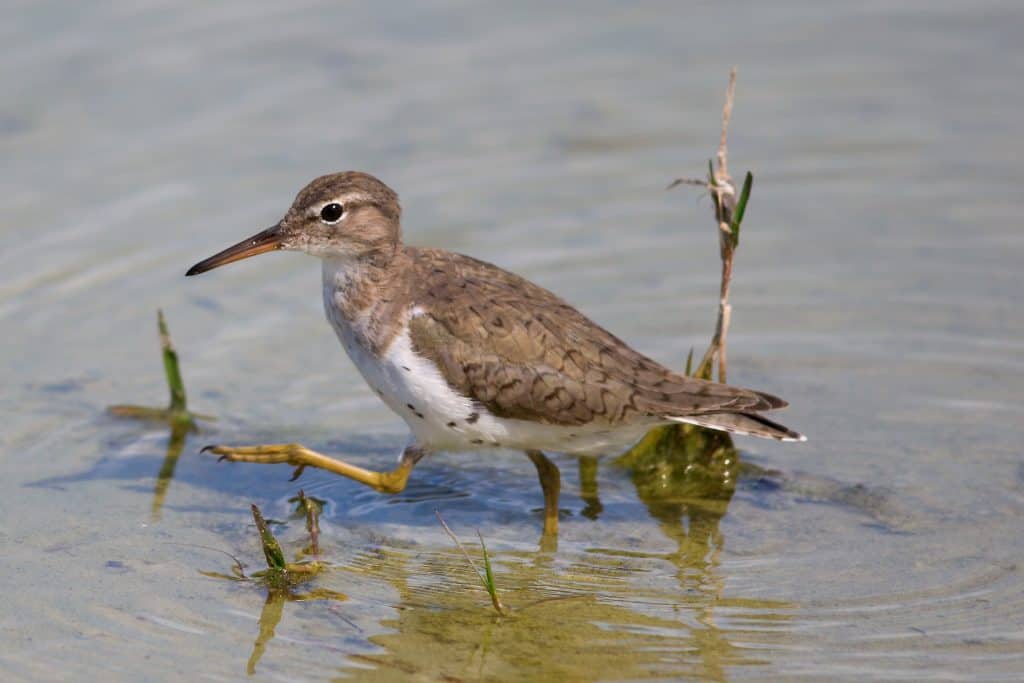 Did You Find This Post Helpful?
If so, we would love to keep in touch! We enjoy seeing photos and comments about your experiences in Florida! You can follow us on Instagram and we will repost your photos on our feed and comment too! Just tag us at @floridatrippers and hashtag #floridatrippers. We can't wait to see your travels!