Are you looking for the best Everglades Airboat Tours? We have you covered with our list of the best tours worth your money!
The Everglades National Park is a 1.5 million-acre wetland located in southern Florida. Compared to a swamp the Everglades is comprised of mangroves, and sawgrass marshes and is home to alligators, birds and other species.
An Airboat Tour of the Everglades is a great way to view areas of the Everglades inaccessible by those on land. Whether you are looking for private tours, small group tours, nighttime moonlight tours, or tours that come with adventure wildlife parks, tours with lunch or tours with pick up and drop off we have you covered with this list!
We have discovered the best tours leaving from Miami, Fort Lauderdale, Naples, Sanibel, Fort Myers and Orlando and Kissimmee. Whether looking for a quick 30 minutes of the best Everglades Airboat Tours to half-day and full-day adventure. Just make sure to pack sunscreen, bug spray and some water!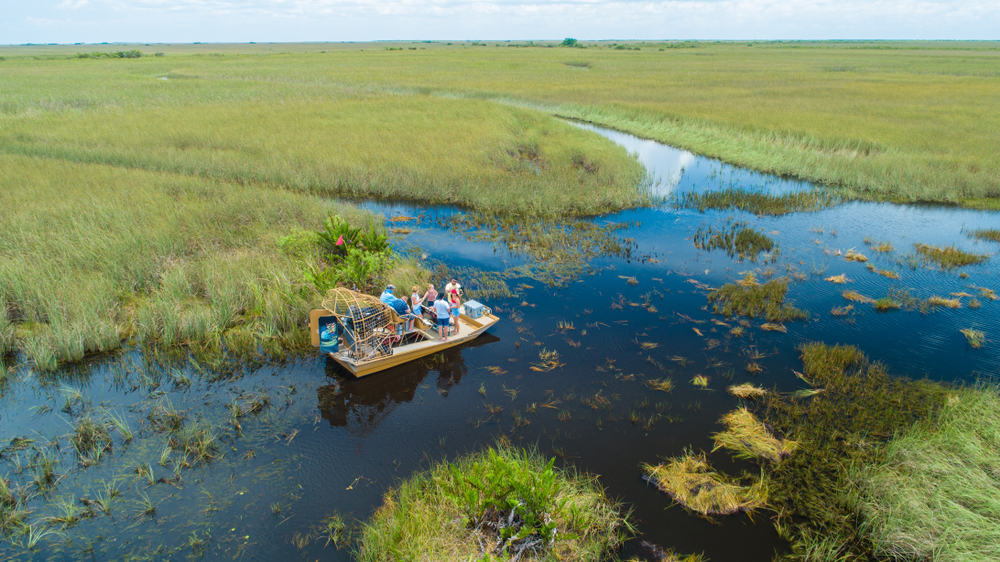 11 Best Everglades Airboat Tours Worth The Money
Florida Everglades Airboat Tour and Wild Florida
This is one of the best Everglades Airboat tours for those wanting options. The Florida Everglades Airboat Tour and Wild Florida explores Central Florida's Everglades and leaves out of Orlando.
You will get to experience either a 30 minute airboat ride or one hour airboat ride through over 4200 acres of protected Everglades swamps, rivers and marshes.
If you choose the half day package your package includes a visit to the Wildlife Park spread over 13 acres where you can see animals like zebras, bobcats, lemurs, sloths, tropical bird aviary and an alligator handling show.
If looking for an Everglades Airboat tour with lunch you will want to book the half-day tour. This tour comes with a delicious BBQ lunch at the Chomp House Grill and an alligator souvenir and picture.
Book Now: 30 Minute Airboat Ride
Book Now: 1 Hour Airboat Ride
Book Now: Half day Package
Everglades Airboat Tour & Gator Boys
The Everglades Airboat Tour & Gator Boys Alligator Rescue Show is one of the best Everglades airboat tours from Fort Lauderdale. Here at the Everglades Holiday Park Fort Lauderdale, your tour includes a 1 hour narrated Airboat ride and then a 15 minute live alligator rescue show! Tours depart every 20 minutes. And the tour takes about an hour and half.
Not only will you see alligators and birds on the Airboat Tour you will see unique flora and fauna along the ride. Enjoy the unique ecosystem up close and personal from the airboat as you spot alligators in their natural habitat and learn about the importance of conversation and preservation of the Everglades.
The Gator Boys have appeared on Animal Planet and provide and informative and entertaining live rescue show. After you will also receive two pictures from your day!
Book Now: 1 Hour Airboat Tour and Live Show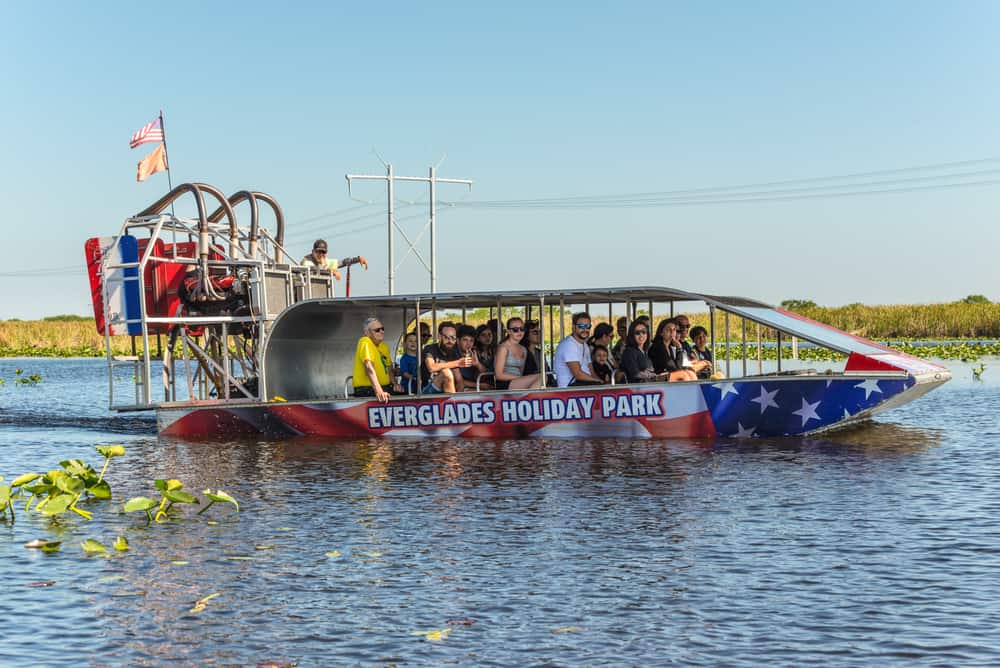 Airboat Tour Central Florida
The Airboat Tour of Central Florida is one of the best airboat rides in the Everglades for those looking for small groups. Tours are limited to only 6 guests and seating is in a stadium style on the boat so everyone has great views.
This tour leaves from Kissimmee and includes a guided airboat tour with live commentary. Your small group will explore the Everglades swamp keeping a lookout for alligators in their nesting areas in West Lake Toho.
Tours leave at 9 am, 11 am and 1 pm.
Book Now: 90 minute Airboat Tour
Full-Day Everglades Naturalist-Led Adventure
If you are looking for a Full-Day tour, this is one of the best Everglades airboat tours near Miami. What makes the Full Day Everglades Naturalist led adventure unique is this tour is a full day package! There is also a half day option!
First, the tour offers complimentary pickup from hotels in Miami, Hollywood or Fort Lauderdale. Then you will be on your way to explore the Everglades National Park with a master naturalist where you will take a hour long airboat ride through the river of Grass to see alligators up close in Shark Valley.
Next on the tour you will take an hour long cruise to the Ten Thousand Islands a salt water area of the Everglades where you can often spot manatees, birds, dolphins and more.
Then you will experience a visit to a Native tree island village ( Miccouskee) that once serves as a historic trading post, and finally a wildlife spotting tour on Big Cyprus and then it is onto lunch at the Havana Cafe.
The lunch as both vegetarian and gluten free options in addition to the traditional menu. Snacks, fresh fruit, water, and soft drinks also offered during the tour.
There is a hotel pickup and even a dedicated airport drop off perfect for those looking for an interesting tour their day of departure. They will hold your luggage and offer guests the complete experience with bug spray, sunscreen, ponchos, binoculars, and a eco-canteen and a National Parks map! This is the best Everglades airport tours near Miami!
Book Now: Full Day Adventure
Book Now: Half Day Tour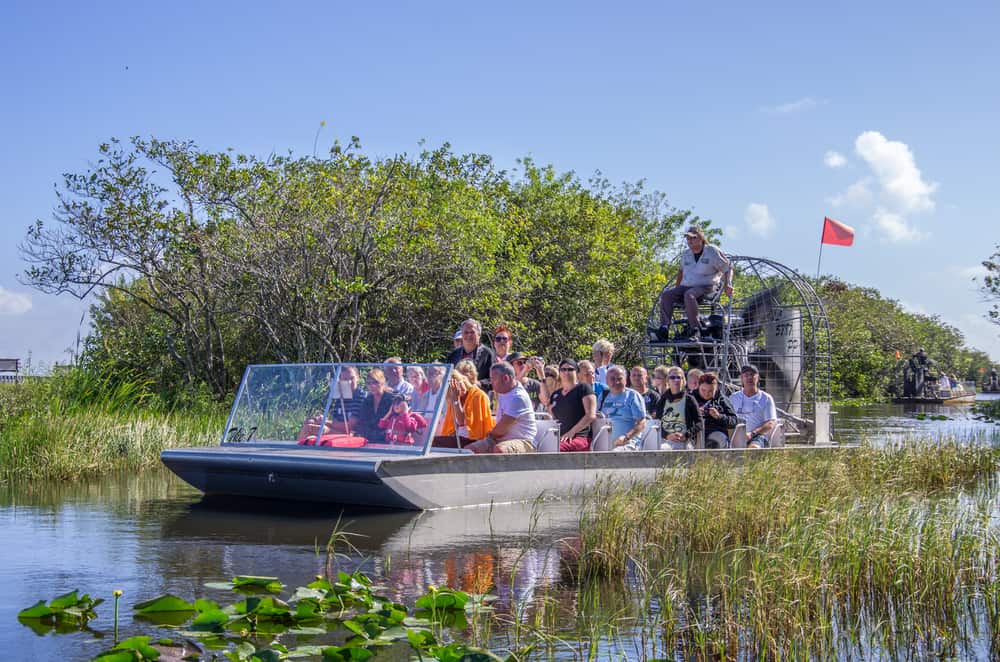 Florida Everglades Night Airboat Tour
Are you looking to take an airboat tour through the Everglades at night? If so, the Florida Everglades Night Airboat Tour departing from Fort Lauderdale is for you! The tour departs at 8:30 PM from the Sawgrass Recreational Park.
With your ticket you also receive admission to the Sawgrass Recreation Park open during the day where you can see reptiles and exotic animals at the Wildlife center.
Your airboat tour will take place under the stars of the sky as you glide across the Everglades at up to 40 miles per hour using the lights from the airboat to spot alligators.
Book Now: 1 hour Nighttime Airboat Ride
Everglades VIP Tour and Show
The Everglades VIP tour and Show provides transportation to and from select hotels in the Fort Lauderdale Area as well as the Miami or Fort Lauderdale airports and both the Port Everglades and Port of Miami. The tour is about 4 hours long with transportation time included.
There are two VIP tour options offered one in the morning at 8:30 am and one in the afternoon at 1 pm. After being picked up you will begin your tour on an hour long airboat tour with in-depth commentary through the Everglades. The guides will explain the eco-system as well as the behaviorof the alligators.
Once you return you will be treated to a live in person presentation by the Gator Boys alligator rescue team. The show is both informative and entertaining!
After the show you may take a picture with one of the baby alligators where you will be given a little keepsake of your day spent exploring the Everglades and learning about alligators.
Book Now: 1 hour Airboat Ride and Pick Up
Private Tour: Florida Everglades Airboat Ride and Wildlife Adventure
If you are looking for a private tour this is one of the best Everglades boat tours! For those looking for a premium experience you will have the airboat all to yourself with just your group!
On this Private Tour of Florida's Everglades Airboat Ride and Wildlife Adventure, you will travel deep into the Everglades National Park and explore wildlife refuge at the Sawgrass Recreational Park. As this is a private ride the goal is show areas of the Everglades normal boat tours don't reach and with a smaller airboat it is easily manuverable into smaller areas!
Guests can expect the tour to be a little longer and more in-depth with Airboat speeds reaching up to 40 miles per hour! At the refuge you can see panthers, bobcats, leopards, alligators and other like fish, snakes, and turtles up close.
Book Now: Private 60 minute Airboat Tour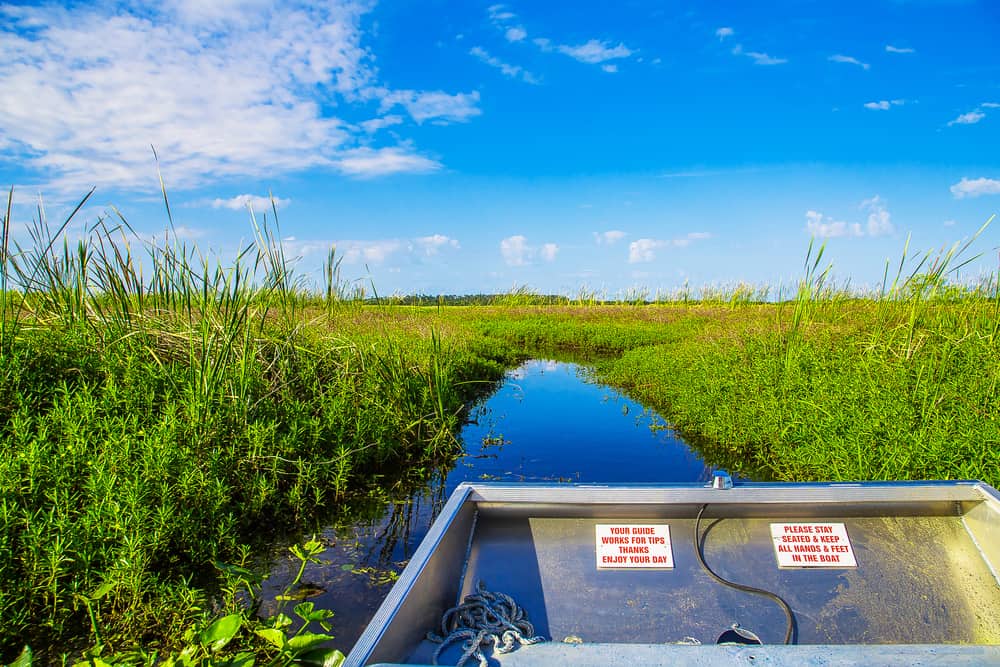 Air Boat Tour of Palm Beach in The Swamp Monster
If you are in the Palm Beach area and are looking for one of the best Everglades airboat tours from Palm Beach this is the tour for you! On this tour you will take a private airboat tour on the Swamp Monster boat with individual seats!
The tour guide is very informative about the Everglades ecosystem and plants as well as knowledgable about the wildlife you will encounter on the airboat tour. You can often spot turtles, herons, storks and an assortment of birds.
Sometimes you even spot an area of an old plane wreckage depending on how far into the Everglades the tour takes you.
Book Now: Private Airboat Tour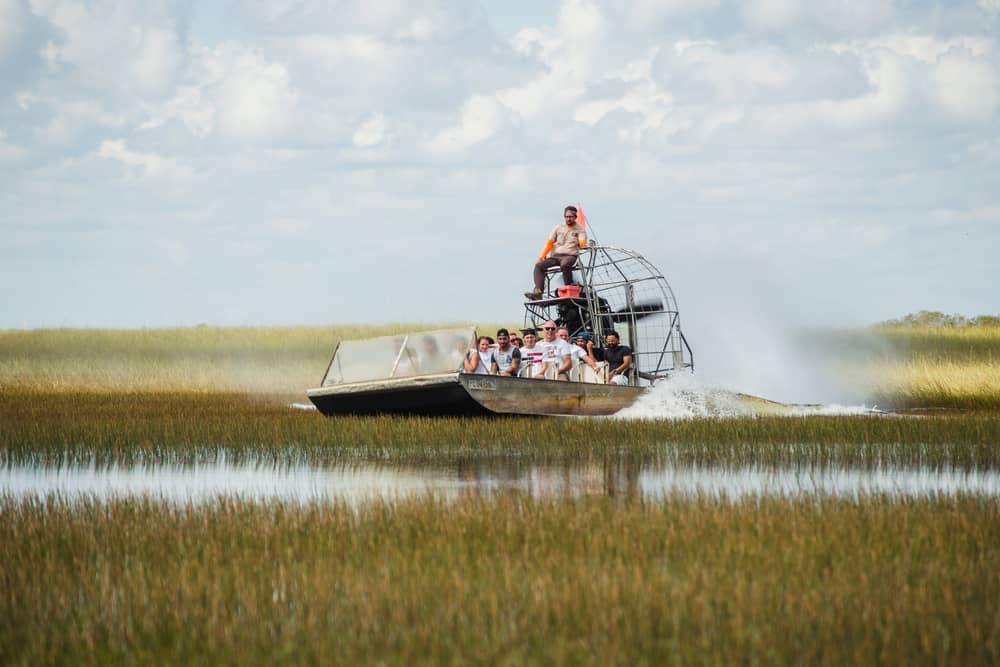 Everglades Day Safari from Fort Myers, Naples or Sanibel
If you are looking for one of the best Everglades airboat tours from Fort Myers you are in luck! The Everglades Day Safari from Fort Myers, Naples or Sanibel offers a guided tour with a naturalist. This eco-tour offers a wildlife drive, hour long airboat ride and boat cruise, lunch and a nature walk.
On this 45 minute airboat tour highlights include seeing wildlife such as dolphins, alligators, herons and more. You will be given a full history of the wildlife, geology, and Native American history as well.
Then you will take a wildlife drive through Big Cypress National Preserve where you can see gators, deer, bear, hogs, turtles, birds and more. Next, you will take a wildlife walk through the ancient towering cypress trees. It is truly one of the best Everglades boat tours from Naples!
After an afternoon break you will be served lunch at a beautiful waterside restaurant in the Everglades. You must try the alligator appetizers! After lunch you will board another boat cruise fora 60 minute tour of the mangroves at 10,000 islands. You can spot manatees here!
Book Here: Everglades Day Tour
Miami Beach Miccosukee Village and Everglades Airboat Tour
The Miami Beach Miccosukee Village and Everglades Airboat Tour is a small group tour. Pickup is included from any Miami Beach landmark or hotel along Collins Avenue.
On your small group airboat tour you will discover the wildlife in the Everglades with tours offered in English, German and Spanish. You will have the oppurtunity to discover the unique eco-system of the Everglades alongside viewing wildlife like turtles, alligators and birds.
After the airboat tour you can visit the nearby wildlife park and learn about conservation efforts in the Everglades. Next, you will visit the Miccosukee Indian Village and Reservation where you can learn about the history and culture of the tribe. View handcrafts, photographs and more.
Book Now: Miami Beach Airboat Tour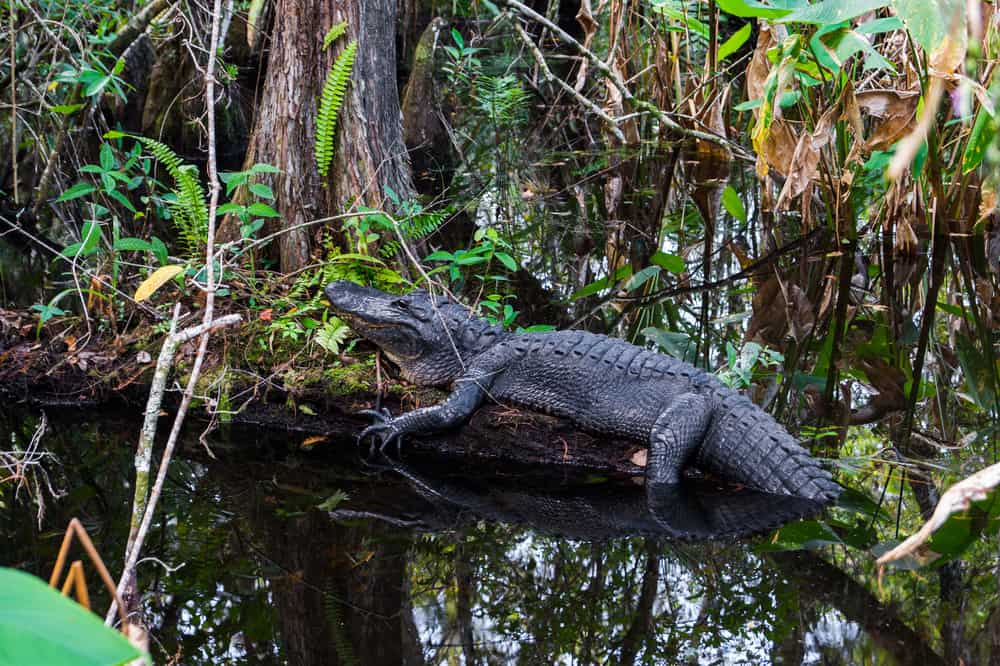 Biscayne Bay Cruise and Everglades Airboat Ride
If you are ready to explore Miami by bus, boat and airboat this full day guided sightseeing adventure is for you. From the bus ride around Miami, to the Biscayne Bay, Miami Beach to the airboat ride through the Everglades this tour is for you.
Pickup begins at 10:15 am for this 6 hour full day tour. First you a picked up and then depart on a 30 minute airboat ride though the Everglades. You will view wildlife such as fish, birds, alligators and more.
Next your tour will take you on a jungle trail with crocodile exhibits and a live alligator wildlife show. Then you will board a 90 minute cruise along Biscayne Bay. The cruise takes you along the skyline of Miami Beach and Fisher Island, keep an eye out for manatees, dolphins and rays in the clear water off the coast.
Book: Everglades and Biscayne Bay
Did You Find This Post Helpful?
If so, we would love to keep in touch! We enjoy seeing photos and comments about your experiences in Florida! You can follow us on Instagram and we will repost your photos on our feed and comment too! Just tag us at @floridatrippers and hashtag #floridatrippers. We can't wait to see your travels!